As the leaves start to change color and the air gets crisp, we know that fall is on its way and it's the perfect time to cozy up your home. From candles and throws to pillows and wall art, Amazon has everything you need to get your space ready for the season. And the best part? Most of these items are under $30! Keep reading to see our top 19 picks.
This post may contain affiliate links, please see our privacy policy for details.
1.  Velvet Pumpkins Perfect For Adding A Touch Of Rustic Charm To Any Space
Looking for a soft, plush option for decorating your home this Halloween or beyond?  A set of two velvet pumpkins that will add a touch of luxury to your home décor. These pumpkins can be used year after year and will look great as part of a centerpiece or on their own as accent pieces.
Made from real green velveteen fabric with realistic stems, these pumpkins are perfect for adding some rustic farmhouse or Halloween spirit to your decorations. Size: 5" diameter and 7" diameter.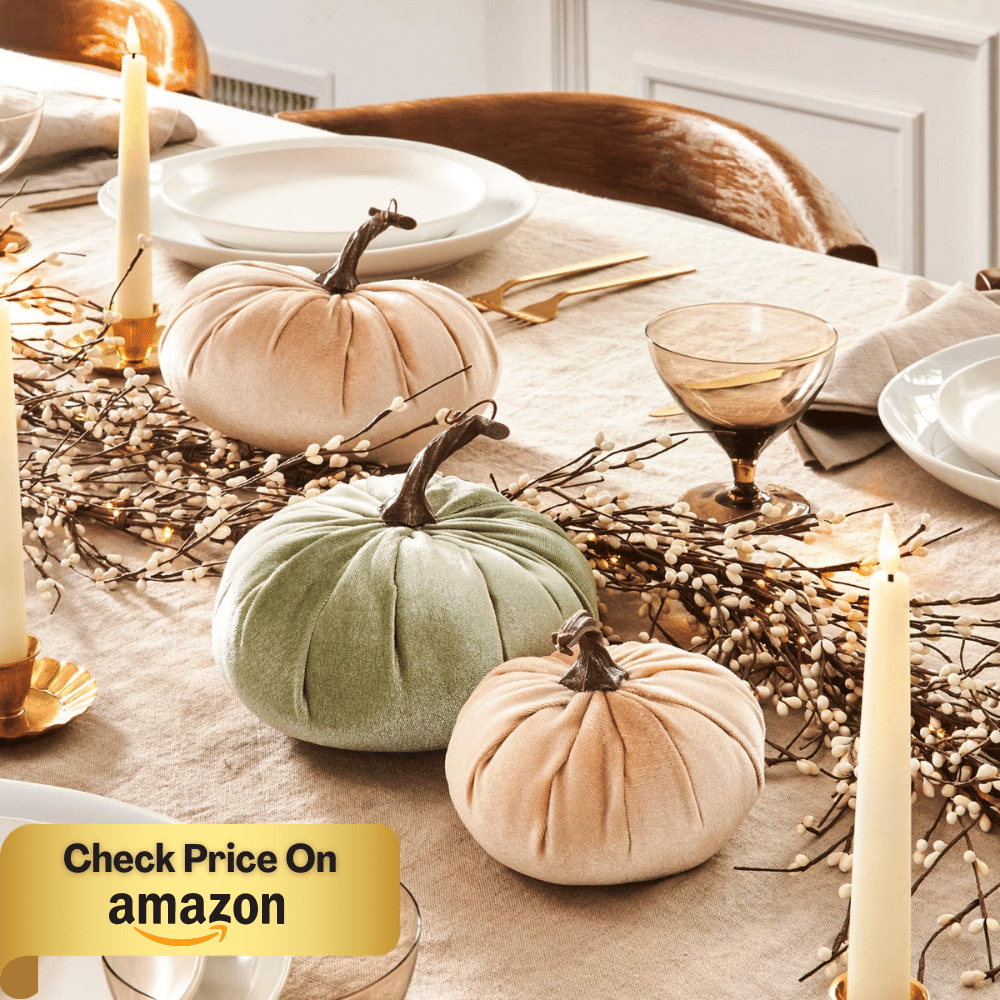 5-Star Review: "This velvet pumpkin duo is Stun-ning! Velvet is the way to go, if your décor is more classy, and not your typical Fall décor of a bunch of dried things - Yuck! I decorate neutral for Fall, and these beauties are a lovely addition to my Fall Coffee Station, and you can't beat the price - they look so expensive!"- Lisa
Get it from Amazon.
2. A Festive 'Happy Fall' Banner For Hanging On Your Mantel Or Over A Doorway
Happy Fall, Friends! We know you're gearing up for all the festivities - from apple picking to pumpkin carving to festive family dinners. And we couldn't be more excited! This 3 Pieces Happy Fall Banner is just the thing to spruce up your celebration. Each colorful banner measures is made of premium felt and burlap. Plus, they're strong and sturdy - perfect for displaying on your porch or at a fall festival! This banner is sure to get you in the autumn spirit!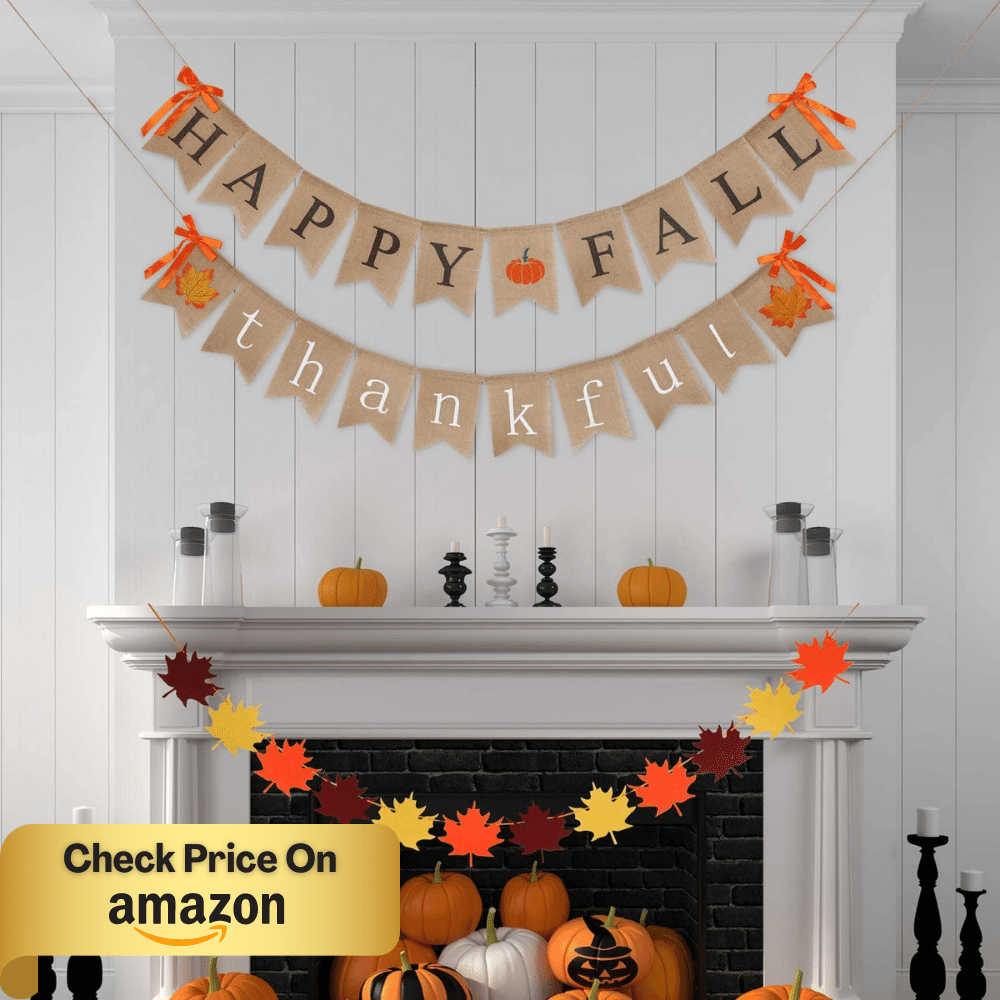 5-Star Review: "So cute! Definitely worth saving from year to year. Great quality. Cute touches like the little orange ribbon bows at the ends. A lot of seasonal decorations I just toss at the end of the season, but these are cute. Received lots of compliments."- Pamella
Get it from Amazon.
3. A Comfy Blanket Perfect For Snuggling Up On The Couch With A Cup Of Tea And A Good Book
This soft, fuzzy faux fur throw blanket is perfect for fall nights. It's extra soft and warm, with a reversible lightweight long hair shaggy design. You can use it as a cover for your couch or bed, or just snuggle up inside while watching TV. This blanket is available in a variety of colors (and sizes), so you're sure to find one that matches your décor.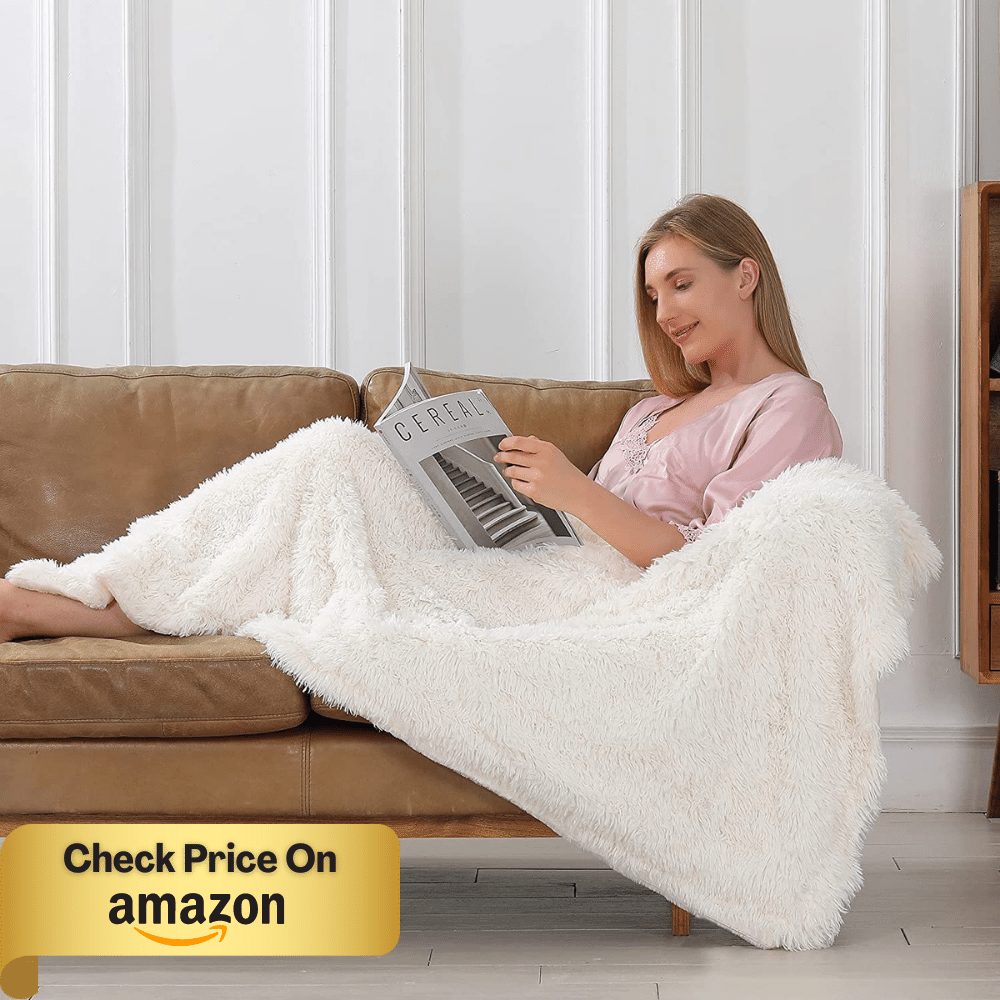 5-Star Review: "I got the cream color one and I love everything about it. I use it as a throw for décor but me and my kids can't resist snuggling up with it. It's super soft and doesn't shed all over the place. Good size as well!"- Marissa
Get it from Amazon.
4. A Set Of Four Coasters Featuring Adorable Fall-Themed Designs. Perfect for any fall gathering or celebration!
Handmade with love in the USA from sturdy, high-quality neoprene, these coasters will make your coffee table look festive all season long. Each coaster is a different farmhouse design, and each comes with a cute painted pug logo. Whether you're hogging the best chair at the pumpkin patch or just want to show your support for fall in general, these coasters are perfect for you! They'll keep your drinks steady while you enjoy a festive drink with your friends.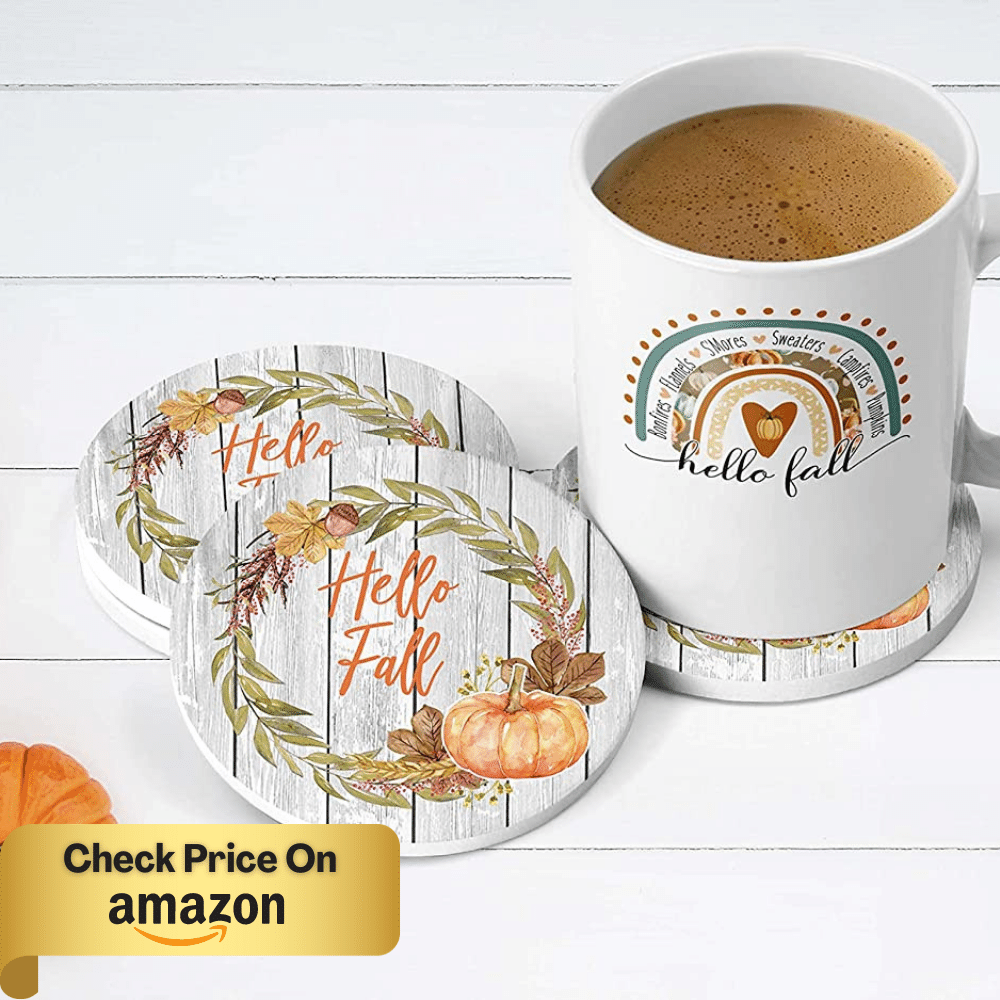 5-Star Review: "These are really cute and don't slide around the table."  - NS
Get it from Amazon.
5. A Scented Candle That Will Make Your Whole House Smell Like Pumpkin Spice (Yum!)
Don't let the cooler temps keep you from enjoying the fall season! This Pumpkin Candle is perfect to get you in the mood for all of the festivities! With a delicious pumpkin scent, this candle is sure to put a smile on your face. Plus, it burns large so you can enjoy every wick while it lasts.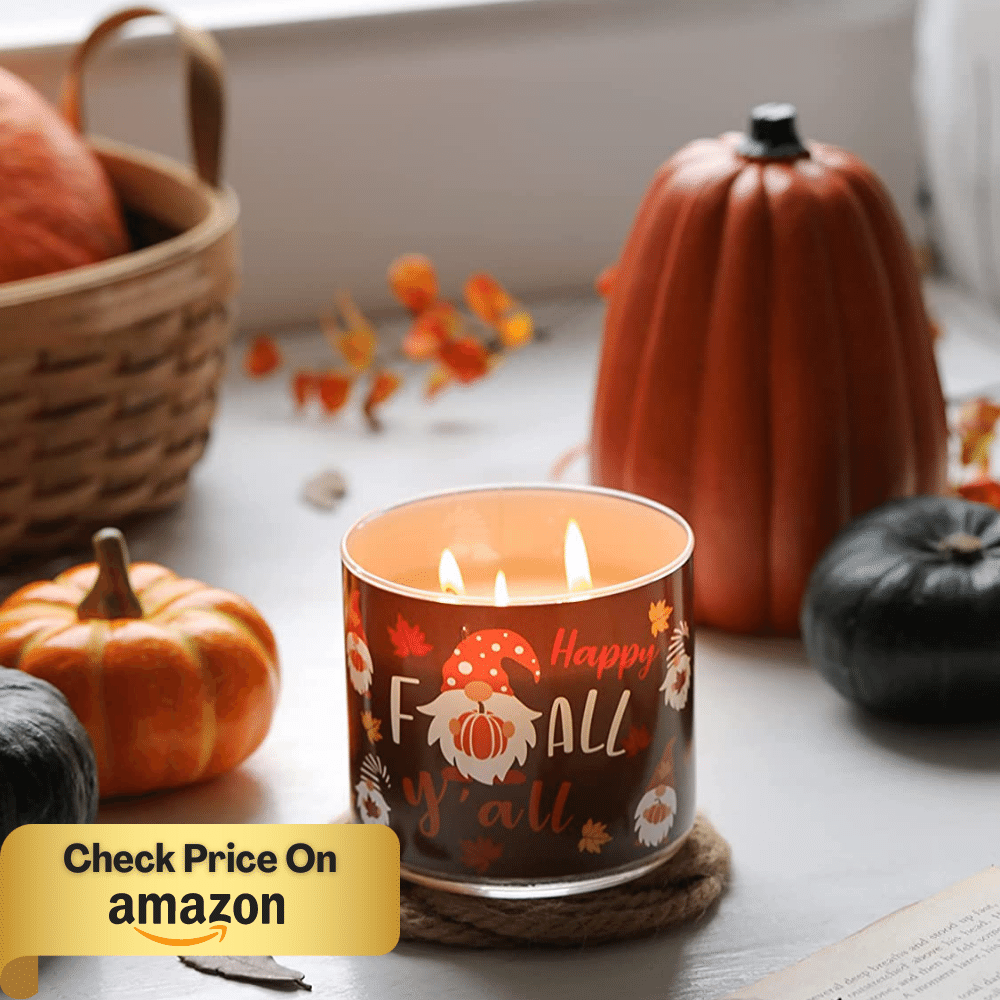 5-Star Review: "I received this candle to review. I am picky about my candles and typically only buy BBW or Yankee Candles. This candle surprised me by how nicely it smelled (reminded me up a pumpkin cookie!) and the amount of throw it had. It is in a jar reminiscent of BBW, with a beautiful embossed lid. I do recommend this candle if you're looking for a nice alternative to the name brand candles!" - The Tennessee Home
Get it from Amazon.
6. An 'I Love Fall' Pillow Cover Perfect To Refresh An Old Pillow Or Add Some Fall Flair To Sofa
This pillow cover is available in 10 different patterns, it's perfect for spicing up your home décor. This high-quality cotton linen blend cover is printed never to fade and features a high-quality invisible zipper. It fits 18x18 inch inserts or smaller and is finished with all seams overlock to ensure durability. With this pillow cover, your pillows will stay looking new for years to come.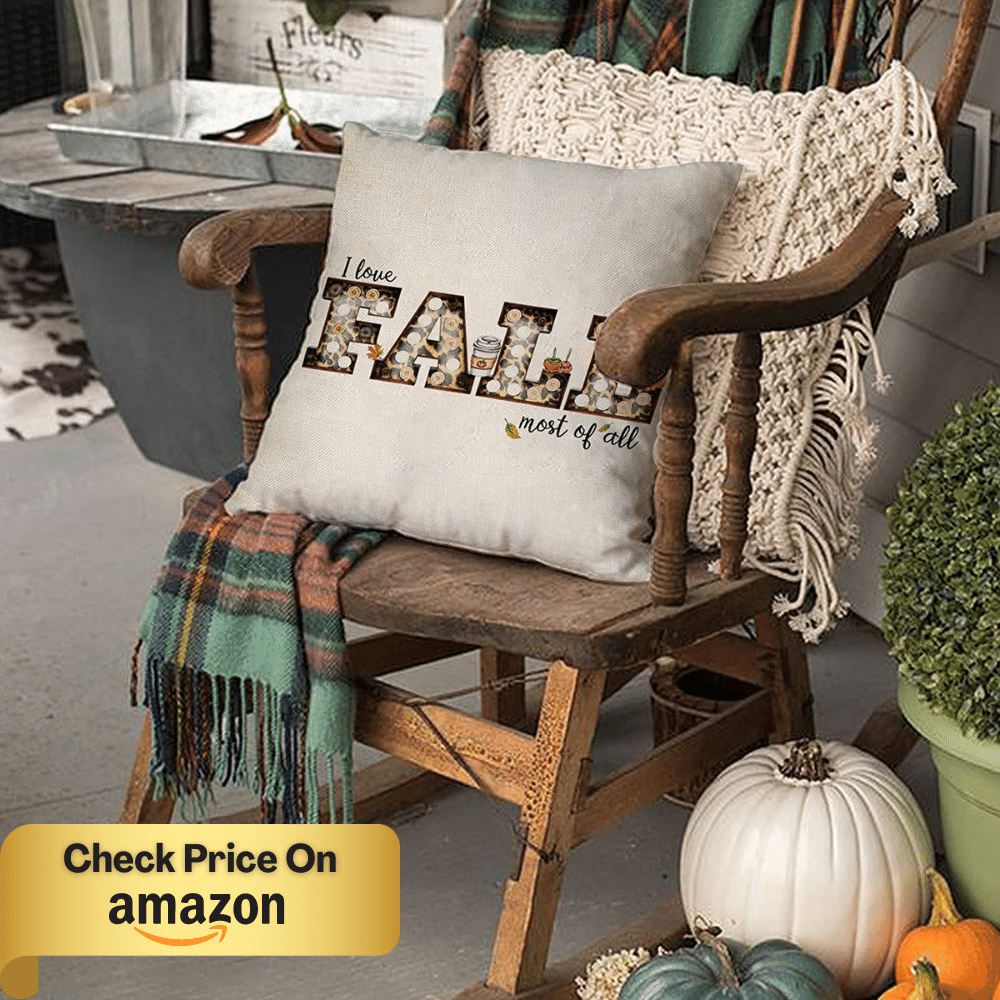 5-Star Review:  "Colorful and fun pillow cover that will satisfy fall, Halloween, and Thanksgiving; good purchase!" - patti
Get it from Amazon.
7. Wall Art That Says 'There is Always Something to be Grateful for" Perfect For Hanging In Entryway Or Above Mantel
This decorative 4x6 sign brings natural style with a modern flare to any decorating space. Handmade in the USA, this sign is a unique way to express gratitude for all the good in your life. Featuring a distressed look and hand-painted text, it's a perfect addition to any home. It will remind you (and your guests) to count your blessings this season!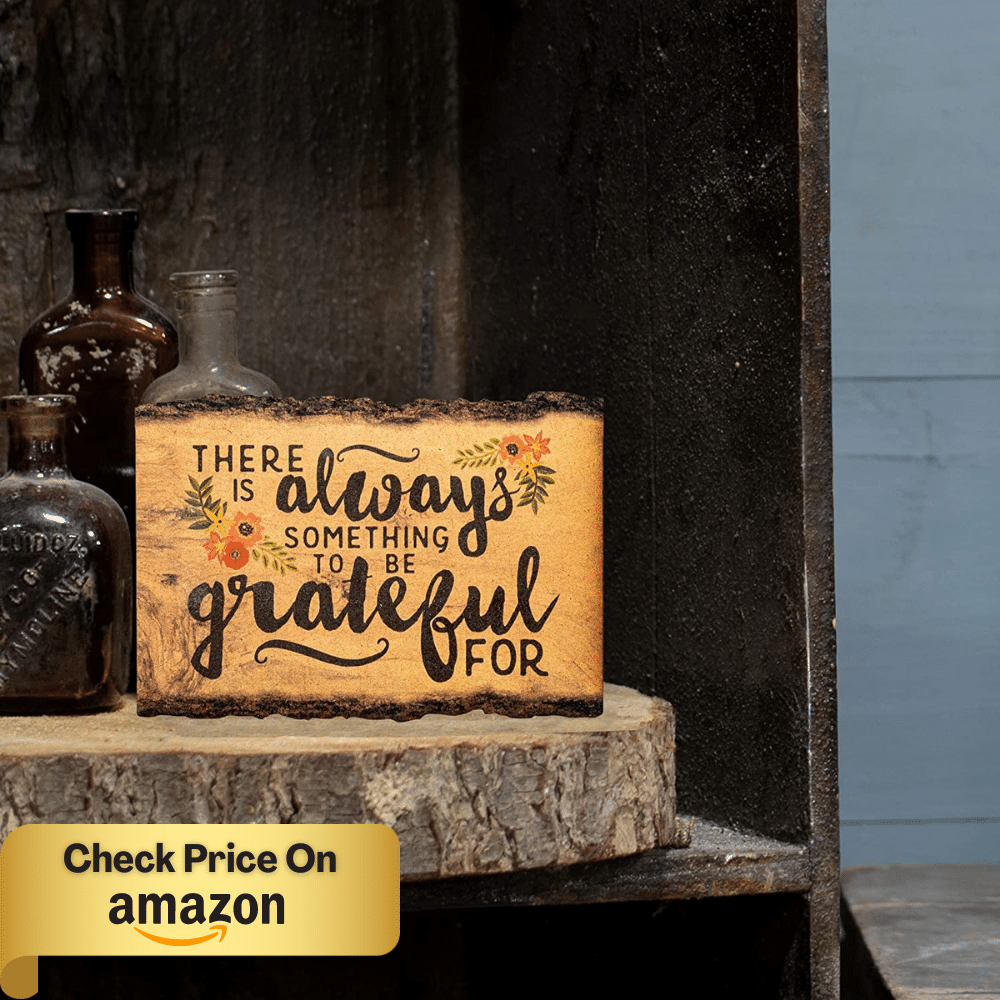 5-Star Review: "sweet little sign to always remind us, "there is always something to be grateful for". I really like it and plan on putting it in a place where I will see it often during the day. I recommend and would repurchase if ever lost or broken." - eskimopatty
Get it from Amazon.
8. A Set Of Two Dish Towels That Are Perfect For Fall Cooking And Baking
The set of two 18 x 26-inch drying cloths are made of 100% Ultra Absorbent cotton, making them a great choice for all your drying needs this fall and winter. Whether you're cooking or baking in the kitchen, these towels will help to keep everything clean and tidy.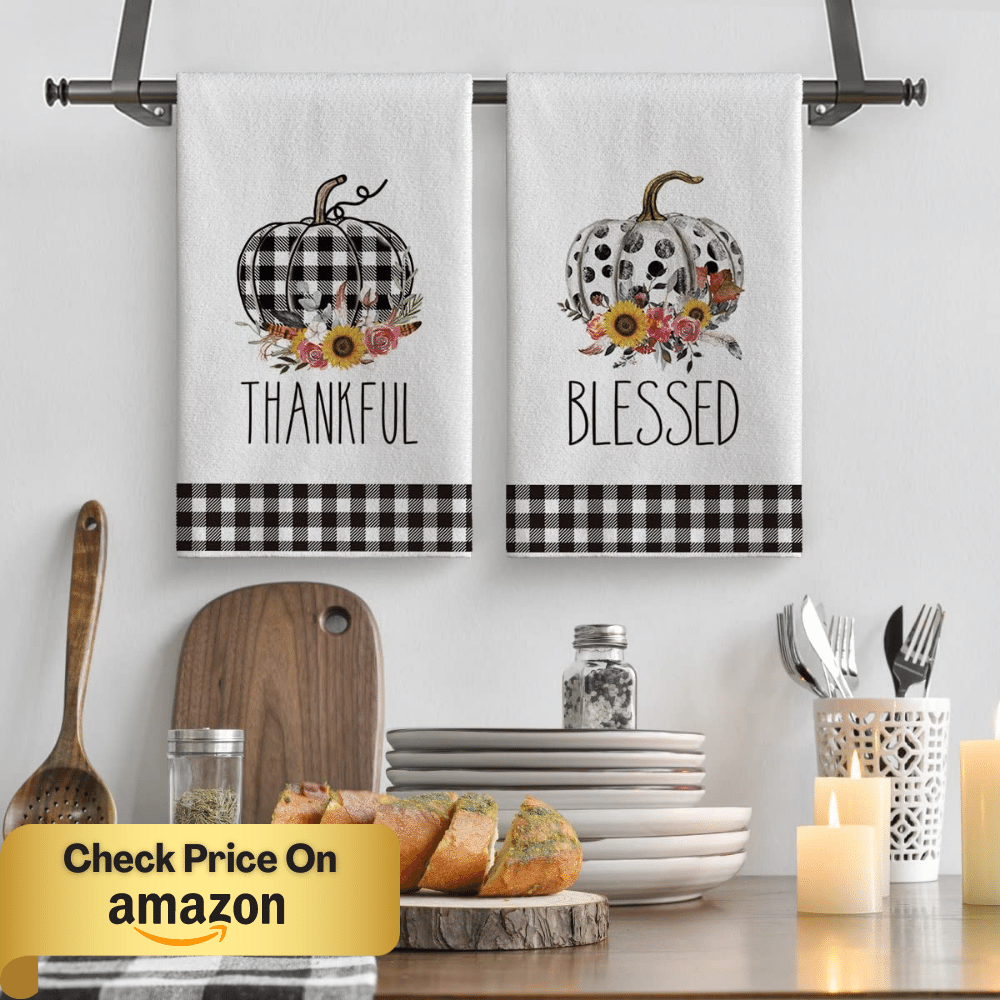 5-Star Review: "These are really cute. Not the most absorbent towels bur for decorative purposes they are adorable." - melissa
Get it from Amazon.
This beautiful mat is perfect for welcoming guests into your home this fall. Made from high-quality materials, this doormat features a stunning autumn design and is sure to add a touch of elegance to your space. Additionally, its durable construction will make it withstand the test of time, making it a long-term investment for your home. So why wait?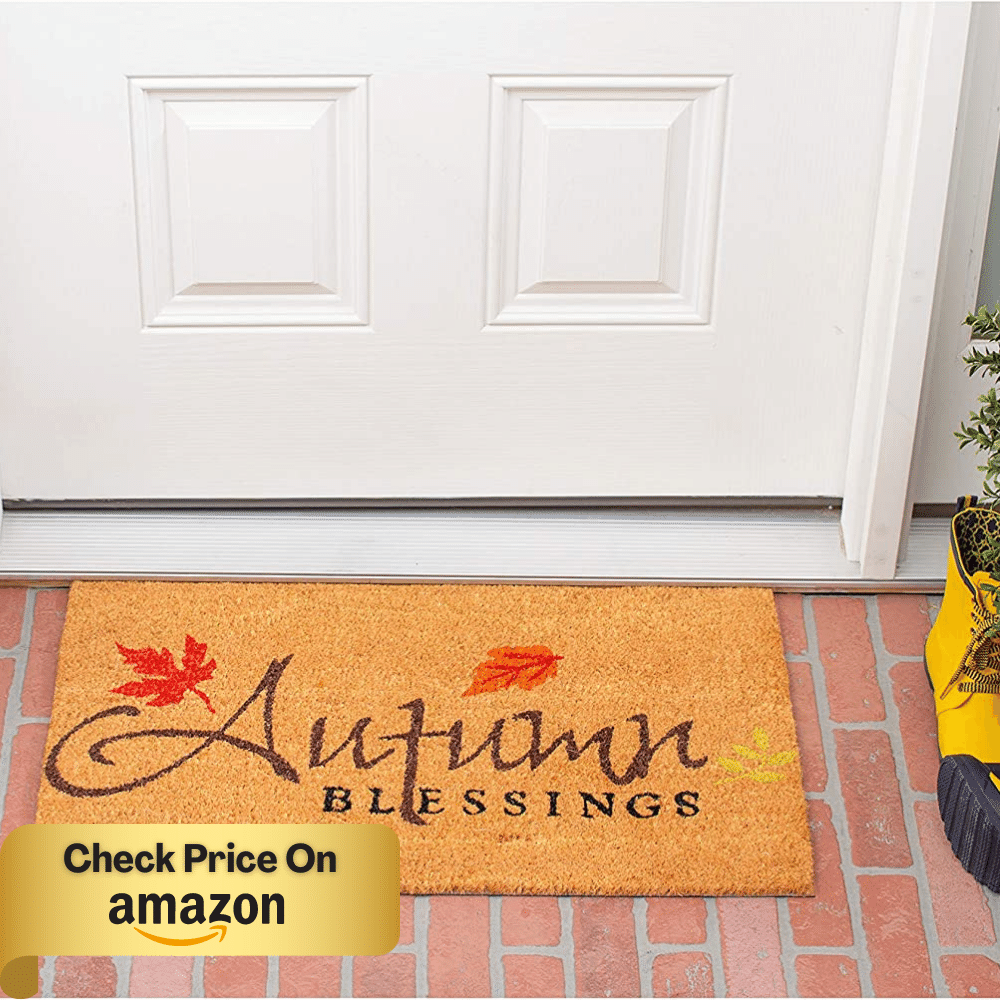 5-Star Review: "Great quality! Worth buying for sure! I bought two! One indoor. One outdoor. You won't be disappointed." - Patricia Tolliver
Get it from Amazon.
10. A Cute 'Welcome Pumpkin' Sign That Can Be Hung On Your Door Or Placed In Your Entryway
Looking for the perfect way to add a little Fall spirit to your home? This insanely simple yet elegant ornament is perfect for adding a touch of seasonal cheer to your door, wall, or even kitchen cabinet. This sign is made of high-quality wood and is sure to make a statement at any holiday party or gathering! It's also great for use as a crafting project or anywhere else you want to display your fall harvest items!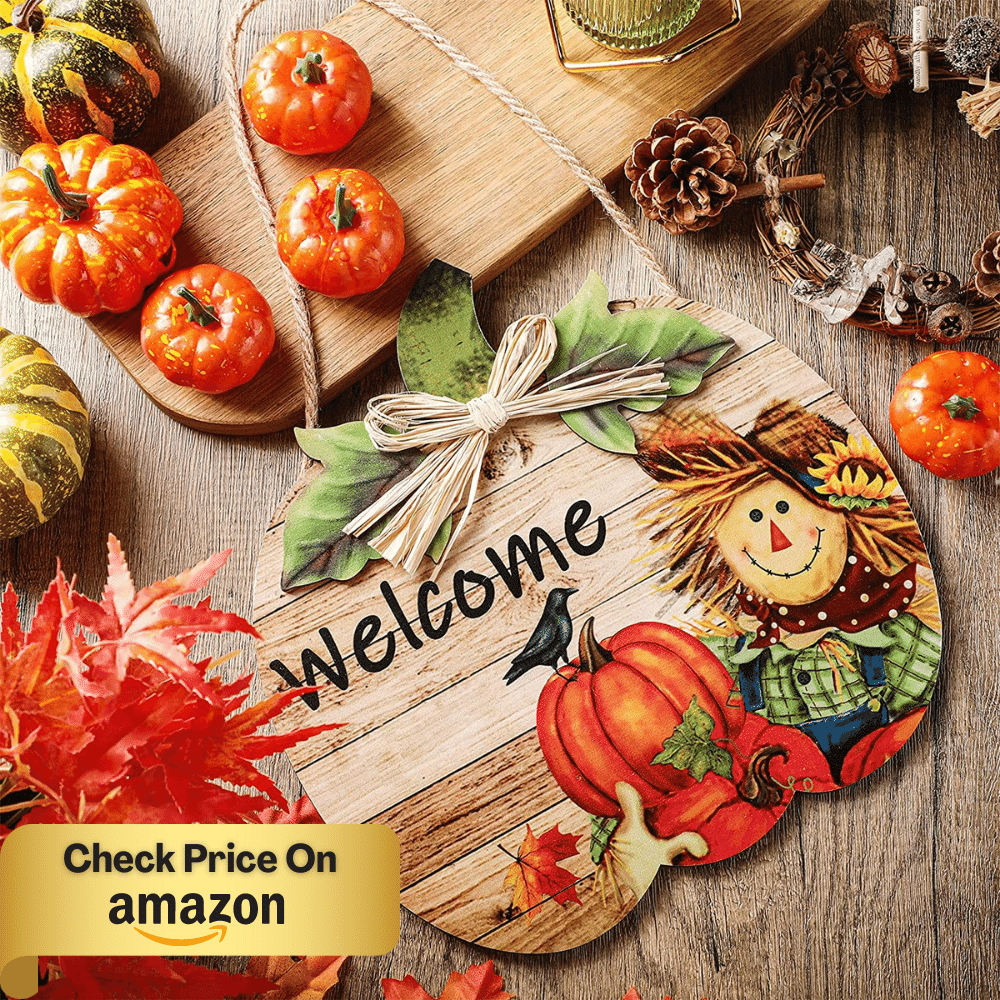 5-Star Review: "This super cute Welcome sign looks perfect on my front door for the fall season. Nicely made and I've gotten a lot of compliments on it." - Susan O
Get it from Amazon.
11. A Set Of Four Placemats That Are Perfect To Deck Out Your Dining Room Table For Thanksgiving Festivities
Welcome to the exciting world of Pinata Fall Placemats.  The bright rustic yellow autumn harvest design is perfect for adding a touch of Autumnal cheer to your kitchen or dining room table. Not only are they stylish and functional, but they're also made from durable materials that will last through the Holiday season. So bundle up and put on your best fall attire - it's time for some fun at the table!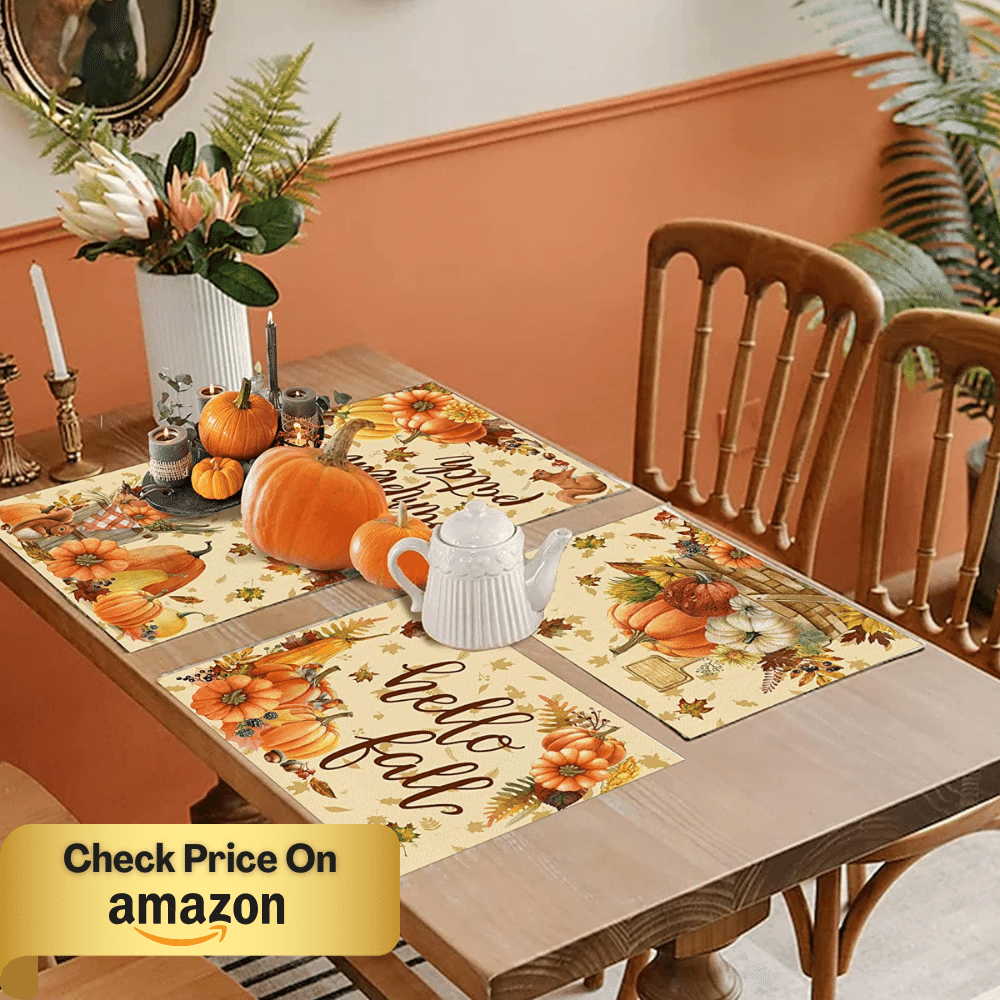 5-Star Review: "These placemats are so much prettier in person than you can see online. The only problem I have with them is they come folded in a vacuum sealed bag and the crease stays there. I've not tried to wash them yet, so that may flatten out in the wash." - Brandy N.
Get it from Amazon.
12. A Decorative Plate That Says 'Give thanks' Perfect For Bringing Favorite Dishes To Life
This 8" ceramic salad plate features a beautiful watercolor Fall turkey print. Saying "give thanks" is prominently embossed along the rim of this festive plate, letting everyone know that you're celebrating Thanksgiving with style!  This plate can be hung on the wall or as an addition to any other fall holiday.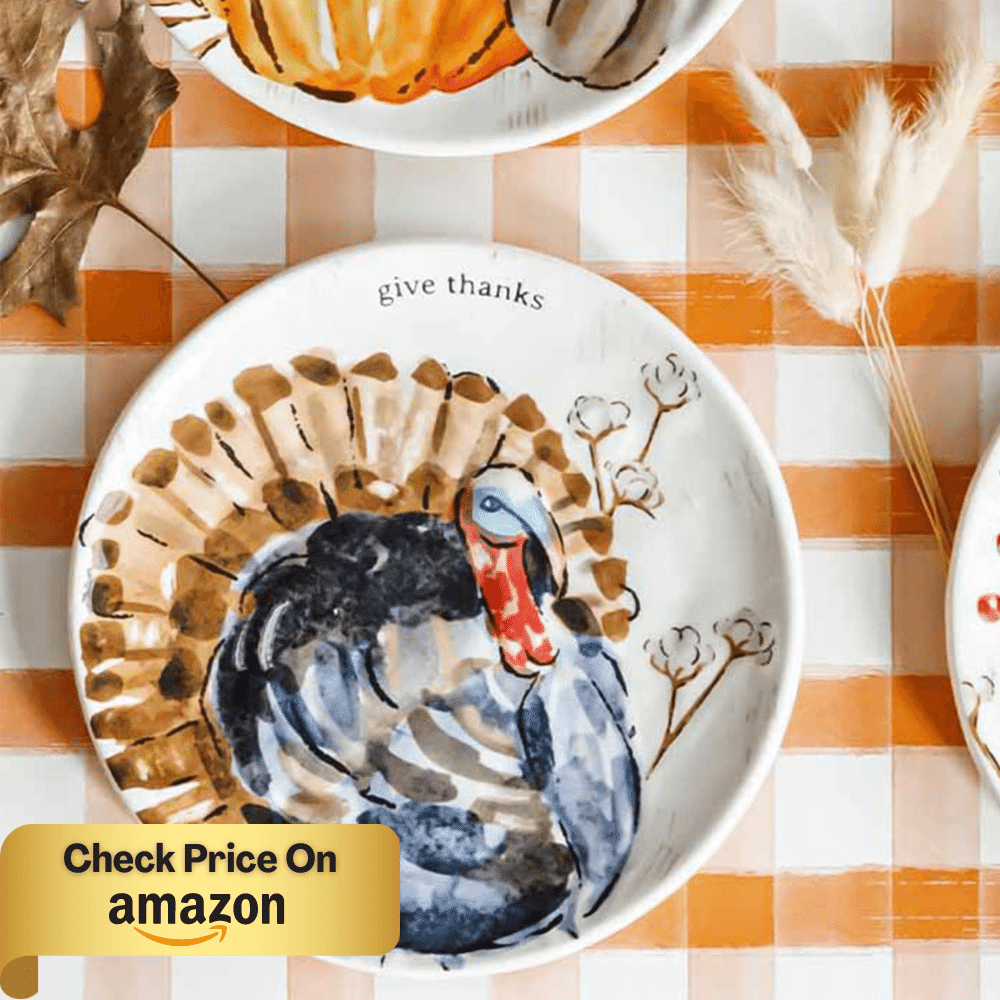 5-Star Review: "I bought these more as décor pieces for my November dinner table (I like seasonal plates and these don't disappoint. I have more of a neutral décor style and these looked super festive.)" - TL
Get it from Amazon.
13. A 'Happy Fall Y'all!' Sign Perfect For Any Autumn or Farm & Country themed Home Décor
This year, let's decorate to capture the spirit of nature. With a Happy Fall Y'all Vintage 12.5" x 6" greeting sign, you can create DIY wreaths, swags, and garlands that will last all year long or while the leaves change colors. The fading orange wood backdrop and falling leaves are an ideal way to add character to any setting, while the easy installation means you can get started right away. Perfect for front door or kitchen decorations. And don't forget about Halloween!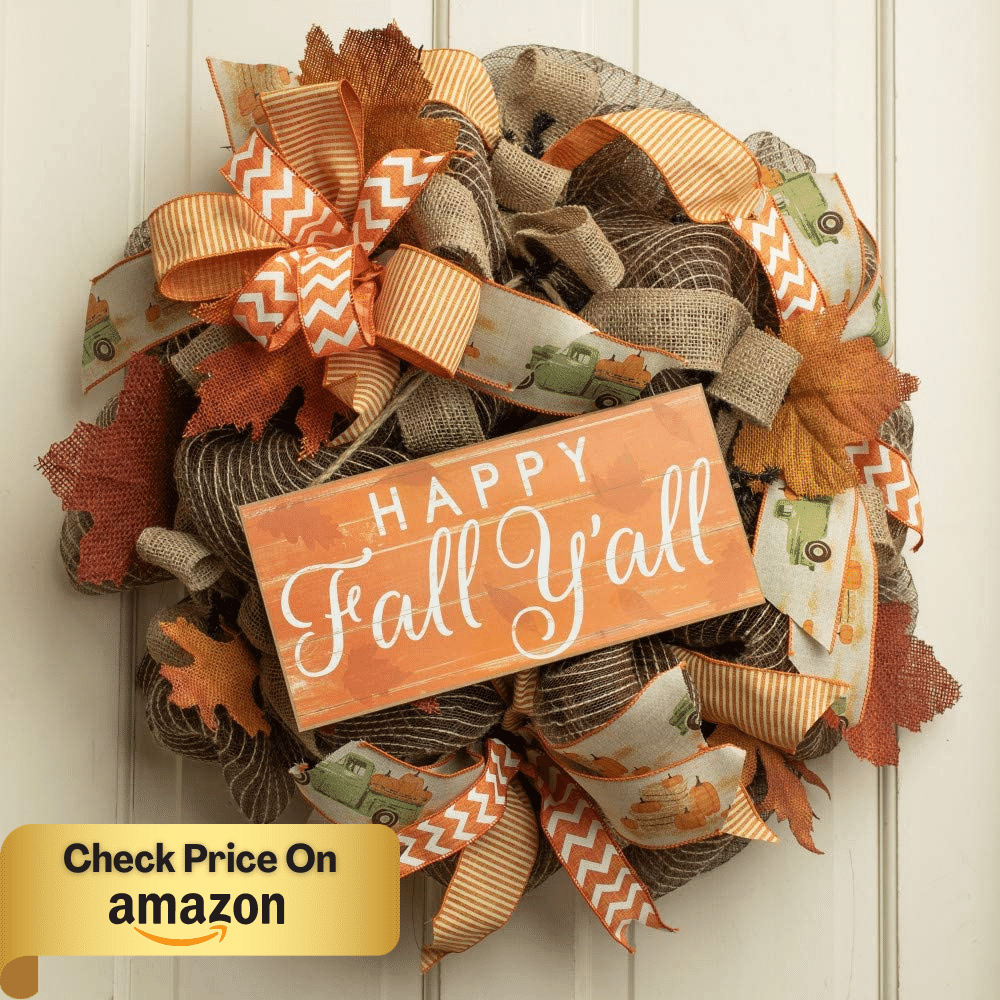 5-Star Review: "Looks great, perfect for front door. Printed on wood rather than painted on but looks really nice! I've already received complaints within the first week. Love it!" - Megan T
Get it from Amazon.
14. Maple Leaf String Lights Perfect For The Finishing Touch To Any Fall Décor
Everyone loves a traditional light display, and now you can add a rustic touch to your home with these maple-leaf string lights. With a warm glow and a natural look, these lights are perfect for any décor. Create an autumnal oasis in your front yard or use them as window accents, and watch as they turn your home into an enchanting fall wonderland.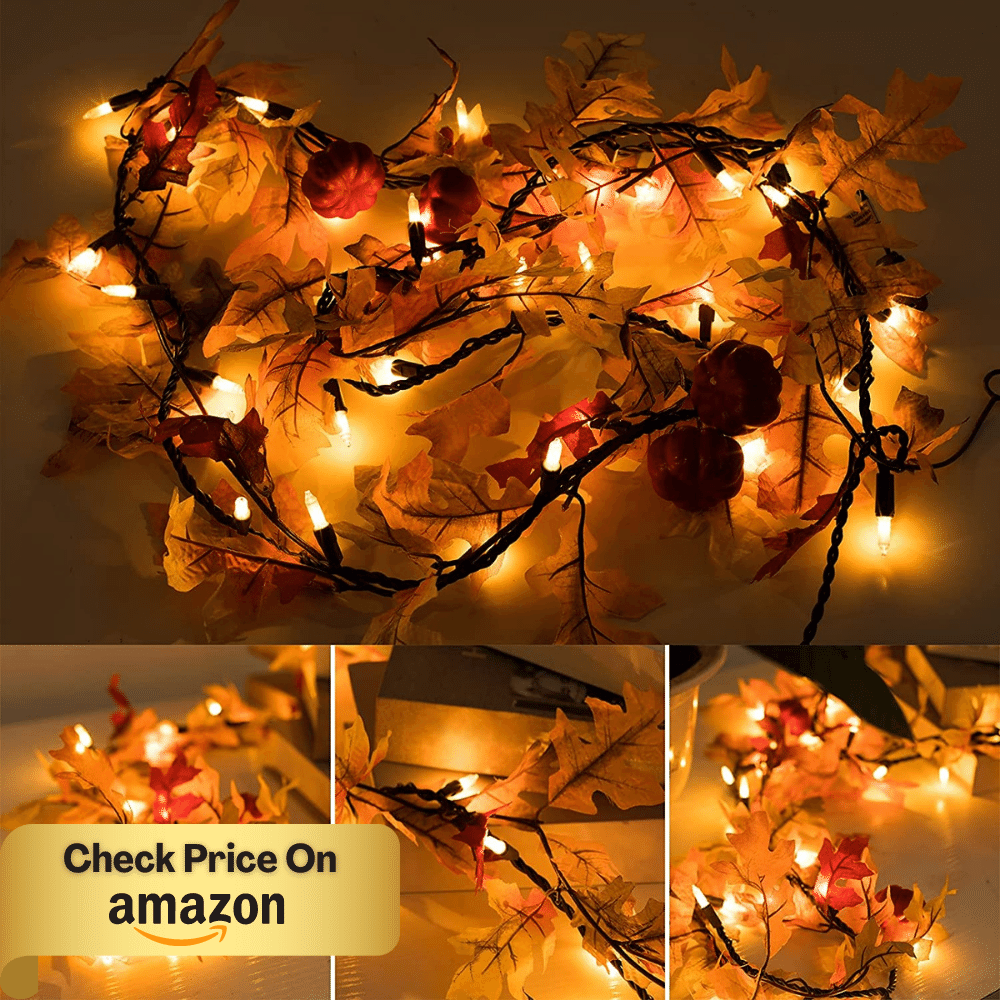 5-Star Review: "If you're like me, you wait impatiently for Autumn to arrive all summer long and once labor day ends, the Autumn themed tree goes up. The warm glow and maple leaf design will take me from September to Thanksgiving without looking too "spooky". Perfect find!" - Naginni
Get it from Amazon.
15. A Set Of Two Taper Candles Perfect For Adding A Little Extra Warmth And Cheer To The Kitchen Or Dining Table
This fall, add a touch of autumnal elegance to your home with these taper candles. These fragrant-free candles are based on an old-fashioned design that features painted acorns, falling multicolored leaves, and golden swirls on ivory tapers. They make the perfect centerpiece for your kitchen or dining room table and will help you get into the holiday spirit.
5-Star Review: "Beautiful candles. Well made. I have them as decoration only on the fireplace mantel." - Cindy M
Get it from Amazon.
This unique and creative dispenser is the perfect way to bring a farmhouse look to your fall décor. The sculpted design is made to resemble pumpkins stacked in a metal-like bucket and can be used to hold liquid soap or lotion. This clever piece is also easy to use and will add a touch of rustic charm to any room.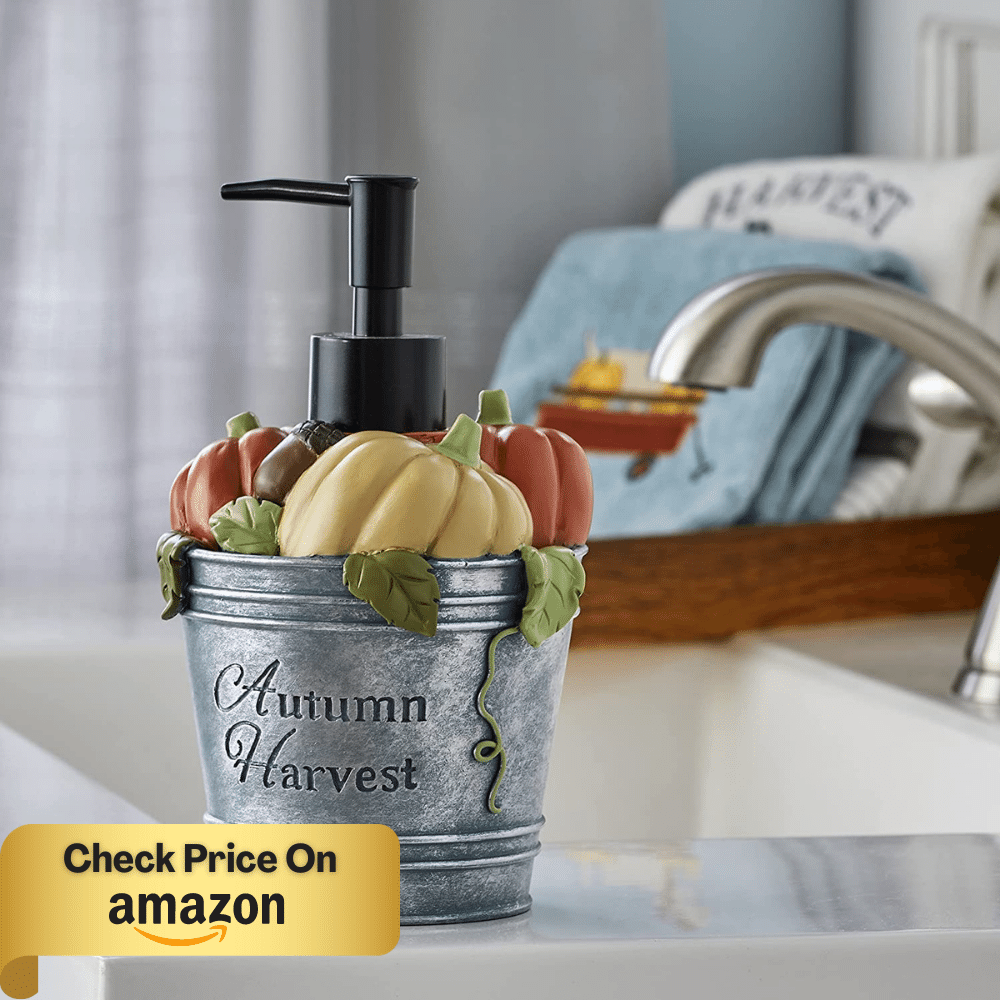 5-Star Review: "Using it in my kitchen & I absolutely LOVE it!" - Lex Patton
Get it from Amazon.
17. A Pumpkin Spice-Scented Reed Diffusers Perfect For Filling Home With The Warm Comfort Of Unmistakable Holiday Scents
These pumpkin Brulee scented sticks will take your holiday décor to the next level. Whether you're looking for a sweet and sour smell in your home, or just want to add some extra umph, these sticks are perfect. Not only do they smell amazing, but they also offer diffusing benefits, so you can fill any room with the warm and cozy essence of fall.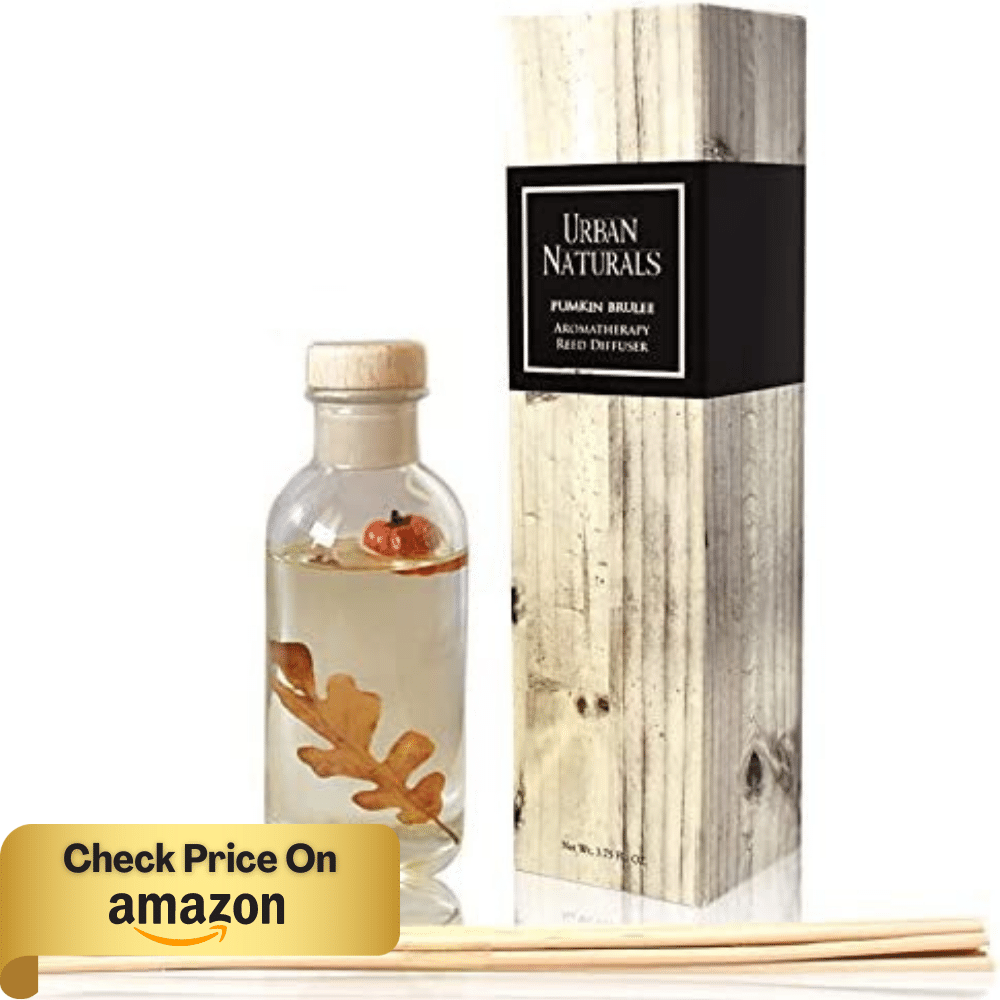 5-Star Review: "Great odor that lasts. Requires minimal flipping of the reeds for an average-sized bedroom. Don't forget to shake it before opening it... I keep forgetting that. Have already bought more!" - JC
Get it from Amazon.
18. A Set Of Two Pot Holders Perfect For Protecting Hands From Burns While You're Cooking Up All Those Fall Favorites
These unique and beautiful pieces of art make a great addition to any kitchen. Each pot holder is hand-painted featuring autumn-themed designs. These pot holders provide a stylish way to grip your pots and pans, while also adding some extra artistry to your kitchen.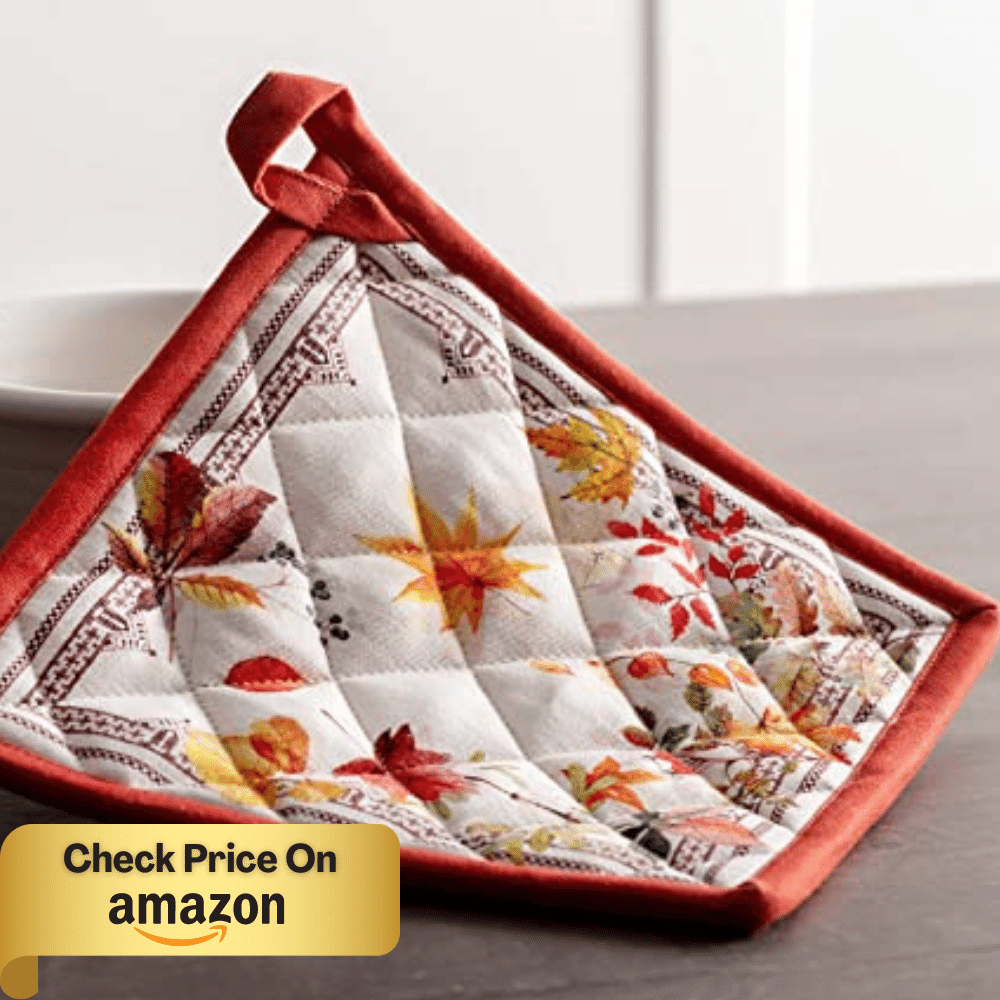 5-Star Review: "I cannot say how well these hold up to use or washing because I bought them as a gift. However, they are beautiful. I also bought a matching dish towel. Put them together in a gift bag with a coffee mug that has a hummingbird on the front. They made a beautiful gift bag!" - Mary Ann Young
Get it from Amazon.
19. Hanging Cauldron Wax Burner Perfect For Adding A Little Magic To Fall celebrations
Halloweek is coming and what could be better than creating a scary atmosphere in any room in your home, or giving someone a truly unique git?  This unique hanging cauldron wax burner and wax warmer is perfect for spooking up your home this season. Not only does it add a touch of elegance to any room, but it also emits a sweet, earthy fragrance that is sure to wake up anyone's sense of smell.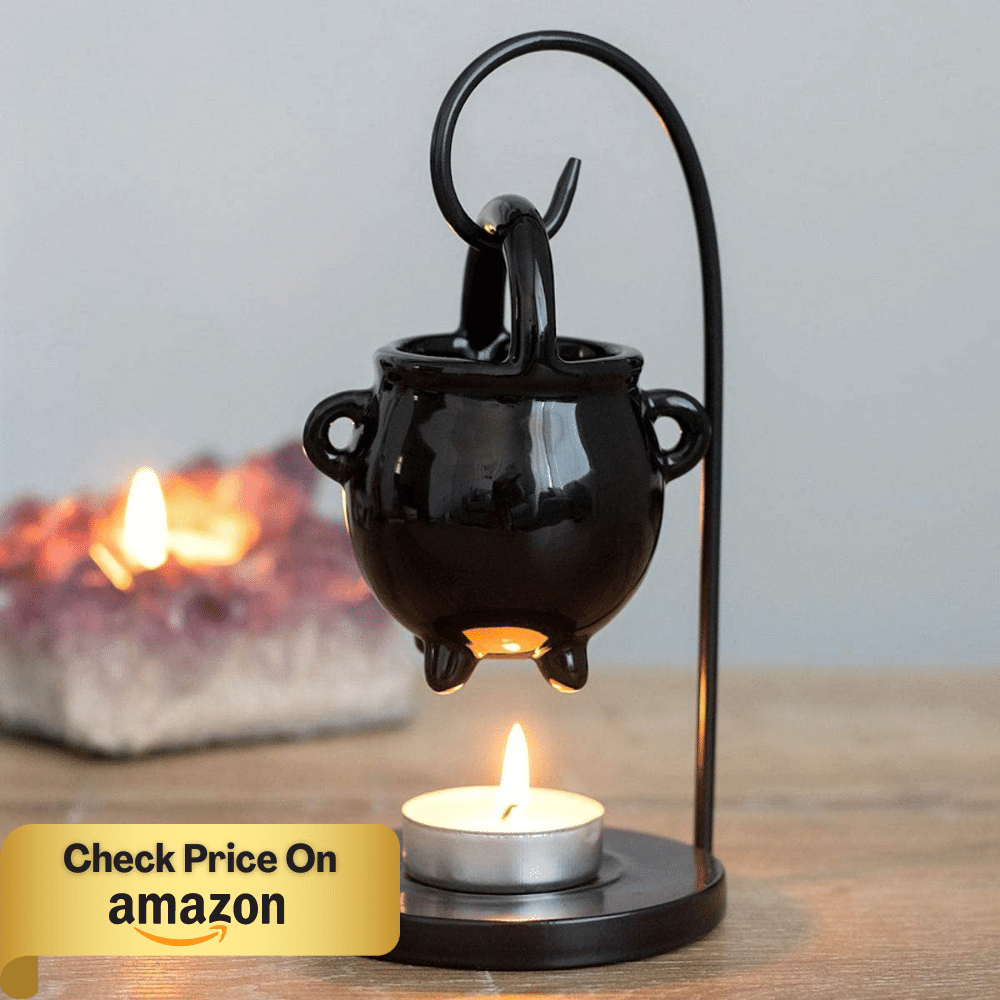 5-Star Review: "Absolutely perfect!! I love it so much! I'm also not someone to stress over cleaning it, so I'm using it for wax melts which it melts just fine and will deal with the aftermath of the wax later. Can't recommend it enough!!" - C,Fish
Get it from Amazon.
No matter what your budget is, there's no excuse not to get your home ready for fall!
With Amazon's huge selection of autumn-themed home décor, you're sure to find everything you need (and more!) without breaking the bank.
So what are you waiting for? Start shopping now!
Reviews in this blog post have been edited for clarity and/or length.
Comments