This post may contain affiliate links, please see our privacy policy for details.
Hey, fashionistas!
Ever daydreamed about stepping straight into Barbie's glamorous world? Well, grab your sparkly shoes, because we're diving deep into the Barbie universe!
Dive right into Barbiecore with me—a universe where we celebrate everything that makes Barbie our forever-style muse. Remember when she was the reigning queen of our toy boxes? Yep, with the newest Barbie movie out, she's giving us all major wardrobe envy, and I'm here for it!
Watching the Barbie movie felt like opening a time capsule filled with childhood memories, right? But besides the nostalgia, who else was seriously eyeing those outfits and thinking, "I NEED that in my closet!"? From that adorable pink gingham number to the super-chic nautical outfit, I was totally fangirling!
But here's the best part: we don't just have to admire from afar! With a sprinkle of imagination and a splash of confidence, we can totally bring Barbie's vibes into our real-life wardrobes. And guess what? I'm here to be your personal Barbiecore stylist! I've dug into each and every outfit from the movie, and put together a fun guide to help you nail eight of Barbie's coolest looks.
Whether you've been a Barbiecore lover for ages or you're just feeling curious, let's shake things up and make every street feel like a fashion runway. Remember, channeling your inner Barbie isn't just a trend, it's a mood! So come on, besties, let's have a blast recreating those iconic Barbie looks together. Ready to play dress-up?
What Does Barbie Wear?
If you've ever played with a Barbie doll, you know that Barbie's wardrobe is as diverse as it is glamorous. It's a delightful mix of classic and contemporary, casual and chic, everyday and extraordinary - just like us in real life!
Barbie's fashion portfolio is nothing short of a style rollercoaster ride. It all started in the '50s with her iconic black and white striped one-piece swimsuit, and it's been an unstoppable style journey since then. Her outfits have included everything from the trendy miniskirts of the swinging 60s, the boho-chic vibes of the 70s, to the vibrant neon colors of the 80s. Barbie has truly been our reliable time capsule of style trends!
However, Barbie's style isn't just about following the fashion tides; it's also about setting them. Her adventurous and exploratory spirit has seen her take on roles such as a presidential candidate, astronaut, and even a paleontologist. And guess what? She rocked each of those roles with her unique style sensibility, further expanding the horizons of what Barbie fashion can be.
As times changed, so did Barbie, moving with the ever-evolving fashion world while also keeping her classic elegance intact. She effortlessly manages to fuse trends with timelessness. From ball gowns to business suits, beachwear to bridal couture, Barbie has donned them all, proving her versatility and setting an example that fashion has no boundaries.
So, if you ask "What does Barbie wear?", the answer is simple: everything and anything stylish! She embraces the zeitgeist of each era and wraps it up in her special Barbie flair. And that's what we're going to tap into while recreating some of her iconic movie outfits.
Whether you're a hardcore fashionista or just someone who enjoys dressing up, there's something about Barbie's style that resonates with us all. So, are you ready to unleash your inner Barbie? Let's dive right into the magical world of Barbie fashion!
8 Barbie-Inspired Outfits
The Gingham Barbie Outfit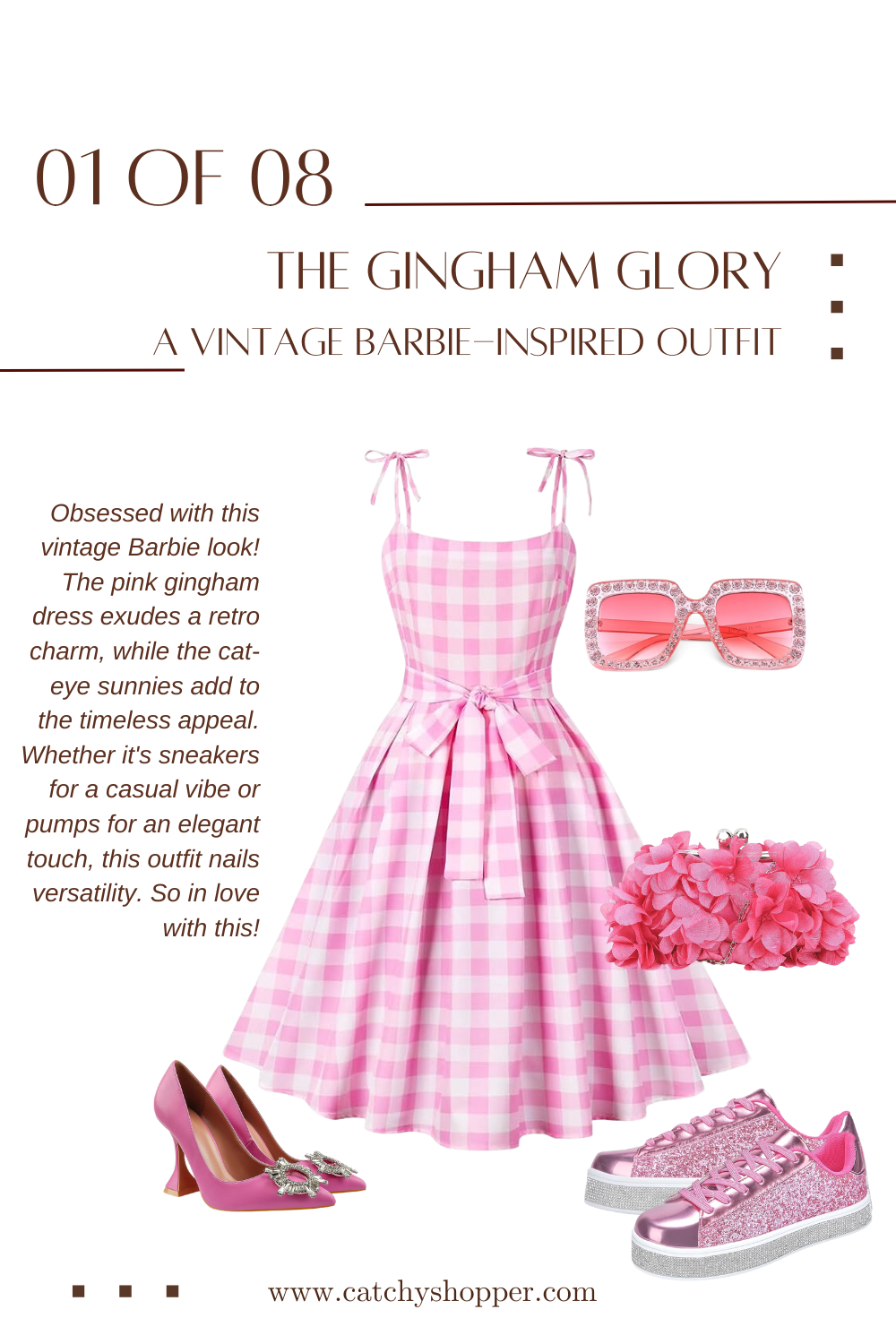 A pairing of pink and gingham is a fashion decision you simply can't falter with. This dress, with its adorable retro vibe, features a chic A-line skirt and an appealing semi-scoop neckline. Why not add a pair of sunglasses for that quintessential vintage touch? And let's not forget a charming handbag - maybe a small pink clutch or a crossbody bag for a dash of modern functionality. Whether you're aiming for a laid-back look with sneakers, or stepping it up with a pair of classy pumps (just like Barbie!), this outfit is a versatile winner for any occasion.
Cowgirl Barbie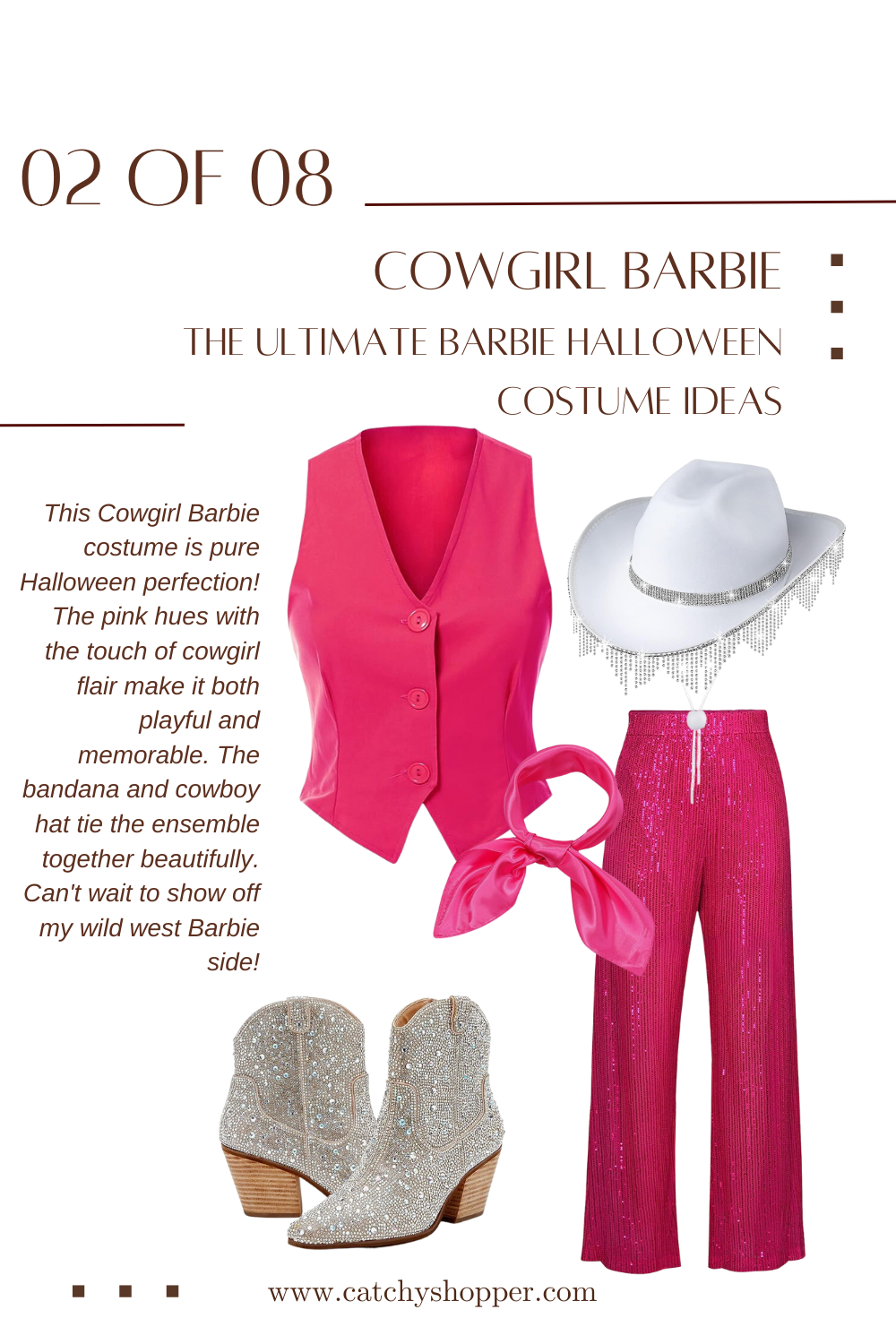 If you're on a quest for exciting Barbie Halloween costume ideas, your search ends right here! This cowgirl ensemble perfectly merges the charm of the wild west with the iconic Barbie sparkle. Whether you're turning heads at a Halloween party or playing dress-up with your best friend, this Barbie costume is your ticket to stand out from the crowd.
Start with a candy-pink woven suit vest top, cinched with a belt at the back for that tailored Barbie touch. Team it with matching pants to keep the pink theme flowing. Don't forget a hot pink paisley bandana around your neck for that quintessential cowgirl flair.
Now, what's a cowgirl without her hat, right? Finish off this look with a pristine white cowboy hat - it's the cherry on top of this Barbie-inspired outfit. So put on your cowgirl boots, give a twirl, and let the world see that Barbie magic!
Barbie-Inspired Jumpsuit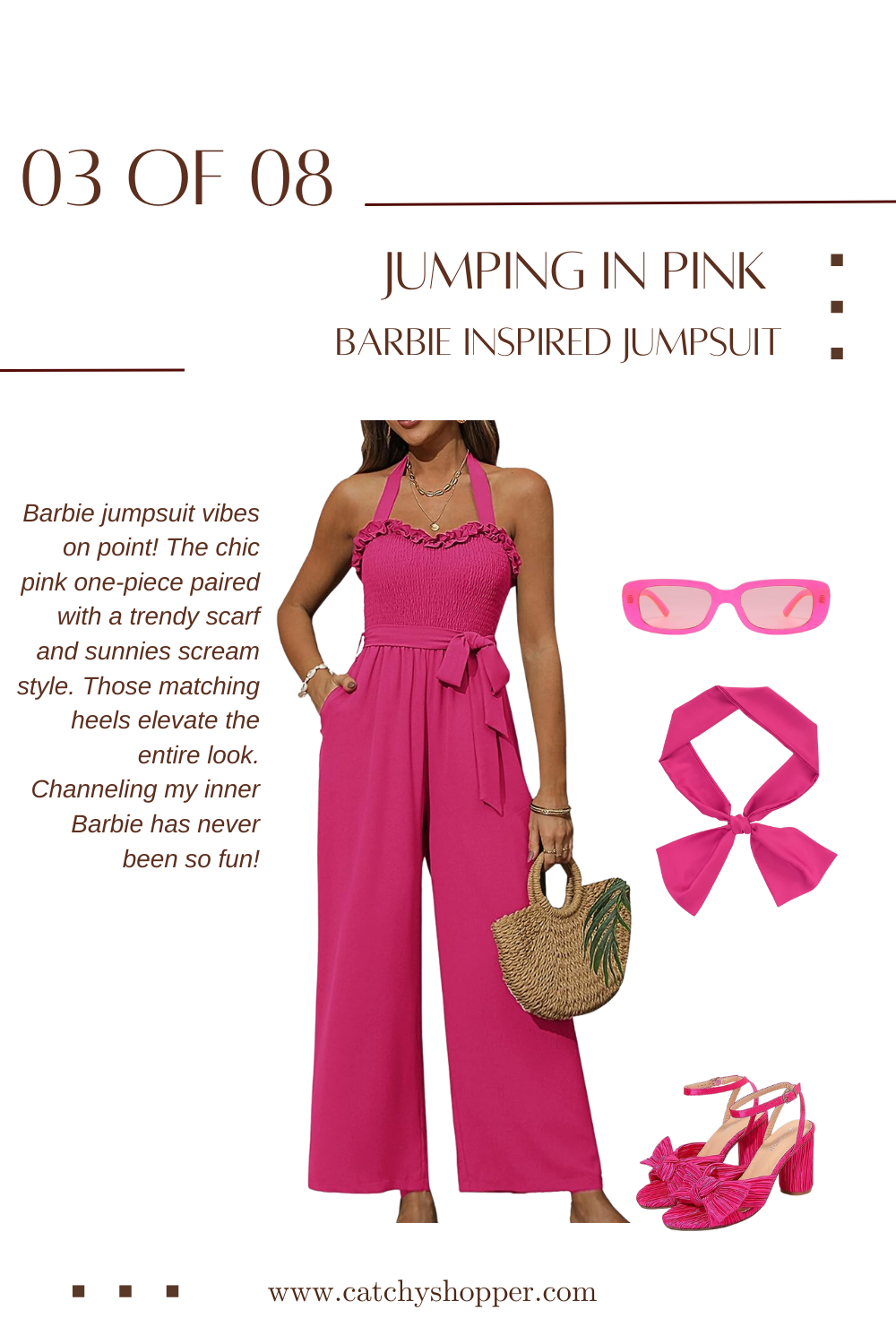 If there's one thing Barbie knows how to rock, it's a stunning pink jumpsuit! This iconic Barbie outfit is a must-have for every woman who's ever dreamt of channeling her inner Barbie. Begin with a chic shirt jumpsuit that makes for a dazzling Barbie costume. To elevate the outfit, loop a skinny scarf around your neck for an added touch of sophistication.
Now, what's a Barbie look without some accessories? Complete your outfit with a pair of stylish contouring sunglasses. Not only will they protect your eyes from the sun, they'll also inject that quintessential Barbie glamour into your look. Step out in this Barbie-inspired jumpsuit, and you're ready to conquer the world with a Barbie-esque flair. Don't forget to wear matching heels and take plenty of pictures!
Retro Barbie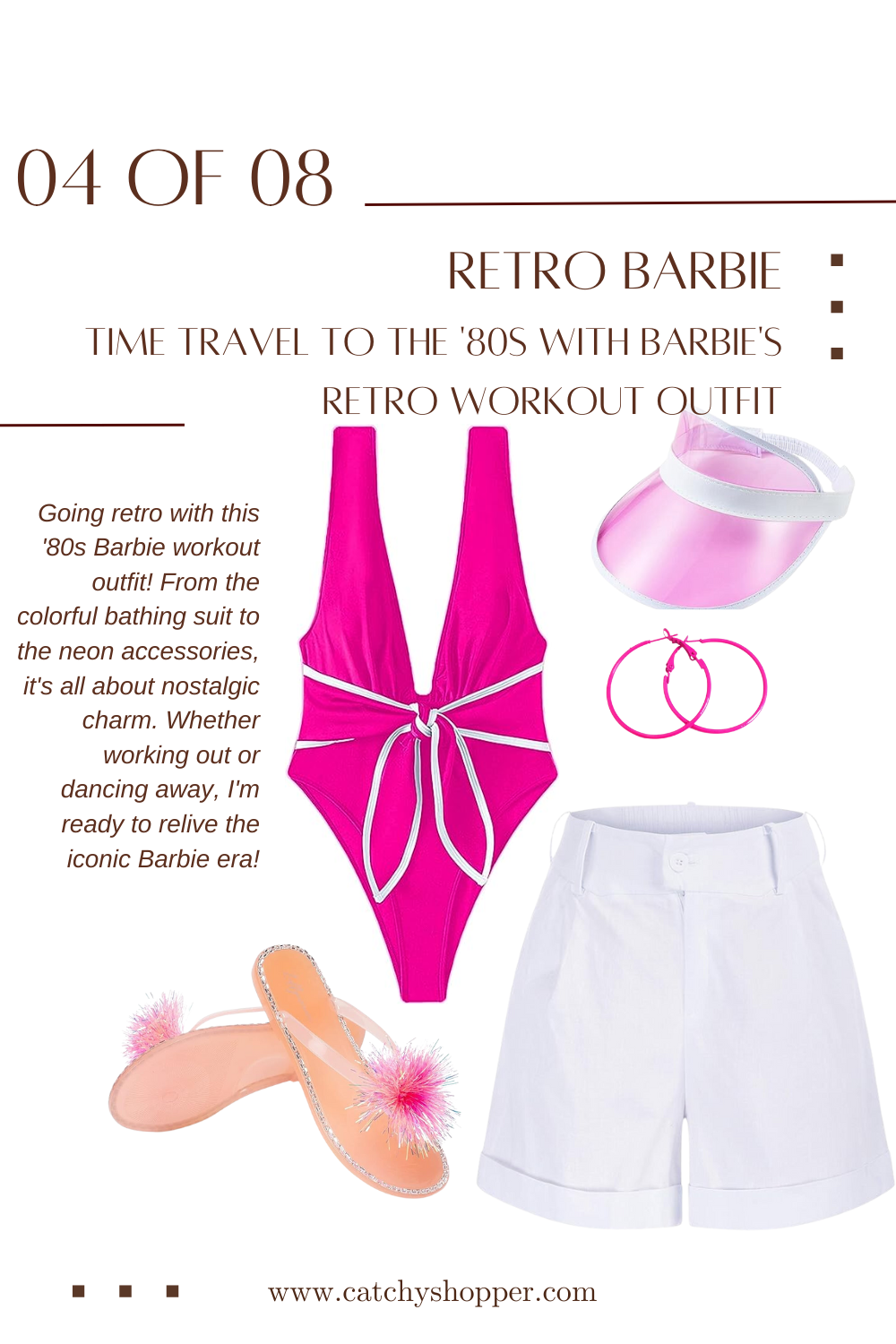 Why settle for a normal workout outfit when you can be an 80's workout Barbie? Here's your chance to bring those retro vibes to your exercise routine or even a themed Halloween party. A retro-inspired bathing suit combined with high-rise shorts can be a head-turner.
Add a clear-colored plastic sun visor and neon pink hoop earrings for the perfect vintage look. And let's not forget about the footwear – lace up a pair of neon-colored athletic shoes or slip into some playful flip-flops to keep things comfortably stylish. Get ready to sweat it out or party hard, Barbie style!"
Barbie's Dazzling Jumpsuit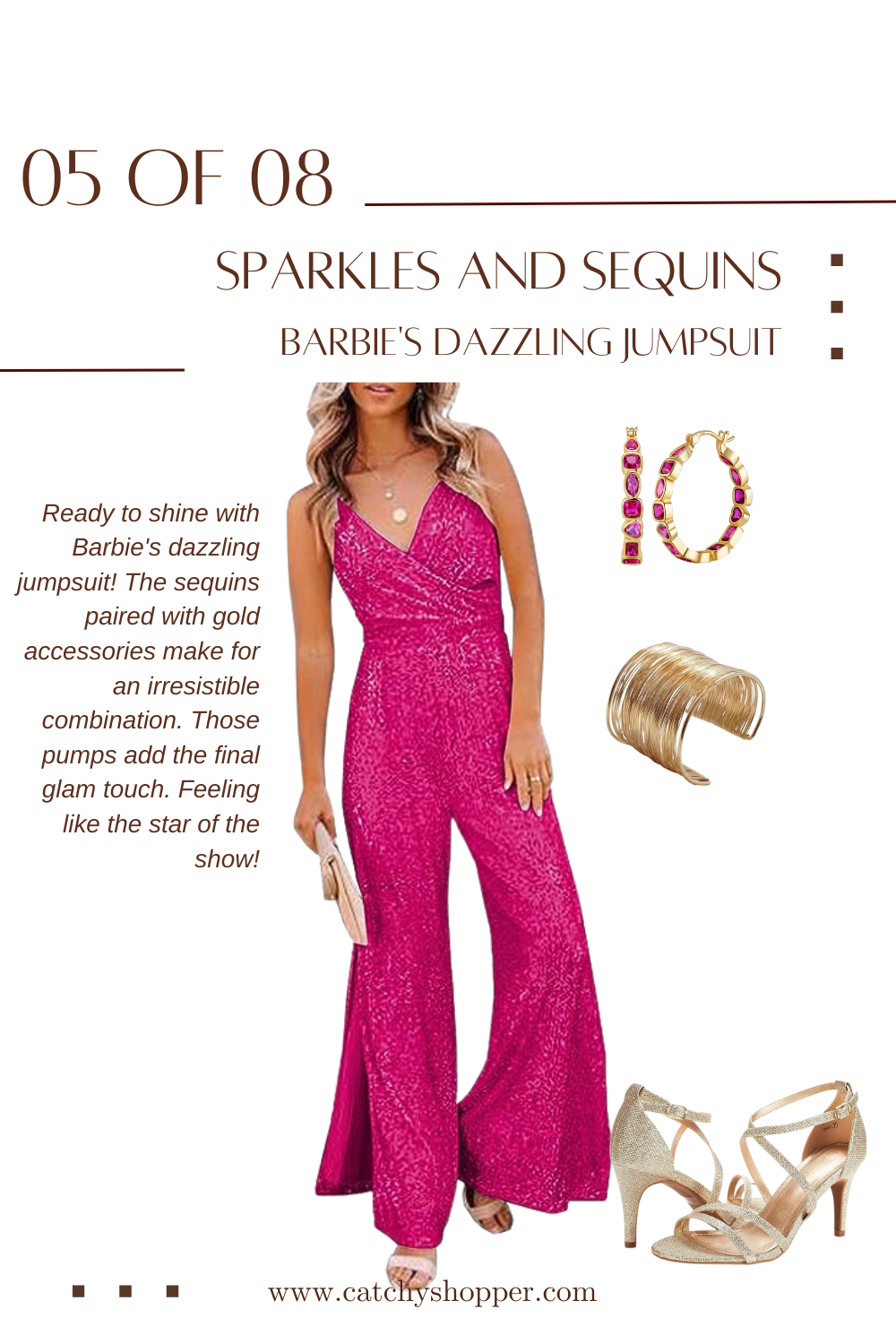 Who said Barbie can't dazzle? With this sequin jumpsuit, you can channel your inner Barbie and be the star of any party. Match it with thin midi hoops and a gold cuff bracelet to elevate the look. A pair of pumps complete the dazzling outfit.
Barbie's Beach Day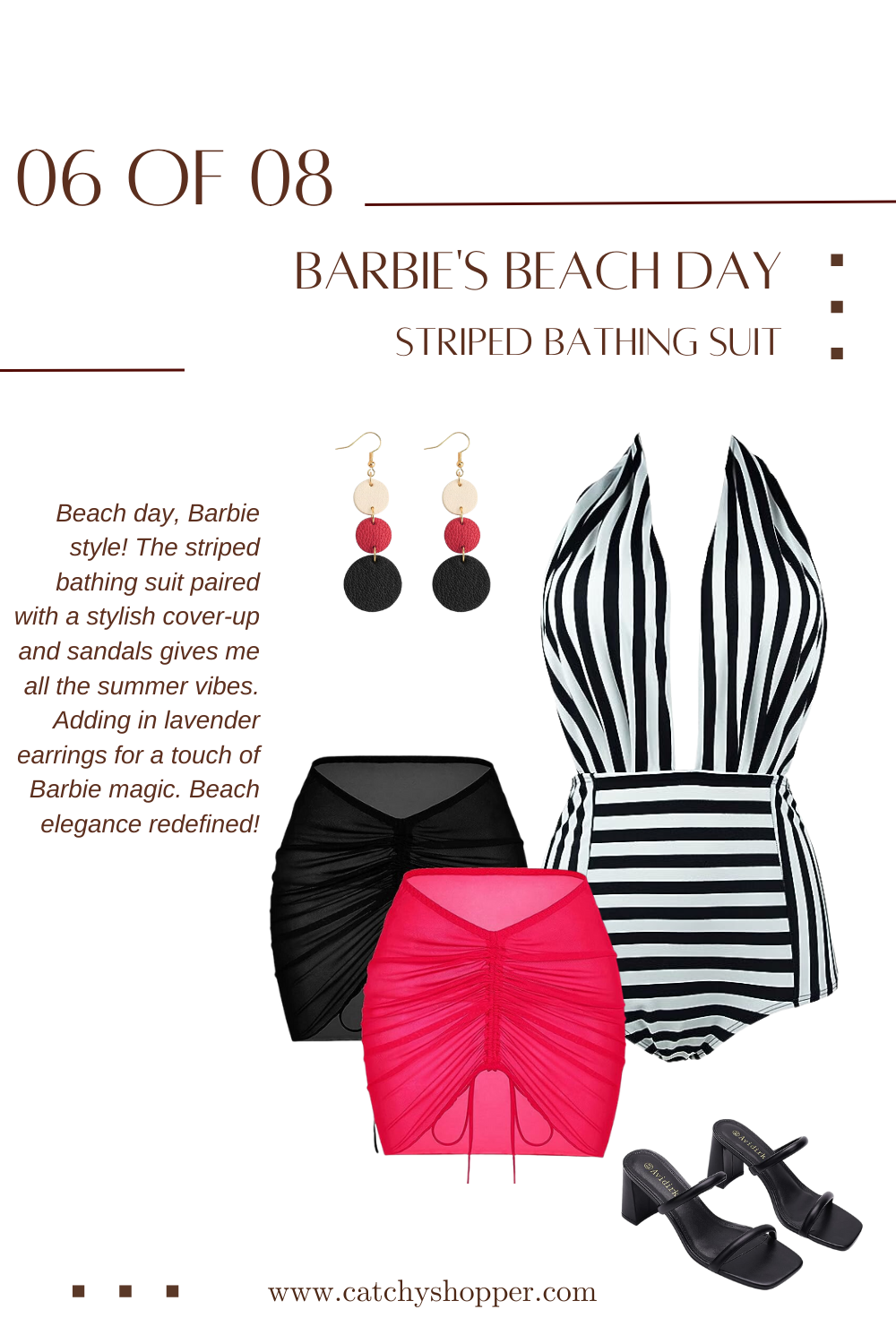 You don't have to be in Toy Story to be a fan of Barbie's iconic striped bathing suit. Embrace the beach vibes with a black & white chevron stripe one-piece bathing suit. To add to the Barbie costume, include a daydream cover-up and lavender earrings. Finish the look with a pair of black two-strap heeled sandals.
Barbie's Head-to-Toe Pink Outfit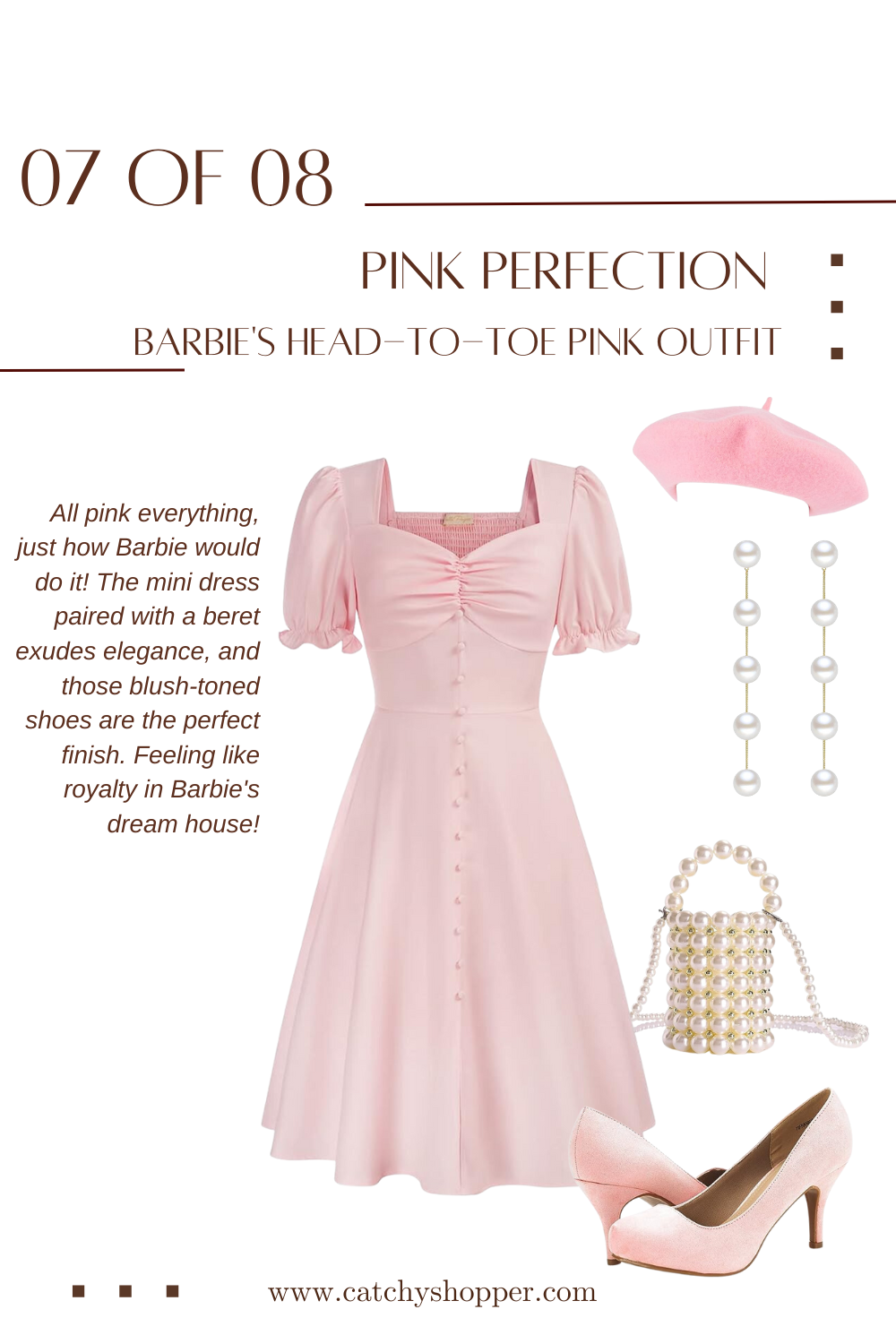 This is the ultimate Barbie-inspired outfit for those who adore pink. A corset mini dress or a puff sleeve sweetheart dress in light pink can make you feel like Barbie walking down her Dream House stairs. Accessorize with a light pink beret and dripping pearl delicate drop earrings for that perfect Barbie picture.
Now, let's talk shoes - a pair of blush-toned pumps or strappy heels can elevate your look to new heights. As for the final touch? Swing a petite, pearl-embellished handbag on your arm, the perfect companion for your Barbie ensemble. Get ready for your picture-perfect Barbie moment!"
Barbie Nautical Vibe Outfit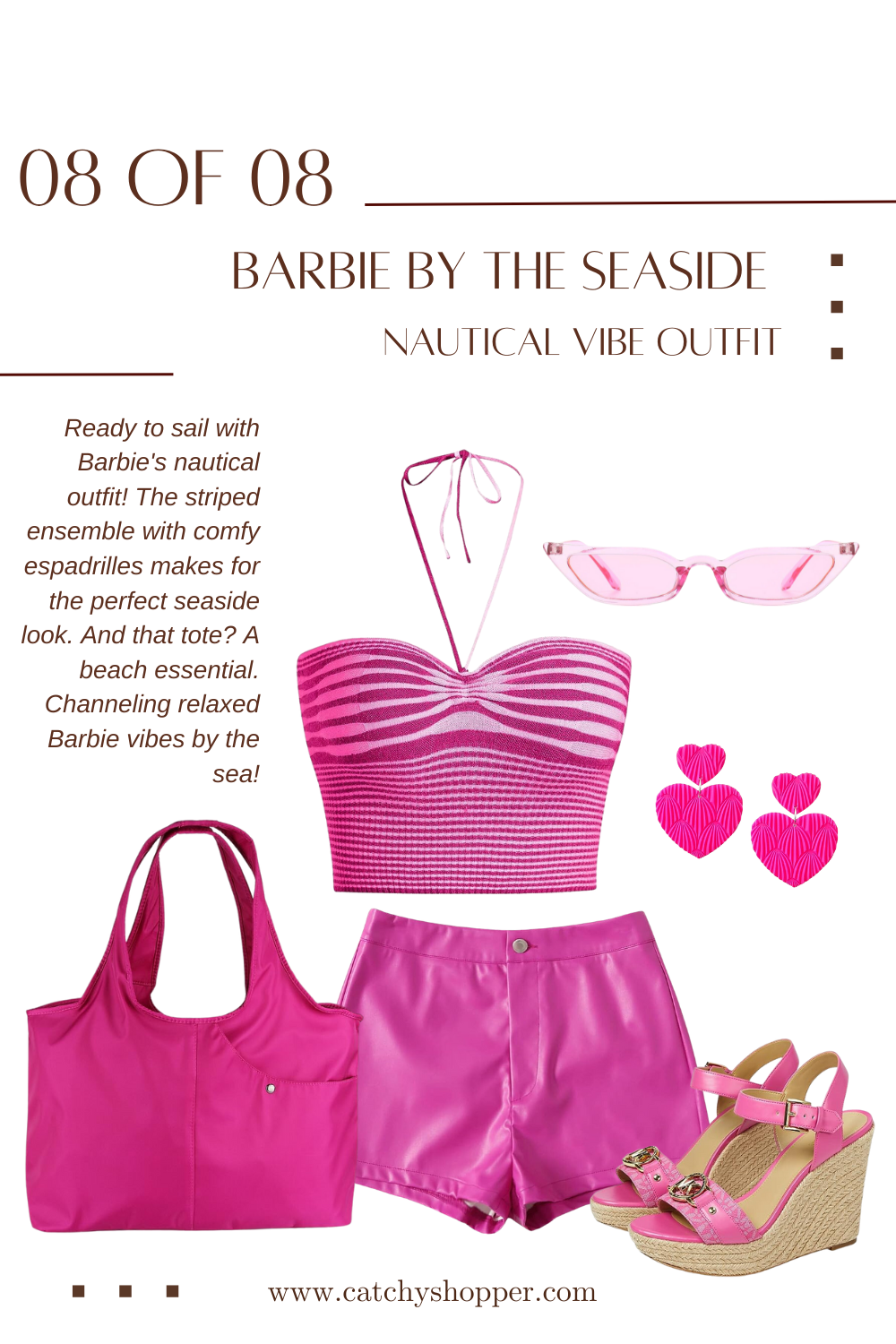 Barbie isn't just about glitz and glamor, she knows how to relax too. Get the nautical Barbie vibe with a striped halter tank and matching shorts. You can also try high-waisted raw cut shorts for a fun twist.
Don't forget the Safton sunglasses to complete the seaside Barbie look. And for footwear? Choose a pair of comfy yet chic white deck shoes or espadrilles. You can't forget your bag either! A cute, canvas tote is perfect for carrying all your beach essentials. Get ready to sail away with this seaside Barbie look!
Final Thoughts
And that's our grand finale, my delightful fashion devotees! We've just completed an exhilarating exploration of the sparkly universe of Barbiecore fashion. It's my fervent hope that this style expedition has been as intriguing to you as it has been for me, tracing the footsteps of our cherished Barbara Millicent Roberts, fondly recognized as Barbie, who has consistently held the fashion world in her glamourous grip.
Have you caught wind of the latest Barbie-related scoop? Hollywood heavyweights Ryan Gosling and Margot Robbie are headlining the eagerly-awaited 2023 film as our most-admired power duo - Barbie and Ken! This casting news is certain to inject an extra layer of stylish sophistication into the Barbie fashion cosmos, wouldn't you agree?
The charm of Barbie's fashion sense is rooted in its adaptability. It encourages you to welcome it, to experiment with it, and ultimately, to tailor it to your individual taste. Be you a connoisseur of vintage or a contemporary fashion fan, there's a sprinkle of Barbie in each of us, ready to radiate. So why not dive in? Let your style burst forth with vibrancy, designs, and above all, with your distinctive persona.
Nonetheless, bear in mind that this fashion adventure doesn't terminate here. I'm incredibly keen to observe how you've translated and reimagined Barbie's memorable movie ensembles. Please make sure to post your personal Barbie-inspired designs and experiences in the comments. Let's sustain this fashion dialogue, let's keep innovating, and most crucially, let's keep enjoying the process. In the fashion universe, particularly in the realm of Barbiecore, the only boundary is the sky! Here's to us, fulfilling our Barbie aspirations and exhibiting our styles with assurance!
Other Posts You May Like
💡
Beach and Resort Wear
Prepare for your next holiday with our Resort Wear and Beach Wear suggestions. Also, make a splash with our Pool Outfits that are both stylish and comfortable.
💡
Special Occasion Outfit
Dress up for the special days with our 4th of July Outfit, or check out our Jury Duty Outfits for ideas on what to wear for civic duties. Start your style journey now!
💡
Dive Into Global Fashion Outfits
Begin your style journey with our succinct guides on global attire. From
Hawaii
's tropical allure, Italy's chic sophistication, Dubai's luxury,
Greece
's timeless beauty, and
Vegas
's vibrant nightlife, to
Mexico
's sunny beaches, we have fashion insights for every destination. Learn to blend with locals and immerse in each place's unique fashion culture.
Comments