This post may contain affiliate links, please see our privacy policy for details.
Imagine this: you're lounging on a sun-kissed beach with the sound of waves crashing gently in the background, the warm sand between your toes, and a refreshing sea breeze ruffling your hair. The sky is a brilliant blue canvas, dotted with a few fluffy clouds, and the sun casts a golden glow on everything it touches. Life doesn't get much better than this, right? Well, it could—if you've got the right beachwear essentials to take your seaside experience to the next level!
When it comes to enjoying the perfect beach day, your choice of attire and accessories plays a significant role in your overall comfort and style. In this blog, we'll help you make the most of your sun-soaked getaways with 10 must-have beachwear essentials that will not only keep you looking chic but also ensure you're prepared for anything that comes your way.
Get ready to dive into a world of stylish swimwear, sun-protective clothing, chic beach dresses, sand-ready footwear, and much more! By the end of this blog, you'll be well-equipped with all the knowledge you need to rock your next vacation like a true beach fashionista. So grab your sunblock and let's get started!
Stylish and Comfortable Swimwear
No beach vacation is complete without a fabulous swimsuit that makes you feel confident and comfortable. The right swimwear not only flatters your body but also allows you to move freely, whether you're swimming, sunbathing, or building sandcastles. Let's dive into some stylish and comfortable swimwear options available on Amazon and share a few tips for accessorizing and selecting the perfect suit for your body type.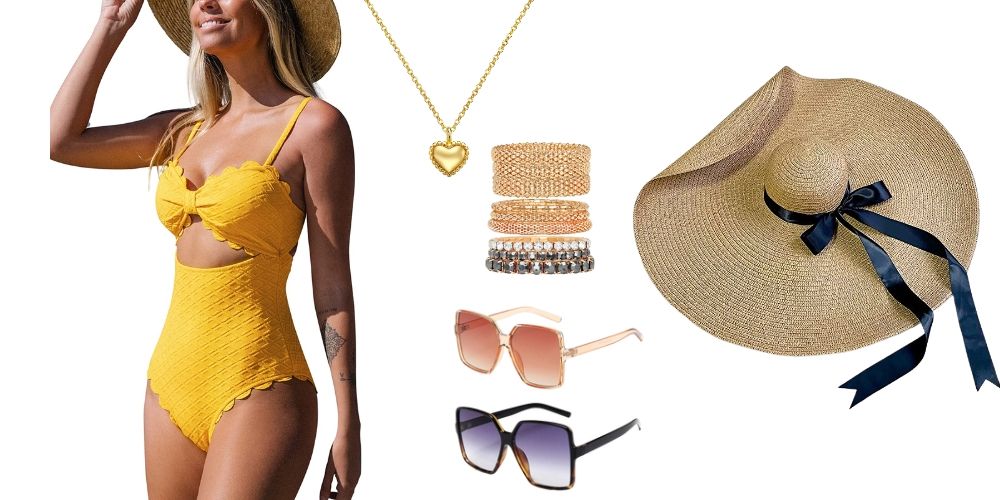 Get ready to make a splash with this stunning CUPSHE one-piece swimsuit! Featuring a stylish plunging neckline, playful ruffled details, and a tie waist design that perfectly accentuates your curves, you'll feel both fashionable and comfortable. With various colors and prints to choose from, this swimsuit has you covered. The padded cups provide just the right amount of support, while the adjustable straps ensure you'll find your perfect fit.
To complete your chic, beach-wear look, pair this elegant one-piece with a wide-brimmed straw hat and oversized sunglasses. For an extra touch of glam, accessorize with a dainty gold necklace and a stack of thin bangles. Happy beach days await!
For a more daring option, consider the ZAFUL triangle bikini set. This trendy bikini features a classic triangle top and adjustable side-tie bottoms in a vibrant tie-dye print. The cinched detailing on the top and bottoms adds a unique touch while providing a customizable fit. Add a splash of color to your beach clothes ensemble with a bright, lightweight sarong or a fringed beach blanket. Complete the look with a pair of strappy sandals and a colorful beaded anklet.
Sun-Protective Clothing
While soaking up the sun may feel fantastic, it's essential to remember the importance of protecting your skin from harmful UV rays. Sun-protective clothing, such as rash guards, cover-ups, and beach pants, not only offers added protection but also allows you to make a stylish statement on the beach. Let's explore three examples of sun-protective clothing and discuss fabric choices, UPF ratings, and tips for accessorizing.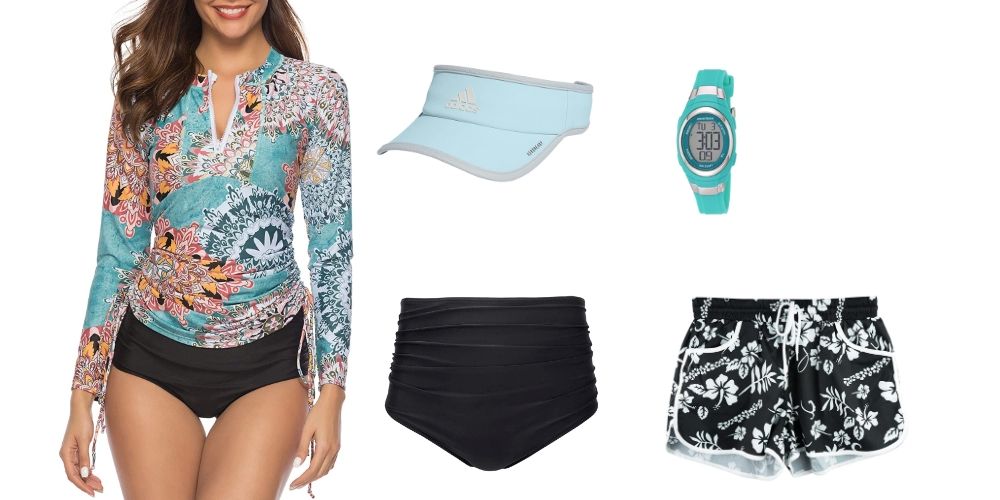 This half-zip rash guard is designed to provide optimal sun protection while offering a sleek and sporty look. Made from quick-drying, breathable fabric with a UPF 50+ rating, this rash guard ensures you stay comfortable and protected both in and out of the water. Pair this rash guard with chick swim bottoms or board shorts for a fun and functional beach outfit. Add a sporty visor and waterproof watch to complete the look.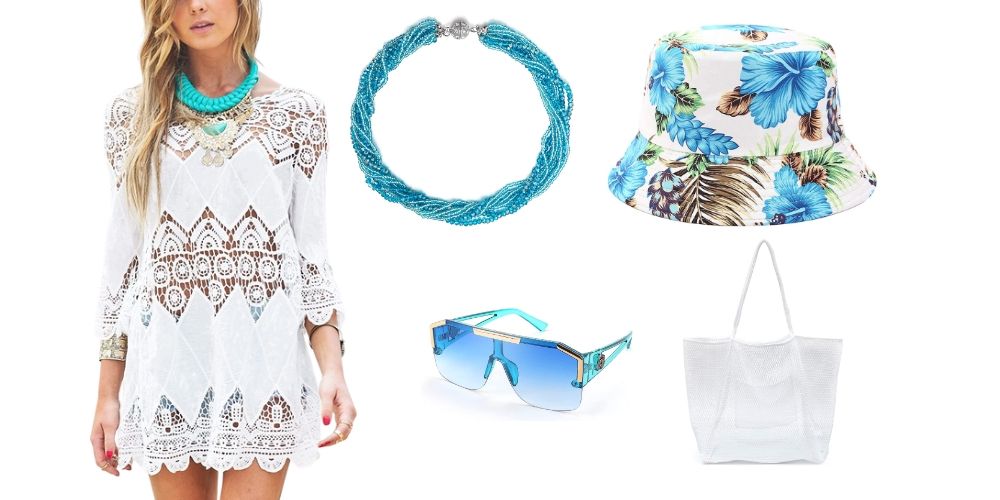 This beach swimsuit cover-up is a versatile and stylish option for added sun protection. This lightweight, breezy cover-up features intricate lace detailing and a relaxed fit, perfect for throwing on over your favorite swimsuit when you need a break from the sun.
Upgrade your beach look by accessorizing with a trendy bucket hat for shade, a charming layered necklace for a touch of elegance, and a pair of stylish sunglasses to shield your eyes from the sun. Tie it all together with a fashionable, roomy beach bag to conveniently carry all your beach must-haves in style.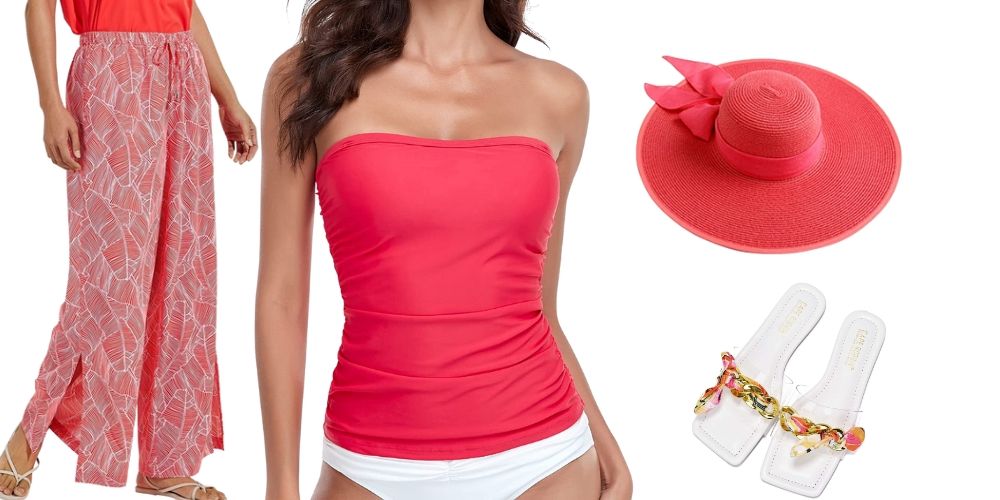 Stay comfortable and sun-protected in the Coolibar pants. These lightweight, breathable pants are made from a moisture-wicking fabric with a UPF 50+ rating, offering excellent protection from the sun. The relaxed fit and drawstring waist make them the perfect addition to your beach wardrobe. Pair these beach pants with a cute tankini top or a colorful bikini for a chic and sun-safe look. Add a pair of embellished sandals and a statement beach hat to complete your outfit.
Chic Beach Dresses and Rompers
Beach dresses and rompers are the perfect blend of style, comfort, and convenience for your seaside adventures. Effortlessly taking you from the beach to the boardwalk, these versatile pieces are a must-have in your vacation wardrobe. Let's explore three dress and romper styles for beach outings, along with some style inspiration from celebrities and fashion influencers.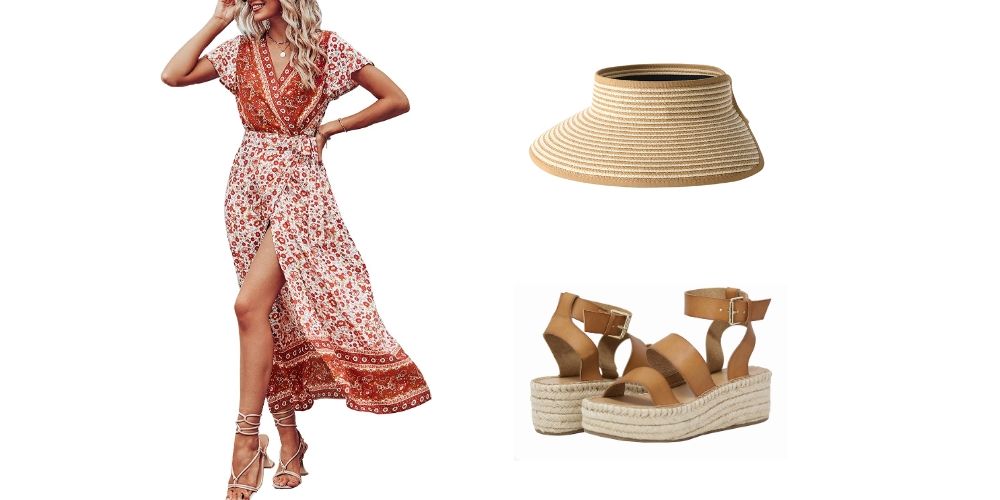 Maxi dresses are a staple for beach outings, offering a comfortable and breezy option with a touch of elegance. The flowy silhouette of a maxi dress is perfect for keeping cool in the sun while providing ample coverage. Opt for lightweight fabrics, such as cotton or chiffon, and choose bold prints or vibrant colors to make a statement.  Pair this stunning tropical-print maxi dress with a fashionable sun visor hat and slide-on espadrilles for a chic and effortless lazy day beach look.
Off-the-shoulder dresses add a touch of romance and femininity to your beach ensemble. These dresses feature a wide neckline that falls just below the shoulders, showcasing your collarbone and décolletage. Opt for an off-the-shoulder beach dress in a lightweight fabric with ruffles, lace, or embroidery for added texture and interest. Complement this off-the-shoulder dress with a straw hat, round sunglasses and some breezy beach clothes for a stylish and comfortable beach outfit.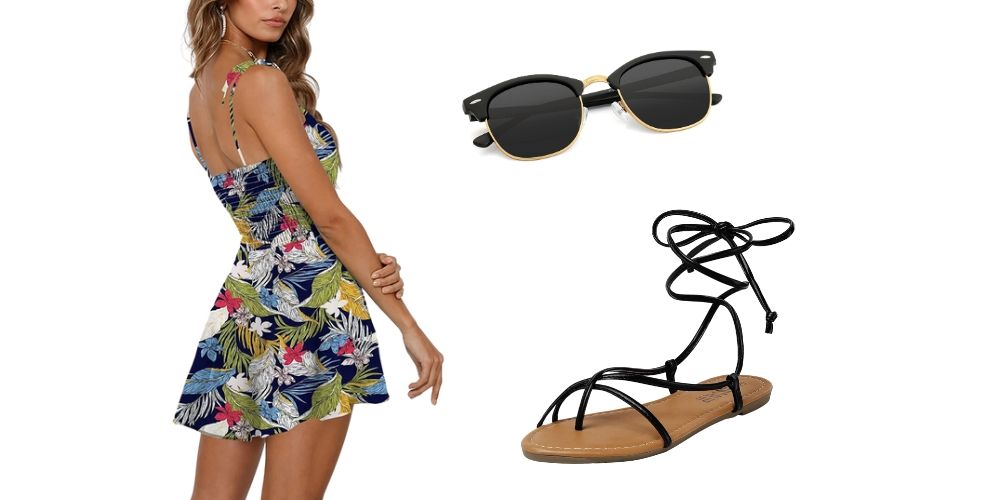 Rompers offer the convenience of a one-piece outfit with a playful and youthful vibe. These all-in-one garments combine a top and shorts, making them a practical choice for beach activities. Look for rompers in lightweight fabrics, like cotton or linen, with fun prints, bright colors, or chic details like a halter neckline or lace trim.  Paired this romper jumpsuite with strappy sandals and statement sunglasses for a fun, beach-ready look.
Sand-Ready Footwear
The right footwear can make all the difference when it comes to enjoying a day at the beach. Sand-ready shoes should be comfortable, easy to slip on and off, and able to withstand the elements. Let's explore various styles, materials, and sizes, along with must-have features, top brands, and tips on how to accessorize your beach footwear. Plus, don't forget to look for options that offer complimentary shipping for an even more convenient shopping experience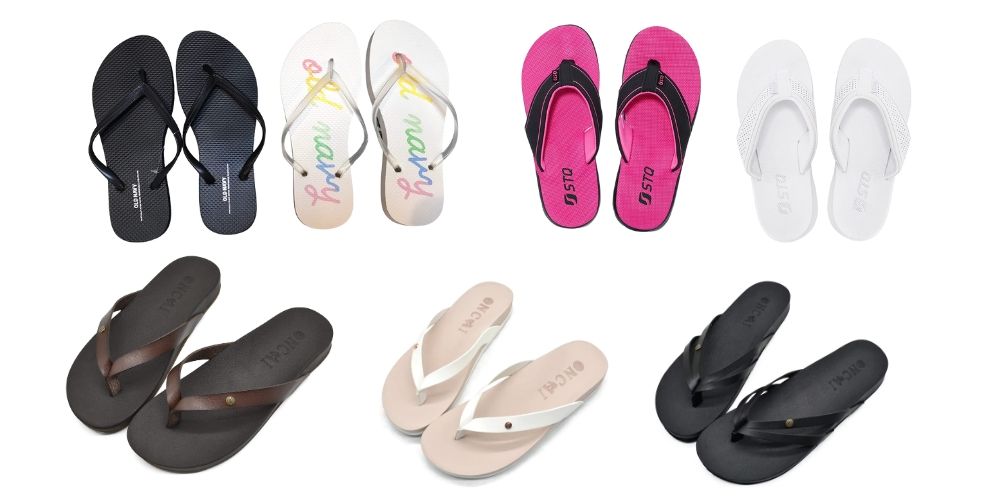 Flip-flops are the quintessential beach shoe, offering simplicity and convenience. Made from a variety of materials such as rubber, foam, or leather, flip-flops are available in various sizes and colors. Look for a pair with a cushioned footbed and arch support for added comfort.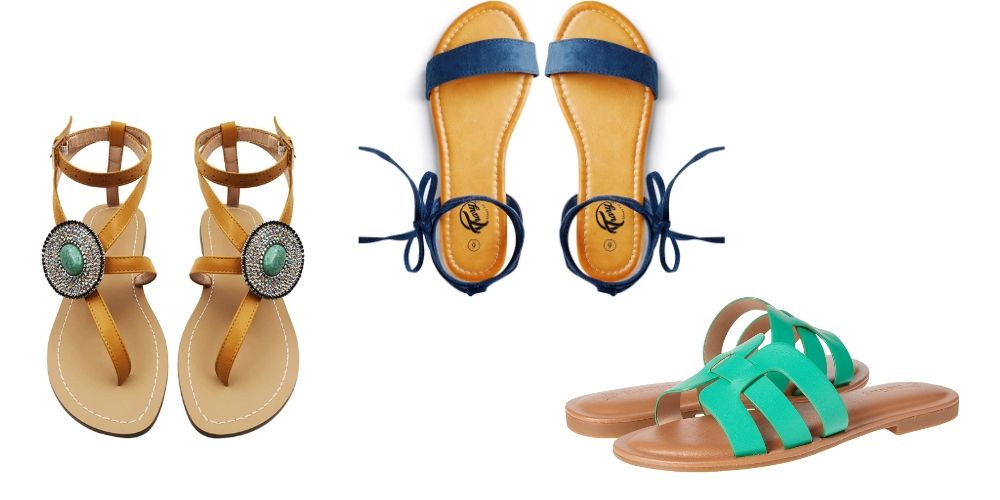 Sandals are a fabulous way to add a touch of style to your beach ensemble without sacrificing comfort and breathability. Look for materials like leather, fabric, or synthetic options that are not only water-resistant but quick-drying as well. With so many adorable styles to choose from, like gladiator, slide, or strappy sandals, you'll be sure to find the perfect pair to complement your beach outfit. Happy sandal shopping!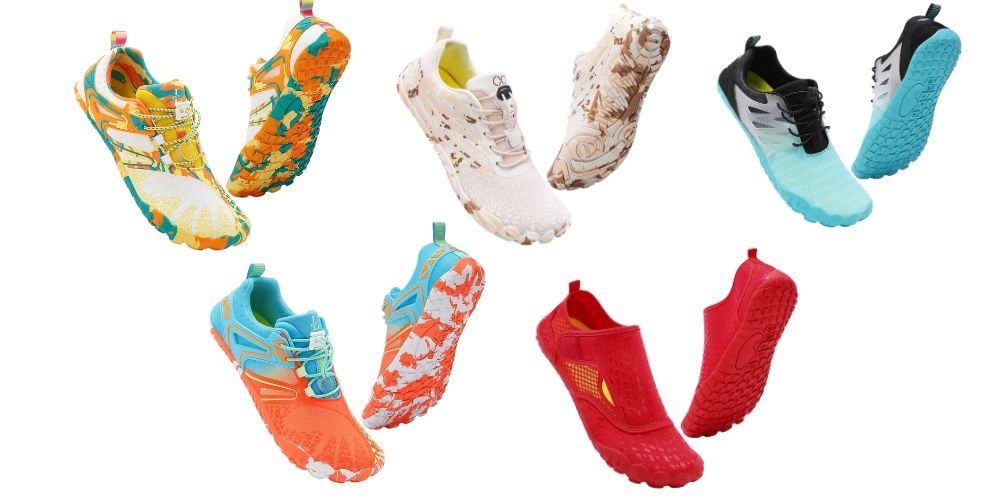 If you're a fan of water sports or love exploring rocky shorelines, water shoes are a fantastic option for you! These nifty shoes provide protection and grip on slippery surfaces, making them ideal for activities like snorkeling, kayaking, or beachcombing. Keep an eye out for water shoes crafted from quick-drying, breathable materials like mesh or neoprene to ensure your feet stay comfy and happy during your aquatic adventures. Dive in and have a blast!
Beach Bags and Totes
A day at the beach is incomplete without a functional and fashionable beach bag to carry all your essentials. From sunscreen and sunglasses to your favorite novel and snacks, a well-chosen beach bag makes it easy to keep everything organized and accessible. Let's explore the necessity of a functional and fashionable beach bag, along with various styles, materials, and sizes to choose from. Plus, we'll share some tips on how to ensure the best possible shopping experience when selecting the perfect beach bag for your needs.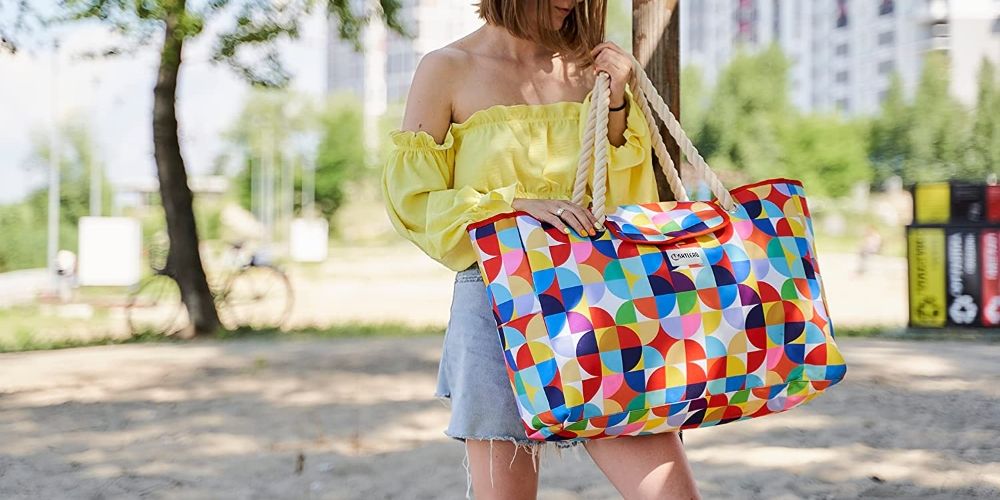 A classic tote bag offers a timeless and versatile option for the beach. These bags typically have a large, open compartment and are available in a variety of materials, including canvas, straw, or water-resistant fabrics. Look for totes with additional pockets or compartments for added organization.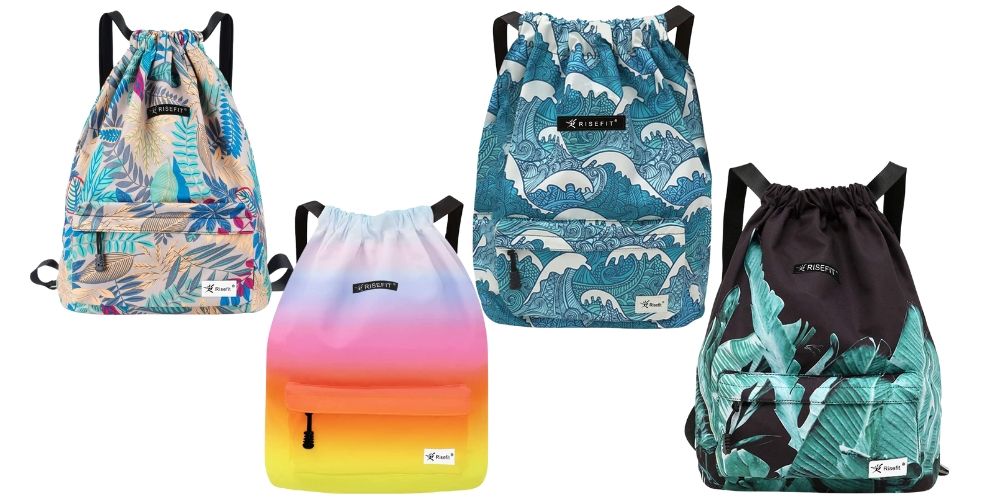 A beach backpack is a practical and stylish choice for those who prefer hands-free convenience. Opt for backpacks made from water-resistant or quick-drying materials, such as nylon or mesh. Many beach backpacks also include multiple compartments and pockets for easy organization.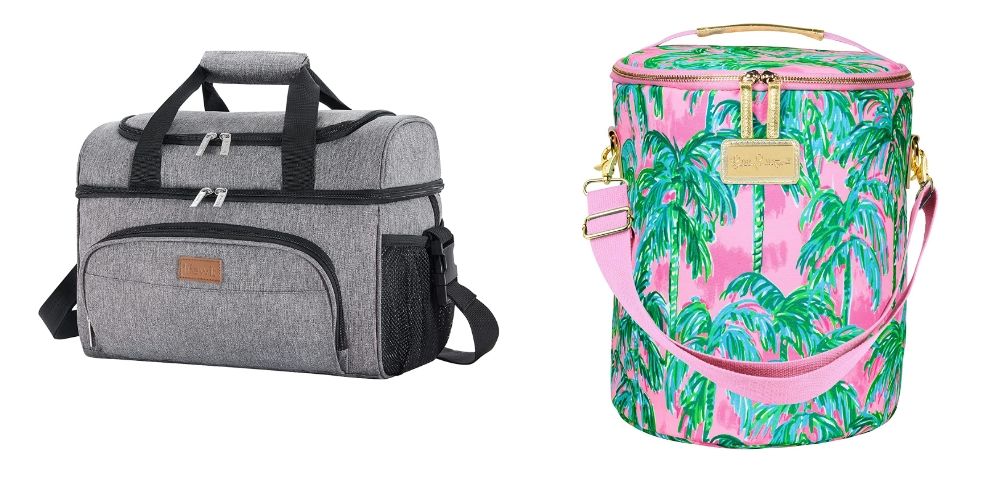 A cooler bag is a fantastic option for beachgoers who want to keep their food and beverages chilled throughout the day. These bags are insulated and made from waterproof and leak-proof materials, making them perfect for the beach environment. Choose from traditional cooler bag designs or fashionable options that resemble a tote or backpack.
Versatile Beach Hats
A stylish beach hat not only elevates your beach look but also provides essential sun protection for your face and scalp. There are numerous versatile hat styles to choose from, including wide-brimmed hats, fedoras, and bucket hats. Let's explore these styles and provide some examples available on Amazon.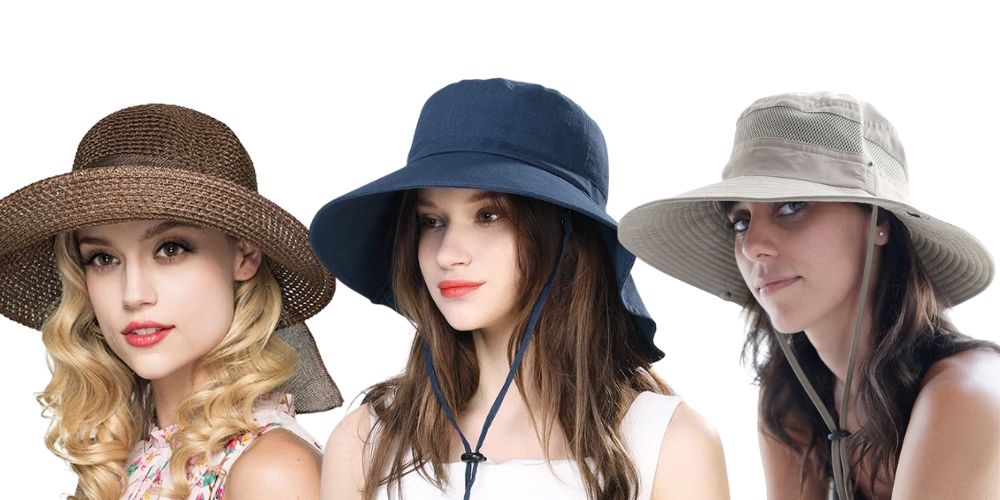 Wide-brimmed hats are a classic choice for the beach, offering ample shade and a touch of elegance. These hats can be found in various materials, such as straw, cotton, or synthetic fabrics, and often feature decorative elements like ribbons or bows.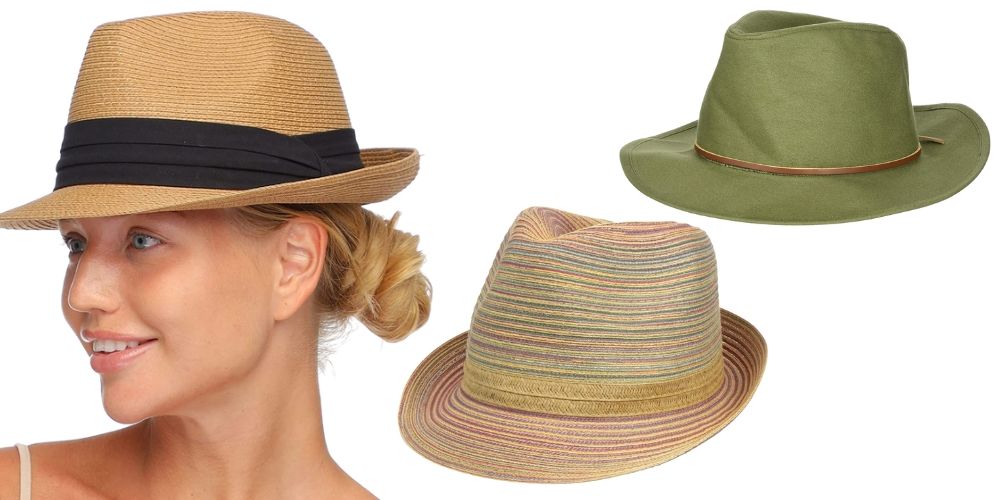 Fedoras add a touch of sophistication to your beach ensemble, with their signature indented crown and medium-sized brim. These hats can be made from straw, cotton, or synthetic materials and often feature a ribbon or band around the base of the crown.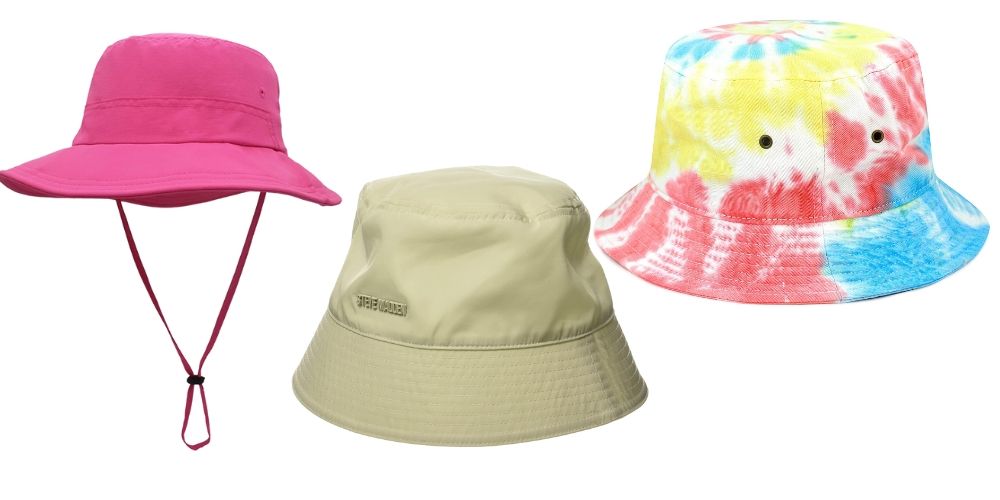 Bucket hats are a trendy and casual option for the beach, with their wide, downward-sloping brim and relaxed fit. These hats are available in various materials, including cotton, nylon, or polyester, and often come in fun prints or colors.
When selecting the perfect beach hat, consider your personal style, the level of sun protection you require, and the materials that best suit your needs. With the right hat, you can shield yourself from the sun while looking effortlessly chic on the beach.
Beach Towels and Blankets
An essential item for any beach outing, beach towels and blankets provide a comfortable surface to relax on while soaking up the sun or enjoying a seaside picnic. From top materials to eye-catching patterns and various sizes, there are plenty of options to choose from.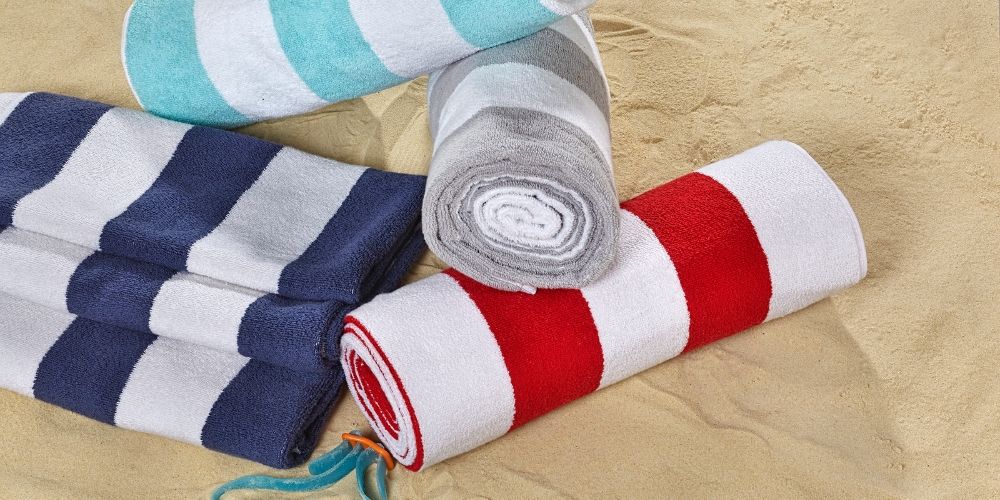 Cotton is a classic choice for beach towels, offering excellent absorbency and a soft, comfortable feel. It is a natural fiber that is breathable, durable, and easy to care for. The classic cabana stripe design adds a touch of style to your beach ensemble.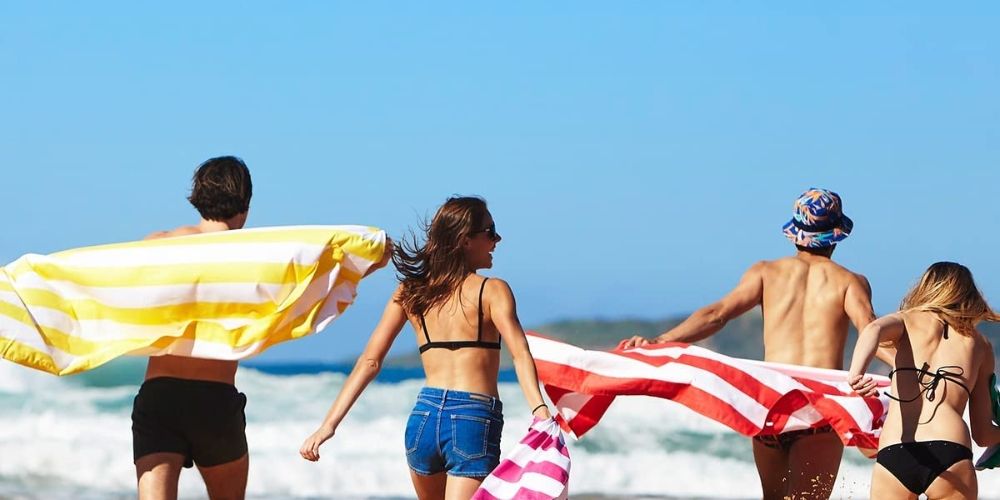 Microfiber towels are lightweight, quick-drying, and compact, making them a great choice for beachgoers who prioritize convenience. These towels are also sand-resistant, ensuring a hassle-free beach experience.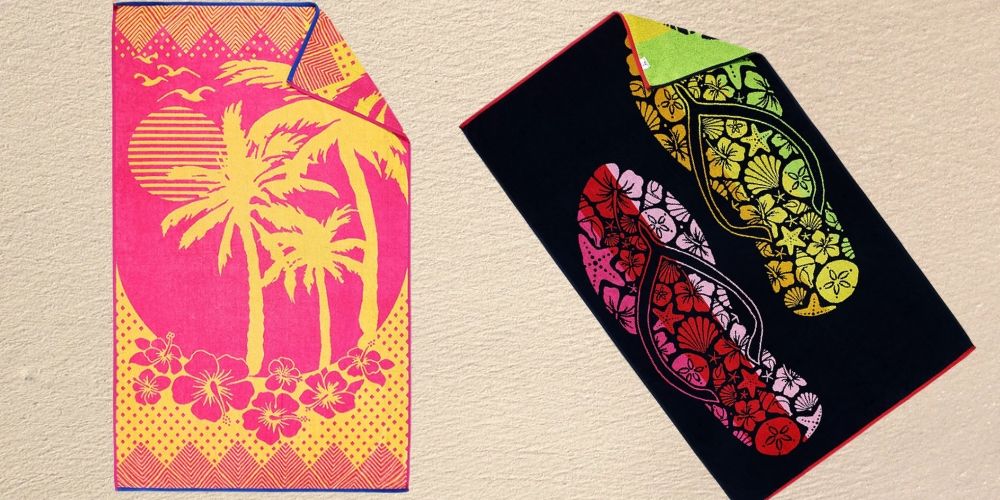 Oversized beach towels provide ample space for lounging, making them perfect for sunbathers or families. These larger towels often come in bold patterns or prints, adding a touch of style to your beach setup.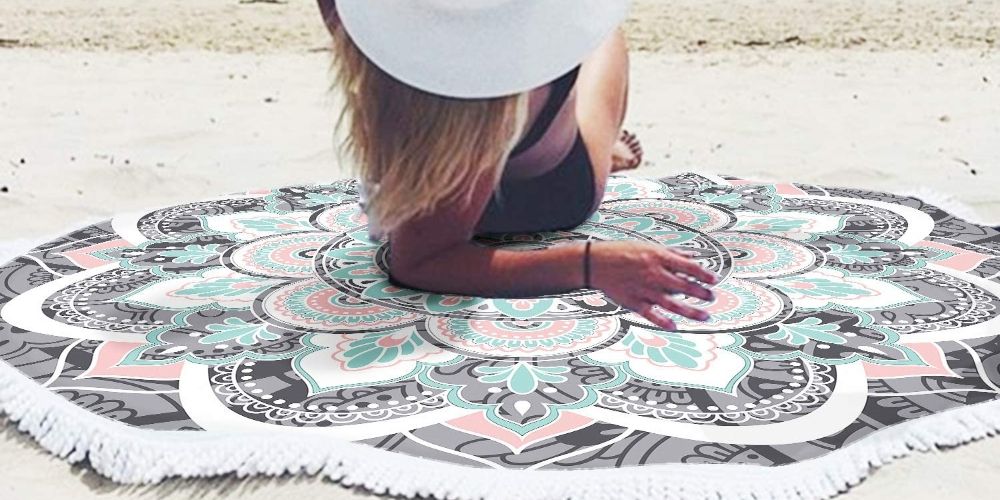 Round beach blankets are a trendy and functional option for the beach, providing a spacious surface for lounging or picnicking. These blankets often come in eye-catching patterns or prints and can even double as a wrap or cover-up.
Beach-Ready Accessories
The perfect beach outfit isn't complete without a few trendy accessories to elevate your look. From statement jewelry to waterproof phone cases and beach umbrellas, there's a wide array of options to choose from. Let's present a variety of stylish accessories available on Amazon and share tips for accessorizing in a practical yet fashionable way.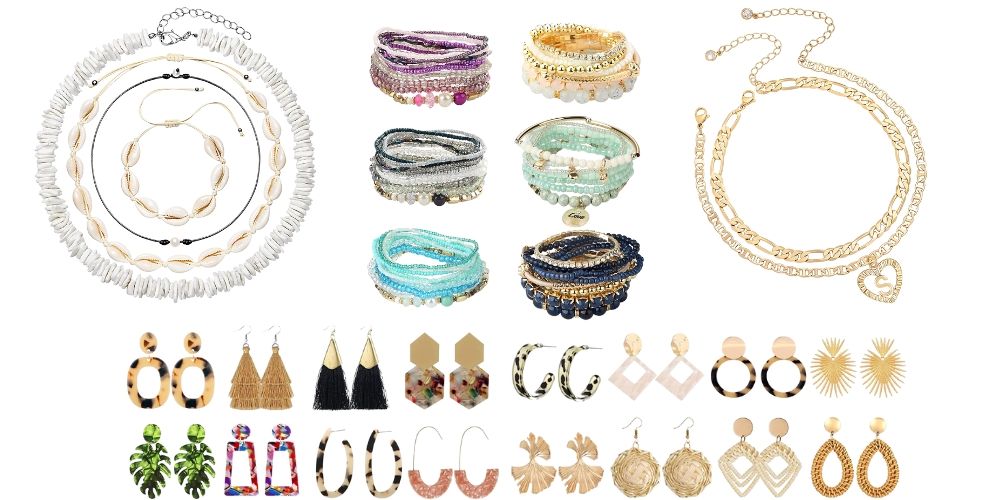 Adding a touch of jewelry can instantly transform your beach look. Opt for pieces made from water-resistant materials, like shells, beads, acrylic or metals, to ensure they withstand the beach environment. When shopping online, don't forget to use the sort filter to narrow down your choices and find the perfect water-resistant jewelry to complete your beach style.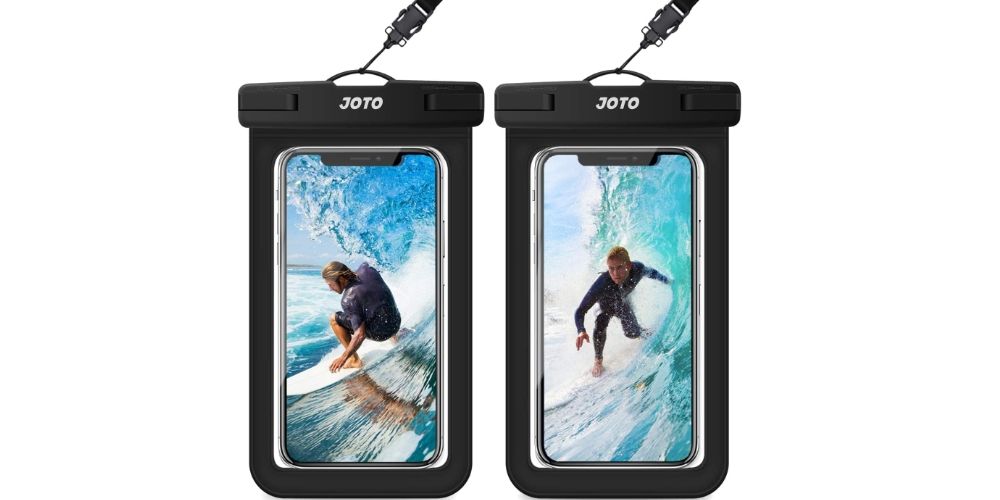 A waterproof phone case is a practical accessory that protects your phone from water, sand, and accidental drops, allowing you to capture memories worry-free.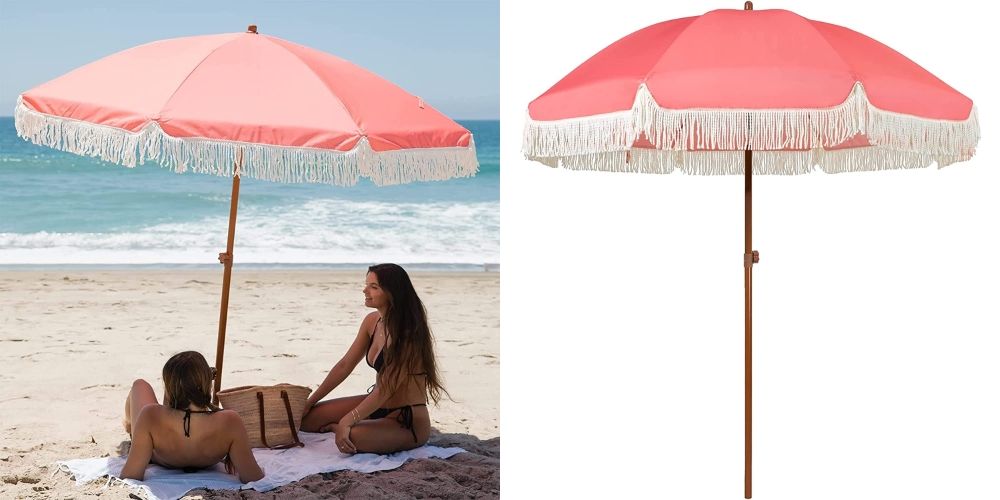 A stylish beach umbrella not only provides much-needed shade but also adds a pop of color and personality to your beach setup. The AMMSUN Beach Umbrella features a vibrant, tropical print and offers UPF 50+ sun protection. The umbrella is designed with an air vent and a sand anchor, ensuring stability on windy beach days.
Final Thoughts
We've explored the must-have beachwear essentials for women that will make your next beach vacation unforgettable. From stylish and comfortable swimsuits to sun-protective clothing, chic beach dresses and rompers, sand-ready footwear, beach bags and totes, sunglasses, versatile beach hats, beach towels and blankets, and trendy beach-ready accessories, there's something for everyone's taste.
Remember, the key to rocking your beachwear is to have fun and express yourself with your choices. Beach cover-ups, beach clothes, and swimsuits are an opportunity to showcase your personal style while enjoying the sun, sand, and surf. Keep an eye out for new products and additional information to stay updated on the latest trends and styles.
To ensure the best possible shopping experience, look for reliable retailers, customer reviews, and flexible return policies. With the right essentials in your beach wardrobe, you're all set to make the most of your perfect beach vacation. So go ahead, soak up the sun, and make waves in your fabulous beach attire. Happy beach days await!
Comments