This post may contain affiliate links, please see our privacy policy for details.
Dealing with drawers that have become a mess can be an incredibly daunting task, one of those chores no one looks forward to. But thankfully, there is an easy fix! A drawer organizer is a key to containing the chaos and giving each item a proper home. With a few simple organizers, you can create order in your drawers and make finding whatever you need fast and effortless.
There are different types of drawer organizers and dividers to help keep drawers spic and span - plastic dividers, fabric organizers, wooden divider kits, over-the-drawer organizers, expandable bamboo cutlery trays, and even adjustable sliding shelf organizers. In this blog post, we'll showcase our top 19 drawer organizers and dividers for your own space - so you can keep your home looking spic & span!
How to Choose the Best Drawer Organizer or Divider for Your Home
Selecting the right type of drawer organizer or divider for your home can be a daunting task. With so many options out there on the market, it's hard to know which one is the best fit for you. But don't worry, we'll help you find the perfect storage solution! There are two main points to consider when choosing the right type of drawer organizer or divider - size and design requirements, as well as practicality and convenience.
Size & Design Requirements
First and foremost, it's important to make sure that your organizers fit in your drawers without overpowering them. Measure each compartment carefully before purchasing dividers or organizers.
You also need to take into account any existing fixtures in your drawers such as separate compartments or shelves before making a purchase. Depending on the look you want to achieve with your chosen drawer organizer, you may opt for something sleek and modern or an antique-looking wooden divide with slots for individual items.
Practicality & Convenience
When choosing a drawer organizer or divider, the practicality should also be taken into consideration - how easy is it for you to use?
Plastic dividers are usually very lightweight and stackable but can be flimsy if not well supported.
Fabric organizers have more flexibility as they come in various sizes and shapes but may require more upkeep due to cleaning requirements.
Wooden dividers offer more stability while over-the-drawer organizers are great if you're looking for something versatile in terms of space optimization.
Additionally, adjustable sliding shelf organizers allow you to customize the height between shelves while expandable bamboo cutlery trays help keep spoons, forks, and knives neatly organized within their own designated slots.
At the end of the day, selecting the right drawer organizer or divider comes down to personal preference - choose based on what works best for your home layout, budget and lifestyle!
Our Favorite Drawer Organizers & Dividers to Try
We have rounded up a list of the top products on the market to help you get your storage areas organized in no time. From adjustable shelves to space-saving sliding trays, these drawer organizers and dividers are perfect for adding both convenience and style to any space. Here we go!
Plastic Drawer or Cabinet Organizers
Plastic drawer or cabinet organizers are a popular choice for organizing and creating a clutter-free environment. These organizers come in various sizes, shapes, and colors, making them suitable for most types of drawers. Additionally, plastic can be less expensive than other materials such as wood or fabric. Here are three of the top plastic drawer organizers: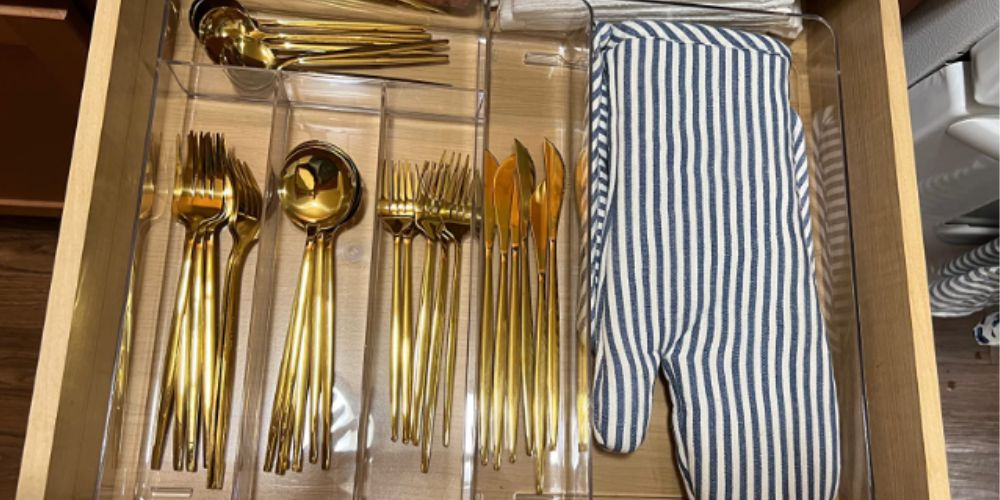 These drawer organizer trays are a great way to organize any drawer. With adjustable compartments, you can customize the trays for your particular organizational needs. Stackable and made from durable plastic, these trays are perfect for organizing jewelry, crafts, kitchen, or office supplies.
They fit easily into most drawers so you don't have to worry about them taking up too much space or not fitting correctly. I highly recommend this product if you're looking for an efficient way to keep your drawer organized and clutter-free!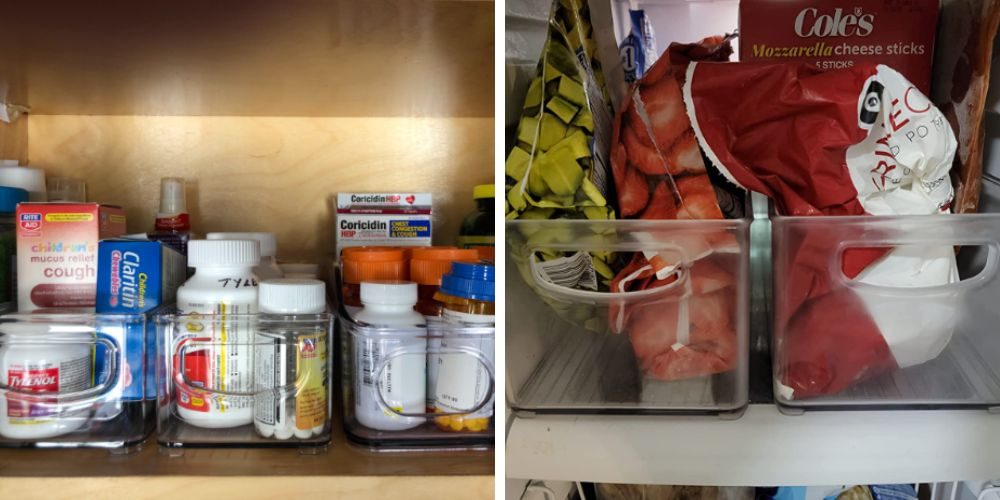 Keep all your knick-knacks and necessities in check with these deep drawers. With its sturdy walls, it fits easily into any drawer - perfect for organizing the kitchen, bathroom or even refrigerator! Say goodbye to messy clutter forever because cleaning is a breeze thanks to its smooth surface.
Plus you can fit way more stuff than usual – why not give that overstuffed pantry of yours some breathing room? And did we mention how convenient it is? Get ready to reach peak drawer organization with this storage tray today!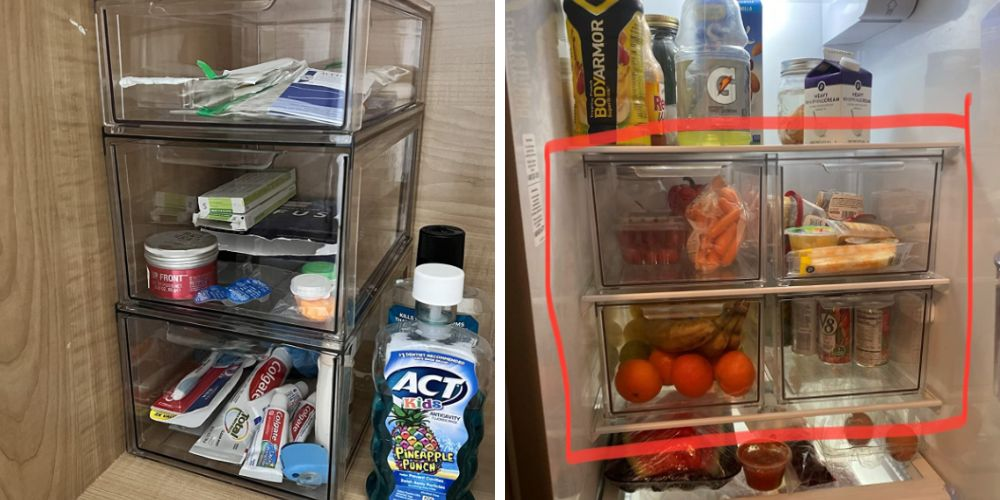 The mDesign Plastic Stackable Storage Drawer Organizers are the perfect option to maximize storage space. With modular pieces and mix-and-match options, you can create a configuration tailored to your specific needs. The drawers are made of durable plastic and feature quality construction that will stand up to everyday use.
The drawers also have an impressive capacity and can hold a lot of contents in a compact space. Whether you need extra storage in the kitchen, bathroom, or bedroom, these drawers offer versatile solutions for organizing any space.
Bamboo Drawer Dividers and Organizers
Bamboo drawer dividers are a great option for those looking for an eco-friendly way to organize their drawers. Not only are they made of sustainable materials, but they also look beautiful and can add an elegant touch to any space. They come in various sizes, shapes, and styles, so you can easily find a configuration that meets your needs and fits within your budget. Here are our top options: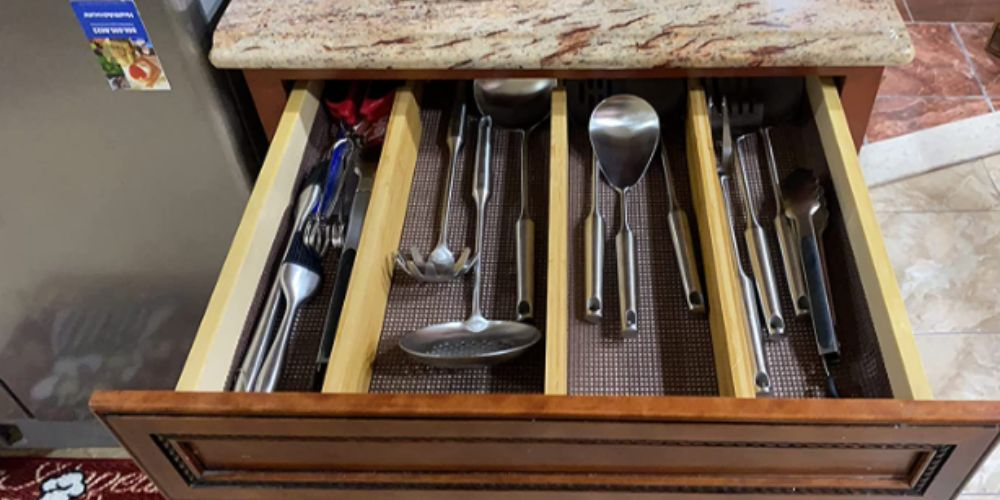 The Utoplike Expandable Bamboo Drawer Divider Set offers an adjustable and custom solution for organizing your drawers. This set is made of sturdy, eco-friendly bamboo that's both lightweight and durable. The dividers easily adjust to fit any size drawer, allowing you to create the perfect configuration for you.
This set is also incredibly practical and budget friendly - there are no tools required for assembly and they're easy to clean so they'll look great in any space. By using this divider set, you can maximize storage space while keeping your drawers organized.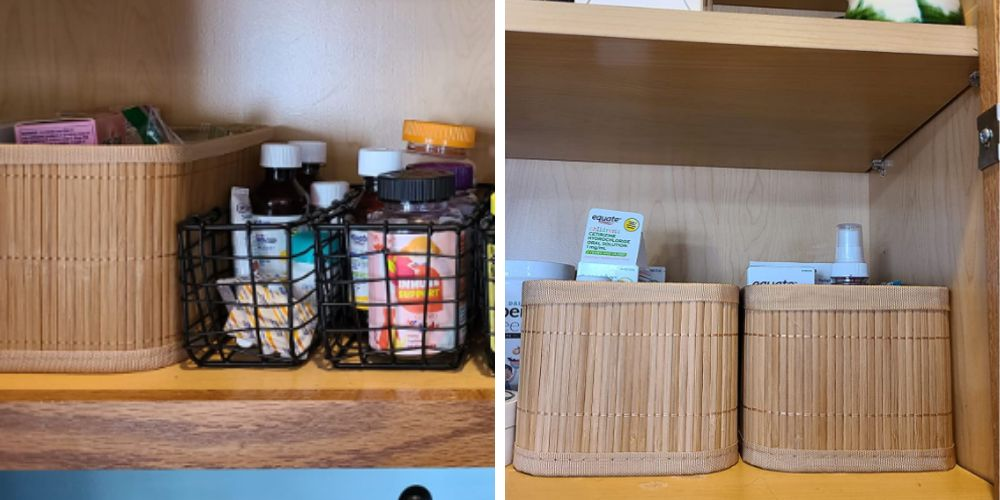 The Sorbus Bamboo Storage Baskets are the perfect solution for organizing your kitchen, bathroom, bedroom, or even junk drawer. These stackable pieces do not require installation and feature compartments ideal for flatware, utensils, and other items. Made of the premium bamboo casing, these baskets are durable and sturdy, yet lightweight enough to move easily from room to room.
The interior of each basket is lined with a soft, linen-like fabric that helps keep items secure and free from dust. Whether it's additional storage space in the pantry or countertop organization you need, these baskets offer a stylish solution to maximize storage space while adding style to any room.
Fabric Drawer Organizers
Fabric drawer organizers are a great way to organize drawers while adding a bit of color and texture to your space. These organizers are made of flexible materials, so you can find one that blends in with your existing décor or stands out to make a statement. They also come in various sizes, shapes, and colors, so you can easily find something to meet your needs. They are a great solution as an underwear drawer or kitchen, bathroom, and dresser drawers. Here are our top fabric drawer organizers:
Is your dresser drawer crammed with junk and random items? Meet the ultimate solution to keep it organized - MaidMAX Closet Organizers Set of 6! These fabric storage containers are a great way to store everyday essentials like socks, underwear, baby clothes, or diapers in one place. The durable frame is strong enough yet breathable so that nothing gets ruined inside.
Plus they come with two handles for easy portability if you plan on moving them around different rooms when cleaning up as well as fit any home décor due to their modern design and neutral color palette! So say goodbye to all those hours spent searching through overfilled drawers – just jump into organization mode already by getting this set today!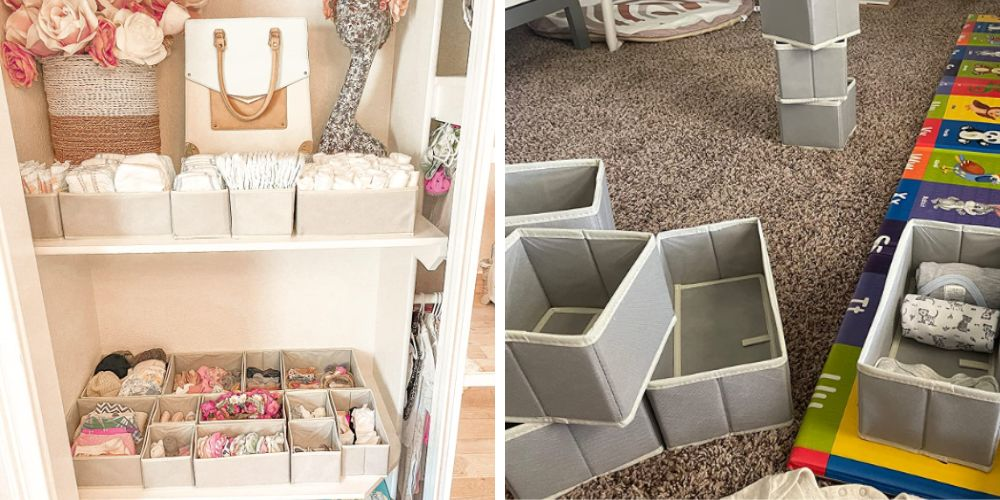 Say goodbye to clutter and disorganization with the Kootek Drawer Organizer! It offers amazing versatility, as it comes in three sizes of storage boxes - 4 large square bins, 4 rectangle bins, and 8 small square bins. You'll be able to customize your organizational needs for items such as shirts, socks, and underwear; baby items like pacifiers or toys; even towels or tie belts – anything you need easily accessible is possible with this miracle drawer system!
Made from breathable non-woven fabric & 3mm thick plastic board that's lightweight yet extremely durable at the same time, organizing has never been easier…and fitting it in any size drawer means immediate convenience right when you need it most.
The Whitmor 6-Section Drawer Organizer – this lightweight organizer has several large compartments for maximum storage capacity.
Over-the-Cabinet Organizers
Over-the-cabinet organizers are a great way to make the most of your space. These organizers can be placed on top of any open drawer, providing extra storage for small items like jewelry, kitchen utensils, office supplies, and much more. They come in various sizes, shapes, and materials, so you can find something to fit the décor in any room. Here are three of the top over-the-drawer organizers: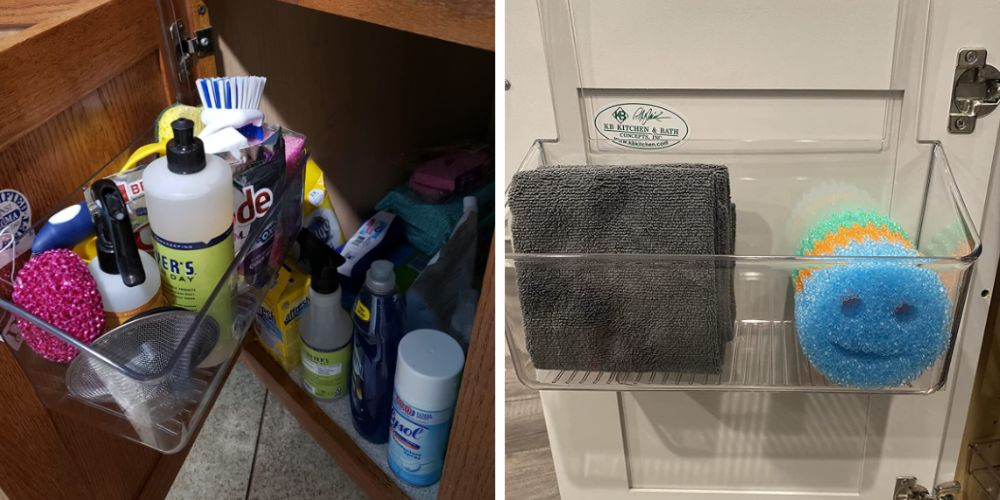 This plastic organizer bin is a great way to maximize storage space in even the most cramped spaces. With this handy organizer, you'll be able to store all your cleaning supplies without sacrificing any precious cabinet or pantry space! Installing it is a breeze - no hardware or drilling is required, and it fits over standard cabinet doors. Not just limited to the kitchen, this versatile organizer can also be used in bathrooms, laundry/utility rooms, home offices, and more.
And thanks to its large capacity design and breathable plastic material, you can easily store an array of items like extra soap, body wash & toiletries in the bathroom; hair spray, gels, volumizers & other styling tools; or even smart tablets or e-readers! Best of all, you don't have to limit yourself to what's inside your cabinets - try hanging it outside for easy access. The mDesign Plastic Over Cabinet Door Storage Organizer Bin is the best kitchen drawer organizer for any space!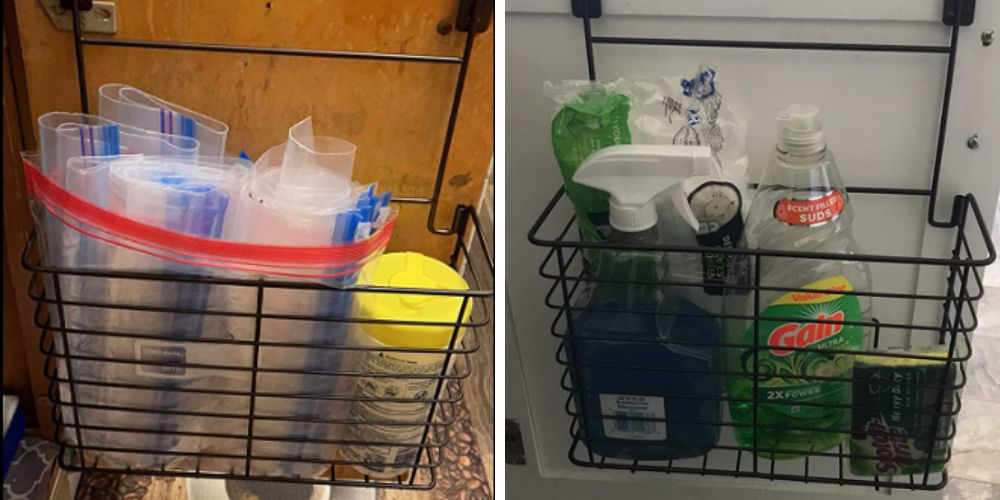 The TreeLen 2PK Kitchen Cabinet Organizer for Cutting Boards Over The Cabinet Organizer is the perfect solution for freeing up precious counter or drawer space! This hanging organizer is a great way to store cutting boards, cookie sheets, cooling racks, tin foil, wrap boxes, wax paper ziplock bags, or large plastic lids - all in one convenient location without ever taking up any extra room.
It's easy to hang too – no complicated installation procedure is required. Made from durable steel wire and coated with a white epoxy finish that won't scratch off easily, perfect for kitchen and bathroom drawers too.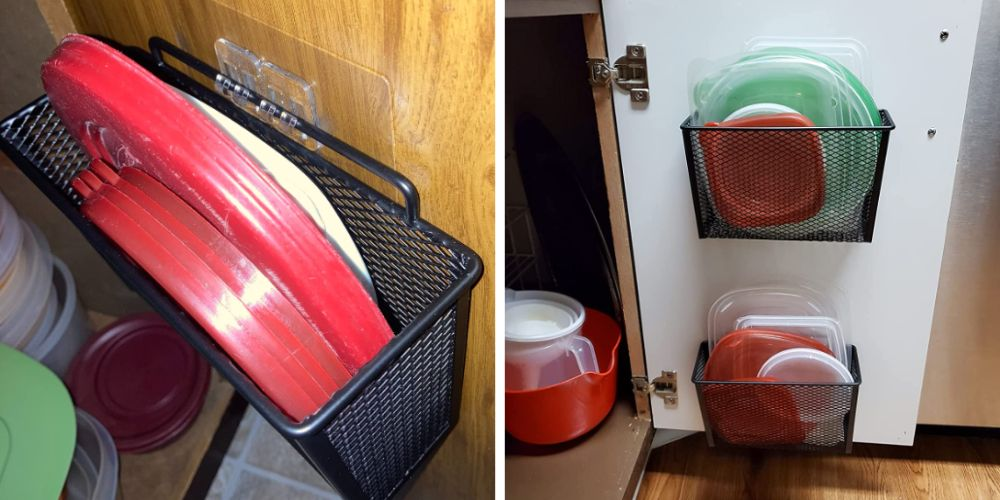 This over-cabinet organizer is the perfect solution for adding extra storage to your home without sacrificing any precious space. This organizer is designed with a slim, lightweight design that takes full advantage of narrow spaces such as behind cabinet doors, under sinks, and even in pantries.
It's made from durable metal wire mesh and coated with a white epoxy finish so you can easily store an array of items like drink lids, food container lids, smaller spices, snack bars, shaving/grooming products, colognes, and more. Plus, it comes with two sticky hooks and pads that make installation quick and easy – no permanent holes or damage required! With this amazing lid organizer, you'll have an organized kitchen or bathroom in no time!
Expandable Bamboo Cutlery Tray
Expandable bamboo cutlery trays are a great way to keep your kitchen drawers neat and organized. These trays come in various sizes, fitting into drawers of all shapes and sizes. The compartments can be adjusted to accommodate larger utensils, allowing you to make the most of the space available. Here are our top expandable bamboo cutlery tray options: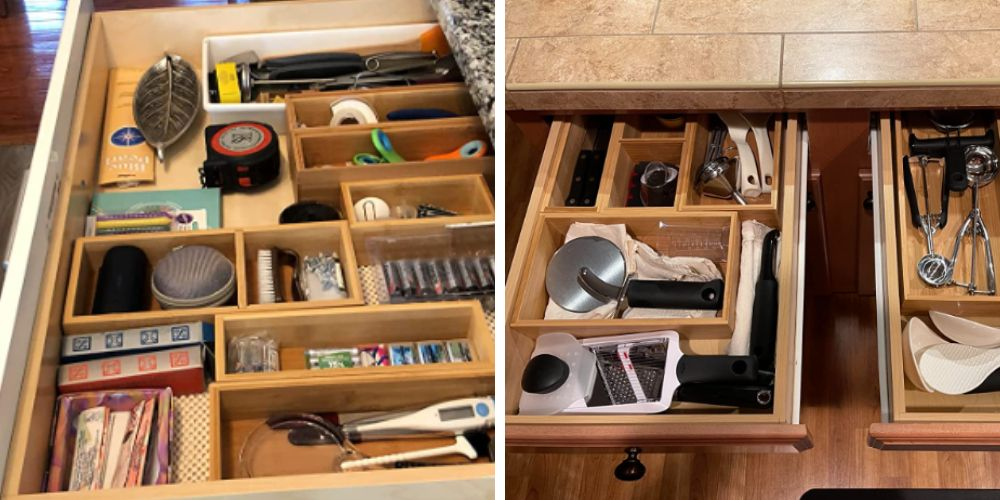 The Royal Craft Wood 5-Piece Bamboo Organizer Set is the perfect choice for organizing and storing items on your desk or in your drawers. This set contains both drawer organizers and desk trays designed with various depths and sizes for organization versatility. It is crafted from high-quality bamboo which not only looks great but is also incredibly durable and sturdy.
The combination of gorgeous, natural wood grain and contemporary design make it the perfect complement to your home decor. Quit searching for quality organizers and storage bins when you try out our bamboo drawer organizer; it's beautifully functional and infinitely customizable with varying depths and sizes to suit any space. With this set, you can easily organize, declutter, and optimize your desk drawer space all while saving time!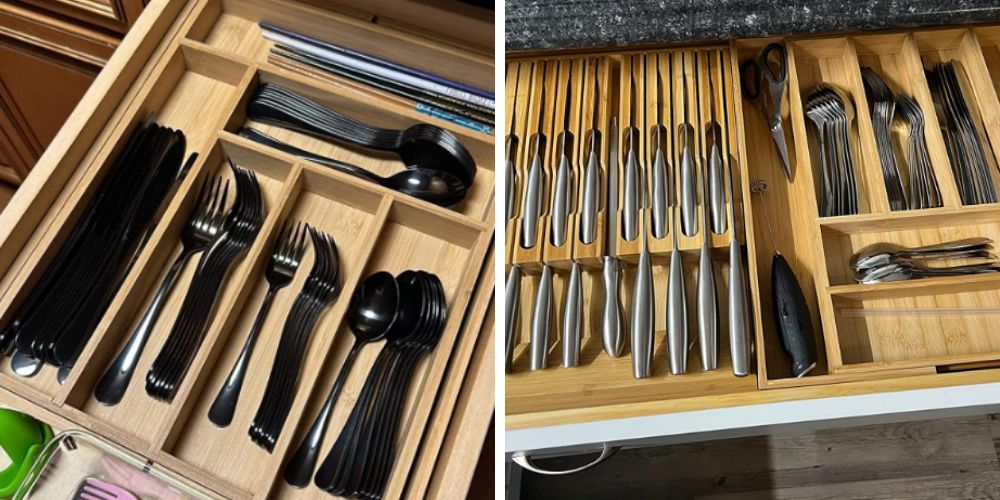 The Utopia Kitchen Expandable Drawer Organizer is the perfect solution for any kitchen! This ingeniously designed organizer features 8 compartments (2 with adjustable dimensions) and two expandable sides that provide additional storage space. Made from premium quality, eco-friendly bamboo and sized to fit almost any standard drawer, this sleek tray maximizes storage space while still looking stylish and elegant.
Plus, it's easy to clean and maintain– all you have to do is give it a quick rinse in warm water. With the Utopia Kitchen Expandable Drawer Organizer, you can keep your kitchen drawers neat, organized, and stylish-- all while being environmentally conscious!
Adjustable Sliding Cabinet Organizer
Adjustable sliding organizers are a great way to maximize the storage space in your cabinets. These shelves can be adjusted to fit different sizes of items, providing easy access to kitchen items like dinnerware, pots, canned goods, and much more.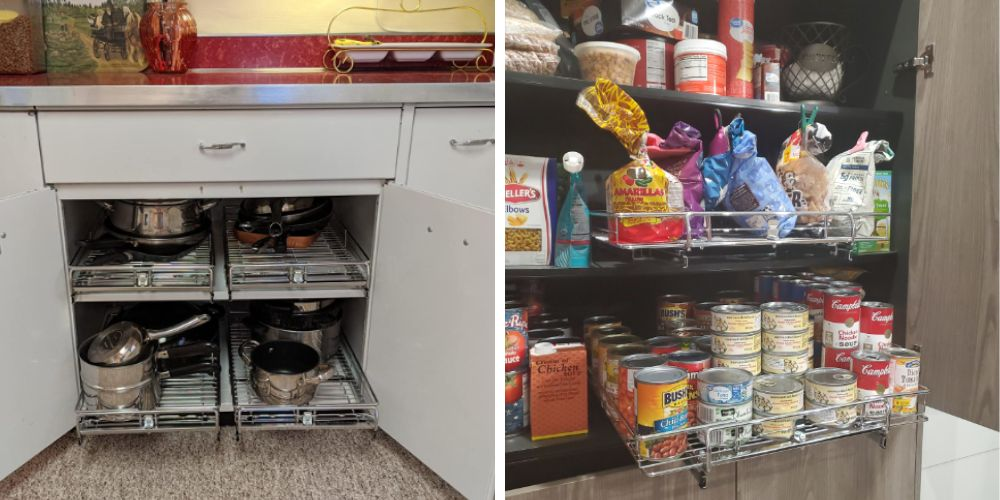 The Origami Chrome Adjustable Cabinet Organizer is the perfect solution for any kitchen! This organizer is made with stainless steel construction, making it durable and long-lasting – plus, it has an easy glide design that makes setting it up a breeze. You can easily store anything from cookware to canned goods without the hassle of digging through crowded cabinets.
Plus, its versatile design adds extra storage space to your kitchen, bathroom, or garage and it can hold up to 30 pounds per shelf. With the Origami Chrome One Tier Slide Kitchen Adjustable Cabinet Organizer, you're one step closer to an organized and clutter-free kitchen!
Two-Tier Cabinet System
Two-tier cabinet pantry systems are a great way to get the most out of your kitchen cabinets. By incorporating two shelves, one for canned goods and the other for dry items, you can easily store bulk items with ease and make sure everything is accessible.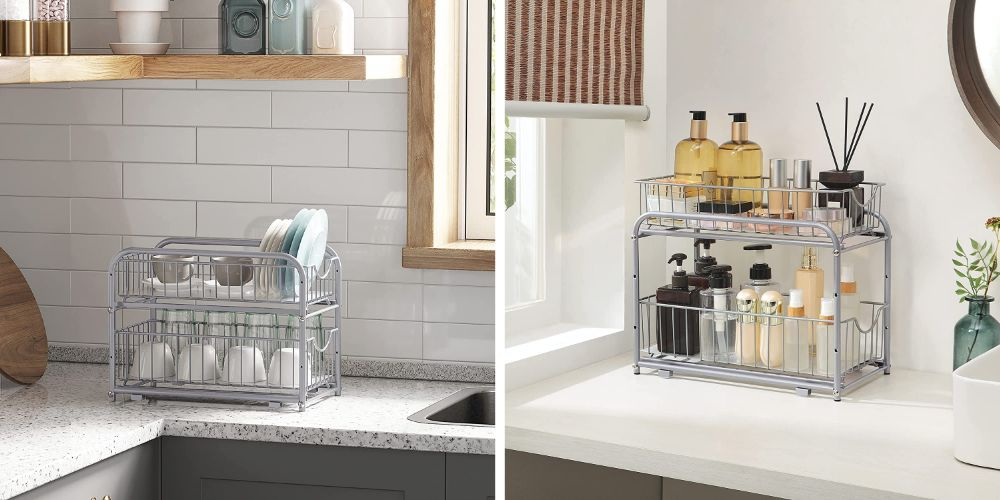 The SONGMICS pull-out cabinet organizer is a great choice for those looking for an easy-to-assemble and customizable storage solution. It's highly versatile, allowing you to use it as a pantry organizer, kitchen sink organizer, or bathroom rack. The 4 holes on each side of the side frame make it easy to adjust the 2 baskets to your desired height, while the included PP sheet provides added stability and hassle-free cleaning.
The non-slip foot pads also protect your countertop from scratches and add extra stability. For ultimate convenience, the pull-out basket drawers allow you to easily find what you're looking for without having to dig! With its sturdy steel construction and easy assembly, this cabinet organizer is sure to be a great addition to any home.
Best Drawer Organizer FAQ
Here are some frequently asked questions about drawer organizers that will help you choose the best one for your needs.
What are the best drawer organizers?
When it comes to drawer organizers, there are countless options available on the market today. From adjustable plastic trays to expandable wood dividers, you have a wealth of choices. The best drawer organizers will vary depending on your needs and the size of your drawers.
But in general, look for organizers that feature adjustable dividers to maximize storage space and allow for maximum organization. Also look for materials that are durable and easy to clean, such as bamboo or chrome. Finally, opt for organizers with non-slip bottoms so that items stay put. With these features in mind, you can easily find the perfect drawer organizer for your needs!
Where can I purchase the drawer organizers?
If you're looking for drawer organizers, you have plenty of options. From traditional home improvement stores to online retailers, there are countless places to purchase drawer organizers. Your local department store or hardware store likely stocks a variety of options.
If you prefer to shop online, there are plenty of sites that specialize in storage solutions, as well as bigger retailers like Amazon, Container Store, and Walmart. With many different price points and designs available, you should be able to find the perfect drawer organizer for your needs with ease!
How do I make sure my drawer organizer fits in my drawers?
To ensure that your drawer organizer fits properly in your drawers, it's important to measure the exact size of the drawer before purchasing an organizer. You'll also want to make sure that any accessories you purchase to go with the organizer fit inside the drawer as well.
Make sure to leave at least a 1/2 inch gap between the back and sides of the organizer and the edge of your drawer for easy installation and removal. If necessary, you can always find organizers with adjustable dividers to fit your space perfectly. Finally, if you're having difficulty visualizing how everything will fit in the space provided, don't hesitate to make sketches or use tools such as binder clips to get an idea of what will work best.
Final Thoughts
All in all, drawer organizers are an amazing tool to maximize your kitchen cabinet space and save you tons of time when looking for that lost spoon or spatula. From sleek stainless steel containers to bamboo drawer trays, there is something to meet every need. Just remember to measure carefully and leave enough room between the organizer and the edges of the drawer so that it can fit snugly and securely. Lastly, if necessary, look for adjustable dividers so that you can truly customize your own storage solution - what could be better? Now that we've laid out our favorite options for drawer organizers above, what do you think about our choices? Tell us in the comments below
Comments