This post may contain affiliate links, please see our privacy policy for details.
Mastering the art of espresso often seems like an elusive goal. With nuances such as roast level, bean origin, and the pressure of your espresso machine, it may feel like an overwhelming task just to begin! Whether you're an at-home coffee enthusiast itching to expand your palate or a professional barista seeking an exceptional cup for those tranquil moments at home, the journey toward the perfect espresso begins with the right beans.
To simplify your quest, we've curated a list of our top 11 selections. These beans have been assessed not solely on taste, but also on factors such as certifications, fair trade commitments, and kosher status.
We warmly invite you to delve deeper into our enriching World of Espresso Coffee series, an enlightening journey dedicated to exploring the captivating realm of espresso.
Espresso vs. Coffee Beans: Is There a Difference?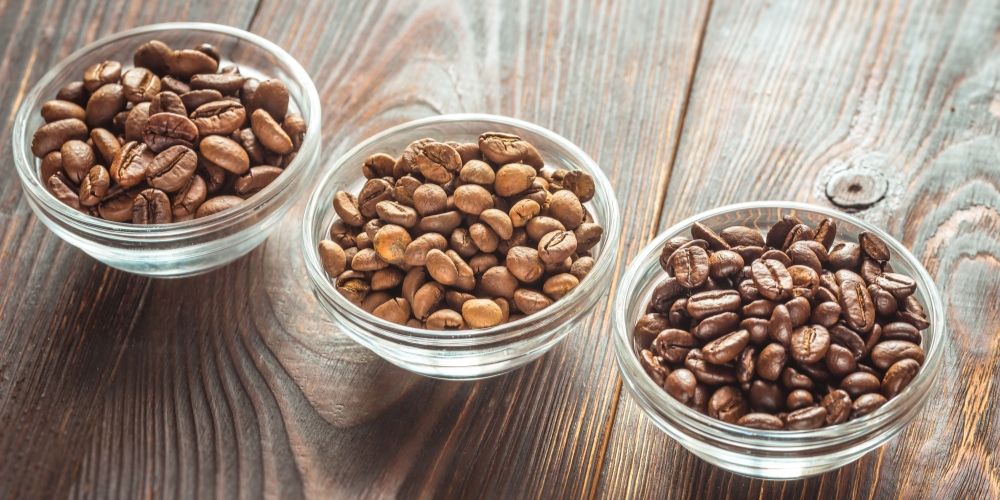 Espresso and regular coffee beans have distinct differences, including the roasting process, origin, grind size, and caffeine content.
Roasting Process: Espresso beans undergo a longer and darker roast, resulting in a more robust flavor. Regular coffee beans are often roasted to a lighter or medium roast, offering a milder taste.
Origin: Espresso beans are typically sourced from high-quality Arabica or Robusta beans, known for their unique flavors. Regular coffee blends may include lower-grade Robusta or Liberica beans, which can have a different taste profile.
Grind Size: Espresso beans are ground much finer than regular coffee beans to maximize extraction and create a concentrated beverage. Regular coffee beans are ground coarser for traditional brewing methods.
Caffeine Content: Espresso shots generally contain more caffeine per ounce than regular brewed coffee due to the higher concentration of coffee grounds and shorter brewing time.
While espresso beans are specifically crafted for espresso brewing, they can also be used to make regular coffee. However, regular coffee beans are not suitable for espresso extraction due to their lighter roast and coarser grind.
Understanding these differences allows you to select the appropriate beans for your preferred brewing method and desired flavor. Whether you enjoy the boldness of espresso or the milder flavors of regular coffee, exploring these distinctions can elevate your coffee experience.
Best Espresso Beans to Try
We all know how espresso has captured hearts all over the world - it's rich, aromatic, and the flavor is just unbeatable. Now, we also know that the number of beans out there can be a bit overwhelming, right? So, we thought we'd put together a list of our top espresso beans. We'll spill the beans (pun intended!) on why we think they're the absolute best. So, get comfy with your favorite cup of joe and let's dive in!
⬇️15. Best Medium Dark Roast Coffee Beans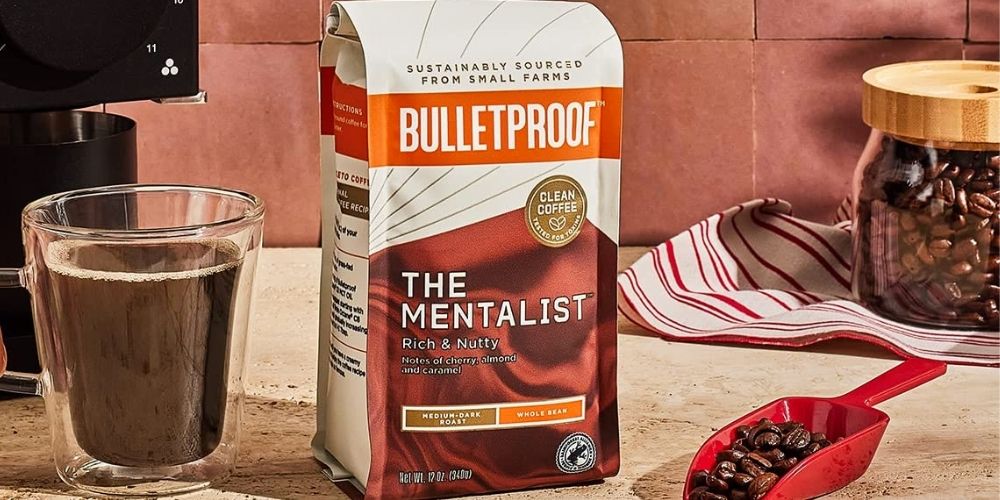 ✔️Key Features: High-quality 100% Arabica beans, Versatile brew styles, Excellent flavor pairing
✅Pros: Satisfying flavor, Versatile preparation, Exceptional flavor pairing
❌Cons: Medium-dark roast is not for strong coffee lovers, May lack distinct flavor for some
👉Our Rating: Quality: 4.5/5 | Versatility: 4/5 | Flavor Pairing: 4/5 | Value for Money: 4/5
Bulletproof whole-bean coffee, specifically intended for transforming into finely ground espresso grounds, is expertly crafted with top-quality beans to produce a wonderfully delectable and energizing espresso. Its medium-dark roast guarantees an ideal blend of bold and rich flavors, perfectly suitable for making a good coffee for espresso, due to its use of 100% Arabica beans that ensure a silky and fulfilling taste.
One of the remarkable qualities of this coffee is its adaptability. Regardless of whether you enjoy it as a pure shot of espresso, complemented with cream, or paired with your preferred non-dairy milk, this coffee promises a consistently delightful flavor. It also harmonizes well with various flavors, establishing it as an ideal choice for those looking to explore and experiment with different espresso combinations in their kitchen.
⬇️14. Best Dark Roast Espresso Beans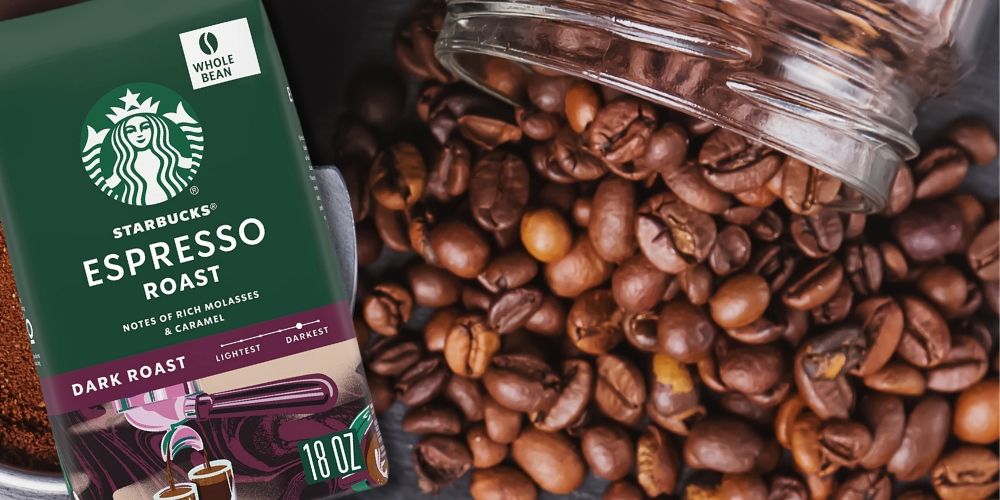 ✔️Key Features: Dark roast whole bean coffee, Pleasant aroma, Smooth finish, Highly rated by over 22,000 Amazon shoppers
✅Pros: Bold and smooth taste, Rich and satisfying flavor, Versatile brewing options
❌Cons: Strong and intense flavor, Limited flavor complexity
👉Our Rating: Quality: 4.5/5 | Versatility: 4/5 | Flavor Pairing: 3.5/5 | Value for Money: 4/5
Starbucks dark roast bean blends present an ideal choice for coffee espresso lovers seeking a bold and velvety sensation in their morning brew. The comprehensive dark roasting technique reveals the potent flavors inherent in the beans, fabricating a full-bodied and pleasing taste certain to invigorate your senses and commence your day positively. Regardless of whether you fancy grinding and brewing via a traditional drip coffee maker or you prefer the authentic espresso approach using a moka pot, this coffee will unquestionably live up to your expectations.
A salient feature of these roasted espresso beans is their smooth taste, an outcome of meticulous roasting procedures. The beans are roasted to the point of perfection, culminating in a coffee that's devoid of bitterness but instead easy to savor, accompanied by a delightful aroma and a seamless finish. With accolades from over 22,000 Amazon customers, who have bestowed upon it an impressive 4.7-star rating, it stands as one of the most popular dark roast coffee options in the market today.
⬇️13. Best Organic Espresso Coffee Beans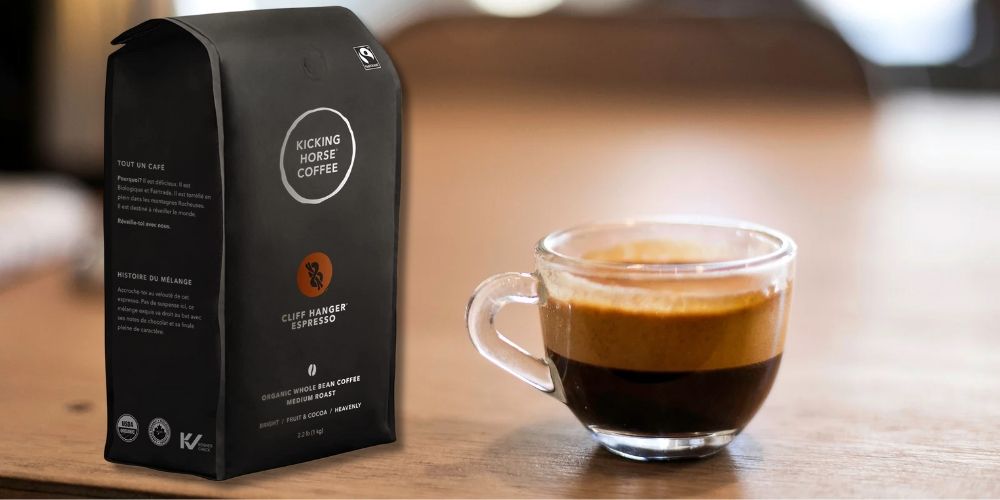 ✔️Key Features: Flavor notes of stone fruit, dark sugars, and rich dark chocolate, Silky and complex taste, Wild berry syrup flavor with a smooth cocoa finish, Versatile brewing methods
✅Pros: Syrupy sweet espresso experience with a rich and full-bodied flavor, Smooth cocoa finish for a satisfying aftertaste
❌Cons: May be too sweet for other espresso lovers
👉Our Rating: Quality: 4.5/5 | Versatility: 4/5 | Flavor Pairing: 4/5 | Value for Money: 4/5
Kicking Horse's Cliff Hanger Espresso is a distinguished blend that incorporates top espresso coffee beans, guaranteeing a stimulating, rich experience coupled with an exceptional sweetness. Its medium roast beans tantalize your taste buds with nuanced flavor notes of stone fruit, dark sugars, and indulgent dark chocolate, affirming its status as one of the top espresso coffees.
The taste profile of this coffee is an intricate, delightful medley of smoothness and depth, characterized by a unique wild berry syrup flavor ending with a smooth cocoa finish. The full-bodied richness of this blend creates a sensation akin to sipping on a heavenly crafted brew.
One of the remarkable features of Kicking Horse's Cliff Hanger Espresso is its versatility, adaptable to an array of brewing techniques, including French press, drip machine, pour-over, espresso, and even cold brew. This adaptability ensures that you can savor this extraordinary coffee in any manner you prefer, wherever your location may be.
⬇️12.Best Espresso Beans for Lattes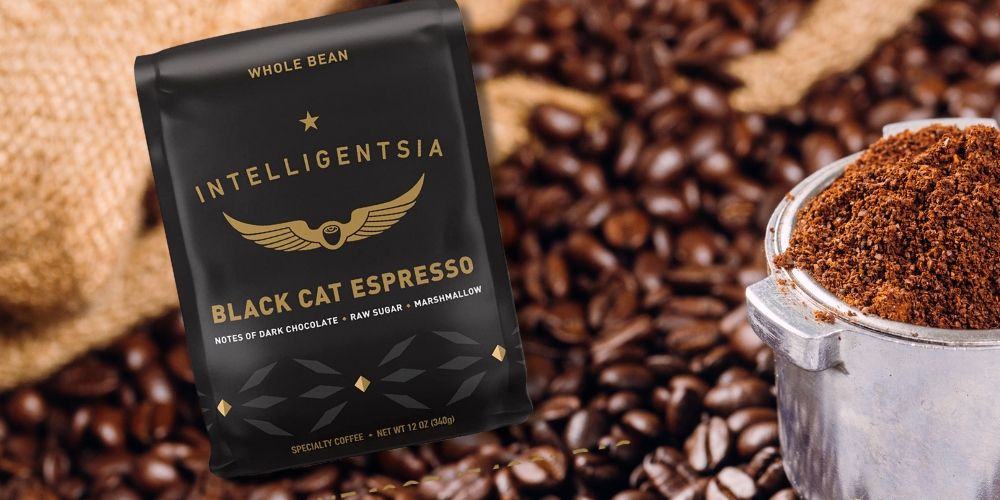 ✔️Key Features: Supreme balance and syrupy sweetness, Direct trade commitment for fresh and high-quality coffee, Fine grind and recommended dosage for optimal extraction and flavor
✅Pros: Smooth and rich espresso with a perfect level of sweetness, Direct trade partnership ensures freshness and quality
❌Cons: May have a strong and bold flavor profile, Harder to purchase compared to other brands
👉Our Rating: Quality: 4.5/5 | Versatility: 3/5 | Flavor Pairing: 4/5 | Value for Money: 3.5/5
Black Cat Classic Espresso distinguishes itself through its unmatched equilibrium and syrupy sweetness, presenting itself as the prime selection for aficionados of a smooth, full-bodied espresso blend coffee, graced with an ideal touch of sweetness.
What sets this espresso apart is Intelligentsia's steadfast commitment to direct trade. Through forming direct alliances with coffee growers, they bypass unnecessary intermediaries, assuring you receive the freshest, most enchanting coffee made from superior quality coffee beans.
For a perfect brew, Intelligentsia advocates the use of a finely-ground coffee and a dose that is 2.5 times the weight of your intended espresso shot. Following this guidance ensures optimum extraction, intensifying the flavor to achieve its maximum potential.
⬇️11. Best Italian Espresso Beans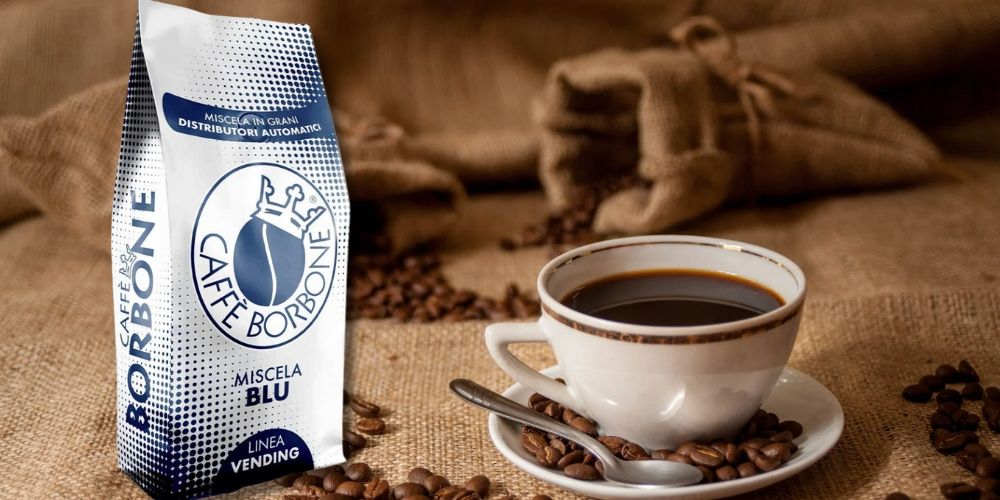 ✔️Key Features: Balanced flavor profile with body, persistence, and sweetness, Produced, roasted, and packaged in Napoli, Italy, Intensity rating of 8.5 out of 10, Whole beans for customizable brewing methods
✅Pros: Refined taste, powerful character, and intense aroma, Offers a journey to the rich and complex flavors of traditional Italian coffee, Versatile for making a strong espresso or a smooth latte
❌Cons: May not be suitable for individuals who prefer milder or more balanced coffee flavors
👉Our Rating: Quality: 4.5/5 | Versatility: 4/5 | Flavor Pairing: 4/5 | Value for Money: 4/5
This medium-roast espresso blend coffee offers an exquisite equilibrium in its flavor profile, blending the perfect proportions of body, endurance, and sweetness. The result is a sophisticated taste, robust character, and captivating aroma designed to thrill even the most meticulous coffee connoisseur.
Caffe Borbone distinguishes itself through its unwavering devotion to quality and authenticity. These espresso coffee beans are cultivated, roasted, and packed in Napoli, renowned as the heartland of exceptional coffee. Each sip is akin to an intimate journey to Italy, where the profound and intricate flavors of traditional Italian coffee hold sway.
But don't merely rely on our endorsement! Boasting an intensity rating of 8.5 out of 10, Caffe Borbone Miscela Blu are poised to impress the most seasoned coffee aficionados. The advantage of whole espresso beans allows you to tailor your brewing method to concoct the perfect cup every single time. Whether you fancy a potent espresso or a creamy latte, Caffe Borbone has good coffee beans to cater to your preference.
⬇️10. Best Espresso Beans for DeLonghi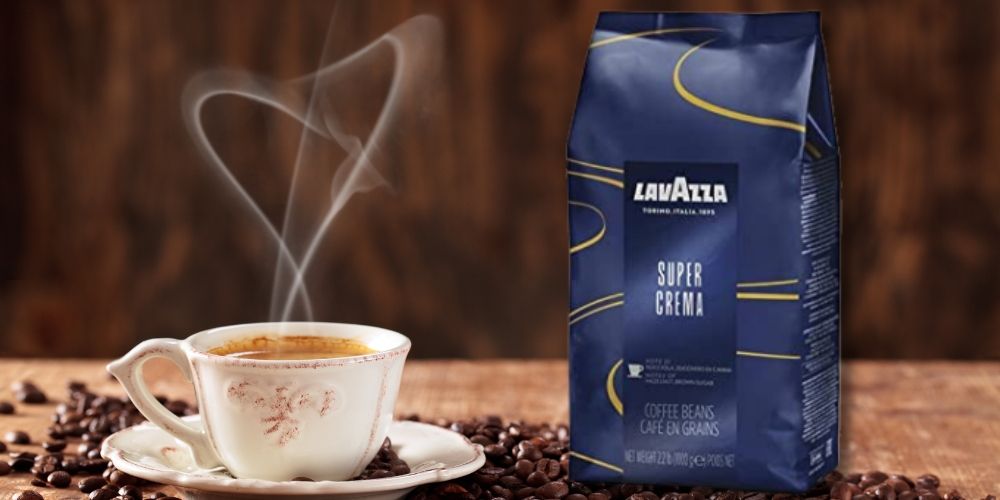 ✔️Key Features: Medium roast coffee with a mild and creamy taste, Aromatic notes of hazelnut and brown sugar
✅Pros: Authentic Italian coffee experience with a rich and flavorful taste, High-quality beans sourced from multiple origins for a well-balanced blend, Versatile for making various coffee drinks like cappuccinos and lattes
❌Cons: May not be suitable for those who prefer a lighter or darker roast coffee
👉Our Rating: Quality: 4.5/5 | Versatility: 4/5 | Flavor Pairing: 4/5 | Value for Money: 4/5
If you're a coffee lover looking for a high-quality coffee blend that offers a unique Italian experience, look no further than the Lavazza Super Crema. This medium-roast coffee boasts a mild and creamy taste that's sure to delight your senses. With aromatic notes of hazelnut and brown sugar, you'll be transported to the heart of Italy with every sip.
Lavazza Super Crema's secret ingredient lies in its unique mix of 60% Arabica and 40% Robusta beans sourced from Brazil, Colombia, India, Indonesia, and Vietnam. As one satisfied customer raved, "This is one of the richest flavored coffee beans I've ever had!" And with over 57,300 five-star ratings, it's clear that many other coffee lovers agree. Whether you're making cappuccinos or lattes, the Lavazza Super Crema Whole Bean Coffee Blend is sure to become your new favorite.
⬇️9. Best Arabica Espresso Beans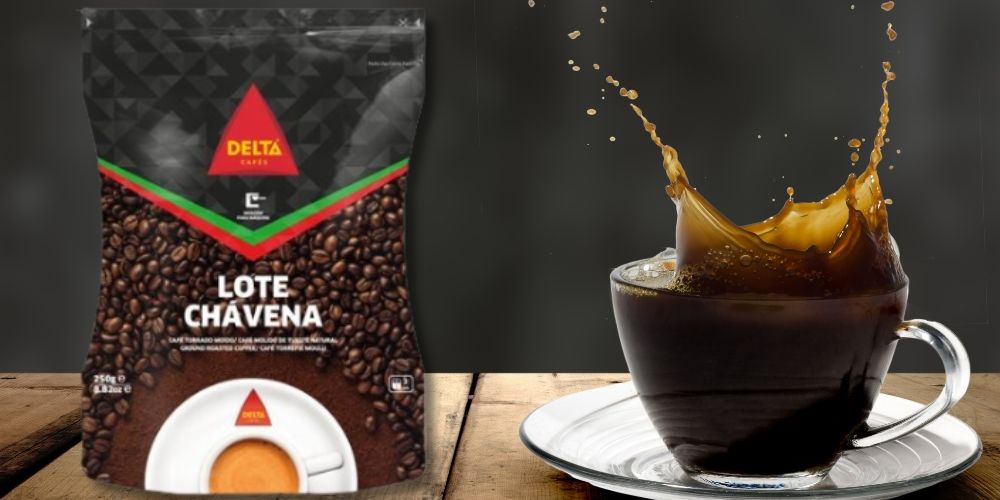 ✔️Key Features: Combination of Arabica and Robusta beans for a unique flavor experience, Intense and delicate flavor profile, Special packaging design to preserve coffee properties and taste
✅Pros: Balanced combination of Arabica and Robusta beans for a rich and flavorful cup of coffee, Subtle and fragrant aroma from the Arabica beans
❌Cons: Taste preferences vary, and some individuals may prefer a different blend or origin of beans, Availability may be limited outside of Portugal
👉Our Rating: Quality: 4.5/5 | Versatility: 4/5 | Flavor Pairing: 4/5 | Value for Money: 4/5
This blend offers a unique sensory journey that's simultaneously robust and delicate. The robusta beans infuse a bold, rich depth into the flavor palette, while the Arabica beans contribute a nuanced, aromatic fragrance. It's an impeccable fusion of flavors and aromas designed to delight your senses.
What I find particularly appealing about Delta Roasted Arabica and Robusta Whole Coffee Beans is their packaging. Its distinctive design meticulously preserves the coffee's inherent properties and taste, assuring a consistently fresh and flavorful cup of coffee. This attention to detail is critical for those who value the subtleties of a quality coffee brew, as even a slight alteration in flavor can significantly impact the overall experience.
⬇️8. Best Decaf Espresso Beans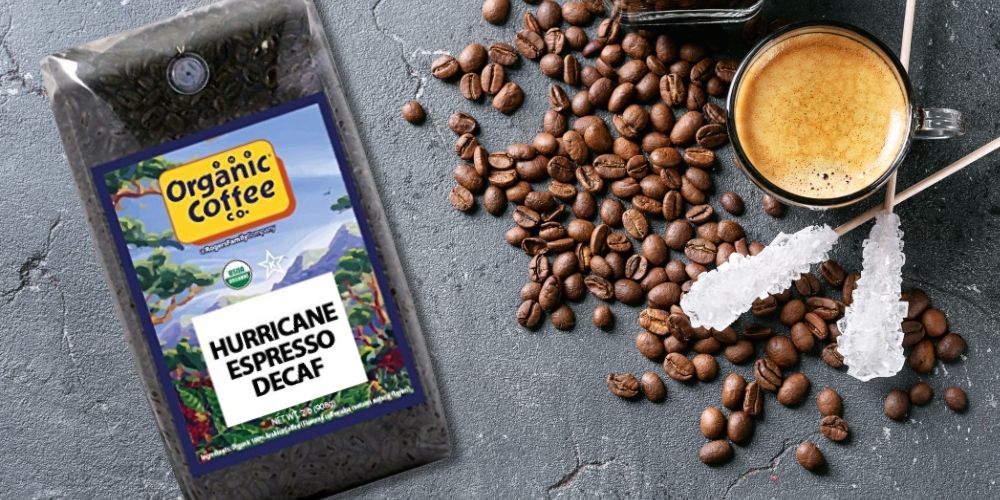 ✔️Key Features: Water process decaffeination for a full-bodied, vibrant cup of coffee, Compatible with various coffee makers (drip machines, French press, moka pot)
✅Pros: Full-bodied flavor with a calm aftertaste, Versatile and compatible with different brewing methods
❌Cons: Limited availability
👉Our Rating: Quality: 4/5 | Versatility: 4/5 | Flavor Pairing: 4/5 | Value for Money: 4/5
This potent blend of dark espresso roast coffee is decaffeinated through a water process, yielding a coffee that's both full-bodied and lively, with a serene aftertaste. A significant advantage of this coffee is its versatility with all types of coffee makers, from drip machines to French press and moka pot, ensuring a seamless fit into your current brewing routine.
A commendable aspect of this coffee is its commitment to sustainability and eco-friendly farming. The Organic Coffee Co. provides an array of sustainably cultivated, sourced, and packaged coffee, confirming that your enjoyment of a delightful cup of freshly roasted espresso beans also supports environmentally mindful practices.
Moreover, The Organic Coffee Company, a family-owned enterprise with deep American roots, assures you of a high-quality product meticulously roasted and packaged in the USA.
So if a decaffeinated coffee brimming with flavor and conscientiously produced is what you're after, this coffee stands as an outstanding choice.
⬇️7. Best Affordable Espresso Beans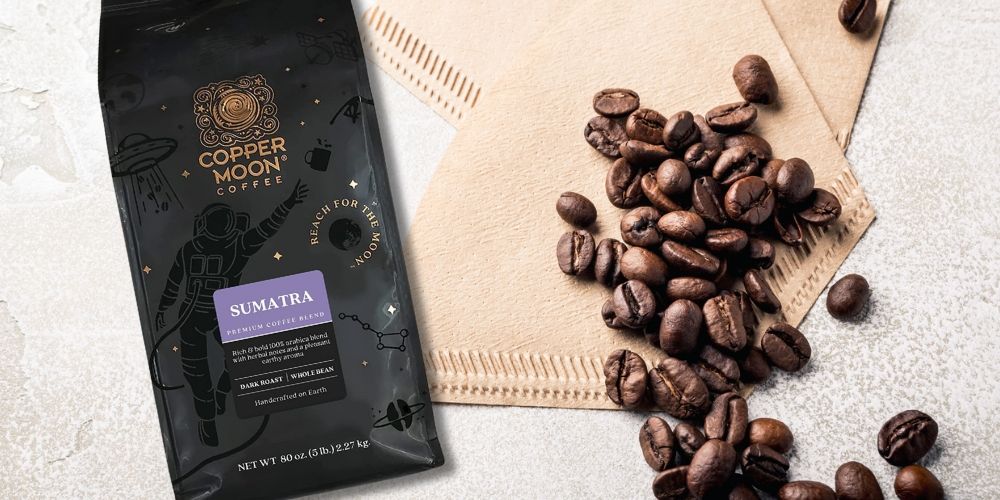 ✔️Key Features: Rich, smooth taste with smoky character, herbal notes, roasted almonds, and earthy aroma, Suitable for grinding your own beans or using a reusable K-cup, Suitable for individuals with dietary restrictions or preferences
✅Pros: Gluten-free, non-GMO, allergen-free, and kosher, Delicious taste with a unique flavor profile that satisfies coffee enthusiasts
❌Cons: The flavor may be too strong for some
👉Our Rating: Quality: 4/5 | Versatility: 4/5 | Flavor Pairing: 4/5 | Value for Money: 4/5
Copper Moon's superior coffee blend, meticulously sourced from secluded corners of Indonesia, promises a lavish, silky taste that appeals to even the most discerning coffee aficionados. This dark roast, distinguished by its unique smoky personality and herbal nuances complemented by roasted almonds and an earthy aroma, is an ideal choice for those longing for a cafe-level coffee experience in their own home. Copper Moon ensures a flawless cup every time, whether you favor grinding your own beans or utilizing a reusable K-cup, making it one of the best coffee grounds available.
Beyond its irresistible taste, Copper Moon coffee embodies a commitment to social and environmental responsibility. The company's 'SEE Copper Moon Rising' initiative centers on acquiring the finest green coffee beans from modest, family-operated farms and bolstering female farmworkers, while also tackling the implications of climate change. As Copper Moon Coffee is gluten-free, non-GMO, free from allergens, and kosher, it serves as an excellent option for those adhering to specific dietary requirements.
⬇️6. Best Medium Roast Espresso Beans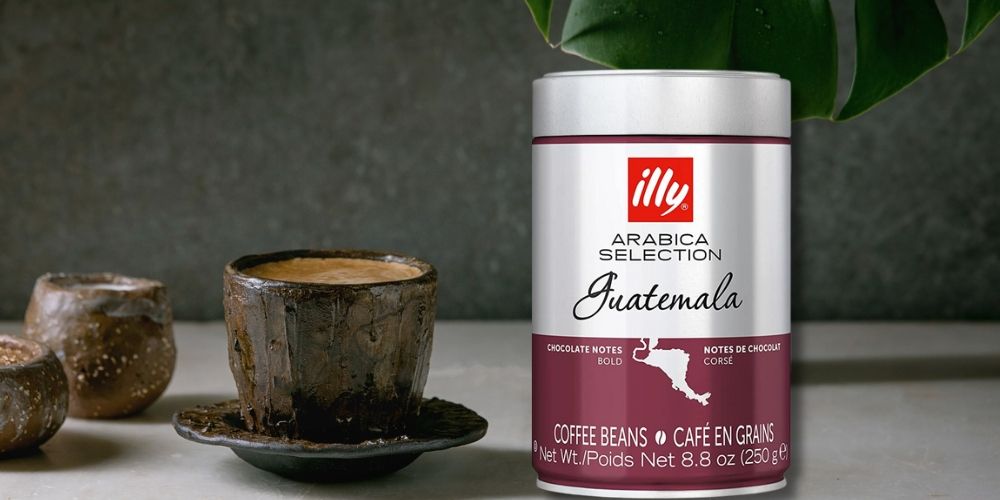 ✔️Key Features: Optimal freshness and aroma due to pressurized packaging, Carefully selected and meticulously roasted beans
✅Pros: Unique taste and distinct aroma from each origin, providing a journey for the senses
❌Cons: Medium roast may have milder flavor notes that others may find lacking
👉Our Rating: Quality: 5/5 | Versatility: 4/5 | Flavor Pairing: 4/5 | Value for Money: 4/5
The Illy coffee beans, meticulously selected and exquisitely roasted, represent the pinnacle of high-quality espresso beans. Their pressurized packaging not only conserves the blend's flavor intricacy and enhances its aroma but also guarantees prime freshness with every brew.
Each can contain 8.8oz of single-origin Arabica selections of Guatemalan coffee, allowing you to savor the unique taste and distinct aroma characteristic of this origin. Boasting nearly 5,600 five-star ratings, it's undeniable that this coffee has won over the crowd. One satisfied customer gushed, "This coffee is so smooth and delicious. I love the wonderful taste." Don't hesitate; indulge in a cup of Illy Classico espresso and embark on an exploration of taste, one ingredient at a time.
⬇️5. Best Drip Coffee Beans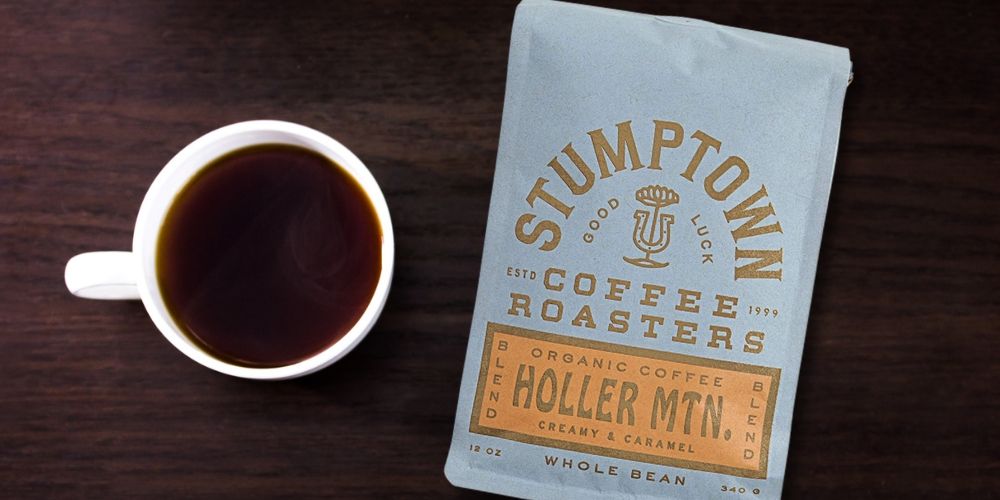 ✔️Key Features: Made from 100% Arabica beans, Burst of citrus and berry jam flavors with creamy caramel notes
✅Pros: Unique and complex flavor profile, Versatile brewing options to suit different tastes
❌Cons: Relatively higher price compared to other options
👉Our Rating: Quality: 4.5/5 | Versatility: 4/5 | Flavor Pairing: 4/5 | Value for Money: 3.5/5
Crafted from 100% Arabica beans, this coffee has been a cherished local selection for years, delivering a distinct taste that guarantees satisfaction. Its standout attribute is its nuanced flavor profile – a vibrant citrus burst and berry jam nuances, beautifully balanced with creamy caramel undertones. This combination results in a complex and versatile coffee, making Holler Mountain the ideal choice, whether you want a strong espresso shot or a smooth daily cup of drip coffee. Plus, it's the perfect gateway to the world of espresso for beginners!
Boasting over 5,800 verified five-star customer reviews, this coffee is a surefire crowd favorite. While it might lean towards the more expensive side, the coffee's superior quality and unique flavor profile justify the investment, offering an unbeatable coffee experience.
⬇️4. Best Espresso Beans for Automatic Machines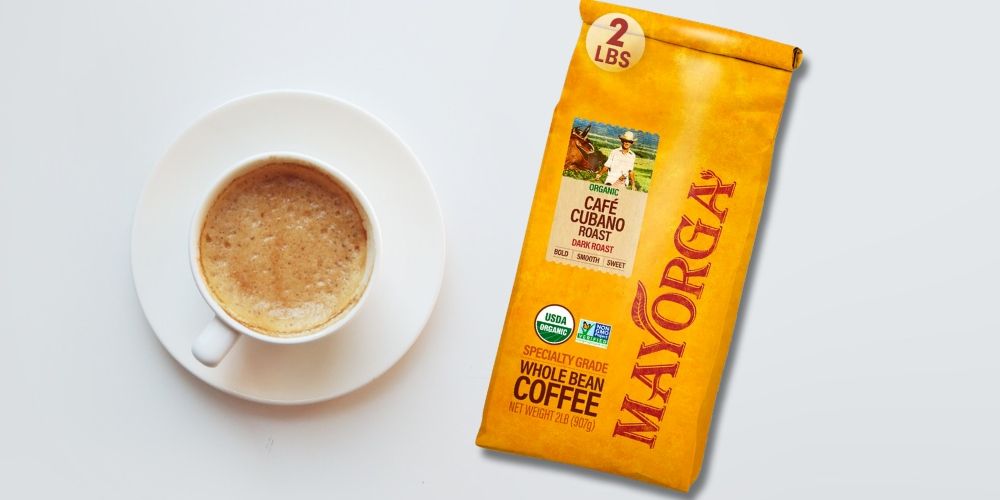 ✔️Key Features: Made from 100% Arabica beans, Organic and sustainably sourced coffee, a signature slow-roasting process in small batches for a distinct flavor
✅Pros: Blend of high-quality beans from Latin America for a unique flavor profile, Affordable price compared to other specialty coffees
❌Cons: Bold, smoky taste may not appeal to those who prefer milder coffee flavors
👉Our Rating: Quality: 4.5/5 | Versatility: 3.5/5 | Flavor Pairing: 4/5 | Value for Money: 4/5
Mayorga Cuban coffee is a masterfully curated whole bean espresso roast, perfectly melding smoothness, intensity, and a subtle touch of sweetness. This favored selection among coffee connoisseurs reflects Mayorga's unwavering commitment to quality.
Sourced entirely from 100% Arabica beans harvested in Peru, Honduras, and Nicaragua, this roast presents an exclusive flavor profile. This careful selection of the finest beans from small farms across Latin America ensures a freshness that's characteristic of organic products.
The distinguishing factor that sets Mayorga's coffee apart is their signature slow-roasting process. This Latin roasting technique enables small-batch roasting, imparting a unique flavor to each batch. It is this factor that contributes to the coffee's rich, bold taste, making it an ideal choice for those who cherish a dark, smoky brew.
Earning over 6,900 verified five-star ratings, Mayorga Cuban Coffee has clearly captured the hearts of coffee enthusiasts. Its affordable price, superior quality, and bold flavor make this coffee an absolute must-try for anyone eager to begin their day with a perfectly brewed, delicious cup of coffee.
⬇️3. Best Coffee Beans for Espresso Machine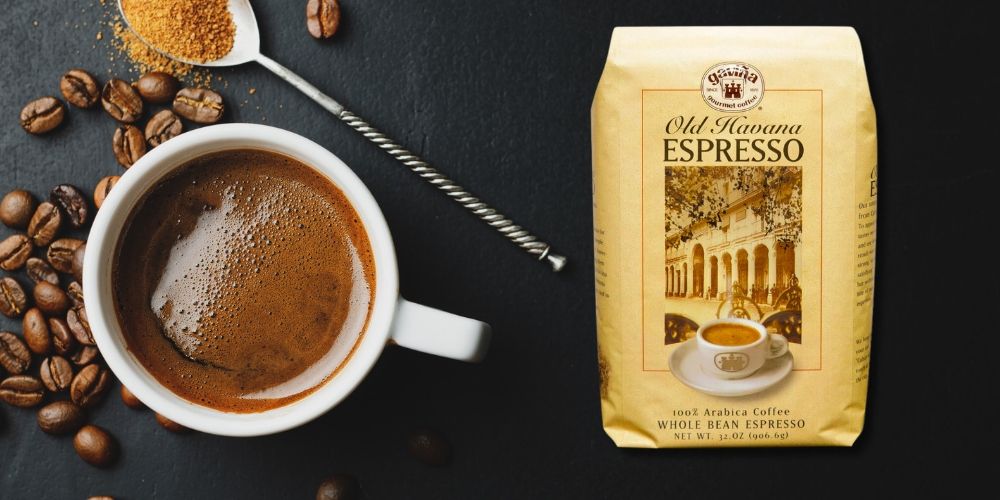 ✔️Key Features: Medium-roast coffee with a Cuban heritage and espresso focus, Sweet, nutty, and citrus flavor profile with a smooth finish, Whole-bean coffee for maximum freshness and flavor retention
✅Pros: Delicious and unique flavor profile with sweet, mellow taste, Versatile coffee suitable for espresso and other brewing methods, Thick crema for an authentic espresso experience, Fresh, smooth, and creamy texture
❌Cons: Some may not enjoy its distinct flavor profile
👉Our Rating: Quality: 4/5 | Versatility: 3.5/5 | Flavor Pairing: 4/5 | Value for Money: 3.5/5
For those in pursuit of the best coffee grinds that not only offer delectable flavor but also uphold ethical and sustainable sourcing, Gavina espresso is a splendid choice. This medium-roast coffee pays homage to the Cuban coffee culture, where espresso is deeply revered. With its harmony of sweet, nutty, and citrus notes, complemented by a velvety finish, this coffee provides a flavor journey like no other.
From the first sip, it becomes apparent why this coffee has garnered a dedicated fan base. The fusion of caffeine and the unique flavor bouquet serves as the ideal revitalizer at any time of the day. Whether you're an early riser or an afternoon caffeine aficionado, Gavina espresso is certain to energize your moments.
Long-standing espresso enthusiasts, as echoed by one of the reviewers, will be captivated by this coffee's rich crema and mellow sweetness. Even if you're not a Cuban coffee expert, you're bound to appreciate the freshness, smoothness, and creaminess of this exceptional espresso.
⬇️2. Best Espresso Beans for Cappuccino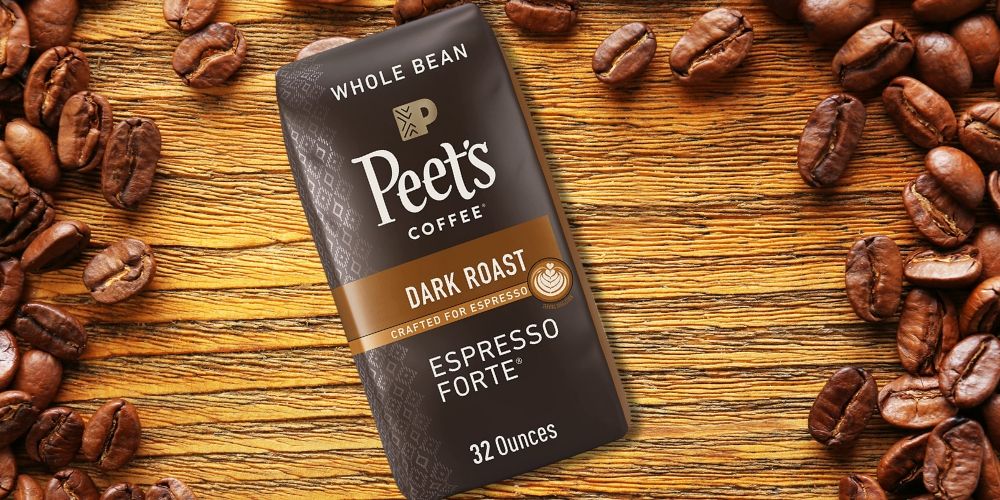 ✔️Key Features: Chocolate and hazelnut notes for a unique and irresistible taste, 100% Arabica coffee beans, Expertly roasted to create a dark roast with a bold body
✅Pros: Smooth crema and rich, complex flavor, Versatile for various brewing methods, Suitable for both casual coffee drinkers and seasoned coffee connoisseurs
❌Cons: Dark roast may be too intense for those who prefer milder coffee flavors
👉Our Rating: Quality: 4.5/5 | Versatility: 4/5 | Flavor Pairing: 4/5 | Value for Money: 4/5
Boasting a velvety crema and a robust, multifaceted flavor, Peet's Coffee is the ideal selection for coffee enthusiasts who savor the profound and gratifying essence of a meticulously crafted coffee blend. The enticing fusion of chocolate and hazelnut notes orchestrates a unique and irresistible flavor that keeps you coming back for more.
This 32-ounce package of 100% Arabica coffee is skillfully roasted to yield a dark roast that showcases a bold body and abundant flavor. The versatility of Peet's Espresso coffee makes it a superior choice for various brewing methods, including espresso, drip, pour-over, French press, or cold brew. The medium grind fits perfectly for drip or pour-over methods, while a fine grind caters to espresso enthusiasts, and a coarse grind is well-suited for cold brew or French press.
Sporting a 4.5-star average rating and accumulating over 1,800 five-star reviews, Peet's Espresso coffee has undeniably won the hearts of coffee aficionados. A testimonial from a satisfied customer reads, "After trying dozens of coffee beans, this is the best-tasting bean that has won over our discerning crew members. I look forward to my cup every day." Whether you're a seasoned coffee connoisseur or simply on the hunt for a phenomenal cup of coffee, Peet's Espresso Forte Dark Roast Whole Bean Coffee is a blend worth exploring.
⬇️1. Best Light Roast Espresso Beans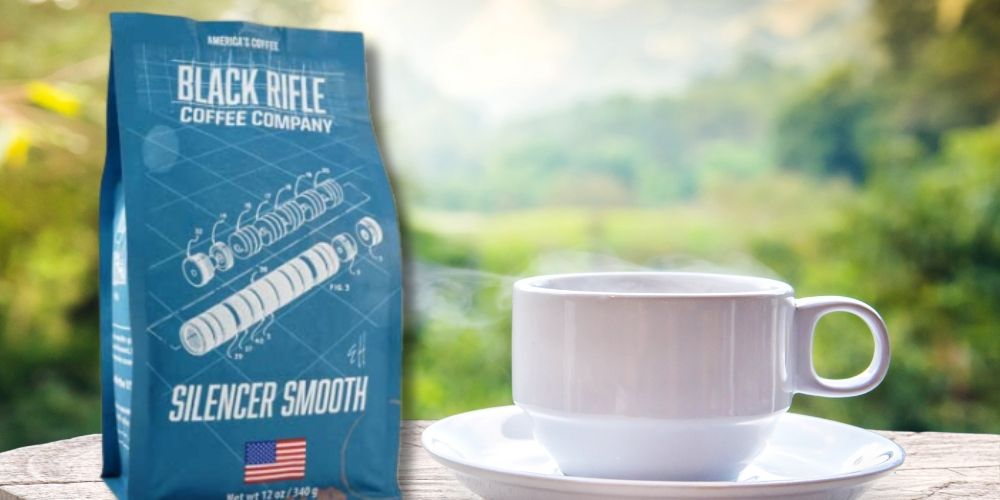 ✔️Key Features: Colombian Arabica coffee with a sweet aroma and flavors of citrus, caramel, and milk chocolate, Lighter coffee blend for those who prefer a milder taste
✅Pros: Delivers a robust and smooth flavor, Variety of options available to cater to different taste preferences
❌Cons: Light roast may not appeal to those who prefer bolder coffee flavors
👉Our Rating: Quality: 4/5 | Versatility: 4/5 | Flavor Pairing: 4/5 | Value for Money: 4/5
Exhibiting a delightful aroma and bursting with vibrant flavors of citrus, caramel, and milk chocolate, this Colombian Arabica coffee culminates in a clean and distinctive finish. Crafted for those with a penchant for lighter coffee blends, the Silencer Smooth serves as an excellent counterpart to Black Rifle's array of medium and dark roasts.
Black Rifle Light Roast Coffee caters to all preferences, offering a choice between whole beans or ground coffee. They expertly formulate their blends from Brazilian and Colombian coffee beans, aiming to create a full-bodied and silky flavor. With each of their diverse range of roasts, from extra dark to light, roasted in-house, you're guaranteed the freshest, good bean coffee.
With an impressive tally of over 7,400 five-star ratings, customer adoration for this brand is evident. One impressed reviewer noted, "This coffee boasts a bold yet smooth flavor. I wouldn't hesitate to recommend it to any coffee enthusiast." Another satisfied customer declared, "This is my top coffee pick." Elevate your mornings with a delectable cup of Silencer Smooth and show support for our veterans with every sip you take.
Best Espresso Beans FAQ
What are the best beans for espresso?
To find the best espresso coffee beans, consider these key factors:
Roast Level: Look for medium-dark to dark roasted beans for rich flavors and a velvety crema.
Bean Quality: Choose 100% Arabica beans for superior taste and aroma compared to Robusta.
Freshness: Opt for freshly roasted coffee beans (roast date within two to four weeks) for vibrant flavors.
Flavor Profile: Explore different regions and blends to find your preferred flavor characteristics.
Grind Consistency: Ensure a fine and consistent grind size for proper extraction.
Trustworthy Brands: Consider reputable brands and specialty roasters known for quality and expertise.
Personal Preference: Experiment to discover the beans that match your taste preferences.
By considering these factors, you can find the best espresso coffee beans for a delightful and satisfying coffee experience.
How much caffeine is in the espresso bean?
The caffeine content in dark roast espresso beans is typically slightly lower compared to lighter roasts. The extended roasting process of dark roasts can cause some of the caffeine to dissipate. However, the actual caffeine content can still vary among different dark roast blends and brands. Additionally, the brewing method used also affects caffeine extraction. Espresso shots, despite having less caffeine per ounce, are more concentrated, resulting in a higher caffeine per volume ratio. Individual tolerance to caffeine varies, so it's important to be mindful of personal sensitivity and adjust consumption accordingly.
Can you make espresso with regular coffee maker?
While you cannot make authentic espresso using a regular coffee maker, you can still achieve a strong and concentrated coffee by using an espresso blend in a regular coffee maker. Espresso blends are roasted to a darker level and have a finer grind, resulting in a more robust flavor. Adjusting the coffee-to-water ratio and using a slightly finer grind can intensify the strength of the coffee. However, keep in mind that the resulting beverage won't have the same characteristics as true espresso. It's a matter of experimenting with brewing techniques and ratios to create a bolder and more intense cup of coffee.
Can you use any coffee for espresso?
Using a specific espresso blend is recommended to achieve the desired flavor and characteristics of espresso. These blends are specially crafted with a combination of coffee beans that are roasted to a darker level and ground finer than regular coffee. While you can experiment with other types of coffee beans, an espresso blend offers the best chance of achieving the authentic espresso experience.
How to store espresso beans?
To store espresso beans and maintain their flavor, follow these steps:
Use an airtight container: Store espresso beans in a sealed container designed for coffee storage.
Keep away from heat and light: Store the container in a cool, dark place to avoid exposure to heat and light.
Avoid temperature changes: Maintain a consistent temperature to prevent condensation and moisture buildup.
Don't refrigerate: Avoid storing espresso beans in the refrigerator to prevent moisture absorption and flavor alteration.
Grind before brewing: For the freshest espresso, grind the beans just before brewing.
By storing your beans properly, you can preserve their flavor and enjoy a delicious espresso taste in your cup every time.
How to grind coffee beans for espresso?
To achieve the best results when grinding coffee beans for espresso, utilize a burr grinder to ensure consistency. Adjust the grind size to be fine, resembling table salt or fine sand. It's crucial to aim for a uniform grind, properly dose the coffee, and grind just before brewing, particularly when using espresso machines, to maintain freshness and attain the desired flavor profile.
Where to buy espresso beans?
When searching for where to buy espresso beans, consider exploring specialty coffee shops, local roasters, and online retailers that offer a wide selection of single origin coffee beans. These sources often provide a range of options with distinct flavor profiles, including those with dark chocolate notes. Additionally, they prioritize quality and freshness, ensuring a delightful and satisfying espresso experience. Take advantage of customer reviews, recommendations, and ratings to guide your decision and find the perfect place to purchase your desired espresso beans.
Final Thoughts
Choosing the perfect espresso beans is a crucial step in crafting an exquisite cup of home-brewed coffee. From the depths of rich, dark roasts to the delicate nuances of lighter blends, we have navigated through a diverse range of beans in this list of the 15 Best Espresso Beans for the Perfect Home Brew. These selections represent the highest quality, good bean coffee, showcasing unique flavors and exceptional craftsmanship from around the globe.
They each hold their own distinct characteristics, yet share a common thread of quality and passion for delivering a superior coffee experience. Whether you're a beginner or a seasoned barista, we hope this guide has illuminated your path to finding the espresso beans that best suit your taste and brewing style, ultimately leading you towards the perfect home brew.
Comments