This post may contain affiliate links, please see our privacy policy for details.
Whether you're a cat owner or not, everyone has to admit that these furry friends are pretty adorable. Whether they're sleeping on your bed or taking a nap in a sunny window, cats are sure to make your day.
If you're looking for the best gifts for cat owners, you've come to the right place! In this blog post, we'll be sharing our top picks for the best gifts for cat parents that will get them meowing with excitement.
From unique and quirky items to ones that will make their lives easier, we've got you covered. So whether you're shopping for a friend or finding a gift for yourself, be sure to check out our list!
How We Choose
Anyone who has ever had a cat knows that they are amazing furry friends. They are loyal and loving, and will always make you feel at home. There is something about their personalities that just makes people fall in love with them. If you know someone who loves cats and a special occasion is coming soon, here are some tips on how to choose the best gifts for a cat lover:
Allocate budget - There are plenty of great gifts available that won't break the bank, but it's important to remember that not everyone wants something expensive. If you're unsure what kind of gift is appropriate for your loved one, ask them! They will be happy to recommend something they know they'll love.
Consider the person's personality - For someone who loves spending time outside, consider buying them a new outdoor cat toy. For someone who loves to curl up on the couch with a good book, consider buying them a new book about cats. There is something for everyone on our list of top gifts for cat lovers!
Know their style - Some people favor practical gifts such as food or toys that can be used right away, while others might enjoy presents that are more aesthetically pleasing. Think about what kind of cat lover they are and what types of gifts would fit their personality.
Best Sleepwear for Cat Lady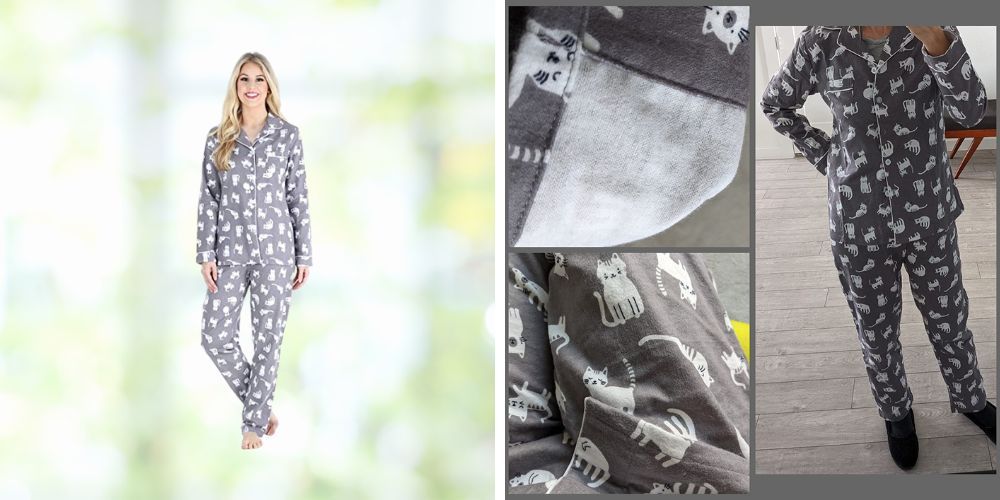 Get ready for some serious snuggliness with these amazing PajamaMania Flannel Pajamas! For well under $30 you can get yourself 100% cotton, quality sleepwear in cat design or choose from other options - it's no wonder there have been over 4,000 5-star reviews on Amazon.
This set is perfect for your favorite feline fan or simply for cozying up on those cold winter nights. It features a button-down top with a notched collar, plus one chest pocket. The pants include an elastic waistband and a patch pocket at the back. And best of all, they're made of a soft and durable fabric that will keep you comfy throughout the night.
Best Tote Bag for Cat Owners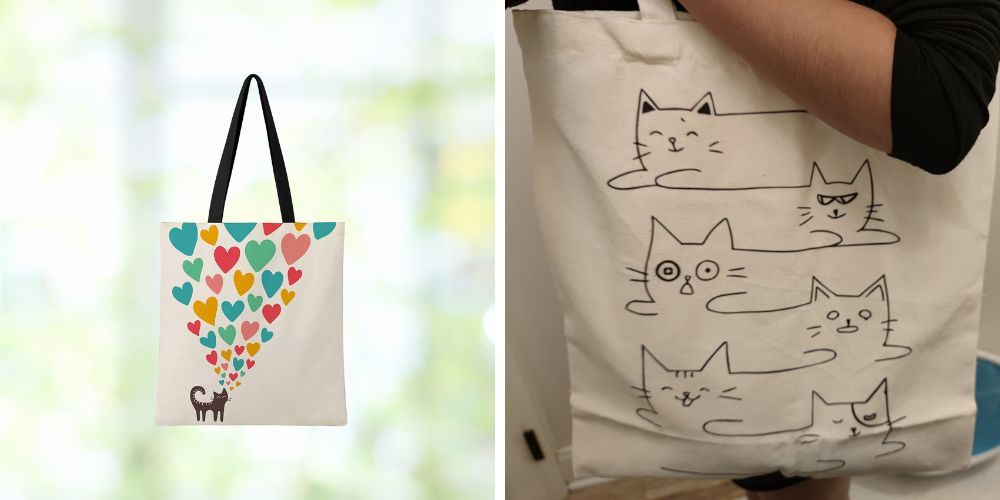 For the cat mom in your life - or anyone else who needs a tote bag that can do it all - look no further than this BeeGreen Cat Tote Bag!
This stylish and practical bag is perfect for grocery shopping, camping trips, or just carrying all your everyday items. It measures W-14.75 and H-15.5 inches, which means there's plenty of space for all of your things! There are two inner pockets for easy organizing, plus a convenient zipper pocket for keeping important items safe. Not to mention, this bag will look great with any outfit - making sure you keep your essentials close and stylish at all time
Best Cute Wristwatch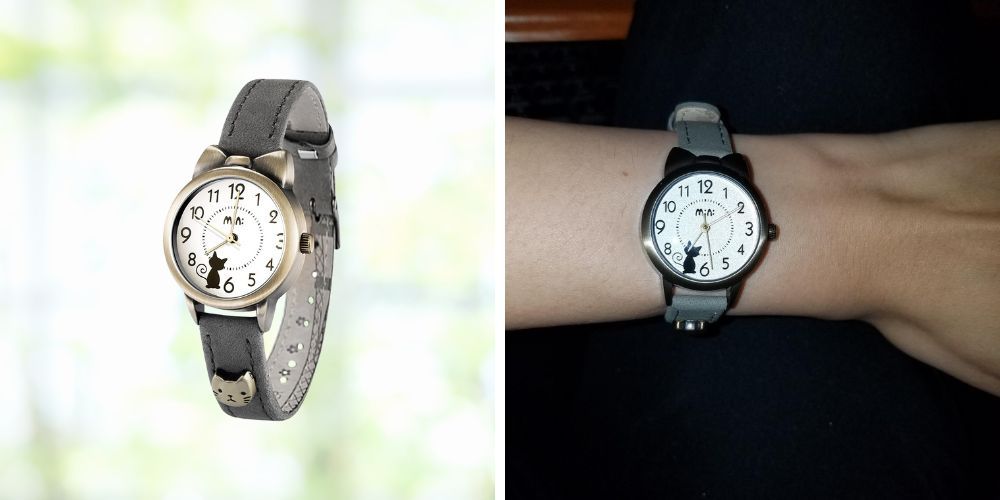 This stylish and practical wristwatch is perfect for any little one or adult woman who loves cats! Not only is this quartz watch water resistant up to 3ATM, but it also has a unique appearance with a beautiful little cat face on the strap. Plus, there's even a black cat on the face - making this watch just as cute as it is functional.
This wristwatch comes well recommended by shoppers. "Love this cute watch for all cat lovers. Easy to read dial and is the perfect size for my wrist. Well made." one reviewer wrote.
Best Cat Lover Art Print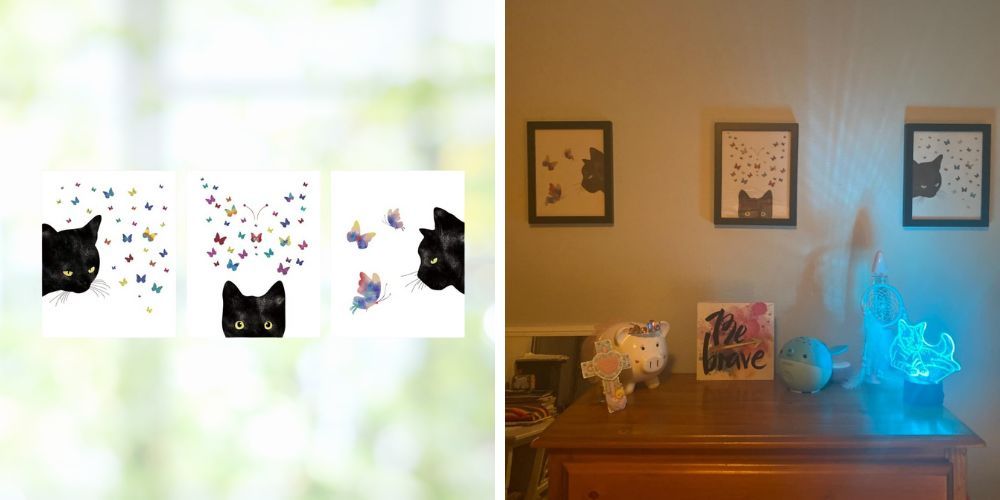 Get ready to purr with This Black Cat With a Colorful Butterfly Art Print! Perfect for any cat lover, this unisex art print is a great gift for family, friends, and loved ones. It's made from high-quality watercolor canvas that'll last longer and look great in any room.
Plus, the bright and lively colors will definitely add some life to your décor. Measuring 8 x 10inch (20x25 cm 3 pcs Set) canvas prints, this set comes packaged in a beautiful package - or you can purchase a frame separately if you like. According to one reviewer: "The print quality is good. It comes in three sheets that can be hung by itself or you can purchase a frame separately (dollar store) and hang it up that way."
Best Coffee Cup for Cat Mom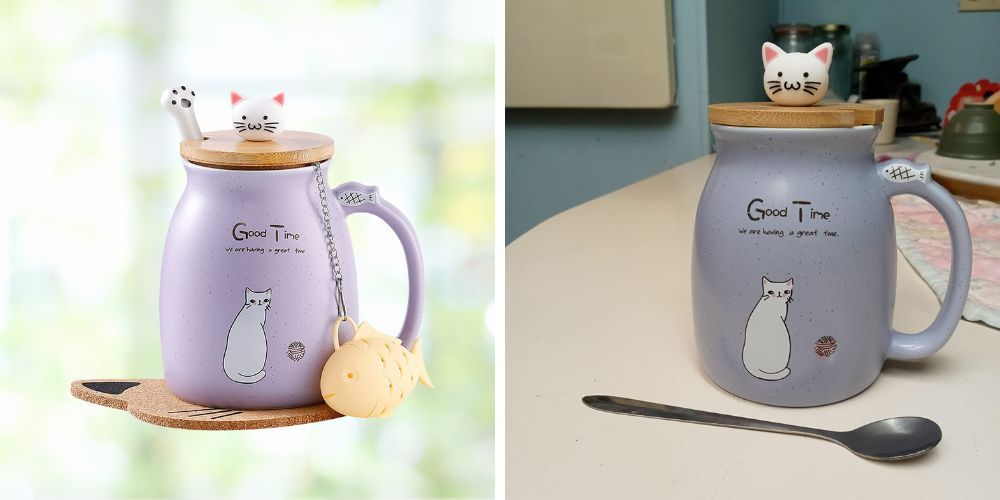 Gift your friend the purr-fect cup of coffee or tea with this adorable Cat-Lid Ceramic Mug! This exquisite mug is not just your ordinary cup - it comes with a unique kitty lid and paw spoon, a fish tea infuser, and a cute cat coaster. Plus, you can choose from four different colors - blue, pink, purple, and yellow!
With almost 6,300 five-star ratings from satisfied shoppers, this makes the perfect gift for any cat lover. One shopper said: "This was the perfect gift for my daughter who loves cats and likes to drink tea. The quality of this item is much nicer than I anticipated. It comes with a tea holder (fish) that's on a chain. Cute as heck." Another said "I'm a cat lover and had to have this mug. It's so cute and loves the top with the spoon. The coaster is a cat-shaped cork.
Best Cat-Designed Socks for Women
Keep your feet and your feline friends warm with Jeasona Cat Socks! Crafted from soft, high-quality cotton, these socks are designed to keep your kitty comfortable during the colder months. With a good stretchy texture and free size (perfect fit for 22.5-25.5 cm, suitable for women US size 5-8) these socks make for an affordable present that's sure to be a hit with any cat lover.
Don't just take our word for it - this item has 20,000+ five-star ratings from satisfied customers. As one reviewer said: "Cute and well made" while another commented "My wife was so excited when she got them. She loves our cats and what better way to show it than on your socks? On top of that they are super soft and comfy. This was a great gift."
Best Sleeping Eye Mask for a Cat Parent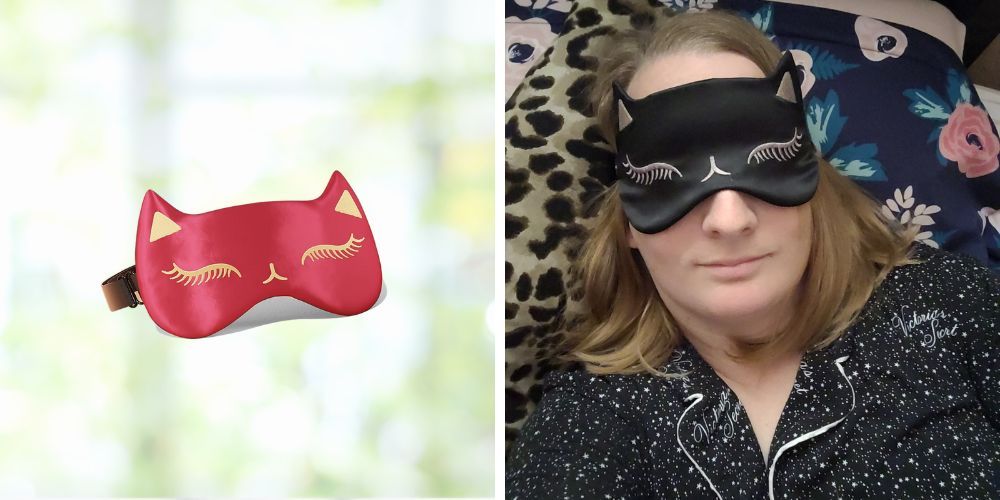 Help your cat person friends get the best sleep possible with this Luxurious Cat Eye Mask! With its soft fabric and elastic silk strap, this eye mask fits comfortably and securely around your head to block out light and help you fall asleep faster.
Plus, it's designed to keep hot sleepers from sweating during their slumber.  One reviewer couldn't get enough of it: "I will re-order for gifts!"
Best Knitted Beanie for Cat Owners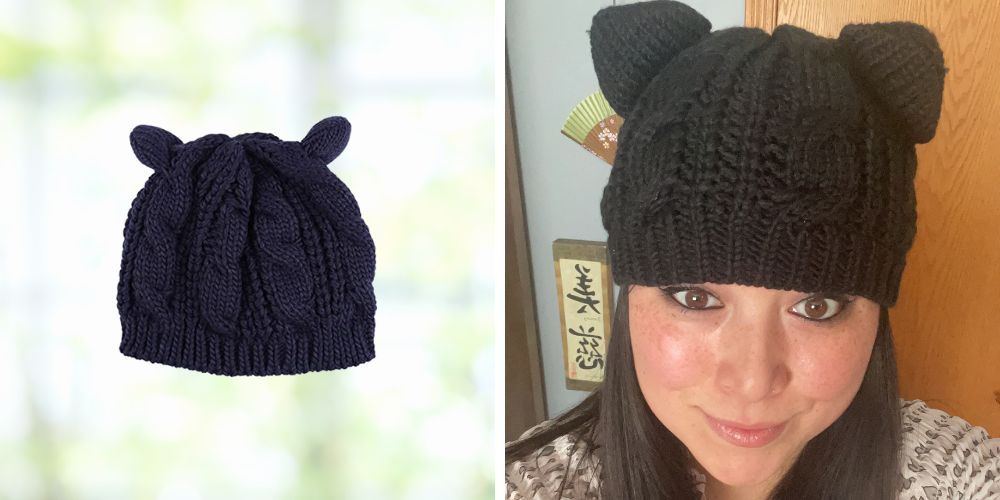 This cute knit Kitty Ears hat is a perfect gift for any fashion-savvy cat ladies out there! Made from a warm, soft yarn, and are incredibly durable. They will keep your head and ears warm on those chilly days, while their trendy design is sure to turn heads. Reviewers love this hat for being soft, comfortable, and oh-so cute!
Best Catnip Toy for Cats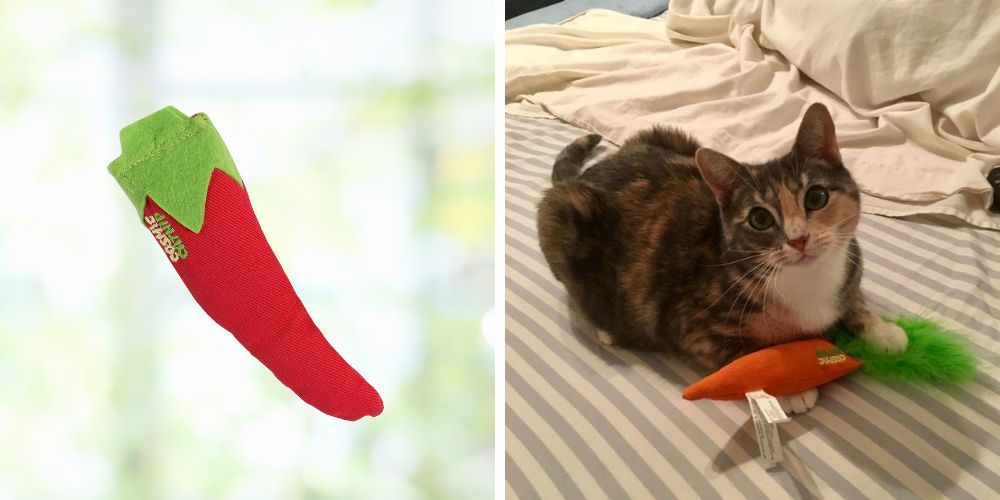 Give your cat-lover friends' fur babies something to go wild over with Filled Toys! With seven different shapes – Carrot, Banana, Fish, Snake, Cigar, Cactus, and Chili – your favorite feline will have plenty of options for physical play and mental stimulation. Plus, all toys are crafted with polyphenols from North American soil to ensure your kitty has the best quality of ingredients!
If that wasn't enough to convince you of its excellence - this toy already has 12,400+ five-star ratings from satisfied customers. One reviewer wrote: "Got this for a friend's cat and it is now her favorite toy. She likes it more than her other catnip toys even
Best Cat Charmer for Cats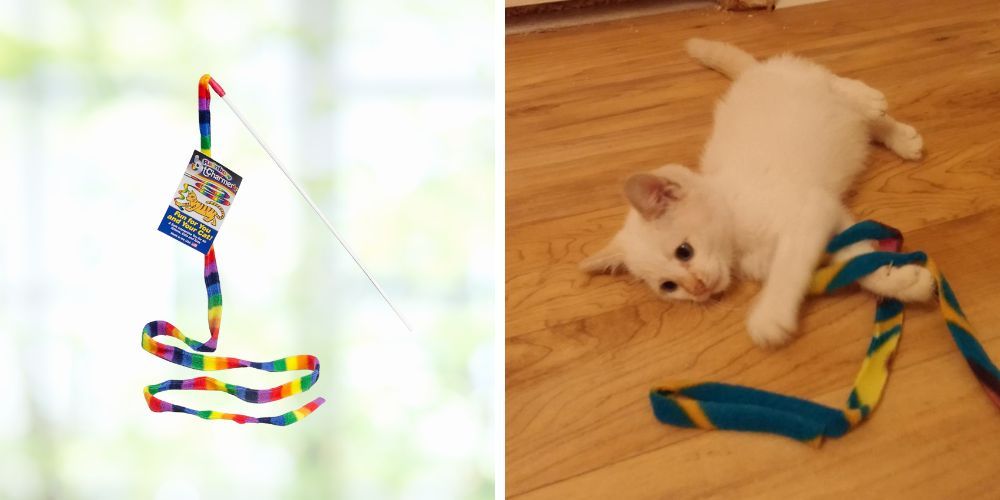 Delight your cat-loving friends with this Rainbow Cat Charmer! Not only is it designed with a vibrant rainbow pattern that your feline friend is sure to love, but its durability ensures that you can use this toy in any room of the house without worry of it breaking. Plus, its 25,000+ five-star reviews speak volumes of its appeal – this charmer will give your cat plenty of fun and entertainment!
Best Crunchy Treats for Cats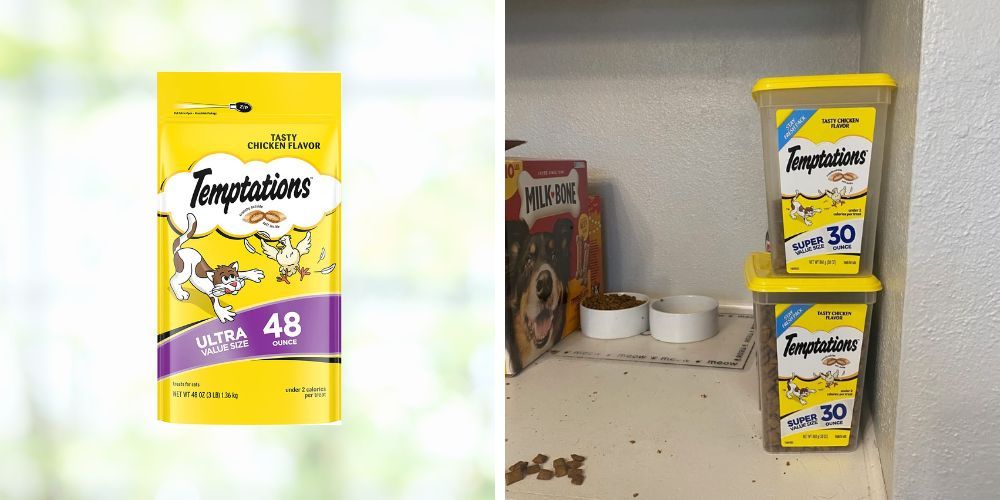 These Cat Treats are made with real chicken, these tasty treats come in a variety of flavors for your feline friend to enjoy. Not only that, but the crunchy outer layer is great for satisfying their hunger while the soft center satisfies their yearning for love. With 32,000+ five-star reviews, you know this cat food has to be worth trying!
Best Lickable Treats for Cats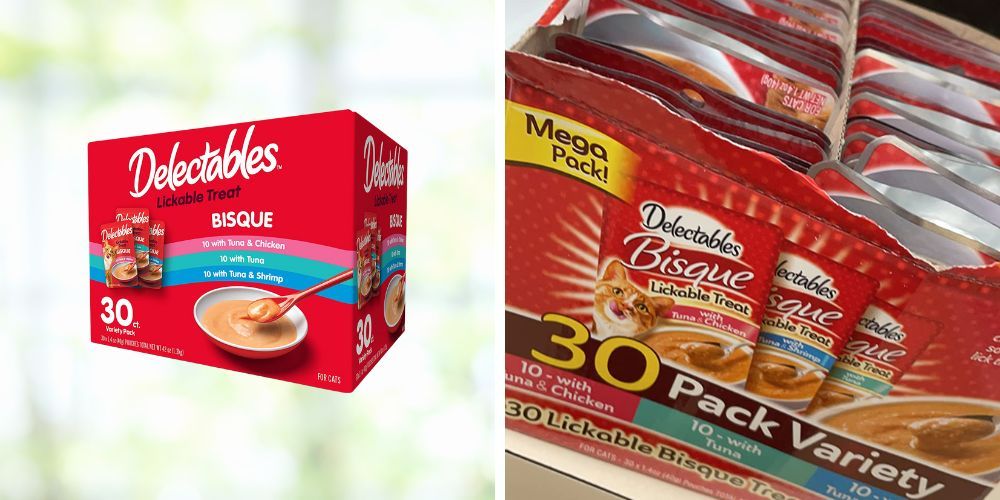 These Bisque Treats combine tender chicken or succulent fish with a smooth and satisfying sauce that cats can't resist. Not only are they made with all natural ingredients, but you won't have to worry about your cat getting bored – these 6 irresistible textures in a wide variety of flavors guarantee hours upon hours of entertainment. Plus, one reviewer was so satisfied by the deliciousness that their cat finished every last drop – so why not give it a try?
Best Water & Food Bowl Set for Cats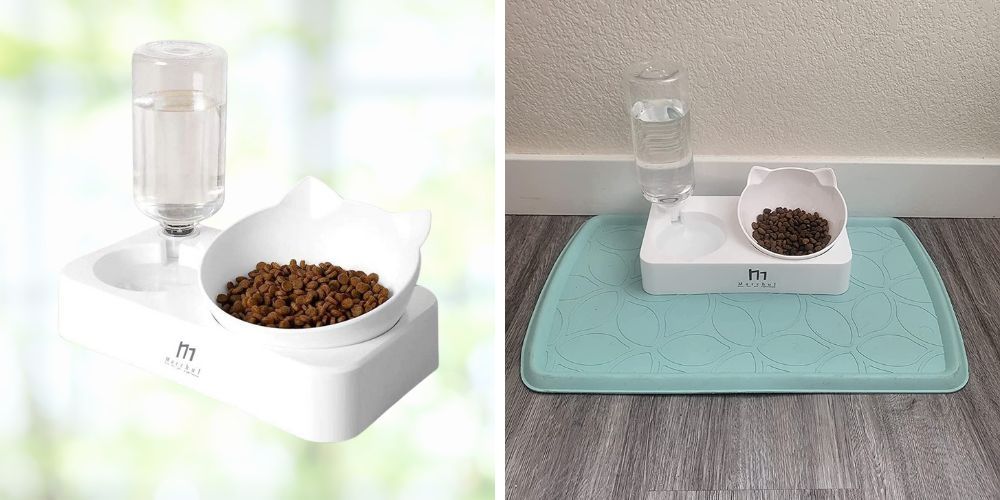 Whether your furry friend is new to the kitty lifestyle or an old pro, every cat parent needs a place to put their food and water - and that's where Marchul Bowls come in. Thanks to their unique tilt and comfortable 7cm raised stand design, your cat can now dine in style while being protected from cervical vertebrae damage.
Not only are they made from food-grade materials that are both safe and easy to clean, but one shopper said it best: "If anyone knows a kitten can make a mess when they eat, buy this bad boy and problem solved due to the curve of the food bowl there no more scooting it out the bowl. Highly recommended!"
Best Fur Brush for Cats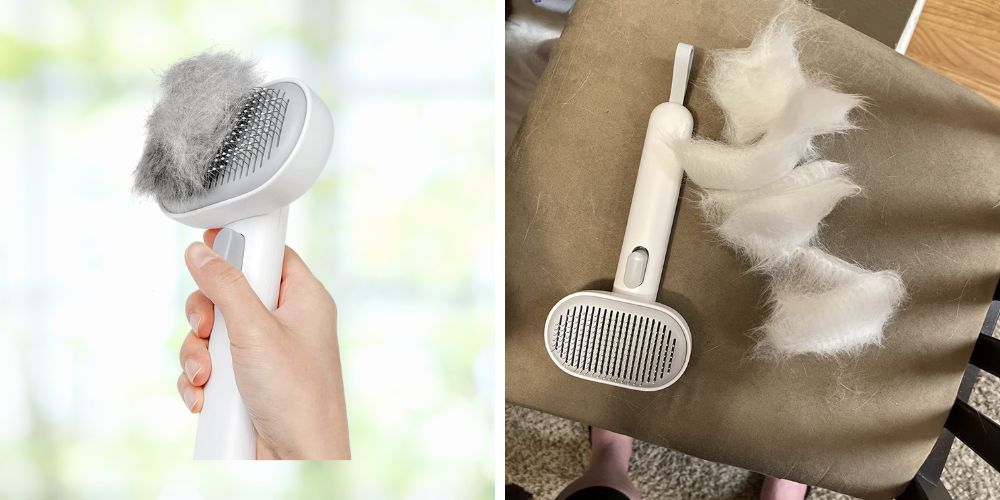 Whether your special someone is a pet owner or not, everyone knows that cats shed - and it can be really difficult (and time-consuming!) to remove all that loose cat hair. That's why the Aumuca Deshedding Brush is a must-have! Not only does it help to quickly remove hair and debris from your cat's coat, but its stainless steel wire bristles are 1.2x as thick as those found in other brushes - so you won't have to worry about it being too gentle for even the biggest kitties.
Plus, one happy reviewer said "My cat, Stormy, ABSOLUTELY ADORES this brush! [...] We have designated brush time every day, and Stormy immediately starts purring when I start brushing him. He's never been so soft, shiny, and shed-free in years!!" Treat your feline friend today with the Aumuca Deshedding Brush and make cleaning up after them easier than ever!
Best Bed Fleece Blanket for Cats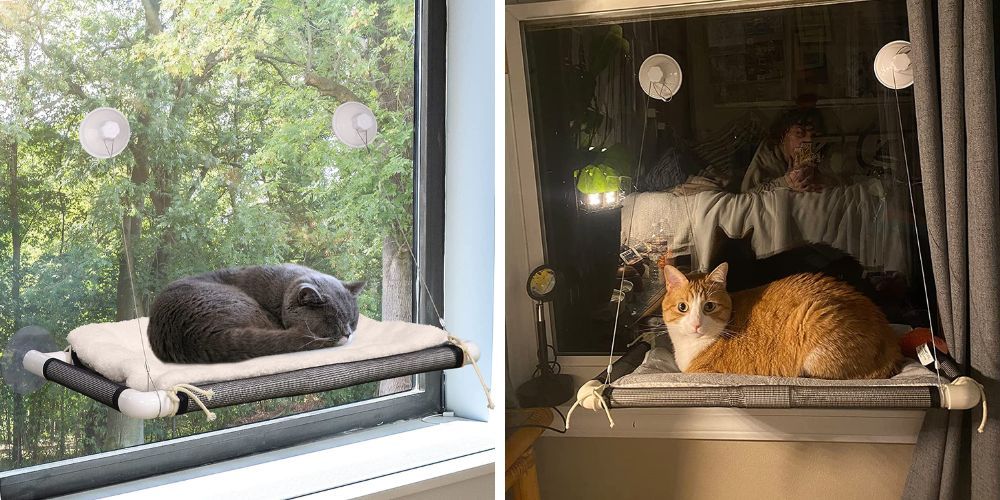 If you have any cat-loving family members in your life, this is the perfect gift! Especially since it has over 2,600 verified five-star ratings from shoppers who appreciate its affordable price, quality construction, and ease of assembly. This large cat bed is specifically designed to accommodate cats of different weights, so they can play together without feeling crowded.
Plus, its breathable mesh cloth fabric is both high-quality and durable - so their little bodies won't overheat during their cat nap. There's even an ultra-soft fleece cushion for them to rest their heads on - now that's what we call a cat's hommock dream come true!
Best Cat T-Shirt for Cats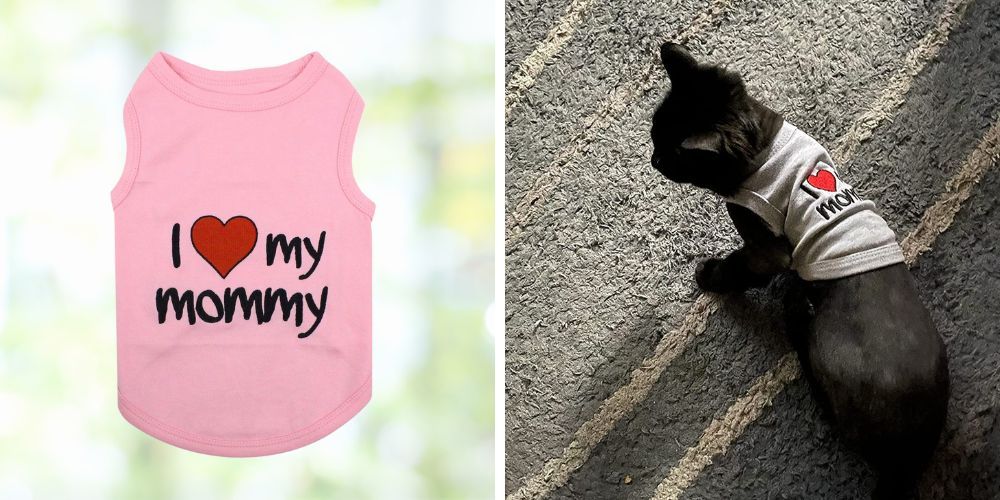 This is the perfect gift for your cat-loving friends. This Tee Shirt is not only  made from 100% cotton for added comfort, but they're also soft, flexible, breathable, and machine washable. All that means is your furry friend will be kept cool and comfortable no matter what the temperature.
They even make a great fashion statement - one reviewer said "This is absolutely the cutest shirt [...] so I hoped I helped amazon out nobody would be let down this shirt it's adorable..thx u amazon.." Get your pet ready for any occasion with these stylish and comfy pet tees!
Best Gifts for Cat Lover FAQs
What to gift a person who loves cats?
There are so many things you can give a person who loves cats! Some ideas include cat-themed gifts like catnip toys, scratching posts, or even a new litter box. You could also get them a new cat toy, a new kitty litter, or a new set of cat food dishes. Or maybe they just need some TLC and you can give them a gift basket filled with goodies like treats, toys, and new bedding for their feline friend.
What are fun things for cats?
There are so many things to do with cats, it's hard to pick one! Here are a few ideas:
Play with a string or feather toy. Cats love to swat and bat at these, and they're also great for keeping them entertained while you're doing other things.
Set up a "cat tree". This is basically just a bunch of branches or leaves arranged in a way that your cat can climb up and explore.
Hide small treats around the house. If your cat is a hunting animal, this will help keep its mind active and engaged.
How do you impress a cat lover?
The best way to impress a cat lady is to show them that you understand and appreciate their love for cats. Show them that you're knowledgeable about all things feline, and be willing to share your own knowledge and experiences with them. And, of course, always keep your cat safe and happy!
What to get a boy who loves cats?
There's no one-size-fits-all answer to this question, as the best gift for a boy who loves cats will vary depending on his interests and personality. However, some ideas for gifts for a cat lover boy include books about cats, cat toys, and cat-related accessories.
Final Thoughts
If you're looking for the best gifts for cat lovers, consider some of these unique and unexpected ideas. Whether they're catnip toys or delicious cat treats, your friends and family members will be thrilled with the surprise. So go ahead and give the gift of joy - to a furry friend and all-around great friend - by giving them something unique and special!
Other Posts You May Like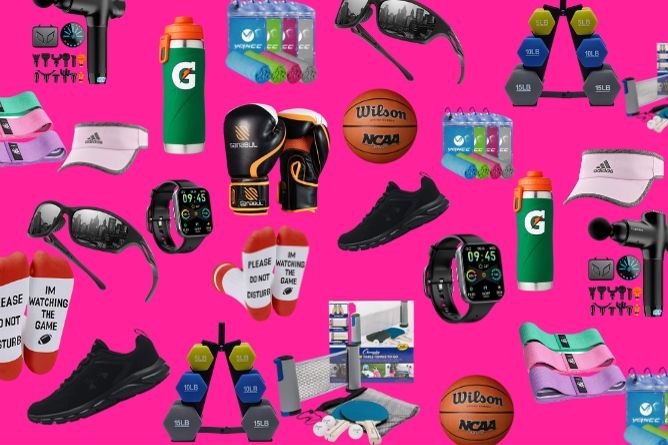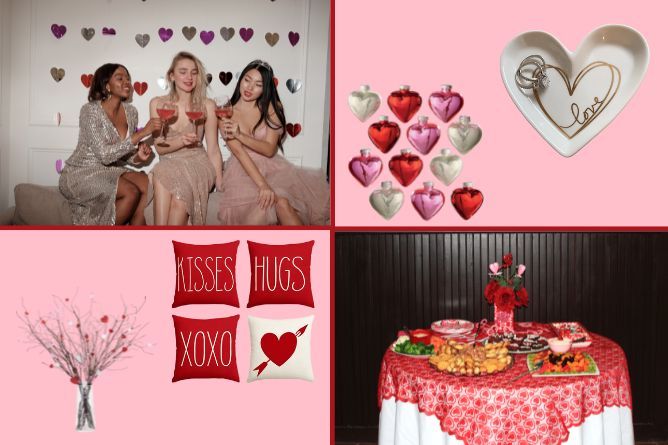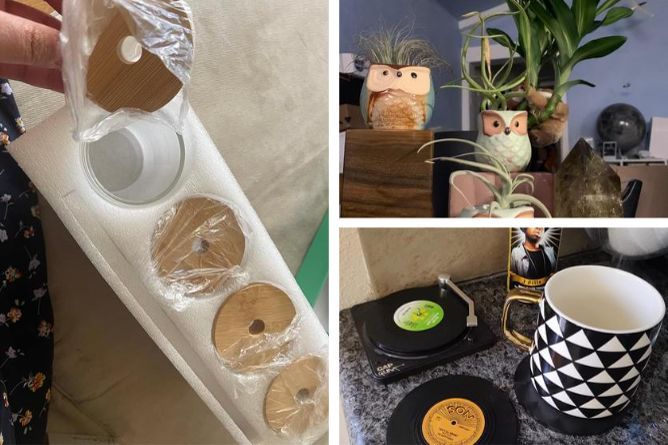 Comments