This post may contain affiliate links, please see our privacy policy for details.
Skiing can be a lot of fun, but it's important to stay safe while you're on the slopes. One of the best ways to do that is to wear a ski helmet. In this blog post, we will take a look at the best ski helmets for all skier levels. We'll also provide some tips on how to choose the right helmet for you. So whether you're just starting out or you're a seasoned pro, read on for information on the best ski helmets available!
Different Types of Ski Helmets
Skiing is a thrilling and adventurous winter sport. However, safety should be the number one priority for any skier. While there are many factors that contribute to successful skiing, wearing the right type of ski helmet is essential for ensuring your head remains safe throughout your descent down the slopes. We'll look at some of the different types of ski helmets available so you can choose the one that's best suited to your needs.
The first type of ski helmet is a full-coverage design. This type of helmet offers comprehensive protection for all areas of your head, including the forehead, back, and sides. Full-coverage ski helmets typically have several layers that help absorb shock if you take a tumble while out on the slopes.
A second type is an open-face option which provides coverage only to the top and front parts of your head rather than all-around protection. Open-face helmets provide excellent ventilation but may not offer as much protection from more serious crashes and falls.
Another type of ski helmet is a modular or convertible helmet. These models feature detachable chin guards that can be removed if desired for those days when you don't need extra protection from cold winds or close contact with trees and other objects on the mountain slope. Modular helmets also come in full-face designs that offer maximum protection while still allowing you to enjoy a great amount of airflow through their ventilated designs.
Finally, there are lightweight ski helmets designed specifically with aerodynamics in mind that make them very popular among speed-hungry skiers who want to move quickly down the hill without facing too much resistance from wind drag caused by their helmets.
Lightweight helmets may not offer as much impact absorption as full coverage designs but they can still provide sufficient safety if worn correctly at all times when skiing. No matter which type of ski helmet you choose, it's important to make sure it fits comfortably on your head and conforms to safety regulations set by your country or local governing body before hitting the slopes. With this knowledge in hand, now it's time to go pick up a few test runs on different types until you find one that fits just right!
How to Choose the Best Ski Helmet
When it comes to ski helmets, there are a few things you need to take into account in order to choose the right one for you.
First and foremost amongst these is the fit. A helmet that does not fit properly is not only uncomfortable but also significantly less effective in protecting your head in the event of a fall. Make sure to try on a variety of helmets in order to find one that fits snugly yet comfortably.
In addition, to fit, you'll also want to consider the type of skiing you'll be doing. If you're primarily a downhill skier, you'll want a helmet that offers good coverage and head protection from the elements. For those who enjoy cross-country or backcountry skiing, however, a lighter helmet with better ventilation may be ideal.
Finally, don't forget to factor in style when selecting a ski helmet. After all, you'll be wearing it every time you hit the slopes! Choose a design and color that you feel good about and that will help you stand out on the mountain.
With these factors in mind, you're sure to find the perfect ski helmet for your needs.
Best Lightweight Ski Helmet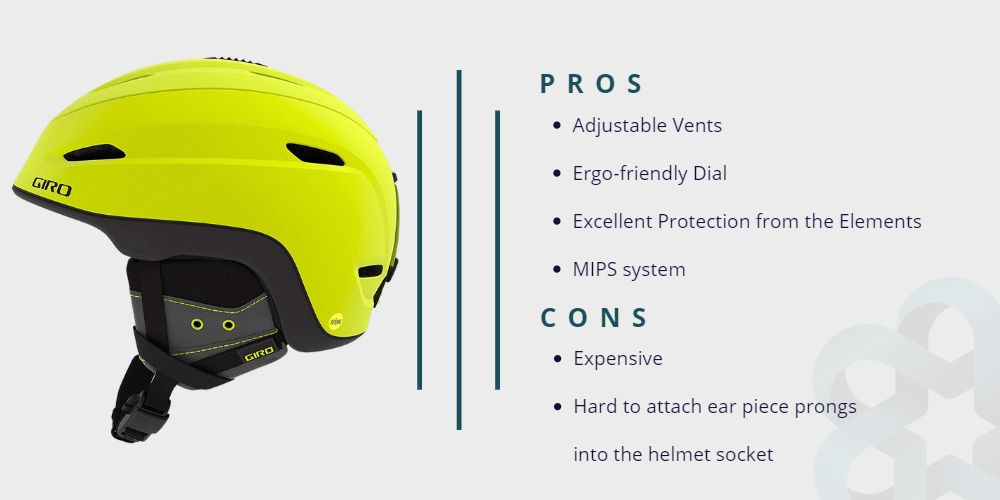 The Giro Zone helmet is the perfect choice for keeping your head safe while skiing. This lightweight helmet offers superior protection and advanced comfort features thanks to its Multidirectional Impact Protection System (MIPS) technology.
The MIPS design reduces rotational forces to the brain, increasing safety in even the most extreme conditions. The helmet also features an adjustable Venturi vent system that can be configured for maximum airflow and temperature regulation, providing a comfortable ski experience even on long descents down the slopes.
With its quality construction and innovative technology, the Giro Zone MIPS Helmet is an ideal option for any skier looking to amp up their protection on the slopes this winter season.
Best Overall Ski Helmet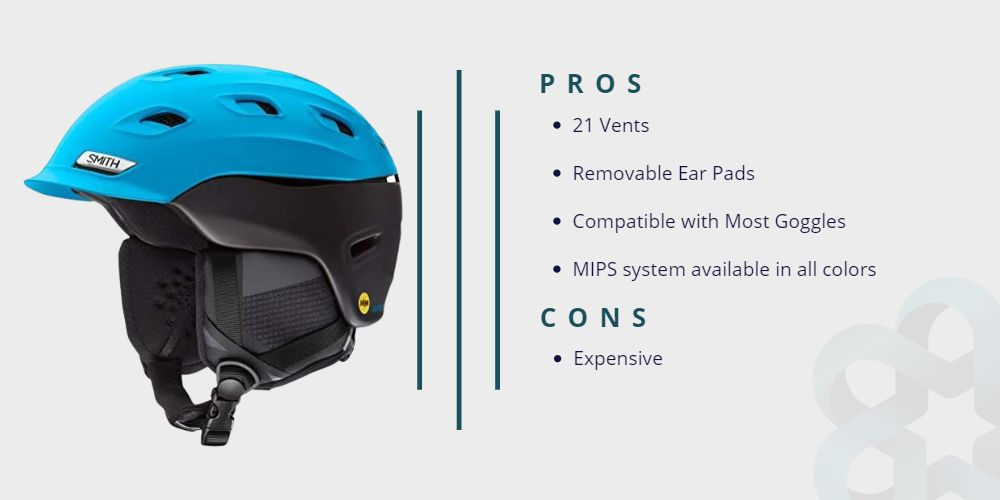 The Smith optics helmet is the perfect choice for any winter adventure. With its Hybrid SL shell construction, this helmet provides superior durability and impact protection, while the MIPS system adds an extra layer of safety.
The Aerocore construction featuring koroyd offers lightweight energy absorption and ventilation, and a large number of vents provide ultimate breathability.
The adjustable Boa FS360 fit system ensures a secure and comfortable fit, while the XT2 performance lining maximizes comfort.
Lastly, the Snapfit SL2 earpads are audio-compatible for maximum convenience. This helmet is sure to keep you safe, comfortable, and well-equipped on your next outdoor adventure!
Best For Park and Freestyle Skiers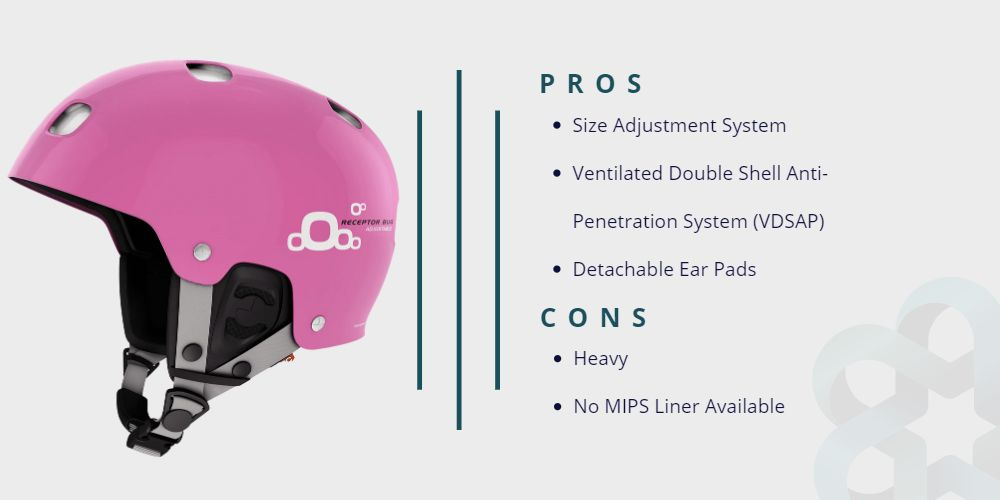 The POC Ski Helmet is the perfect choice for a safe and comfortable ski experience. This helmet features a patented VDSAP system with two overlapping shells that protect from sharp objects while allowing for adjustable ventilation depending on the weather.
The advanced outer shell in ABS creates a robust barrier, while the in-mold polycarbonate/EPS inner helmet provides superior shock absorption. This helmet also comes equipped with an adjustable size system to accommodate different head shapes, as well as a detachable chin guard for added protection.
With all its amazing features, the POC Ski Helmet will keep you safe and secure on the slopes - so that you can focus on having fun!
Best For Freeride and All-Mountain Skiing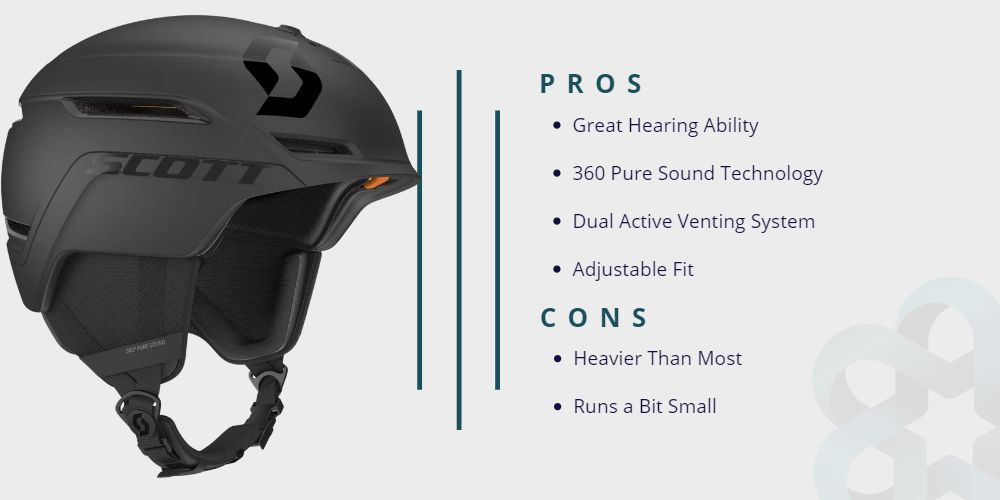 This helmet is designed to keep you safe while on the slopes, utilizing Scott's progressive energy absorption with D3O technology to absorb any shocks that may occur.
The 360 pure sound technology lets you enjoy a clear sound experience without interference, while the dual active venting system and passive goggle venting system keep you cool and comfortable all day long.
With these amazing features, the Scott MIPS Sports Helmet is perfect for any snow enthusiast who wants superior protection and comfort while they hit the slopes!
Best For Fit and Feel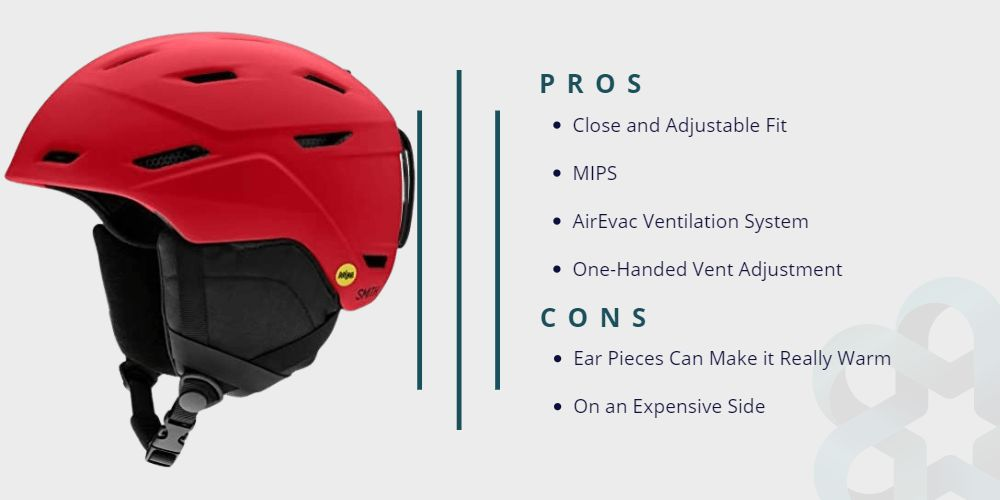 Like most helmets, the Smith helmet offers superior protection and comfort for snow enthusiasts of all levels. It features an adjustable dial fit for easy, on-the-go size adjustment, as well as ultimate integration with Smith goggles for maximum comfort and venting, and exclusive Koroyd technology for superior impact protection and MIPS for added safety.
The AirEvac ventilation system keeps you fog-free, while the lightweight In-mold construction fuses the exterior shell and EPS foam into a one-piece design that is both strong and lightweight.
It's also comfortable to wear, thanks to the adjustable vents and padded lining. And it has a great fit, thanks to the BOA fit system.
Plus, this helmet is ASTM F 2040, CE EN 1077:2007 CLASS B, CPSC, CE EN178 certified - so you can rest assured knowing that you are properly protected.
With all these amazing features and more, this helmet is sure to give you peace of mind as you have fun on the slopes!
Best Budget Ski Helmet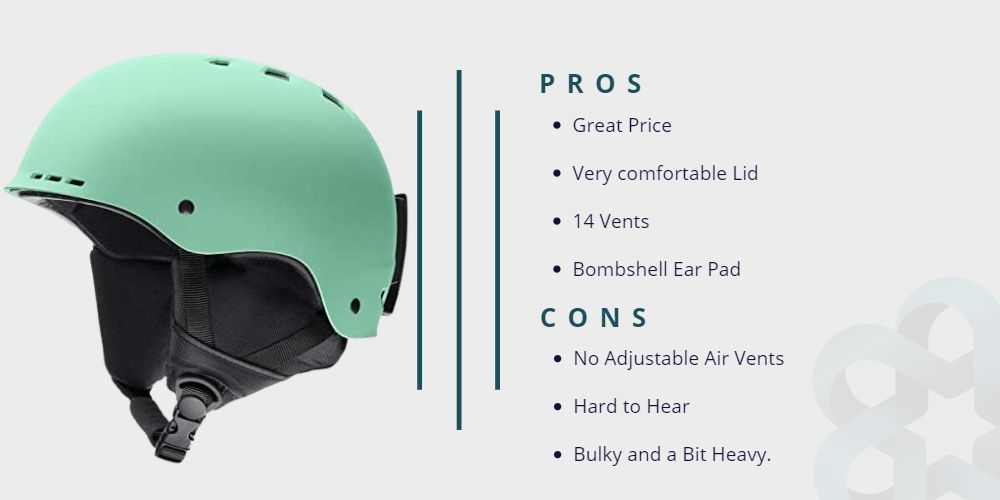 This helmet offers advanced protection and all-around durability, thanks to its ABS construction. It features a self-adjusting lifestyle fit system that flexes to match your head shape for maximum comfort, while the bombshell ear pads provide form-fitting wear.
The removable goggle strap lock allows you to keep a streamlined shell when goggles are worn under your helmet, and dual certification ensures that this helmet can be used in all seasons. With its unbeatable protection, comfort, and style, the Smith Holt Helmet is perfect for any winter enthusiast looking to enjoy their time outdoors safely!
Best For Freeriding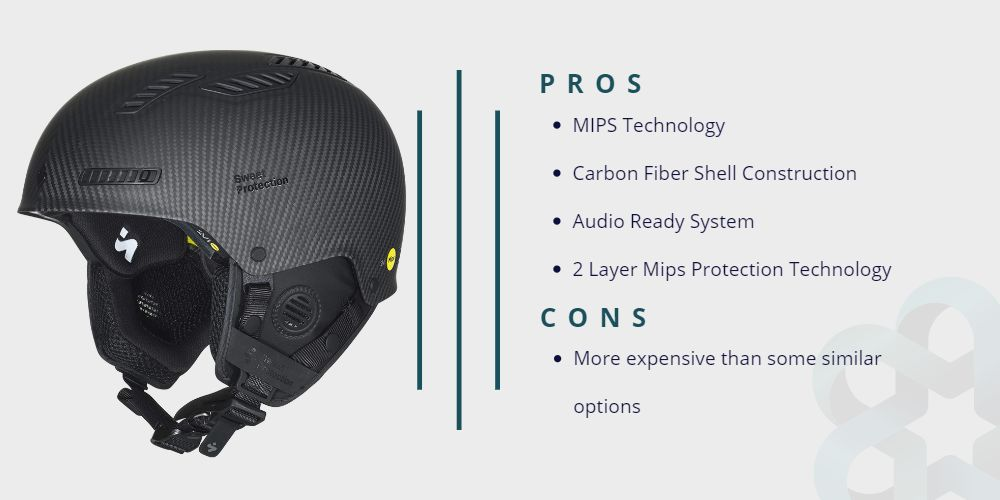 This helmet is designed to provide superior protection and a comfortable fit while being lightweight and stylish. It features MIPS technology to reduce rotational forces caused by angled impacts, an advanced integrated ventilation system for optimal airflow and temperature regulation, hybrid shell construction for increased impact protection and all-around durability, and a self-adjusting lifestyle fit system that flexes to match your head shape for maximum comfort.
The adjustable buckle closure ensures you get the perfect fit every time, while the dual certification guarantees all-season use. With its unbeatable protection and sleek look, the Sweet Protection Grimnir helmet is sure to keep you safe in style!
Best For Skiing and Snowboarding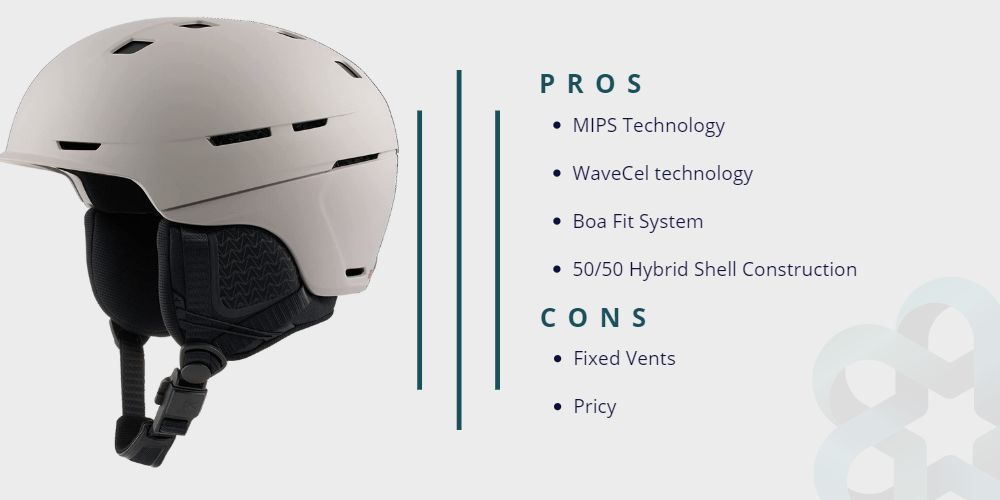 The Anon Snow-Sports-Helmets Merak WaveCel Helmet is another great option for those who prioritize safety. Like the Grimnir 2Vi MIPS, it features MIPS technology and an extremely tough outer shell. But what sets the Merak apart is its WaveCel technology, which helps to absorb impact energy and reduce the risk of concussion
This helmet also features an advanced hybrid construction for maximum impact protection and all-around durability, as well as a self-adjusting lifestyle dial fit system that flexes to match your head shape for ultimate comfort.
Dual certification ensures all-season use, while the adjustable buckle closure allows you to get the perfect fit every time. The sleek design completes this perfect combination of style and safety, making the Anon Snow Sports Helmets Merak WaveCel helmet an ideal choice for any winter enthusiast!
Best For Casual Resort Riders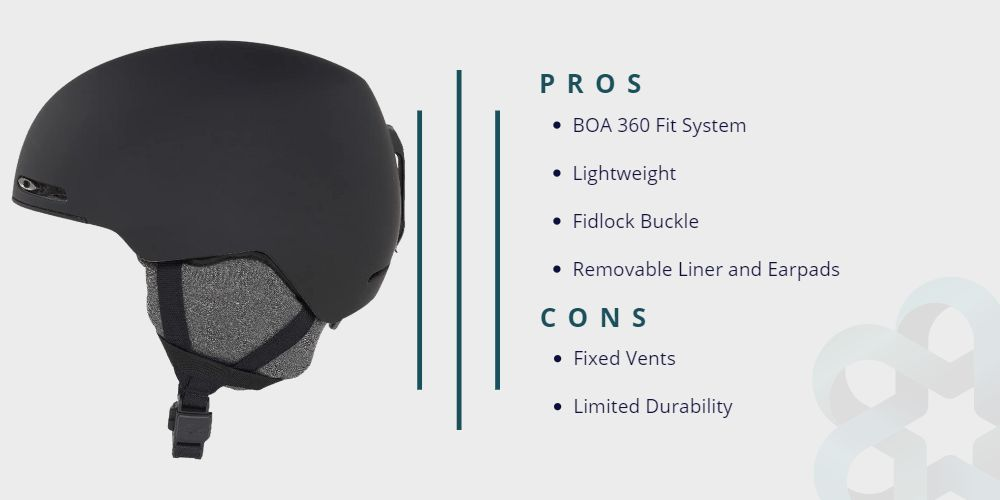 This helmet is designed to provide superior protection and a comfortable fit, while also being lightweight and stylish. It features a removable liner/earpad which allows for easy cleaning, machine washability, and the freedom to wear your goggle strap underneath the helmet.
The fixed ventilation keeps you cool by allowing hot air to escape from the top of the helmet, while its BOA 360 fit system is engineered to help you achieve an exact fit. Plus, its magnetic buckle offers seamless functionality so you can easily fasten your helmet with gloves on.
Best Ski Helmets FAQ
What is the difference between a ski and a snowboard helmet?
Ski and snowboard helmets each have their own distinct features that provide different levels of protection for the wearer.
A ski helmet is designed to provide more coverage all around your head, protecting the eyes, forehead, temples, back of the neck, and sides of the head. The design may include the concept of a visor helmet for extra protection against snow and sun glare. Ski helmets also tend to be shaped like a chin guard with distinctive ventilation openings up top - this helps keep you cool on those long days on the slopes.
Snowboard helmets are much less bulky than ski helmets since they don't need that extra chin guard but are still designed with protection in mind. They offer similar coverage to ski helmets but without as many thick pieces surrounding your face or ears - so it's easier for riders to move their heads comfortably while riding down with style and speed! Snowboarders particularly value their peripheral vision when hustling down hills which makes this type of helmet ideal.
In terms of safety ratings, both types of helmets should meet an ASTM F2040 standard certification (or equivalent). This ensures it meets minimum requirements for impact protection and material strength as defined by industry standards established by the American Society For Testing And Materials (ASTM). It's important to always wear a helmet while skiing or snowboarding regardless if there is an ASTM rating applied or not – better safe than sorry!
In summary, while both ski and snowboard helmets offer great levels of safety from impact injuries they do differ in design shape due to the type of skiing/snowboarding activities they were built for – choose wisely depending on what kind of rider you are!
What type of protection does a ski/snowboard helmet provide?
Ski/snowboard helmets provide invaluable protection against head injuries by reducing the force of impacts. The soft foam and plastic shell on a ski/snowboard helmet absorb some of the impacts, lessening the severity of potential head trauma upon contact with an object or ground.
Helmets also help protect against rotational forces that can occur when an accident happens at high speed, such as after a fall off a lift or while going downhill in uncharted terrain. With most helmets, this is done through built-in features like slanted reinforcements inside the membrane liner and attachment points for goggles straps and other accessories to reduce rotation forces (or mitigate them if they do occur).
Ski/snowboard helmets also incorporate chin guards for extra protection in case of facial impacts, removable ear muffs for cold weather conditions and additional insulation from wind chill factors that can lead to colder temperatures even when one is physically active outdoors. Generally speaking, it is recommended to wear a ski/ snowboard helmet whenever engaging in winter sports activities - no matter your skill level!
What features should I look for in a ski/snowboard helmet?
When it comes to selecting a ski/snowboard helmet, safety should be your top priority. In addition to ensuring that the helmet meets required safety standards and is certified for alpine skiing, there are a few important features you should look for:
1. Fit - Make sure the helmet fits snugly and comfortably on your head. The chin strap should also fit securely and not move around when tightened. A properly fitted helmet won't move or shift during use and will remain comfortable even after hours of wear.
2. Ventilation - Look for helmets with adjustable vents that can open or close depending on how much air you want circulating inside the helmet at any given time. If you plan to use the same helmet in both warm temperatures (for spring skiing) as well as cold temperatures (such as during winter months), ventilation is essential in regulating your head temperature while out on the slopes.
3. Safety Technology – Many ski/snowboard helmets now come with extra safety technology such as audio detectors which sound an alarm when they sense something coming towards them; LED lighting systems so other skiers can see where you are; emergency information storage so emergency responders have access to vital medical information if needed; and impact sensors which send automatic emergency notifications in case of a crash or collision while skiing or snowboarding down the mountain!
4. Audio Compatibility – Look for helmets that come with special multi-port plates designed specifically for compatible audio headphones so you can plug them into your music device, phone, etc., without having to take off your gloves each time! This feature also adds noise cancellation capabilities which will prevent wind interference from blocking out sound sources connected directly to your headset/helmet combo!
Overall, finding a quality ski/snowboard helmet is key if you plan on hitting up those slopes often this season! Be sure to consider all of these features before settling down on one particular choice — safe skiing everyone!
What is a MIPS ski helmet?
A MIPS ski helmet is a type of protective headgear designed with multi-directional impact protection system (MIPS) technology. This specialized design feature was developed by Swedish scientists and aims to reduce the rotational forces that can occur during an oblique or angled impact. The technology works by including an extra layer within the EPS foam liner in order to absorb more of these rotational forces, as well as providing better dispersal of them away from your brain and skull.
This enhanced protection helps to minimize both linear acceleration and angular velocity when experiencing a fall on the slopes, which studies have proven significantly reduces the risk for concussion and other serious head injuries associated with skiing or snowboarding. In addition, a MIPS ski helmet provides excellent ventilation through strategically placed air vents located all throughout the exterior shell, ensuring you stay cool even during physical activity in warm weather conditions.
Overall, a MIPS ski helmet is highly recommended whether you're learning how to ski or are already an experienced skier – because it vastly improves any level skier's chances of avoiding serious injury while out on the slopes.
What to know before you buy a ski or snowboard helmet?
When it comes to purchasing a ski or snowboard helmet, there are a few important points to consider. First and foremost, before you buy anything be sure to do your research. Knowing the specific details of the helmet you're looking for – including make and model – can help ensure you get the best fit at the best price.
One thing that's essential when choosing any helmet is safety; so it's important to find one that meets industry safety standards set by organizations like ASTM (American Society for Testing and Materials). The level of protection provided will depend on what sport you'll use it for; downhill skiing helmets tend to offer more protection against impact than general-use snowboard helmets since they need to guard against faster impacts from higher speeds.
Some popular helmet manufacturers of ski and snowboard include Smith Optics, Giro, Shred Optics, Anon Helmets, POC Sports, Salomon/Armada/Bonfire Helmets as well as 6D Helmets (a newer brand). If possible try on several different brands in order to get a sense of their differences in terms of comfort and fit—look for adjustable sizing systems with padding underneath ear pads if possible as these features can provide the most custom fit. Make sure it's not too snug or uncomfortable around your forehead but also not too loose so that its effectiveness won't be compromised due to sliding off during an accident or fall.
Another thing worth considering is how much ventilation each manufacturer offers as this could affect warmth/comfort levels depending on weather conditions throughout various seasons. Additionally, check out reviews online about product longevity over time & under different temperatures—if you plan on using your purchase multiple times across several winters (or elsewhere) then sometimes paying a bit more upfront may pay off down the road with a better return on investment since cheaper models may breakdown quicker leaving you needing another new one sooner than later!
Final Thoughts
No matter what your winter activity is, you should always prioritize safety and comfort. The helmets we've discussed in this article all offer unbeatable protection and a comfortable fit perfect for any winter enthusiast.
Whether you're looking for the best helmet for freeriding with the Smith Holt Helmet or want to keep it safe in style with Sweet Grimnir Helmet, there's an option out there that will suit your needs. For casual resort riders, consider Oakley MOD1 Helmet which offers advanced ventilation and BOA 360 fit system technology.
No matter what type of winter activities you do, make sure to invest in one of these top-rated ski helmets today!

Comments