This post may contain affiliate links, please see our privacy policy for details.
Looking for the best body wash for men? Taking care of your skin should never be a chore. The 11 options we highlight here will make showering into an upscale ritual you'll look forward to every day. From creamy, natural formulations to invigorating, aromatherapy-filled bottles, these are the body wash picks that hydrate and nourishes your skin while infusing it with tantalizing scents.
Our Picks for the Best Body Washes for Men
What is a Body Wash?
Body wash is a product used to cleanse the skin. It is typically composed of surfactants, humectants, and emollients that help keep the skin clean and soft while providing a refreshing scent.
Body wash products are an important part of many people's skincare routines as they help to remove oil, dirt, and bacteria from the body without stripping away natural oils. They also help to keep the pH balance of the skin in check, protect against dryness, and soothe any irritation or inflammation.
Benefits of using Body Wash
With growing awareness of the importance of skincare, more and more people are turning to body wash as an addition to their daily routine. Here are some of the advantages that make body wash a great choice:
Cleansing and Hydration
The body wash is able to cleanse the skin more effectively than soap, which helps improve both skin hydration and texture.
Gentle Cleansing
It's gentler on the skin compared to soap and can reduce problems such as dryness or oiliness by removing excess dirt, bacteria, and oils.
Reduced Risk of Skin Conditions
Regularly using body wash can help reduce the risk of developing unwanted skin conditions, like eczema or psoriasis, by keeping the skin clean and hydrated.
Antioxidant-Infused Enabled Protection
Many body washes are formulated with antioxidants that protect the skin from environmental damage while nourishing it at the same time.
Upscale Showering Rituals
Enjoy tantalizing scents while providing your skin with a luxurious shower experience with special ingredients in select body washes!
Our Favorite Body Washes for Men to Try
Finding the right body wash might be hard with so many choices and brands out there. That is why we compiled a list of our favorite best-smelling body washes for men that are high-quality and made without any harmful chemicals or sulfates for you to choose which works the best for you. Get ready for smooth and moisturized skin with these body washes!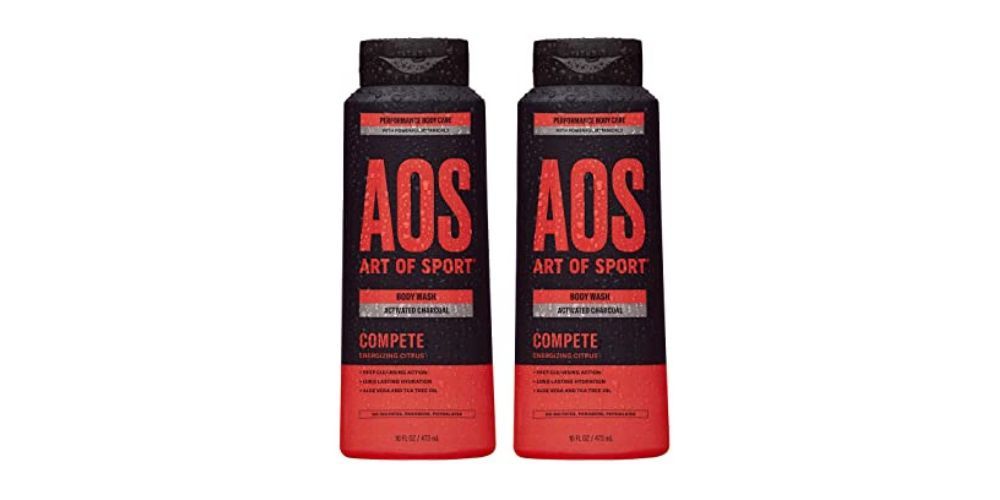 The Art of Sport Men's Body Wash is the ultimate solution for athletes and active individuals who want to stay fresh and revitalized. Its energizing scent provides a burst of refreshment that lasts all day, while the deep cleansing activated charcoal and hydrating aloe vera leave your skin feeling clean and moisturized.
This performance body wash is formulated with natural botanicals, including tea tree oil, and is free of sulfates, parabens, and phthalates. It's a cruelty-free and vegan-friendly option that's been dermatologist tested, making it a perfect choice for anyone looking to take their grooming game to the next level."
One Amazon Reviewer wrote: " This stuff is great smells good and makes you feel really clean. It's got just enough grit to get the dead skin off and doesn't leave a residue on your skin making you feel like you need to keep rinsing. "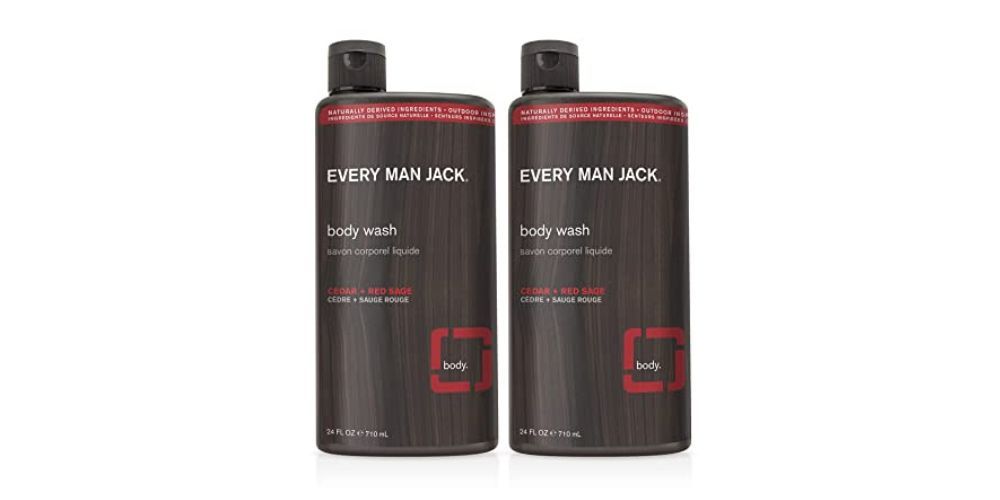 Every Man Jack Nourishing Cedar + Red Sage Men's Body Wash is the perfect choice for men who want to nourish and revitalize their skin. Its plant-based ingredients, including coconut oil and glycerin, are free of parabens, phthalates, harsh chemicals, and dyes, making it a great choice for all skin types.
The woodsy cedar and red sage scent is inspired by the great outdoors and is complemented by rosemary and sage essential oils. This body wash is specially formulated to deeply cleanse away dirt, oil, and sweat, while also hydrating and nourishing your skin. It's certified cruelty-free by PETA and never tested on animals, and it's responsibly made in the USA
With a 4.6-star average and over 2,300 verified five-star ratings, reviewers love the way this body wash hydrates and leaves skin feeling moisturized and clean. One reviewer praised this body wash saying, " The body wash doesn't dry my skin out and it's a pretty good value. The body wash lathers up really well so I feel like I don't need to use it a lot. "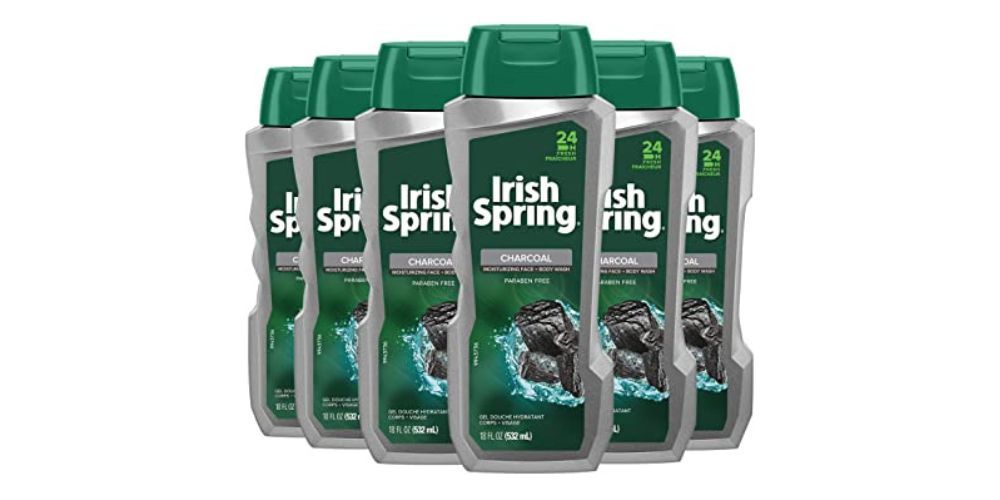 The Irish Spring Charcoal Men's Body Wash is the perfect choice for men who want a deep cleansing, purifying, and invigorating shower experience. Its charcoal-infused formula works to deeply cleanse your skin, removing bacteria and impurities, while also maintaining natural hydration.
The result is refreshed, clean, and hydrated skin that stays fresh for 24 hours thanks to the clinically proven odor-neutralizing technology. This paraben-free body wash is gentle on the skin and provides a great scent that's not overpowering.
With a 4.8-star rating from over 14,200 Amazon shoppers, this body wash has a formula that is meant to exfoliate and moisturizes at the same time. One reviewer called it "Absolutely the best soap on the market" and another wrote, " This soap works great for me and my skin keeps it from getting dried out and has a great scent not overpowering and does a good job cleaning. " Enjoy a refreshing shower every time with this mild body wash and take on the day feeling invigorated!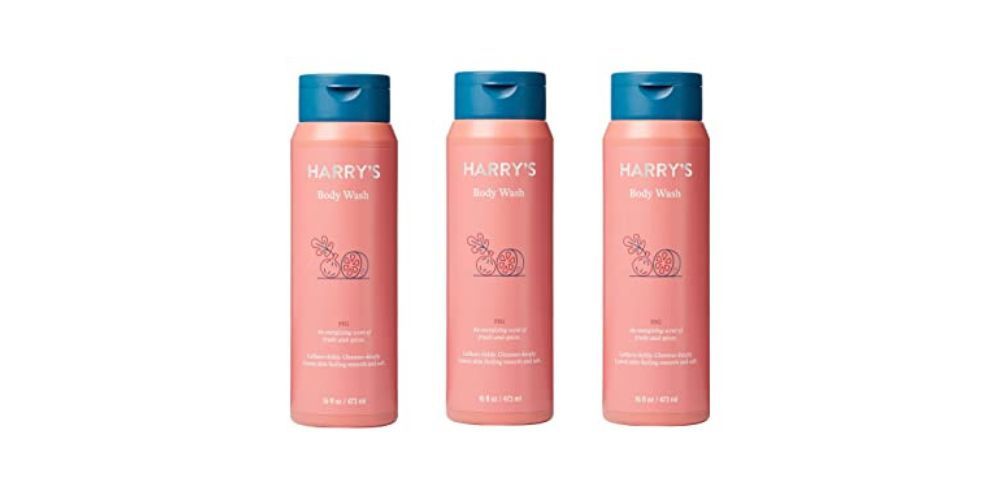 Experience deep cleansing and luxurious lather with Harry's Men's Body Wash Shower Gel. Unlike other men's body washes that leave your skin dry and sensitive, Harry's uses gentle ingredients that are free of sulfates, parabens, and dyes, so your skin stays smooth and conditioned. With its rich lather and full, creamy suds, this body wash provides a spa-like experience in your own shower. The signature Stone scent, a blend of Japanese yuzu, charcoal, and bergamot, adds an exhilarating burst of minerals and citrus to kick-start your day.
Enjoy the invigorating scent of fig as you cleanse your skin for a fresh and pleasant feeling as attested by many satisfied customers - one five-star reviewer said this body wash, " [...] has the richest lather I have ever experienced. Not only does it leave my skin feeling clean and refreshed, but my girlfriend also loves how it smells. I highly recommend this body wash to all men out there. Five stars across the board. "
This powerful formula is packed with natural ingredients that work together to remove excess oil, gently exfoliate dead skin cells, and hydrate your skin, leaving you feeling refreshed and rejuvenated.
What sets this body wash apart from others is its invigorating blend of mint and eucalyptus, which creates a cologne-quality scent that will last all day long. No need to worry about harmful ingredients, this product is sulfate-free, paraben-free, silicone-free, phthalate-free, cruelty-free, and vegan, making it safe and gentle on even the most sensitive skin.
Perfect for those with oily or balanced skin, this shower gel gives you a deeper cleanse than bar soap. According to one satisfied customer, "I feel like a new man when I get out of the shower with this product." So, if you're looking for an effective body wash that will leave you feeling fresh and confident, look no further than Hawthorne Exfoliating Body Wash.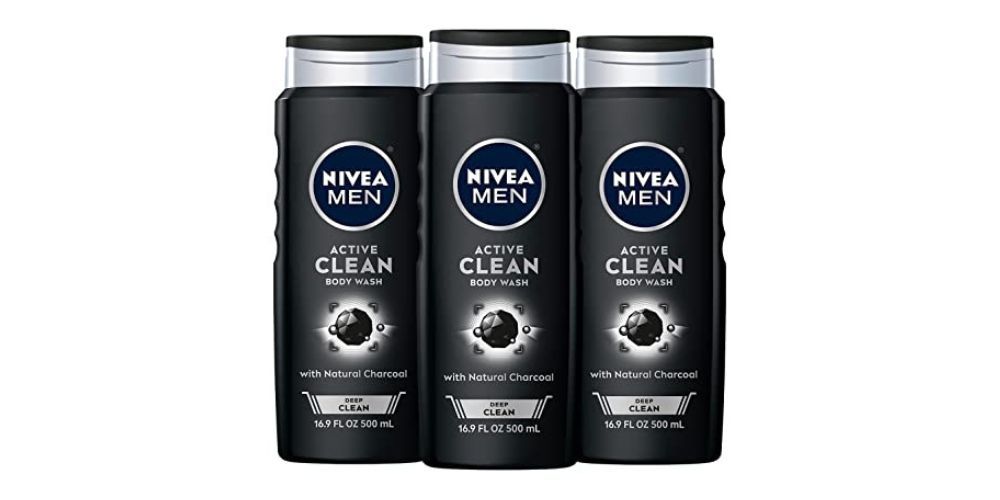 If you're looking for a body wash that will leave your skin feeling refreshed, revitalized, and odor-free, then look no further than Nivea Men DEEP Active Clean Charcoal Body Wash. With its unique blend of natural charcoal and a long-lasting scent of vanilla and bourbon, this body wash is specifically designed to cleanse deeply and effectively, leaving your skin feeling refreshed and revitalized.
Not only does this body wash leaves skin feeling soft and moisturized without that drying out feeling, but it also helps to prevent body odor, so you can take on the day with confidence. Whether you're heading to the gym or the office, this Nivea Men body wash will keep you feeling and smelling your best.
Another great feature of this body wash is that it is free of phthalates and microplastic particles, making it an environmentally-friendly choice that's gentle on your skin.
With 20,300+ verified five-star ratings under its belt, this body wash comes well recommended by Amazon shoppers. "I ordered the product by accident, but I am glad I did. I used an exfoliating glove with the body wash, and the feel my body has, after each use, is amazing. Friends have commented that my skin looks flawless and clear. My skin feels alive again. I recommend the Charcoal Body Wash with an exfoliating glove, and you will start to feel brand new and refreshed." one reviewer wrote.
So if you're looking for a high-quality body wash that will keep your skin looking and feeling its best, look no further than Nivea Men DEEP Active Clean Charcoal Body Wash. Use it in combination with Nivea Men DEEP Cleansing Beard and Face Wash for an even more effective and invigorating skincare routine!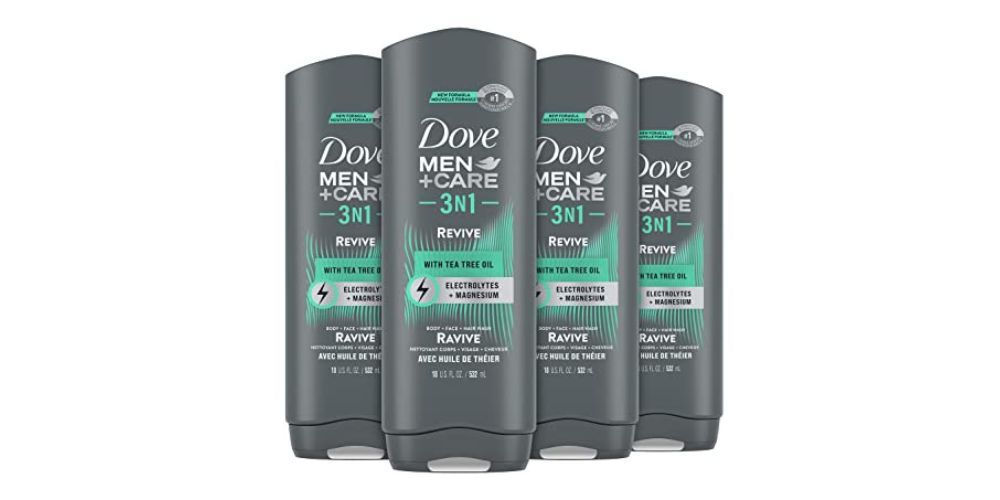 If you're someone who takes your fitness routine seriously, you understand the importance of not only nourishing your body but also caring for your skin post-workout. Introducing DOVE MEN + CARE 3N1 Revive with Tea Tree Oil, a multi-tasking body wash specially formulated to revive and refresh tired, sweaty skin after a tough workout.
Infused with tea tree oil, this body wash not only cleanses your skin but also nourishes it, leaving you with a clean, invigorated feeling all day. One customer says "It is a great addition to my skincare ritual and I would recommend it to all fitness enthusiasts trying to achieve a moisture balance. Not to mention the scent is perfect and not too overwhelming."
What makes this body wash even more special is that it's designed to cleanse your hair, face, and body in one go, making it the ultimate post-workout treat for busy men. This 3 in 1 body wash is enriched with hydrating ingredients to protect skin against dryness, and its powerful scent will leave you feeling revitalized.
But that's not all, DOVE MEN + CARE is also committed to using non-animal testing methods to assess the safety of its products, and is certified Cruelty-Free by PETA. So you can use this body wash guilt-free, knowing that your skin and the environment are being taken care of.
After your post-workout shower, keep that sweat under control and your confidence high all day with DOVE MEN + CARE Extra Fresh Antiperspirant Stick. With the 3 in 1 body wash for men and antiperspirant, there's nothing that can hold you back.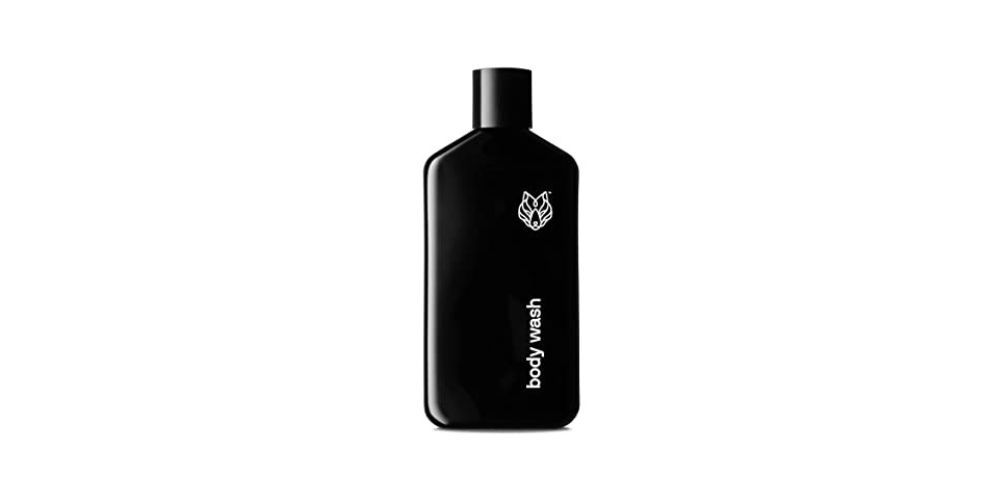 This 10 fl oz bottle packs a powerful punch with the combination of charcoal powder and salicylic acid. The salicylic acid works to penetrate deep into the pore lining, removing unwanted dirt and impurities that cause breakouts, leaving you with smooth, blemish-free skin. Charcoal is also included for its cleansing and soothing impact, helping to dissolve dirt and impurities for a refreshed and invigorated feeling.
And the added bonus? The cucumber-derived formula promotes healthy skin, reducing the appearance of pores and blemishes while leaving behind a refreshing scent.
Black Wolf is on a mission to reinvent the men's grooming category, one product at a time. With a simple formula for better skin, designed specifically for a guy's chemistry, Black Wolf is made with the best possible ingredients to clean, soothe, and hydrate. And the best part? It's reasonably priced, so any guy can look and feel his best.
Don't just take our word for it. One five-star reviewer says "I have sensitive skin and most body washes/soaps/face scrubs cause me to break out. Not this one! Every time I try a new Black Wolf product I am not disappointed." Another says "It's subtle, but smells good."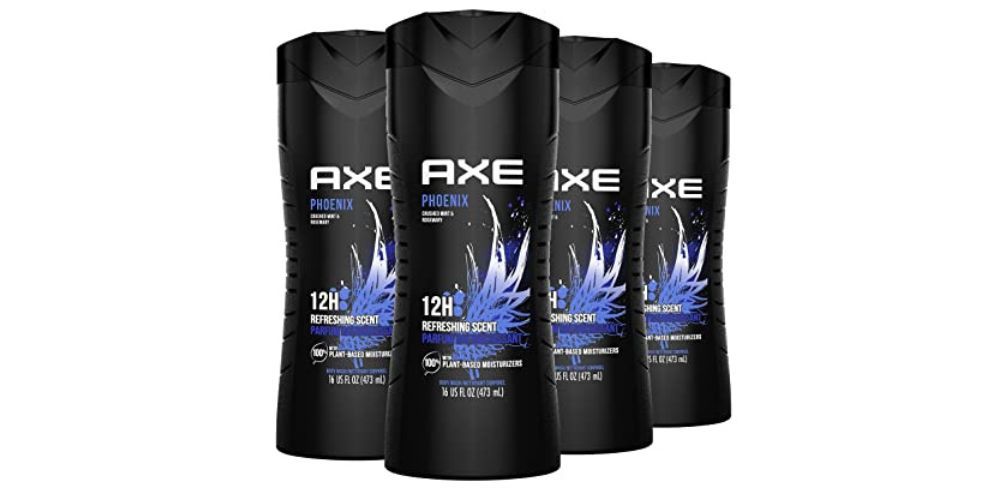 This body wash is not only a treat for your nose, but also for your skin. Infused with crushed mint and rosemary, the dual-action formula will leave you feeling invigorated and refreshed all day. The scent is so powerful that you won't even need to reach for your deodorant!
This body wash is made with 100% plant-based moisturizers to keep your skin hydrated all day. The formula is also dermatologically tested and free of parabens, so you don't have to worry about any harsh chemicals damaging your skin. The bottle is made from 100% recycled plastic, making it a great choice for those who are environmentally conscious.
The best part? The scent will last for 12 hours! So, you can go about your day knowing that you smell amazing. The lather is rich and creamy, providing full coverage, making it the perfect choice for even the most sensitive skin types. The easy-to-use squeeze bottle is perfect for when you're in a hurry and need to quickly get in and out of the shower.
Plenty of five-star reviewers say that this body wash has a long-lasting scent and removes body odor. " I love this body wash because after a shower you do not even need deodorant. Keeps you smelling fresh and clean all day. " writes one.
If you love this fragrance, be sure to check out the other AXE body care products including antiperspirant stick, 2-in-1 shampoo conditioner, deodorant, bar soap, and body spray.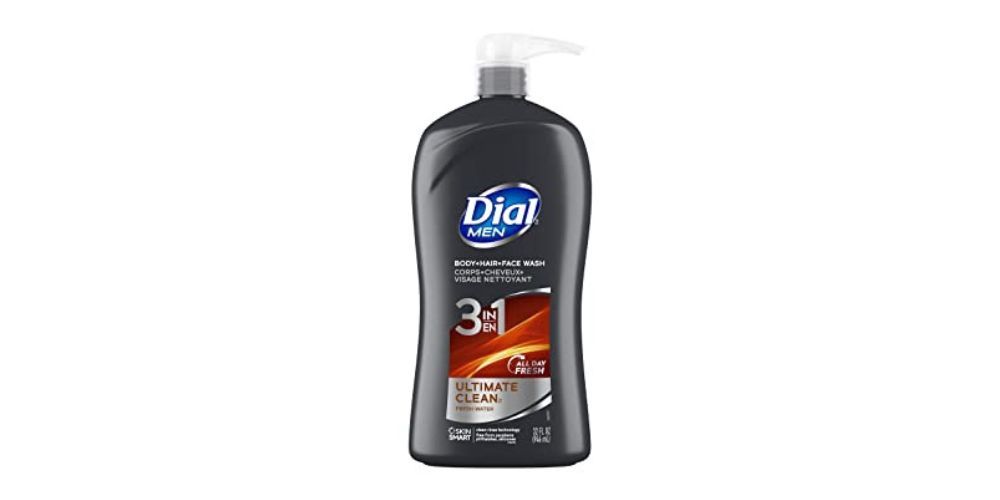 Dial Men 3 in 1 Body, Hair, and Face Wash is the ultimate all-in-one solution for your daily cleaning routine! The refreshing mint scent will invigorate your senses and leave you feeling energized for the day ahead. Plus, it's gentle enough for daily use, so you can stay fresh and clean without worrying about skin or scalp discomfort.
This body wash uses clean rinse technology, so you can be sure that it will leave no filmy residue. The rich lather will effectively clean deep without drying out your skin or hair. You'll feel clean and refreshed all day long!
This product is not only convenient, but it's also eco-friendly. Every bottle is recyclable, BPA-free, and made from 50% post-consumer recycled plastic. You can feel good about your purchase knowing that you're not only taking care of yourself but also taking care of the environment.
Dial 3 in 1 is the perfect choice for guys who want an all-in-one solution for their shower routine. Smelling fresh, feeling clean, and making a positive impact on the environment has never been easier!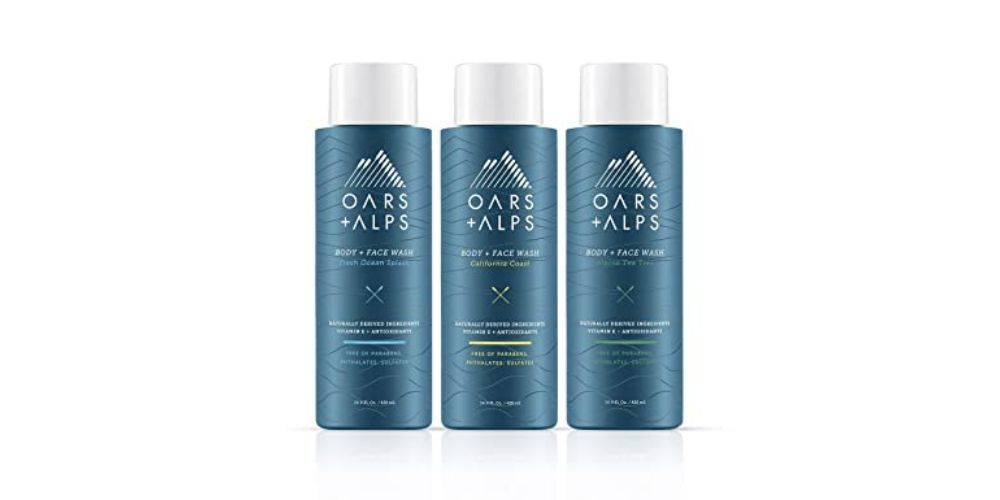 This 3-pack variety pack is packed with antioxidants and Vitamin E to deeply moisturize your skin while it cleanses, leaving you with silky-smooth and refreshed skin.
With a unique formula that provides a rich lather without the use of harsh sulfates, this best mens body wash effectively removes dirt, oil, sweat, and other impurities without stripping away essential moisture. The vegan and gluten-free ingredients are carefully selected to provide the ultimate in skincare, and the variety pack includes three delightfully fresh and not overpowering scents.
One reviewer praised this product saying that it smells great.
Body Wash for Men FAQ
Is Body Wash Better than Body Soap?
Body wash can provide a gentler and more luxurious lathering experience than traditional bar soaps. Many body washes are also PH-balanced and contain milder cleansing ingredients, which can benefit those with sensitive or dry skin.
What is the Best Way to Use Body Wash?
For best results when using body wash, it is important to thoroughly wet the skin before you apply body wash in order to create a rich lather. Focus on lathering the product onto the areas that need extra cleansing like the groin, underarms, and feet. Once done rinsing off, gently pat dry your skin with a towel or air dry if possible.
Is it Necessary to Use Body Wash?
While it is not necessarily required to use body wash over regular bar soap, many people find that body wash is more effective at cleansing and hydration, making it an ideal choice for maintaining overall skin health and hygiene.
What Type of Body Wash is Best for Men?
The best type of body wash for men is one that provides a deep clean but also hydrates and nourishes the skin. Look for products that contain natural key ingredients such as aloe vera, jojoba oil, argan oil, glycolic acid, shea butter, and vitamin E.
Final Thoughts
The 11 best body washes for men featured in this guide will transform your shower routine into an upscale ritual. These body washes are specifically designed to be gentle and hydrating, while still providing a deep clean. Each product contains natural ingredients that nourish and protect the skin while leaving you feeling refreshed and invigorated. Whether you prefer bar soap or liquid body wash, there is something here for everyone. So give one of these products a try and see what a difference it makes in your daily grooming routine!
Comments