This post may contain affiliate links, please see our privacy policy for details.
Oily skin can be a frustrating issue, leaving you feeling greasy and unclean even shortly after showering. But don't fret - the right body wash can make a significant difference in how your skin feels throughout the day. From gentle exfoliants to oil-absorbing formulas, there are many body wash options specifically designed for oily skin. In this article, we'll highlight nine of the best body washes for oily skin that will leave you feeling fresh and clean all day long.
Over the course of our series, we've journeyed through a spectrum of specific skin needs, from dry to sensitive, and targeted conditions like eczema and keratosis pilaris. Today, our journey brings us face to face with the challenge of controlling oily skin.
Before we introduce our latest findings, immerse yourself in our comprehensive series on the intricacies of body wash:
As we delve deeper into the world of body washes, we continue our mission to equip you with the knowledge and recommendations needed to maintain healthy, radiant skin. Keep reading for our highlight reel of 9 Body Washes for Oily Skin which could be your game-changer in the quest for all-day freshness.  
What is Oily Skin?
Oily body skin is similar to oily facial skin, but it refers to the excess production of sebum on the skin of the body rather than just the face. Just like with oily facial skin, the sebaceous glands on the body can produce too much sebum, leading to oily skin.
Oily body skin can appear shiny or greasy, and it may be more prone to acne or other skin blemishes. It can also be caused by a variety of factors, including genetics, hormonal changes, stress, and diet.
Proper skincare is important for managing oily body skin. This may include using gentle, non-comedogenic cleansers and moisturizers, exfoliating regularly to remove dead skin cells and unclog pores, and avoiding products that contain harsh ingredients that can strip the skin of its natural oils. Additionally, choosing clothes made from natural, breathable fabrics and showering after exercise or activities that cause sweating can help prevent oily body skin.
Benefits of Using Body Wash for Oily Skin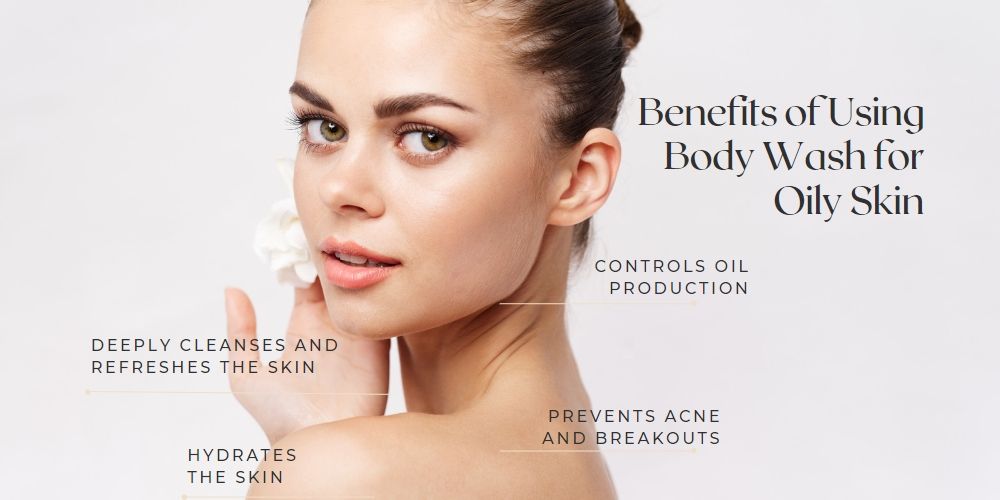 Struggling with skin concerns such as oily skin can be frustrating, but there's a simple solution: Incorporate a body wash specifically designed for oily skin into your skincare routine! These specialized formulas offer a range of benefits to help your skin look and feel its best.
Controls oil production
Body washes for oily skin are formulated to control excess oil production. Ingredients like salicylic acid or tea tree oil regulate sebum levels, reducing the risk of breakouts and clogged pores. By keeping your skin's oil levels in check, these body washes leave you with a clearer, more balanced complexion.
Prevents acne and breakouts
Using a body wash for oily skin helps prevent acne and breakouts by deep-cleansing the pores and removing dirt and impurities. With refreshing ingredients like menthol or peppermint, these products leave your skin feeling cool, soothed, and revitalized.
Deeply cleanses and refreshes the skin
Designed to penetrate deeply into the pores, body washes for oily skin remove dirt, oil, and impurities that can lead to clogged pores and breakouts. Powerful ingredients like salicylic acid or tea tree oil target problem areas, leaving your skin refreshed, revitalized, and thoroughly cleaned.
Hydrates the skin
Many body washes for oily skin contain hydrating ingredients like glycerin or hyaluronic acid. While they control excess oil, they also provide essential moisture, keeping your complexion looking healthy and radiant.
By incorporating a body wash formulated for oily skin into your daily routine, you can easily maintain the health and appearance of your skin. With benefits ranging from controlling oil production to deep cleansing, refreshing, and hydrating your skin, it's an essential step you won't want to skip!
How to Choose Body Wash for Oily Skin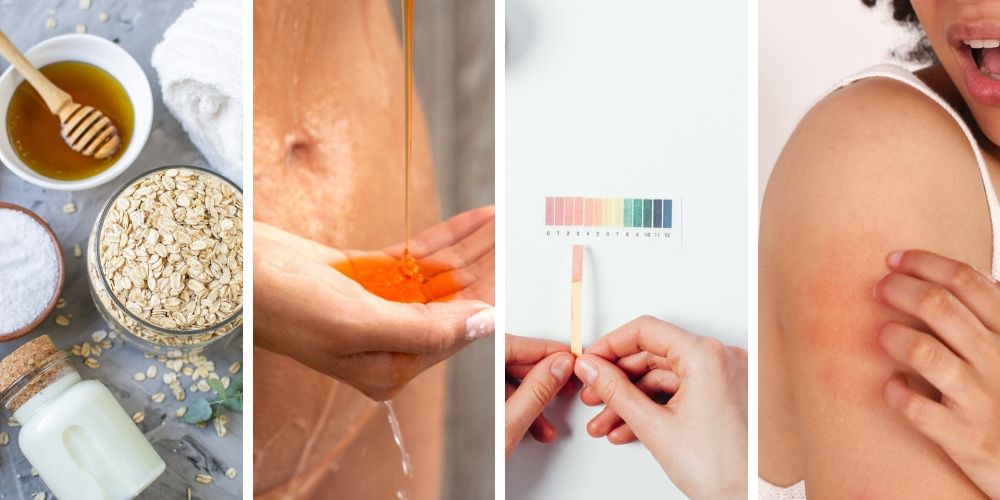 When it comes to caring for your oily skin, choosing the right body wash is essential. With so many options available, it can be overwhelming to decide which one is best for you. But don't worry - by keeping a few key factors in mind, you can ensure that you're selecting a product that will leave your skin looking and feeling its best.
Ingredients
First and foremost, take a look at the ingredients list. Look for powerhouse ingredients like salicylic acid or tea tree oil that can help control oil production and prevent breakouts. Avoid harsh ingredients like alcohol or fragrances that can strip the skin of its natural oils and cause irritation.
Formulation
Next, consider the formulation of the body wash. Opt for products specifically designed for oily skin - they're typically formulated to cleanse deeply without drying out your skin.
pH level
It's also important to pay attention to the pH level of the body wash. Choosing a product with a pH level similar to that of your skin can help maintain its natural moisture barrier and prevent dryness and irritation.
Texture
Texture matters too! Foaming or gel-based cleansers are often effective for oily skin because they penetrate deeply into pores to remove impurities. Creamy or oil-based products may be too heavy, leading to clogged pores.
Brand Reputation
When choosing any skin care product, brand reputation is crucial. Make sure you choose a reputable brand with a proven track record of producing effective skincare products.
Allergies or Sensitivities
Lastly, if you have allergies or sensitivities, be sure to read labels carefully and avoid any ingredients that may trigger a reaction.
By considering these factors when choosing an oily skin body wash, you'll be able to find a product that meets your individual needs and leaves your skin looking radiant and healthy!
Our Favorite Body Washes for Oily Skin to Try
Struggling with oily skin? Look no further! We've curated a list of top body washes specifically designed for oily skin types. Say goodbye to excess oil and breakouts. Our recommendations regulate oil production, prevent breakouts, and leave your skin clean, refreshed, and hydrated. End your search for the perfect body wash - try our favorites today and transform your skin!
⬇️ 9. Best for Sensitive Skin Types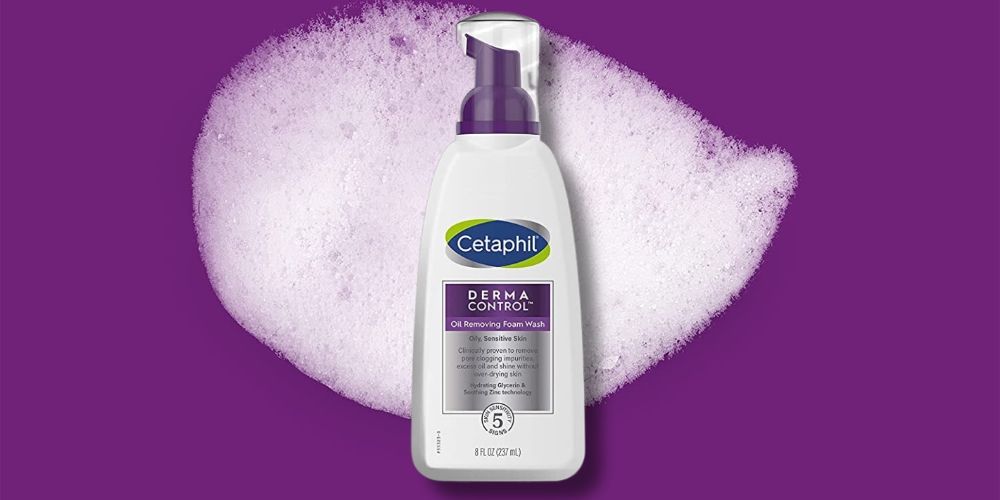 ✔️Key Features: Fragrance-free formula, Oil-control, Long-lasting size
✅Pros: Gentle and effective, Balanced skin, Positive reviews
❌Cons: Foaming texture preference
👉Our Ratings: Effectiveness: 4/5 | Ingredient Quality: 5/5 | Scent: 4/5 | Skin Tolerance: 5/5 | Value for Money: 4/5
This powerful foaming Cetaphil body wash effectively absorbs excess oil, leaving your skin refreshed and balanced. Its gentle formula cleanses without stripping away natural oils, ensuring a healthy balance and eliminating tight, dry feelings after cleansing. With a little going a long way, the 8-fluid-ounce size ensures that this trusty companion will last you a good while.
While the foaming texture may not be everyone's cup of tea, it's a matter of personal preference that doesn't overshadow the remarkable results this cleanser delivers. Customers have been singing its praises for years, swearing by its ability to combat oily skin and provide a fresh-faced glow.
One satisfied customer raves "Only thing that works on my skin. My skin has always been oil-prone and this has been a savior for the past years, aiding in little to no acne. I used to use oil-removing pads and I no longer have to."
⬇️ 8. Best for Acne Prone Skin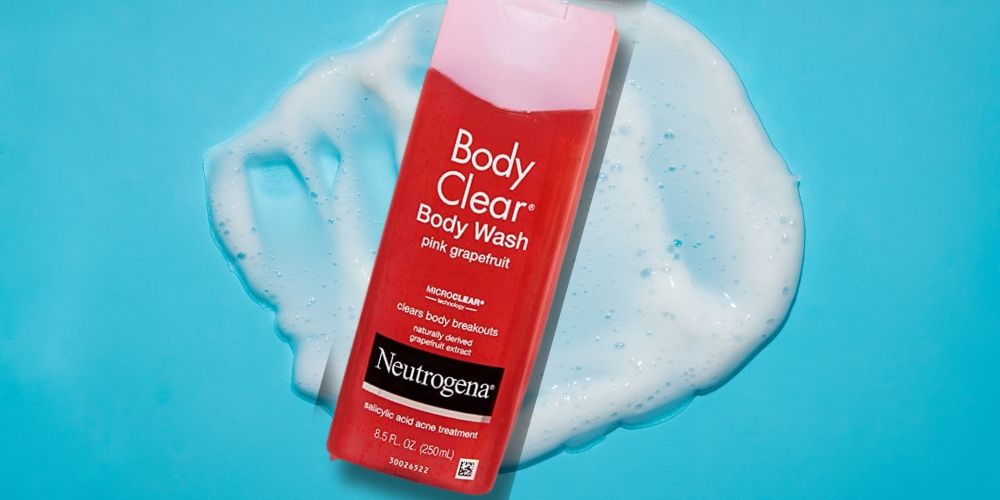 ✔️Key Features: Acne-fighting formula, Refreshing grapefruit scent, Prevents future breakouts
✅Pros: Clears and smooths skin, Fresh grapefruit scent, Effective acne treatment
❌Cons: May be harsh for sensitive skin
👉Our Ratings: Effectiveness: 5/5 | Ingredient Quality: 5/5 | Scent: 5/5 | Skin Tolerance: 3/5 | Value for Money: 5/5
This game-changing body wash features salicylic acid, a proven acne-fighting ingredient, that works wonders on pesky pimples, leaving your skin clear and smooth. Its refreshing pink grapefruit scent adds a delightful touch, transporting you to a citrus grove while treating your skin.
But it doesn't stop there. This body wash goes the extra mile by preventing future breakouts, ensuring a win-win situation. However, keep in mind that if you have sensitive skin, it's best to approach this product with caution and do a patch test before full use.
With its remarkable effectiveness in treating body acne, Neutrogena Body Clear Body Wash is a great addition to your list of acne body washes. Bid farewell to breakouts and embrace smooth, clear skin with this acne-fighting formula.
⬇️ 7. Best for Removing Dead Skin Cells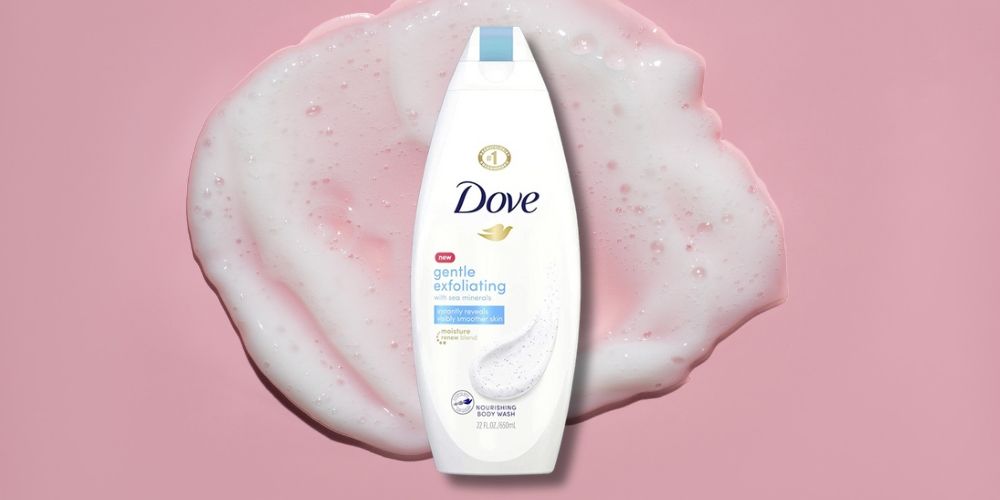 ✔️Key Features: Nourishes and cleanses, Gentle exfoliation, Hydrates and moisturizes
✅Pros: Reveals radiant complexion, Gentle on the skin, Removes dead skin cells, Provides hydration
❌Cons: Fragrance may be strong for some users
👉Our Ratings: Effectiveness: 5/5 | Ingredient Quality: 5/5 | Scent: 3/5 | Skin Tolerance: 5/5 | Value for Money: 5/5
Experience the ultimate all-in-one solution with Dove Body Wash. This gentle yet effective formula not only nourishes and cleanses your skin, but it also exfoliates gently, unveiling a radiant, blemish-free complexion that leaves your skin feeling soft. Infused with tiny exfoliating beads, it removes dead skin cells without any harshness, ensuring a gentle exfoliation experience.
What sets Dove Body Wash apart is its moisturizing prowess. Enriched with hydrating ingredients like glycerin and stearic acid, it keeps your skin hydrated and supple, bidding farewell to dryness and flakiness. And its clean and fresh fragrance adds to the overall experience. So, if you're ready to embrace the incredible advantages this body wash brings, get ready for visibly smoother, glowing skin that's free from bacteria and breakouts.
⬇️ 6. Best for Preventing Body Breakouts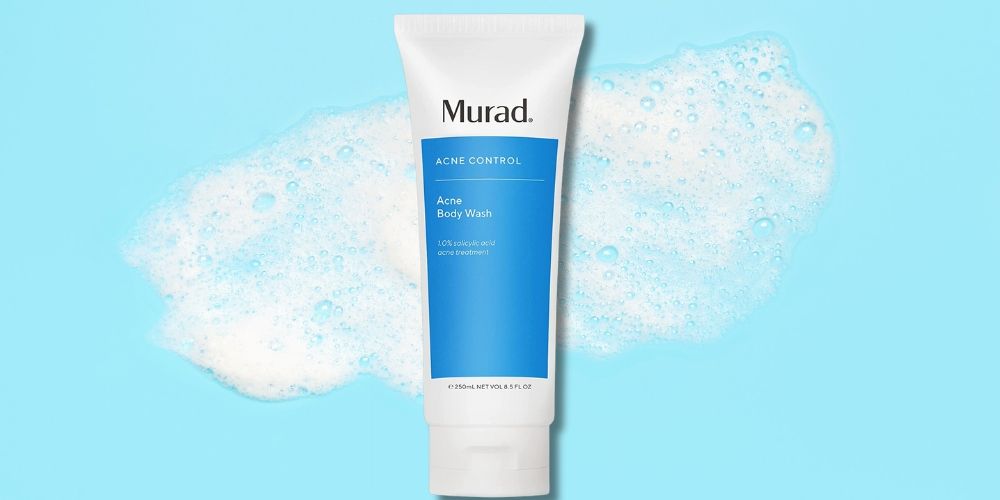 ✔️Key Features: Contains salicylic acid and glycolic acid, Clears body acne, Improves skin texture, Backed by science
✅Pros: Effective in treating body acne, Improves skin smoothness, Trusted brand, High-quality ingredients
❌Cons: May be too harsh for sensitive skin
👉Our Ratings: Effectiveness: 5/5 | Ingredient Quality: 5/5 | Scent: N/A | Skin Tolerance: 3/5 | Value for Money: 5/5
The Murad Acne Body Wash is an all-over blemish cleanser that's backed by science and will leave your skin smooth. Skin conditions such as body acne can that can dent your confidence and become a bothersome nuisance. However, fret not, as this remarkable body wash is infused with the dynamic duo of salicylic acid and glycolic acid. Together, these potent ingredients work tirelessly to eliminate body acne and restore your skin's natural radiance.
Murad is a trusted brand in the skincare world and their products are always top-notch. You can rest assured that you're using a product that's effective and safe for your skin without worrying about skin irritation.
It's important to note that individuals with sensitive skin may find the Murad Acne Body Wash too potent. If you have easily irritated skin, it's advisable to approach it with caution. However, for those willing to venture into the realm of its remarkable benefits, we encourage you to take the leap and give it a try!
⬇️ 5. Best Plant-Based Body Wash
✔️Key Features: 3-in-1 soap, body wash, bubble bath, shampoo, Made with aloe vera and plant extracts, Infused with pure essential oils
✅Pros: Versatile and multipurpose, Soothing and nourishing ingredients, Heavenly scent options, Affordable and accessible
❌Cons: Scent preferences may vary
👉Our Ratings: Effectiveness: 5/5 | Ingredient Quality: 5/5 | Scent: 4/5 | Skin Tolerance: 5/5 | Value for Money: 5/5
The Everyone 3-in-1 Soap is your ultimate shower savior. With its multi-functionality, it will cover all your cleansing needs, from body washing to shampooing and even bubble baths. Not only does it save space, but it's also enriched with soothing aloe vera, nourishing plant extracts, and heavenly essential oil like lavender and aloe. While scent preferences may vary, the benefits of this versatile product remain undeniable. And the best part? It's budget-friendly, making it accessible to everyone.
⬇️ 4. Best Exfoliating Body Wash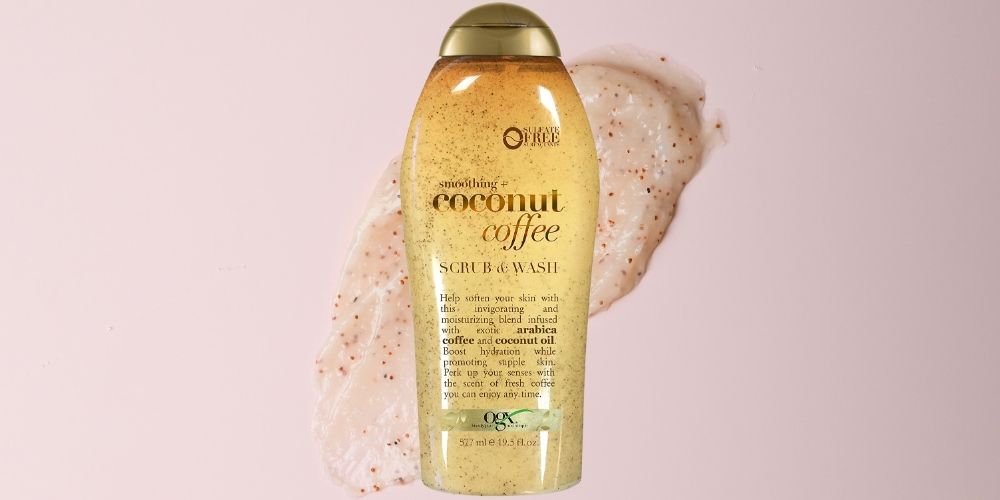 ✔️Key Features: Caffeine benefits, Moisturizing coconut oil, Energizes and hydrates
✅Pros: Stimulates blood flow, Hydrates and nourishes, Refreshing experience, Subtle pleasant scent
❌Cons: Varying scent preferences, Effectiveness may vary
👉Our Ratings: Effectiveness: 4/5 | Ingredient Quality: 4/5 | Scent: 3/5 | Skin Tolerance: 4/5 | Value for Money: 4/5
Experience the ultimate indulgence with OGX Coffee Scrub. Infused with the exotic combination of arabica coffee and coconut oil, this powerful blend offers invigorating exfoliation and intense hydration for your skin. This acne body cleanser is formulated to soften while boosting hydration. The combination of coffee and coconut oil creates a robust aroma that will awaken your senses and leave you feeling refreshed.
With the active ingredient of coconut oil, this scrub and wash provide exfoliating, hydrating, moisturizing, and cleansing benefits. Give your skin the care it deserves and indulge in the OGX Coffee Scrub for a truly rejuvenating experience. Embrace the beauty of pure and simple ingredients and reveal the radiance of your healthy skin.
⬇️ 3. Best for Eliminating Body Odor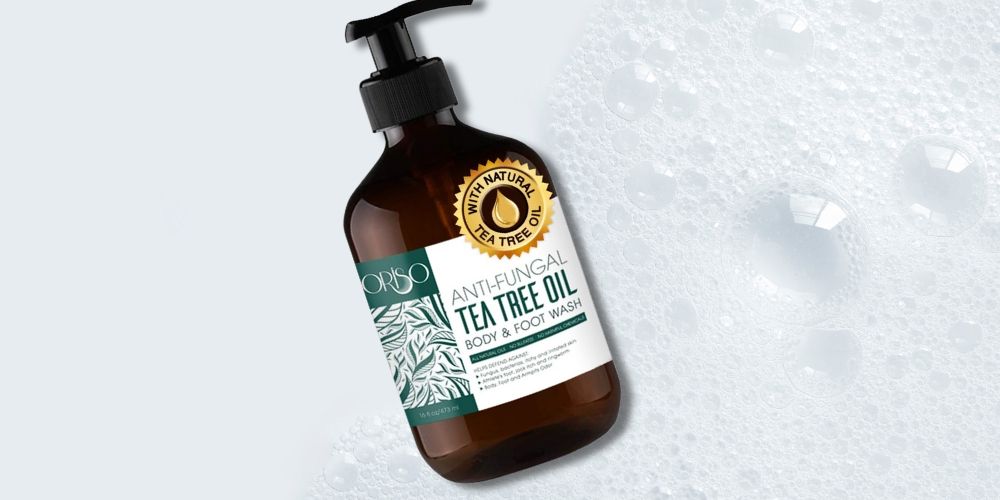 ✔️Key Features: Tea tree oil fights skin issues, Includes moisturizing aloe vera, Refreshing scent
✅Pros: Antibacterial and antifungal properties, Hydrates sensitive skin, Refreshing and not overpowering scent
❌Cons: Scent preferences vary
👉Our Ratings: Effectiveness: 4/5 | Ingredient Quality: 4/5 | Scent: 3/5 | Skin Tolerance: 4/5 | Value for Money: 4/5
The Tea Tree Oil Body Wash has its antibacterial and antifungal properties, it tackles skin issues head-on, leaving you refreshed and purified. Formulated with moisturizing aloe vera, it keeps sensitive skin hydrated and happy. And don't worry about the tea tree scent - it's refreshing, not overwhelming. While scent preferences may vary, the benefits of this body wash are undeniable.
Boasting a 4.5-star average and lots of positive reviews, the Tea Tree Oil Body Wash is surely a must-have! One reviewer exclaims, "I've used so many things before but this one is by far the best and makes you feel so clean!!!" and another one says "I workout a lot and my skin is oily and retains sweat. I also use the sauna a lot as well. Ingrown hairs to top it off. Really helps with minimizing bacteria from those things. I like the smell also and it lathers well. Definitely recommend it!"
⬇️ 2. Best for Soothing Irritated Skin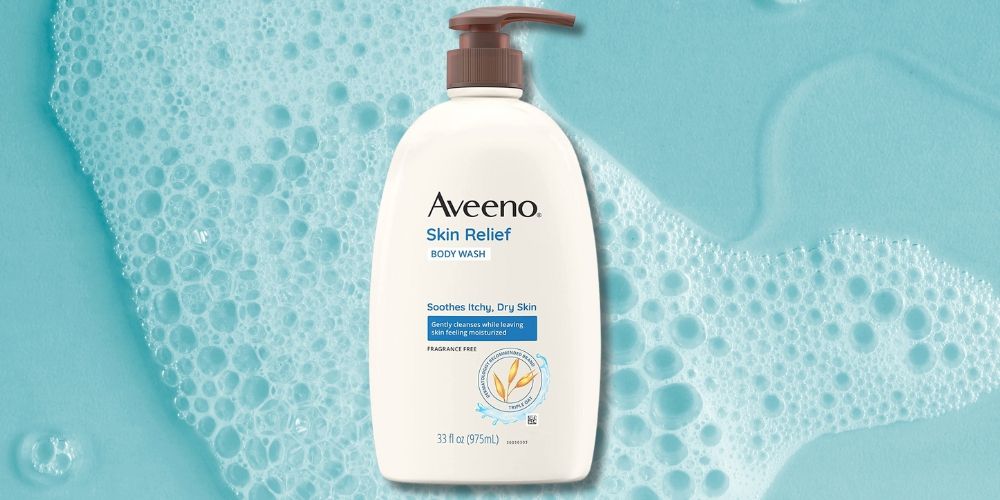 ✔️Key Features: Soothes irritated skin, Fragrance-free formula, Long-lasting relief
✅Pros: Provides relief for dry and itchy skin, Suitable for those sensitive to fragrances, Longer-lasting product
❌Cons: May not lather as much as other body washes
👉Our Ratings: Effectiveness: 5/5 | Ingredient Quality: 5/5 | Scent: 5/5 | Skin Tolerance: 5/5 | Value for Money: 4/5
Prepare to bid farewell to those tenacious bug bites and pesky dry patches because Aveeno Skin Relief Fragrance-Free Body Wash is here to save the day! Its enchanting oat formula works its magic, calming even the most demanding, parched, and itchy skin. Finally, a sanctuary from fragrance frustrations! This body wash is fragrance-free, an absolute blessing for those with scent sensitivities or a yearning to escape the overwhelming aroma assault.
Sure, it may not create a foamy explosion like other body washes, but the relief and comfort it delivers are worth their weight in gold coins. And here's the kicker: a little dollop of this skin-soothing goodness goes a long way, stretching each bottle far beyond your wildest expectations. Give your deserving skin the tender loving care it craves with Aveeno Skin Relief Fragrance-Free Body Wash with Oat. Brace yourself for an awe-inspiring burst of respite and comfort that'll make you want to snatch it up today!
⬇️ 1. Best for Rough and Bumpy Skin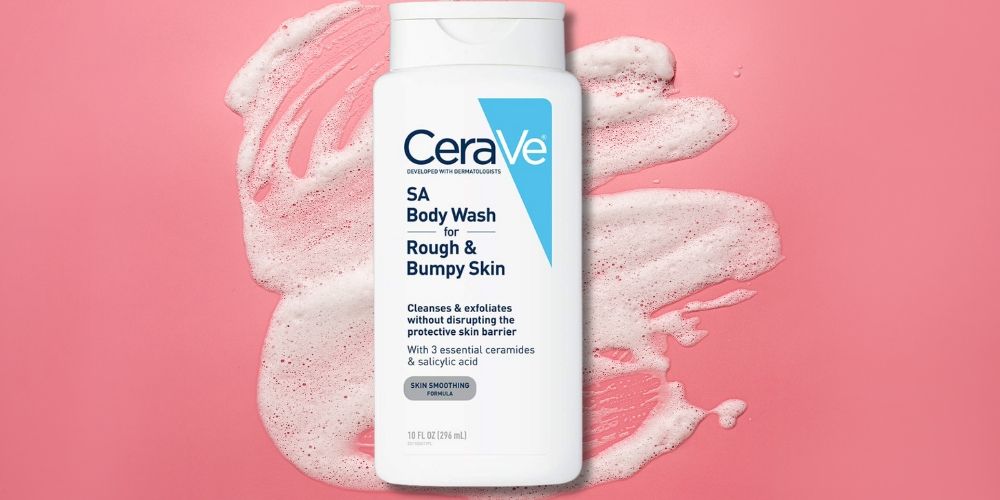 ✔️Key Features: Salicylic Acid exfoliation, Fragrance-free for sensitive skin, Hyaluronic Acid & Niacinamide hydration, Developed with dermatologists
✅Pros: Gentle exfoliation and smoothing, Hydrates and soothes, Restores natural barrier
❌Cons: Scent preference varies
👉Our Ratings: Effectiveness: 5/5 | Ingredient Quality: 5/5 | Scent: 4/5 | Skin Tolerance: 5/5 | Value for Money: 4/5
This Cerave exfoliating body wash, enriched with Salicylic Acid, gently removes dead skin cells for a softer, smoother complexion. Fragrance-free and suitable for sensitive skin, everyone can enjoy its exfoliating benefits. With added Hyaluronic Acid and Niacinamide, this body wash hydrates and soothes your skin. For the ultimate experience, pair it with CeraVe Salicylic Acid Moisturizing Cream.
Developed with dermatologists and packed with essential ceramides, it restores and maintains your skin's natural barrier. Allergy-tested and non-comedogenic, it's perfect for avoiding unwanted reactions. With an impressive 4.6-star average and over 20,000 5-star reviews, you know that this is one of the best acne body washes that the crowd is raving about!
One reviewer said "Amazing results! Smooth and soft skin after 1-2 uses." and another one exclaims "Within a couple of weeks of using every other day in the shower the oiliness of my back disappeared. My breakouts are not completely gone, but the skin feels much healthier and balanced. Highly recommend!"
Skin Care Tips for Oily Skin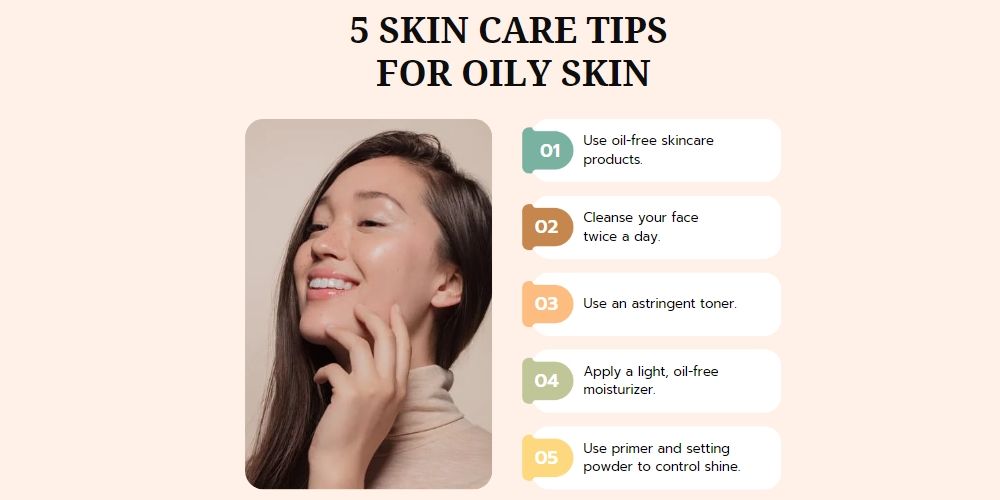 With the right approach and a consistent skincare routine, you can effectively control oiliness, keep your pores clear, and achieve a healthy, blemish-free complexion.
Use oil-free skin care products: Look for cleansers, serums, and moisturizers specifically formulated to be oil-free. These products won't add extra oil to your skin and will help prevent clogged pores, reducing the likelihood of acne breakouts. Oil-free formulas are lighter and easily absorbed, providing the necessary hydration without exacerbating oiliness.
Cleanse your face twice a day: Cleanse your face twice daily, in the morning and before bed, using a gentle cleanser formulated for oily or acne-prone skin. This will help remove excess oil, dirt, and impurities that can clog pores and contribute to breakouts. Avoid harsh cleansers that strip the skin of its natural oils, as this can trigger increased sebum production.
Use an astringent toner: A toner helps tighten the skin, minimize the appearance of pores, and control sebum production. Look for toners containing ingredients like witch hazel, salicylic acid, or tea tree oil, which have astringent and acne-fighting properties.
Apply a light, oil-free moisturizer: Opt for a lightweight, oil-free moisturizer that won't clog your pores or add excess oil to your skin. Look for non-comedogenic formulas that provide hydration without a greasy residue. Moisturizing is essential to maintain a healthy skin barrier and prevent the skin from overproducing oil in response to dehydration.
Use primer and setting powder to control shine: To combat excessive shine throughout the day, incorporate a mattifying primer into your makeup routine. Primers help create a smooth base and control oil production, providing a matte finish.
Body Wash for Oily Skin FAQ
Whether you're prone to acne or just looking for a way to control excess oil on your skin, choosing the right body wash is key. This FAQ will provide answers to some of the most frequently asked questions about body washes for oily skin.
What kind of body wash should I use for oily skin?
For oily skin, choose a body wash formulated specifically for oily skin. Look for ingredients like salicylic acid and glycolic acid to reduce excess oil and cleanse effectively. Hydrate your skin with a creamy body wash containing hyaluronic acid or ceramides. Avoid perfumed and harsh detergent-based products that can strip natural oils and disrupt your skin's balance. Opt for dermatologist-recommended body wash options for the safest choice.
Can I use the same body wash for my face and body if I have oily skin?
When you have oily skin, it's not recommended to use the same body wash for your face and body. Facial skin has different needs and requires products that provide extra nourishment and hydration. Look for a gentle facial cleanser with balancing ingredients like aloe vera or green tea extract to manage oiliness without drying out your skin. It's best to use a dedicated cleanser suited for your complexion type to ensure the safest and most effective results.
How often should I use body wash for oily skin?
Using a body wash formulated for oily skin is crucial for your daily skincare routine. Regular bar soaps and liquid body washes can be harsh and strip away natural oils, causing dryness and irritation. Opt for a gentle body wash with ingredients like salicylic acid, sulfur, or clay to reduce oiliness and prevent clogged pores. Apply the product all over your body, lathering with gentle circular motions, and rinse thoroughly with warm water for effective cleansing.
Can body wash for oily skin help to prevent acne breakouts?
A body wash for oily skin can prevent acne by removing excess oil and dirt. Choose a body wash with salicylic acid or benzoyl peroxide to unclog pores. Remember, a complete skincare routine with cleansing, moisturizing, and sunscreen is essential for acne prevention.
Which is better soap or body wash for oily skin?
Body wash is generally a better option than traditional bar soap for oily skin. Bar soaps can be harsh and drying, while body washes are often soap free and more gentle. Look for soap-free body washes that soothe irritation and contain ingredients like salicylic acid to control oil and unclog pores. It's important to follow a consistent skincare routine and use products suitable for oily skin to maintain a balanced and healthy complexion.
How often should you shower if you have oily skin?
Shower daily to manage oily skin and prevent acne. Use a mild, oil-free cleanser formulated for oily skin. Avoid overwashing to maintain the skin's natural oils. Adapt shower frequency based on individual needs and factors like climate and activity level. Follow up with a suitable moisturizer and avoid heavy or greasy products that can clog pores.
Can I skip moisturizer in the morning if I have oily skin?
It's recommended to use a lightweight, oil-free moisturizer even if you have oily skin. Skipping moisturizer can lead to dryness and increased oil production. Look for moisturizers formulated for oily skin and avoid heavy ingredients like shea butter. Apply a thin layer in the morning to keep your skin balanced and hydrated.
Final Thoughts
In conclusion, finding the right body wash for oily skin is crucial in maintaining a fresh and clean complexion throughout the day. By choosing body washes that target acne-causing bacteria and provide gentle cleansing, you can effectively prevent breakouts and keep congested skin at bay. Avoiding harsh chemicals and opting for foaming body wash will help minimize the risk of triggering acne and maintain the natural balance of your skin.
Remember to prioritize your skin's needs and select products that promote a healthy and clear complexion. With these 9 body washes specially designed for oily skin, you can confidently embrace a refreshing and revitalizing shower routine. Say goodbye to clogged pores and hello to a newfound sense of cleanliness and confidence.
Other Posts You May Like
While we've provided you with an excellent list of 9 body washes for oily skin to keep you fresh all day, have you considered taking the next step and creating your own personalized skincare?
If you're seeking to learn how to make natural body washes perfectly suited for your skin type, we have just the thing for you - 'Dive Into the DIY Beauty Series for Body.' Not only can you control the ingredients going into your skincare, but you'll also find joy in the process of creating.
Plus, there's more! Extend your homemade beauty regimen to include 'Dive Into the DIY Beauty Series for Lips' for nourished, plump lips, and 'Dive Into the DIY Beauty Series for Face' to revitalize your facial glow.
💡
Dive Into the DIY Beauty Series for Lips
Transform your lip care routine with our DIY Beauty Series packed with Homemade Lip Tint Recipes and Luscious Lip Mask Recipes. Dive into these tutorials and learn how to create natural and nourishing lip products at home!
Dive into the exciting world of DIY skincare, and craft products that truly resonate with your needs. Are you ready for this DIY revolution? It's time to roll up those sleeves and start crafting!
Reviews in this blog post have been edited for clarity and/or length.
Comments