This post may contain affiliate links, please see our privacy policy for details.
If you're a pet parent, you know it can be difficult to make sure your best friend stays hydrated while out and about but lugging around jugs of water isn't practical. Thankfully, dog water bottles provide an easy and convenient solution! Never worry about taking those thirsty trips home from the park again with these 10 convenient dog water bottle options! From collapsible to easy-to-carry bottles, you'll find what you need to keep your pup hydrated on hot days or when walking in the dog park.
Our Top Picks for Dog Water Bottles
Benefits of a Dog Water Bottle
When it comes to keeping your pup safe and healthy, providing them with access to clean drinking water is essential - especially when out and about on long journeys or activities. Fortunately, having the right dog water bottle can make this task much easier. Here are just a few of the benefits that come from using petwater bottles:
Convenience
Dog water bottles offer a convenient way to carry fresh drinking water for your pup whether you're at home or on the go. They come in a variety of sizes and designs which makes it easy to select one that fits your pup's needs perfectly! Plus, many feature collapsible designs which allow them to easily fold down into smaller sizes when not in use - making them very easy to store or take along with you during travels!
Durability
Most bottles are constructed from thicker materials such as stainless steel or aluminum which helps keep them secure and durable enough even under rough terrain or adverse weather conditions. This ensures their contents stay safe and free of spills throughout any activity they may encounter while out exploring!
Cost-Effective Option
Finally, compared to pricey disposable containers - reusable dog bottles are often much more cost-effective options in the long run. They also help reduce waste associated with other types of water containers since they can be used again and again without needing replacements.
Overall, investing in a quality dog water bottle is an important step towards ensuring proper hydration for both you and your pup no matter what adventure awaits!
Types of Dog Water Bottles
When choosing a dog water bottle, there are many factors to consider such as size, capacity, and material. Depending on what your pup's needs are and the type of activity you plan to do with him, there are several types of portable dog water bottles available.
Collapsible Dog Water Bottles
Great for those looking for a convenient way to transport fresh water while out and about with their pup. Unlike other bottles that may be bulky or inconveniently shaped - these bottles can easily collapse down into smaller sizes once they're empty - making them easier to store or carry in bags or pockets when not in use.
BPA-Free Plastic Bottles
are good options if you want to keep costs low without sacrificing quality or durability. Most plastic bottles are lightweight but also come in different sizes, shapes, and colors. Plus, many plastic bottles are made with BPA-free materials so you don't have to worry about any potential health risks posed by drinking from this type of container!
Stainless Steel Bottles
This kind of bottle tends to be more expensive than plastic ones but offers much higher levels of durability and insulation which makes them great for long days outdoors with your pup. These heavy-duty containers often come with additional features like carabiners for attaching to bags or backpacks, as well as vacuum insulation - both of which make them ideal companions for outdoor activities!
Reusable Plastic Bottles
They are lightweight, affordable, and easy-to-use options that can be used over and over again once they've been thoroughly washed out between uses. This type of container is a great choice if you want something that's reliable yet still inexpensive - plus it helps reduce waste products associated with disposable water containers!
So no matter what type of adventure you're planning on taking your furry friend on - having the right dog water bottle will ensure both you and your pup stay hydrated along the way!
Must-Have Features for the Best Dog Water Bottle
When it comes to ensuring your pup's health and safety while on the go - having access to clean drinking water is a must. But when it comes to selecting the best dog water bottle for your adventures, there are several features you should look for that will help keep your furry friend hydrated and happy during every outing.
Volume Capacity
One of the first things you should consider when looking at different dog water bottle options is the volume capacity. Depending on the length of time and distance traveled, you'll want to make sure you select something that can hold enough liquid for these activities, so your pup doesn't run out before reaching his destination! The great news is that many petwater bottles offer various sizes and capacities, making it easy to find one that suits your needs perfectly.
Leak-Proof Design
Another important feature to look for in pet water bottles is a special leak-proof design. This feature ensures that no matter how often or vigorously you transport liquids in your container - it will stay sealed and secure throughout the journey -- preventing any accidental spilling or leaking during travel!
Easy To Clean Design
After each use, you want to make sure your dog's water bottle is adequately cleaned so as not to pose any threat of contamination from previous liquids carried inside. Look for pet water bottles with removable components such as lids and motors -- this way they can be taken apart easily, washed thoroughly by hand (or in some cases even put in the dishwasher!), and quickly put back together afterward. This design helps reduce bacteria growth, odor buildup, and other issues associated with unclean containers over time!
If you're looking for a new insulated dog water bottle, there are several features you should take into consideration which will help ensure your pup stays properly hydrated during all of his outdoor adventures! From volume capacity, leak-proof design, and durability, to an easy-to-clean design - be sure to check all these factors when selecting a dog water bottle if you want one of the best products available today!
Our Favorite Dog Water Bottles To Try
Keeping your pup hydrated is an easy task when you've got the right dog water bottle for the job. But with all the different types, sizes, and materials available, it can be hard to choose which one is best. To make the decision easier, we've narrowed down our best dog water bottles that are sure to have all your pup's hydration needs covered - no matter what type of activity they're partaking in! Keep reading to see some of our top picks and why they are worth considering as gifts for your four-legged friends!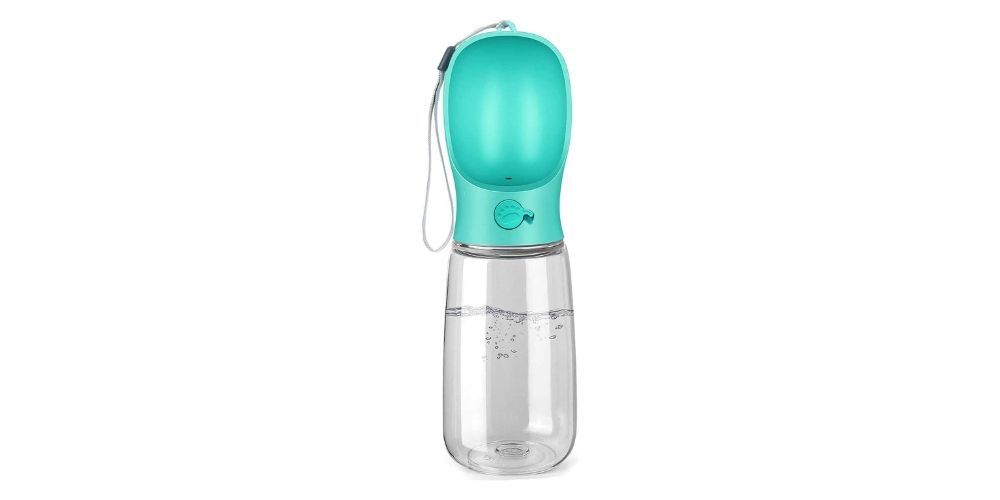 The Kalimdor Dog Water Bottle is the perfect companion for your pup! With its easy dismantling and cleaning, compact design, and one-key open lock, this water bottle ensures that your furry friend will always stay hydrated. Not only is it extremely user-friendly but also durable with a leak-proof construction. Plus, you won't have to worry about wasting any leftover water since the bottle automatically recalls any remaining liquid!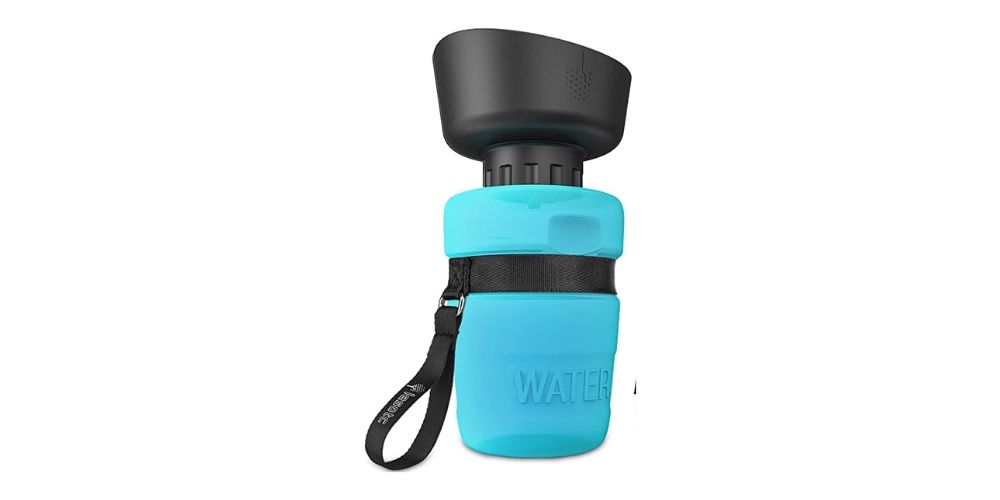 Discover the Lesotc Water Bottle and say goodbye to carrying around a bulky water bowl when going on long walks with your dog! This 2-in-1 dog water bottle and water bowl are essential items for any pet owner on the go. It has a 520 ml capacity, is lightweight, BPA-free, and made from 100% non-toxic material. Plus, its leakproof design means you won't have any spills when you open it up!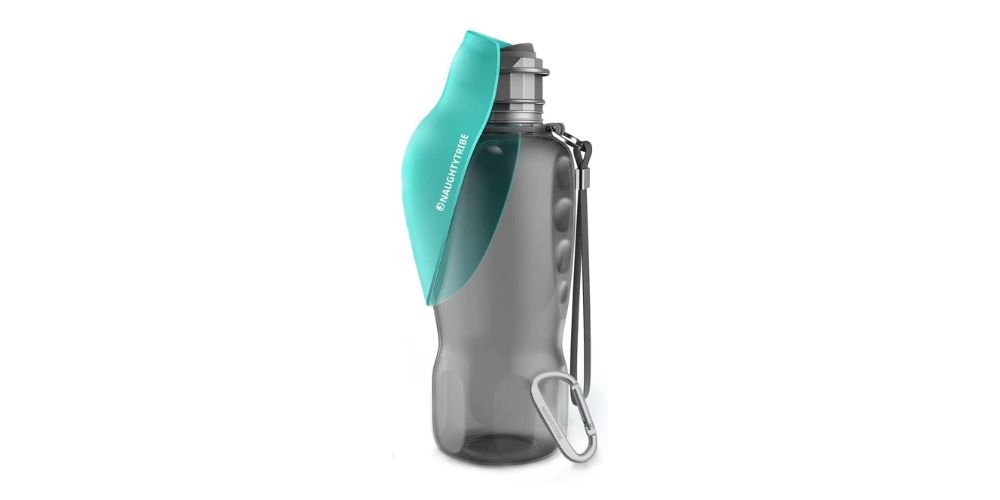 Are you a pet parent who wants to make sure your furry friend is always hydrated, no matter how far the journey takes you? Look no further than NAUGHTYTRIBE Portable Dog Water Bottle! Crafted from 100 food-grade plastic and silicone material, this BPA-free bottle has an impressive capacity of 800 ml perfect for small to large dogs. Thanks to its double leak-proof design, you can be sure your pup stays hydrated – without any mess!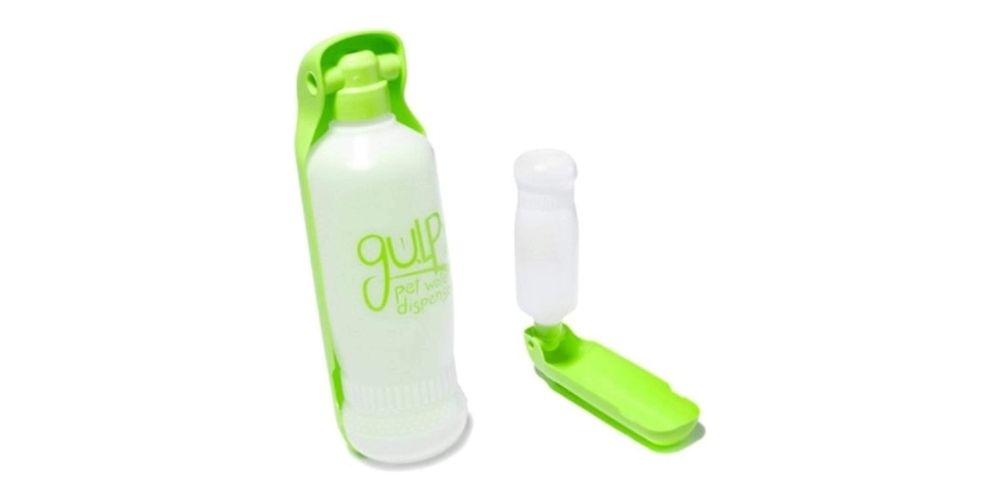 Keep your pup hydrated with this convenient 10 oz capacity water bottle perfect for quick walks in the dog park. Available in 4 colors, this pet-friendly accessory is designed to make drinking easy. A belt clip on the back allows you to attach it to any leash or backpack, and with a simple flip, you can open and close the dispenser. Plus, it's compatible with standard water bottles, so refills are always quick and easy!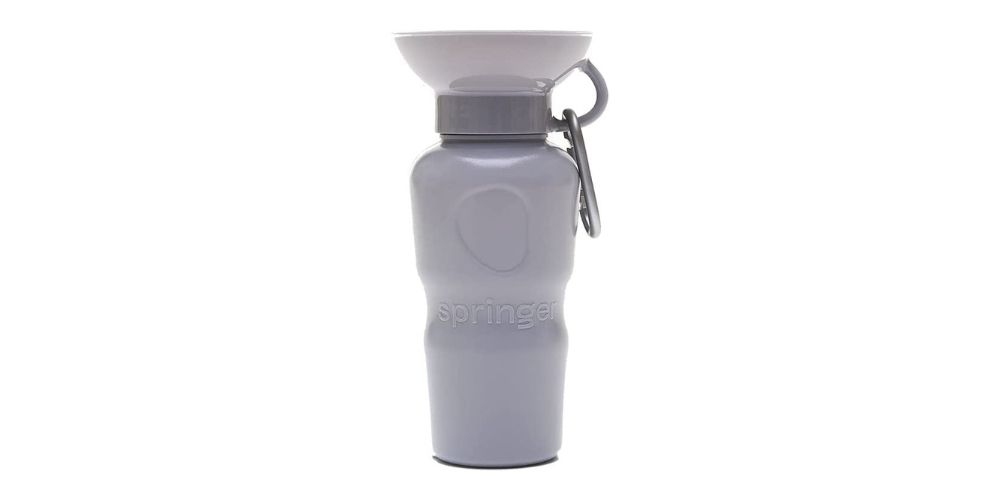 This portable water bottle with a generous 22 oz capacity and ergonomic design, it is the perfect companion for your pet wherever you go. Its unique one-hand operation system allows you to quickly dispense water with just a gentle squeeze of the bottle, while its leak-tight shut-off valve helps prevent any water waste. And best of all, this great little bottle is BPA-free and dishwasher-safe!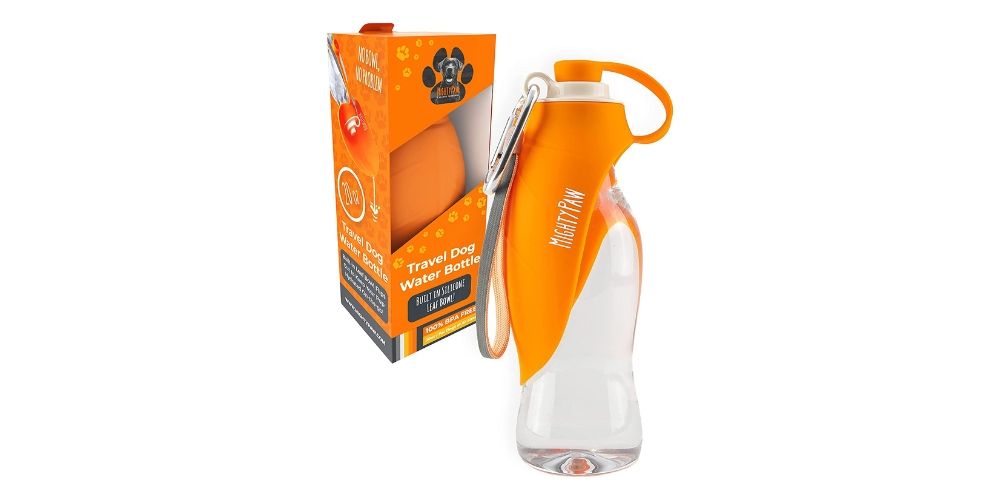 Discover the convenience and comfort of Mighty Paw's Dog Travel Water Bottle! With its 590 ml capacity, you'll be able to carry enough water for your pup on even the longest hikes. Crafted from 100 percent BPA-free food-grade silicone, this sturdy bottle is safe and reliable with its leak-proof nozzle cover that can save excess water. And with a soft wrist wrap included, you can enjoy hands free carrying with ease.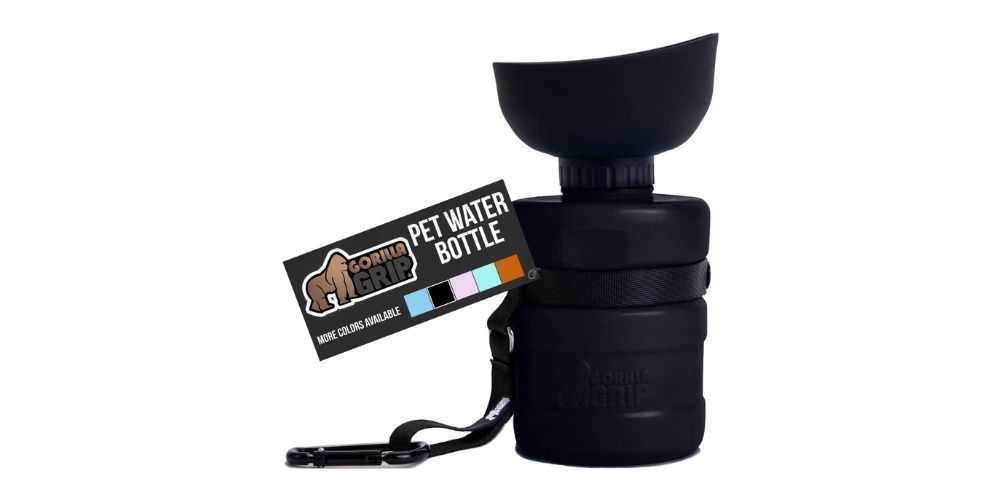 Introducing the Gorilla Grip Water Dispenser - now you can quench your pet's thirst in style and convenience! This amazing item combines a travel water bottle with a built-in drinking bowl, allowing you to take your pet with you without worrying about spilling or leaking. Not only will this dispense 12oz of water at once, but it also locks airtight to help prevent waste. Plus, choose from 5 different color options so that your pup can have its very own stylish accessory!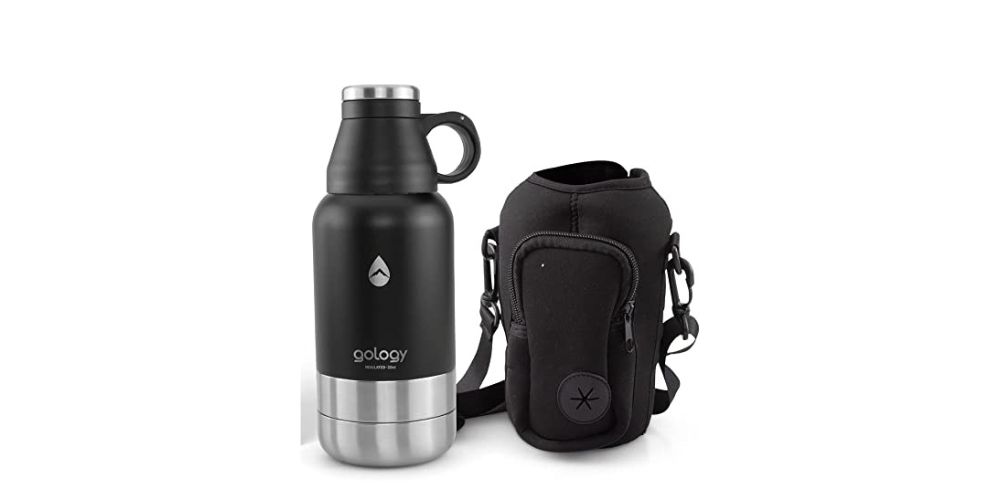 Make your pet's hydration and meal times convenient with the Gology Stainless Steel Water Bottle! This stainless steel water bottle provides a 32 oz capacity for all your furry friends' needs. With its two detachable bowls at the bottom, you can ensure one is for their water and the other for wet or dry pet food. Its ergonomic carrying sleeve allows hand free walks with an additional waste bag dispenser for easy cleanup. The insulated double wall keeps drinks cold for up to 24 hours, while being BPA-free to ensure all contents stay safe!
ANPETBEST's Travel Water Bottle is the optimal solution for staying hydrated, no matter where your travels take you! This lightweight water bottle includes an attached bowl, making it easy to offer a drink of water to your four-legged companion. The simple design allows for the bottle and bowl to be easily disassembled for cleaning, making it convenient and hygienic.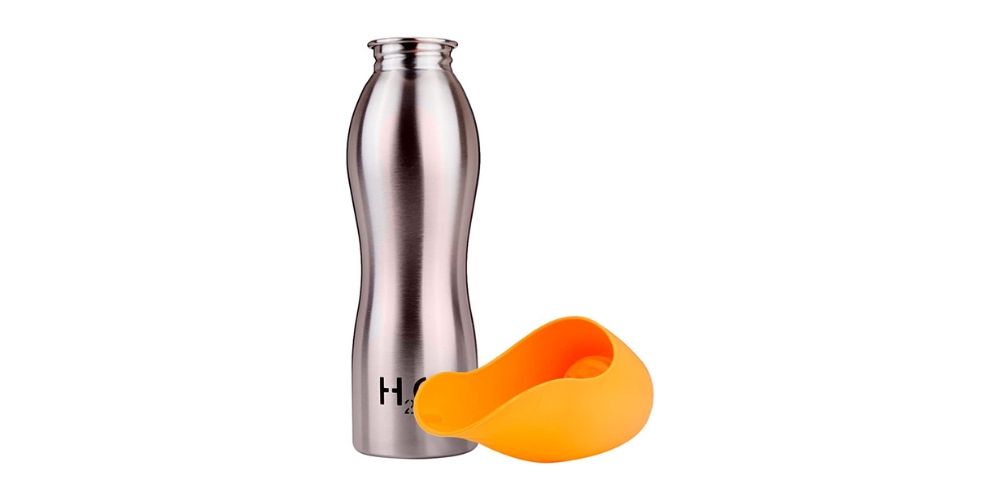 The H2O4K9 Stainless Dog Water Bottle is the ultimate combination of function and fashion! Take care of your pup on the go in style with this durable, stainless steel water bottle. Its leak-proof design will give you peace of mind knowing that precious liquid won't be wasted. And don't worry about lugging around a bulky bowl for your furry friend – the 2-in-1 lid can quickly transform into a convenient bowl!
Dog Water Bottles FAQ
What is the best type of material for a dog water bottle?
When choosing a water bottle for your dog, it's important to consider both durability and safety. Stainless steel is an excellent option as it is strong, durable, and non-toxic. It won't leach chemicals into the water as plastic bottles can, and it won't break or crack easily. Additionally, stainless steel bottles are easy to clean and can be used for years without showing signs of wear and tear.
Another great option is silicone. Silicone bottles are lightweight, flexible, and non-toxic. They're also easy to clean and come in a variety of sizes and colors. The downside is that they may not be as durable as stainless steel bottles and may need to be replaced more often.
Finally, plastic bottles are a good choice if you're looking for something inexpensive and lightweight. However, it's important to make sure that the plastic is BPA-free so that it doesn't leach chemicals into your dog's water.
Does a dog water bottle need to be refrigerated?
Generally speaking, no. Dog water bottles are designed to keep water cool and fresh without needing to be refrigerated. The bottle usually has an insulated layer between the inner and outer walls that helps maintain the temperature of the water. However, if you will not be using the bottle for a while or if your dog prefers cold water, it can be helpful to store it in the refrigerator. This will help ensure that your pup always has access to cold, refreshing water.
How often should I clean my dog's water bottle?
It is important to regularly clean your dog's water bottle to ensure the water remains safe and free from bacteria. Generally, you should be cleaning your dog's water bottle at least once a week. This helps to prevent bacteria build-up in the bottle, which can lead to health issues for your pet.
When cleaning your dog's water bottle, it is important to use warm soapy water and a soft cloth or sponge. Make sure to rinse the bottle thoroughly after washing it with soap and hot water. Additionally, you may want to use a small brush to help remove any caked-on residue from the inside of the bottle. After rinsing, let the bottle air dry before refilling it with fresh water for your pup.
By following these simple steps, you can help keep your pup healthy and hydrated with clean drinking water!
What are some of the potential drawbacks of using a water bottle for a dog?
Using a water bottle for a dog can have several potential drawbacks.
The first is that it can be difficult to get the right amount of water into the bottle. If too much is added, it can be heavy and difficult for the dog to carry, leading to discomfort or even injury. Additionally, if the bottle is not filled enough, the dog may not stay hydrated during their walk or activity.
Another potential drawback is that the water may become warm due to exposure to sunlight or other environmental factors. This could make it unpleasant for your pet to drink and discourage them from staying hydrated while they are out and about.
If you do not regularly clean and change the water in the bottle, bacteria and other contaminants can build up over time. This could lead to health problems for your pet if they consume this contaminated water.
Is it safe for my dog to drink from a plastic type of dog water bottle?
Generally speaking, it is safe for your dog to drink from a plastic type of water bottle. However, there are a few things to consider when choosing the right one for your pup.
First, make sure that the plastic is BPA-free and food-grade approved. This will ensure that the material does not leach any toxins into the water that could be harmful to your pet. Additionally, look for bottles with stainless steel or silicone components as these materials are also non-toxic and safe for your pup.
Finally, keep an eye out for any signs of wear and tear on the bottle as this could cause pieces of plastic to break off into the water. If you notice any cracks or discoloration in the bottle, replace it immediately with a new one.
Conclusion
In conclusion, the best dog water bottle is an essential item for any pet parent looking to keep their furry friends hydrated during outdoor activities. With the multitude of options available, it is important to consider the features that work best for your pets and lifestyle. Make sure to look out for bottles made from non-toxic materials like BPA-free bottles, and have a secure locking mechanism to prevent water leaks, and don't forget to take into account size and portability so that you can always have the perfect bottle for any adventure.
Comments