This post may contain affiliate links, please see our privacy policy for details.
Frustrated with pricey gym memberships or struggling to find the motivation to hit the gym? Say no more- creating your own home gym is an excellent solution! And what's one of the most essential pieces of equipment you'll need? Dumbbells, of course! These versatile and compact weights allow you to target every muscle group in your body.
In this blog post, we're sharing 17 must-have dumbbells for your home gym. Whether you're a fitness newbie or a seasoned pro, these dumbbells will elevate your workouts and help you achieve your fitness goals. Get ready to transform your body from the comfort of your own home!
How to Choose the Right Dumbbells for Your Home Gym
Choosing the right dumbbells for your home gym can be a daunting task, but fear not! We've got you covered with this guide on how to choose the perfect weight for your workouts.
Determine your fitness level
First things first- determine your fitness level. If you're new to working out, start with lighter weights and gradually work your way up. For those who are more experienced, feel free to start with heavier weights and adjust as needed.
Know your goals
Next, consider your goals. Are you looking to build muscle or tone and sculpt? The weight you choose should reflect these goals- aim for a challenging weight that allows you to complete the desired reps with proper form.
Consider the exercise
Don't forget about the exercise itself! Squats and deadlifts will require heavier weights compared to bicep curls and tricep extensions.
Listen to your body
Lastly, listen to your body. If the weight is too heavy and compromises your form, opt for a lighter weight. Conversely, if it's too light and not providing enough of a challenge, go for something heavier. Your body knows best!
With these tips in mind, you'll be well on your way to choosing the right dumbbells for your home gym. Happy lifting!
Different Types of Dumbbells
Let's dive into the world of dumbbells and explore the different types available in the market. Each type has its own set of pros and cons- here's what you need to know:
Adjustable Dumbbells
These weights are incredibly versatile as they allow you to add or remove weight plates according to your needs. However, they can be expensive and take up more space than their fixed counterparts.
Fixed Dumbbells
Available in various sizes, fixed dumbbells are durable and take up less space than adjustable ones. However, you'll need to purchase multiple sizes to suit your workout needs.
Hex Dumbbells
With a hexagonal shape, these weights provide a stable base for exercises that require it. They're also easy to store and built to last. However, some exercises may be difficult due to their shape.
Neoprene Dumbbells
Covered in neoprene, these weights are comfortable to grip and perfect for light workouts. Available in various colors, they're a fun addition to any home gym. Keep in mind that they may not be as durable as other types of dumbbells.
Vinyl Dumbbells
Affordable and available in various sizes, vinyl dumbbells are covered in an easy-to-clean coating. However, this same coating can become slippery when your hands get sweaty.
Choosing the right type of dumbbell for your needs depends on several factors such as budget, space availability, and workout goals. Consider all your options before making a decision- choose a weight that feels comfortable to grip and suits your specific workout needs without breaking the bank!
Our Favorite Dumbbells To Try
Looking to pump up your muscles and take your home workouts to the next level? Let us introduce you to the ultimate game-changer: dumbbells! With so many options available, it can be overwhelming to know where to start. But fear not- we've got you covered.
Our team has spent countless hours testing and reviewing various dumbbells to create a list of our absolute favorites. We've done the hard work so you don't have to, bringing you a selection of adjustable sets, traditional fixed weights, and everything in between.
Whether you're just starting out on your fitness journey or you're a seasoned pro looking for a new challenge, these top picks are guaranteed to help you smash your goals and achieve the body of your dreams. So what are you waiting for? Check out our list of the best dumbbells on the market and get ready to unleash your inner athlete from the comfort of your own home!
Best Rubber Hex Dumbbells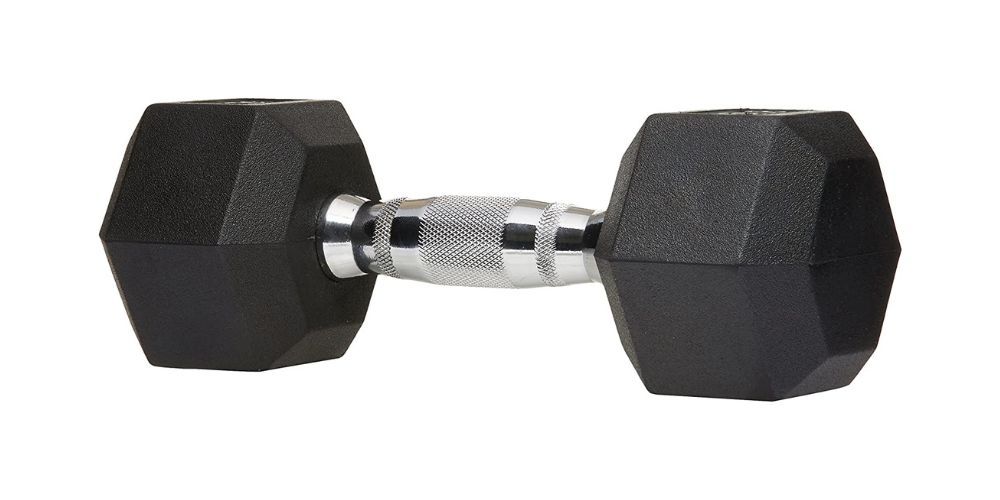 This hex dumbbell boasts a sturdy cast iron core, covered in rubber for added protection and longevity. The unique hexagonal shape prevents rolling, making it easy to store between workouts. With a comfortable and secure grip, you can push yourself further with squats, lunges, bicep curls, and tricep extensions. And with multiple weight options available, you can easily tailor your workout to your fitness level.
Don't believe us? Check out the 4.7-star average customer rating- reviewers rave about the quality and durability of these dumbbells! A must-have for any home gym enthusiast seeking an affordable yet high-quality option.
Best Adjustable Dumbbells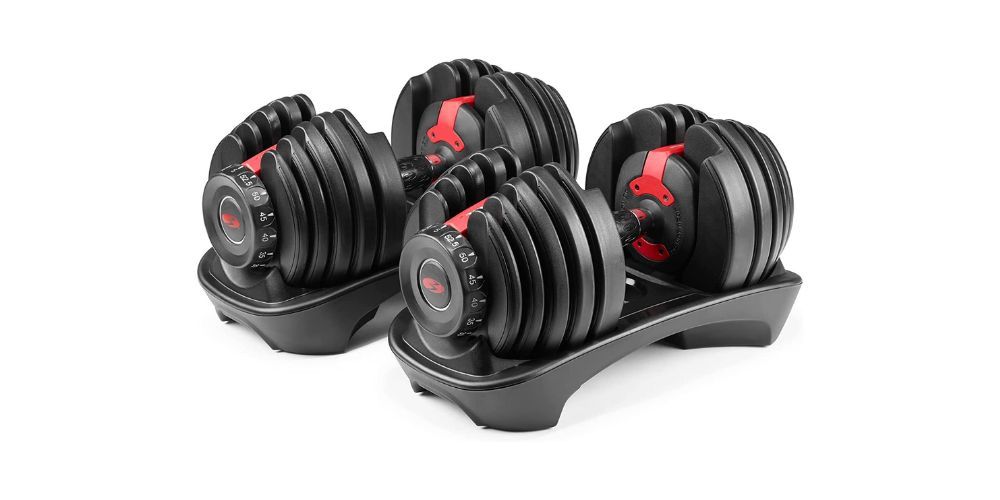 With its innovative dial system, these dumbbells allow for seamless weight adjustments from 5 to 52.5 pounds, making it easy to switch between exercises and gradually increase your strength. The compact design makes them a breeze to store, while the comfortable grip ensures a secure hold during even the most intense workouts.
But what really sets the Bowflex adjustable weights apart is their unparalleled durability. Made with only the highest-quality materials, these dumbbells are built to last for years to come- no matter how hard you push yourself.
So if you're looking for a game-changing addition to your home gym setup, look no further than the Bowflex SelectTech 552 Adjustable Dumbbells. Whether you're performing squats, lunges, or bicep curls, these dumbbells will help you take your workouts to new heights and achieve the body of your dreams.
Best Loadable Dumbbells
Boasting an impressive weight capacity of 350 lbs, these commercial-grade Olympic dumbbell bars are built to withstand even the most grueling workouts. But what really sets them apart is their versatility- with compatibility for 2" standard plates and bonus clamps included, you can easily tailor your workout to target specific muscle groups and achieve maximum gains.
Whether you're a seasoned weightlifting pro or just starting out on your fitness journey, the LIONSCOOL Loadable Dumbbells are guaranteed to leave you feeling exhilarated, exhausted, and absolutely bursting with pride at what you've accomplished.
Best Versatile Dumbbells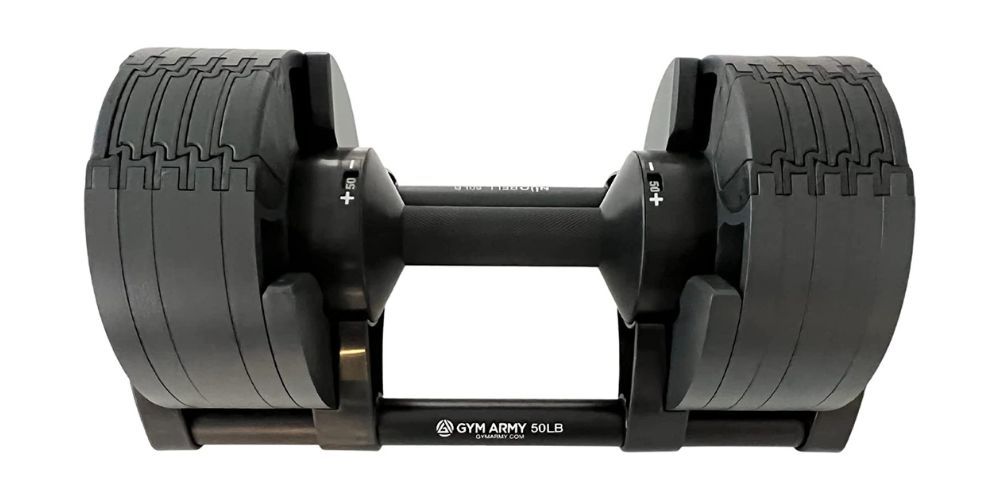 Unlike other adjustable dumbbells, these innovative set of adjustable dumbbells are designed with your fitness goals in mind, offering a versatile and space-saving solution for strength training. With an adjustable weight range of 5-50 lbs, these free-weight dumbbells are perfect for both men and women of all fitness levels.
Simply turn the dial to your desired weight and start pumping the iron in seconds! The compact size and single dumbbell design make the Nuobell the best adjustable dumbbells for home gyms, apartments, or even taking on the go. So what are you waiting for? Level up your workouts with the Nuobell Adjustable Dumbbells and crush your fitness goals like a pro!
Best Innovative Expandable Dumbbells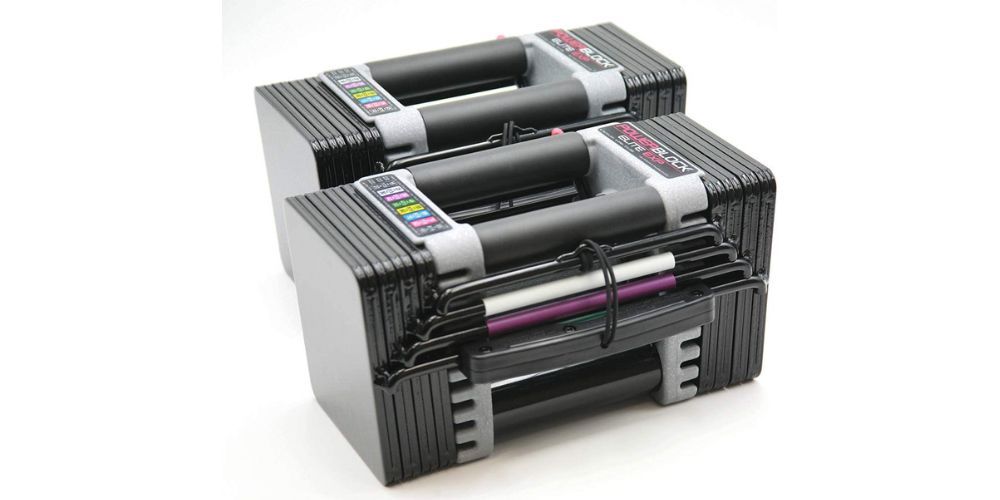 Are you sick of tripping over multiple sets of dumbbells in your home gym? It's time to simplify your workouts with the Powerblock Elite Series Dumbbells! These all-in-one weights are a total game-changer, offering an impressive weight range from 5 to 50 pounds in just one pair. And with their durable steel build, they can withstand even the most grueling workout sessions.
But that's not even the best part - the innovative design allows for easy and lightning-fast weight adjustments with a simple pin system. No more wasting precious workout time fumbling around with different weights or cluttering up your space with multiple sets of dumbbells.
And if you need even more weight options, the PowerBlock Elite EXP is expandable with additional expansion kits. It's time to say goodbye to overcrowded and cluttered home gyms and hello to the ultimate workout equipment. Get ready to take your fitness routine to new heights with the Powerblock Elite Series Dumbbells!
Best Budget Dumbbells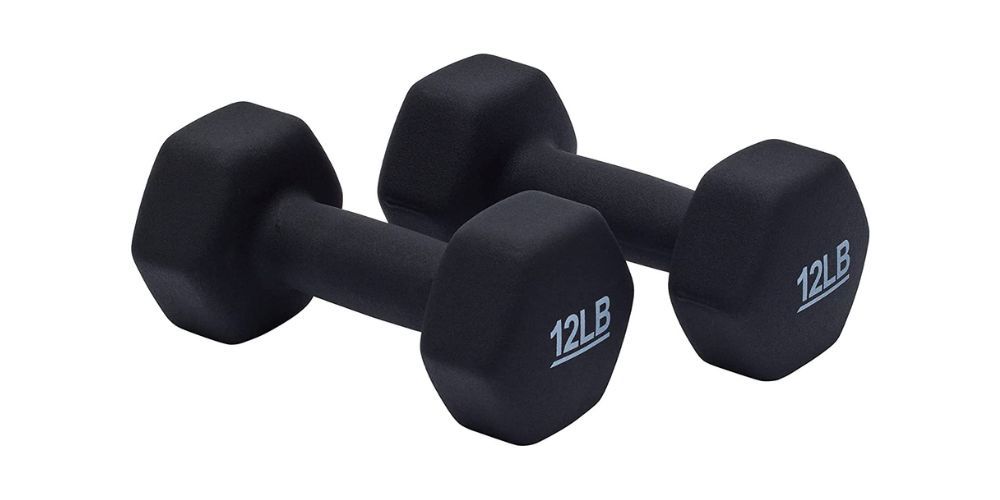 Are you on the hunt for dumbbell sets that won't break the bank? Look no further than the Amazon Basics Neoprene Workout Dumbbells! These are the ultimate addition to any fitness routine, featuring a neoprene coating that provides a comfortable grip and ensures you won't drop them mid-workout. Whether you're just starting out or a seasoned pro, these weights come in a range of options from 1 to 20 pounds to suit your needs.
And if space is a concern, fear not - these dumbbells are compact enough to store easily without taking up too much room. Say goodbye to cluttered workout spaces and hello to efficient and effective workouts with this traditional dumbbell set. Don't let high prices hold you back from reaching your fitness goals - grab these affordable and reliable dumbbells today!
Best Dumbbells for Beginners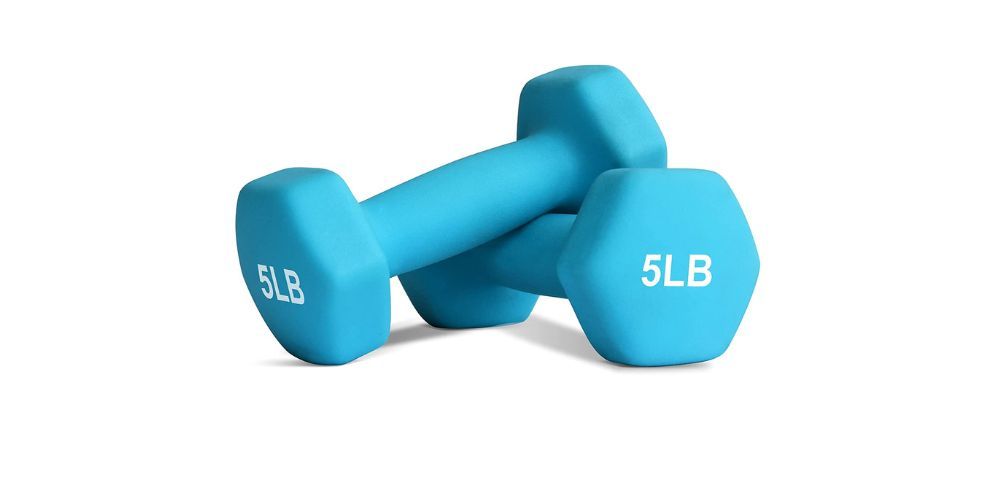 These versatile free weights are perfect for beginners looking to build muscle, tone their bodies, and get fit from the comfort of their own homes.
With a range of weights available, from 1 to 15 pounds, you can choose the perfect weight to suit your needs and fitness level. And with the neoprene coating on the dumbbell handles, you won't have to worry about rust or damage to either the weights or your floors.
But that's not all - the hex design of these dumbbells ensures they won't roll away during use or storage, making them easy to stack and store in even the smallest of spaces. Don't let limited space hold you back from reaching your fitness goals - grab the Balelinko Hand Weight Neoprene Rubber Coated Dumbbell today and start building a stronger, healthier you!
Best Cast Iron Dumbbells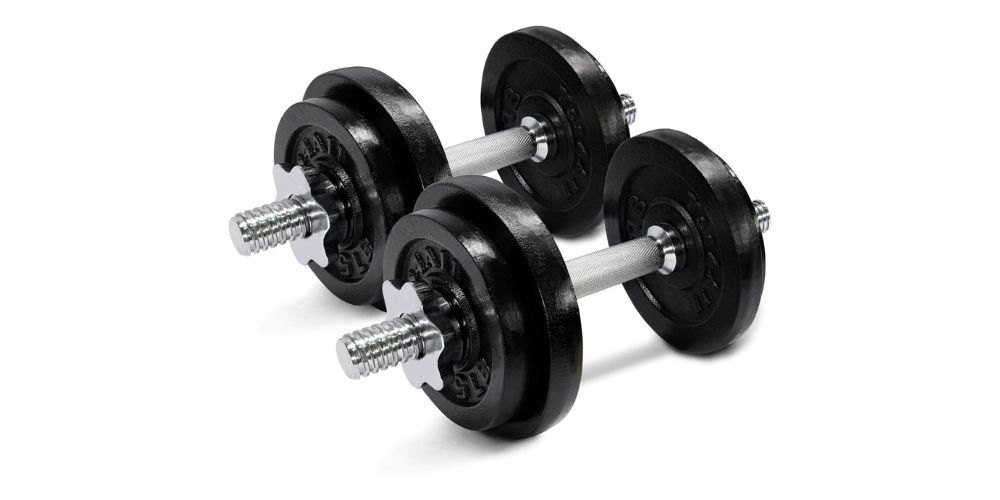 These weights offer an incredible amount of versatility and can help you get the results you want without having to buy multiple sets of dumbbells. But before you jump headfirst into purchasing them, let's take a closer look at their features, pros, and cons. First, let's talk about the features - these dumbbells come in a set of two, with a total weight of 60 lbs. The cast iron weight plates are covered with a black paint finish that prevents rust and corrosion, ensuring lifetime use. And the 14-inch diamond knurled chrome handle is constructed with high-quality, textured chrome for a secure, firm, and non-slip grip.
Moving on to the pros - one of the main advantages of these adjustable dumbbells is their versatility. They allow you to perform various toning body workouts, core fitness exercises, strength training routines and heavy leg lifts all in one set. Plus, they're easy to use and store and take only seconds to assemble and disassemble. The compact design means that you can store them easily in small spaces too.
However, there are a few cons to keep in mind as well. One potential drawback is their weight capacity - at 60 lbs., this set may not be sufficient for more advanced weightlifting routines. Additionally, adjusting the star-lock collars can be challenging initially but becomes easier with practice.
Best Round Dumbbells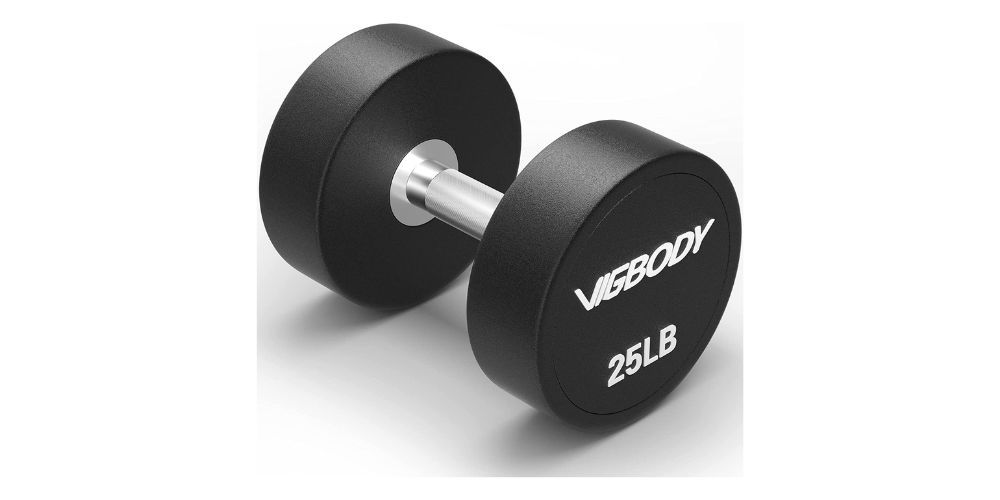 These bad boys are built to last, made from solid steel, and coated in a PEV encasement for unbeatable strength and durability. Say goodbye to flimsy equipment that falls apart after a few uses!
But it's not just about toughness. The hex-shaped design keeps them from rolling around, while the knurled handle ensures a comfortable grip. And because they're flat hexagonal weights, you won't have to worry about disturbing others with clanging noises during your workout.
No matter your skill level, these dumbbells can help you achieve your fitness goals. They're perfect for building muscle, burning fat, and toning your body. And when you're done using them, they're easy to store away in a closet or under the bed.
Best Vinyl Dumbbells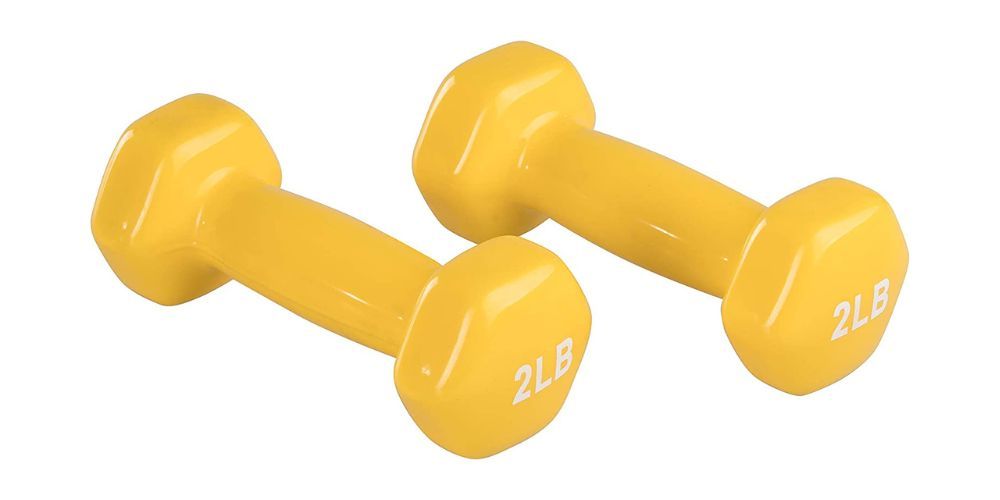 These versatile and convenient dumbbells are perfect for anyone, whether you're just starting out or a seasoned weight lifter.
One of the standout features of this set is the vinyl coating on the weights. It not only protects them from wear and tear but also provides a comfortable grip while exercising. Plus, with weights ranging from 1 pound to 20 pounds, you can gradually increase your strength and challenge yourself as you progress.
And let's talk about affordability. This set is priced just right for those who don't want to spend a fortune on expensive gym equipment. With the Amazon Basics Vinyl Coated Hand Weight Dumbbell Pair, you can get a full-body workout in the comfort of your home without breaking the bank.
Best Non-Slip Dumbbells
This innovative set is designed to help you sculpt your arms, tone your back, and strengthen your upper body and core, all with just one set of dumbbells. With its adjustable weight bars and non-slip design, the Nice C Women's Weights are a must-have for any fitness enthusiast.
The versatility of the Nice C Women's Weights is incredible! You can adjust the weight of your dumbbells as needed with multiple weight settings. Each dumbbell comes with four weight blocks, each weighing 0.55 lbs, allowing you to adjust the weight from a minimum of 2.3 lbs to a maximum of 4.5 lbs per dumbbell. And that's not all! The removable weight bars make it easy to switch between weights during your workout without having to purchase multiple sets of dumbbells.
But wait, there's more! The non-slip design sets these weights apart from others in the market. The slip-resistant neoprene coating allows you to feel safe and secure while doing your workout while also providing comfort through an upgraded curve-shaped handlebar that improves coordination and reduces injury risks. Plus, they are lightweight and compact making them easy to store and transport so you can take them wherever you go.
As with anything though, there are pros and cons to consider before purchasing this product. On the positive side, these weights offer a wide range of weight settings and a non-slip design that makes them easy to use and safe. They are also lightweight and compact making them perfect for use at home or on-the-go fitness routines! However, some users may find that the weight range is not sufficient for their needs or they may need additional equipment or weights for their workouts. Also keep in mind that over time, the neoprene coating may wear off but this isn't a major concern for most users.
Best Chrome Dumbbells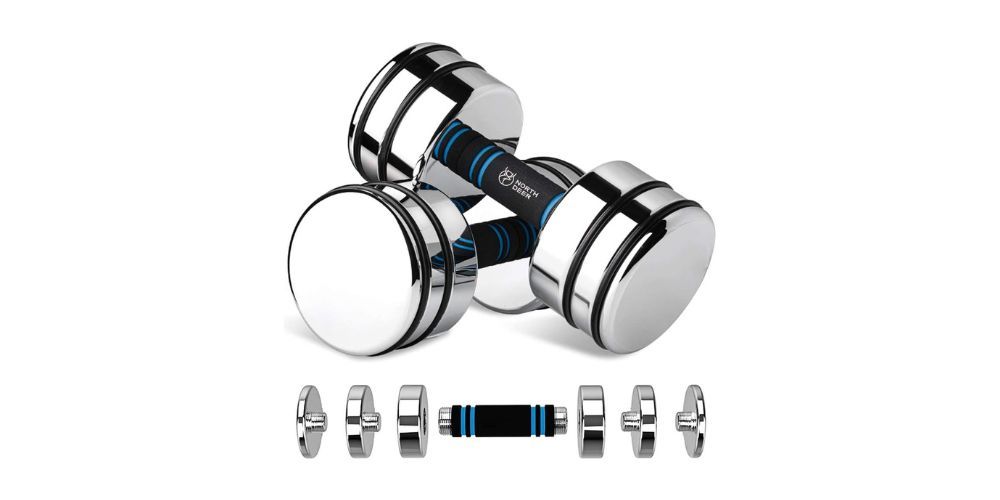 These innovative dumbbells are fully adjustable, allowing you to switch between weight increments ranging from 5lb to 50lb with ease. This small-sized steel dumbbell is not only easy to grip and improves the precision of movements, but it also results in deeper muscle stimulation and an intensified training effect. Plus, unlike bulky traditional dumbbells, this minimalist design avoids the issue of bumping into the body during exercise - giving you greater movement versatility.
And that's not all! This minimalist dumbbell is small in size, easy to store and can be placed upright making it convenient for home use. It's made of steel without plastic wrap which means no unpleasant odors that may affect your mood during exercise. The highly polished surface and sleek design make it an elegant addition to any home gym while attached rubber rings prevent floor abrasions.
On the positive side, these innovative dumbbells offer adjustability that allows you to switch between weights ranging from 5lb to 50lb with ease. They're easy to grip resulting in deeper muscle stimulation and intensified training effects while avoiding the issue of bumping into your body during exercise - leaving you free to move around comfortably. Plus they're small in size making them perfect for storing at home or on-the-go workouts! However, some users may find them too lightweight for their needs or may prefer a more traditional design.
Best Rubber Coated Dumbbells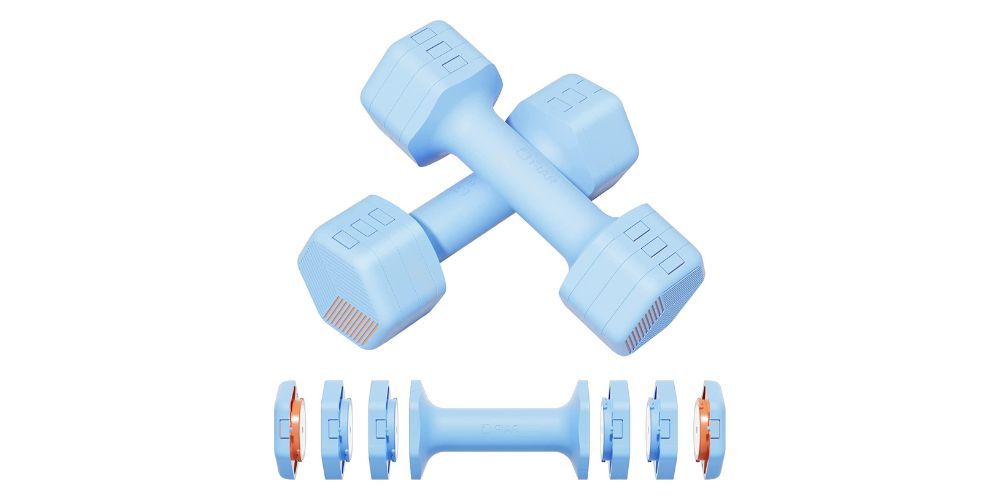 These dumbbells are packed with features that will make your workout routine more efficient, comfortable, and even fun.
One of the coolest things about these dumbbells is their adjustable weight. With just a few clicks, you can increase or decrease the number of pieces to adjust the weight from 2lb to 5lb. This means you can customize your workout according to your fitness level and switch things up for different exercises. And let's not forget about the quick adjustment mechanism - it's so easy to use, you'll wonder why all dumbbells aren't designed this way!
But comfort is also key when it comes to working out, and these dumbbells don't disappoint. The grip diameter is just right at 38mm, making them perfect for those with small hands. And the TPU soft rubber outer layer not only feels great in your hands but also prevents slipping while lifting. No more worrying about dropping a weight on your foot mid-rep!
And don't think that comfort means these dumbbells are flimsy - far from it! The hexagonal design ensures stability during use, so they won't wobble around during intense weight training workouts. Plus, the environmentally friendly soft rubber outer layer protects your floors from damage and prevents knocking noises.
The FIAR Adjustable Weight Dumbbells Set of 2 is super versatile too! You can target various muscle groups by using different combinations of dumbbell pieces - arms, legs, back - you name it! And with fun colors available, you'll be motivated to keep pushing yourself towards your fitness goals.
Best Professional Dumbbells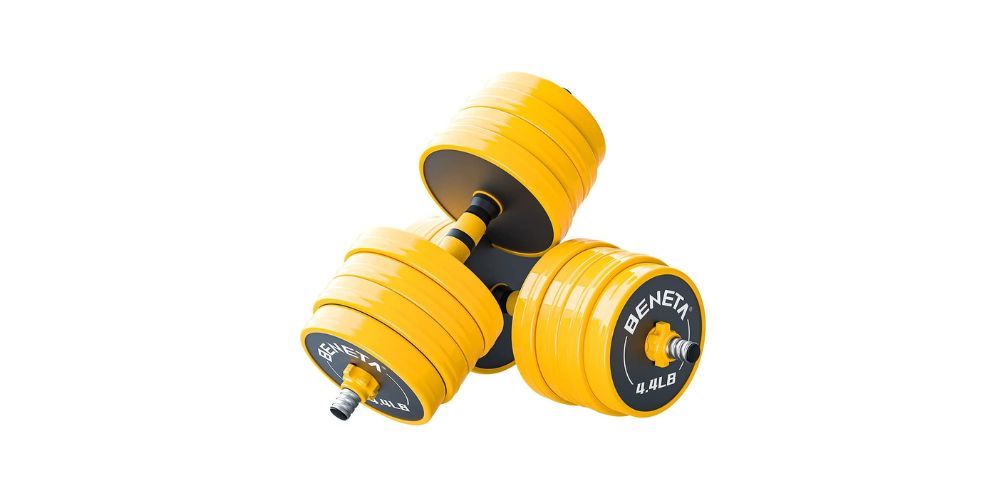 With a whopping 88lbs of adjustable weight, this set is perfect for anyone looking to take their fitness routine up a notch.
But what really sets these dumbbells apart from others on the market is their versatility. You can easily switch between a dumbbell or barbell configuration, allowing for a wide range of exercises to target various muscle groups. And let's not forget about the non-slip rubber protective cover - it ensures a safe and secure grip during even the most intense workouts, so you can focus on pushing yourself towards your fitness goals.
These dumbbell weight plates are made from premium and durable cast iron material coated with black paint finish that can prevent rust and corrosion. The TPU cover and curved handlebar provide an ergonomic grip that feels great in your hands, improving coordination and preventing injuries or accidents. And rest assured, the screw nut that holds the weights in place is also secure, so you won't have to worry about any unwanted loosening during use.
This multifunctional free weights set is perfect for both men and women, making it ideal for any home or gym setup. Whether you're just starting out on your fitness journey or are already an experienced athlete, this adjustable dumbbell set has everything you need to take your workouts to the next level!
Best Metal Dumbbells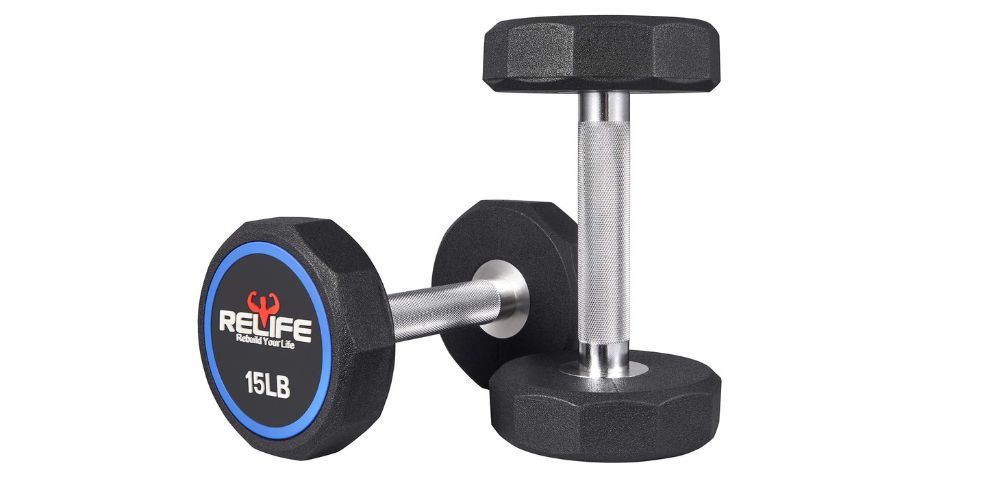 This amazing set of dumbbells is perfect for anyone looking to get in shape from the comfort of their own home. Whether you live in a cramped apartment or spacious house, these versatile weights will fit right in.
One of the best things about this set is its sturdy metal handles, which provide an unbeatable grip during exercise. With these dumbbells, you can easily target specific muscles and build lean muscle mass for a toned and defined physique that will leave everyone impressed.
But that's not all - these dumbbells are also made from high-quality PEV polymer material, making them environmentally friendly and odorless. They offer excellent wear resistance, corrosion resistance, impact resistance, high hardness, and a long service life.
Best Prism Dumbbells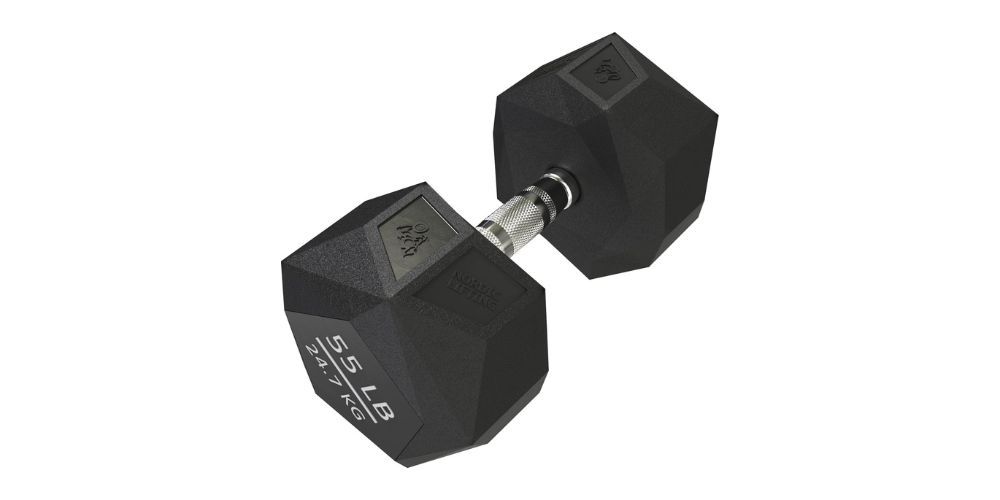 This incredible product is made from rubber-encased cast iron, making it perfect for both gym and home workouts.
But what really sets this dumbbell apart is its premium rubber construction. Not only is it odorless, but it also protects your floor from unsightly scratches that can occur during intense workouts. And with TPE rubber coating and chrome-plated steel handles, you can rest assured that this dumbbell will provide you with stability and confidence during even the most challenging exercises. Say goodbye to worries about oil marks or metal splinters - the Nordic Lifting Prism Dumbbell has got you covered!
So if you're ready to upgrade your workout routine and achieve your fitness goals, don't hesitate to try out the Prism Dumbbell for Strength Training by Nordic Lifting. Your body will thank you!
Best Diamond Dumbbells with Anti-Slip Handle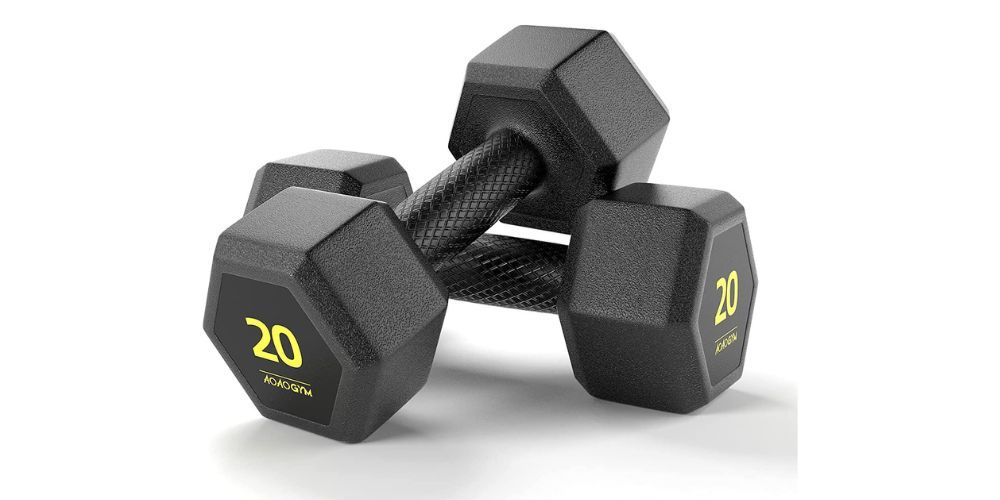 Are you tired of feeling stuck in your strength training routine? It's time to take things up a notch with the Hex Dumbbells PVC Encase Coating Free Weight Dumbbell Set! With its unique hexagon design, these dumbbells won't roll away from you mid-workout, giving you the confidence to push yourself further than ever before. And if you're feeling adventurous, try using them as push-up stands for an added challenge!
But it's not just about stability and safety - the diamond embossed non-slip texture handle ensures that your grip stays comfortable and secure throughout your entire workout. And with the entire surface of each dumbbell encased in wear-resistant PVC material, you can protect your floors while still enjoying an excellent texture.
The best part? This free weight set comes in a wide range of weights from 5lbs to 25lbs, so fitness enthusiasts of all levels can benefit from using them. Whether you're working out at home or at the gym, these dumbbells have got you covered.
Of course, like any product, there are some downsides to consider. The hexagonal design does mean that they take up a bit more space than other types of dumbbells. And while the PVC coating does an excellent job of protecting your floors, it may not be as durable as other materials over time.
Dumbbells FAQ
Dumbbells are a popular type of strength training equipment that have been used for centuries to build muscular strength, endurance, and flexibility. In this FAQ, we'll cover some of the most common questions and concerns related to dumbbells, including how to use them effectively, what exercises you can do with them, and the benefits they offer.
Can dumbbells be used for cardio workouts?
Yes, dumbbells can be used for cardio workouts, such as high-intensity interval training (HIIT) or circuit training. Incorporating dumbbell exercises into your cardio routine can help increase calorie burn and improve overall fitness.
How often should I lift dumbbells?
Depending on your goals and individual abilities, it is recommended to lift weights two or three days a week with at least one day of rest between each session. The amount of repetitions and sets also depends on your goals and current levels of fitness.
How do I maintain and care for my dumbbells?
To maintain and care for your dumbbells, it's important to keep them clean and dry after each use. Store them in a dumbbell rack and avoid dropping them or hitting them against hard surfaces. It's also a good idea to periodically check for any loose or damaged parts and replace them if necessary.
What is the best brand for dumbbells?
There are many excellent dumbbells brands, or, more like, there are plenty of top home gym equipment manufacturers. Bowflex, PowerBlock and JaxJox dominate the adjustable dumbbell scene, while Eleiko and Rogue Fitness are great examples of premium hex dumbbells manufacturers.
Final Thoughts
Dumbbells are an essential tool for anyone looking to improve their physical fitness. With so many varieties available in the market, it can be overwhelming to choose the right one. However, by considering factors such as budget, workout goals, and space availability, you can find the perfect set of dumbbells that meet your needs. We hope our overview of different types of dumbbells and our favorite picks have helped you make an informed decision. Remember, no matter your fitness goals or budget, there's an ideal set of dumbbells out there for you – so don't hesitate to invest in one today and take your workouts to the next level!
Reviews in this blog post have been edited for clarity and/or length.
Comments