This post may contain affiliate links, please see our privacy policy for details.
Welcome back to our blog! If you enjoyed our previous post on 10 Fall Dresses Ideal for Your Family Photo Session, you're in for a treat today. We're taking things a step further and diving deep into the world of family photo fashion. In this post, titled "Elevate Your Memories: Stylish Fall Family Photo Outfits to Try," we'll guide you through striking outfit choices that not only resonate with the autumn vibes but also ensure your family's memorable moments are captured in the most stylish way possible. Let's elevate those cherished memories together!
Earthy and Warm Tones for the Perfect Family Photo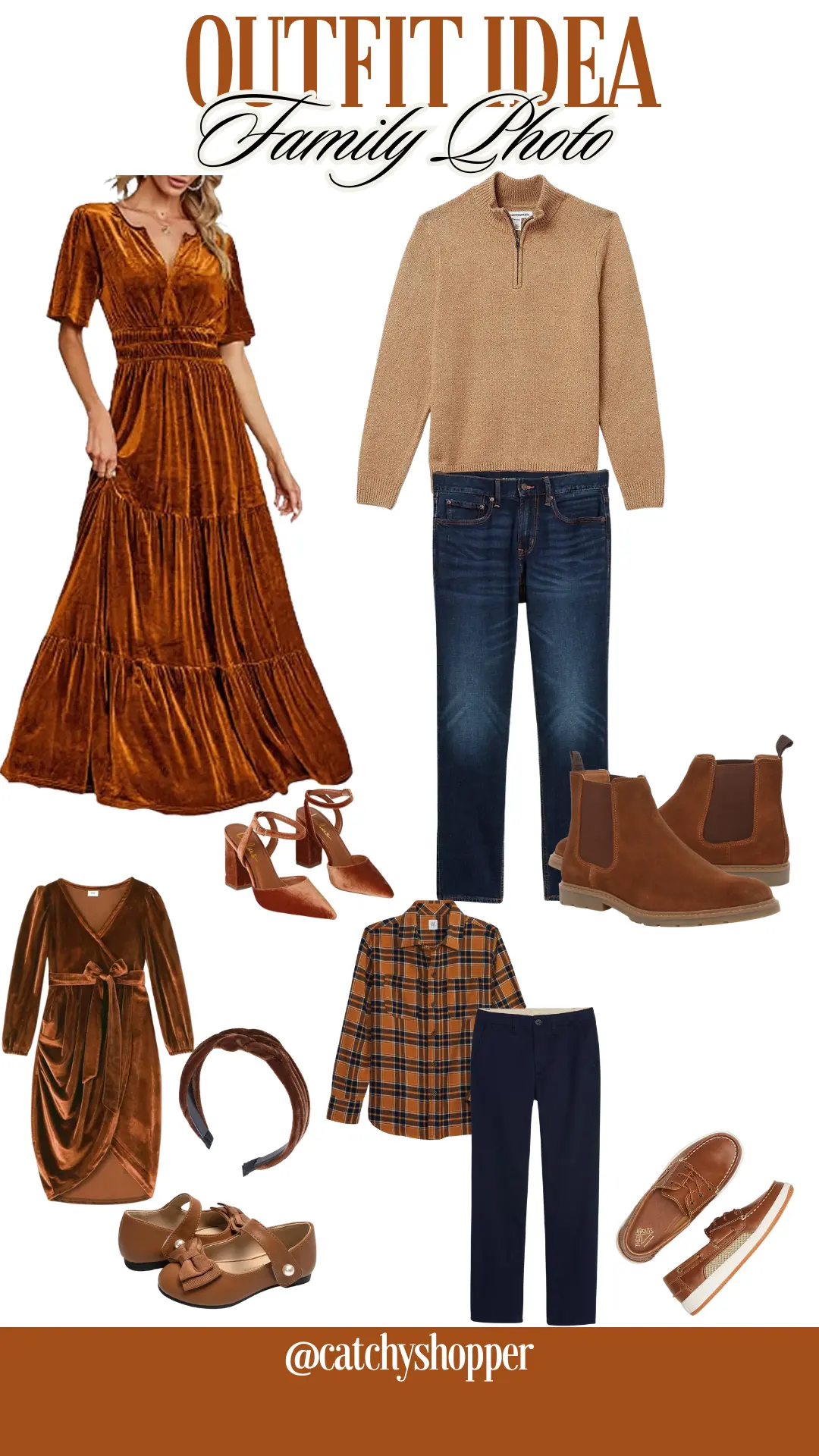 Fall is a magical time, marked by its warm hues, crisp air, and cherished family gatherings. For those memorable family photos, the right ensemble can truly make all the difference. The lady of the house radiates autumnal elegance in her earthy orange stretchy v-neck velvet dress, which boasts an elegant retro A-line design. This look is beautifully complemented by the Viki Copper velvet pointed-toe ankle strap pumps.
The gentleman stands out in his stylish autumn attire, donning a cozy Long-Sleeve Soft Touch Quarter-Zip Sweater with a soft rib neckline and zipper closure. This snug sweater pairs seamlessly with his soft cotton-blend denim jeans, and the ensemble is perfectly completed with the versatile Hilde Chelsea boots from Crown Vintage.
For the young princess, a plush velvet dress that sparkles with a unique sheen takes center stage. She pairs this with casual Mary Jane dress soes, and her ensemble is perfectly accented with a quality velvet headband featuring a braided design.
Lastly, the young man impresses with his smooth flannel weave shirt and soft twill weave uniform khaki pants. His look is brought together by a pair of stylish shoes that add the finishing touch. Together, these outfits epitomize the warmth, love, and style that autumn brings.
Neutral Greens and Browns for Fall Family Photos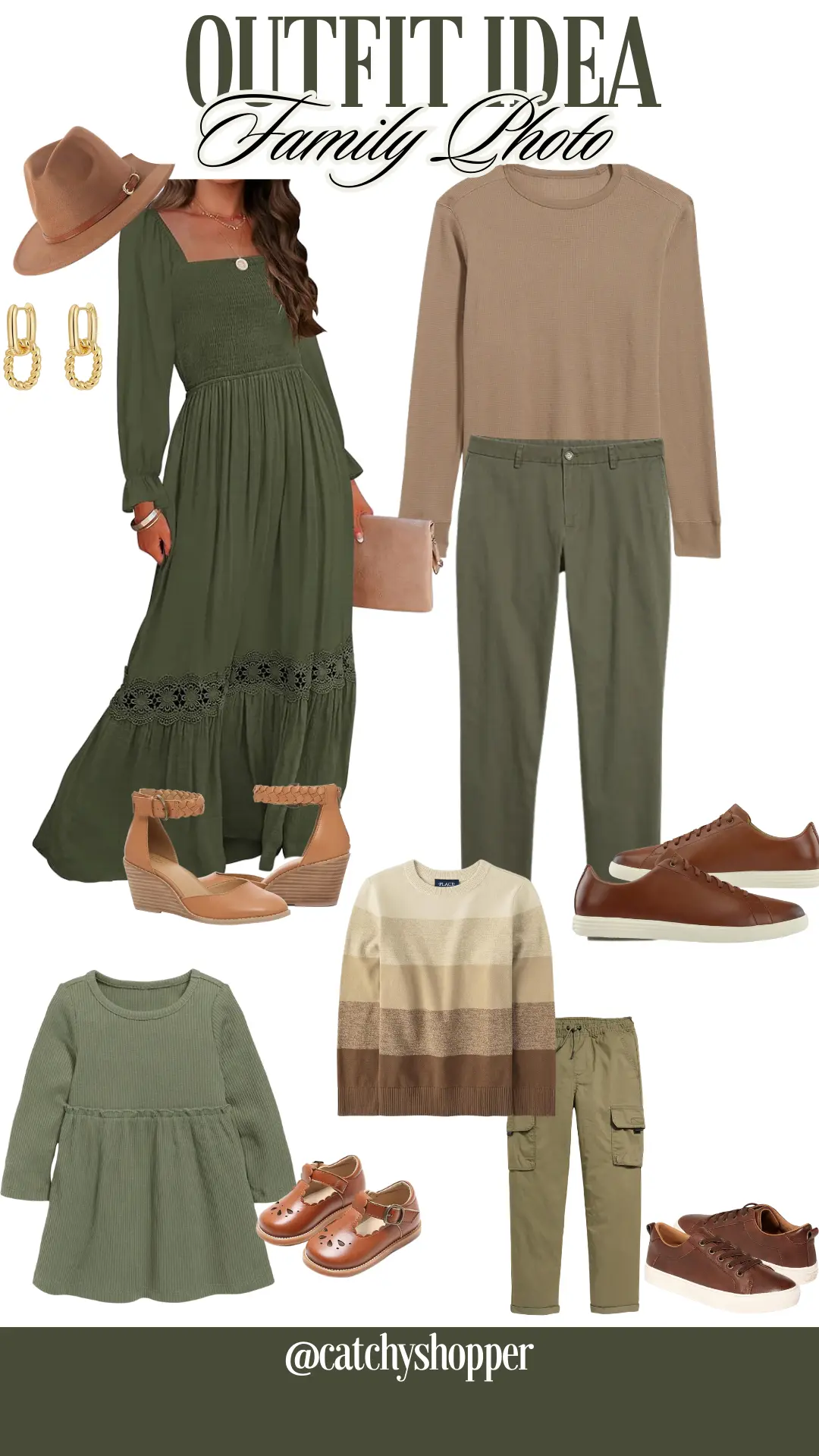 For your upcoming fall family photo session, curating the perfect ensemble for each family member is key to creating a harmonious and stylish look. Starting with the woman of the house, a long sleeve flowy maxi dress sets a romantic and elegant tone. This piece, combined with a pair of boho-inspired pumps and a classic felt fedora wide brim hat with belt buckle, creates a chic and sophisticated look. Accessories like elegant earrings and a bracelet add the perfect touch of glamour.
The man of the house will look dapper in a long-sleeve built-in flex waffle-knit T-shirt paired with athletic built-in flex rotation chino pants, embodying casual yet polished vibes. His outfit is completed with a sleek pair of Grand Crosscourt sneakers, adding a modern and tailored touch.
For the little girl in the family, a rib-knit long-sleeve jersey dress provides comfort while still looking adorable, especially when paired with practical anti-slip rubber sole shoes. Her outfit is not only stylish but also kid-friendly, perfect for a day of family photos.
The young boy will look sharp and feel comfortable in Elasticized waistband cargo pants with tapered rolled-cuff leg openings, paired with a striped sweater featuring a rib-knit crew neck. His outfit is finished off with a pair of smooth faux-leather shoes with easy-peasy pull-on elastic laces, ensuring he stays comfortable and stylish throughout the photo session.
Together, these outfits create a cohesive and stylish family look, perfect for capturing those cherished fall moments.
Burgundy Bliss & Beige Elegance for Family Photo Outfits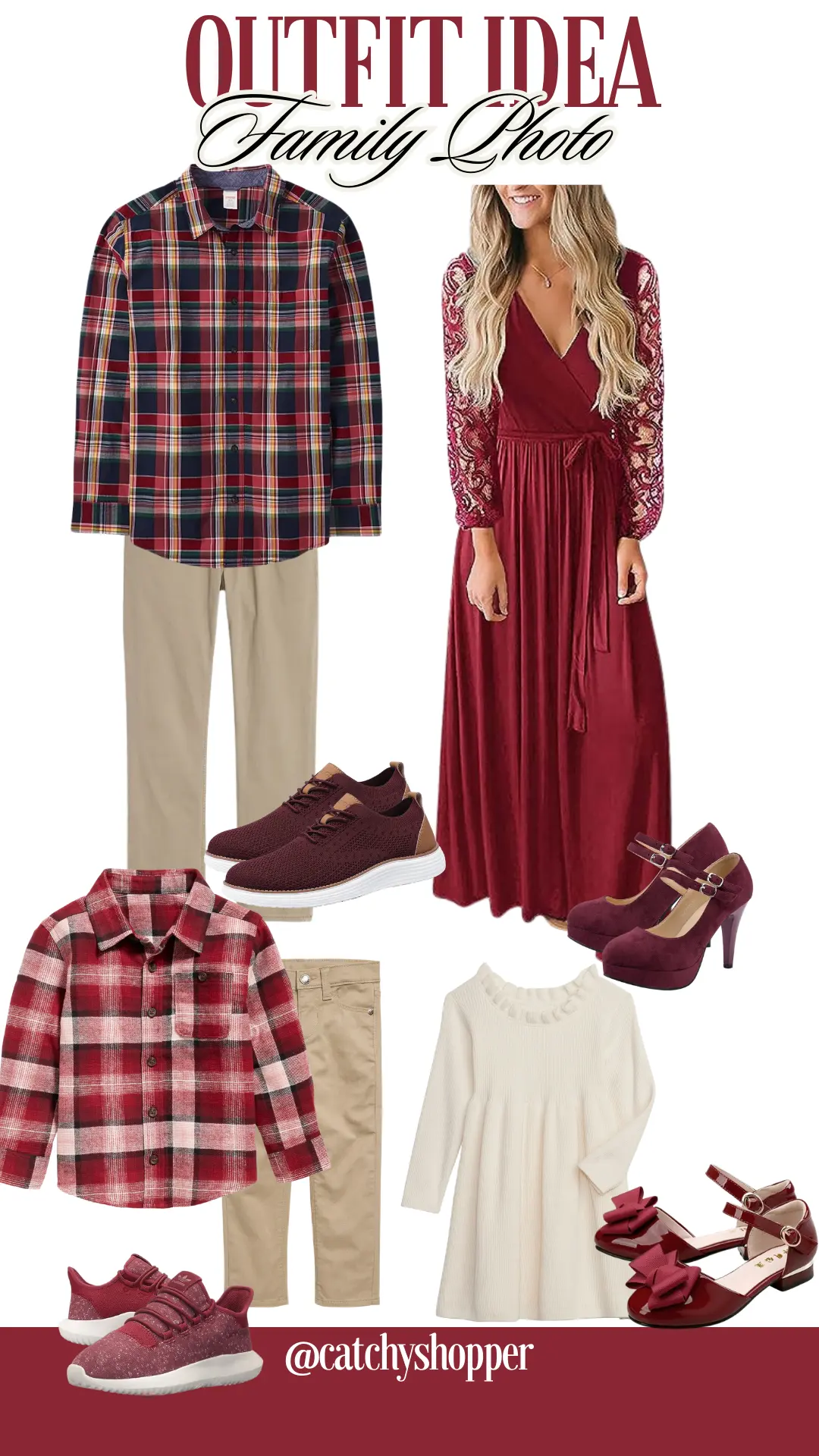 For the ladies, the dress features a vintage floral lace design with graceful semi-sheer sleeves, faux wrap V-neck, and a flowy A-line maxi skirt that is both elegant and accommodating. These are perfectly complemented by the high-quality faux leather velvet suede shoes that offer comfort and a touch of elegance with their closed round toe pump design.
The men's look is a perfect blend of classic and casual, with a shirt crafted from 100% cotton poplin boasting an allover plaid pattern, button front, and roll-up sleeves. This ensemble complements the durable cotton twill pants effortlessly with casual tennis shoes.
For the little princess, her dress is made from soft ribbed knit, accentuated with ruffles around the neckline and shirring at the waist. Paired with chic burgundy heel sandals, she is sure to stand out.
The boy's ensemble is in sync with our theme, highlighting burgundy tones. His shirt flaunts a pointed collar, long sleeves, and an all-over plaid print on 100% cotton-flannel. Teamed up with the 360° stretch skinny five-pocket pants and stylish collegiate burgundy shoes, he is set to make a statement.
With the combination of vintage elegance and the rich hues of burgundy, these coordinated family outfits promise timeless charm, making your fall family photos truly memorable.
Other Posts You May Like
Join our Facebook Group for daily unbeatable deals.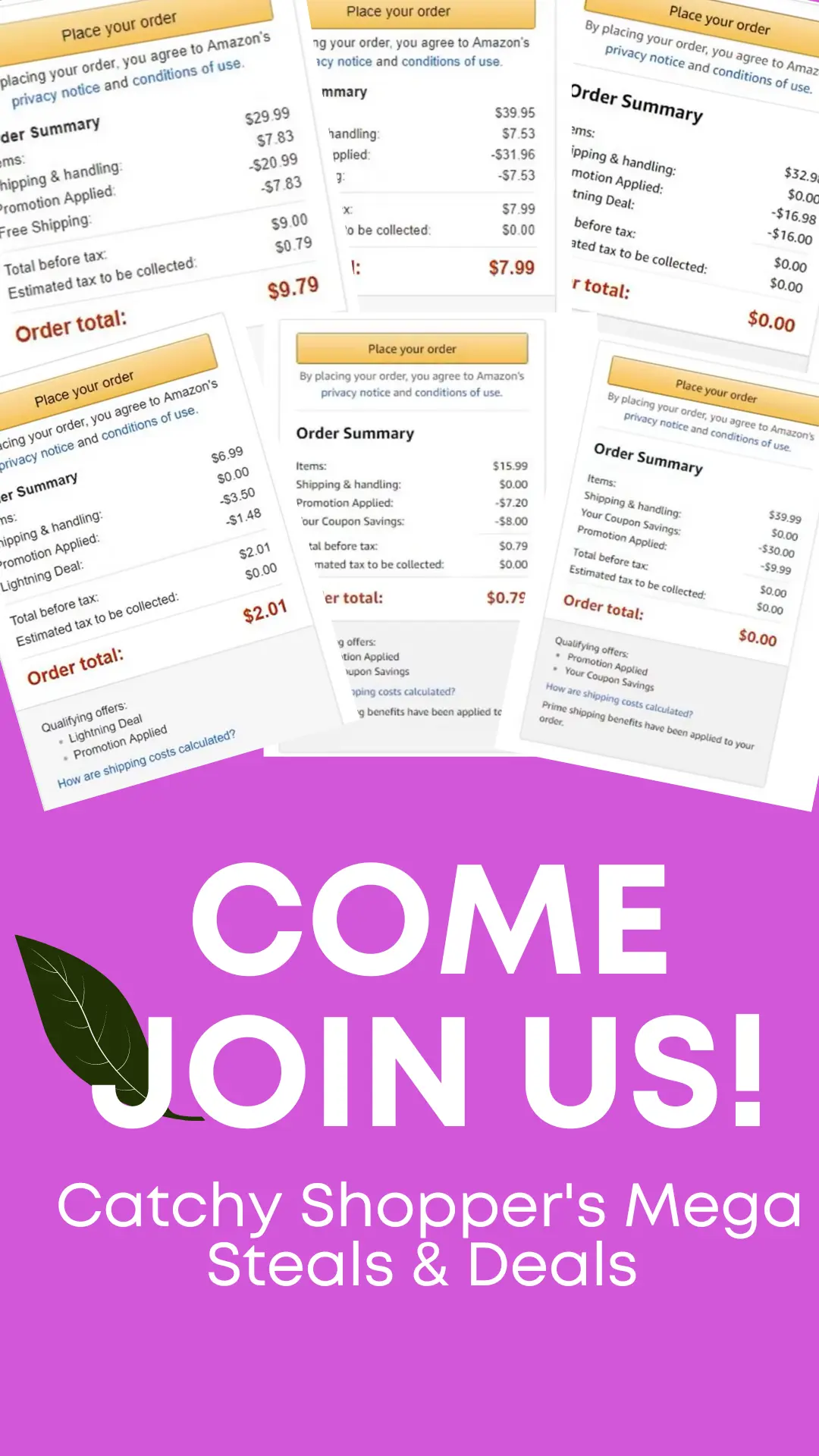 For more amazing fashion finds, check out the Daily Promos on the Latest Fashion Trends post.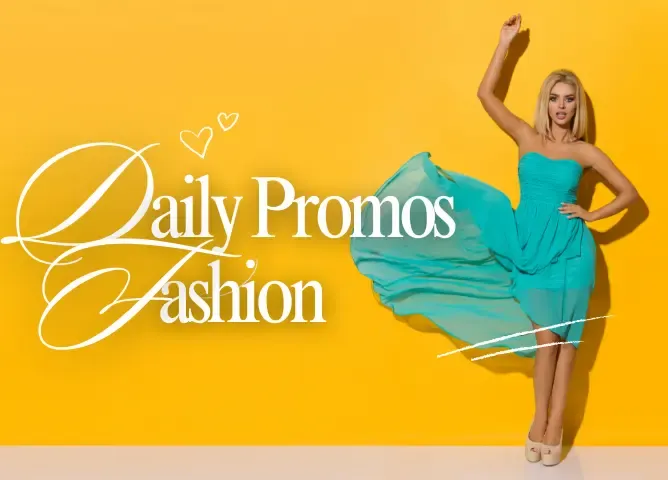 Comments