This post may contain affiliate links, please see our privacy policy for details.
Today, we're embarking on an exciting journey down memory lane to rediscover the captivating story behind a versatile accessory that's made a truly astounding comeback in recent years: the fanny pack. Once an iconic symbol of the 80s and 90s, fanny packs have triumphantly returned as an indispensable fashion statement, masterfully blending style, convenience, and functionality.
The fanny pack, affectionately known as the belt bag or waist pack, boasts a remarkably rich history that can be traced back to ancient civilizations. In various cultures, people relied on pouches fastened to their belts to carry essential items, all while keeping their hands free from other tasks. Over time, fanny packs evolved and ultimately became a wildly popular accessory in the 80s and 90s, only to fade from the limelight in the early 2000s.
However, as we've seen time and time again, fashion trends have an uncanny ability to make a comeback, and the fanny pack is a shining example. Its recent resurgence can be credited to its incredible versatility and practicality. Fanny packs have become a go-to accessory not just for festivals, concerts, and outdoor adventures, but also for trendsetters who value the unbeatable hands-free convenience they offer.
In today's post, we'll be unveiling 26 stunning fanny packs and bags perfect for every style and occasion, highlighting the boundless potential of this fabulous accessory. So, strap in and prepare to discover your new favorite fashion sidekick!
Sporty Fanny Packs for Outdoor Activities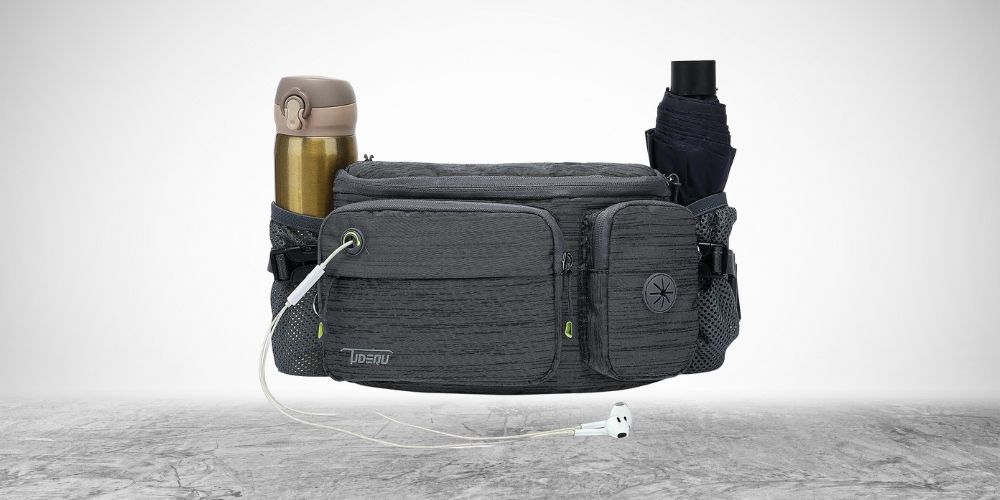 This waist pack is made of durable, water-resistant materials and boasts an impressive eight compartments. Plus, it features a large front pocket that can fit most plus-sized phones up to 6.5 inches, two hidden water bottle holders, and even a dedicated headphone slot for easy access to your favorite tunes. With its adjustable waist belt and no-bounce design, this fanny pack for hiking is perfect for all levels of hikers. And for added safety, it's included reflective details throughout.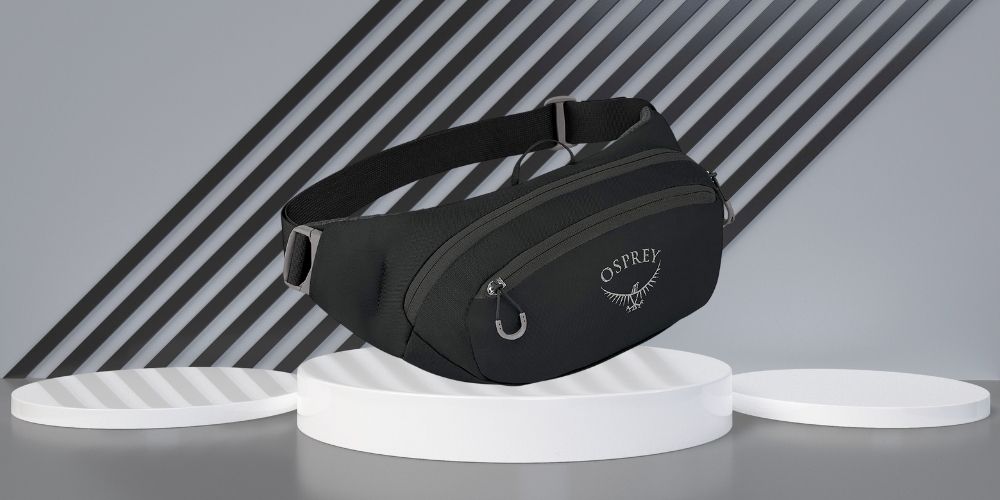 Designed with safety and comfort in mind, the Osprey Daylite waist pack features reflective accents for increased visibility, a breathable mesh back panel, and an adjustable webbing hip belt with a buckled closure. It has several zippered pockets and compartments, including a large front pocket for your wallet or snacks, a small pocket for chapstick, and an interior mesh organization pocket with a key clip. And the best part? This fanny pack for biking has a total volume of 2L – perfect to store all your essentials without being too bulky.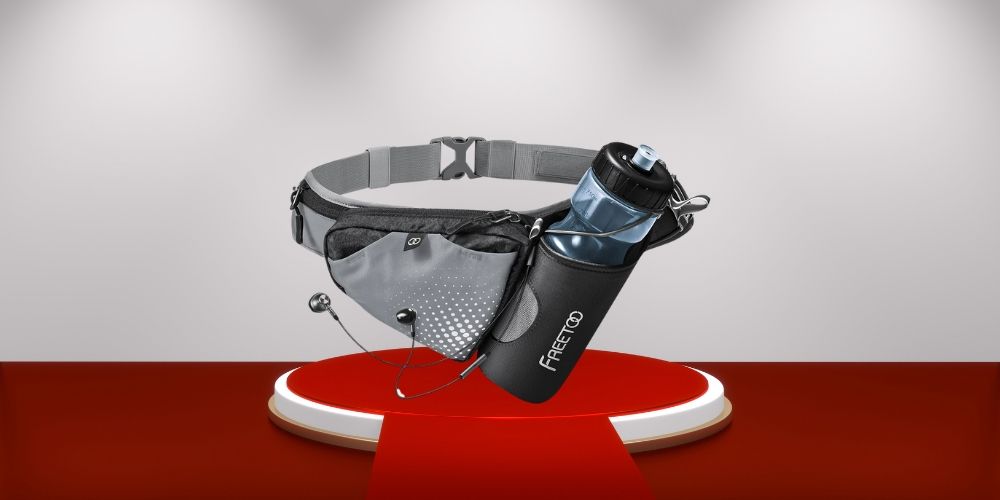 This running belt waist pack is both lightweight and bounce-free, making it the perfect accessory for your next run or hike. And with its water-resistant material, your belongings will stay dry even in the rain. Plus, the built-in headphone port lets you easily access your favorite tunes on-the-go. But that's not all – this running hydration belt also features a sturdy bottle holder that can hold up to 500ml bottles at a steady 45-degree angle, with an adjustable elastic rope to prevent any bouncing during your workout. And with its soft, breathable back mesh pad, your waist will stay dry and fresh no matter how long your run.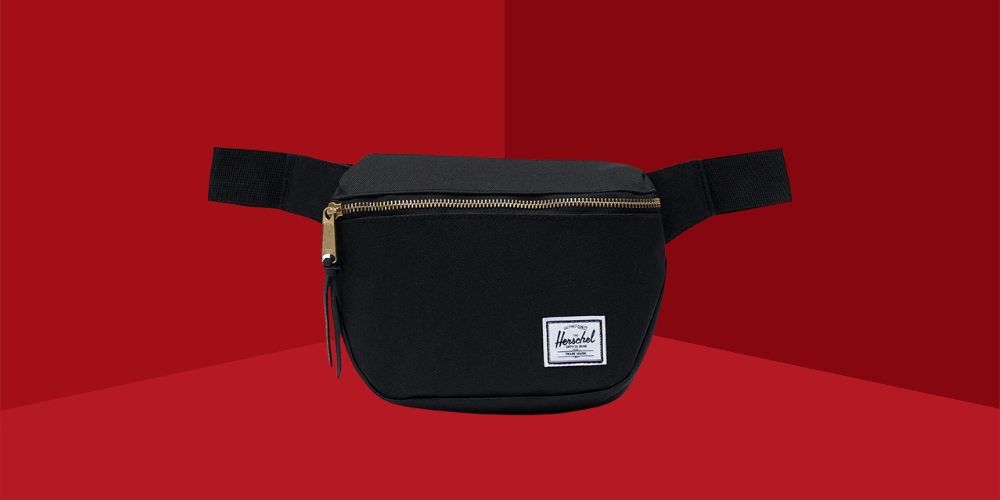 This climbing fanny pack is made with durable and water-resistant material, ensuring it can withstand all your outdoor adventures. The zippered main compartment also features an internal organizer, perfect for storing all your essentials in one place. And with an adjustable waist belt, you can be sure this Herschel Fifteen waist pack will fit securely on your waist. But that's not all – with 35 color options to choose from, you're sure to find the perfect style to match your climbing gear. It's the ultimate combination of functionality and fashion.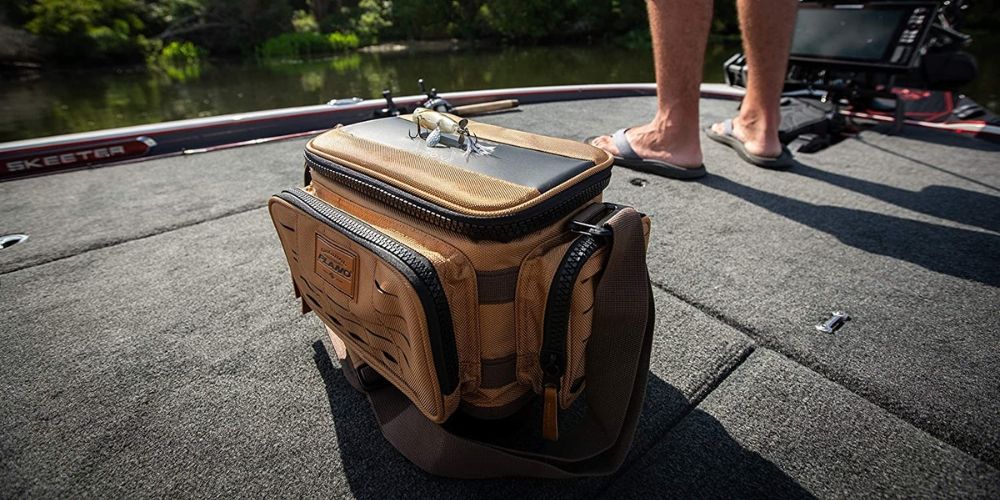 With built-in tackle storage compartments, you can keep all your fishing gear organized and easily accessible. And with an adjustable waist strap and padded back, you'll be able to enjoy all-day comfort on the water. The heavy-duty, water-resistant fabric ensures your belongings stay dry, no matter how wild the ride is!
But that's not all - the oversized molded zippers make this fishing fanny pack incredibly durable and easy to use. And if you need even more storage options, the two-handled side pockets can double as an additional carry option. With the Plano Tackle Bag, you'll be prepared for any fishing trip.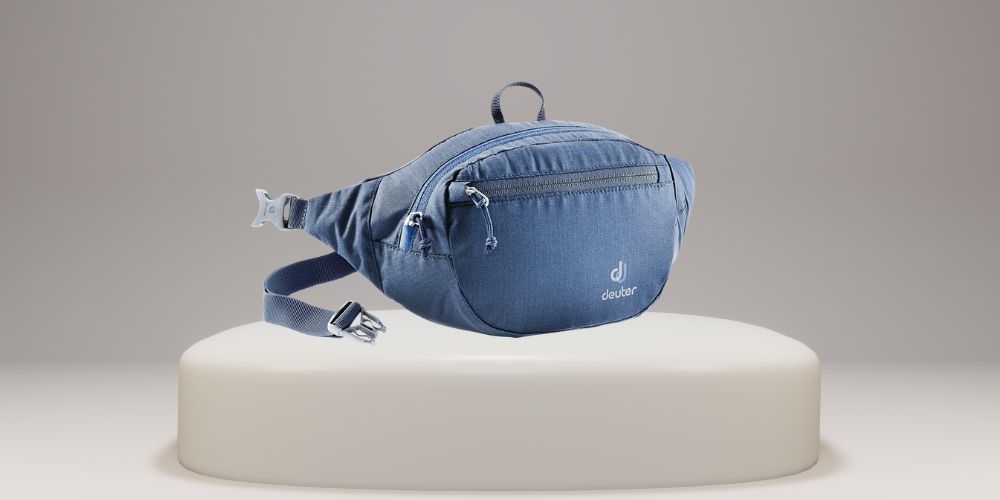 The Deuter pack is made with ripstop nylon material, which means it's built to last through all your camping and hiking trips. The zippered compartments also ensure that your belongings stay put, even when you're on the move. And with an adjustable waist strap, you can customize the fit to make sure it's as comfortable as possible. Plus, with its lightweight design of only 120g and a capacity of 2.5L, you can pack all your essentials without feeling weighed down.
Stylish Fanny Packs for Daily Errands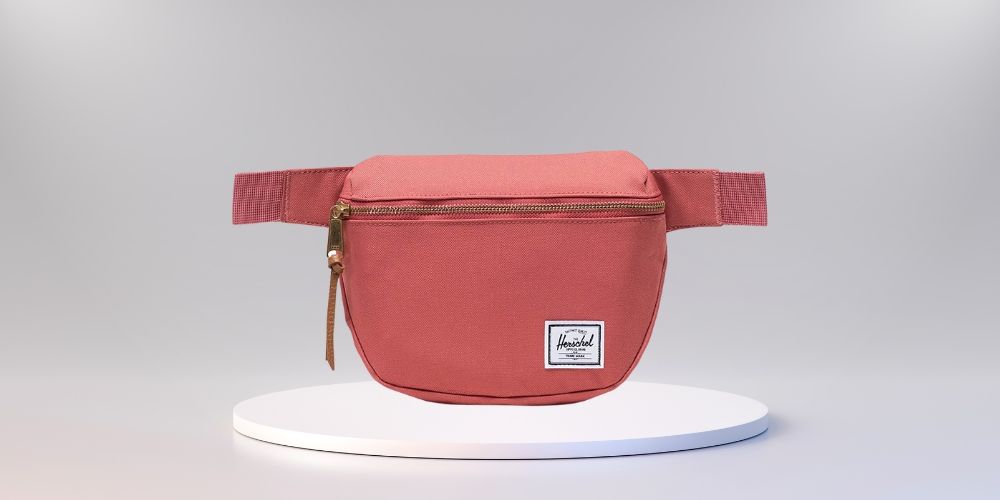 The Fifteen Waist Pack from Herschel Supply Co with its signature striped fabric liner and an exposed zipper with a pebbled leather pull is the epitome of on-trend style. Not only will this fanny pack for shopping elevate your outfit, but it's also practical for running errands or any other on-the-go activity. And with a clip-fastened adjustable webbing strap, you can be sure it'll stay securely fastened while you're out and about.
Made from solid material, this dog walking fanny pack is built to last, and it's water resistant, so you can rest easy even if the weather takes a turn. With multiple pockets for all your gear, you'll be able to keep everything organized and within easy reach. Plus, the adjustable strap ensures a comfortable fit for any body type.
One of its best features is that it allows you to attach the lead cord to the side hooks on both sides when walking, giving you the freedom to keep your hands free. It even has a dispenser pocket that's large enough for you to carry two poop bags! Don't settle for other fanny packs – grab this fanny pack for dog walking and hit the great outdoors in style and comfort!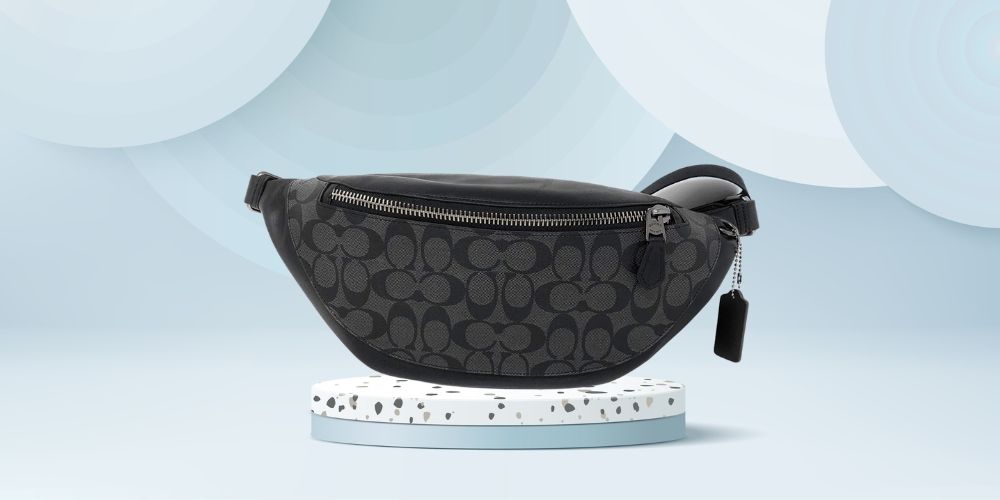 This high-quality Coach black fanny pack is equal parts stylish and practical. Made with sleek nylon material and an adjustable belt with buckle closure, this bag is both comfortable and easy to wear. Plus, the front zipper pocket provides easy access to your phone or other must-have items, while the adjustable waist strap lets you customize the fit. With multiple compartments for easy organization, the Coach belt bag is perfect for holding all your essentials.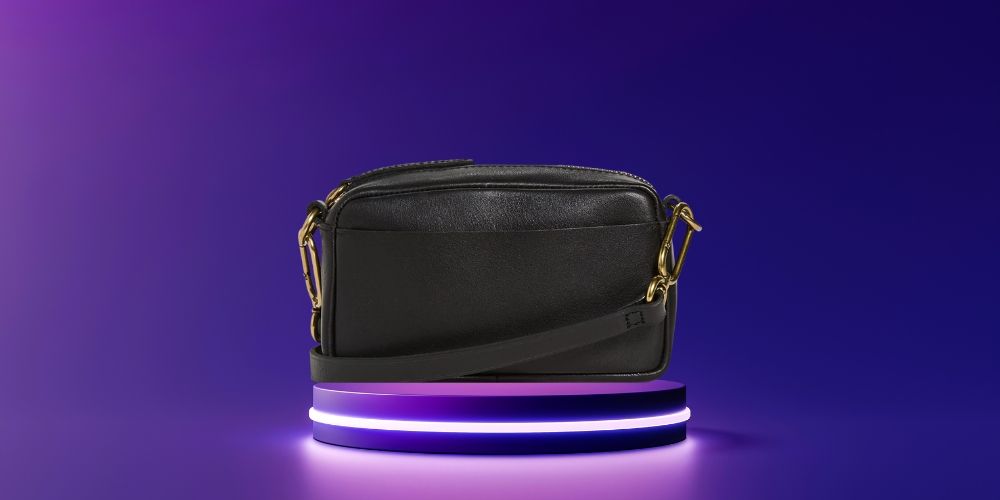 Upgrade your travel wardrobe with the elegant Madewell mini essentials bag – a stylish and functional fanny pack that effortlessly elevates your sightseeing experience. Made from soft, premium leather, this minimalist accessory is designed to complement any outfit while securely storing your must-have items in its zippered main compartment. The adjustable belt ensures a comfortable fit, allowing you to wear it around your waist or as a chic crossbody bag for a fashion-forward look.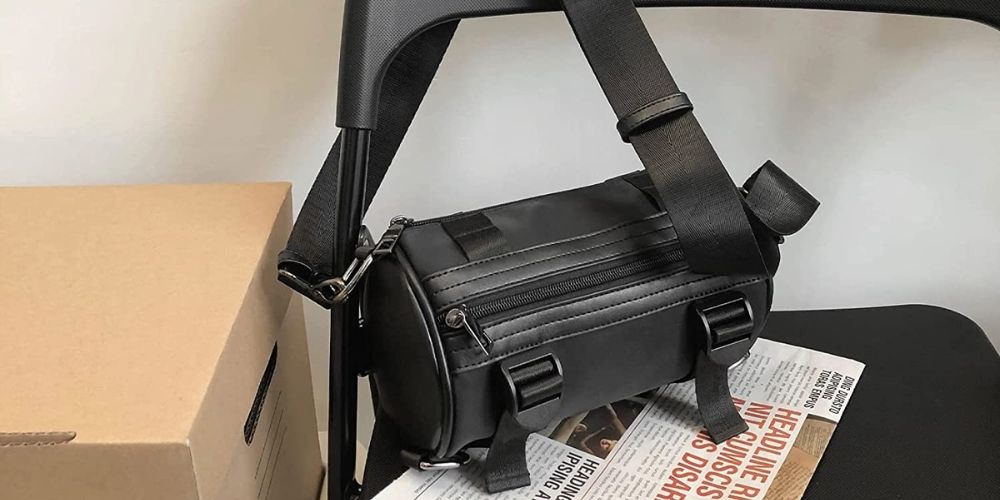 This fanny pack from Tekage is suitable for everyday use. Made from durable, water-repellent fabric, this bag is built to withstand anything you can throw at it. Plus, the adjustable waist strap with buckle closure ensures a secure and comfortable fit. The main zipper pocket opening on this hip pouch bag is also large enough to accommodate larger items, making it a great option for travel as well. And with an exterior zip pocket, you'll have easy access to your phone, keys, or other essentials.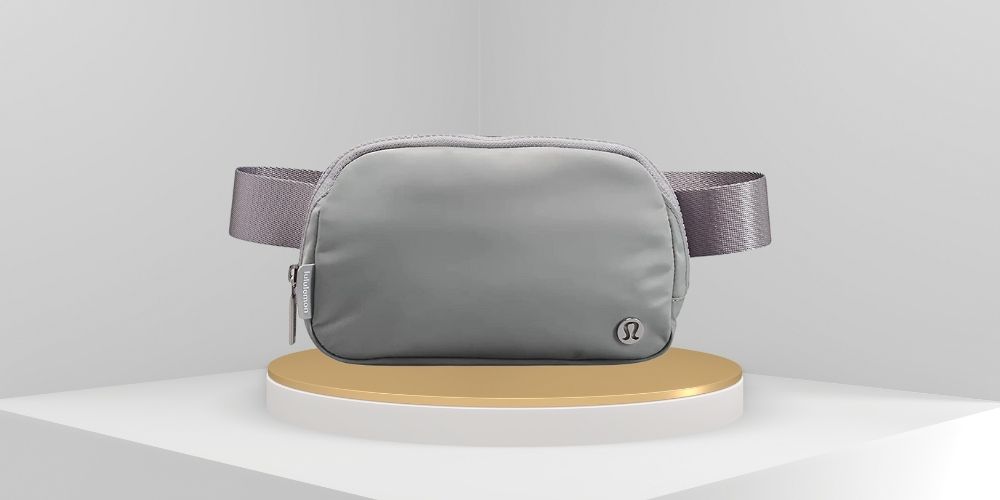 This Everywhere belt bag from Lululemon is the perfect blend of style and function. It is made from lightweight and waterproof nylon material, and the adjustable waist strap ensures a comfortable and customizable fit, while the sleek silver color and minimalistic design make it a versatile accessory. It features a zippered pocket in the front and a hidden back pocket that provides plenty of room for your essentials.
Fanny Packs & Bags for Travel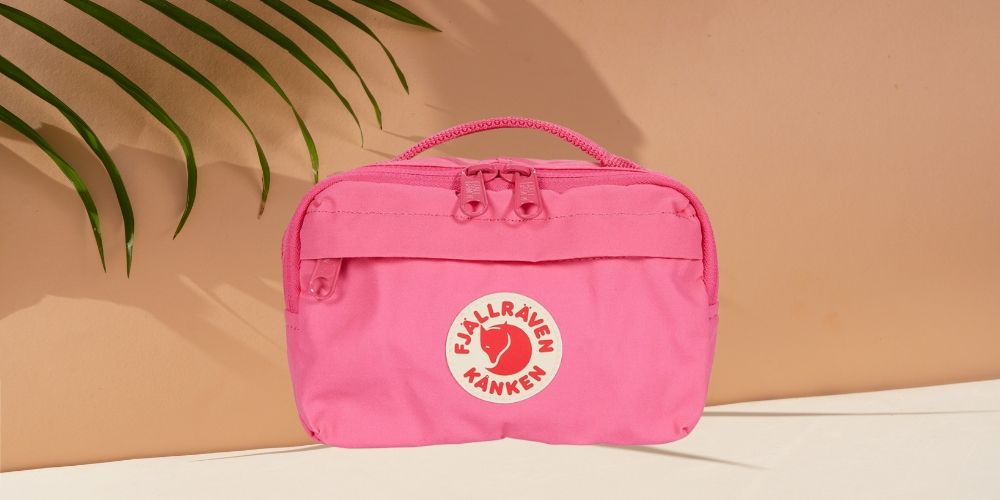 This stylish Fjallraven Kanken hip pack is made from water-resistant vinylon F fabric and is built to last and withstand even the toughest outdoor adventures. The compact design features two hinged exterior pockets and a main compartment with an internal pocket and keychain for added convenience, while the adjustable waist strap ensures a comfortable fit for any body type.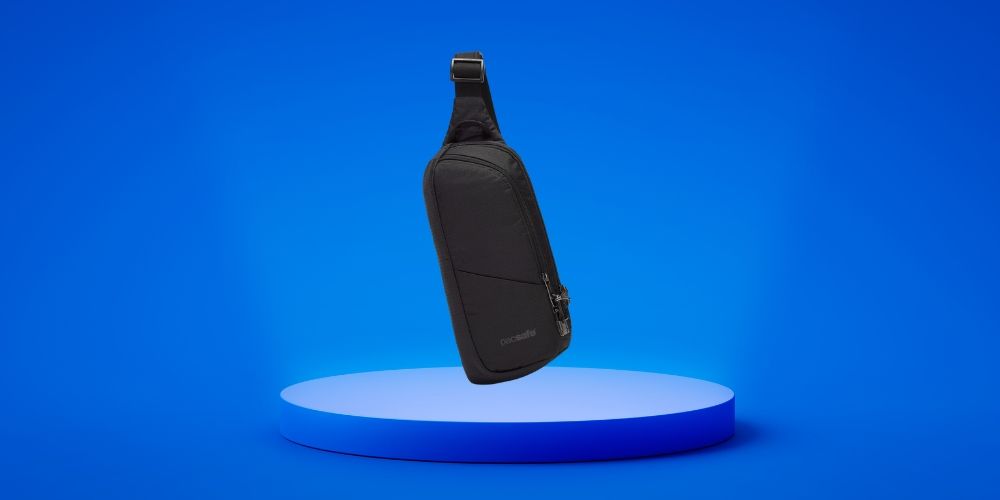 Equipped with RFID-blocking technology, this Pacsafe sling bag protects sensitive information and keeps your personal data secure. With two zipper pockets that can be locked and an interior pocket, you can rest assured that your belongings are safe and sound while out and about. The adjustable strap with security buckle offers a comfortable and customized fit. The included attachment clip for your wallet and keys is a convenient addition for easy access to your valuables.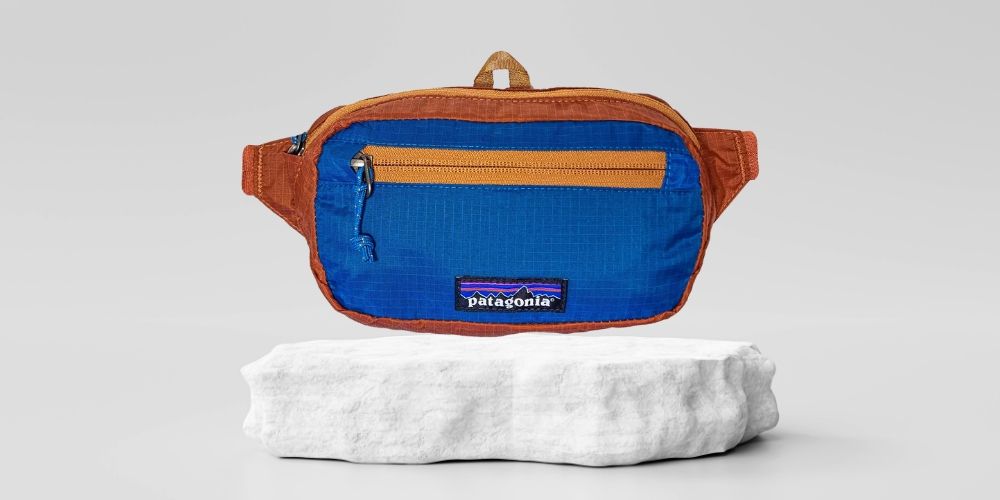 The Patagonia ultralight black hole mini hip pack is made from ripstop nylon fabric, and the adjustable waist strap length offers a comfortable and customized fit, while the packable design means you can bring it with you anywhere without taking up too much space. With two zippered pockets for ultimate organization, you can easily store your essentials. The main compartment also features a front zippered security pocket that doubles as a stuff sack when the bag is not in use, with a 1-liter volume to accommodate everything you need for a day out.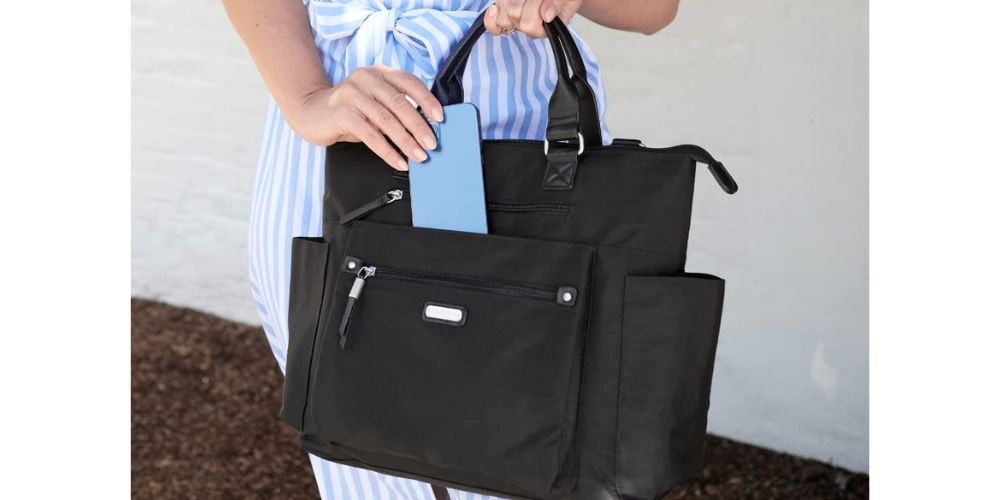 The Baggallini convertible backpack is a mini but mighty bag that easily converts to it's three distinct shapes - backpack, crossbody, and waist pack - to fit your changing lifestyle. Offering RFID-blocking technology to safeguard your personal information, plus multiple pockets for easy organization and access it can transform into a diaper bag that is the perfect solution for any parent on the go.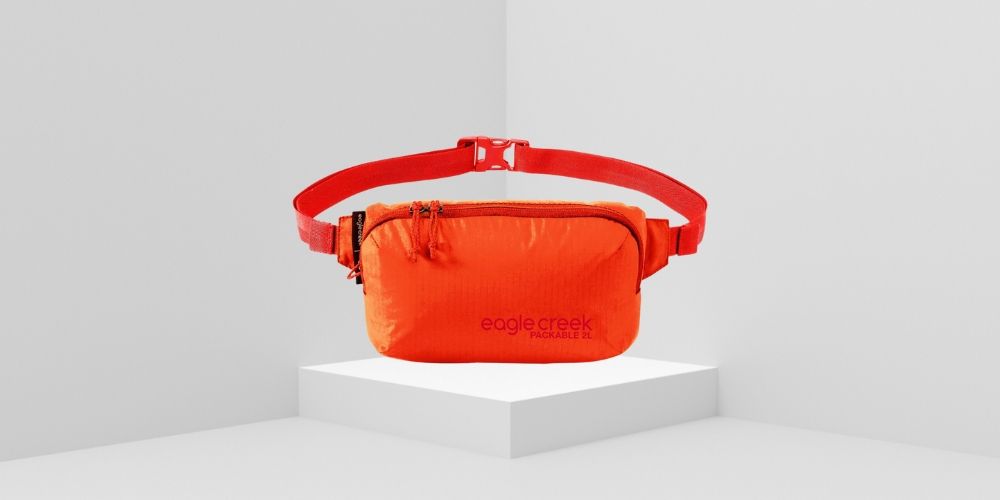 The Eagle Creek sling bag is crafted from durable, weather-resistant fabric, and offers extra security with an RFID pocket and Protex2® anti-microbial treatment. The adjustable waist strap ensures a comfortable fit while its affordable price point makes it a great option for anyone looking to stay stylishly organized.
Chic Fanny Packs & Bags for Formal Events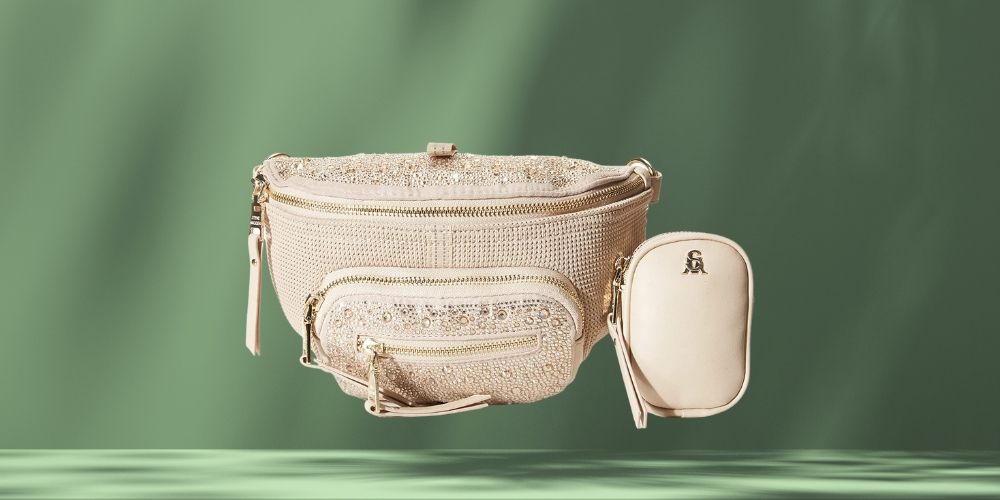 The Steve Madden Maxima crossbody is crafted from a luxurious quilted material and features signature SM logo hardware. Its sleek design includes an adjustable belt strap for versatile styling, plus four pockets to keep all your essentials close at hand. This chic crossbody is perfect for any occasion, and its stylish design will help you express your unique style wherever you go.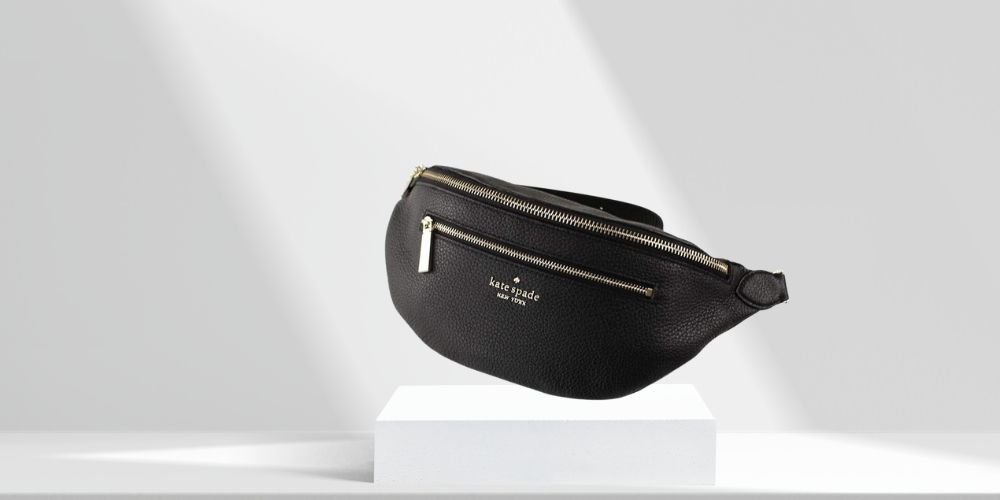 The Kate Spade belt bag - is a luxurious accessory crafted from the finest leather and designed with elegant, glossy details. Its polished chain strap offers versatile styling plus a flap closure with magnetic snap for secure storage. With its signature brand's fanny pack detailing, this belt bag adds an effortless touch of sophistication to any outfit. It's perfect for sprucing up your style and giving it an air of luxury.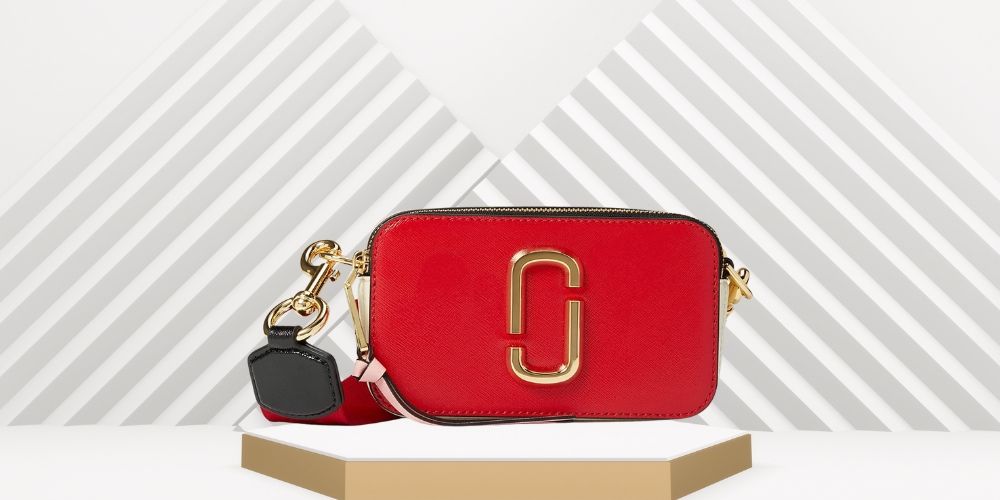 The Marc Jacobs the Snapshot bag is a premium leather belt bag that adds sophistication and functionality to your wardrobe. It has a sleek circular design, complete with a zippered compartment and an adjustable belt for versatile styling. Don't forget the iconic Double-J hardware detail on the front! This timeless piece is perfect for adding an extra touch of luxury to any outfit. Crafted from high-quality leather, this belt bag will be sure to keep up with all your adventures while adding the perfect amount of style and sophistication.
Festival-Ready Fanny Packs & Bags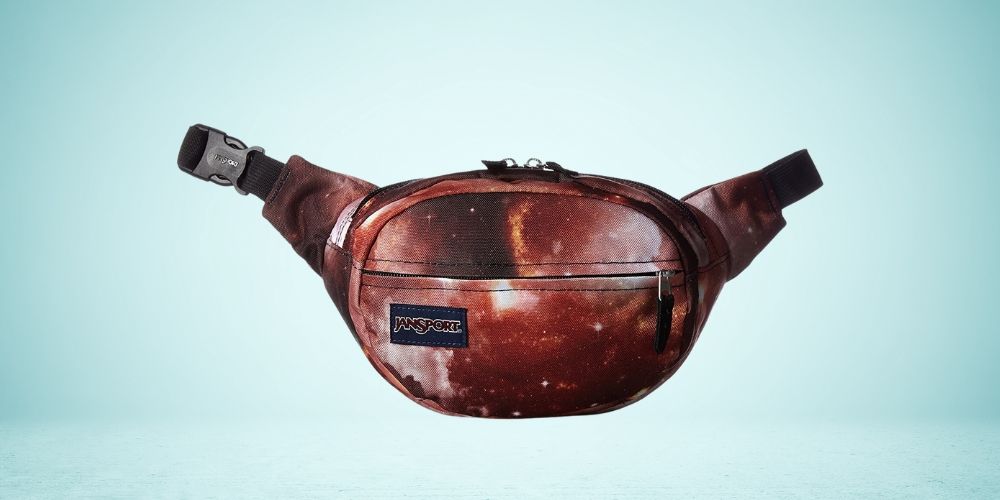 The Jansport waist pack is available in a variety of patterns and colors, this accessory is perfect for adding some extra flair to your look. It features two zippered pockets for easy organization of all your small essentials, so you never have to worry about losing track of anything. With an adjustable waist strap for a comfortable fit and secure storage, you can go anywhere knowing that everything is kept safe and within reach.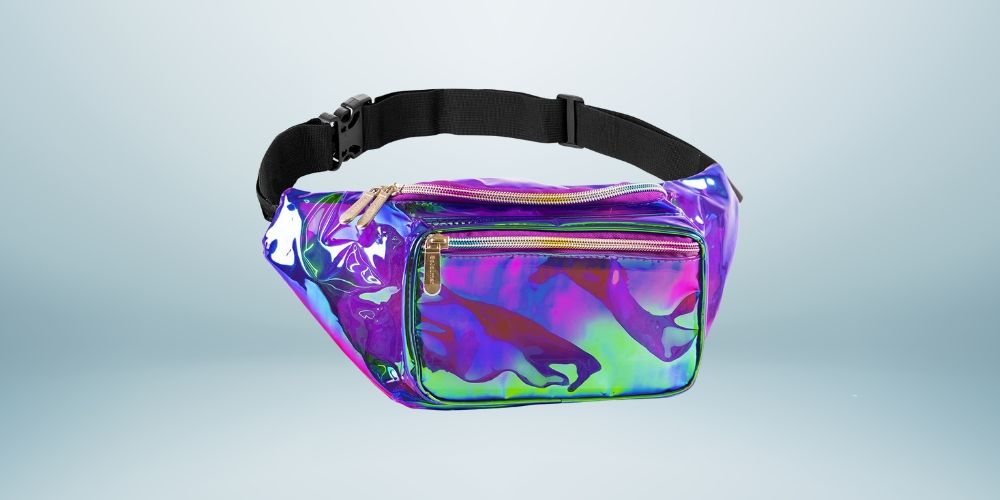 This eye-catching SoJourner fanny pack is made from holographic material that adds an extra dimension of fun. The adjustable waist strap ensures a comfortable fit as you take on your adventures. With three compartments, it offers plenty of room for organizing all your essentials and features a hidden thief-proof back pocket for added security. Let your wild side shine and embrace your inner adventurer – conveniently store all your necessities in this stylish and functional fanny pack.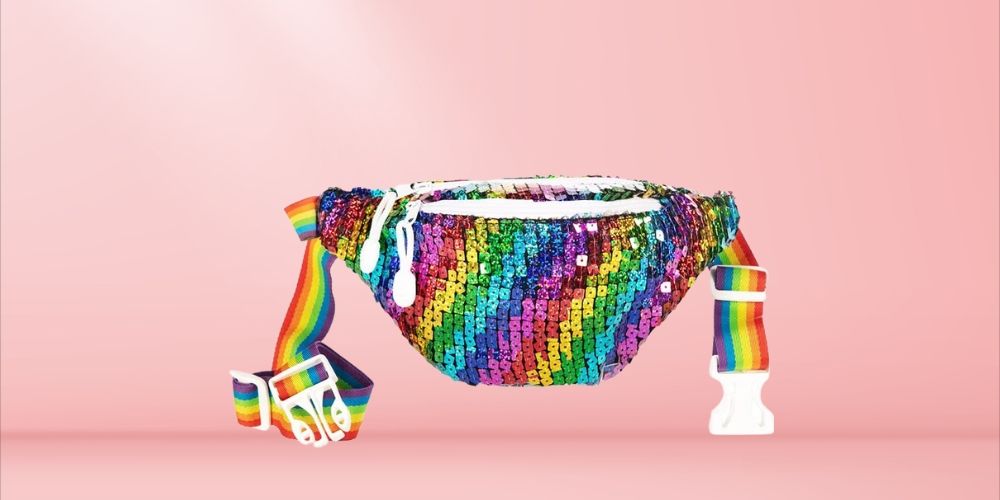 This stylish sequin fanny pack is perfect for travel, the adjustable waist strap ensures a comfortable fit while the sparkling exterior adds some fun and sparkle. This fanny pack is designed with three zippered compartments – two larger pouches for keeping your phone, water bottle, and keys secure and one discrete pocket to store your valuables. Now you can explore worry-free knowing that everything you need is safely secured.
Fanny Packs & Bags for Fitness and Sports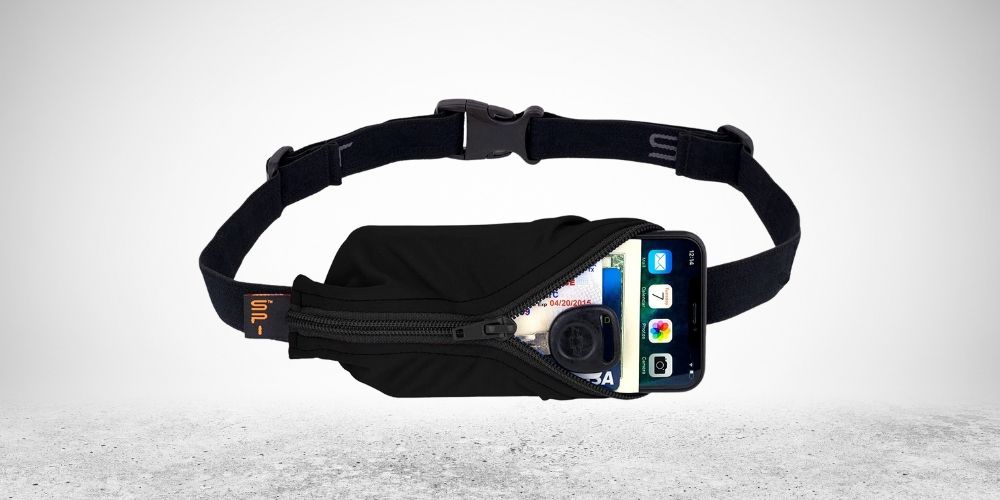 Upgrade your workout routine with the amazing SPIbelt Running Belt! Made of stretchable, no-bounce material, this belt is perfect for running and workouts, as it prevents your items from bouncing around and keeps them secure. The adjustable waist strap ensures a snug fit that stays in place while you move. It also fits most smartphones and small essentials so you can explore your favorite trail or take a jog in the park without any worries. And best of all, this belt is available in fun colors – perfect for adding some flair to your fitness!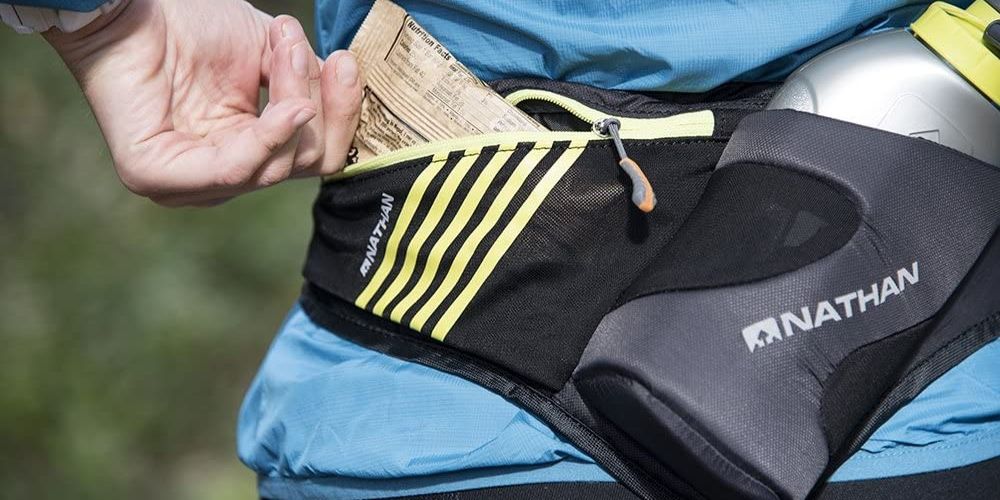 Nathan Peak hydration waist pack is an innovative bag designed with an insulated pocket to keep your beverages cold, plus two zip pockets for storing your essential items. The adjustable waist strap ensures a secure fit with a buckle closure for added support.
Additionally, the expandable zippered stretch pocket keeps your valuables protected and the reflective detail helps you stay visible – perfect for jogging or running in dim light. With its sleek design and portable design, this hydration pack makes any outdoor activity a breeze!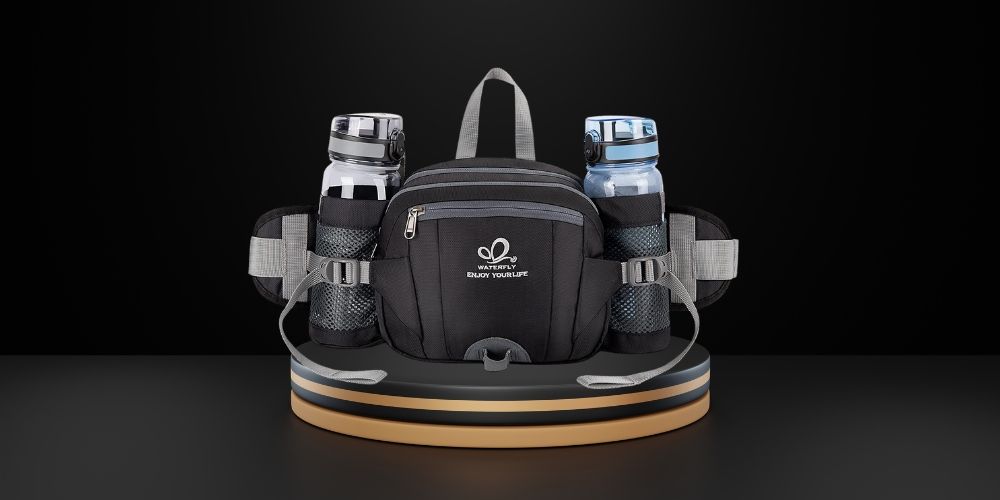 The Nathan TrailMix Running Belt is designed with a built-in water bottle holder, this fanny pack comes with a 10 oz. flask that allows you to stay hydrated during your outdoor activities. The zippered storage compartment is perfect for holding your phone, keys, and other small essentials.
The adjustable waist strap provides a secure and customized fit for any body type, ensuring that the belt stays in place while you're on the move. Additionally, the portable hand-carry design of this pack makes it super versatile and multi-functional, with a main compartment, outer pockets, and large bearing capacity.
How to Style Fanny Packs & Bags
Once considered a fad from the 90s, the fanny pack has made a comeback in recent years as a versatile and stylish accessory for any occasion. No longer just for travel or hiking, fanny packs, and bags can be worn in a variety of ways to elevate any outfit. Here are some tips on how to style fanny packs and bags for different occasions.
Tips for Wearing Fanny Packs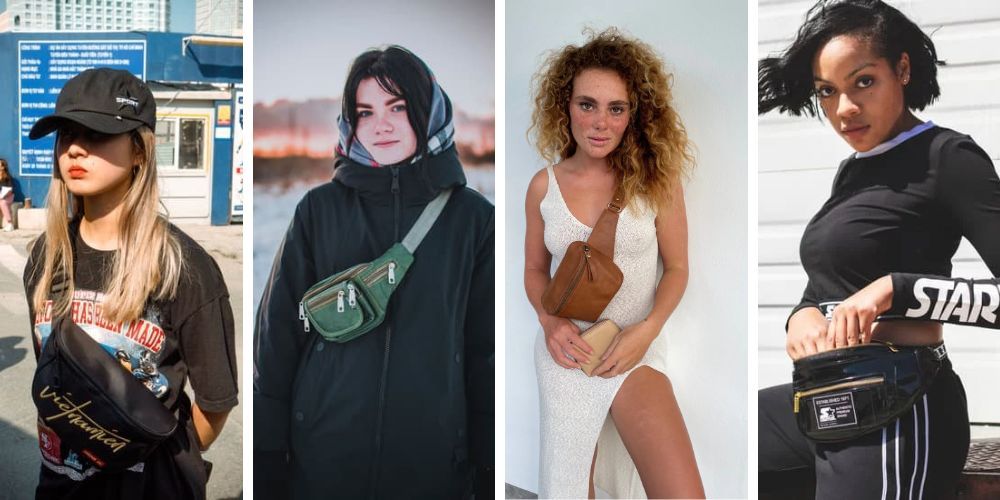 For casual occasions, opt for a sporty fanny pack made from durable materials like nylon or neoprene.
For dressier events, choose a sleek leather or velvet fanny pack that can be worn as shoulder bags or crossbody bags.
When traveling, choose a fanny pack with multiple zipper pockets to keep your passport, large wallet, and other essentials close, organized, and secure.
For outdoor activities, choose a water-resistant bag and lightweight material that won't weigh you down.
Pairing Fanny Packs & Bags with Different Outfits
For a casual daytime look, pair a sporty fanny pack with a t-shirt, jeans or shorts, and sneakers.
To dress up your outfit, wear a leather fanny pack with a blazer, trousers, or a flowy dress.
For a boho-chic look, pair a woven or crocheted fanny pack with a maxi dress, sandals or huaraches, and a floppy hat.
For an edgier look, pair a studded or embellished fanny pack with a leather jacket, ripped jeans, and boots or platform sneakers.
Dos and Don'ts of Wearing Fanny Packs
DO wear your fanny pack low, around your hips or waist.
DON'T wear your fanny pack too high, as it can create an unflattering silhouette.
DO experiment with wearing your fanny pack crossbody for a more modern and on-trend look.
DON'T forget to adjust the strap to the appropriate length for your body type.
DO choose a fanny pack that complements your outfit, whether it be a pop of color or a subtle accent.
DON'T wear a fanny pack that clashes with the rest of your outfit or looks out of place.
Final Thoughts
Fanny packs and belt bags are not only functional accessories but also fashion-forward ones that can elevate any outfit. From sleek leather options to sporty and functional packs, there's a style for every occasion. Don't be afraid to embrace this fun accessory and try out different ways to wear and style it.
Whether you're exploring a new city or just running errands, a fanny pack or belt bag can make your life a little easier and a lot more stylish. So go ahead and give it a try! And be sure to share your favorite fanny pack or belt bag in the comments section below – we would love to hear from you!
Other Posts You May Like
As you delve into our captivating selection of stunning fanny packs and bags for every style and event, make sure to explore our other fabulous articles, such as 13 Cute Spring Purses That Look Good With Any Outfit, and 22 Gorgeous Travel Purses that'll make you want to book a trip just to flaunt them. We've also gathered 45 Eye-Catching Crossbody Purses and Bags for Your Next Adventure, as well as 15 Best Travel Outfits for Long Flights to ensure you embark on your journey in both style and comfort!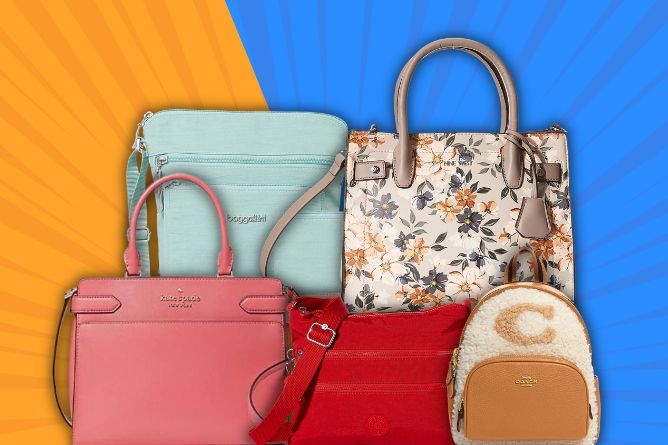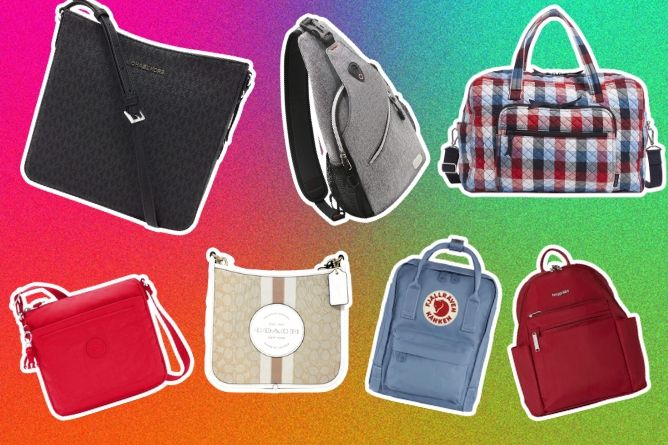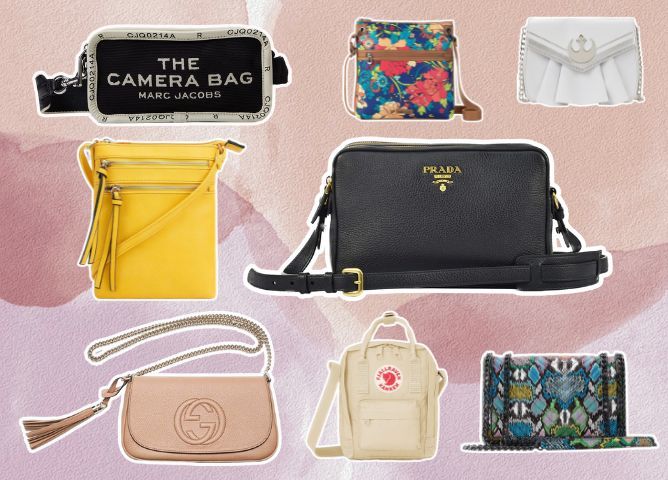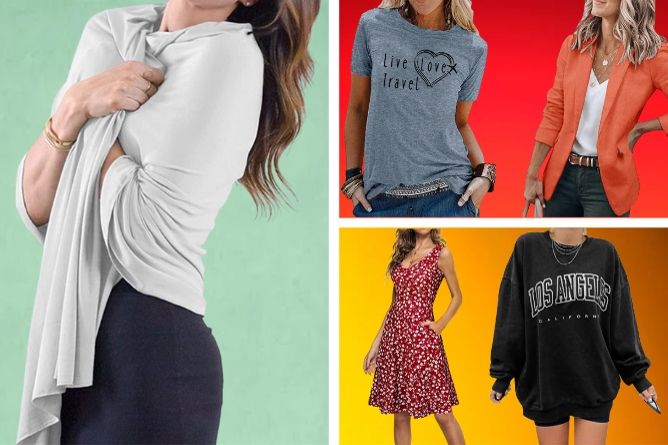 Comments