This post may contain affiliate links, please see our privacy policy for details.
Hello, fashion aficionados! If you caught our October 20th blog post, you'd know we covered the top 14 fashion finds on Amazon, offering mind-blowing discounts of up to 65% off! From the coziest of sweaters to the chicest of shoes, we brought the fashion world right to your fingertips. Missed out? No worries! Today, October 21, we're back with more sizzling deals. Dive in and discover some fantastic savings on our curated list of style essentials.
Note: The code should be entered in the "Add a gift card or promotion code or voucher" box before the order is placed.
Lightweight Tunic
Get 50% off the Casual Ribbed Knit Shirts Lightweight Tunic with code 50QXAUHN. Don't forget to explore its other shades! Made of super cozy fabric, this tunic boasts unique designs from round necklines to visible stripe details. Ideal for any season, pair it with jeans or leggings for that perfect casual look. Deal expires 10/31/2023.
Long Batwing Sleeve Pullover Sweater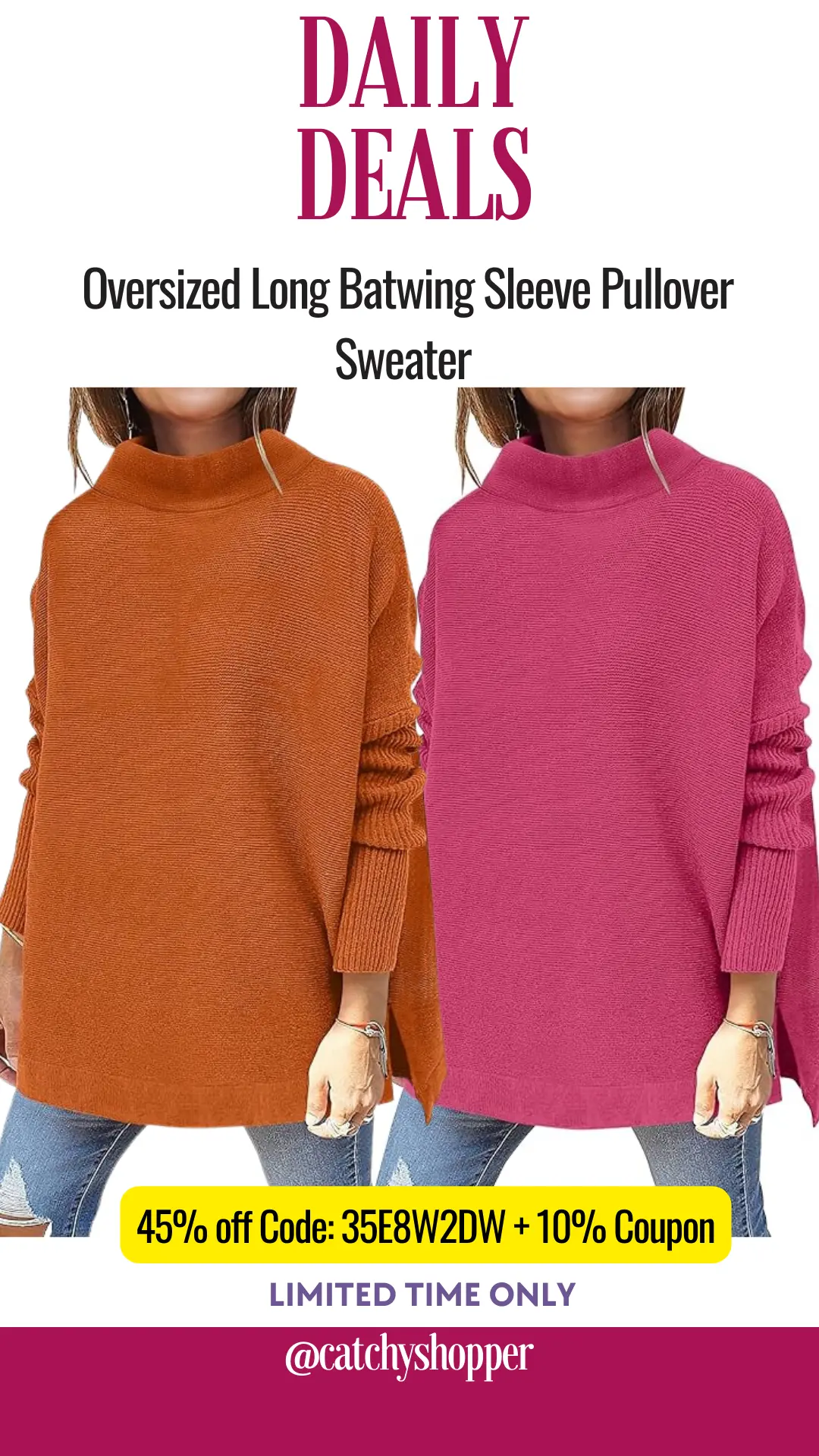 Score a whopping 55% off this chunky turtleneck sweater. Remember to clip the 10% off coupon and use the code 35E8W2DW at checkout. Perfect for fall and winter, this solid turtleneck pullover is both stylish and cozy. Hurry, offer ends on 10/25/2023..
Long Sleeve Button Up V Neck Sweater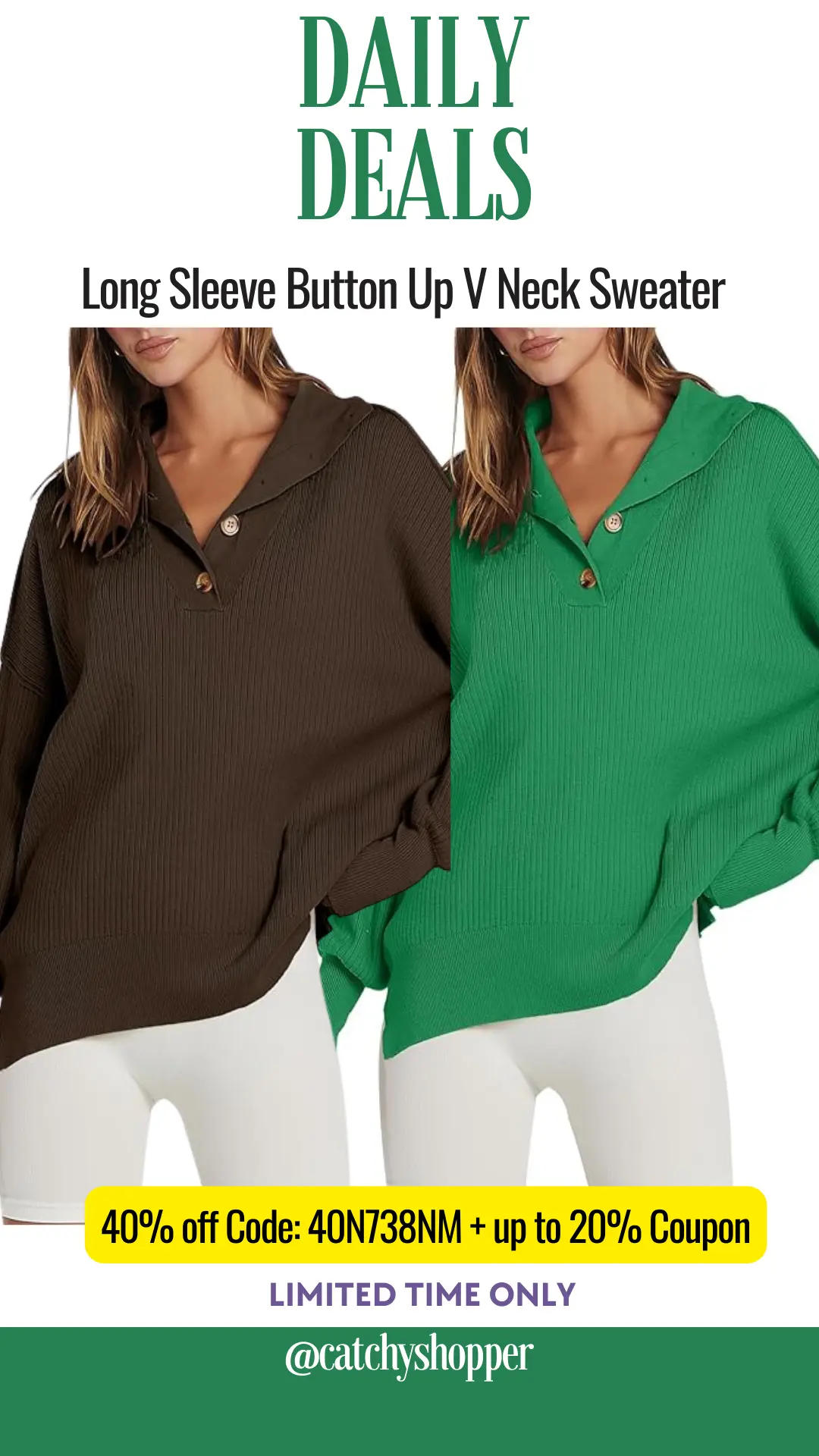 A fashion steal at just $14 and some change! Grab an extra 60% off at checkout with the 20% off coupon and code 40N738NM. This high-neck sweater is a winter essential and oozes style with its classic zipper design. Don't miss out; offer is valid until 10/24/2023.
Flowy Tiered Midi Dresses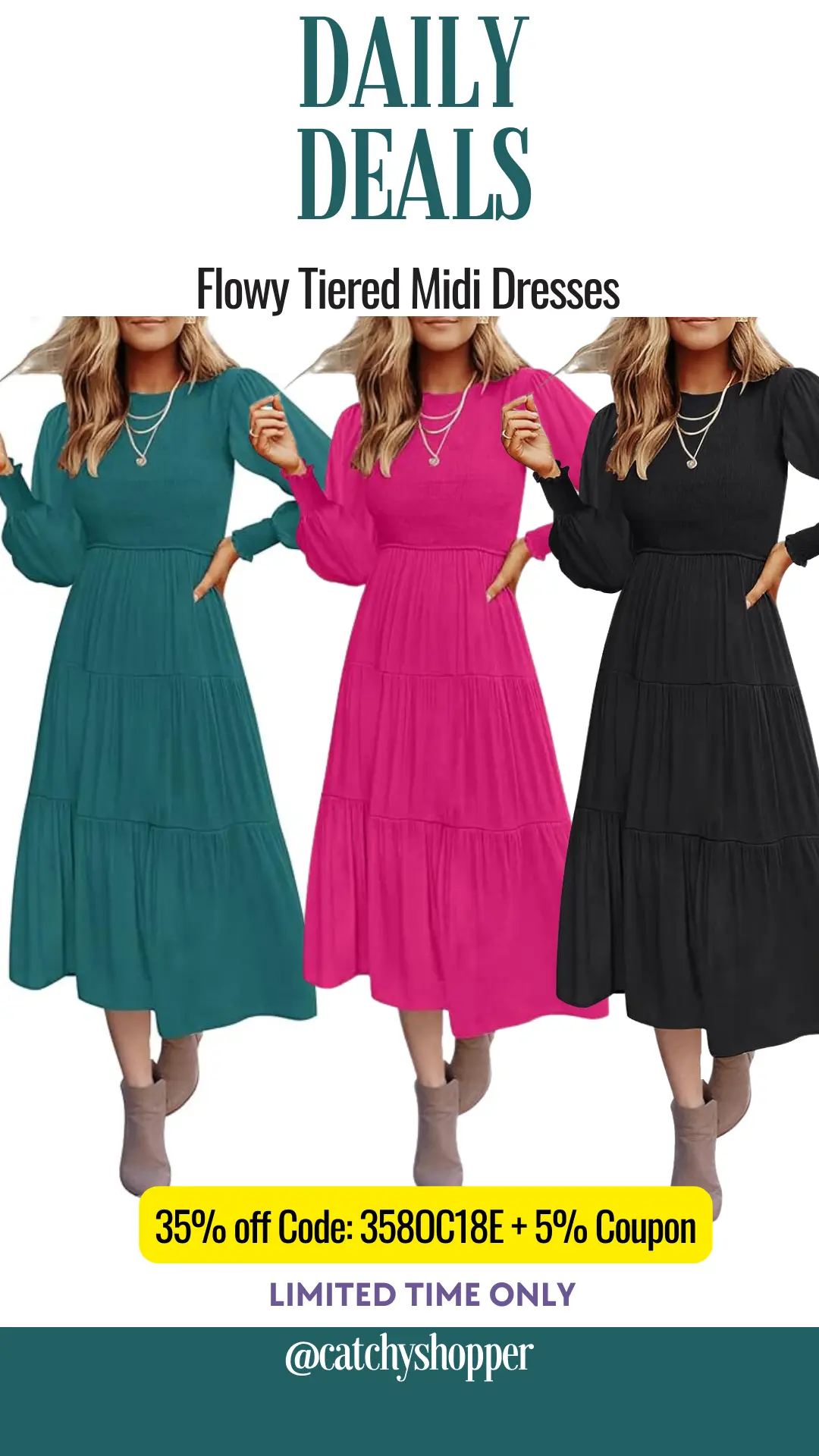 Get in the flow with these dresses at 35% off using code 358OC18E and an additional 5% off coupon. With its shirred torso and playful midi skirt, it's an absolute must-have for every wardrobe. Deal wraps up on 10/22/2023.
Matching Lounge Sets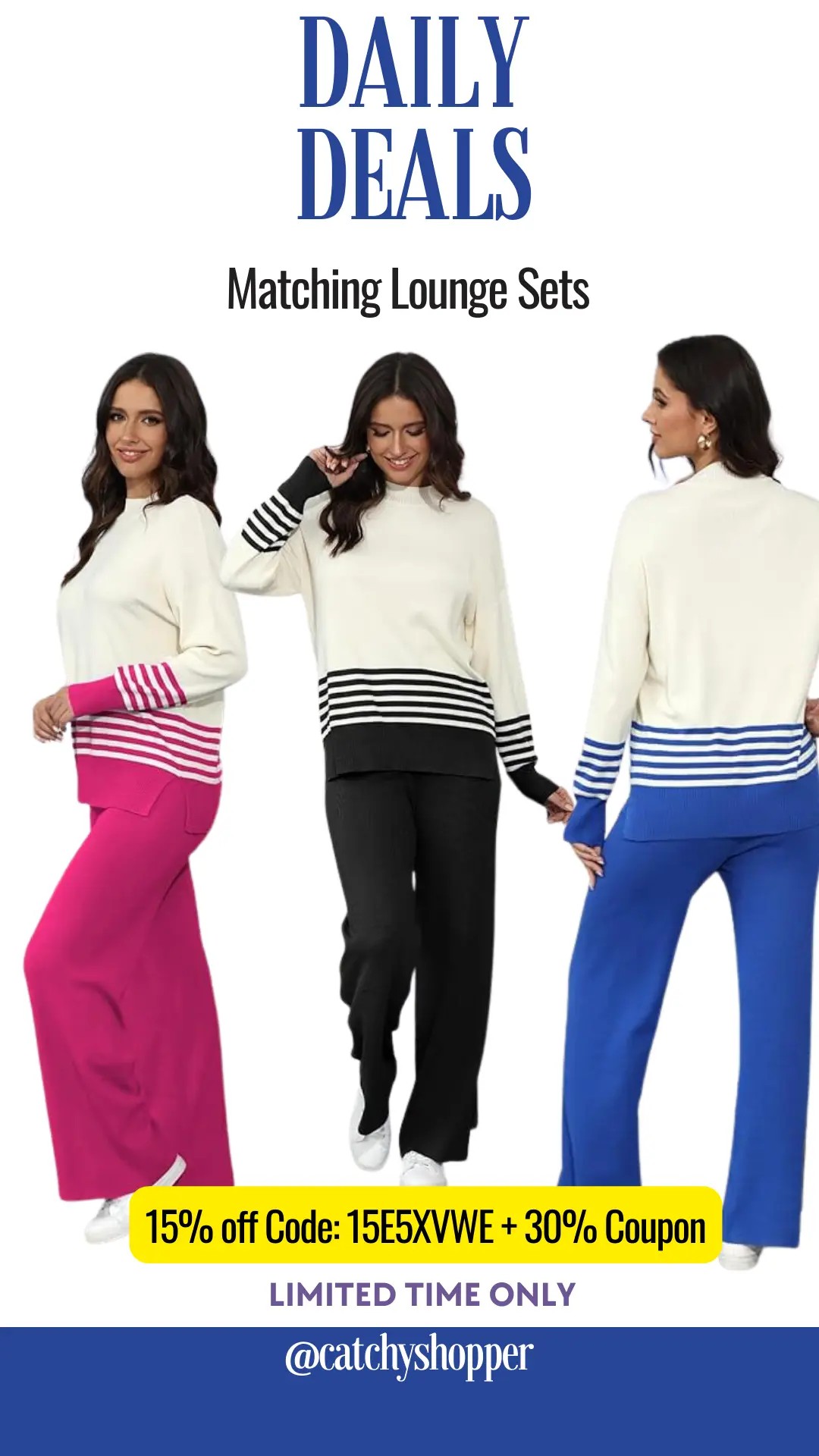 Relax in style with these matching lounge sets at 15% off using the code 15E5XVWE and an extra 30% off coupon. Made of premium fabric, the top and pants combo promises comfort and style, suitable for both lounging and stepping out. Offer runs until 10/31/2023.
Hooded Cardigans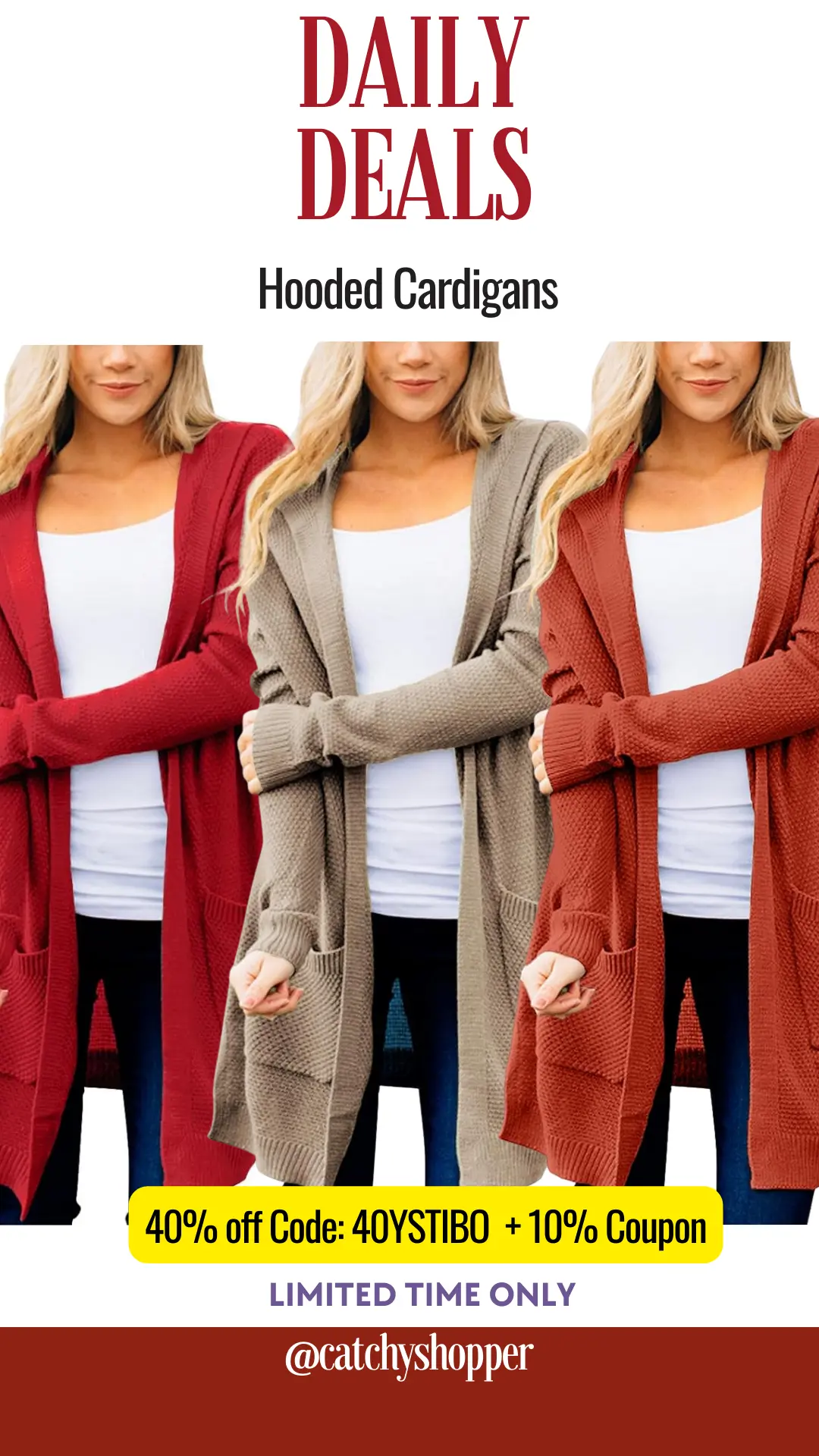 Stay snug with these hooded cardigans, now 40% off using code 40YSTIBO. Don't forget to clip the 10% off coupon for additional savings. With its unique design and playful texture, it's the ideal layer for any outfit. Hurry, deal ends on 10/23/2023.
Open Front Jackets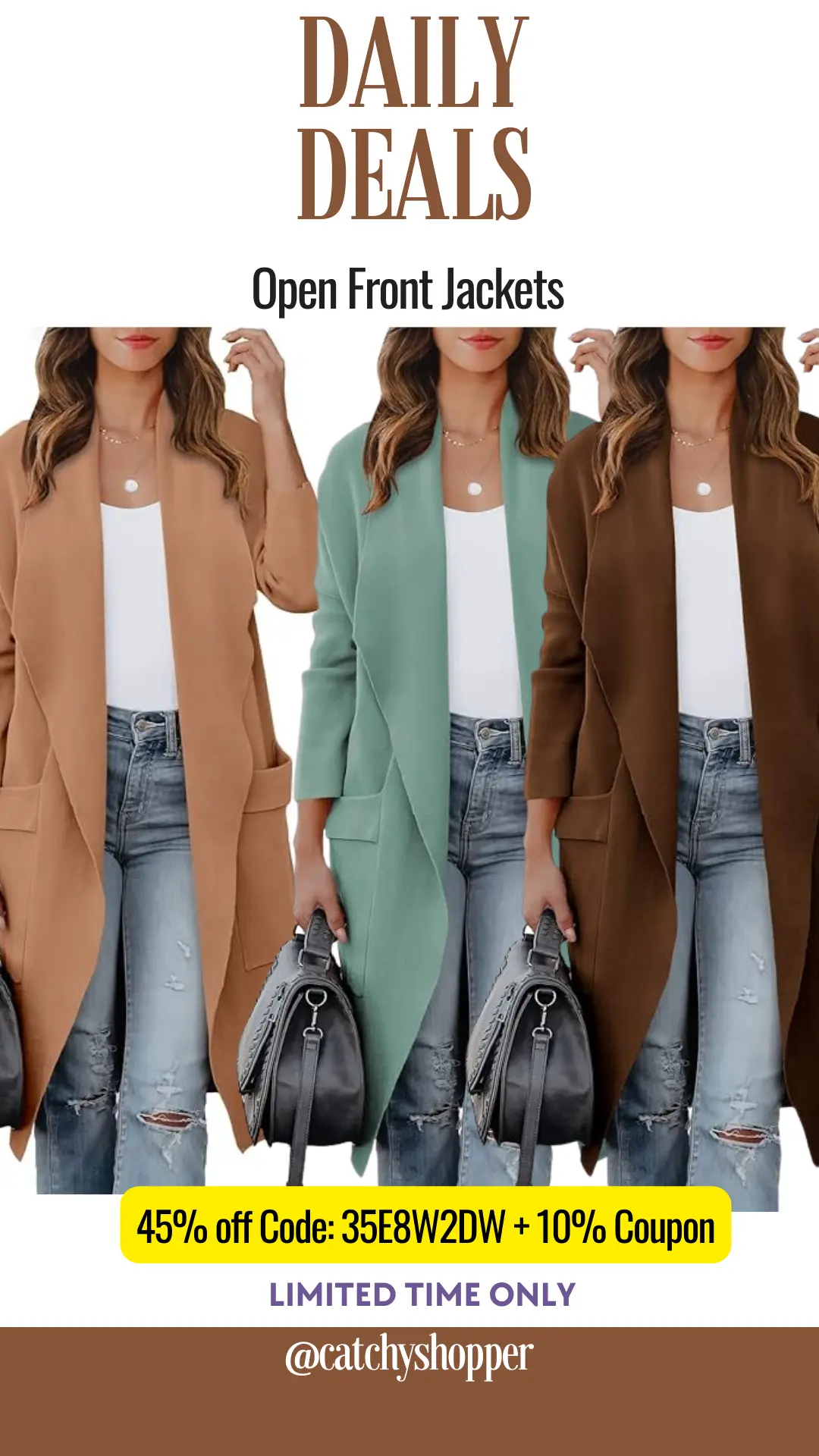 This open-front lapel style jacket is up for grabs at 25% off with the code 252U5RRH. Also, clip the 15% coupon for added savings. Crafted for comfort and style, it's an all-season wear. Offer stands until 10/25/2023.
2-Piece Sweater and Shorts Outfits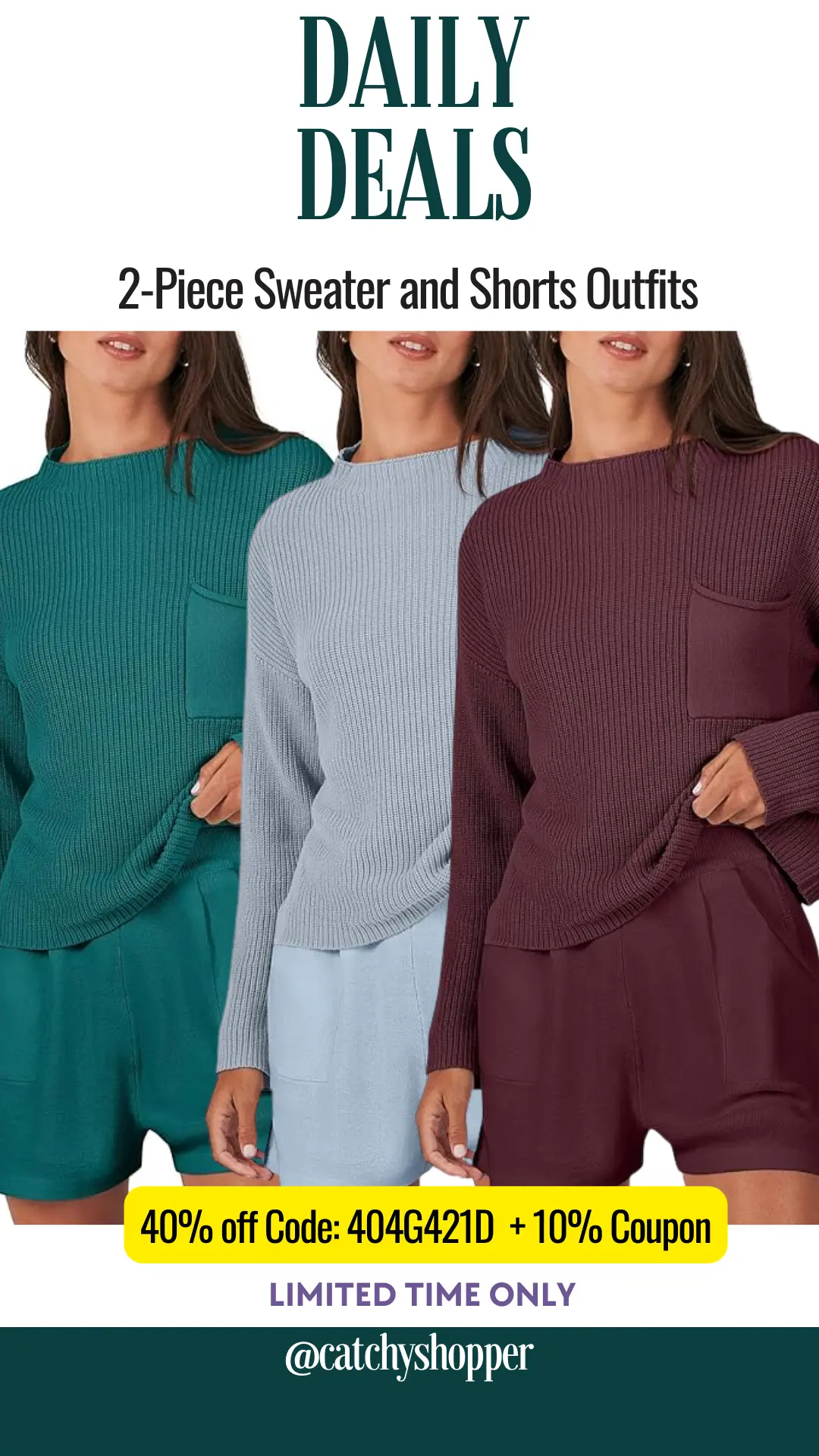 Stay trendy with the 2-piece sweater and shorts outfit. Get a hefty 40% off with the code 404G421D and an extra 10% off clickable coupon. Whether you're lounging or stepping out, this outfit promises comfort and style. Offer lasts until 10/24/2023.
Quilted Trendy Shoulder Bags
Add a touch of sophistication to your look with these quilted shoulder bags, now 40% off with code 406ZVURV, and an extra 10% clickable coupon. Offering style and utility, it's the perfect accessory for every occasion. Grab yours before 10/27/2023.
Chunky Cable Knit Turtleneck Sweaters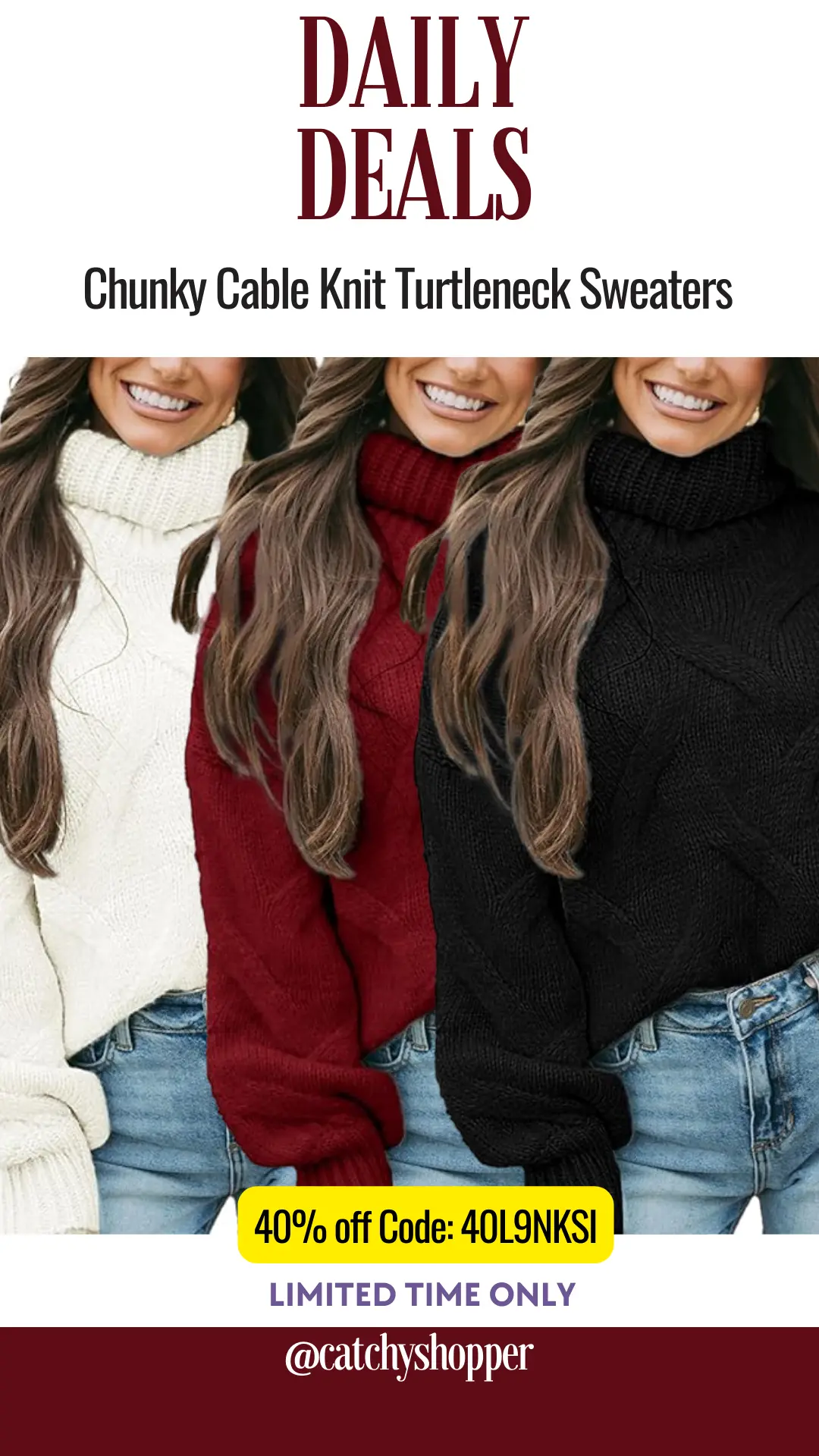 Wrap up in these chunky cable knit turtleneck sweaters, available at 40% off with the code 40L9NKSI. Perfect for the colder months, it pairs well with almost everything in your closet. Offer stands until 10/24/2023.
2-Piece Sweater Lounge Set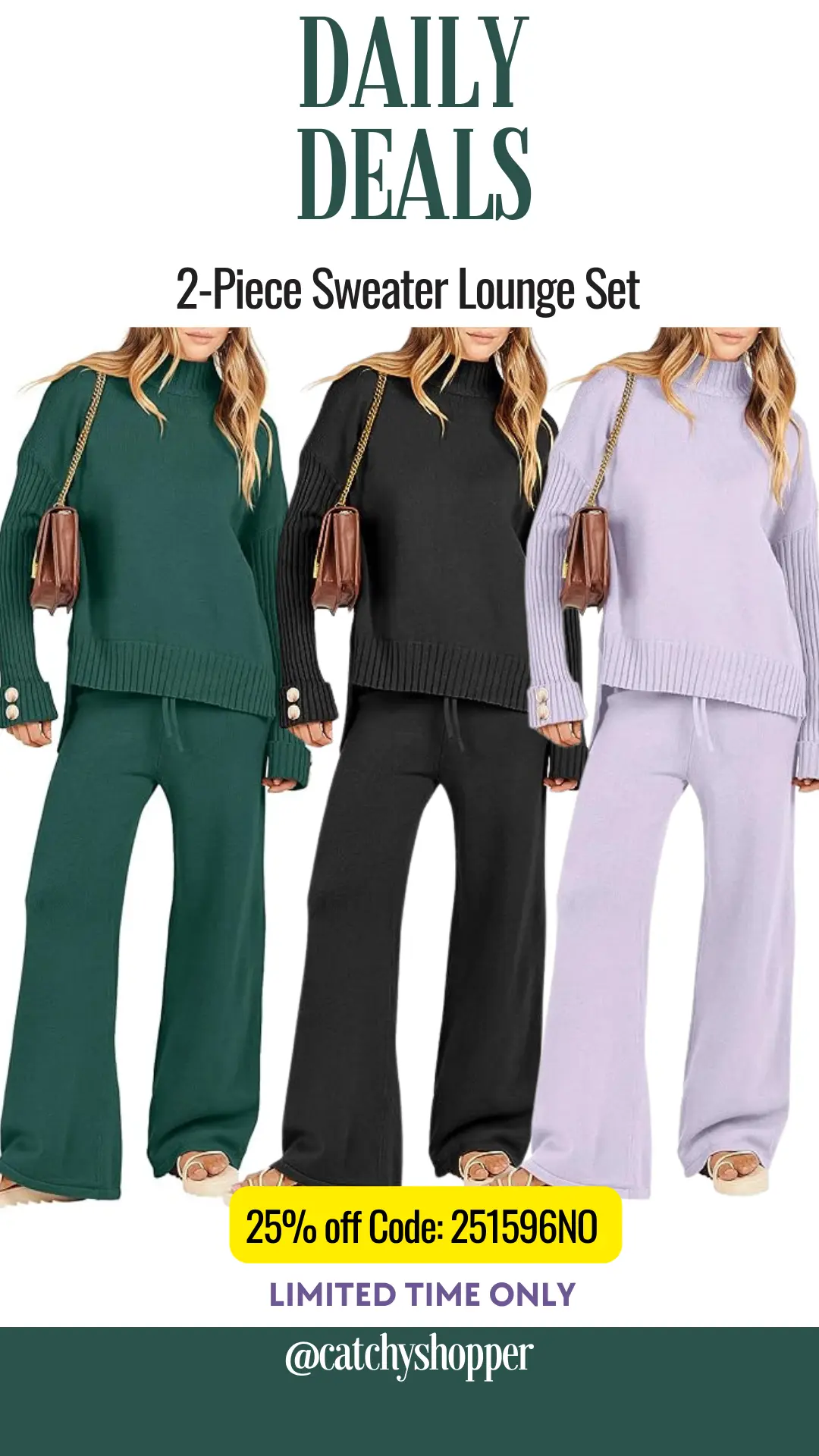 Stay cozy with the 2-piece sweater lounge set at 25% off using code 251596NO. Whether you're lounging or out and about, this set promises comfort and style. Hurry, deal wraps up on 10/24/2023.
Other Posts You May Like
Join our Facebook Group for daily unbeatable deals.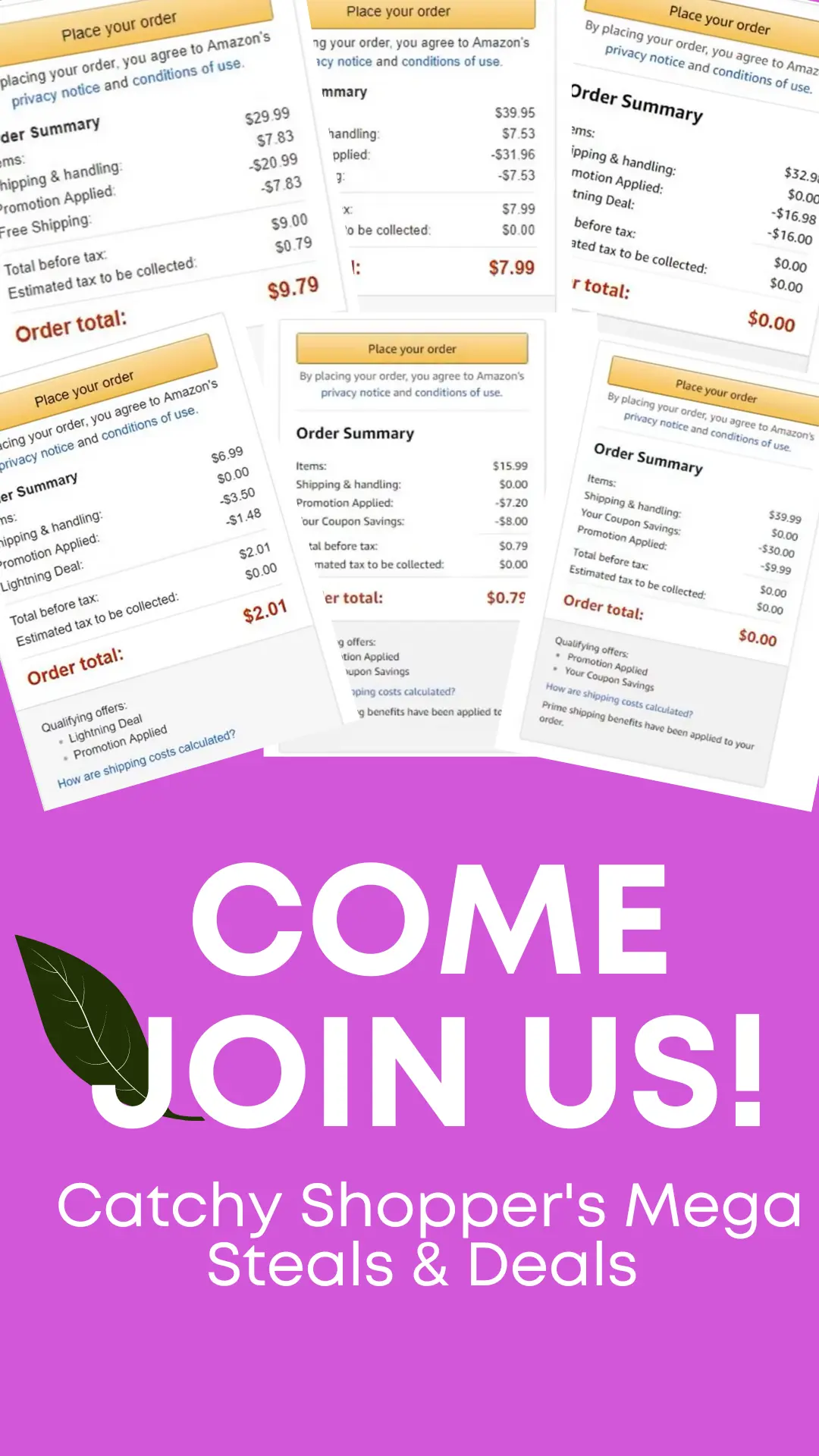 For more amazing fashion finds, check out the Daily Promos on the Latest Fashion Trends post.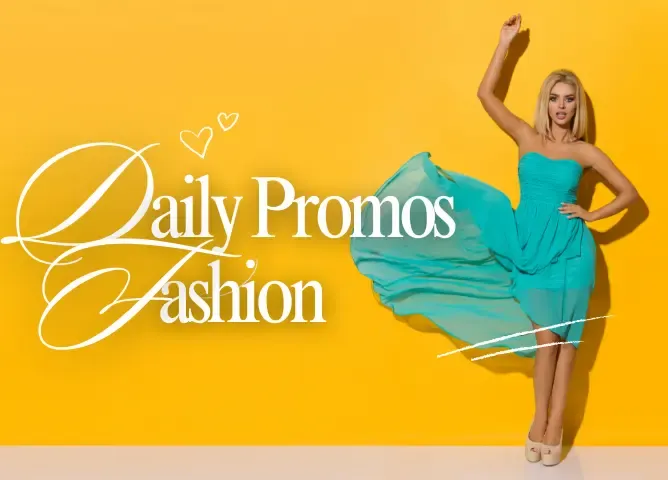 Comments