This post may contain affiliate links, please see our privacy policy for details.
Exploring the great outdoors is one of life's biggest joys. Whether it's a weekend camping trip or a full-on hiking excursion, there's something magical about being in nature. If you know someone who loves the woods more than anything, then this article is for you. We have compiled a list of the best outdoor gifts so that you can find something special for your favorite adventurous woman.
1. For the adventurous and outdoorsy ladies, you can't go wrong with a LifeStraw! This water-filtering gadget is ideal for weekday hikes or weekend camping trips - no more iodine tablets or bulk purifiers are needed. Make her next journey one to remember by gifting this essential device.
5-Star Review: "These are great resources to have in case of an emergency. Put one in your car, your purse, your go bag, boat, whatever. They are small, easy to use, and could be helpful in an emergency situation. I highly recommend at least one pack" - Erinlovelly
2. Give her the gift of adventure this season with a stylish and functional Puffer Jacket that'll keep her lookin' fabulous, no matter how wild Mother Nature gets! Lightweight yet insulated to the max; She can rock out in any condition while staying protected from light rain or snow. Plus, she's sure to be turning heads wherever she goes - its flattering fit is unbeatable for cool-weather chicness.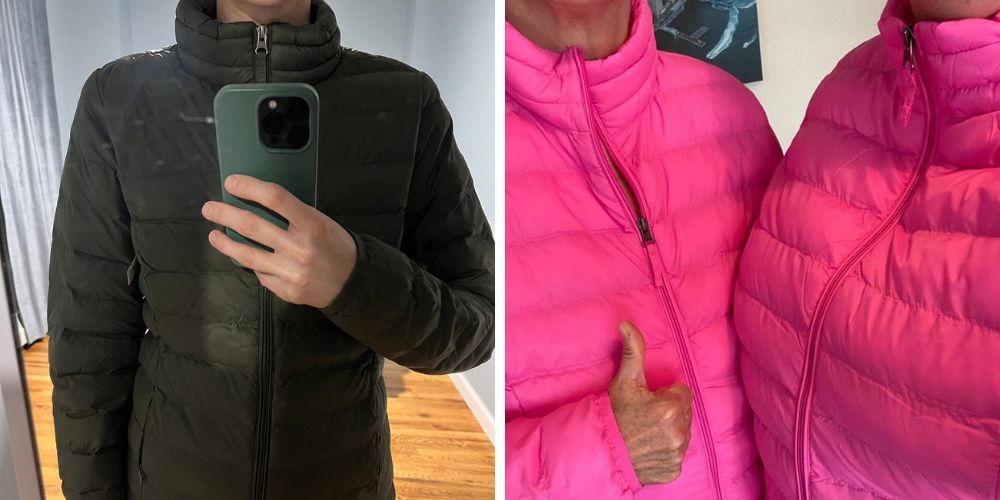 5-Star Review: "Really impressed. These are not your flimsy packable that rip with just one scratch. I am 5'6, 110lb and size SMALL fits oversized. Definitely can layer a couple of layers under and then some." – A.D
3. Is the wild outdoors calling your name? Make sure you've got this Stackable Mug in tow! Not only is it aesthetically pleasing, but its vacuum insulation means that whatever drink you're sipping will stay hot or cold no matter how harsh Mother Nature's conditions get. If someone special loves exploring nature, make their next excursion extra memorable with this perfect gift for outdoor women!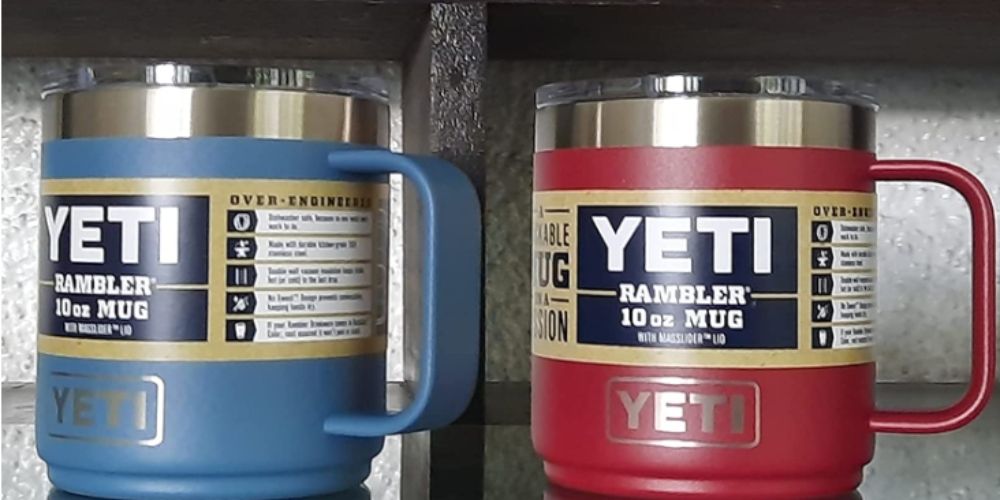 5-Star Review: "So I bought some family members two 14 oz Yeti cups for Christmas and they were great but kind of big, and the lady of the house wanted a Yeti that was smaller and had a handle than the 14 oz cups. This popped into my recommendation and it is fantastic! I bought this in nordic purple as a birthday gift and it's a wonderful little mug. Don't hesitate to purchase it you will be very pleased with it!" -  LewisAK
4. These Hiking Socks are just what every outdoorsy woman needs to gear up for her next big adventure. With extra cushioning in all of the right places and ultra-breathable fabric, her next big trek will be as comfortable as can be. No matter how long or far she goes, your thoughtful gift will keep every step feeling great!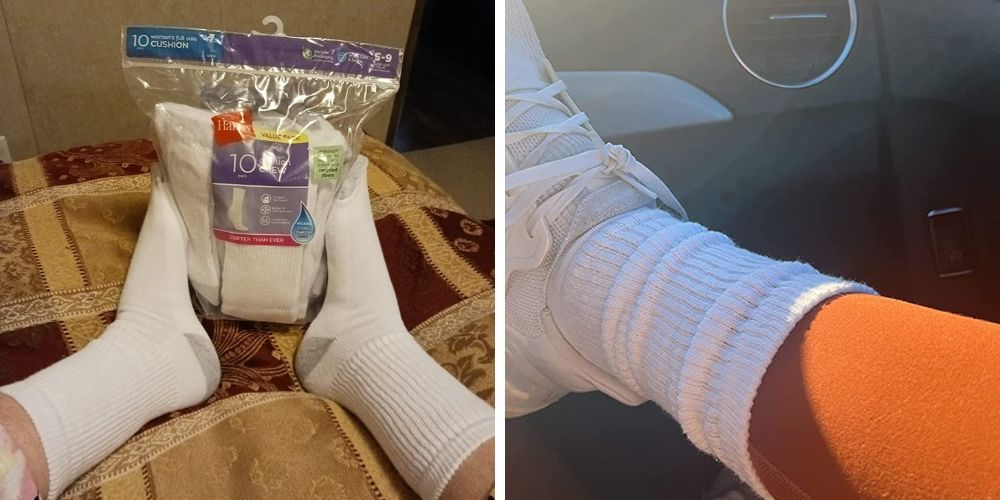 5-Star Review: "love these!! soft and cozy. A little bit long, but it's cute scrunched" – Allie Dunn
5.  With this amazing Camping Mess Kit she can effortlessly prepare delicious meals while communing with nature without worrying about lugging around the whole kitchen.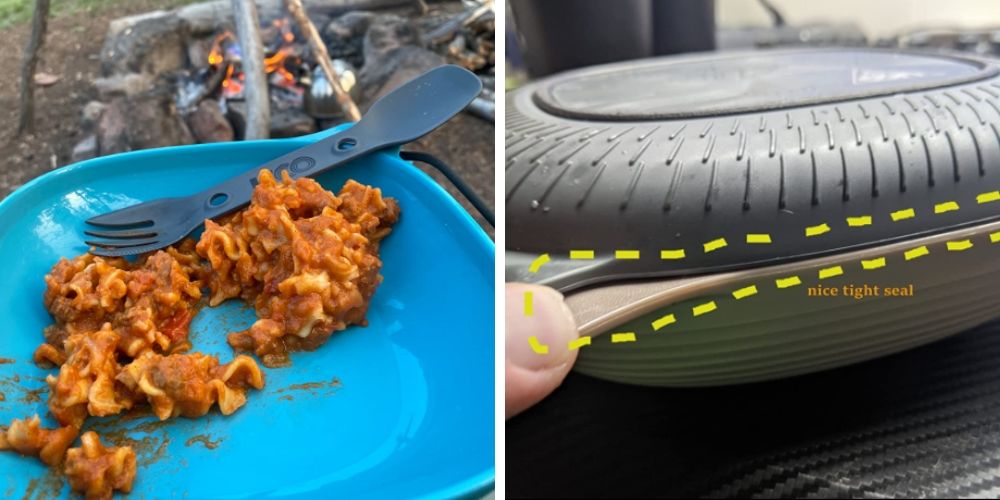 5-Star Review: "Perfect for camping, lunch on the go, and picnics!! I've taken it to the coast multiple times, on road trips, it is the perfect size for a sandwich, and packed my lunch in it for work. It is deep so you can pack a good amount of food in it!" - Wild_rose
6. A pair of Hiking Boots that'll provide unparalleled protection and style for any adventure! She can explore rivers, wood planes, and more in these waterproof leather babies with deep treads—plus an array of colors to choose from.
5-Star Review: "The boots are nice looking. Waterproof. The hiking boots run small order one size up." – Tiffany
7. Eco-friendly, stainless steel Stove that runs solely on firewood- all you need is some pinecones and twigs for your water to be boiling in minutes. It's lightweight, foldable, and comes with a black mesh stuff bag so it can fit easily into any pocket or backpack. Plus, get creative by using whatever branches or leaves are nearby as fuel - totally free of charge! Perfect gift idea for those who love nature... just don't forget the marshmallows!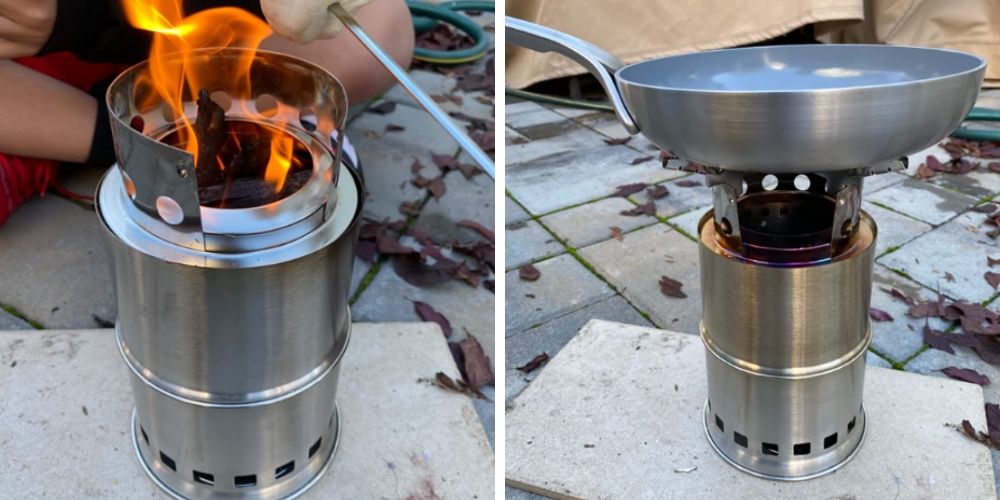 5-Star Review: "Comes with instructions. Well made. Can easily fit into my backpack. Can use with both wood and solid alcohol. Great find!" - Darrick McMurray
8. This Neck Gaiter provides cozy warmth and protection from the elements, without compromising on style or comfort. Its lightweight fabric offers breathability, while its adjustable fit ensures it's perfect for any size - making this truly an ideal present to give!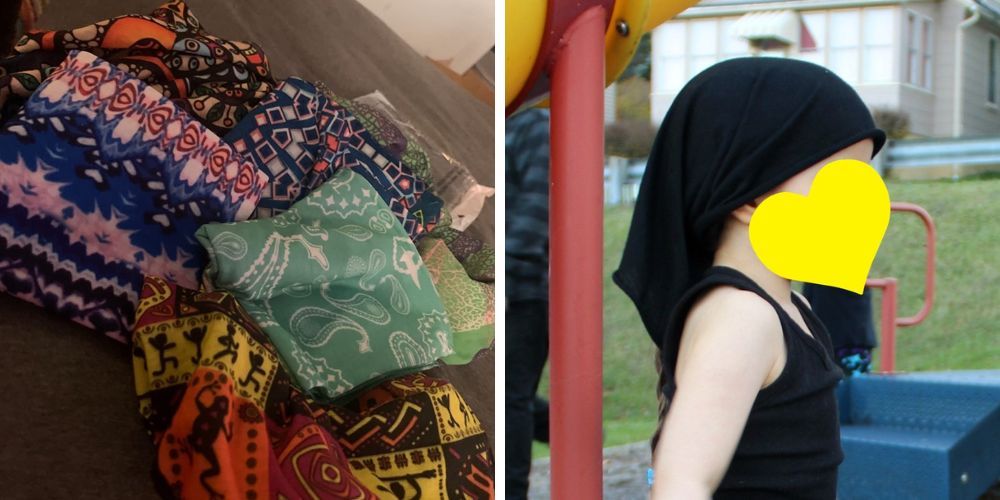 5-Star Review: "Great patterns, fits well, can easily fold up five or six layers as a face mask." – Kitsen
9. Sleek and stylish Belt Bag! She'll be able to bring all her essentials along without any fashion faux pas as she hikes, bikes, or explores nature. With its adjustable waistband and chic design, it's sure to become her favorite accessory-- no matter where the outdoor adventure takes her.
5-Star Review: "Love this little belt bag! So trendy and cute. Zipper works perfectly. Fits my iPhone 12 max pro along with my keys, chapstick, money, cards, etc. Def a must buy!! I couldn't wait for lululemon to restock so bought this and it's identical to the real lulu belt bag, just more expensive. But I think it's totally worth it! Definitely would buy again!!!" – Katie
10. Make portaging a worry-free experience for your outdoorsy gal pal with an Inflatable Kayak! No more lifting heavy canoes above her head—she'll thank you and love it.
5-Star Review: "I have put miles on this kayak and it still looks and feels new. You don't feel like you're going to flip over like normal kayaks, so if you're a beginner this is a solid choice." - Chitown17
11. These stylish outdoor Sandals make a perfect gift - high-quality materials provide maximum comfort and durability, so she can enjoy them all season long.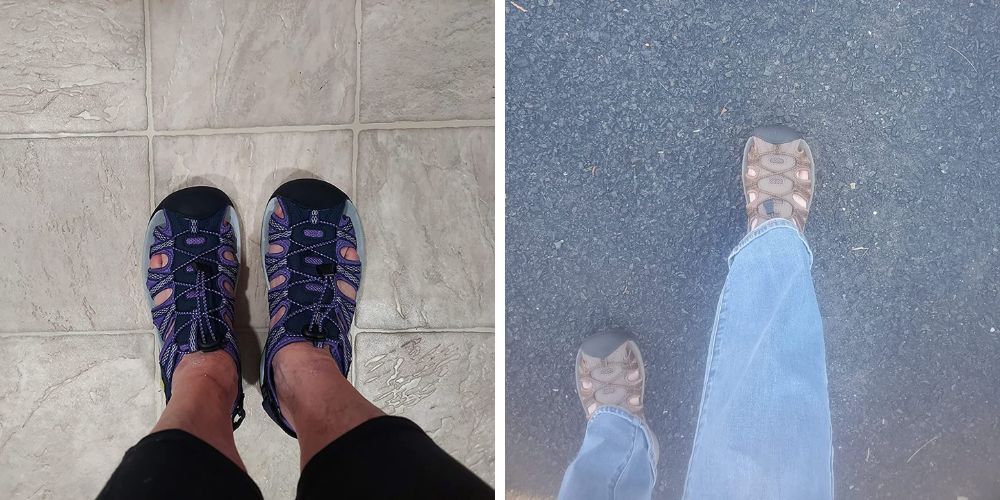 5-Star Review: "These sandals are comfy. They are a tad wide but even my average-width feet feel comfortable in them. I probably could have got a size 7.5 (I'm normally an 8) but I won't be returning these because the back strap adjusts well enough to fit me comfortably. I love them and I definitely recommend them. I'll be using them while walking through costa rica over Christmas so I think these will be perfect." – Amanda
12. With this waterproof, windproof, and snow proof Trail Camera any animal enthusiast can get an up-close look at wildlife no matter what terrain.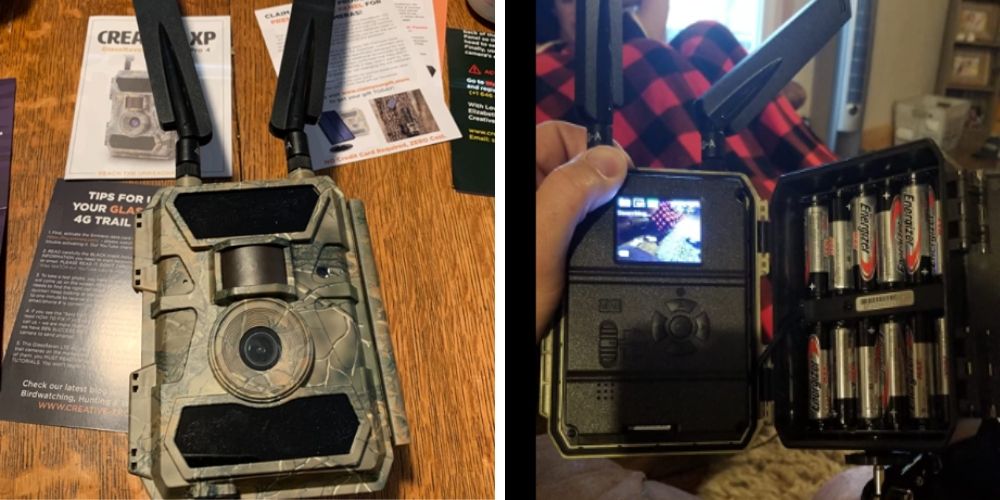 5-Star Review: "I have been using game cameras since they first came out. This camera has by far worked the best!!" - mike
13. This ultra-stylish hiking Chest Bag is all you need to make your outdoor explorations easy and enjoyable - complete with adjustable straps, multiple compartments, and plenty of room for packing.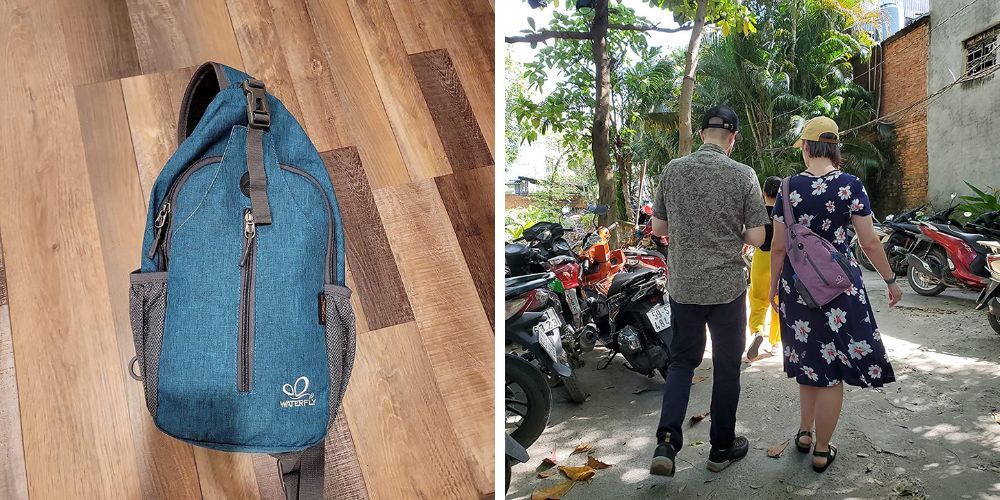 5-Star Review: "Love the size, water bottle holder, cell phone and more!" – Kindle Customer
14. This rugged and stylish Phone Case is just what any adventurous girl needs! Not only will it keep her device protected during any terrain or weather condition, but its unique design also makes for a perfect gift that screams "Go out there & explore"!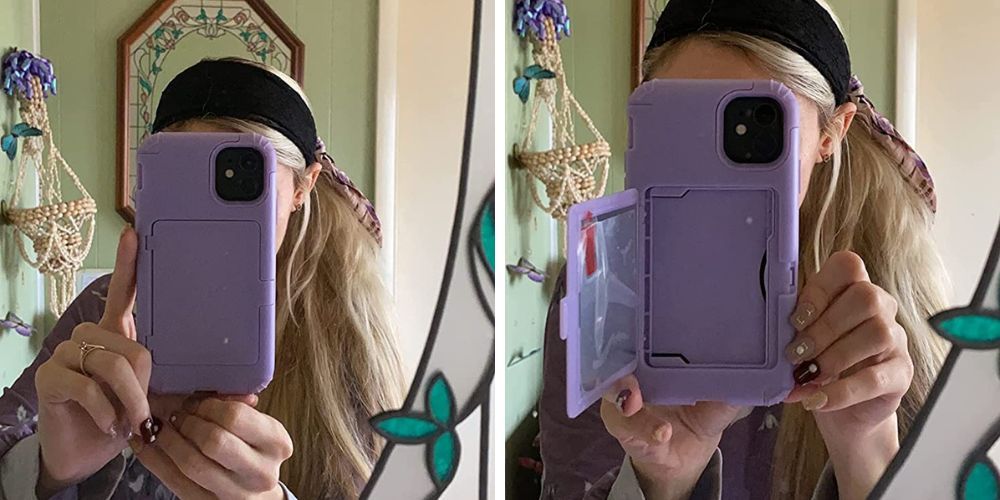 5-Star Review: "This phone case protects your phone as well as an otter box but it's so much cheaper! I love the mirror & the card slot is useful when you don't want to carry a purse! Would recommend." – Julia Griffiths
15. This Lip Balm is sure to make any nature-loving lady smile. Packed with all-natural ingredients like beeswax and cocoa butter, it'll keep her lips moisturized while providing a subtle flavor that's just too yummy to resist!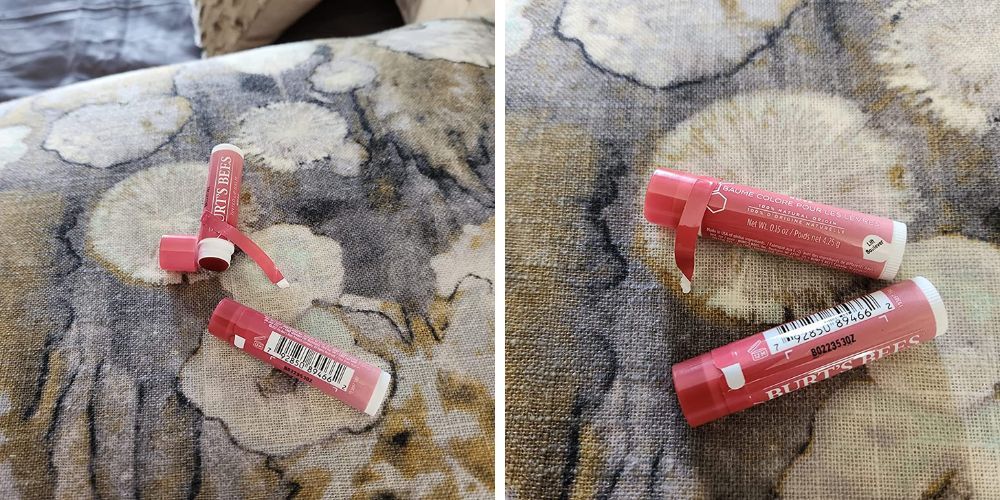 5-Star Review: "Love Burts bees lip tint (rose). Similar to chapstick but smoother, and not as heavy. Nice neutral color. No heavy scent. One review said it was difficult to open, but lol I believe that person did not see the little white tab you pull to unseal the tube. I took a couple of photos to show it. Hope this helps." – Mick
16. This stylish and insulated Water Bottle is a must-have! Not only does it keep their go-to drink at optimal temperature, but its convenient carrying loop makes traversing rough terrain a breeze. It's the perfect practical gift for outdoorsy women who need to stay hydrated--no matter how hot or cold it gets outside.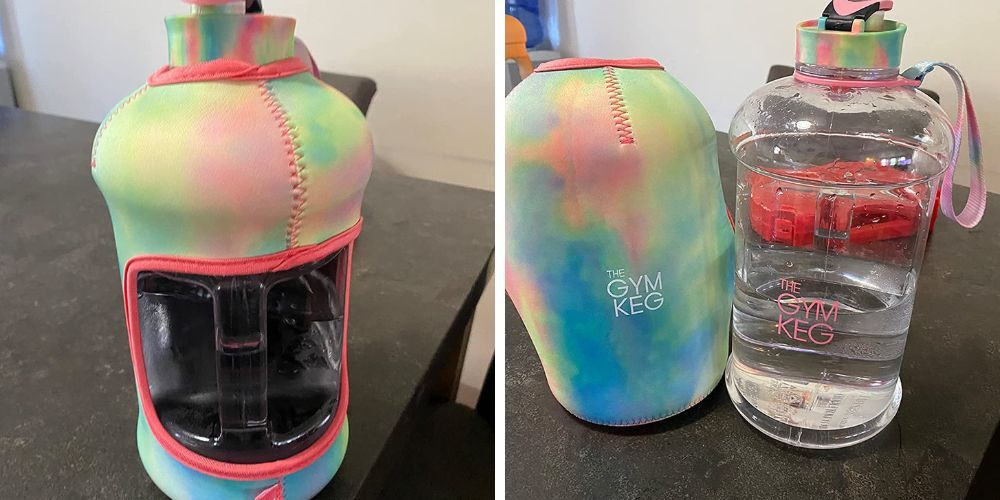 5-Star Review: "I love this water bottle! Looks exactly like the picture. I love the colors. It's easy to clean and I haven't had issues with leaking. Since getting this water bottle it has helped me so much to drink more water. Remember this water bottle isn't stainless steel so it will not keep your water really cold for a while. What I do I'll fill like maybe a third of the bottle and I'll lay it down in the freezer to get the water to stay cold a little longer." – Delissa
17. This ultra-stylish Smartwatch is designed to be ready for any weather and activity - from surfing waves to climbing mountains. Plus, with a long battery life, they can go further than ever before without having to worry about running out of juice. Perfect for gifting (or treating yourself!) this season!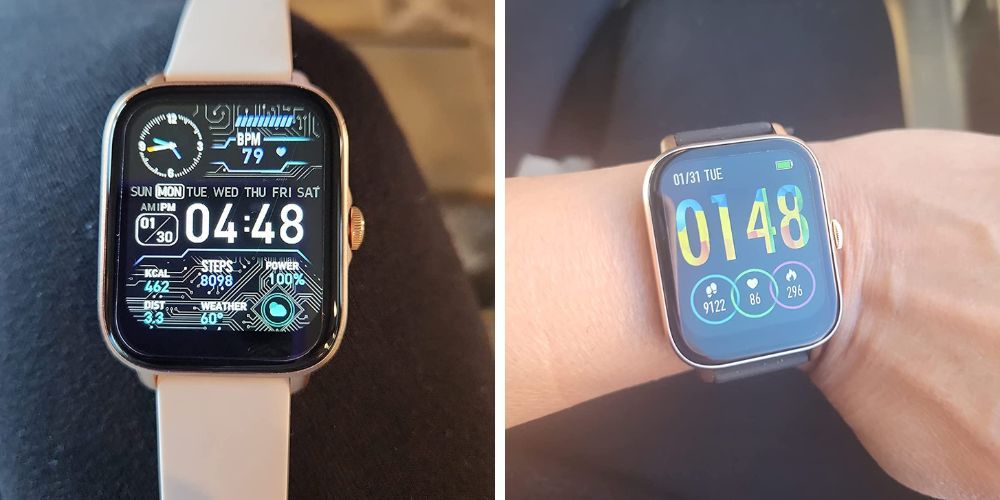 5-Star Review: "I love this easy-to-use watch. It gives me accurate workout tracking including my time, heart rate, and miles logged. I can even receive calls on my watch. A great buy! Don't be afraid to purchase because of price." – Robert Radley
18. This lightweight Hammock is perfect for hanging between two trees while they take in all that nature has to offer. With every gentle sway, she can let go of stress and recharge so she can keep on adventuring with ease - no worry about finding a comfy place to rest during her travels again!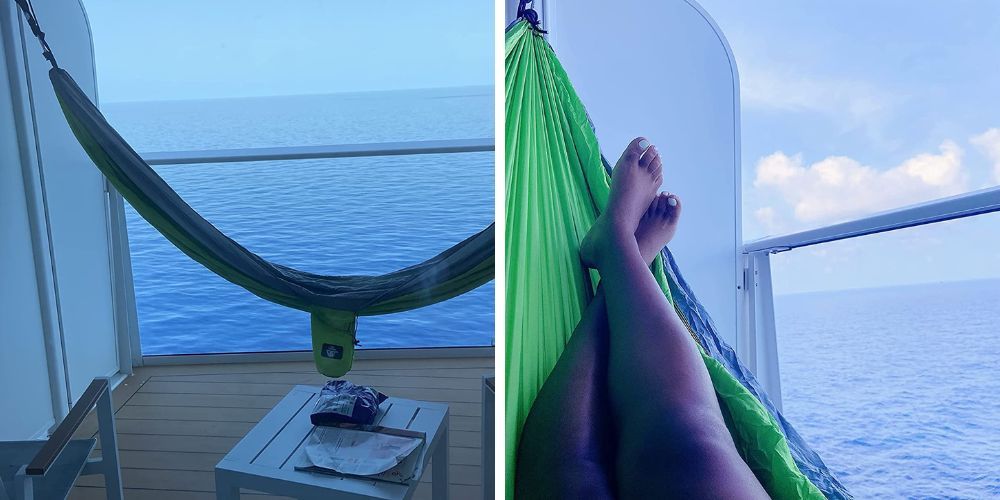 5-Star Review: "I love that this hammock is so versatile. I'll often move it around in the backyard depending on my mood. I only bought a new one because the first one got stained over the winter. That was my fault for leaving it out." – Amazon Customer
19. This LED Light is a great gift for any outdoor woman. With its superior brightness and multiple illumination settings, she can take it wherever her adventures lead - even slipping it into her pocket if needed!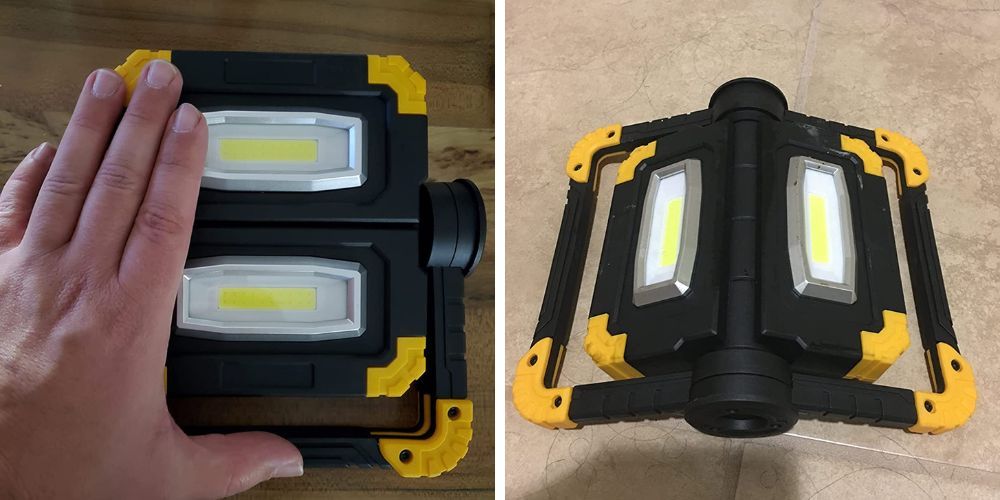 5-Star Review: "In the two months I have had this, I have used it for lighting in tight spaces - repairing a sink drain and front brake pads. The ability to select either of the two lights or both together (never needed to use the latter as one side has always been more than enough) has been great. Add to that the fact that there is almost no heat emitted by the unit and not having to charge it during that time - Makes this a winner!" – KNS
20. Take wildlife watching to the next level with these top-notch, waterproof Binoculars. Perfect for spotting majestic whales as they break through icy waters, daring mountain goats on treacherous cliffsides, and powerful buffalo packs migrating across plains!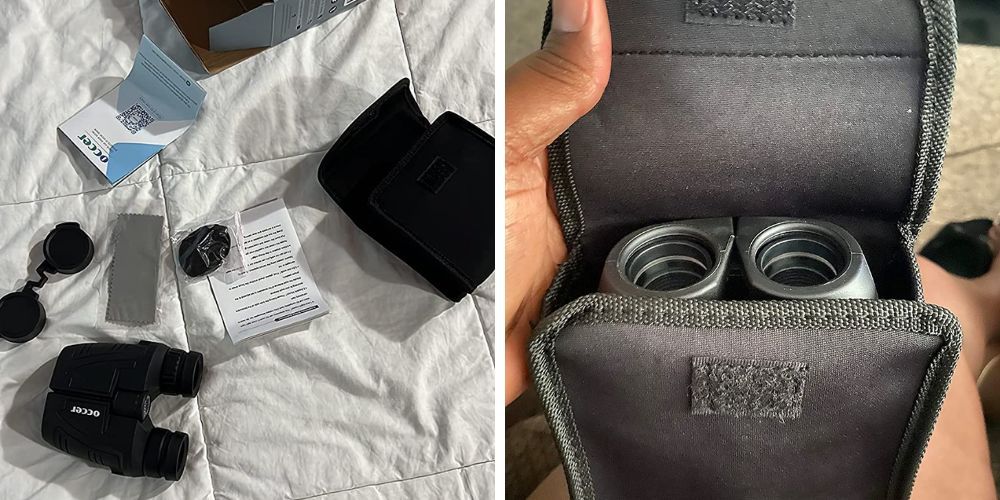 5-Star Review: "It's very good quality. I took to a Bad Bunny concert and I was far from the stage. With these binoculars, I saw the show clearly! Excellent quality. Best buy I did this year. Totally worth it" – Adrian Espinoza
21. From campouts to trips abroad, now your loved one can have a machine-level wash wherever they go! This Portable Laundry Bag is just what their outdoor adventures need; it'll give them the clean clothes of home in only three minutes.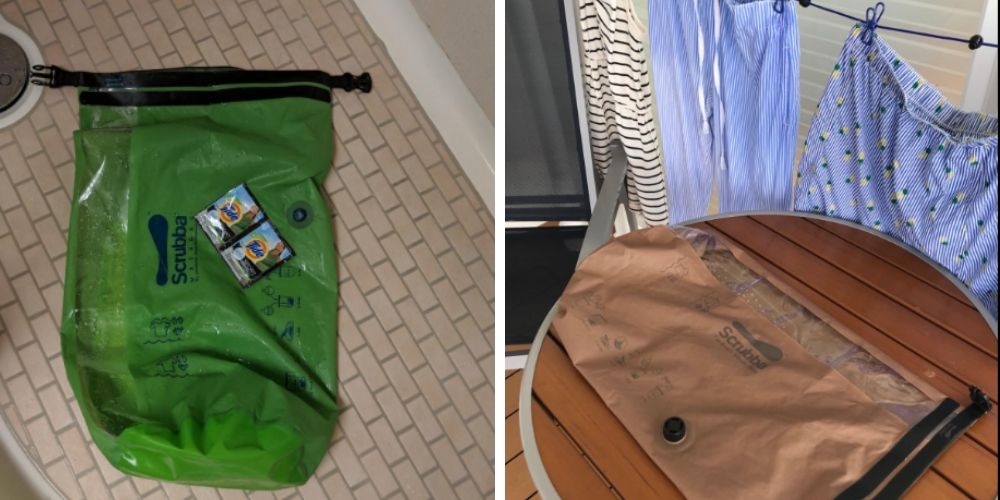 5-Star Review: "This bag was a hero for us while we were moving. I was able to wash our masks, undergarments, and the children's clothes as needed, saving us from having to find a laundromat. Clothes/masks came out clean. Bonus - it's a great arm workout!" - Megan Barron
22. This Picnic Backpack offers fashion and functionality – so she can kick back in style while exploring the great outdoors! Packed with all those must-haves like cutlery, plates, and cups - it's an amazing way to chow down without having to sacrifice comfort.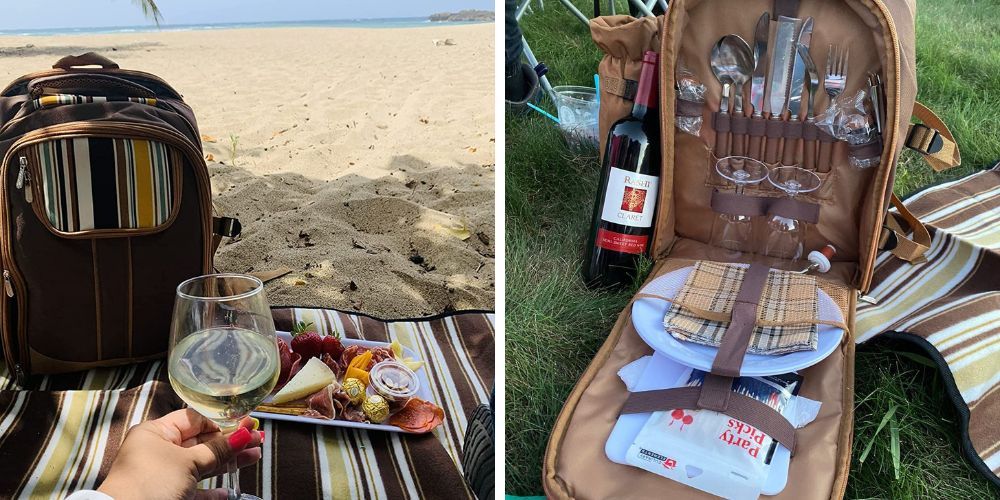 5-Star Review: "Omg!..So cute ...I love this!❤️...I brought it with me to the balloons Festival and Everyone loved it. 🥰🥰🥰. This has been so far the best purchase that I have made on Amazon. 💯recommended!😉" – Ma.L.
23. This Butane Stove camping gift will make outdoor cooking a breeze. So if you're looking for an amazing way to get your grub on while communing with Mother Nature, this is the perfect present - and it's great whether you're deep in the woods or just out back. Bon appetit!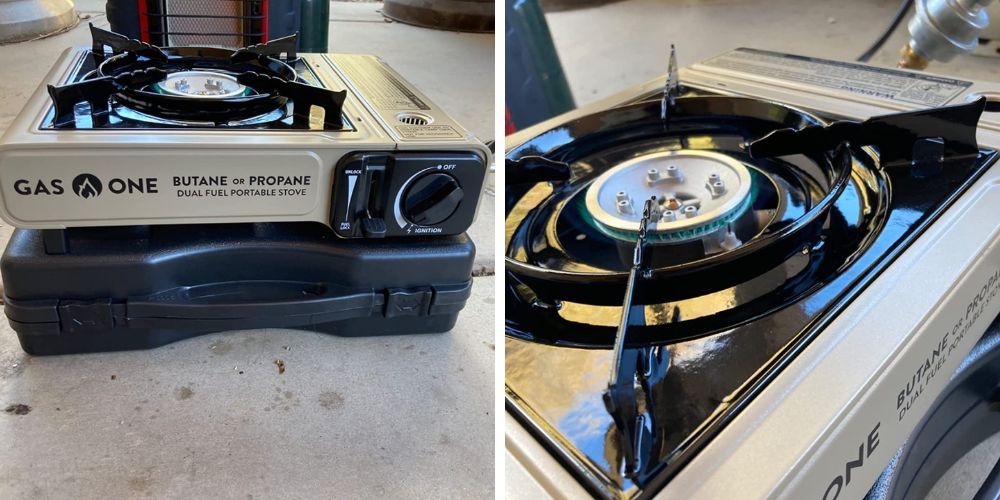 5-Star Review: "GI got this stove for work and it works perfectly with my propane setup. The controls are nice, just turn the knob to spark. It's very lightweight while not feeling cheap. I haven't tested the butane but I will for camping." – jeremy c.
24. For the bold adventurer who dreams of sharing stories with friends around a campfire, this Portable Fire Pit is an absolute must-have! Instantly bring warmth and joy to any night spent beneath starlit skies. With its lightweight design, she can have crackling flames no matter where her journey takes her!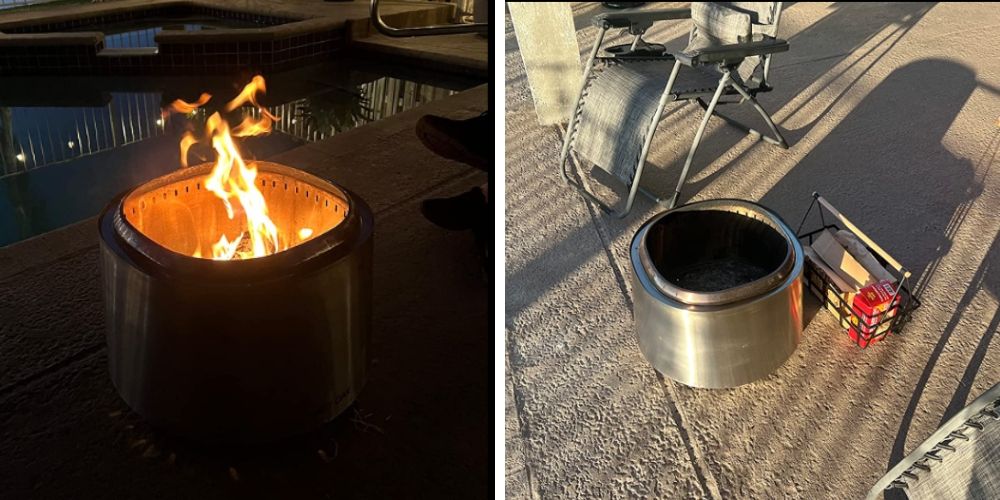 5-Star Review: "Just like in the retail photos it creates a vortex-like "fire tornado" as my friends like to call it. It also provides a ton of heat with minimal logs. One firestarter is more than enough to have a raging fire in 5minutes of less. Dont use two Firestarters with 4plus logs, or you will not be able to sit within 10ft of this thing without losing some hair...lol" - luke hochstedler
25. This ultra-lightweight and waterproof Blanket is a must for any nature lover. Perfectly sized to fit into a pocket or backpack, you can easily bring it with you wherever life takes you - from days spent lounging at the beach to nights camping in mother nature's backyard.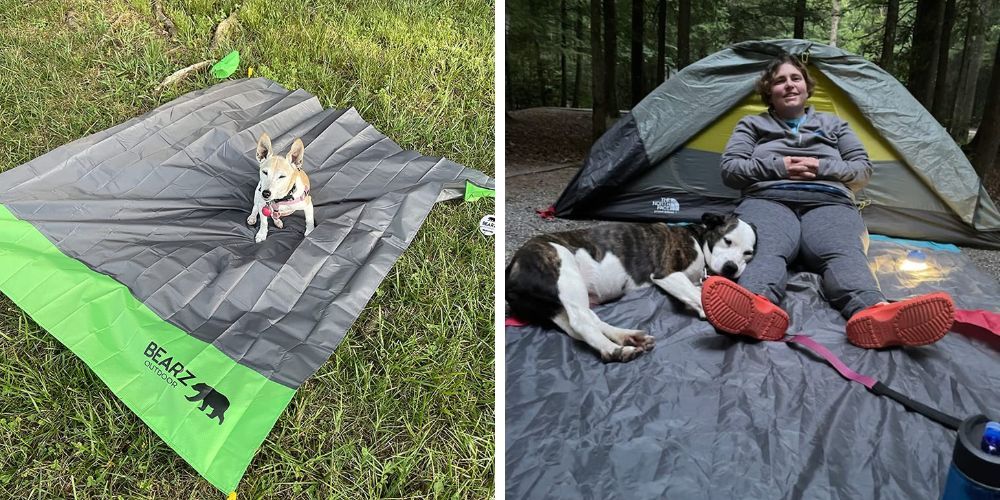 5-Star Review: "My friend and I ended up both buying this without knowing we had. Glad we did. Used as an emergency shelter in a thunderstorm...used as a "porch" for rent and was also a nice blanket to sit in so I didn't have to sit in the dirt at the campsite. Small compact lightweight and durable. Glad I bought it." – Elizabeth A. Owens
26. For any gal who loves the great outdoors, this ultra-light and Waterproof Blanket is an absolute must! Whether she's hitting up a beach day or heading off on an overnight hike, it can easily fit in her pocket or backpack - making nature days super easy to tackle.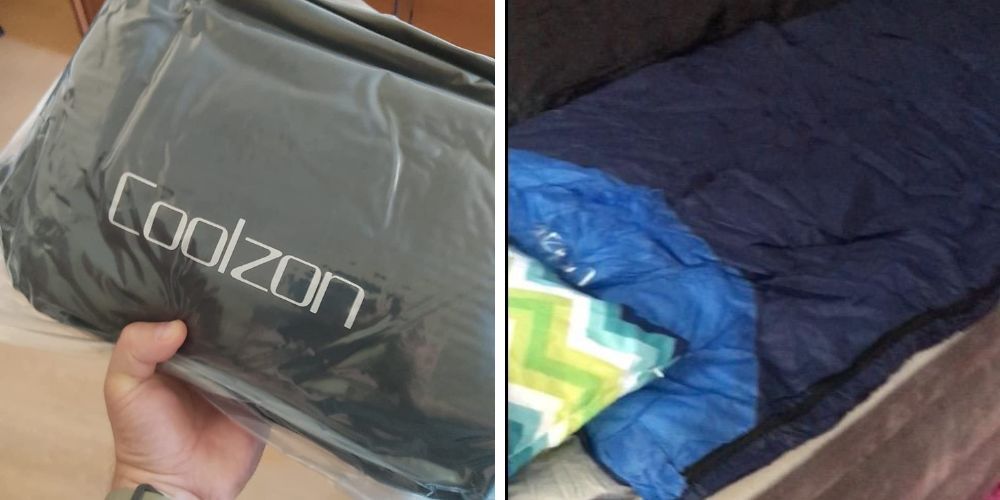 5-Star Review: "top for your money" – Pavlo
27. If your gal loves being one with the outdoors, surprise her this year with a Fishing Rod and Reel Set! Not only is it an excuse to take in some stunning natural vistas - but she'll get plenty of relaxing alone time or quality bonding moments spent out on the water. Time for reelin' in something special (wink wink)!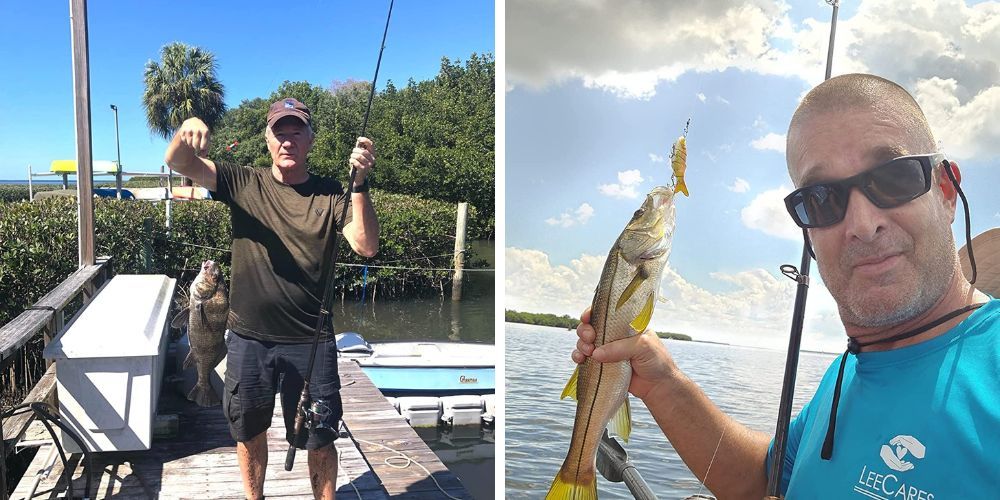 5-Star Review: "I bought the 8+ foot version. You can see here I caught this decent size black drum on 15lb test. If you don't mind the collapsible rod, then it works fine. For the price and the portability it's great." – Jim
28. These Sports Sunglasses not only will be doing good by protecting her peepers from those nasty UV rays but they also look seriously fly. Plus with added features like glare-cutting polarized lenses and a customizable fit who said practicality couldn't be fashionable?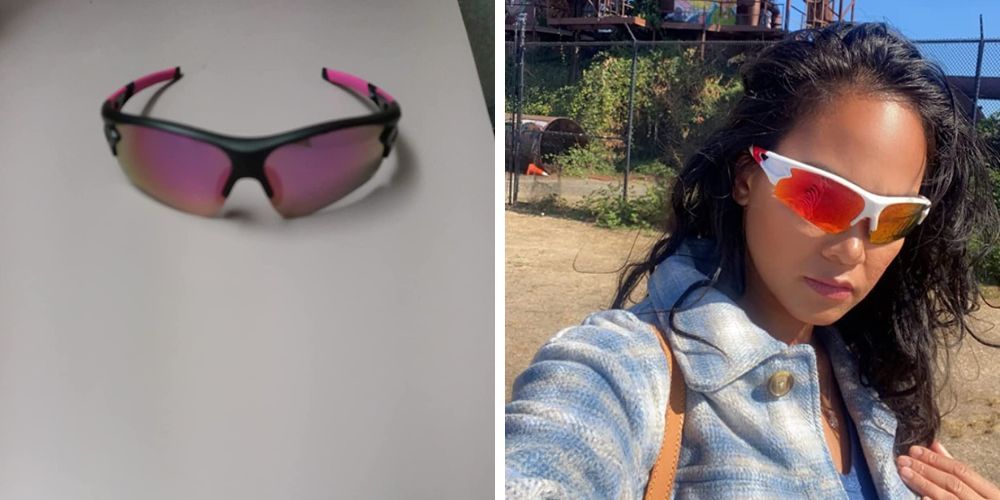 5-Star Review: "I literally got stopped and told "nice Oakley" lol love it! I hope it lasts I very much love the case and wipes that come with it. Must have! My mom gifted me 1K real Oakley but don't even like it :( Btw I used it for beach volleyball about twice a week every week. No issue whatsoever. Hope it last!" – NYC Finest
29. Ready, Set...Adventure! This premium First Aid Kit is the key to staying safe and sound on your outdoorsy girl next excursion. Everything she'll need for an unexpected mishap - from bandages to antiseptic wipes - plus a waterproof container perfect for camping in any climate.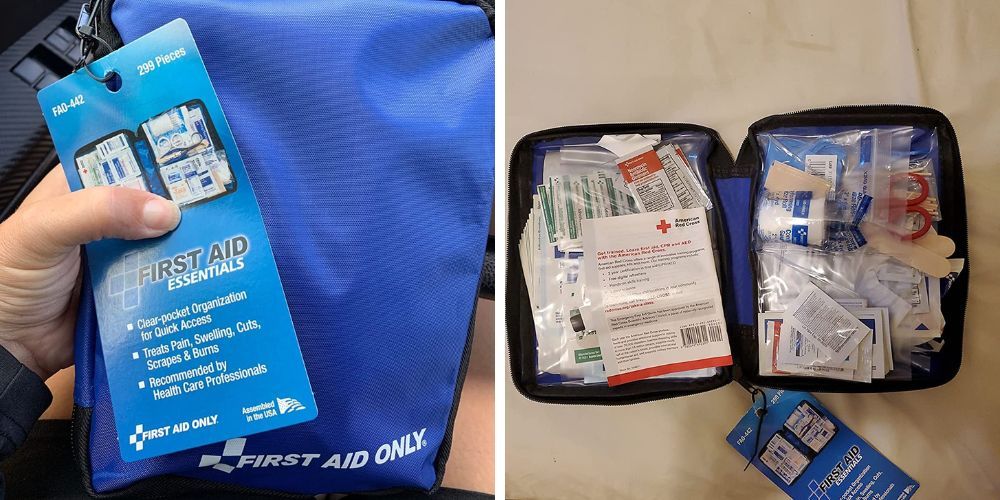 5-Star Review: "Literally has everything you'll need, I'm so in love with this kit. (It also has long-lasting bandaids)" – Amanda
Reviews in this blog post have been edited for clarity and/or length.
Finding the perfect outdoorsy gifts for your nature-loving gal can be tough. But with our helpful reviews and tips, you'll have no problem picking out something special! Whether it's a portable fire pit or a waterproof blanket, these practical gift ideas are just what she needs to take on all of her adventures in national parks and beyond. With these practical gifts in hand, nothing will stand between her and some quality time spent reconnecting with mother nature - plus having fun doing so!
Other Posts You May Like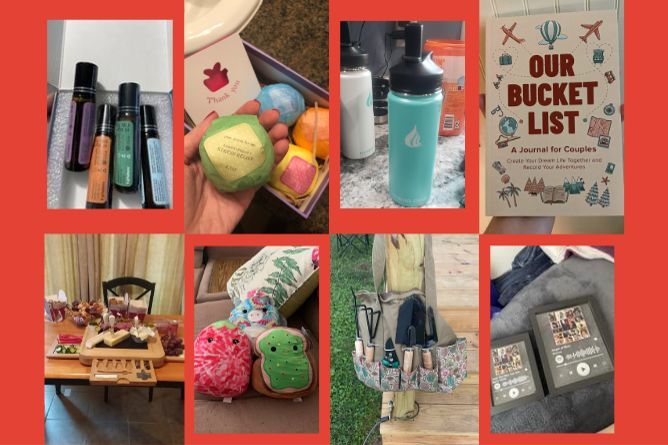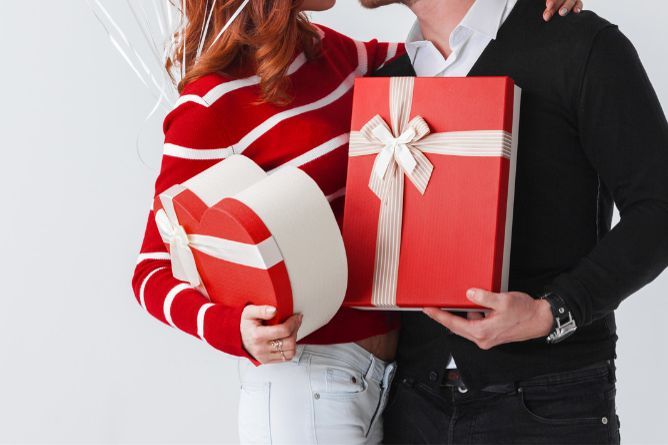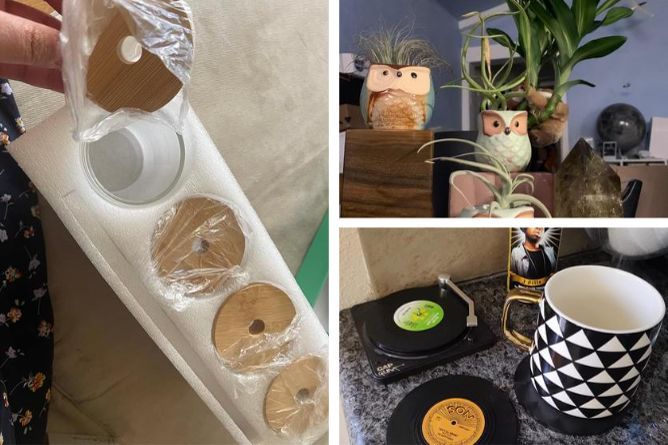 Comments