This post may contain affiliate links, please see our privacy policy for details.
Hair perfumes are a luxurious way to add a bit of glamour and beauty to your daily hairstyling routine. These fragrant concoctions can help tame and control flyaway strands while nourishing and protecting the hair follicles. Even more, they can give an added scent boost when you want extra oomph in your mane. With 13 luxurious hair perfume scents to choose from, you're sure to find a scent that's perfect for you. Enjoy adding a little bit of luxury and indulgence to your everyday look with one of these fabulous fragrances!
Benefits of Hair Perfume Scents
Hair perfumes are the perfect way to pamper your locks, giving them a luxurious shine and softness that radiates beauty. Not only can hair perfumes make your hair look more manageable, but they can also contribute to healthier strands with their nourishing ingredients. Essential oils like jojoba oil, coconut oil, and argan oil are just some of the natural ingredients used in hair perfumes that help keep your scalp hydrated and moisturized while providing essential vitamins and nutrients to strengthen your hair.
Although there is an incredible selection of fragrances to choose from, certain scents can be especially beneficial when it comes to improving your mood or boosting self-confidence. Lavender essential oils have calming properties that can help set the atmosphere for relaxation while jasmine has been known to promote restful sleep. Citrusy essences such as bergamot and orange bring an invigorating energy while floral aromas like rose give an air of femininity. However you feel, there's sure to be a scent that matches your personality perfectly!
How to Choose the Best Hair Perfume
Choosing the right hair perfume is a process that requires careful consideration of scent preference, application frequency, and budget. When selecting your own hair fragrance it is important to look for one that is natural and free of harsh chemicals, as well as one that fits the season and suits your personal taste. Here is a comprehensive guide on how you can make an informed decision when searching for the best hair perfume for your needs :
Consider the Type of Scent you're Looking For and How Often you'll Be Using It
Your scent preference is largely dependent on your personal taste, as well as the atmosphere you're trying to create with your hair fragrance. To ensure that you don't become overwhelmed by the sheer number of options, decide if you're looking for a light daily fragrance or a statement piece. Additionally, think about how often the fragrance will be applied and how long-lasting it needs to be.
Consider the Season in Which you'll be Using the Hair Perfume - Certain scents are more appropriate for summer or winter months, so when selecting your fragrance consider what season you plan to use it in most often.
Always Opt for Natural Ingredients Over Synthetic - Quality essential oils like eucalyptus, lavender, tea tree, and rosemary can help nourish and protect your hair follicles while artificial fragrances can contain harsh chemicals that can irritate your scalp.
Look Out for any Potential Allergies to Scents or Essential Oils - Before purchasing any perfume make sure to check if there are common allergens in its ingredients list that can affect your skin or respiratory system negatively when used regularly.
Test Out Different Types of Hair Perfumes to Determine What Works Best for You - Many beauty stores offer testers of their products so that customers can get a feel of what they like (and dislike) before deciding on a purchase. Keep an open mind and experiment with different notes until one stands out as the perfect match!
Research Different Brands to Find a Quality Product that Fits Within your Budget - Reading customer reviews and visiting websites dedicated to specific lines of perfume can give insight into which products offer high-quality ingredients at an affordable price range.
Look for Reviews from Other Customers - Reviews from people who have tried certain products first-hand provide helpful information about how each brand performs over time, as well as any general feedback about customer service offered by its manufacturer/seller.
Our Favorite Hair Perfume Scents To Try
Thinking about giving your hair an extra-special treatment? Look no further than these 13 luxurious hair perfume scents! Whether you're looking for a refreshing, invigorating fragrance to energize your morning, or a delicate scent that will leave your hair smelling divine all day long, these 13 best hair perfumes have something for everyone.
Best Fresh and Fruity Scent Hair Perfume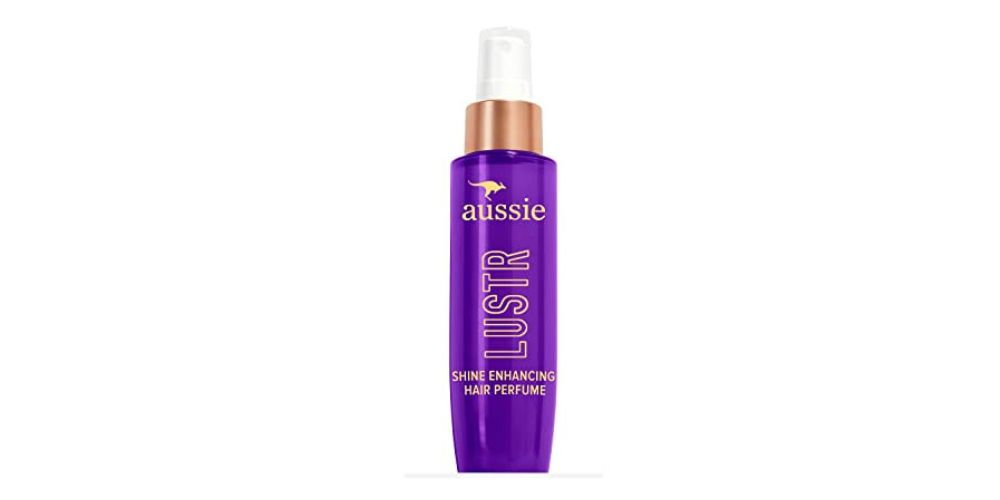 Have you tried Aussie Lustr Shine Enhancing Hair Spray Perfume? Not only does it add a beautiful sheen to your hair, but it's also infused with the fresh and fruity Australian Desert Peach scent, so your locks smell just as gorgeous as they look! Plus, this mist offers an all-day pick-me-up, day or night (midday or midnight), so you can always be confident in how Good On you looks.
Top-rated on Amazon, this peach-scented Aussie hair perfume has almost 2,000 5-star reviews—with reviewers raving about its long-lasting scent and shine-boosting castor oil. Make sure your mane stands out for all the right reasons and give Aussie Lustr Shine Enhancing Hair Spray Perfume a try!
Best Vanilla Scent Hair Perfume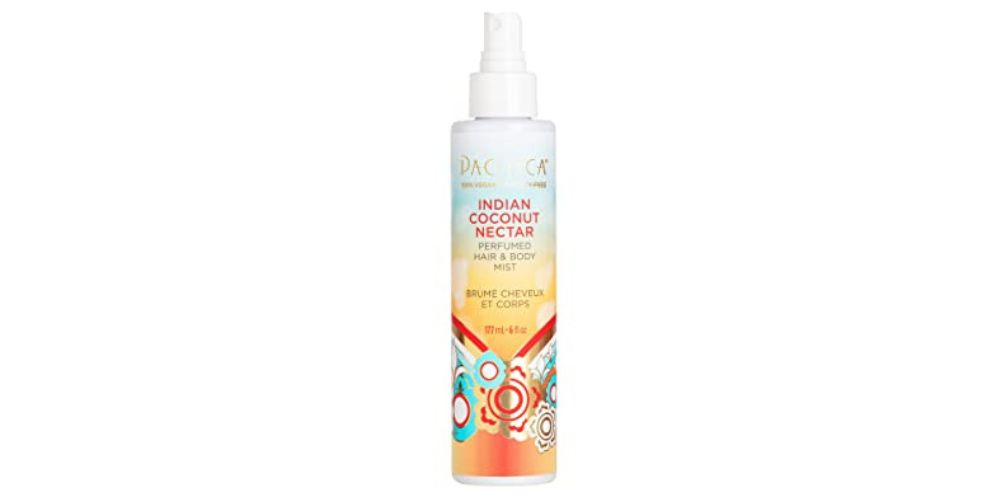 If you're looking for an irresistible scent that will make your hair and body smell amazing, then you have to try Pacifica Beauty Indian Coconut Nectar Hair Perfume & Body Mist! Infused with natural and essential oils, this vegan, cruelty-free, and alcohol-free fragrance features a creamy vanilla and coconut blend that's not overpowering—so you can be confident that you look Good On you.
Plus, with 8 different scents to choose from, you can be sure to get a long-lasting aroma that'll keep everyone impressed with how Good On you looks! With almost 9,000 5-star reviews, this is our favorite! Reviewers love its notes, as well as how long it lasts throughout the day.
Best Wild Orange Scent Hair Perfume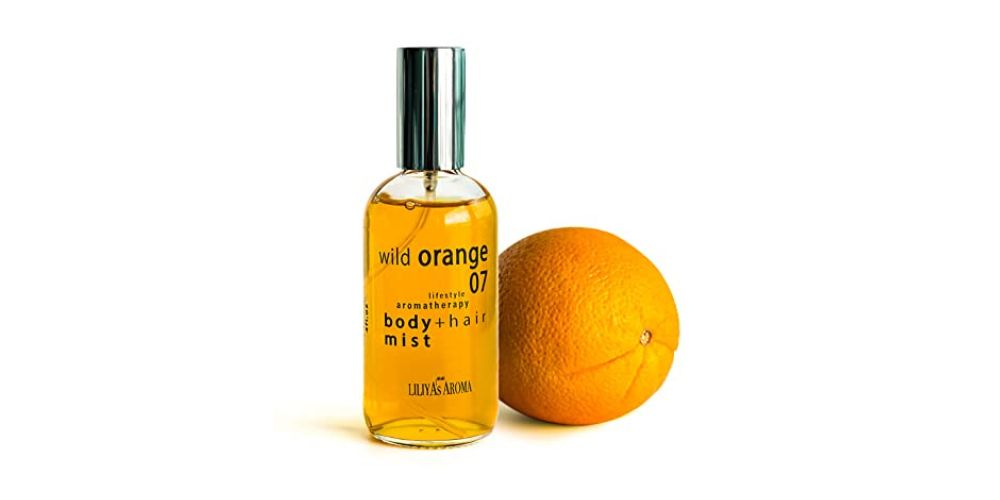 Refresh your skin and hair with Liliya's Aroma Natural Perfume Mist for Body & Hair! Infused with natural essential oils, this light yet intoxicating fragrance features a unique tropical scent of Brazilian oranges and neroli that'll make you feel like you're on an exotic getaway. Whether it's used all over the body or in your hair, one spritz is enough to awaken your senses and make you feel like you can take on the world.
Plus, it comes in a 4 oz glass bottle with an advanced fine mist metal sprayer, all packaged in a recyclable. This light-in-stature, intoxicating fragrance from Miami, Florida is sure to leave its mark on your skin and hair.
Best Jasmine Scent Hair Perfume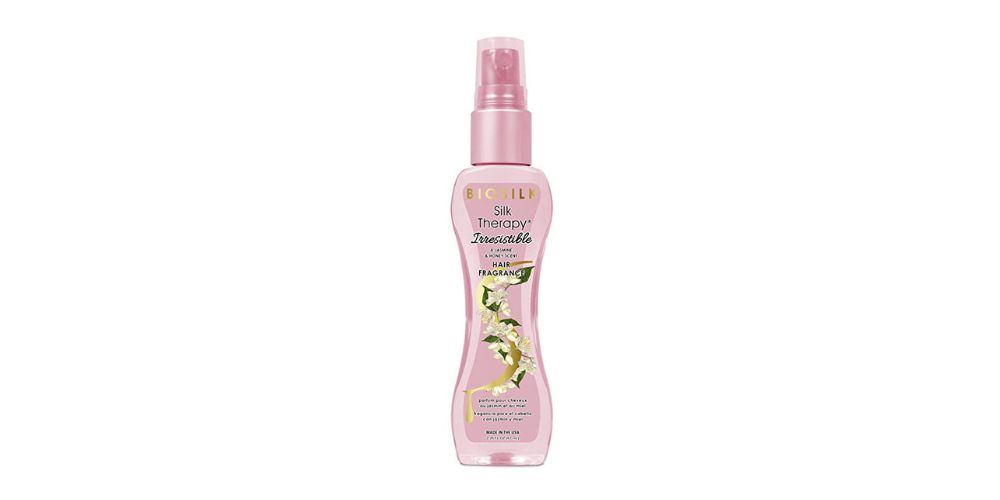 Sweet and irresistible, BioSilk Irresistible Collection Silk Therapy Hair Fragrance is the perfect way to make your hair smell amazing! This powerful jasmine and honey blend are so lightweight and long-lasting, you won't believe how easy it is to use.
Not only does it make your hair smell incredible, but it also strengthens the strands and improves its elasticity—protecting against color loss, humidity, frizz, and environmental factors. Make your look truly unforgettable with a pairing of BioSilk's Irresistible Collection and regular perfume! Create a luxurious olfactory experience that's totally personalized for you, and let your signature style shine through for any occasion.
Best Sweet and Candy Scent Hair Perfume
Refresh and reinvigorate with Instyle Fragrances' Marshmallow Cloud Body & Hair Mist! Enjoy the delicious marshmallow scent with a nourishing boost of nourishment from panthenol. This vegan, paraben and phthalate-free mist is perfect for all occasions and will help to protect your hair and skin from environmental stressors.
One reviewer said: "I've purchased this scent twice so far. In fact, I have it on auto shipping. Such a lovely smell. I have allergies and asthma so most fragrances will bother me if they're too strong, but this scent is just right for me. Plus, I can spray it in my hair which is a bonus. Just wish it was available in travel size so I can take it with me everywhere." For the ultimate sensory experience, look no further than Instyle Fragrances' Marshmallow Cloud Body & Hair Mist – the perfect addition to any beauty routine!
Best Honey-Infused Scent Oil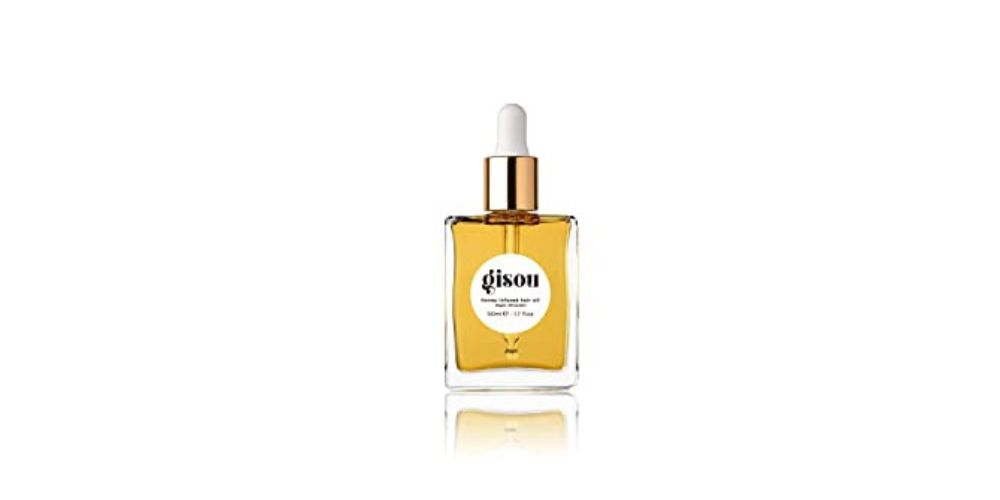 Smells divine and is packed with essential vitamins, minerals, and antioxidants – Gisou by Negin Mirsalehi is a honey-infused hair perfume, the perfect partner for dry and damaged hair! Sustainably sourced to help rebuild, repair, tame frizz, and restore your hair's natural moisture balance.
Perfect for an on-the-go treatment, this travel-friendly oil is cruelty-free and can be used to polish ends, add a few drops to your favorite mask or leave in overnight for maximum nourishment. Get ready to experience healthier locks with a silky shine that smells divine - Gisou Honey Infused Hair Oil has you covered!
Best Baby Scent Serum Hair Perfume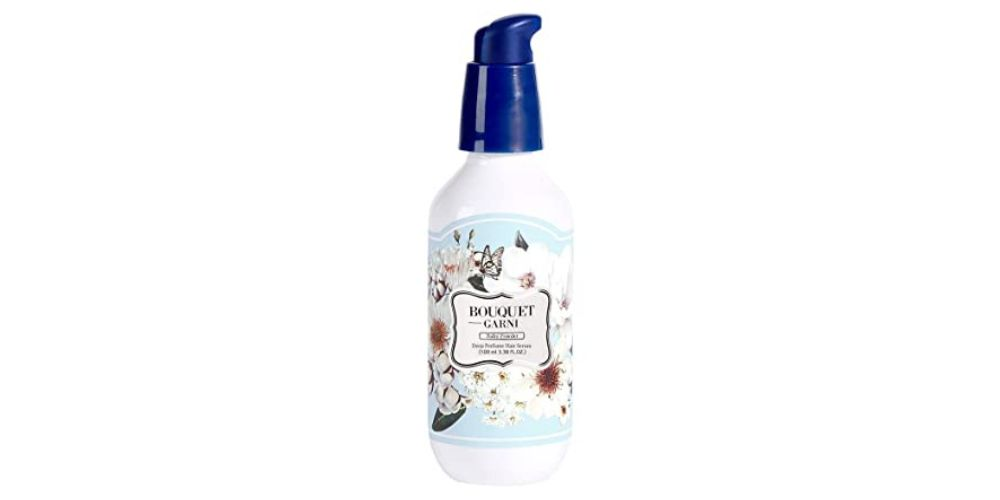 Formulated with natural oils, hyaluronic acids, and amino proteins, this baby scent-infused serum provides a long-lasting fragrance while protecting and deeply hydrating your hair. Reviewers love it - one said it smells "just amazing" and has a "wonderful scent".
This serum is designed to give you a polished look without any damage while adding shine and strength to your locks. Experience an irresistible baby powder scent all day long with BOUQUET GARNI's Deep Perfume Hair Serum – treat yourself to some well-deserved hair pampering!
Best Signature Scent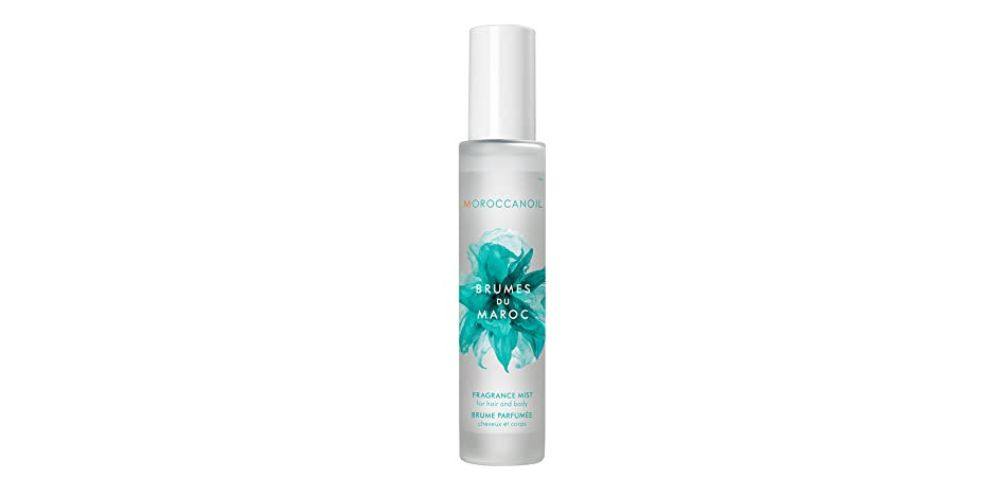 Get ready to look, feel and smell amazing with Moroccanoil Hair and Body Fragrance Mist! Made with argan oil, this lightweight mist is perfect for everyday use or special occasions to give you a balanced and uplifting aroma. It's paraben-free, sulfate-free, and phosphate-free so you can enjoy a gentle formula that won't cause irritations or damage to the hair.
With over 3,300 5-star reviews, customers can't get enough of the softening properties of this product - one reviewer called it "a nice fresh Moroccan oil scent" and said, "it's a good pick me up". Unlock the power of nature and treat yourself today with Moroccanoil Hair and Body Fragrance Mist!
Best Natural Scented Hair Perfume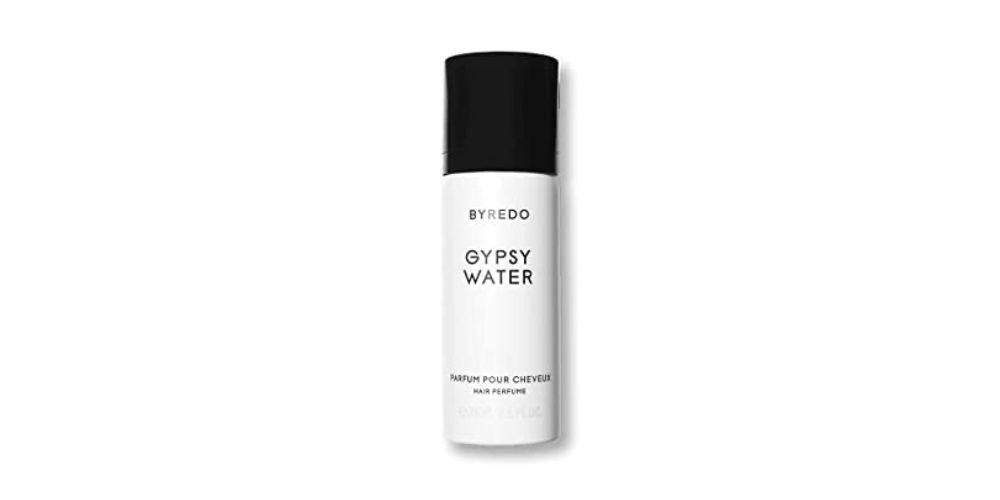 BYREDO's Gypsy Water Eau de Parfum Hair Perfume is the perfect way to delicately scent your hair for an all-day aroma. This vegan formula helps to nourish and light up your locks, never weighing them down. With woody notes and medium intensity, this genderless fragrance works for all hair types and will leave you smelling great. Protect, nourish, and delicately scent your hair with BYREDO's Gypsy Water Eau de Parfum Hair Perfume – experience the luxury!
Best Long Lasting Hair Perfume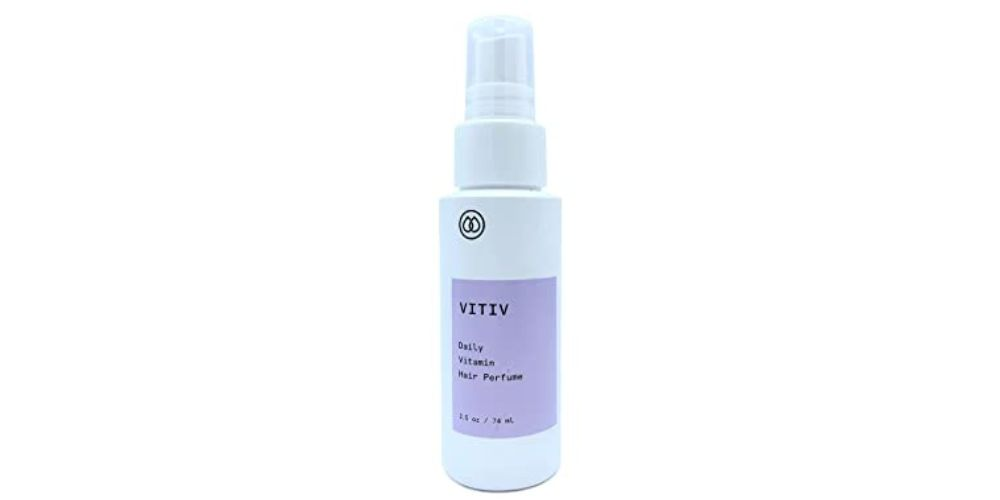 Experience long-lasting freshness with VITIV Daily Vitamin Hair Perfume! This amazing mist is formulated with powerful ingredients like hydrolyzed keratin, Vitamin E, and Provitamin B5 to protect and restore your locks while leaving behind a beautiful scent that won't weigh down your tresses or leave a greasy residue.
One of the reviewers said, "This product was recommended by a friend and it has not disappointed! The smell is great, lasts long, and leaves my hair smelling fresh. I love pairing it with dry shampoo for a clean and fresh feel." This amazing mist not only neutralizes odors but also helps take control of your hair and restore its natural luster.
Best Rice Scented Hair Perfume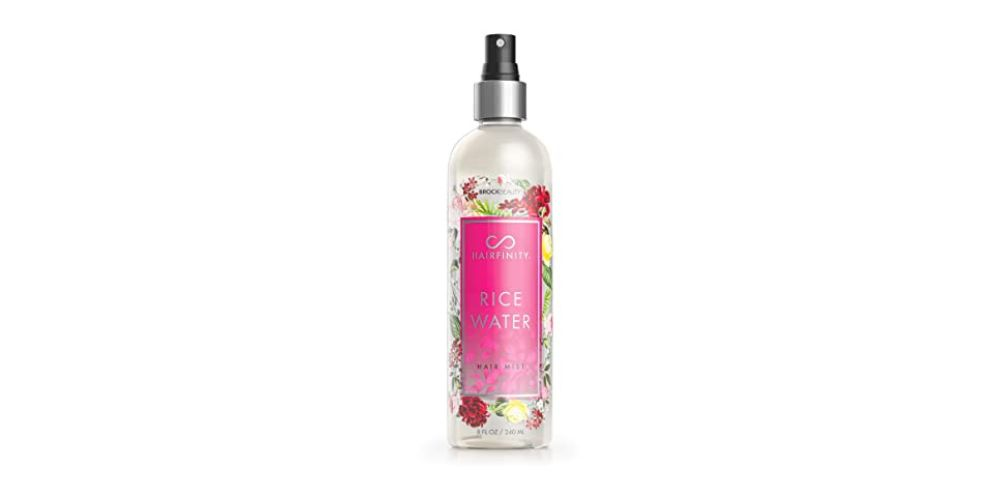 This powerful growth formula is infused with rice water to nourish the hair from the roots, promoting thicker and longer tresses over time. It's free of silicones and sulfates, so it won't leave a build-up behind or strip away the color or keratin treatments.
The unique blend of Argan oil, mango butter, and aloe vera helps to moisturize, smooth, and repair damaged and dry hair. Whether you're dealing with frizz or thinning locks, Hairfinity Rice Water Hair Mist provides the best care for your hair!
Best Cherry Blossom Scented Hair Perfume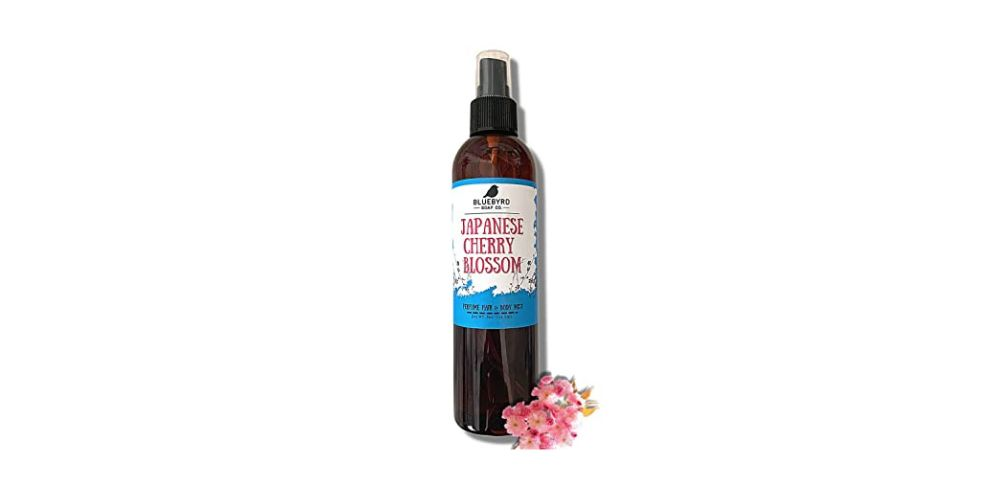 Transform your beauty routine and get luxurious locks with Bluebyrd Soap Co.'s Japanese Cherry Blossom Fragrance for Hair and Body! This alcohol-free spray helps to repair and protect strands, giving you luxurious locks that feel soft, silky, and smell amazing.
Free of parabens, sulfates, and silicones, this product won't weigh down or damage your hair like other products. Experience fresh floral scents every day with this unique bath and body spray from Bluebyrd Soap Co. Upgrade your hairstyle and smell amazing everywhere you go!
Best Feminine Scent Hair Perfume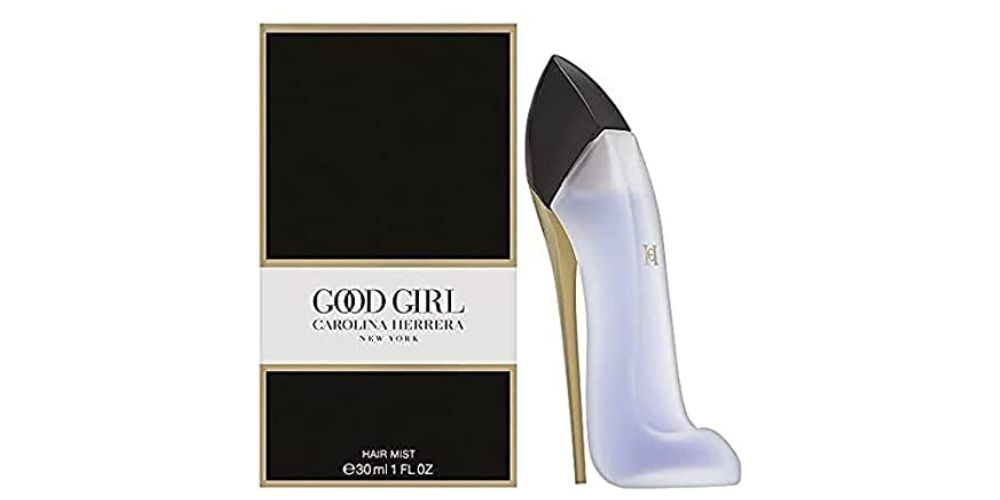 Smell absolutely amazing all day with Carolina Herrera Goodgirl EDP Hair Mists! Lightweight and long-lasting, this luxurious spray offers a unique, feminine scent that will make you feel gorgeous. Infused with fresh citrus and floral notes, this mist is perfect for special occasions or just everyday use.
Experience light and airy scents that stay all day when you spritz on some Carolina Herrera Goodgirl EDP Hair Mist. Get ready to look and feel your best without having to re-apply!
Hair Perfume FAQ
Have you ever wanted to add a hint of scent to your hair without weighing it down? Hair perfumes are the perfect way to do just that! From long-lasting freshness to unique floral scents, there is a hair perfume out there for everyone. Whether you're looking for something light and airy or something luxurious and feminine, these products will help make sure your locks look and smell amazing all day long. Read on for our FAQ about hair perfumes so you can find the right one for you!
How often should I use hair perfume?
It is recommended that you use a few drops of hair perfume after every wash or as often as you feel necessary. Depending on your lifestyle and the condition of your hair, this can be more often or less frequent.
Are there any risks associated with using hair perfume?
When used in moderation there are typically no risks associated with using hair perfume; however if you use too much it can weigh down your hair and make it look greasy or feel heavy. Additionally, if you have sensitive skin you may experience irritation when using any perfumed product near your scalp or face.
Are there any tips for using hair perfume?
Yes! When applying, make sure you do not over-saturate the area and only use small amounts at a time. Also, if you find that one scent becomes overpowering after a while, try alternating between two different scents instead. This will help prevent the smell from becoming too strong or cloying. Lastly, be sure to store the bottle at room temperature and away from direct sunlight as extreme temperatures can affect its effectiveness.
How do I use hair perfume?
Hair perfume should be applied directly to dry or damp hair in small amounts. Start by spraying the product from 4 to 6 inches away from your head, focusing on the mid-lengths to ends of your hair. Make sure to avoid contact with your scalp or skin as this may cause irritation.
Final Thoughts
Hair perfumes provide the perfect way to give your locks a luxurious scent without any of the damage associated with traditional fragrances. Whether you're looking for a subtle hint of salted caramel, an all-day aroma, or a long-lasting feminine scent, there are plenty of hair perfumes on the market to choose from. We hope this article has helped guide your decision-making process and that you find something perfect for your needs! From nourishing body oil mists to luxurious fragrances with woody notes, these products will help protect and restore your locks while leaving behind beautiful scents. So don't forget – spritz on some amazing perfume today and enjoy feeling like royalty every day!
Reviews in this blog post have been edited for clarity and/or length.
Comments