This post may contain affiliate links, please see our privacy policy for details.
Halloween is just around the corner, and if you're like most men, you're probably scrambling to find a costume that will make you stand out from the crowd. Well, search no more! We have compiled a list of 10 easy and last-minute Halloween costumes for men that will surely make you stand out from the crowd. From a simple Rockstar to a more intricate vampire, we have something for everyone. So get creative and start planning your look today!
1. If you're looking for a unique costume, why not try the Mad Hatter? This iconic character from Alice in Wonderland is sure to turn heads at any Halloween party. This budget-friendly costume comes complete with a hat, jacket, vest, pants, dickey with bow tie, spat shoe covers, and fingerless gloves. Add some face paint and voila! You're ready to party like the Mad Hatter himself.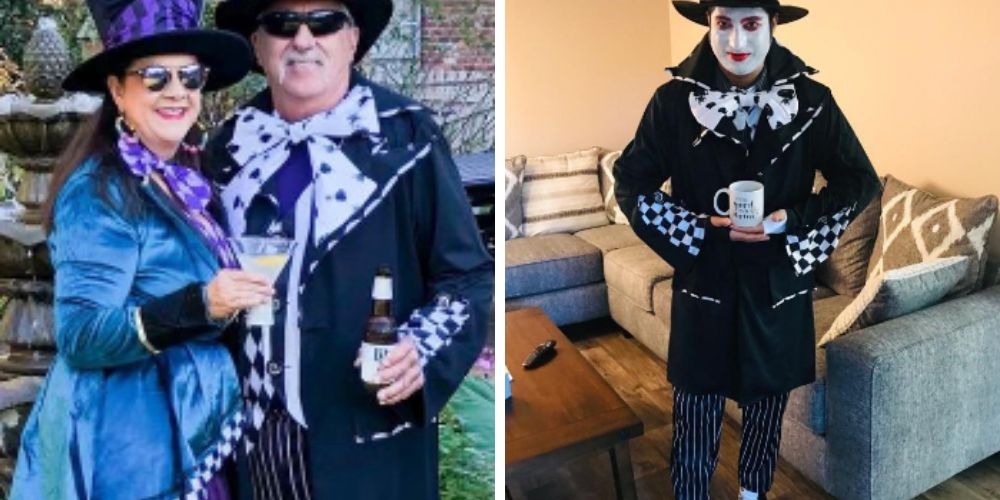 5-Star Review: "Was really surprised by this package. I thought that since the pack came with so many items they were going to be cheaply made and fit like a garbage bag. Instead, I received a fantastic costume. The pants, vest, and jacket, all fit as expected. The wig fits well, but be prepared, with the wig and the top-hat things heat up really fast. All-in-all, it was worth every penny." - Kevin C.
2.  This year, for Halloween, you can be the world's most famous detective with the Sherlock Holmes Halloween costume. The costume includes a coat with cape detail and matching double peaked hat as well as a waistcoat with a shirt insert and a bow tie. You'll be sure to solve all the Halloween mysteries with this costume!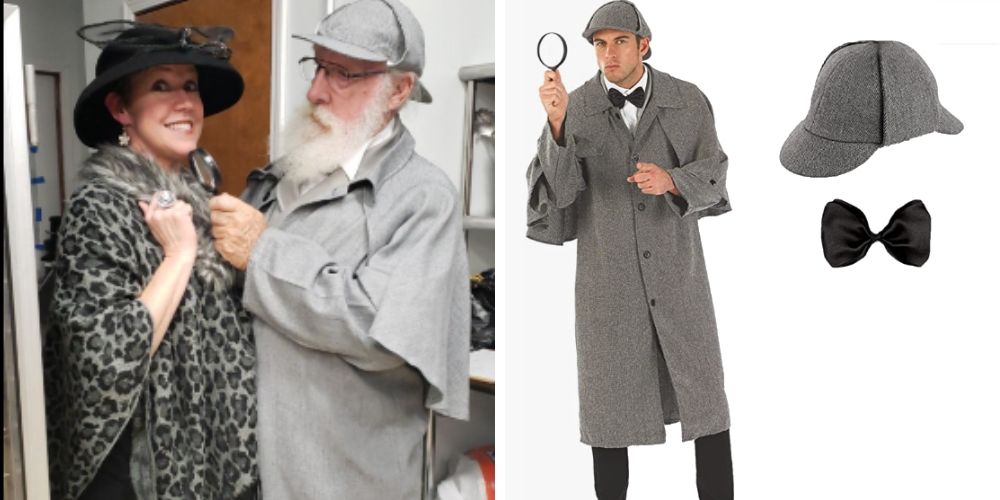 5-Star Review: "Great costume for a Holmes fan. Cape and hat fit just right. The over the neck shoulder garment was way too small, but all considered it worked very well." - a_customer
3.  If you're looking for a costume that's both scary and stylish, the Vampire costume is perfect for you. The costume includes a vest, shirt, scepter, and cape, and can be easily accessorized with fake blood and fangs to create the perfect look. This costume is sure to make you the life of the party.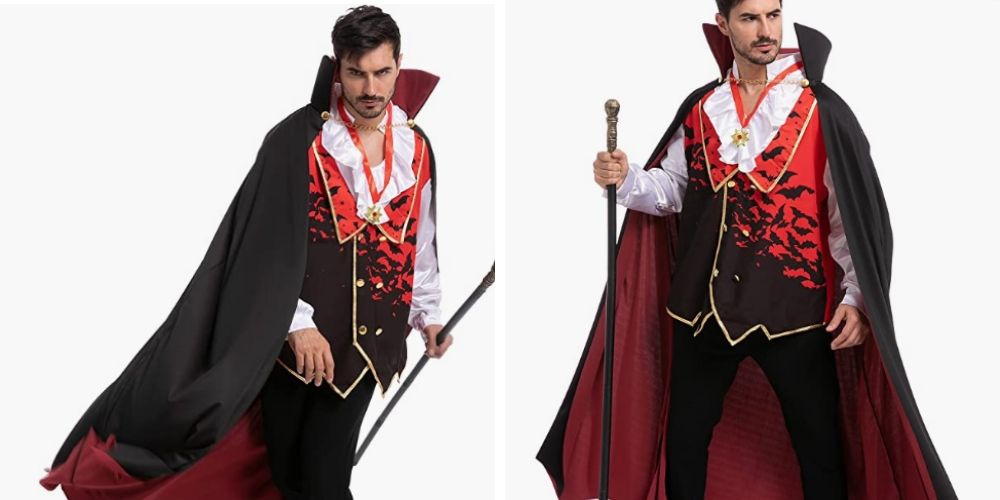 5-Star Review: "Cool costume it came with the cape, shirt, and the cane or scepter. Super cool costume and wasn't too expensive. Wore it all day and nothing fell apart." - Mario
4.  Do you want to be both scary and funny this Halloween? Then the Frankenstein's Monster costume is perfect for you! This costume includes a jacket with an attached shirtfront, green make-up, and a headpiece. All you need to do is put it on and you'll be ready to scare and amuse your friends and family!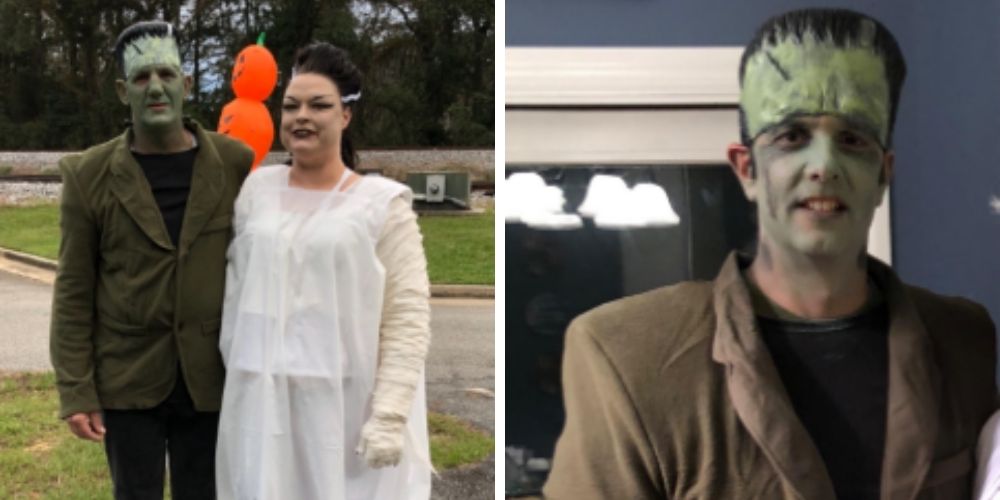 5-Star Review: "I didn't use the jacket, just needed the headpiece. It was a bit large, but looked real good and they include green face paint that matches perfect. I tried another headpiece with hair it was really cheesy looking. This is by far the best quality available on this site." - Jeremy Chesney
5.  Get ready to laugh your Joker off with this hilarious Joker costume! This is the perfect outfit for the guy who loves to play pranks and make people laugh. The purple jacket with attached shirt, green vest and tie, pinstripe pants with elastic waistband, and Joker half mask with the elastic band are all great quality and will have you looking just like the Clown Prince of Crime. Add some props like fake knives or guns, and you're ready to wreak havoc!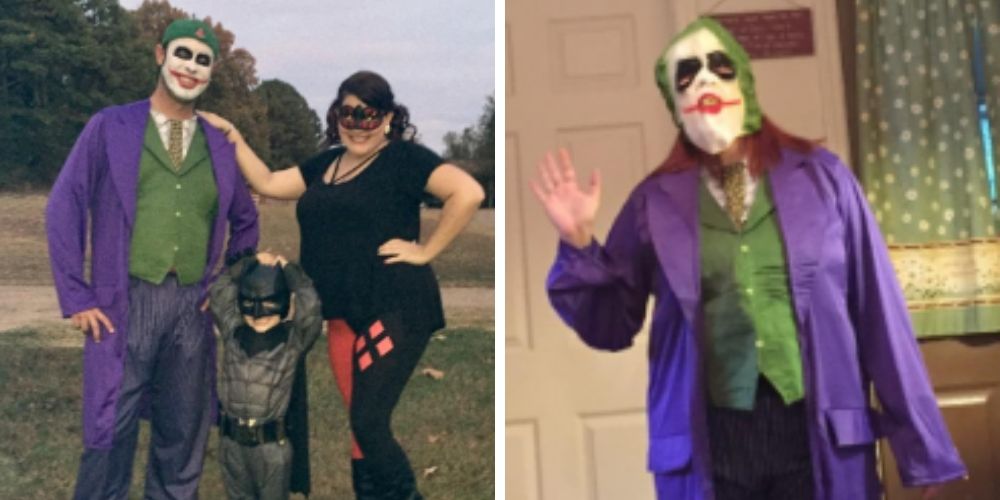 5-Star Review: "When your local comic or Sci-fi Con deserves a better class of costume.... go to Amazon for this item. Heath Ledger would approve of this get up" - Doug
6.  Dress up as the iconic Gordon Gekko from Wall Street this Halloween! The perfect costume for the guy who wants to be a villain, this outfit comes with a jumpsuit, detachable tail, and headpiece. Add some 80s-style haircut and an evil grin, and you're all set!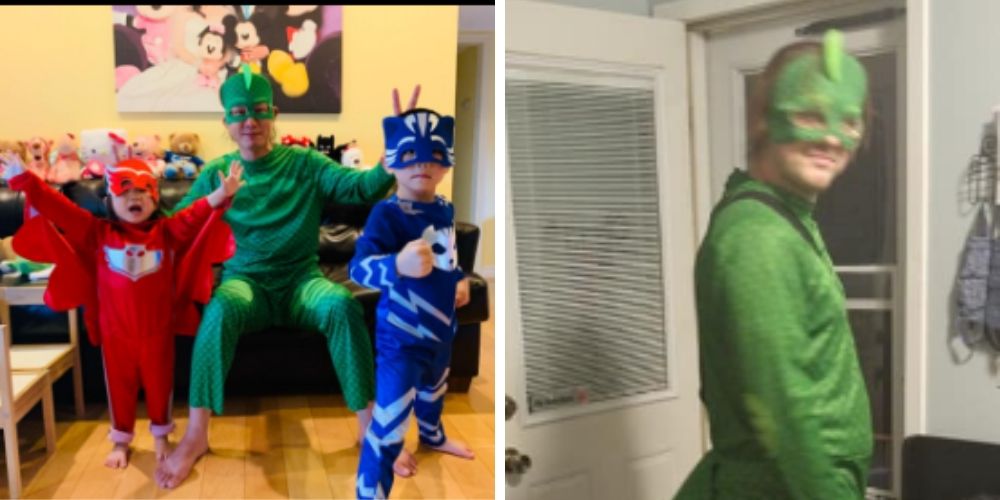 5-Star Review: "It fits good. My daughter is almost 3 and she has the owlet costume and demands that I wear my gecko outfit every single night and we run around the house chasing off Romeo and the ninjalinos. Definitely worth the purchase." - Tyler
7.  When it comes to Austin Powers costumes, this one is hard to beat. It's perfect for the guy who loves all things British and includes everything you need to get the look just right. The purple suit trousers, purple jacket with ruffled cuffs, and ruffle-necked white shirt are all included, so all you need to add is an afro wig and some fake teeth, and you're ready to save the world!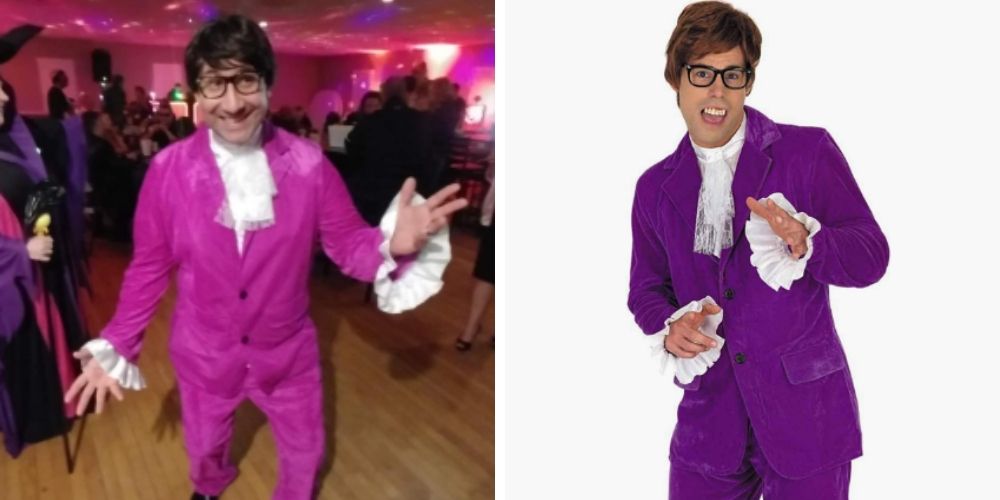 5-Star Review: "Perfect costume. Perfect fit. Perfect price. We went as Austin Powers and Foxy Cleopatra and won For best couple. Love it!!" - Natasha M.
8.  If you want to be the life of the party and make everyone laugh, then you need to get yourself a Napoleon Dynamite costume. This costume is perfect for the guy who wants to be both funny and cool. The Vote for Pedro t-shirt, blond curly-haired wig, and glasses are all iconic elements of the costume that will have people cracking up. Add some moon boots or roller skates, and you're ready to take over the world!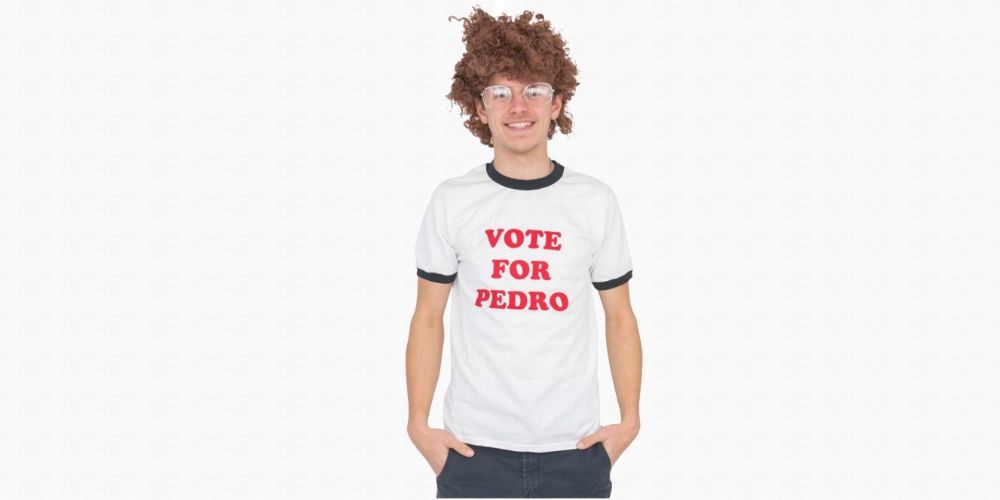 5-Star Review: "Best costume ever! Everything fit as expected." - Bwix
9.  If you're looking for a costume that will make you feel like you can take on anything, then the Top Gun costume is perfect for you. This iconic flight suit is just what you need to show everyone that you're the best of the best. And who knows, maybe you'll even find yourself a hot co-pilot to join you on your next adventure.  Add aviator sunglasses and you're ready to take to the skies.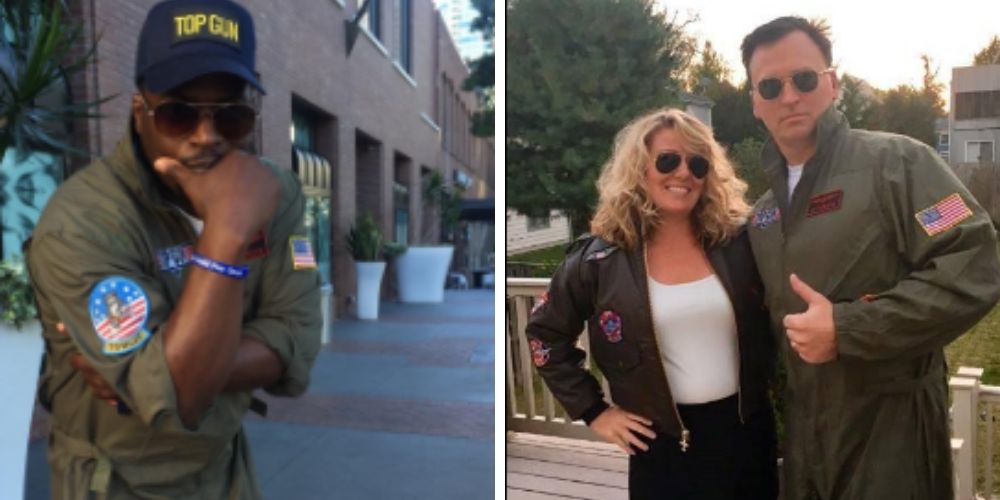 5-Star Review: "Won first place in Halloween contest when worn with my Viet Nam Vet cap."  - JCLOVESYA
10.  If you're looking to dress like a Rockstar, you've come to the right place. This costume is perfect for anyone who wants to look like they just stepped off the stage. It includes a torn black vest, a matching pair of trousers, a belt, and a headband. Just add aviator sunglasses and a guitar, and you're ready to rock out!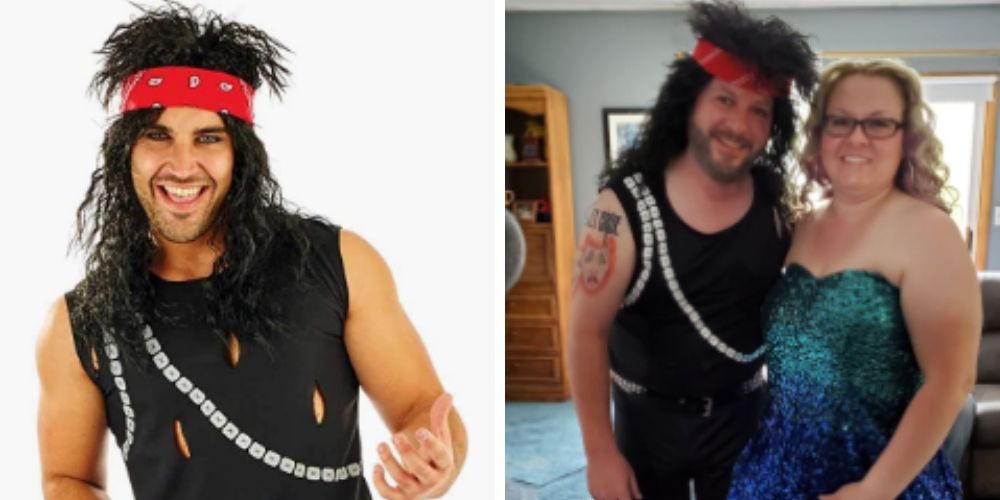 5-Star Review: "Bought for Halloween, fits good" - Amazon Customer
If you want to have the best Halloween ever, make sure to check out these 10 costumes. You'll be the life of the party and have a great time too. So don't hesitate, get your costume today.
Reviews in this blog post have been edited for clarity and/or length.
Comments