This post may contain affiliate links, please see our privacy policy for details.
Welcome back to our fashion-forward blog! After the rave reviews and enthusiastic response to our previous post, Effortlessly Chic: 5 Fall Work Outfits to Master Your Office Look, we're thrilled to bring you another style guide that's sure to dazzle. As the holiday season approaches, the quest for the perfect ensemble becomes more exciting and challenging. Whether you're attending a cozy family gathering, a glamorous party, or a casual get-together, we've got you covered. In "Glam Up Your Holidays: 11 Chic Holiday Outfit Inspirations for a Stylish Season," we dive into a curated collection of holiday outfits that are as versatile as they are stunning. From elegant dresses to comfortable yet chic sweaters, our guide will help you navigate this festive season with style and ease. So, get ready to turn heads and make a statement at every holiday event with our top 11 holiday outfit picks!
Verdant Elegance Holiday Outfit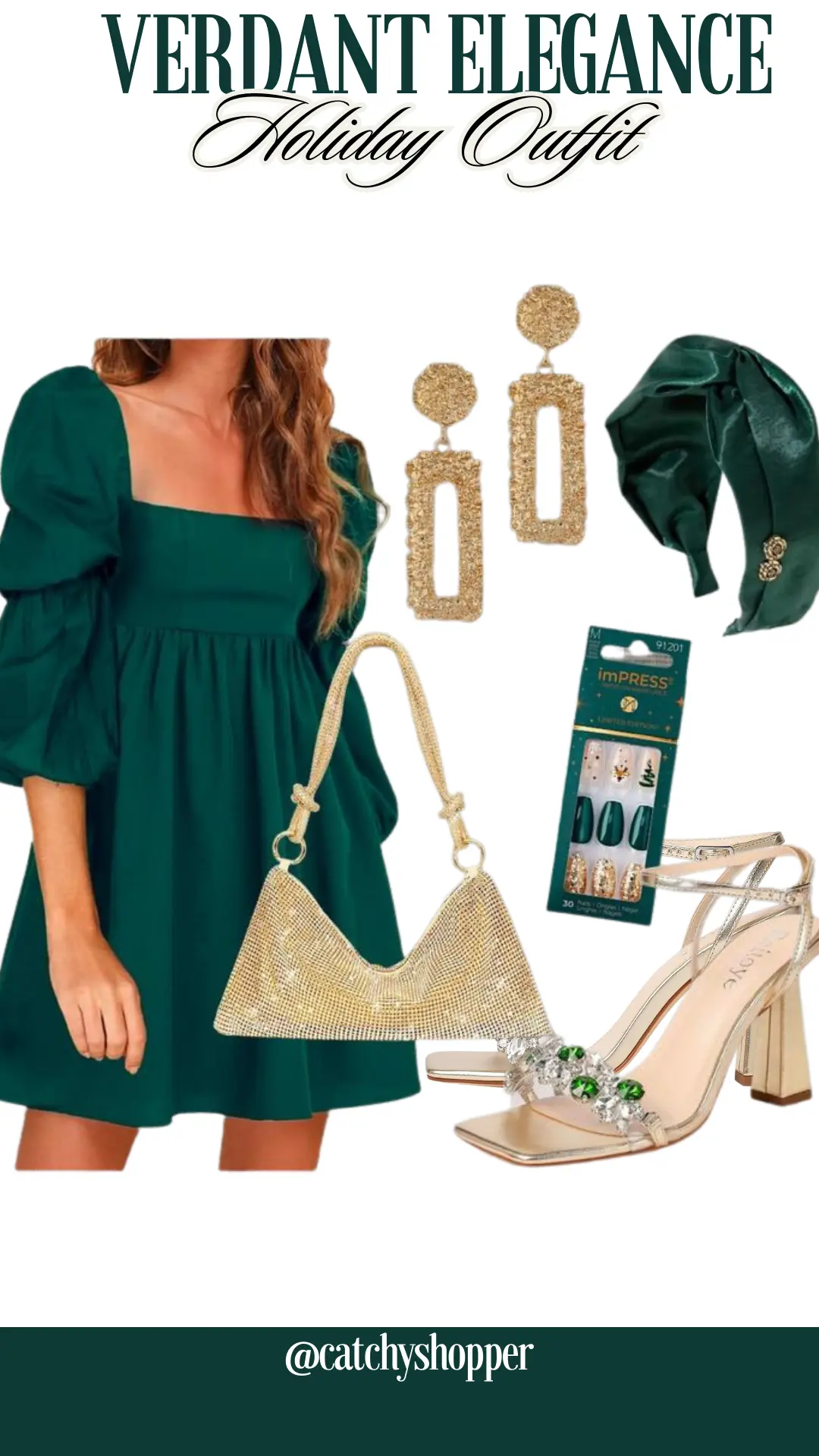 Embrace the festive spirit with the Verdant Elegance outfit. A stunning green square neck dress with long puff sleeves sets a sophisticated tone. Complementing the ensemble are chunky block high heels with a hint of sparkle and gold-plated earrings that add a touch of glamour. The outfit is perfected with a chic clutch, stylish nails, and a headband, blending holiday cheer with refined fashion.
Crimson Glamour Holiday Outfit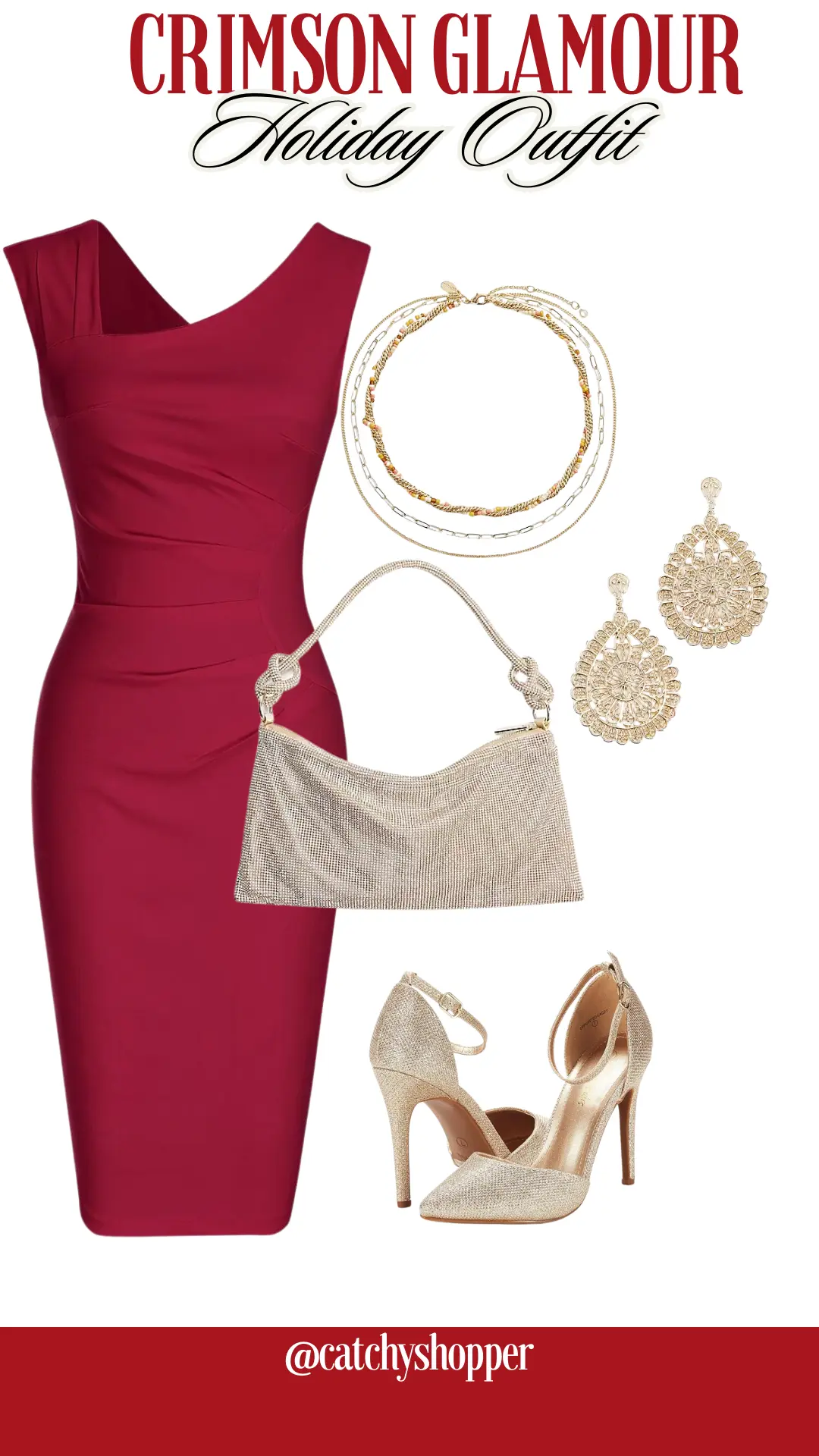 The Crimson Glamour outfit is a dazzling display of festive joy. A radiant red dress serves as the centerpiece, paired seamlessly with elegant heels. Gold earrings and a matching necklace provide a luxurious touch, while the stylish bag completes the look, making it ideal for holiday gatherings that call for a statement of style and celebration.
Cozy Festive Chic Holiday Outfit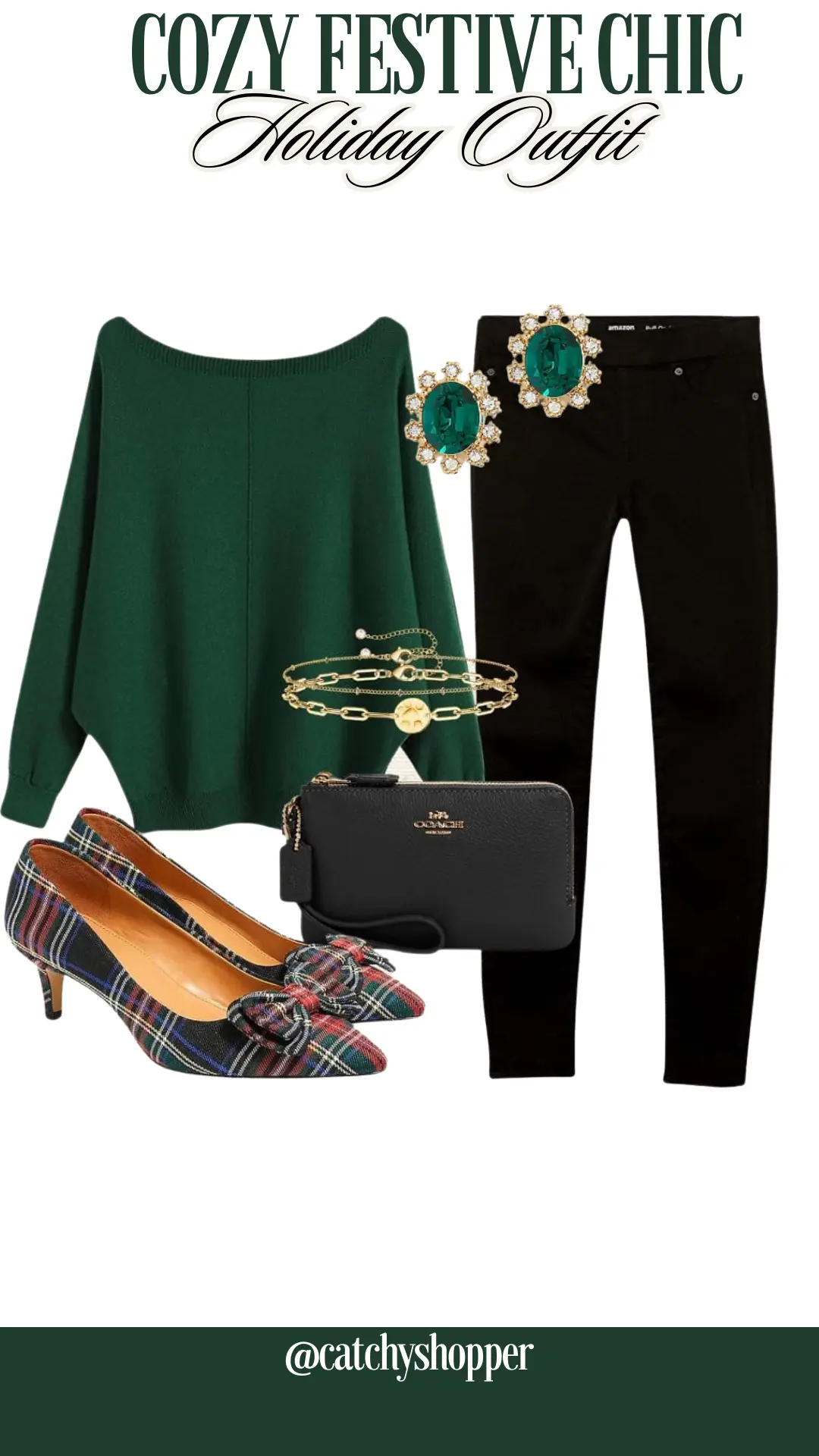 For a relaxed yet fashionable holiday look, the 'Cozy Festive Chic' outfit is perfect. It features a snug sweater paired with stylish jeans. The ensemble is lifted with elegant heels and tasteful earrings, while bracelets add a subtle charm. The wristlet ensures practicality without sacrificing style, making this outfit ideal for casual holiday get-togethers.
Relaxed Holiday Outfit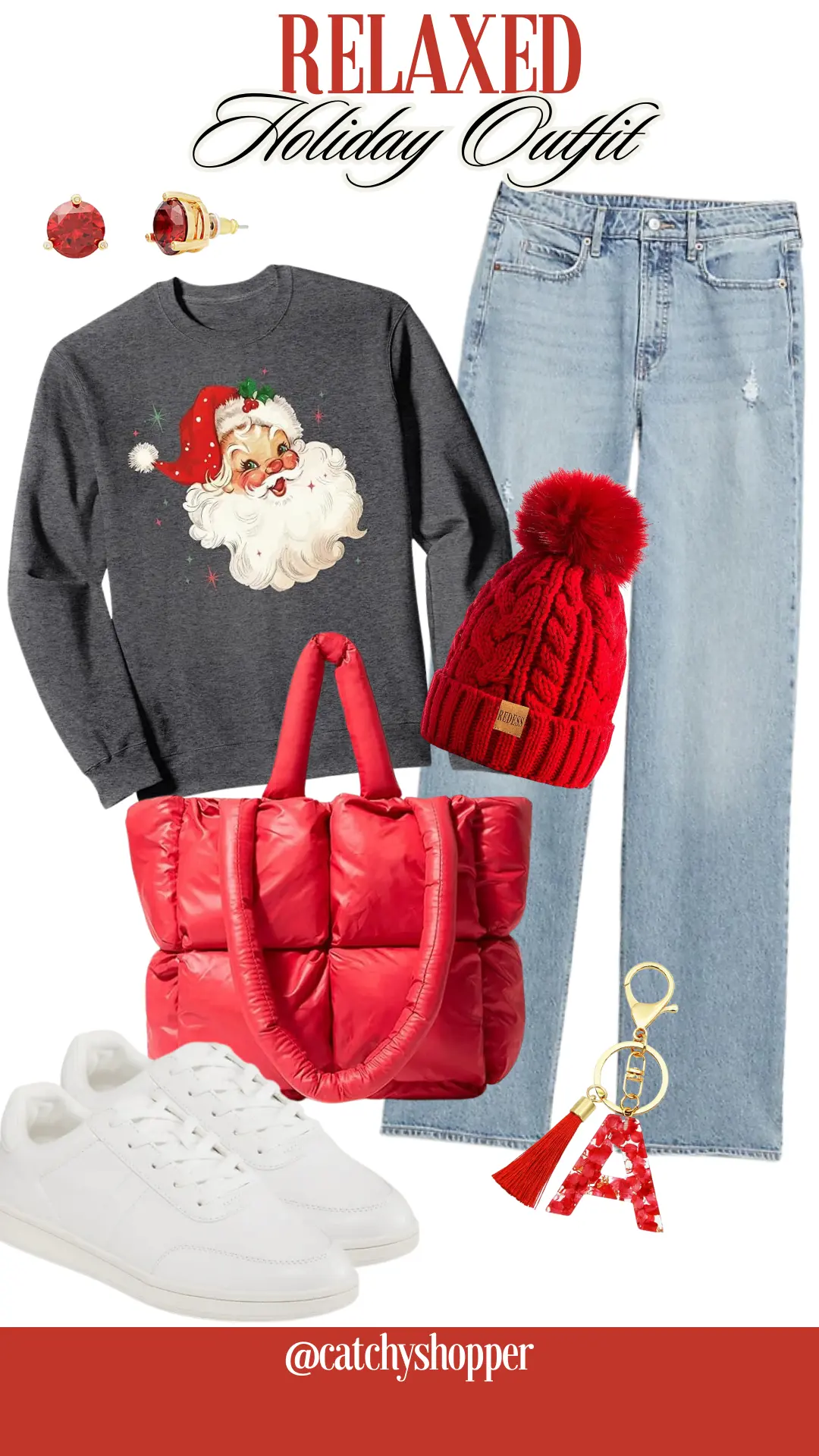 The Relaxed Holiday Vibe outfit combines comfort with style. A casual top and jeans are the foundation of this look, accompanied by a practical tote and trendy sneakers. The beanie adds a cozy touch, perfect for chilly weather, while the keychain and earrings bring a hint of holiday sparkle, ideal for a laid-back holiday season
Sleek Holiday Outfit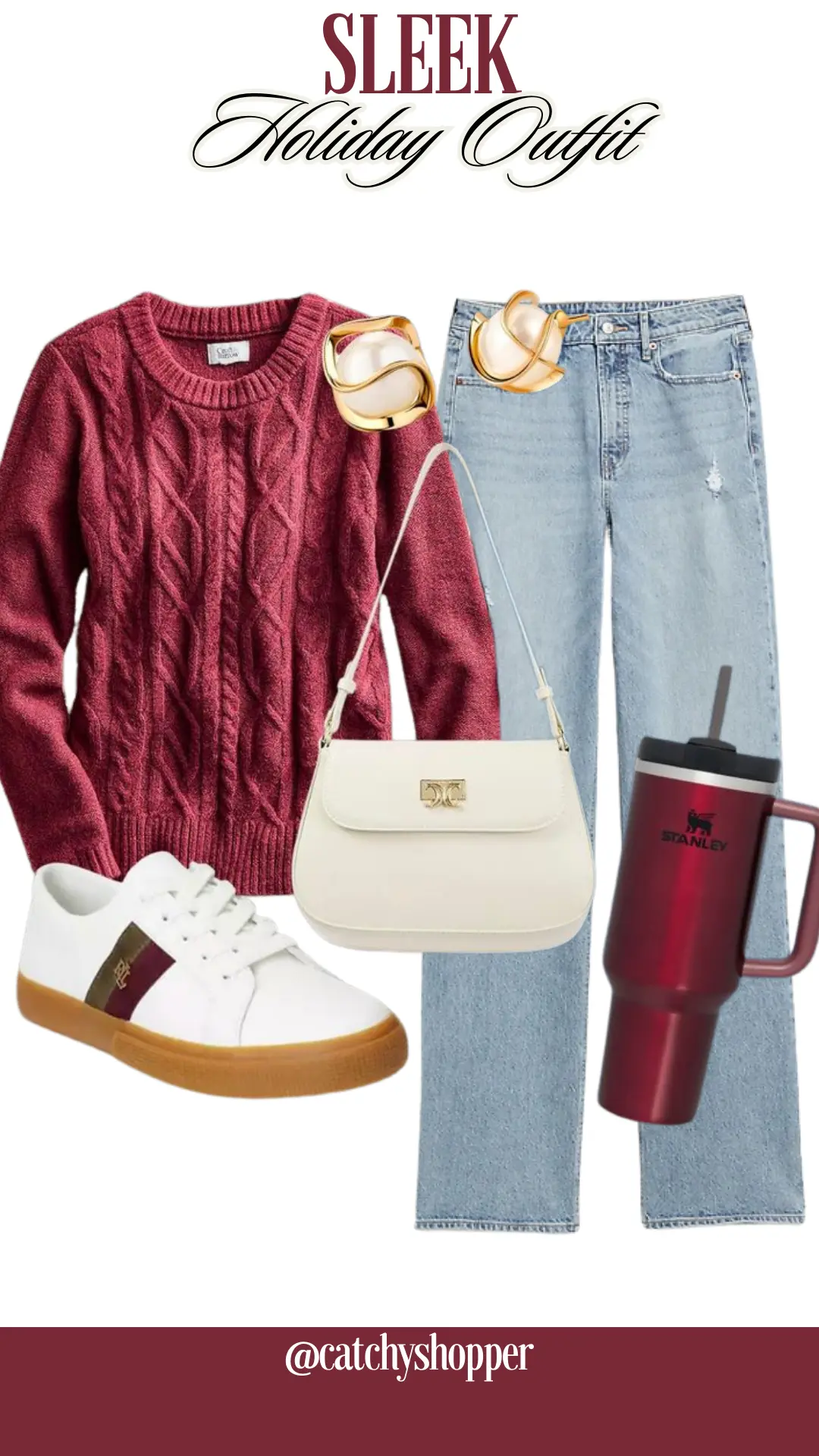 The Sleek Holiday Charm ensemble is a blend of comfort and style. It features a fashionable sweater and jeans, complemented by a chic purse and shoes. The earrings add a touch of elegance, while the Stanley accessory rounds out the outfit, perfect for those who appreciate a mix of trendiness and comfort during the holidays.
Midnight Shimmer Holiday Outfit
The Midnight Shimmer outfit is a tribute to the festive night sky. It includes a dazzling black sequin skirt paired with an elegant top. Stylish shoes, a sophisticated necklace, and earrings enhance the outfit's allure. This ensemble is perfect for holiday parties where making a glamorous impression is key.
Winter Wonderland Holiday Outfit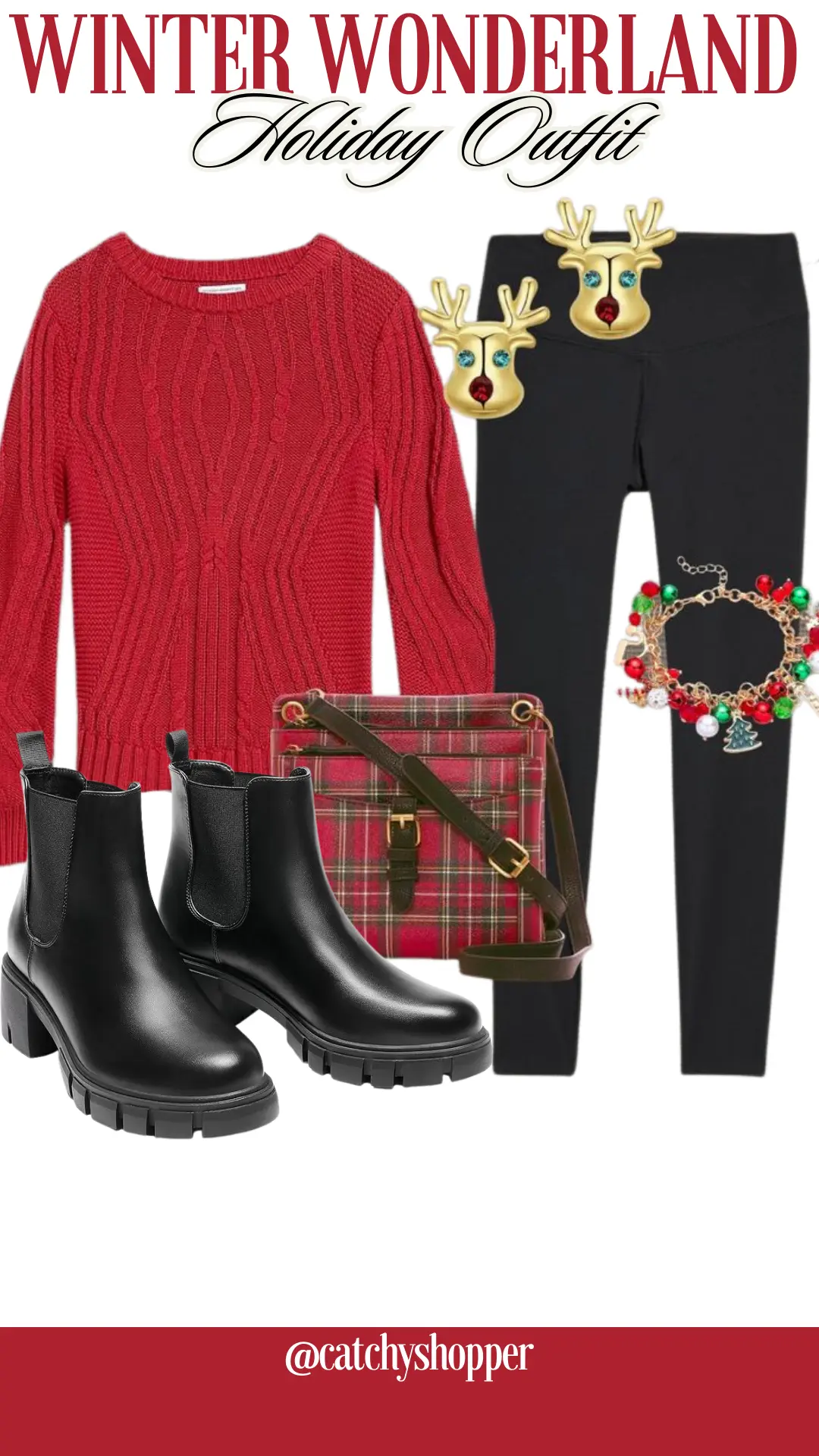 Winter Wonderland Comfort' is the epitome of cozy holiday fashion. A soft sweater paired with leggings ensures warmth, while the purse and booties add a chic edge. The earrings and bracelet complete the look, making it an ideal choice for a cozy, stylish holiday season.
Athleisure Holiday Outfit
For a sporty and stylish holiday look, the Athleisure Holiday Style outfit is unmatched. It combines comfort with fashion, featuring leggings and sneakers for ease of movement. The belt bag adds practicality, while the earrings and keychain give a festive touch, perfect for active holiday adventures.
Urban Elegance Holiday Outfit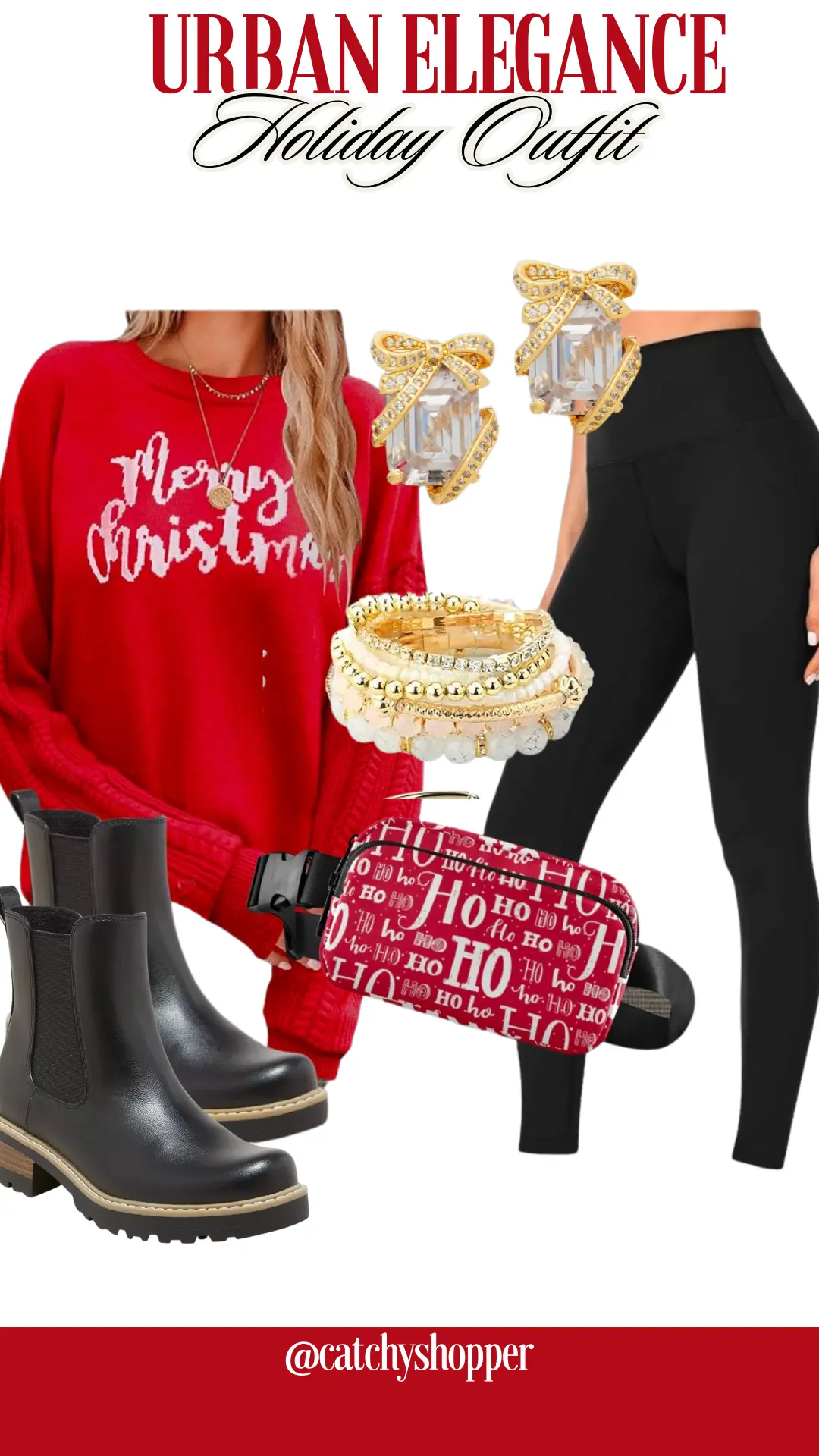 Urban Holiday Elegance is designed for the modern fashionista. This outfit features a sleek sweater and leggings, complemented by stylish boots. The belt bag adds a contemporary touch, while the earrings and bracelets provide a hint of glamour, ideal for urban holiday gatherings.
Trendsetter Holiday Outfit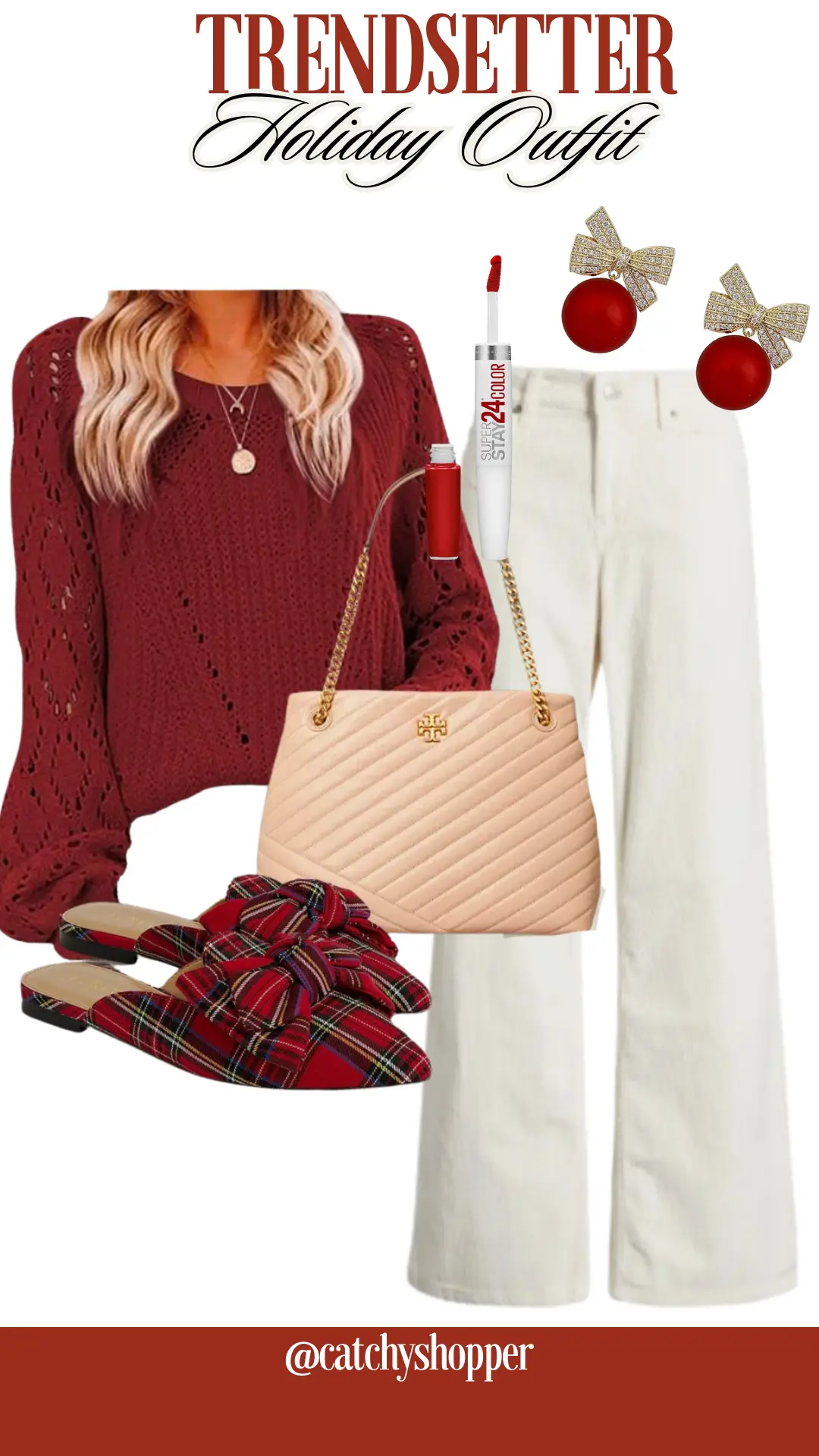 Holiday Trendsetter' is for those who love to stand out. It includes a chic sweater and pants, paired with fashionable mules. The purse and earrings add sophistication, while the lip accessory provides the final touch, perfect for a holiday season filled with fashion-forward moments.
Elegant Holiday Outfit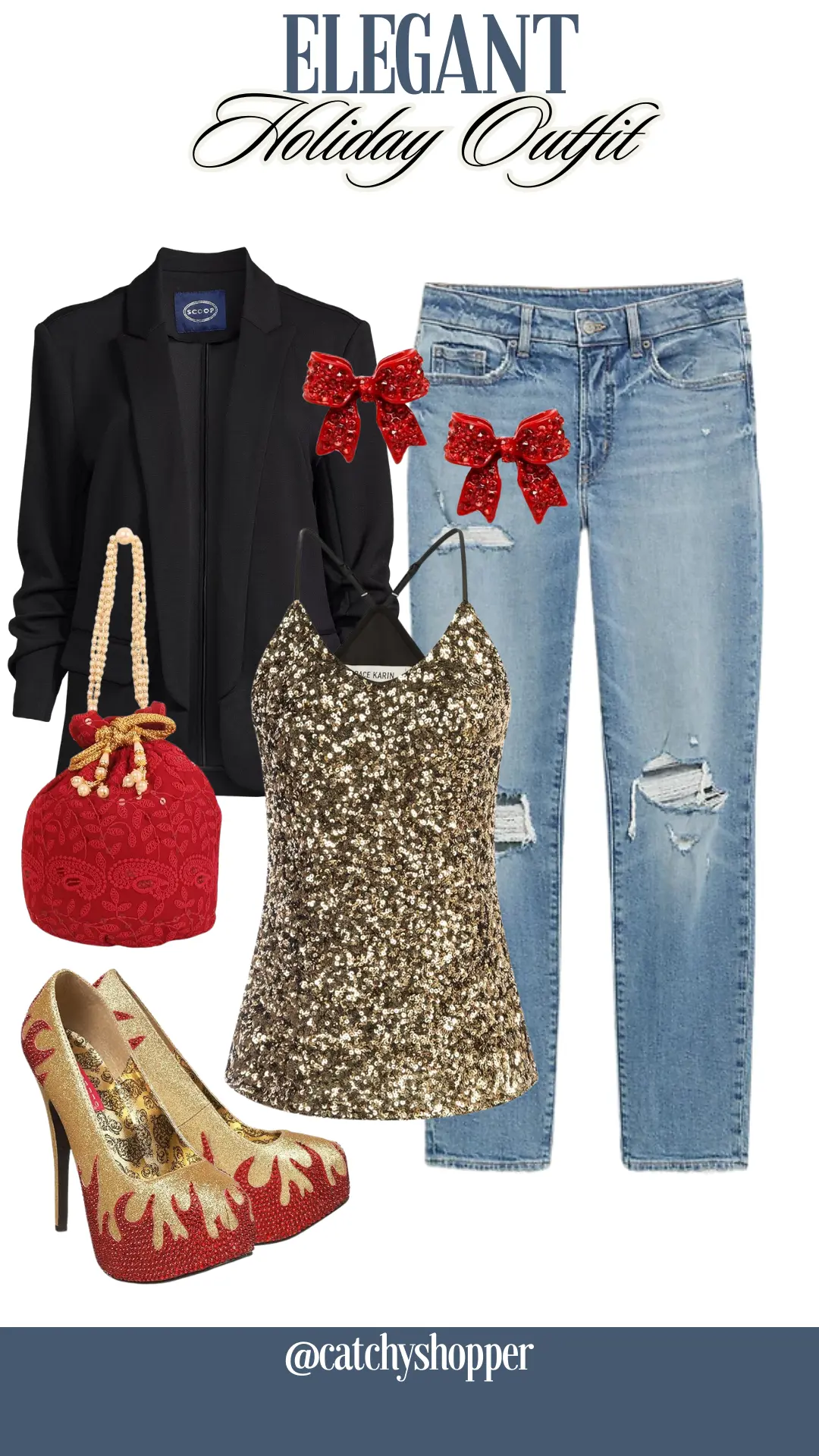 The Elegant Holiday Poise ensemble is the epitome of holiday sophistication. It features a sleek cami and a stylish blazer, offering a modern twist on classic elegance. Paired with jeans, this outfit strikes a balance between formal and casual. The heels add a dash of grace, while the earrings and bag complete the look, making it perfect for those who prefer a refined yet approachable holiday style.
Other Posts You May Like
Join our Facebook Group for daily unbeatable deals.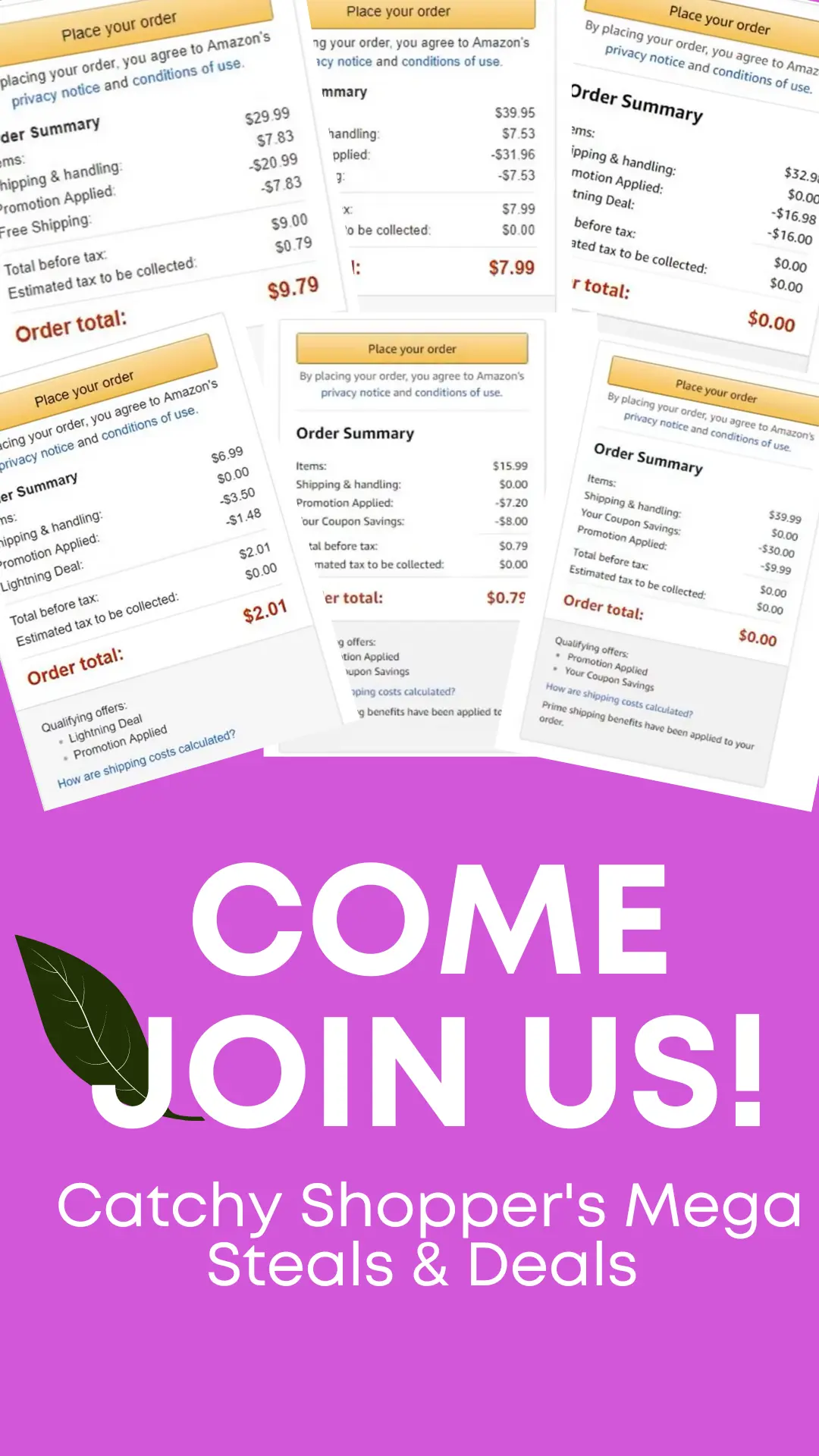 For more deals check out our All Stellar Finds post and 100+ Early Black Friday Deals here.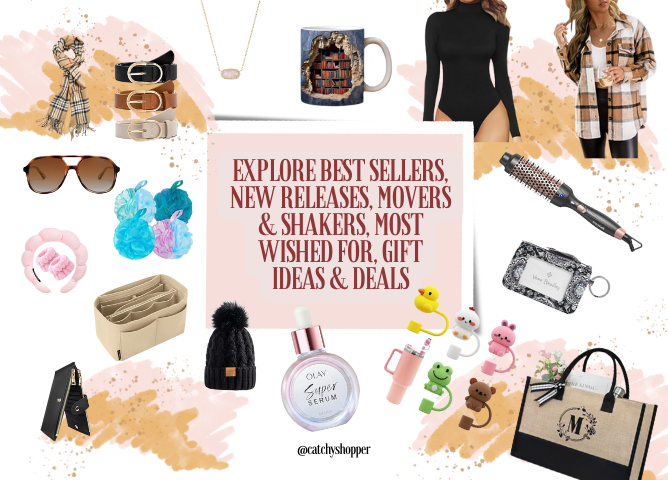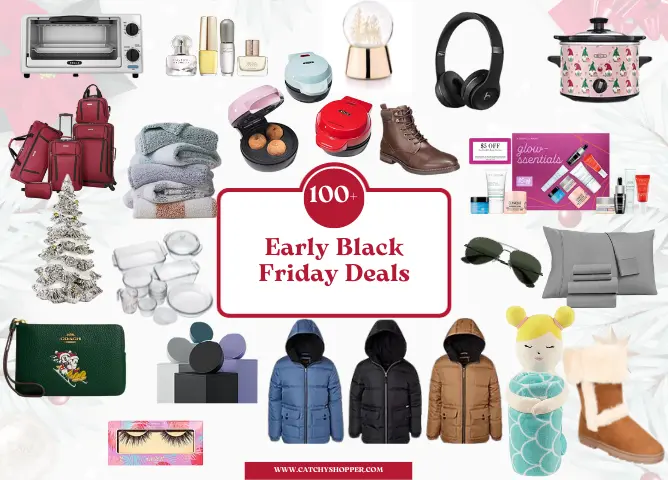 For more amazing fashion finds, check out the Daily Promos on the Latest Fashion Trends post.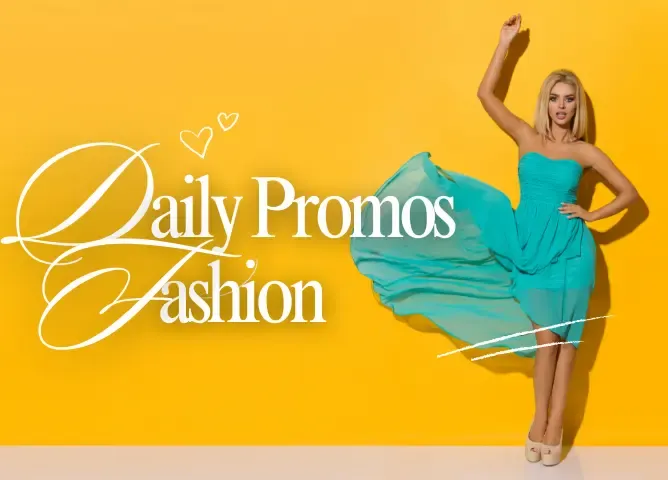 Comments