This post may contain affiliate links, please see our privacy policy for details.
Are you ready for a fashion secret that's bound to turn your everyday wardrobe into a style statement? Imagine if you could transform your beloved, everyday jeans into an ensemble that wouldn't look out of place on a Paris runway. Sounds dreamy? Well, it's time for that dream to become a reality!
The power of this transformation lies in a single, versatile piece of clothing: the bodysuit. From the sleek, polished look to the comfortable, snug fit, the bodysuit has swept through the fashion world, captivating the hearts of style lovers and trendsetters. And guess what? It's a match made in heaven when paired with jeans! Bodysuits and jeans make an incredible duo, offering a variety of styles from chic and sophisticated to casual and cool. It's not just about a bodysuit and jeans, but how you bring them together to make the magic happen.
In our previous posts, we've discussed the allure of bodysuits, bodysuit outfits, and why every modern woman should have one (or ten!) in her wardrobe. How to Wear a Bodysuit: 10 Fresh Outfit Ideas for Every Modern Woman, showed you multiple ways to style your bodysuit. These 21 Luxurious Bodysuits Will Have Everyone Turning Heads, introduced you to bodysuits that ooze luxury and style. And in Defining Fashion: What is a Bodysuit and Why You Need One!, we dove into the anatomy of a bodysuit and why it's a must-have in your closet.
But today, we're taking it a step further. We're here to help you master the art of pairing your favorite bodysuits with various types of jeans, creating a harmony of style, comfort, and versatility. Get ready to walk through a plethora of tips, tricks, and styling secrets that are going to leave you feeling inspired and fashion-forward. Welcome to the world of bodysuits and jeans – your new style playground!
Wearing a Bodysuit with Jeans: Tips and Tricks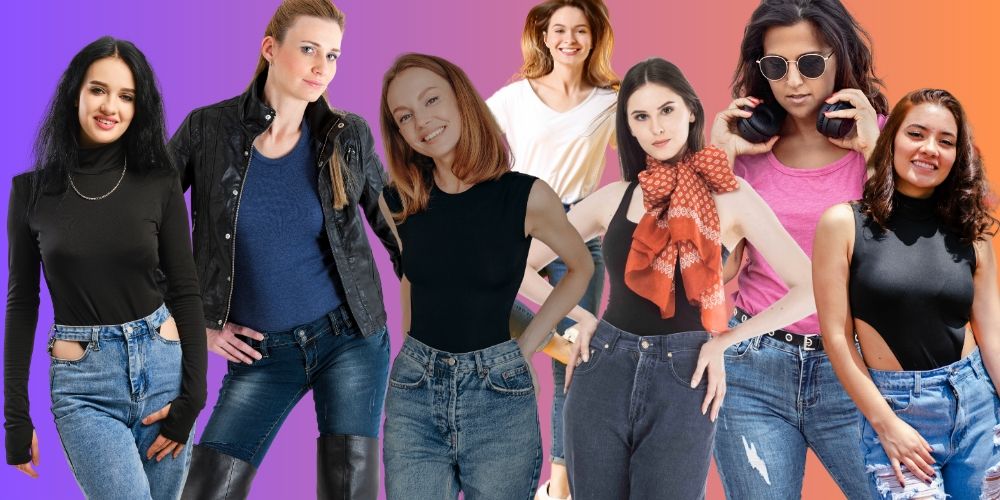 Styling Tips
Pairing a bodysuit with jeans might seem simple on the surface, but it's the styling that breathes life into your outfit. Whether you're going for a sleek monochrome look or want to add a pop of color, the combination of a bodysuit and jeans allows for endless possibilities. Make sure your bodysuit is fitted correctly – not too tight, not too loose – this is key to achieving a smooth, sleek look. Always tuck your bodysuit into your jeans to emphasize your waist and maintain the streamlined silhouette.
Skinny Jeans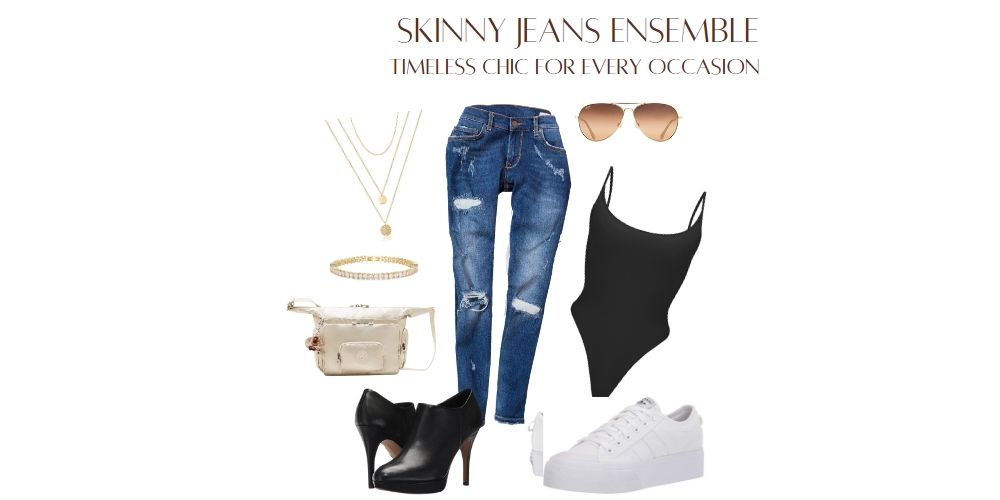 There's a reason why skinny jeans and bodysuits are often seen together. This combo is an unbeatable duo that oozes effortless chic. It creates a balanced and trendy look, perfect for day and night. A black bodysuit with high-waisted skinny jeans is a classic look that never fails.
Complement this classic look with minimalistic jewelry like a dainty necklace or delicate bracelet. Add a stylish crossbody bag for practicality, and don't forget a pair of trendy sunglasses. To elongate your silhouette, opt for heeled ankle boots or stilettos. For a more casual look, white sneakers or ballet flats work perfectly.
Boot Cut Jeans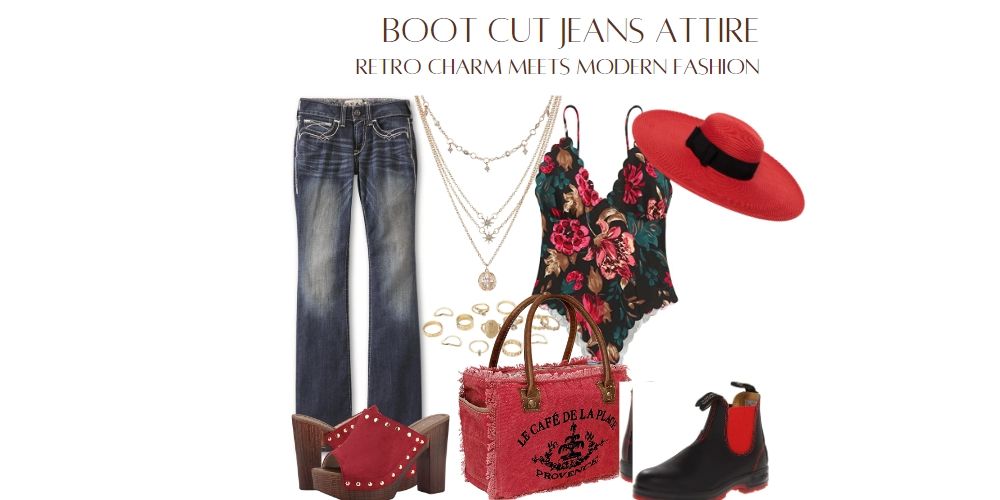 Looking for a hint of retro charm? Pair your bodysuit with boot-cut jeans. The flared bottoms balance out the tight top, creating a harmonious and stylish outfit. This combination is perfect for when you want to appear taller and slimmer.
Go a bit boho with layered necklaces and stacked rings. A wide-brimmed hat adds some vintage charm and a fringe tote bag completes the look.  Complement the flared bottoms with a pair of Chelsea boots or even some wooden platform sandals for a 70s throwback.
Wide Leg Jeans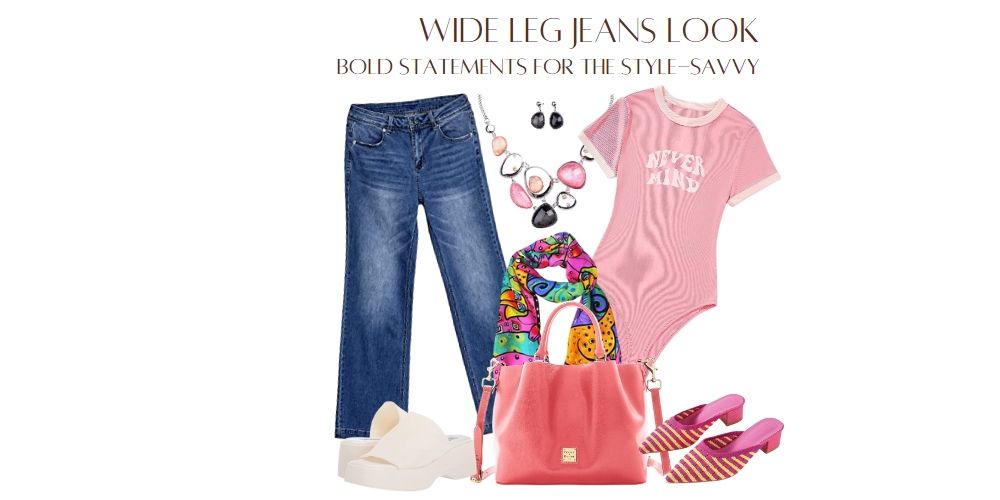 Nothing screams fashion-forward like a pair of wide-leg jeans paired with a bodysuit. This style offers a dramatic contrast between the snug bodysuit and the loose jeans, creating an ultra-modern and chic look for girls night out.
Since this look is all about making a statement, go bold with chunky statement jewelry and a vibrant scarf. Add a structured handbag for contrast.  Balance out the wide leg with chunky platform sandals or heeled mules for added height.
Boyfriend Jeans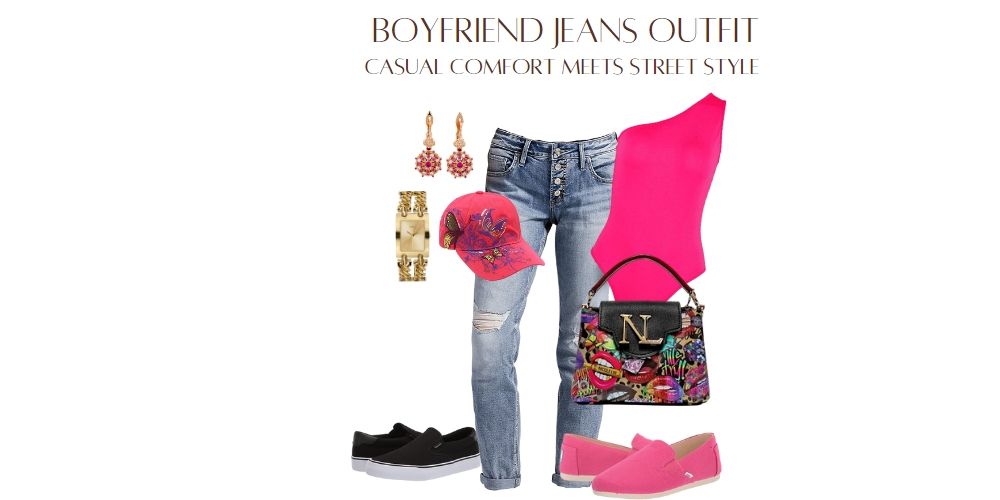 For a casual, street-style look, boyfriend ripped jeans are your best friend. The relaxed fit of these jeans contrasts beautifully with a fitted one-shoulder bodysuit, achieving a comfortable yet stylish look for running errands or street strolls.
Embrace the casual vibe with a baseball cap, some fun statement earrings, and a colorful messenger bag. A stylish watch is also a great addition. Keep it comfortable and cool with slip-on sneakers or loafers.
High-Waisted Jeans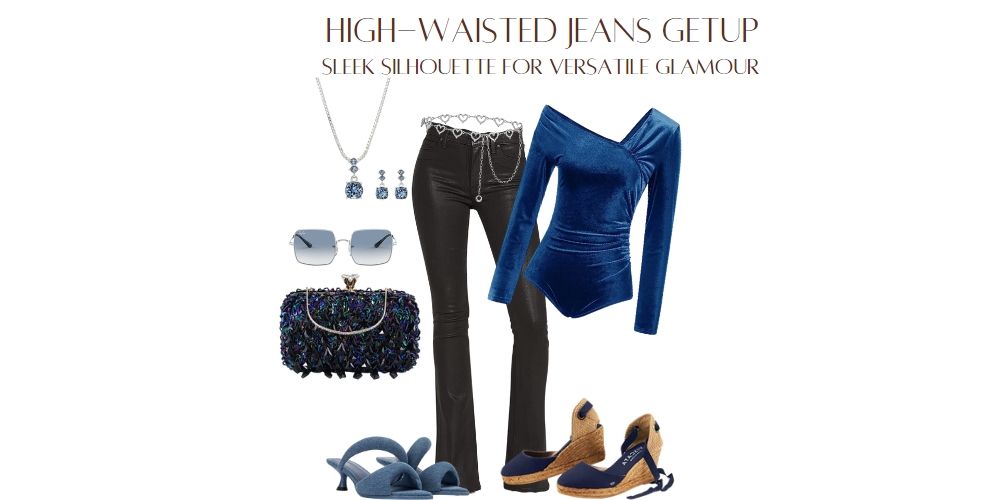 High-waisted jeans paired with a bodysuit are the secret weapon for a longer, leaner silhouette. This style is universally flattering and versatile, perfect for both casual and dressy occasions.
High-waisted jeans call for a statement belt. Pair it with minimalist jewelry and a chic handbag. You can also add a pair of fashionable sunglasses to the mix. For casual outings, pair them with espadrilles or strappy sandals. Dress it up with heels or heeled ankle boots for more formal occasions.
Elevating the Look: Accessories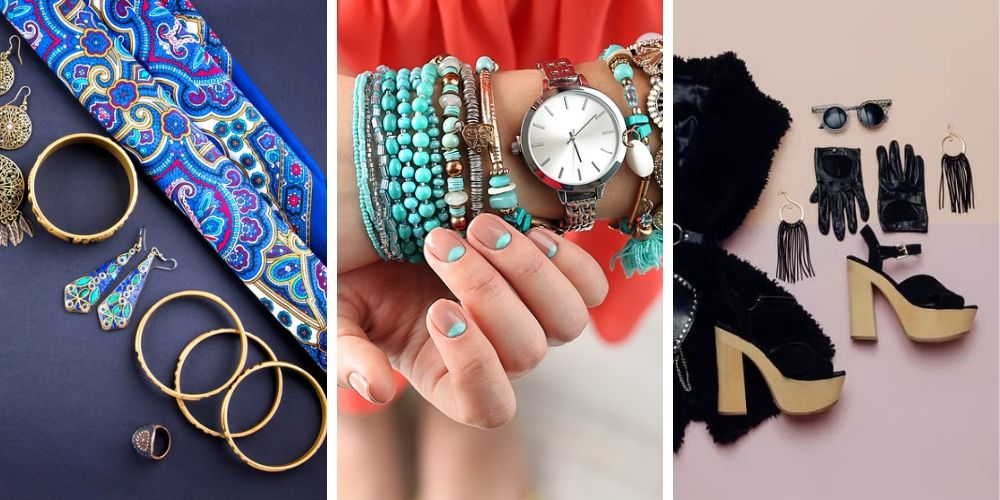 To truly elevate your bodysuit and jeans ensemble, the right accessories are a must. A belt can help accentuate your waist, while a statement necklace or earrings can add an element of glamour. Don't forget about shoes - a pair of high heels can instantly dress up your outfit, while sneakers offer a more relaxed, casual look. Depending on the occasion, a stylish bag can be the final touch that pulls your whole outfit together.
Choosing the Right Bodysuit
Bodysuits come in an array of styles, materials, and cuts, each one with its unique flair and comfort level. From lace to mesh, from off-shoulder to long-sleeved, the options are almost endless, allowing you to find the perfect bodysuit to match your style and occasion.
Lace Bodysuits: These lend a touch of romantic and feminine elegance to any outfit. They're perfect for dressier occasions or when you want to feel a little more special.
Mesh Bodysuits: With their sheer allure, mesh bodysuits are perfect for adding a layer of intrigue to your look. They're typically paired with high-waisted jeans for a stylish, edgy outfit.
Off-Shoulder Bodysuits: Show off a bit of skin with off-shoulder bodysuits. They're flirty, fun, and ideal for warm weather or nights out.
Long-Sleeved Bodysuits: For a sleek, sophisticated look, long-sleeved bodysuits are the way to go. They're versatile and can easily be dressed up or down.
Turtleneck Bodysuits: Exuding elegance and warmth, the turtleneck bodysuit is ideal for a sophisticated, timeless bodysuit and jeans outfit.
Strappy Bodysuits: Showcasing your playful side, a strappy bodysuit paired with any jeans style makes a chic bodysuit outfit for all occasions.
Remember, each type of bodysuit brings a unique vibe to your outfit. If you're in need of some inspiration, be sure to check out our blog post These 21 Luxurious Bodysuits Will Have Everyone Turning Heads for some style ideas. And if you're looking to boost your confidence with the perfect fit, our 20 Confidence-Boosting Shapewear Bodysuits That'll Make You Look Incredible blog post is the perfect read for you.
Choosing the Right Bodysuit for Different Body Types
Just as jeans come in all shapes and sizes, so do we. The key to looking fabulous in a bodysuit and jeans ensemble is choosing a bodysuit that flatters your unique body type.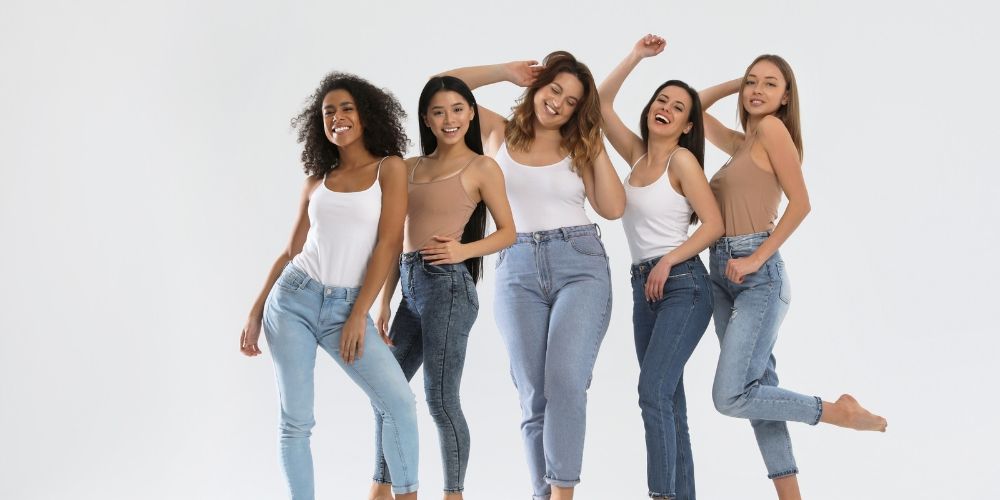 Hourglass figures: Accentuate your curves with form-fitting bodysuits. V-necks and wrap-style bodysuits can emphasize your waist and bust.
Pear-shaped bodies: Off-shoulder or wide-neck bodysuits help balance out the hip area while highlighting your upper body.
Apple-shaped bodies: Choose bodysuits with detailing or ruching around the waist to add definition. V-necks and scoop necks can draw attention upwards.
Rectangle body types: Look for bodysuits with ruffles, frills, or any detailing that adds dimension and curves to your figure.
Choosing the right bodysuit isn't just about fashion, but also about feeling comfortable and confident in your outfit.
Final Thoughts
We've journeyed through the world of bodysuits and jeans, and now it's clear why this dynamic duo has been creating waves in the fashion industry. The combination is versatile, adaptable, and timeless. Whether it's the sleek look of skinny jeans or the casual vibe of boyfriend jeans, whether it's a lace bodysuit for date night or an off-shoulder bodysuit for a Sunday brunch, there's a pair for every style and occasion.
But the beauty of fashion lies in the eye of the beholder, so now it's time for you to take these tips and run with them. Experiment with different styles, accessorize in your unique way, and most importantly, wear your ensemble with confidence. After all, the best accessory you can wear is your confidence.
Now we want to hear from you! What's your favorite way to style a bodysuit with jeans? Have a unique style tip you'd like to share? Got an incredible bodysuit and jeans look that you want to show off? Post your experiences, tips, and looks on your social media, and be sure to tag us. We're excited to see what incredible styles you come up with!
If you loved this blog post and want to see more content like this, be sure to subscribe to our blog, comment with your thoughts, and share this post on social media. And don't forget to check out our other related blog posts for more fashion inspiration and tips.
Fashion is a journey, and we're glad you've decided to make that journey with us. Happy styling!
Comments