This post may contain affiliate links, please see our privacy policy for details.
Once considered a fashion faux pas of the '80s and '90s, the humble fanny pack has made a remarkable comeback in recent years, demonstrating that no trend truly ever dies—it just gets restyled and reborn.
Commonly known as a small, compact bag that attaches around the waist, the fanny pack—also dubbed the 'belt bag' or 'bum bag'—initially gained popularity for its hands-free convenience. This unassuming accessory became a staple in the wardrobes of tourists, fitness enthusiasts, and festival-goers alike. But as we ushered in the early 2000s, this practical accessory fell victim to a wave of fashion critics who deemed it outdated, ultimately driving it into fashion oblivion.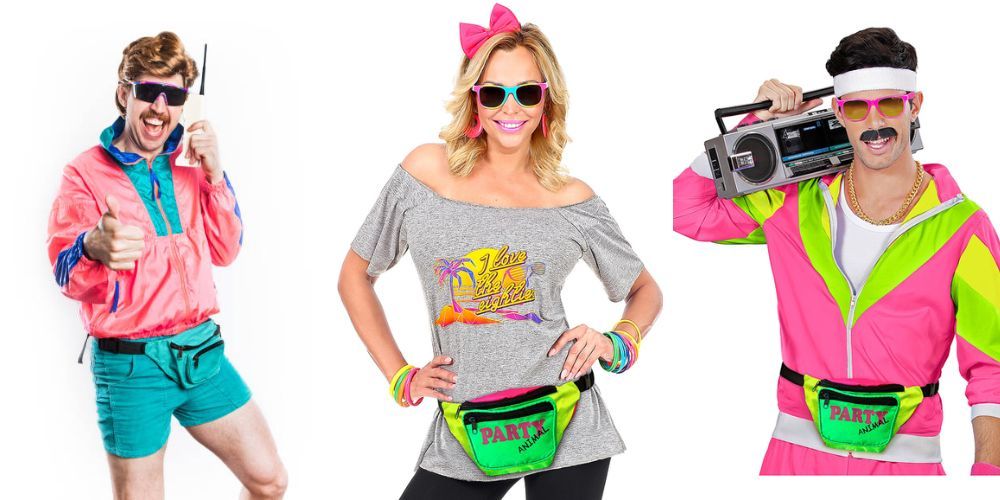 However, as we all know, fashion is cyclical. Just as we've seen the resurgence of mom jeans and chunky sneakers, the fanny pack has also found its way back into the limelight. The fashion industry is witnessing a rebirth of this infamous accessory, revamping its image from passé to chic. A significant catalyst behind its revival can be attributed to high-end designers and celebrities who've boldly embraced this trend, thus making the fanny pack a statement piece in both runway shows and street style.
In today's fashion lexicon, the fanny pack isn't just a practical piece—it's a fashion-forward accessory that symbolizes a blend of comfort and modern style. So, whether you're a minimalist lover, a streetwear aficionado, or someone who appreciates vintage vibes, this compact accessory has something for everyone. It has evolved from a purely functional bag to a versatile accessory that can add a unique flair to any outfit.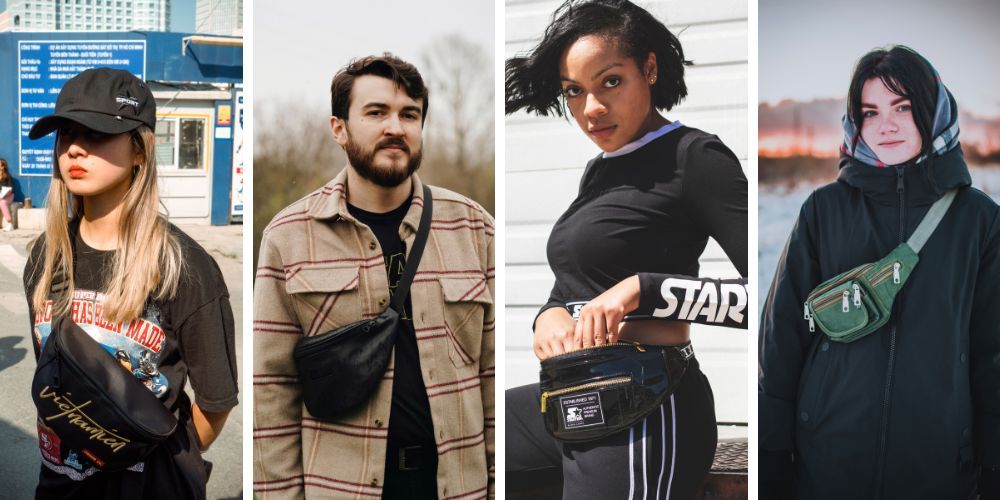 In this post, we'll be delving deeper into the world of fanny packs, exploring the various styles, ways to wear them, and the statement they can make about your personal style. We'll also take a look at the most exciting fanny pack trends in the current fashion scene, share invaluable style tips, and recommend some noteworthy brands for you to consider. Whether you've already embraced this trend or are still contemplating it, we invite you to join us on this fashion journey as we unpack the potential of the fanny pack. Buckle up, because the fanny pack revolution is here to stay!
Types of Fanny Packs
A fanny pack, also known as a belt bag, waist pack, or bum bag, is a compact, versatile bag typically worn around the waist. The term 'fanny pack' originally stems from the bag being worn above the buttocks, deemed as 'fanny' in American English. Though its name might elicit a few chuckles, this accessory's practicality and diverse styles have stood the test of time.
Let's dive into the various iterations of the fanny pack: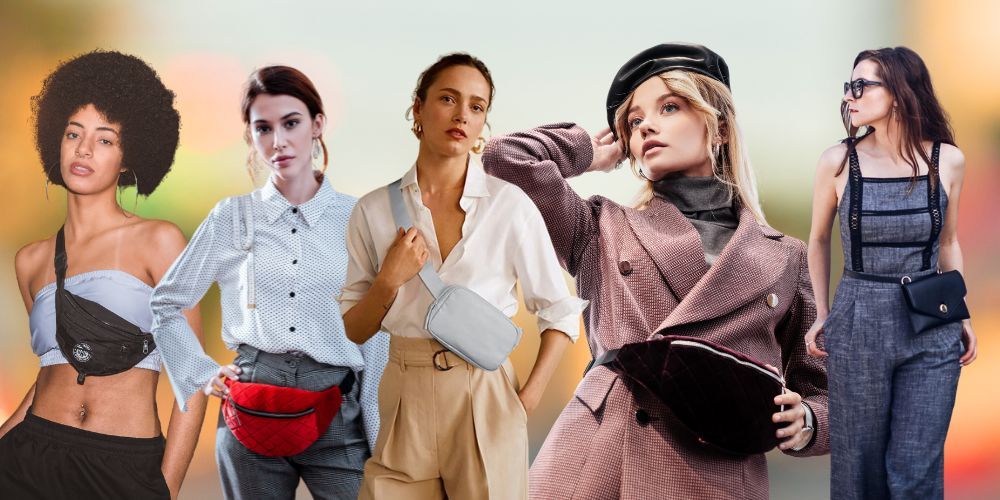 Fanny Pack Sling: A fanny pack sling, often just referred to as a 'sling', is usually larger than the traditional fanny pack. Slung across the body or over one shoulder, this bag offers a casual, streetwear look. Its design features often include multiple compartments and adjustable straps, perfect for festivals or city exploration where you need both style and practicality.
Waist Bag: A waist bag is the most traditional form of a fanny pack. Worn around the waist, it sits neatly on your hips or waist, providing hands-free convenience. This type is perfect for activities where you need your hands free, such as biking, hiking, or shopping at a bustling market.
Shoulder Bag Fanny Pack: This style brings a fresh twist to the classic fanny pack. It's designed to be worn across the chest, much like a crossbody bag. It's a popular choice among trendsetters and is often seen on the streets of fashion capitals.
Belt Bag: Belt bags are a chic take on the classic fanny pack. They are designed to seamlessly blend with your outfit rather than stand out as an additional accessory. Usually made from high-quality materials like leather or suede, belt bags add a touch of sophistication to your outfit and are appropriate for formal events or professional settings.
Purse Fanny Pack: Combining the compact convenience of a fanny pack with the style of a purse, the purse fanny pack often comes with embellishments, unique fabrics, and chic design elements. These bags are ideal for occasions where a full-sized purse might be cumbersome, yet you want to retain a sense of style.
How to Wear a Fanny Pack
The beauty of the modern fanny pack lies in its versatility—not only in design but also in the multitude of ways it can be worn. Here are some stylish and practical ways to wear this multi-faceted accessory: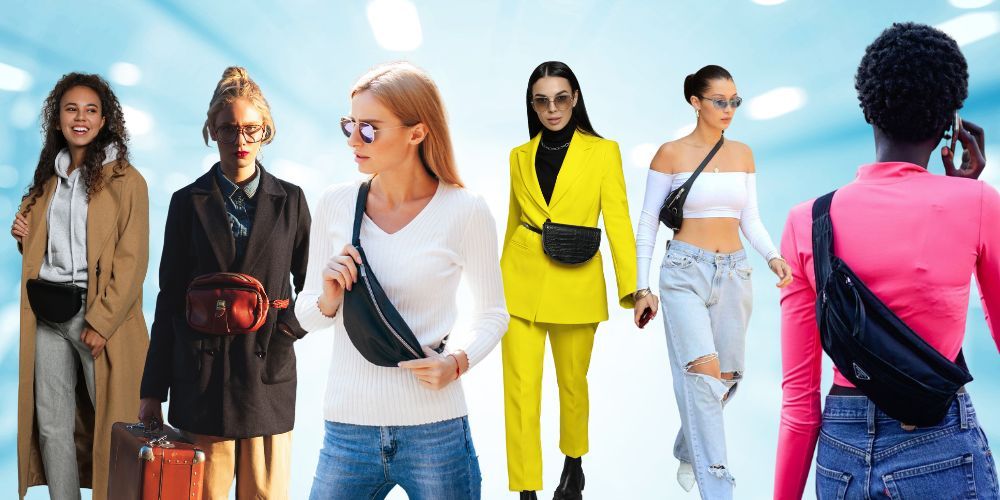 Around the Waist: The classic method, wearing the fanny pack around your waist, has a retro charm. Perfect for casual outings, this style lets you keep your essentials within easy reach. Try wearing it on your hip for an effortlessly cool look, or cinch it around your waist to accentuate your silhouette.
Over the Shoulder: For a more contemporary style, try slinging your fanny pack over your shoulder. This not only gives you easy access to your essentials but also adds a trendy, street-style edge to your outfit. Pair this with a graphic tee or a relaxed blazer for an on-point casual look.
Across the Body: Also known as the crossbody method, wearing your fanny pack across your body, with the bag portion resting on your chest, has become popular in the world of streetwear. This method gives a fashionable twist to the traditional way of wearing a fanny pack and allows for an easy transition from casual daywear to stylish night-out attire.
On Your Back: A less conventional but increasingly popular method is to wear the fanny pack on your back, like a mini backpack. This is a unique and playful way to carry your essentials, ideal for festivals or concerts.
Choosing the best way to wear your fanny pack depends largely on your outfit and the occasion. For sporty or casual outfits, around the waist or over the shoulder works best. If your look is more street-style inspired or trendy, consider the crossbody method. For a formal event or professional setting, the belt bag variation worn around the waist or as a crossbody would add a chic touch without compromising the dress code.
16 Unique Ways to Style Fanny Packs
Let's dive into our tips on how to style a fanny pack in different ways, whether you're going for a casual day out, hitting a festival, or even going for a more sophisticated look.
⬇️ 16. Sporty and Stylish: Wearing a Fanny Pack to the Gym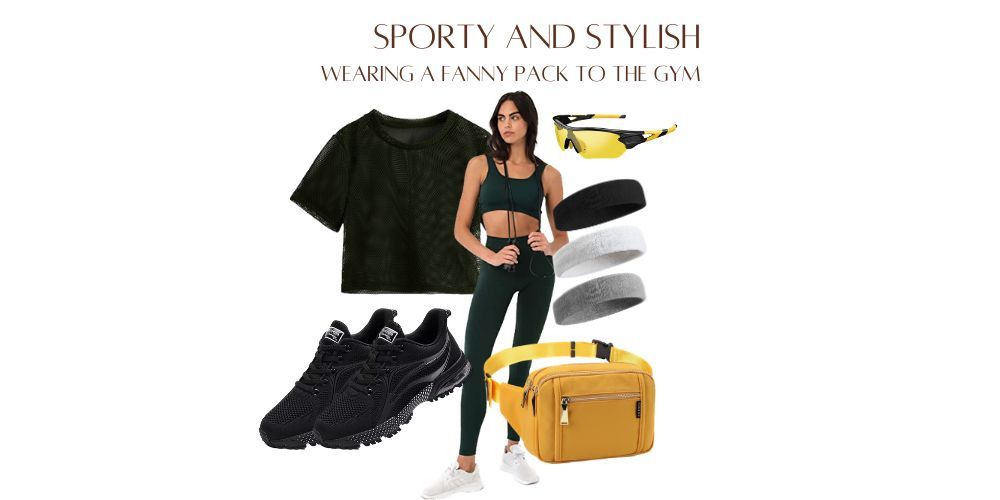 Revamp your workout ensemble by incorporating a sleek, athleisure yellow fanny pack. Match it with your favorite high-performance leggings, a breathable mesh sports top, and sturdy yet stylish trainers. Don't forget to accentuate with a moisture-wicking headband, sporty sunglasses, and a touch of waterproof mascara for that perfect post-workout glow.
⬇️ 15. Revitalizing Professional Attire: Wearing a Fanny Pack at Work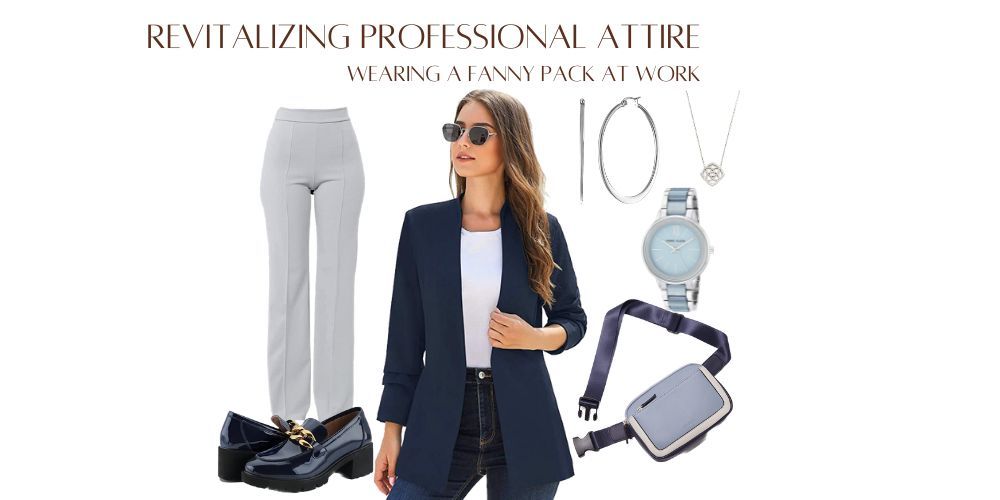 Professional doesn't mean boring! Break the office monotony with a leather fanny pack, perfectly paired with a tailored blazer, straight-leg trousers, and comfortable yet chic loafers. Accessorize with a pair of elegant hoop earrings, a delicate pendant necklace, and a bold, statement-making watch to keep track of your bustling schedule.
⬇️ 14. Casual Chic Redefined: Wearing a Fanny Pack on the Weekend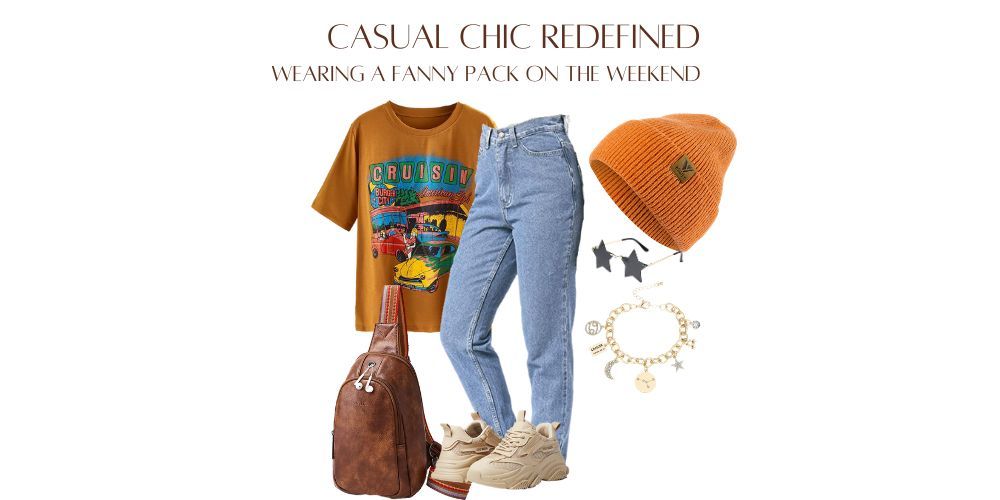 Embrace weekend leisure in style with a trendy solid-colored fanny pack. Pair it with relaxed-fit jeans, a soft graphic tee, and some statement-making sneakers. Complete your look with a casual beanie, playful sunglasses, and a delicate charm bracelet for a laid-back yet fashion-forward look.
⬇️ 13. Daring and Different: Wearing a Fanny Pack to Festivals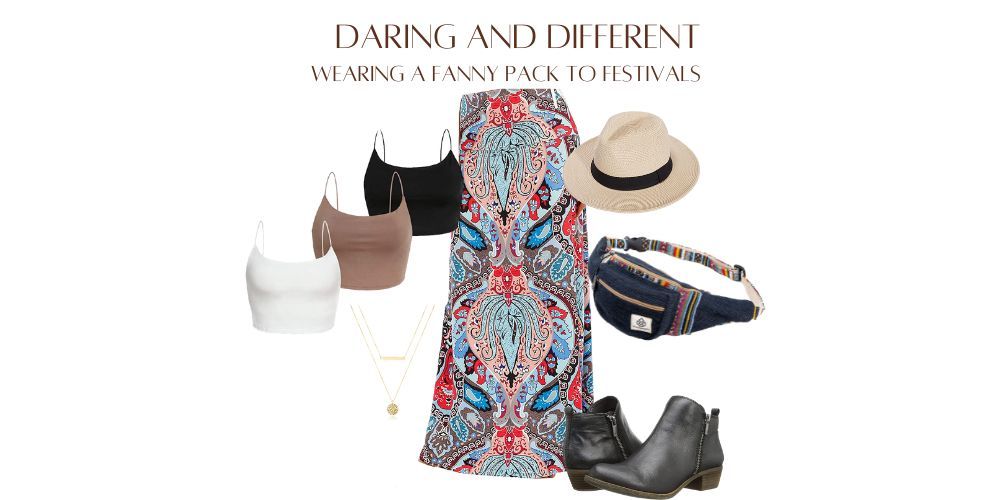 Capture the eclectic festival spirit by sporting a bold, boho-style fanny pack. Pair it with a colorful maxi skirt, cropped tank top, and comfortable ankle boots. Top it off with an array of accessories, including a wide-brimmed hat, layered necklaces, and vibrant face glitter for a truly unforgettable look.
⬇️ 12. Travel in Style: Wearing a Fanny Pack on Your Next Adventure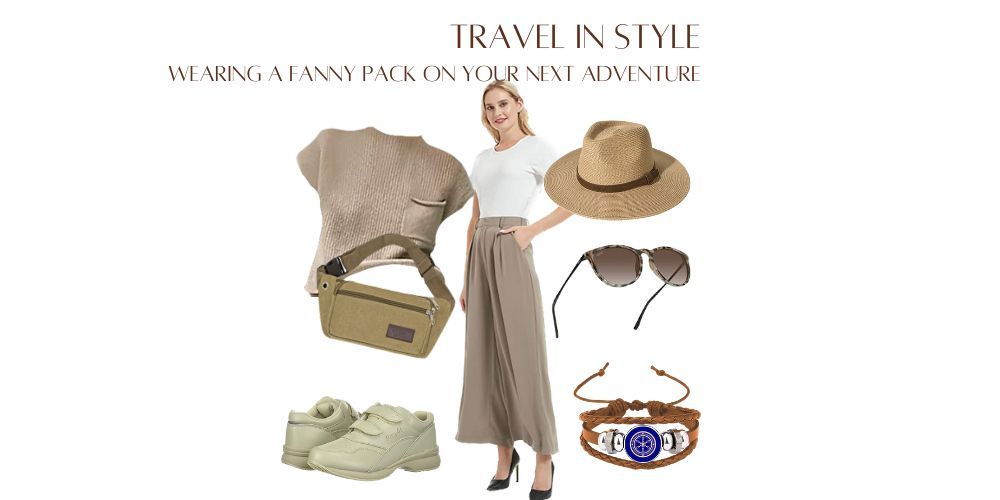 On your next adventure, combine practicality and style with a durable canvas fanny pack. Couple it with loose, breathable trousers, a lightweight top, and sturdy walking shoes. Finish your look with a wide-brimmed hat, polarized sunglasses, and an array of wristbands from your favorite travel destinations.
⬇️ 11. From Runway to Realway: Wearing a Fanny Pack Inspired by Fashion Week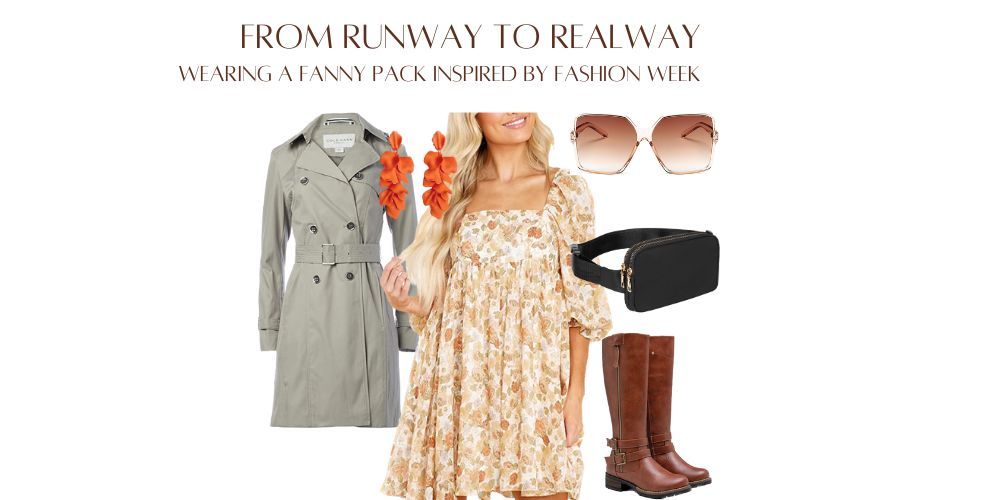 Take inspiration from the runways and make a statement with a designer fanny pack. Team this black fanny pack with a high-fashion mini dress, knee-high boots, and a bold trench coat. Complete your outfit with a pair of oversized sunglasses, statement earrings, and a perfectly matched handbag for ultimate street style vibes.
⬇️ 10. Stylish Romance: Wearing a Fanny Pack on a Date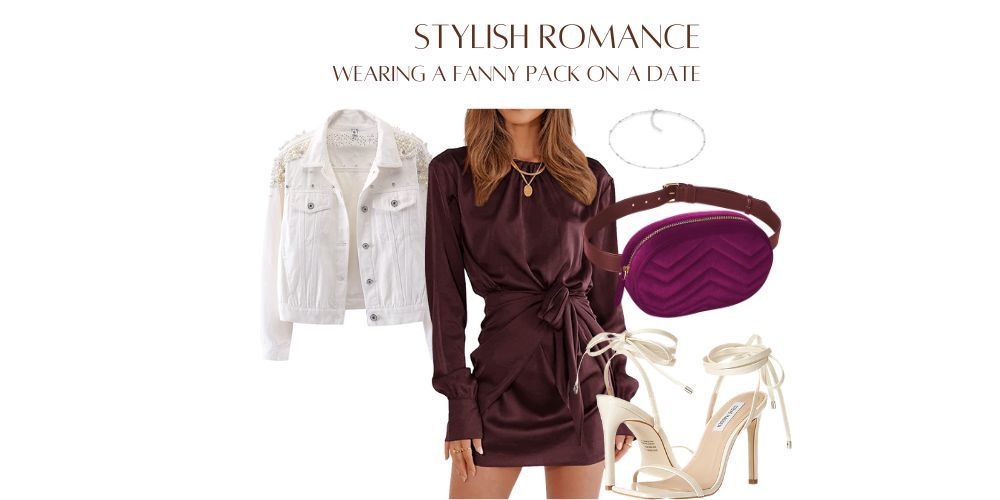 Make a lasting impression on your next date by pairing a velvet fanny pack with a flirty mini dress, strappy heels, and a chic denim jacket. Accessorize with a minimalist choker, soft-hued eyewear, and a light dusting of highlighter to catch the candlelight just right.
⬇️ 9. Pet-Friendly Fashion: Wearing a Fanny Pack for Dog Walks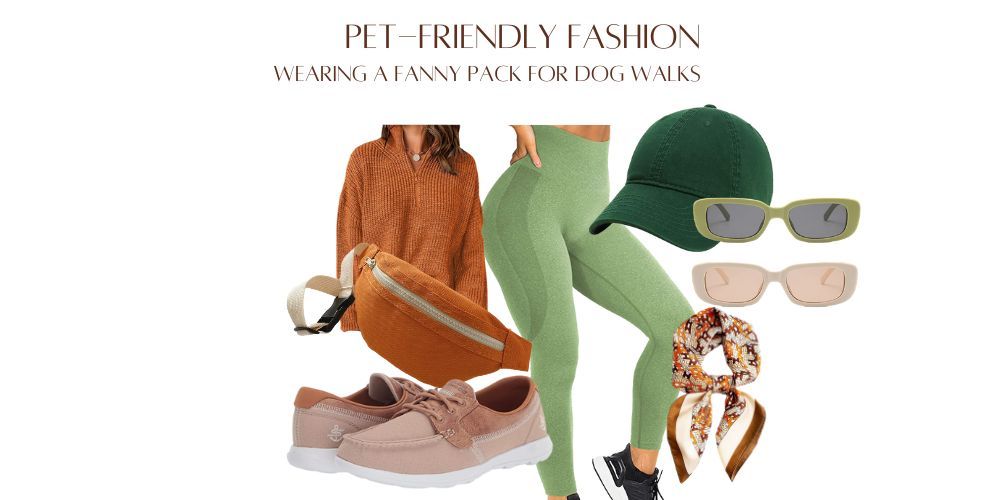 Go on dog walks in style by pairing a casual canvas fanny pack with your comfortable leggings, a cozy sweater, and some practical walking shoes. Complete your look with a baseball cap, UV-protective sunglasses, and a whimsical scarf to give a playful touch to your outdoor outfit.
⬇️ 8. Merging Comfort and Style: Wearing a Fanny Pack for Coffee Runs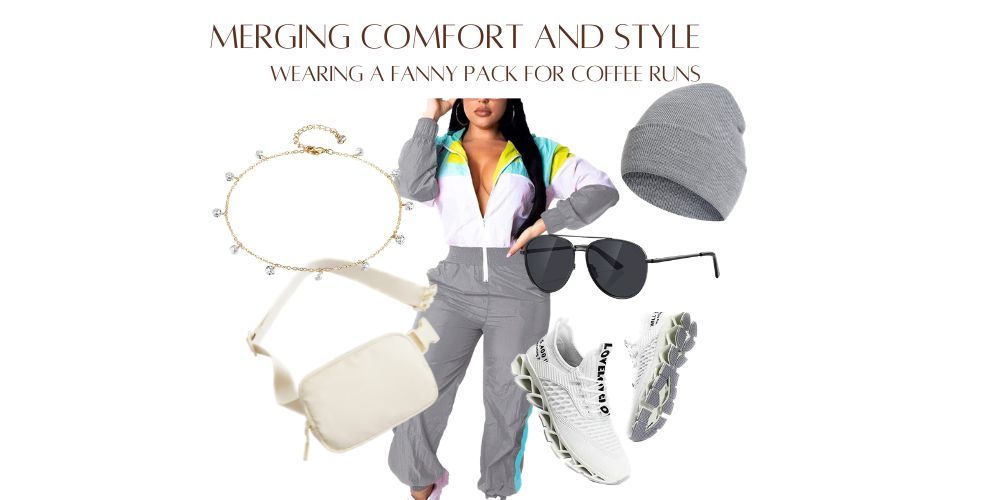 Achieve the perfect balance of comfort and style with a minimalist fanny pack, ideal for quick coffee runs. Pair it with a trendy tracksuit, your favorite pair of sleek trainers, and a soft knit beanie. A pair of cool aviator sunglasses and a dainty charm bracelet will give your look a touch of subtle glamour.
⬇️ 7. Beach Chic: Wearing a Fanny Pack for Seaside Outings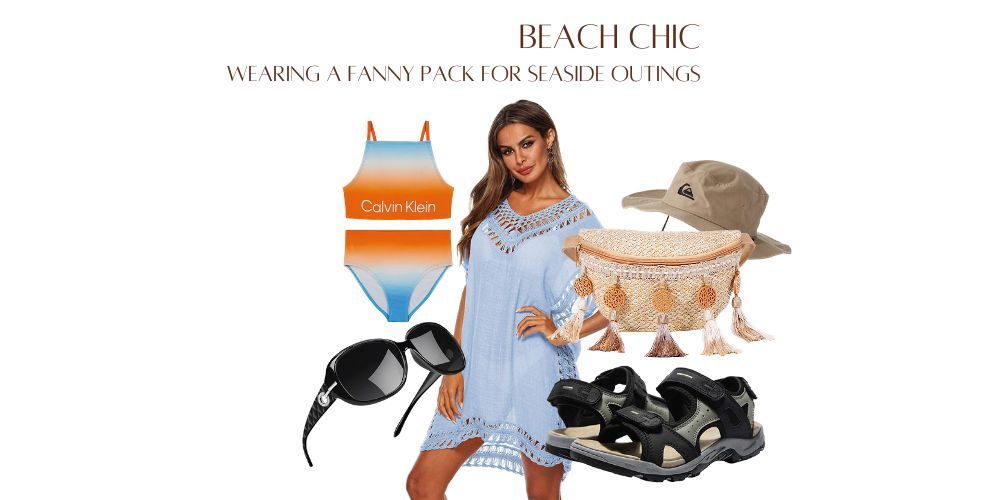 Embrace seaside chic by sporting a straw fanny pack. Combine it with a vibrant swimsuit, airy beach cover-up, and a pair of comfortable yet stylish sandals. Don't forget your wide-brimmed sunhat, UV-protective sunglasses, and statement-making beach-themed jewelry for that quintessential beach look.
⬇️ 6. Trendsetting Travels: Wearing a Fanny Pack for Airport Style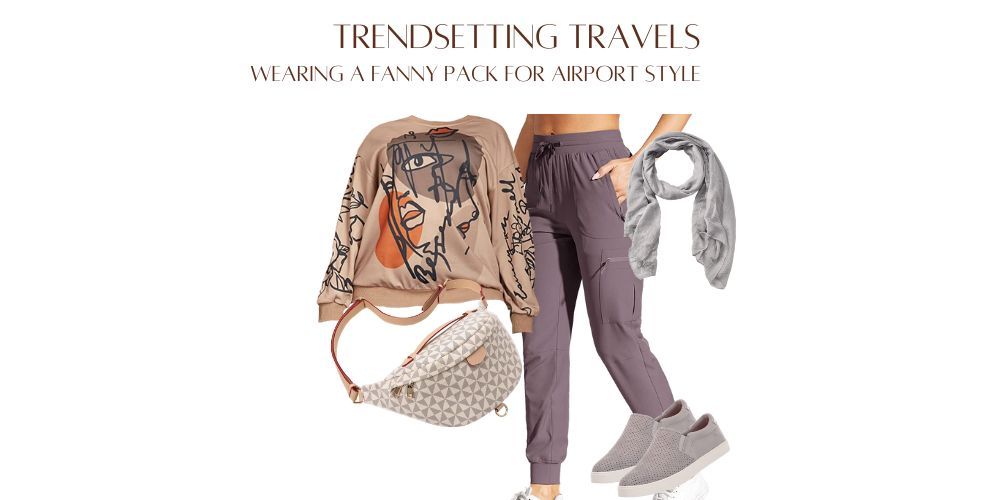 Channel your inner globe trotter with a sleek, multifunctional patterned fanny pack. Pair it with comfortable joggers, a stylish oversized sweater, and slip-on shoes for easy airport navigation. Top it off with noise-cancelling headphones, a sleep mask, and a lightweight scarf for added comfort and style on your journey.
⬇️ 5. Urban Explorer: Wearing a Fanny Pack for City Adventures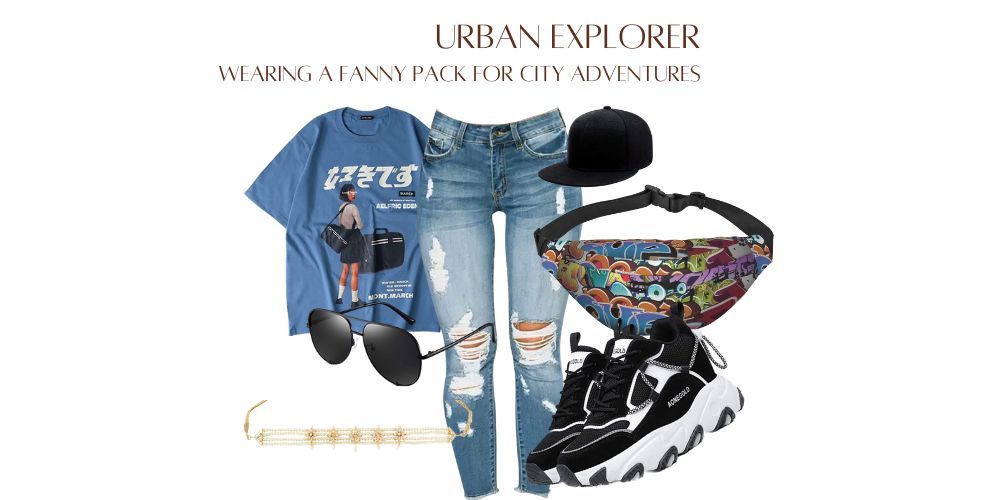 Navigate the bustling city streets with a statement-making, graffiti-inspired fanny pack. Pair it with urban essentials like ripped jeans, a graphic tee, and some bold, chunky sneakers. Complete your city explorer look with a snapback cap, mirrored sunglasses, and an array of layered necklaces.
⬇️ 4. Festive Fashion: Wearing a Fanny Pack to Holiday Parties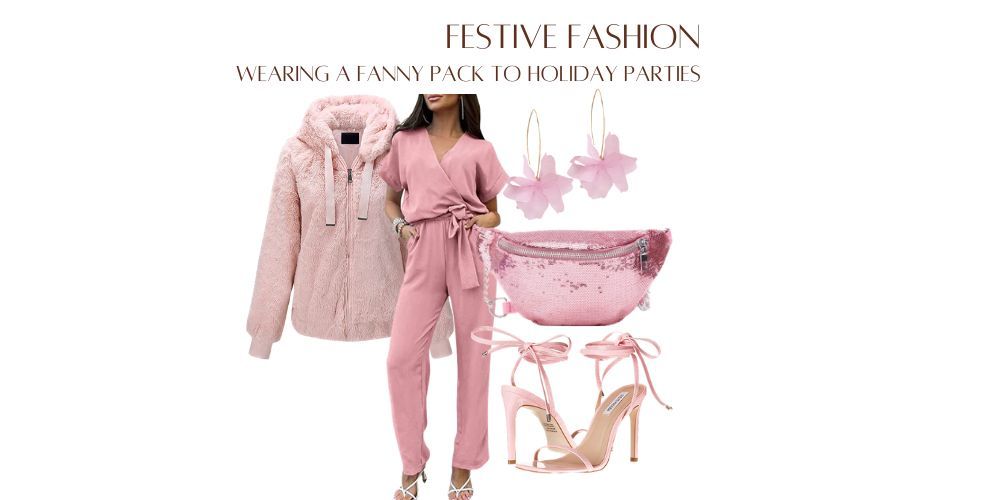 Celebrate the holiday season in style with a sequined fanny pack. Team it with a festive jumpsuit, strappy heels, and a cozy faux-fur jacket. Add some extra holiday cheer with sparkly earrings, a charm bracelet, and a touch of red lipstick to match the festive mood.
⬇️ 3. Artful Accessorizing: Wearing a Fanny Pack to Gallery Visits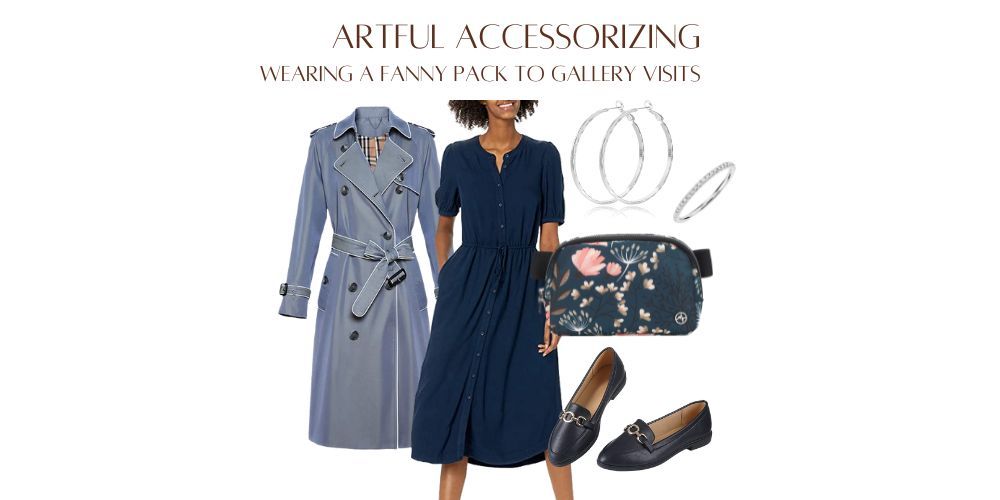 Display your fashion prowess during gallery visits with a uniquely designed, artistic fanny pack. Pair it with a sophisticated midi dress, classy loafers, and a sleek trench coat. Complete your cultured look with a pair of elegant eyeglasses, statement earrings, and a bold ring.
⬇️ 2. Classy and Convenient: Wearing a Fanny Pack to Dinners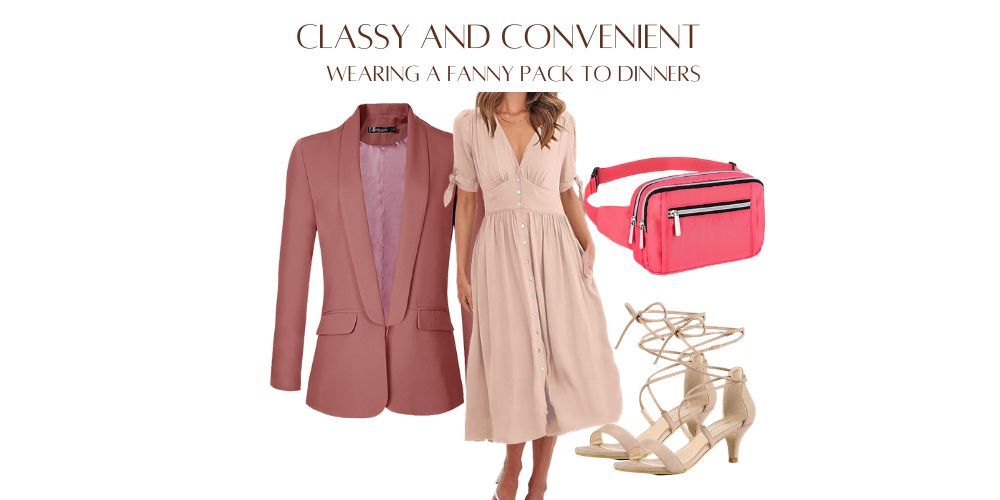 Dazzle your dinner companions by pairing a sleek, satin fanny pack with a classy midi dress and elegant kitten heels. With the ongoing fanny pack trend, don't be afraid to make a statement with a vibrant color fanny pack, a pop of color that complements neutral outfits beautifully. Top off your ensemble with an oversized button-down, tailored blazer—this piece not only adds a layer of sophistication but also skillfully matches the formal vibe of your dress.
⬇️ 1. Outdoor Chic: Wearing a Fanny Pack for Hiking Trips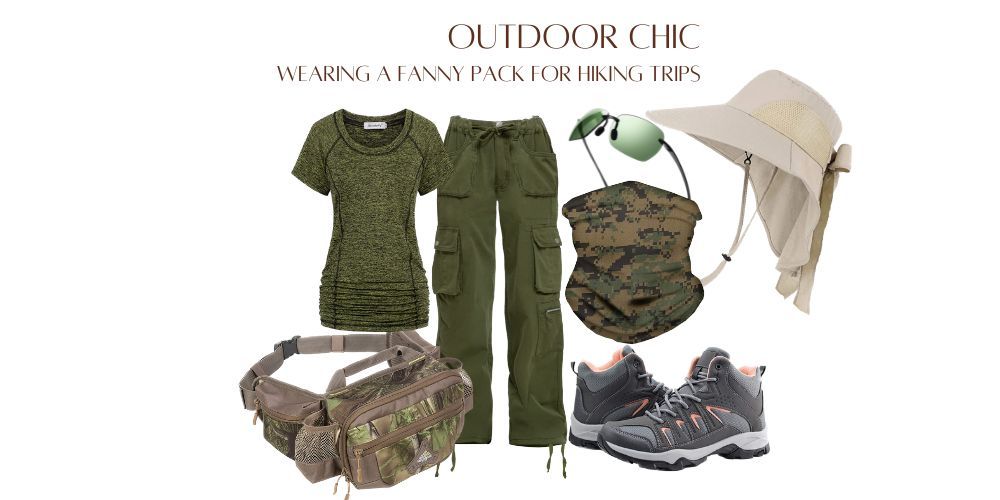 Tackle the great outdoors in style by incorporating a durable, waterproof camouflage fanny pack. Pair it with cargo pants, a moisture-wicking top, and sturdy hiking boots. Round off your hiking look with a sun-protective hat, polarized sunglasses, and a multifunctional bandana.
💡
Dive Into Fashion Outfits
Explore our exclusive articles featuring
Boho Outfit Ideas
,
Vacation Outfits
,
Festival Outfits
,
and
Summer Outfits with Hats
.
Delve into our
Denim Shorts Outfits
,
Black and White Outfits
, Bodysuits Outfits,
and
Pink Outfit Ideas
. Experience the charm of our
Tube Top Outfits
, Crop Top Outfits,
Sundress Outfit Ideas
,
Resort Wear
,
and
Beach Wear
.
Start your style journey now!
Final Thoughts
The versatility and practicality of fanny packs, coupled with their undeniable trend factor, make them a must-have accessory. Whether you choose a traditional waist bag, a stylish sling, or opt for a bright yellow fanny pack to stand out from the crowd, there's a variant that will perfectly complement your style and meet your practical needs. These bags transcend occasions, outfits, and trends, reinventing themselves time and again to remain relevant in the ever-evolving fashion landscape.
Don't hesitate to incorporate a fanny pack into your wardrobe. Experiment with different styles and ways to wear them. Remember, the most beautiful aspect of fashion is its capacity for self-expression. Let your fanny pack be an extension of your unique style and personality.
And now, we'd love to hear from you. Do you have a favorite fanny pack outfit or styling tips to share? Perhaps you have an eye-catching way of styling yellow fanny packs that you'd like to show off. Please share your ideas and pictures in the comments below. Let's celebrate the diversity and creativity that fashion fosters, one fanny pack at a time.
Comments