This post may contain affiliate links, please see our privacy policy for details.
Navigating the complex world of fashion can be challenging, especially when it comes to specific occasions like jury duty. The courtroom isn't your usual runway, and dressing appropriately while maintaining your personal style can feel like a daunting task. This is where understanding the "jury duty dress code" becomes essential.
If you've ever found yourself wondering, "What should I wear for jury duty?" you're in the right place. From timeless elegance to an unconventional twist, our comprehensive guide will walk you through ten jury duty outfit ideas that harmonize style, comfort, and respect for the formal courtroom atmosphere. Get ready to explore fashion choices that echo your respect for the judicial process, all while showcasing your unique style.
Maxi Dress with Cardigan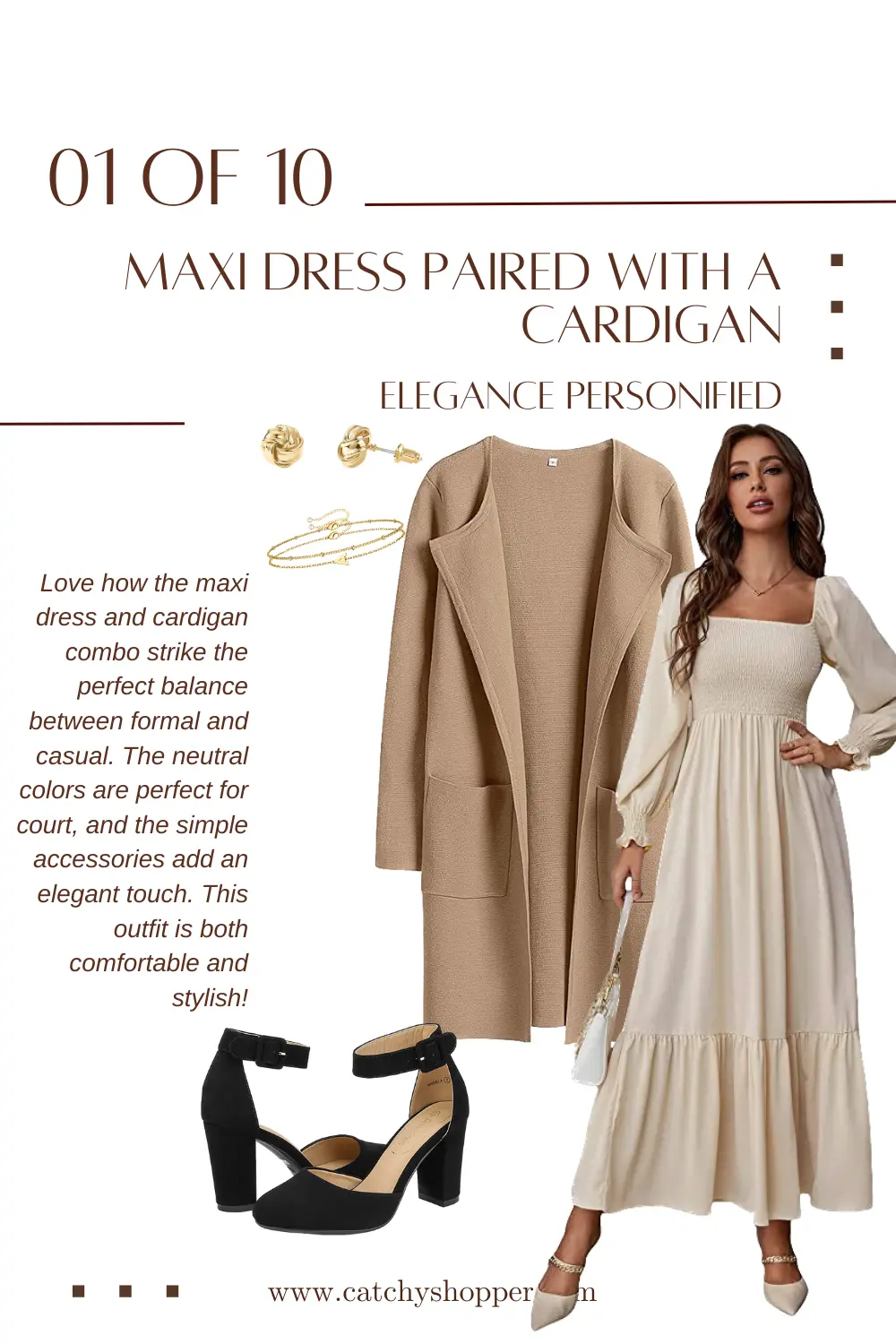 Jury duty attire requires a balance between business casual attire and a more formal dress code. To start off your outfit, choose a maxi dress in neutral colors. This piece of clothing, combined with a cardigan, presents a business casual aesthetic suitable for court proceedings. Keep in mind the general rule to dress conservatively and respectfully for jury service.
As the outfit starts to come together, opt for closed-toe shoes such as instead of flip-flops or open-toe shoes. Small, elegant accessories like a simple bracelet or a pair of stud earrings work well with this outfit. Pair the dress with ballet flats or low heels for comfort and style. Remember, several outfits could work for this occasion, and this is just one of many.
The Sleek Suit
A well-fitted dark gray suit, paired with a crisp white or light-colored blouse, offers a perfect blend of business casual and a more formal dress code, making it essential for a suitable candidate for the jury selection process. The blouse should be tastefully understated, with a comfortable fit and perhaps a modest collar.
Complement your suit and blouse combo with a pair of sophisticated leather shoes that provide comfort while maintaining a professional appearance. A briefcase or a structured tote bag in matching or complementary hues can hold your essentials while adding to your polished demeanor.
Select a pair of delicate cufflinks that complement your blouse and a simple, classy watch to highlight your attention to detail. If you prefer eyewear, choose a pair with a sleek and classic frame that enhances your features without being overly distracting. As for makeup, opt for a natural look that subtly enhances your features and adds to your professional demeanor.
Plaid Skirt with Blazer Set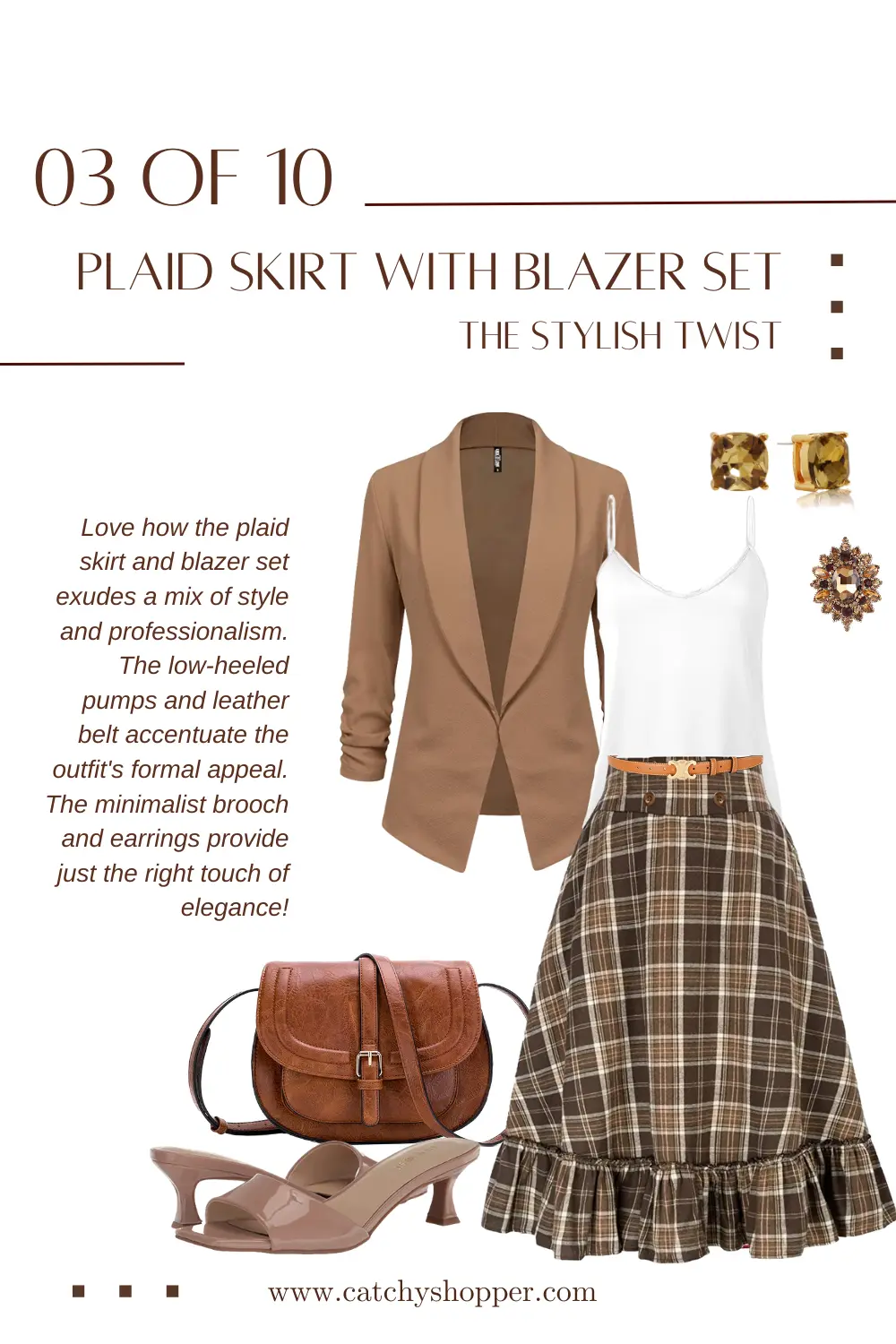 Combine style and professionalism with a plaid skirt and blazer. Add a neutral or pastel-hued blouse that complements the colors in your plaid skirt. Ensure that the blouse is modest and professional, such as a silk or cotton button-down, to maintain the respectful dress codes required in many courts.
Ensure the skirt's length fully covers your knees to maintain the respectful dress codes required in many courts. Pair this outfit with low-heeled pumps or kitten heels, steering clear of the temptation to wear sandals. Add a sleek leather belt to accentuate your waist.
A leather crossbody bag can add functionality and style. A small, delicate brooch on the blazer and stud earrings can provide a minimalistic touch of elegance. If the eyewear is needed, choose frames that subtly highlight your personality. A sophisticated updo can further enhance this look, and a soft, elegant makeup look can tie it all together.
Midi Skirt with Sweater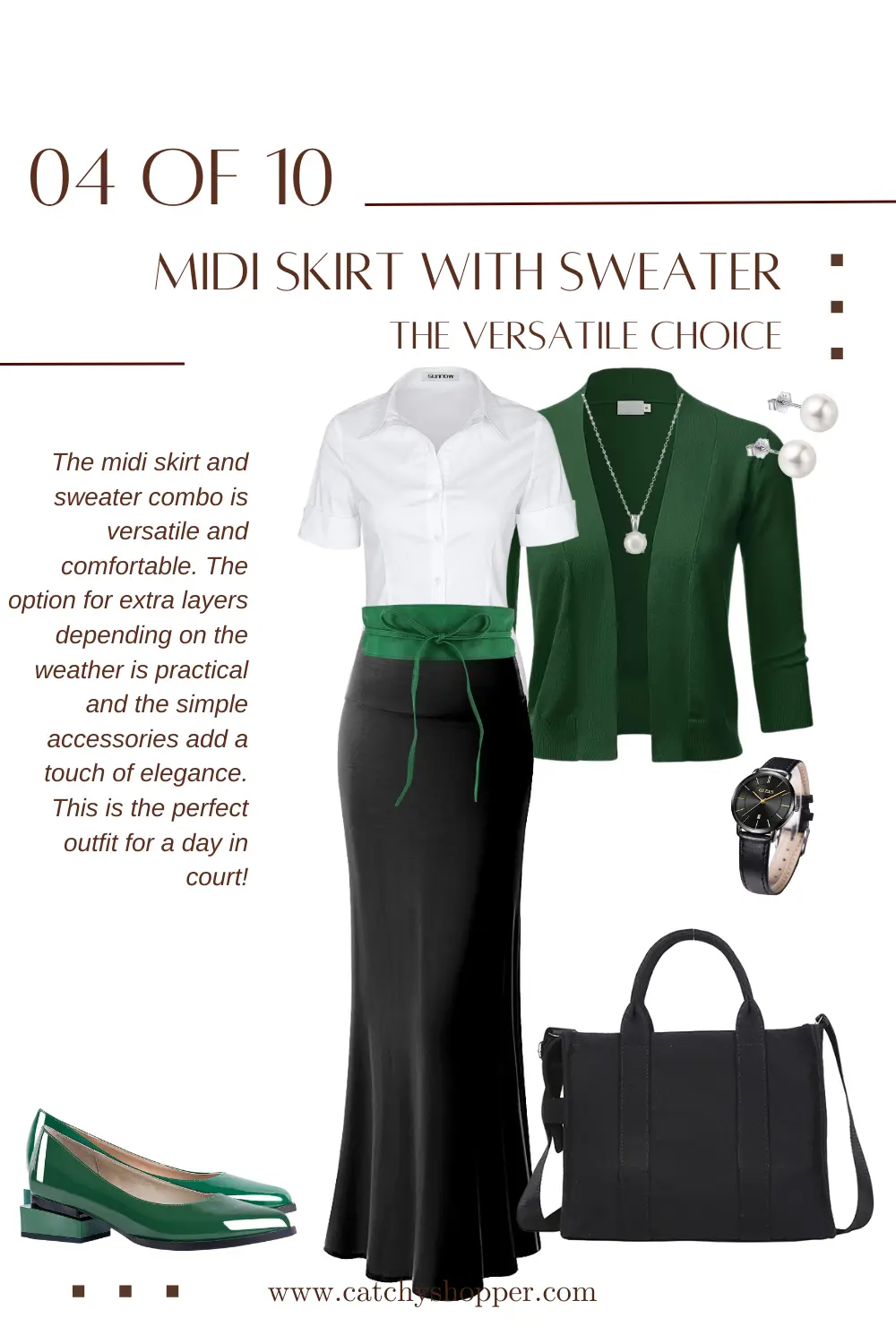 The skirt and sweater can provide the comfort needed for long court proceedings. Dark colors are preferred to bright colors for this setting. This outfit allows for extra layers, depending on the weather. Avoid t-shirts and opt for a sweater or collared shirt instead. Pair this ensemble with loafers or classic court shoes, and add a thin leather belt to pull the look together.
A simple tote bag in a muted shade can carry your essentials. Opt for a small pendant necklace, a pair of pearl stud earrings, and a slim wristwatch for minimalistic elegance. Choose a simple barrette or hairpin for a touch of sophistication in your hairstyle. Light, natural makeup will help maintain the professional tone of this outfit.
Jean Skirt and Top Set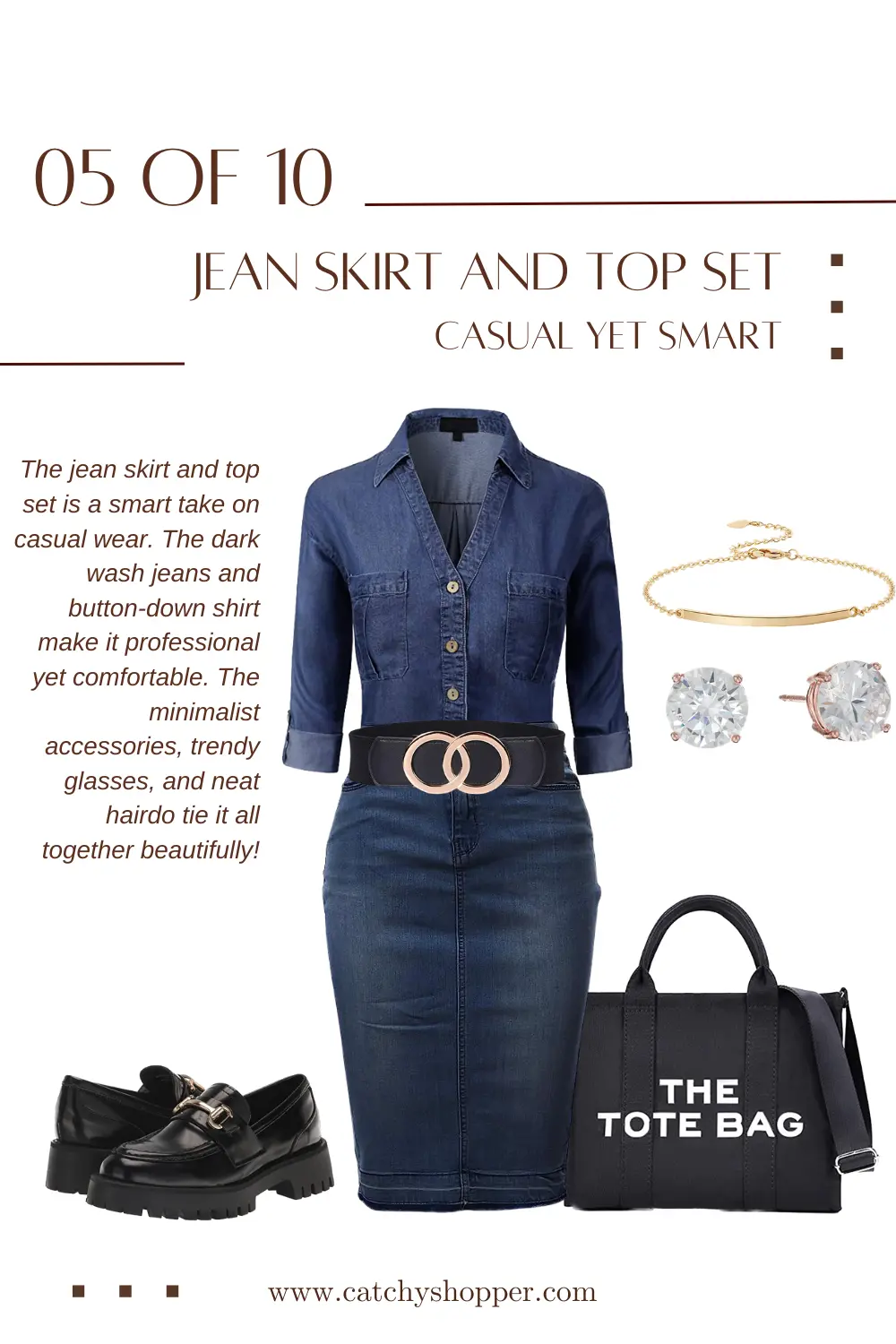 Dressing for jury duty can also include a jean skirt and top set if dressed appropriately. Avoid a relaxed fit or distressed jeans and choose a darker wash for a more professional look. Match the jean skirt with a button-down shirt instead of casual attire such as a sleeveless shirt or tank top.
Complete the outfit with comfortable flats or loafers. Carry your essentials in a structured tote bag or backpack for a modern twist. Choose a simple belt to define your waist and accessorize with stud earrings and a minimalist bracelet. A pair of trendy eyeglasses can elevate this look if required. A neat ponytail or bun can add a polished touch to your hairstyle, and a light, natural makeup look can tie everything together.
Classic Dress with Sleeves
A classic shift dress is ideal for jury service as it adheres to the dress codes of many courts. Opt for a comfortable dress with sleeves, fully covered and respectful. Avoid bright colors and stick with neutral or dark colors for this dress. For footwear, ballet flats or low heels would be ideal, giving a break from high heels.
Choose a structured handbag for practicality and style. Accessorize with a pearl necklace, a pair of small hoop earrings, and a classy watch. A headband or simple hair clip can add a touch of elegance to your hairstyle. If you require eyewear, opt for classic frames. Natural, soft makeup can beautifully complete this look.
Ankle Pants with Blouse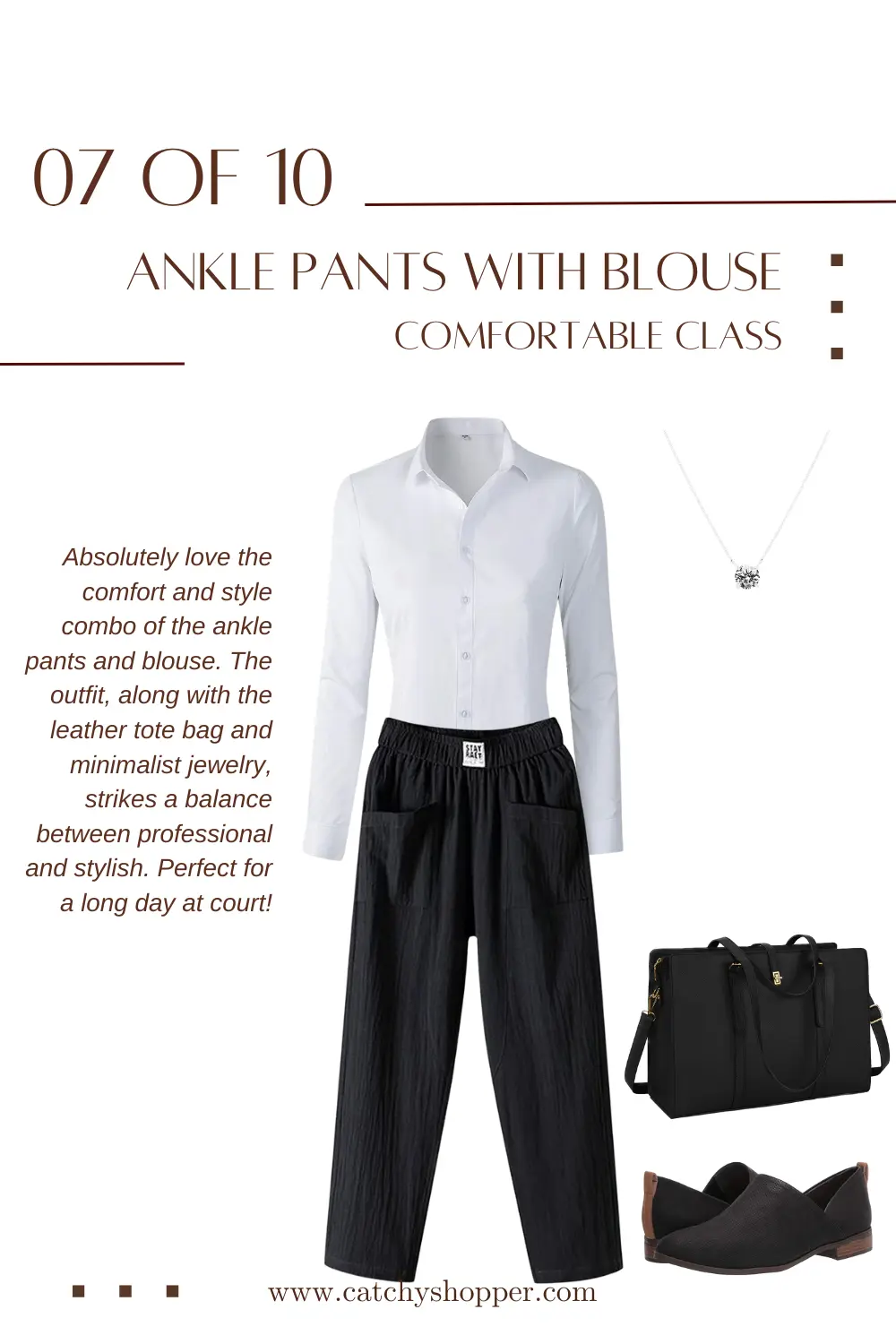 Choosing comfortable yet stylish business casual clothes is crucial when selecting jury duty clothes. Ankle pants, when tailored and in a more formal material, can replace the typical dress slacks. Pair these with a blouse, which could range from a white button-down shirt to a more colorful option, depending on your personal style. Closed-toe shoes, such as loafers or kitten heels, are a great choice for this outfit.
A leather tote bag or a chic satchel can provide a touch of sophistication while serving a practical purpose. A leather belt can enhance your silhouette while adding a fashionable touch. Opt for minimalist jewelry, such as a pendant necklace and small stud earrings, and perhaps a stylish watch. For hair accessories, a simple hair clip or barrette can add a subtle touch of elegance. Keep your eyewear and makeup understated and professional.
T-shirt Dress with a Structured Blazer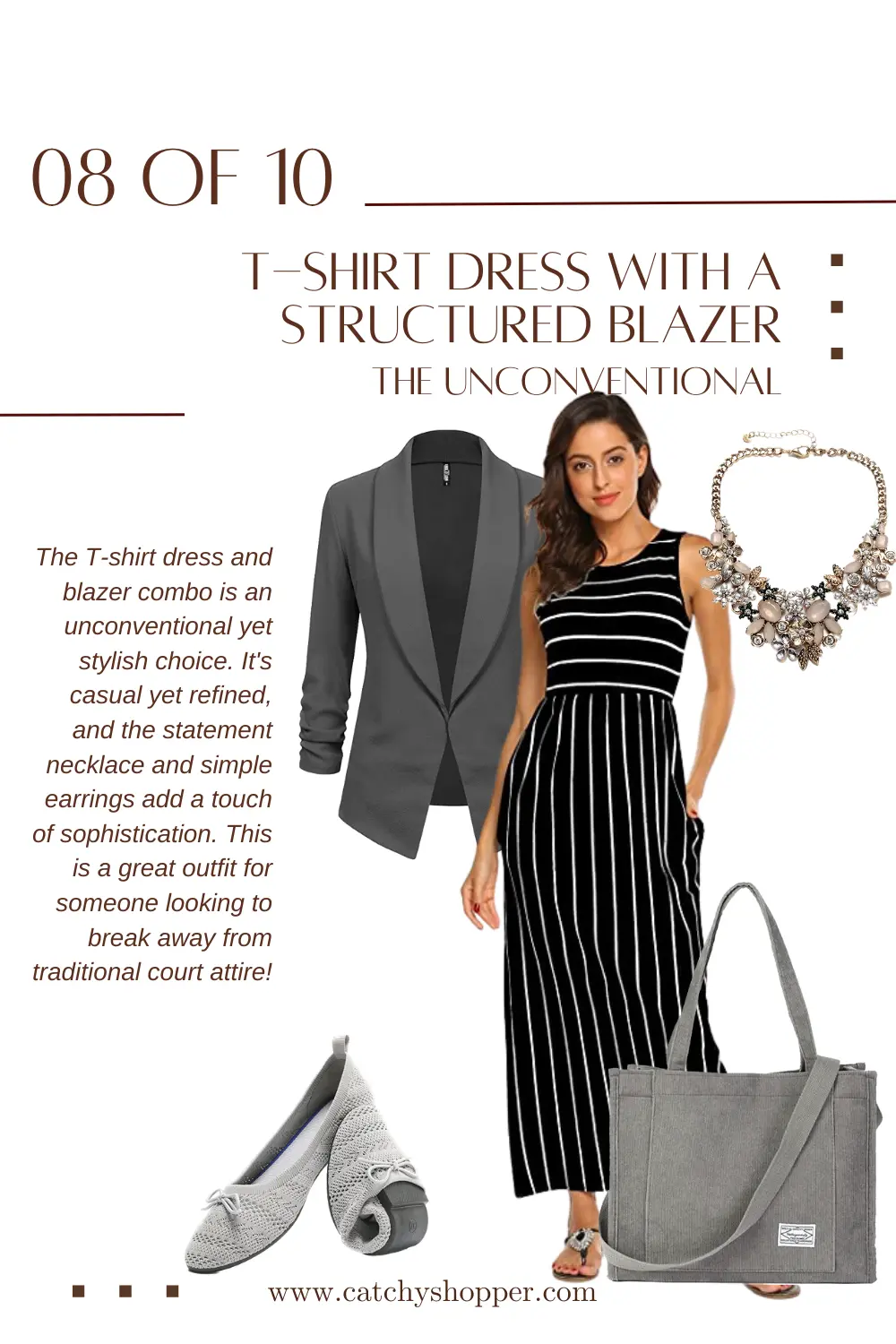 Mix the casual with the formal with a T-shirt dress paired with a structured blazer. Ensure the dress is modest and of a suitable length, and pair it with a blazer for a professional twist. Opt for comfortable ballet flats or loafers for footwear. A structured tote bag or a sleek backpack can add a modern touch to this unconventional ensemble.
For jewelry, consider a statement necklace and simple earrings. Add a leather belt for a touch of sophistication and to create a well-defined silhouette. Choose chic eyewear if needed and a simple headband or hair clip for a refined hairstyle. Keep makeup neutral to maintain a professional tone.
Tailored Trousers with a Fitted Blazer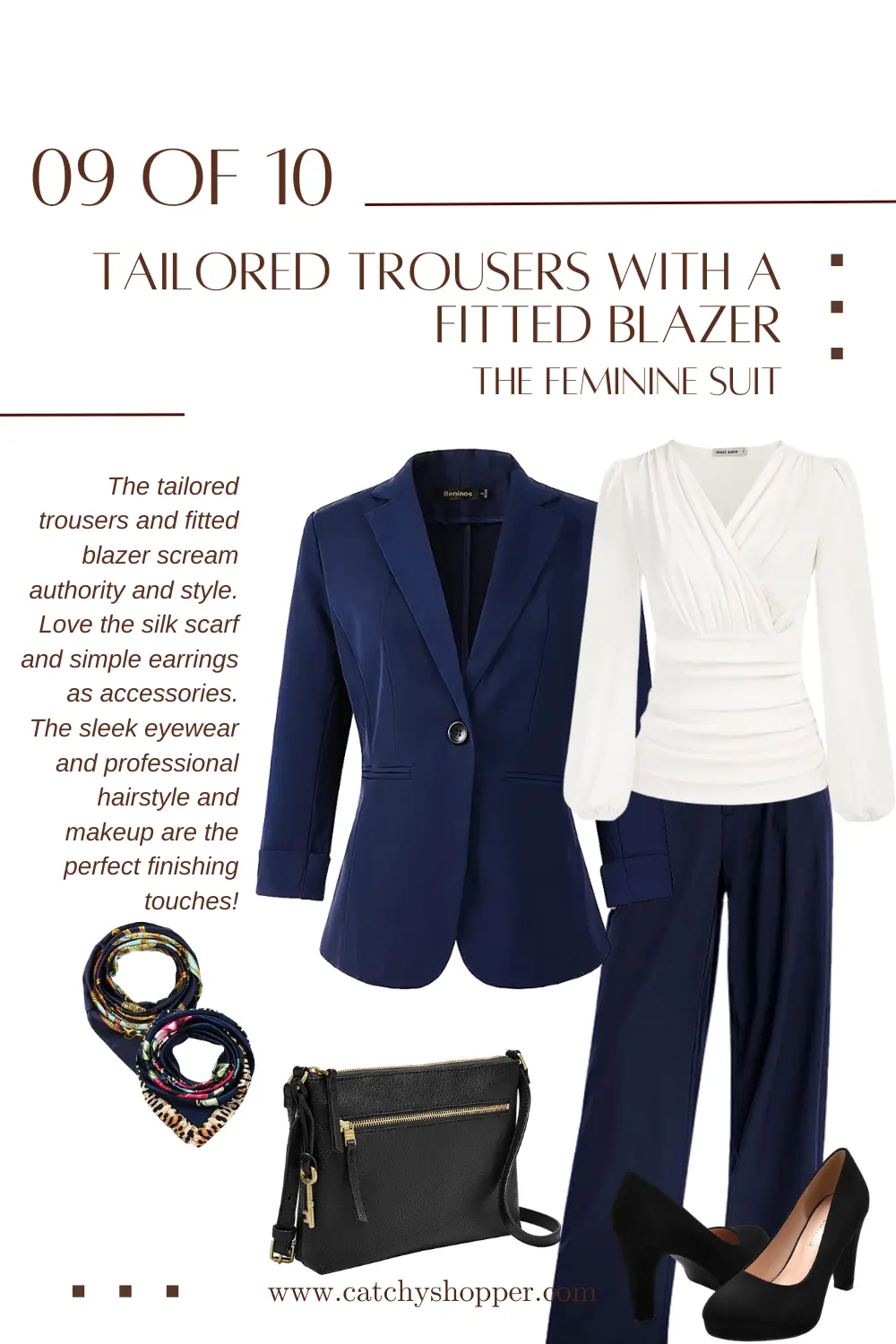 Exhibit authority and style with well-fitted trousers and a complimentary blazer. Make sure the trousers and blazer fit well and are in matching or complementary hues. For footwear, go for classic heels or sleek flats. Carry your essentials in a leather handbag or a stylish briefcase.
Accessorize with a silk scarf, simple earrings, and a statement watch. A thin belt can highlight your waist and add a stylish touch to your outfit. If the eyewear is required, opt for a sleek, professional style. Tie your hair back in a chic chignon or bun, and opt for a professional, elegant makeup look.
The Power Combo: Pencil Skirt with a Silk Blouse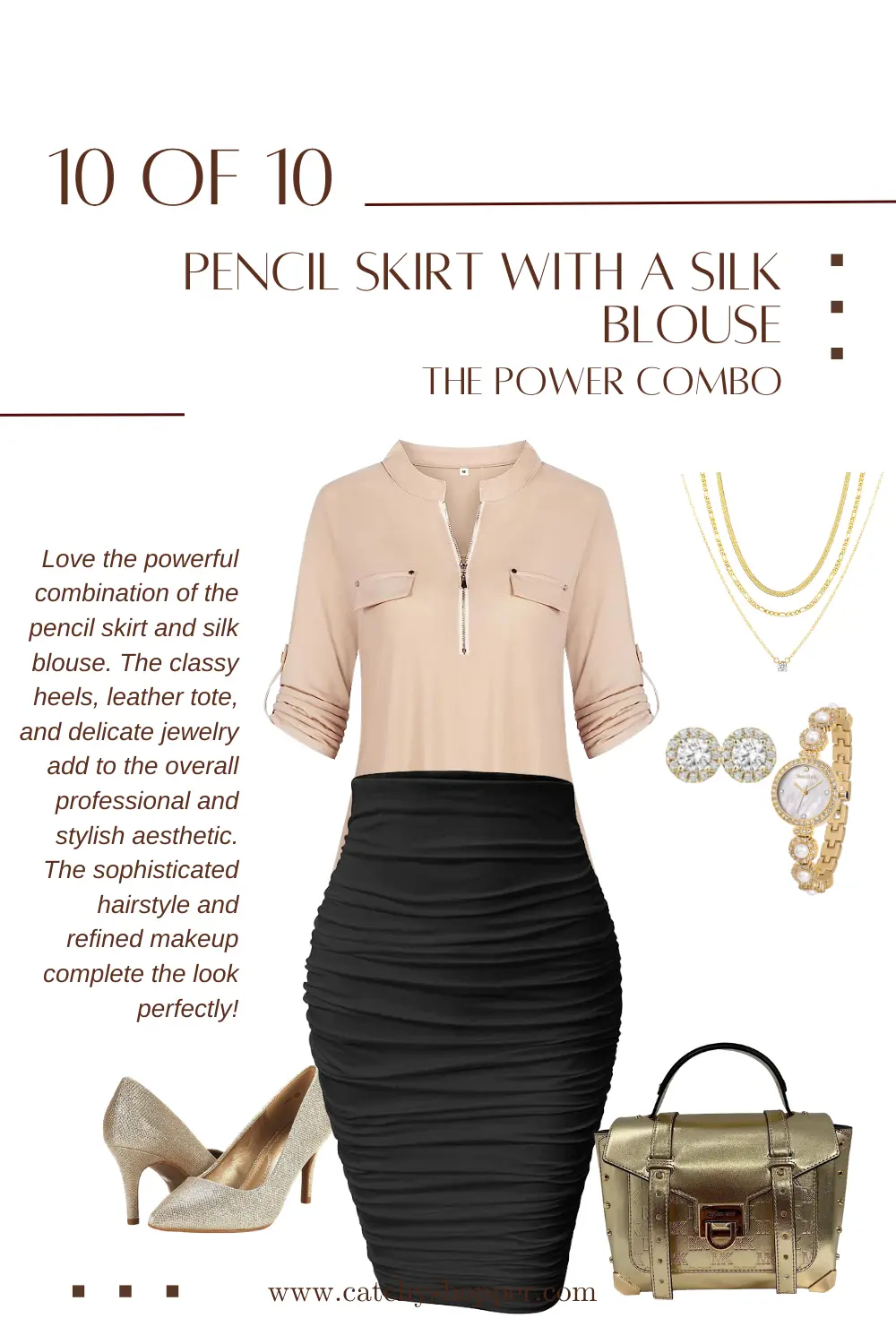 Opt for the power combo of a pencil skirt and silk blouse for a professional yet stylish outfit. Choose a skirt that is both flattering and comfortable, and pair it with a silk blouse for a touch of luxury. Classic heels or sophisticated flats would be ideal footwear for this ensemble. A leather tote or satchel can serve as a practical and stylish accessory.
For jewelry, consider a long, delicate necklace, a pair of stud earrings, and a classy watch. A thin, stylish belt can enhance your silhouette and add a touch of elegance. If eyewear is needed, choose frames that subtly highlight your style. A sleek hairstyle and refined makeup can beautifully complete this powerful look.
Essential Tips and Tricks for Your Courtroom Appearance
Let's delve deeper into some more tips and tricks to ace your jury attire: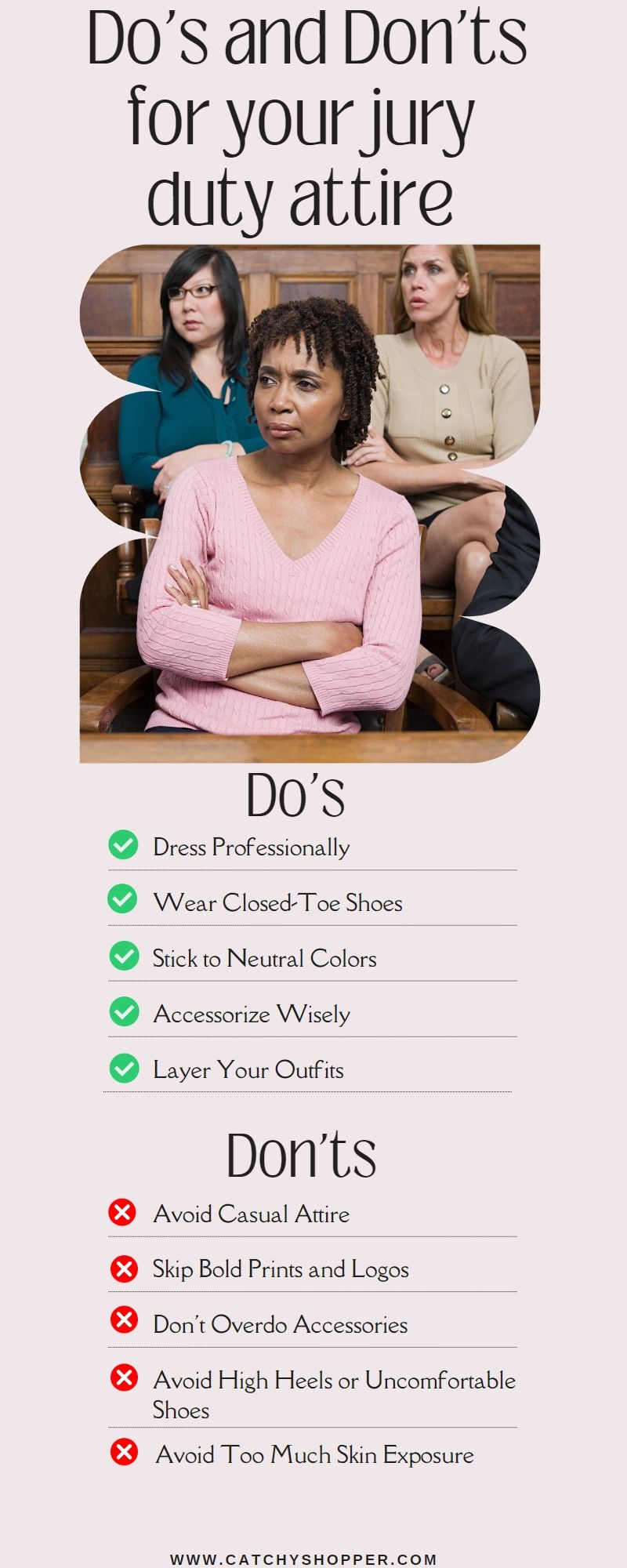 Layer it up
Courts can be unpredictable when it comes to temperature. It can be chilly one moment and quite warm the next. Dressing in layers can be your best friend in such a situation. You can easily add or remove layers depending on your comfort.
Stick to Neutrals
Bright and flashy colors can be a distraction in a courtroom setting. Stick to neutral colors like black, gray, navy, or beige to maintain the decorum of the court.
Comfortable Footwear
Remember, jury duty can involve a lot of waiting and standing. Comfortable shoes are a must. Closed-toe shoes or low heels are usually the best choices. Avoid flip flops, high heels, or shoes that might cause discomfort if worn for extended periods.
Avoid Bold Prints and Logos
While personal style is important, clothes with bold prints, logos, or offensive words might be seen as disrespectful. Keep your outfit simple and sophisticated.
Accessorize Wisely
Your accessories should enhance your outfit without causing distraction. Simple jewelry, a classic watch, or a modest handbag work well. It's also best to avoid accessories that make noise, such as clunky bracelets.
Prioritize Modesty
Dressing modestly is important in the courtroom setting. Avoid too much skin exposure - no short skirts, tank tops, or sleeveless shirts. Opt for dresses, skirts or trousers that fully cover and shirts or blouses with modest necklines.
Be Yourself
Last but not least, let your personality shine through your outfit. As long as it falls within the guidelines of business casual and is respectful of the court setting, feel free to express your personal style.
Remember, jury duty is a civic duty, and dressing appropriately for it showcases your respect for the process. Being comfortable in what you wear is key, as it allows you to focus fully on the case at hand.
Jury Duty Outfit FAQ
Do you have to dress up for jury duty?
Yes, it is recommended that you dress appropriately for jury duty. While you don't have to wear extremely formal attire, it's advisable to wear business casual attire as a sign of respect for the court proceedings.
What can I wear to jury duty?
For jury duty, you should opt for business casual attire. This could include outfits like a pencil skirt with a blouse, a suit, or a maxi dress with cardigan. Always ensure your outfit is comfortable and respectful.
Is there a dress code for jury duty?
While there's no strict dress code for jury duty, many courts suggest business casual attire. The key is to dress conservatively and respectfully. Avoid casual clothing like shorts, tank tops, and flip flops.
Can you wear a hat in court?
Generally, it is considered disrespectful to wear a hat in court. Unless it's for religious or medical reasons, it's better to avoid wearing a hat during your jury service.
Can you wear jeans to jury duty?
While every court may have different rules, it's generally acceptable to wear jeans to jury duty as long as they're dark-wash and not distressed. Pair them with a button-down shirt or blouse to maintain a business casual appearance.
What color suit to wear to court?
Darker colors like black, navy, or dark gray are commonly worn for court appearances as they convey professionalism and respect. Bright colors are generally avoided.
What is the best color to wear to court?
Neutral and darker colors are usually the best to wear to court. They convey a sense of professionalism and seriousness. It's generally advisable to avoid bright, flashy colors in such a formal setting.
Final Thoughts
Jury duty is a civic responsibility that requires a respectful approach, and the way we present ourselves plays a crucial part in this. Through this post, we have navigated a range of outfit ideas that blend the formality of the courtroom with personal style and comfort, ensuring you're well-prepared for your jury service.
From the classic elegance of a maxi dress with a cardigan to the unconventional combination of a shift dress with a chunky sweater, there are numerous ways to adapt business casual attire to fit the formal dress code of the courtroom. Remember, dressing appropriately is not just about adhering to the dress code but also about showing respect for the proceedings and the judicial process.
However, these guidelines don't mean your individual style can't shine through. Within these guidelines, there is plenty of room for personalization. Whether it's through your choice of accessories or the color of your blouse, you can express your personality while still dressing appropriately for the occasion.
Lastly, we'd love to hear about your experiences and outfit ideas for jury duty. Sharing your tips might just inspire and help someone else who's preparing for their jury duty. So, let's start a conversation about your jury duty attire. Remember, your personal style, when combined with a respectful approach to the court's formalities, can result in a look that's both suitable and uniquely you.
Other Posts You May Like
If our guide on 10 Jury Duty Outfits to Help You Look Appropriately Stylish resonated with you, you'll be thrilled to explore our other compelling series. Begin your style transformation with our Start Your Journey with Stylish Accessories series, designed to accentuate every look.
Then, plunge into a sea of style with our Dive Into Fashion Outfits series, guaranteed to inspire your fashion-forward journey.
💡
Dive Into Fashion Outfits
Explore our exclusive articles featuring
Boho Outfit Ideas
,
Vacation Outfits
,
Festival Outfits
,
and
Summer Outfits with Hats
.
Delve into our
Denim Shorts Outfits
,
Black and White Outfits
, Bodysuits Outfits,
and
Pink Outfit Ideas
. Experience the charm of our
Tube Top Outfits
, Crop Top Outfits,
Sundress Outfit Ideas
,
Resort Wear
,
and
Beach Wear
.
Start your style journey now!
Step boldly into the World of Chic Footwear, where comfort meets style.
In our Discover the World of Bodysuits series, you'll find adaptable pieces that fit every silhouette.
If you're all about staying on trend with the seasons, our Embark on a Seasonal Style Adventure series will be your fashion compass.
Learn how to masterfully blend hues and styles with our Uncover the Art of Color and Style Pairing series.
Or, ignite your personal style with our Illuminate Your Wardrobe with Unique Outfit Pieces series.
For the globe-trotters, our Travel in Style with Unique Fashion Items series offers the best in comfort and trend-setting fashion. Start your stylish journey with us today!
Comments