This post may contain affiliate links, please see our privacy policy for details.
Are you ready to turn the heat up on your summer style? If so, you've clicked on the right post. Today, we're diving into the world of linen pants, the effortlessly chic, incredibly comfortable, and oh-so-breezy wardrobe staple that should be your go-to for those balmy summer days and nights.
From beach barbecues to romantic sunset dinners, these versatile pants are your ticket to sizzling style this summer. In our post, we're taking a page out of the fashionista's book and exploring the myriad ways to rock this summer's hottest trend.
What to Wear with Linen Pants
Breezy, stylish, and as comfortable as a second skin - that's the magic of linen pants for you. Perfect companions for the sweltering days of spring and summer, these pants are like a cool sea breeze in the realm of fashion. They seamlessly transform from day to night, laid-back to ritzy, without missing a beat.
If you're a lover of comfort, you'll adore linen pants. They're designed for relaxation, with a fit that invites you to spend your whole day in them. They're essentially the sweatpants of the stylish world, but infinitely chicer!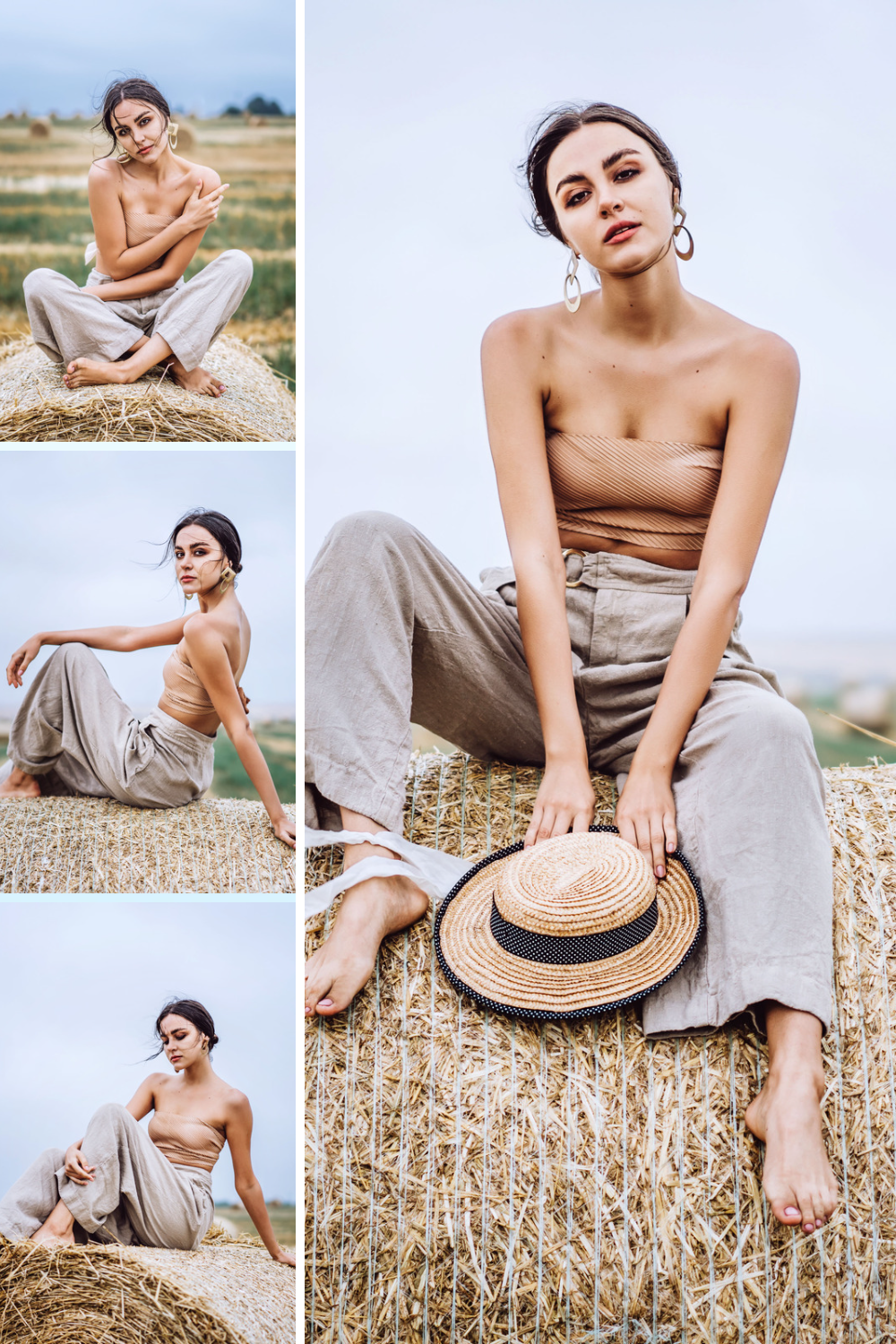 Now you may be wondering, what shoes should I wear with linen pants? The shoes you pair with linen pants can change the entire vibe of your outfit. For a casual, laid-back look, opt for flat sandals, loafers, or sneakers. For a more refined vibe, ballet flats, loafers, or even a stylish pair of wedges or heels can perfectly accentuate the look.
You might be thinking, what top should I wear with linen pants? The good news is, the choice is vast. For a relaxed look, a simple tee or a tank top are great companions to linen pants. If you're dressing up, a blouse or a structured button-up shirt can give a polished appearance.
Another common question is, what shirt should I wear with linen pants? For a more formal look, a well-fitted button-up in a solid color or with a subtle pattern would work wonders. A loose, flowy shirt or a fun, colorful printed shirt is perfect for a casual, effortless vibe.
Whether you're trying to style white linen pants for a pristine, summery vibe, or you're interested in neutral linen pants for a more earthy, grounded look, we've got it all covered. However, if you're opting for white, you might be curious about what to wear under white linen pants. Given that white linen pants can sometimes be slightly transparent, it's crucial to choose the right underwear. Go for seamless, nude-toned underwear, or for a more conservative approach, consider lightweight, nude-toned shorts or a slip underneath.
Linen Pants Outfit Ideas
So, you've set your heart on these stylish beauties, but are a bit puzzled about how to style them? Say no more, you're in the right corner of the internet! We've compiled a style guide chock-full of over 10 outfit ideas, inspired by the crème de la crème of the fashion world, to show you how to wear your linen pants with flair and grace. Whether you want to incorporate linen trousers into your everyday looks or you're planning to create a more sophisticated ensemble, we've got a look for every style below! So, let's dive into these Linen Pants Outfit Ideas and take your summer style to new heights!
White Linen Pants Outfit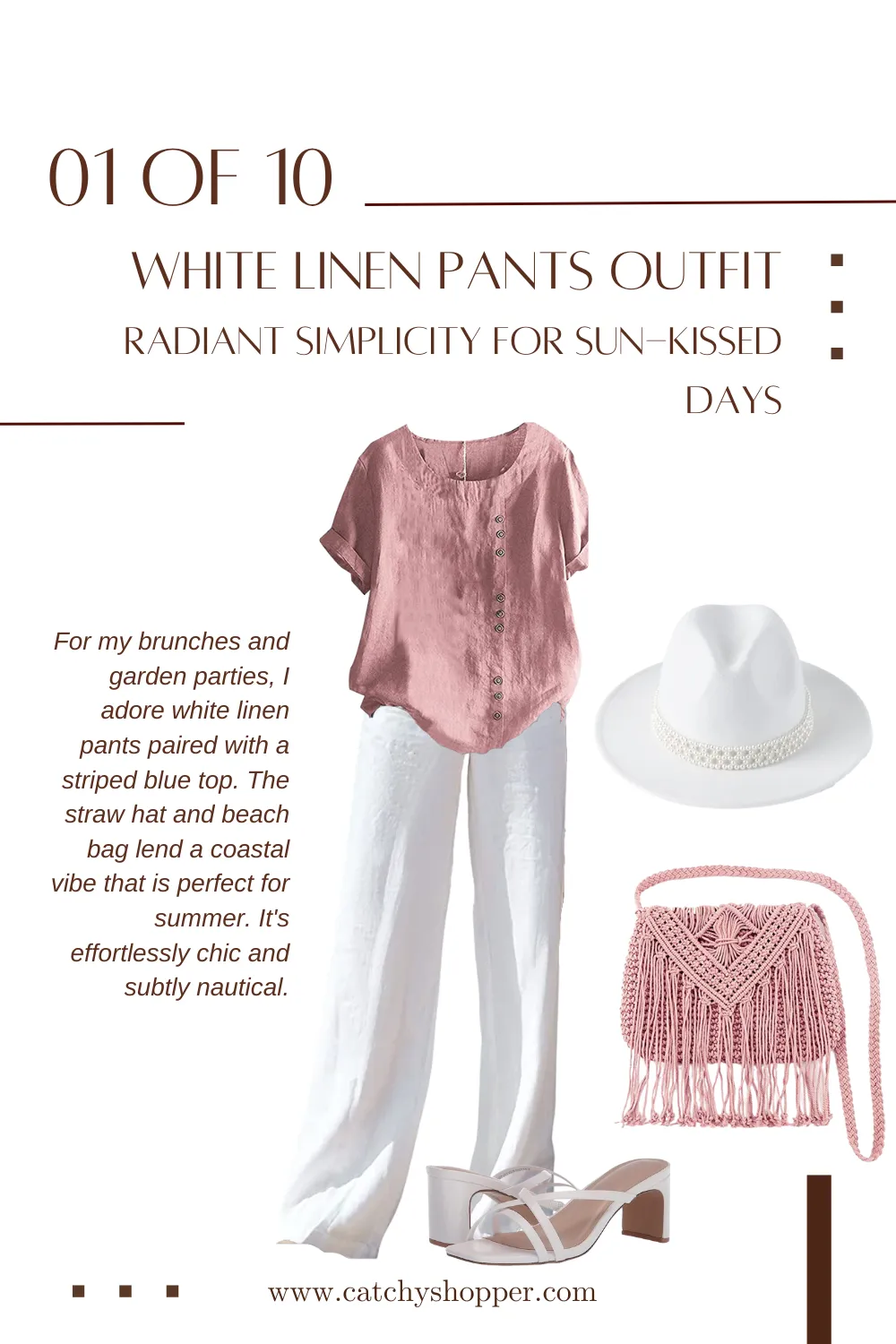 When the summer heat is at its peak, nothing screams cool and chic quite like an outfit built around crisp white linen pants. Team them up with a pastel-colored linen top to ooze sophistication, effortlessly blending with the casual ambiance of a beachfront brunch or a lazy afternoon garden party. Enhance the refreshing look with a pair of dainty sandals, adding a feminine flair to your ensemble. Don't forget to complete the outfit with a light straw hat, perfect for protecting you from the midday sun, and a chic crossbody bag for all your essentials.
💡
If you're looking for tips on how to wear white linen pants, make sure you check out this post next.
Black Linen Pants Outfit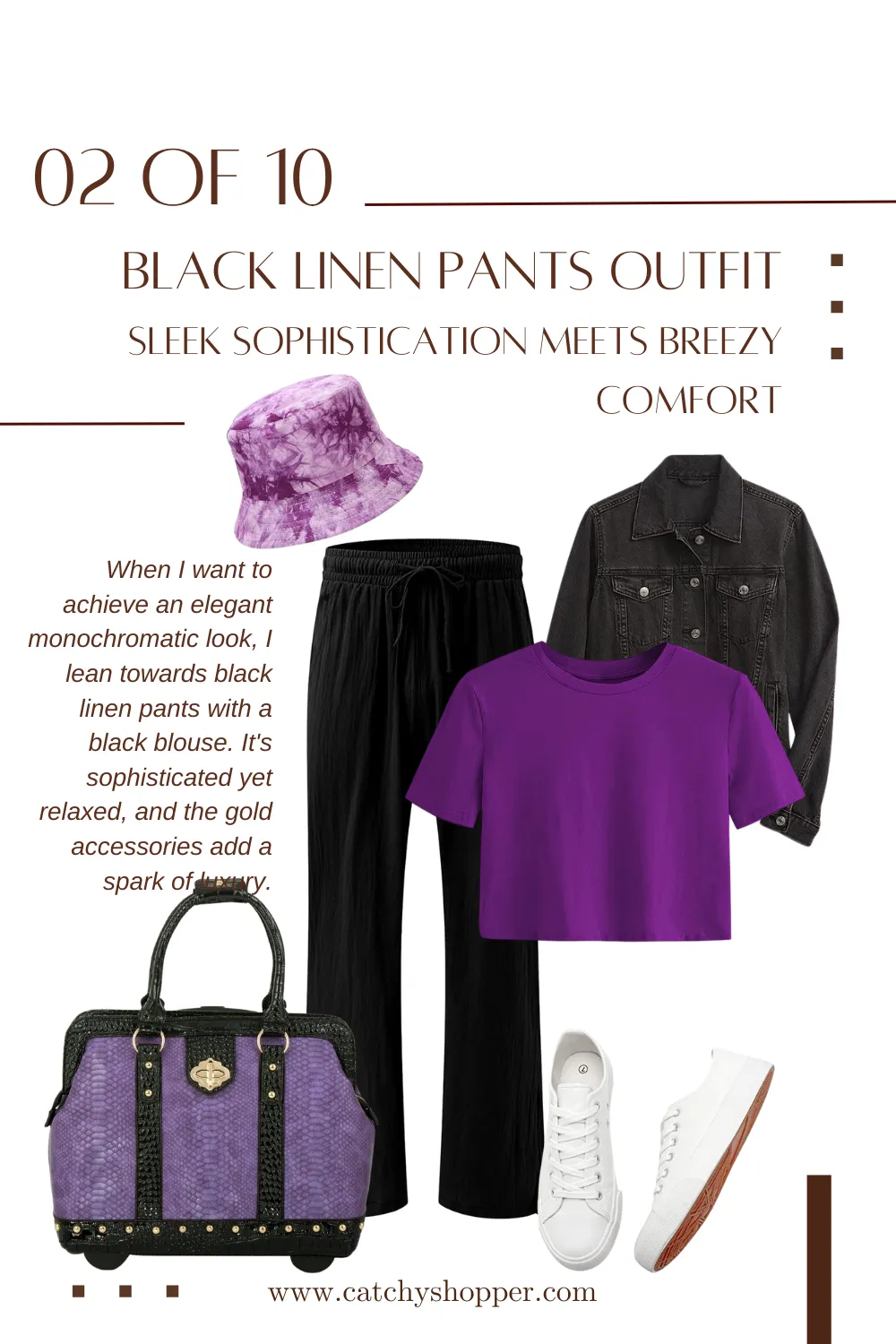 Transition your style from day to night effortlessly with black linen pants. Pair them with a classic tee and a denim jacket for a timeless yet trendy vibe. White sneakers are the perfect balance of comfort and style, making them ideal for a day of city exploration or a relaxed dinner by the boardwalk. Complete your look with a statement tote bag that combines functionality and style, and a bucket hat that adds a youthful charm to your outfit.
Wide Leg Linen Pants Outfit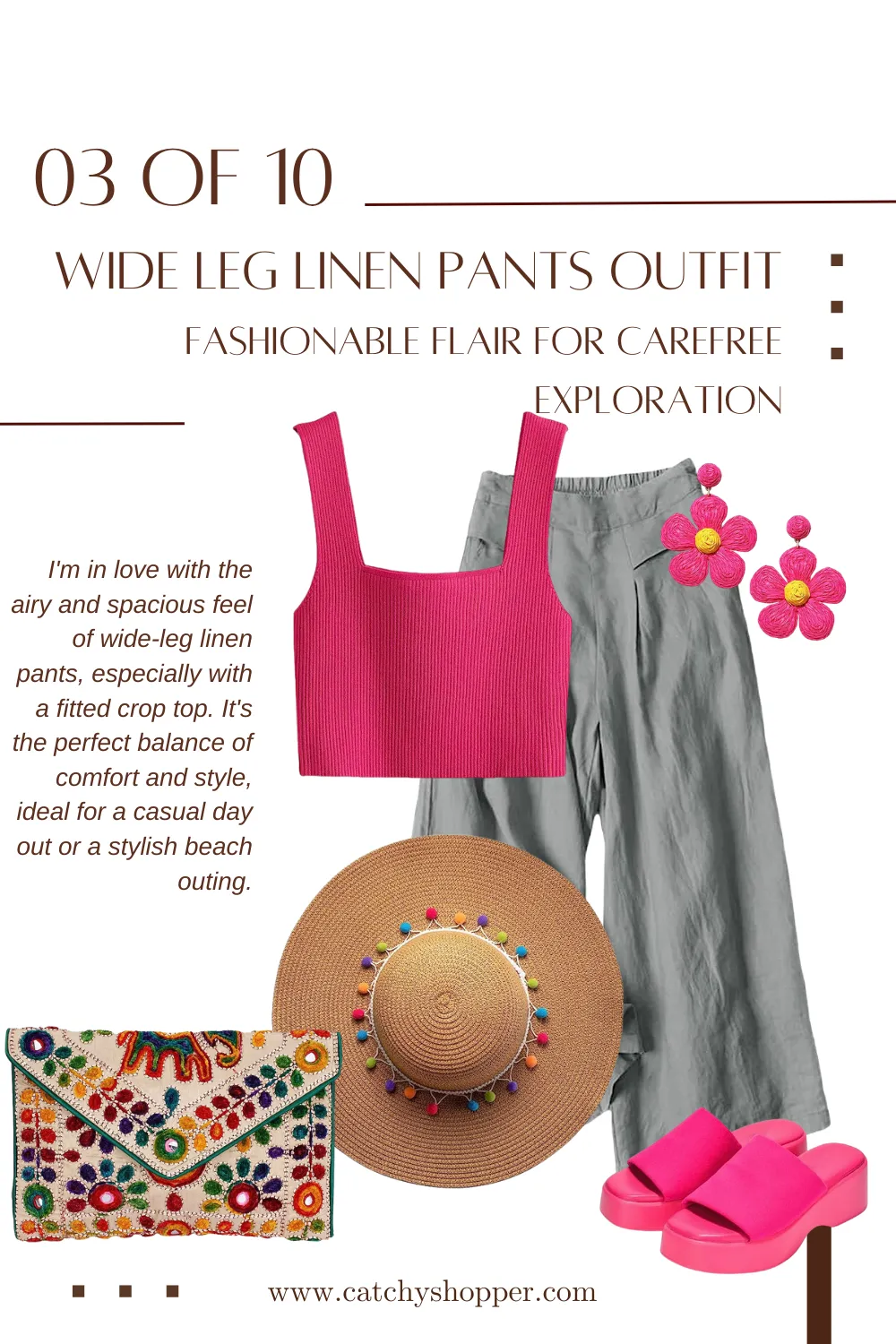 Embrace a modern, bohemian vibe with a pair of wide-leg linen pants. Couple them with a cropped top that adds a playful element to your outfit, and chunky sandals that keep you grounded in style. Accentuate this free-spirited look with boho-style earrings that mirror your inner wanderlust. A woven purse gives you just enough space for your essentials without sacrificing style, and a wide-brimmed hat is your perfect companion for a sunny day.
Beige Linen Pants Outfit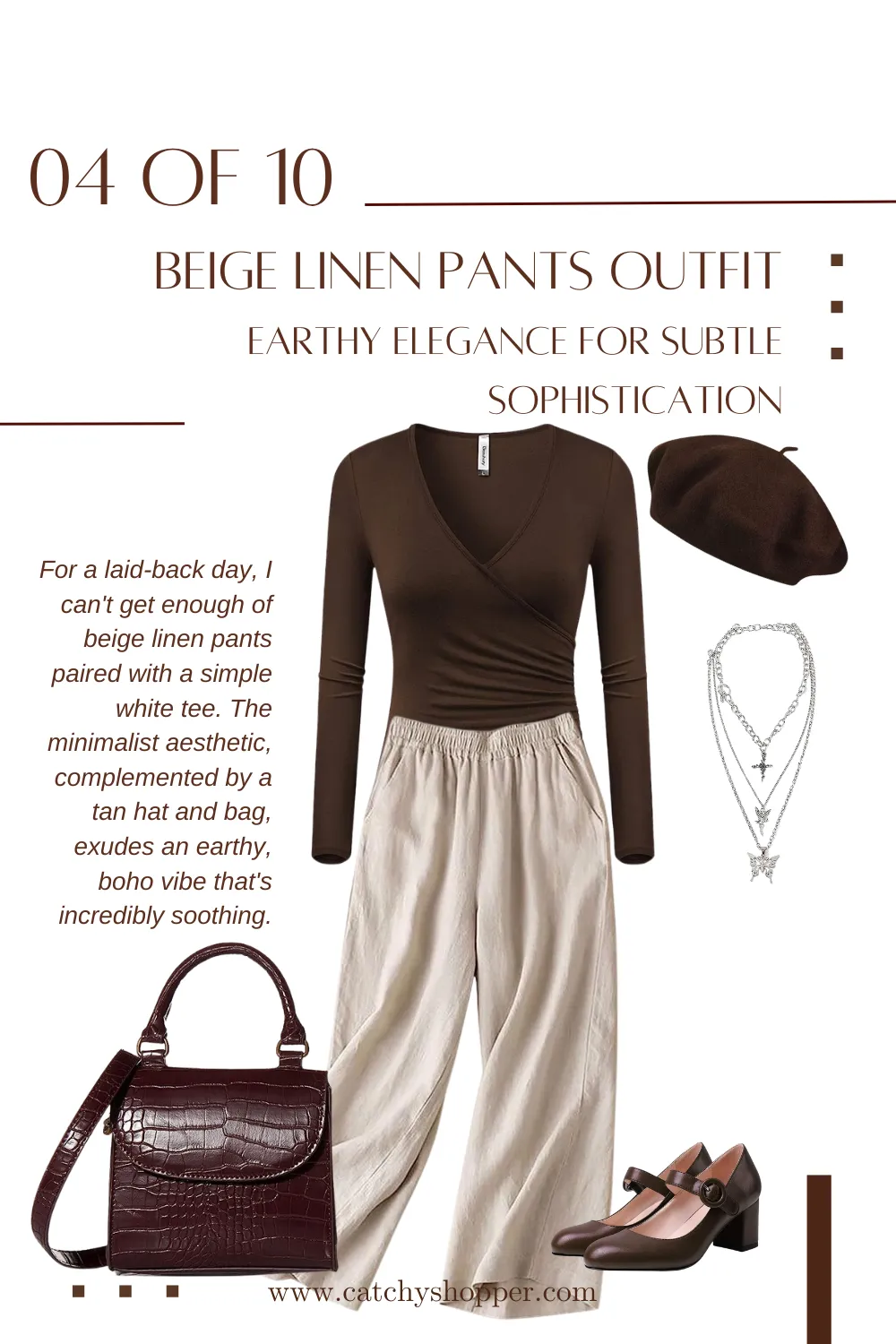 Bask in the elegance of simplicity with a breezy outfit centered around beige linen pants. Pair them with a delicate, long-sleeved blouse that adds a feminine and sophisticated touch to your ensemble. Classic pumps complement this elegant look, giving you the perfect blend of style and comfort.
A structured handbag is a great choice for maintaining that sleek, high-end appeal while accommodating all your necessities. Don't forget to add a chic beret to infuse a dash of unique character into your outfit. And for the final touch, adorn yourself with some dainty jewelry that adds just the right amount of sparkle. This outfit is perfect for a high-end brunch or a relaxed day at the office.
Green Linen Pants Outfit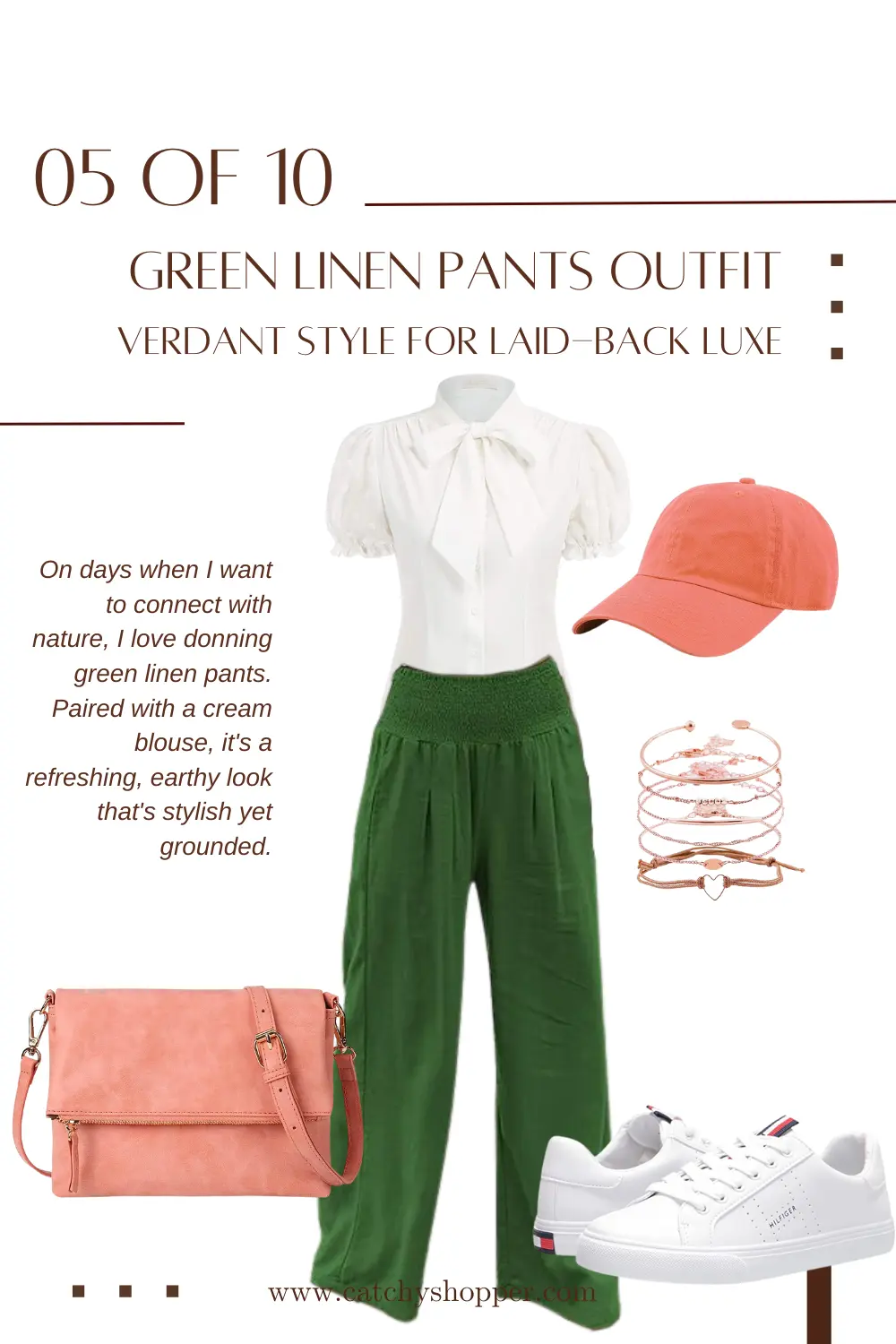 Go bold and vibrant with an outfit featuring green linen pants. Pair them with a neutral puff sleeve blouse to bring balance and elegance to your look. Opt for sneakers to add a casual and comfy vibe to the ensemble. For accessories, choose a statement-making crossbody bag and a cool cap to amp up the street style factor. Finish your look with layered bracelets for a fun twist.
Striped Linen Pants Outfit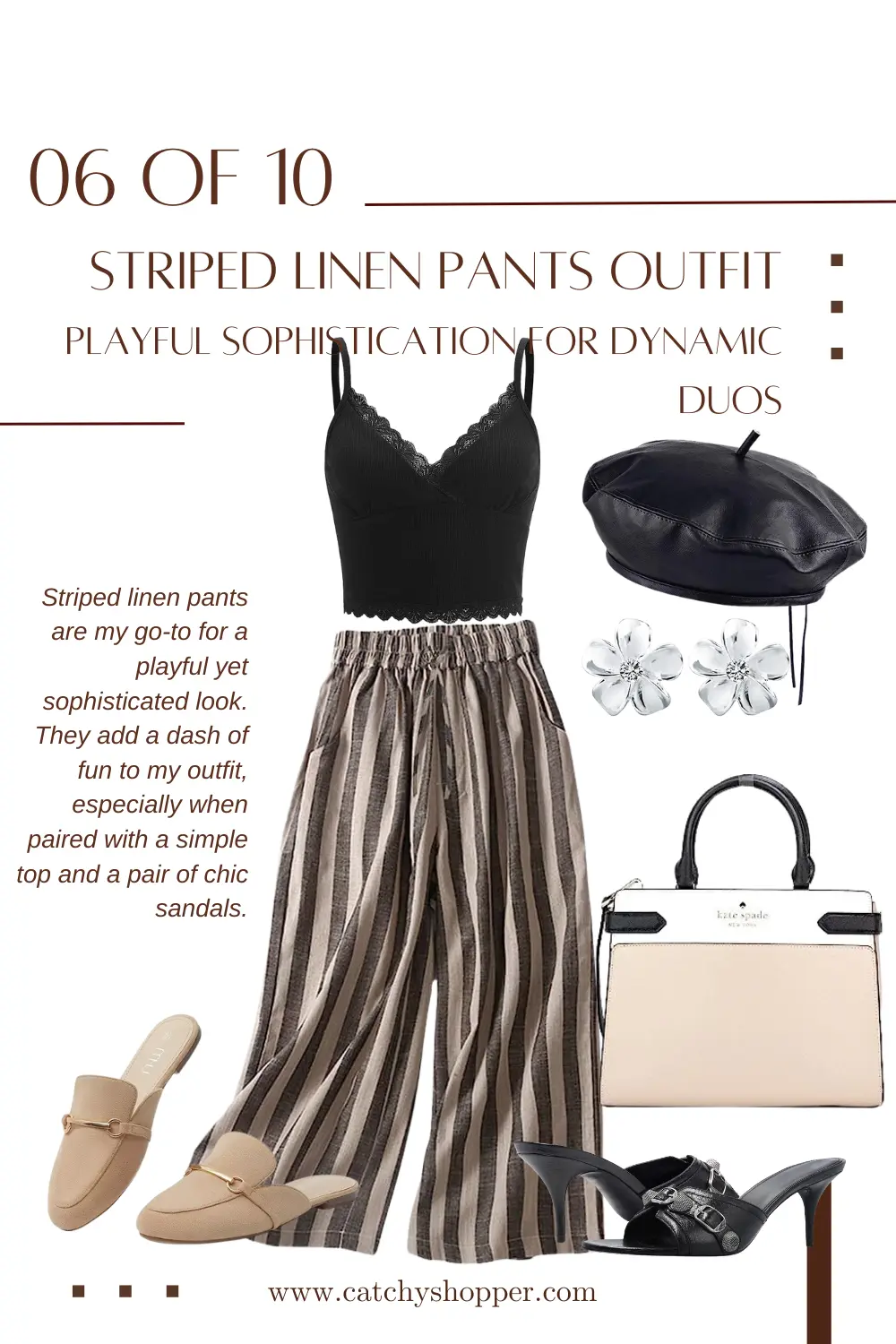 Embrace the chic, Parisian vibe with an outfit featuring striped linen pants. Pair them with a solid color top to balance the stripes. Heeled shoes or mules are the perfect footwear choice, lending a bit of height and edge to the outfit. A structured purse gives the outfit a polished finish, while a beret infuses a classic French charm. Keep your jewelry minimalistic with a pair of stud earrings. Shop this look now and exude effortless chic!
High Waisted Linen Pants Outfit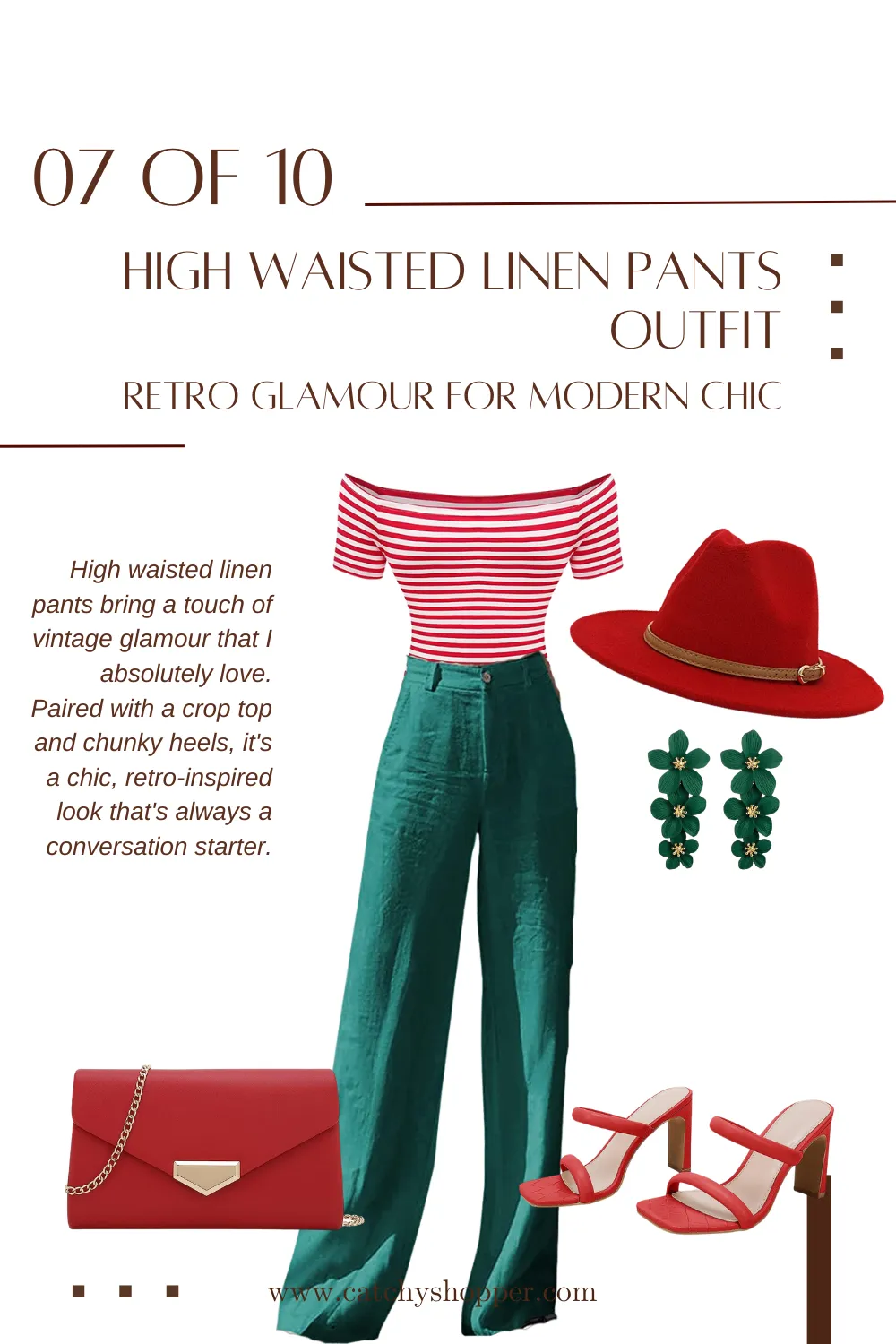 Highlight your silhouette with an outfit featuring high-waisted linen pants. Pair them with a trendy striped shirt tucked in to accentuate your waistline. Opt for a pair of heeled sandals to elongate your legs and add a touch of sophistication. A simple yet chic handbag pair well, and a stylish fedora completes this eye-catching outfit. Don't forget to add a pair of statement earrings for a touch of glam.
Khaki Linen Pants Outfit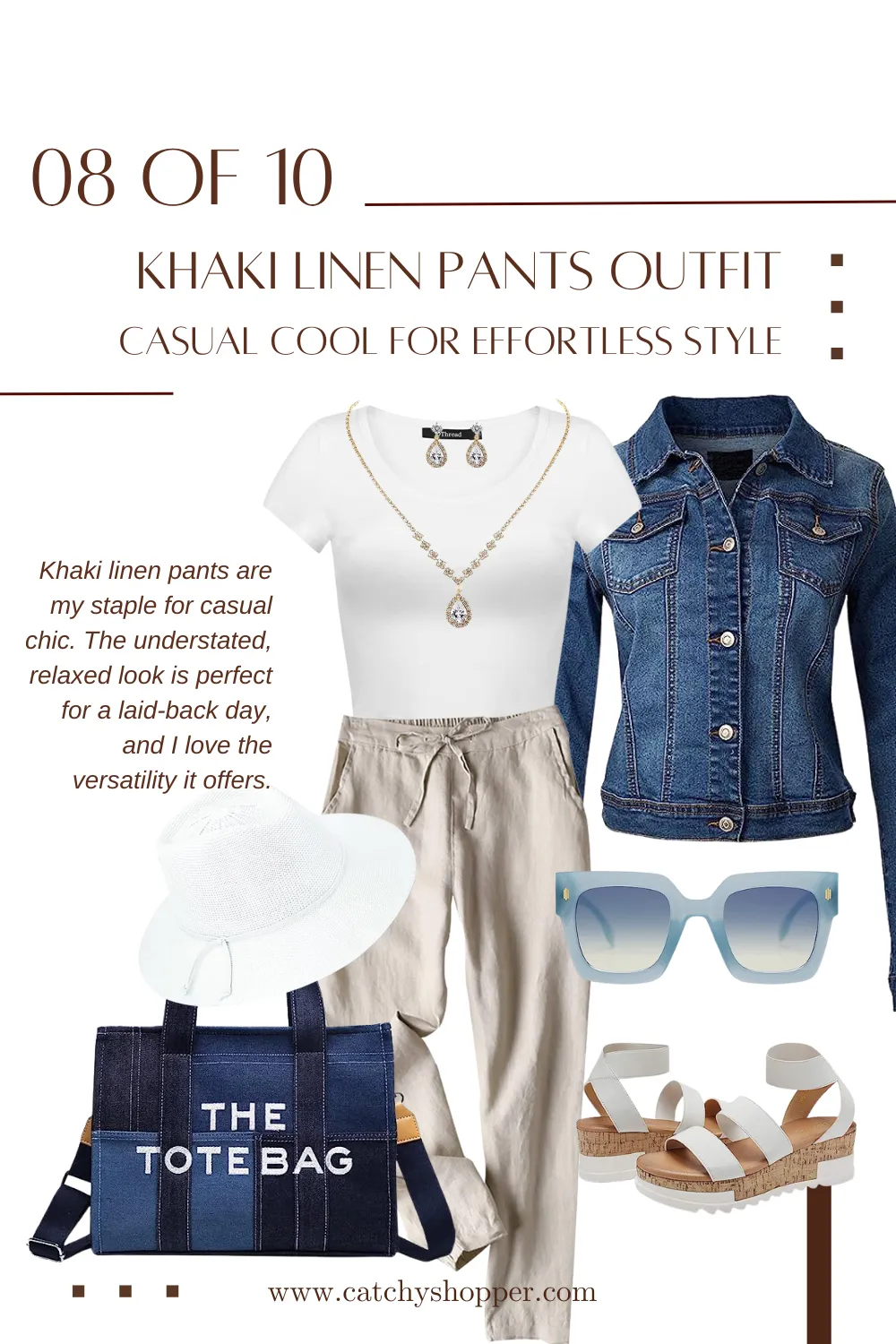 For a laid-back summer look, opt for an outfit featuring khaki linen pants. A classic white top pairs perfectly with a casual vibe, while a jean jacket adds a cool layer for transitional weather. Dress up the outfit with a pair of platform sandals for a touch of height and sophistication. Complement this look with a straw hat and a tote bag, perfect for running errands or a relaxed beach day. Add a pair of sunglasses and a touch of gold jewelry for an effortlessly chic look.
Navy Blue Linen Pants Outfit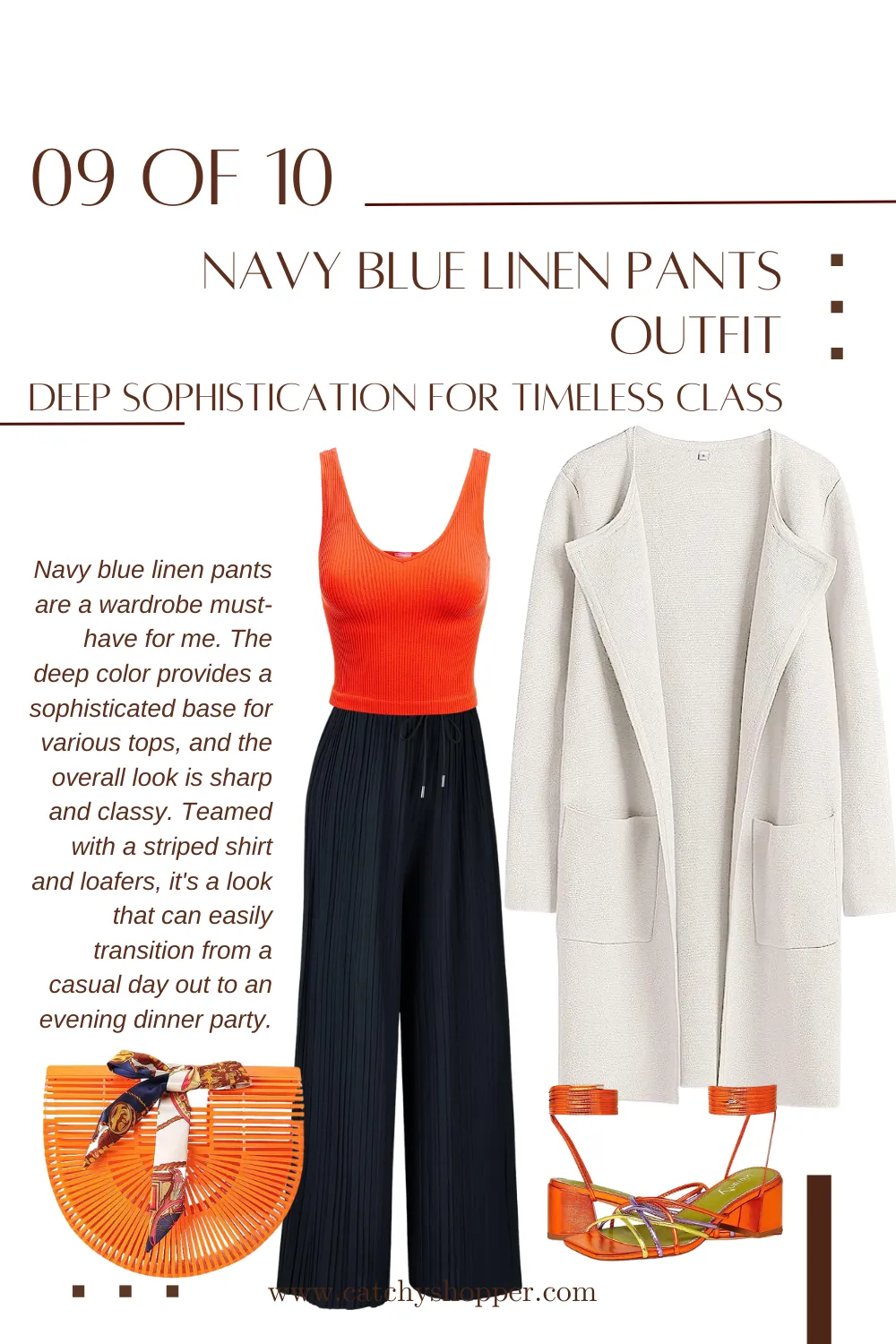 Embrace the timeless appeal of navy blue with an outfit featuring navy blue linen pants. A bright-colored ribbed tank adds a pop of color, while a trench coat gives the outfit a dressed-up feel, perfect for a dinner date or a summer evening out. Complete the outfit with strappy sandals and a clutch bag for a stylish look.
Yellow Linen Pants Outfit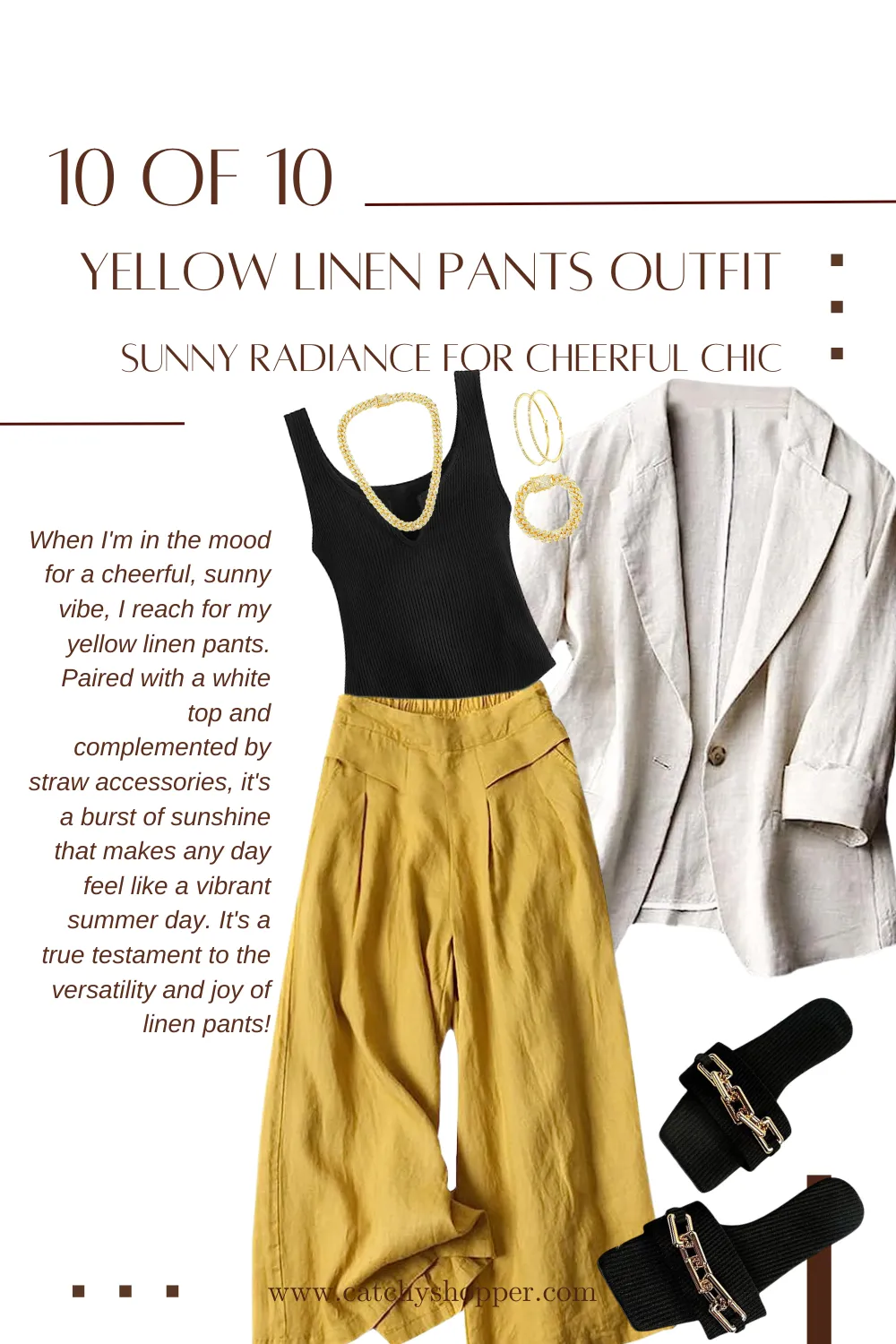 Brighten up your summer outfit with yellow linen pants. Pair them with a black bodysuit for contrast, and add an unstructured outerwear piece like a linen blazer for a relaxed vibe. A pair of flat sandals complete this casual look, perfect for a laid-back summer day. Dress it up with gold jewelry for a timeless look.
Linen Pants Outfit FAQ
Are linen pants business casual?
Yes, linen pants can be styled to fit a business casual dress code. Pair them with a crisp blouse or a tailored blazer for a professional yet relaxed look.
Can you wear linen pants in the Fall?
Absolutely. Although traditionally a summer fabric, linen can work for fall when styled correctly. Opt for darker, richer colors and pair with warmer layers like a cozy knit sweater.
Can you wear linen pants in Winter?
It's possible, but linen is a light, breathable fabric better suited to warmer climates. If you choose to wear linen pants in winter, consider layering them with thermal leggings and pairing them with winter-appropriate footwear and outerwear.
Are linen pants breathable?
Yes, linen is known for its breathability, which makes linen pants perfect for warm climates and hot summer months.
Can you iron linen pants?
Yes, you can iron linen pants, but it's recommended to do so when the pants are still slightly damp. Use a medium-hot iron and always iron on the wrong side of the fabric to prevent shine marks.
When to wear linen pants?
Linen pants are versatile and can be worn for various occasions depending on how they're styled. They're perfect for warm-weather outings, casual days at the office, beach trips, and even formal summer events when paired with the right accessories and footwear.
Final Thoughts
Summer is the perfect time to flaunt your fashionable style. Thanks for joining us on this tour of linen pant outfit inspirations! No matter what corner of the world the summer sun takes you, you'll be prepared and looking snazzy in your linen pants. We hope you leave feeling inspired to update your wardrobe for maximum fashion potential.
Be sure to let us know in the comments below how you plan to have some serious fun while looking spectacularly chic! What is your favorite linen pant look? Got a summer adventure you're dying to share? We'd love to see pictures too! As we turn from white and black to bold brights, we challenge each of our readers to sign up for a summer-style adventure unique to them. So let's stoke our fashion flames and encourage creativity: who will take the plunge first? Here are cheers to a stylish summer!
Other Posts You May Like
💡
Dive Into Fashion Outfits
Explore our exclusive articles featuring Boho Outfit Ideas, Vacation Outfits, Festival Outfits, and
Summer Outfits with Hats. Delve into our Denim Shorts Outfits, Black and White Outfits,
Bodysuits Outfits
,
Black Dress Outfits
,
and Pink Outfit Ideas. Experience the charm of our Tube Top Outfits,
Crop Top Outfits
, Sundress Outfit Ideas, Resort Wear, Beach Wear, Pool Outfits,
4th of July Outfits
, and
Jury Duty Outfits
. Start your style journey now!
Comments