This post may contain affiliate links, please see our privacy policy for details.
Let's face it, dry lips are never in style! That's why lip oil is such a popular beauty product. Not only does it help keep your lips soft and hydrated, but it also adds a bit of shine to your pout—which can be a great boost for any makeup look. But with so many lip oils on the market, which one is right for you? Read on to find out more about the amazing benefits of this underrated skincare product!
What Is Lip Oil?
Lip oils are lightweight formulas that blend together natural oils and other nourishing ingredients to moisturize and protect the lips. They come in various forms from liquid to balm, but they all have one thing in common—they contain natural oil-based ingredients like jojoba, sunflower seed oil, or avocado oil. These nutrient-rich oils are incredibly effective at locking in moisture and leaving your lips feeling soft and smooth.
The Benefits of Lip Oil
Lip oil is not a new product on the market, but it is one that is often overlooked. There are many benefits to using lip oil, including hydration, protecting your lips from the elements, and even helping to reduce wrinkles. If you have never tried lip oil before, now is the time to give it a try! Keep reading to learn more about the benefits of this unique product.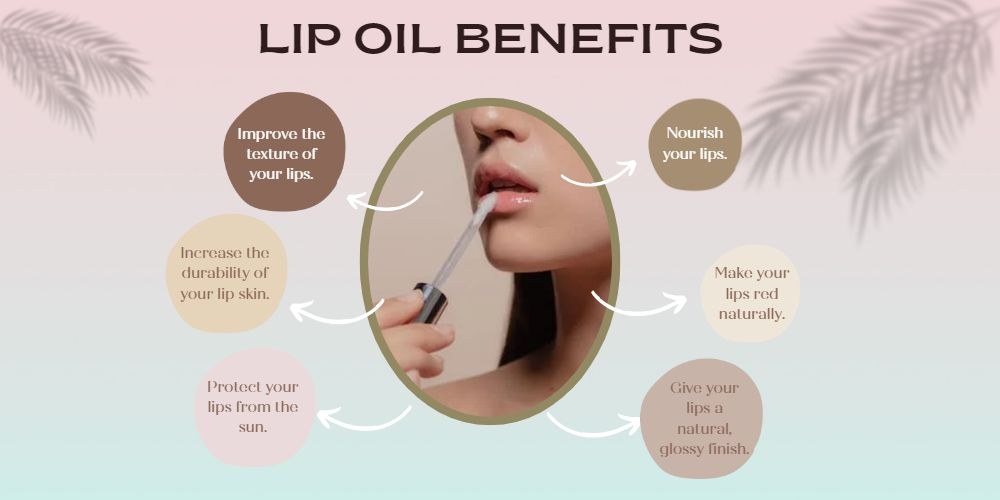 Lip Oil Can Help to Hydrate and Nourish Your Lips
For those looking to keep their lips feeling soft and hydrated, lip oil is the perfect solution. Rich in essential nutrients and minerals, lip oil can nourish delicate skin while providing a protective barrier against harsh environmental conditions. Not only will it help to keep your lips hydrated throughout the day, but using an oil-based product also means you'll have fewer dry, cracked lips!
In addition to deep hydration and nourishment, lip oils come in many different colors and scents to suit your own style and preferences. So why not give this convenient product a try – your lips will thank you for it!
It Can Help to Protect Your Lips From the Sun
Everyone knows the pain of chapped lips that come from too much sun exposure. Combat this annoying side-effect with some fantastic sun protection for your lips!
There are a variety of natural ingredients you can use to help keep your lips soft and kissable, such as essential oils like shea butter and jojoba oil, as well as other oils like coconut oil and vitamin E which all contribute to healthy, hydrated skin.
With the right combination of these ingredients, you'll have smooth and protected lips in no time! And don't forget to follow up with plenty of water if you have been out in the hot sun; it will help your chapped lips heal faster.
It Can Help to Reduce the Appearance of Fine Lines and Wrinkles Around the Mouth
When it comes to preserving the skin around the mouth and reducing signs of aging, one option that has gained a great deal of popularity lately is the use of an anti-aging lip balm. This can help to reduce the appearance of fine lines and wrinkles, while providing an effective layer of hydration, giving you soft and glowing-looking skin.
Bringing together natural antioxidants and other plant extracts, these formulas are gentle enough that they can be applied on a daily basis in order to keep your lips healthy. If you're looking for ways to fight wrinkles while also nourishing your delicate skin - there's no better way than with a specialized anti-aging lip balm.
It Can Give Your Lips a Natural, Glossy Finish
Lip gloss is the perfect way to give your lips a beautiful and natural-looking shine. It provides both color and moisturizing benefits, all in one. Whether you'd like an ultra-glossy look or something more subtle, lip gloss can help you achieve the desired result.
For those who don't want the sticky feeling of lipstick but still desire a polished look, lip gloss allows for a soft coating or subtle sheer. For people with dry lips, it gives relief from chapping and consistent use can bring back that soft, supple feel. Lip gloss creates not only a glossy finish but also prevents further dryness while adding color and drama to your lips.
It Is Easy to Apply and Can Be Used as Often as Needed
It is easy to see why a product that is simple to apply and can be used as much as needed would be popular. With the busy lifestyles we all lead, convenience and practicality such as this offer a real lifeline.
This product appears to do exactly what it says it will, without making any compromises on quality or exceeding expectations - something that has become increasingly rare in today's world! With easy application and unrestricted usage, this product is sure to fulfill your needs.
How to Choose Lip Oils
When it comes to lip care, there are a lot of different products on the market. Lip oils are becoming increasingly popular, but with so many options available, how do you know which one is right for you? Here are a few things to consider when choosing a lip oil:
Decide What Kind of Finish You Want - Glossy, Sheer, or Matte
Knowing the type of finish you want on your makeup can go a long way to achieving the desired look.
Glossy finishes give lips and sometimes cheeks a high shine that makes them glow, while sheer finishes are designed with an almost transparent quality to enhance the natural skin tones and provide subtle enhancement.
Matte finishes, on the other hand, are designed to lend definition and structure with soft color that lasts all day. Choosing the right type of finish will ensure that your makeup looks beautiful and professional as you face your day!
Consider the Ingredients and Whether You Have Any Allergies
Before you delve into making a new dish, it is important to consider the ingredients involved and whether you have any allergies. Do you have a wheat intolerance? If so, you'll need to make sure that no wheat-based ingredients are used in the recipe.
Likewise, if there is an ingredient with which you have anaphylaxis, then prepare ahead by finding recipes more suited to your needs. Knowing what can and cannot be eaten will help ensure the safety and health of both yourself and those who will end up consuming your creations - always remember to plan ahead for the best results!
Choose a Color That Compliments Your Skin Tone
When it comes to finding the perfect color to compliment your skin tone, it can be a daunting task. A useful tip is to consider whether you are warm or cool-toned. If you are warm-toned, then earth and jewel tones look best on you; whereas, if cool-toned, then pastel and neon colors will typically suit you better.
Once you've figured out this component of the equation, try on different shades with varying intensity levels as well. It may also be helpful to bring a friend whose taste you trust for an honest opinion before deciding which looks best on you. Whatever color compliments your skin tone - embrace it!
Test out the Oil on Your Lips to See How it Feels
Applying oil to your lips is a wonderful way to help protect them from the elements and keep them nourished. Not only do oils such as jojoba, coconut, castor, and avocado give you smooth, soft, and moisturize lips, but they also offer several benefits. Additionally, they come with a pleasant smell that can make you feel more relaxed while around others.
For best results, always make sure to test out the oil on a small area of your skin before applying it completely; how each oil feels depends greatly on the individual's sensitivities. With that in mind, you may find that different oils can have beneficial effects on your lips and the surrounding area to ensure optimal moisturization and healing.
Decide if  You Like the Scent and Flavor of the Oil
Deciding if you like the scent and flavor of oil can be tricky. Often, the first impression that you get from smelling the oil or tasting it is not necessarily indicative of your enjoyment. To really know if you appreciate the oil, it's best to try pairing it with different items.
Make Sure the Oil is Easy to Apply and Doesn't Leave Your Lips Feeling Greasy
Applying oil on your lips shouldn't be a chore, or worse yet, leave you feeling like you just dropped a spoon of grease on your face! That's why choosing the right oil is so important – make sure to find something that is light and easy to apply, so it feels as good going on as it does coming off. Not only will having the perfect oil ensure your lips feel hydrated and soft all day long, but you'll also achieve a beautiful shine without any of the unnecessary stickiness or greasiness.
Tips For Using Lip Oils
When applying lip oil make sure to start with clean lips; this will ensure that all of the nourishing ingredients penetrate deep into the skin without being blocked by dirt or other impurities.
Also, try not to use too much product; just a few drops should be enough for each application. Finally, remember that proper care should be taken when using any skin care product—so make sure you follow the directions on your particular lip oil carefully before use!
Best Lip Oils To Try
When it comes to lip oils, there are quite a few options that can provide you with smooth, hydrated lips and help protect them from environmental damage. Here are some of the best lip oils on the market:
Best Hydrating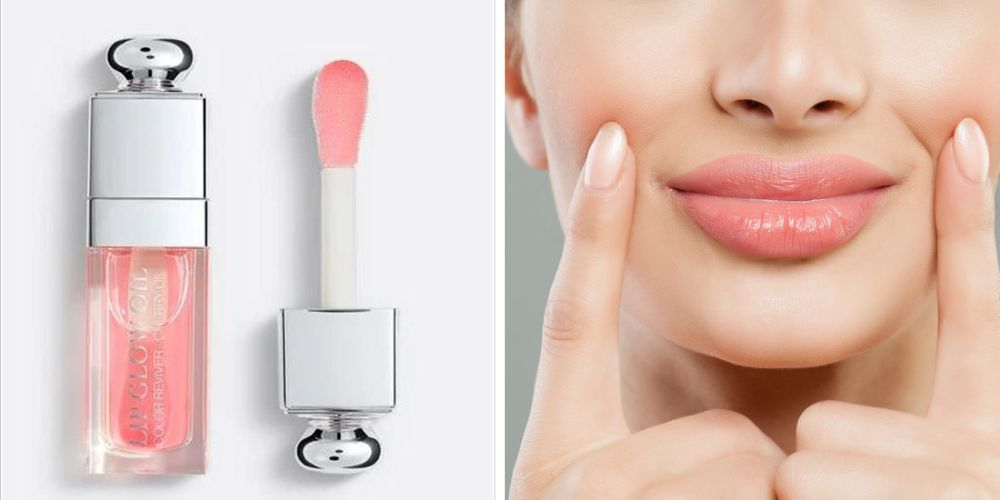 f you're looking to moisturize your lips while also giving them a hint of color, look no further than Dior Lip Glow Oil. This oil isn't like a regular gloss – it has the shine of a gloss but with the comfort of intense lip care. Not only that but it's infused with hard-working antioxidants and cherry oil which keeps your pout looking healthy and youthful.
Plus, its protective film shields against stress factors that can dry out our skin. So go ahead and give your lips all the love they deserve – get yourself a bottle of Dior Lip Glow Oil today!
Best Tinted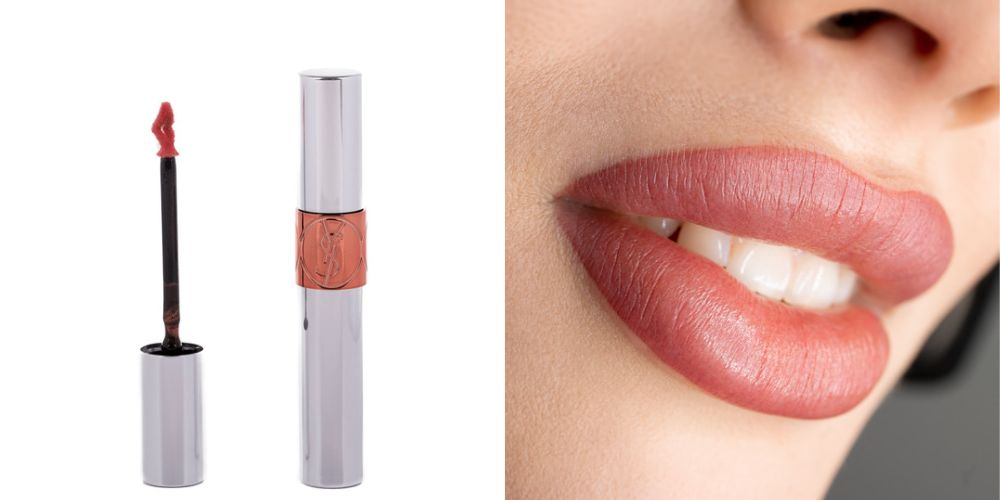 This popular tinted lip oil contains a blend of apricot kernel oil, coriander fruit oil, jojoba seed oil, and passiflora edulis seed oil to nourish the delicate skin around your lips while giving them a hint of shimmery shine without being too overwhelming or sticky.
It helps keep your lips protected against everyday pollution while adding an elegant touch to any look.
Its exclusive applicator envelops the lips in full color and allows for a precise and uniform application.
Best Universal Shade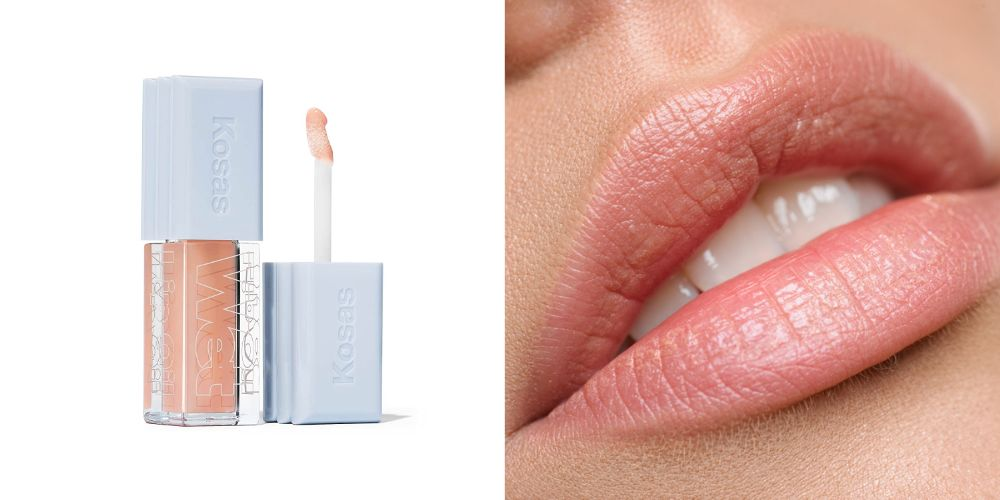 Get supreme shine and intense hydration with this luxurious hybrid between a gloss and an oil. Powered by active ingredients including hyaluronic acid, peptides, and evening primrose oil, you'll experience smoother-looking wrinkles and lips that are volumized and glowing.
Plus, the amazing minty scent will leave your lips feeling truly refreshed after each application – all without any mineral oils, talc, silicones, parabens, sulfates or phthalates. With Kosas Wet Lip Oil Gloss Juicy Plumping Treatment in every swipe, you can have gorgeous-looking kissable lips day in and out!
Best Shimmer Lip Oil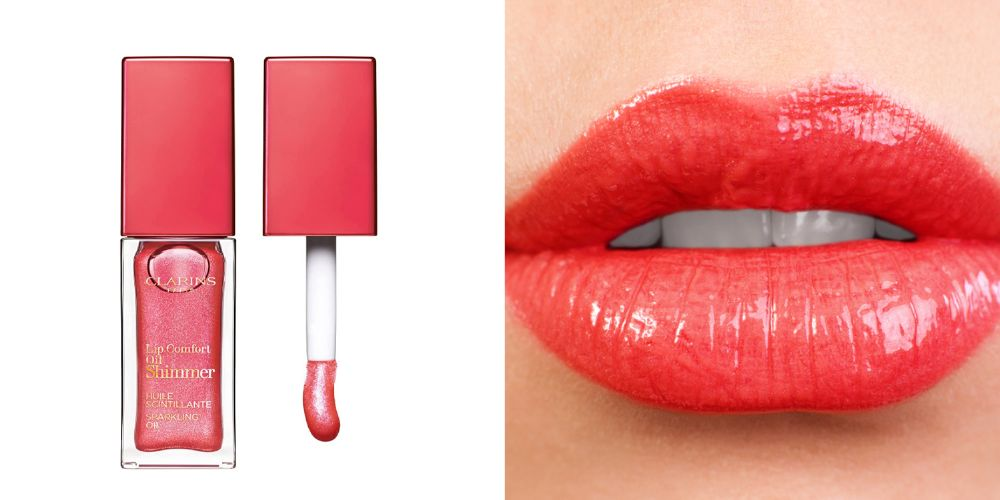 Clarins Lip Comfort Oil Shimmer is a must-have for anyone looking for an effortless subtle shimmer. Splash a bit of it on and your lips will be gleaming without being overly glossy or weighed down with sticky, greasy residue.
Plus, the trio of plant oils that make up this luxurious formula provide ultimate lip hydration—think Macadamia, Jojoba, and Hazelnut!
Consider 3D shine in a single swipe: Clarins Lip Comfort Oil Shimmer is exactly what you need for those days when you want just a hint of glamour.
Best For Dry Lips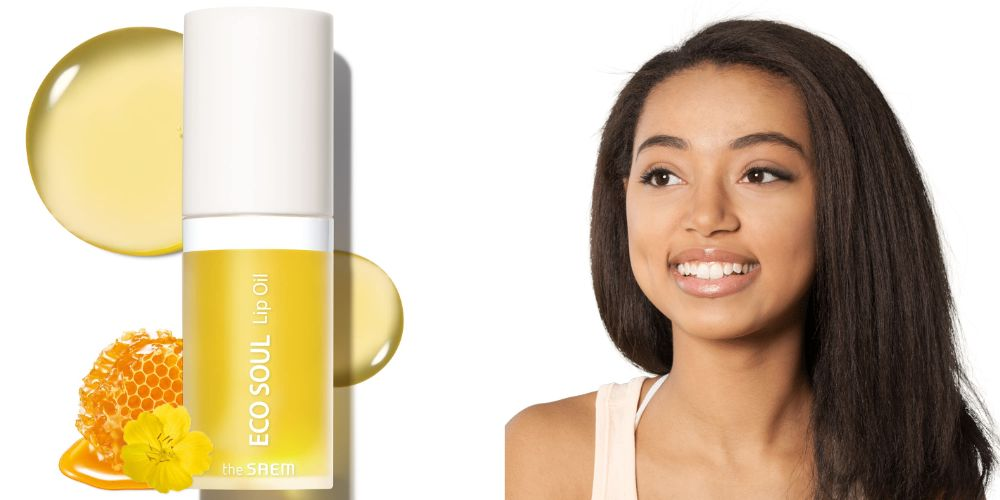 Infused with honey extract, jojoba seed oil, olive fruit oil, and sunflower seed oil - this lip oil is seriously honeylicious. It'll help protect your lips from environmental damage and keep them looking moist and luscious with its nourishing botanical oils.
Not to mention the added bonus of honey-scented breath for extra romance points! Plump it up for a more voluminous look (without any needle involved!). All in all, this honey-infused lip oil is a sweet treat you shouldn't pass up!
Best Value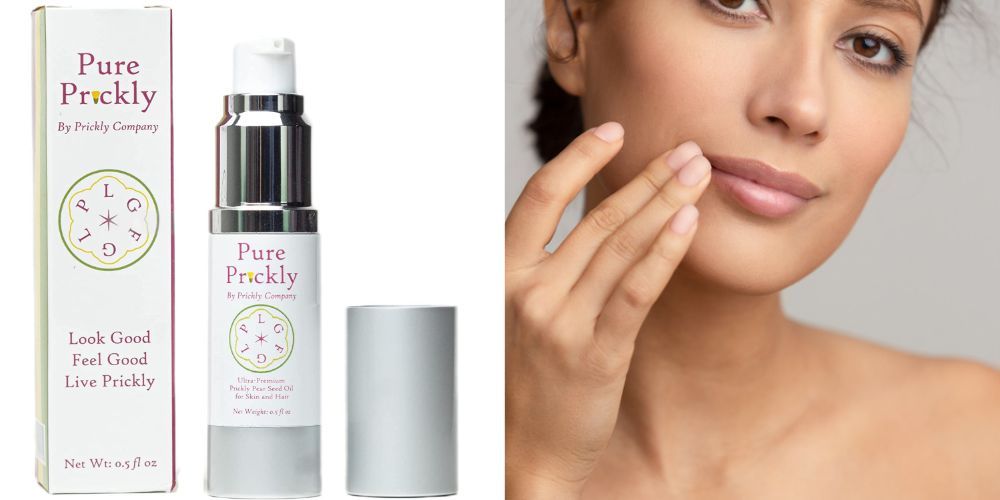 Light up the night with Pure Prickly by Prickly Company! Their ultra-premium prickly pear oil is like a party in a bottle for those looking for solutions to cracked lisp and also cracked knuckles, dry skin,  facial / hair / moisturizing needs, and more.
Enriched with vitamins, antioxidants, and omega fatty acids, this multi-use oil is your go-to lip treatment oil that nourishes, softens, and restores moisture to the skin all while smelling amazing.
Combat environmental damage, help repair blemish damage and reduce wrinkles. Experience mega hydration with Pure Prickly - it'll be love at the first pump!
Lip Oils FAQ
What Does Lip Oil Do?
Lip oil is a product designed to moisturize and nourish the lips. It usually contains natural oils, such as coconut or jojoba, that help to keep the lips hydrated and soft.
Lip oil can also provide a layer of protection from the elements, helping to prevent chapping and cracking.
Additionally, some lip oils contain antioxidants that can help protect against environmental damage.
Is Lip Oil Better Than Chapstick?
Lip oil is a great alternative to chapstick. It provides long-lasting hydration and can help repair dry, cracked lips. Lip oil also helps reduce the appearance of fine lines and wrinkles around the mouth.
Additionally, lip oils are usually made with natural ingredients that are beneficial for your skin, unlike many chapsticks which contain harsh chemicals.
Is Lip Oil Just Lip Gloss?
No, lip oil is not the same as lip gloss. Lip oil is a combination of lightweight oils like jojoba oils and coconut oils that nourish and moisturize the lips. Lip gloss is usually a combination of waxes and oils that provide shine but not necessarily hydration.
Final Thoughts
If you're looking for a product that does it all, lip oil is your answer. It can hydrate and nourish your lips, protect them from the sun, reduce the appearance of fine lines and wrinkles around the mouth, and give your lips a natural, glossy finish.
When choosing a lip oil consider the ingredients, choose a color that compliments your skin tone, test out the oil on your lips, and decide if you like the scent and flavor of the oil. Make sure the oil is easy to apply and doesn't leave your lips feeling greasy. By following these steps, you can find the perfect lip oil for you!
So if you're looking for something new to add to your daily beauty routine then consider trying out one of these high-quality lip oils today! Your lips will thank you!
Comments