This post may contain affiliate links, please see our privacy policy for details.
If you're like most people, the ski season is a time to get out and enjoy the slopes. Whether you're a beginner or a pro, there's always something to learn about skiing. And, of course, no ski trip is complete without the proper equipment! This blog post will introduce you to 10 different ski accessories that will help make your experience on the slopes even better. From goggles to gloves, we've got you covered!
Air Boot Dryer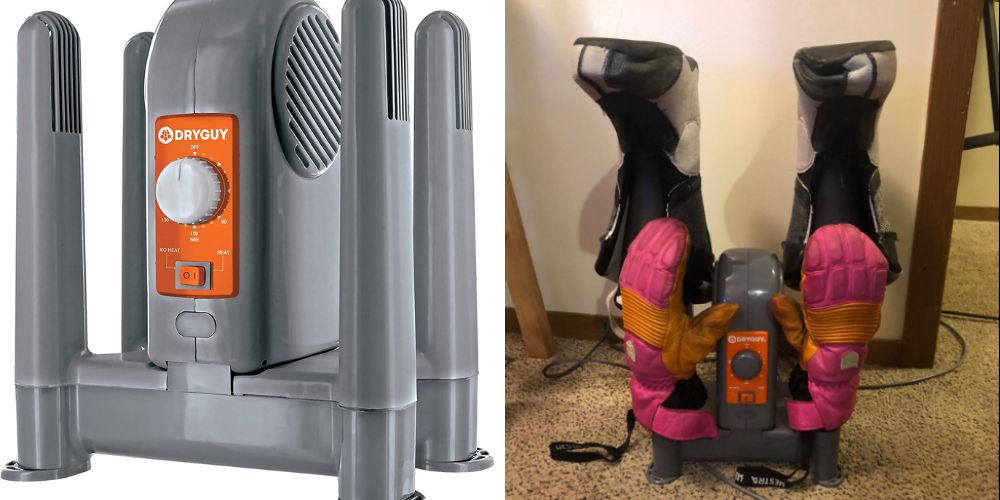 Tired of wet and soggy boots after a day on the slopes? Look no further than the air boot dryer! This revolutionary device helps keep your boots dry and comfortable so you can get back to having fun on the hill. Its powerful airflow circulates warm air in your boots, quickly drying even the wettest gear.
Plus, its quiet and energy-efficient operation makes it easy to use while saving you money on your electric bill. With its adjustable settings, you can choose a gentle heat or high-power blow depending on what type of material your boots are made from.
Whether you're a professional skier or just starting out, the Air Boot Dryer is an essential tool for keeping your feet happy and dry all winter long!
Ski and Snowboard Boot Carrier Straps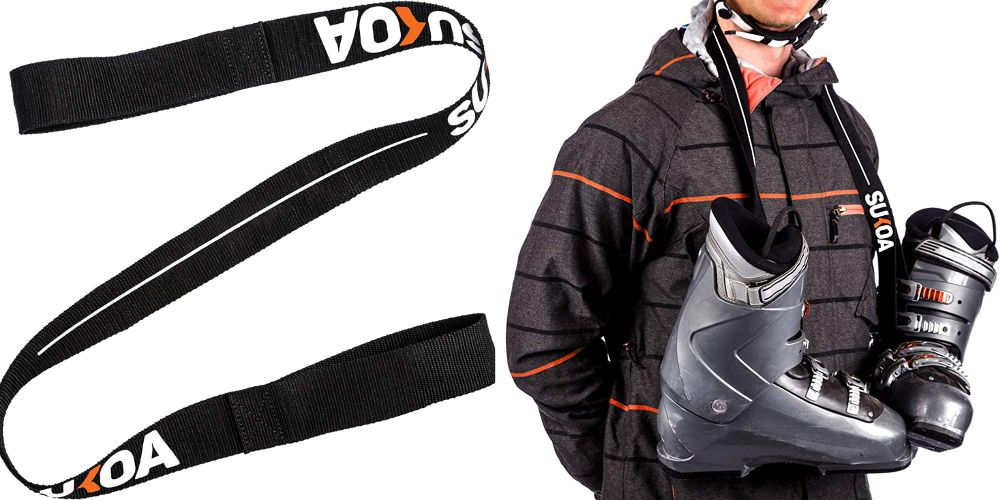 Ski and snowboard boot carrier straps are essential items for any skier or snowboarder. This convenient device makes the dreaded trek from the parking lot to the slopes a breeze. With its adjustable, padded design you can easily secure your boots to your body to free up your hands and make carrying them more comfortable.
Perfect for all levels of skiers and snowboarders, this strap also has reflective elements that make it convenient for nighttime skiing. Whether you're a novice or an advanced rider, Sukoa's boot carrier strap is an essential tool for any avid snow sports enthusiast!
Ski Wax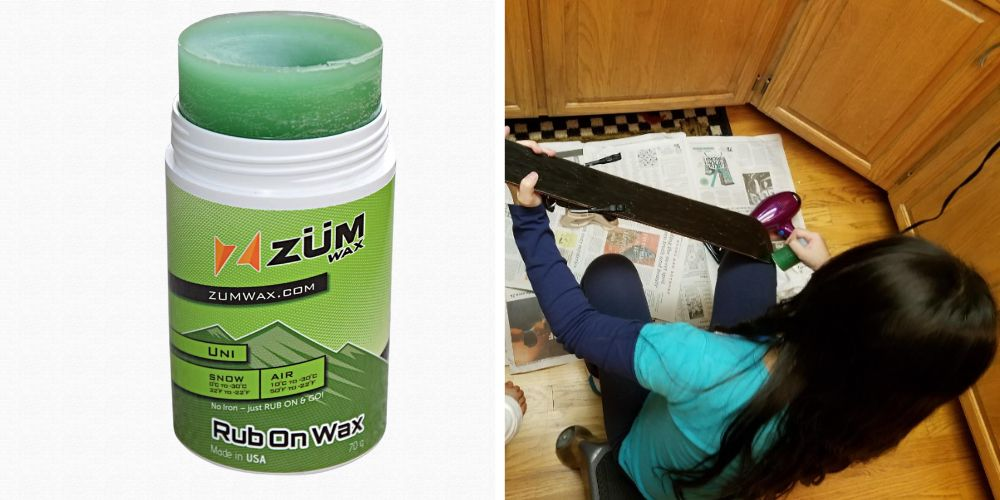 Make your ski runs easier and smoother than ever before with rub-on wax. This innovative wax is designed to work fast in all temperatures, allowing you to get the best performance from your skis or snowboard. With 70 grams of wax that rubs on quickly and easily, you can create a slick layer of protection for your board no matter how cold it is outside.
Not only does this wax make your board glide more smoothly, but it also helps reduce drag and improves accuracy in turns - making it perfect for any level of experience. Get out there and hit the slopes with confidence knowing that ski wax has you covered!
Heated Gloves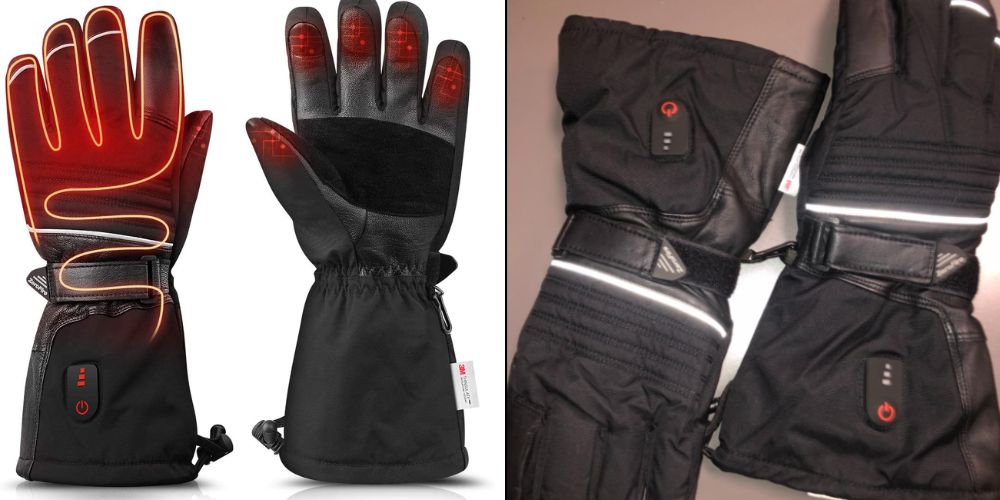 If you're looking for ski gloves that can stand up to the coldest weather, you need these heated ski gloves. Featuring waterproof construction and 3M thinsulate insulation to keep your hands warm and protected from the elements, these gloves also feature a built-in 2500mah rechargeable battery so you can stay out on the slopes all day.
The best part? They even have touchscreen capabilities, so you don't have to take them off when using your devices! With adjustable heat settings and reinforced palms, these gloves provide extra comfort and protection while looking stylish too. Get ready to hit the slopes with confidence knowing that heated ski gloves have your hands covered this winter!
Helmet
A good ski helmet is your best friend while skiing. Not only do they keep you looking good, but they offer solid protection from knocks and tumbles on the slopes. Comfort is key here; find a helmet that fits snugly, keeping your head safe and secure without feeling uncomfortable. Make sure it's well-ventilated so you can stay cool as you ride, too.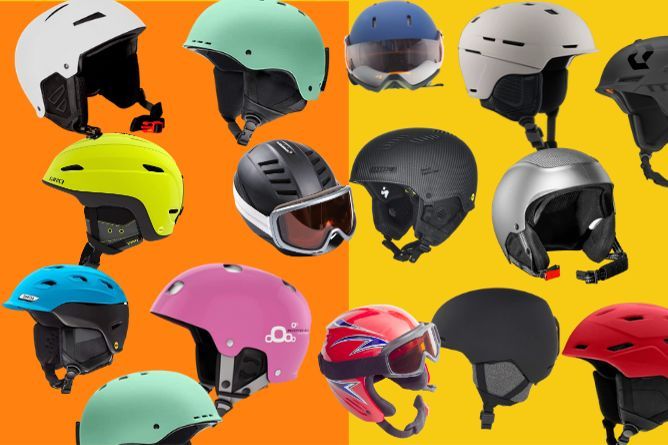 If all this seems a bit daunting, don't worry – we've got you covered! Check out our blog post for more info on finding the perfect ski helmets for your style and budget. After all, no one wants to be put off from ripping up the mountain due to their poorly fitting headwear!
Ski Poles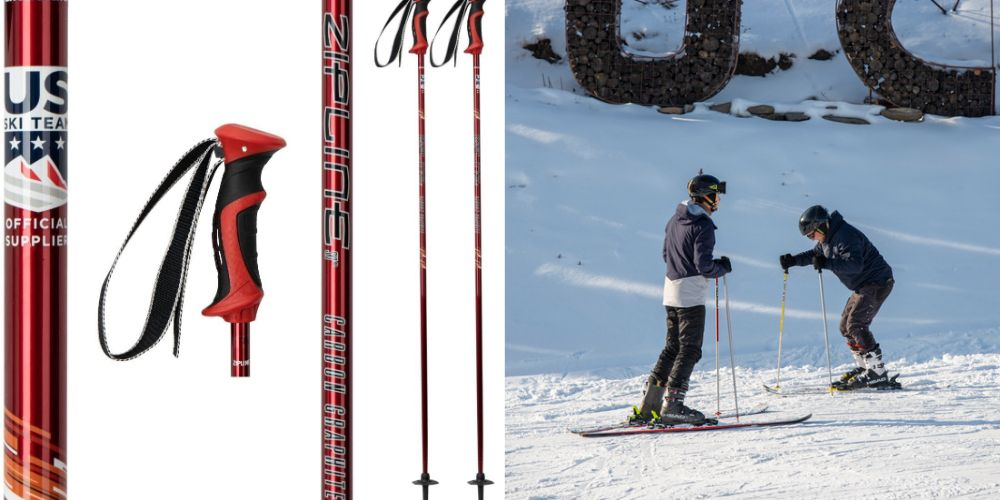 Zip through the slopes with confidence and control with the ski poles from Zipline. With a lightweight construction and high-grade graphite carbon composite shafts, these poles deliver power and agility without compromising on comfort.
They also feature ergonomically designed handles that provide extra grip and stability so you can navigate even the toughest terrain without worry. Plus, their adjustable straps make it easy to customize your fit for maximum efficiency as you hit top speeds. Whether you're a beginner or an experienced skier, the ski poles from Zipline will help you conquer the mountain!
Goggles
Skiing is a wonderful way to embrace the winter chill and experience the thrill of skiing down snowy slopes. For maximum enjoyment, it's important to equip yourself with skiing accessories like skiing goggles. Ski goggles don't just look sweet, they protect your eyes from snow brightness and can even prevent skiing-related injuries.
To make sure you have the absolute best ski goggles for your unique skiing style and budget, check out our blog post! Go ahead - give your skiing experience an upgrade with quality skiing gear that not only looks great but offers optimal protection as well.
Ski Mask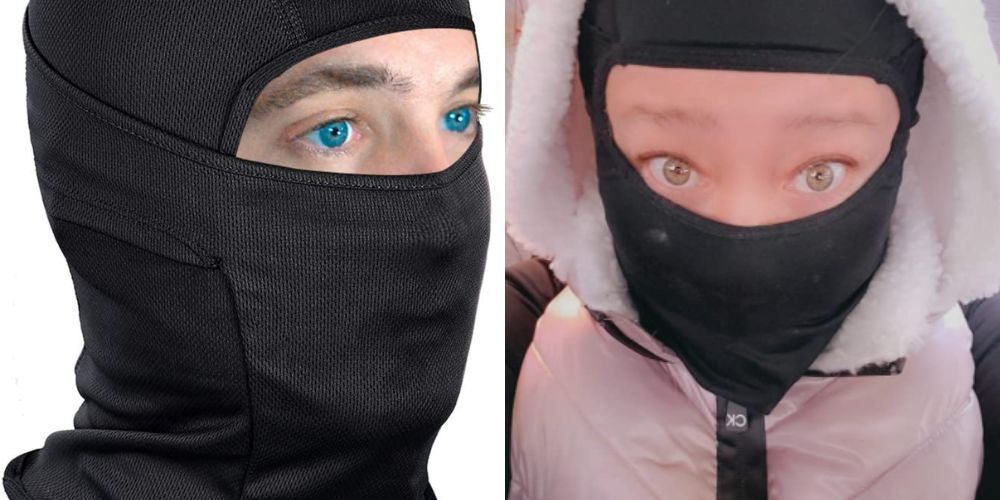 Stay warm and protected on the slopes with the face mask. This lightweight mask is made from high-quality fabric that's comfortable to wear, providing superior face protection against wind, dust, UV rays, and other irritants you may encounter when skiing or snowboarding.
With a breathable design that absorbs sweat and keeps you dry, this soft mask is great for winter weather conditions and helps you tackle any terrain with confidence. Whether you're a beginner or an experienced skier, this balaclava face mask is a must-have item in your gear bag!
Heated Socks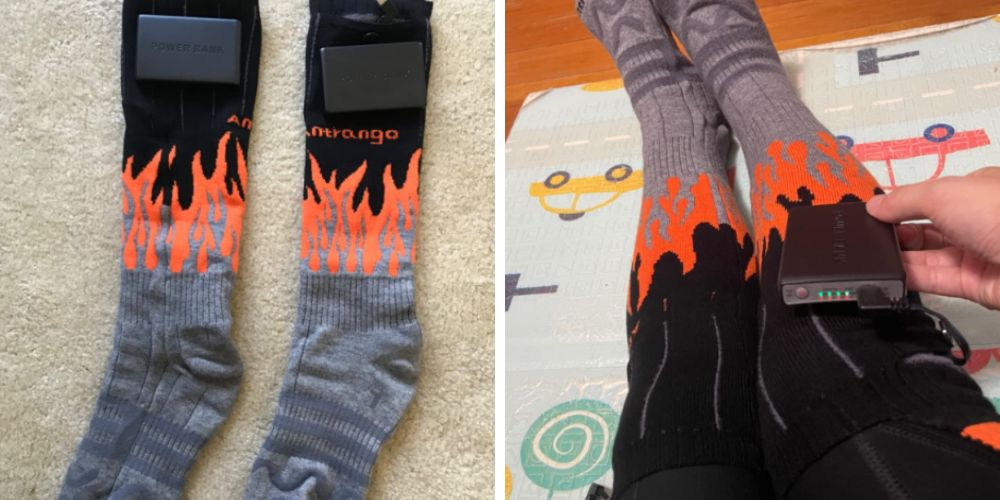 Keep your feet warm and toasty with rechargeable heated socks. Perfect for ski boots, these socks are the perfect ski accessory to make sure your feet don't freeze up when you're out on the mountain.
With a rechargeable 5,000 mAh battery pack that provides up to ten hours of power battery life, these cozy socks will keep your toes and insteps warm even in the coldest conditions. So whether you're experienced or just starting out on the slopes, enjoy a comfortable winter day with the rechargeable heated socks.
Ski Tuning Kit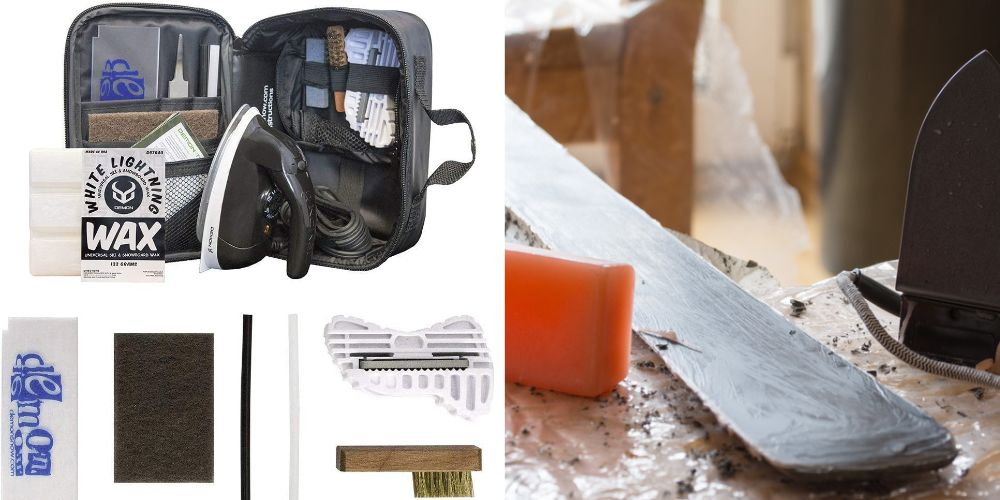 Keep your skis and snowboard in peak condition with the tuning kit with wax. This all-in-one kit has everything you need to perform a basic tune and wax on your favorite winter rides, from a file to a scraping tool plus blocks of ski and snowboard wax.
Perfect for ski resorts, rental centers, and beginners and advanced skiers, this kit is an excellent value that ensures you have high-quality tools for all your tuning needs. Keep your gear running smoothly with this tune Kit!
Boot Bag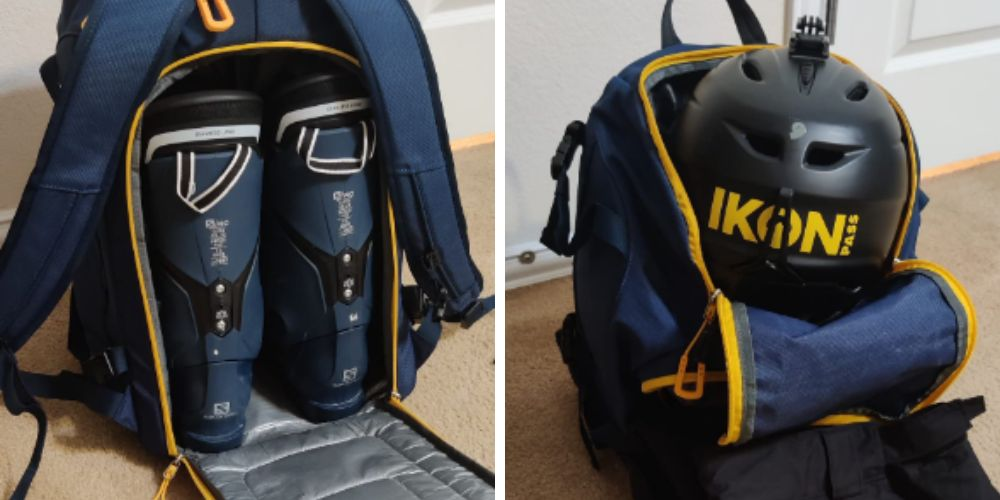 Make sure your winter sports gear is safe and secure with the ski boot bag. This 50L ski boot travel backpack gives you plenty of room to pack all your ski helmets, goggles, gloves, skis, and snowboard gear.
From a ski resort to the backcountry, this bag is perfect for carrying all your gear in style. Plus, it's made out of high-quality durable fabric so you can trust it will withstand whatever nature throws at it. Keep your ski gear protected and organized with a ski boot bag!
Final Thoughts
The winter season is the perfect time to hit the slopes and enjoy a day of skiing with friends. To make sure you're fully prepared for your next snow adventure, stock up on all the essentials - from ski poles to heated socks, and goggles to masks.
With quality skiing gear, you can make sure your winter sports experience is fun, safe, and stylish. And with the right ski accessories, you're guaranteed to have the most thrilling day on the mountain! So go ahead - take on those slopes with confidence knowing you have all the gear necessary for a comfortable and enjoyable skiing experience. Happy skiing and happy shopping!
Comments