This post may contain affiliate links, please see our privacy policy for details.
Finding the right pair of ski goggles is essential for any winter enthusiast. But with so many different styles and brands on the market, it can be tough to know where to start. Do you need polarized lenses? What about anti-fogging features? And how much should you really be spending?
Fear not, skiers! In this blog post, we'll break down the best ski goggles for every style and budget, so that you can hit the slopes with confidence (and without any dreaded goggle tan lines). Read on for our top picks!
How To Choose the Best Ski Goggles
If you're an avid skier, you know that one of the most important pieces of equipment to have is a good pair of ski goggles. Not only do they protect your eyes from the sun and wind, but they also enhance your visibility on the slopes. But with all the different types, styles, and features available, how do you choose which ones are right for you? Read on to find out!
Consider Your Face Shape & Size
When it comes to selecting ski goggles, it's important to consider both your face shape and size.
There are three main categories when it comes to face shapes—heart-shaped, round, and oval—so make sure you know what type of face shape you have before trying on any goggles.
Additionally, you should keep in mind that there are different sizes of goggle frames available as well (smaller or larger). Be sure to try on a few pairs to determine which fits your face best.
Think About Lenses Types, Tint & Features
Let's take a look first at some of the different types of ski goggles lenses that are available.
Mirrored Lens
A mirrored lens is a great option if you want to reduce glare while skiing in bright light conditions. Mirrored ski goggle lenses have a reflective coating applied to them, which helps reduce glare by reflecting it away from your eyes.
Mirrored lenses come in a variety of colors including silver, blue, pink, green, and more. Depending on the color you choose, mirrored lenses can also add an extra stylish touch to your look!
Photochromic Lens
Photochromic ski goggles feature lenses that automatically adjust their tint based on the amount of UV light they are exposed to.
In other words, these lenses get darker when they are exposed to bright sunlight and lighter when there is less light. Photochromic lenses offer excellent visibility both indoors and outdoors and can be used in all sorts of weather conditions.
Polarized Lens
Polarized ski goggles are designed to reduce glare caused by sunlight reflecting off snow or ice surfaces. This type of lens has multiple layers with special filters that block out certain types of light waves while allowing others through.
Polarized ski goggles also enhance contrast and clarity while reducing eye fatigue caused by prolonged exposure to bright sunlight or intense glare.
They come in various tints such as gray, brown, amber, yellow, and more – each offering different levels of brightness reduction depending on the type of terrain you'll be skiing on.
Cylindrical Lens
Cylindrical lenses are a great option for skiers who want enhanced peripheral vision on the slopes.
These lenses are curved in and around the sides, so they wrap around your face providing you with an increased field of view.
Cylindrical lenses also offer superior optical clarity, making them excellent for off-trail skiing as well.
The next thing to think about is lens tint and features.
Generally speaking, ski goggles come with either a single lens or dual lenses—each with its own unique benefits.
Single lenses tend to be lighter in weight and offer better clarity than dual lenses.
However, dual lenses can provide better protection from glare and improved fog resistance.
You should also take into consideration what kind of tint you want for your lenses—darker tints are great for bright days while lighter tints are perfect for overcast conditions.
Finally, look for goggles that offer features like anti-fog technology and UV protection so that you can stay safe while skiing!
Choose Durability & Comfort
Finally, when shopping for ski goggles make sure that they are both durable and comfortable. Look for goggles constructed with sturdy materials like polycarbonate or plastic so that they can withstand harsh weather without breaking down easily.
Additionally, opt for frames made with foam padding around the edges so that they fit snugly against your face without causing discomfort or irritation while skiing down the slopes.
Best For Optimal Slopeside Vision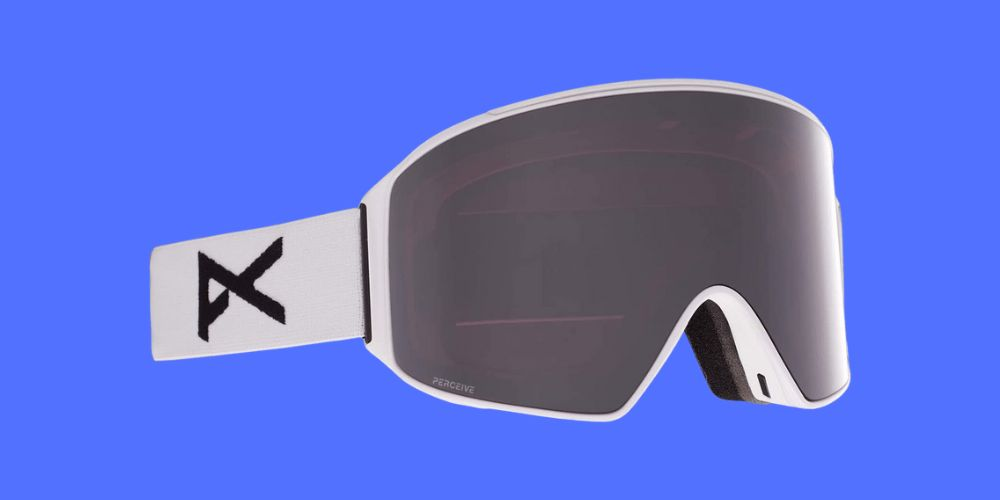 Why We Love It
If you are looking for a great all-in-one goggle, then look no further and check out the Anon M4 Cylindrical Goggles! It comes with everything you need including a Variable Violet spare lens, an MFI face mask, a microfiber goggle bag and a lens compression case.
As if that wasn't enough the easy lens change system lets you swap lenses quickly so you can adjust to changing light without missing a beat.
Not only are they helmet compatible, but these lightweight goggles provide unbeatable smudge, scratch, and moisture resistance that's sure to help you look and feel confident on your next ski trip.
What You Should Know
The Anon M4 Cylindrical Goggles are a game changer in innovative lens technology.
Their MAGNA-TECH quick lens-change system makes switching your lenses so effortless, you might just forget how amazing it is.
And with the PERCEIVE optics offering high-contrast, terrain defining clarity and anti-fog treatment, you'll be ready to hit the slopes without worrying about losing visibility.
The innovative tech guarantees an optimal experience each time you ski or board - what could be more exciting than that?
Best Unrivaled Protection and Performance Goggles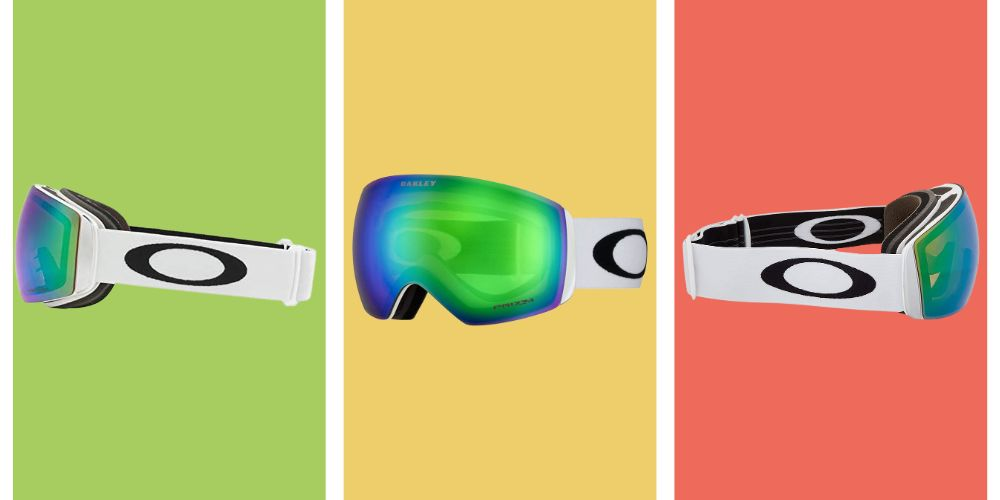 Why We Love It
The Oakley Flight Deck XM Snow Goggle gives you high-quality optics, unparalleled performance, and the perfect combination of protection, comfort, and style. The Prizm Jade Iridium lens is designed to reduce glare while also enhancing contrast and visibility in a wide range of winter activities.
With its lightweight frame and triple-layer fleece foam, you can be sure of a snug, comfortable fit that won't hurt your face or slide down throughout the day.
This goggle also comes with a large soft case to store it when not in use - making it perfect for riders who need an extra layer of protection against the elements.
What You Should Know
The matte white frame combined with Prizm Jade Iridium Lens makes it high in fashion and performance.
The polycarbonate lens comes with a mirror coating that gives an unrivaled field of view unmatched by any other brand, proving it to be the perfect choice for your winter adventures.
Whether you're hitting the slopes or just enjoying some winter fun, these high-end, high-performance snow goggles are sure to give you an amazing experience!
Best Fun & Functionality Goggles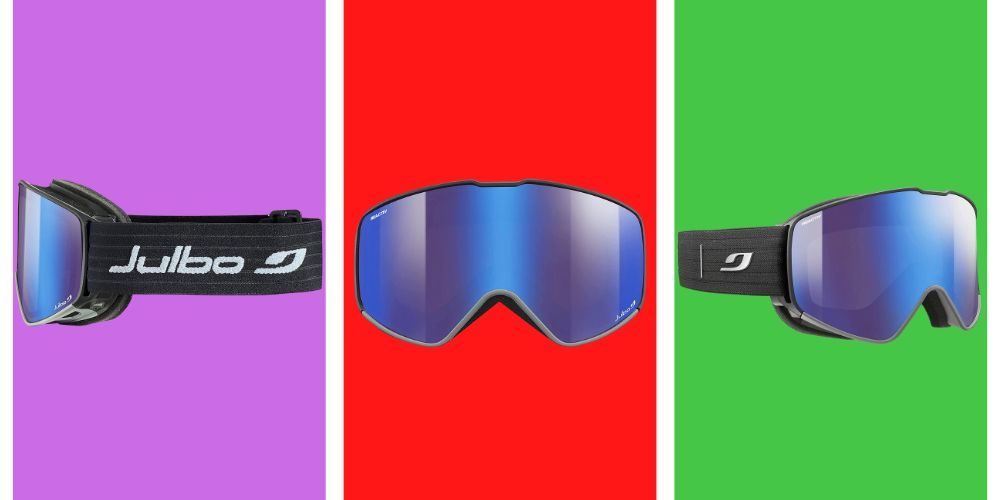 Why We Love It
The Julbo Cyrius Snow Goggles with a Photochromic lens are an absolute must.
Their cylindrical lens frameless style provides an unbeatable field of vision - no matter if it's raining or snowing, you'll have superb depth perception to spot obstacles and terrain features as far as the eye can see.
With REACTIV 1-3 High Contrast lenses, your sight will be enhanced with improved contrast so you can feel confident when navigating through hazardous conditions.
Whether you're carving through the open gates or finding a line down the backcountry hillside, I know you can always count on the Julbo Cyrius goggles to keep you safe and jammin'!
What You Should Know
Equipped with an innovative lens, these ski goggle lenses offer superior lens quality and automatically adjust light transmission depending on the conditions.
No more fiddling around in foggy weather - the fog-free lens offers an added bonus as your vision remains crystal clear.
Additionally, you can rest assured that the silicone frame together with the extra-wide strap will provide you with an unbeatable grip when you're carving up the slopes!
Best Snow Goggles for Safety & Style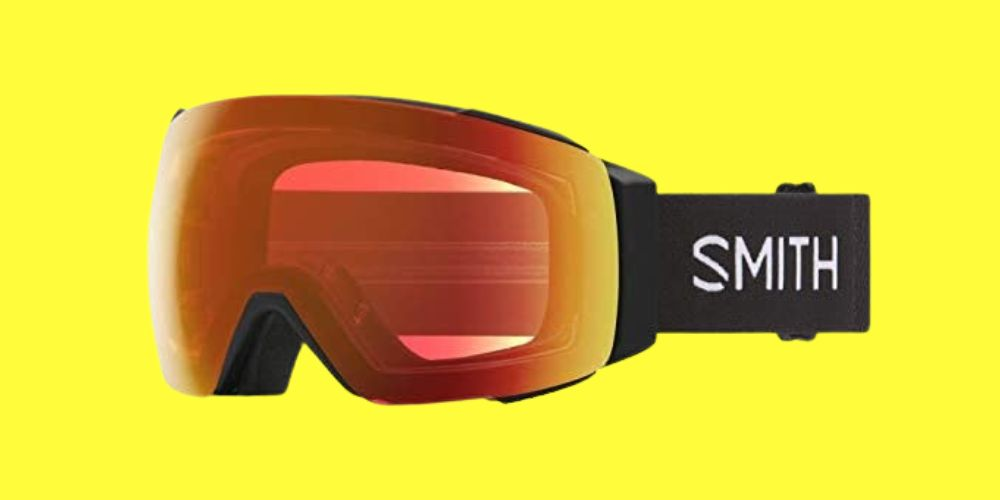 Why We Love It
Smith I/O is the ideal goggle for all kinds of winter sports - from skiing, snowboarding, and even sledding!
Built with high-performance anti-fog coating, you don't have to worry about vision being obscured halfway down a run.
These premium goggles also feature a metal frame and patented quick-fit strap adjust system ensuring a snug and secure fit - perfect for any terrain!
What You Should Know
On top of all that, the Smith MAG interchangeable lenses come with an incredibly natural viewing experience while allowing bright light and better contrast.
And coming in its very own microfiber goggle bag, you'll never forget your essential piece of equipment.
With such amazing features, Smith I/O MAG Snow Goggles will make your time on the slopes even more enjoyable!
Best Optimal Vision Goggles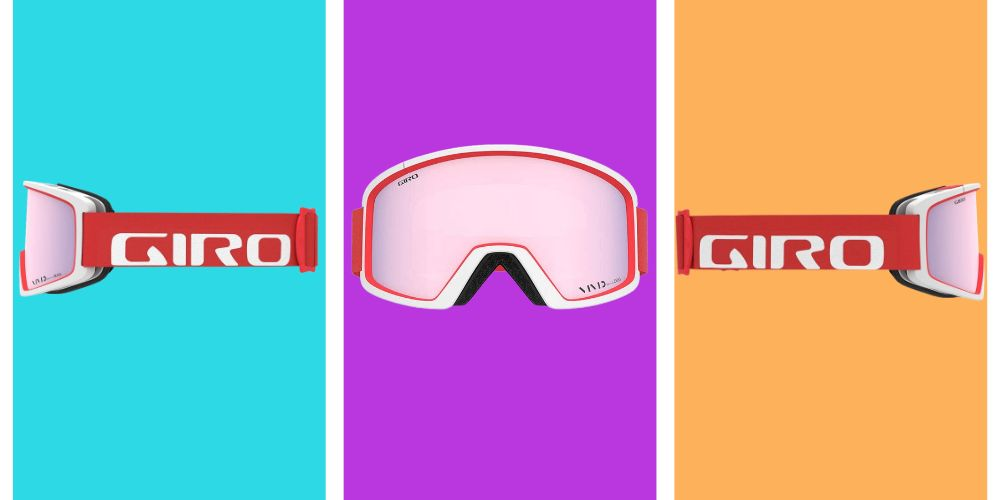 Why We Love It
Get ready for a superior lens quality experience when you ride the slopes with Giro Blok Ski Snowboard Goggles!
Crafted with durable polycarbonate lenses and scratch-resistant coating, these goggles feature a seamless interface to ensure a comfortable fit.
The Vivid Lens technology enhances contrast so you can see no matter the conditions - plus, their Anti-Fog Vent tech works hard to reduce fogging for clear vision.
Designed for both men and youth, Giro Blok is great for over the glasses (OTG) too! With this durable ski goggle by your side, you're ready to crest any hill confidently.
What You Should Know
A unique Expansion View Technology (EXV) design in the goggle frame promises maximum visual clarity, while the triple-layer face foam and seamless compatibility with all Giro Helmets add up to an unbeatable combination of comfort, safety, and style.
No longer will your lens quality be impaired by dirt or fogging - ride with confidence knowing that Giro Blok has got your back!
So if you're a skier that values durable design and maximum protection, Giro Blok Ski Goggles are a perfect choice.
Best Clarity & Comfort Goggles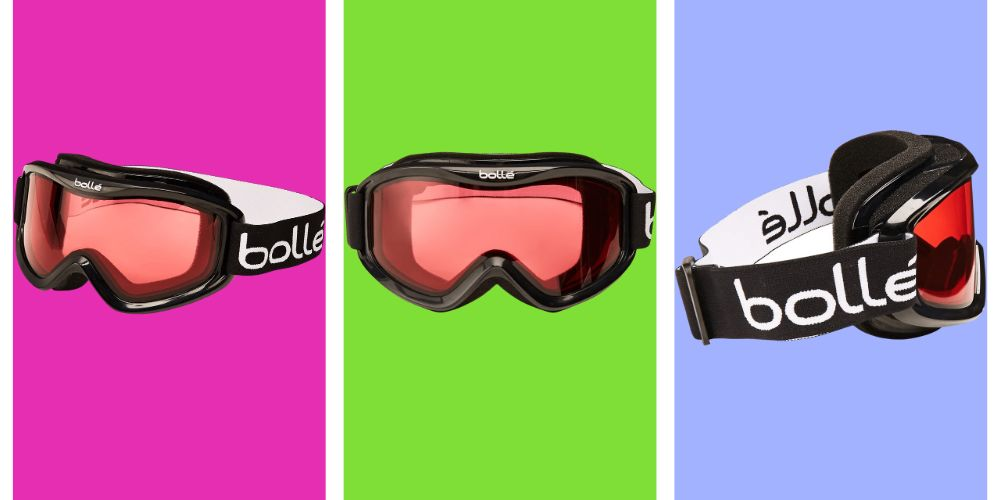 Why We Love It
The Bolle Mojo ski goggle is an absolute must-have for any avid skier looking to enhance their time on the slopes.
Flow-Tech Venting designed in collaboration with athletes ensures optimal lens temperature and fog prevention, while the P80 Plus/Carbo GLAS lenses guarantee 100% protection against UVA, UVB, and UVC radiation.
The lightweight yet durable construction is perfect for taking your skiing performance to the next level! With Bolle Mojo ski goggles, I'm ready to take on every mountain.
What You Should Know
Anyone who's ever been skiing or snowboarding knows that fogged up goggles can be a huge inconvenience, if not downright dangerous.
Luckily, the Bolle Mojo has you covered!
Thanks to their patented Flow-Tech Venting, these goggles guarantee you a fog-free experience. And with the P80 Plus/Carbo GLAS lenses offering complete UVA, UVB, and UVC protection, you can rest assured your eyes are safe from any harmful sunlight.
Get outdoors and push your limits with Bolle Mojo!
Best for Maximum Protection & Outstanding Performance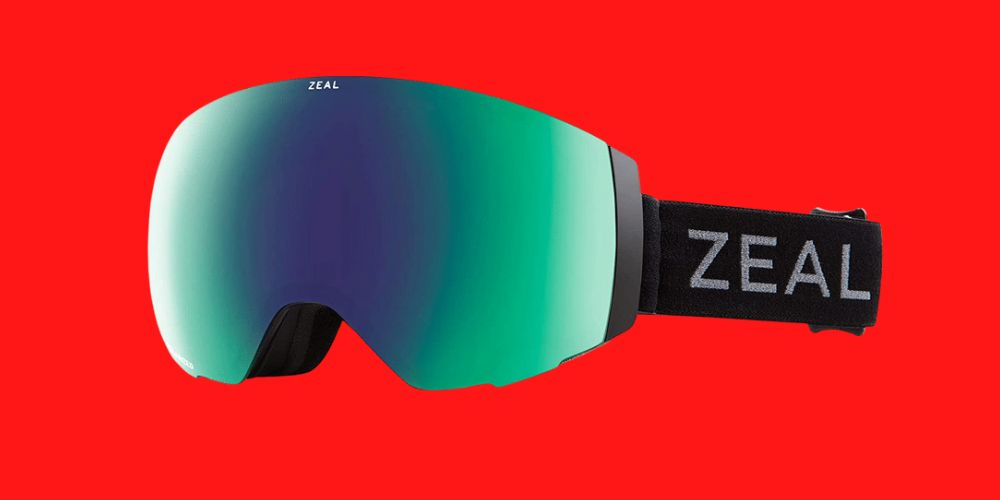 Why We Love It
When it comes to superior performance and maximum protection, nothing beats the Zeal Portal Polarized Photochromic Goggles.
These high-tech goggles feature a frameless design that's been engineered for optimal peripheral vision and clarity, making them perfect for any terrain or condition.
The integrated Polarized Photochromic technology maintains clarity and safety from the sun's harmful rays, while the optimized venting keeps the lenses fogfree for a clear view of your surroundings.
Whether you're hitting up the backcountry or simply enjoying a leisurely day on the slopes, you can trust Zeal Portal to keep you safe and secure.
What You Should Know
Imagine having one pair of goggles that can transcend how you experience life on the slopes! Zeal Portal's Polarized Photochromic Goggles are designed to be your ideal snowboarding companion.
Complete with RAIL LOCK SYSTEM (RLs)– a mechanical fastening system that ensures a secure fit– and packed with modern features such as anti-fog technology, 100% UV protection, and certified helmet compatibility.
On top of that, its spherical polycarbonate lens curves both vertically and horizontally to guarantee optimal peripheral vision. Feel free to live in the moment by trusting your pair of Zeal Portal Goggles!
Best Goggles For Crisp Vision in Low Light Conditions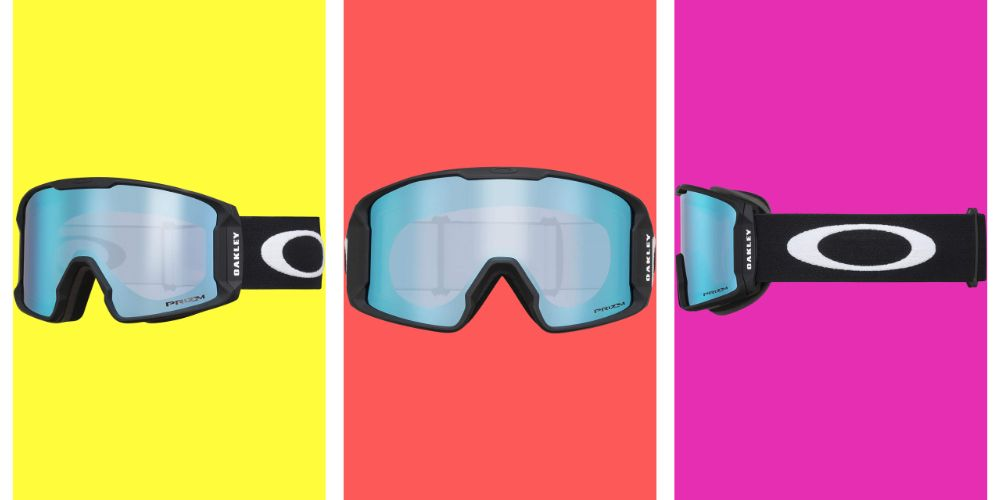 Why We Love It
For riders who are serious about their performance, the Oakley Line Miner Snow Goggles with Prizm Low Light Lens is a must-have.
The versatile Prizm lens reduces glare and optimizes visibility, while the O Flow Arch maximizes your field of view.
The cylindrical design ensures maximum comfort over long periods of wear, with triple-layer fleece foam for a snug fit that won't slip or slide.
With Oakley Goggles, you can be sure that you're ready to take your skiing experience to the next level.
What You Should Know
The Oakley Goggles offer a superior way to experience the slopes.
Not only do they come with a large goggle soft case, but they also have full-rim frames and discreet frame notches at temples so you can easily fit prescription eyewear.
With these goggles, skiing or snowboarding is taken to the next level and can make an already exciting venture even more thrilling!
Best Ski Goggles FAQ
Do You Need Goggles to Ski?
Yes, it is important to wear goggles while skiing. Goggles provide protection from wind, snow, and the sun's UV rays. They also help improve visibility in low-light conditions and can prevent snow blindness. Additionally, they can help protect your eyes from debris and other objects that may be kicked up by skis or snowboards.
How to Clean Ski Goggles?
Clean ski goggles by wiping them with a soft cloth or a paper towel. If the goggles are really dirty, you can use a mild soap and water solution to clean them, but be sure to rinse them well with clear water afterward.
Never use chemical cleaners or solvents on ski goggles, as they can damage the lenses and other components. Also, never immerse ski goggles in water, as this can cause moisture to build up inside the goggle housing and lead to fogging.
How to Keep Ski Goggles From Fogging?
There are a few ways to keep ski goggles from fogging.
The first is to make sure they fit well and don't create any areas where warm air can get trapped around your eyes.
Second, you can try using a product like Fogtech, which creates a barrier between the lens and the air to prevent fogging.
Third, you can lick the inside of the lens before you put them on. This will create a film on the lens that will help keep them from fogging up.
What is vlt in Ski Goggle?
VLT is the abbreviation for "Visible Light Transmission". It is a measure of how much light passes through a lens. A higher VLT means that more light will pass through the lens, making it brighter.
Ski goggles typically have a VLT of about 20-30%. This means that only about 20-30% of the available light will be transmitted through the lens, making them darker and less reflective. High-quality ski goggles will have a VLT of 50% or greater.
What's the Difference Between Spherical, Cylindrical, and Toric Lenses?
Cylindrical lenses are curved in one direction, providing a uniform magnification.
Spherical lenses are curved in two directions and provide more peripheral vision than cylindrical lenses.
Toric lenses are also curved in two directions but have an additional curvature that helps to correct astigmatism.
All three types of ski goggle lens shapes help to protect your eyes from the sun, wind, and snow while skiing.
What is the Most Popular Goggle Lens Shape?
The most popular goggle lens shape is a spherical lens.
Spherical lenses provide a wide field of view and better peripheral vision, making them ideal for skiing and snowboarding.
They also provide distortion-free vision, which helps reduce eye fatigue.
Final Thoughts
Ski goggles are a necessary piece of equipment for anyone hitting the slopes, and with so many different brands and styles on the market, it can be tough to know which pair is right for you.
We've rounded up some of our favorite ski goggles and given you a little information about each one, but at the end of the day, it's up to you to decide which pair is best for your needs.
With such a wide range of prices, features, and lens types available, we hope this list will help narrow down your choices and make your decision a little bit easier.
So what do you think? Did we pick the right pair of ski goggles for you? Let us know in the comments below!
Comments