This post may contain affiliate links, please see our privacy policy for details.
Winter blues, begone! Spring is here, bringing with it a much-needed splash of color, zest, and new style possibilities! It's time to kick off those heavy coats and leap into a world of flirty frocks and bright ensembles. Need some inspo? We've got you covered!
Browse through this blog post where we've meticulously selected 22 breathtaking spring dresses that are guaranteed to turn you into a true style icon! Whether you're looking for a casual and cute outfit or something more glamorous like cocktail chic or fabulous formal wear, we've got you covered. It's time to embrace your inner flower child and browse through these stunning dresses to slay the spring fashion game!
Black Bodycon Midi Dress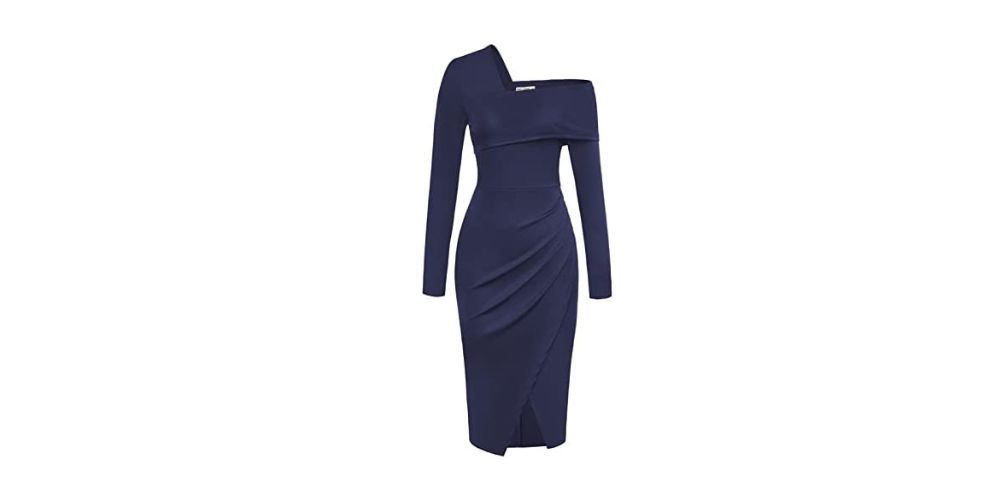 This dress features an off-shoulder neckline, a slim and high-waisted fit that hugs your curves in all the right places, and a mermaid-style flare at the bottom of the midi-length skirt. It is made of a comfortable and stretchy fabric that will keep you looking stylish and feeling confident all night long. Perfect for a formal event, wedding, or date night, this dress is sure to turn heads and make you feel like a queen. Dress it up with heels and statement jewelry, or keep it simple with sandals and minimal accessories.
Floral Print Dress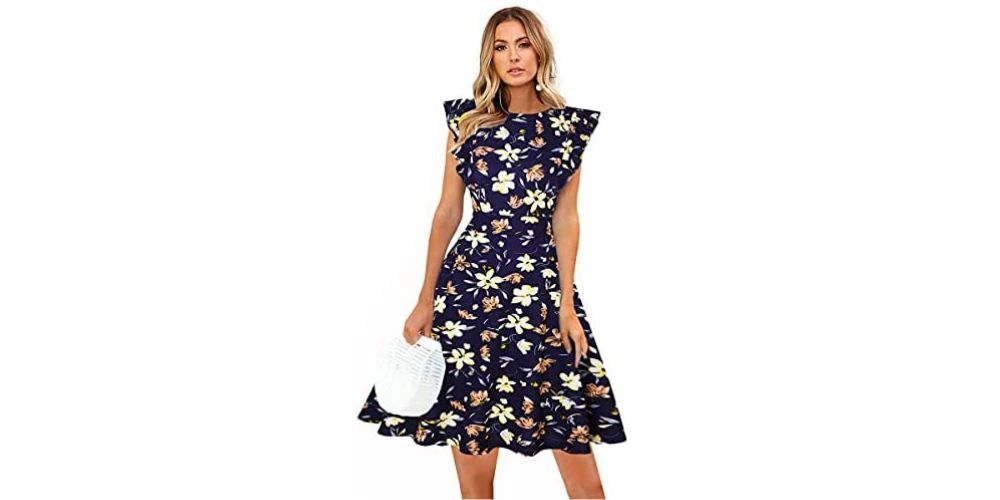 This irresistible romantic cap-sleeved dress, adorned with dreamy, colorful blooms, is tailor-made for frolicking through enchanting spring days and bewitching nights. Whether you're dancing at garden soirees or sipping cocktails at glitzy soirées, this lightweight A-line wonder ensures you're looking divine on every occasion - Eloping to beachy weddings, magical club scenes, dazzling date nights, or bewitched everyday errands. Amplify your allure with sky-high heels and mesmerizing jewels, and get ready to have your own swoon-worthy story.
Bohemian Floral Dress
The breezy, 100% cotton fabric ensures you stay comfy and cool, while its sleeveless design and deep round neckline make a flirty statement. Perfect for any occasion, you'll be the ultimate boho babe when you pair it with some cute sassy flats, your fav jewels, and a stylish purse! Don't miss out on this summer's must-have, flowy, and fabulous dress!
For more Boho inspiration, check out our post on Boho Outfit Ideas and Boho Accessories
Floral Print Mini Dress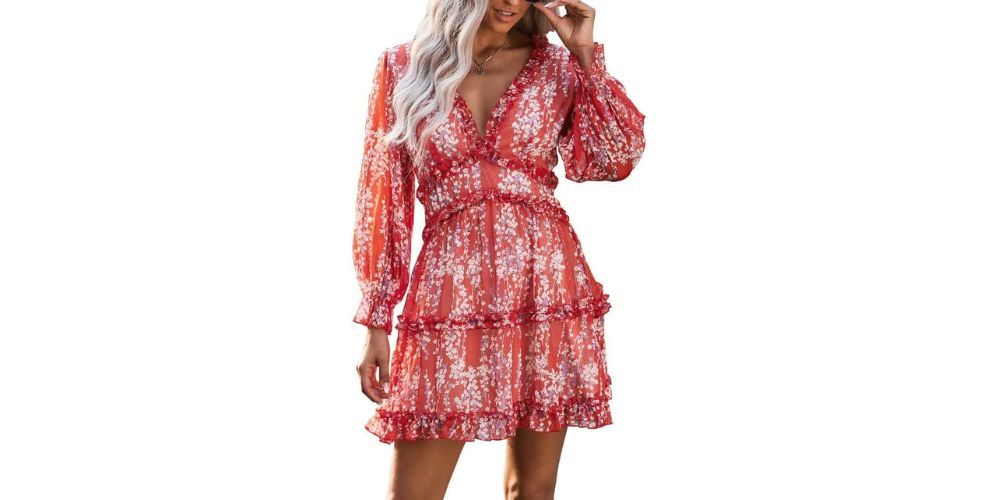 Made from dreamy lightweight cotton, this stunner amplifies your charm with its captivating V-neckline, graceful long sleeves, and a cheeky keyhole peeping out from a buttoned-up back. It's uniquely you with its fierce floral print and a flirty mini skirt that flows with your every move. Rock this dress to cocktail soirées and semi-formal shindigs—and watch heads turn! Pair it with your fave accessories to spruce up your spring wardrobe!
Lantern Sleeve Dress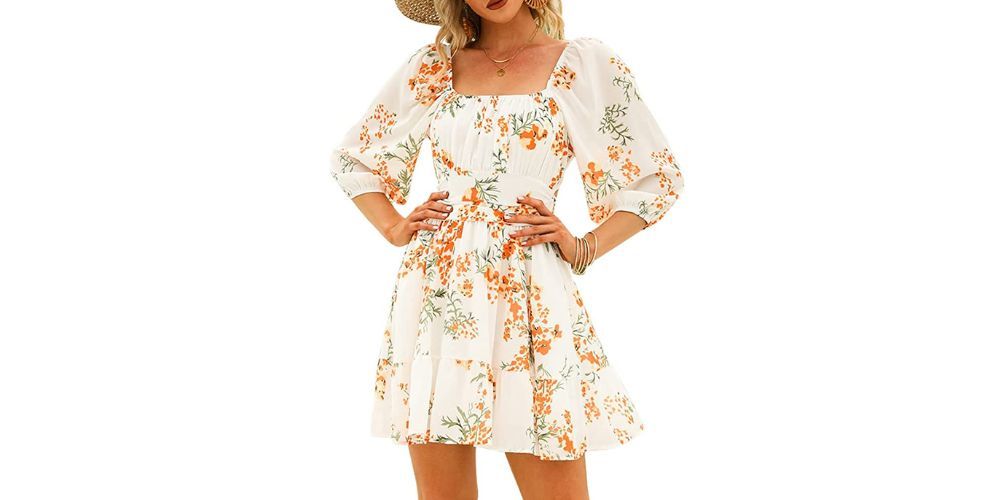 This awe-inspiring, lightweight ensemble has it ALL! With its playful square collar, enchanting lantern sleeves, and ruched bust, it's a modern-day vintage dream come true. Not only is this dress fluttery and comfortable, but the elastic high waist and smocked details make sure to highlight all your gorgeous curves. Make your spring wardrobe pop with this versatile, charming, and perfectly elegant dress. It's time to sway, slay and rule every occasion!
Floral Print Short Sleeve Dress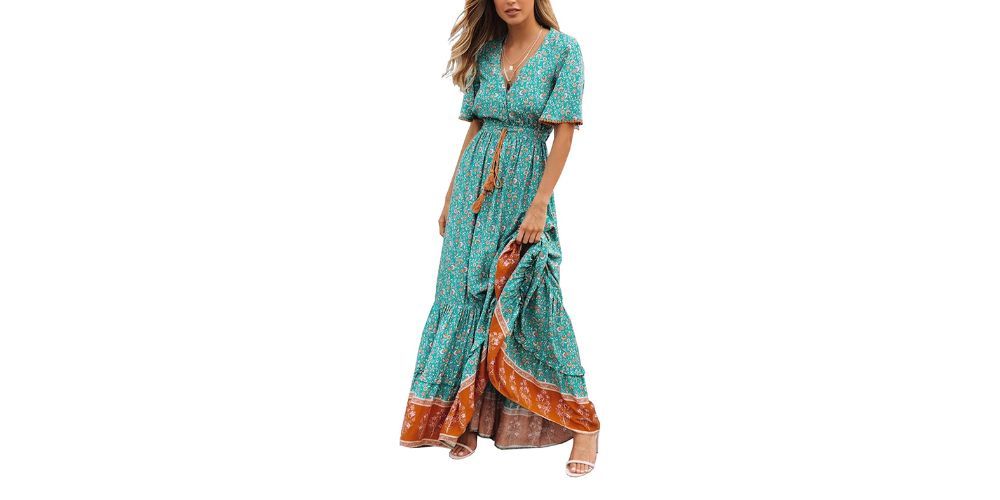 This dress has all the right moves: a bohemian vibe that will have you channeling your inner flower child, a head-turning floral print that's sure to turn some heads, and ruffles to add a playful feminine feel. Wherever summer takes you, this versatile garment is ready to join in on the fun. Whether it's festival life, beach days with friends or just hanging out, you'll be comfy and carefree in this breezy frock. With over 5,000 reviews behind it, this piece of attention-grabbing apparel has already made countless cuties swoon - one customer even said it was perfect for her desert summers! Dance 'till sunrise and live life in style with this magnificent must-have dress!
Boho Spaghetti Strap Dress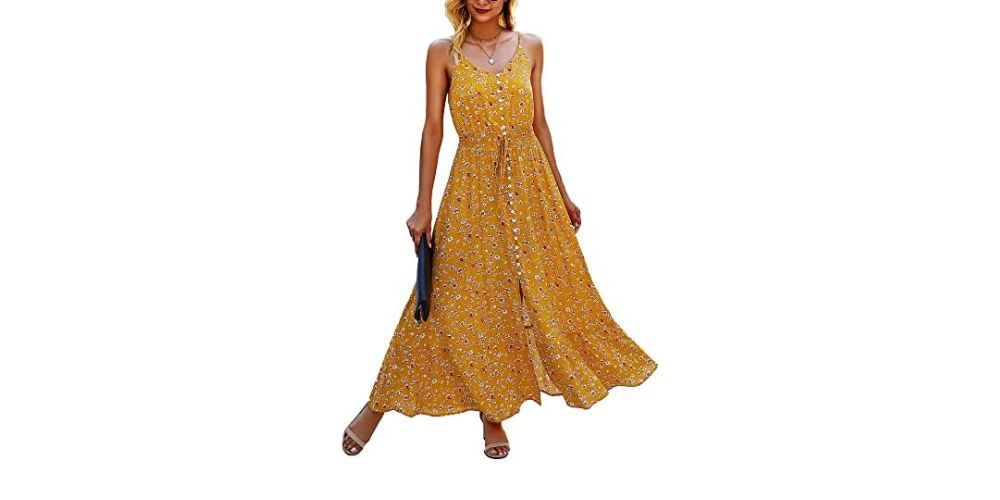 This dress is like a bohemian dream come true with its flowy A-line silhouette and bold floral print. The adjustable spaghetti straps ensure a perfect fit and maximum comfort, so you can dance the night away without a care in the world. But wait, there's more! The button-down design and slit detailing give this dress a touch of elegance and sophistication, making it the perfect choice for any occasion - from backyard BBQs to beachside bonfires.
Floral Print Ruffle Hem Dress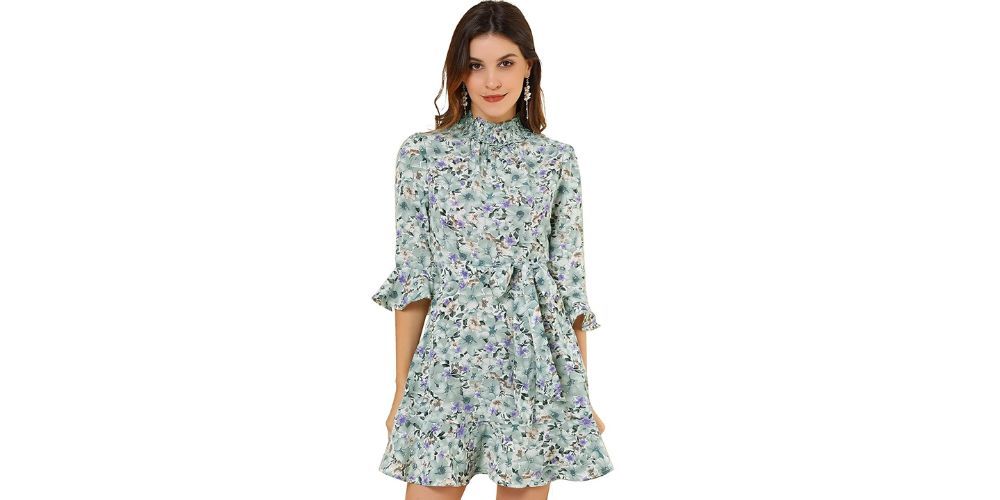 This A-line stunner has got it all: a button-up front for easy on-and-off, adorable bell sleeves that'll have you twirling like a Disney princess, and a flirty ruffle hem that'll leave all eyes on you. And let's not forget the pièce de résistance - a vintage-inspired floral print that screams "I'm chic, I'm fabulous, and I'm here to slay!" One customer even said that ' this dress is a win ' and the dress has ' pretty good quality for the price.'
V-Neckline Mini Dress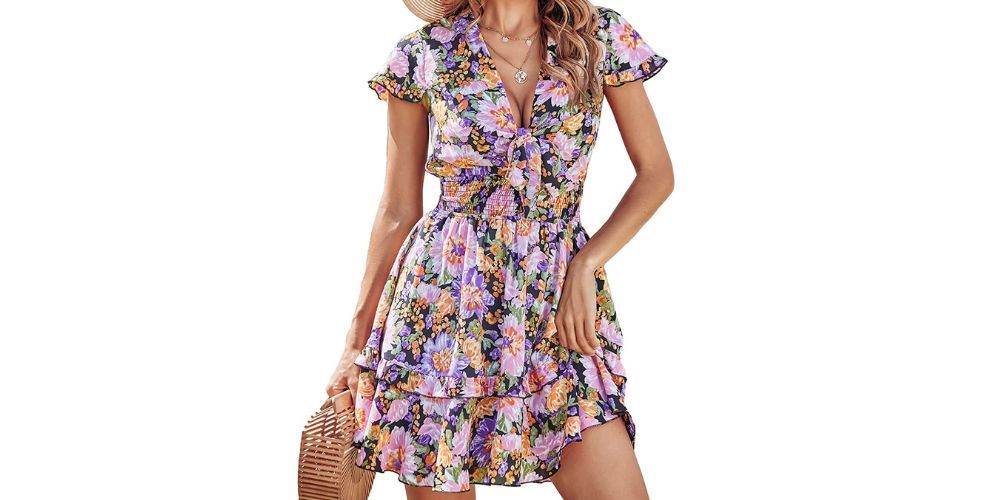 This little number has it all: a sexy tie-front V-neck, playful ruffle layers, and a flouncy A-line skirt that's begging to be twirled in. And let's not forget the pièce de résistance - a stunning floral print that screams "I'm here to have a good time!" But this dress isn't just about looks - it's also functional. The short sleeves will keep you cool on hot days, while the flowy fabric allows for maximum airflow (and dramatic entrances). Plus, the mini length means you can show off those killer legs you've been working so hard on all winter.
Short Sleeve Floral Print Dress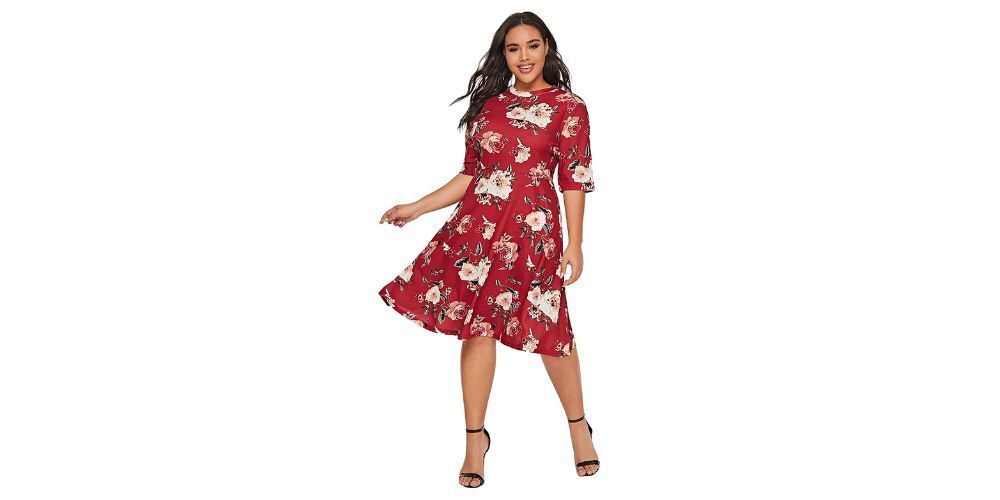 The A-line silhouette of this dress is perfect for flattering any body type, while the short hemline will show off your killer legs. And don't even get me started on the short sleeves and round neckline - they are the perfect combination of classy and flirty. Whether you're heading to a fancy dinner party or just running errands around town, this dress is sure to turn heads and make you feel like the belle of the ball. Don't believe us? Check how this bride-to-be raves saying that she ' felt so beautiful in this dress ' when she wore it in their rehearsal diner! So why settle for a boring dress when you can rock this Romwe stunner? Click that buy button now and thank us later!
Scoop Neck T-Shirt Dress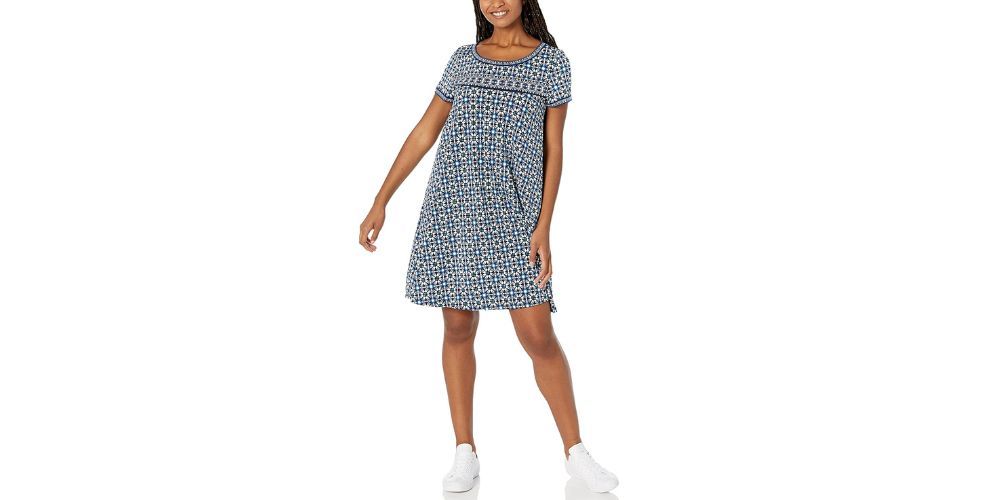 This dress is the ultimate blend of comfort and style, thanks to its heavyweight stretch fabric that hugs your curves in all the right places, and thanks to the classic fit and flare silhouette, you'll truly feel like a princess in it. But don't let the Disney fantasy fool you – there's still a touch of sophistication about it. The round neckline and short sleeves add an extra dash of class, while the midi-length skirt makes sure your legs look as long as Rapunzel's tresses.
Flowy Maxi Dress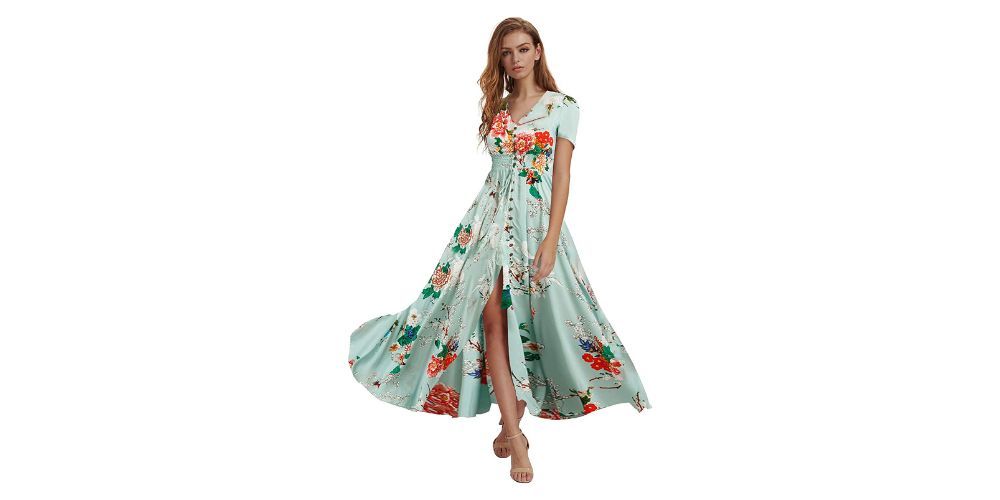 If you're looking for a dress that goes above and beyond, then this is it! This boho-inspired number has all the right ingredients to make any head turn. The maxi length will have you feeling like you can float across the floor no matter the occasion, and with the lively floral print, all eyes will be on you - they'll wish they could capture just a smidgen of your bohemian vibes. But this dress doesn't only look awesome; it also has functional features.
There's an exposed front button placket, so you can let some skin show if and when needed, while the side slit ensures that your strut is never hindered. On top of that, there are countless advocates of this frock, with one devotee noting that "the skirt is full and swishes in the breeze". So if you want to own any room that you enter, go for this show-stealing stunner!
Sleeveless Mini Dress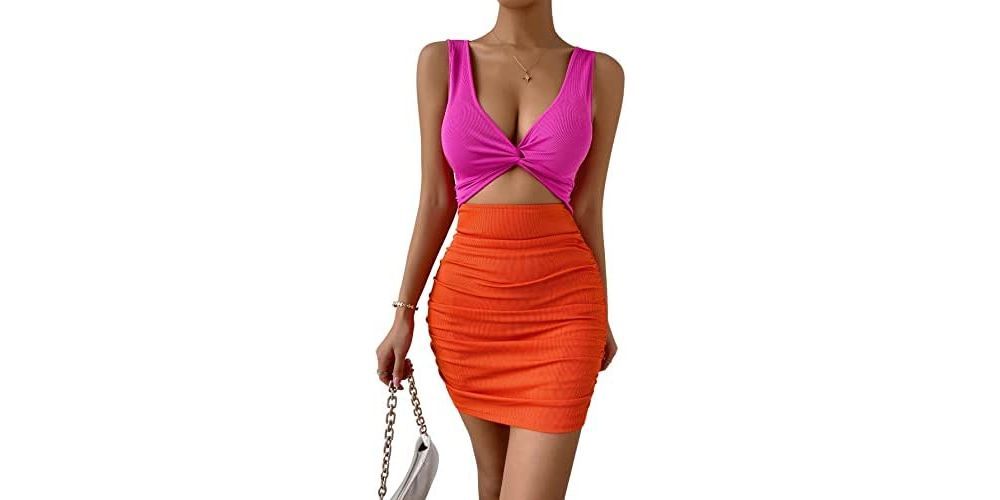 This dress is the perfect combination of classy and sassy. With its stunning twist cut-out detail at the front and playful color block print, you'll feel like a walking work of art. And let's not forget the plunging neckline - this dress is not for the faint of heart! But don't worry, this dress is not just for show. Its bodycon design will hug your curves in all the right places, making you feel like a confident queen. And with its mini length and sleeveless design, you'll stay cool and comfortable while looking hot as hell.
Green Floral Print Dress
This dress is the ultimate summer must-have with its chic and modern design. The deep V-neckline will make you feel like a total fashionista, while the colorful floral print is perfect for those sunny days. The short sleeves and flowy silhouette will keep you comfortable all day long, no matter what activities you have planned. Whether you're running errands or going out for brunch with your gal pals, this dress is sure to turn heads. With 4.0 ratings, customers love how cute and flowy this dress is and they received a lot of compliments.
White Floral Print Maxi Dress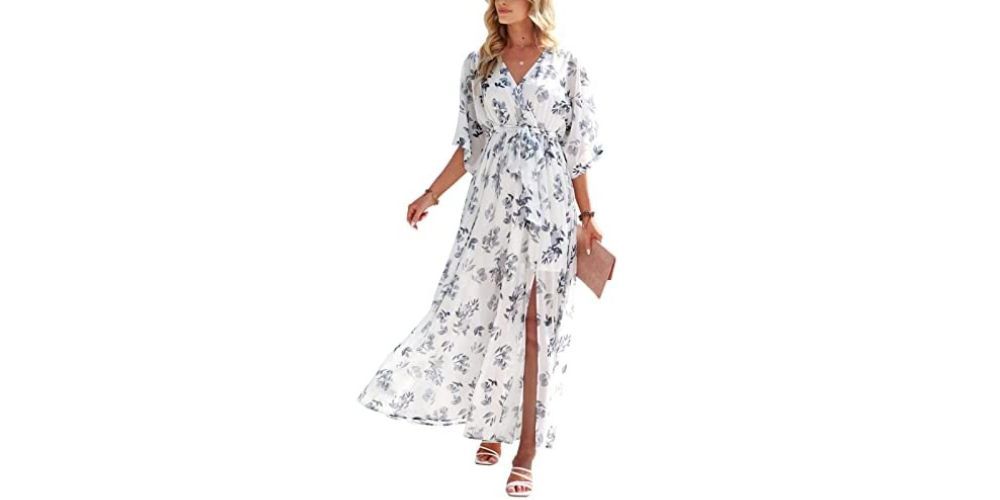 With its stunning wrap v-neck top and flowy maxi silhouette, this dress will have you feeling like a boho goddess in no time. And let's not forget about the vintage-inspired floral print that will have you turning heads wherever you go. But wait, there's more! The 3/4 sleeves provide just the right amount of coverage while still keeping you cool and comfortable during those hot summer days. And did we mention the sexy slit that adds a touch of sass to the already chic design?
Bohemian Midi Dress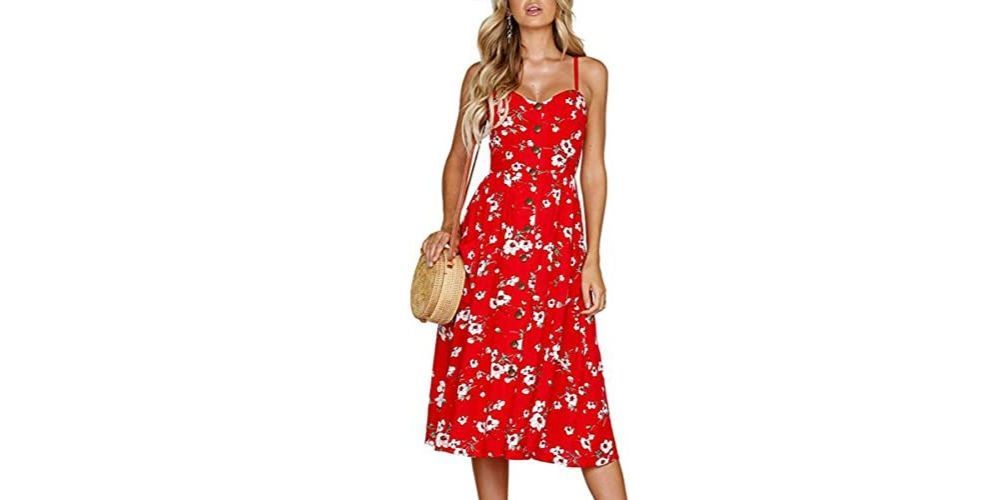 This dress has got it all: adjustable spaghetti straps to show off those sun-kissed shoulders, a flirty short hemline that will make you feel like a goddess, and a vibrant floral print that will make you the envy of every garden party. And let's not forget the flattering A-line silhouette that will have you feeling like the belle of the ball.
Bohemian Midi Dress with Sleeves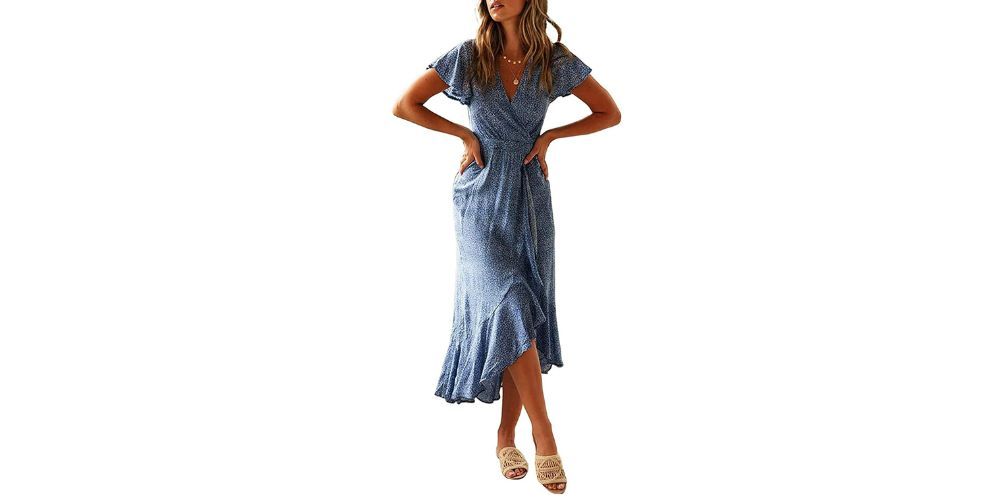 This dress has got all the boho vibes you need to channel your inner flower child, with its flowy A-line silhouette and vibrant floral print. And let's not forget the short sleeves and deep V-neckline, which give you just the right amount of coverage while still showing off those sun-kissed shoulders. Whether you're heading to a beach party or just lounging by the pool, this maxi dress is the perfect choice for all your summertime adventures. With over 25,000+ reviews, one customer said " it was too pretty not to try. "
Long Dress with Pockets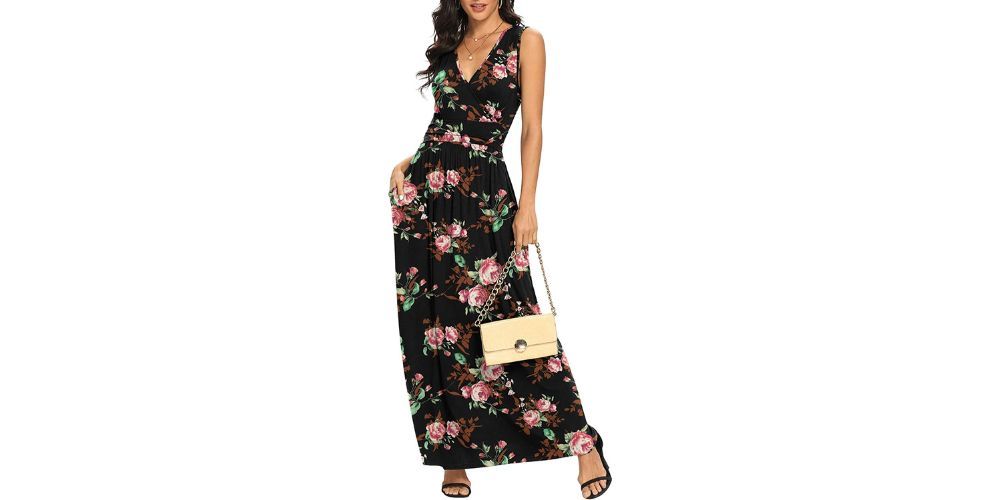 This dress is super comfortable thanks to the flowy fit and soft stretchiness (you heard it here - reviewers are raving about how comfy this dress is), but that doesn't mean you have to sacrifice style. With a flirty deep V-neckline and adorable floral print pattern, this dress is as fun and sassy as it is practical. Did we mention there are pockets too? Oh yeah, they're there and they're every bit as awesome as you think; perfect for stashing your essentials or letting your hands rest in a snug pocket when the air gets cool.
Floral Cocktail Dress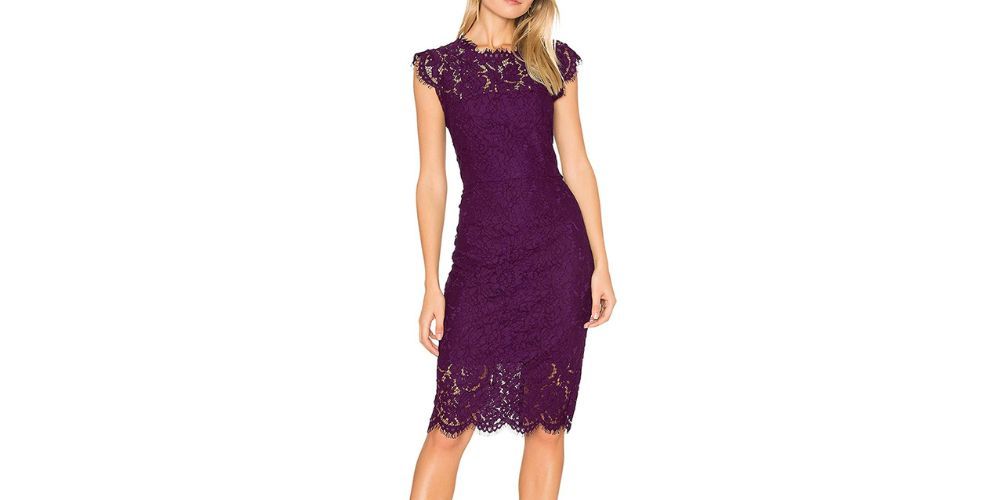 From the sky to your wardrobe, this dress is the epitome of heavenly elegance! The floral lace overlay and perfect fit hug your curves like no other; giving you a streamlined silhouette and modern sophistication. Plus, you won't have to worry about showing off too much skin with its knee-length skirt - perfect for that upcoming special event or simply looking stylishly chic in all settings. So, if you want to float around like a cloud and be the belle of any ball, then this must-have piece demands attention and ensures greater confidence.
Belted Mini Dress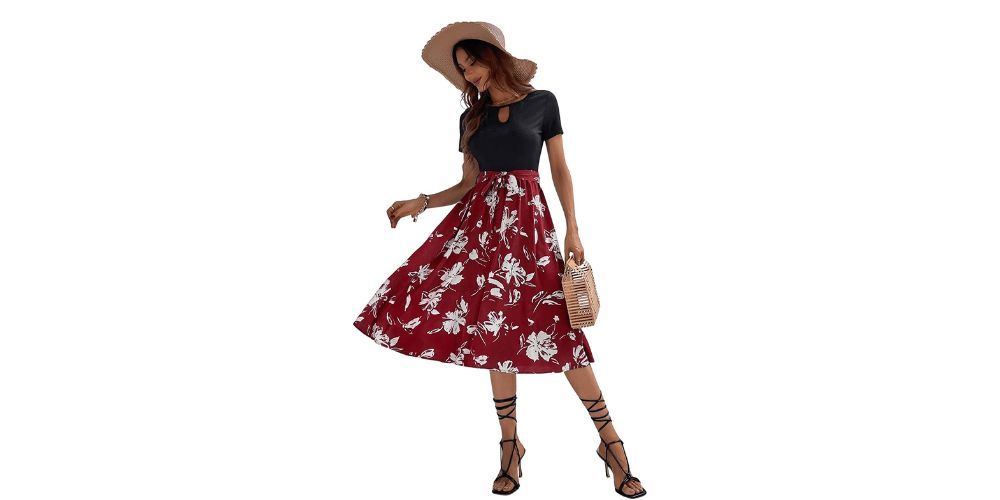 This dress is like wearing a rainbow made of flowers, with a flowy, flared silhouette that will make you feel like twirling through fields of daisies. With its high waist and A-line cut, this dress will give you curves in all the right places – and the short sleeves will show off your perfectly toned arms (or at least give the illusion of them). And let's not forget about the belt – it's like the cherry on top of an already delicious sundae. Customers find this dress amazing and perfect.
Polka Dot Dress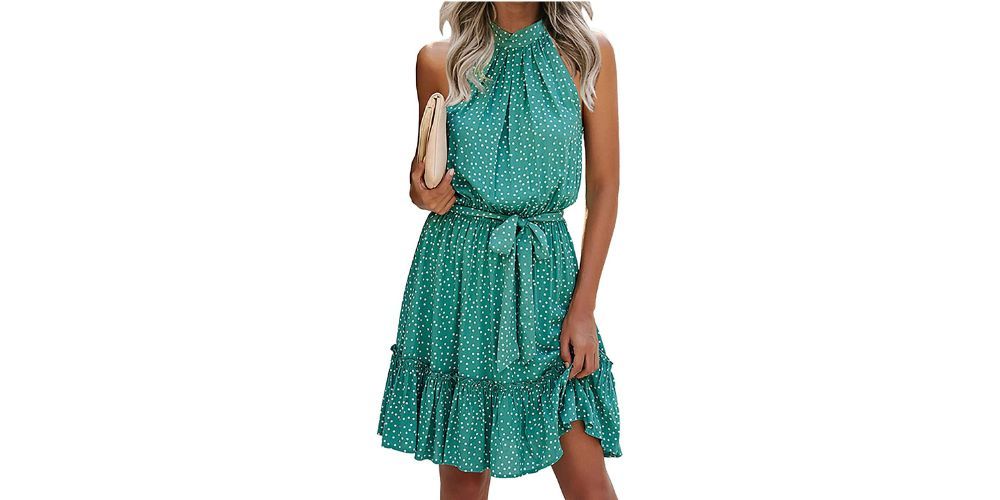 Get ready to make a fashion-forward statement this season with the polka-dot dress of your dreams! Instantly upgrade any look with its striking print and flattering cut. With a moderate stretch elastic waistband and tie self-belt, you can feel comfortable and look fabulous – even if you're running errands or attending a rooftop party. Best of all, you can customize your look to create the perfect fit every time. Treat yourself today and don't miss out on these unbeatable deals – get ready to slay all summer long!
T-Shirt Dress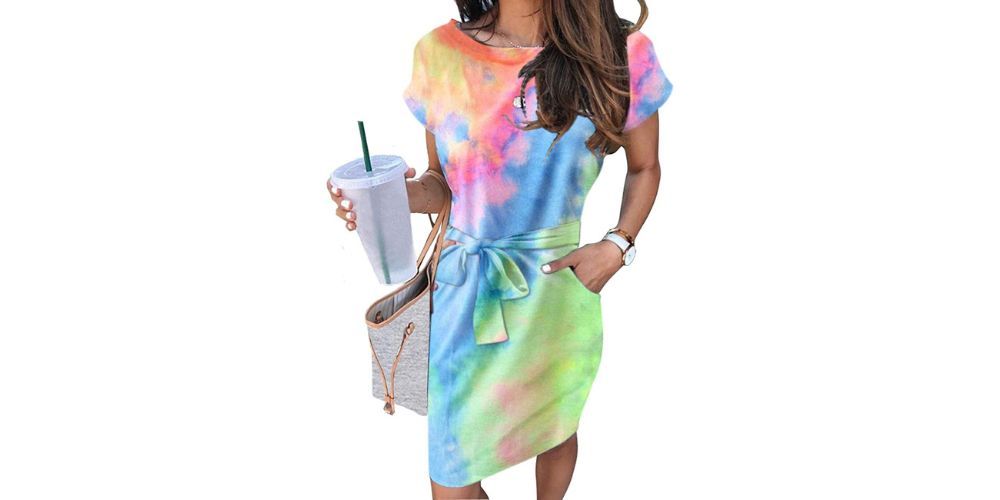 With its striking dye print and chic sheath design, this casual dress with pockets offers a stunning variety to your summer wardrobe. Not only is this dress guaranteed to turn heads and leave onlookers in awe, but it also features two convenient pockets that are perfect for storing all your essentials. Trust us, you won't want to miss out on the style and practicality that this dress brings to the table. Don't settle for anything less this summer - add this dress to your collection and experience the ultimate variety in fashion!
Final Thoughts
These 22 varieties of gorgeous spring dresses are the perfect way to elevate your wardrobe and channel your inner fashionista. From flowy maxi dresses to chic cocktail dresses, each one has its own unique style and charm. Whether you're heading to a wedding, brunch with friends, or just want to feel fabulous on a sunny day, these dresses are sure to make you feel like a bloomin' fashionista. So what are you waiting for? Add these stunning dresses to your collection and get ready to slay all season long!
Reviews in this blog post have been edited for clarity and/or length.
Other Posts You May Like
Comments