This post may contain affiliate links, please see our privacy policy for details.
Spring is in the air, and Easter is just around the corner. It's time to start planning your Easter celebrations, and one of the most crucial parts of any Easter celebration is the table setting. Whether you're hosting a big family brunch or an intimate dinner with friends, your Easter table setting is sure to be the center of attention. But with so many options out there, it can be tough to know where to start. Fear not! We've compiled a list of 29 ideas for a table set for Easter that will crack you up (and impress your guests).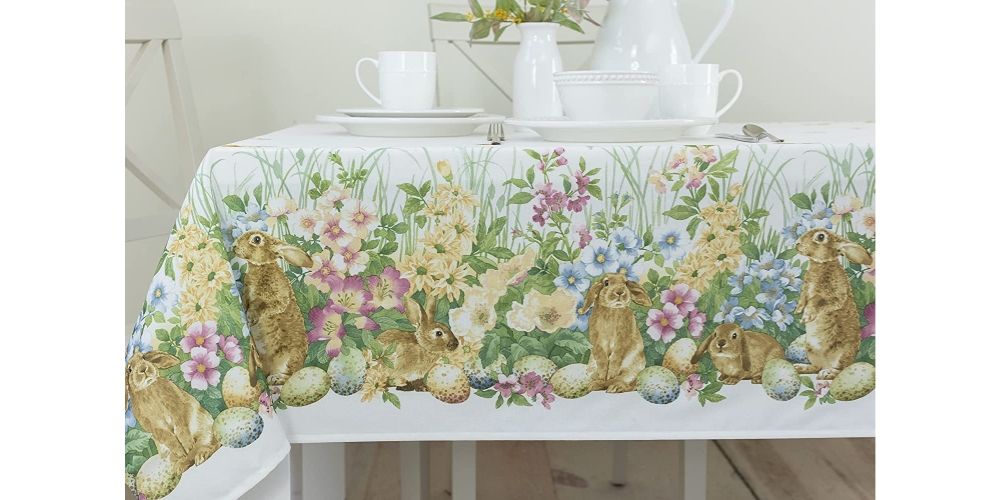 This adorable tablecloth will set the perfect backdrop for your Easter feast. Featuring festive Easter bunnies, this top-quality polyester tablecloth is the perfect combination of style, durability, and ease of maintenance - all in one. Prepare to wow your guests and create unforgettable holiday memories with this awe-inspiring table accent that will leave everyone hoppin' for seconds!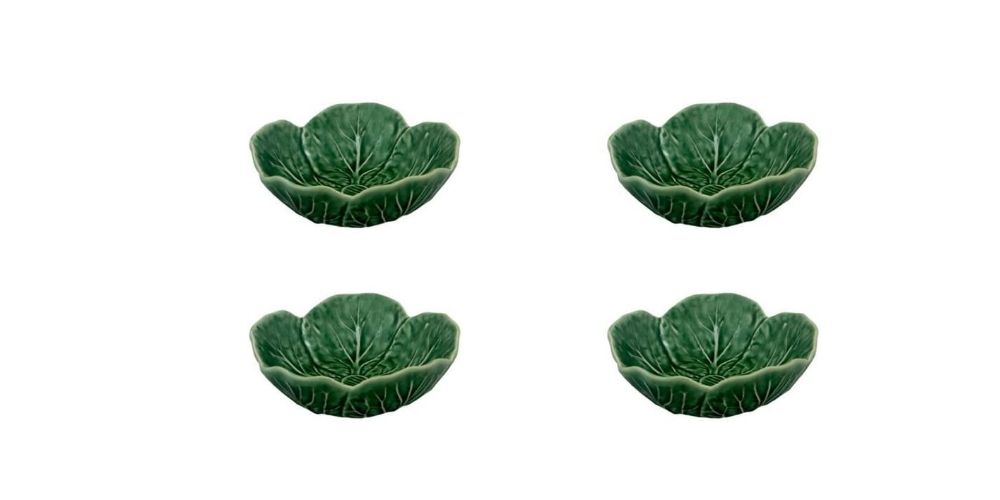 Spring is here, and what better way to celebrate than with a unique vintage "lettuceware" cabbage bowl? These fun and quirky pieces bring a touch of nostalgic charm to your Easter table decorations. Not only are they creative conversation starters, but this set of four bowls will also inject an eye-catching display of rustic elegance that will surely turn heads.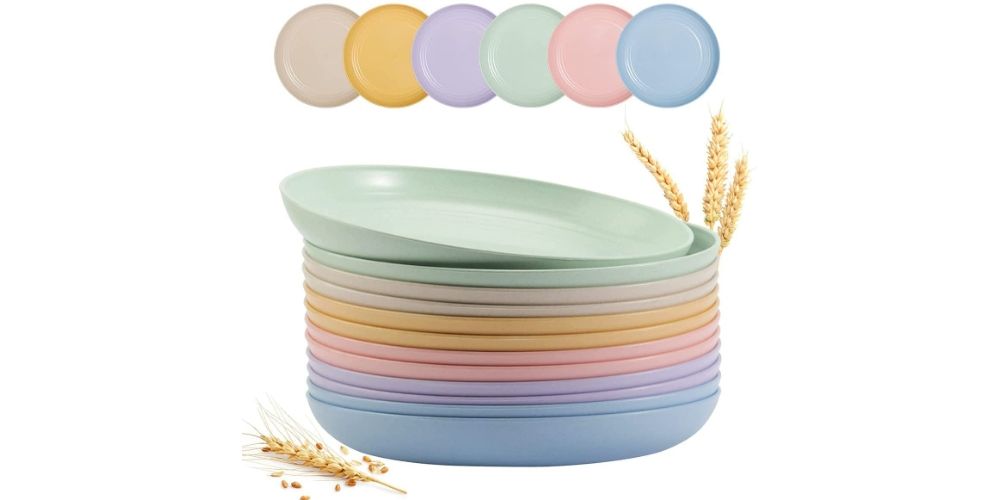 Get ready to brighten up your Easter dinner table with this stunning set of pastel plates! Made from durable stoneware, these plates are not only stylish but also practical, as they're both dishwasher and microwave-safe. Perfect for Easter table settings, these plates are sure to be a hit with your guests and will add a much-needed pop of color to your festive decor.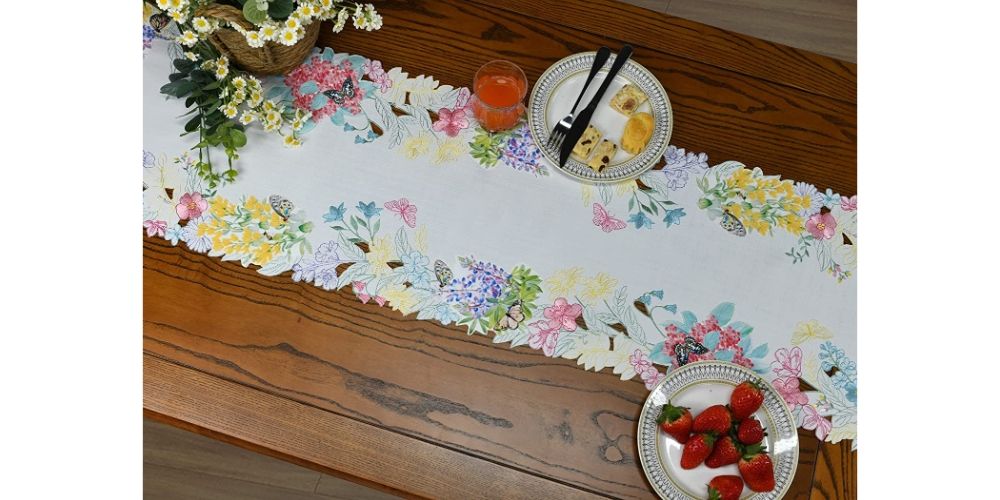 a touch of spring to your table with this beautiful floral table runner. With its exquisite floral design featuring digital printing flower appliques and colorful embroidery on textured linen, this table runner is sure to leave your guests in awe. Whether you're hosting an Easter brunch or a springtime dinner party, let this must-have table accent be the perfect way to surprise and delight your guests!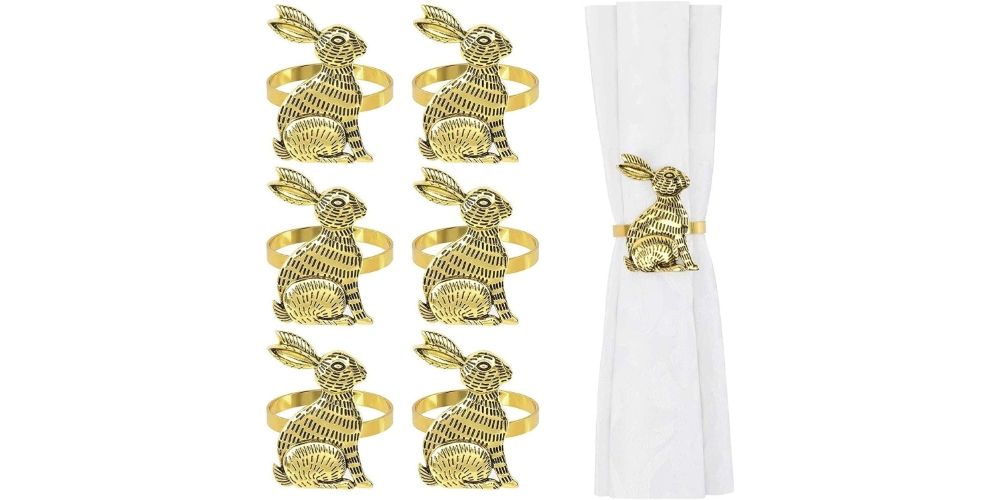 Add a dash of cheer and bring Easter joy to your décor with these delightful bunny-shaped napkin rings! Not only are they made from top-quality metal, but they're also easy to clean. Make your Easter table setting more special with these lovely rabbit napkin rings – perfect for adding a touch of whimsy and elegance. Their charming design and top-notch quality will make sure everyone at your Easter celebration is in awe of the impressive table setting!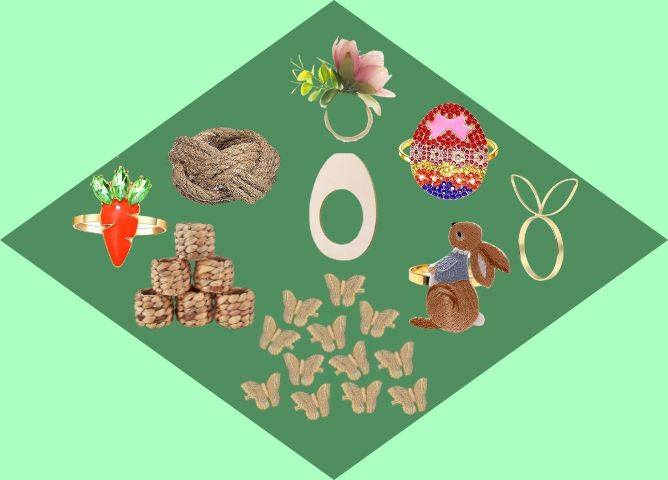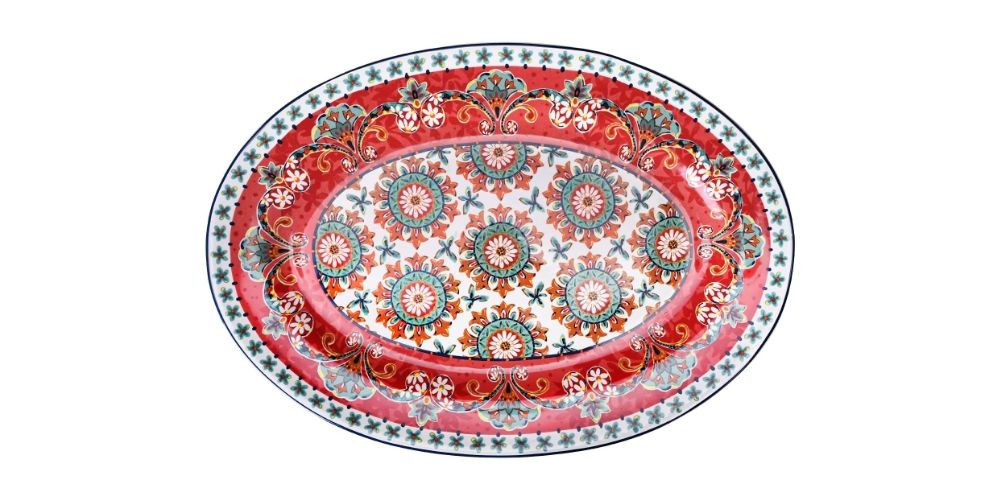 Serve your Easter treats on this egg-shaped serving platter. Crafted from top-quality ceramic, this platter is not only stylish but also practical, as it's both microwave and dishwasher-safe. The beautiful red farmhouse floral design on this platter will make your Easter treats stand out in style. Paired with the exquisite floral table runner, this combination is sure to leave your guests in awe.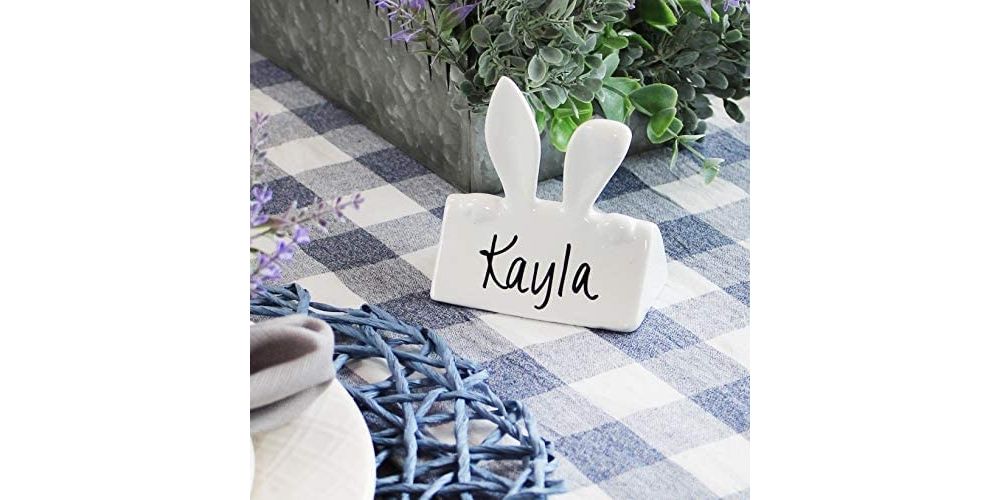 Decorate your table in style with these fabulous bunny-shaped place card holders! Crafted from top-quality ceramic, they're not only durable but also easy to clean. With a set of six rabbit ear-shaped markers, create an eye-catching and unforgettable Easter decorations display. Plus, the place card holders are reusable, so you can use them for your springtime events year after year. Add a playful touch to any gathering and make a lasting impression with these must-have place card holders – the perfect way to add quaint charm and plenty of personalities to your easter table decor!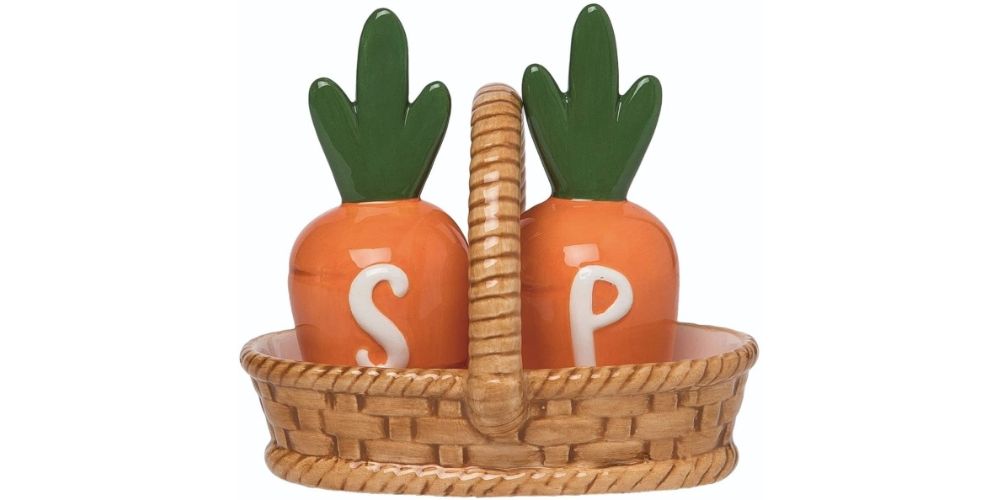 Spice up any table setting with these playful carrot-shaped salt and pepper shakers! Not only are they made from top-quality ceramic, but they're also easy to clean. With their charming and unique design, these must-have shakers will add a touch of whimsy and plenty of cheerful personalities to your table. Spread some Easter joy in your home décor and have your guests talking – get your hands on a set of these delightful carrot-shaped salt and pepper shakers today!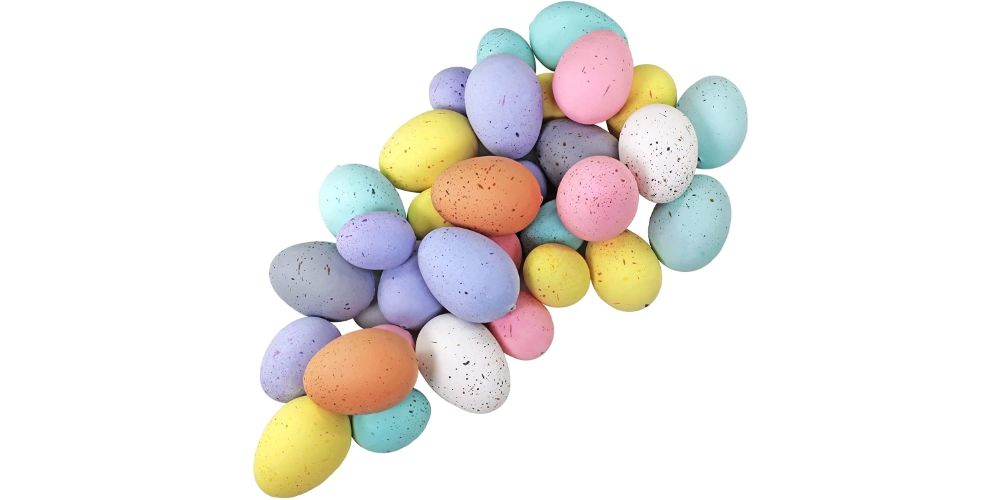 This festive Easter egg centerpiece is sure to jazz up your table decor. The package includes 32 pcs foam Easter eggs in 8 pastel colors and 3 sizes, made from high-quality foam for durability and easy cleaning. From floral centerpieces to Easter tables, these decorative faux speckled eggs are a beautiful way to add vibrant warmth and joy to your home. Showcase them in bowls, jars, vases, or baskets or combine them with other decorations – this delightful Easter egg centerpiece is the perfect addition to any Easter display.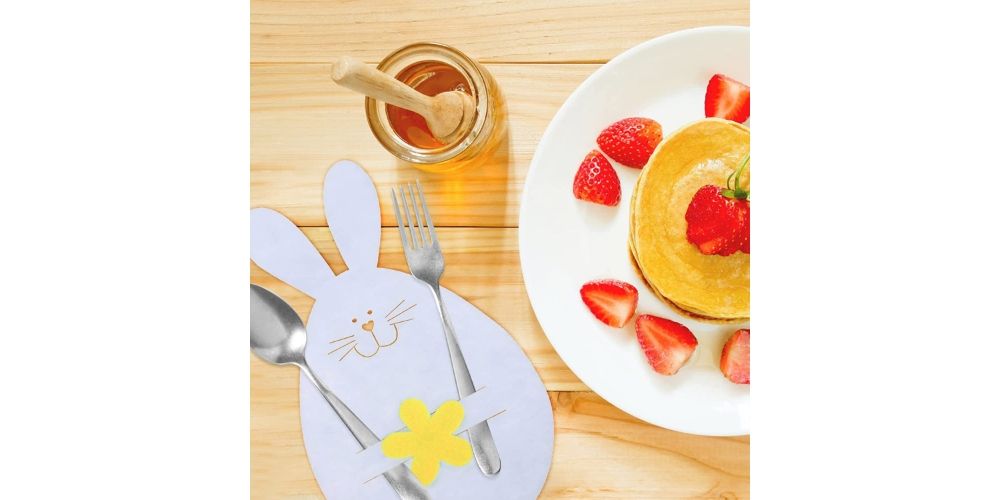 Make your Easter dinner fun and festive with these adorable bunny ear-shaped utensil holders! Crafted from high-quality and durable material, these cute pockets ensure your silverware stays organized while adding a touch of playful style to your table. Perfect for camping trips or travel, they make meals even more enjoyable.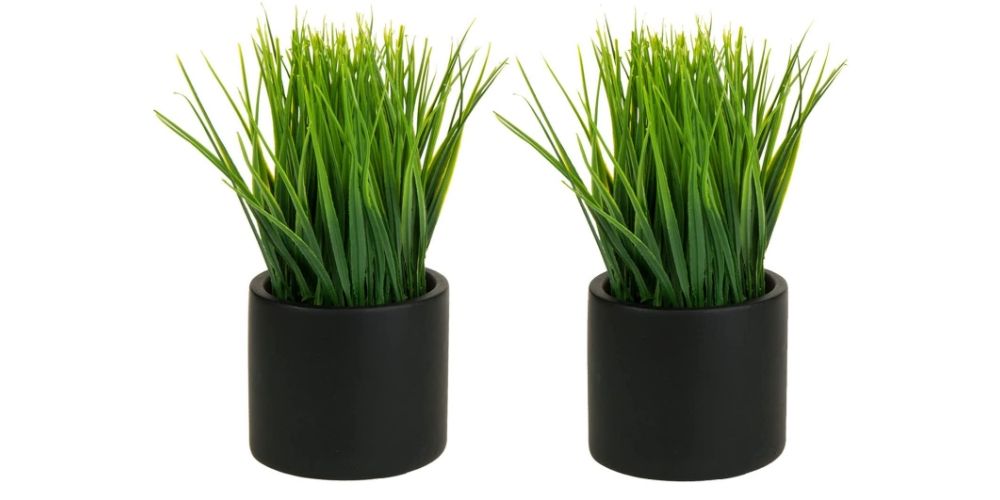 Bring a touch of springtime beauty to your table with this stunning Easter grass display! In just minutes, you can create a simple yet elegant centerpiece that will draw admiring glances from all your guests. Plant wheatgrass in milk glass vessels such as the sugar dish, goblet, and vase shown here and water as necessary to keep it fresh. If you're looking for something more effortless, check out the artificial version of this display. Not only is this a great way to spruce up your decor during the holiday season, but the sugar dishes also make perfect place card holders – simply tie a card to each handle for an extra special touch.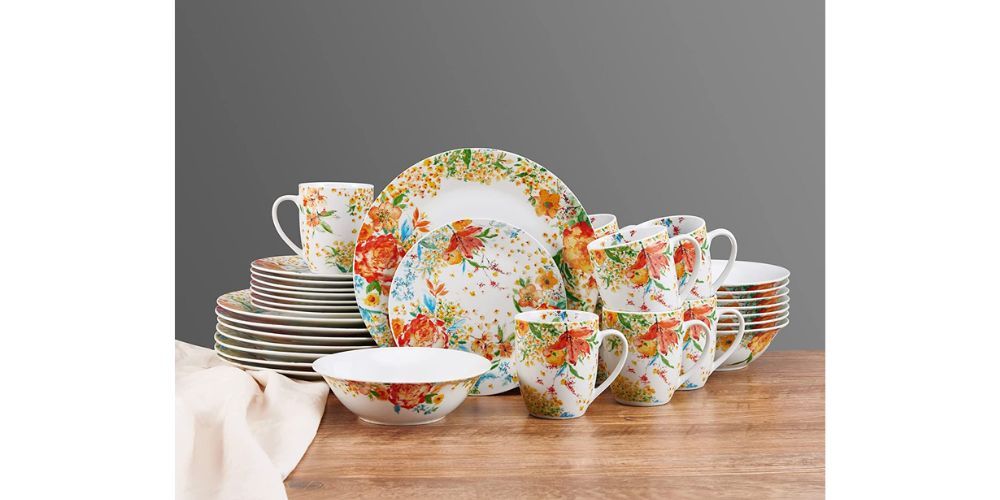 This beautiful dinnerware set features a delicate spring floral pattern and includes dinner plates, salad plates, bowls, and mugs. Crafted from high-quality porcelain, it's microwave and dishwasher-safe for convenience and is sure to add a touch of elegance to your dining table.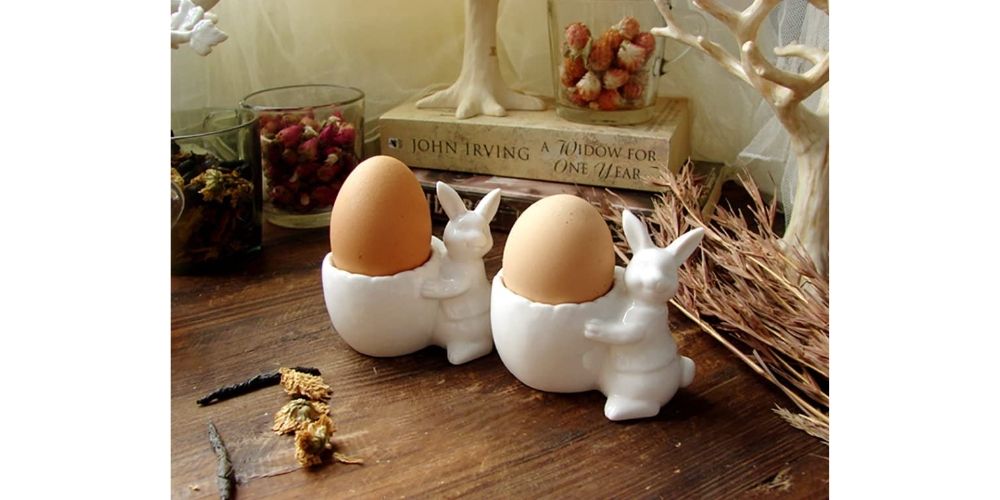 Make your Easter breakfast extra special with these cute and adorable bunny egg cup holders! Crafted from high-quality ceramic, they're not just highly durable but are also dishwasher-safe for your convenience. With their vintage white rabbit design, these egg cups bring a touch of character to the table and will make your morning meal even more enjoyable. Get ready to create lasting memories with two vintage white bunny egg cups – perfect for holding boiled eggs!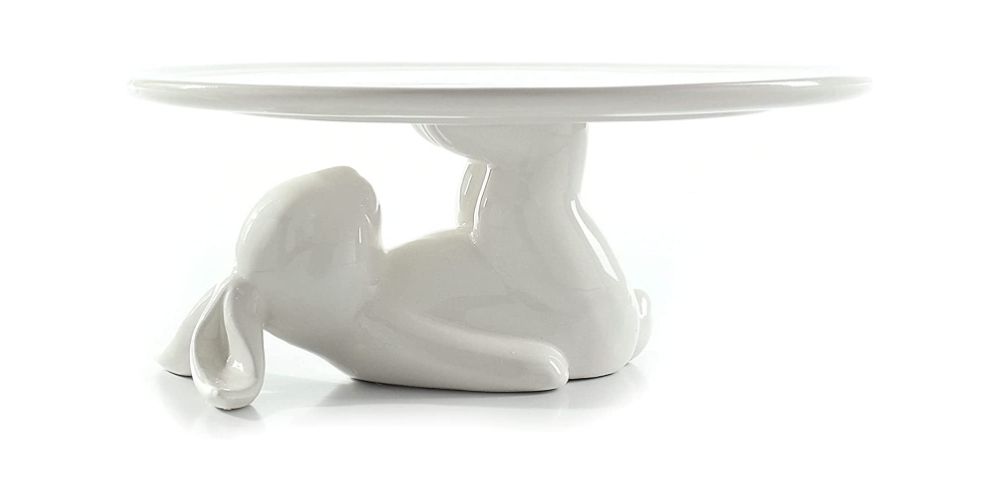 Display your Easter treats on this adorable bunny cake stand. Made from high-quality ceramic, it's easy to clean and will add a touch of whimsy to your table. It makes the perfect stand for your macaroons, cupcakes, cookies, and fruits.
Anchor your place cards under the paws of small brass bunnies, creating a welcoming "fluffle" (that's the name for a group of rabbits!) that is sure to delight your guests. For added appeal, create a "rabbit runner" down the length of your table – this whimsical arrangement is sure to add a special touch of festive cheer. Bring some hopping fun to your Easter celebration with this charming tablescape!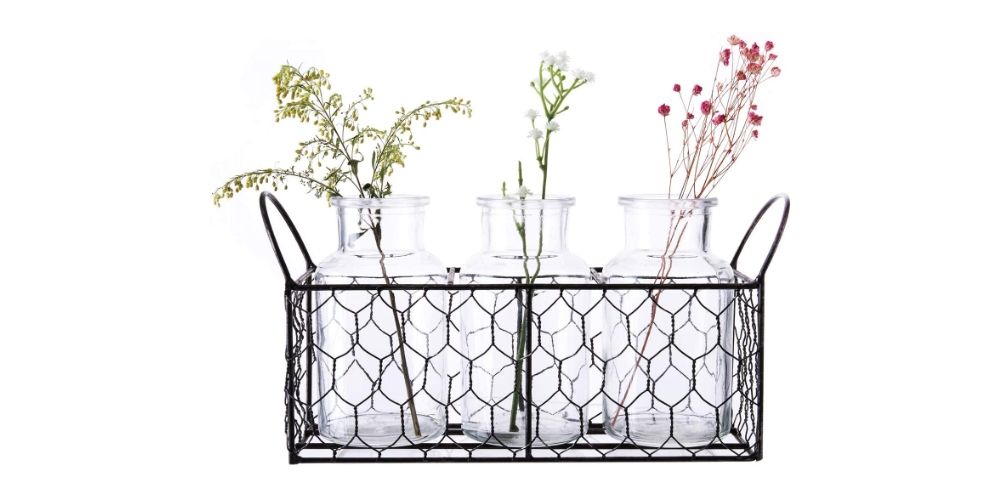 Bring a touch of rustic charm to your home this Easter with this beautiful glass milk bottle vase in-basket centerpiece! Featuring three adorable mini glass bottles held in a delightful metal basket, it's the perfect way to display your favorite fresh flowers from the garden. With its vintage styling, it adds a lovely country vibe to your decor and is sure to be admired by all who see it.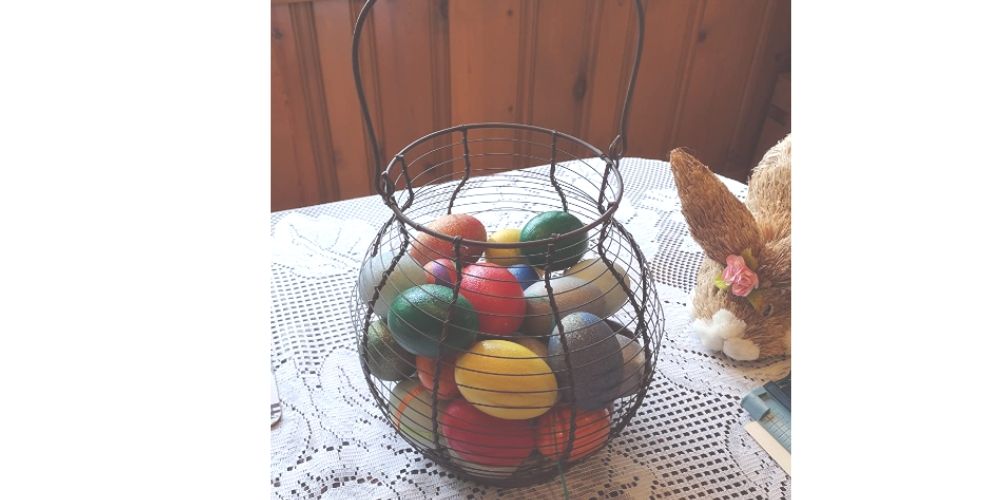 Fill this adorable French egg collecting basket with colorful wooden eggs (to dye use robin's egg blue or paint wooden eggs white). You can also place a vase inside the basket and surround it with eggs. Then fill the vase with water and add your favorite spring bouquet - think lilacs, anemones, Scabiosa lavender, allium, and ranunculus - for a delightful easter decor display that is sure to bring joy to your home!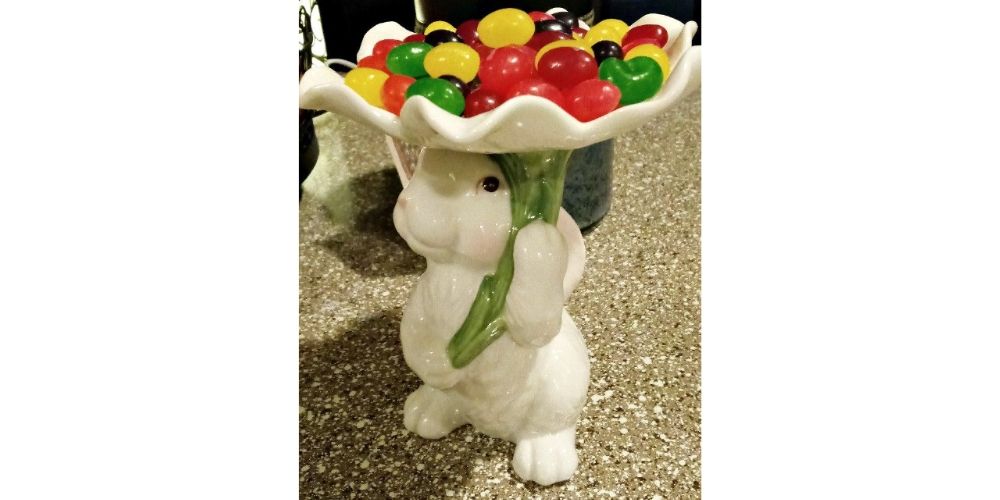 Create the perfect Easter setting with this adorable porcelain bunny candy/candleholder! Place a mix of chocolate eggs in different sizes and colors for a charming display, or use candles to set the scene for a festive sideboard. This whimsical porcelain bunny holder is sure to make any celebration special - it's the perfect way to brighten up your Easter decorations!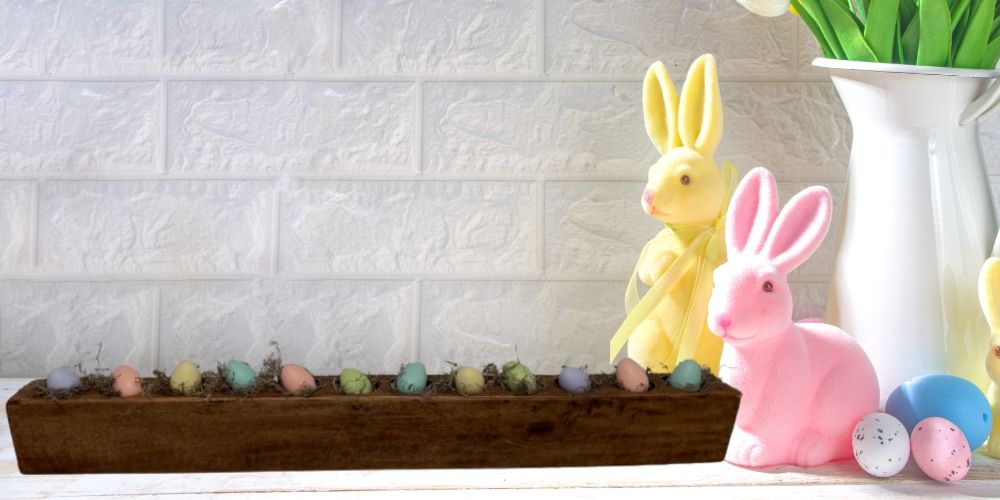 Make your meals look magnificent with a classic wooden sugar mold eggholder! Stack your eggs neatly between the compartments of this wooden kitchen staple, and arrange them on the table alongside plates and glasses for a symmetrical display sure to catch everyone's eye.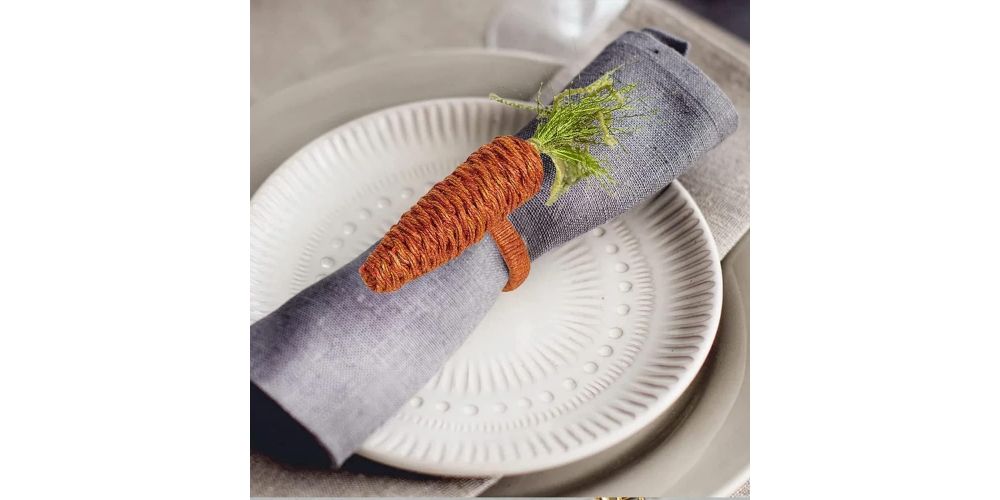 Make your dinner table extra special with these cute carrot napkin rings! Crafted from cotton and linen, these charming little accessories are a simple yet creative way to add a touch of whimsy to your mealtime. Whether you're hosting an Easter dinner or throwing a baby shower, this adorable vegetable-inspired napkin ring set is sure to be the perfect addition to any celebration. Check out this Youtube video to make sweet diy napkin rings.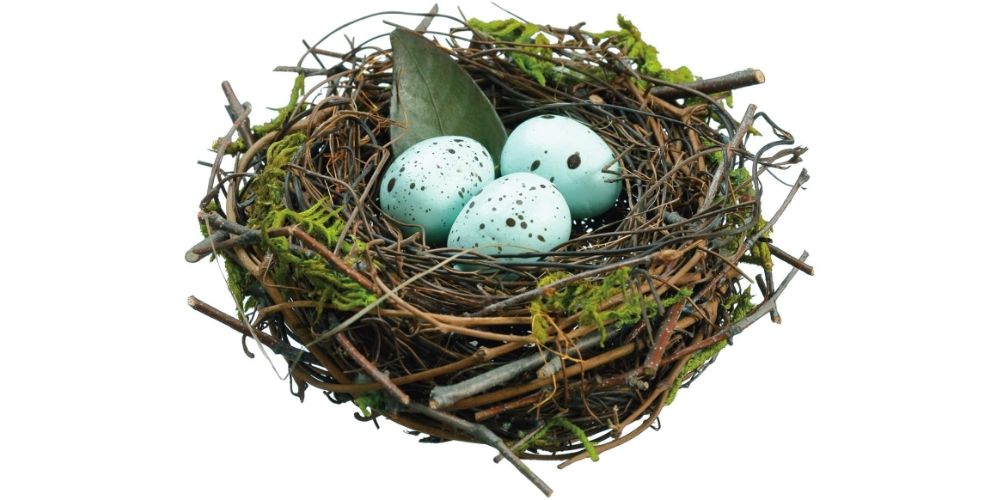 Welcome the coming of Spring with this charming bird nest decor! Using a twig base, artificial preserved green sheet moss, and matte nestle faux robin's eggs, you can create a beautiful display to celebrate the season. Whether you choose to hang it from your ceiling or place it in the center of your dining table, this rustic decor will bring a delightful touch of nature and whimsy to any room. You can even add some color by painting the eggs with festive shades of blue or green!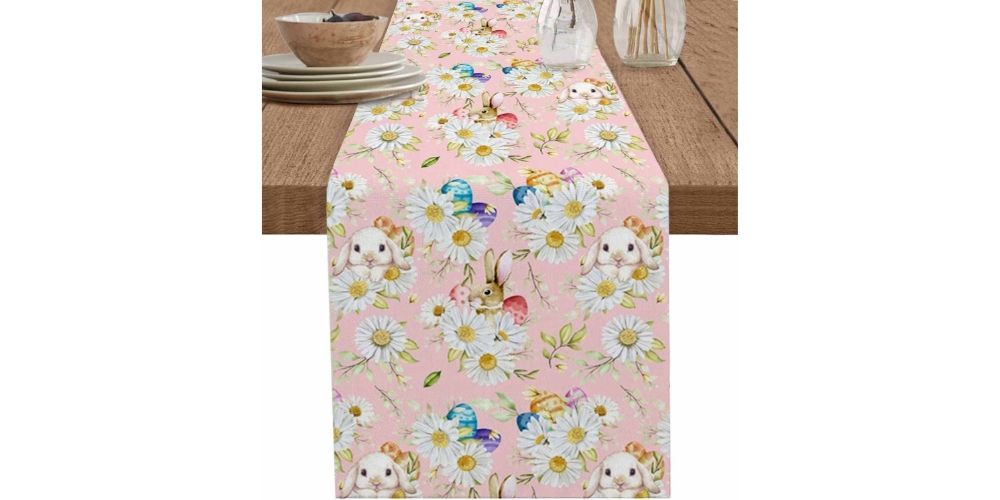 Give your Easter tablescape a unique and whimsical touch with this stunning pink bunnies and daisies runner! Crafted with intricate embroidered details, this runner features an adorable pastel color palette of sweet pink bunnies frolicking on a field of white daisies. Perfect for any springtime gathering, this table decoration is sure to bring joy to all who see it. Pair it up with other pastel accents for an extra special look!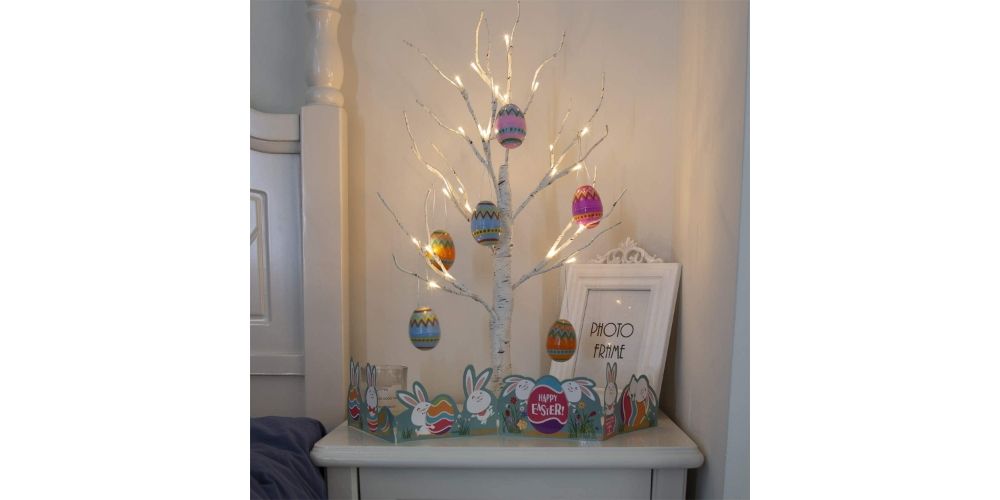 Embrace the traditional German custom of decorating trees with this unique egg tree! To make it, start by filling a tea tin with floral foam and adding blooming branches like dogwood. Then, use a length of ribbon looped around wooden craft beads to hang dyed or painted wooden eggs from the branches. This colorful display will bring some extra cheer to your home and will surely be a conversation starter. Add a wooden craft ring to give it an extra special touch!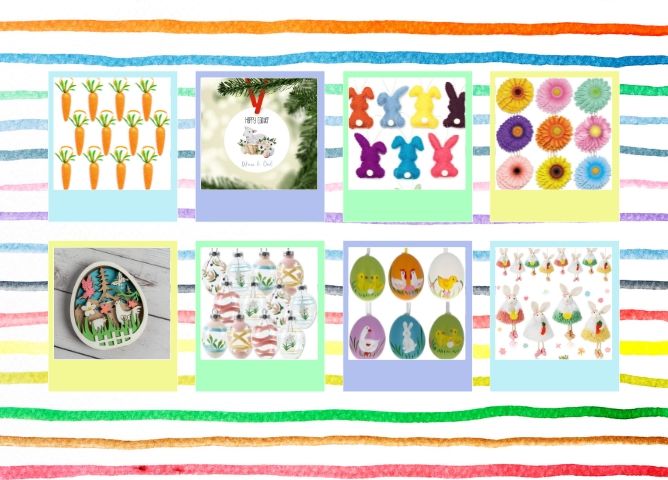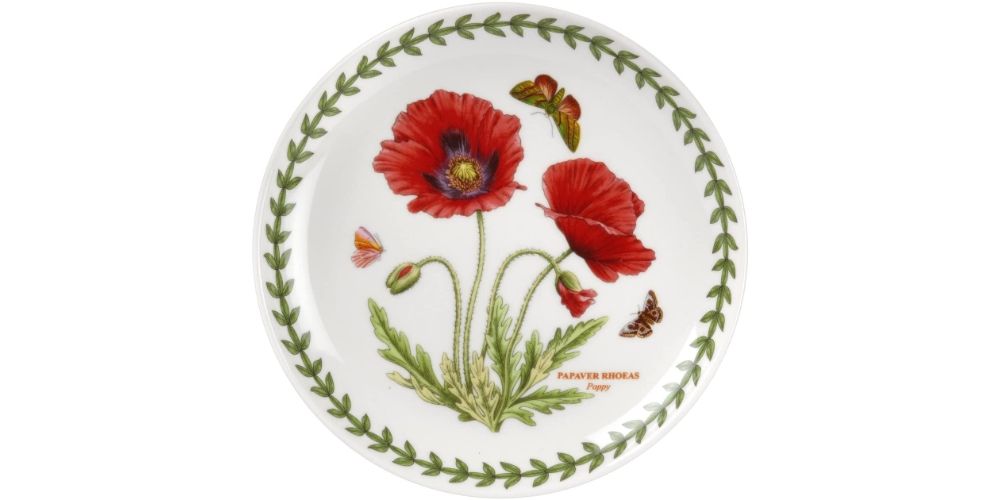 Give your guests something special to take home at the end of their meal with this beautiful floral tray – crafted from porcelain and decorated with cutout poppies in shades of red and orange.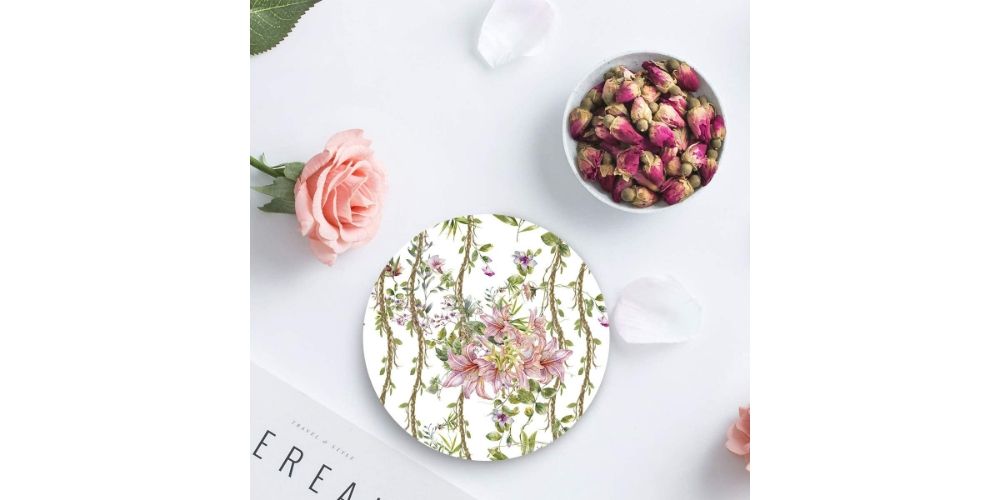 This charming little set features eight coasters with intricate details depicting a small pond, complete with floating lily pads and realistic-looking foliage. Place your hot or cold drinks on the lily pad-shaped mats and keep your furniture safe from condensation, heat, and marks. It's a practical addition to any home that will add some eye-catching detail to your décor.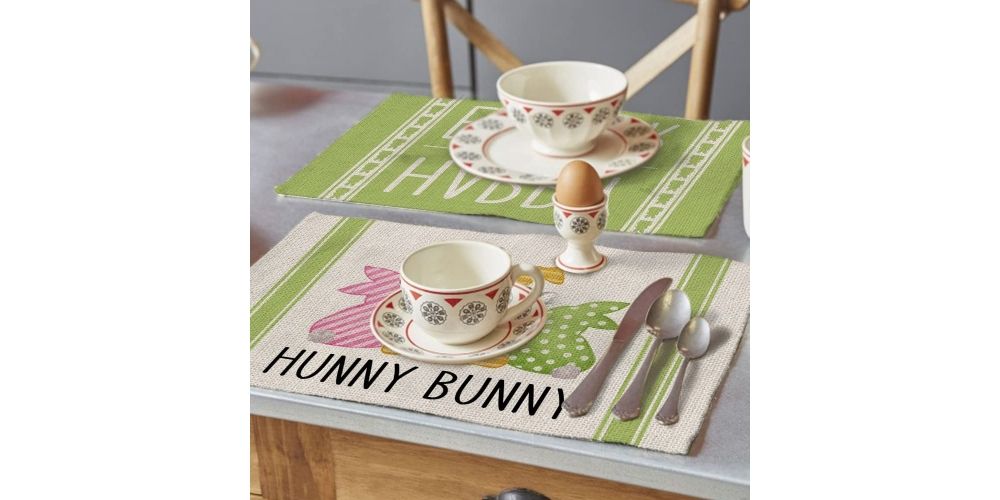 Lighten up the mood at meal times when you lay down these rabbit carrot basket placemats at each place setting. Available in a square shape, these charming placemats feature bright colors, and clear images and have a premium quality polyester blend construction that is fade-resistant, reusable, durable, and machine washable. They will add some lively decor to your dining table and help you get into the holiday spirit. Not only are they great for Easter celebrations but they can be kept out all year round to make mealtimes more enjoyable.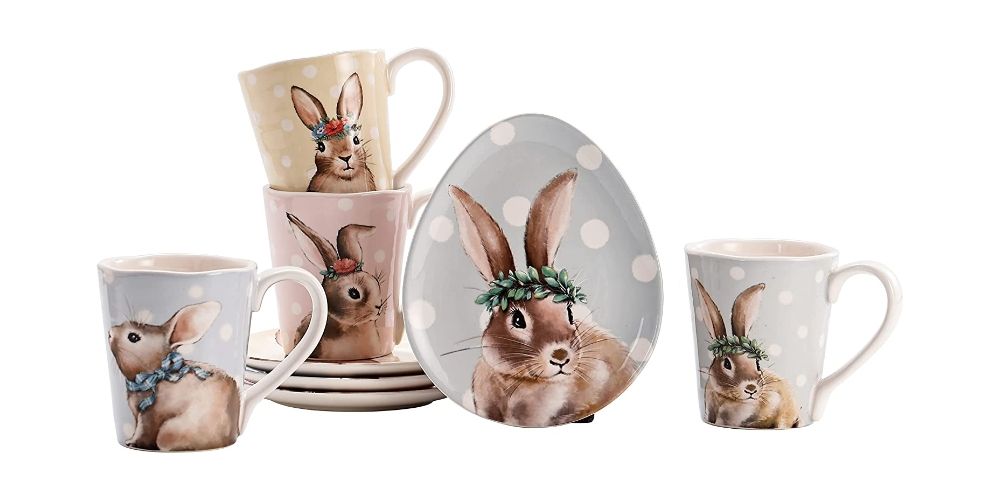 Add some extra fun to your breakfasts and teas with these lovely Bunny Mugs Set! Crafted with fine ceramic, this set of mugs is perfect for all occasions. Each mug features a unique, cute bunny design that will bring a smile to the faces of everyone around the table. Not only are they great for adding a little cheer to mealtimes but they make great gifts too. So if you're looking for something special that your friends and family will appreciate, look no further than these adorable bunny cups!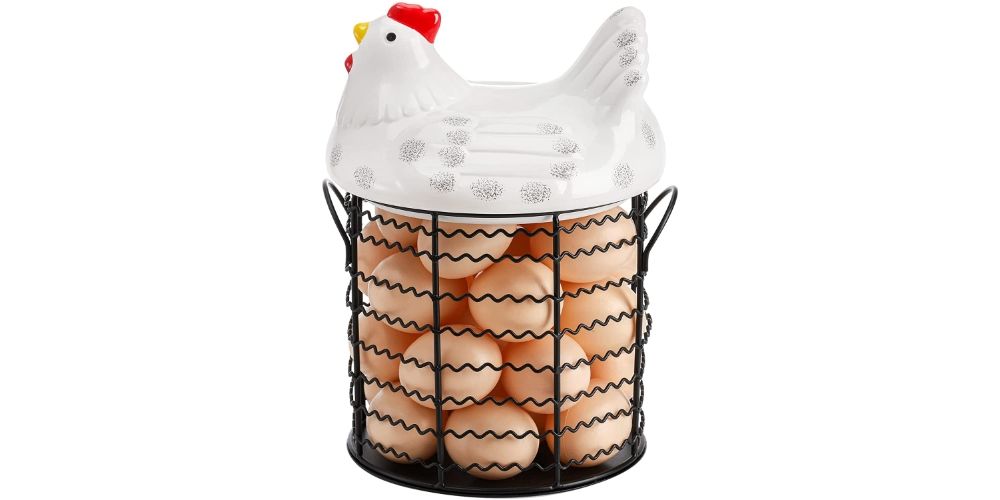 Perfect for hen parties or displaying treats for family and friends during Easter, this beautiful ceramic chicken lid gives the basket a unique and rustic look. The intricate wire detailing allows you to store eggs safely. Whether it's for special occasions or as an everyday accessory, this decorative egg basket is sure to be a hit with all who see it. Use it to store your favorite treats - everyone will love its cute chicken design and clever use of materials!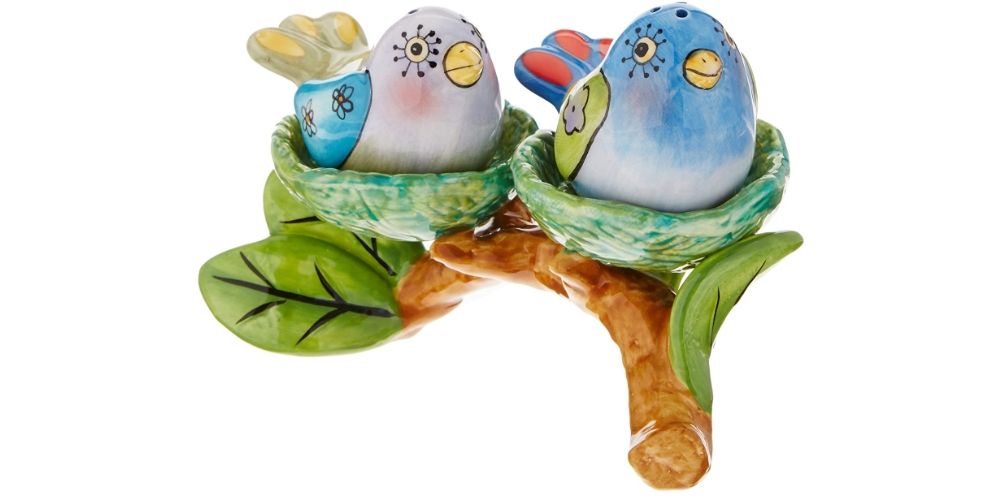 Make meal times a breeze with these unique and colorful Bird Nest Salt & Pepper Shakers! Crafted from stoneware material, each bird nest is glazed for extra durability and longevity. On top of being incredibly functional in the kitchen, they work as tea light holders too! Simply remove the salt and pepper shakers to use as a candle holder. These bird nests make excellent gifts or fun additions to your own home décor. They are sure to bring some fun and whimsy to your kitchen!
Final Thoguuths
Adding a bit of personality to your dining table can make mealtimes more enjoyable and these unique pieces are the perfect way to do just that. From floral trays and lily pad coasters to bunny mug sets, chicken wire egg baskets, and bird nest salt & pepper shakers - there is something for everyone! Whether you're looking for Easter décor or decorations that will last all year round – these cute additions should help bring some character into your home. Not only are they practical but they also add an extra touch of fun which makes them ideal gifts too! Enjoy sprucing up your kitchen with these charming items today!
Comments