This post may contain affiliate links, please see our privacy policy for details.
As the leaves turn to rich shades of amber and the air grows crisp, we approach that time of year steeped in tradition and filled with the aroma of spiced pumpkin lattes - Thanksgiving. While we prepare to give thanks and gather around tables laden with gastronomic delights, there's another important element that often goes overlooked until the eleventh hour - our Thanksgiving attire. In our last post, Dress to Impress: 10 Thanksgiving Sweatshirts for the Festive Season,we explored the cozy charm of themed sweatshirts for the holiday. Today, we expand your wardrobe repertoire with a curation of outfits that range from the casually sophisticated to the outright elegant, perfect for any Thanksgiving celebration.
The holiday season is the perfect excuse to dive into the depths of your closet and pull out those once-a-year favorites, or to treat yourself to a new ensemble. Whether you're seeking to keep it casual with a touch of chic or to step out in full autumnal glamour, we've pieced together outfit inspirations that cater to all tastes and occasions. From the timeless comfort of jeans to the luxurious allure of a dressy ensemble, get ready to strut into your Thanksgiving event with confidence and style. Join us as we embark on a sartorial feast, showcasing looks that will make you the talk of the dinner table - for all the right reasons.
Casual Thanksgiving Outfit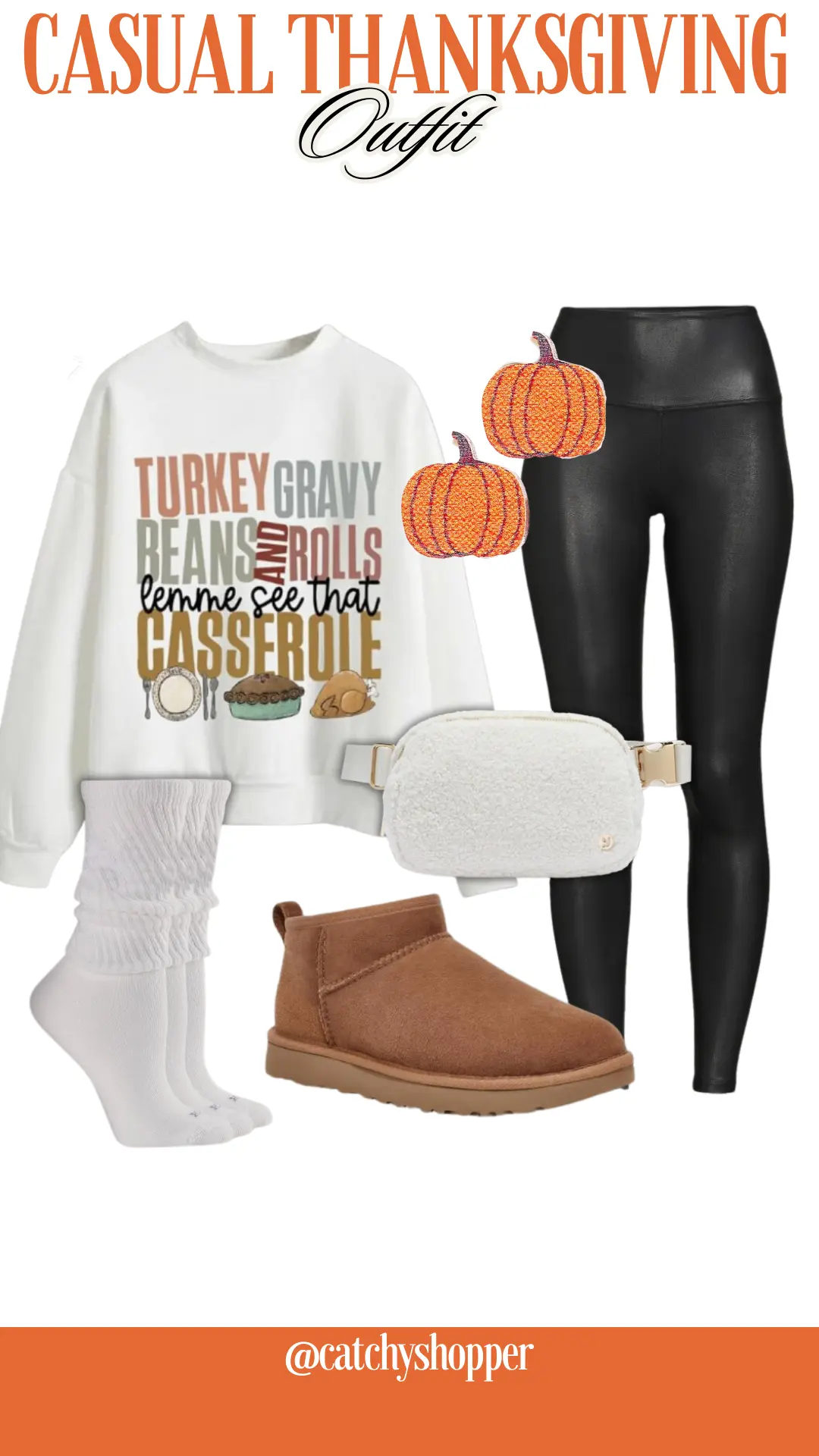 Embrace the essence of fall with a cozy crewneck sweater. This classic piece is the foundation of a laid-back look that doesn't skimp on style. Pair it with some sleek leggings for a comfy yet polished vibe. Keep those toes toasty in a pair of snug socks peeking out of stylish ankle boots. Accessorize with a pair of simple earrings and a chic belt bag to keep your essentials close as you make the rounds.
Comfy Thanksgiving Outfit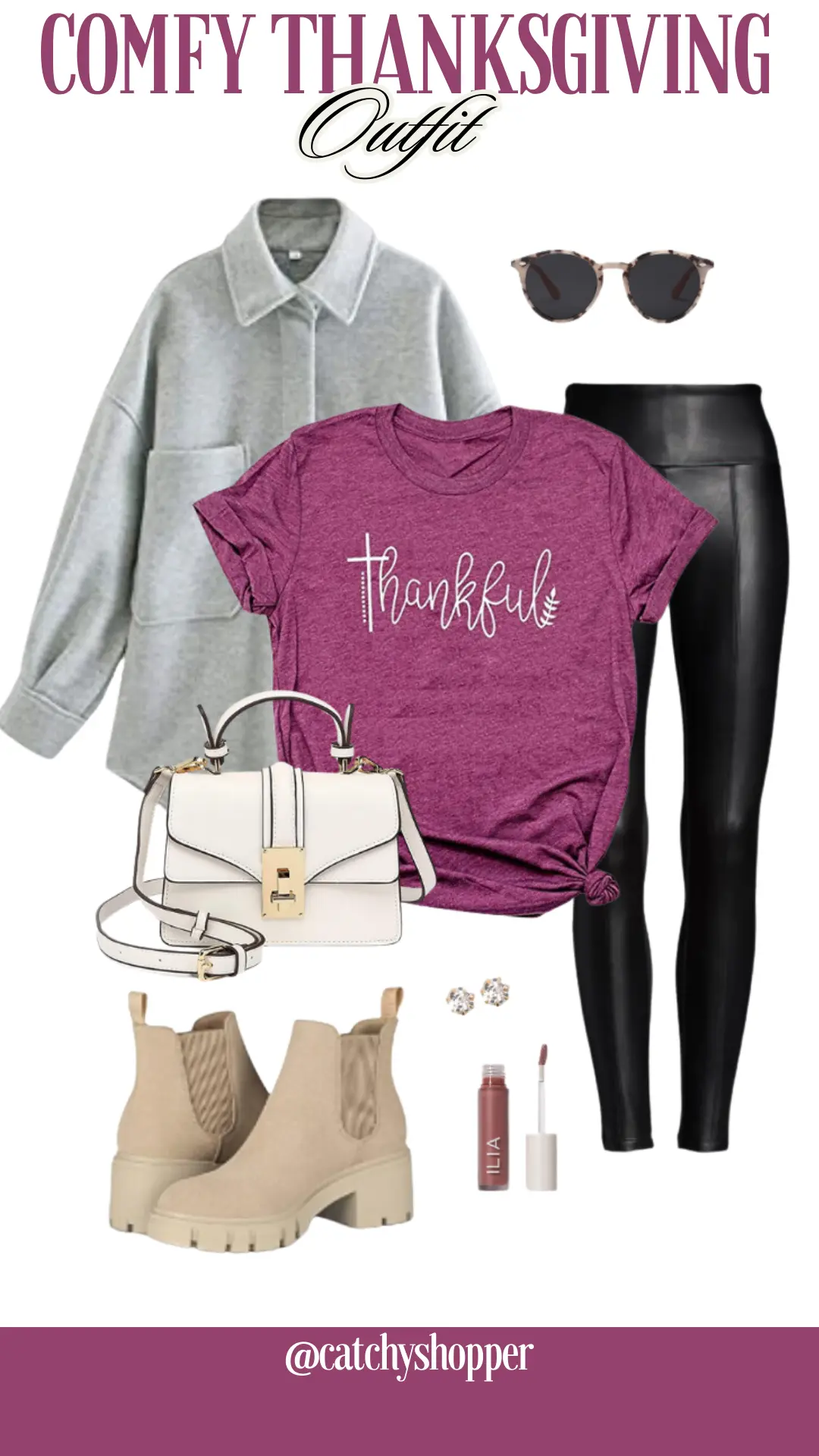 For those aiming for peak comfort without sacrificing an ounce of style, a light gray shacket layered over a festive graphic tee is the perfect solution. The shirt-jacket hybrid is all the rage and strikes the perfect balance between casual and trendy. Partner this with some front seam faux leather leggings for an added edge. On your feet, chunky heel lug boots will keep things stylishly sturdy. Accessorize with a classic pair of sunglasses, a white satchel bag for a crisp look, and a set of studded earrings. Don't forget a dab of nourishing lip oil to keep your pout perfect.
Jeans Thanksgiving Outfit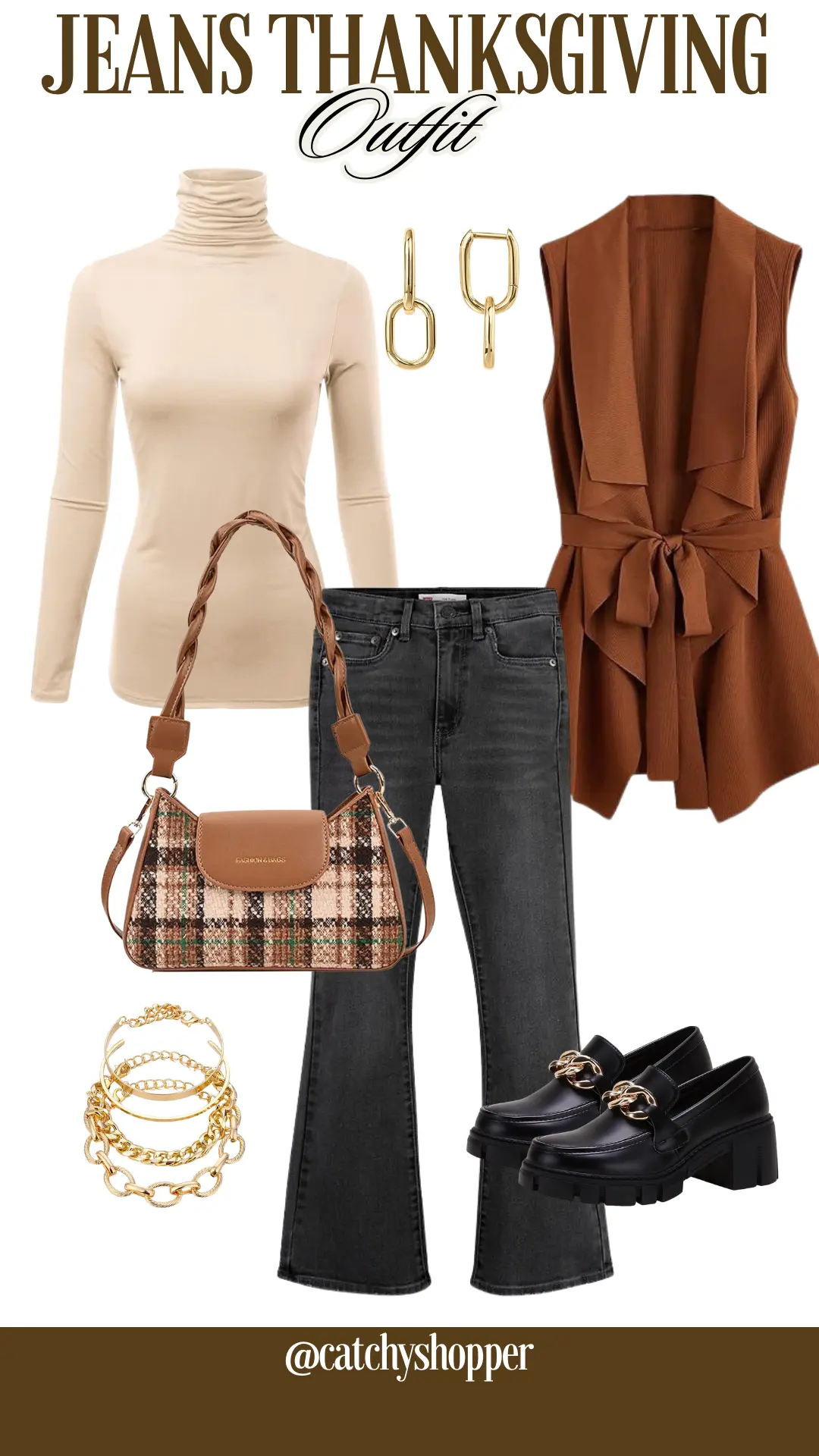 Who says jeans can't be dressed up for Thanksgiving? Tuck a chic turtleneck into your favorite pair of jeans for a smart-casual feel. Add a layer of sophistication with a vest jacket, making sure it complements the whole ensemble. Accessorize with a stack of bracelets and a pair of earrings to add some understated bling. Complete the outfit with an elegant handbag and a classic pair of shoes that can take you from dinner to the living room sofa with ease.
Dressy Thanksgiving Outfit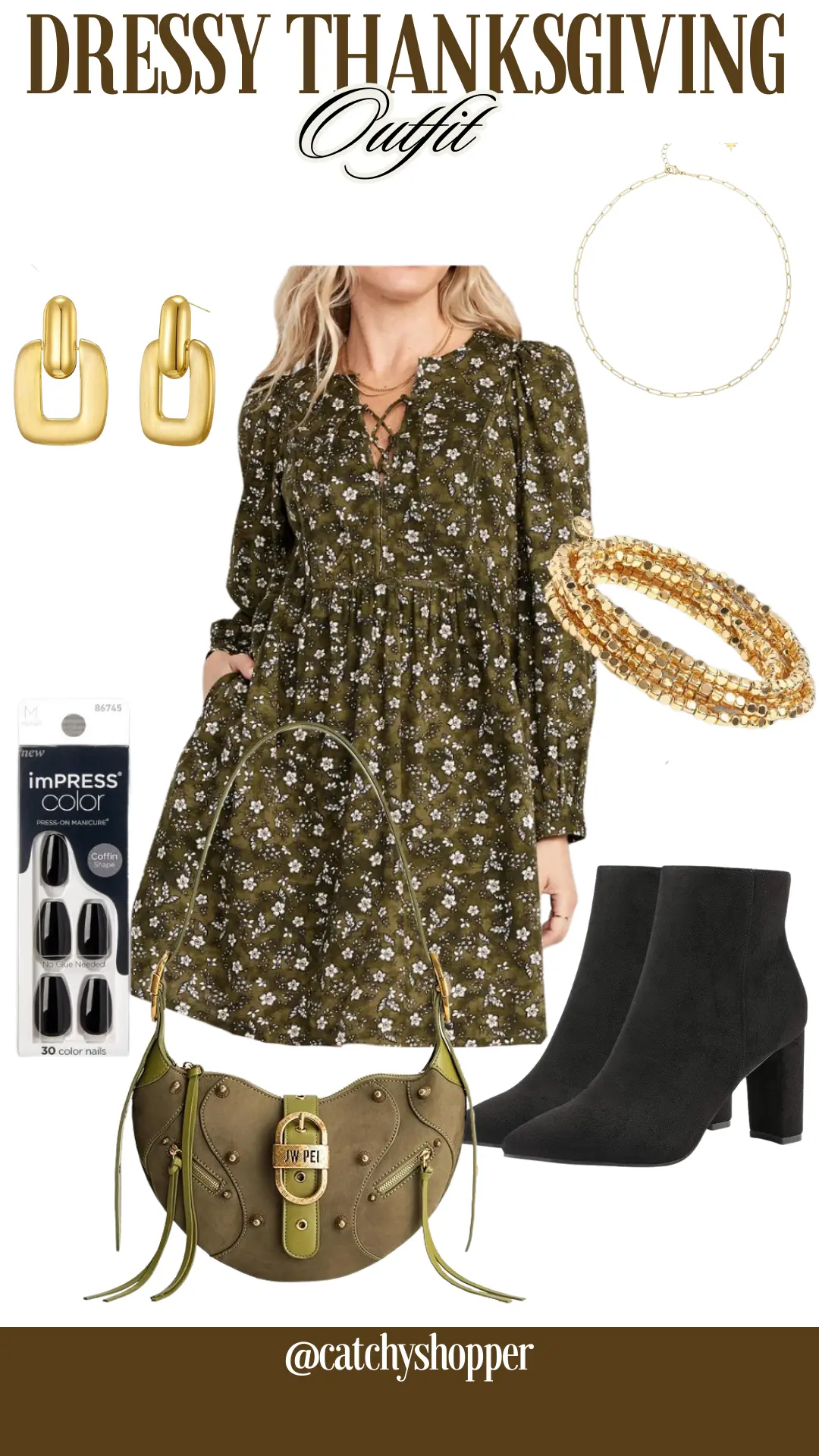 If your Thanksgiving is a dressy affair, opt for an autumnal dress that makes a statement. Knee-high boots can add a modern twist and keep your legs warm as the temperature drops. Elevate the look with a pair of glamorous earrings and a matching bracelet. Ensure your nails are manicured with a seasonal hue, and layer on a delicate necklace for a touch of sophistication. A well-chosen bag will not only complete your look but will also be practical for toting around your holiday essentials.
Leggings Thanksgiving Outfit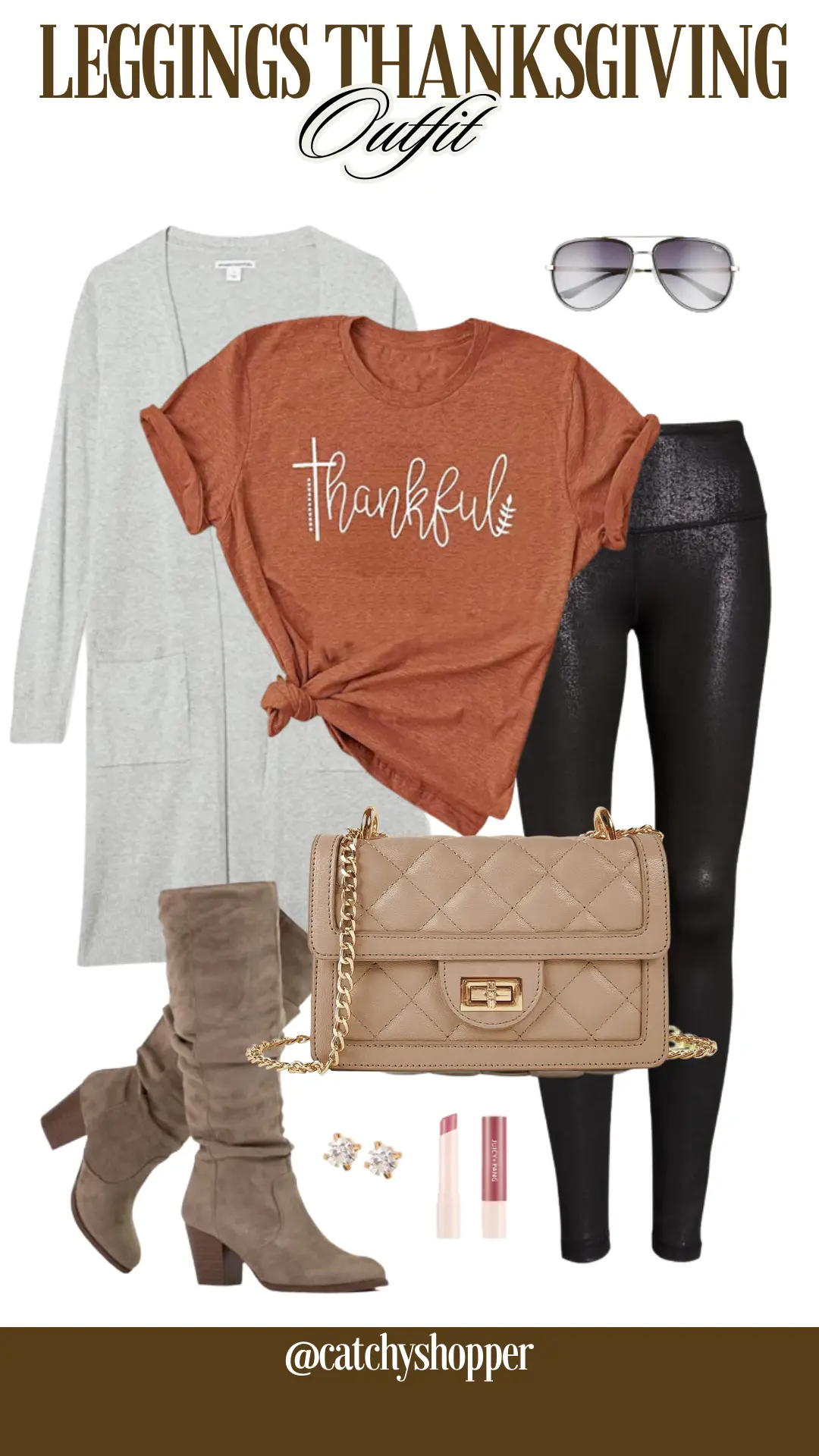 For many, leggings are the go-to Thanksgiving attire, thanks to their comfort and versatility. Dress them up with a lightweight cardigan and a seasonal tee underneath. Add an element of chic with a pair of stylish sunglasses and step into some slouchy stacked heel boots for added height and fashion flair. A cassette-style crossbody handbag is both functional and trendy, while a set of studded earrings will lend a sparkly touch. A swipe of colored lip balm ensures your look is finished and photo-ready.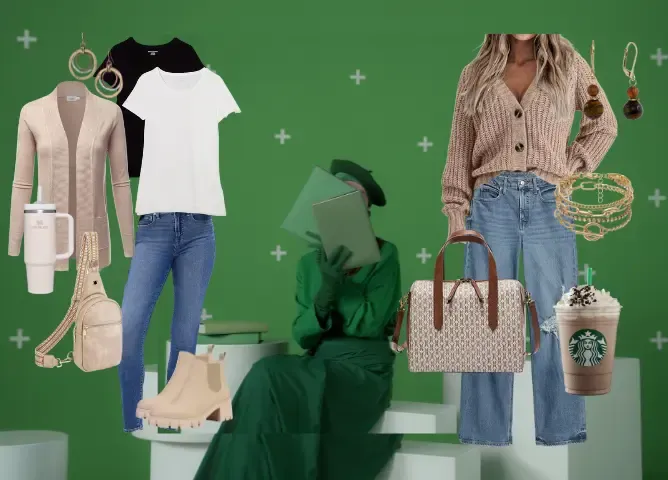 Other Posts You May Like
Join our Facebook Group for daily unbeatable deals.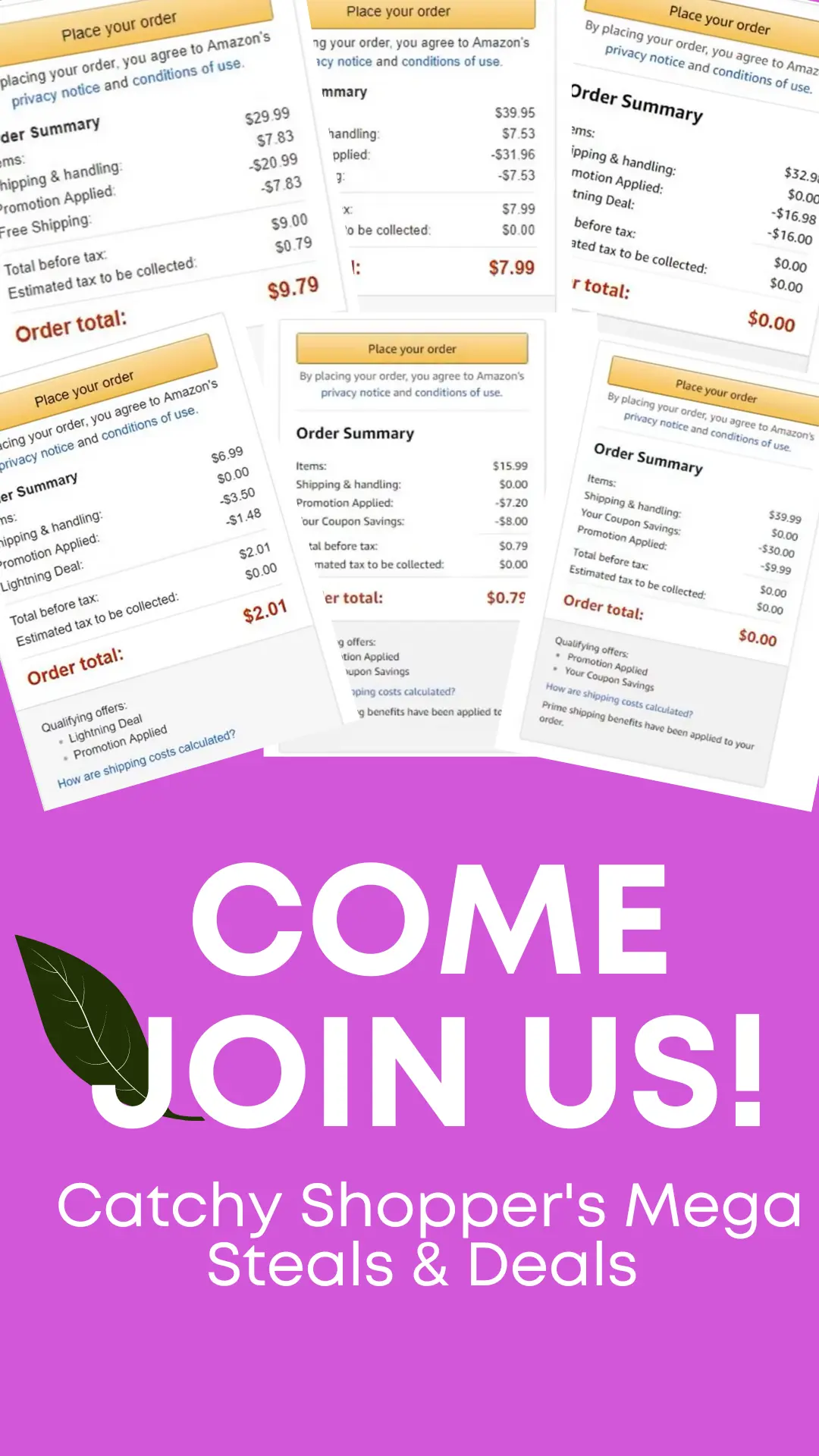 For more amazing fashion finds, check out the Daily Promos on the Latest Fashion Trends post.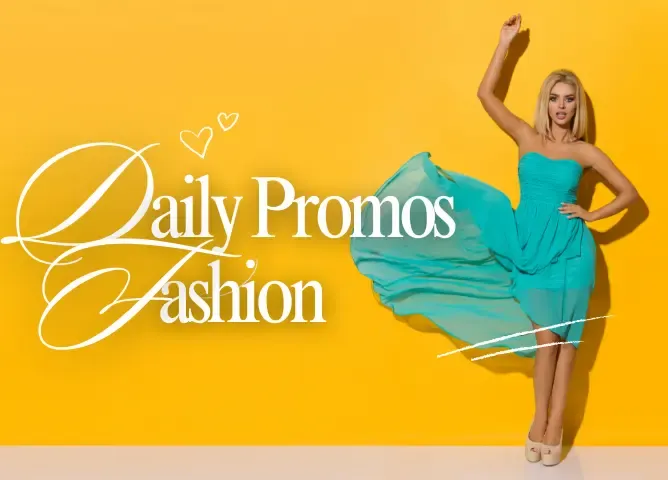 Comments