This post may contain affiliate links, please see our privacy policy for details.
Welcome back to our fashion feast series where we've dished out everything from cute Thanksgiving ensembles to chic dinner attire and festive sweatshirts. As the season of gratitude and gourmet indulgences rolls in, we're here to ensure your style menu is as thoughtfully curated as the one on your dining table. Whether you've been a fan of our Cute Thanksgiving Outfits to Feast in Style! or drawn inspiration from From Casual to Chic: 5 Thanksgiving Dinner Outfits for Every Occasion this post is your next course. We've even served up cozy charm with Dress to Impress: 10 Thanksgiving Sweatshirts for the Festive Season and a dash of elegance with Gobble Up the Style: 10 Stunning Thanksgiving Dresses to Try. Get ready to garnish your wardrobe with our latest picks for every Thanksgiving occasion—because your outfit should be just as memorable as the feast itself.
Classic Thanksgiving Outfit Idea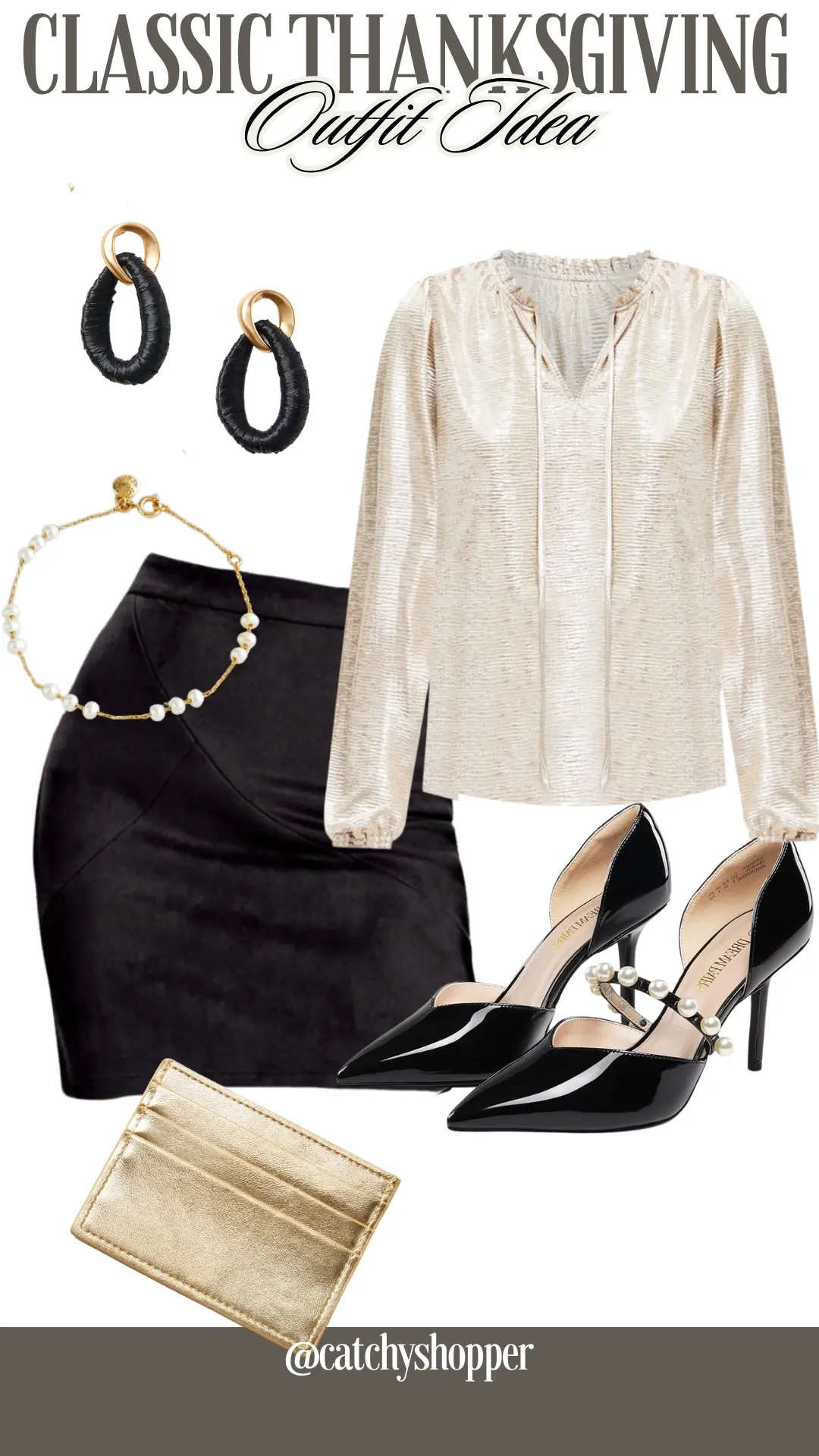 The foundation of this classic Thanksgiving ensemble is a chic high-waisted faux suede mini bodycon skirt in black that promises both style and sophistication. Paired with a tie-neck, blouson-sleeve top, complete with a split neck and standing collar, this outfit offers an effortless polish. The look is elevated with closed-toe, pearl-studded stiletto heels, adding a touch of elegance. Accessories play a key role, with raffia-wrapped earrings bringing a globetrotter-glam vibe and a pearl-beaded adjustable bracelet enhancing the outfit's finesse. A metallic card case serves as both a functional and glamorous accessory, ensuring essentials are carried in style.
Casual Thanksgiving Outfit Idea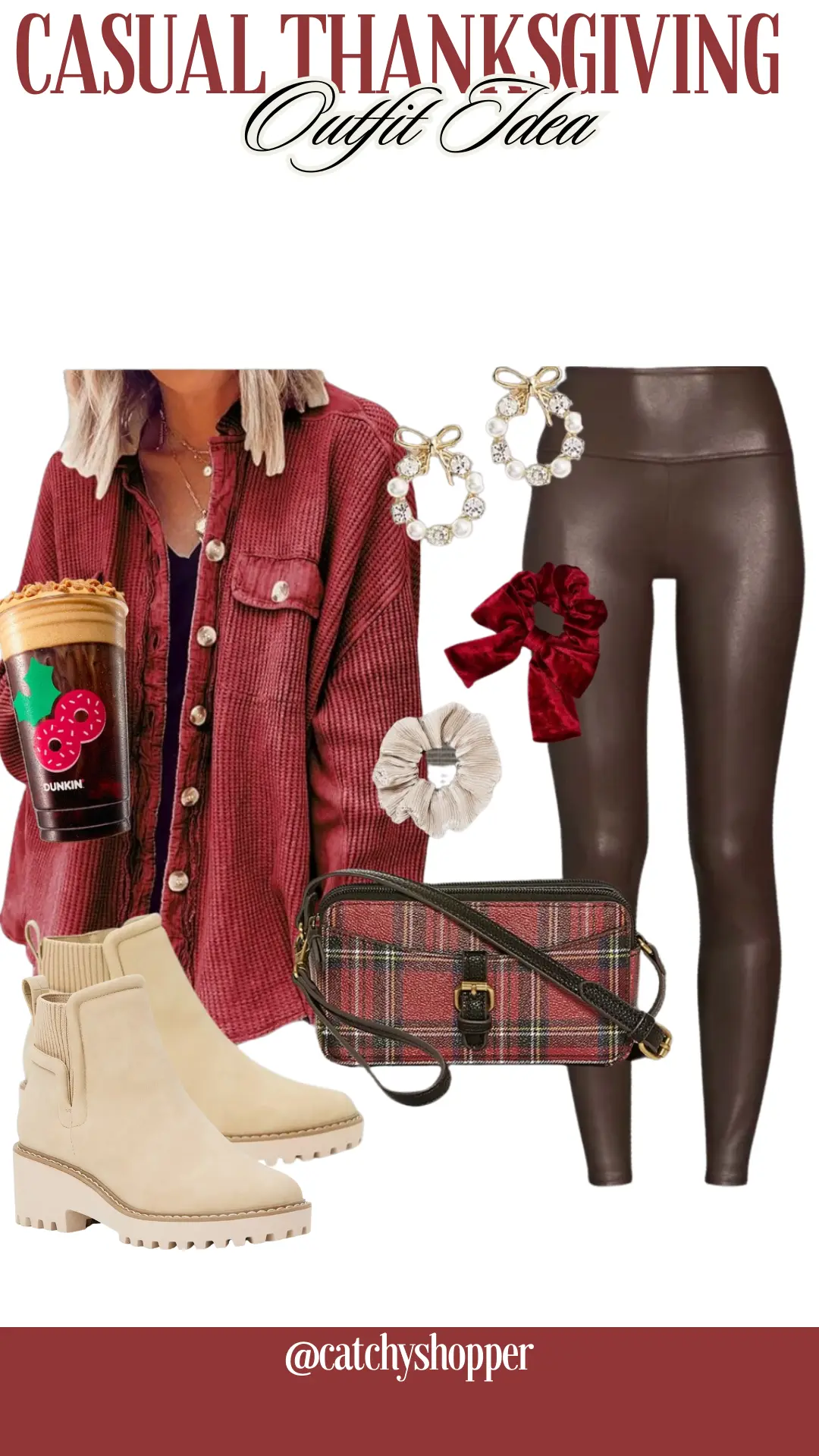 Embrace the holiday's laid-back spirit with a rusty red waffle knit button-down shirt shacket, offering a cozy yet stylish layer. This is seamlessly matched with faux leather leggings that provide a sleek contour. The ensemble is complemented by rib collar lug booties, which offer a modern edge. Wreath stud earrings and a red plaid convertible crossbody bag infuse seasonal cheer, while textured bow hair twisters add a playful finish to this casual Thanksgiving look.
Elegant Thanksgiving Outfit Idea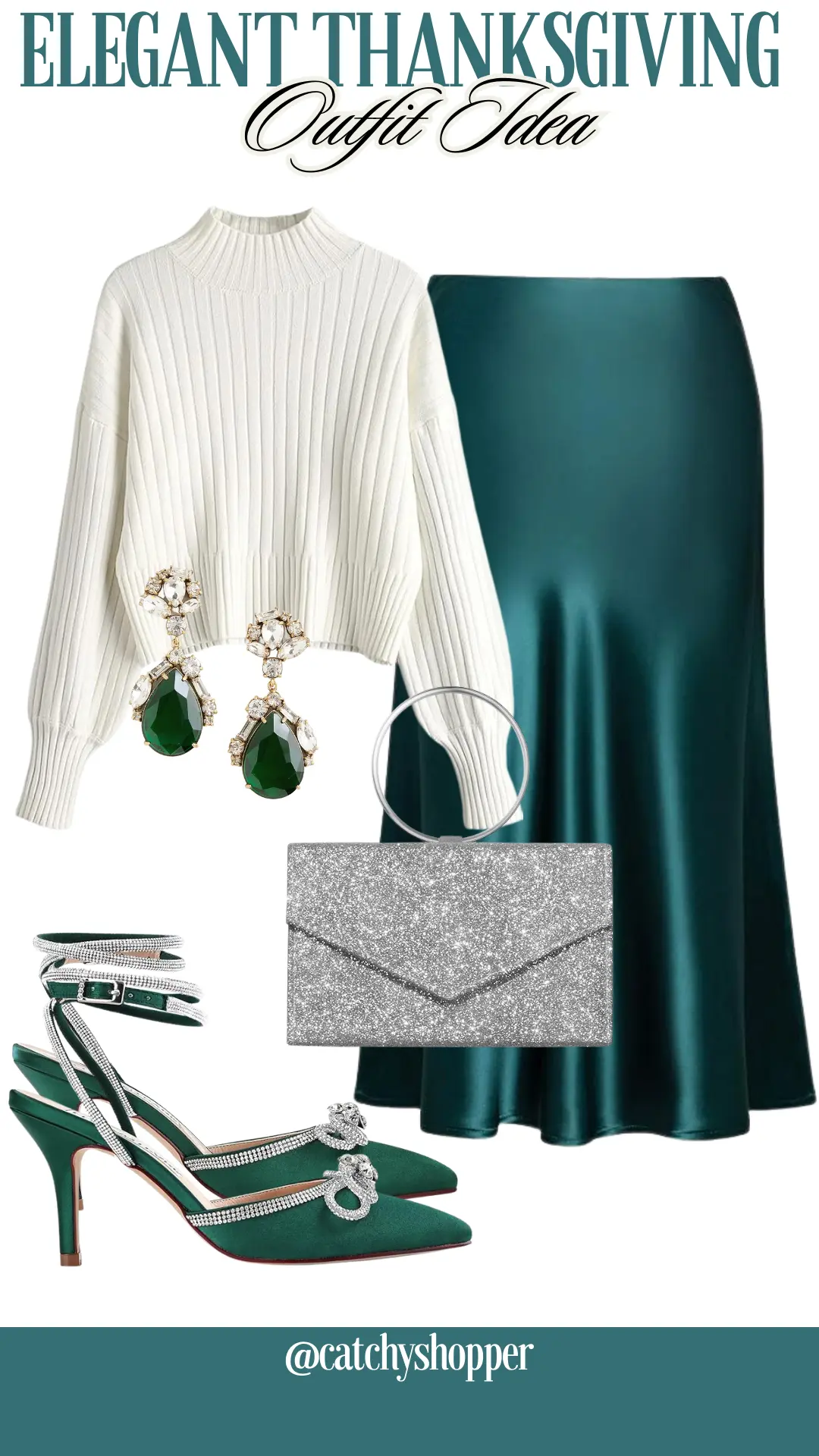 This elegant Thanksgiving outfit features a sophisticated mock neck sweater, paired with a high-waisted satin midi skirt, embodying a blend of comfort and luxury. The outfit is accessorized with pointed-toe, rhinestone bow-embellished, ankle strap heels in a lush green satin, making a dazzling statement. A silver clutch purse offers a sleek carryall option, while teardrop crystal statement earrings add a dramatic flair, perfect for a festive and refined Thanksgiving gathering.
Work Thanksgiving Outfit Idea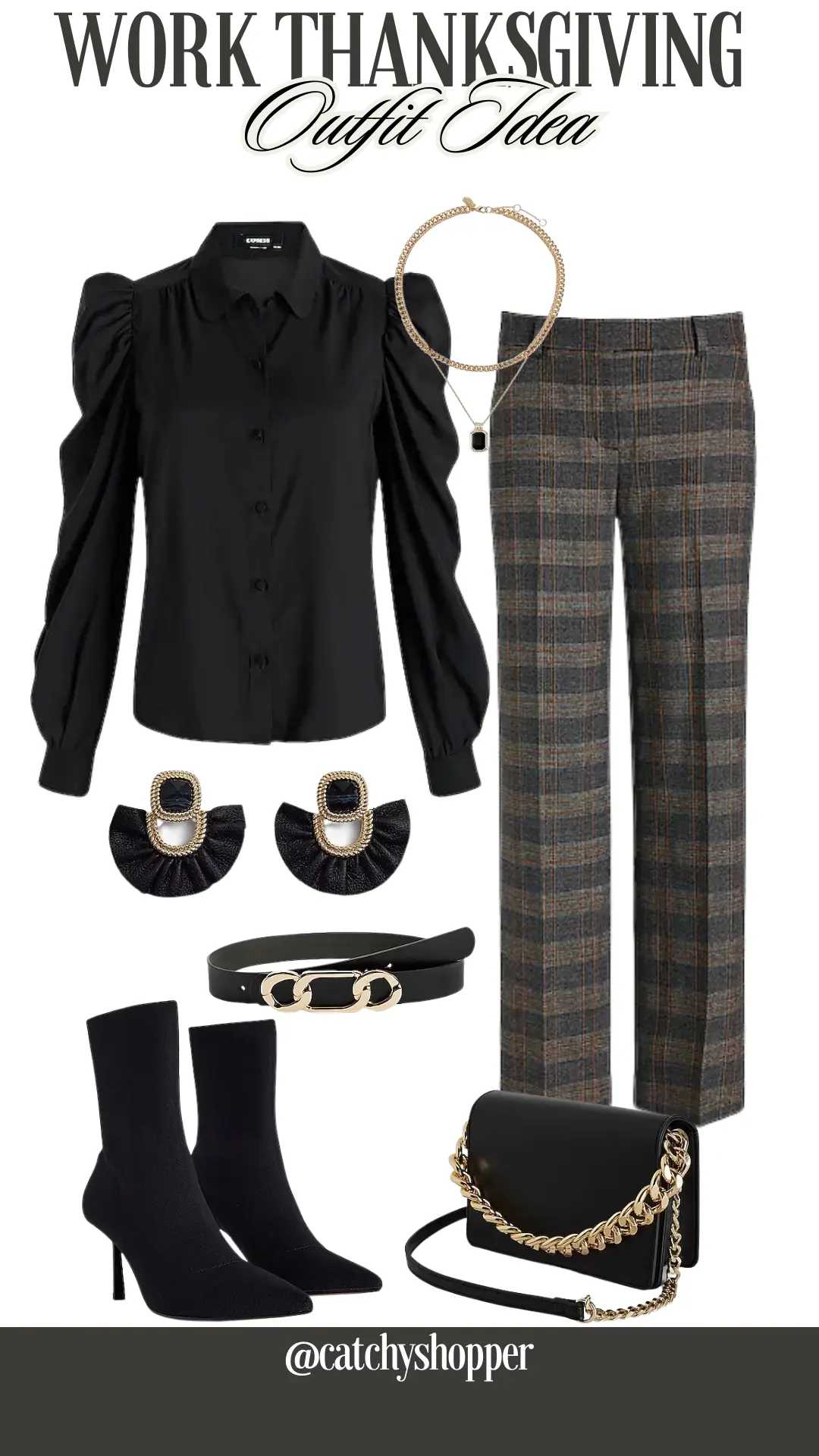 For a work-appropriate Thanksgiving outfit, start with a satin puff shoulder long sleeve Portofino shirt, which brings a sleek and professional touch. Pair it with mid-rise metallic plaid relaxed trouser pants for a hint of holiday sparkle. The look is anchored by pointed-toe thin heel sock boots in black, ensuring a seamless transition from office to dinner. A chain strap crossbody bag adds practicality with style, while a 2-row mixed chain rhinestone pendant necklace and leather fan doorknocker earrings provide a modern twist. A chain link waist belt cinches the outfit together with an added chic factor.
Friendsgiving Outfit Idea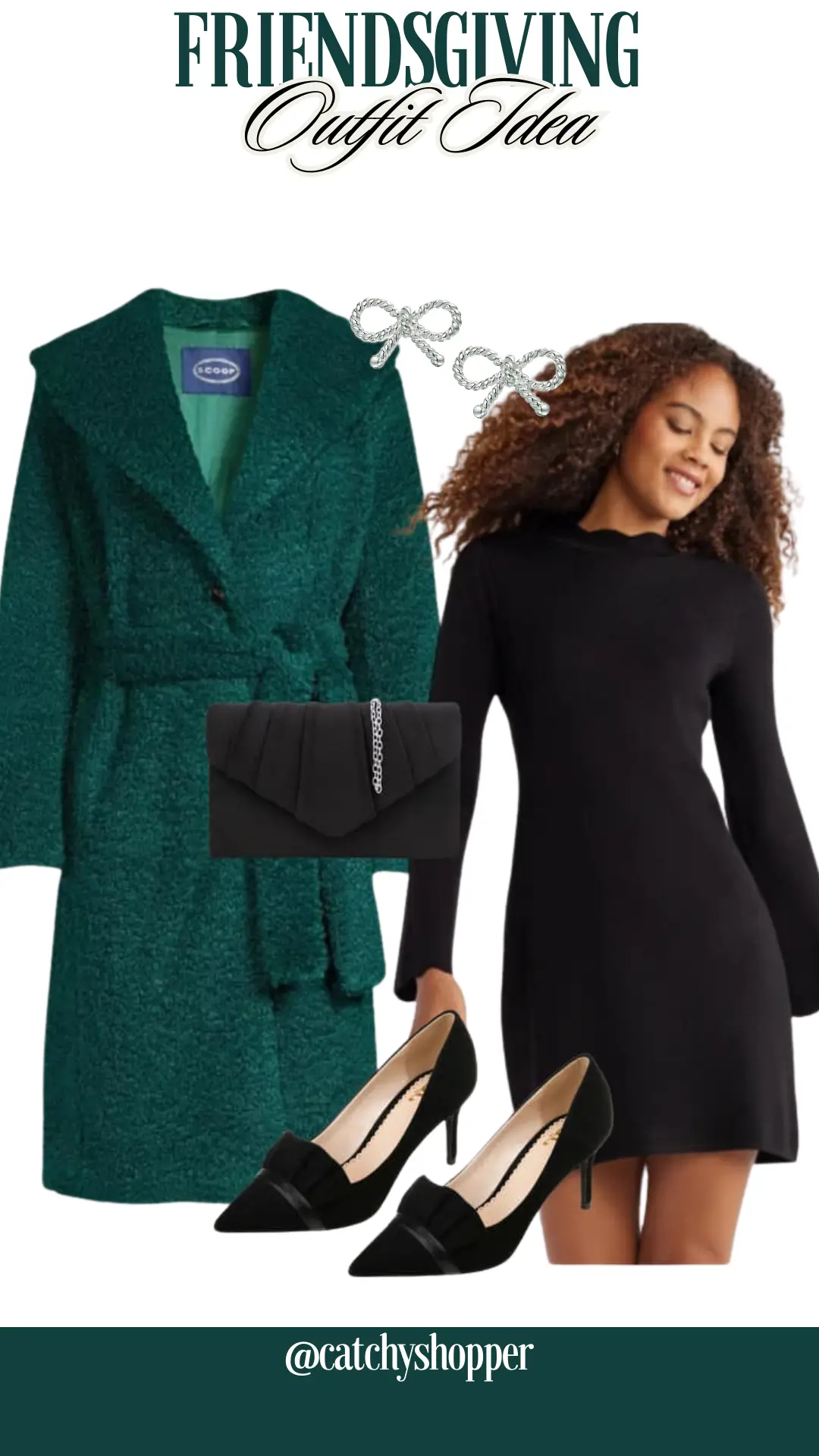 For a Friendsgiving celebration, opt for a tie-back black dress that hits the sweet spot between comfort and flattering fit. Layer it with a striking green faux fur jacket, offering both warmth and a pop of color. Black pointed-toe mid-heel pumps give a classic, understated elegance, while a suede pleated clutch evening bag carries essentials in style. The look is completed with petite 925 sterling silver twisted ribbon bow stud earrings, lending a delicate and festive touch to the ensemble.
For more Friendsgiving outfit ideas check our blog about 6 Friendsgiving Outfit Ideas for a Stylish Celebration.
Comments