This post may contain affiliate links, please see our privacy policy for details.
It's that time of year again! The leaves are turning, the air is getting crisp, and pumpkin spice is everywhere. That can only mean one thing: Thanksgiving is just around the corner. And what better way to get into the holiday spirit than by hanging a Thanksgiving wreath on your door? Below, we've rounded up 10 of the most creative and gorgeous wreaths for upcoming holidays. So whether you're looking for something traditional or trendy, there's sure to be a wreath that will fit your style.
Best For A Traditional Look
If you're looking for a more traditional wreath, this one from Balsam Hill is perfect. It's made of 159 beautifully crafted branch tips and features burgundy pomegranates, red and gold berries, and gold pinecones, all classic symbols of the fall season. Plus, it comes pre-lit with 35 LED lights, so you won't have to worry about stringing them yourself.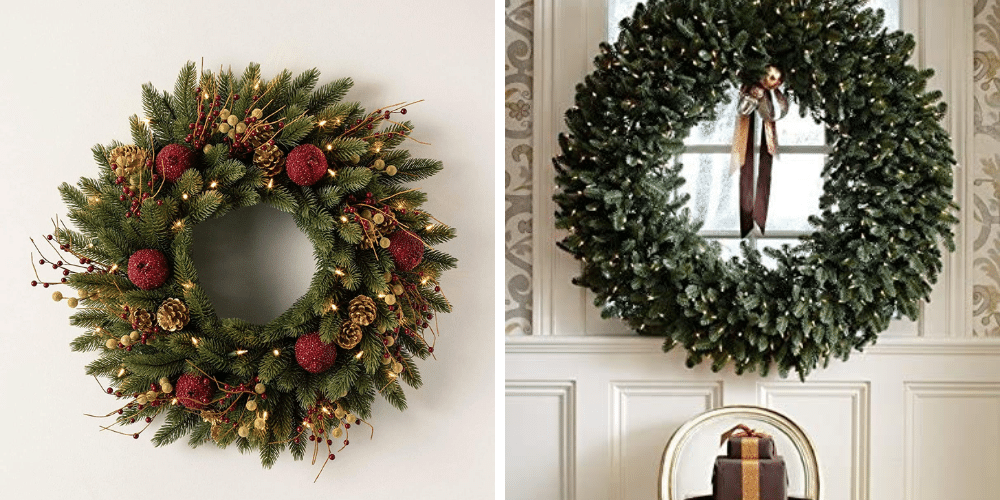 Best For A Nature-Inspired Look
This thanksgiving wreath from Nearly Natural mixes traditional elements with a more modern twist. It's made with artificial maple leaves in shades of orange, red, and green, and accented with realistic pine cones. We love how festive it looks without being too overwhelming. We think it would be perfect for someone who wants to add a touch of nature to their décor.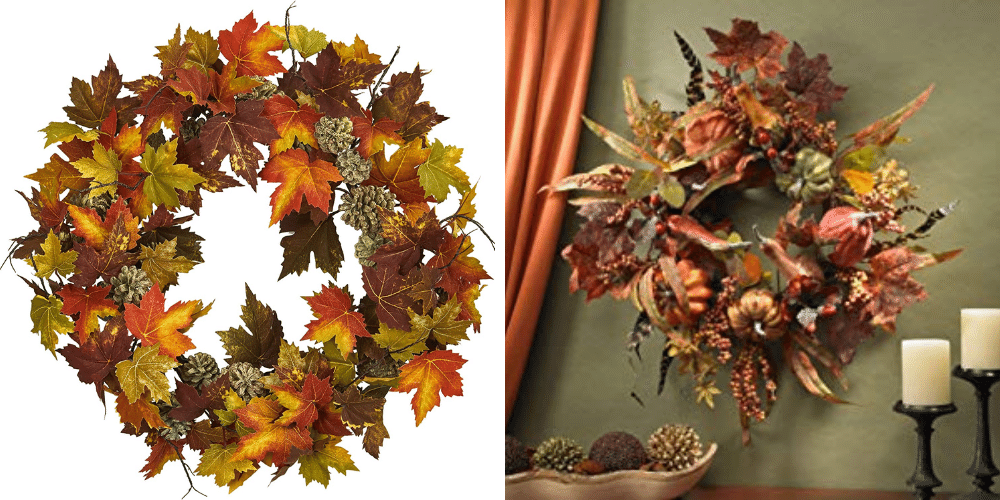 Best For an Elegant Look
This wreath from Wreath Depot is a great option if you're looking for something a little different. It's handcrafted with berry clusters and silk fall foliage, adding a touch of elegance to any space. The natural grapevine wreath base provides a full, lush look that is perfect for any door or wall.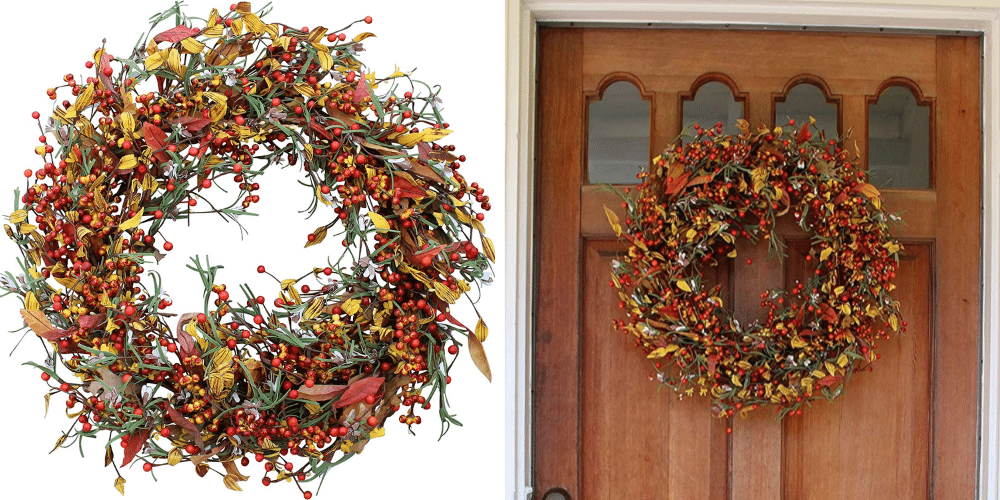 Best For Winter Vibes
This harvest-themed wreath from National Tree Company is absolutely stunning. It's made with artificial leaves in rich autumn colors, accented with pine cone, berries, and ribbons. We love how elegant it looks—it would definitely make a statement hanging on your front door.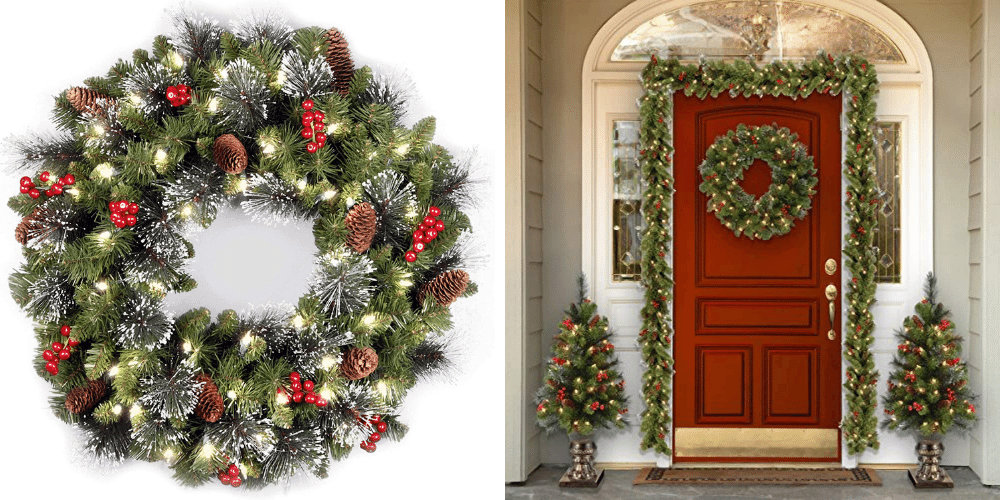 Best For a Minimalistic Look
This Thanksgiving wreath from Jinghong is so cute! This green eucalyptus wreath is perfect for adding a touch of greenery to your décor. The artificial leaves and berries look realistic and natural, and the wreath is handmade for quality craftsmanship. The full, lush leaves and berries make this wreath stand out. We think it would be perfect for someone who wants a festive wreath without going too over-the-top.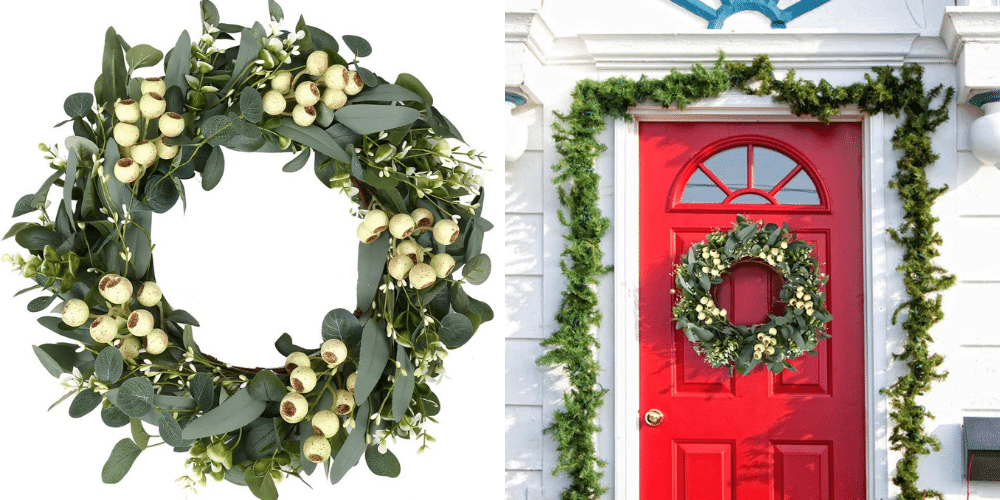 Best For the Winter Season and Holidays
This wreath is far from boring —we've never seen anything like it before! It will add some serious pizazz to your home décor, and it's perfect for the winter season and holidays. The beautiful white pip berries are accented with a touch of greenery, making it a stunning addition to any home. Plus, the high-quality craftsmanship ensures that this wreath will last for many seasons to come.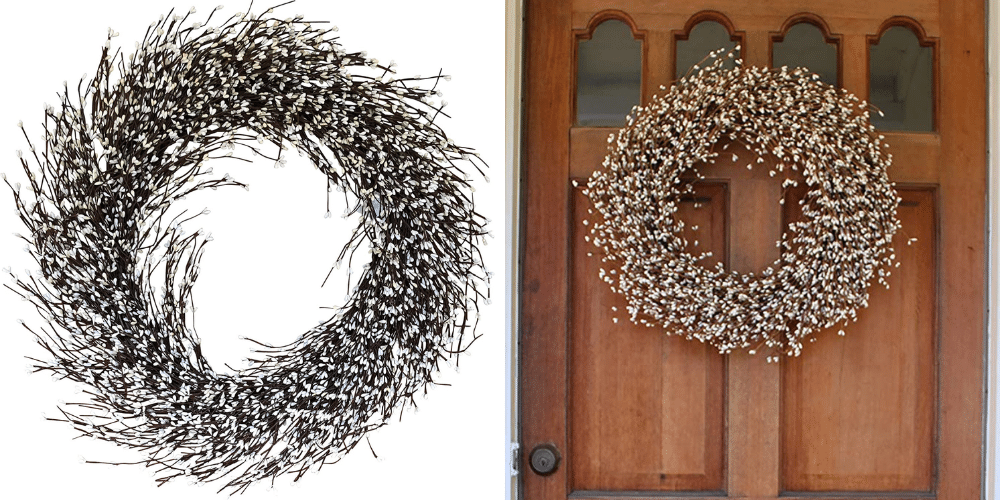 Best For a Rustic Look
This corn husk wreath from ANDALUCA is such a fun take on the traditional Thanksgiving wreath! It's made with real cornhusks in shades of light beige, accented with dried wheat stalks and purple flowers. We think it would be perfect for someone who loves rustic décor.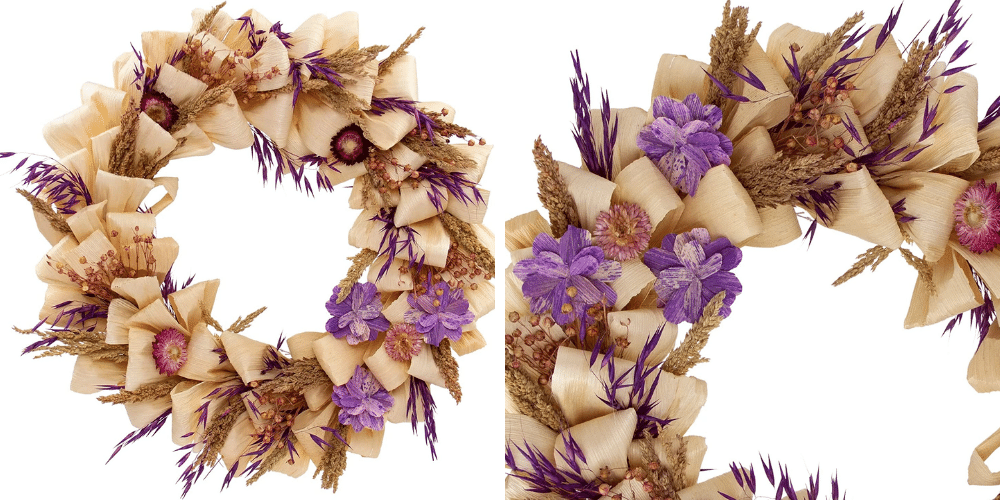 Best For Fall Lovers
This pumpkin wreath from The Wreath Depot is so cute! It's made with artificial pumpkins in shades of orange and green, accented with burlap ribbon. We think it would be perfect for someone who loves all things fall.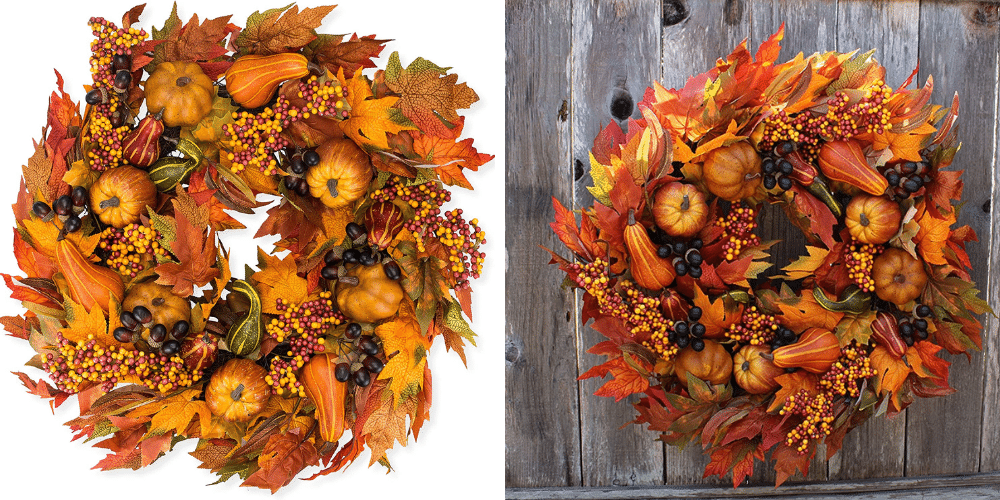 Best For Making a Statement
This turkey wreath from Joliyoou is so fun!  The orange color is perfect for fall days, and the maple leaves, pumpkins, sunflowers, and warm white LED lights add a touch of elegance to the wreath. The soft stuffed turkey sits in the middle of the wreath, adding a touch of whimsy to the decorations. We think it would be perfect for someone who loves making a statement with their décor.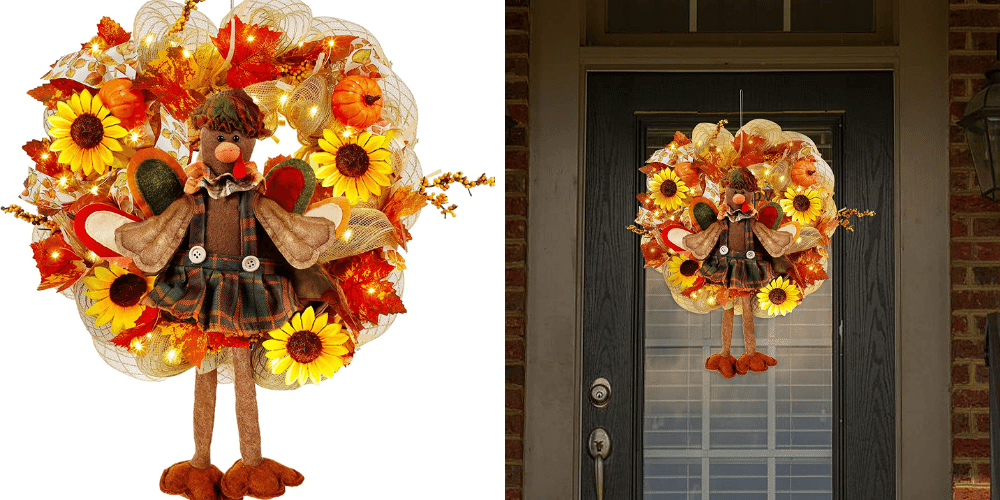 Best For Rustic Farmhouse Style
This metal pumpkin wagon wheel wreath from GONEBIN is really unique! It's made of a wagon wheel adorned with eucalyptus leaves and red berries, creating a festival atmosphere for your home. We think it would be perfect for anyone who loves rustic farmhouse style.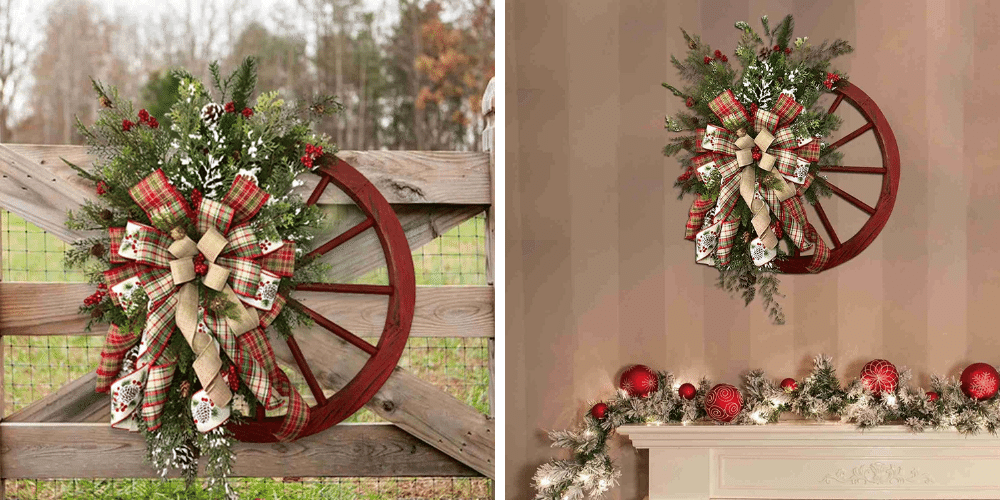 If you are looking for a tutorial on how to make a fall wreath or some diy thanksgiving wreaths ideas, go and check out this video:
Crafting beautiful Thanksgiving wreaths doesn't have to be a time-consuming affair. With a little bit of creativity and some basic supplies, you can create a stunning seasonal decoration that will last for years to come. Here are some of the things you need to make your own Thanksgiving wreath in less than an hour:  a foam wreath form, wreath base, a hot glue gun, floral wire, dyed corn husks, faux flowers, an olive branch wreath, artificial pumpkins, gold, and copper glitter.
No matter which wreath you choose, your guests will be impressed with your Thanksgiving decorating skills! So what are you waiting for? Get your order in now so you can relax and enjoy all the other holiday preparations.
Happy Holidays!
Other Posts You May Like:
Best Holiday Door Decor That Will Make Your Neighbors Jealous!
Hosting Thanksgiving? 10 Tips to Make it a Breeze!
Comments