This post may contain affiliate links, please see our privacy policy for details.
We all know that dogs need to brush their teeth regularly to keep them healthy, but did you know that brushing your dog's teeth can also have a positive impact on your own health?
That's right - by regularly brushing your dog's teeth, you can reduce your own risk of developing dental problems that you can get when you kiss them.
So, how do you prevent that? Well, it's simple. When you brush your dog's teeth, you are also removing plaque and tartar buildup from their mouth.
It can also help to prevent gum disease. Gum disease is a major health issue for dogs and can lead to all sorts of other problems.
Additionally, brushing your dog's teeth can help to keep their breath smelling fresh and their teeth looking clean and sparkling.
The catch is: it's not easy finding the best dog toothpaste. You want something that will clean their teeth but also be safe if they happen to swallow any.
After trying out dozens of different kinds, we've finally found the best dog toothpastes on the market.
How We Choose:
Dog toothpaste is not a one size fits all product, and different dogs need different types of toothpaste.
Through our experience as pet owners, we would recommend using a dog toothpaste with natural ingredients because the chemicals in regular toothpaste can be toxic to dogs.
We reviewed a lot of dog toothpastes and determined the pros and cons of each type of toothpaste as well as considered the factors mentioned above for you can make an informed decision when buying your dog's next tube of toothpaste.
Best Whitening Dog Toothpaste
Why We Love It:
Petsmile professional dog toothpaste is veterinarian-approved and contains high-quality ingredients, like Calprox, that promote white teeth and healthy gums.
It is also chosen by veterinarians because of the high-quality natural ingredients used in the product, giving you guarantee is that your pet is in good hands.
The VOHC recognizes that Petsmile professional dog toothpaste meets the highest standards. So why not give your pet the best of the best?
What You Should Know:
The unique formula Calprox is clinically proven to remove plaque and tartar buildup, while whitening teeth by gently dissolving the protein pellicle.
The protein pellicle is the thin bio-film that forms on the surface of the teeth, to which bacteria and other debris attach.
Not to mention, the Petsmile professional pet toothpaste is gentle on the gums and helps freshen your dog's breath. Keep your pet's mouth healthy and sparkling clean!
Best Dog Toothpaste for Fresh Breath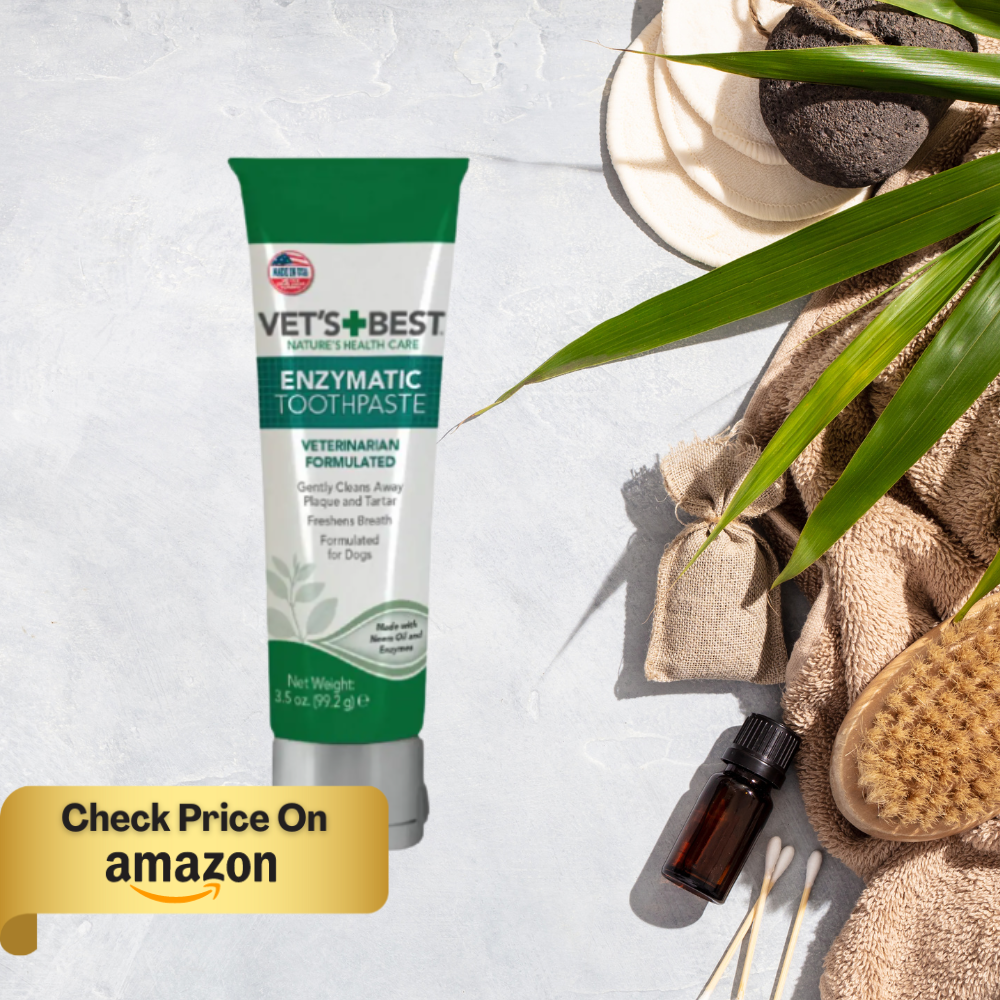 Why We Love It:
The chewable treat freshens breath and gently cleans away plaque and tartar buildup, all while supporting your dog's dental health between annual cleanings at the vet.
The pet toothpaste is made with all-natural ingredients, and it's gentle on their gums. It's delicious, so your furry friend will love it!
Say goodbye to bad breath and hello to fresh, canine kisses!
What You Should Know:
This veterinarian-formulated toothpaste is a soothing and effective mix of aloe, neem oil, grapefruit seed extract, baking soda, and enzymes.
It's free of fluoride, Tartar control agents, harsh abrasives, and other chemicals that can be tough on your dog's teeth.
Best Organic Dog Toothpaste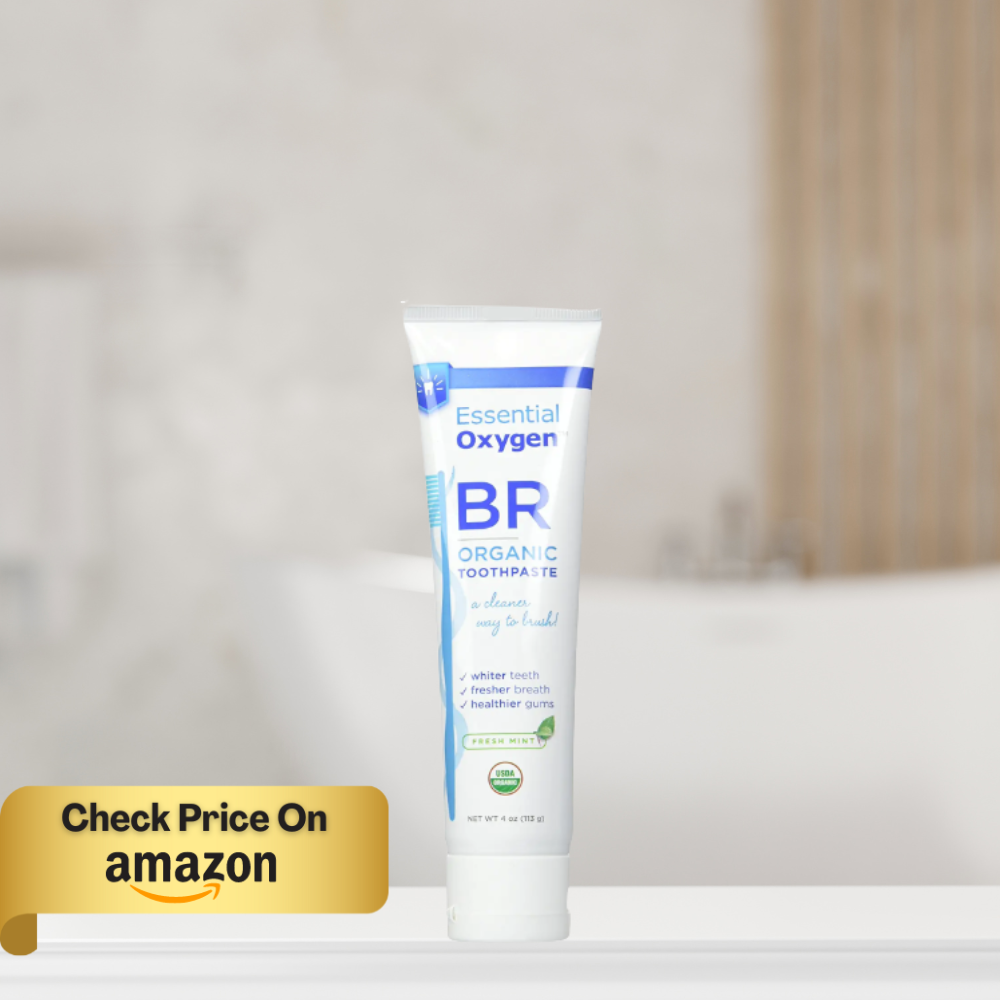 Why We Love It:
This natural dog toothpaste is like a little bit of heaven in your dog's mouth.
The peppermint flavor is refreshing, treating bad breath, and tingling, while the clean ingredients are gentle on your teeth and gums.
It's approved by dentists and has sustainability certifications, so you can feel good about using it without harming the environment.
What You Should Know:
Spearmint and Peppermint Mouthwash is made with natural ingredients like aloe vera, hydrogen peroxide, and xanthan gum, that will leave your pet's mouth feeling refreshed and minty-clean while also killing harmful bacteria.
It's free of artificial sweeteners and colors, so your dog can feel good about using it every day.
Best Flavored Dog Toothpaste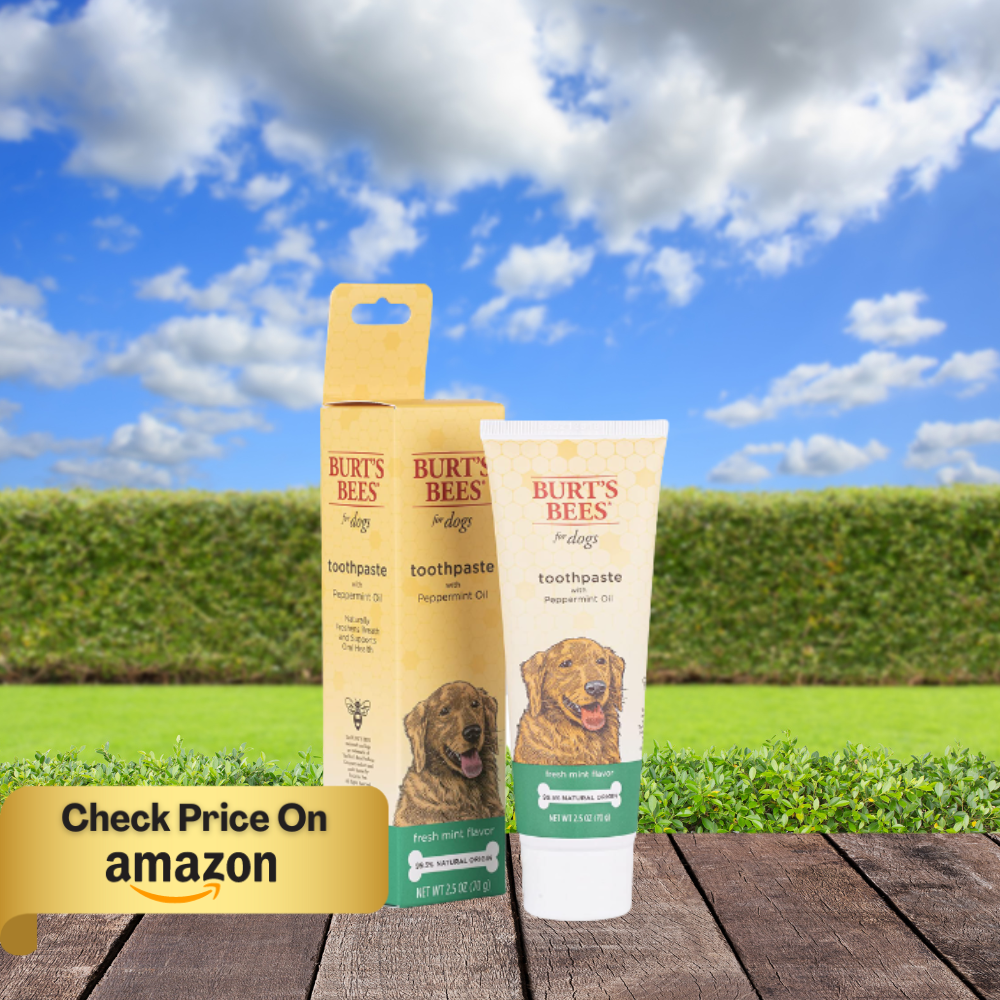 Why We Love It:
Dental hygiene is important for dogs and cats alike, just like it is for humans.
This dog toothpaste from Burt's Bees has a fresh mint flavor that dogs will love, and it's packed with ingredients that will keep their teeth clean and healthy.
It has a toothpaste tube that contains the necessary ingredients that can control plaque, stop tooth decay, and fight bad breath.
What You Should Know:
Burt's Bees Dog Toothpaste is perfect for those who want the best for their pups and adult dogs!
Made with a 99.5% natural formula, this pet toothpaste is gentle on your pup's teeth and gums while still getting the job done. That means better dog's breath and improved overall gum health.
It also comes with a bamboo toothbrush - perfect for eco-conscious pet parents!
Best Dog Toothpaste for Puppies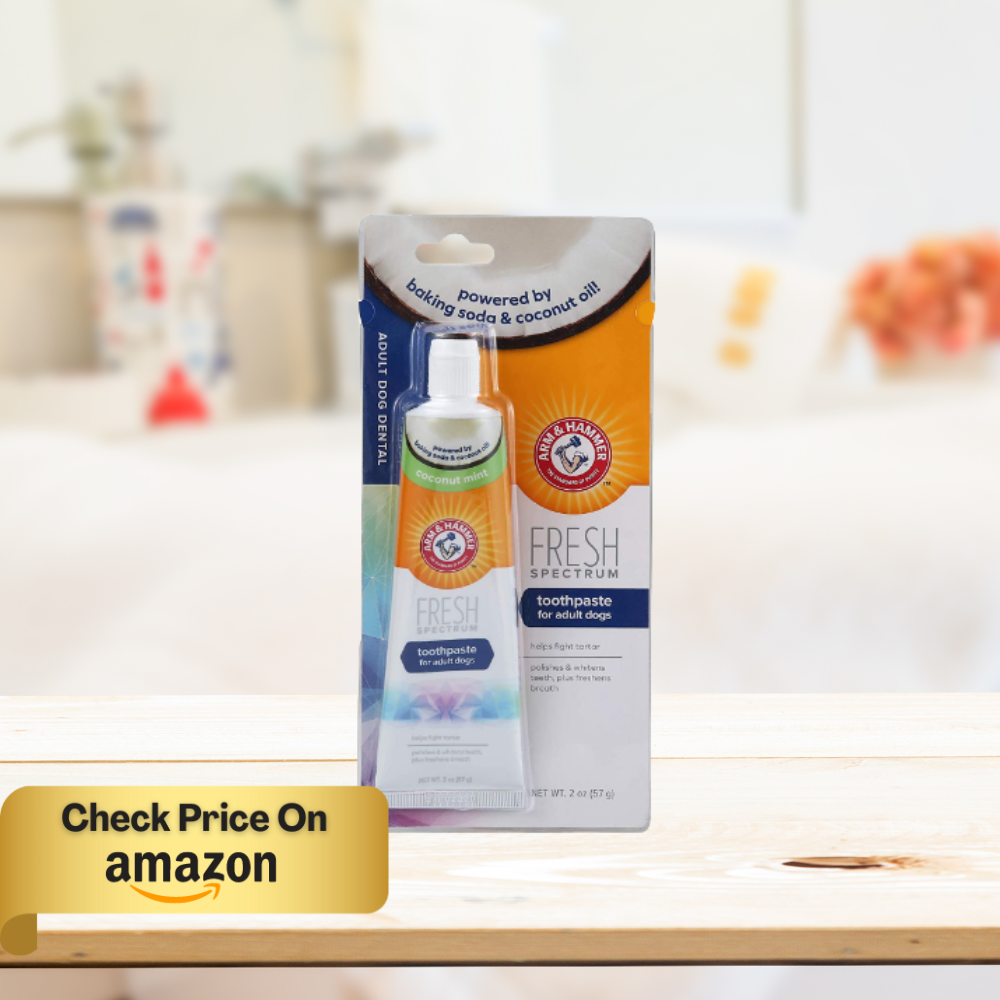 Why We Love It:
Bad breath be gone! This Arm & Hammer baking soda enhanced mint dog toothpaste will have your pup's choppers shining and their breath smelling fresh in no time.
The best part? You don't have to worry about them swallowing it - it's safe if they accidentally ingest a little bit.
What You Should Know:
Who doesn't love a pearly white smile? Arm & Hammer dog toothpaste uses the power of organic coconut oil to naturally whiten your dog's teeth.
This minty fresh toothpaste is also great for fighting tartar and preventing oral disease. So give your pup the gift of a beautiful smile, and let them know you care about their oral health!
Best Dog Toothpaste FAQ
Do dogs really need toothpaste?
It's important to keep your dog's teeth clean and healthy, but you don't need to go overboard with the toothpaste.
In fact, using human toothpaste on your dog can actually be harmful.
Human toothpastes contain ingredients that are not safe for your pet. It is not enough to just get their teeth brushed as you have to make sure that your chosen product does not have foaming agents or hazardous chemicals that could lead to blood sugar drops or liver damage.
Stick to dog toothpastes and brushes, and your pup will be just fine. You can also try finger brush to make the experience fun for your pet.
Another suggestion is to use a pet-safe toothpaste that's flavored with something your dog will like, like chicken or beef.
Can I use regular toothpaste for my dog?
Regular toothpaste like human toothpastes are not good for dogs as they might contain fluoride and foaming agents, which are known to be toxic to dogs.
If this is your first time to be a fur parent, it is ideal to ask your vet the right toothpaste to use. But most likely, they will recommend dog toothpastes that can fight bacteria and made up of olive leaf extract, neem oil, and cinnamon powder.
What can you use as toothpaste for dogs?
There are a few things you can use as toothpaste for dogs, such as coconut oil, baking soda, or dog-safe toothpaste.
You can also make your own homemade dog toothpaste with ingredients like hydrogen peroxide, apple cider vinegar, and water.
Another option is to look for dog toothpastes that are good for your dog's mouth. You can find a gel toothpaste with a vanilla mint flavor that your pet will surely love.
Should the toothpaste be veterinary oral health council approved?
Yes, because it would mean that the veterinary oral health council considers the dog toothpaste safe and healthy for your pet.
Having your pet's teeth brushed could help a lot not only in terms of bad breath but it can also prevent tartar buildup, reduce plaque, and fight bacteria in your dog's mouth.
How will you know if your dog's teeth are healthy?
If your dog's teeth are healthy, they will be white and shiny.
As pet owners, we have to look after our dog's mouth too even if you already have adult dogs.
You can also check for tartar buildup by looking for yellow or brownish deposits on the teeth. The goal is to make sure that your pet has healthy teeth just like yours.
Best Dog Toothpaste For You
Dog toothpaste is not a joke. In fact, it good for your pet's health.
It's important to keep their teeth clean and healthy, and using a dog toothpaste does a great job of that.
Choose a product that is fluoride-free, so you don't have to worry about them licking too much off and swallowing it.
The best dog toothpaste is the one that meets your specific needs and preferences.
For instance, you are aiming for a dog toothpaste that can whiten the teeth of your dog, then Petsmile Professional Whitening Dog Toothpaste is the ideal product for you. Meanwhile, if your dog has bad breath then you might consider using Vet's Best Enzymatic Dog Toothpaste.
If you are unsure what your dog needs, you can always consult with your veterinarian first. They can assist you about the current dental condition of your pet for you to find out the ideal pet toothpaste for dogs.
Comments