This post may contain affiliate links, please see our privacy policy for details.
Welcome to our newest exploration of the fashion world, where we tackle the quintessential summer question: What top to wear with linen pants? Whether your closet is home to wide-leg linen pants or tailored white linen pants, choosing the perfect top can elevate your ensemble from casual to sophisticated, making the transition from comfy to effortlessly chic an absolute breeze. We're excited to embark on this style journey, unveiling the best pairings for your favorite linen trousers and helping you curate outfits that truly reflect your personal style.
Over the past few months, we've helped you style linen pants for various occasions, from the beach to the bar and from the boardwalk to the barbecue. Who can forget our 10 eye-catching outfit ideas that had you looking summer-ready in striped linen pants? Or the time we got inspired by the runway and curated 8 chic white linen pants outfit ideas for you?
Let's also recall our guide on mastering the black linen pants outfit, where we took you from beach breezes to candlelit dinners.
Eager to revisit these style guides? We thought you might be! Check out the links below to see all the outfits we've put together. These should give you plenty of inspiration as we take the next step in our linen pants styling journey together.
With those lessons under your stylish belts, we're now ready to take it a step further and help you decide on the ideal top to wear with linen pants.
Whether you're going for a casual outfit with cropped linen pants and a white t-shirt, or striving for an elegant outfit with high-waisted linen pants and a puff sleeve blouse, we've got you covered. Fancy creating a stylish outfit with neutral linen pants and a linen shirt? Or perhaps you're leaning towards beige linen pants paired with a bright-colored top? Look no further!
Strappy or chunky sandals, flip flops, or heeled sandals, the right footwear will also play a crucial part in your linen pants outfit. Don't forget the finishing touches like a straw hat or gold jewelry, which can take your outfit from a stylish look to a showstopper.
In the upcoming sections, we'll guide you on how to take your summer outfit game to the next level with pieces you might already have in your wardrobe - a denim or jean jacket, a simple white sneaker, or even a linen blazer. We'll show you how you can transition your linen pants outfit from a day at the beach in linen shorts to a formal outfit suitable for an evening event with the addition of a trench coat or stylish heels.
So sit tight, get your favorite wide-leg or striped linen pants ready, and join us as we embark on this exciting journey to crafting stylish, elegant, and eye-catching linen pants outfits. Let's turn those comfy pants into the centerpiece of your summer style!
How to Choose the Right Top for Linen Pants
Choosing the right top to wear with linen pants boils down to three fundamental elements: balance, occasion, and color. It's all about styling your linen pants in a way that harmonizes your overall silhouette and resonates with the context of your outing.
Balance and Proportion
If you're opting for linen wide-leg pants, consider pairing them with a fitted or cropped top to maintain a proportional balance. This juxtaposition ensures that your favorite linen pants remain the focus of your outfit. Pairing a loose, oversized top with wide-leg pants may drown your figure, while a fitted top can accentuate your waist and keep your look balanced.
Occasion and Location
While linen pants are versatile, it's essential to style them appropriately for each setting. For a casual stroll in the park or a relaxed beach day, striped pants coupled with a simple striped shirt and white sneakers can be your go-to. For an evening event, you might want to elevate your outfit with a smart blouse, a classic denim jacket, and strappy sandals, combining comfort and style effortlessly.
Color
If your linen pants are in bright colors or stripes, choose a top in a neutral or subdued color to avoid clashing. If you're sporting neutral linen pants, feel free to experiment with tops in brighter hues or bold patterns. Remember, the goal is to create a cohesive look that's equally pleasing to the eye as it is comfortable to wear. So, whether you're a fan of classic white, a lover of stripes, or a bold color enthusiast, you can always find a way to make linen pants work for you.
Tops and Linen Pants Outfit Ideas
Now that we've set the stage, it's time to dive right in! I've handpicked 10 cohesive top outfit ideas that will not only pair perfectly with your linen pants but also bring an extra dose of joy to your wardrobe. So whether you're dressing for a laid-back summer day or an elegant evening affair, these looks promise to keep you stylish, comfortable, and most importantly, feeling your happiest self. Let's get started!
The Laid Back Luxe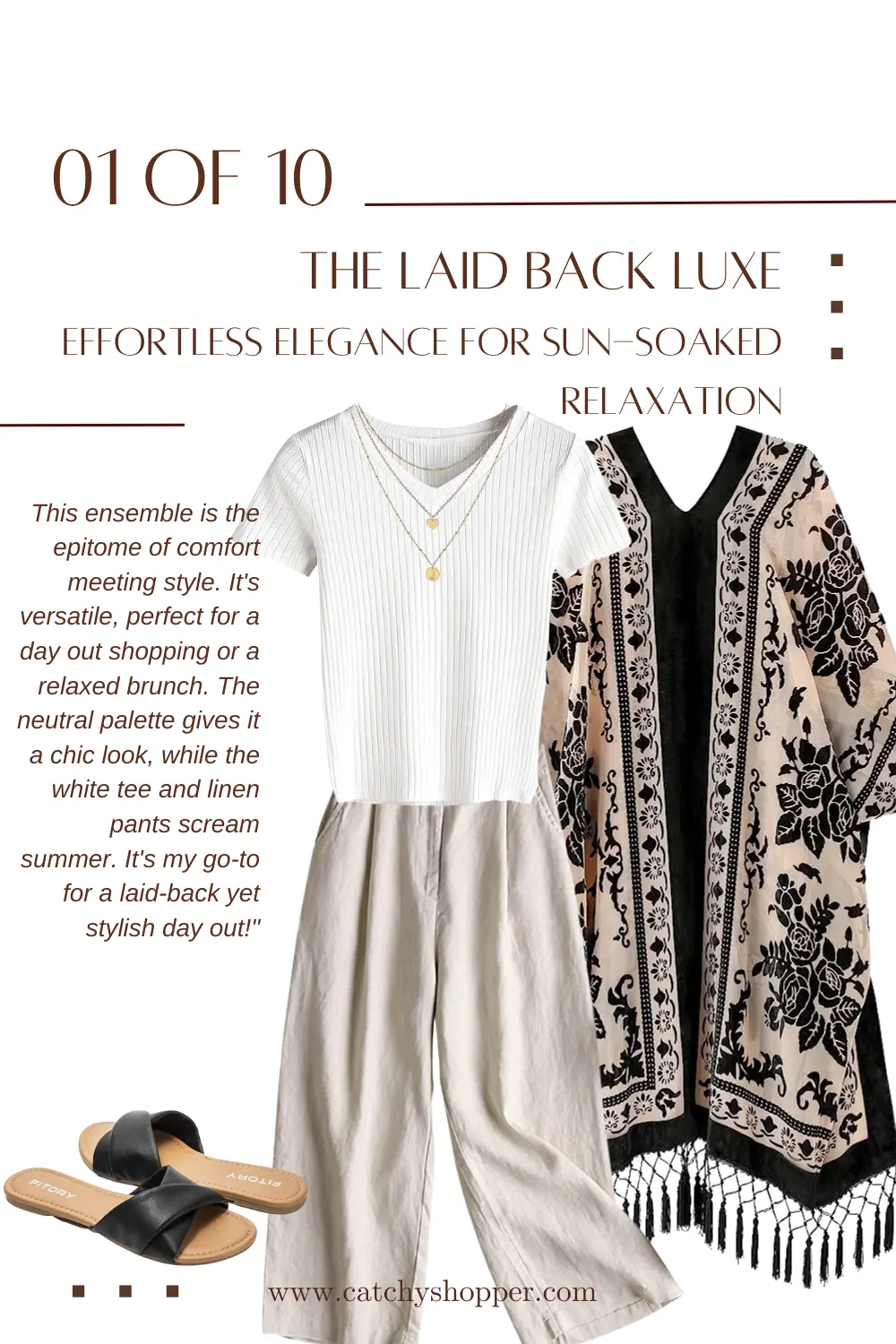 For a relaxed yet luxurious vibe, pair your beige linen pants with a simple white tee. Add depth by layering a lightweight, neutral-toned kimono. Accessorize with dainty gold jewelry and complete the look with a pair of flat, black sandals. Perfect for lounging around during the hot summer days.
The Chic Summer Staple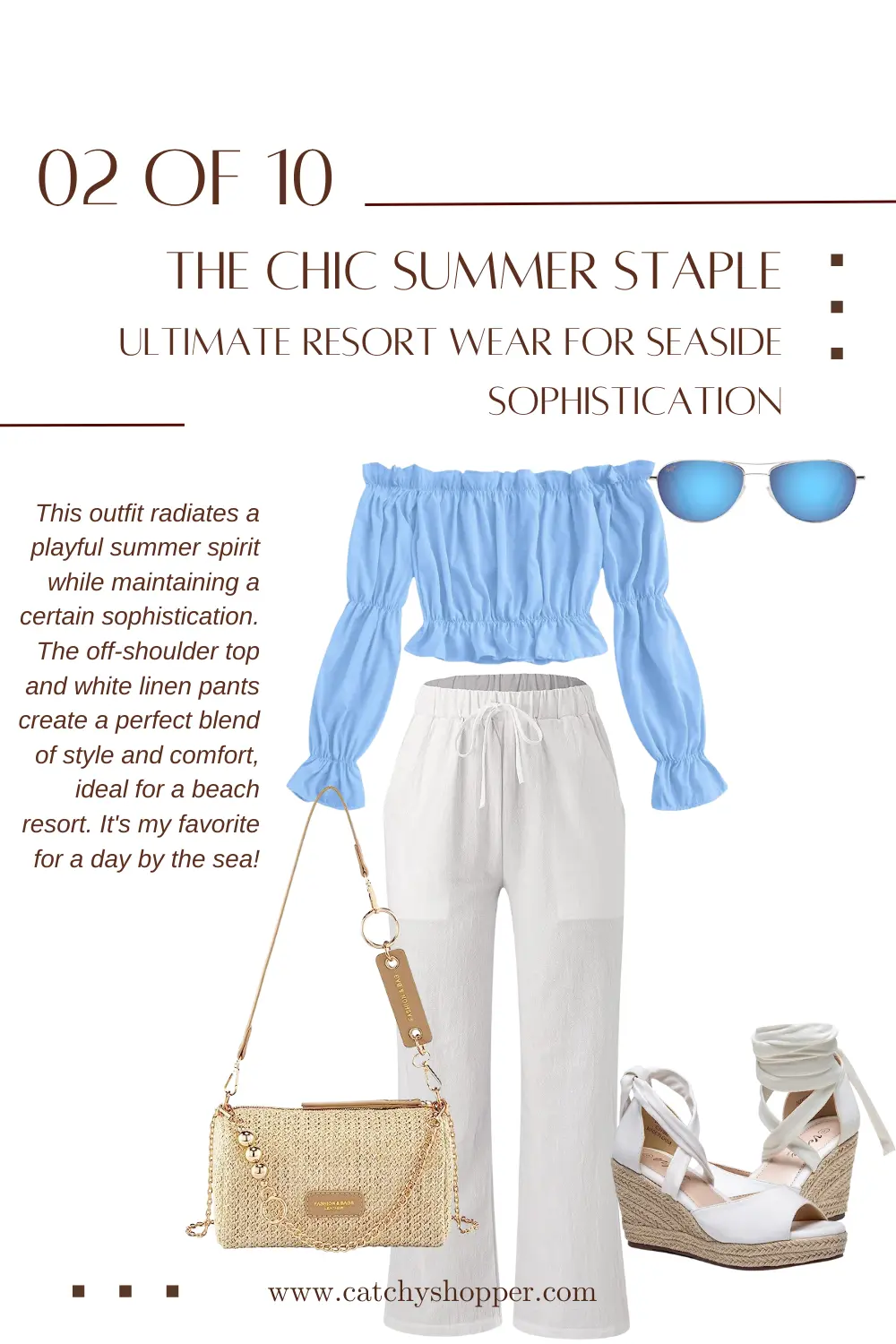 Match your white linen pants with an off-shoulder, puff-sleeve top. The look is made summer-ready with strappy, platform sandals and a wicker crossbody bag. Don't forget some stylish sunglasses - an absolute summer staple.
The Classic Monochrome
Achieve an elegant look by pairing your black linen pants with a fitted black crop top. Elevate the monochromatic outfit with black, strappy heels and a statement clutch. Finish off the outfit with a bold red lip for a pop of color.
The Effortless Elegance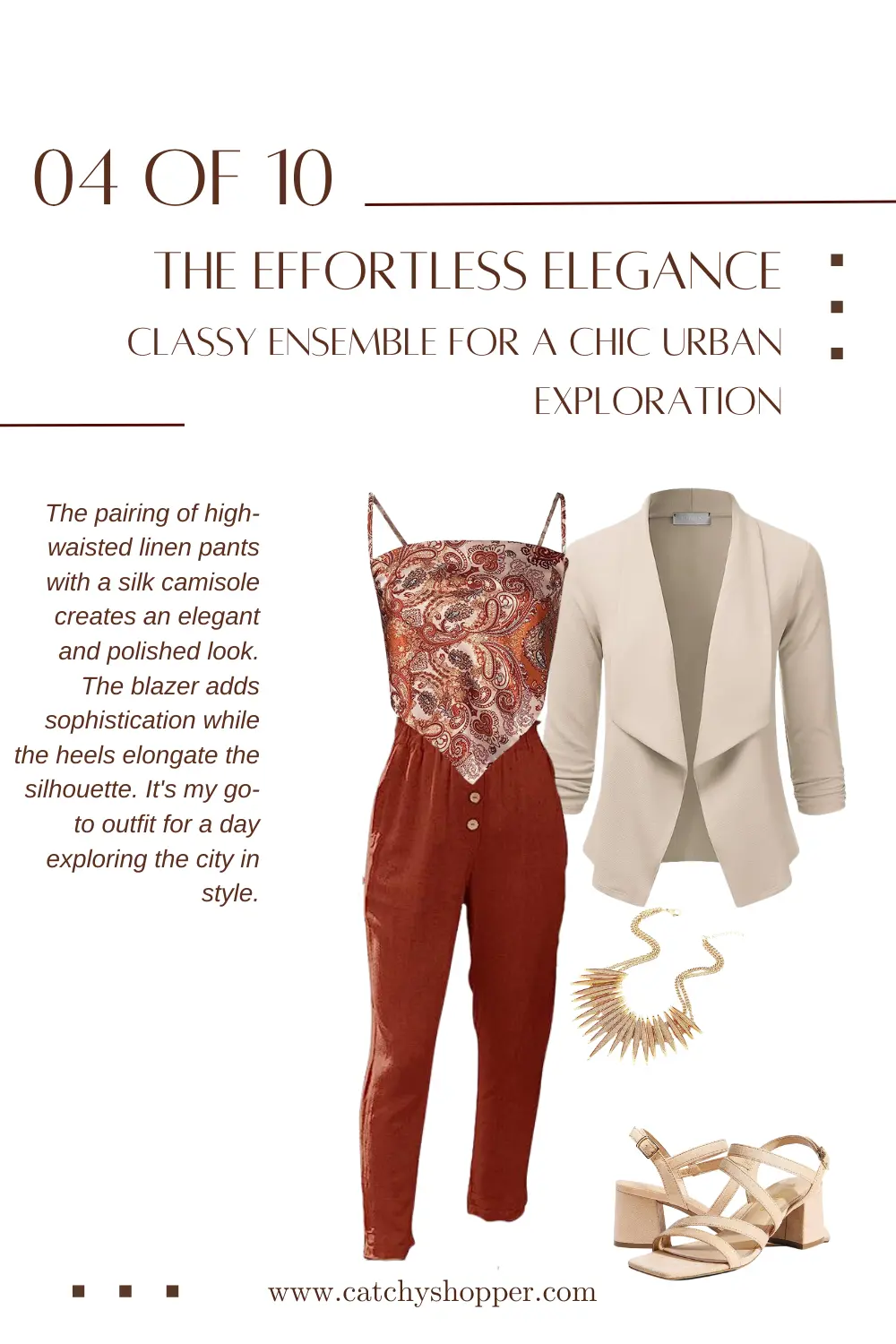 Dress up your high-waisted linen pants with a silk camisole. Add a structured blazer for a touch of sophistication. Wear heels, preferably in a nude tone, to elongate your silhouette. Accessorize with a statement necklace for that final touch.
The Casual Cool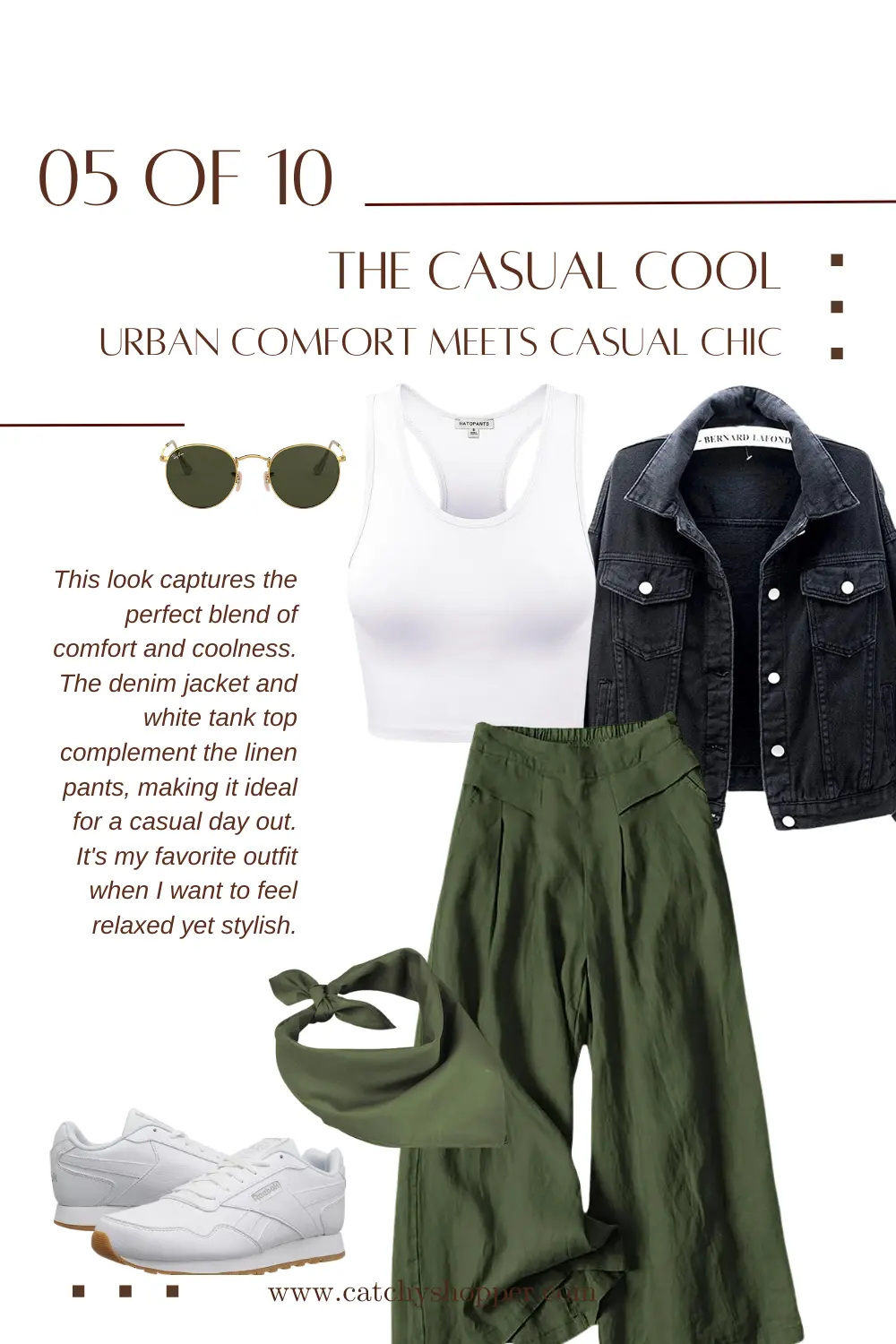 Keep it cool and casual by styling your linen pants with a relaxed-fit denim jacket and a white tank. Accessorize with a colorful bandana and a pair of retro sunglasses. White sneakers pair perfectly, offering comfort for exploring the city.
The Boho Chic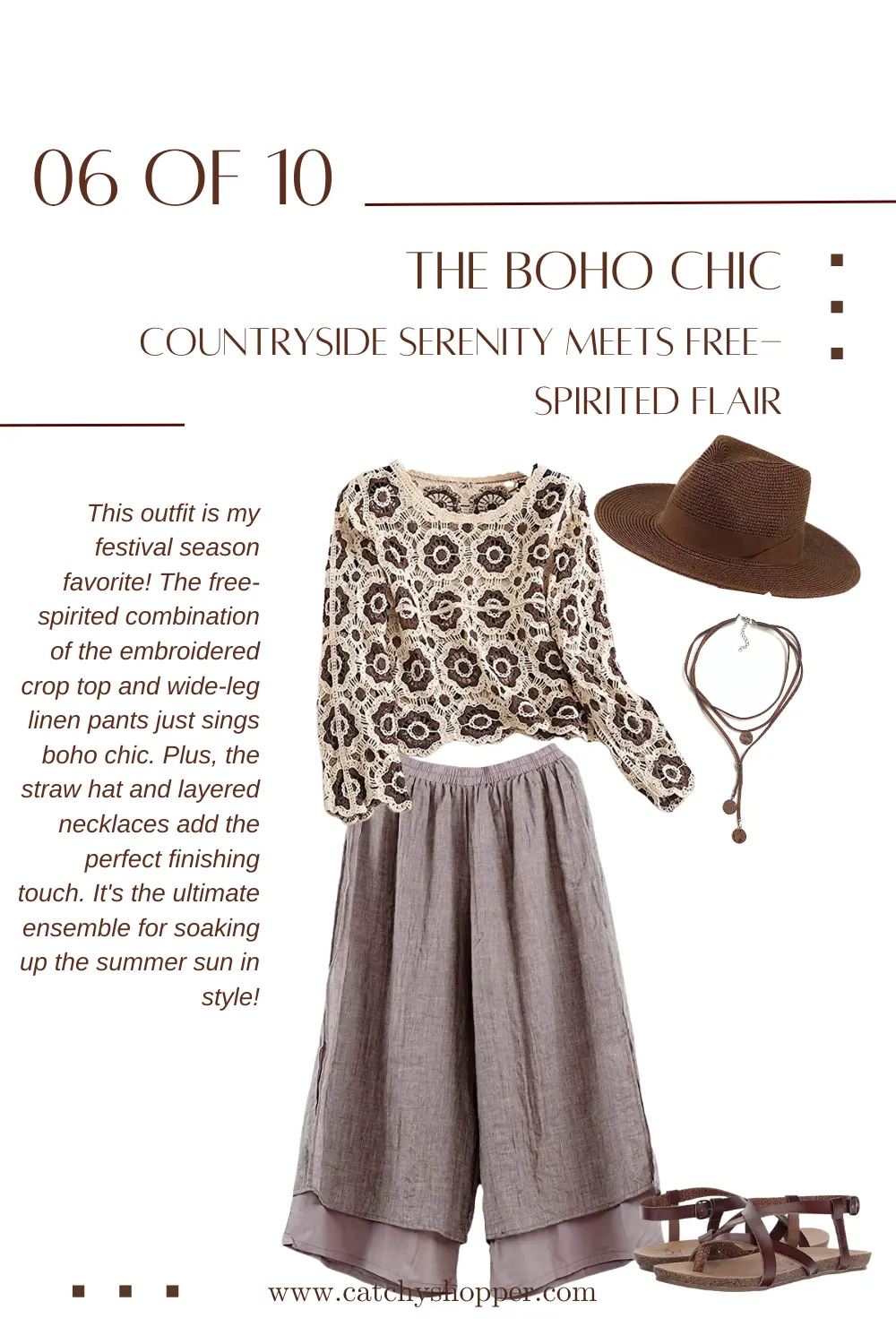 Channel boho vibes by pairing your wide-leg linen pants with an embroidered crop top. Flat sandals, a straw hat, and layered necklaces complete this look, ideal for a summer music festival or a day out in the countryside.
The Breezy Elegance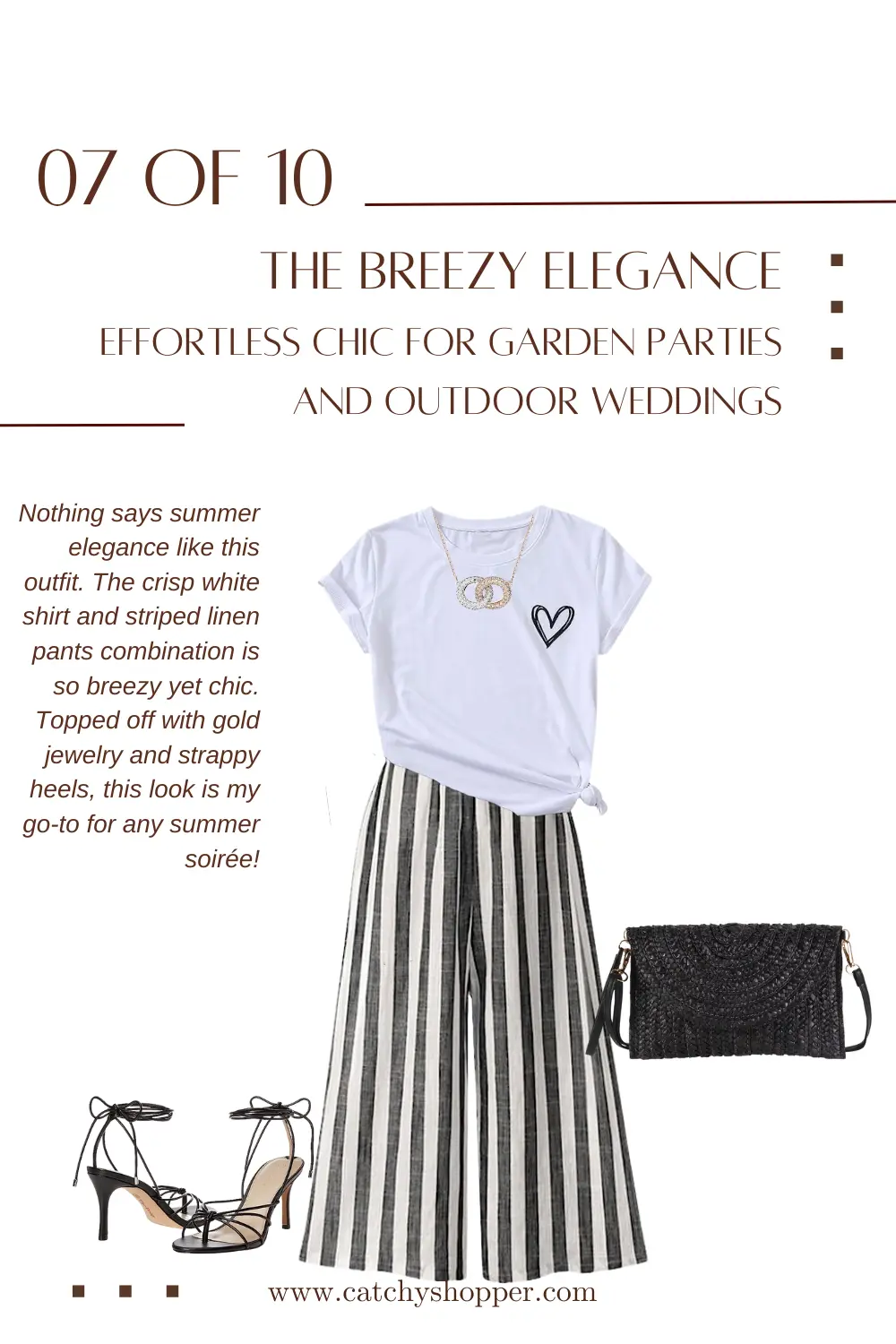 Match your striped linen pants with a crisp white shirt for a relaxed yet chic look. Enhance the outfit with gold jewelry, a straw clutch, and strappy heels. Perfect for a summer occasion such as a garden party or outdoor wedding.
The Cool Comfort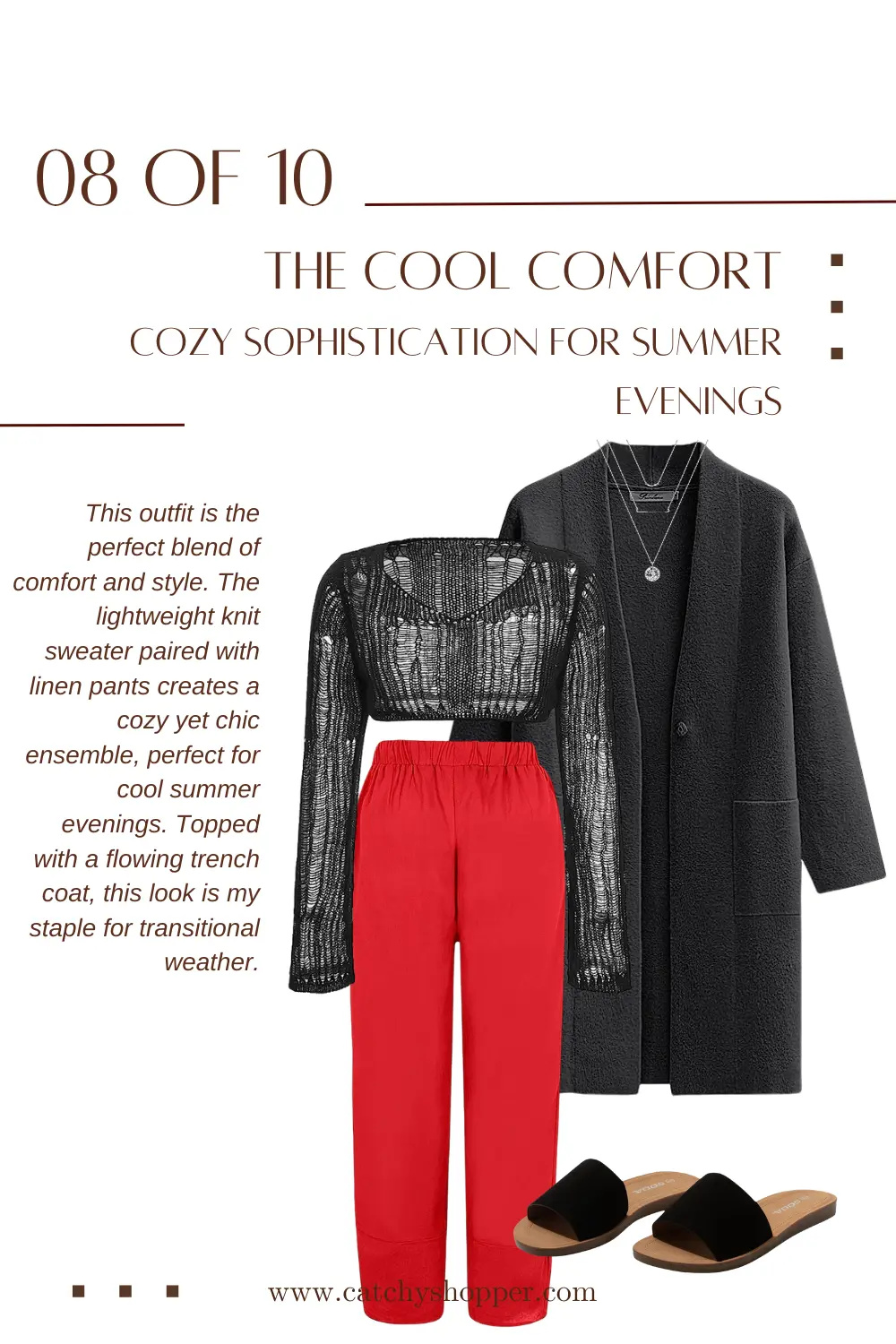 Pair your red linen pants with a lightweight knit sweater for those cooler spring evenings. Add depth with a long, flowing trench coat. Complete the look with comfortable flat sandals and minimalistic silver jewelry.
The Warm-Weather Glam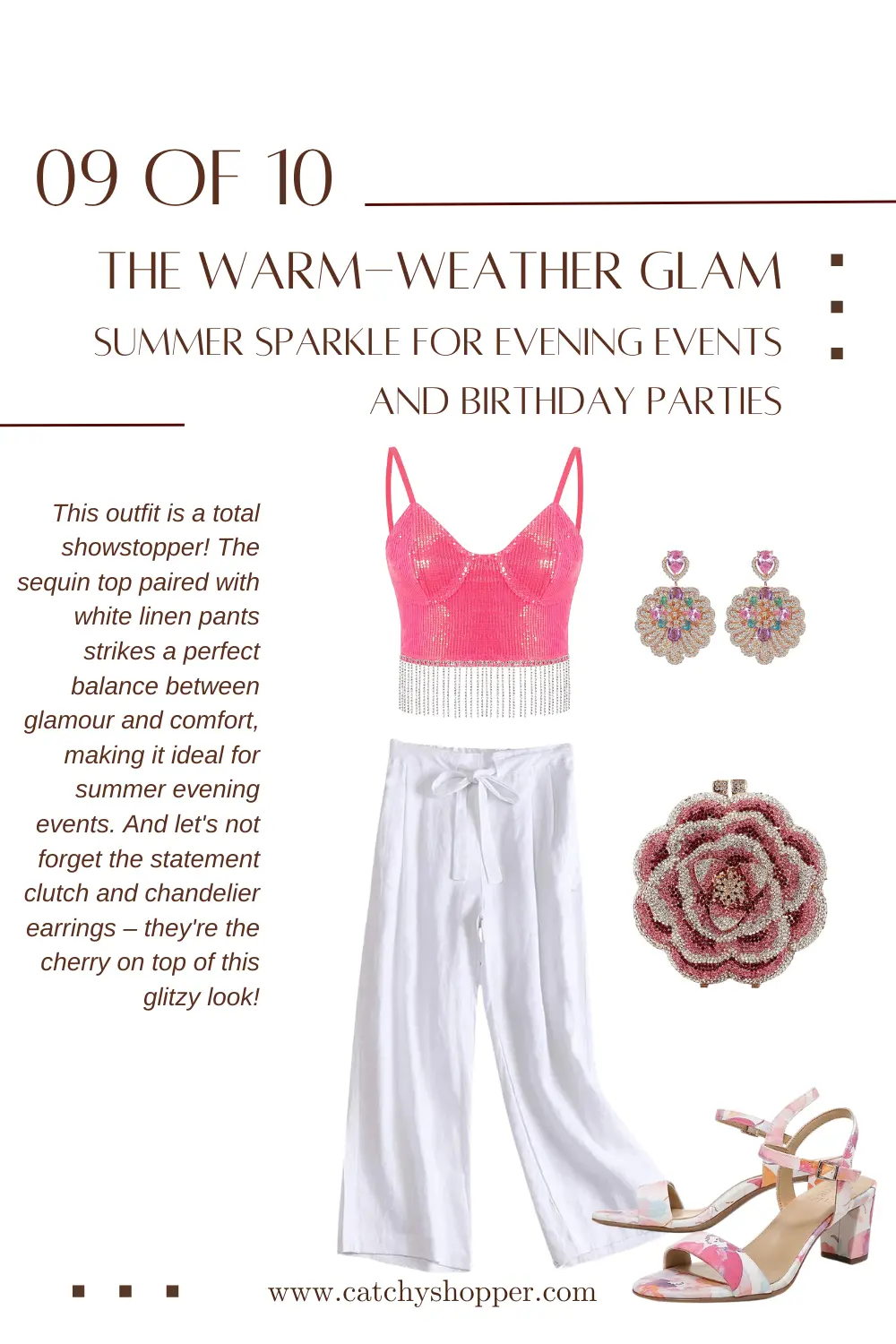 For a glamorous outfit that's still suitable for warmer months, pair your white linen pants with a glitzy sequin top. Add some height with platform sandals and finish the look with a statement clutch and chandelier earrings. Ideal for a summer evening event or birthday party.
The Relaxed Sophisticate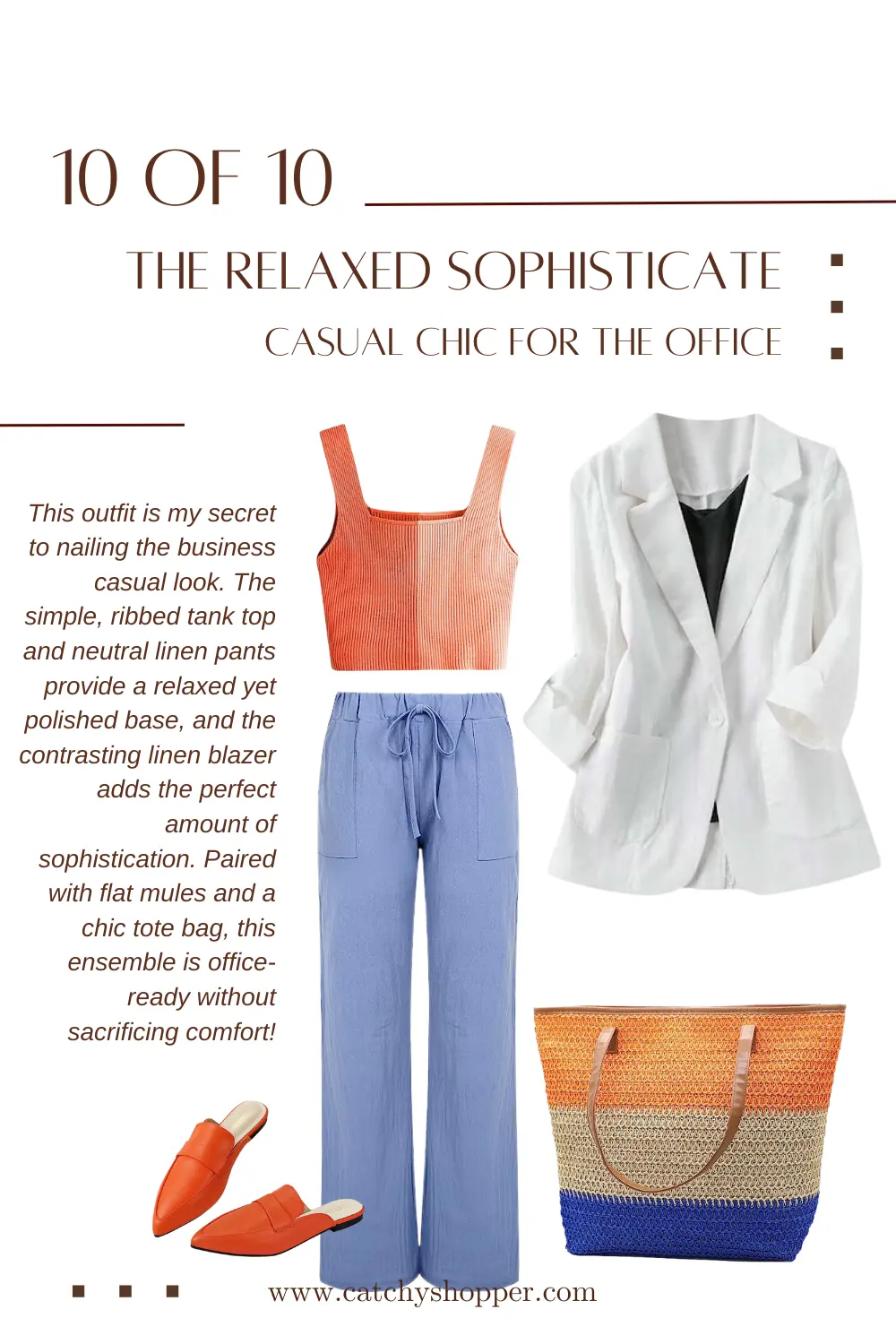 Achieve a sophisticated yet relaxed vibe by pairing your neutral linen pants with a simple, ribbed tank top. Layer with a lightweight, linen blazer in a contrasting color. A pair of flat mules and a chic tote bag complete this office-ready look.
Final Thoughts
I gotta say, linen pants have totally transformed the fashion scene. Talk about a game-changer! These bad boys are comfy and adaptable like no other. You know that breezy summer day feeling? That's what it's like wearing linen pants. They're perfect whether you're grabbing a laid-back brunch or dressing up for a romantic dinner. You get to be your cool, chic self all day!
I mean, isn't fashion all about having fun and trying new things? There's no one-size-fits-all when it comes to styling linen pants. Whether you're after a casual vibe or an elegant look, there's always a way to wear linen pants that perfectly suits your personal style. Don't be shy—experiment with colors, patterns, and accessories. Seriously, there are endless outfit combinations just begging to be worn by you!
I hope this little chat fires up your imagination about your linen pants. But hey, our style adventures aren't stopping here. Stay tuned for our next post full of even more fashion-forward ideas and hacks.
Alright, now it's your moment to shine! We're so excited to see how you're totally owning your linen pants. Share your photos, tag us, or spill your outfit ideas in the comments below. Nothing gets us more inspired than seeing how our fashion-loving community styles their clothes!
Oh, and remember—if you're always on the hunt for more style wisdom and outfit inspiration, follow our blog. We've got loads more fashion advice and outfit inspo heading your way. So go on, style warriors, get your fashion on!


Comments