This post may contain affiliate links, please see our privacy policy for details.
Have you ever wondered how some people manage to stay so composed and at ease while traveling? They glide through airport security effortlessly, find their perfect spot on the plane without fussing over the overhead bins, and fall asleep on red-eye flights even in the most cramped seats.
The secret to becoming a confident traveler lies in having a few essential items at your disposal. In this post, we'll explore an incredible array of travel essentials for women that will cover everything from travel-sized beauty products to stylish laptop backpacks and comfortable vacation attire. With these must-have accessories, your life on-the-go will become simpler, more enjoyable, and as comfortable as possible.
So, without further ado, let's dive into these 23 essential travel accessories that every woman should consider for her next adventure!
Stylish Face Mask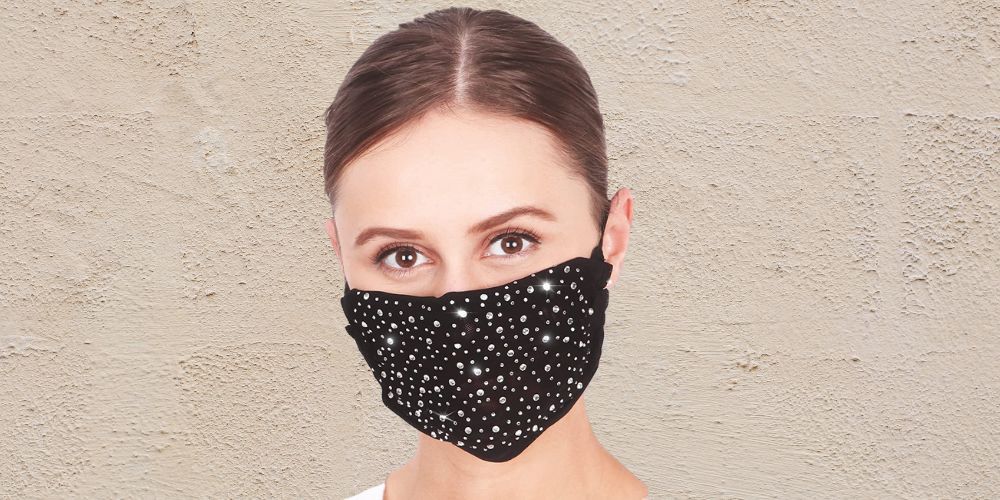 Travel accessories for women have become increasingly important, and face masks are no exception. This fashionable face mask provides both protection and style during your trips. As a frequent traveler, I found these face masks to be a game changer when navigating through airport security and boarding flights. The adjustable straps offer a comfortable fit, while the breathable fabric ensures a good night's sleep on long flights. Additionally, these masks are machine washable, which means you can reuse them throughout your entire trip.
NiceSeats Airplane Seat Cover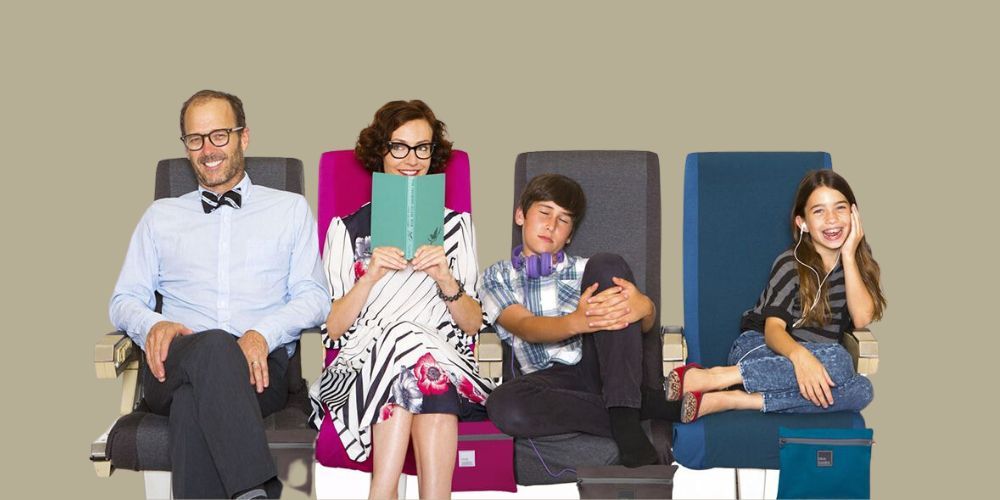 This airplane seat cover is a must-have travel accessory for women who prioritize cleanliness and comfort. This seat cover is designed to fit most airplane seats, ensuring a clean and personalized space on your flight. I've found this seat cover to be particularly helpful during weekend getaways, as it provides a barrier between me and any potential germs on the airplane seat. The stylish design also adds a touch of elegance to my travel gear, making it a no-brainer addition to my packing list.
Travel Blanket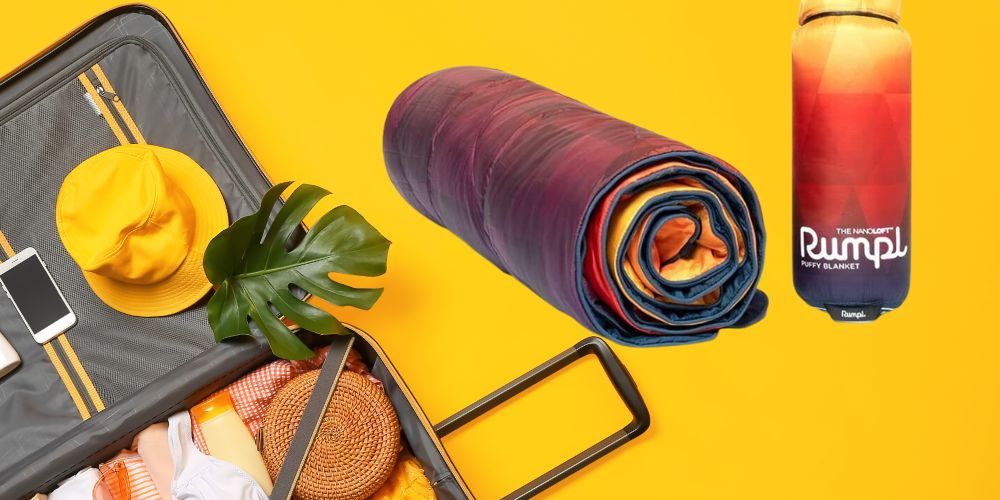 As someone who gets cold easily, we never leave for a trip without the Rumpl travel blanket. This versatile and chic blanket is perfect for providing warmth on long flights, in hotel rooms, or during a weekend getaway. The lightweight design makes it easy to pack in my carry-on luggage or travel backpack, and it offers a comforting sense of home away from home.
RELATED ARTICLE: Don't miss our sister article, 55 Travel Essentials for Women to Pack on Their Next Adventure, for a deeper dive into travel gear. This comprehensive piece covers versatile clothing, footwear, gadgets, and personal care items. Explore both articles to confidently embark on your next journey with style.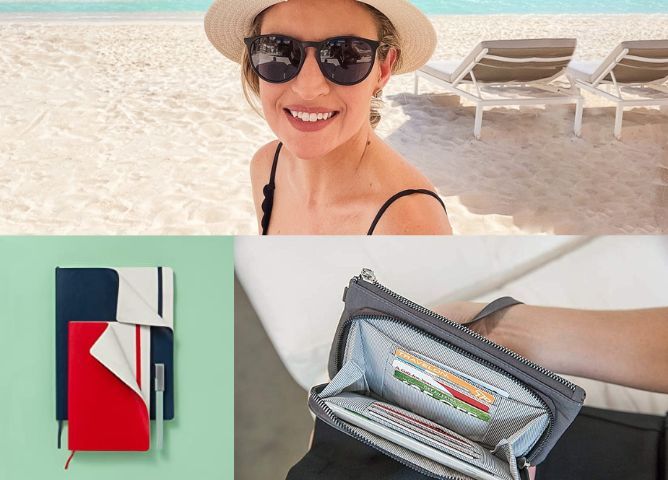 Travel Container Set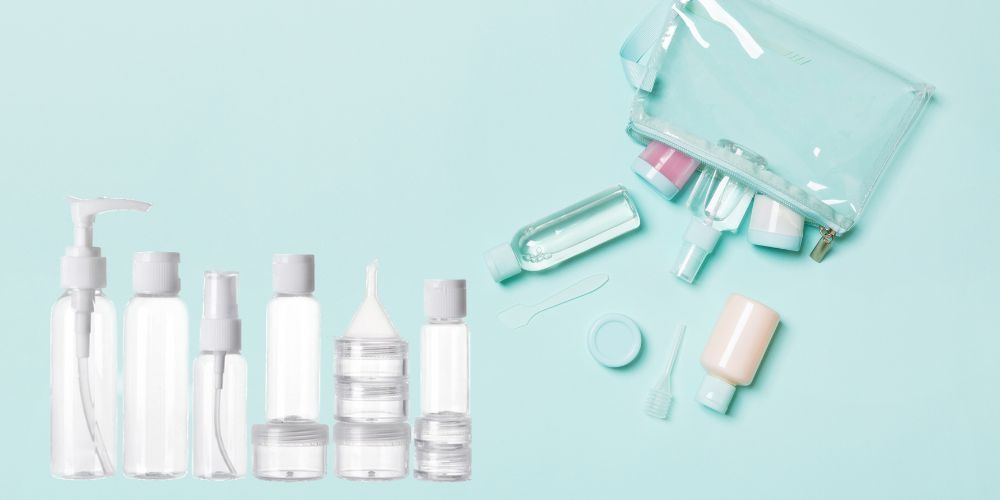 Packing toiletries can be a challenge, but this TSA-approved travel-size container set has made it easier to bring my essential skincare and makeup products on trips. The set includes various sizes of leakproof containers that are perfect for decanting my favorite body wash, shampoo, conditioner, and even essential oils. The transparent bag allows for easy access and organization, ensuring a seamless experience at airport security. also appreciate that the containers are reusable, making them an eco-friendly and cost-effective choice.
Packing Pouches for Travel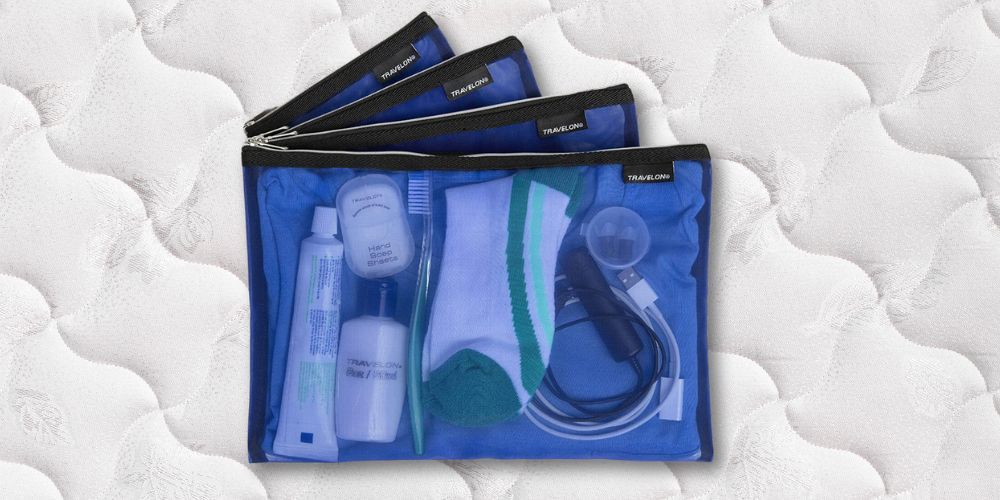 These mesh pouches can be a game changer for organizing your carry-on luggage. These pouches help you stay organized and save space, making it easy to pack for longer trips or fit in more items. The various sizes accommodate different clothing types and personal items, while the durable and water-resistant material ensures my belongings stay protected. With these packing cubes, I can pack a week's worth of outfits and still have room for other essentials.
Travel Neck Pillow Scarf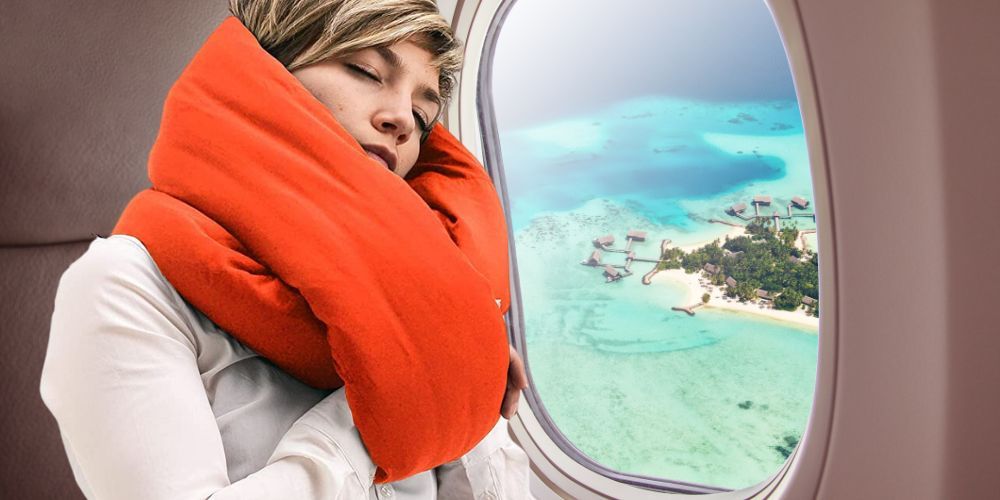 Long flights can be exhausting, and a good neck pillow is essential for a comfortable journey. The Huzi Infinity Pillow provides the support I need for a good night's sleep on the plane. The airy ventilation system and super soft and breathable bamboo fabric offer comfort and support for various body types, making it one of the best travel accessories for a restful trip.
Noise-canceling Earbuds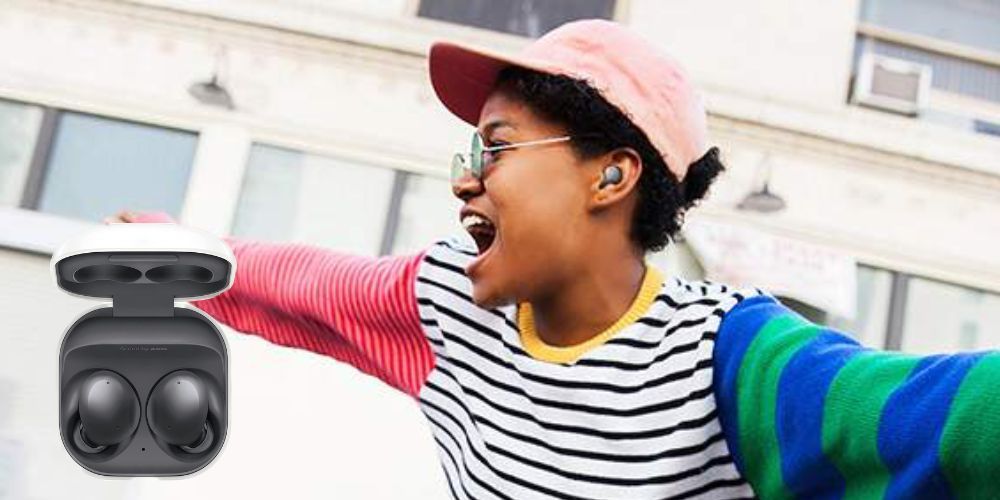 The Samsung Galaxy Buds2 has become my go-to travel accessory for blocking out unwanted noise during flights, layovers, or hotel stays. With these headphones, I can enjoy my favorite music, podcasts, or movies without being disturbed by background noise. The long battery life and comfortable fit make them perfect for extended use on long flights or longer trips.
Toiletry Bag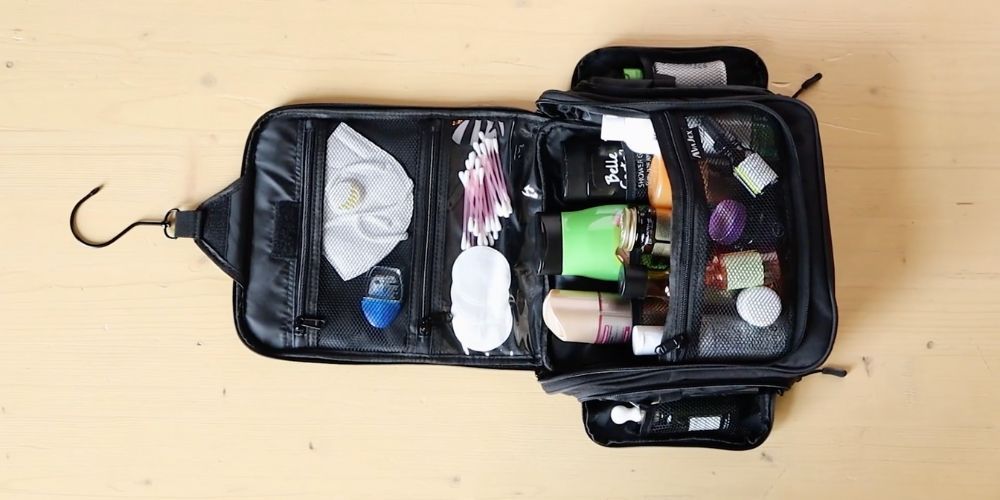 A well-organized, large toiletry bag is a must-have for any frequent traveler, and the hanging travel toiletry bag has revolutionized my packing and accessibility of toiletries. With its spacious design and multiple compartments and pockets, this large toiletry bag offers easy access to all my essentials, including lip balm, hair products, and essential oils. Its size is perfect for those who have more to carry or prefer to have everything in one place. This bag features a convenient hook that allows to hang the bag in a hotel bathroom for easy access, while the water-resistant material ensures my belongings stay dry and protected. This large hanging travel toiletry bag combines convenience, organization, and style for the perfect travel companion.
Self-Cleaning Water Bottle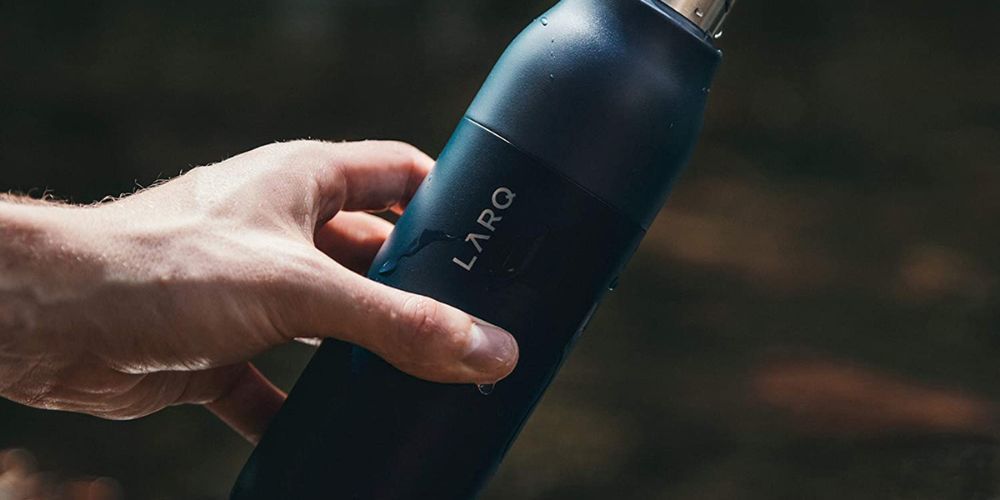 Staying hydrated during your travels is essential, and a self-cleaning water bottle like the Larq self cleaning water bottle takes convenience to the next level. This innovative water bottle features a built-in UV-C LED light that purifies the water and cleans the inner surfaces of the bottle, eliminating bacteria and viruses. With just a touch of a button, the Larq bottle self-cleans every two hours, ensuring you always have access to fresh, clean water. The double-wall insulated stainless steel construction keeps your drinks cold for 24 hours or hot for 12 hours, making it perfect for long journeys and outdoor adventures.
RELATED ARTICLE: Discover the best water bottle options on the market by exploring our latest post that offers a thorough examination of a diverse selection of bottles, each tailored to accommodate specific requirements, guaranteeing that you remain refreshed and well-hydrated throughout your journeys.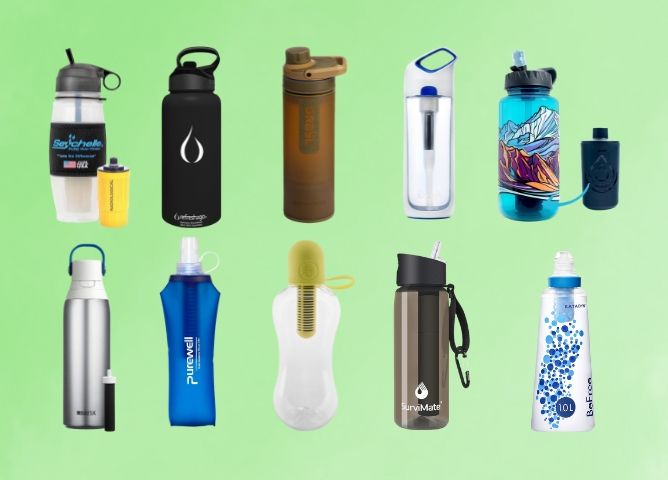 Travel Adapter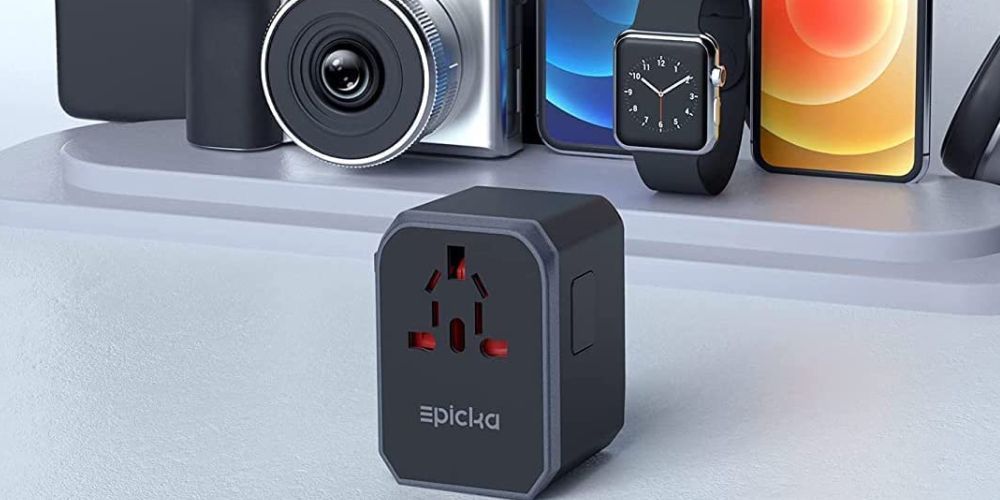 When traveling to different countries, having the right travel adapter is crucial. The Epicka universal travel adapter is compatible with outlets in most countries, making it an essential addition to my travel gear. The built-in USB ports allow me to charge multiple devices simultaneously, ensuring all my electronics are ready for use throughout my trip.
Travel Backpack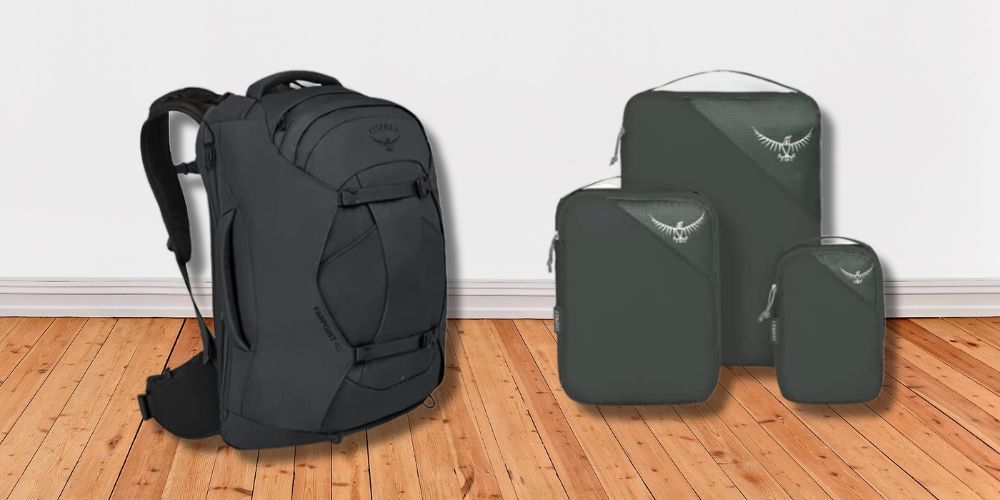 The Osprey Farpoint 40 travel backpack has become my go-to carry-on bag for weekend getaways and longer trips alike. The spacious main compartment, laptop sleeve, and multiple pockets provide ample storage for my personal items and travel essentials. The comfortable padded straps and ventilated back panel make it easy to carry during long walks or airport layovers, and the suitcase-style opening ensures easy access to my belongings.
RELATED ARTICLE: Once you've gathered your travel essentials, elevate your on-the-go experience with our collection of 30 Chic Laptop Backpacks for Women – perfect for work, travel, and everyday use. With these fashionable and functional picks, you'll conquer every destination in style, all while keeping your essentials organized and within reach.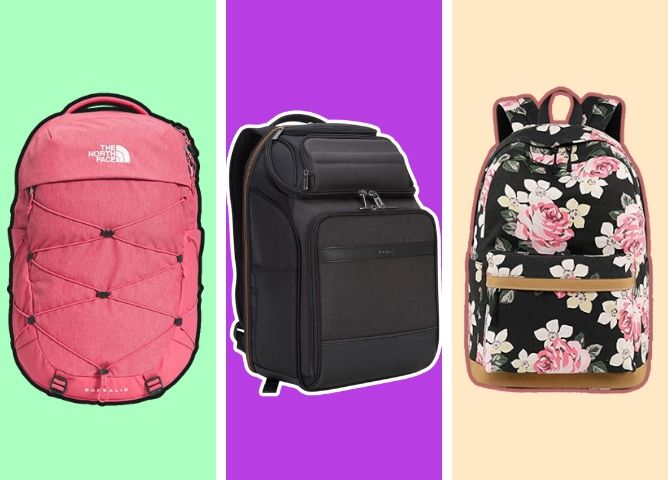 Travel Compression Socks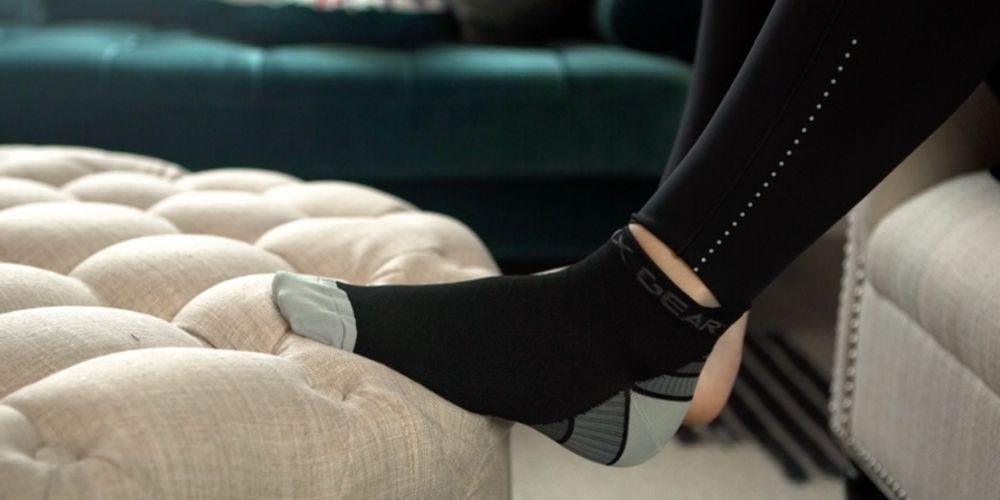 Long flights can often lead to swollen or achy legs, making compression socks an essential travel accessory. The Physix gear sport compression socks provide the right amount of support and comfort for long journeys. I've found that wearing them during longer trips helps reduce swelling and discomfort, allowing me to arrive at my destination feeling refreshed. Plus, they're available in several stylish designs, so you don't have to sacrifice fashion for function.
Travel Laundry detergent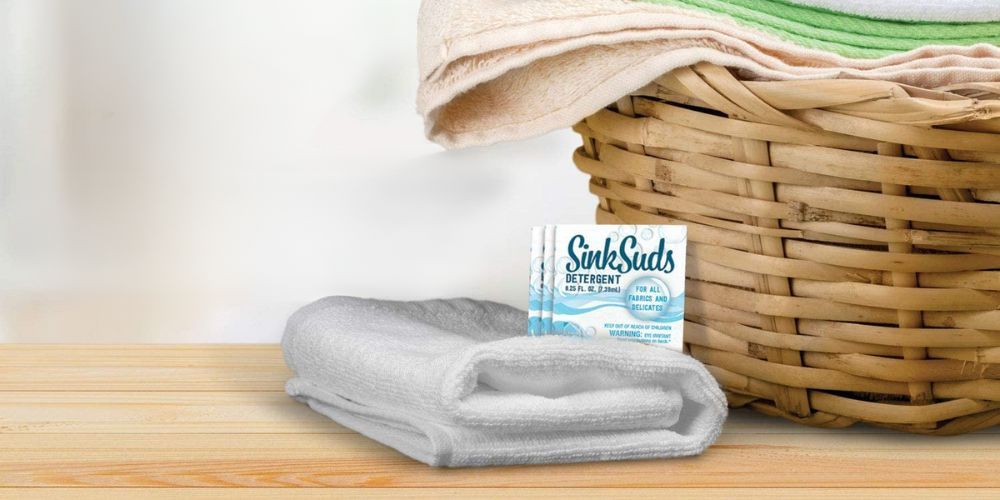 If you've ever needed to wash clothes in a hotel sink, you'll appreciate the convenience of Sink Suds travel laundry detergent. These travel-size packets are perfect for laundering t-shirts, underwear, and other essentials during your trip. They're gentle on fabrics and can help you save space in your luggage by allowing you to pack fewer items. I've found these packets to be a lifesaver on longer trips, and they've become a staple in my travel kit.
Travel Wallet
Protecting your personal information is crucial when traveling, and the P.Travel RFID blocking wallet is a stylish and functional solution. This wallet is designed to block RFID signals, keeping your credit cards and passport safe from electronic theft. The multiple card slots, compartments, and zippered pockets offer easy access and organization, ensuring that your personal items stay secure and organized throughout your trip.
Foldable Travel Ballet Flats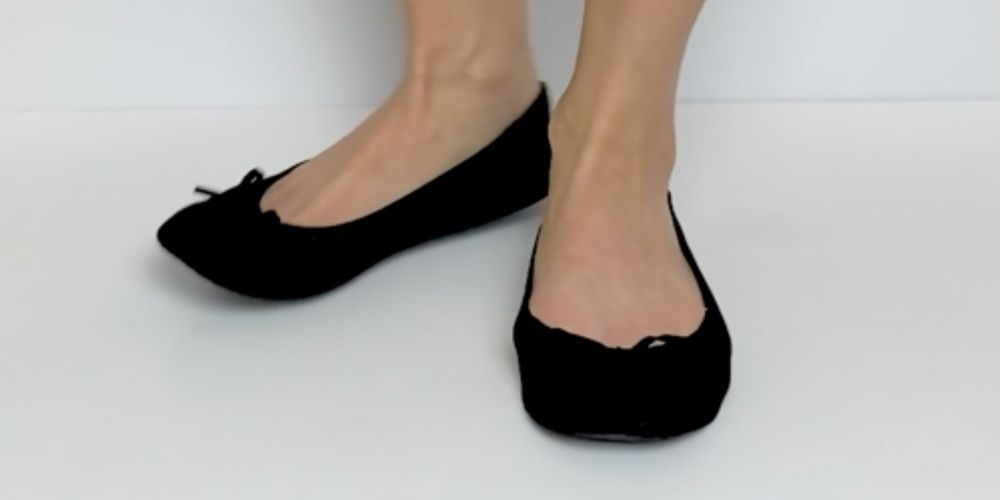 Comfortable footwear is a must-have for any trip, and the Silky Toes flats offer both comfort and convenience. These lightweight, foldable flats can be easily stashed in your cross body bag or carry-on bag, providing a stylish and comfortable alternative to your regular shoes. I've found these flats to be perfect for long flights, sightseeing, or even as a backup pair for evenings out.
Travel Organizer for Electronics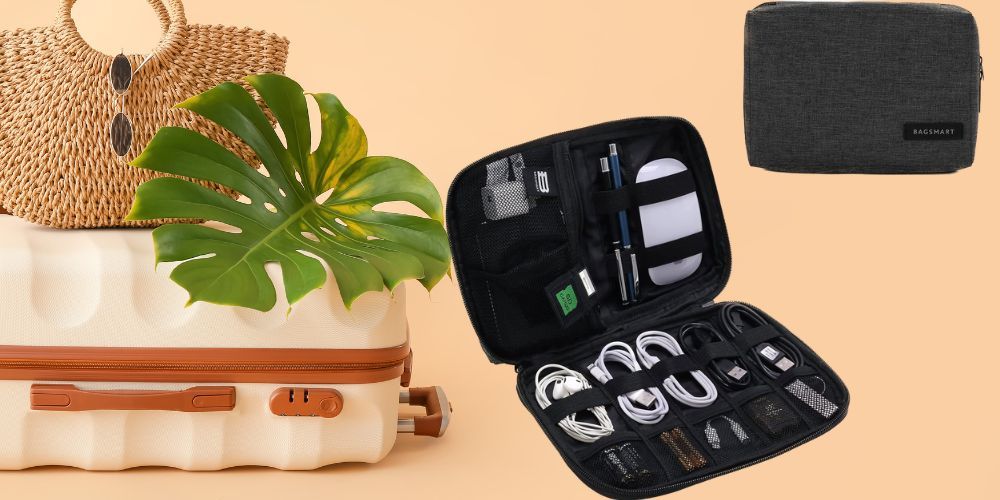 Keeping electronic devices and their accessories organized can be a challenge during travel, but the Bagsmart electronic organizer has made it a breeze for me. This compact organizer offers dedicated compartments for my phone charger, power bank, USB cables, earphones, and more. The water-resistant material keeps my electronics protected, and the convenient design ensures I can easily access everything I need during my trip.
Collapsible Hair Brush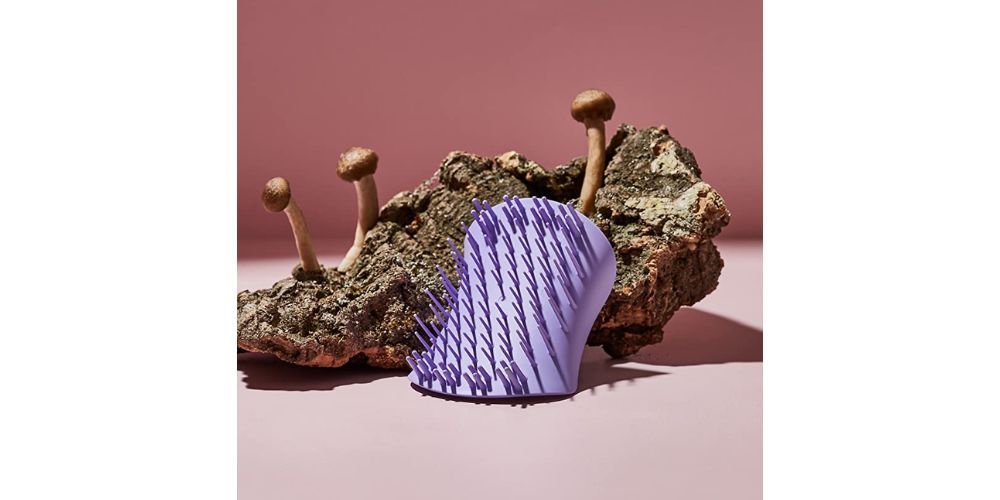 For women with long hair, having a compact and travel-friendly hairbrush is essential. The Tangle Teezer Compact Styler is a collapsible hairbrush that easily fits in your carry-on bag or purse. The innovative bristle design effortlessly detangles hair without causing breakage, making it perfect for on-the-go touch-ups. I always keep one in my travel bag to ensure my hair stays smooth and tangle-free throughout my trip.
Sleep Mask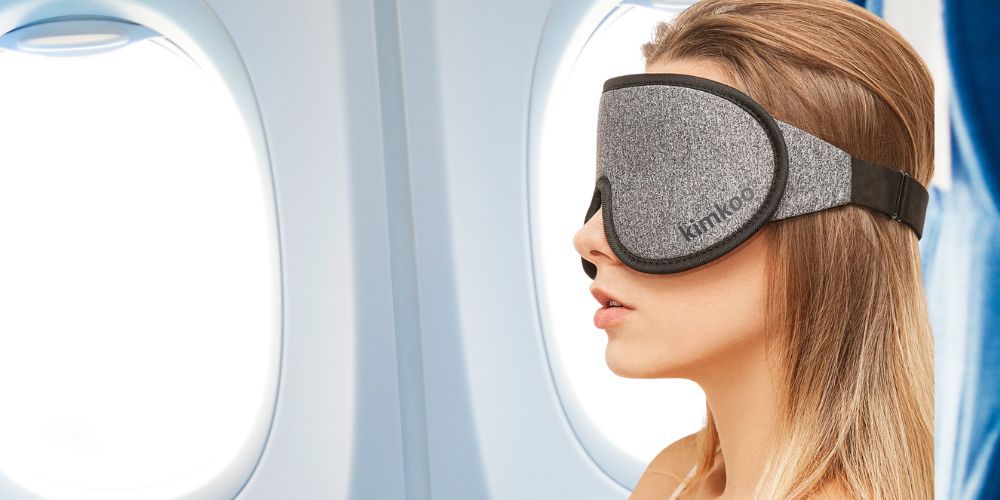 Getting a good night's sleep during travel can be difficult, especially on long flights or in unfamiliar hotel rooms. The Kimkoo eye mask is designed to block out light, providing a comfortable and restful sleep environment. The adjustable strap and soft cotton material make it comfortable for all-night wear, ensuring a more restful and rejuvenating trip.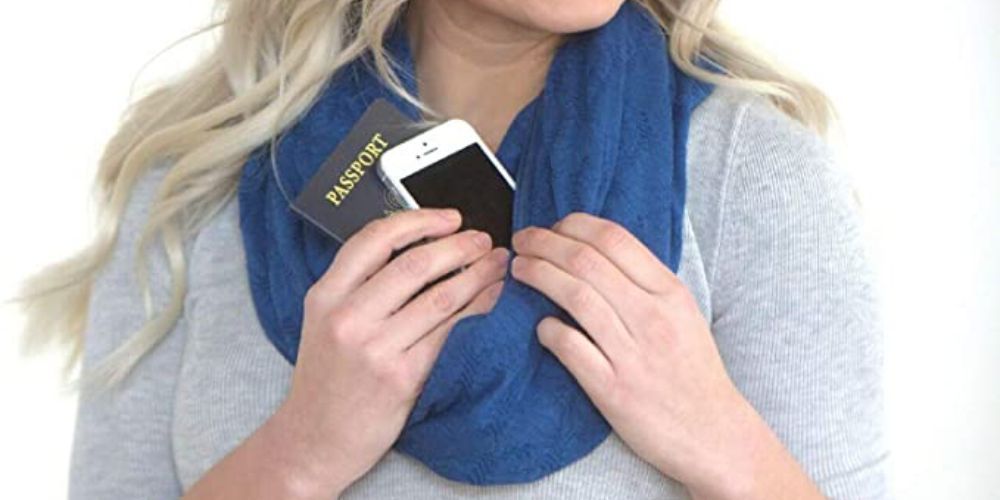 The infinity scarf with a pocket combines fashion and functionality for the ultimate travel accessory. The stylish infinity scarf features a hidden pocket that can securely hold your passport, cash, and other essentials while you're on the go. I love wearing this scarf during my trips, as it not only keeps me warm but also provides a discreet and convenient way to store my valuables.
Collapsible Tote Bag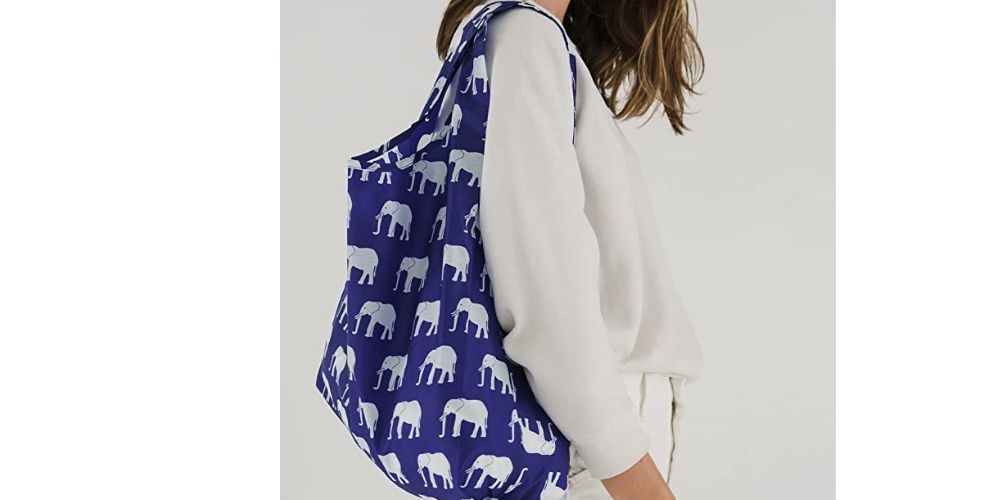 A collapsible tote bag is an incredibly useful travel accessory for shopping, beach trips, or as an extra carry-on bag. The Baggu reusable shopping bag is made of durable ripstop nylon and folds up into a compact pouch when not in use. It's water-resistant and can hold up to 50 pounds, making it ideal for carrying groceries, souvenirs, or extra items during your trip.
Travel-size Umbrella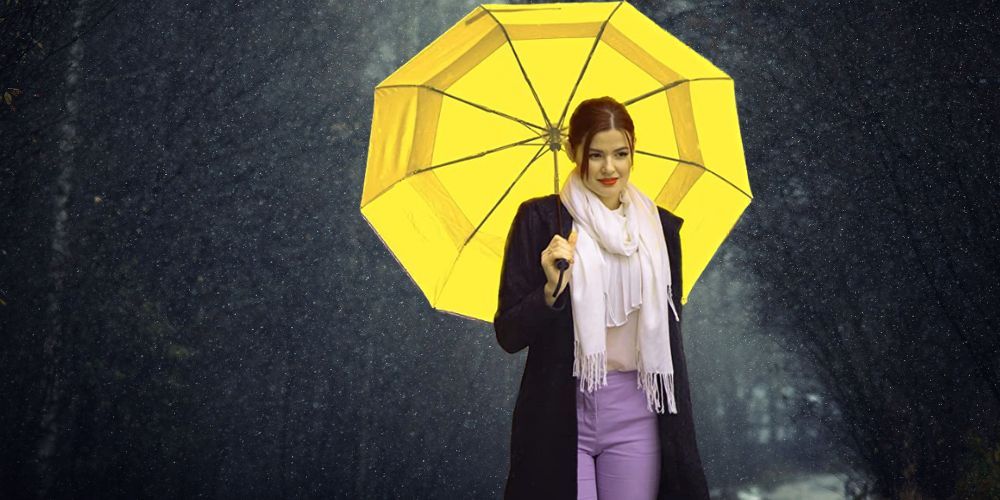 Unexpected weather can put a damper on your travel plans, but with the Royal Walk umbrella, you'll always be prepared. This compact umbrella is small enough to fit in your carry-on bag or purse and features a durable, wind-resistant design. The Teflon-coated fabric ensures you stay dry during sudden downpours, and the ergonomic handle makes it comfortable to hold. I never leave for a trip without this umbrella, as it's saved me from getting drenched on multiple occasions.
Portable Power Bank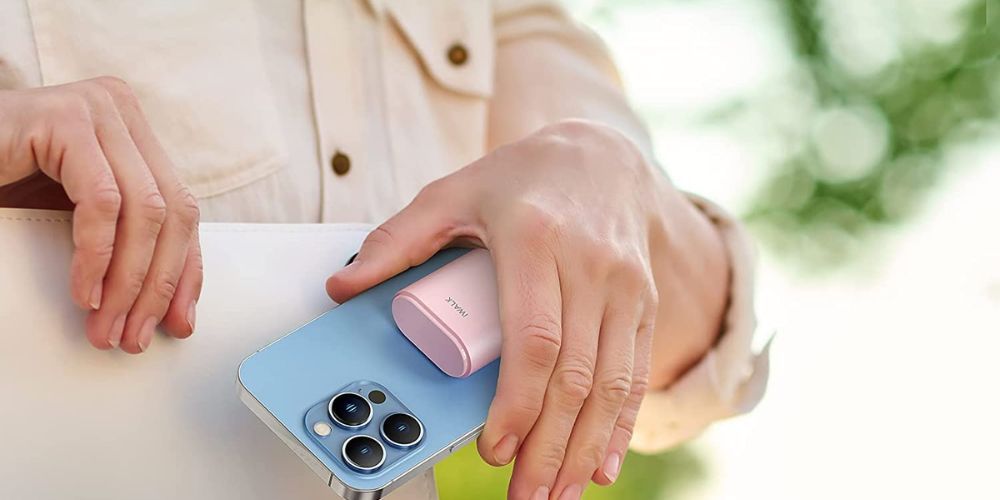 As someone who relies on my phone for Google Maps, hotel bookings, and keeping in touch with loved ones, a portable power bank is a travel essential. A high-capacity power bank like the iWALK Portable Charger ensures that your devices stay charged throughout your trip, even when you don't have access to a power outlet. By choosing a power bank with multiple USB ports, you can charge multiple devices simultaneously, making it perfect for both solo travelers and families.
Travel Slipper
Comfort is key when traveling, and a pair of cozy, fuzzy slippers can make all the difference. The Ultraideas memory foam slippers provide both comfort and warmth, making them perfect for relaxing in your hotel room or unwinding during an entire flight. The memory foam insole offers additional cushioning and support for your feet, while the anti-slip sole ensures safety on various surfaces. These lightweight, compact slippers are easy to pack and will become an indispensable part of your travel gear.
Travel Accessories FAQ
What are good travel accessories?
When planning a trip, it's important to consider what travel accessories you'll need to make your journey more comfortable and convenient.
Some of the best travel accessories include a sturdy and lightweight suitcase, a travel pillow for long flights or car rides, noise-canceling headphones to block out background noise, a portable charger for your phone and other devices, a compact umbrella in case of rain, and a universal power adapter for international travel. In addition, a reusable water bottle to stay hydrated, a luggage tag to help identify your bag, and a travel-sized toiletry kit with all your essentials are also recommended.
A versatile and comfortable backpack or daypack can also come in handy for day trips and excursions. Overall, investing in high-quality travel accessories can make your journey much more enjoyable and stress-free.
How to pack accessories for travel?
When it comes to packing accessories for travel, it's important to be organized and efficient. Here are some tips to help you pack your accessories effectively:
a. Start by making a list of all the accessories you'll need for your trip. This will help you keep track of what you've packed and what you still need to pack.
b. Consider the size and weight of your accessories when packing. Try to pack lightweight and compact items to save space and avoid overpacking.
c. Use organizers like packing cubes or small bags to keep your accessories separate and easy to find. This will also help you avoid clutter in your luggage.
d. Pack your accessories in a way that maximizes space. For example, roll up your belts and pack them in your shoes to save space.
e. Pack your most important accessories, such as your passport and wallet, in a small bag or pouch that you can easily access during your journey.
f. Consider investing in a travel jewelry organizer to keep your jewelry tangle-free and protected.
g. Don't forget to pack extra accessories like chargers, batteries, and memory cards. It's better to be over-prepared than to run out of essentials while on the road.
By following these tips, you can pack your accessories efficiently and ensure that you have everything you need for a stress-free and enjoyable trip.
Why are travel accessories so important?
Travel accessories are an essential part of any travel experience. They help us stay organized, comfortable, and secure, allowing us to make the most of our journey. Whether we are embarking on a short weekend trip or a long-haul flight, having the right travel accessories can make all the difference in ensuring a smooth and enjoyable travel experience.
Final Thoughts
Packing the right travel accessories can greatly enhance a woman's travel experience. With so many options available, it can be overwhelming to know where to start. However, by considering factors such as comfort, organization, and security, women can make informed choices about which accessories to pack for their journey.
The 23 must-pack travel accessories for women highlighted in this guide offer a variety of options for different needs and preferences. From versatile clothing to practical gadgets, these items can help women maximize their journey and make the most of their travel adventures. By investing in the right travel accessories, women can ensure a comfortable, organized, and hassle-free travel experience, regardless of their destination.
Happy Flying!
Other Posts You May Like
Travel in style and look fabulous by following our essential Travel Wear for Women Tips that'll have you turning heads wherever you go.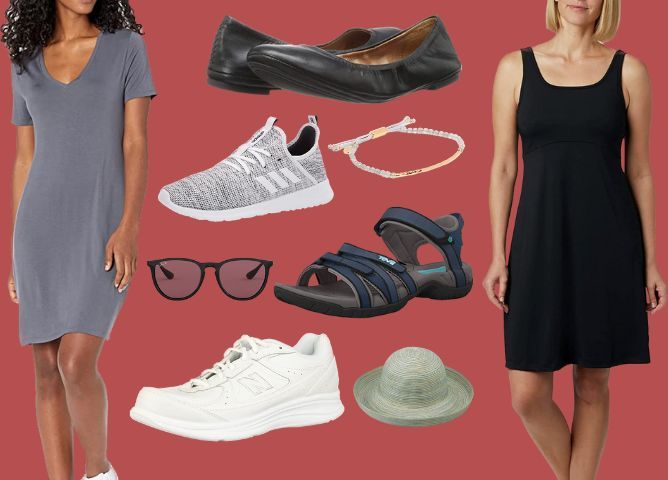 And don't forget to complete your chic ensemble with one of our 22 gorgeous travel purses, so stunning you'll be booking trips just to show them off!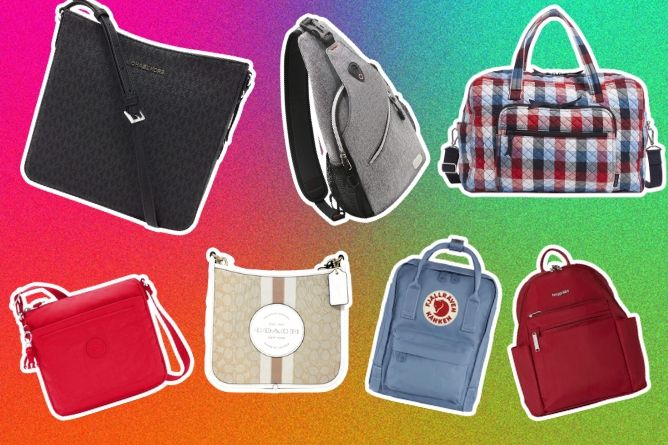 Comments