This post may contain affiliate links, please see our privacy policy for details.
Ladies, are you tired of overpacking or forgetting essential items on your trips? It's time to put those packing woes to rest! We've compiled the ultimate list of 55 genius women's travel essentials that will transform your travel experience and ensure you're ready for any adventure. Whether you're a seasoned jet-setter, planning your first big trip, or just need a few travel essentials for a quick hotel room stay, this comprehensive guide will help you pack like a pro and embark on your journey with confidence. Say goodbye to last-minute packing stress and hello to organized, stylish, and hassle-free travel.
Travel Bags
Travel bags for women are specifically designed to cater to the unique needs and preferences of female travelers. These bags come in various styles, sizes, and materials, ensuring there's a perfect option for every type of trip. From backpacks and suitcases to crossbody bags and totes, travel bags for women prioritize organization, style, and functionality, making them essential companions for any journey.
Travel Purse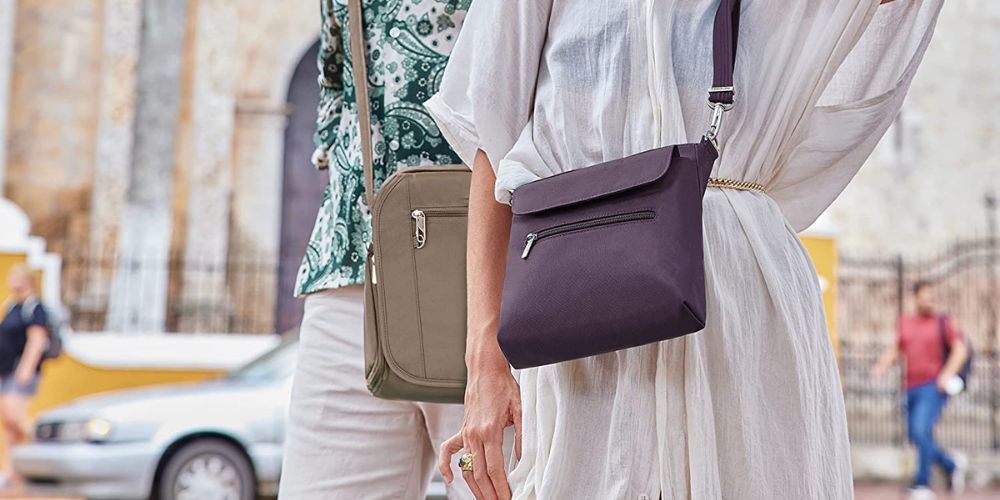 A versatile travel purse is a must-have for any woman on the go. So if you looking for the perfect travel companion, the Travelon anti-theft classic mini shoulder bag is must have! This sleek beauty ensures your belongings stay safe with RFID-blocking technology and secure closure. It also offers ample compartments and pockets to keep you well-organized wherever life takes you. Best of all, its crossbody design gives you hands-free convenience so that transporting it is a breeze even in busy settings - plus fashionable yet durable materials are sure to withstand whatever comes your way on those wild adventures abroad!
RELATED ARTICLE: While you're browsing our list of travel essentials, don't forget to check out our article on the gorgeous travel purses that are simply irresistible. Trust us, once you lay your eyes on these stylish and functional bags, you'll be inspired to book your next adventure just to show them off!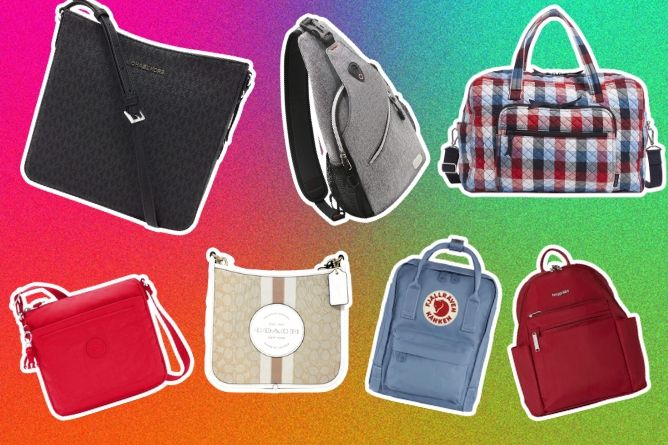 Travel Shoulder Bag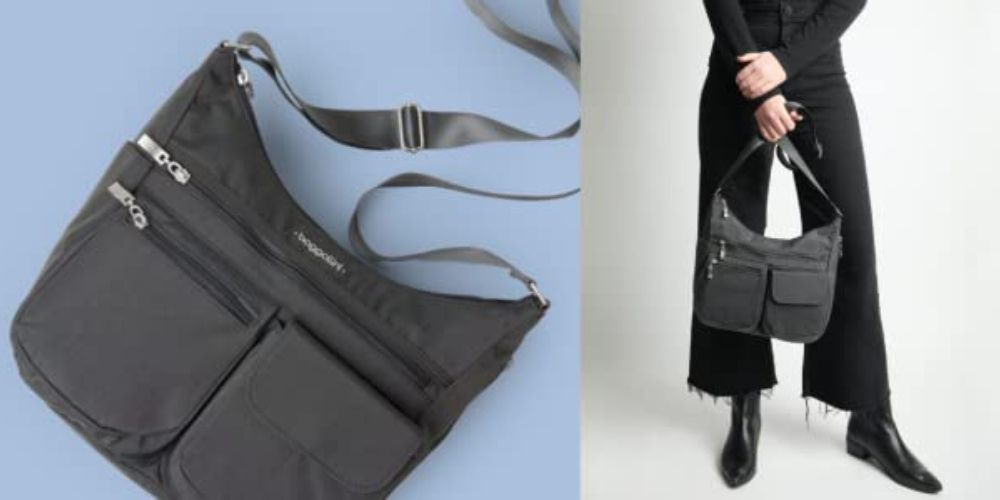 A spacious and stylish travel shoulder bag is perfect for carrying your essentials while exploring a new city or going on a day trip. Arm yourself with this stylish, practical and water-resistant Baggallini crossbody bag! It will help you keep all your must-haves close by - without sacrificing an ounce of style. Strap it up for maximum comfort and don't worry about leaving any essentials behind: there are plenty of pockets so nothing gets lost in the great unknown.
Reusable Shopping Bag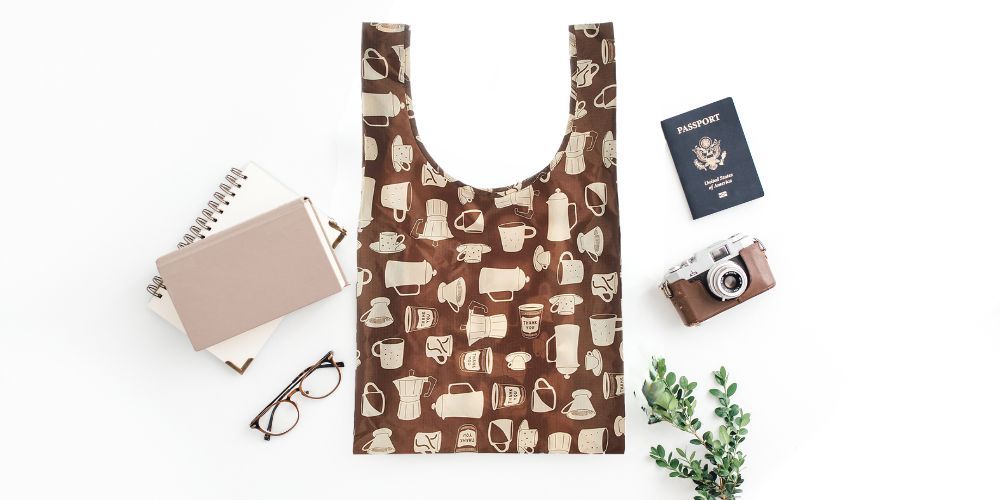 The Baggu shopping bag is a lightweight, foldable bag that can be easily tucked into your purse or backpack. Carrying this eco-friendly alternative to plastic bags helps reduce your environmental impact and saves money on bag fees. Plus, it's perfect for holding your souvenirs.
Travel Wardrobe
A well-curated travel wardrobe is key to looking and feeling your best while exploring new destinations. By selecting versatile, comfortable, and stylish pieces, you can create countless outfit combinations without overpacking. Travel wardrobes should include lightweight tops, wrinkle-resistant dresses, quick-dry pants, and other essentials that are easy to mix and match. Investing in quality travel clothing ensures you'll stay fashionable and comfortable throughout your adventures.
RELATED ARTICLE: If you are enjoying our article, you'll definitely want to check out our latest piece on "15 Best Travel Outfits for Long Flights That Will Make Your Trip So Much Easier!" It's packed with stylish and comfy outfit ideas perfect for those long journeys, ensuring you look and feel amazing as you explore the world.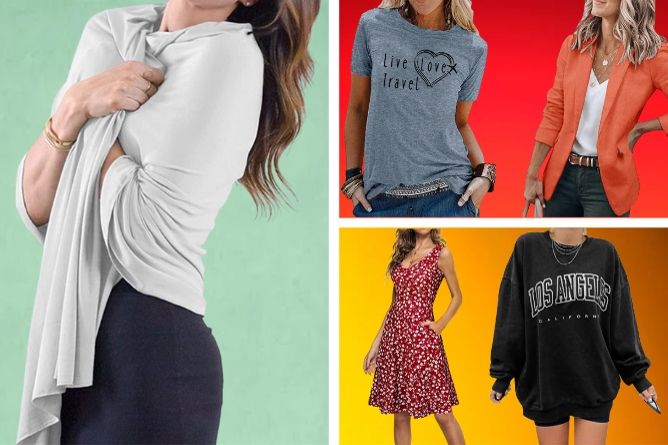 Long Sleeve Travel Shirt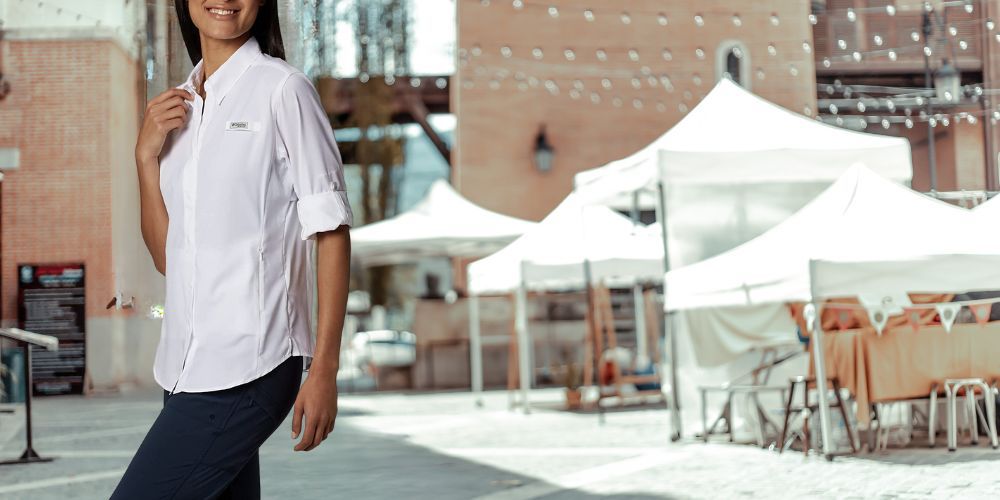 Whether you're an avid traveler or planning your first adventure, the Columbia Women's PFG Tamiami II Long Sleeve Shirt could be just what you need. Not only does it provide UPF 40 sun protection and moisture-wicking properties to keep you cool while exploring in any climate, but its lightweight breathable fabric ensures ultimate comfort during those long journeys! Plus with a variety of styles and colors available, mix & match is easy - making this top essential for any travel wardrobe.
Travel Dress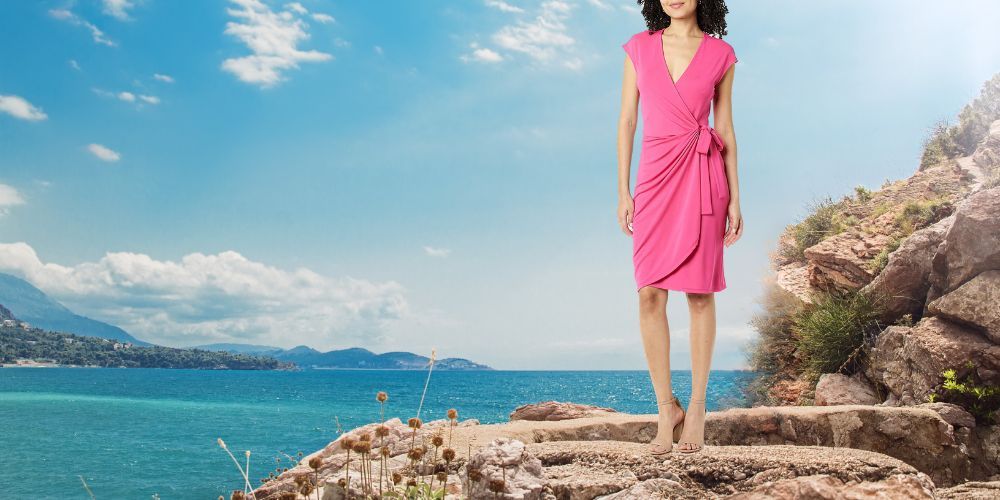 The perfect travel dress should be easy to pack and require minimal maintenance. Foldable and iron-free dresses are made from wrinkle-resistant materials, ensuring they remain presentable even after being packed away. Make sure to bring along the travel wrap dress. This essential piece of travel wear not only comes in stylish designs, but it's also foldable and immune to wrinkles- meaning you can pack light without sacrificing style! Plus, its versatility makes it perfect for any situation - from taking on sightseeing activities during the day or making a statement at that fancy dinner in town.
RELATED ARTICLE: Have your next getaway wardrobe conveniently planned with our selection of must-have vacation clothes for women. From chic and comfortable to fashionable, we have the perfect ensemble for any destination — let us help you make packing a breeze!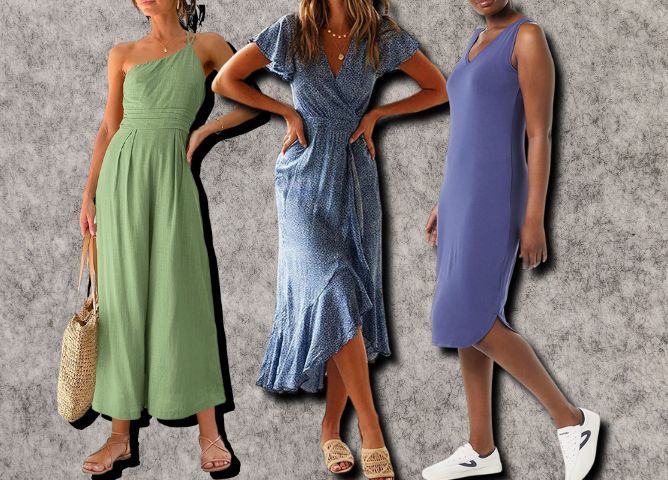 Quick-dry and stretchable pants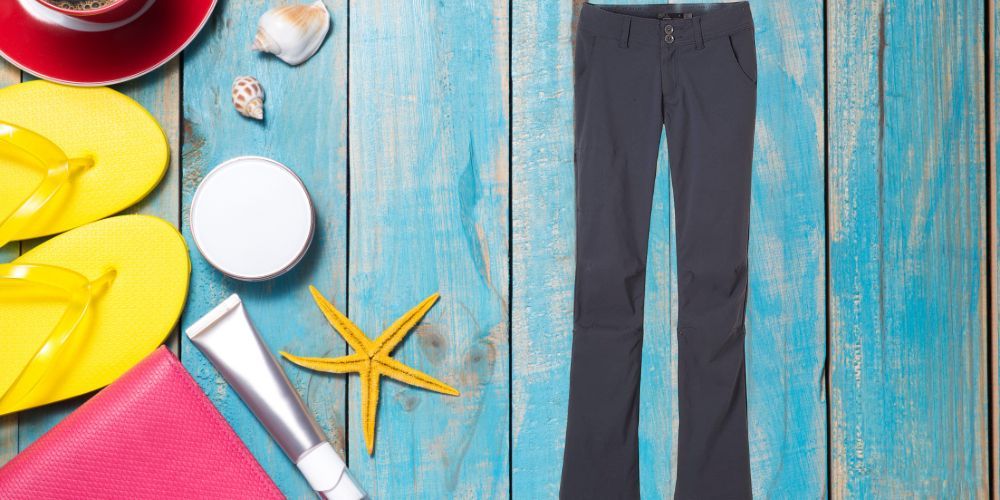 For those seeking ultimate comfort while on the go, quick-dry and stretchable pants are a must-have. These pants are designed to wick moisture away from the body and dry quickly, making them ideal for various activities and climates. So make sure to take with you the prAna women's Halle pants. These pants is made of the stretchable fabric allows for maximum flexibility and comfort, ensuring you can explore new destinations without any hindrances.
Multi-Use Travel Wrap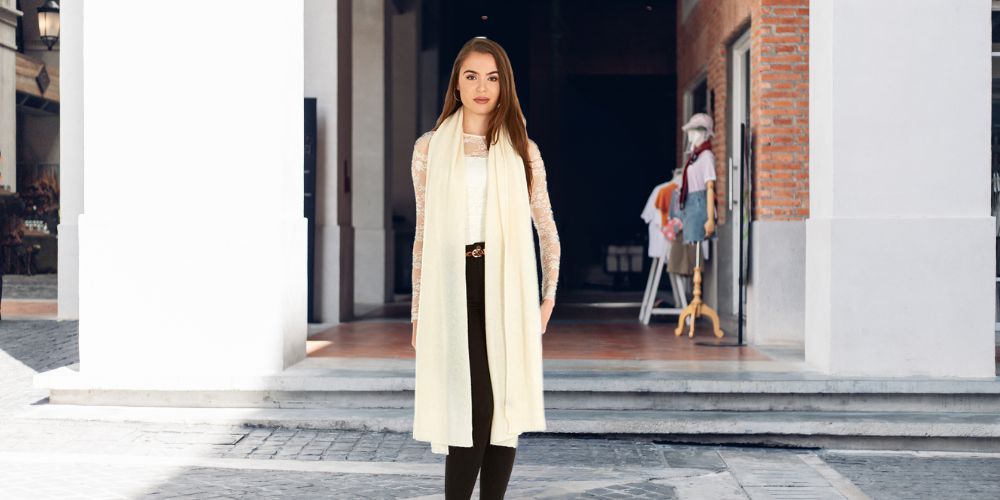 The Manio Cashmere Travel Wrap is a versatile accessory that can be used as a shawl, scarf, or blanket. Made from soft, stylish cashmere, it provides warmth and comfort during chilly flights or cooler evenings. Choose a neutral color that complements your wardrobe, and you'll have a versatile accessory that can be dressed up or down to suit any occasion.
A fashionable scarf with a hidden pocket is the perfect blend of style and functionality. These clever accessories feature a small, zippered compartment that's ideal for stashing valuables like your passport, cash, or credit cards. Choose a scarf in a versatile pattern or color that complements your travel wardrobe and adds an extra layer of security to your belongings.
Travel Footwear
Footwear is an important aspect of travel, as it can make or break your overall comfort level. Investing in a pair of comfortable walking shoes, stylish flats, or supportive sandals is essential for maintaining happy feet during your trip. Look for options that are both fashionable and functional, providing adequate support while also matching your travel outfits.
Foldable Ballet Flats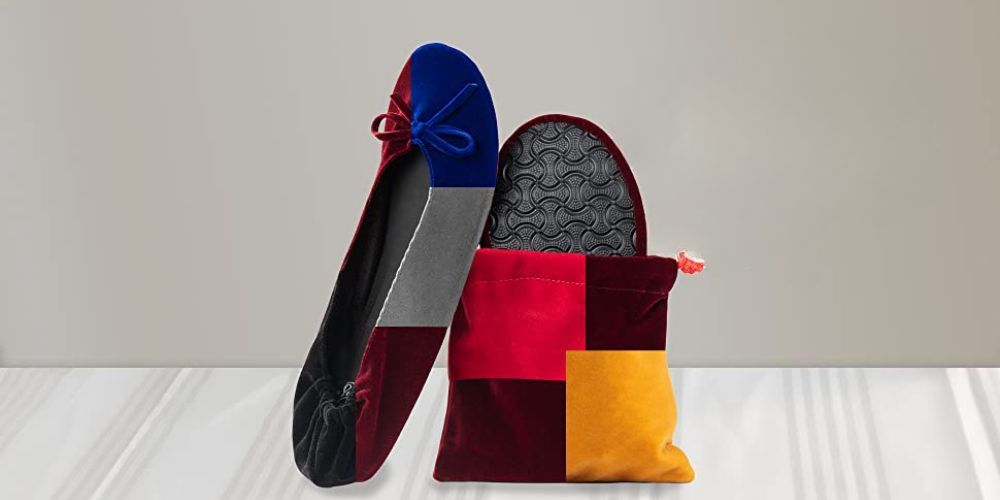 wble is a must! And now, Talaria Lotti Foldable Ballet Flats make it so much easier. Not only are these chic shoes lightweight & compact for easy packing into your luggage or purse, but they come in classic designs & neutral colors that can easily be dressed up or down - giving you the perfect go-to shoe for any on-the-go occasion.
Comfortable Walking Shoes
Your feet deserve the best on long days of sightseeing and luckily, Skechers Joy Walking Shoes provide luxurious comfort. With cushioning to keep your soles supported all day and airy breathability for those temperate climates, you'll always stay one step ahead in stylish sophistication. Guaranteed arch support adds an extra layer of protection so that no matter where your exploration takes you next--you can go with confidence knowing that every stride is taken in optimal style and complete comfort!
Hiking Shoes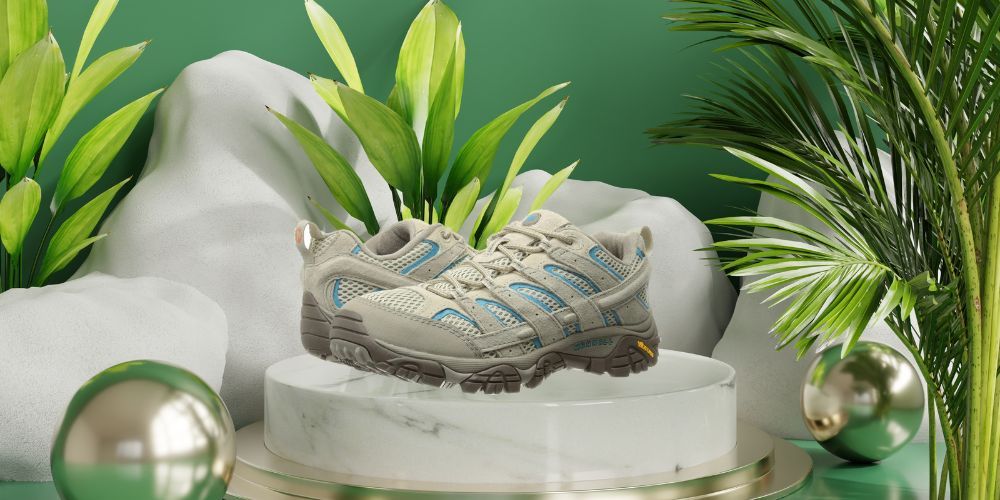 If your travels involve hiking or outdoor adventures, a pair of durable and supportive hiking shoes are essential. Opt for shoes with excellent traction, ankle support, and waterproof features to keep your feet protected in various terrain and weather conditions.
We recommend the Merrell Women's Moab 2 Vent Hiking Shoe. These durable and supportive shoes offer excellent traction, ankle support, and waterproof features to keep your feet protected in various terrain and weather conditions. Break them in before your trip to ensure a comfortable fit during your hikes.
RELATED ARTICLE: While you're here, don't forget to check out our article on the best water shoes for hiking, as it'll help you find the perfect pair to keep your feet happy and protected on your next outdoor escapade. Happy travels!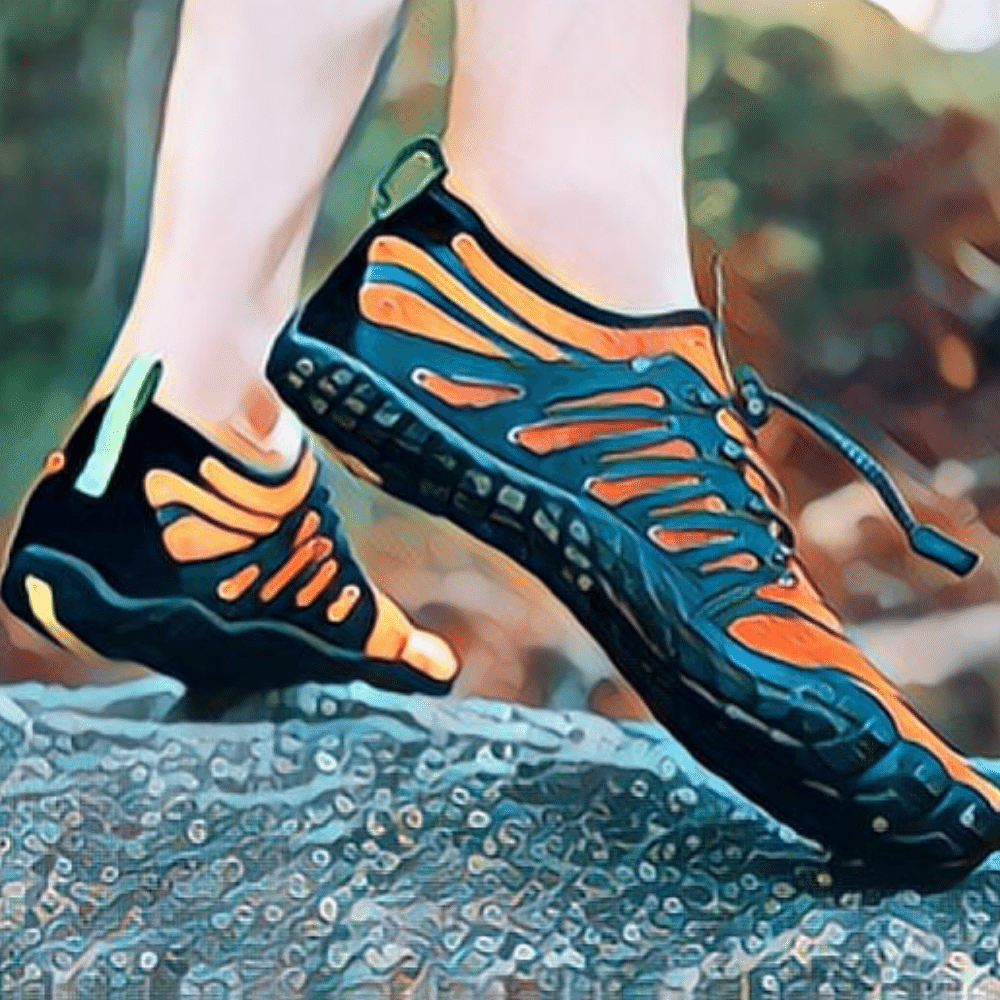 Travel Packing Solutions
Travel packing solutions are innovative products and techniques designed to help you maximize luggage space, keep your belongings organized, and make packing and unpacking a breeze. These solutions can include packing cubes, compression bags, multi-purpose organizers, and expert packing strategies. By utilizing travel packing solutions, you can optimize your luggage space, reduce the stress of packing, and enjoy a more streamlined and efficient travel experience.
Packing Cubes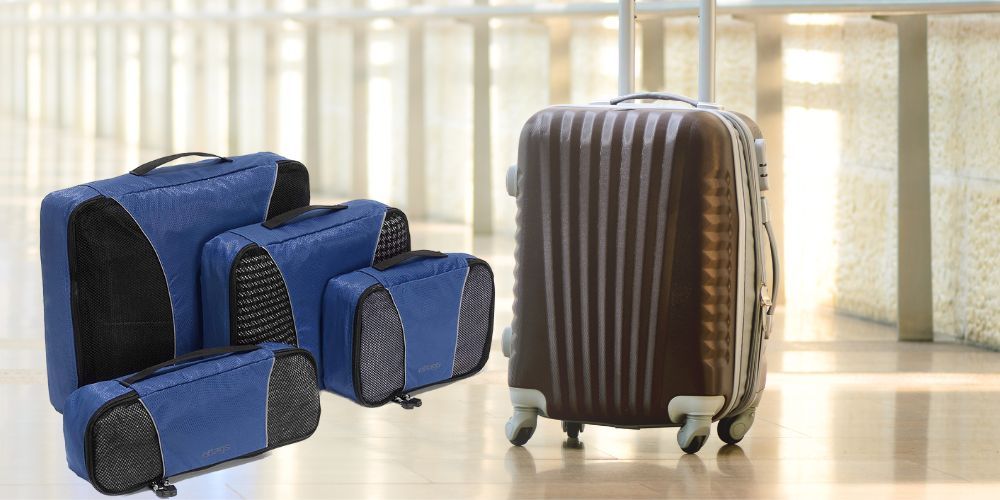 eBags packing cubes are a game-changer when it comes to keeping your luggage organized and maximizing space. Available in various sizes and designs, these handy compression travel bags make it easy to separate your clothing, accessories, and toiletries. The durable cubes come with stylish patterns or colors, allowing you to coordinate your packing system to suit your personal style.
Jewelry Organizer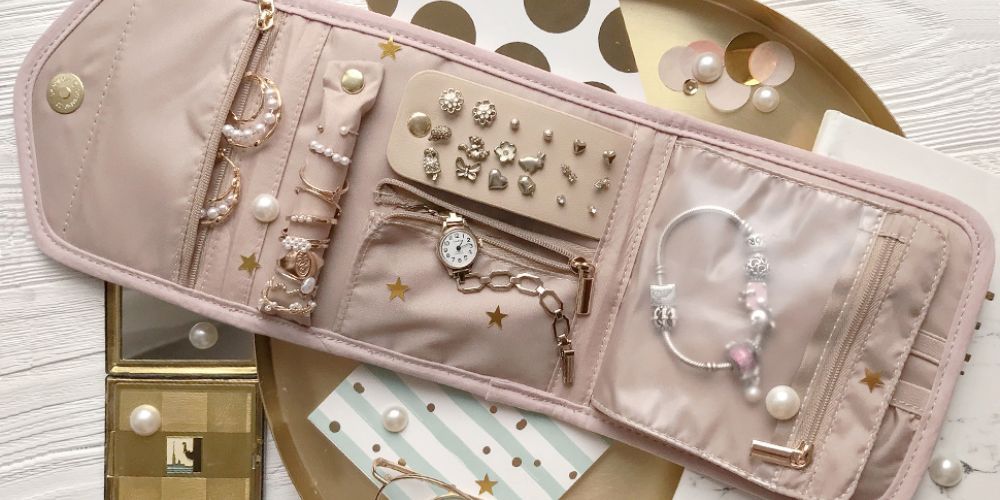 The BAGSMART Travel Jewelry Organizer is a stylish and compact case that keeps your jewelry safe and tangle-free. With separate compartments for necklaces, earrings, and bracelets, this organizer ensures your accessories stay in perfect condition throughout your travels. Look for organizers with separate compartments for necklaces, earrings, and bracelets to ensure your accessories stay in perfect condition throughout your travels.
Travel Size Health and Beauty Products
Having travel-sized products can make your travels more comfortable and convenient. By packing these essentials you can be prepared for any situation and maintain your hygiene and beauty routine while on the go. Remember to choose products that are TSA-approved and environmentally friendly to make your travels sustainable and hassle-free.
Travel-Sized First Aid Kit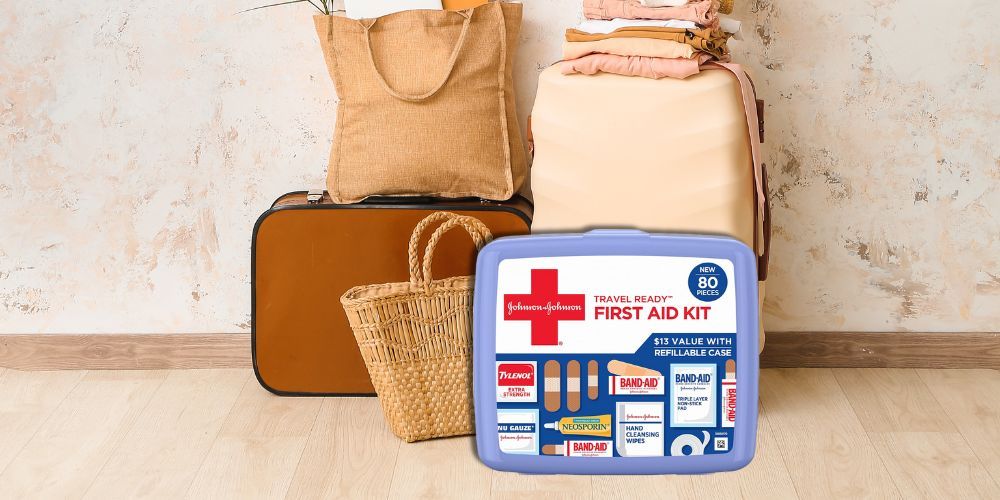 A travel-sized first aid kit is a must-have for every woman on the go. Accidents and minor injuries can happen anytime, and having a compact first aid kit at hand can make all the difference. Johnson & Johnson first aid kit is stocked with essentials like band-aids, gauze, pain relievers, and antiseptic wipes, this kit is small enough to fit in your purse or carry-on luggage. It's better to be prepared than to find yourself in need and without the necessary supplies.
Travel Size Cough Syrup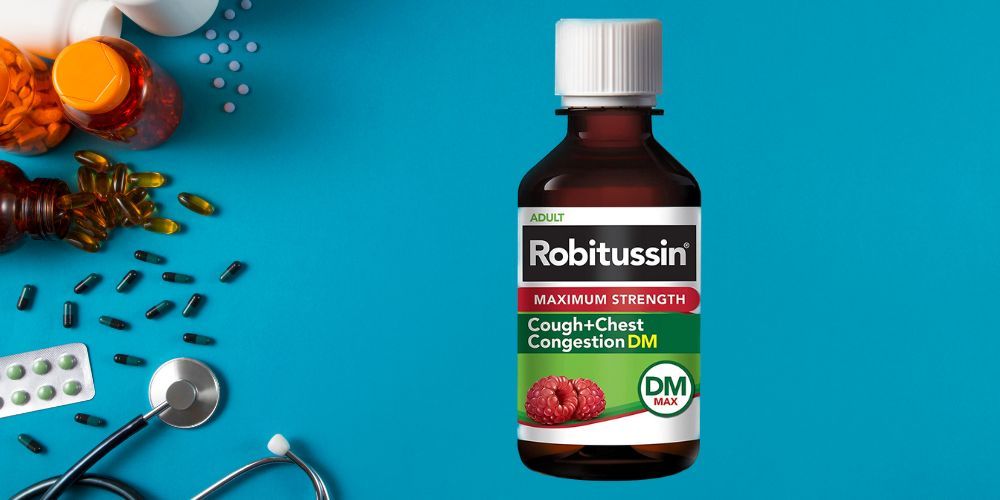 The Robitussin Cough + Chest Congestion DM is a non-drowsy cough syrup that provides relief from coughs and chest congestion due to colds and flu. Its compact size makes it perfect for traveling, and it comes in a convenient bottle with a dosing cup for easy use.
Travel Size Medicine Packets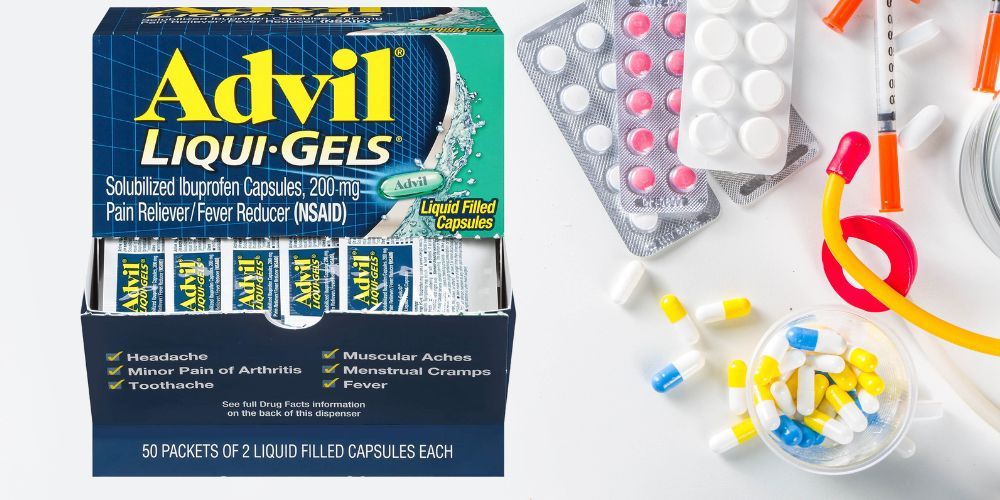 Packing travel-sized medicine packets, such as pain relievers, allergy medication, and antacids, can be a lifesaver when you're feeling under the weather or experiencing discomfort during your trip. The Advil Liqui Gels minis contain pain-relieving capsules that provide fast relief from headaches, toothaches, menstrual cramps, and other minor aches and pains. These packets are easy to carry, and you can toss them in your bag or pocket for on-the-go relief.
Travel Size Aspirin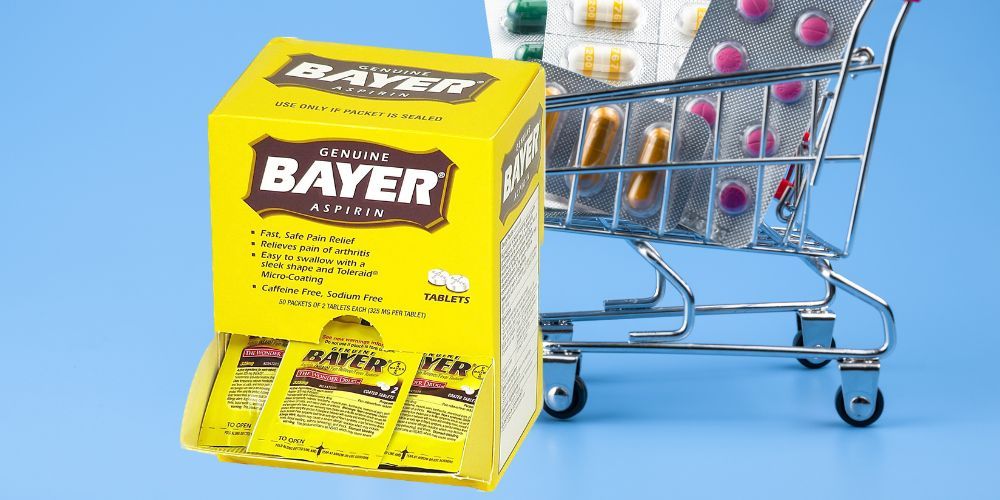 A travel-sized bottle or packet of aspirin can provide relief from headaches, muscle aches, and other minor discomforts during your trip. These aspirin packets from Bayer provide pain relief for headaches, menstrual cramps, and other minor aches and pains. These packets of aspirin are small enough to carry in your purse or travel bag.
Travel Size Hair Products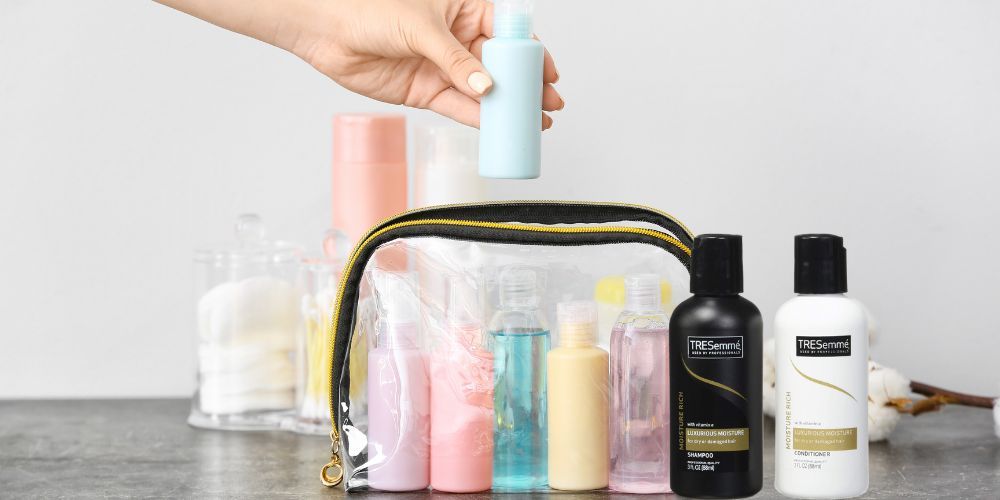 Keeping your hair clean and well-maintained during your travels is essential. Travel-size shampoo and conditioner bottles are perfect for this purpose, as they're small, lightweight, and can be easily packed in your toiletry bag. TRESemme Shampoo and Conditioner is a travel-sized hair care set that includes a nourishing shampoo and conditioner. These bottles are small enough to fit in your toiletry bag, and they are TSA-approved for air travel.
Travel Size Secret Deodorant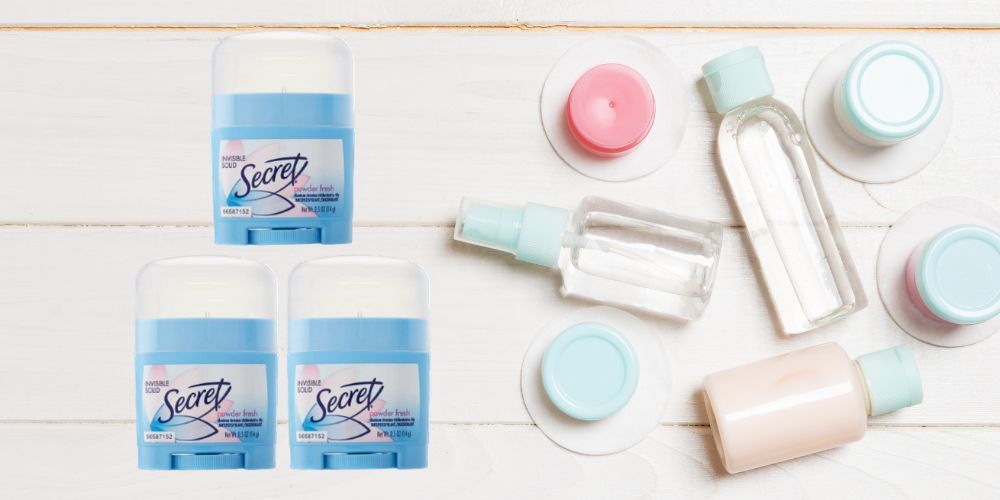 Staying fresh and odor-free during your travels is important for your comfort and confidence. The Secret antiperspirant is a travel-sized deodorant that provides all-day protection against sweat and odor. It comes in a solid stick form that is easy to apply, and its compact size makes it perfect for travel. With a travel-size deodorant in your essentials, you'll always feel fresh and ready for any adventure that comes your way.
Travel Size Sunscreen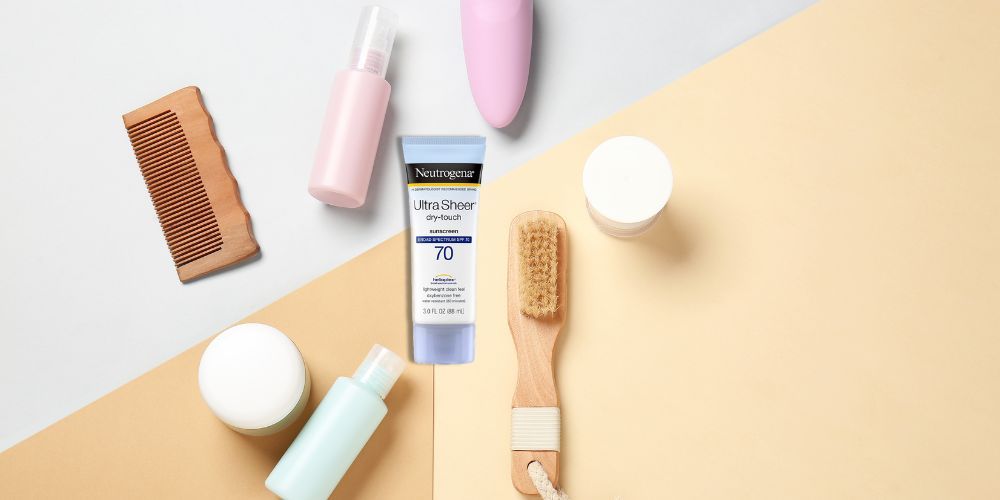 Protecting your skin from the sun's harmful rays is crucial, especially when you're exploring new destinations. Travel-size sunscreen is a must-have health and beauty product for women on the go. And Neutrogena ultra sheer dry-touch sunscreen is our travel-sized sunscreen option that provides broad-spectrum protection against UVA and UVB rays. It comes in a small bottle that is easy to pack, and its dry-touch formula is non-greasy and fast-absorbing. Opt for a broad-spectrum sunscreen with an SPF of at least 30 to protect your skin from both UVA and UVB rays, and remember to reapply it every two hours or after swimming or sweating.
Travel Size Makeup Remover
After a long day of sightseeing or attending meetings, it's essential to remove your makeup and let your skin breathe. A travel-size makeup remover such as Bioderma Sensibio H2O Micellar Water is a convenient and efficient way to cleanse your face without taking up much space in your luggage. Its gentle formula removes makeup and impurities, making it easy to maintain your skincare routine even when you're far from home. By using this product daily, you'll keep your skin healthy and radiant throughout your trip.
Travel Size Toothbrush and Toothpaste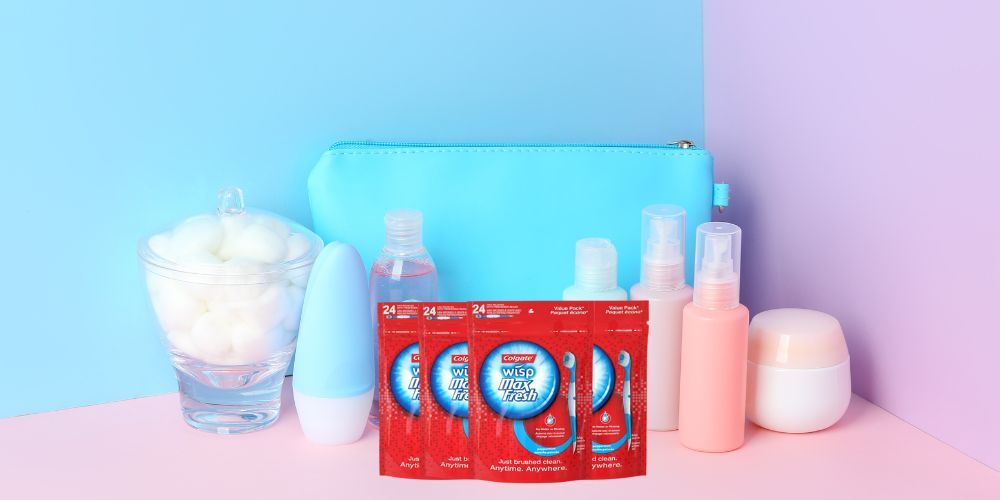 The Colgate max fresh wisp disposable mini toothbrush set includes a toothbrush and a small tube of toothpaste, ensuring that you can maintain good oral hygiene on the go. These travel dental care items take up minimal space in your luggage and make it easy to stick to your oral hygiene routine, keeping your smile bright and your breath fresh throughout your journey.
Disposable Razors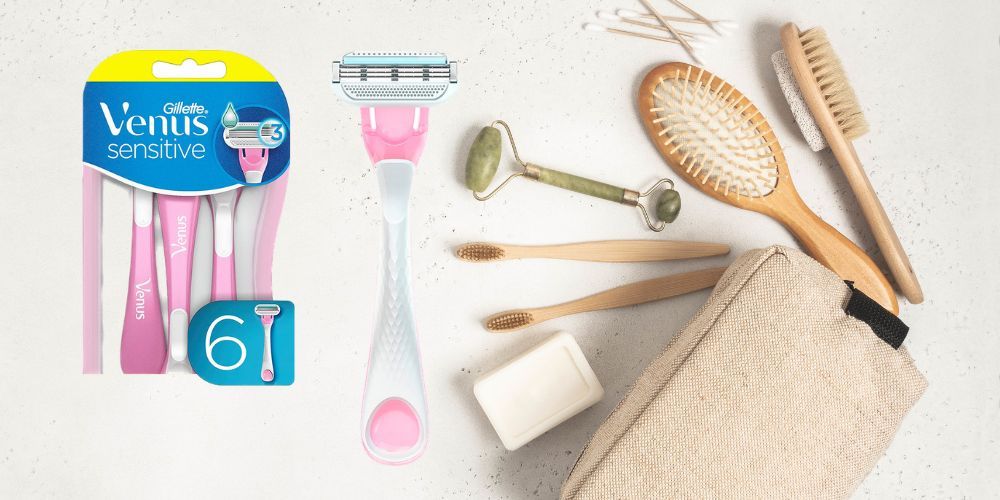 Gillette Venus sensitive disposable razors are perfect for women who want a smooth and hair-free look while traveling. These lightweight, compact razors feature three blades and a moisture strip for a close, comfortable shave. The pack contains multiple razors, so you can easily replace them as needed during your trip. Plus, they're affordable, so you can easily replace them as needed during your trip.
Travel Hairbrush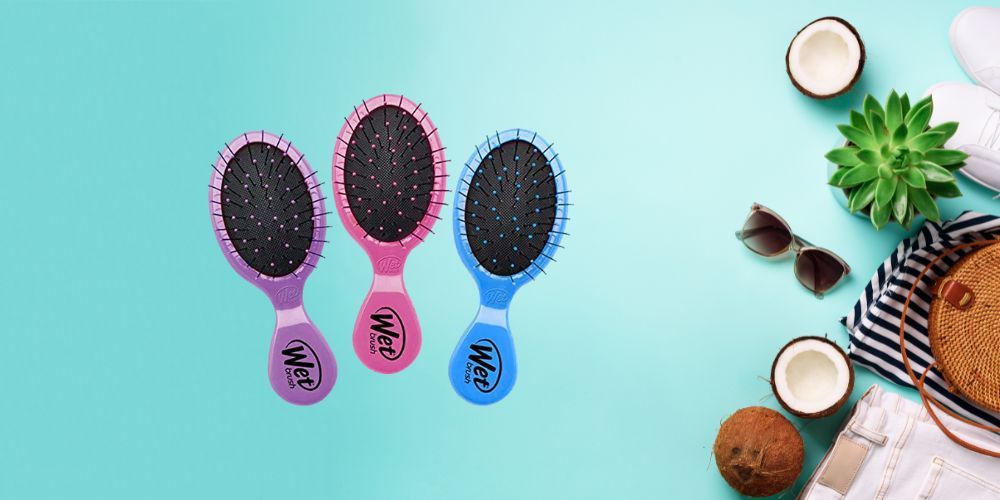 The Wet Brush detangler is a compact and travel-friendly mini hairbrush for detangling your hair without causing breakage. The flexible bristles glide through wet or dry hair, making it easy to manage your locks while traveling.
Travel Size Feminine Products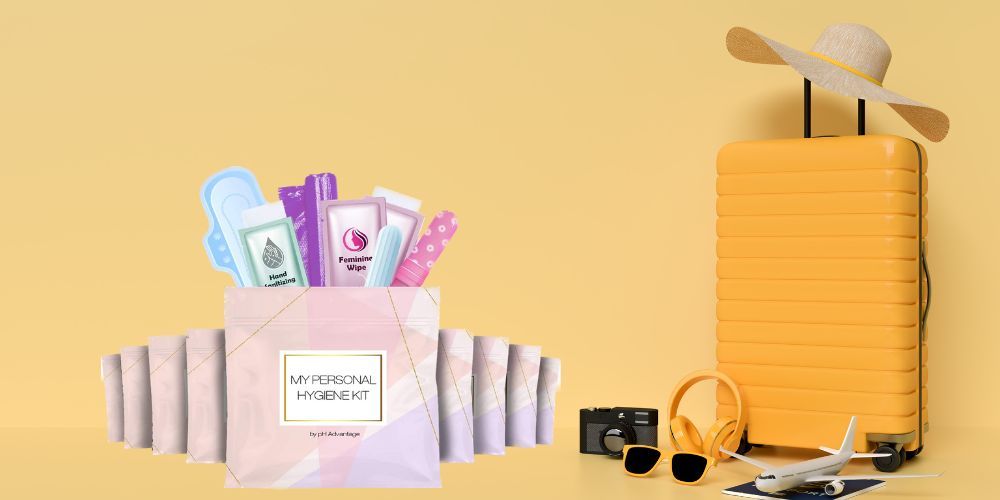 This menstrual kit all-in-one 10 pack is perfect for travelers, offering convenience no matter where you are. Each individual pack comes with an assortment of must haves including a tampon, sanitary pad, disposal bag 2 feminine wipes and 70% alcohol hand wipes--all in one convenient zip locked plastic bag. Make sure to always be prepared when venturing out with this travel size menstrual kit!
Travel Size Body Spray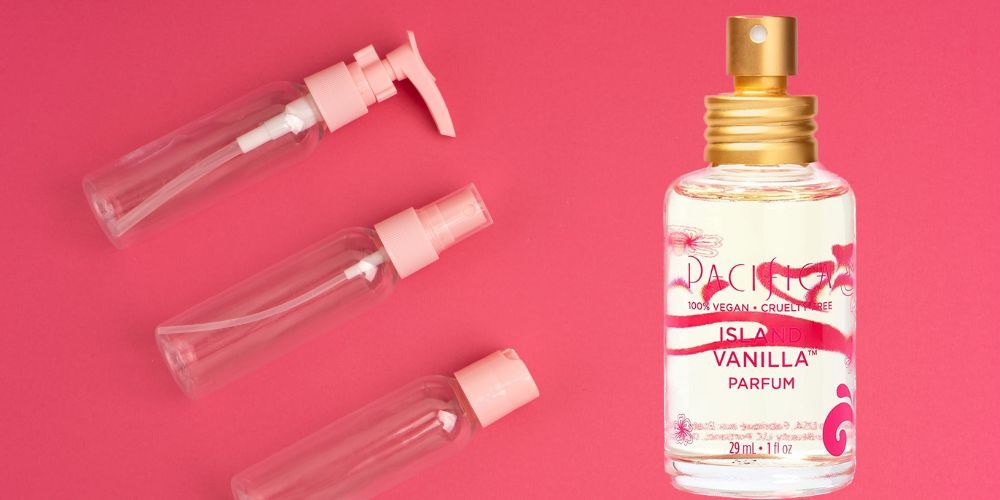 Nothing ruins a trip like being stuck in close quarters with someone who smells — but you don't have to be that person. Keep yourself smelling fresh and subtle on the go with travel-size body mist! This travel-sized body spray guarantees 24 hours of luxurious, refreshing scent no matter where your journey takes you.
Travel Size Bar Soap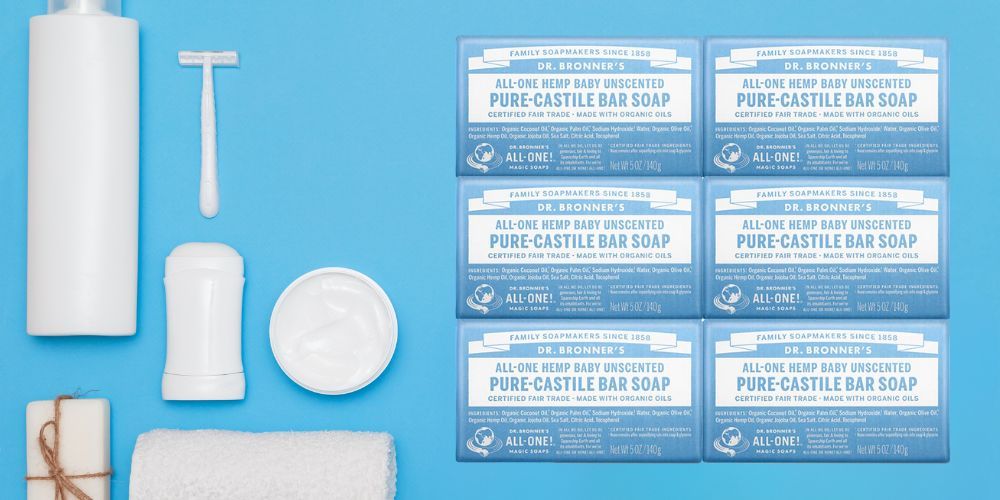 Dr. Bronner's Pure-Castile Bar Soap is an eco-friendly option that comes in a variety of scents. Made from organic and vegan ingredients, this travel-sized bar soap is gentle on your skin and can be used for various purposes, such as body wash, shampoo, and even laundry. Store it in a reusable soap container to keep your belongings clean and dry.
Travel Size Bath and Body Works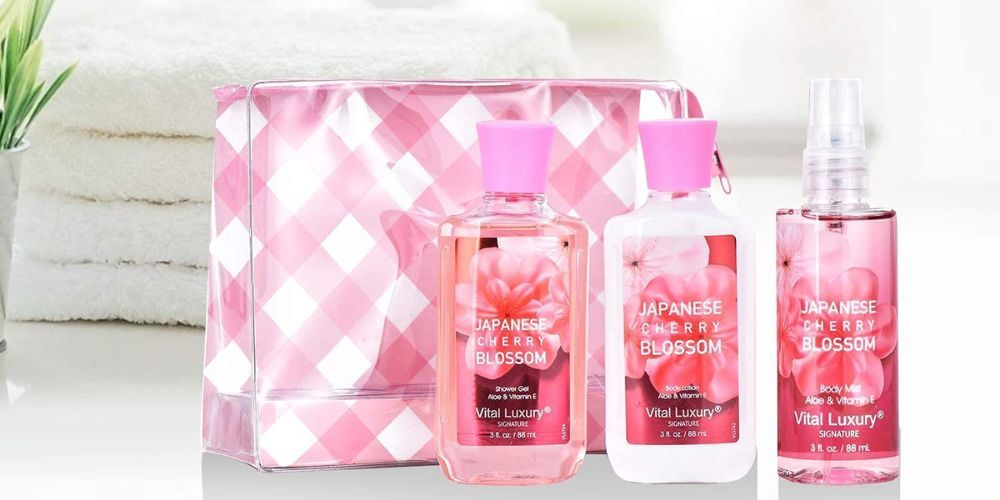 Bath and Body Works offers a wide range of travel-sized products, from body washes and lotions to fragrance mists and hand sanitizers. Stock up on your favorite scents in compact sizes for a touch of luxury on the go.
Travel Size Body Soap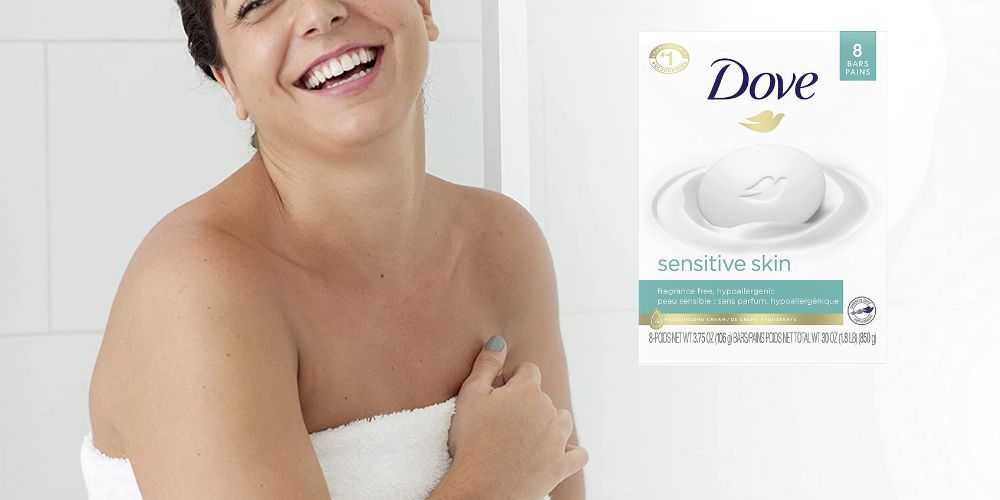 If you are ready to hit the road, don't forget your must-have travel item: a Dove Sensitive Skin Beauty Bar! This compact powerhouse delivers luxurious hydration without any harsh ingredients, making it perfect for all skin types. Plus its hypoallergenic and fragrance-free properties make daily use easy - so you can reap maximum moisture benefits while still staying clean on the go. It's time to take personal hygiene with you wherever adventure leads!
Travel Size Body Cream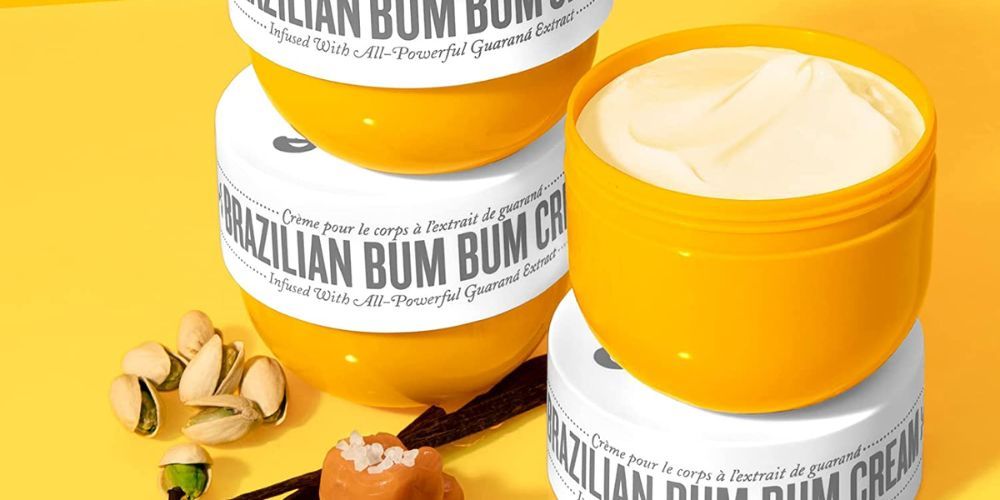 Pamper yourself with a travel sized Bum Bum cream, a luxurious body cream that hydrates and softens the skin while imparting a delicious scent. It's perfect for giving your skin a treat after a long day of sightseeing or sunbathing.
Travel Size Clinique Set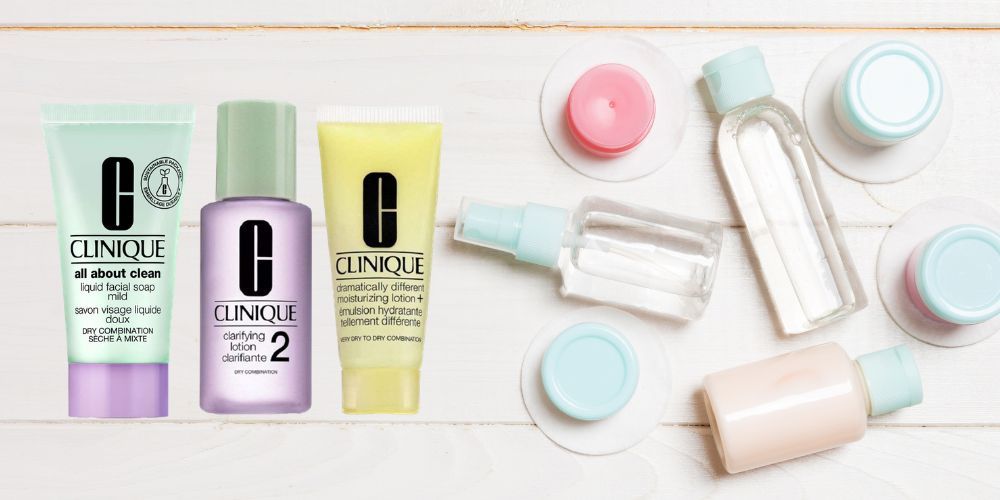 The Clinique travel size set includes a travel-sized cleanser, toner, and moisturizer that are perfect for maintaining your skincare routine while on the go. Its compact size makes it is perfect for travel, and its an effective formula ensures your skin stays healthy and radiant. For your long haul flight opt for cleansers, moisturizers, and makeup essentials in compact sizes for easy packing.
Degree Travel Size Deodorant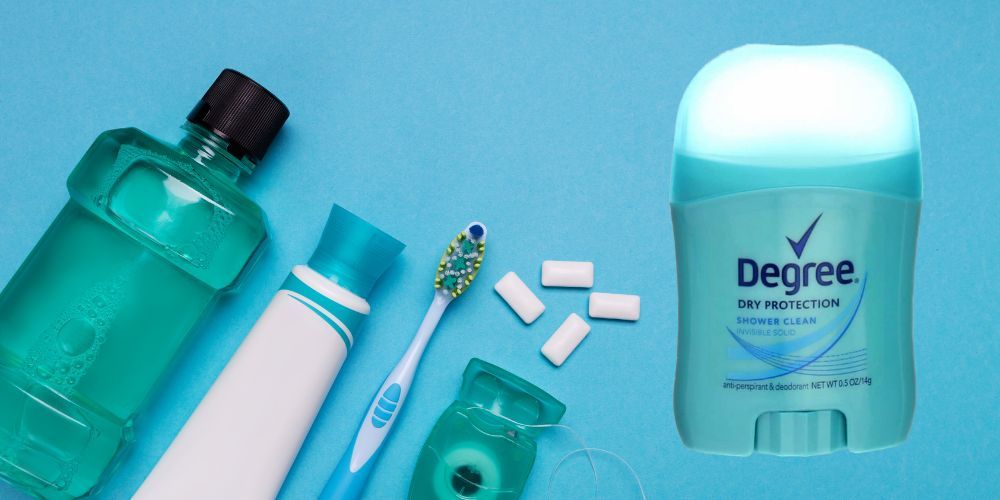 A travel-sized Degree deodorant will keep you feeling fresh and confident throughout your journey. Its compact size makes it perfect for travel, and its gentle formula is ideal for those with sensitive skin. Choose a compact, solid deodorant that won't leak or take up too much space in your toiletry bag.
Travel Size Body Wash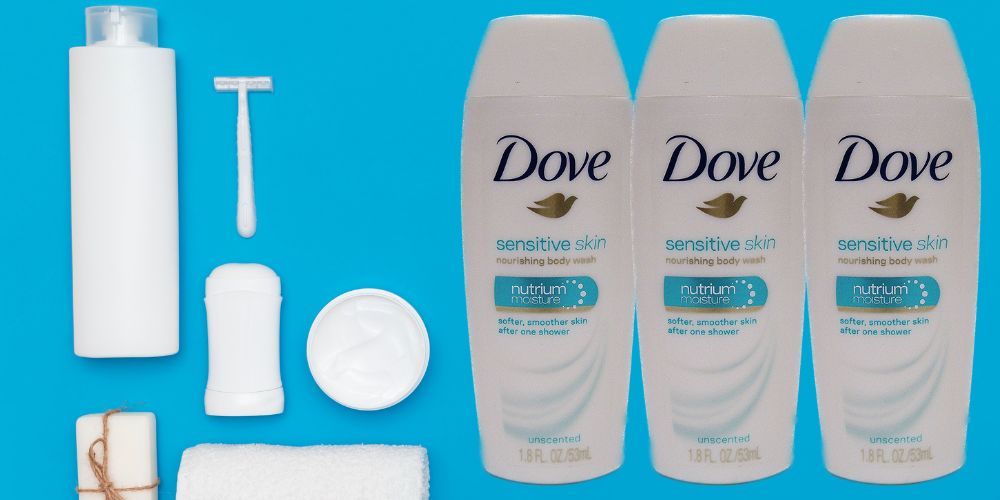 A travel sized Dove sensitive body wash can help you maintain clean and healthy skin without irritating sensitive skin. This gentle formula is perfect for use in unfamiliar environments, where you may encounter new allergens or harsh water conditions. Plus its compact size makes it perfect for travel, and its moisturizing formula ensures your skin stays soft and smooth.
Travel Size Hand Sanitizer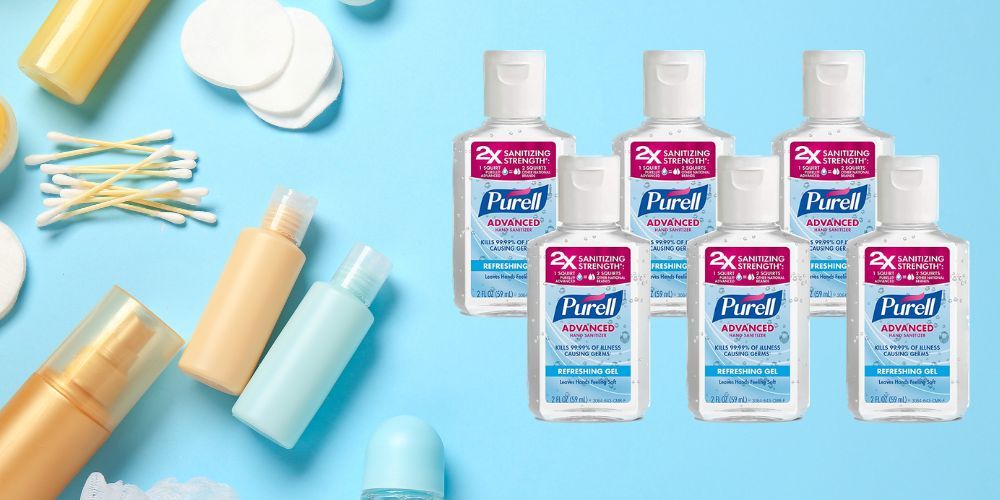 Carrying a travel-sized hand sanitizer is a smart move to help you maintain hygiene on the go. Purell Advanced hand sanitizer is a great option of a travel-sized hand sanitizer because it kills germs and bacteria without the need for water or towels. Its small size makes it perfect for travel, and its fast-acting formula ensures your hands stay clean and hygienic. Choose a sanitizer with at least 60% alcohol content to effectively kill germs and a pleasant scent to keep your hands smelling fresh. Opt for a small, refillable bottle that can be easily stored in your purse or travel bag.
Travel Size Face Products
As you prepare for your next adventure, consider these travel-sized face products to maintain your skincare routine and keep your skin looking its best. By selecting compact, TSA-friendly options, you'll save space in your luggage and still enjoy the benefits of your favorite skincare essentials.
Travel Size Eye Cream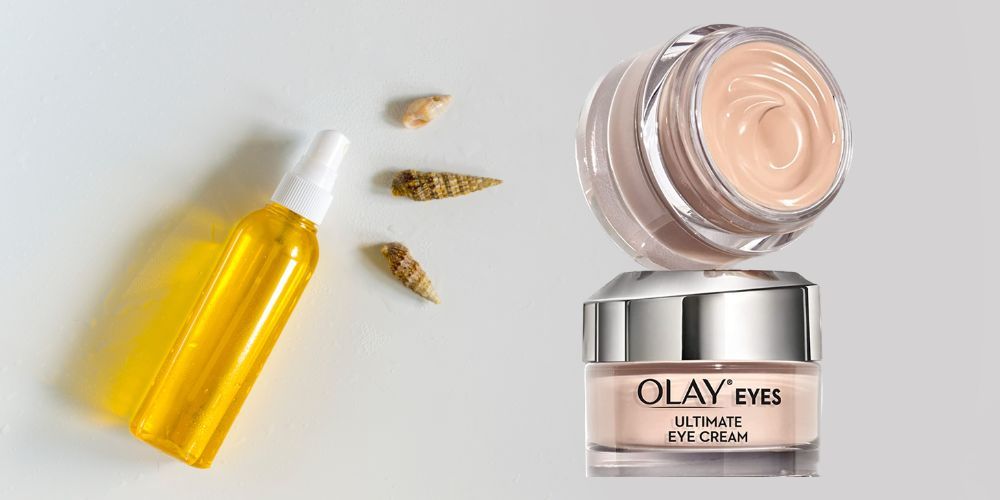 Olay Ultimate Eye Cream is a travel-friendly option that targets wrinkles, dark circles, and puffiness. With a blend of vitamins and peptides, this eye cream keeps the delicate skin around your eyes hydrated and minimizes signs of aging during your trip. To use, gently dab a small amount around the eye area morning and night.
Travel Size Eye Makeup Remover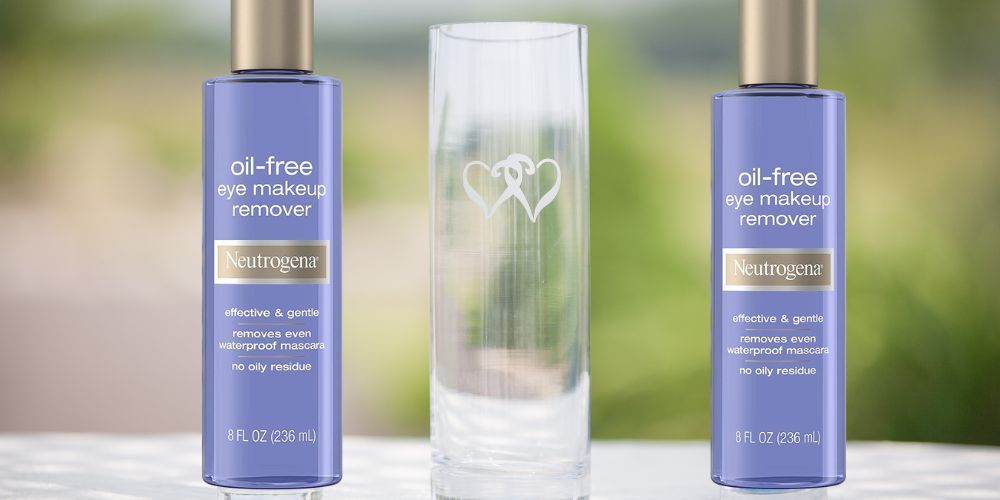 If a full day of travel has left you with stubborn makeup that won't budge, Neutrogena Eye Makeup Remover is your go-to travel essential for easily wiping away even the most daring looks! This simple and compact formula is both gentle on sensitive eyes and contact lens wearers - perfect for packing in your carry-on. All it takes to use? A few shakes then gently wipe over eyelids and lashes - quick, easy makeup removal stress-free!
Travel Size Face Cleanser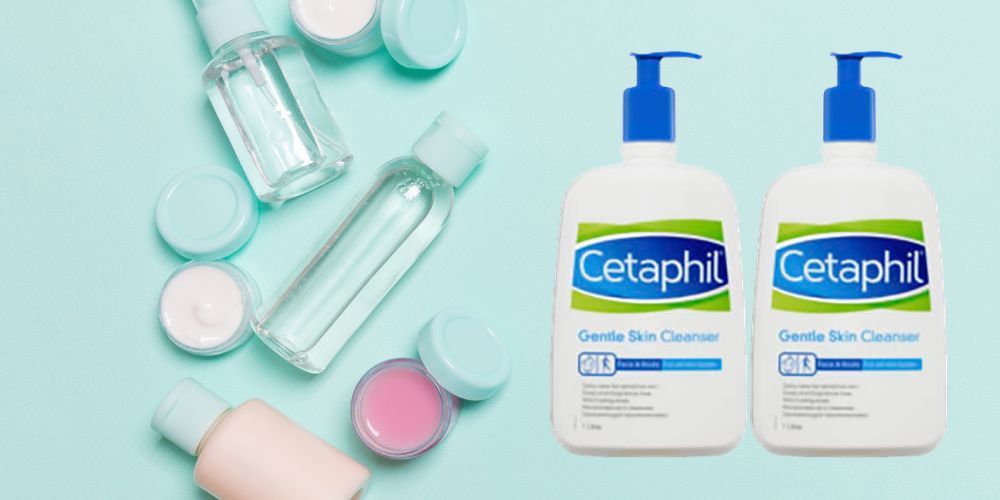 Whether you're preparing for a long flight or need to perfect your on-the-go skincare routine, Cetaphil Gentle Skin Cleanser travel size is the ultimate makeup bag essential! This mild, soap-free formula suits all skin types and effortlessly removes dirt, oil, and even the toughest layers of makeup - without causing irritation. Make sure to apply it onto wet skin before gently massaging in circles & then rinse off with water or wipe away with a soft cloth.
Travel Size Face Lotion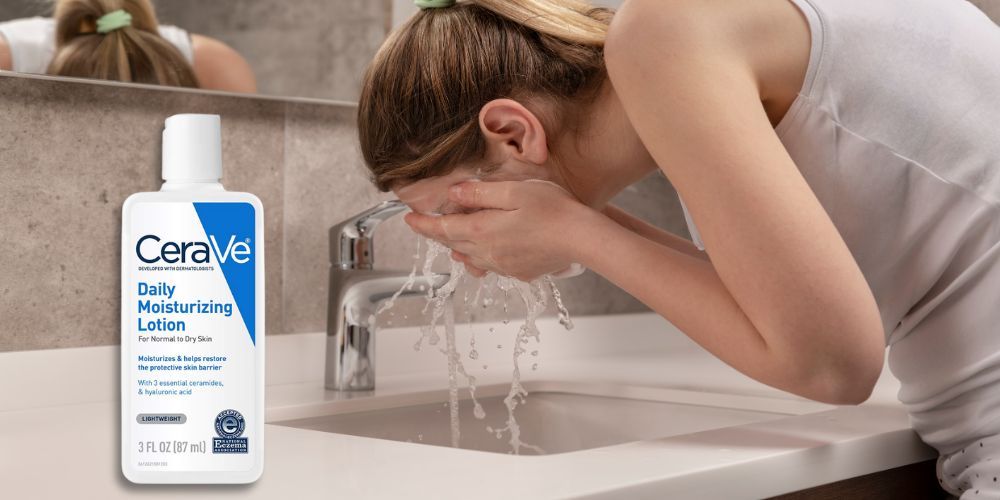 If you're a gal on the go, CeraVe Daily Moisturizing Lotion is an absolute must-have in your beauty arsenal! This lightweight lotion packs serious hydrating power without weighing down your suitcase. And it's formulated with ultra-nourishing ceramides and hyaluronic acid—because staying hydrated while traveling doesn't mean sacrificing glowing skin. Perfect for air travel or road trips, make sure to liberally apply this luxe moisturizer to your face and neck as needed so that you look just as amazing when arriving at your destination as when you left home!
Travel Size Face Moisturizer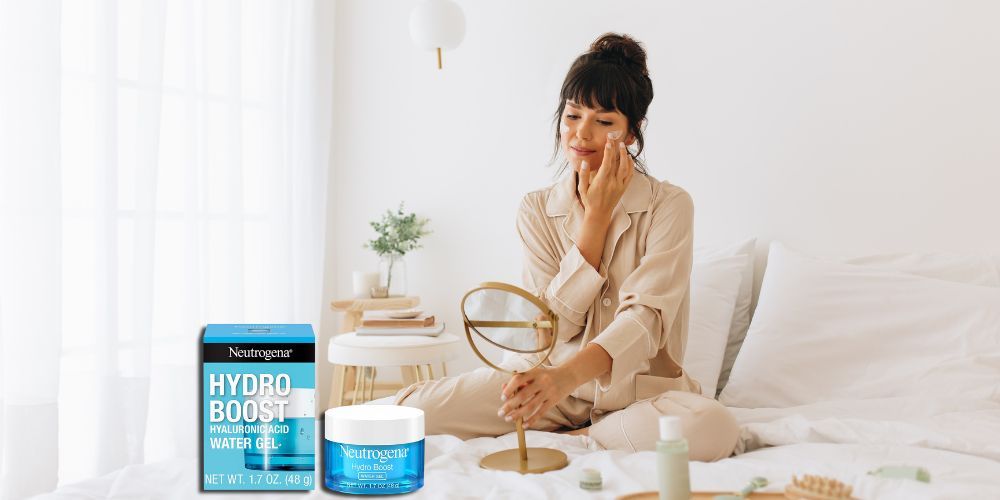 This travel-friendly face moisturizer is essential for all the women out there on their travels - providing intense hydration and a noncomedogenic, oil-free formula suitable for any skin type. Pamper yourself as you explore the world one destination at a time!
Travel Size Face Scrub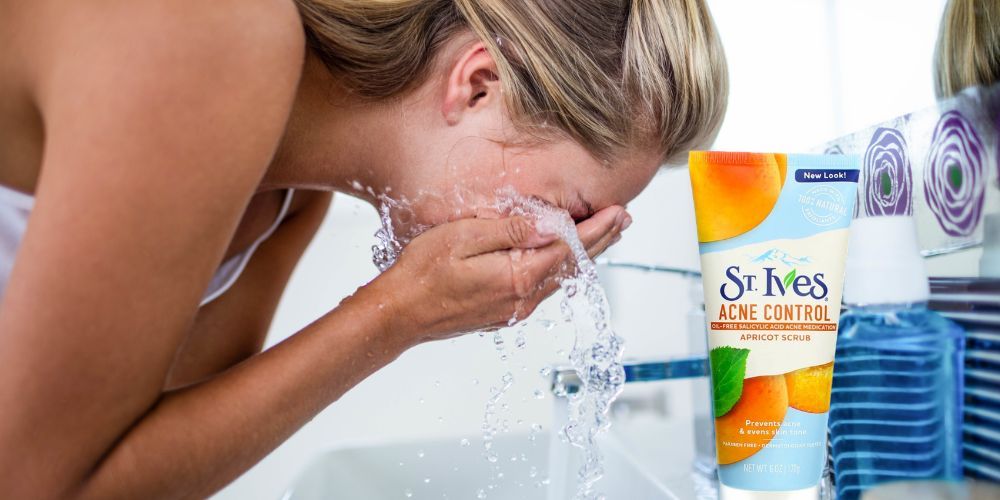 Make sure you add St. Ives Fresh Skin Apricot Scrub to the top of your packing list! This natural exfoliator is designed specifically with a globetrotter in mind - perfect for removing dirt, unclogging pores, and letting that radiant skin shine through during all of life's travels.
Travel Size Face Toner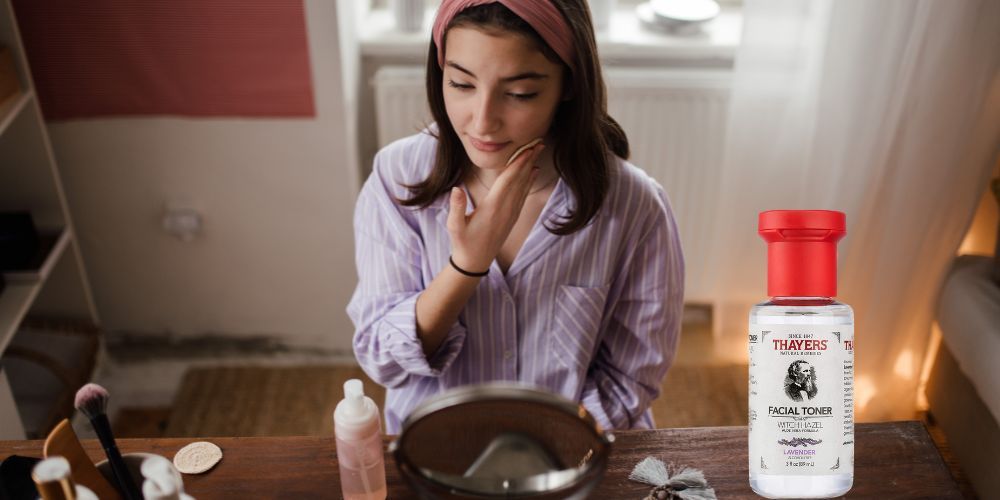 Thayers witch hazel toner is a travel-sized toner that maintains your skin's pH balance and prepares it for better absorption of other skincare products. With a soothing blend of witch hazel, aloe vera, and rose petals, this alcohol-free toner gently cleanses and tones without causing dryness.
RELATED ARTICLE: Keep your pout soft, hydrated, and luscious while on the go by trying out these fabulous lip masks, perfect for self-care moments during your adventures. Pucker up and happy travels!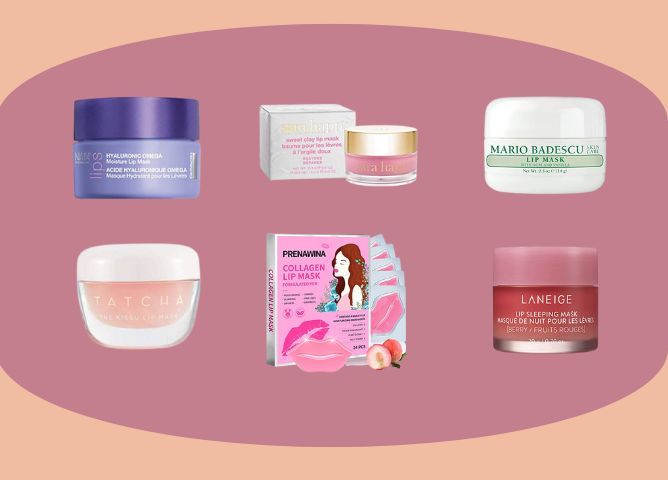 Travel Accessories
Travel accessories are essential items designed to make your trips more convenient, organized, and enjoyable. These handy products can range from packing cubes and toiletry bags to travel-sized electronics and portable chargers. By incorporating the right travel accessories into your packing routine, you'll ensure a smoother and more stress-free journey, allowing you to focus on experiencing new cultures and creating unforgettable memories.
Portable Charger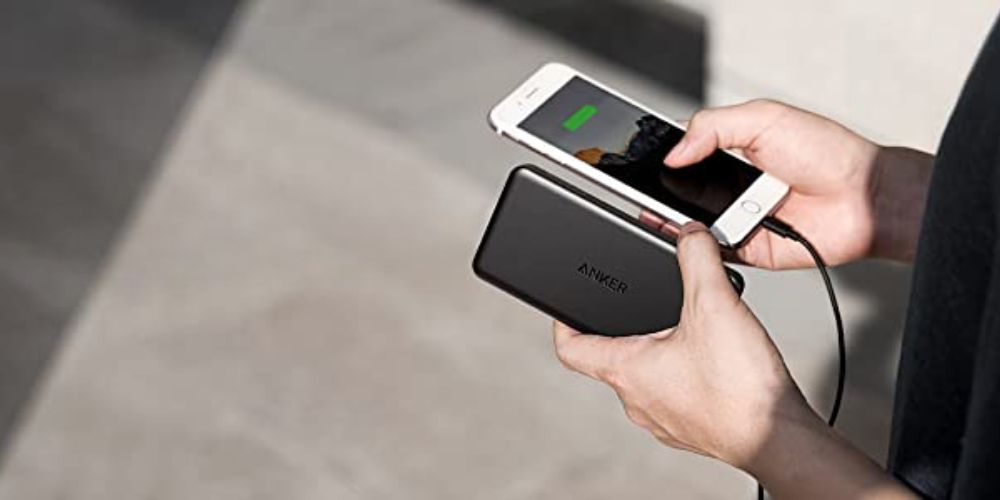 This sleek and lightweight portable charger boasts a 10,000mAh capacity, allowing you to charge your devices multiple times on the go. With dual USB ports, you can charge two devices simultaneously. The built-in flashlight adds extra functionality, making Anker PowerCore Slim 10000 charger a versatile travel companion.
When shopping for the charger choose a slim, lightweight design that can easily fit in your purse or carry-on bag. Look for chargers with multiple USB ports so you can charge more than one device at a time, and consider a model with a built-in flashlight for added functionality.
Collapsible Water Bottle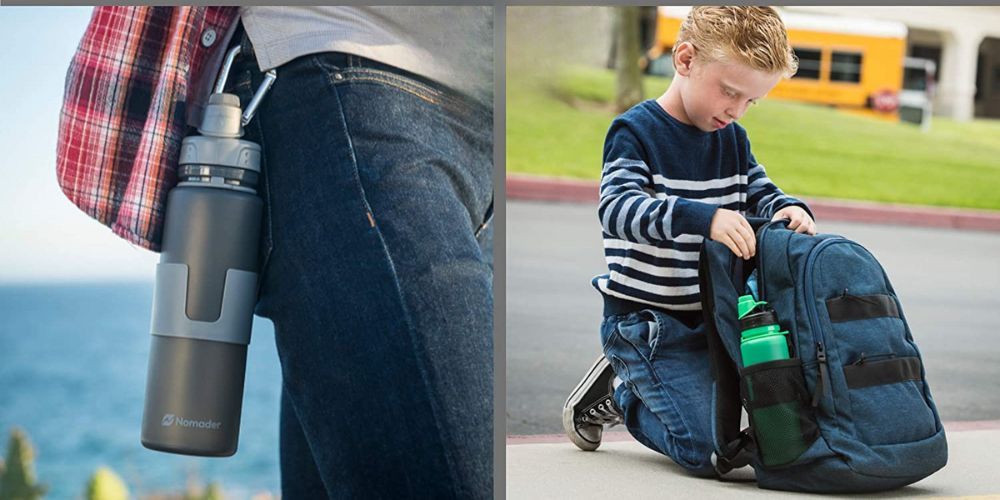 Staying hydrated is essential when traveling, but carrying a bulky water bottle can be inconvenient. The Nomader Collapsible Water Bottle is the perfect solution for women on the go. Made from durable, BPA-free silicone, and features a leak-proof cap. When empty, it can be rolled up and secured with the attached strap, making it easy to store in your bag. With a 22-ounce capacity, it's perfect for staying hydrated during your travels. When shopping for a collapsible travel water bottle choose a durable, leak-proof design to ensure you always have access to water without any hassle.
RELATED ARTICLE: If our travel essentials article got you excited for your next journey, make sure to check out our helpful guide on the best water filter bottles. Stay hydrated and eco-friendly as you explore the globe with these top-notch water filter bottles that cater to all your needs. Cheers to your travels and keeping our planet beautiful!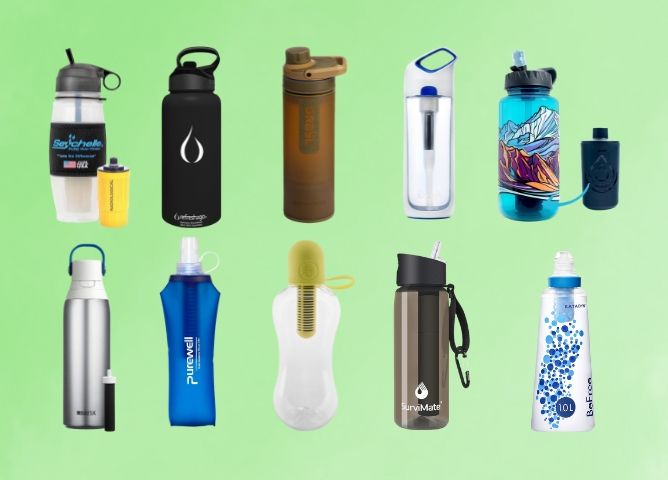 Compact Umbrella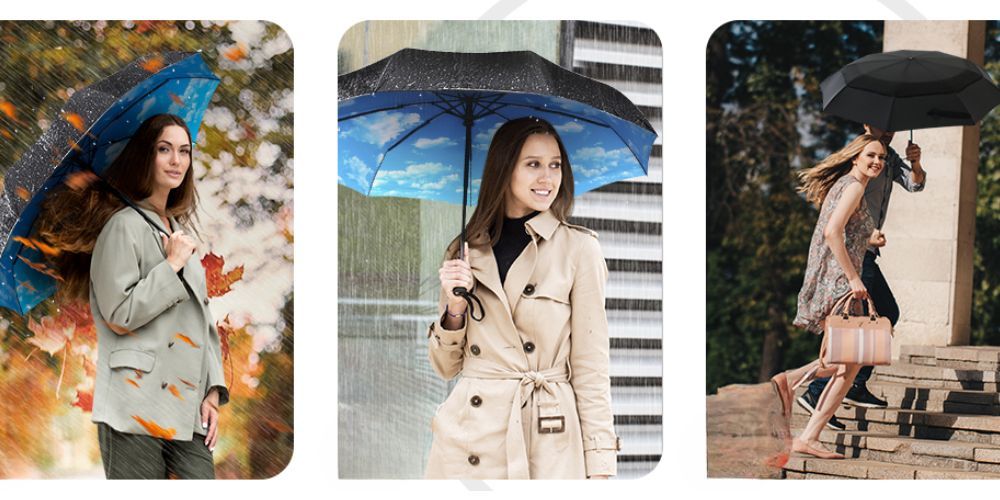 Don't let unexpected rain showers dampen your travel plans. A compact, travel-sized umbrella is a must-have for women who want to stay dry and comfortable while exploring new destinations. Repel Windproof Travel Umbrella is lightweight and easy to pack, it features a teflon-coated canopy and a sturdy, wind-resistant frame.
Weighing less than one pound, it easily fits into your purse or backpack. The ergonomic handle and auto open/close button make this umbrella convenient and user-friendly. Opt for a durable, wind-resistant design to ensure your umbrella can withstand the elements.
Luggage Tags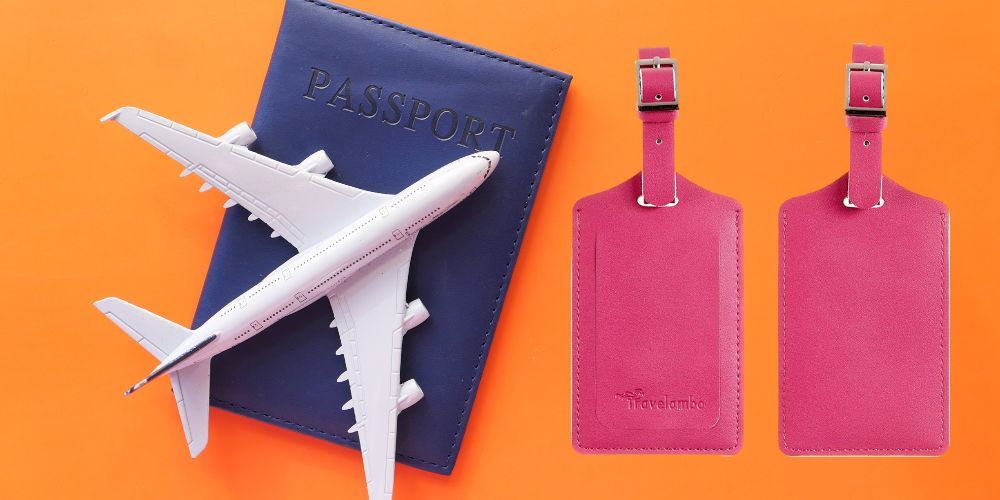 Luggage tags are a practical and stylish way to personalize your bags and make them easier to spot at baggage claim. These stylish, genuine leather luggage tags come in a variety of colors, making it easy to spot your luggage at baggage claim.
The tags have a clear window for your information and a secure buckle closure to ensure they stay attached to your bags. Choose tags in bold colors or unique shapes to make your luggage stand out from the crowd. You can also opt for custom designs or monogrammed tags to add a touch of sophistication to your travel gear.
Silk or Satin Eye Mask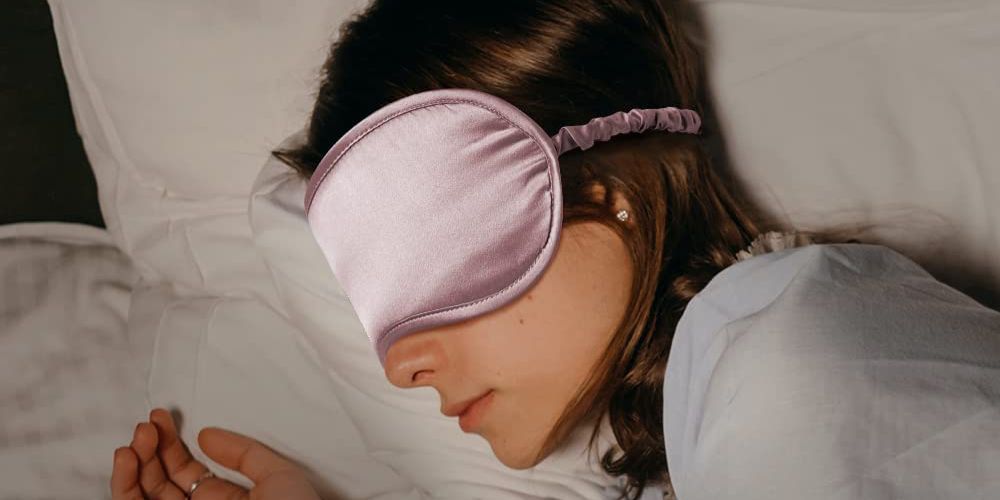 A high-quality silk or satin eye mask is a luxurious addition to your travel essentials. Not only do these masks feel soft and gentle on the skin, but they also block out light to help you get a better night's sleep on long flights or in unfamiliar hotel rooms.
This silk sleep eye mask is made from luxurious mulberry silk, providing a soft and gentle touch on your skin. The adjustable strap ensures a comfortable and secure fit, while the mask effectively blocks out light to help you sleep during your travels. Choose an eye mask with an adjustable strap for maximum comfort and a perfect fit.
Noise-Cancelling Headphones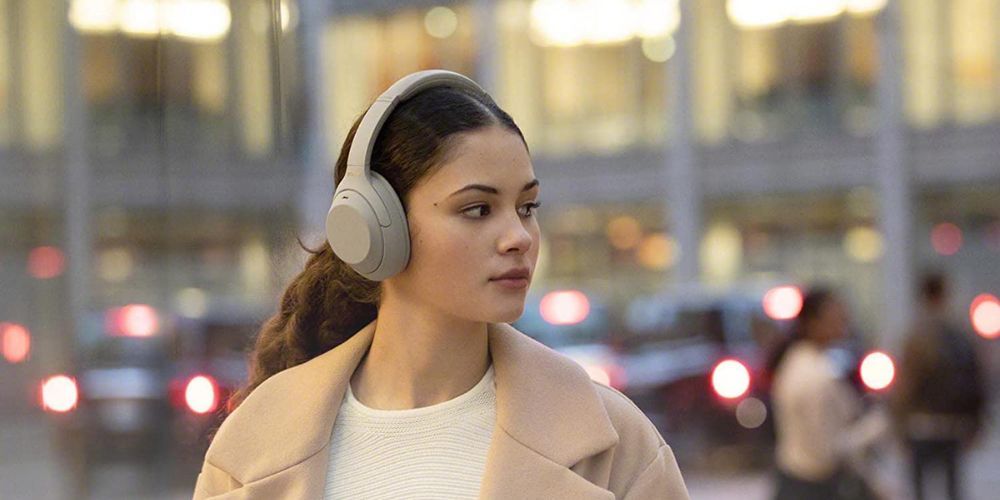 Investing in a stylish pair of noise-canceling headphones is a wise decision for any frequent traveler. The Sony wh 1000xm4 silver noise-canceling headphones offer superior sound quality and noise-cancellation, with a foldable design for easy packing. The comfortable earpads and long battery life ensure you can enjoy your favorite music or podcasts throughout your journey Look for a foldable design with a comfortable fit and long battery life to ensure you can enjoy your noise-canceling headphones throughout your journey.
RFID-Blocking Wallet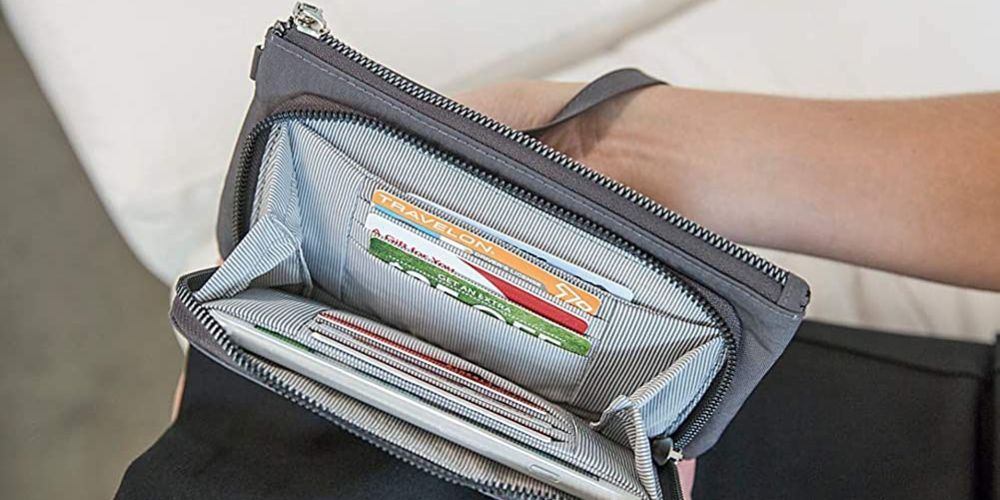 An RFID-blocking wallet is an essential accessory for protecting your personal information from digital thieves. Travelon wristlet wallet is a stylish and functional RFID-blocking wallet that has multiple compartments for cards, cash, and coins, as well as a zippered pocket for your passport.
With its attractive design and RFID-blocking technology, you can keep your personal information safe while looking fashionable. Choose a stylish design that reflects your personality, and enjoy peace of mind knowing your information is secure while you explore new destinations.
Travel Journal
A beautiful travel journal is a wonderful way to document your adventures and experiences. The Moleskine Classic Notebook features a durable hardcover and high-quality, acid-free paper. With a variety of cover colors and styles available, you can choose the design that best reflects your personal taste.
Choose a journal with a durable cover and high-quality paper, so it can withstand the rigors of travel. Opt for a design that reflects your personal style, whether it's minimalist and sleek or adorned with colorful illustrations. Your travel journal will become a treasured keepsake, filled with memories of your journeys and
Neck Pillow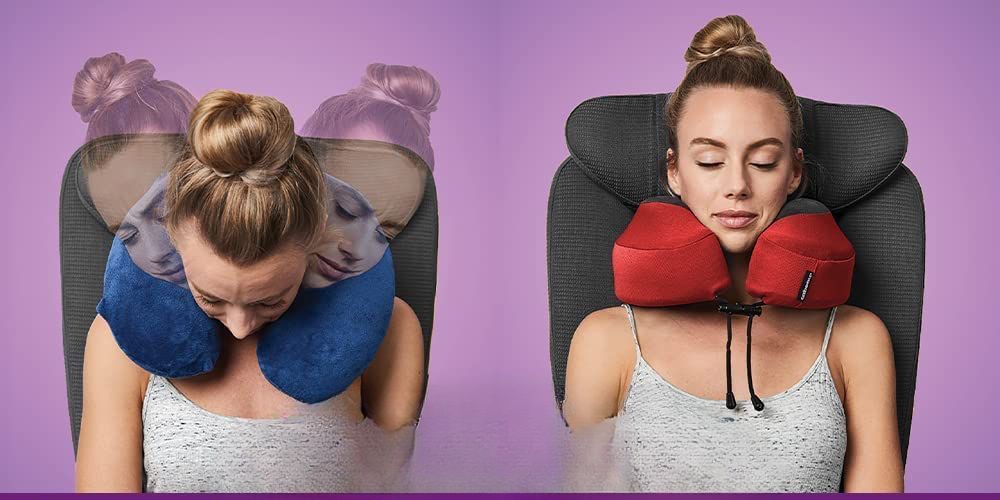 A high-quality neck pillow can make all the difference when trying to catch some sleep on a long flight or bus ride. Cabeau Evolution S3 Travel Pillow is a memory foam neck pillow that provides excellent support for your head and neck during long trips. The washable cover and adjustable straps make it easy to maintain and secure your luggage.
Choose a pillow made from comfortable materials like memory foam or microbeads, and consider a design with a washable cover for easy cleaning. Look for a pillow with a snap or loop for attaching it to your luggage, so it's always within reach.
Toilet Seat Covers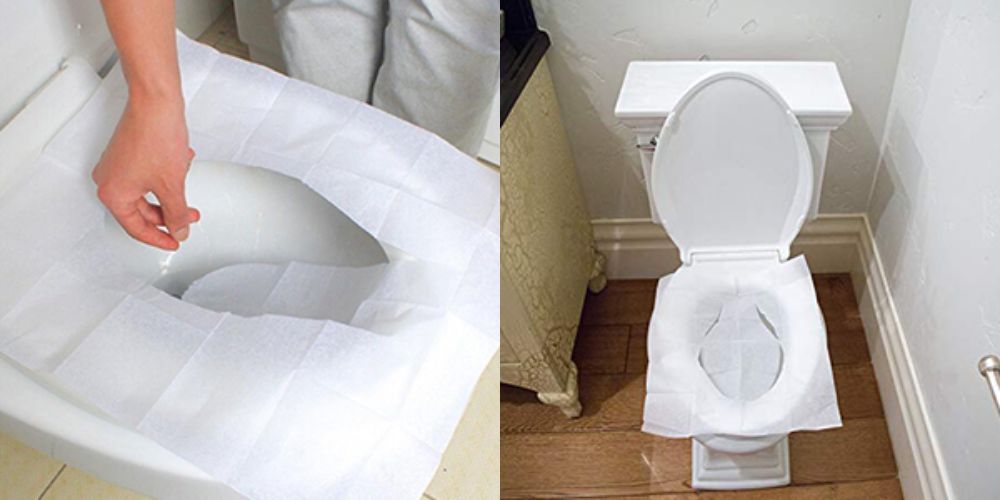 Portable toilet seat covers can be a lifesaver in public restrooms, providing a hygienic barrier between you and the seat. These disposable toilet seat covers come in a compact, resealable package, making them easy to carry with you during your travels. The biodegradable material provides a hygienic barrier between you and public restroom seats.
Cheap Sunglasses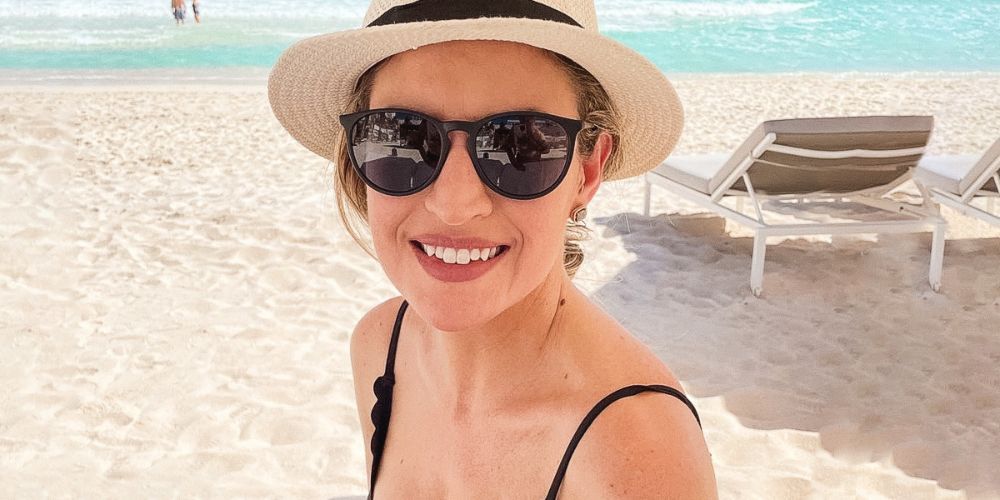 Protect your eyes from the sun without breaking the bank by packing a pair of cheap sunglasses. SUNGAIT vintage round sunglasses is an affordable option that offers 100% UVA and UVB protection and feature a stylish, vintage design. With a durable frame and scratch-resistant lenses, these sunglasses provide both fashion and function at a wallet-friendly price.These affordable options can be easily replaced if they get lost or damaged during your travels, saving you the stress of misplacing an expensive pair. Look for sunglasses with 100% UVA and UVB protection to ensure your eyes are shielded from harmful rays.
RELATED ARTICLE: While you're browsing our fabulous list of travel essentials for women, be sure to also check out our article on trendy sunglasses that are perfect for your next getaway. Trust us, these fashionable shades will not only protect your eyes but also have you looking effortlessly chic on all your sun-filled adventures!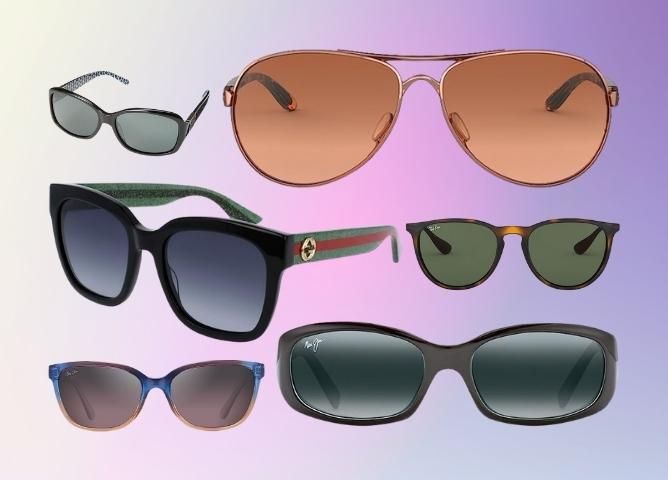 Portable Door Lock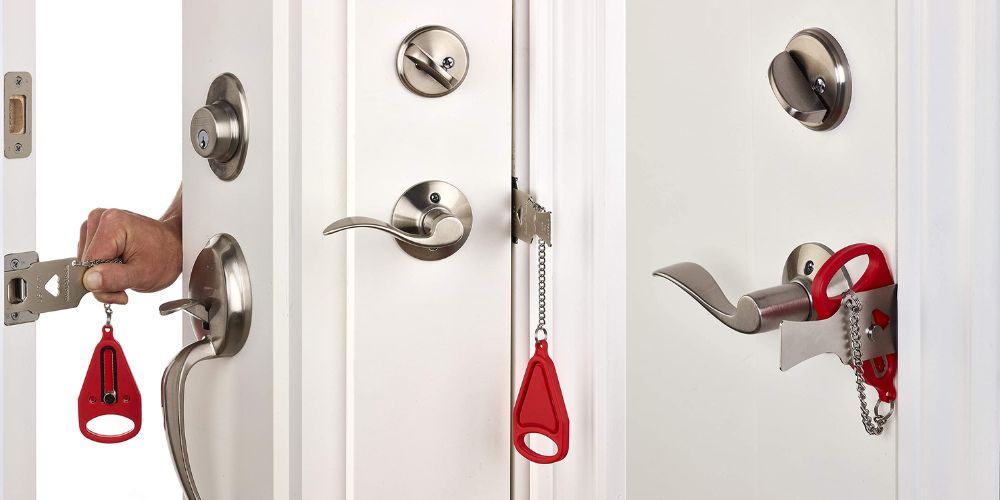 One of the most overlooked women's travel essentials is a portable door lock. The Addalock Portable Door Lock is a simple device that can be installed and removed in seconds, providing an extra layer of security when staying in various accommodations. It's lightweight and compact, so you can easily pack it in your luggage.
Travel Sewing Kit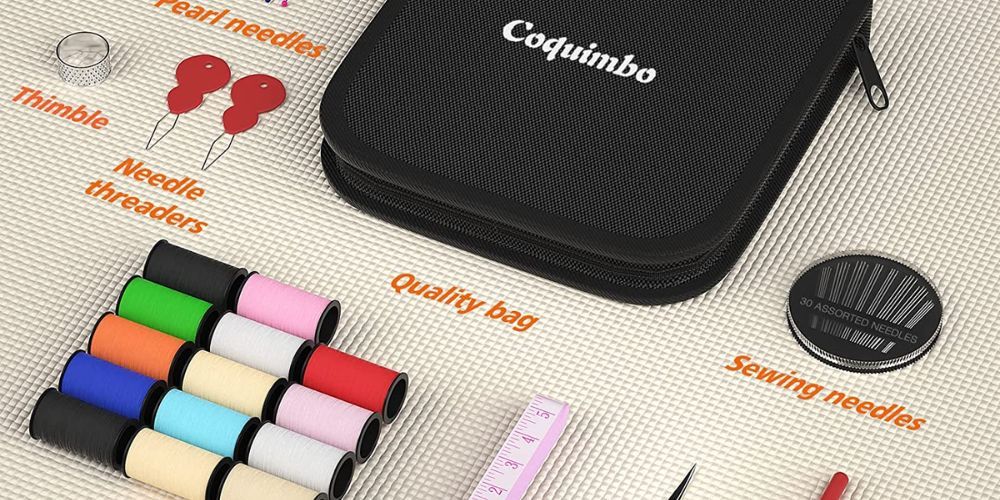 A travel sewing kit is a practical and handy item to have in your luggage. You never know when you'll need to fix a loose button or mend a small tear in your clothing. This mini sewing kit includes needles, thread, buttons, and other essentials for making minor repairs while traveling. The zippered case keeps everything organized and secure, so you can easily find what you need when a wardrobe emergency arises. By having a travel sewing kit on hand, you can ensure that wardrobe malfunctions won't spoil your trip.
Compact Mirror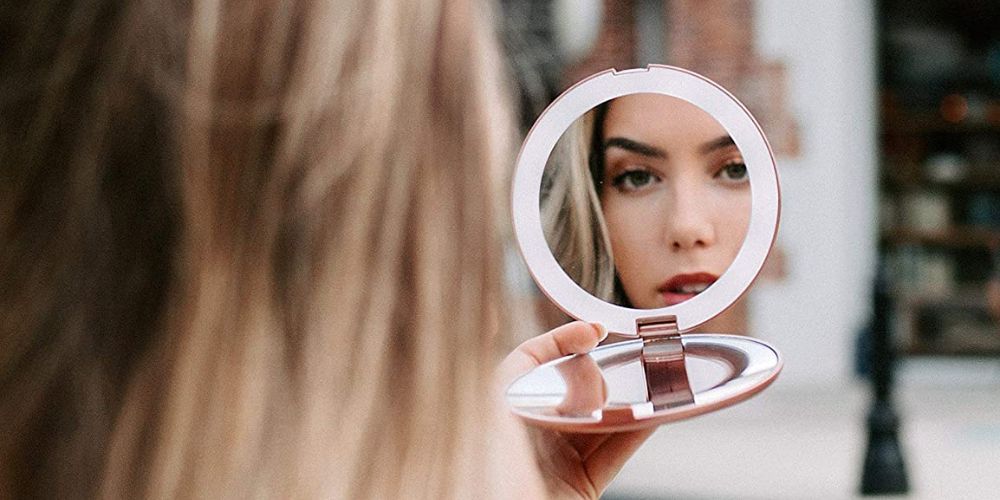 A compact mirror is a must-have accessory for women on the go. It's a small and lightweight item that fits easily in your purse or carry-on bag. This lighted compact mirror is a dual-sided mirror with 1x and 10x magnification, perfect for touch-ups on the go. The built-in LED lights provide natural, even lighting, ensuring you always look your best.
The slim and lightweight design makes it easy to carry in your purse or travel bag. With a compact LED mirror, you can quickly check your makeup, fix your hair, or ensure there's nothing stuck in your teeth during your travels. Plus, it's perfect for those moments when you need a quick touch-up before a meeting or an evening out.
Final Thoughts
And there you have it—55 travel essentials for women that will make your next adventure a breeze. Armed with this all-inclusive packing guide, you'll be prepared for any situation, whether it's a spontaneous beach day or a chilly evening stroll. Don't forget the importance of travel insurance to protect yourself during your journey. Embrace the freedom of organized packing and focus on creating unforgettable memories in your dream destinations. So, go ahead and book that trip you've been dreaming of, knowing that you've got your packing game on lock. Happy travels, ladies!
Other Posts You May Like
Now that you've perused our fabulous 55 Travel Essentials for Women, why not take a moment to explore some other amazing articles curated just for you? Glide through airport security with ease with our 39 Travel-Sized Toiletries for a Refreshing Vacation Experience Without Checking a Bag.
Need to step up your travel style game? Check out These 22 Travel Purses So Gorgeous, You'll Book a Trip Just to Show Them Off! and 15 Best Travel Outfits for Long Flights That Will Make Your Trip So Much Easier!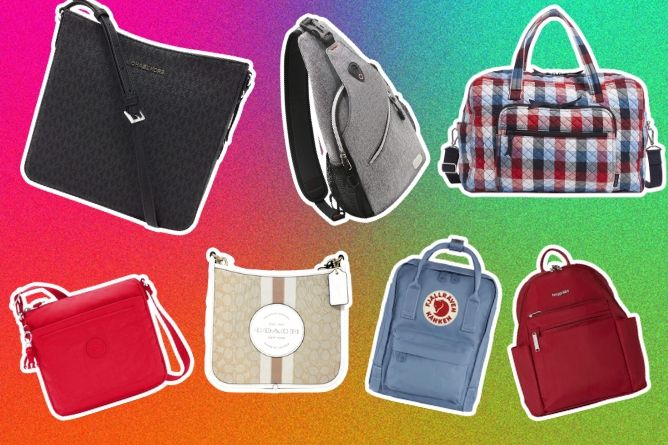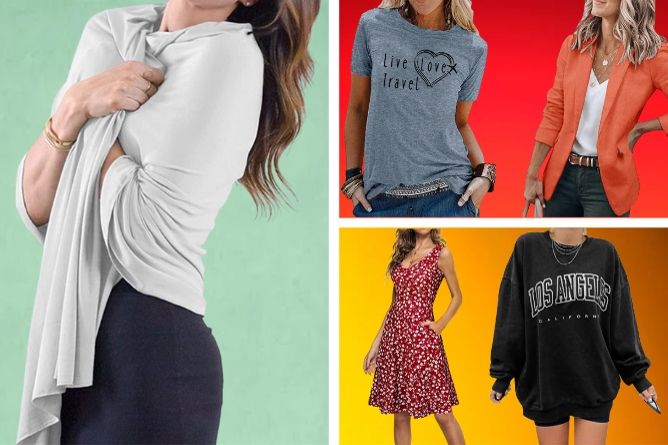 Don't forget to pack The Perfect Travel Companion for A Clean Smile and indulge in 25 Must-Have Travel-Sized Beauty Products for Your Next Trip.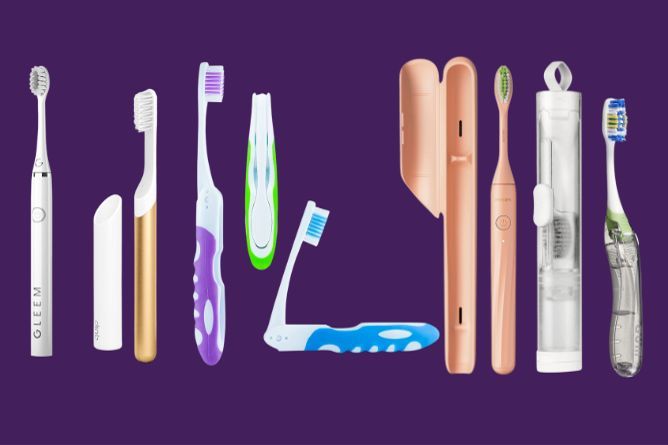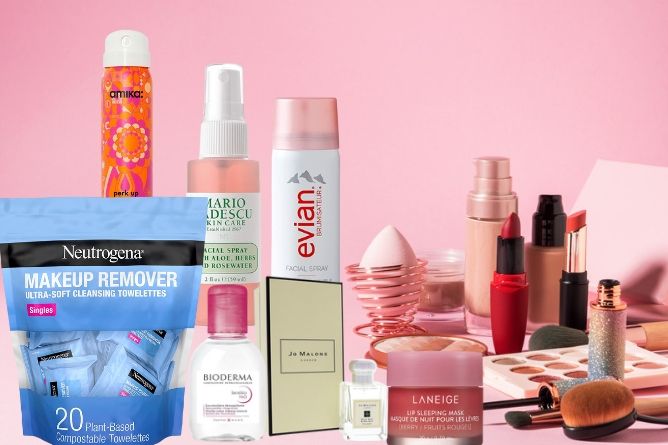 And, of course, stay zen on the go with Top 12 Picks for the Best Travel Yoga Mats! or freshen up with 11 Best Portable Washing Machines Perfect for Travelers.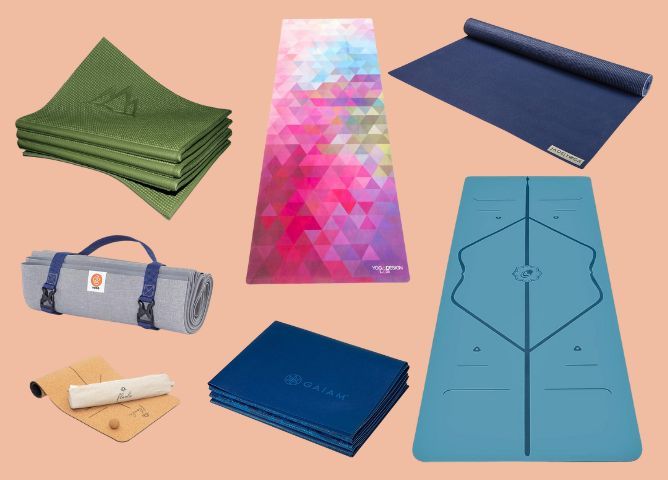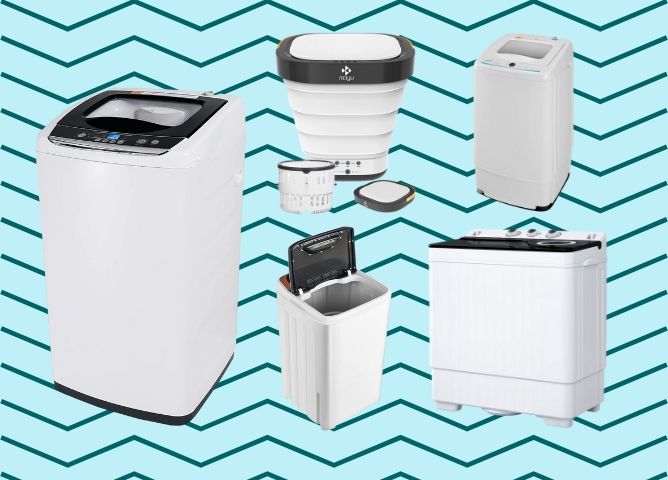 Need some gift inspo? We've got you covered with 13 Holiday Gifts For Couples Who Love To Travel, and don't miss out on our 45 Eye-Catching Crossbody Purses & Bags for Your Next Adventure!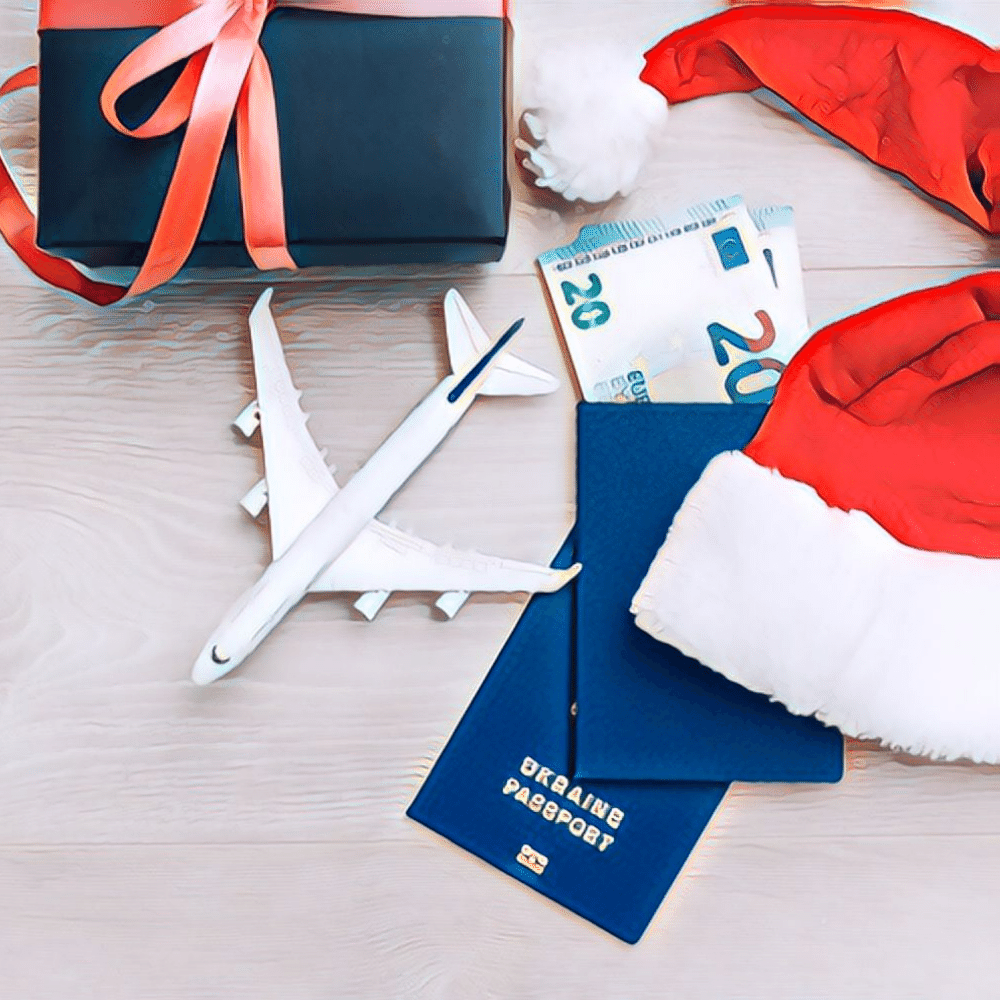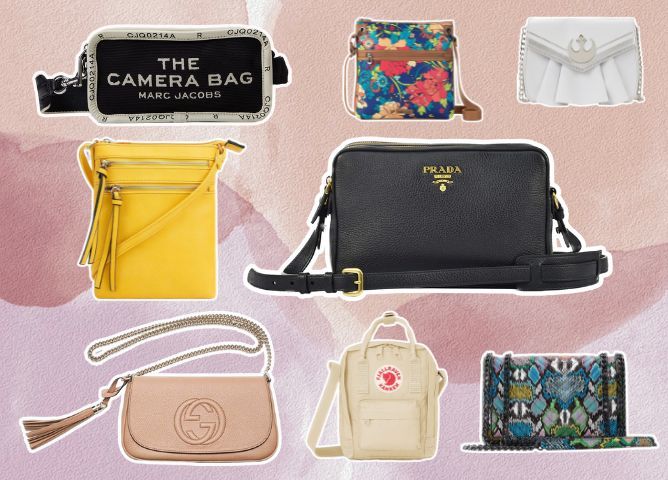 Happy travels!
Comments