This post may contain affiliate links, please see our privacy policy for details.
If your last shopping trip for the holidays left you saying 'OMG that's so cute', here are some adorable best friend Valentine's Day gifts that are sure to give them all sorts of heart-eyed emojis this Feb 14th.
1. For cat lovers everywhere, now you can finally show your love - quite literally! Say goodbye to boring Socks and hello to these purrrrfectly feline airs with pawsitive vibes. Now there's no excuse for not embracing the 'crazy' cat person inside of us all!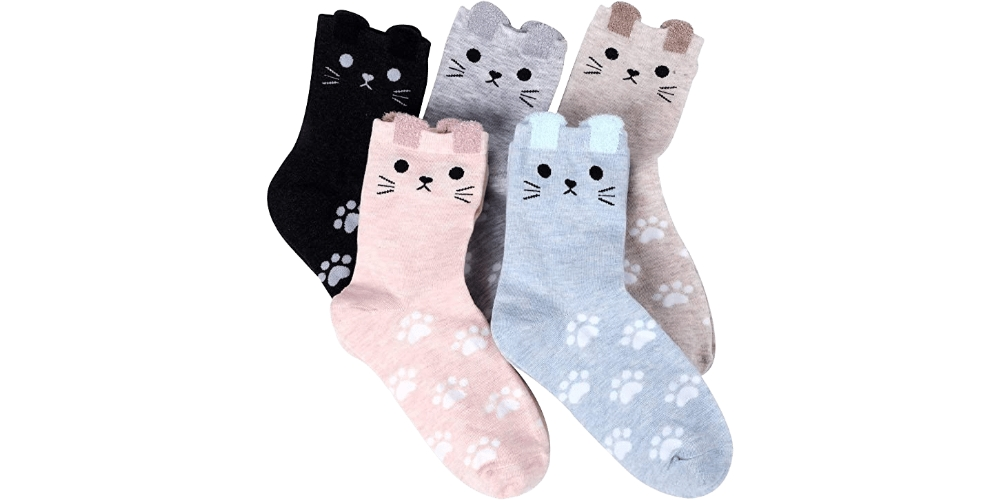 Reviewers love these socks because they are "adorable" and "made well & super soft."
2. This personalized Touch Lamp is perfect for your bestie's nightstand. With these custom light fixtures, you can add a special message or their initials for a unique and heartfelt expression of love. Not only will it make them smile, but it's also great for late-night comfort and reassurance. And when the lights are off, they'll be reminded of your friendship all day.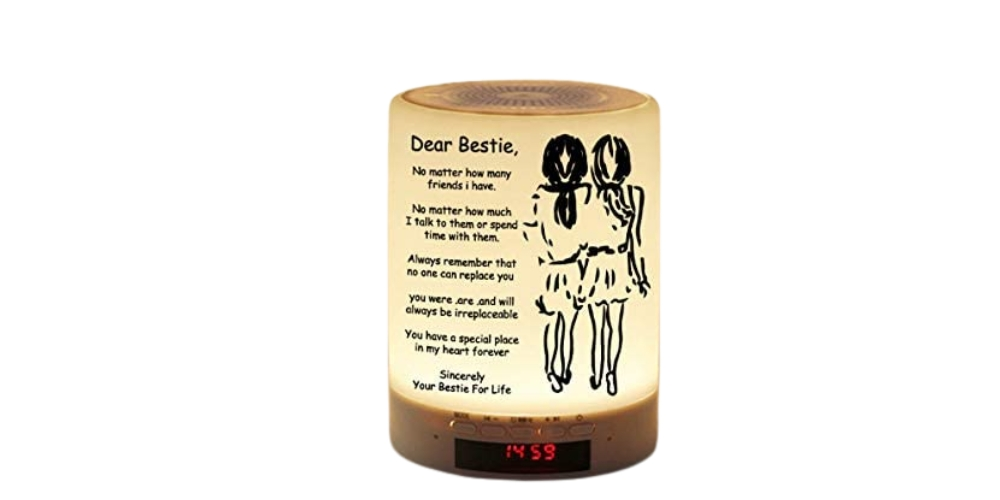 Reviewers love this accessory because it's "beautiful" and "very well made."
3. Ready to make your BFF feel the love this Valentine's Day? Look no further than these shockingly cute Flamingo Inflatable Floats! This tropical addition to any pool or backyard will let everyone know you care, with its vibrant pink hue and flamboyant style. Let all of your best friends take note that there ain't nothin' better for a warm-weather lovin' Best Friend like yours.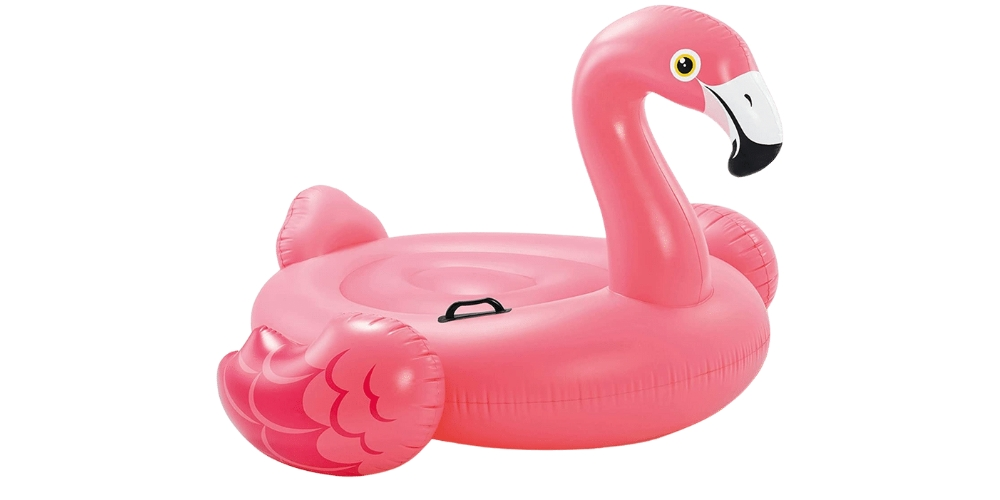 One reviewer said this flamingo is "Worth every penny and will actually be purchasing a second so no more fights over this one."
4. Show your BFF some love this Valentine's Day with the most awesome 'Best Friend' gift - Trivial Pursuit Spongebob Squarepants Quickplay! Seriously, if you watch SpongeBob on repeat what better way to test their knowledge?!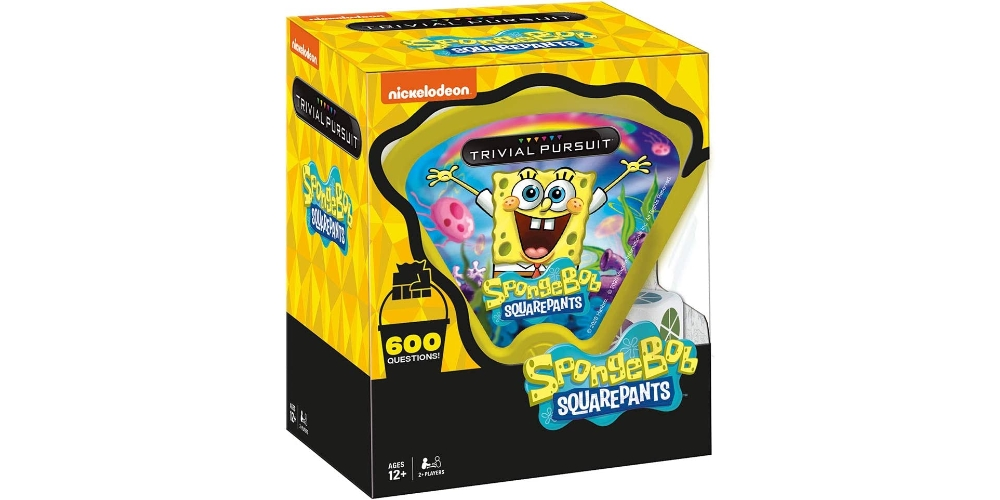 "I have been waiting for a Spongebob-only trivia game for years! I'm 35 and still love Spongebob and know everything about it lol I ordered this as soon as I saw it! Great game! Would definitely recommend for any Spongebob fan!!," one reviewer wrote.
5. Valentine's Day is the perfect opportunity to show your BFF some love - and this Lego Flower Bouquet will do just that! It might take a couple of hours to put together, but trust us it'll be worth it. Once assembled, they won't believe their eyes with how realistic-looking these blooms are – plus visitors who come by for an impromptu chat will sure be in awe at such creative gift-giving!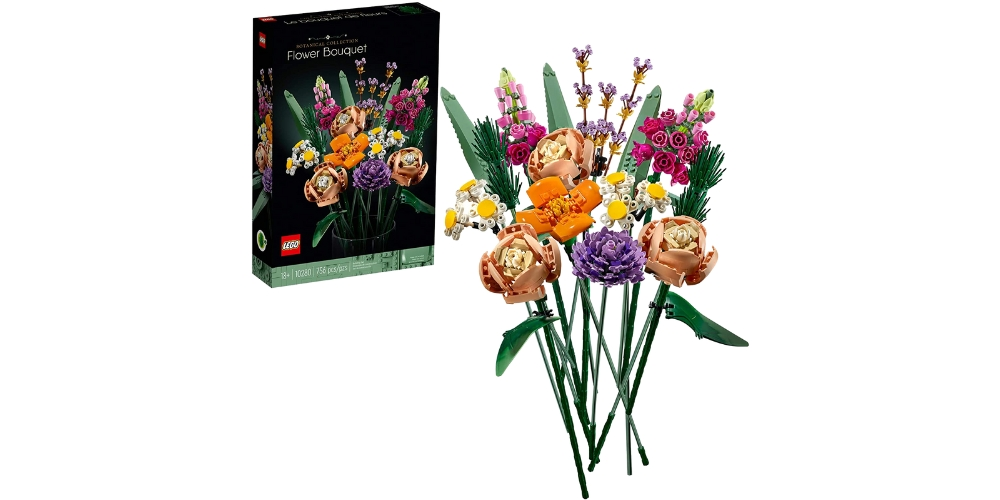 This is one of the perfect valentine's day gifts for a Lego wizard, a reviewer on the Amazon page said that "This was fun to put together and makes a beautiful piece on my mantle." and "Great alternative to real flowers with a fun twist."
6. This Skincare Set from Laneige is seriously cute and packed with all the essentials - moisturizer, toner, serum & eye cream. Plus it has hyaluronic acid for that extra bit of love...Your bestie will be loving you forever when they get their hands on this sweet V-day treat!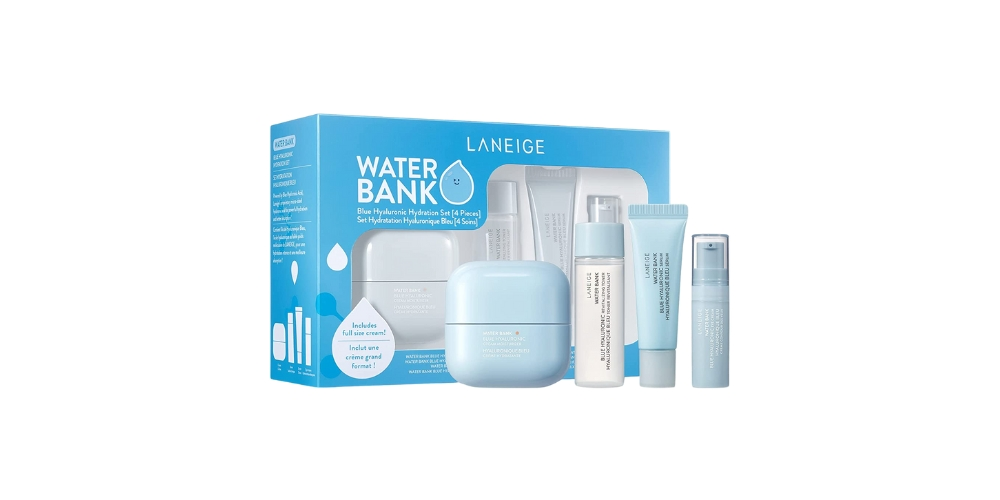 "My skin feels very hydrated and it's all day lasting hydration! Highly recommend! Great set!" rote one five-star reviewer. Another verified reviewer said this replaced product makes her skin fully moisturized throughout the day without causing acne or blocking her pores.
7. Who says Valentine's Day has to be all about romantic love? Show your BFF some appreciation this holiday season with a one-of-a kind Customized Sequin Pillow! With its unique design and personalized features, it'll even bring tears of joy - just like the bond you two share.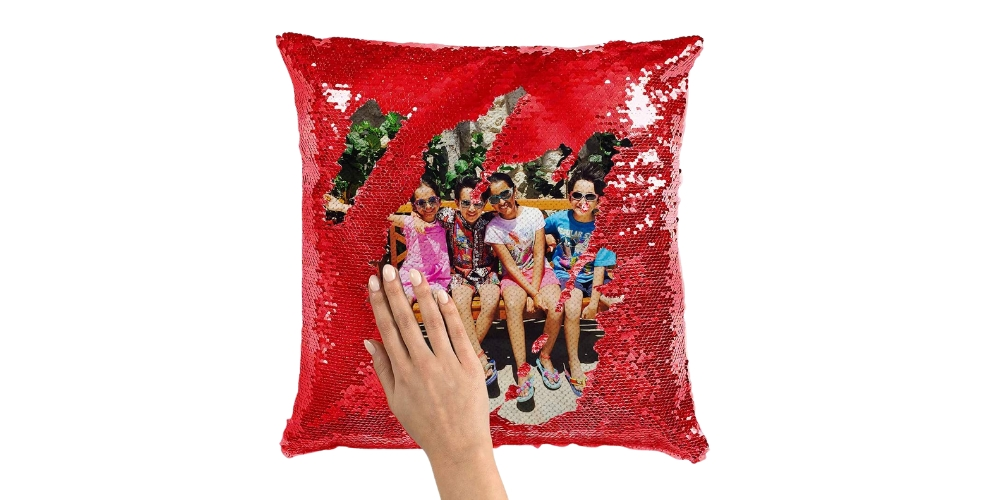 One reviewer gave "10000000000/10!!!!!" starts and another said, "This ended up being my most favorite gift to give EVER."
8. What's better than a warm cup of tea to kick off Valentine's Day? Surprise your bestie with adorably Animal Shaped Tea Infusers that'll make every sip even sweeter. This set is ideal for those who need a little company while they brew their favorite loose-leaf teas, so there won't be any sad and lonely mornings!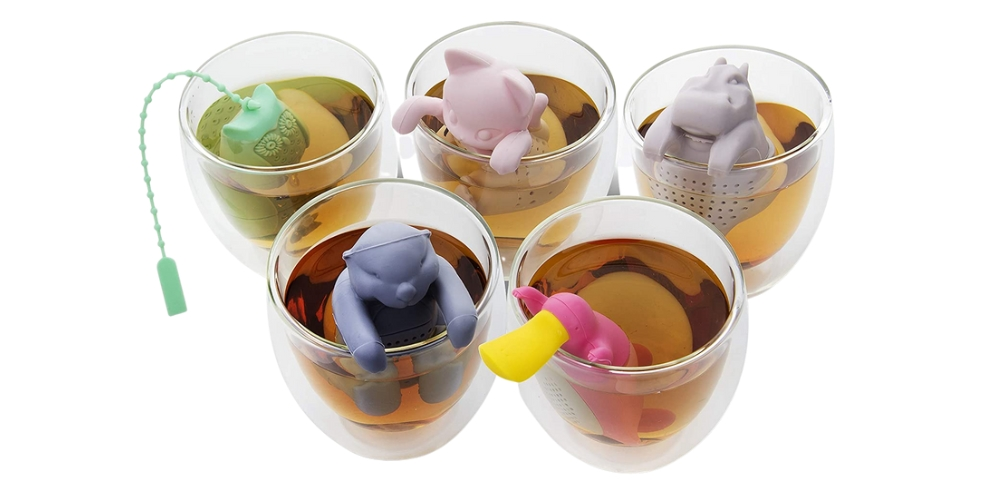 One reviewer said, "I thought these looked too good to be true, but I gave it a shot and I'm seriously in love."
9. This Valentine's Day, make your BFF swoon with a gift that is both cute AND practical! Surprise them with this adorable Magnetic Night Owl Key Holder set. Not only will they get to admire it every time they come or go from your place, but its powerful magnets can even store up to 4.4 pounds - making sure you never lose those keys again!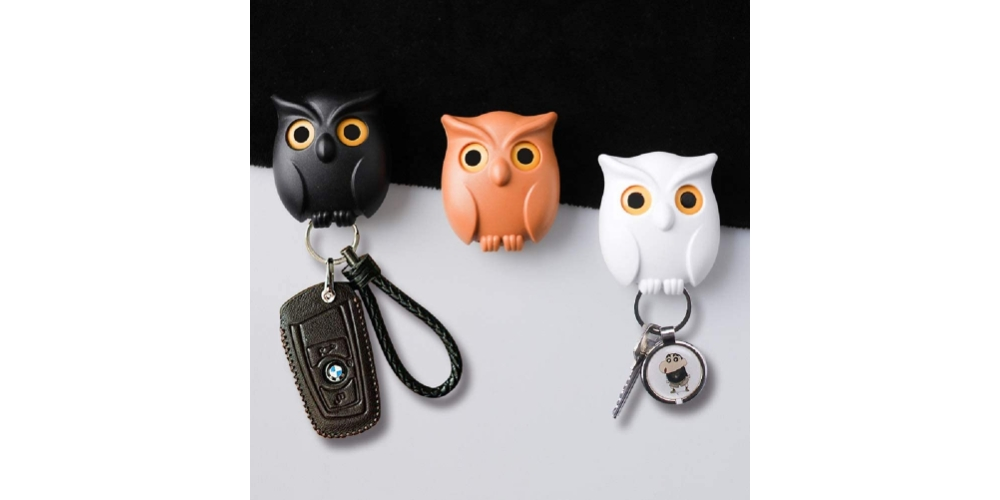 One happy shopper summed it up with a simple review: "Such cute owls….they work exactly like it says…..Love them….👀"
10. This Electric Toothbrush is the perfect way to get an extra ~sparkly~ smile - it has all the bells and whistles, including a tongue scraper (eww!), a replaceable brush head, a mirror mount, AND even a built-in timer so your BFF can smooch away without having any worries this V-Day! They won't just impress their dentist – they'll thank YOU too!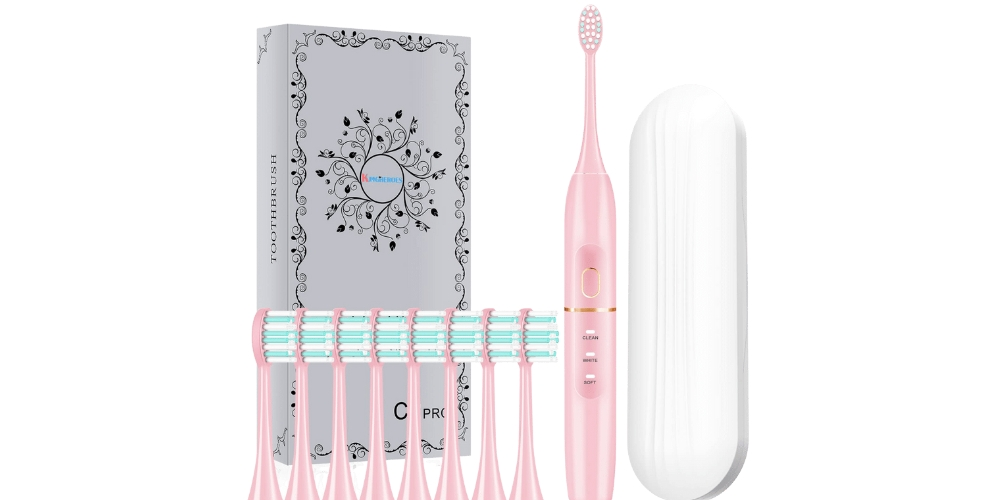 "I'm 76 years old, and I have never had a more effective toothbrush! I'm so impressed with the technology that went into this one. Multiple settings, USB charging, thorough massaging of gums. It leaves my mouth tingling. Kudos to the designers!" one reviewer wrote.
11. Make your wine lovers' besties feel extra special this Valentine's Day with these double-walled vacuum-insulated Wine Glasses that will keep their vino of choice safe from spills thanks to the splash-proof lid - all while showing off some serious personal style! Don't forget to toss in their favorite bottle of wine for an even more sweet surprise.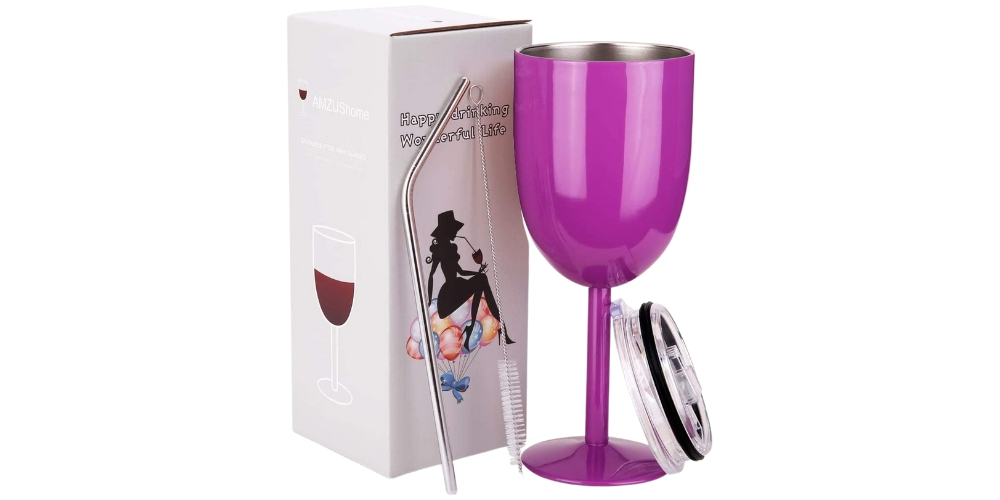 One five-star reviewer loved it so much after purchasing it and ended up keeping them for themselves.
12. This Valentine's Day, give your bestie the gift of some low-key lovin' with these adorable Succulent Pots! Brighten up their workstation and make them feel extra special - all without breaking a sweat. Perfectly simple yet super sweet - that's how you show 'em love on V-Day! P.S.: They'll also get plenty of oohs and ahhs from their work-from-home Zoom visitors.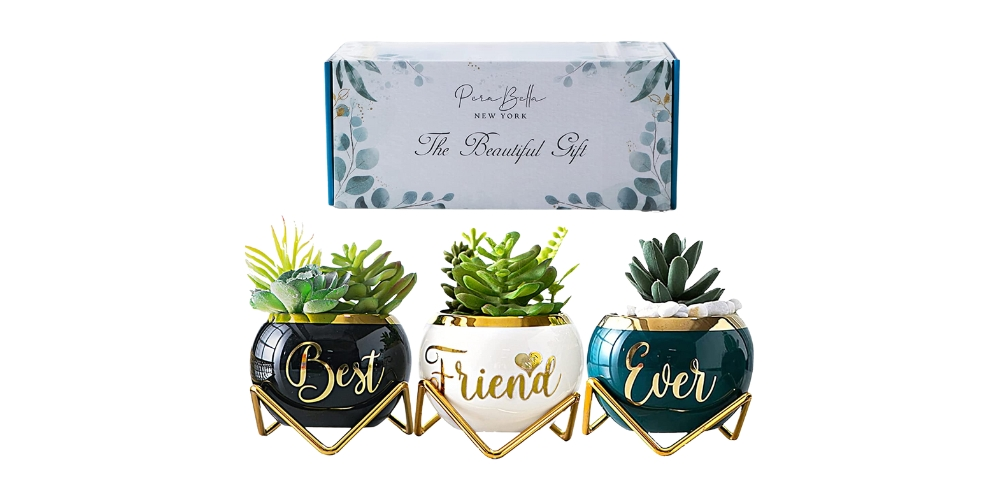 Shoppers say they are absolutely well-made and beautiful, and they also describe them as "very elevated", and "well made and pretty".
13. Nothing says "I ❤️ you" quite like actual flowers...or better yet - chocolate ones! This Valentine's Day, skip the roses and go for something unexpected with these dozen Red Rose Chocolates. Your BFF won't be able to resist their beauty (but might have trouble not devouring them!)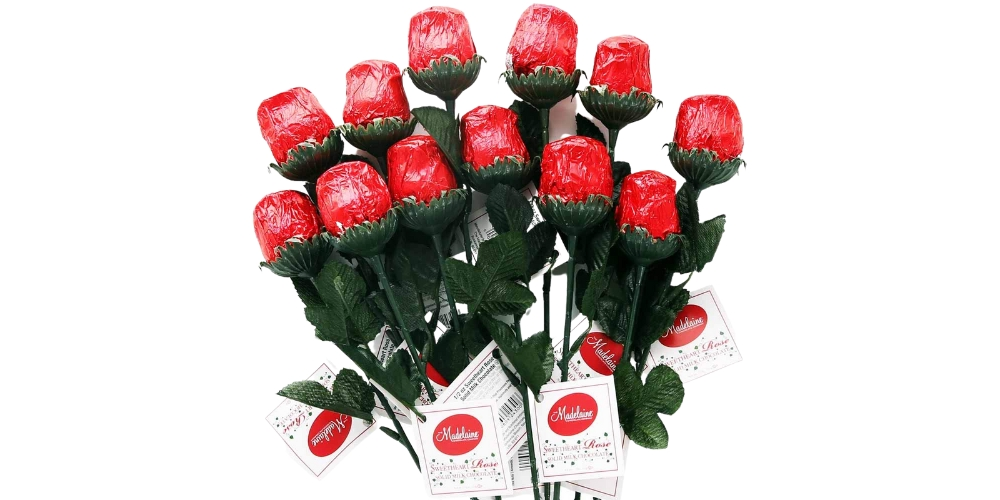 Amazon customers were wild about these Chocolate Roses! They looked so picture-perfect, some shoppers couldn't even bear to take a bite. What's better than chocolates? Flowers you can actually eat - it doesn't get any sweeter than that!
14. Surprise your BFF this Valentine's Day with a gift they won't forget! Get them the best of both worlds - breakfast bliss and ultimate sweetness. Treat their sweet tooth to some tempting USDA-certified organic Bourbon Barrel Aged Maple Syrup perfect for making waffles even more delicious. It'll make mornings so much sweeter!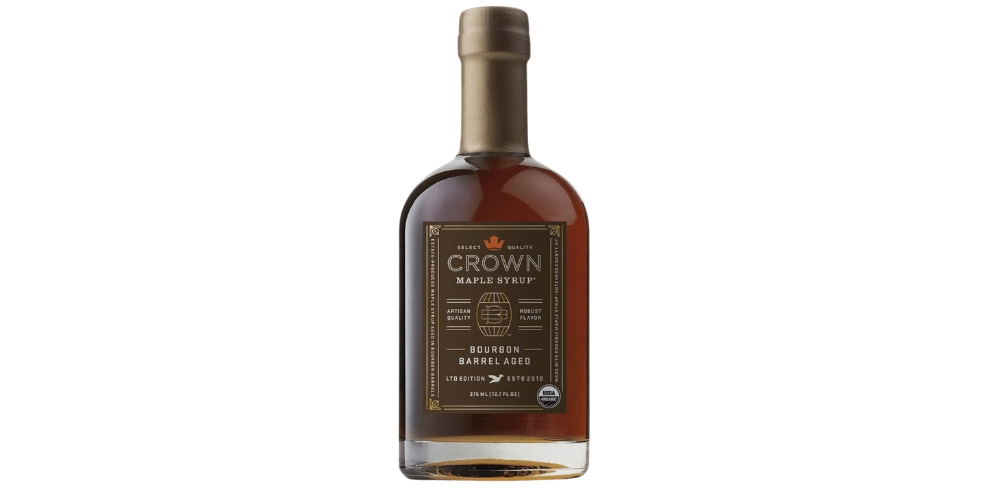 With 6,000+ five-star ratings under its belt, this maple syrup comes well recommended by Amazon shoppers. "Excellent flavor and consistency," one reviewer wrote. Another commented, "The flavor was awesome."
15. Get your BFF Valentine's gift they deserve: an adorable Turtleneck Sweater Dress! Not only is it cozy and stylish enough for everyday wear, but there are even pockets —because who doesn't love a pocketed look (or having somewhere convenient to store all their stuff)? Complete the perfect gift by pairing it with over-the-knee boots for extra cuteness. Perfection guaranteed at bae prices!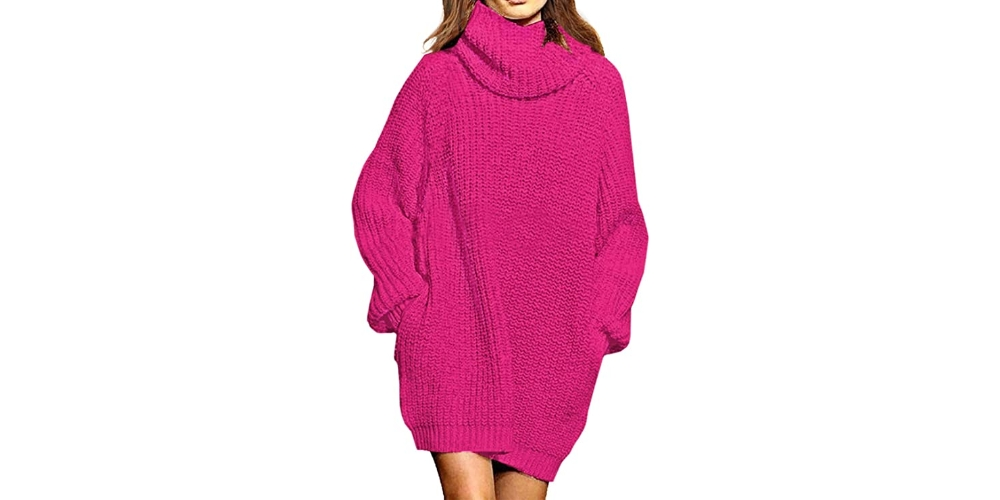 One reviewer called it "The coziest dress ever"  and another said they love the fit.
16. Is your bestie the kind of pal who needs a pick-me-up on even the most overwhelming days? We've got just the thing! Surprise them with this funny and adorably screaming HeiHei Figure - a perfect and funny gift for powering through any bad day. Press it once, and press it multiple times...you'll both get a good laugh out of it!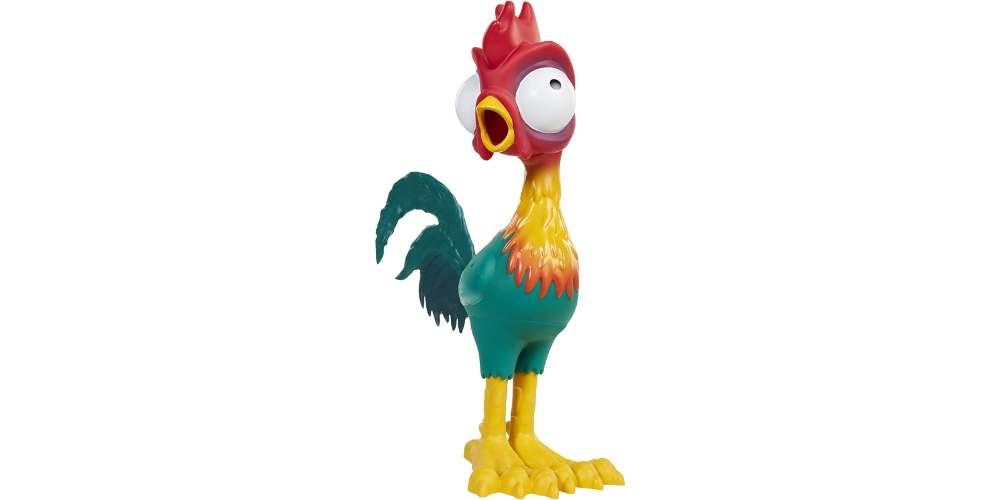 Rated five stars by 80 percent of reviewers, one happy customer raved, "Love everything about it. Makes us happy."
17. Valentine's Day just became cuter (and a whole lot more hilarious) thanks to Accoutrements Handerpants! If you and your BFF have inside jokes, these are the perfect gift. With full hand coverage but breathable material, they don't fit like gloves - in fact, one reviewer even used them as toilet paper once or twice (#oops). But no matter how many pairs end up being 'used', this is sure to be a gag-gift that will make an everlasting impression on anyone who knows you two best. Your fingers can still text, tweet, and eat peanut butter out of the jar - so what else do you need? Get ready for some serious laughs with Valentine's day... it won't soon be forgotten!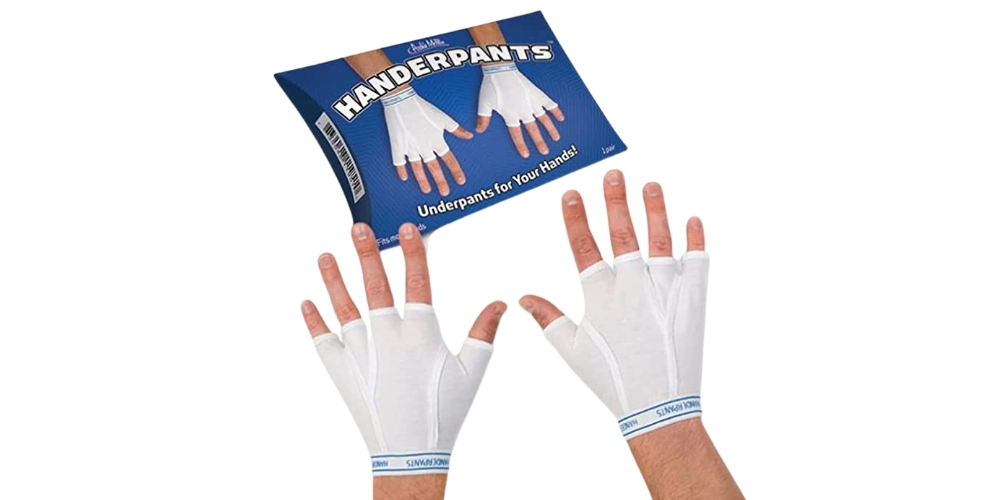 More than 80% of Amazon reviewers have given it a five-star rating, including one reviewer, who wrote, "My sister loves Fingerless gloves, so I got her these for Christmas. She loves them."
18. There's no better way to show your best friend some Valentine's Day love than with a cheeky game of Shot Glass Roulette. Pour up the tequila or mezcal and get ready for one wild night - Vegas style! Perfect as Valentine's day gifts for friends or family, you two can play like high rollers without having ever stepped foot in Sin City.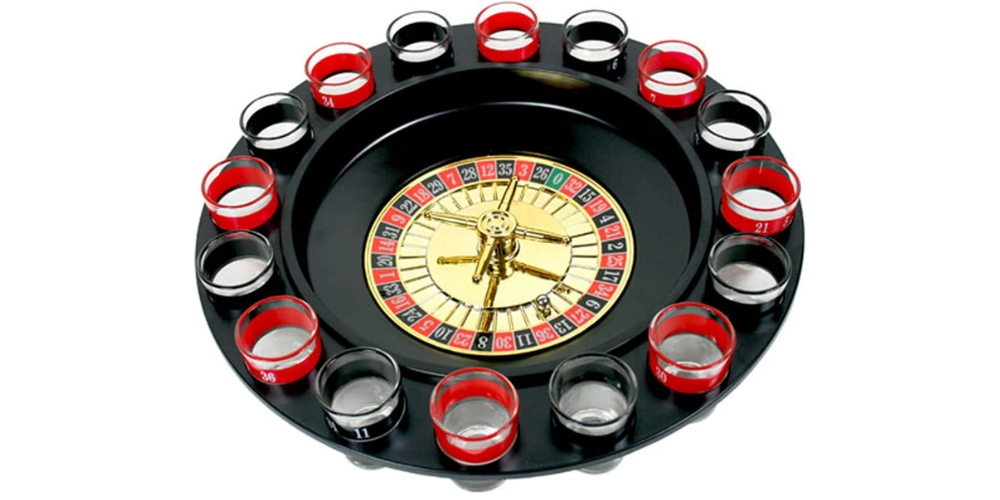 Among over 1,700 five-star reviews on Amazon, one reviewer highlights "Me and Family Loves this drinking game. This is my second time purchasing this game. I had to purchase it for my daughter. Fun Fun Fun."
19. If you're stumped on what to get your BFF for V-day, here's the perfect gift idea: four pack of inspirational Pillow Covers! Not only are these super soft and made with quality fabric - they come complete with cute words that'll make them think of you every time they take a nap. Show 'em just how much friendship means to ya by gifting up this fun cushion set.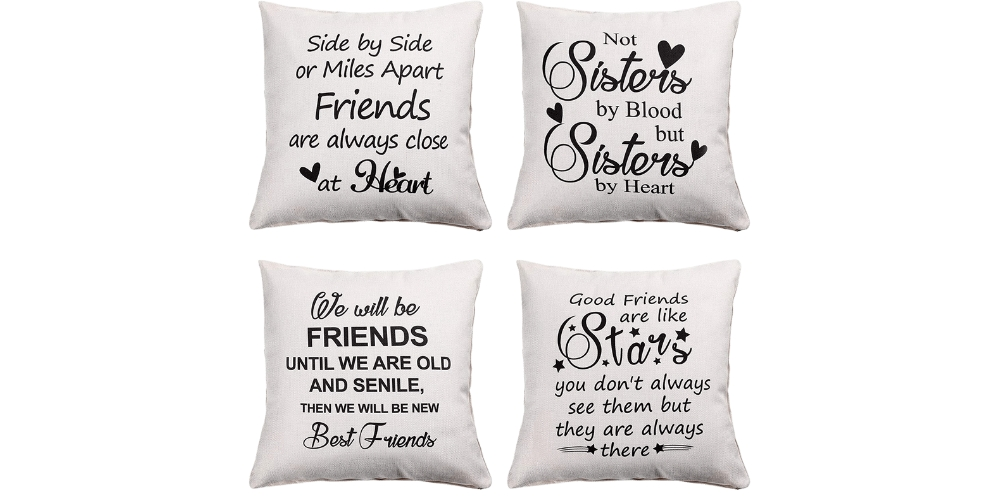 "I put pillows in it and gave them to my best friend since HS. She says it's the best gift ever!" one reviewer wrote.
20. Give your BFF some serious self-care this Valentine's Day with a luxurious bundle of Bath Bombs, scented candles, and rose petals gift box set! Infused with natural essential oils like mint eucalyptus vanilla coconut gardenia jasmine - these goodies will leave skin feeling moisturized and nourished while providing 6-12 hours of signature aromatherapy bliss. Now that's the perfect way to show someone you care!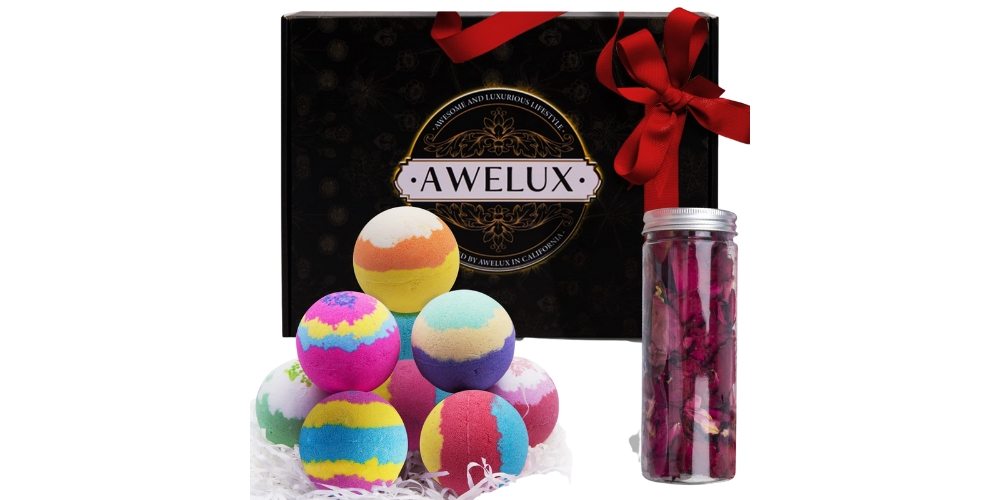 Reviewers love it because it's very elegant, smells delightful, and is great "for personal use or even as a gift."
21. Need a way to celebrate your friends' awesomeness from afar? Look no further than these Positive Affirmations Cards! They're the perfect pick-me-up for those days when you can't be there in person. And with their help, you and your BFFs will reach new heights of self-belief - together (even if it's from hundreds of miles apart)!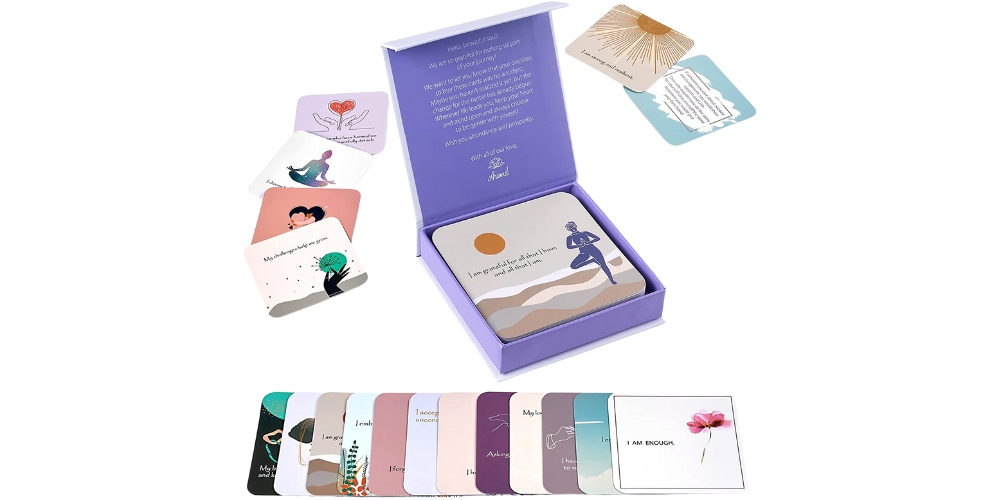 "These cards are so beautiful and the messages are so helpful for me and my friends. I share them all the time on social media in hopes it will help lift others up as they do for me. Love them!"  one reviewer wrote.
Final Thoughts
No matter what type of cute, funny, or simple Valentine's Day gifts you're looking for, there are plenty of options to choose from. Whether it's Handerpants or a Shot Glass Roulette game, inspirational pillow covers or Positive Affirmation Cards, bath bombs, and scented candles - these affordable yet thoughtful items will show your BFF just how much they mean to you on this special day! With so many unique ideas available online, finding the perfect gift should be easy and fun. Let us know which one is your favorite!
Reviews in this blog post have been edited for clarity and/or length.
Comments