Are you looking for a glowing, healthy complexion? If so, then vitamin C face wash is just what you need! Vitamin C helps to revitalize and refresh your skin while helping to fight against premature wrinkles and dullness. With so many options to choose from, it can sometimes be hard to decide which one is the best. That's why we've done the research for you and found 11 of the best vitamin C face washes that will keep your skin glowing all year long.
This post may contain affiliate links, please see our privacy policy for details.
Our Favorite Vitamin C Face Wash to Try
What is Vitamin C?
Vitamin C is a naturally-occurring antioxidant that has many benefits for the skin. It helps to reduce inflammation, fight oxidative stress, and boost collagen production, all of which are essential for maintaining healthy and glowing skin. Vitamin C also helps to protect against environmental damage such as UV radiation, pollution, and other toxins. Additionally, it can help to even out the complexion and reduce dark spots. In short, Vitamin C is an incredibly powerful, skin-brightening ingredient that should be included in every skincare routine.
The best way to incorporate Vitamin C into your skincare regimen is through the use of face washes infused with this beneficial nutrient. Not only do these products contain concentrated doses of Vitamin C to nourish the skin, but they are also often formulated with other beneficial ingredients such as aloe vera or green tea extract that work together to keep your skin looking its best. With so many options available, you're sure to find one that meets your needs - whether you want an exfoliating scrub or a gentle cleanser - so you can enjoy all the benefits of Vitamin C while keeping your complexion fresh and healthy.
Benefits of Using a Vitamin C Face Wash
Using a face wash with vitamin C is an excellent way for anyone looking for a healthy glow, and hydrated and youthful-looking skin to take care of themselves without spending too much money on expensive products that may not be suitable for their needs. Here are some of the most compelling benefits of Vitamin C Face Wash :
Reduces Inflammation
One of the main benefits of using a face wash with Vitamin C is that it helps to reduce inflammation. Inflammation is one of the leading causes of skin conditions such as acne, eczema, and rosacea. While medications can often help reduce inflammation, using a face wash with Vitamin C can provide an effective and easy solution for those looking to naturally reduce inflammation without relying on chemicals.
Brightens Complexion
Using a Vitamin C face wash is that it can help protect your skin from environmental damage caused by free radicals. Free radicals are molecules produced by exposure to pollution, UV radiation, and other stressors on the environment which can cause premature aging. Vitamin C helps neutralize these molecules before they take their toll on the complexion, leaving you with a healthier glow long-term.
Hydrates the Skin
Vitamin C face wash is a fast and effective way to hydrate your skin. It can help you achieve healthier, younger-looking skin with just a few washes. Studies have also shown that vitamin C can even protect against sun damage, making it an excellent choice for those who are exposed to the sun regularly.
If you are looking for a product that will keep your skin feeling hydrated and nourished, then face wash with Vitamin C is the solution. Vitamin C helps to lock moisture in the skin and keep it hydrated all day long. This will help to reduce any dryness or oiliness of the skin, leaving you with smooth and supple skin that glows like never before. You won't have to worry about applying heavy creams or oils after using the face wash.
Anti-Aging
Another benefit of this face wash is its anti-aging properties. Vitamin C boosts collagen production which helps to firm up the skin, reducing fine lines and wrinkles as well as improving elasticity levels. Vitamin C also acts as an antioxidant protecting against free radical damage caused by environmental factors such as UV radiation and pollution.
How to Choose The Best Vitamin C Face Wash
Choosing the best face wash for your skin can be tricky. There are so many options available and it can be hard to know which one will work best for you. When it comes to using a face wash with Vitamin C, there are several things to consider before purchasing one:
The Type of Vitamin C used in the formula – Different forms of Vitamin C have different effects on the skin, so you want to check that the form of Vitamin C being used is suitable for your skin type and needs.
The Concentration of Vitamin C – A good face wash should contain a good amount of this powerful antioxidant in order to be effective. If it's too low, it may not provide enough benefit.
Fragrance – Some fragrances can be irritating or dry on the skin, so pick one with a pleasant scent that won't cause any irritation or discomfort.
Hydration Level – Check out how hydrating the face wash is and make sure it won't leave your skin feeling dry after use as this could cause further problems.
Cost – It's important to remember that the more expensive face washes aren't always better for your skin, so don't overspend if you don't need to!
Once you have all these factors in mind, you can compare different products and find one that works best for you without spending a fortune. So get out there and start looking around today - you'll soon find the perfect face wash for your routine!
Our Favorite Vitamin C Face Wash to Try
Whether you want a mild cleanser or a deep-cleaning exfoliant, Vitamin C is essential for healthy and glowing skin. Here are our favorite Vitamin C face washes that can give you the results you desire in no time. Keep scrolling to find the perfect one for your skincare routine!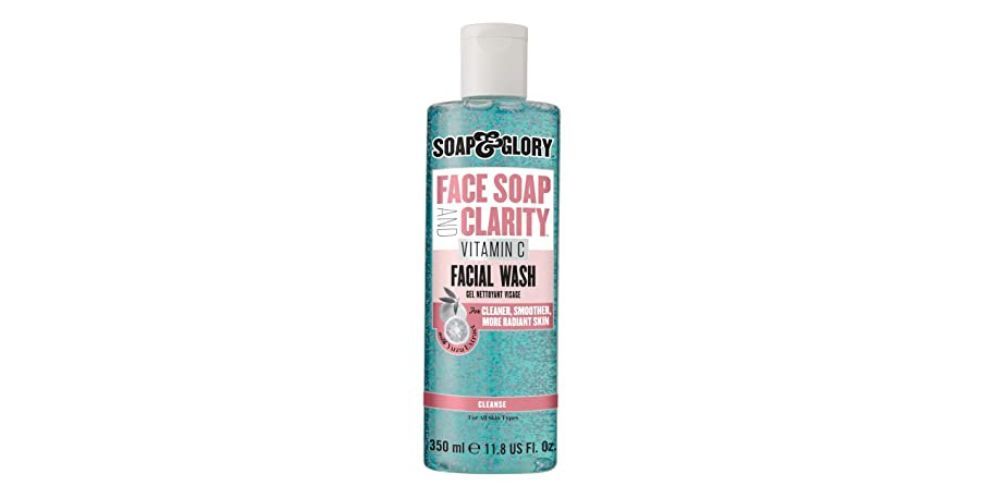 This 3-in-1 exfoliating face wash is the perfect solution for all skin types. It's packed with Vitamin C and exfoliating beads to help unclog pores, remove makeup, and make your skin look brighter and smoother than ever before. Plus, it comes in a generous 350ml size, so you won't have to buy another one any time soon.
This cleanser contains a unique blend of three main important ingredients - citrus junos fruit extract, Citric Acid, and magnesium chloride. Its gentle formula is suitable for all skin types and helps to remove dirt, oils, and impurities without removing the skin's natural moisture.
Regular use of this product will make a difference in your skin. It lathers well without leaving a sticky feeling, and reviewers noted that their skin felt softer, and brighter, and was less likely to experience breakouts.
This anti-aging face wash helps reduce wrinkles and fine lines while giving you a glowing, youthful complexion. Plus is packed with powerhouse ingredients such as Camellia Sinensis Leaf Extract, Aloe Vera, Green Tea Extract, and Vitamin C. It won't cause any irritation or redness due to its gentle formula - use it every day for your aging skin care needs.
To get the most out of this cleanser, use an amount roughly equivalent to a grape-sized dollop - spread over damp skin and work into a lather. Rinse off and enjoy smoother, brighter skin that is also thoroughly cleansed and make-up free. This effortless routine will keep your complexion looking healthy and radiant!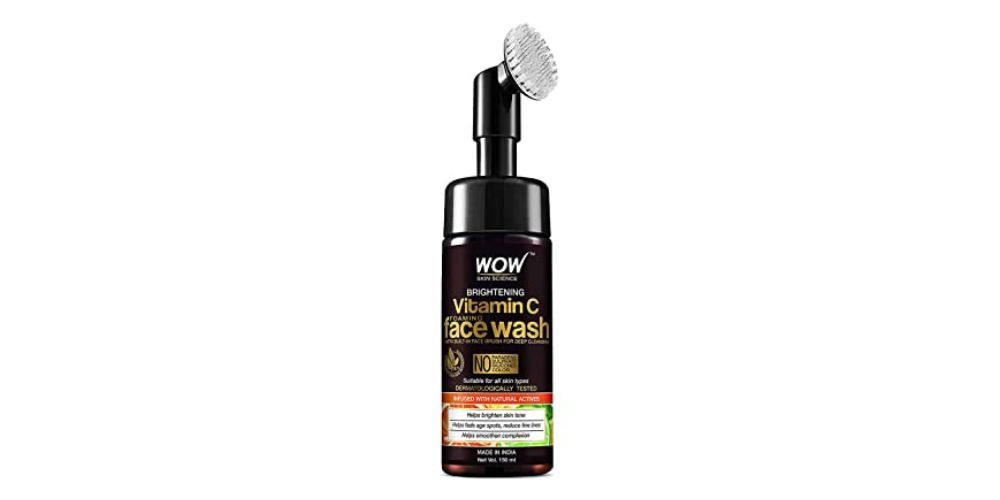 This luxurious, foaming cleanser not only helps reduce wrinkles and blemishes but also provides intense hydration that'll leave you with an all-over glow. And if that wasn't enough of an upgrade already, the included face brush will exfoliate deeply so skin appears smoother and brighter than ever before! Perfect for everyone – give this powerhouse facial care product a try today!
This 150ml size is perfect for when you're on the go, lathering up to remove dirt and oil from your face quickly. Plus, its special blend of ingredients featuring vitamin C will leave skin feeling refreshed while diminishing sun damage or age spots over time – giving a younger-looking complexion that won't soon be forgotten.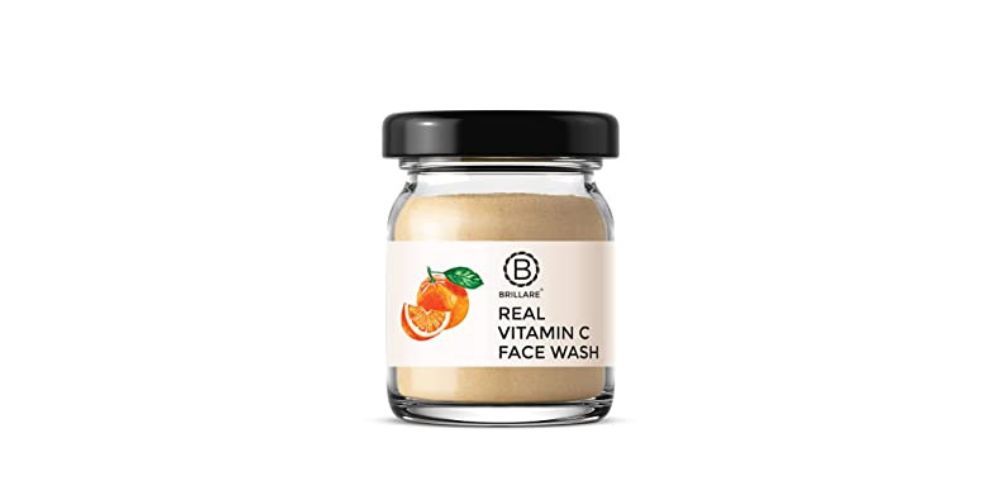 This powder form face wash is an ancient therapy for skin care that has been scientifically formulated to provide superior results with long-term use. Designed for dry skin, this natural face wash contains Orange Peel Powder and helps to get rid of pollution, dirt, and chemical-based products - giving your complexion a visible glow and reducing dark spots, pigmentation, and dullness.
Suitable for women, men, and children above the age of 12 years, Brillare Vitamin C Facewash is free from harsh chemicals like sulfate, paraben, formaldehyde, petroleum wax, mineral oil, and silicone oil - as well being cruelty-free and 100% vegan! Get ready to experience softer and healthier-looking skin after the first use.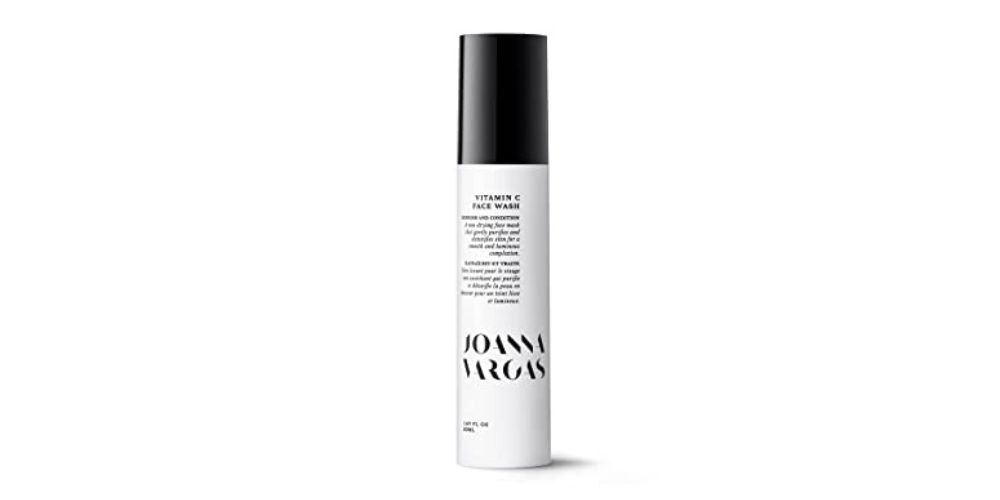 This unique facial cleanser is powered by botanical extracts and oils, acai and goji berry extracts, hyaluronic acid, galactoarabinan, and citrus-derived vitamin C to leave your skin bright, clean, healthy, and hydrated.
This no-strip cleanser removes impurities while being gentle on the skin - ideal for those with sensitive skin. Galactoarabinan helps to boost cell turnover to reduce wrinkles and fine lines, while Vitamin C specifically works to protect collagen and elastin fibers as well as diminish hyperpigmentation. Your complexion will be brighter and more even in tone after use!
The Joanna Vargas face wash is perfect for a nightly cleansing routine or for removing makeup - it has a light foam that gently exfoliates without irritation or inflammation. Plus, this natural face wash is free from any fragrances or additives that may cause further discomfort. Get ready to experience a healthier, brighter complexion with this anti-aging face wash!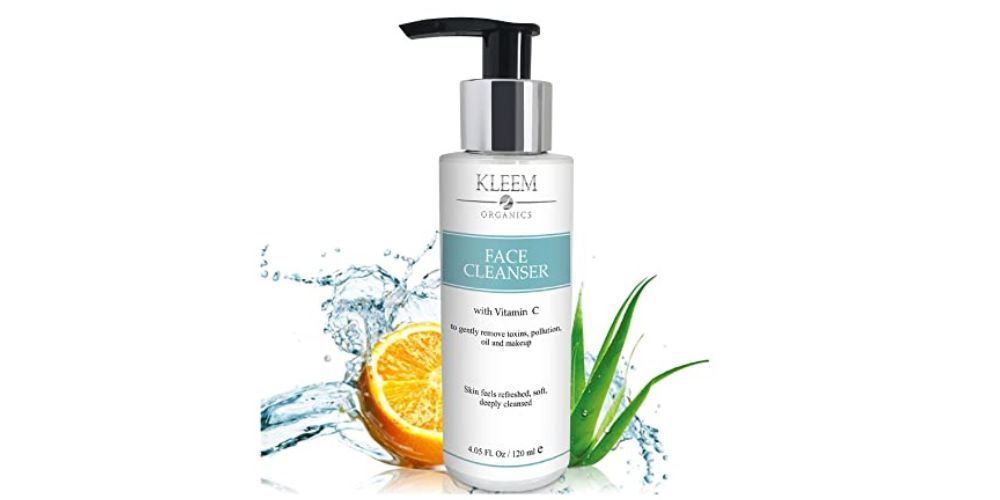 This facial cleanser is the perfect solution for renewed and refreshed face, free from parabens or sulfates. Showered with soothing oils that penetrate deep into the layers of your skin to provide purifying effects without leaving it tight nor dry, you'll be grateful knowing this vegan-friendly formula is also cruelty-free, fair trade certified, and sustainably sourced.
And on top of all its incredible benefits? It's made in the USA too! Get ready to experience an effortless yet effective cleanse worthy of a queen every day - because you deserve nothing less than pampered perfection.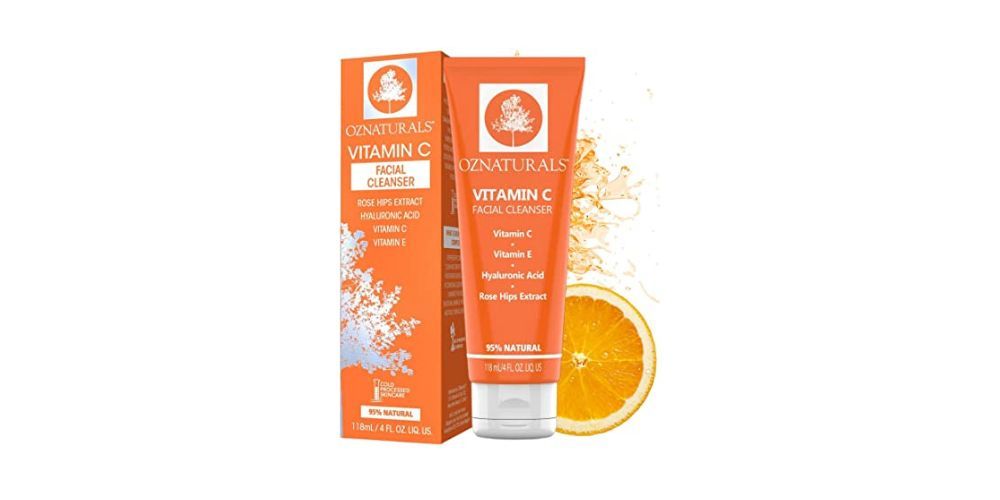 This revolutionary facial cleanser promises to give you noticeably clean, radiant skin that's both glowy and hydrated after every wash. Packed with Vitamin C and natural ingredients like organic aloe vera and spirulina, it's sure to produce visible and fast results. Not only does this lightweight, gel face wash support your skin health, but it also helps protect the skin barrier from damage.
Hyaluronic acid can help reduce the appearance of fine lines and wrinkles, formulated by a holistic esthetician, this skincare line is suitable for all skin types looking to brighten, hydrate and protect their skin daily.
Vegetarians rejoice too as this paraben-free, non-drying & refreshing formula has been allergy tested, making it suitable for everyday use without any stressors such as harsh chemicals.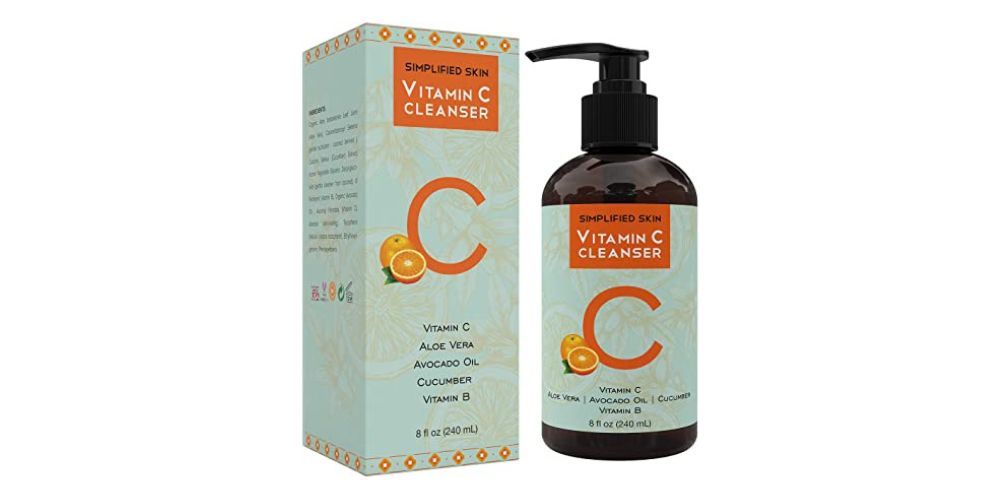 This unique blend of antioxidants, anti-inflammatories, moisturizers, and vitamins is specially formulated for oily, dry, and sensitive skin types. This gentle face gel wash will help clear and unclog pores by cleansing away dulling skin cells. It reduces sun damage, discoloration, wrinkles, dark spots, and fine lines - leaving your complexion looking more even in tone and texture.
Plus, its antioxidant powers help to boost collagen production which prevents breakouts and redness. Use it both day and night to remove makeup for an instantly rested, radiant, refreshed, and vibrant look.
Best of all - this product is cruelty-free, sulfate-free, paraben-free, gluten-free, and fragrance-free. It's made in the USA for the highest quality assurance so you can trust that you're getting a safe product that works!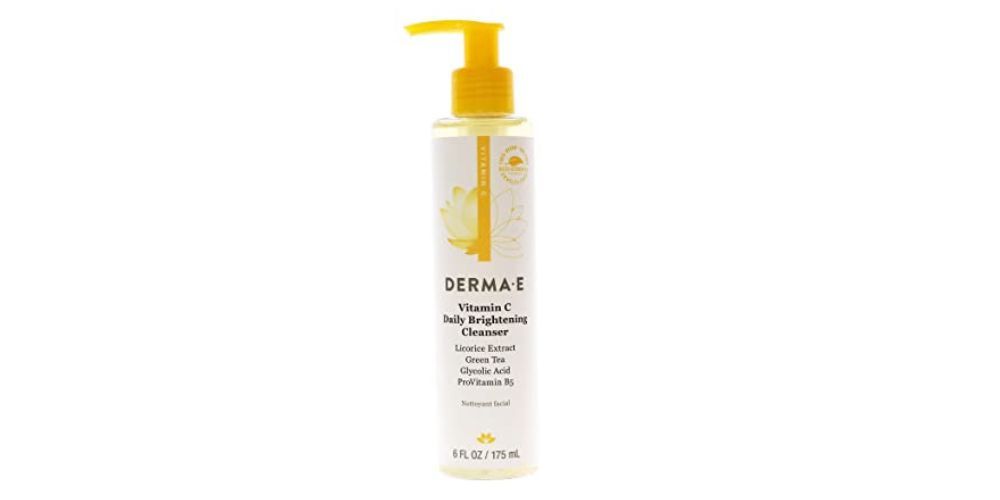 The DERMA-E Vitamin C Cleanser! This daily brightening cleanser is the perfect way to get a radiant, even complexion. It's specially formulated with Vitamin C, Green Tea, and Ginkgo Biloba to help reduce redness and inflammation for a soft, brighter complexion. Plus, its light hydration helps keep your skin feeling refreshed all day long.
This unique cleanser is formulated with two powerful ingredients - glycolic acid and Sodium Methyl Cocoyl Taurate. Its hydrating formula is suitable for uneven skin tone, helping to effectively remove dirt, oils, and impurities without impacting the natural moisture of your skin.
Refresh your skin with this 100% vegan, cruelty-free facial cleanser. It is free of parabens, sulfates, mineral oil, lanolin, gluten, and GMOs, leaving you with a cleanse that is good for both your skin and the environment.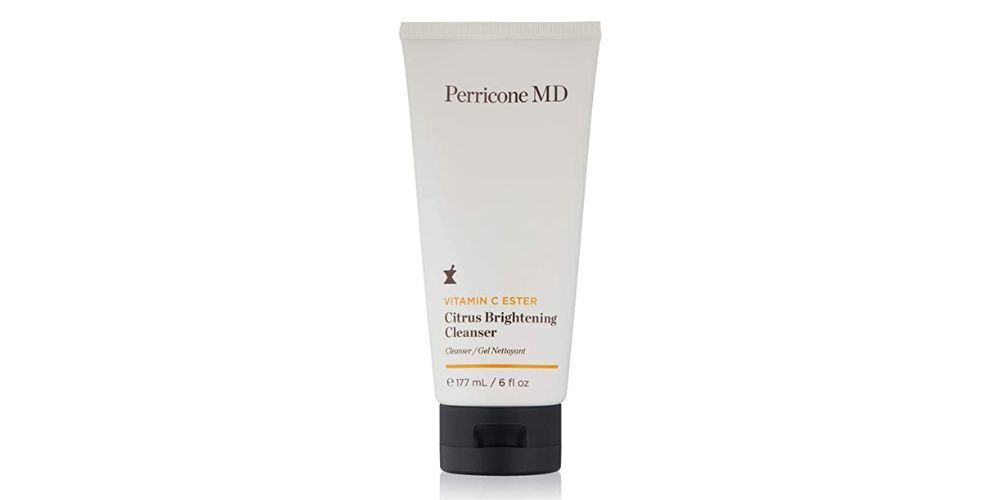 Get your skin glowing and looking its best with Perricone MD's Vitamin C Ester Citrus Brightening Cleanser! This creamy, citrus-scented cleanser is the perfect way to start your beauty routine. Its special formula contains Vitamin C Ester, an antioxidant that helps to reduce the appearance of wrinkles and improve skin tone while gently removing dirt and impurities.
It also has hydrating essential oils plus botanical extracts to deliver nourishing protection against damage from environmental stressors. Refresh & renew now with this power cleanser – it'll make all the difference in achieving healthier skincare goals!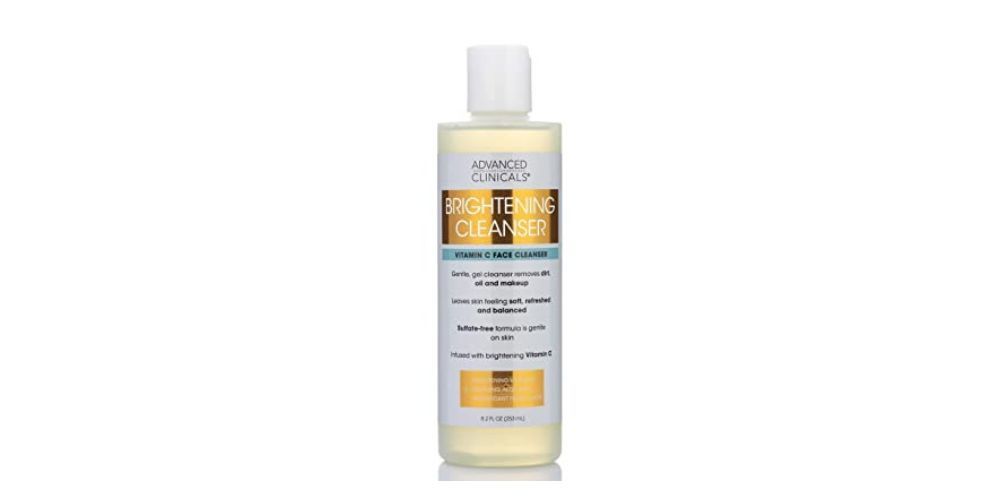 This pore cleanser delivers instant results, brightening your complexion and revealing clean, soft, dewy skin. Featuring ferulic acid, a skin-enhancing antioxidant that helps reduce the appearance of blemishes, dark spots, acne scars, large pores, fine lines, and wrinkles for a more even complexion.
Not only does this daily cleanser and moisturizer soften, smooth, and soothe dry, normal, or oily skin with nutrient-rich aloe vera, but it also contains no harsh synthetics like fragrances, sulfates, parabens, or dyes. And because you can trust Advanced Clinicals to put your best face forward every time you use it — as all of our formulations are backed by science-based extracts that perform - satisfaction isn't just skin-deep!
Vitamin C Face Washes FAQ
How often should I use a vitamin C face wash?
It depends on your individual skin type and needs. Generally speaking you can use a face wash with Vitamin C, 2-3 times per week in order to keep your skin looking its best. If you have drier or more sensitive skin then you may want to start with once or twice a week as too much exfoliation can cause irritation. If you have oilier or acne-prone skin then usually two or three times per week should do the trick!
Are there any potential side effects from using a Vitamin C face wash?
Generally speaking, there are no major side effects associated with using a Vitamin C face wash. However, some people with sensitive skin may experience minor irritation or redness due to the acidic nature of Vitamin C. If you have particularly sensitive skin or allergies, it's always best to patch test before applying any new product to your face
Does using a Vitamin C face wash replace my moisturizer?
While using a face wash can offer some hydration and moisturizing benefits, it's important to follow up with additional skincare products such as facial oils or creams to lock-in moisture for maximum hydration benefits.
What is the best way to use a Vitamin C face wash?
For best results, use your face wash twice daily— morning and night— while avoiding contact with eyes and lips. Gently massage the cleanser onto your damp skin in a circular motion before rinsing it off with lukewarm water. Pat your skin gently dry afterward.
What are the best ingredients to look for in a Vitamin C face wash?
The best ingredients to look for when purchasing a Vitamin C face wash include natural extracts such as coco glucoside, orange peel extract, grapefruit extract, lemon peel extract, aloe vera juice or gel as well as tea tree oil or other essential oils which can help soothe sensitive skin types.
Final Thoughts
Choosing the best vitamin C cleanser for your skin type can be daunting, but with a little research, you can find one that works perfectly. Whether you have oily to normal skin, are sensitive to dry skin, or are looking for an even complexion, there is a vitamin C cleanser out there specifically designed for your needs. We've provided some of our best vitamin c cleansers
picks in this article - from DERMA-E Vitamin C Cleanser to Perricone MD's Vitamin C Ester Citrus Brightening Cleanser and Advanced Clinicals' Brightening Vitamin C Facial Cleanser – so take some time to explore which product will work best for you! With these top-rated products at hand, it's now easier than ever before to get glowing, radiant, and healthy-looking skin!
Reviews in this blog post have been edited for clarity and/or length.
Other Posts You May Like: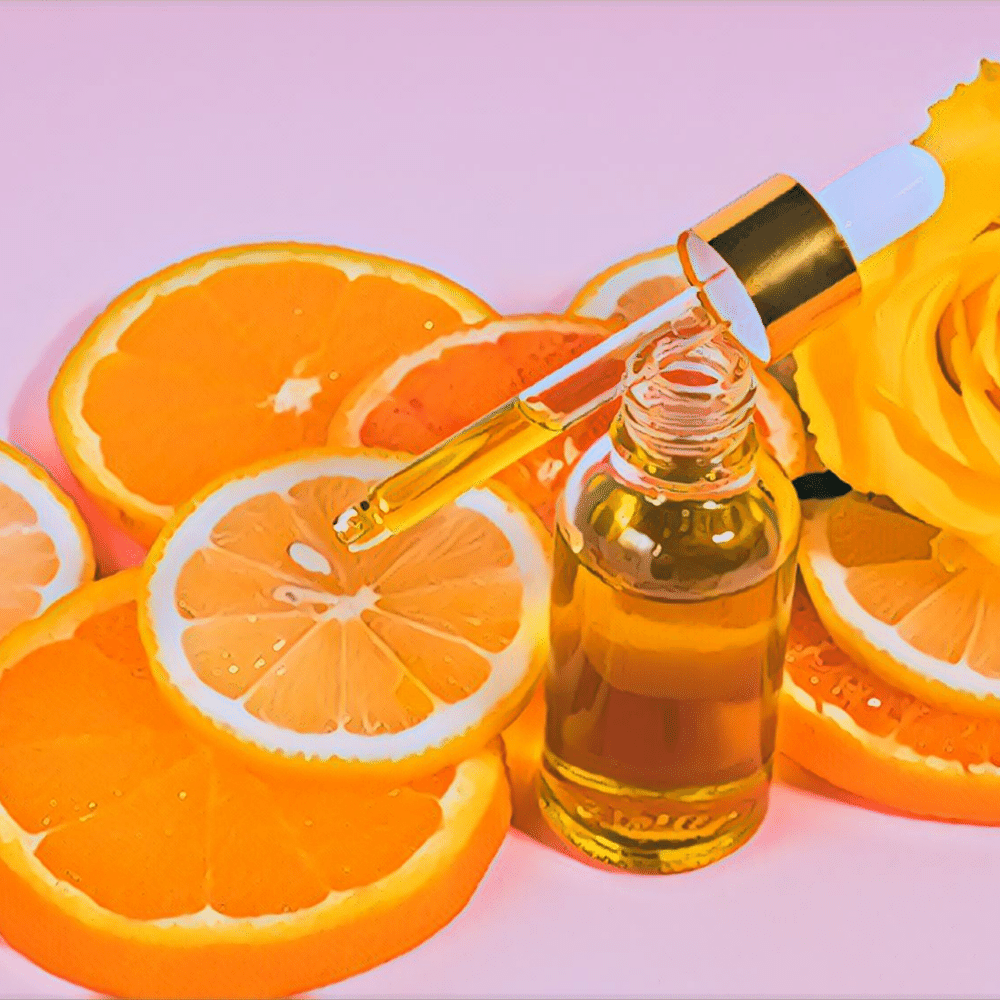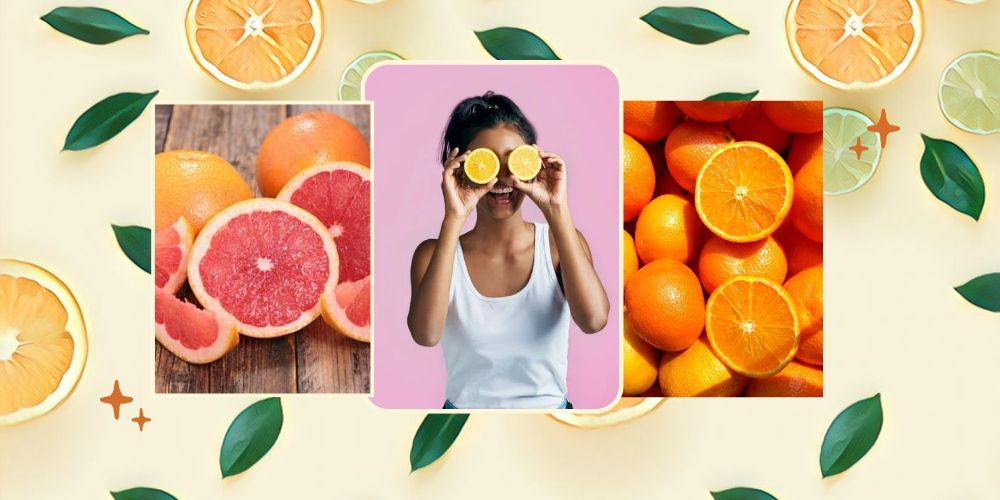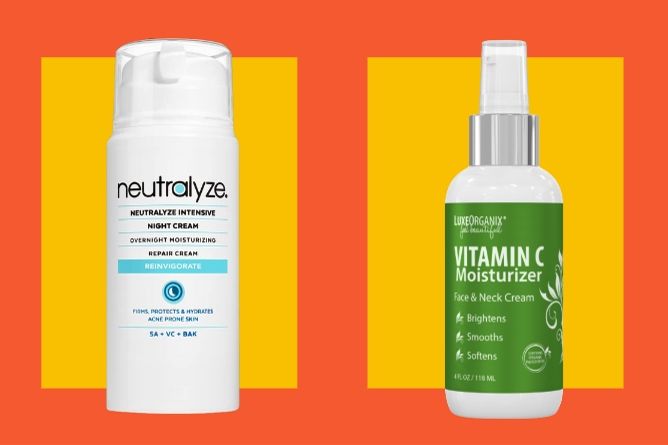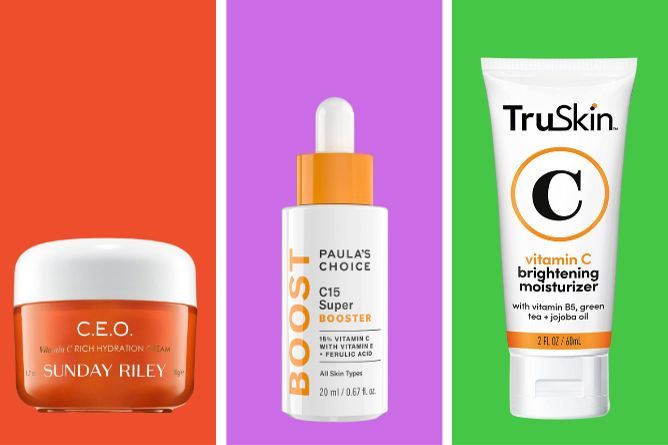 Comments