This post may contain affiliate links, please see our privacy policy for details.
Hello to all the fashion enthusiasts out there! If you've been following our blogs like Luxurious Bodysuits, Confidence-Boosting Shapewear, and Bodysuit Outfit Ideas, you've surely encountered the term 'bodysuit'. This versatile piece, often a mesh or lace bodysuit, has become an absolute wardrobe staple for the cool girl outfit and we love bodysuits for their body-hugging style.
What Is a Bodysuit?
The bodysuit, an unsung hero of the fashion world, often lies at the heart of many stylish ensembles. It's a one-piece form-fitting garment that covers the torso and often the legs, similar to a swimsuit or a leotard, but designed to be worn in everyday life.
Made from lush, stretchy fabrics, including sheer mesh, these garments can effortlessly be dressed up or down, making them a year-round closet staple. A basic bodysuit, for example, is typically worn with a bra underneath, paired with a tight skirt or even loose pants, depending on the look you're going for.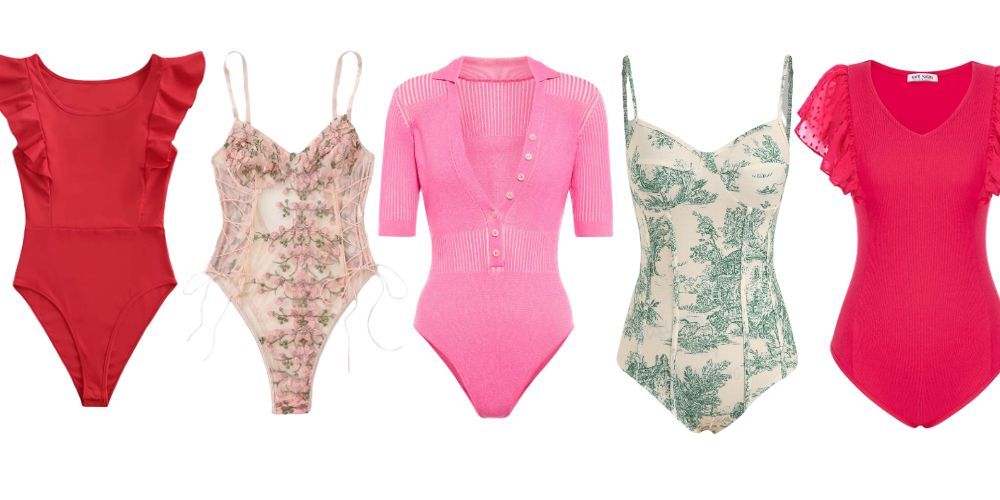 Some of our favorite bodysuits feature crotch snaps for easy bathroom access, plunging necklines for a sexy base layer, or perhaps a lovely Betty Page-inspired lace-up design for a dash of vintage flair. But as fabulous as bodysuits are, some of you may wonder: how much skin is too much to show? This is where strategic coverage comes in. Nipple covers, a high waist skirt for more bum coverage, or a throw-over jacket can help keep you feeling confident and avoid a potential wardrobe malfunction.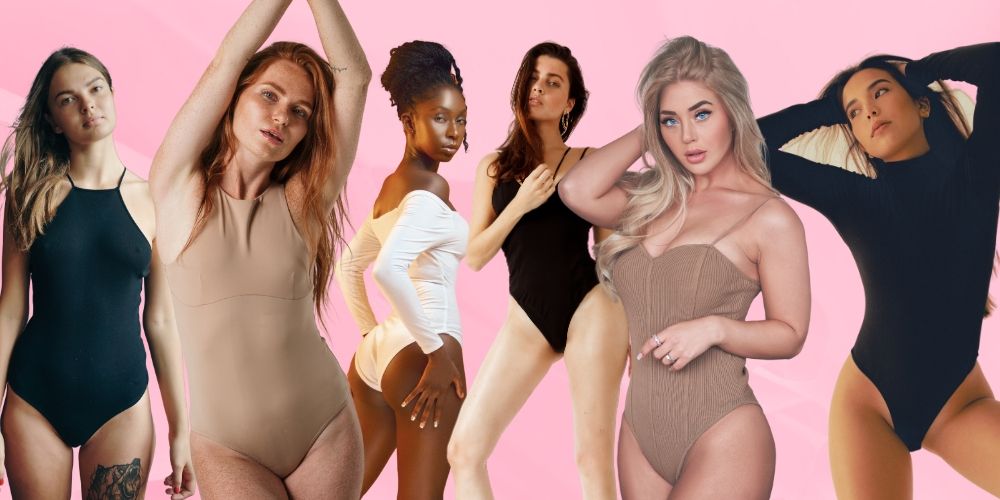 In this post, we're going to delve deeper into the multifaceted world of bodysuits. We will look into their uses, why they're popular, how to put them on, and answer some burning questions like Are you supposed to wear underwear with a bodysuit? or Why are bodysuits sometimes uncomfortable?. Whether you're a seasoned bodysuit connoisseur or a curious newcomer to this trend, there's plenty to learn and explore in the following sections. So, sit back, get comfortable, and let's embark on this style journey together.
What Is a Bodysuit Used For?
A bodysuit is a chameleon of style, seamlessly blending into a plethora of outfits and occasions. You might be wondering, "What is a bodysuit used for?" Well, its uses are as diverse as its styles. From the classical ballet studio, where the leotard-style bodysuit enhances the grace of a pirouette, to the sandy beaches where a bodysuit morphs into a trendy one-piece swimsuit, this adaptable piece of clothing does not shy away from any scene.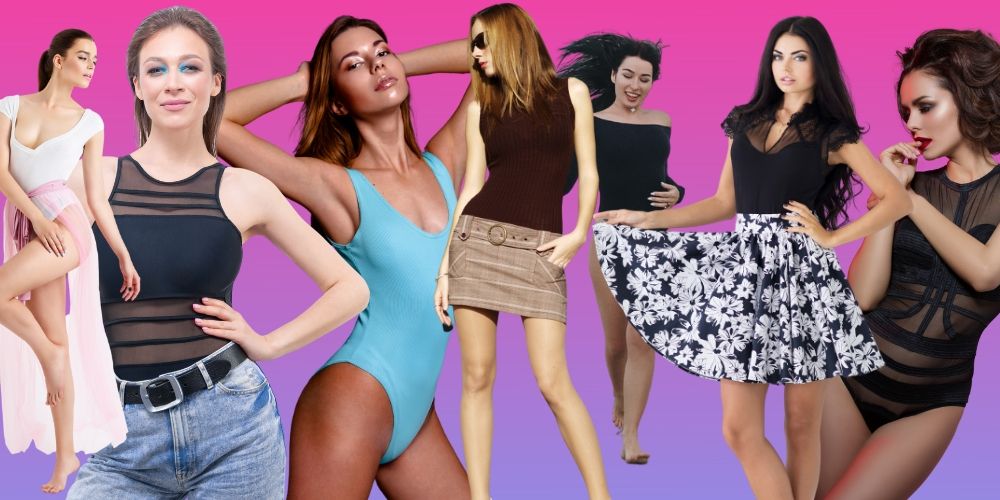 In the realm of streetwear, bodysuits strut their stuff, lending a sleek, fitted look to high-waisted jeans or providing the perfect base layer under a sheer blouse or oversized blazer. And let's not forget their burgeoning popularity in the workout world, where athletic bodysuits offer flexibility and movement without compromising on style. With an array of fabrics, patterns, and cuts to choose from, the bodysuit continues to redefine fashion industry norms, proving that it's not just a piece of clothing—it's a statement.
Bodysuit Fabric
In terms of fabrics, bodysuits range from cotton to lacy numbers that could pass as lingerie. But whether you're a fan of lace or prefer a simpler, more relaxed fit, remember that there's a bodysuit out there for everyone. They come in sleeveless, long-sleeved, and even off-the-shoulder styles. From the cooler winter months, where a bodysuit serves as an added layer under sweaters and suits, to the sun-filled days of summer where a bodysuit is the perfect fit for flaunting your curves.
While most bodysuits like those found in American Apparel or Urban Outfitters work wonderfully under almost anything from a t-shirt to a blazer, some might prefer extra layers. Depending on the bodysuit, some women choose to wear a bra for additional support, especially under low-cut tops or off-the-shoulder styles.
Now, let's talk about the bottom half. You may be familiar with a thong cut, which offers a seamless look for tighter bottoms, while others prefer the full torso coverage of a traditional one-piece garment. Either way, these designs aim to avoid added bulk around the waist and hips.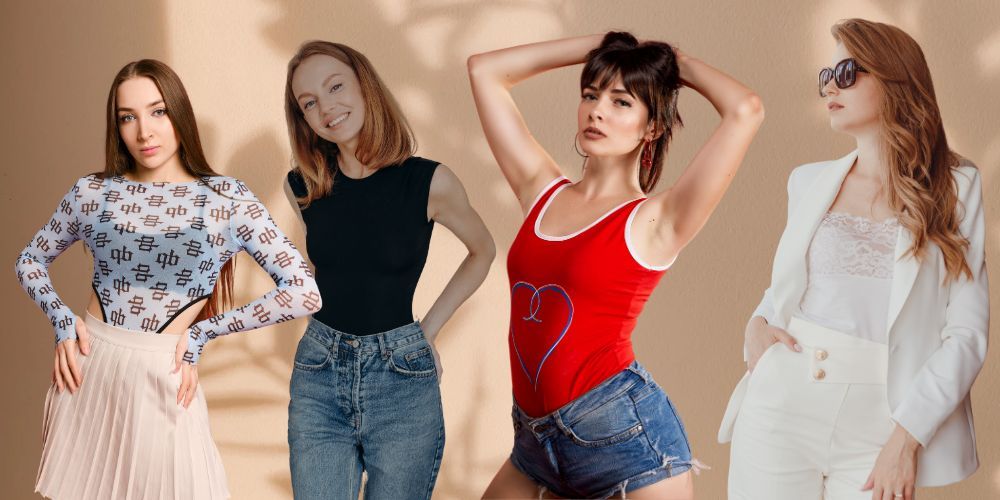 One thing we personally love about bodysuits is their 'grab and go' nature. Pair it with a mid-thigh skirt, slip on some sneakers, and you're ready to rock the scene. On the other hand, dress it up with heels and a blazer for a hot date or formal event. This one-piece wonder is truly a great option for any occasion, making your first bodysuit purchase a smart, informed choice.
How to Shop for Bodysuit
When shopping for bodysuits, keep an eye out for small snaps that allow the crotch area to open for bathroom breaks, or adjustable straps that can ensure the perfect fit for your frame. Chic options abound with this versatile piece, from the lovely Betty Page-inspired lace-up bodysuit to a daring, bare-it-all sheer mesh piece.
Why Wear A Bodysuit
Why wear a bodysuit, you ask? Picture this: you've spent minutes, maybe even hours, trying to achieve that perfectly tucked-in look with your top and jeans, only for it to bunch up or come untucked the moment you move. Here's where the bodysuit comes to your rescue.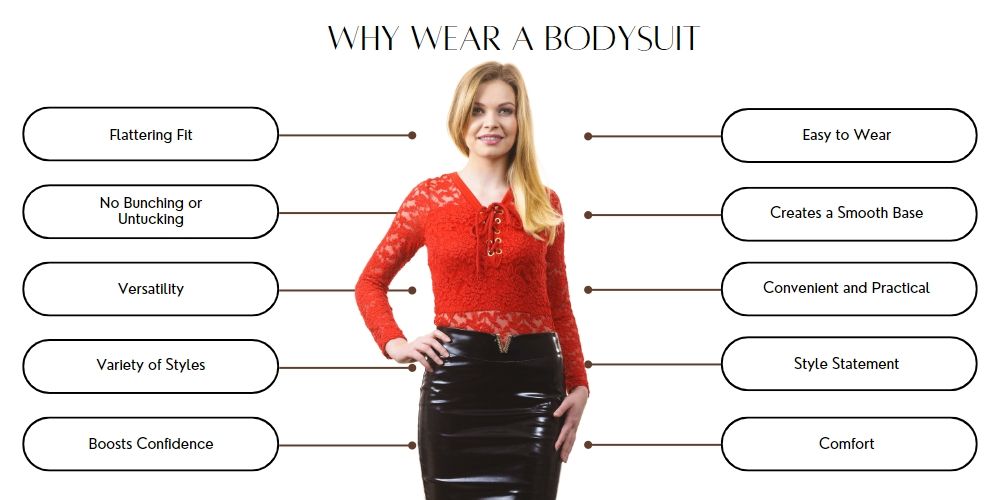 Flattering Fit: Bodysuits are designed to hug your body, providing a sleek and flattering silhouette.
No Bunching or Untucking: Unlike traditional tops, bodysuits stay put. They won't bunch up or come untucked, keeping your outfit looking tidy and put-together.
Versatility: Bodysuits can be worn with virtually anything – jeans, skirts, shorts, trousers, or even under a dress. They're perfect for layering and can easily transition from day to night wear.
Variety of Styles: From casual cotton bodysuits to fancy lace numbers, there's a bodysuit for every style and occasion.
Easy to Wear: A bodysuit is a no-fuss garment. Once it's on, you don't need to worry about adjusting it throughout the day.
Creates a Smooth Base: Bodysuits can act as a smoothing underlayer, especially helpful under sheer or fitted tops.
Convenient and Practical: Many bodysuits feature snaps or hooks at the crotch making bathroom breaks easier.
Style Statement: Bodysuits can be a bold fashion statement. They've been embraced by celebrities and fashion influencers, adding to their appeal.
Comfort: Despite being form-fitting, many bodysuits are surprisingly comfortable and allow for a good range of movement.
Boosts Confidence: With the right fit, bodysuits can make you feel confident and empowered, enhancing your natural shape and embracing your body.
How to Put on a Bodysuit
Putting on a bodysuit might seem as easy as wearing any other garment, but a few tips and tricks can ensure a more comfortable and seamless experience. Let's take a step-by-step journey through the process:
Choose the Right Size: A bodysuit that's too tight can be restrictive and uncomfortable, while one that's too loose might not offer the sleek silhouette you're after. Always try on a bodysuit before buying to ensure it fits well in all the right places.
Check for Fastenings: Many bodysuits come with snaps or hooks at the crotch, which can make putting them on (and taking them off, particularly during bathroom breaks!) much easier. If your bodysuit has these, unfasten them before you begin.
Step Into It: The best way to put on a bodysuit is to step into it, rather than pulling it over your head. This helps it maintain its shape and fit better.
Adjust for Comfort: Once you've pulled your bodysuit up, take a moment to adjust it. Ensure the fabric isn't twisted or bunched up, the seams are sitting flat, and everything feels comfortable.
Fasten Up: If your bodysuit has fastenings, now is the time to secure them. Check that they're fastened correctly to avoid any unexpected wardrobe malfunctions.
Style as Desired: Now that your bodysuit is on, it's time to style it. Pair it with your chosen bottoms, add accessories, and complete your outfit as desired.
Remember, the most important thing is to feel comfortable and confident in your bodysuit. So take your time, adjust as needed, and embrace the sleek, stylish silhouette that your bodysuit offers.
Now that you've mastered the art of wearing a bodysuit, you might be looking for some styling inspiration. For creative bodysuit outfit ideas, be sure to check out our blog post "How to Wear a Bodysuit: 10 Fresh Outfit Ideas for Every Modern Woman!" It's packed with tips and looks for every style personality and occasion.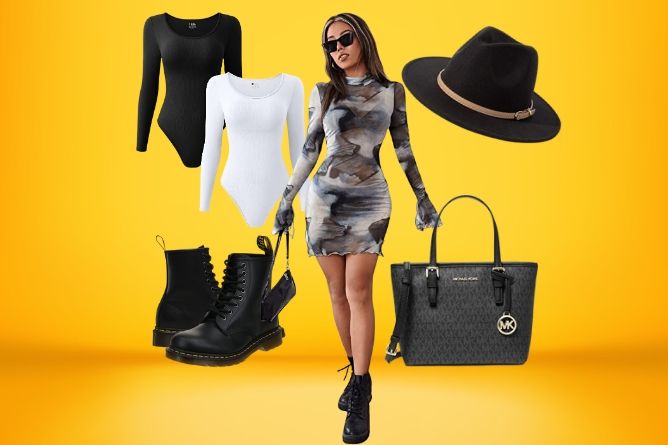 FAQ What is a Bodysuit
Why are bodysuits so uncomfortable?
It's not uncommon to hear someone comment that they find bodysuits uncomfortable. The reason for this can often be traced back to an incorrect fit or size. If a bodysuit is too tight, it can feel restrictive, while one that's too loose might not provide the snug fit that a bodysuit is designed to offer. Material is also a key factor – some fabrics might not be as stretchy or breathable, which can lead to discomfort. Additionally, bodysuits with poor-quality fastenings or seams can cause chafing or skin irritation. Therefore, it's crucial to find a bodysuit that's made from comfortable materials and fits you just right.
Can you wear a bodysuit with leggings?
Absolutely! A bodysuit paired with leggings can make for an incredibly chic and comfortable outfit. It's a match made in heaven for those who love a sleek silhouette without worrying about a top becoming untucked or bunching up. A fitted bodysuit can provide a smooth, streamlined look, and can be paired with high-waisted leggings for a casual day out or even a workout session. Just throw on a denim jacket or an oversized cardigan, and you're good to go!
Do you wear underwear with a bodysuit?
The choice to wear underwear with a bodysuit really comes down to personal preference and comfort. Some people prefer not to, as a well-fitted bodysuit can provide enough coverage and support on its own. Additionally, skipping underwear can prevent the appearance of visible panty lines which can disrupt the smooth silhouette that a bodysuit offers. However, others might opt for underwear for hygiene purposes or if the material of the bodysuit is sheer or thin. The most important thing is to do what makes you feel most comfortable.
Final Thoughts
Bodysuits have come a long way from being just a dance or gym outfit. Today, they've firmly established themselves as an indispensable part of any fashion-forward wardrobe, thanks to their versatility, sleek silhouette, and the array of styles they come in.
Throughout this post, we've dived into what a bodysuit is and its varied uses, from swimwear and dancewear to everyday streetwear. We've also touched on why they're such a popular choice for many - offering a smooth, flattering fit that stays put without bunching or untucking, and providing a stylish base for various outfits.
We've walked through the process of how to put on a bodysuit and offered tips to ensure a comfortable and hassle-free experience.  But the beauty of fashion is that it's a personal journey. While we've provided a foundation of knowledge, the ultimate style of wearing a bodysuit is your own. It's your canvas to paint, your story to tell.
So, we encourage you to experiment, mix and match, try new styles, and discover what makes you feel the most comfortable and confident. After all, the best outfit is the one that makes you feel like the best version of yourself.
Happy styling!
Other Posts You May Like
💡
Dive Into Fashion Outfits
Explore our exclusive articles featuring
Boho Outfit Ideas
,
Vacation Outfits
,
Festival Outfits
,
and
Summer Outfits with Hats
.
Delve into our
Denim Shorts Outfits
,
Black and White Outfits
, Bodysuits Outfits,
and
Pink Outfit Ideas
. Experience the charm of our
Tube Top Outfits
, Crop Top Outfits,
Sundress Outfit Ideas
,
Resort Wear
,
Beach Wear
,
and
Jury Duty Outfits.
Start your style journey now!
Comments