This post may contain affiliate links, please see our privacy policy for details.
Dressing in Las Vegas is all about straddling the line between comfort and glam. Given the city's vast array of activities and its desert climate, knowing what to wear is crucial. Whether you're hitting the slots, attending a show, dining at a Michelin-starred restaurant, or lounging poolside, your outfit needs to fit the occasion. However, the sartorial ethos of Vegas encourages a dash of daring and a splash of spectacle in every ensemble.
In this blog post, we'll guide you through the glittering fashion maze of Sin City. From daytime chic to nightclub glam, we've got outfit inspiration for every Vegas occasion. We'll navigate you through the dress codes, provide helpful style tips, and ensure you'll be ready to wow on the Las Vegas Strip, regardless of your itinerary.
For more fantastic style guides, don't forget to check out our recent posts on What to Wear in Hawaii for tropical inspiration, What to Wear in Greece for Mediterranean chic, and What to Wear in Mexico for a blend of tradition and modernity. Now, get ready to dive into the glamorous world of Vegas style!
Las Vegas Outfit Ideas
As we know, Sin City doesn't do anything by halves, and that includes style. But in this style mecca where feathers and sequins are commonplace, how do you strike the right balance between fabulous and faux pas? Get ready for the style guide of a lifetime as we delve deeper into the flamboyant fashion world of Las Vegas. Hold onto your feather boas as we decode the dos and don'ts of Vegas outfit choices!
Vegas Outfit Ideas  Do's
Do embrace the bold and bright: Vegas is no place for the timid. Embrace the city's bold spirit in your attire. Go for vibrant colors, shiny fabrics, or statement pieces that stand out.
Do opt for comfort: Between exploring the Strip and dancing the night away, Vegas can be hard on your feet. Choose comfortable, stylish footwear to make the most of your trip.
Do dress for the occasion: Your daytime outfit for strolling the Strip won't work for an upscale dinner or a nightclub visit. Pack versatile pieces that you can mix and match for different settings.
Do accessorize: A great accessory can elevate your look instantly. Consider statement necklaces, oversized sunglasses, hats, or even a funky belt to take your outfit from good to great.
Do take the weather into account: Las Vegas can be sweltering during the day and chilly at night. Layer your outfits to stay comfortable all day and night.
Vegas Outfit Ideas Don'ts
Don't underdress: Even if you're just hitting the slots or grabbing a burger, you never know when you'll score tickets to a show or decide to try a swanky restaurant. Stay prepared with an outfit that can be easily glammed up.
Don't overdo the bling: Yes, Vegas is all about glitz and glamour, but that doesn't mean you should drape yourself in sequins from head to toe. Balance your statement pieces with more subdued items to create a chic look.
Don't forget a jacket or wrap: Casinos can be chilly, and desert temperatures drop at night. Be sure to pack a stylish jacket or wrap to stay warm.
Don't neglect your swimwear: Many hotels in Vegas have fabulous pools. Don't forget to pack a stylish swimsuit and a chic cover-up.
Don't overpack: It's easy to go overboard when packing for Vegas, but remember, you'll likely want to do some shopping while you're there. Plus, lugging around heavy suitcases is never fun.
In the glittering spectacle that is Las Vegas, your style is part of the show. Keep these dos and don'ts in mind, and you're sure to turn heads and feel fabulous no matter where your Vegas adventure takes you!
What to Wear in Vegas Daytime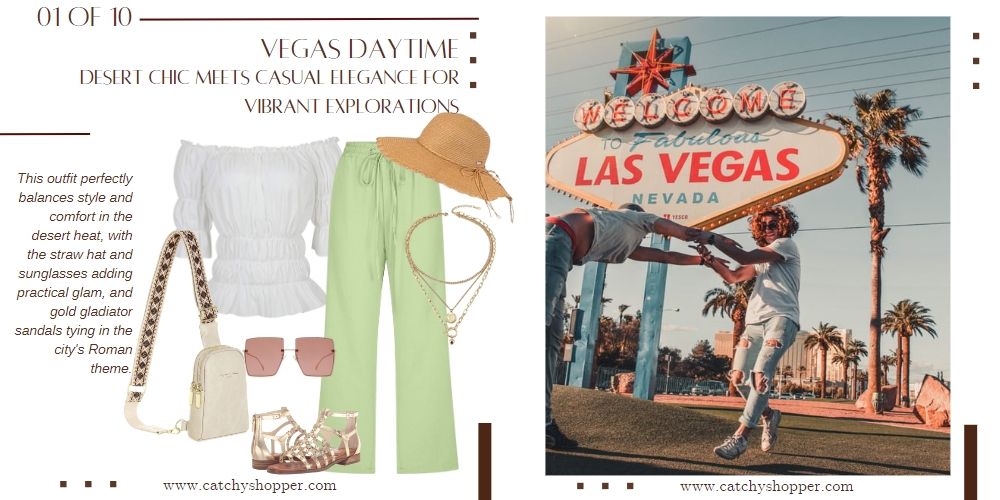 Hitting the Vegas strip in the daytime can be a scorching affair! That's why your Las Vegas daytime outfits need to be carefully considered. You need a look that says "glamorous", not "I just walked through the desert". So, what's the secret? Think light and breezy, and ready for a little flutter at the roulette wheel or a dash around designer stores.
Try a stunning off-the-shoulder white linen blouse – it screams chic, yet cool. Partner it with high-waisted, wide-leg cropped pants in a soft pastel like mint or peach – I mean, who says a desert flower can't bloom in style? Now, those feet need some love, too! Step into the daylight in a pair of comfortable yet oh-so-trendy gold gladiator sandals.
Accessories? Of course! Shield those peepers with oversized sunglasses, sling a pastel crossbody bag over your shoulder, and layer on some dainty gold necklaces for a hint of a diva. And don't forget that wide-brimmed straw sun hat - it's your best friend against the Vegas sun. Voila! You're not just beating the heat, honey, you're making it jealous!
What to Wear in Vegas at Night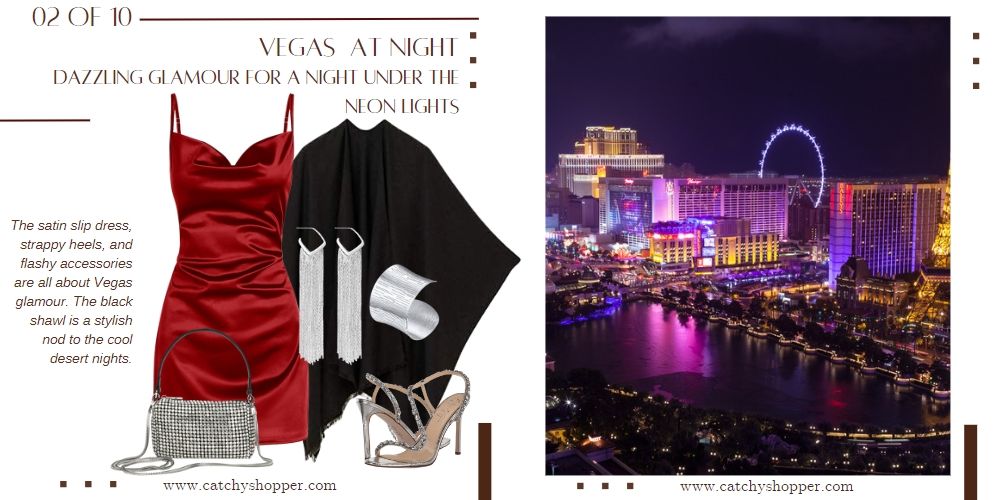 When the Vegas sun sets, the real magic begins! Turn heads and break hearts in a sultry satin slip dress, sashaying down the Strip in colors that can rival the neon signs. You're not just walking in those strappy, high-heeled sandals - you're dancing on the edge of starlight.
Your accessories speak louder than words - a metallic statement clutch, sparkling chandelier earrings, a bold cuff bracelet - yes, you're the queen of the night. And for when the desert night whispers cool breezes? Drape a chic black shawl around your shoulders. Shop the look, catch the moonlight, and remember: In Vegas, the night is your stage!
What to Wear to Dinner in Vegas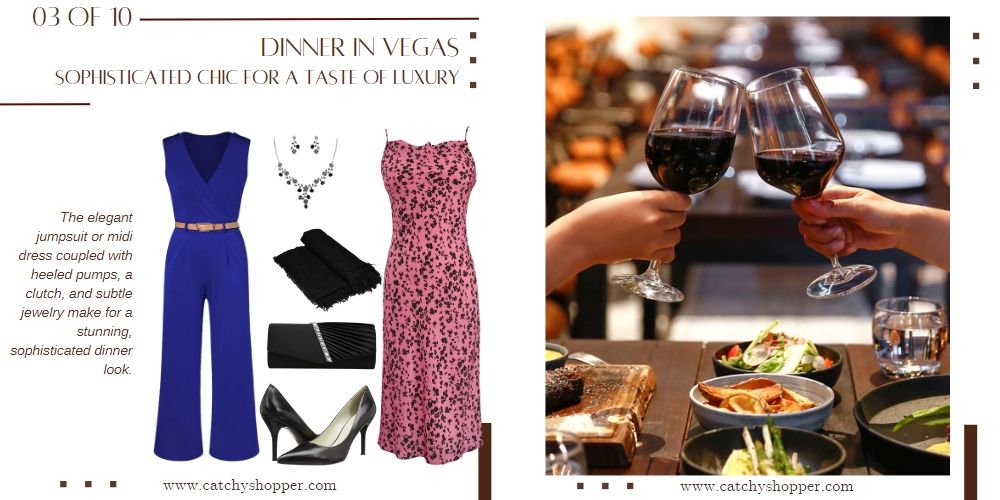 When the dinner bells of Vegas call, answer with sophistication wrapped in style. Opt for an elegant jumpsuit in a solid color like black or navy. If you prefer a black dress, a stylish midi dress in a rich jewel tone can look exceptionally classy. A pair of heeled pumps in black or nude will add an element of sophistication to your outfit. Choose a comfortable height to ensure you enjoy your evening.
Accessorize your look with a small clutch bag with some embellishments. Add a delicate necklace and a pair of elegant drop earrings for a polished look. Depending on the weather, a lightweight wrap or pashmina might be needed. Shop the look and let the Las Vegas culinary adventure begin - after all, style is the best appetizer for a delicious evening!
What to Wear to Watch Sports in Vegas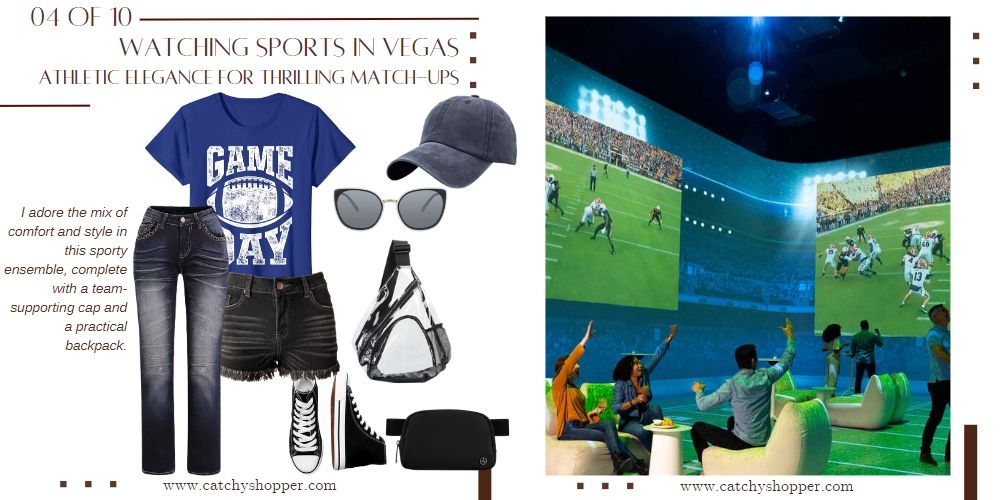 In this case, keep it cool and casual with a breathable, stylish jersey or t-shirt representing your favorite team or in a neutral color if you're not picking sides. Opt for comfortable denim shorts or jeans depending on the weather. If you prefer something more athletic, a pair of trendy joggers would also work. Choose comfy sneakers. After all, you might find yourself jumping up in excitement!
Keep the sun off your face with a baseball cap, possibly in your team's colors. Sunglasses are a must for day games. A small, sporty backpack or crossbody bag would be practical for carrying essentials. Opt for a simple, low-maintenance look. Tie your hair up in a ponytail or wear it under your cap. Go for minimal, sweat-proof makeup.
What to Wear to Pool Party in Vegas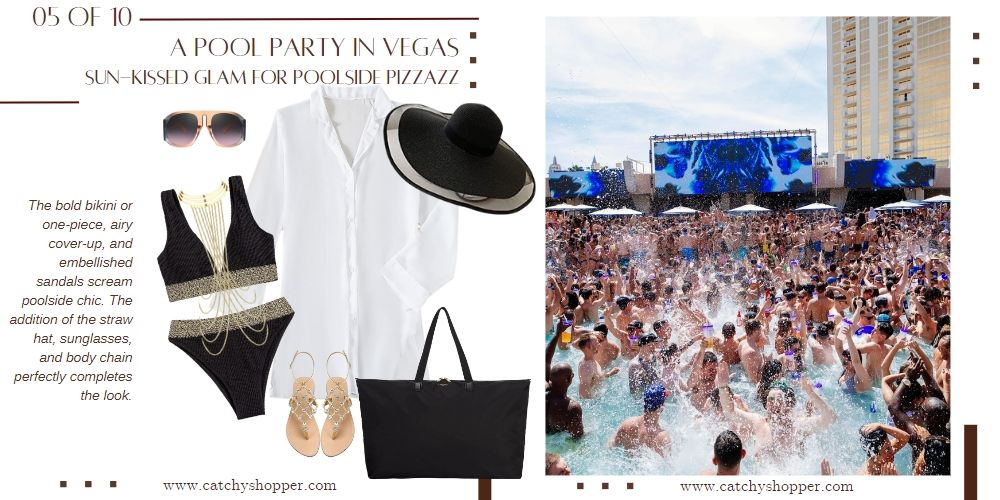 Ready to shine at Vegas pool parties? Dress to impress with a bold and flirty high-waisted bikini or a stunning one-piece. Stay cool and classy by throwing on an airy white kaftan or sarong. Keep those feet comfy yet fabulous in embellished flat sandals or flip-flops.
Complete the look with oversized sunglasses, a chic straw hat, and a splash-proof tote for your essentials. Amp up the glam with a dainty body chain for some extra sparkle. At a Vegas pool party, you're the ultimate star - own it!
What to Wear to a Concert in Vegas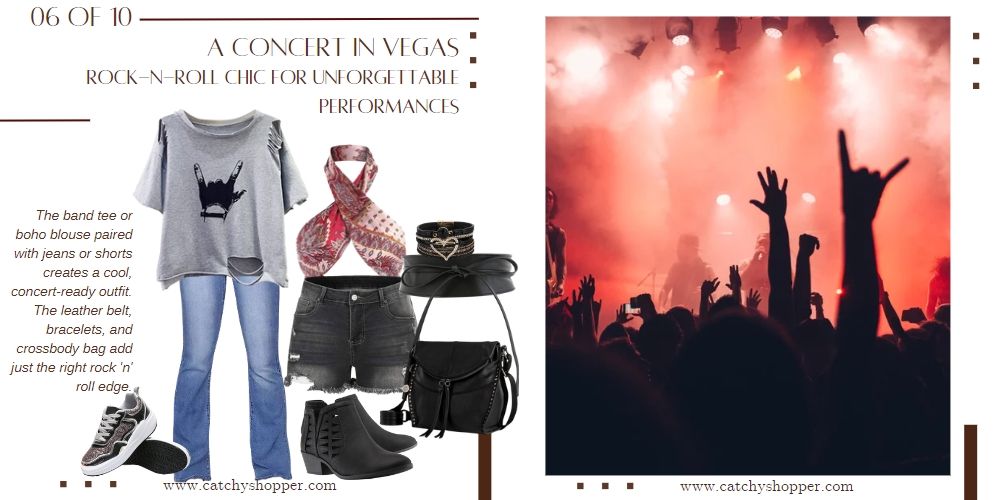 Opt for a comfy and trendy band tee or a free-spirited bohemian blouse that mirrors the concert's vibe. Match your top with high-waisted jeans or cut-off shorts, depending on the weather.
Comfy kicks like ankle boots or cool sneakers are the best bet as you'll be standing or dancing all night long. Give your style a rock 'n' roll feel with a leather belt and stackable bracelets. A small crossbody bag keeps you hands-free. Keep it classic with rock concert colors like black, white, and denim. But if you want, add a pop of color to your outfit!
What to Wear to a Club  in Vegas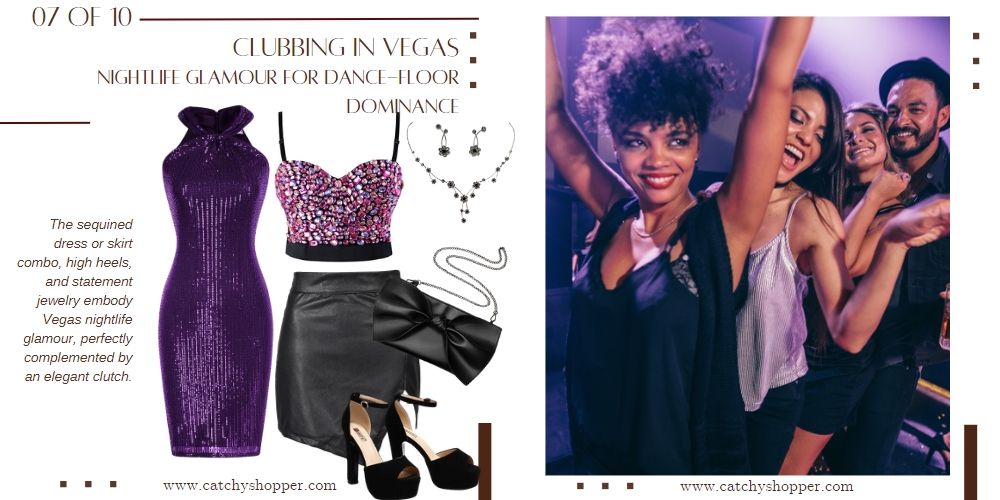 When it's time to hit the clubs, make sure your outfit shines brighter than the Vegas skyline. Slip into a glamorous cocktail dress or a stylish crop top and mini skirt combo, preferably adorned with sequins or in bold, statement colors. Yes, it's all about that razzle-dazzle!
Step onto the dance floor in those high heels - remember, comfort is key for those dance-offs. Dazzle them further with statement earrings or a chic necklace, and keep your essentials in a compact, elegant clutch. Shop the look and remember: in Vegas, you're not just in the club, you ARE the club!
What to Wear to a Show in Vegas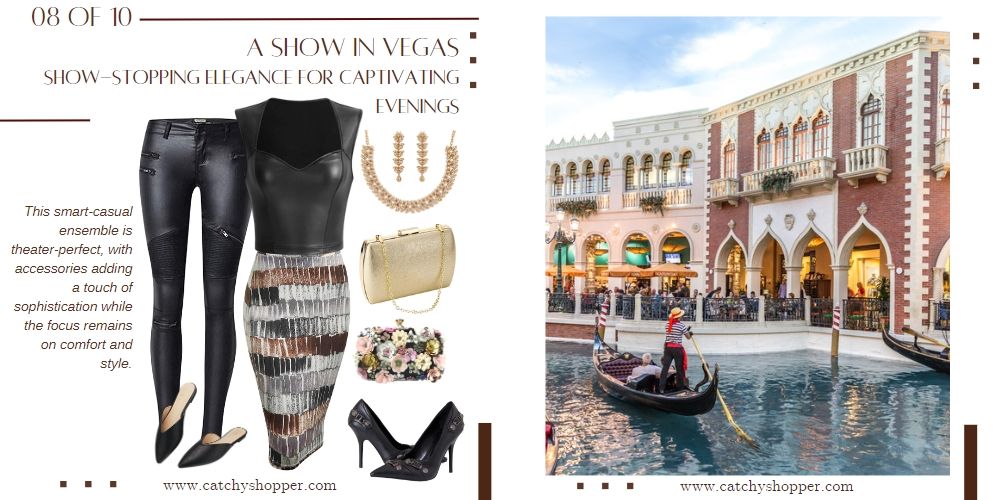 Make a statement with a fabulous yet smart-casual ensemble of a blouse teamed with pants or a pencil skirt, or go for a touch of class with a midi dress. But don't skimp on comfort - slip into low-heeled pumps or flats for a night of walking and standing in line.
Jazz up your outfit with a statement necklace or earrings, and keep your essentials close by with a chic clutch or crossbody bag. Stick to classic and sophisticated colors like black, navy, or jewel tones for an effortlessly elegant look. Show them how it's done in style at your next Vegas show adventure!
What to Wear for a Wedding in Vegas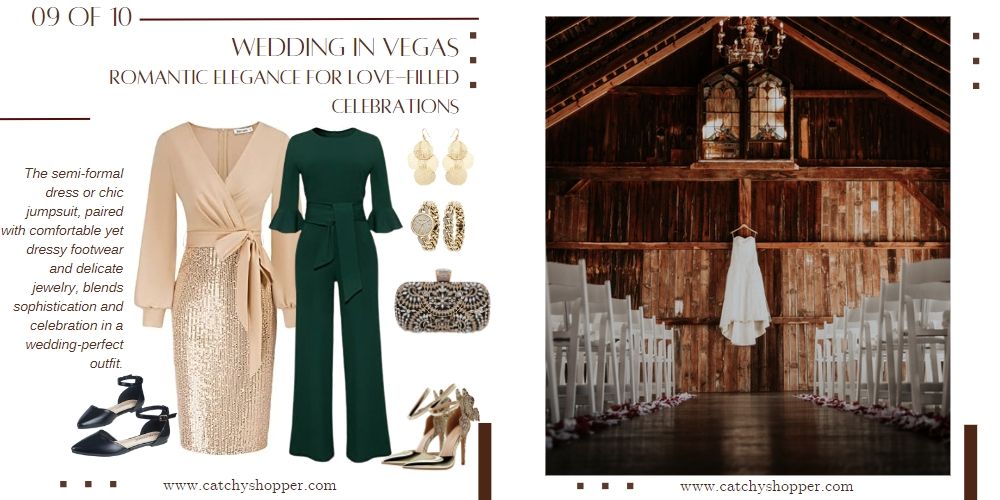 For a day of love and celebration, opt for a semi-formal dress or perhaps a chic jumpsuit if it's a more casual affair. Glide around the venue in comfortable yet elegant heels or dressy flats - after all, you'll be dancing the night away!
Add a touch of elegance with a matching clutch and delicate jewelry. Remember, white is reserved for the bride, so choose lovely pastels, jewel tones, or classic black. Shop the look and get ready to charm the crowd with your style at the next Vegas wedding!
What to Wear to a Work Conference in Vegas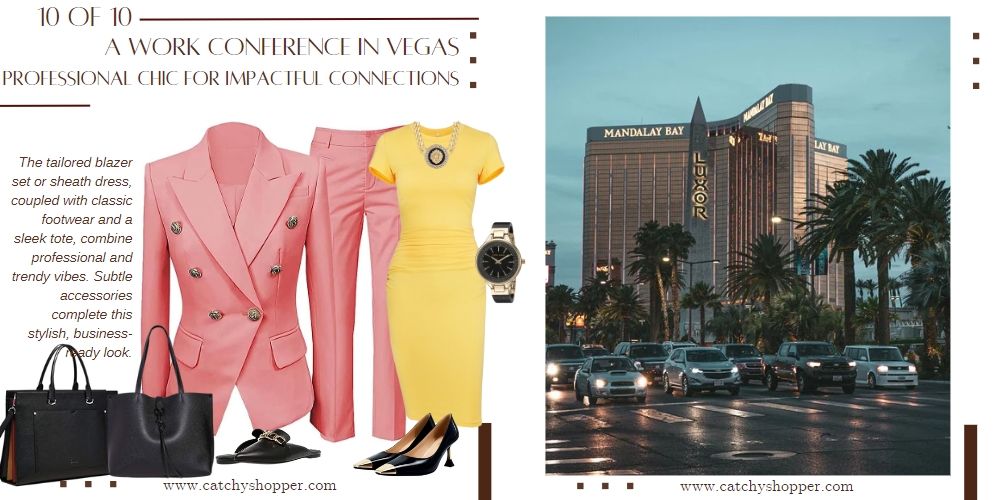 When it's time to impress at a work conference, we're talking business with a dash of pizzazz! A tailored blazer and trousers set, or a sophisticated sheath dress would be perfect.
Remember, professional doesn't have to be boring; choose pieces that show your personality. Opt for classic pumps or loafers. Comfort is crucial if you're going to be on your feet networking and attending sessions.
A statement watch or subtle necklace can add a touch of professionalism to your look. Also, carry a sleek, structured tote or briefcase to hold your laptop and conference materials.
Vegas Outfit FAQ
Is there a dress code for Vegas shows?
While there's no official or strick dress code for most Vegas shows, smart casual, less formal attire is generally recommended. Men can opt for slacks and a collared shirt, while women can wear a nice dress, skirt, or dressy jeans with a chic top.
What kind of clothes do I wear in Vegas?
Las Vegas style is all about fun, glamor, and sophistication. Daytime outfits could include stylish shorts, tops, and comfy sandals, while nighttime outfits might consist of chic dresses, jumpsuits, or dressy separates. Remember to accessorize and wear comfortable shoes!
Should I bring jeans to Vegas?
Yes, jeans are versatile and can be a great choice for Vegas. For a casual daytime look, pair them with a trendy top. For evenings, dress them up with a fancy blouse or jacket.
What should I wear in Las Vegas?
Vegas is all about bold and bright attire! Embrace the city's spirit with vibrant colors, shiny fabrics, or statement pieces. Remember to dress for the occasion, and don't forget to pack comfortable shoes and weather-appropriate clothing. For more details, refer to our dos list.
What should I avoid in Las Vegas?
Try to avoid underdressing, overdoing the bling, forgetting a jacket or wrap for the chilly evenings, and neglecting your swimwear. Also, try not to overpack as you'll likely want to do some shopping while in Vegas. For more specifics, refer to our don'ts list.
Key Takeaways
After a whirlwind tour through the dazzling style landscape of Las Vegas, it's time to round up the fashion nuggets we've gathered.
1. Vegas is versatile: From a casual day of shopping to a glitzy night at the club, Las Vegas outfits need to run the gamut of style. Dress according to your plans and be ready to turn heads wherever you go.
2. Consider the climate: The desert sun can be relentless, and air-conditioned interiors can get chilly. Layering is key and always have a jacket or wrap handy for the cooler evenings.
3. Comfort is crucial: Amid the sequins and high heels, don't forget to prioritize comfort - especially when it comes to footwear. Walking the Strip or dancing the night away calls for shoes that won't let you down.
4. Accessories add glam: Use accessories to add that Vegas sparkle to your outfits. Think statement pieces, and stylish sunglasses, and don't forget the sunscreen during the day!
5. When in doubt, overdress: Vegas is a city that loves a good show. If you're unsure about how dressy to go, err on the side of glamour.
Final Thoughts
And there you have it, fashionistas! Your ultimate style guide to shining just as bright as the neon lights in Vegas. We've dealt our cards, sharing the winning hands on what to wear for every occasion in this fabulous city - from casual days to glitzy nights, chic dinners to high-energy concerts, and everything in between.
Now it's your turn to play the game and make your style statement in the city that never sleeps. Remember, in Vegas, you're not just part of the show, you ARE the show! So, embrace the glamour, the glitz, and the extraordinary atmosphere.
Remember, fashion is a form of self-expression and there's no better place to express yourself than in the heart of Sin City. Be bold, be extravagant, but most importantly, be you.
As you pack your suitcase with these style tips in mind, we hope your Vegas trip is filled with unforgettable memories, thrilling experiences, and, of course, jaw-dropping outfits.
We'd love to hear how our guide inspired your Vegas wardrobe, especially if you're planning to visit Las Vegas soon. So, don't forget to leave a comment and share your Vegas fashion stories with us. After all, fashion is more fun when it's shared. Are you ready to paint the town red in style? Vegas eagerly awaits you, darling!
Other Posts You May Like
If you've loved diving into our Vegas-style guide, then get ready to take your style journey even further. Explore our range of exclusive articles that cater to every style and occasion. Whether it's our Boho Outfit Ideas for your inner free spirit or Vacation Outfits, for the globetrotter in you, we've got your style inspirations covered.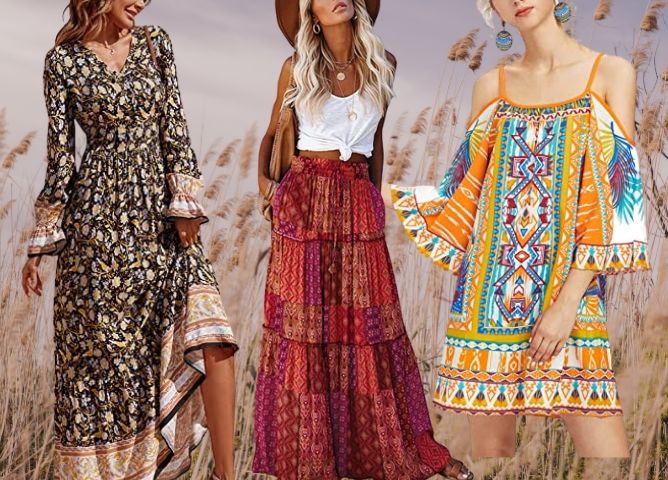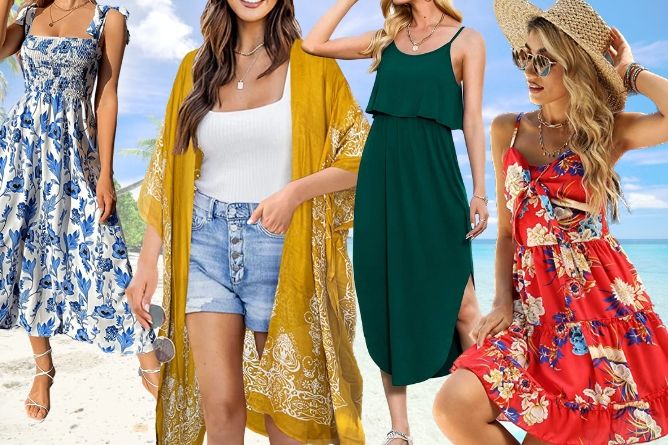 For those summer days, our Summer Outfits with Hats and Pool Outfits will keep you breezy and beautiful. If you're a festival fanatic, our Festival Outfits are sure to add more color and fun to your music-filled weekends.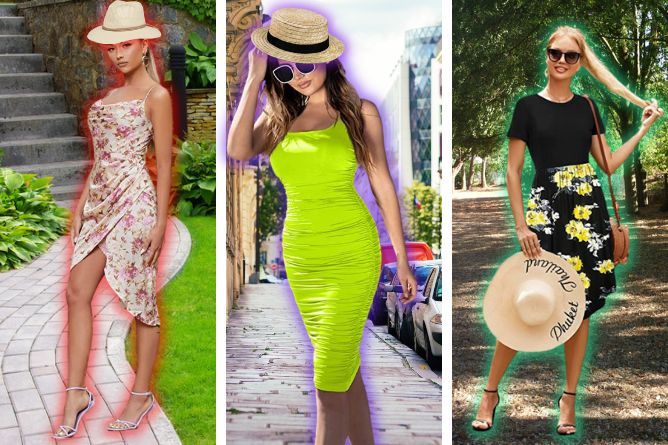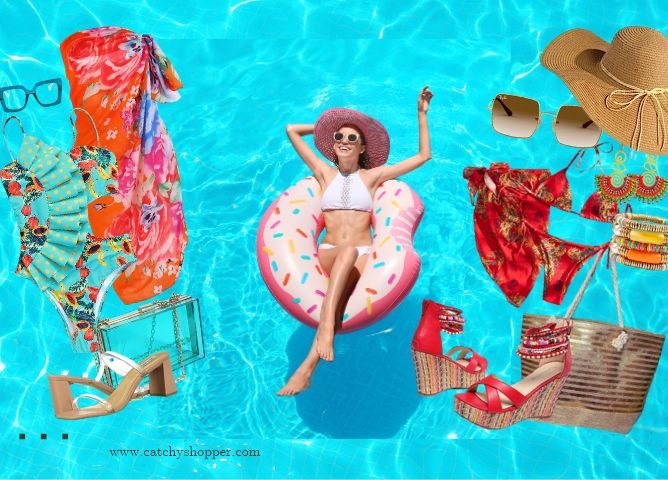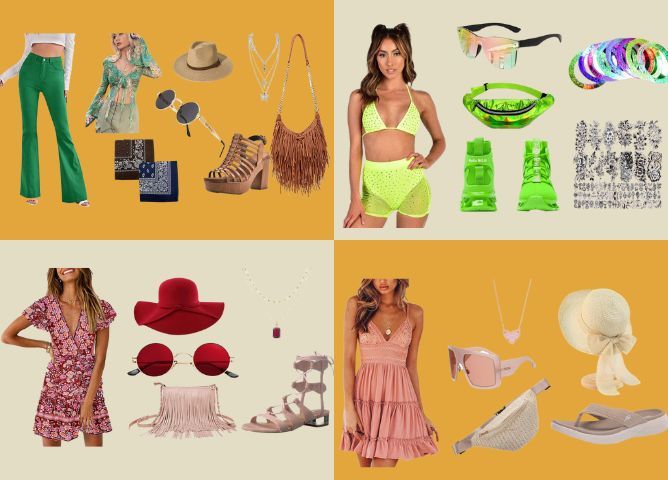 Our Resort Wear and Beach Wear collections will ensure you're the best-dressed person, whether you're lounging by the pool or strolling down the beach. And if you've been summoned for jury duty, our stylish Jury Duty Outfits will help you make a good impression.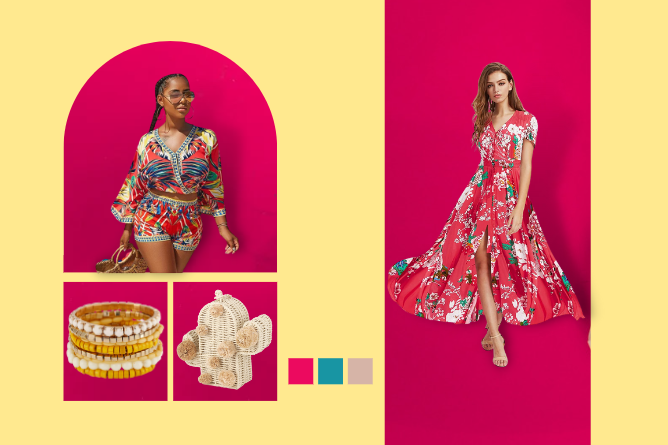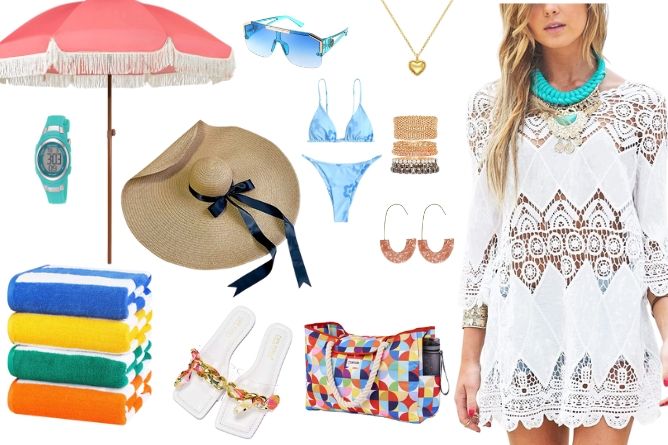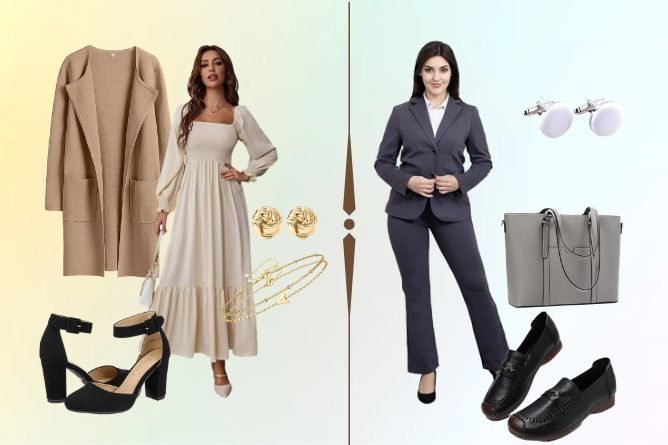 Got a thing for pink or want to make a bold statement in black and white? Check out our Pink Outfit Ideas, Black Dress Outfits, and Black and White Outfits. From rocking Denim Shorts Outfits to chic Bodysuits Outfits, we've got it all.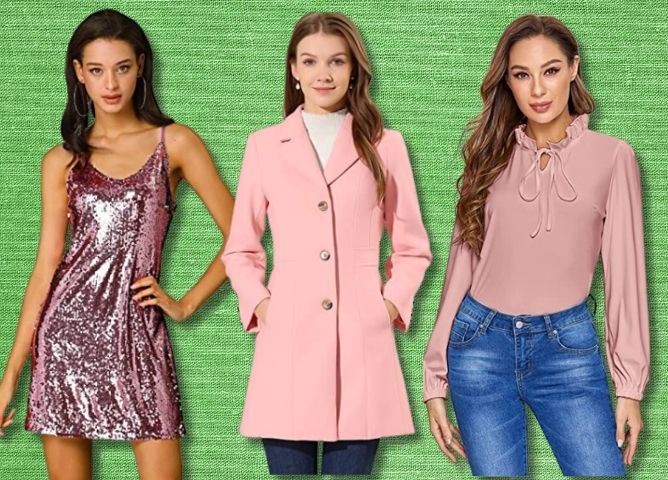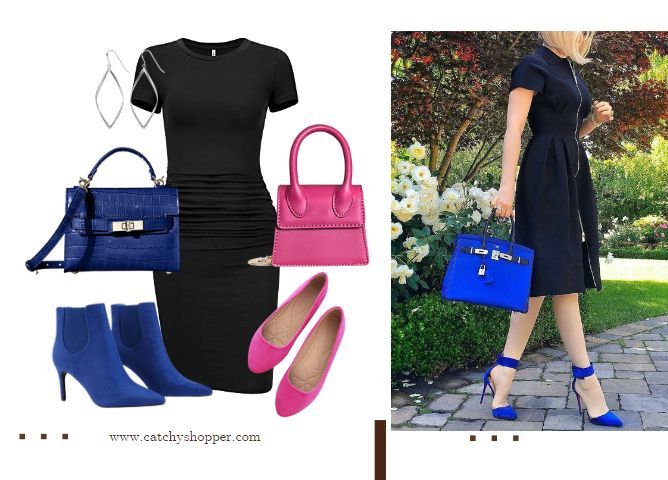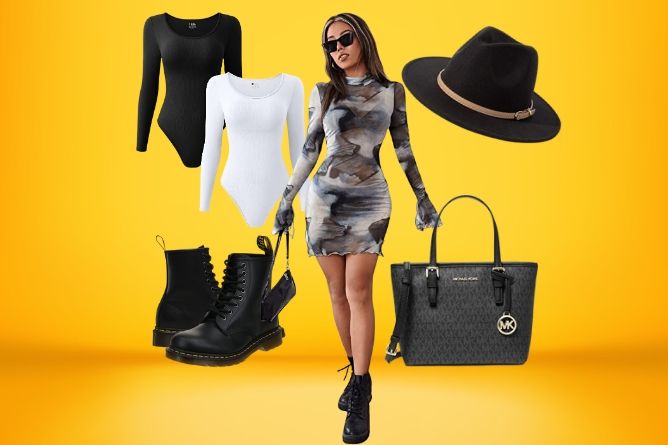 For lovers of luxurious bodysuits and confidence-boosting shapewear, dive into our extensive guides such as What is a Bodysuit and How to Wear a Bodysuit with Jeans.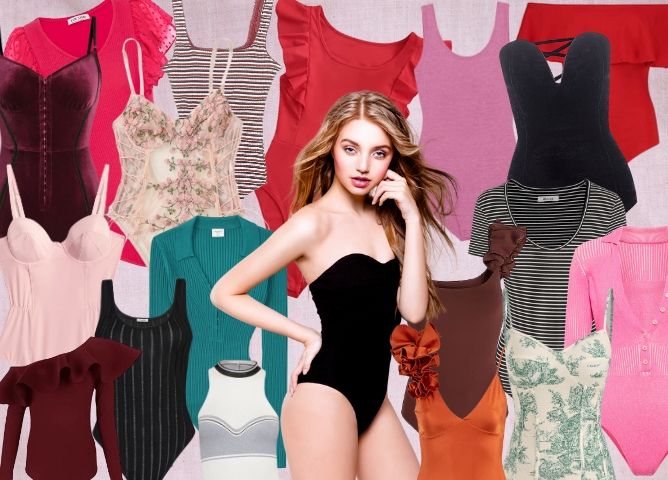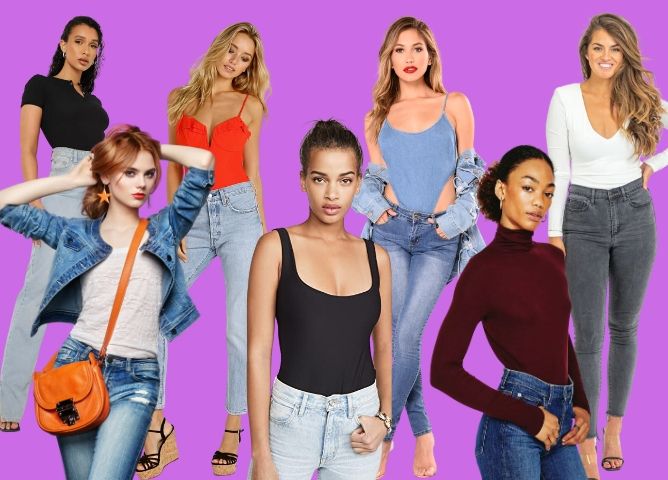 Comments