This post may contain affiliate links, please see our privacy policy for details.
As summer's warmth amplifies and the excitement of the Independence Day celebration sparks curiosity, one intriguing thought lingers in the mind of every fashion-forward individual: "What are the most vibrant July outfit ideas for the 4th?" Whether your plans include marveling at a kaleidoscope of fireworks, engaging in neighborhood camaraderie at a block party, or relishing an intimate family gathering, your chosen outfit can dramatically play a huge role in how you revel in America's Independence Day.
Donning the perfect ensemble for the Fourth is not merely about clothes - it's an art of aligning sublime accessories to enrich your look. Imagine the charm of star-spangled sunnies or the allure of patriotic pendant necklaces - the right accessories can genuinely infuse a burst of patriotism into your July outfit ideas. And the pinnacle of this festive joy?  Many of these stunning ensembles can be put together at incredibly affordable prices, proving that style doesn't have to cost the earth.
Barbecue Outfit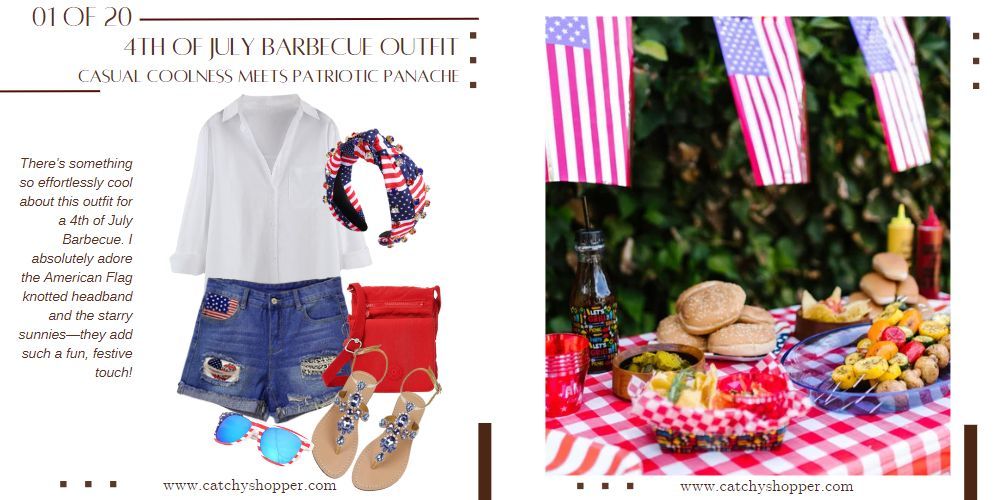 Embrace casual coolness with relaxed-fit denim shorts and a breezy, oversized white linen blouse. An American flag headband adds a festive touch, while strappy leather sandals keep you comfy all summer long. With a red crossbody bag to carry your essentials and bold starry sunnies, you'll be ready to celebrate the holiday.
Beach Day Ensemble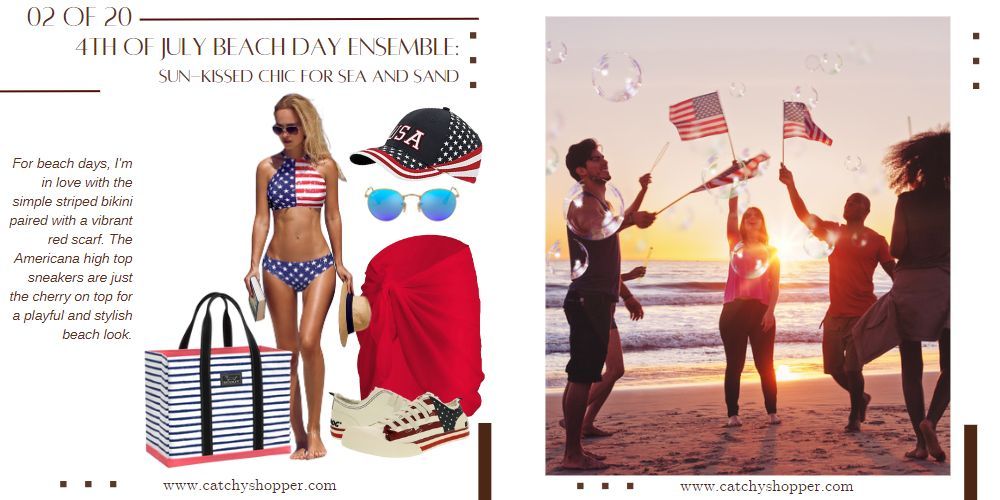 For a cute look by the sea, choose a simple American flag bikini paired with a vibrant, lightweight beach scarf wrap. Complement it with USA flag sneakers for a splash of color, and store beach essentials in a roomy straw beach tote. Finish off your July outfit with an adorable American flag hat and oversized sunglasses.
Poolside BBQ Attire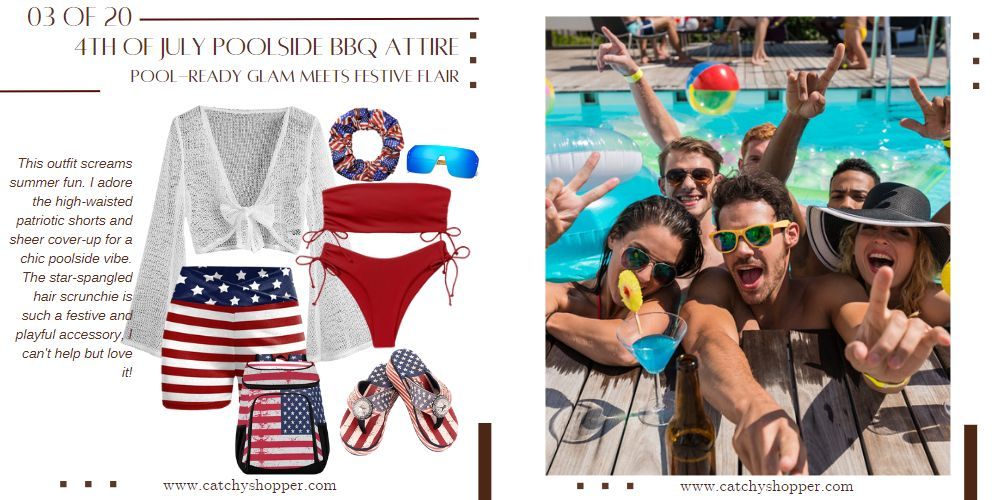 Dive into the festivities with a stylish striped bikini, perfect for that 4th of July poolside BBQ. Layer over with a white sheer top cover-up and complement it with high-waisted patriotic shorts for those moments out of the water. Protect your hair from chlorine and sun with a star-spangled hair scrunchie and keep your eyes shielded with mirrored sunglasses.
Don't forget to slide into comfortable sandals for easy movement around the pool area. To top it off, keep your drinks and snacks cool with an insulated cooler bag - the ultimate fun and practical poolside accessory!
Neighborhood Block Party Outfit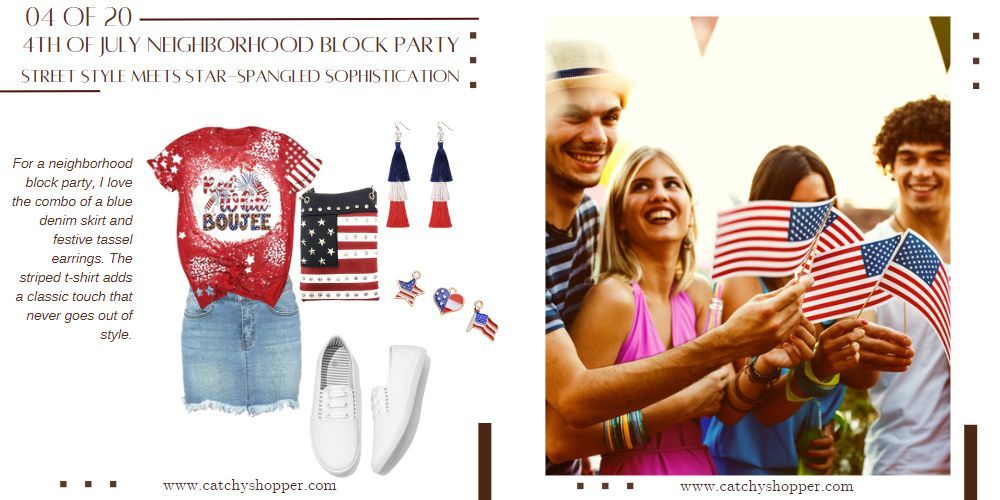 Mix and mingle in a trendy light blue denim skirt with festive tassel earrings and a patriotic t-shirt. White canvas sneakers keep you comfortable, while a chic crossbody bag adorned with a heart-shaped patriotic pendant ensures you celebrate in style.
Parade Outfit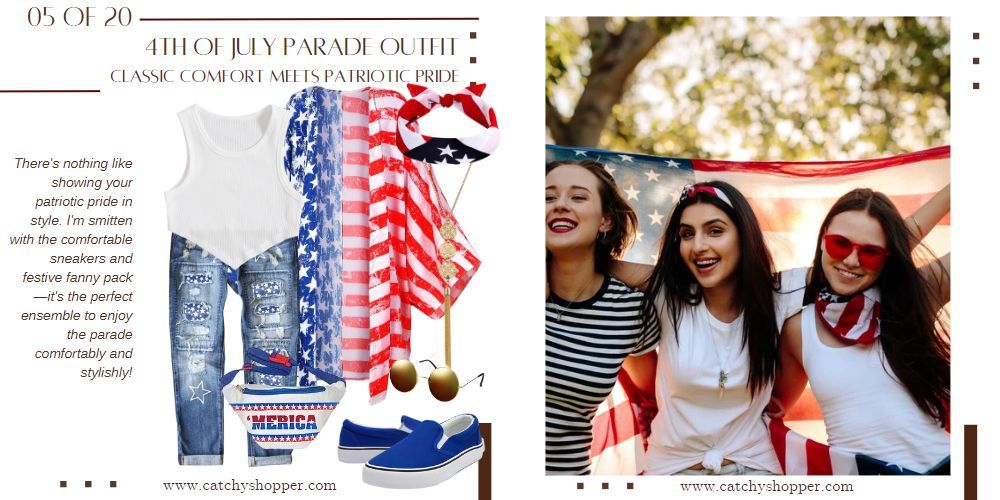 Start with a classic combo of blue jeans and a white crop top. To add a pop of patriotic color, layer it with a lightweight cardigan. Accessorize with starry sunnies to bring in a festive flair and protect your eyes during the daytime event.
Slip into a pair of comfortable blue sneakers for all that walking and cheering. Don't forget the festive fanny pack, your stylish solution for keeping your essentials close while enjoying the parade. Let your cute outfit echo the celebration of the day!
Fireworks Show Attire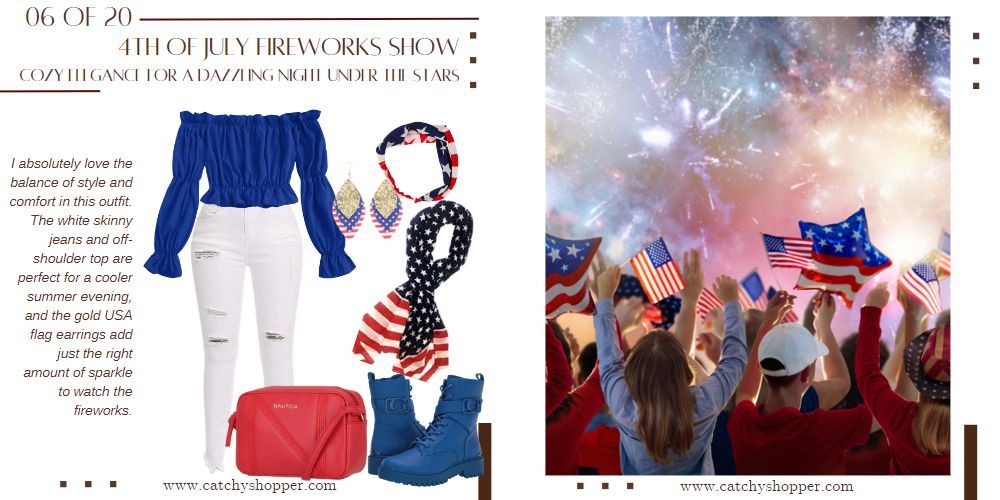 Prepare to watch fireworks in white skinny jeans and a navy blue off-shoulder top, perfect for cooler summer evenings. Add some patriotic spirit with a colorful star-spangled scarf that can double up as a wrap when temperatures dip. Stepping into comfortable yet chic boots ensures you stay stylish without compromising on comfort.
An American Flag knotted headband adds a whimsical touch, while a pair of dainty gold USA flag earrings subtly exhibit your patriotic spirit. Lastly, a stylish crossbody bag is a must for carrying your essentials, letting you focus on the stunning spectacle in the sky. Soak in the joy of Independence Day in style and comfort with this ensemble.
Date Night Ensemble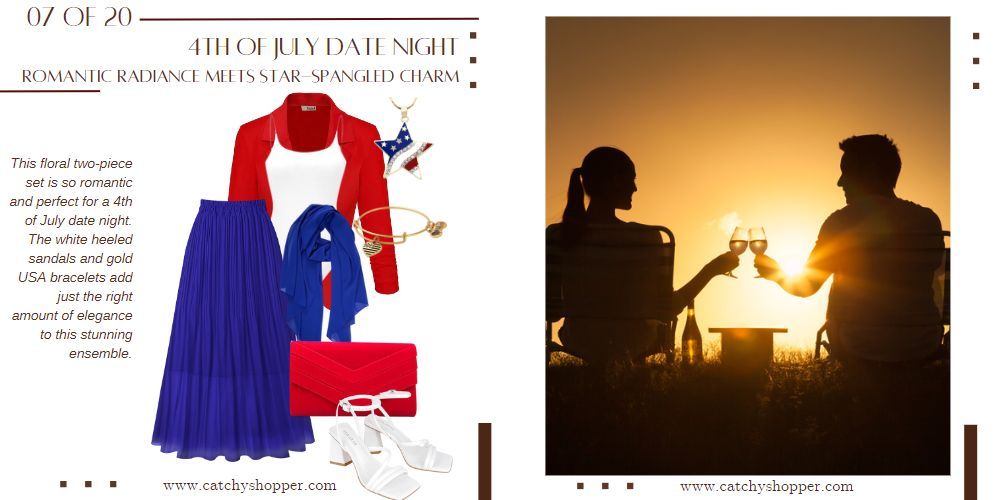 Spark the romance this 4th of July date night with a stylish ensemble. A blue midi skirt serves as a chic base to your cute outfit, paired with a crisp white bodysuit for a layer of sophistication. Bring the 4th of July spirit with a vibrant red jacket, adding a pop of patriotic color to your ensemble.
Classy white-heeled sandals lend elegance to your look, while a small red clutch keeps your essentials handy. Adorn your wrists with delicate gold USA bracelets, exuding a subtle holiday charm. For those cooler evenings, a lightweight shawl can add both comfort and style. The finishing touch? A star-shaped patriotic pendant for that added sparkle and a conversation starter.
Picnic Outfit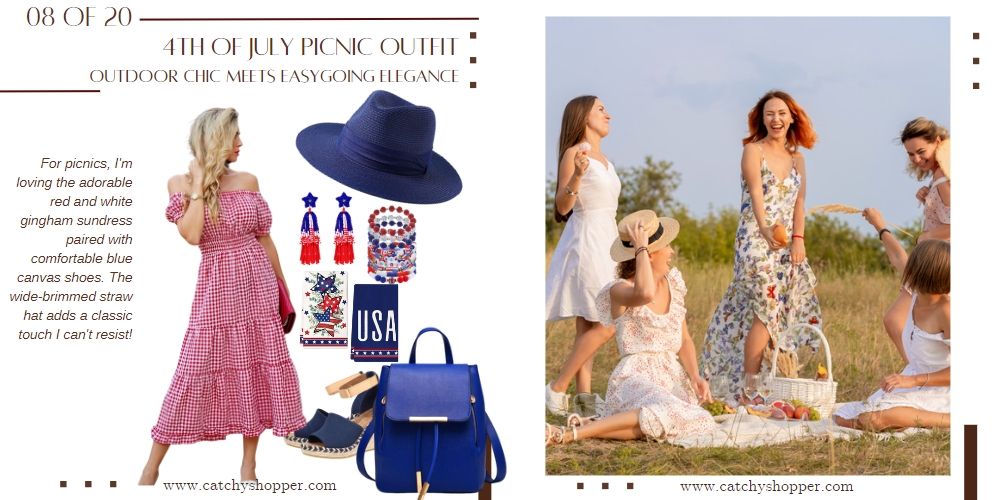 Bask in the 4th of July spirit with a red gingham dress, the perfect attire for a holiday picnic. Comfort meets style with a pair of wedges, ideal for outdoor lounging. A chic backpack not only carries your picnic essentials but also adds a stylish edge to your ensemble.
Shield yourself from the summer sun with a wide-brimmed straw hat, a fashionable and functional accessory. Get playful with festive star freckles, a fun twist to your holiday makeup. For added sparkle, accessorize with patriotic tassel earrings and a set of USA bracelets. Bring along a festive hand towel, perfect for those picnic spills and thrills. With this ensemble, you're set for a relaxed and enjoyable 4th of July picnic.
Hike Attire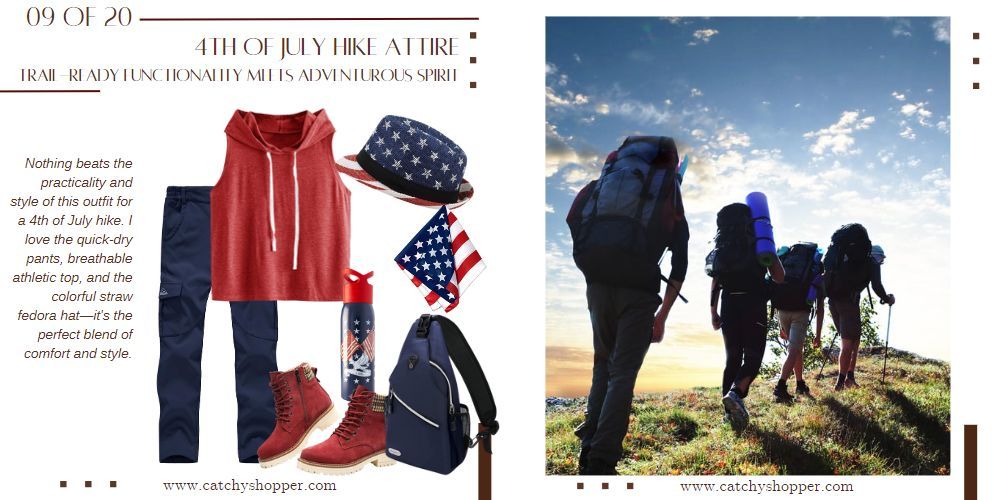 Take on the trails this 4th of July with a suitably festive and functional ensemble. Start with quick-dry pants that can withstand the elements, paired with a breathable, red athletic top, keeping you comfortable as you explore. Durable hiking boots ensure you tread with ease, while a lightweight backpack, with its ample space, stows away your hiking essentials.
For that dash of patriotic flair, opt for a colorful straw fedora hat that protects you from the sun. Amp up the 4th of July theme with a patriotic bandana tied around your neck or as a headband. Don't forget a star-spangled water bottle to keep hydrated during your adventure.
Concert Ensemble
Get concert-ready this 4th of July with a white graphic tee, ripped blue denim shorts, and a crazy red, white, and blue wig. Pair it with funky sneakers or cowboy boots to keep your feet happy while you dance the night away. Lastly, a compact belt bag is your stylish solution for keeping all your essentials nearby. Pair it with an eye-catching crop top and you've got yourself a concert-ready look that's all about celebrating in style!
Brunch Outfit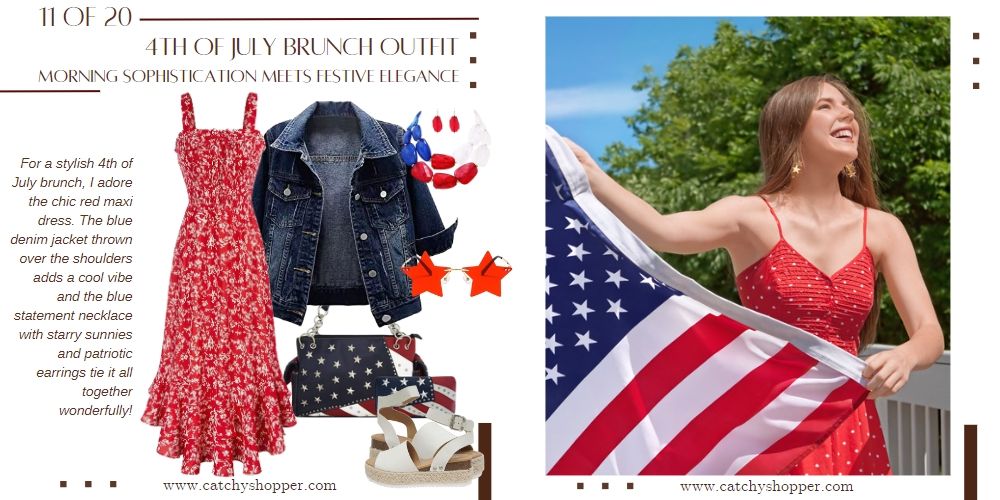 Opt for a chic red maxi dress with a blue denim jacket thrown over the shoulders for a cool, casual touch. Pair it with stylish white wedges that go perfectly with both indoor and outdoor settings. Accessorize with a statement necklace, starry sunnies, and earrings. Keep essentials in a classic handbag for a brunch-ready 4th of July outfit.
Rooftop Party Attire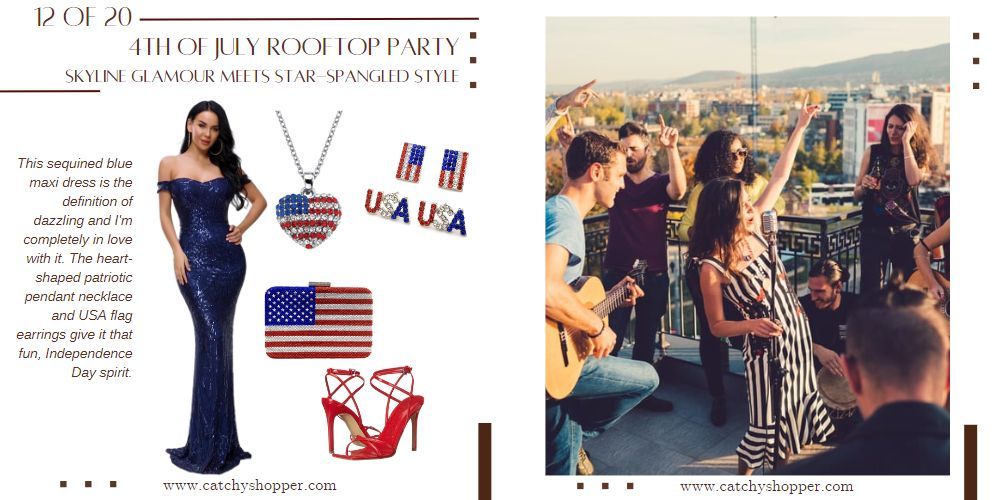 Dazzle the crowd in a sequined blue maxi dress paired with stylish red heels. Carry your essentials in a festive clutch bag and round off the look with a heart-shaped patriotic pendant necklace and bold USA flag earrings that perfectly capture the 4th of July spirit.
City Tour Ensemble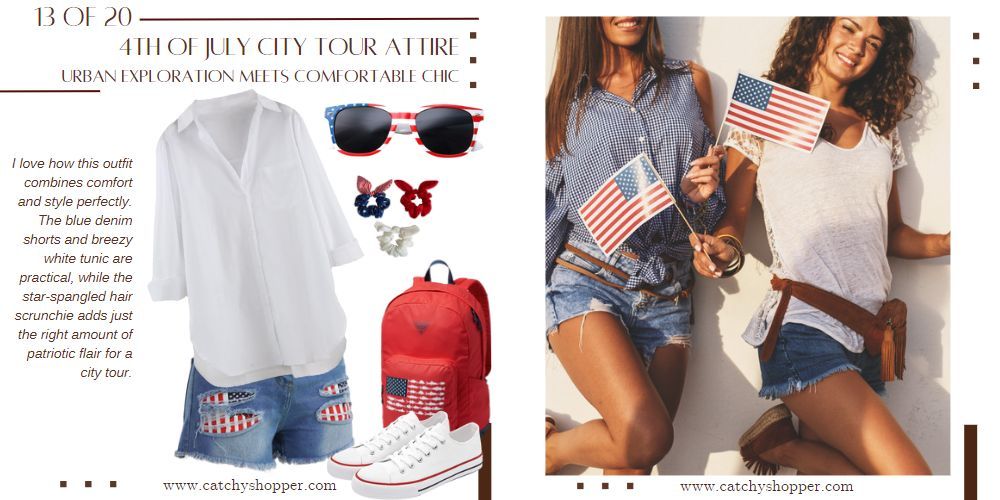 Stay comfortable yet fashionable in blue denim shorts and a breezy white tunic. White sneakers are a must, paired with a red backpack to carry all your city-touring essentials. Round out your look with fashionable sunglasses to protect your eyes from the summer sun, and tie your hair up with a hair scrunchie for that festive 4th of July touch.
Road Trip Outfit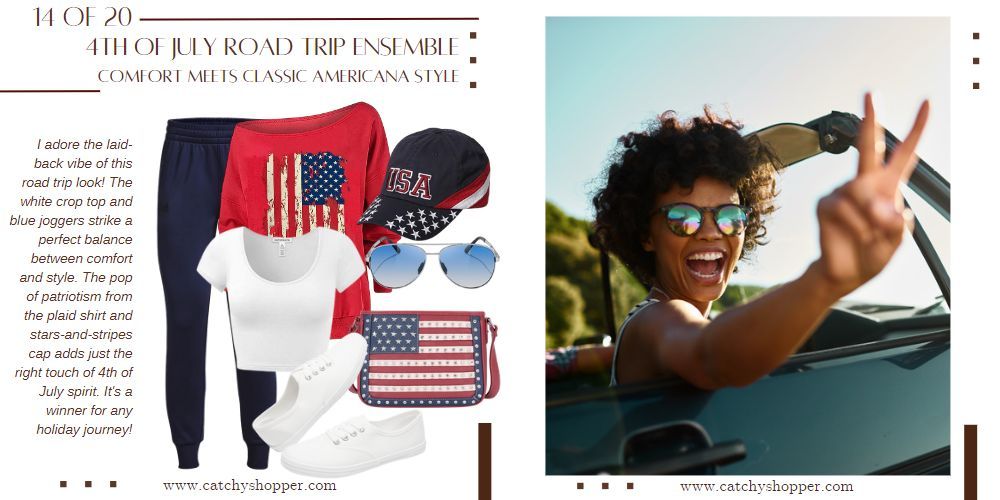 Embark on your Independence Day road trip in ultimate comfort and style. Slip into a soft, relaxed-fit blue jogger that allows ease of movement, paired with a white, breezy crop top for a cool and casual look. Throw over a red sweatshirt for that extra layer of warmth during the chilly early morning or late-night drives.
For footwear, opt for white canvas shoes that perfectly pair with the laid-back vibe of this chic outfit. Stow away your road trip essentials in a handy, practical crossbody bag in a patriotic theme. Finish off your look with a trendy baseball cap featuring the stars and stripes, and don't forget a pair of sunglasses to shield your eyes from the sun.
Baseball Game Attire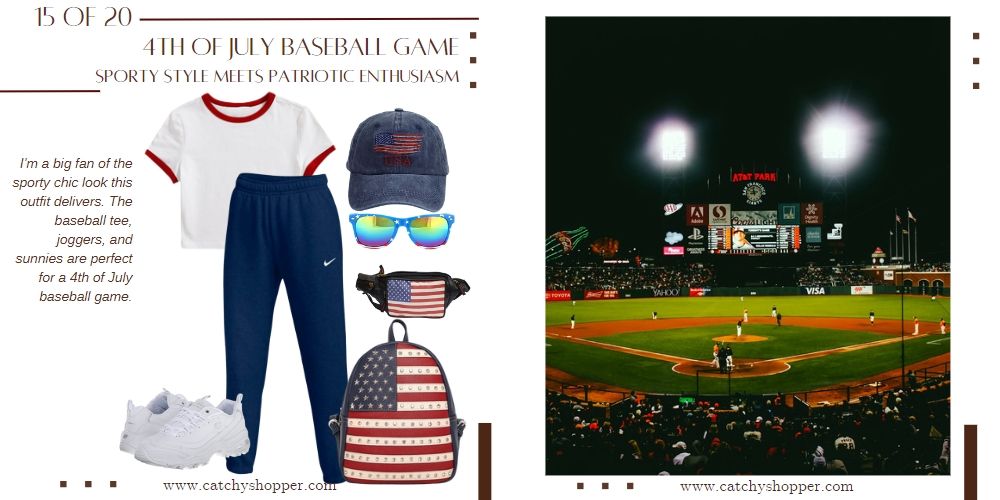 Stay sporty with a red and white crop top and blue joggers. White trainers are essential, paired with a handy backpack. Accessorize with a patriotic baseball cap to shield your eyes from the summer sun, and don't forget your sunnies for that added cool factor. A festive fanny pack is a practical and trendy choice for carrying your essentials, while USA flag earrings lend an extra festive touch to your 4th of July baseball game attire.
Boat Ride Ensemble
Sail away in style with a blue and white striped jumpsuit that is both stylish and breathable for a day on the water. Pair it with comfortable espadrilles to ease your movement on deck. A pop of color comes through with a red crossbody bag, perfect for keeping your essentials close. No boat ride outfit is complete without a hat, and a colorful straw fedora offers both fashion and function, shielding you from the sun.
Adorn yourself with patriotic tassel earrings that flutter with the sea breeze and a heart-shaped patriotic pendant to keep the holiday close to your heart. Finish off your ensemble with an adorable American flag scarf top draped stylishly around your neck and a pair of classy sunglasses to keep the summer glare at bay.
Theme Park Visit Outfit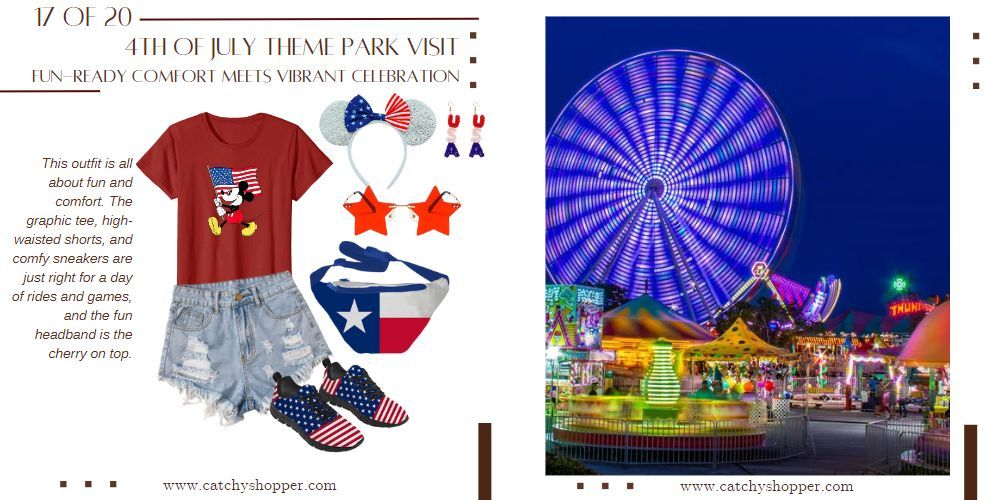 Kick-off your 4th of July ensemble with a playful red graphic tee and pair it with fashionable blue high-waisted shorts. Stomp around in style and comfort in a pair of patriotic sneakers, designed to keep your feet happy while you hop from one ride to another.
Keep your essentials within easy reach with a festive fanny pack, perfect for the theme park atmosphere. To keep your hair in place while you enjoy the roller coasters, opt for a headband - a fun and patriotic hair accessory. Don't forget your starry sunnies to protect your eyes from the summer sun and to add a cool factor to your look. Lastly, put on a pair of USA flag earrings to subtly showcase your patriotism and complete your ensemble.
Camping Trip Attire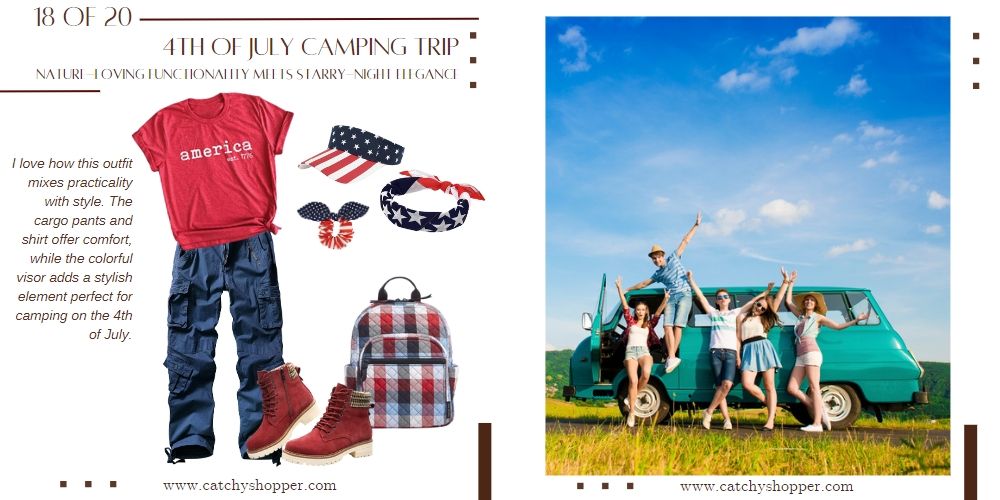 Embark on your 4th of July camping trip in ultimate comfort and style. Choose blue cargo pants, known for their practicality and durability, and team it with a cozy, red shirt that evokes an outdoorsy vibe. Keep your footing secure on rugged terrains with a pair of sturdy, yet comfortable, hiking boots.
Carry all your camping essentials in a waterproof backpack – a practical accessory that doesn't compromise style. Add an adventurous touch with a colorful visor hat, great for both sun protection and as a fashionable statement piece.
Get festive with a USA flag bandana, perfect for keeping the hair away from your face, or even as a cool neck accessory. And to complete your camping look with a dash of 4th of July spirit, incorporate a star-spangled hair scrunchie that adds a whimsical and patriotic touch to your ensemble.
Garden Party Outfit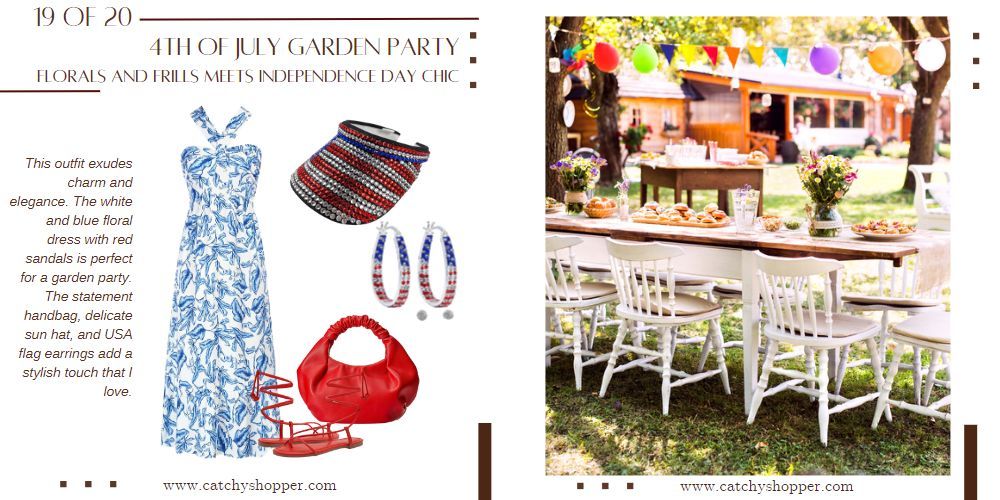 Charm everyone in a blue and white dress paired with bold red sandals, adding a pop of color and a touch of sophistication. A statement handbag and a delicate visor complete the look. Finish your look with USA flag earrings that blend with the theme of the day. Add a cross-shaped patriotic pendant for a subtle touch of patriotism, and consider pairing it with patriotic tassel earrings to add an extra spark to your outfit.
Family Reunion Ensemble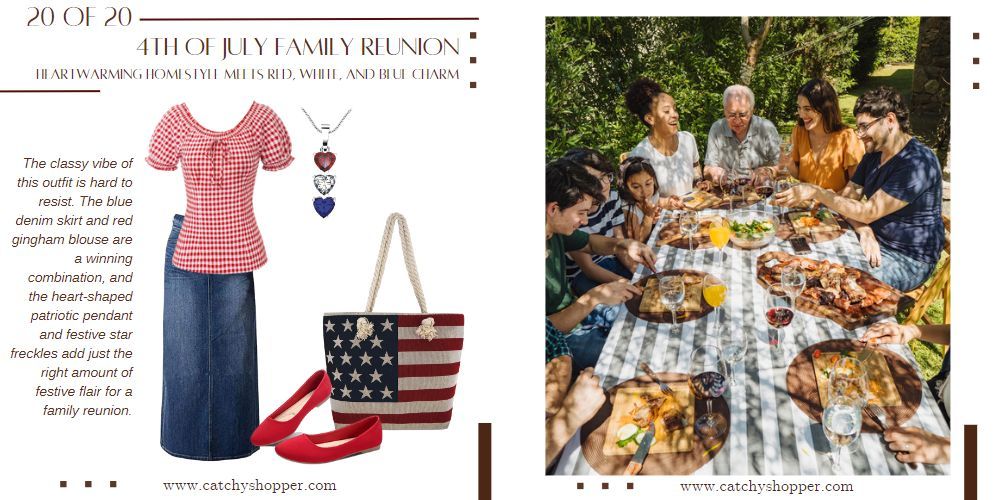 Stay classy with a high-waist blue denim skirt paired with a red gingham blouse.  This classic combination embraces the holiday spirit while maintaining an air of effortless sophistication. Comfortable ballet flats and a chic tote bag complete the look, perfect for stashing any family reunion essentials like sunscreen or snacks. Add finishing touches with a heart-shaped patriotic pendant and festive star freckles.
Final Thoughts
Whether you're attending a lively parade or lounging by the pool, your choice of 4th of July outfits truly matters. From sundresses to swimwear, every item has been thoughtfully chosen to reflect the spirit of Independence Day and help you feel you're most confident. Remember, your July outfit is a canvas, and accessories are the details that bring your look to life.
They not only add visual interest but also allow you to express your personal style and creativity. So, no matter where you find yourself this Fourth of July, dress in a way that celebrates not just America, but also the unique individual you are. Don't forget, the best outfits aren't just stylish - they're also a celebration of freedom, individuality, and the unforgettable summer season. Enjoy the holiday!
Other Posts You May Like
💡
Dive Into Fashion Outfits
Explore our exclusive articles featuring
Boho Outfit Ideas
,
Vacation Outfits
,
Festival Outfits
,
and
Summer Outfits with Hats
.
Delve into our
Denim Shorts Outfits
,
Black and White Outfits
, Bodysuits Outfits,
and
Pink Outfit Ideas
. Experience the charm of our
Tube Top Outfits
, Crop Top Outfits,
Sundress Outfit Ideas
,
Resort Wear
,
Beach Wear
,
and
Jury Duty Outfits.
Start your style journey now!
Comments