This post may contain affiliate links, please see our privacy policy for details.
Yoga swings can revolutionize your yoga practice, bringing with them a world of benefits. Whether you're a seasoned yogi or just getting started in the practice, having the right swing can make all the difference. With so many options on the market, it can be hard to decide which one is best for you.
To make it easier, we've rounded up our top twelve picks for yoga swings that are sure to get you stretching and decompressing like a pro in no time! From deep strengthening and promoting core health to intense stretching that would even make a pro jealous, these swings will help you achieve your fitness goals and elevate your practice in ways you never believed possible.
What are yoga swings?
Yoga swings are an exciting, multifunctional piece of equipment that brings a new dimension to your yoga practice. Constructed of durable fabric or parachute material, and usually consisting of a hammock-like seat with two handles and adjustable straps, these versatile tools provide numerous benefits including spinal decompression, deep stretching, improved flexibility, and increased core strength. They also offer the opportunity to explore new movements and poses in a fun and challenging way, making them an essential addition to any yogi's repertoire.
The Benefits of Using Yoga Swings
Yoga swings offer a variety of benefits for both the body and mind. Here are some of the key benefits of using yoga swings:
Spinal Decompression
As its name implies, one of the main benefits associated with using a yoga swing is spinal decompression. By gently inverting yourself against gravity on the swing, you are effectively relieving pressure from your vertebrae which can lead to improved posture and mobility while alleviating pain in your back, neck and shoulders.
The controlled environment created by being suspended from the swing can also be less strenuous than traditional forms of stretching like sit-ups or crunches as well as safer for seniors or those suffering from joint pain or other muscle weakness during exercise.
Deep Stretching & Improved Core Strength
While reducing stress on joints, using a yoga swing also allows for deeper stretching along entire muscle groups – leading to better blood flow throughout your body as well as increased flexibility in tendons and ligaments. With each stretch from head to toe comes improved core strength - helping you build stability in your torso which is essential for proper alignment during yoga poses when done on solid ground.
Improved Balance & Coordination
In addition to serving as an effective form of spinal decompression and full-body stretch, regularly using a yoga swing can help you train optimal reflexes by engaging all four limbs in various exercises as well as increase coordination when switching movements between arms and legs. This makes it an excellent tool not only for staying fit but also for gaining overall body awareness – both incredibly important elements of any healthy lifestyle routine!
Reduced Stress & Anxiety
Last but definitely not least – did you know that suspending yourself on a yoga swing has been known to reduce stress levels due to its calming effect brought about by focusing on slow breathing? Plus, its fun element encourages mindfulness practice which is essential for keeping both your mind and body relaxed even in tense situations!
As you can see now, incorporating yoga swings into your daily routine has tons of benefits that go beyond just physical fitness – making it an ideal choice for any individual striving towards holistic well-being! So why not give it a try today?
With easy installation in any room of your home combined with its versatile usage options such as spinal decompression or relaxation exercises, it may very well become an integral part of your life – helping keep both body and mind strong out every day!
Our Favorite Yoga Swings to Try
If you're looking to add a new dimension to your yoga practice, yoga swings are a fantastic tool to consider. With their ability to decompress the spine, deepen stretches, and challenge the body's balance and coordination, yoga swings offer a range of benefits for yogis of all levels.
However, with so many options on the market, it can be challenging to know where to start. In this article, we've compiled a list of our favorite yoga swings to try, from basic models suitable for beginners to more advanced swings with extra features for experienced practitioners. Whether you're looking to improve flexibility, build core strength, or simply have some fun, there's sure to be a yoga swing on this list that will elevate your practice and help you achieve your fitness goals.
UpCircleSeven Aerial Yoga Swing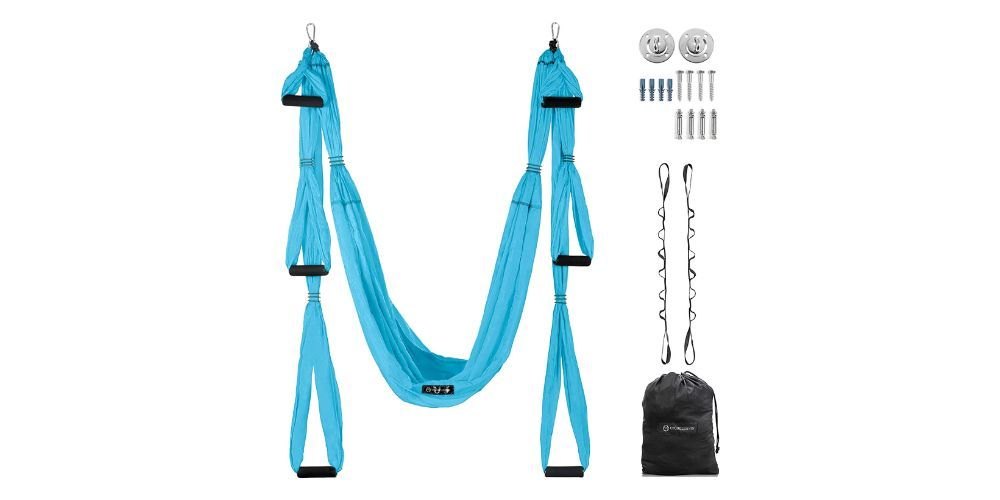 One of the standout features of this yoga swing set is its innovative design. The spacious triple stitched swing seat and 25% larger, thick padded foam handles push the boundaries of comfort, making it easier than ever to achieve deeper stretches and inversions. And with a load capacity of 550 lbs, you can trust that this swing set is safe and secure, even during your most challenging poses.
Another advantage of the UpCircleSeven Aerial Yoga Swing Set is its ease of assembly. The set includes two multi-loop climber strength daisy chains and ceiling mounts + screws, making it easy to install and hang your inversion hammock into wood or concrete. And whether you're using it for inversion therapy to relieve back pain or building upper body strength, this yoga swing set is sure to invigorate your back and improve your overall health.
Of course, as with any product, there are pros and cons to consider. One of the main advantages of the UpCircleSeven Aerial Yoga Swing Set is its comfort and versatility. The padded handles and spacious swing seat make it easy to achieve deeper stretches and inversions, and the set is great for both yoga practice and intimate moments.
On the downside, some users may find the material uncomfortable when bunched up during inversions, and the swing may not be wide enough to lay in for those seeking a sensory hammock or sleep in.
However, overall, the UpCircleSeven Aerial Yoga Swing Set is a top-rated product and the #1 consumer favorite yoga swing on Amazon. With its professional-grade design and trusted reputation, this swing set is sure to take your yoga practice to new heights. As one satisfied user put it, "The swing itself is comfy...Seriously, best I've ever had." So why wait? Order your UpCircleSeven Aerial Yoga Swing Set today and experience the benefits of aerial yoga for yourself!
YOGABODY Yoga Trapeze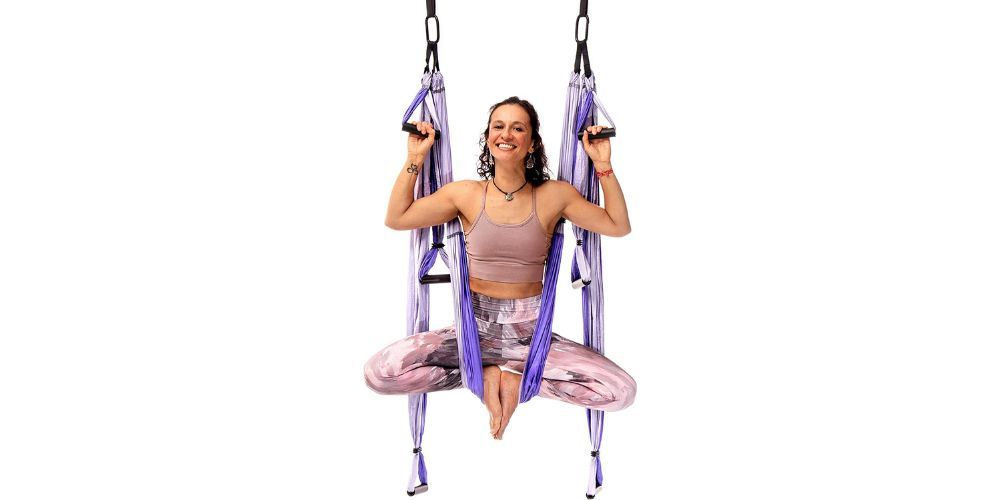 If you struggle with back pain, this trapeze is a game changer. Hanging upside down creates space between your vertebrae and provides instant traction, leaving you feeling relaxed and rejuvenated. But that's not all! The trapeze is also great for increasing strength, balance, and flexibility. The posterior chain, grip, backbends, hamstrings, and hip openers are all targeted in this workout. Plus, with bonus video tutorials and a pose chart, even beginners can get in on the action.
The setup of this yoga swing is extremely easy, allowing you to install it onto a chin-up bar, beam, or solid tree branch in no time. Besides its ease of installation, this trapeze also boasts a solid weight capacity of 600 lbs - making it safe and secure for all users. It also comes with rubber handle grips, adjustable straps, gym-grade carabiners, and a stylish carrying bag - adding another level of convenience to your health routine!
However, like all good things there are some minor drawbacks when it comes to this particular yoga swing as well: for instance, some users have mentioned that the straps may need to be slightly adjusted prior to each use in order to make sure you get a successful inversion. Although such an issue should be relatively easy to figure out after a few tries - getting the perfect fit can certainly take some trial and error on your part.
Additionally, some users have pointed out that if not done carefully the fabric may cause irritation on their skin during prolonged use - so if you're sensitive in any way make sure you pay attention to any signs of discomfort during movements.
But overall, the YOGABODY Yoga Trapeze Pro is a great investment for anyone looking to spice up their yoga routine. As one satisfied customer raved, "I'm having fun with it." And isn't that what yoga is all about?
SISROL Yoga Swing Sling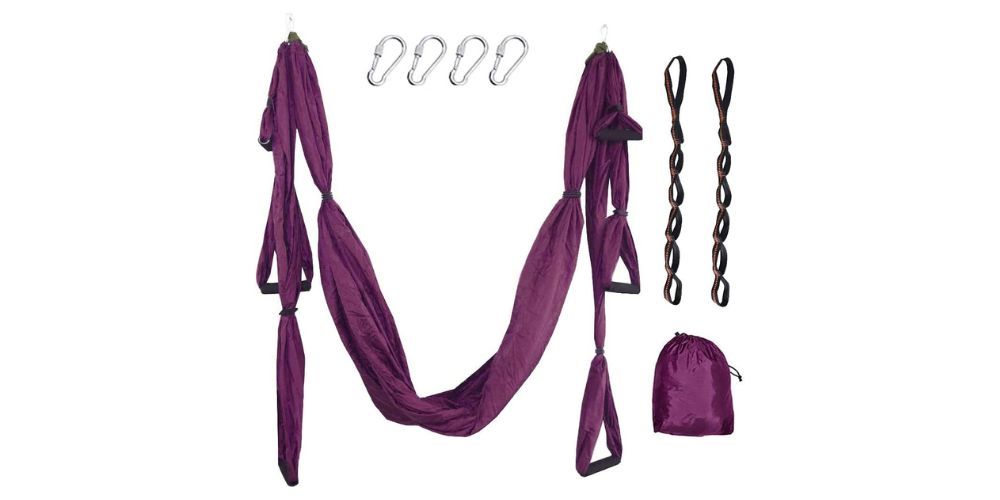 The first thing you'll notice is the premium-grade material. The main Aerial Yoga Hammock Swing and yoga sling arms are made of high-quality and extra-strength 210T (parachute) silk nylon fabric. Equipped with gym-grade grip rubber strong handles, it can withstand a load equal to the weight of an adult (up to 440 lbs ). The yoga swing kit is safe enough for Yoga lovers to practice freely.
And the package includes everything you need. The complete aerial yoga swing set includes a yoga swing seat, yoga sling arms with foam padded handles, heavy-duty stainless steel locking carabiners, multi-loop extension straps, a portable storage bag, and an OPP Bag. This yoga swing is easy to set up, you can just hang it in a doorframe, or swing it over an exposed beam which is perfect for both swing beginners and professionals.
The best part is the improved flexibility and stress-relieving blend. This yoga swing for indoor use gives a yoga practitioner a safe and fun way to strengthen each posture by practicing backbends, splits, inversions, stretching, and more postures. Meanwhile, the versatile yoga hammock can relieve back pain, tight achy muscles, improve flexibility and balance, and get rid of daily stress and tension from work so you can get both improved physical and mental health.
But there are pros and cons. On the plus side, this swing comes with a full-body support sling to help you achieve your desired pose and perfect alignment, as well as extra bearing points for stability and increased safety. Features include adjustable straps that allow you to customize the height of the swing, and removable handles for easier maneuvering.
AUM High-Density Yoga Swing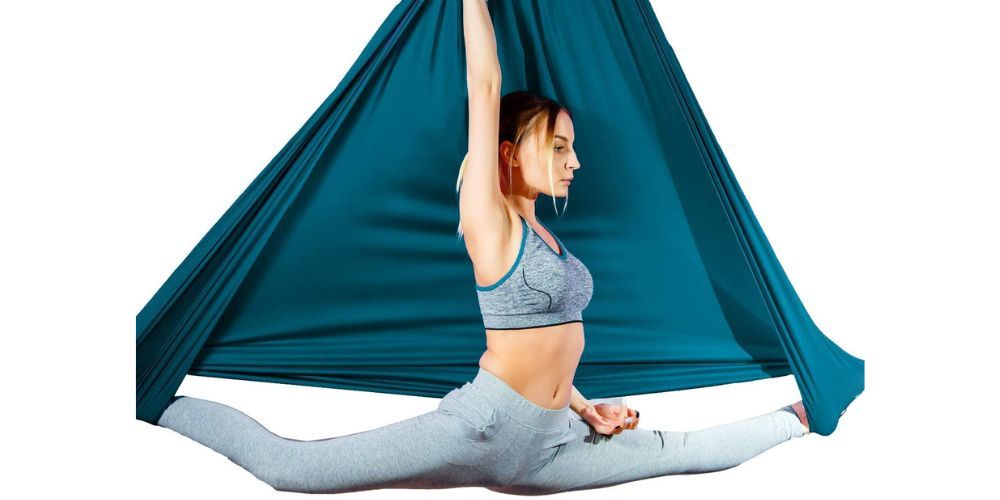 Made of Tricot, these silks are soft to the touch but also incredibly sturdy, able to withstand up to 500 lbs. Not to mention, they come with two pre-tied o-slings that can hold over 2000 lbs each, giving you peace of mind as you try out new poses and tricks.
One of the standout features of these aerial silks is their versatility. Whether you want to use them as a yoga hammock, for antigravity yoga, inversion therapy, spinal decompression, or even sensory swing therapy, these silks have got you covered. And with the included instruction guide, even beginners can get started with confidence.
In terms of setup, this aerial silk set is very easy to use. Although it doesn't come with any accessories like carabiners or daisy chains, it does include straps to help you hang the silk from your ceiling support. According to one satisfied customer, "connecting it to my ceiling support was a breeze." Plus, the length of the silk is perfect for ceilings up to 10ft high, and it's easy to adjust the height and length as needed.
Of course, no product is perfect, and there are a few minor drawbacks to this set. For one, it doesn't include any accessories, which means you'll need to purchase those separately if you don't already have them. Additionally, some users may find the width of the silk to be wider than expected, although this can actually be an advantage for grip during certain poses.
YOGABODY Naturals Yoga Trapeze Pro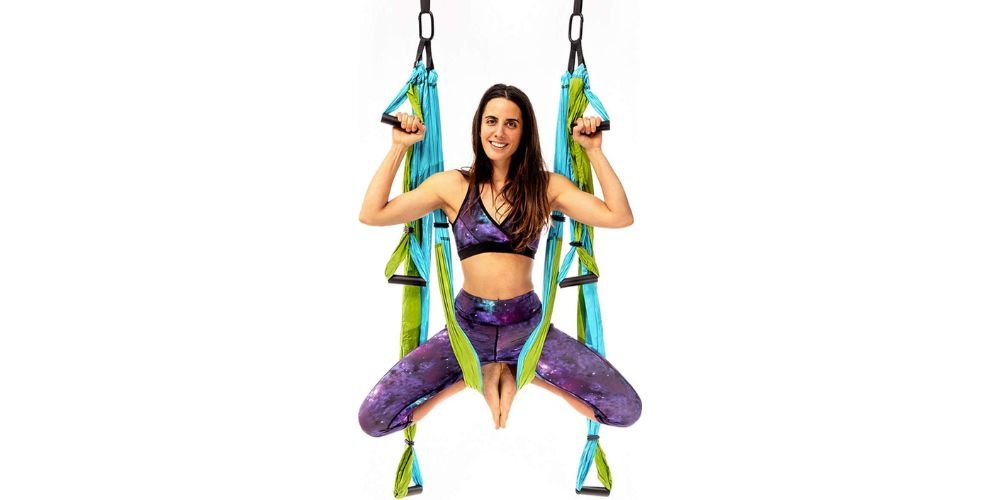 One of the best things about this yoga trapeze is its easy setup. You can hang it in minutes from a chin-up bar, beam, or solid tree branch. Plus, it comes with rubber handle grips, adjustable straps, gym-grade carabiners, and a stylish carrying bag. However, be aware that ceiling hooks and stands are sold separately.
The YOGABODY Yoga Trapeze Pro is also safety-tested to 600 lbs, so you can feel confident and secure while using it. And if you're a beginner, don't worry! The trapeze comes with a bonus video tutorial and poses chart. You'll have online access to professional tutorials and pose charts to help you get started.
With over 4.7 star average ratings, one satisfied customer raves, "I love this yoga trapeze! I had never tried one before and was surprised at how easy it was to set up and use. I was able to get upside down on my first try, which really surprised me as I am not very flexible! My arms are a little weak so I have been using a step to get up into the seat instead of having to jump and lift myself in. I can also only tolerate being upside down for a minute but am seeing progress each day, and I love the traction for my back. The bridge pose is hard on my neck but I am also feeling my neck finally begin to loosen and stretch as I keep up with it. It has also ended up being great for my sensory-seeking son- it is his happy place as he hangs upside down or in the superman pose. The trapeze is made of really soft parachute fabric and the handles are the perfect length for the different poses. Plus it looks beautiful."
One small downside is that the item said it came with a DVD, but some customers only received a letter with an online code to access the tutorials. If you have trouble with the code, though, the YOGABODY team is quick to resolve any issues and provide you with access to the video library.
ZELUS Aerial Yoga Swing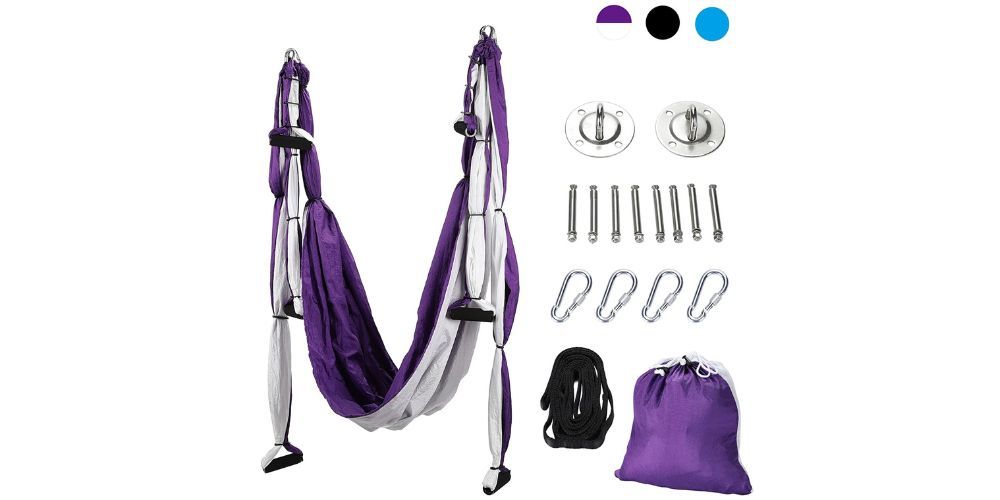 One of the best things about this swing is how easy it is to set up. No need to hire a professional or spend hours tinkering with complicated hardware – simply hang it from a doorframe or exposed beam and you're ready to go! And if you're feeling adventurous, try hanging it from a tree or swing set for an outdoor workout experience.
But don't let the simple setup fool you – this swing is built to last. Made of sturdy nylon fabric, it can support over 400 pounds at its capacity, and the adjustable daisy chains ensure a secure fit every time. Plus, the foam handles provide a comfortable and easy-to-grip surface, so you can focus on your workout without worrying about slipping.
And speaking of workouts, this swing is perfect for developing core strength and improving upper body functions. Whether you're an experienced yogi or just starting out, this swing can help you achieve a professional-grade workout in the comfort of your own home.
Of course, no product is perfect, and there are a few things to keep in mind before purchasing the ZELUS Aerial Yoga Swing Sling. For one, it may take some trial and error to find the perfect height for your workout, especially if you're new to aerial yoga. Additionally, some users may find the foam handles a bit too thick for their liking, although this is a minor quibble in the grand scheme of things.
aum active Aerial Yoga Hammock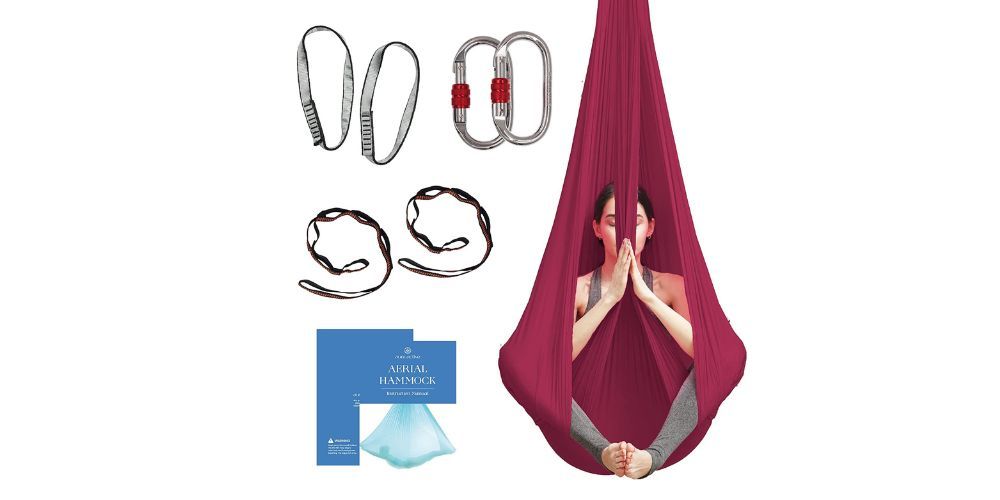 This trapeze-style swing takes minutes to set up and is incredibly sturdy, offering a professional-grade workout. You can hang it from a doorframe, an exposed beam, a tree branch, or even another piece of gym equipment. With the included ceiling mounting kit and extension straps, you'll have everything you need to get started in no time.
Its high-quality nylon fabric can support over 400 pounds of weight, while durable daisy chains make it easy to adjust the height. The breathable design also incorporates foam-padded handles for secure and fatigue-free grips - perfect for long workouts!
With the ZELUS Swing Sling you can build core strength, improve upper-body functions and increase full-body mobility in a fun and challenging way. It's ideal for athletes, yogis, or anyone looking for an exciting exercise option.
Healthy Model Life Silk Aerial Yoga Swing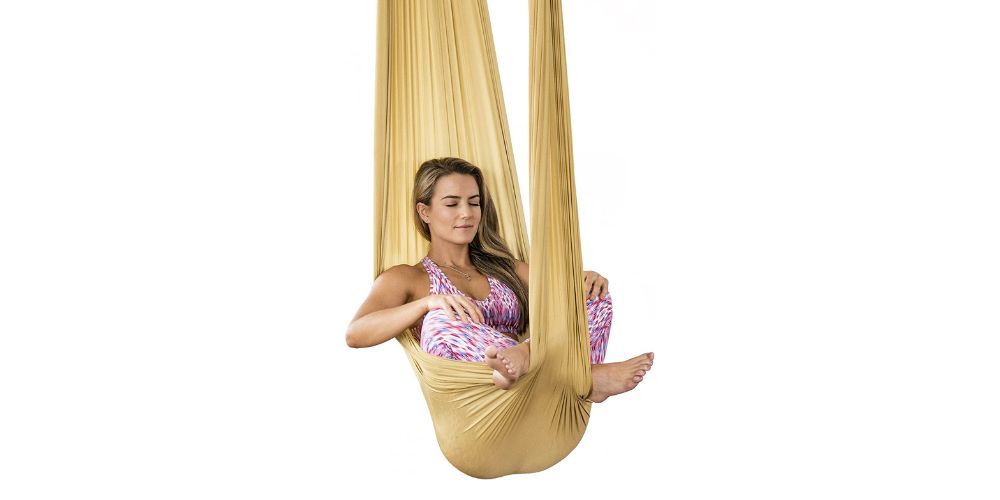 This complete kit comes with all the hardware you need, so there's no need to stress about figuring out complicated pieces or purchasing extra equipment. The daisy chain makes hanging the swing simple for anyone, but it's important to note that this swing is not for concrete ceilings - you'll need a sturdy beam, branch, or solid pipe to swing from.
But what sets this swing apart from the rest? The soft, silky material! Unlike other swings made from parachute silk, this high-quality material is soft to the touch and makes transitioning between poses a breeze. And don't be fooled by other yoga swings that come equipped with handles - real aerial yoga shouldn't have them! They're unnecessary and, quite frankly, ugly. Trust us, as experienced yogis, this swing is the right equipment for your aerial yoga needs.
One of the best things about aerial yoga is the ability to cocoon yourself and relax. Even if you've never tried it before, anyone can do it! Plus, the benefits of inversion therapy are endless. You'll improve your flexibility, core strength, and balance, all while having fun and trying something new.
Of course, with any product, there are a few cons to consider. The first is that the swing is not suitable for concrete ceilings. This may be a dealbreaker for some, but for those with a sturdy beam or branch, it's not an issue. Another thing to keep in mind is that aerial yoga can be quite challenging, so it's important to ease into it and not push yourself too hard too fast. But trust us, the benefits are worth it!
Reviewers love this 4.7-star-rated yoga swing. "Great quality fabric, and so much fun to have at home!" one reviewer wrote. They believe in quality and making things right, so you can trust that you're getting a product that's worth your money.
wellsem Aerial Yoga Hammock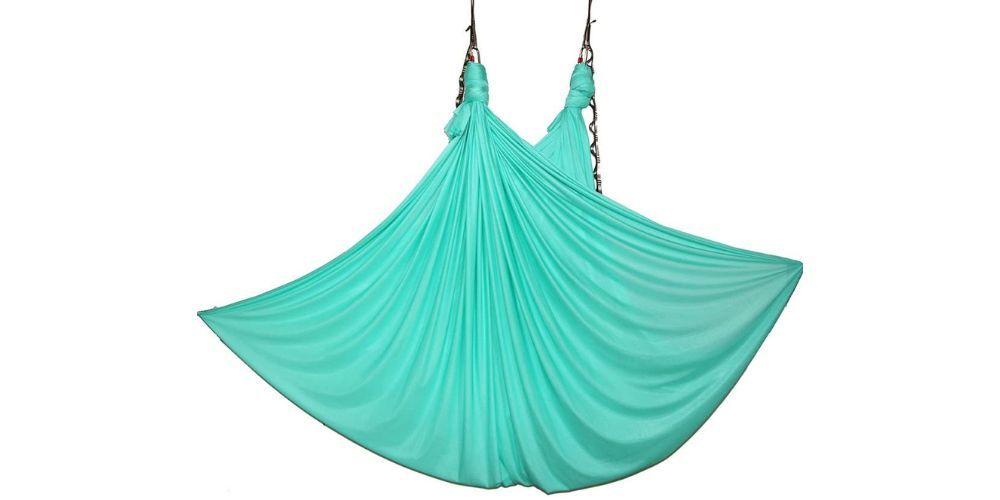 The WELLSEM Aerial Yoga Equipment is made from certified quality material and hardware. That means you can trust that this thing is safe and sturdy. The hammock itself is made from 40-Denier Nylon Tricot Elastic, which has just the right amount of stretch to make it comfortable on your skin but firm enough to hold you up. It also comes with two 23KN strong carabiners and two 10ft 23KN reinforced nylon daisy chains, all certified to climbing standards, so you know you're in good hands.
Now, let's talk about the special effects of using this hammock. Not only is it great for relaxation and stretching, but it also has a ton of health benefits. It can aid in weight loss, alleviate symptoms of anxiety disorder and insomnia, and even help with back pain. It can also condition physiological balance, eliminate inner calm tensions, and help with spiritual cultivation. And if you're looking for autistic rehabilitation training, this hammock can be incredibly helpful.
According to a verified five-star reviewer, they recently developed an interest in aerial yoga and were tired of paying for classes, prompting them to purchase their own hammock. They express satisfaction with their purchase, stating that the hammock is not only visually appealing with its beautiful colors but also very soft to the touch. They found the setup process to be a breeze and opted to use a yoga bar to hang the hammock since they lacked exposed beams. This decision proved to be the best one, as the hammock is just as sturdy and functional as the ones used in their aerial yoga classes. Overall, this reviewer highly recommends the WELLSEM Aerial Yoga Hammock for anyone looking to enjoy the benefits of aerial yoga from the comfort of their home.
Yoga4You Ariel Yoga Swing Set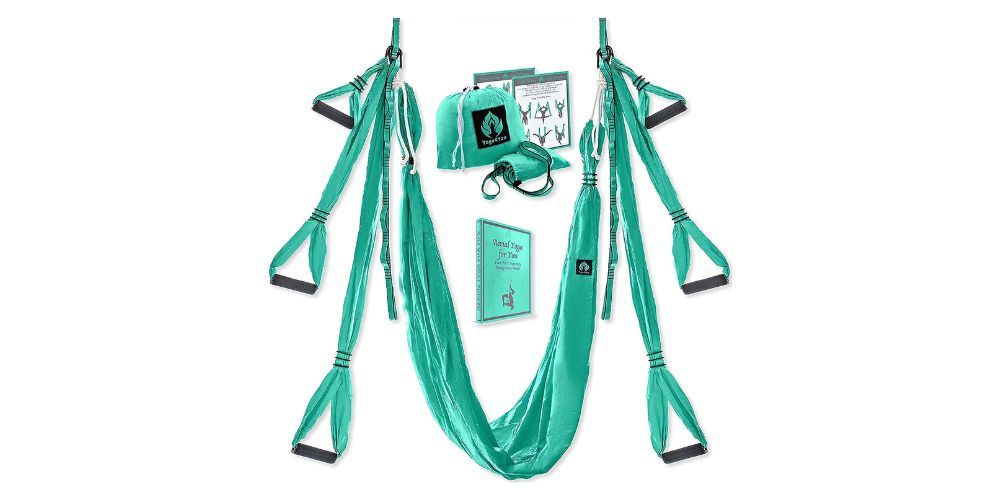 This high-quality hammock is made of durable silk nylon fabric and can hold up to 600 lbs, making it perfect for inversions and exercises. Experience ultimate comfort during your workout with its extra-large 98"x59" size - double layered with material for added luxury.
Plus, foam handles provide a secure grip so you won't have to worry about slipping or hand fatigue. Get ready to revolutionize your aerial yoga routine with this premium swing set!
Installation is a breeze with the included 2x50" hanging hammock straps, which allow you to set up your swing set in a variety of locations up to 11ft, including indoor and outdoor spaces, using a door mount bar, exposed beam, tree branch, ceiling mount, and more.
But the benefits of this aerial yoga swing set go far beyond just being a fun and unique way to exercise. A few short sessions per week on this anti-gravity inversion tool can bring relief from back pain, while also developing your core muscles and improving your flexibility. And it's not just for adults - kids will love it too!
To help you get started, this swing set also comes with a digital guide in PDF format, complete with basic ceiling mount and starter hanging instructions, as well as aerial poses for beginners and professionals.
F.Life Aerial Yoga Hammock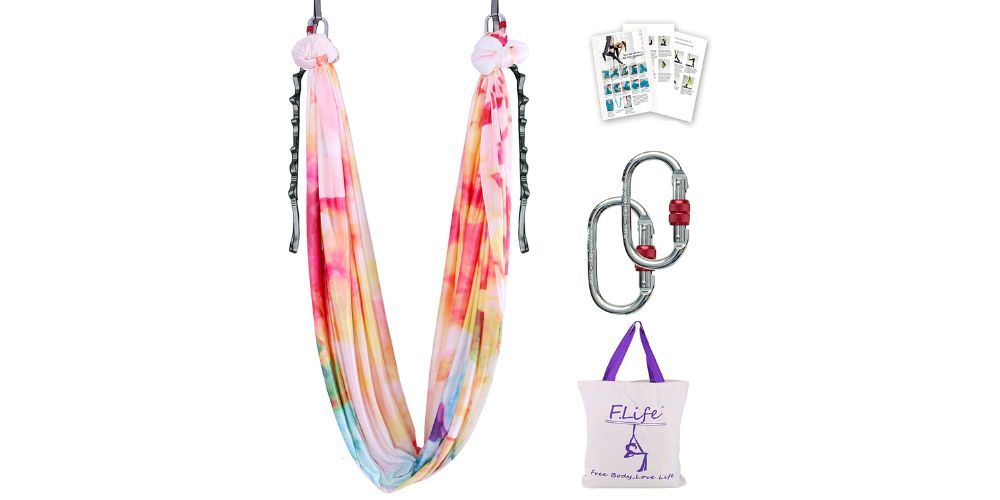 This hammock is the perfect addition to any yoga enthusiast's routine, allowing you to take your practice to new heights (literally!). One of the standout features of this hammock is the certified quality material and hardware. The hammock is made from a 40-Denier Nylon Tricot, a two-way stretch material that is comfortable against the skin and long-lasting.
The included steel screw-lock carabiners and nylon-reinforced daisy chains are certified to climbing standards and can support up to 2,000 pounds of dynamic load. This means you can trust that this hammock is not only comfortable but also safe and secure.
The elastic aerial hammock is 5.5 yards long and can be fully cocooned or laid in fully, making it incredibly versatile for a variety of different poses and stretches. The fabric has just enough give to it to make it comfortable to be wrapped up in, but not so much that you feel like you're floating away. And because it's not made from parachute material, it won't feel scratchy or rough against your skin.
One of the best things about this double-point yoga hammock is how easy it is to use. Getting in and out of the hammock is a breeze, and adjusting the height to fit your needs is simple. Plus, it's easy to clean, which is always a plus when it comes to workout equipment.
This aerial yoga hammock has left shoppers absolutely thrilled with their purchase! Despite being unfamiliar with the brand, they took a chance at it and found it to be totally worth it. While they typically stick to solid color items, they decided to live a little and try out this gorgeous hammock in stunning color. And boy, were they glad they did! The color is just as lovely as advertised.
Yoga Swing Pro Premium Aerial Hammock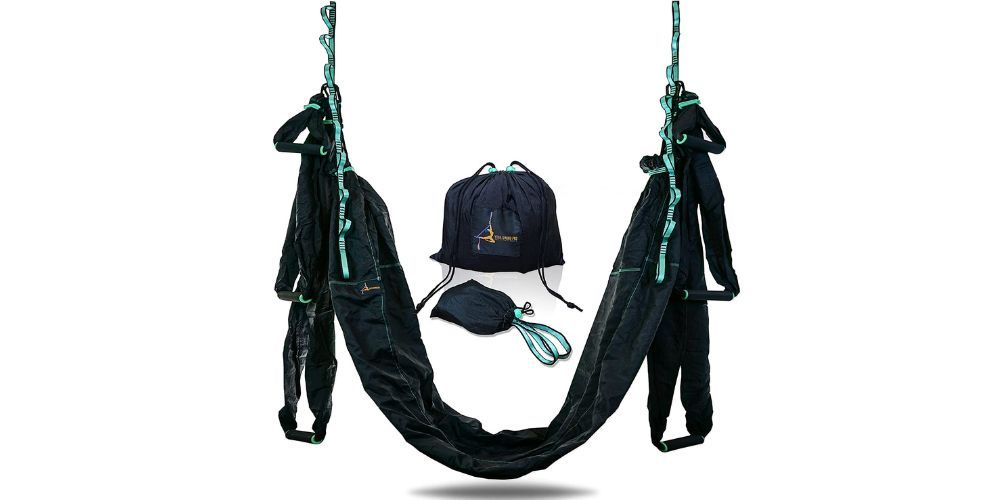 This yoga swing is made of high-quality materials and can support up to 600 pounds. It comes with adjustable straps and handles and can be used for an aerial yoga class, inversion therapy, and other fitness activities. Pros: Durable and comfortable. Cons: Slightly expensive. This acrobat flying sling set is the perfect addition to your indoor or outdoor inversion therapy routine, and it also makes for a fantastic gift for any special occasion. Whether it's Christmas, New Year's, birthdays, or holidays, the Premium Yoga Swing is sure to impress.
One of the standout features of this product is its studio-grade material. Made from premium grade 210T nylon parachute fabric, this yoga swing offers a comfortable stretch for yoga inversion. Additionally, triple stitching provides added safety and durability, supporting weights up to 500+ lbs. So, you can rest easy knowing that this product has been built to last.
But the benefits don't stop there. Aerial yoga inversion exercises can help improve back pain, spinal decompression, and pelvic floor issues. It can also help improve the body's strength and gain natural flexibility to cope with anxiety and stress. As a result, you can enjoy a restful sleep and feel revitalized.
Not only is this yoga swing set incredibly functional, but it's also easy to install. With a portable and adjustable design, you can install it anywhere, whether it's your home, yoga studios, or on a branch of a tree for the perfect yoga workout. And if you're looking for a fun outdoor activity, this swing set can double as a hammock or swing that your kids will love.
Yoga Swings FAQ
What is the weight limit for yoga swings?
Most yoga swings have a weight limit of around 300-500 pounds. However, it's important to check the specific weight limit of the yoga swing you're using to ensure that it can safely support your weight.
Can yoga swings be used for aerial yoga?
Yes, yoga swings can be used for aerial yoga. In fact, many aerial yoga classes incorporate the use of yoga swings to help students deepen their stretches and improve their flexibility.
How do you install and set up a yoga swing?
The process for installing and setting up a yoga swing can vary depending on the specific model you're using. However, most yoga swings come with an installation guide or instructions that walk you through the process. Generally, you'll need to find a secure anchor point, attach the yoga swing to the anchor point using straps or carabiners, and adjust the height of the swing to your desired level.
Can yoga swings help with back pain?
Pain relief can be achieved with yoga swings as they can serve as a useful tool for decompressing the spine and stretching the muscles in the back, leading to reduced tension and discomfort in the affected area. Thus, yoga swings may be helpful in alleviating back and neck pain.
Are yoga swings easy to clean and maintain?
Most yoga swings are made from durable, easy-to-clean materials like nylon or polyester. To maintain your yoga swing, you can simply wipe it down with a damp cloth and mild soap as needed. It's also important to periodically check the straps and hardware for signs of wear or damage, and replace any worn or damaged components to ensure that the swing remains safe and secure.
Final Thoughts
Yoga swings or aerial yoga hammocks can be excellent tools for those who are looking to enhance their yoga practice or incorporate some variation into their workout routine. These swings are designed to support and deepen yoga poses, allowing for greater flexibility, strength, and relaxation.
Using a yoga swing can also offer many health benefits, such as improving posture, reducing back pain, increasing blood flow, and promoting lymphatic drainage. Additionally, they can be a great tool for aerial fitness, providing an exciting and challenging workout that engages the core muscles and improves balance.
When choosing the best yoga swing, it is important to consider the material, weight capacity, and size to ensure it is safe and comfortable to use. It is also crucial to follow proper installation and safety guidelines to avoid any potential injuries. Overall, yoga swings can be an excellent addition to your fitness routine, providing a unique and enjoyable way while practice yoga and promoting overall wellness.
Reviews in this blog post have been edited for clarity and/or length.
Other Posts You May Like
Comments