This post may contain affiliate links, please see our privacy policy for details.
Namaste, yogis! Whether you're a seasoned yogi or just starting your yoga journey, you know the importance of comfortable and functional yoga clothing. And one of the most important pieces of yoga clothing is the yoga top. It not only needs to be comfortable and breathable but also needs to allow for ease of movement during your practice. So, get ready to take your practice to the next level with these yoga tank tops from our list of the best yoga tops out there!
The Importance of Choosing the Right Yoga Top
Yoga is not just a physical practice, it is also a mental and spiritual one. It requires concentration, focus, and deep breathing to help you connect your body and mind. But to fully achieve this, it's important to wear comfortable and breathable clothing during your practice. Your yoga tank tops, in particular, play a crucial role in your comfort level and ability to move freely during your practice. For example, wearing a tight-fitting top can restrict movement and make it difficult to breathe deeply, while a loose-fitting top can provide comfort and allow for a better range of motion. Additionally, certain materials like moisture-wicking fabrics can help keep you dry and comfortable during a sweaty practice, while cotton can feel soft and gentle on the skin.
How to Choose the Right Yoga Top for You
Choosing the right yoga top is crucial for a comfortable and effective practice. With so many styles and options available, it can be overwhelming to find the right one for you. Here are some tips to help you choose the perfect yoga top:
Consider Your Personal Preferences
Think about what styles and designs you feel most comfortable and confident in. Do you prefer loose-fitting tops or snug-fitting ones? Do you like bright colors or muted tones? Choosing a yoga top that matches your personal style can help you feel more comfortable and confident during your practice.
Look for Breathability
Choose a top that is made from breathable fabric to help keep you cool and dry during a sweaty practice. Materials like bamboo, cotton, and synthetic blends with moisture-wicking properties can help keep sweat away from your skin.
Consider the Type of Yoga You Practice
Different types of yoga require different types of clothing. For example, if you practice hot yoga or Bikram yoga, you may want a top with sweat-wicking properties to help keep you dry during a sweaty practice. If you practice more restorative or gentle yoga, you may want a softer and more comfortable fabric.
Think About the Fit
Consider the fit of the top and how it will allow you to move freely during your practice. A top that is too tight can restrict movement and breathing, while a top that is too loose may fall in your face or impede your practice.
Check for Durability
Choose a yoga top that is durable and can withstand frequent washing and wear. Look for high-quality materials and well-constructed seams to ensure your top will last through many yoga practices.
Price
Checking the price before buying tank tops is important for several reasons. It helps with budget management by ensuring that you stay within your financial limits. This is especially important if you have a limited budget and need to make sure that you are not overspending. Also, checking the price allows for comparison shopping, which is beneficial when trying to find the best deal or value for your money. By comparing prices at different stores or online seller, you can ensure that you are getting the best possible price for the tank top you want to buy.
You can also find tops for yoga with inspirational graphics and designs that give you a confident look. Tanks lend other details, like ruching, strappy backs, and elongated back hems for extra coverage. Tag-free necklines give you even more comfort. By taking these factors into consideration, you can choose a yoga top that fits your personal preferences and needs, and helps you achieve a comfortable and effective yoga practice.
Our Favorite Yoga Tops to Try
Looking for new yoga tops but also hoping to score a deal? Look no further than our list of top picks for the best tops on the market. We've gathered a range of options to suit various personal preferences and yoga practices, all at great prices. Our selection includes comfortable and breathable fabrics, as well as stylish and functional designs, from loose-fitting tanks to form-fitting tops and everything in between. Don't break the bank on your yoga wardrobe upgrade - check out our list and grab these deals while they last!
Best Slim Fit Yoga Top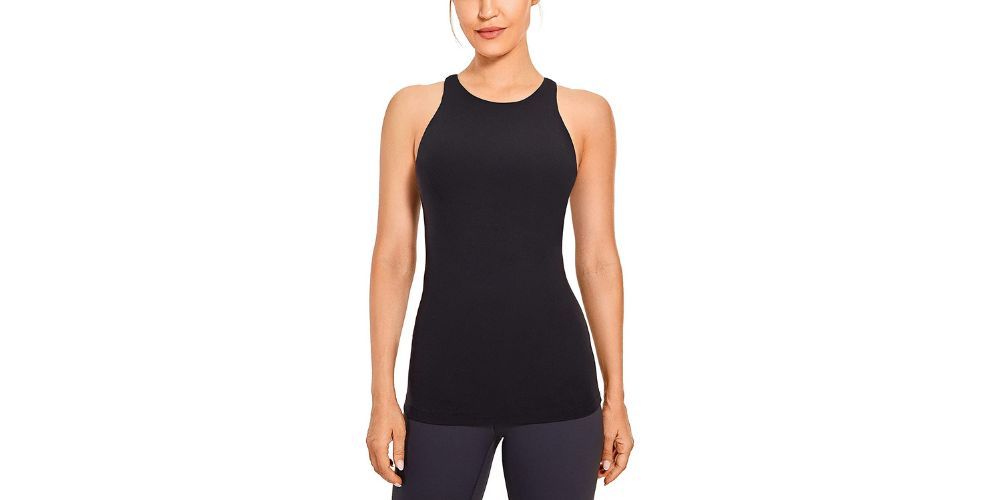 This tank top has been causing a stir in the fitness community. People are raving about its comfy and breathable fabric, not to mention its sleek design and functional features. With a built-in shelf bra and racerback design, it provides ample support for your bust while allowing for unrestricted movement during any workout - even yoga! Whether you're pumping iron at the gym, sprinting down the street, or perfecting your sun salutations, this tank top will keep you feeling comfortable and supported from start to finish. It's no wonder people can't stop talking about it!
Best Color Selection Top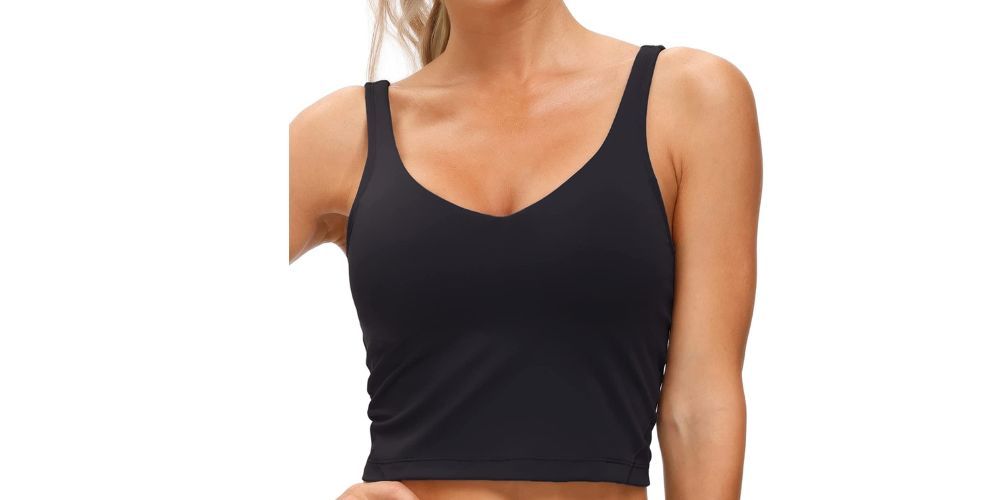 This Yoga Tank Top is seriously amazing. Not only does it offer extra coverage with its longline design, but it also looks super trendy when paired with your fave yoga leggings or worn as a crop top. Plus, the fabric is so comfy and breathable that you'll be able to move through any exercise with ease! Whether you're sweating it out at the gym or perfecting your downward dog, this sports bra will keep you feeling confident and supported. Trust us, once you try it, you won't want to wear anything else!
Best Breathable Top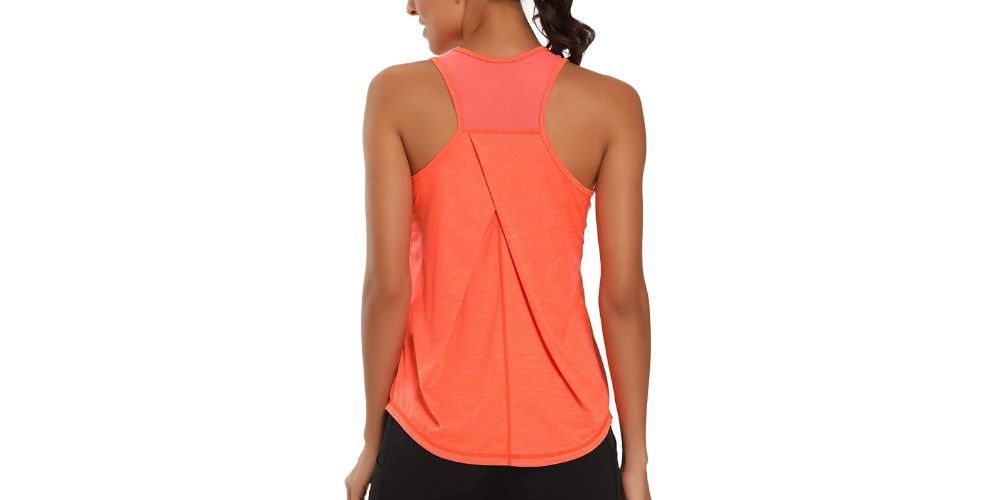 Looking for a yoga top that's both comfortable and stylish? This one ticks all the boxes! Crafted from breathable mesh material, it's perfect for any athletic activity. The sleeveless design allows you to move freely while the trendy cut and flattering fit will make you feel confident during your workouts. Plus, with a variety of colors available, you can choose one that matches your vibe perfectly. Whether you're hitting the mat or going for a run, this yoga top is the perfect addition to your workout wardrobe.
Best Supportive Top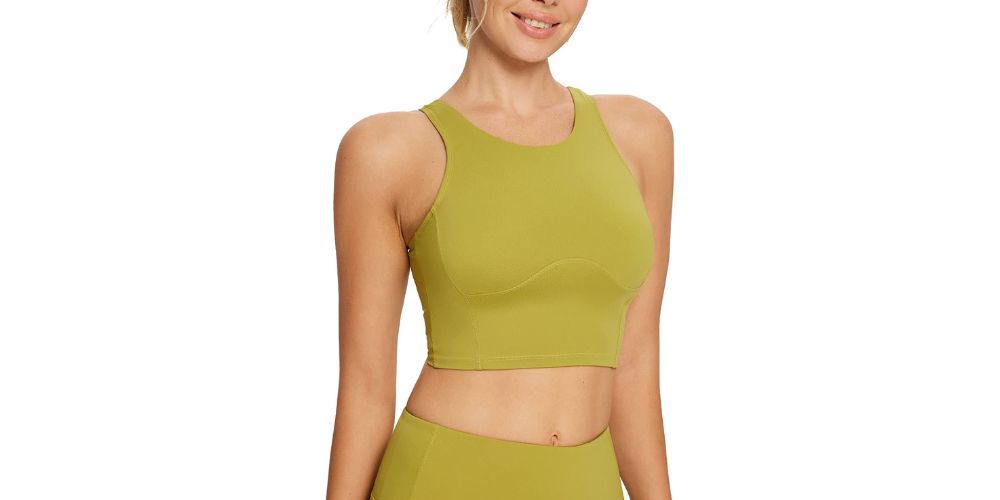 If you are tired of feeling unsupported during your workouts then you should check out this incredible BALEAF Sports Bra! Whether you're flowing through a yoga class, pounding the pavement on a run, or pushing yourself to the limit in any other athletic activity, this bra has got you covered. The built-in padded bra provides unbeatable support and coverage, so you can feel confident and comfortable no matter what.
And with a high neck and racerback design, this bra ensures a snug and secure fit that won't let you down. Plus, the longline style adds an extra layer of coverage that makes it perfect for wearing on its own or as a layering piece. Don't settle for less than the best - make this BALEAF Sports Bra an absolute must-have in your workout wardrobe today!
Best Comfortable Top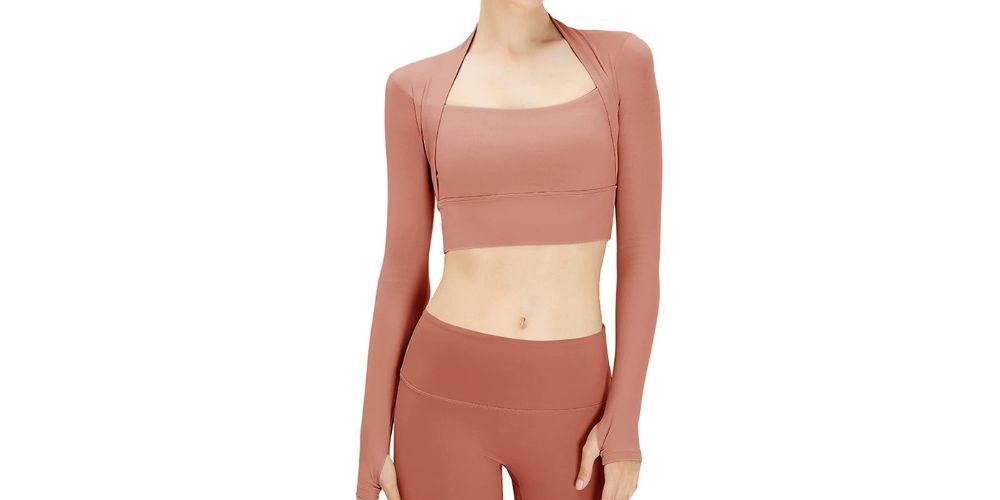 Get ready to experience the ultimate workout companion that will leave you in awe - this crop top is made with premium compression fabric that provides unmatched support and comfort, even during the most intense workouts. But wait, there's more! The thumbhole design ensures that the sleeves stay in place while you move, eliminating any potential distractions and allowing you to focus on crushing your fitness goals. And let's talk about style - the crop top length not only gives you maximum breathability but also adds a burst of trendiness that will turn heads at the gym or on the streets.
This top is perfect for any athletic activity, from yoga to running and everything in between. Oh, and did we mention that it comes in a variety of colors, so you can filter your search and find the perfect size and style to match your unique personal taste! Get ready to perplex yourself with its amazing features and burst with excitement as you achieve your fitness dreams in this incredible crop top!
Best Seamless Top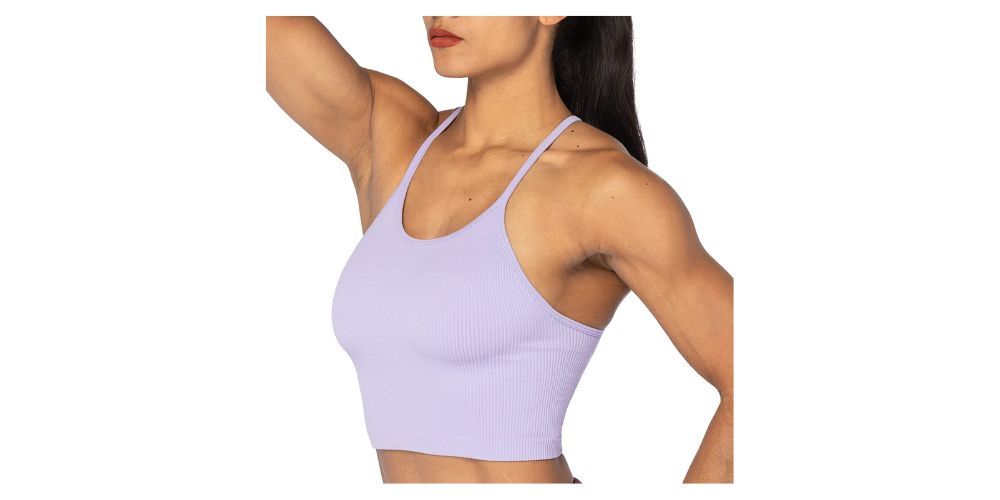 This tank top is made from a stretchy blend of 90% nylon and 10% spandex, featuring a seamless ribbed fabrication that will leave you perplexed with its softness. The high-neck silhouette and racerback design allow for a maximum range of motion, so you can move freely during your low-impact workouts like yoga, spinning, cycling, or elliptical training. But wait, there's more!
With entry-level compression, this tank top provides just the right amount of support for your exercise routine. And if you're looking for something more intense at the gym, simply layer on your favorite sports bra for added support. The cropped length adds a burst of trendiness that pairs perfectly with high-waisted shorts or pants, making it the ultimate choice for any outdoor activity like hiking. And let's not forget about versatility - wear it as casual loungewear or dress it up for a day out on the town.
Best Flattering Top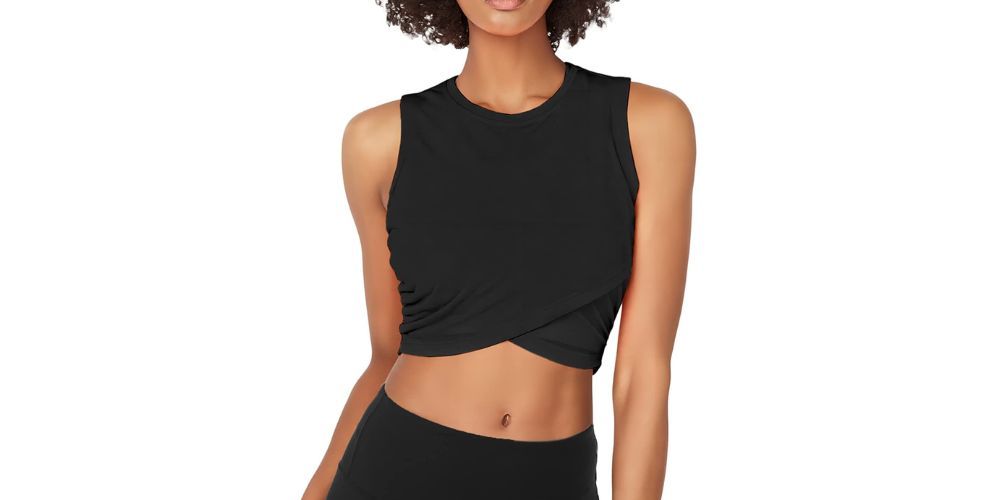 Made from a blend of 95% rayon and 5% spandex, this top is designed with a cross-over style that will leave you perplexed with its flattering fit on any body type. But wait, there's more! The V-cut design above the belly button adds a burst of trendiness that perfectly pairs with high-waisted bottoms.
And don't be fooled by its cute looks - this top is highly functional, providing unrestricted movement while firmly holding you in place. Whether you're into yoga or pilates, this cropped tank top can show off your abdominal muscles, making it perfect for athletic build women who want to showcase their hard work. Get ready to burst with excitement as you add this incredible top to your wardrobe!
Best Stretchy Top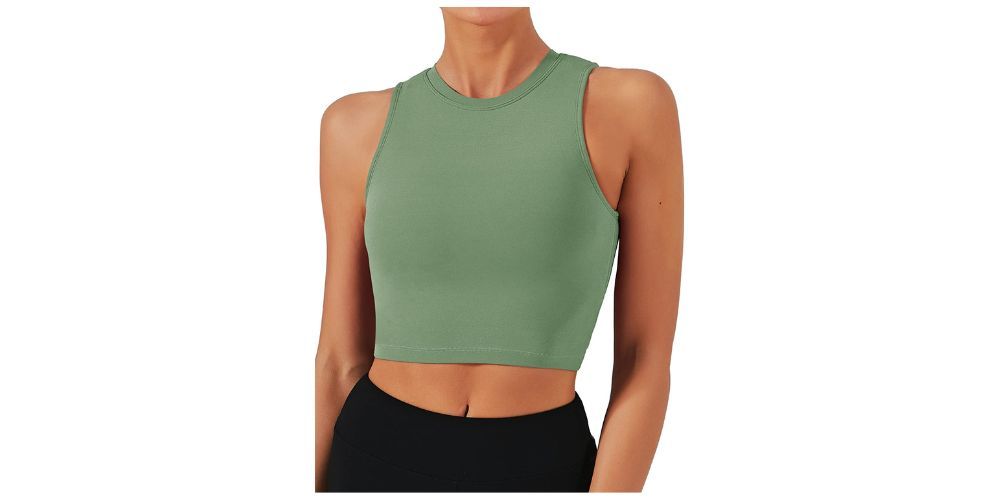 This Yoga top is made with 80% Nylon and 20% Spandex, this baby is strong yet flexible, like a superhero as your personal fashion consultant! This top hugs your body tightly and comfortably, like a warm embrace from home and your best friend. The four-way stretch material allows for unrestricted movement during any yoga pose.
And let's not forget about the infamous Naked Feelings Fabric - it's buttery soft and so comfortable that you might forget you're wearing anything at all. But wait, there's more! The Yoga Tank Top is also sweat-wicking, keeping you dry and comfortable during even the most intense workouts. It's like having your own personal air conditioner without the extra cost.
Best Lightweight Top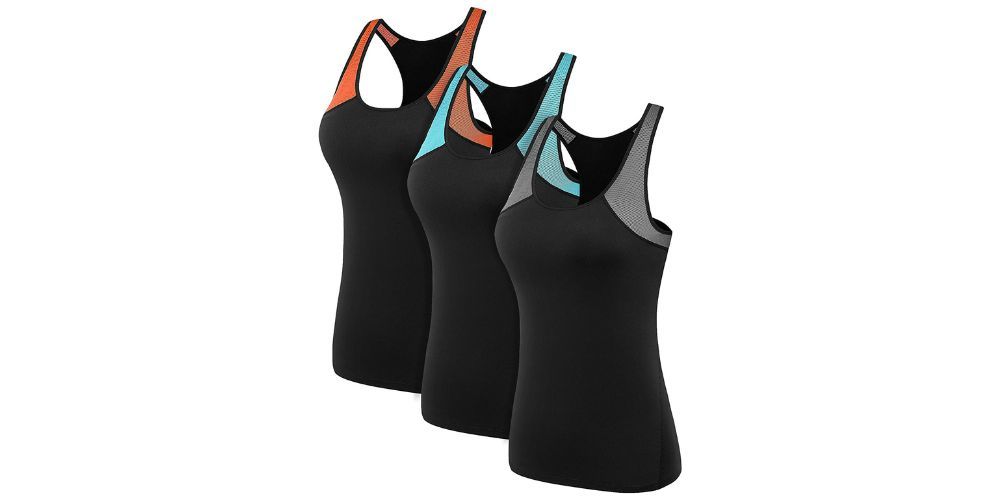 This NELEUS Yoga Tank Top is made from high-quality materials, this top is designed to provide both comfort and style during any workout outdoors. With its racerback design, it offers maximum freedom of movement and breathability, keeping you cool and comfortable even during the most intense yoga mats workouts. Plus, the stretchy fabric ensures a snug, comfortable fit, while the flatlock seams help prevent chafing and irritation. Whether you're into yoga, running, or fitness workouts, this tank top has got you covered.
Best Moisture-wicking Yoga Top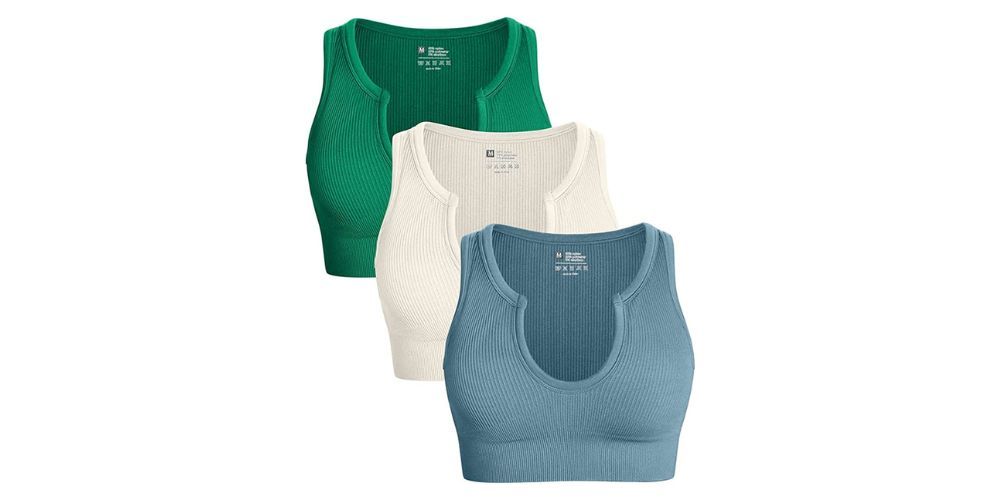 This bra is the perfect balance of style and function! It's made with top-quality materials and features a seamless design that will leave you feeling comfortable and secure no matter how intense your workout routine gets. The ribbed texture adds a trendy touch to your look while the removable cups provide extra coverage and support. And let's talk about the crop top style - it's both fashionable and functional, allowing you to move freely during any workout without any restrictions whatsoever. Whether you're a yoga enthusiast, a dedicated runner, or just love hitting the gym, these bras will have your back (and front!) from every angle imaginable. Trust me when I say that this is a must-have in your workout wardrobe!
Yoga Tops FAQ
What materials are best for yoga tops?
Materials that are moisture-wicking, stretchy, and breathable are best for yoga tops. Popular choices include cotton, polyester, and spandex blends.
How do I care for my yoga top?
Always check the care instructions on the label of your yoga top, but in general, it's best to wash yoga tops in cold water and lay them flat to dry. Avoid using fabric softener or bleach, as these can damage the fabric. Also, avoid hanging your yoga tops as they can stretch out the fabric and cause it to lose its shape. Keep your yoga tops separate from other clothing items. It's best to store them in a designated drawer or shelf to prevent them from getting tangled or mixed up with other clothes. If you need to travel with your yoga tops, pack them in a separate bag or compartment to prevent them from getting wrinkled or damaged.
Can I wear a regular top for yoga practice?
While it's possible to wear a regular top for yoga practice, it may not provide the same level of comfort and flexibility as a top specifically designed for yoga. Regular tops may also ride up or shift around during certain poses, which can be distracting and uncomfortable.
Final Thoughts
Overall, the right yoga top can make all the difference in your workout routine. Whether you are looking for a flattering fit or something lightweight and breathable, there is an option out there that will meet your needs. Make sure to do your research when it comes to features like fabric type and removable cups so you know exactly what to look for when shopping around. Don't forget about moisture-wicking fabrics either - these types of materials help keep sweat away from your skin while still allowing air flow.
Reviews in this blog post have been edited for clarity and/or length.
Other Posts You May Like
Comments