This post may contain affiliate links, please see our privacy policy for details.
Spring is here, and so are all of the fresh fashion trends. Whether you're looking for a cute and casual dress for date night or something more formal for the office, these 15 women's midi dresses from some of our favorite designers will be your go-to all season long. From bright colors and fun prints to classic silhouettes and timeless designs, there's something for everyone in this collection!
You won't want to pass up the Flutter Sleeve Midi Dress! With its flattering elastic-shirred top, crew neck, high waist, and short cap sleeves edged with playful frills at the shoulder, this dress has all the makings of an effortless style statement. Its flowy tiered midi skirt will move with you as you make your way across the room. Whether you wear it to the office or an evening out, this dress will have heads turning!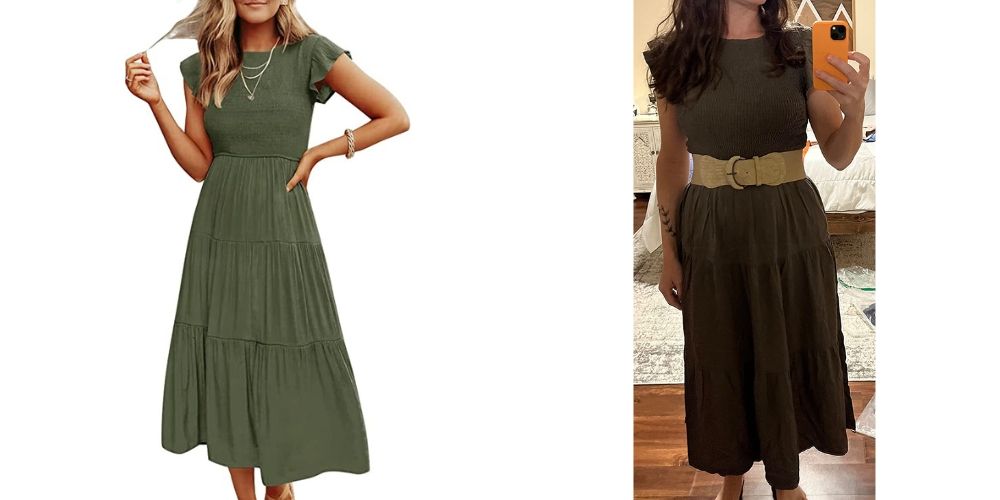 5-Star Review: "The color is so pretty, bold, exactly what I expected. Also, it's very flattering. And it has pockets. It's a good maxi length for us petite" - Xakic
Give your wardrobe an instant refresh with the Smocked Midi Dress! This dress comes in a beautiful ditsy floral print. The round neck and short sleeve combination – along with the shirred waist – make this A-line dress a wardrobe must-have. Whether you're looking for a casual style or something that oozes sophistication, this dress has got you covered! With so many styles to choose from, you're sure to find the perfect style for you.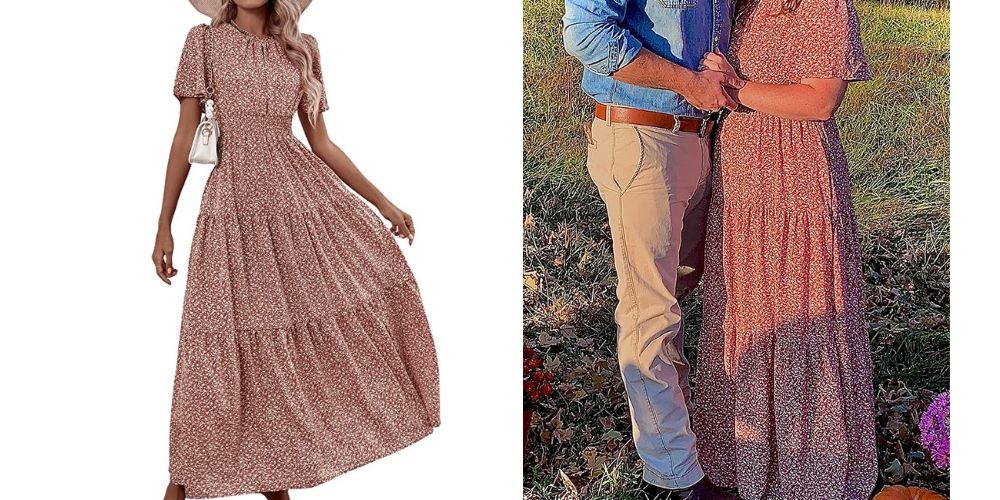 5-Star Review: "Fits well, constructed well, nice color and the price is good." - Caustic
This Sleeveless Midi Dress features a polyester lining and textured crepe fabric, this dress is both beautiful and comfortable. It comes with a concealed back zipper that makes it easy to slip on and off. With its sleek silhouette, you'll be wearing this dress all season long. Create an effortless look by pairing it with sandals or pumps for a perfect day-to-night ensemble. Whether you're heading to brunch or dinner, this midi dress will have you looking and feeling like a million bucks!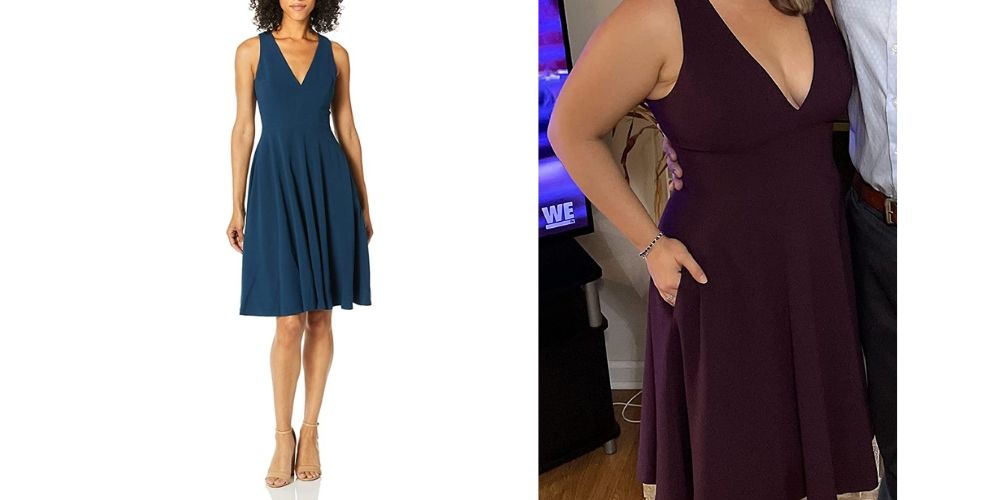 5-Star Review: "This is exactly what I am looking for in a work dress. Fun color. Quality fabric. Perfect length. Pockets. Neckline may be a tad low for some." - Dexy
This Midi Floral Dress is made from soft and comfortable fabric, this midi dress has ruffle trim straps and split thighs that will have you look stylish. The square neckline is perfect for any work or special occasion look. Whether you're heading to a party or going out on the town, you'll be sure to turn heads in this stunning piece. Step up your wardrobe game and add this midi dress to your collection today!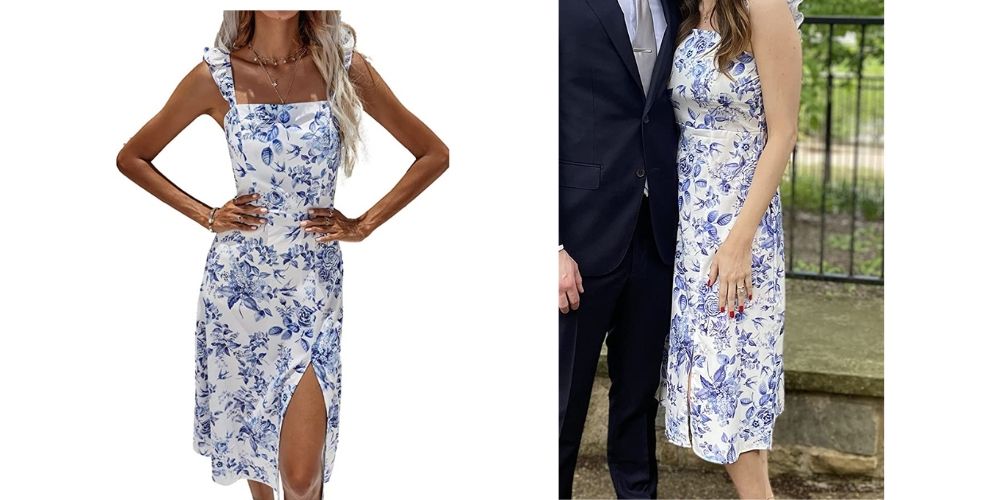 5-Star Review: "This dress is beautiful in person as it's shown. I received lots of compliments on this dress. Highly recommended!" - Jessica
Show off your curves with the Midi Bodycon Dress! Made of high-quality fabric, this dress perfectly highlights your body's curves. The puff sleeve square neck ruffle hem adds a touch of elegance that will make you stand out from the crowd. Pair it with sandals for an effortless daytime look or dress it up with heels for a night out on the town. There's no better way to show off your style than in this stunning midi bodycon dress!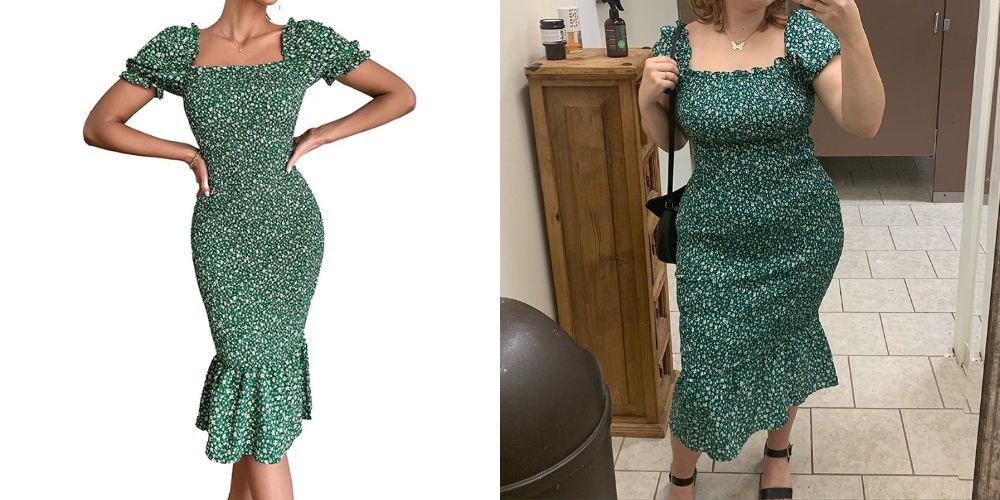 5-Star Review: "Love love love this dress!! It hugs you in all the right places but is still so comfy. Danced the night away with ease 😊 buy the dress!" - Sarah-Beth Langford
This lightweight and Flowy Dress features a v-neck, ruffle cap sleeves, and a knee-length pleated hem that will have you looking glamorous all season long. With 12 stunning styles to choose from, you'll be wearing this high-waist midi dress all spring long.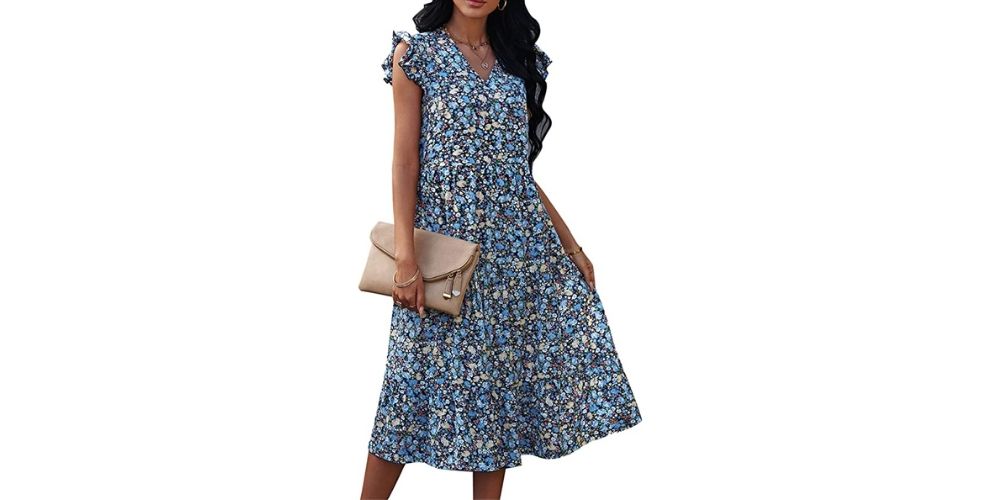 5-Star Review: "Perfect fit. I get a lot of compliments. Very comfortable." - Curtis D Lourenco
Looking for the perfect dress to take you from season to season? Look no further than this Spring Midi Dress! This timeless piece is a must-have for any fashion-forward wardrobe. Crafted from 100% Rayon, it is perfect for layering under your favorite cardigan or jacket. The midi length is versatile and has a removable self-belt, the sleeve length is just right to keep you cool and comfortable on those warmer days. And with spring just around the corner, you won't want to miss out on this chic and glamorous piece.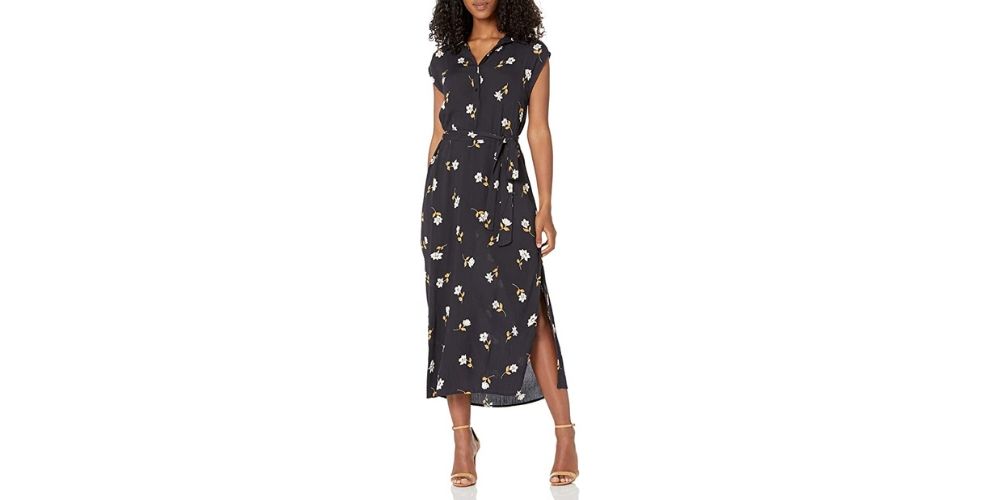 5-Star Review: "Very cute, true to size, and flattering." - Morgan Anderson
If you're looking for a stylish but comfortable dress that's perfect for spring, the Flowy Chiffon Midi Dress is definitely the one. With its deep V-neck, short sleeves, tiered ruffle trim, and pleated flowy swing hem, you'll be sure to stand out from the crowd. It features a chic boho floral print that looks great with any ensemble. Plus, it has elastic in the waist for a secure fit and worry-free wear all season long.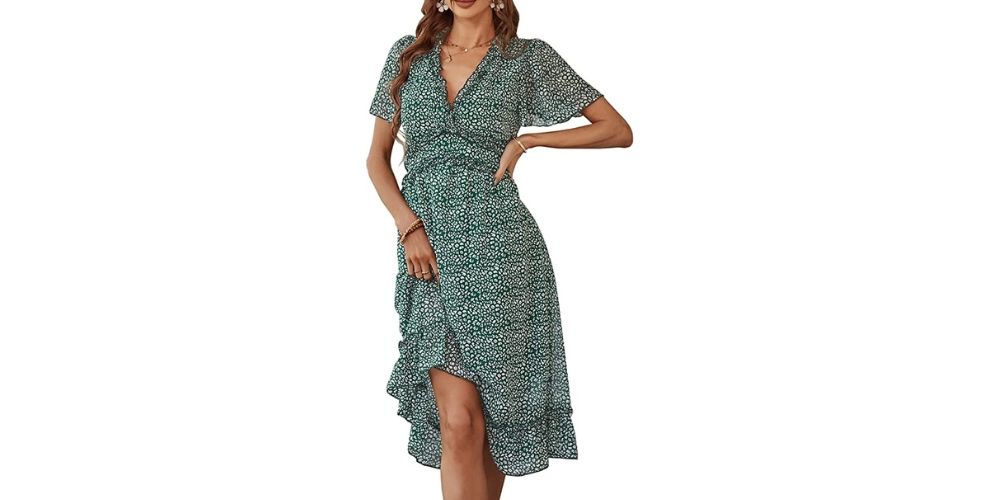 5-Star Review: "I love the cut of this dress and how the detailing hit at the narrowest part of my waist. The dress is fully lined so no need for a slip. The sleeve length is perfect and the dress is comfortable. Easy care as well, mine has been washed in cold using a hand wash cycle and hung to dry. 10/10!" - Cyndilyn Loudermilk
When it comes to midi dresses for spring, the Jersey Sleeveless Midi Dress is a great selection. With its cinched waist, relaxed-fit, and curved dropped hem, you can be sure that you'll look amazing. And with its perfectly rich, smooth fabric that drapes beautifully, you'll feel comfortable and confident all day long.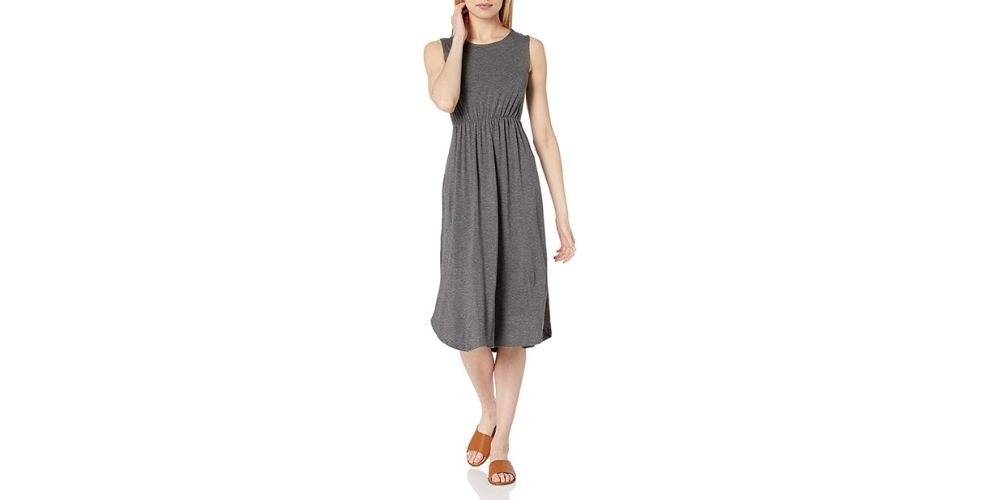 5-Star Review: "I absolutely love this dress! It fits perfectly. Excellent fabric. Great for hot weather or cool weather with a cardigan." - Kaykay
If you're looking for a midi dress that's perfect for spring, then this Silky Midi Dress is definitely the pick. Crafted from 95% polyester and 5% elastane for a comfortable fit, this dress will quickly become your staple piece. The V-Neck with slip dress gives a chic look and gorgeous style, you'll be sure to stand out in any crowd. There are so many glamorous midi dresses this spring and this silky midi dress is one of them!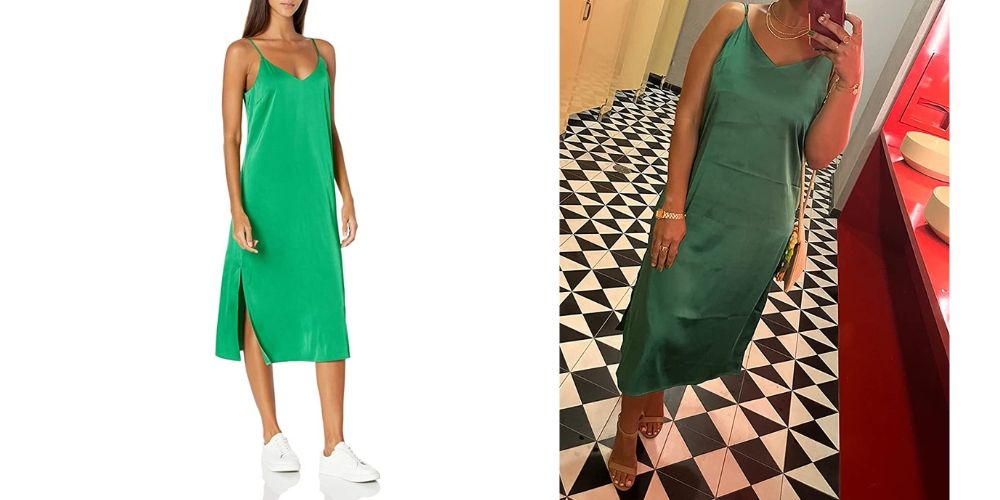 5-Star Review: "I just got my dress in black. I am so overjoyed with the fit and the weight of the fabric. Very high quality. It is absolutely beautiful! Will get more in other colors!" - Velma Jones
This Flowing Midi Dress is perfect for any special occasion this spring. Its flattering ruffles and sexy v-neck midi long style will make you look chic and sophisticated. Crafted from 100% polyester with an elastic waist closure, the dress is soft, lightweight, and comfortable all day long. With so many glamorous midi dresses this spring, this dress is one you won't want to miss! Its ankle-length design will make sure you stand out in any crowd.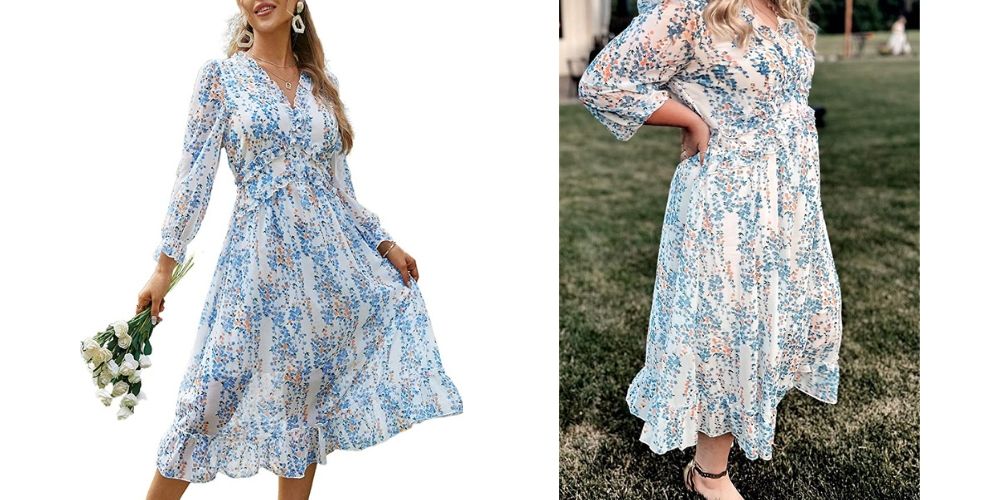 5-Star Review: "Loved the dress! It fits well and looks great with my boots." - magicjewel
The Lapel Print Floral Midi Dress will have you looking stunning this spring. Crafted from 100% viscose, it's lightweight, soft, and elegant with a comfortable and quick-drying feel. Uniquely designed with features like a v-neck, loose dress, lapel front tie, short sleeves, and adjustable waist tie, the shirt style midi length dress is super soft and easy to wear while offering an elegant flattering look. With 15 different midi dresses that are so glamorous this season, this floral midi dress is definitely one of the good options!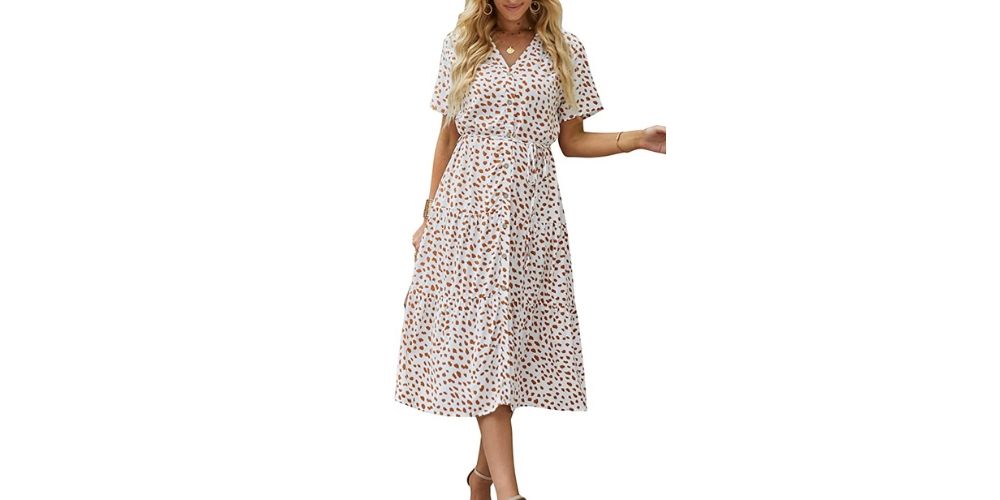 5-Star Review: "The fit is perfect and flattering. The material is soft. Received compliments on it." - Jeanette Aquino
The Short Sleeve Midi Dress is the perfect choice for those looking to make a statement this spring season. With its wildly flattering design and comfortable elastic closure, you'll have all eyes on you at your next event. Its short sleeves provide a light and airy feel, while its round neck cut creates an elegant silhouette that complements any body type. The flare skirt bottom and knee-length cut add just the right touch of drama to every look.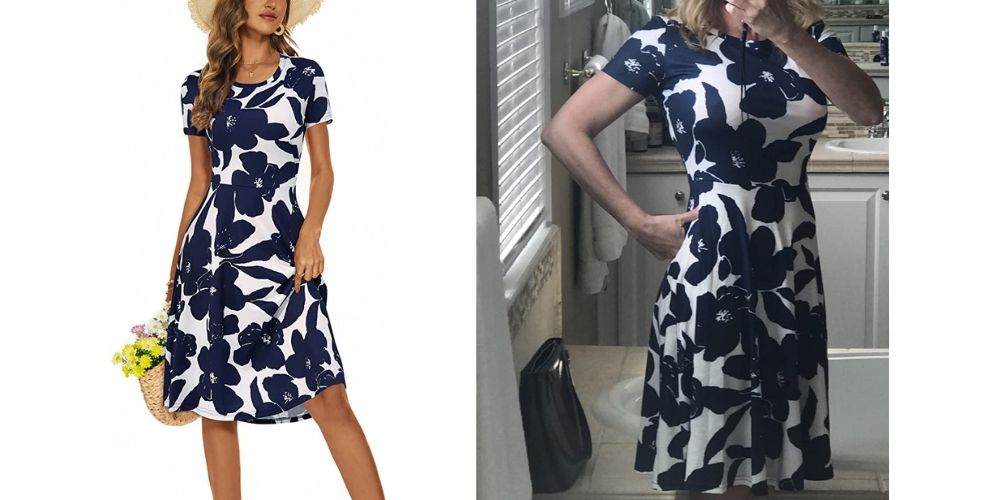 5-Star Review: "This has been a go-to little dress for me! Fits like my favorite tee shirt and is so cute! Change it up by adding a classic cardigan or a denim jacket." - Deborah D Moriarty
This spring, make sure you add the Casual Midi Dress to your wardrobe! Designed with bell sleeves and an A-Line dress that buttons up in a flowy split V-neck, this piece is made from polyester fabric and features an elastic band on the back for extra comfort. With 15 different midi dresses that are so glamorous this season, this dress is one of the latest arrivals that you won't want to miss out on!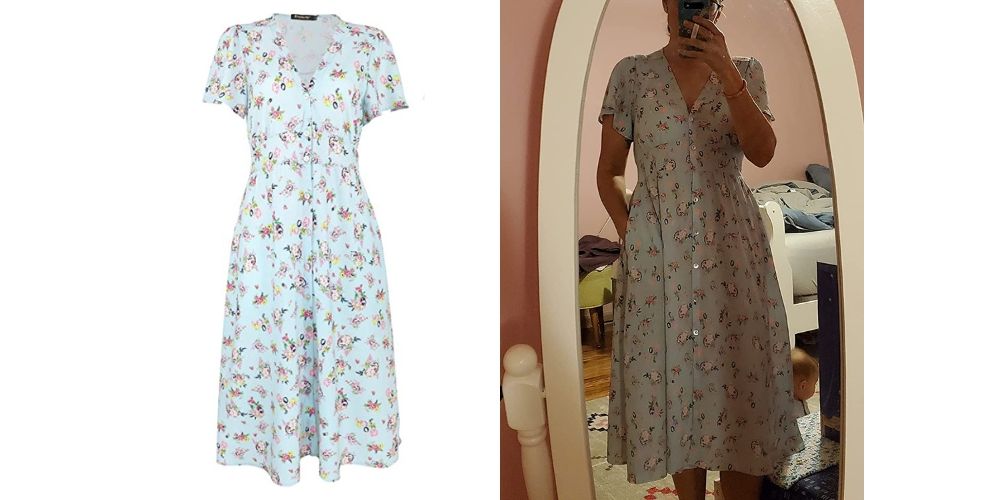 5-Star Review: "This dress is very flattering, and never needs ironing!" - Danielle Baptiste
This season, get ready to make an unforgettable fashion statement with the Gorgeous Midi Dress! The smocked tiered design with a V-neck and flutter sleeve will have you feeling light and breezy all season long. Crafted from soft rayon, this dress is perfect for making any look pop. When it comes to looking glamorous this spring, there's no better option than this midi dress!
5-Star Review: "I love this dress. Fit as expected and is very flattering. I bought the black and would love to get another color. Good quality." - jharmon
Final Thoughts
Spring is the perfect time to break out those midi dresses and embrace the glamour they bring to any occasion. The 15 dresses for women highlighted in this post are just a few of the many stunning options available this season. Whether you prefer bold prints, flowing fabrics, or classic cuts, there's a spring midi dress out there that will make you feel confident and beautiful. So don't hesitate to indulge in a few new pieces for your wardrobe and make this spring one to remember. With these midi dresses in your collection, you'll be turning heads all season long.
Reviews in this blog post have been edited for clarity and/or length.
Comments