This post may contain affiliate links, please see our privacy policy for details.
Be the life of your holiday party this season by showing off one of these fun, festive (and undeniably ugly) Christmas sweaters! Whether it's a Santa-themed motif or an outrageous reindeer design, there's no better way to express your joy for the holidays than with a classic yet cringe-worthy winter wardrobe essential. Turn heads and stand out from the crowd while celebrating in style - because let's face it: embracing that tacky spirit is all part of what makes this time so special.
1. Say goodbye to cookie-cutter festive looks this holiday season and get ready for a whole new way of celebrating! Tipsy Elves' exciting collection of ugly Christmas sweaters offers you the perfect opportunity to spread some unique cheer. Not only can they bring your family's gatherings or office parties to life, but will also make sure everyone has plenty of laughs along the way!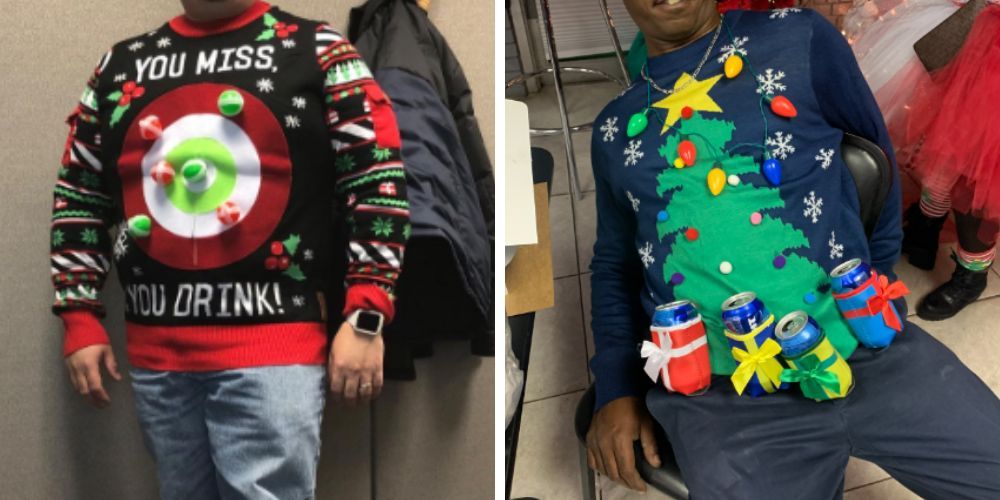 5-Star Review: "My son wanted to wear something for his school's ugly Christmas sweater day but something more reserved than tacky. This is it! After searching for many options, this is what he chose. Good quality and is a good fit for his slender frame. He wore this to school without a jacket on a chilly December day. He said the sweater kept him warm, not to mention he looked really cute." – Tam M.
2. Ready to be the life of the holiday party? Look no further than this bold Ugly Christmas Sweater Dinosaur - guaranteed to take your festive style game up a notch! Not only will you stand out from all those reindeer and snowmen, but it'll get people talking too. Perfect for making an impression at any shindig!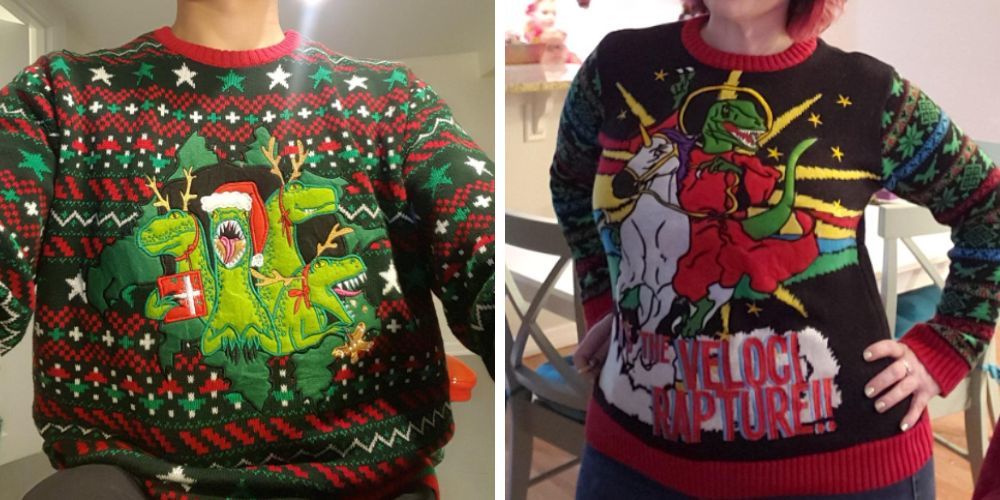 5-Star Review: "It certainly fits better than I expected. It's more like a 3xl than a 2xl, but I like that it's bigger. I can't stand things that are tight on me, especially coats/jackets. The material is nice, and the colors are bright. The Santa and t-rex really pop and the bells are really and actually jingle." –  Travis T
3. If you want to bring some festive cheer this holiday season, the LED Light Up Reindeer Ugly Christmas Sweater is your go-to! This statement sweater features colorful LEDs that add a fun pop of sparkle and will make sure all eyes are on you. Plus, it's crafted from cozy fabrics so you'll stay warm all night long. Shine bright like Rudolph in one of these winter gems!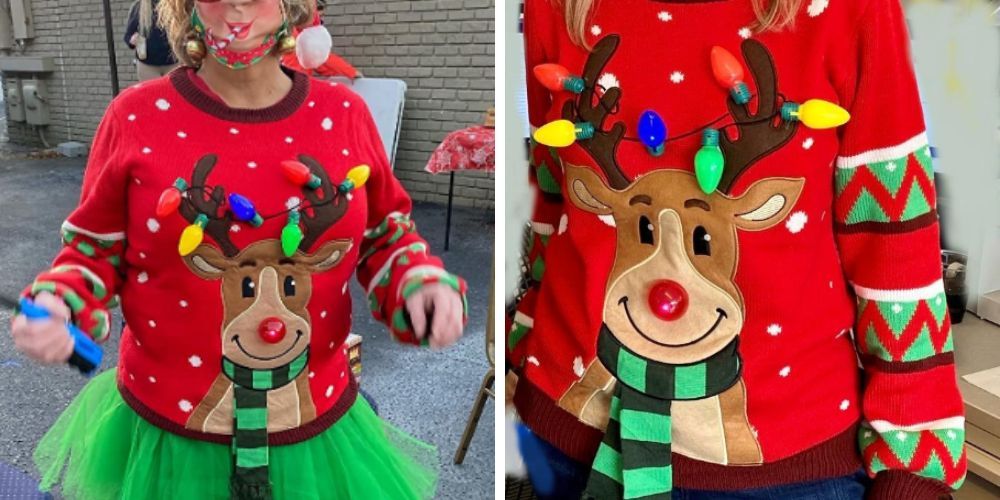 5-Star Review: "I absolutely love the sweater. I'm 5'5 about 165lbs and I ordered XL. Upon reading other reviews, I decided to size up twice and I'm glad I did. The sweater fits the way a size large would. It seems well-made, I didn't see any loose threads. It's made of 100% acrylic but it's not scratchy. The lights worked and it has different blinking settings. The washing instructions don't make any sense. So I advise that you try really hard not to get the sweater dirty. It has a slight "factory" odor but other than that the sweater is awesome!" –  KRM
4. Get ready to 'meow' it up in style with this hilarious Ugly Christmas Sweater Cat! It's the purrfect way to spread holiday cheer and show off your kitty-cat spirit at any seasonal event. Bring some extra festive fun into your life, you won't regret it...unless of course one of Santa's reindeer mistakes it for their outfit too!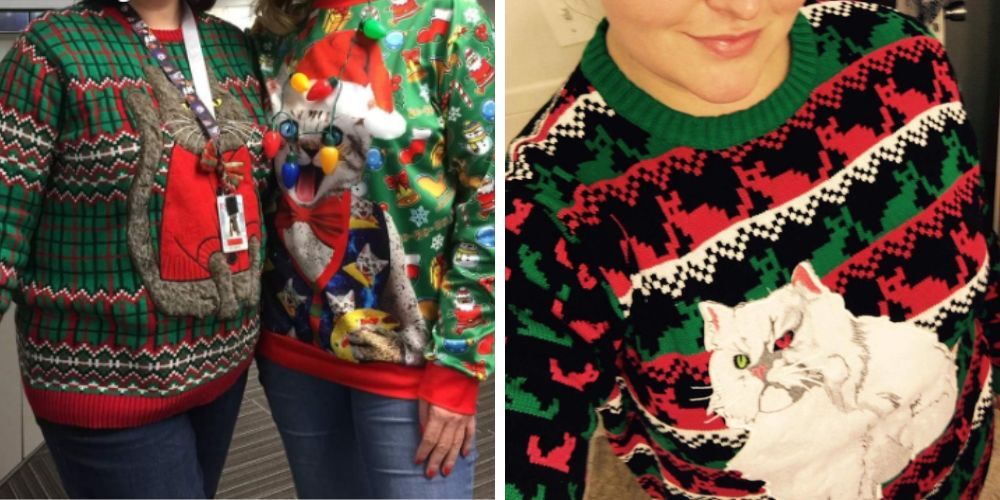 5-Star Review: "It's a nice sweater- great for people who are not gooey over Christmas but you want them to wear something festive." – MS.D
5. Get ready to be ho-ho-hot this festive season with the Christmas Dasher Dancer Sweatshirt! This soft and cozy pullover will keep you warm while offering a witty take on holiday spirits. Featuring Dasher, Dancer, Prancer, Vixen (plus Moscato, Vodka, and Tequila), it's perfect for sipping eggnog in style during your family gathering or winter party.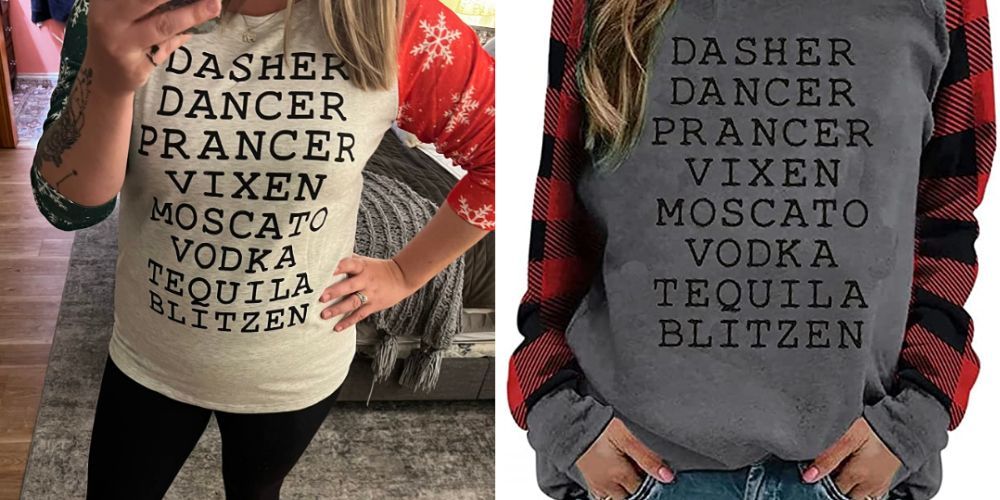 5-Star Review: "It is soft. I ordered it larger on purpose. So it fits nicely and is roomy. Very beautiful sweater." – d mom
6. If you're looking to find the funniest holiday outfit this season, search no further than  3D Printed Festive and Fun Sweatshirts! This festive selection of clothing pieces is guaranteed to make your Yuletide festivities an absolute blast. And when it comes time for gift giving - or even just getting dressed up yourself - there really isn't a better option out there that will have friends and family snickering all night long- making sure they remember every moment together with delight!. Shop now and let your ugliest sweater do the talking!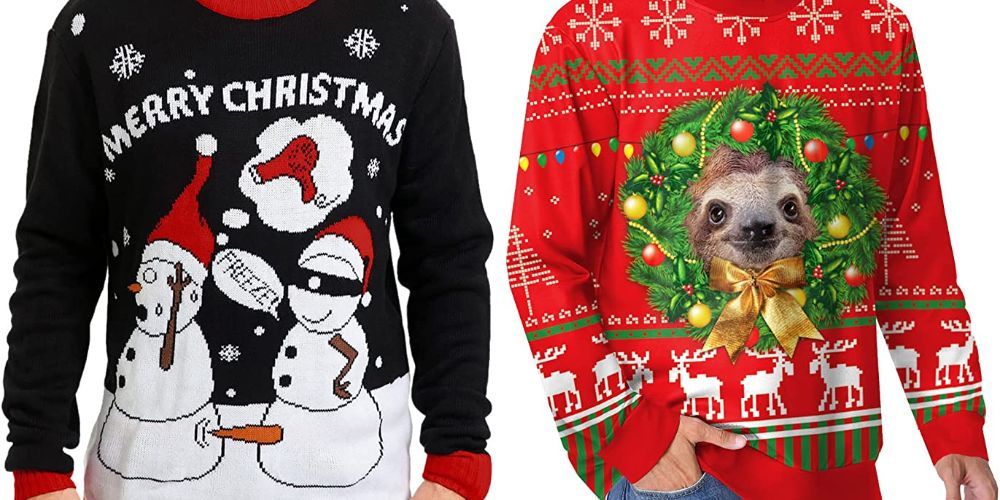 5-Star Review: "I normally wear a 2XL so that's what I ordered not realizing it was a men's fit and therefore pretty big on me. It was super comfy and not thick and hot like most! I won Most Festive at my work holiday luncheon." – Tabitha
7. Show up at your next holiday party in style with this bold, Oversized Snowman Sweater! Not only will it keep you toasty and warm during the festivities but also broadcast that you got a serious fashion game. Crafted from a soft cotton wool blend fabric, people won't be able to ignore how on-trend (and comfy!)you are all night long!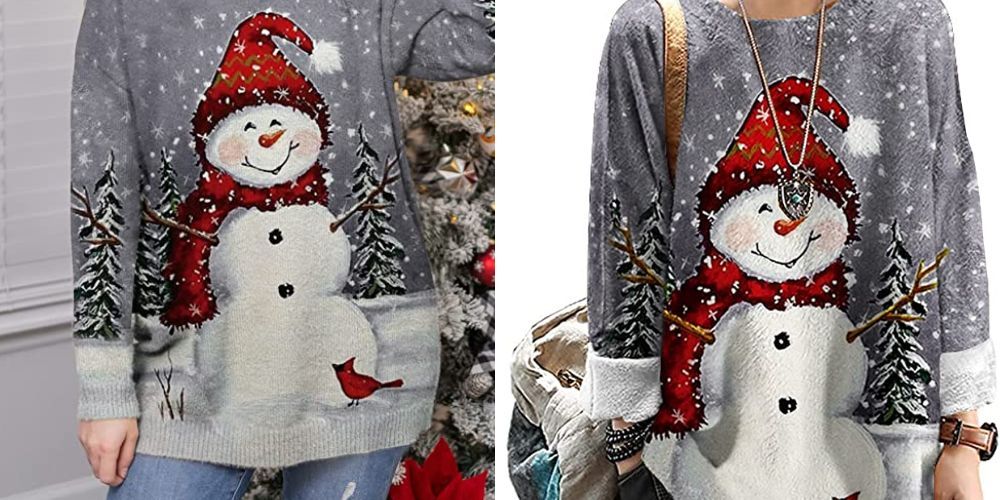 5-Star Review: "I received several compliments on this sweater and have already ordered another. I especially like that the designs are unique and the sweater feels soft and warm. It's not itchy and that's a big plus. The fit is great for pants or leggings and it can be dressed up or down. I haven't washed it yet, but I'm hoping for good results." – Amazon Customer
8. Step aside, Santa -- this ugly Christmas Hoodie is bringing real festive fun! Featuring an exclusive creative design with all the trimmings like tinsel and pom-poms galore - not to mention being crafted in soft acrylic comfort. You don't want to miss out on designing YOUR perfect holiday look with these epic ugly funny sweaters that guarantee a yuletide style checkmate!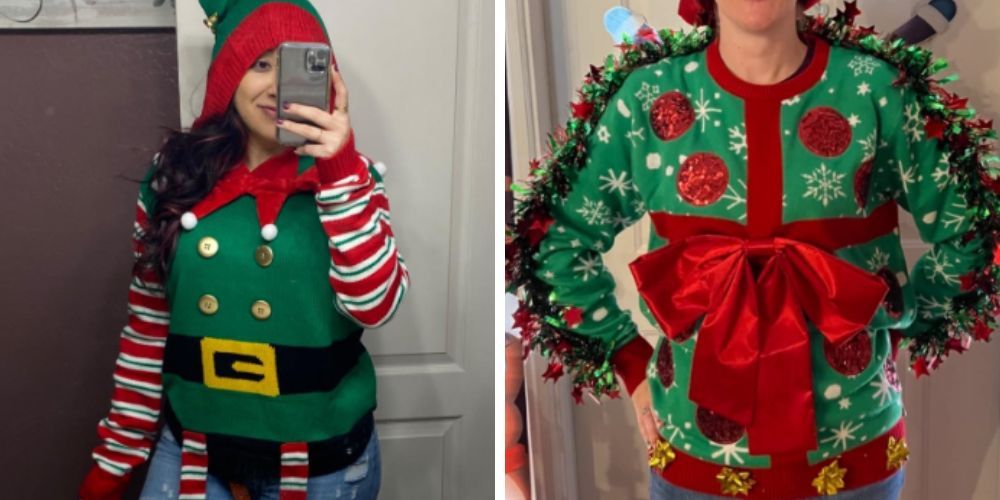 5-Star Review: "This gloriously gaudy sweater will not let you down! I was the 2021 Ugly Sweater Champion at work this year, thanks for this over-the-top sweater. People stopped all day long at my office to laugh and snap pictures." – Melody H
9.  Get ready to spread a little holiday merriment with this delightful Santa's Elf Sweatshirt! Whether you're feeling extra cheery or want to get your Christmas photo game on point, look no further than the comfy and fashionable style of this special piece.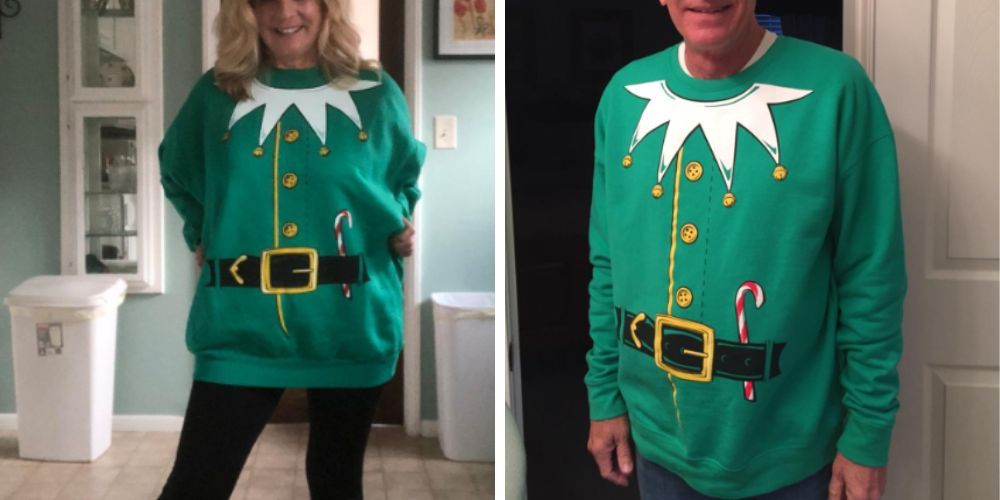 5-Star Review: "I bought this sweatshirt larger than I wear so I could add warm garments underneath for a 5 K Santa run with my friends. It will be perfect for winter weather." - Marti
10. Deck yourself out for the holiday season with this festive Llama Ugly Christmas Sweater. Its soft and cozy 100% acrylic knit is perfect for any occasion, from family gatherings to virtual celebrations - so you can proudly show off your love of funny-ugly fashion! Plus it comes in sizes XS through XXL, so everyone can enjoy spreading some yuletide cheer.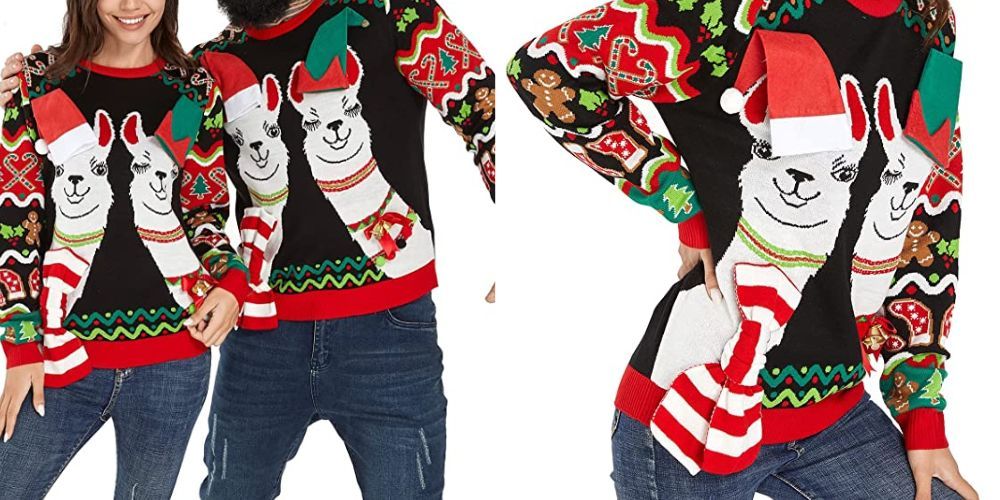 5-Star Review: "This sweater is fantastic! I wore it to an ugly Christmas sweater party and to work. I got TONS of compliments on it! It is thick and warm. The sleeves are nice and long." – Deanna S.
11. 'Tis the season for festive cheer and style - so why not take it to a whole new, fashionable level with this ultra-fun Reindeer Ugly Sweater Pullover? It's made from 100% acrylic fabric that you can toss in your machine when all of the holiday merriment is over. Plus, it's super soft and warm – perfect for keeping cozy during those cold winter days!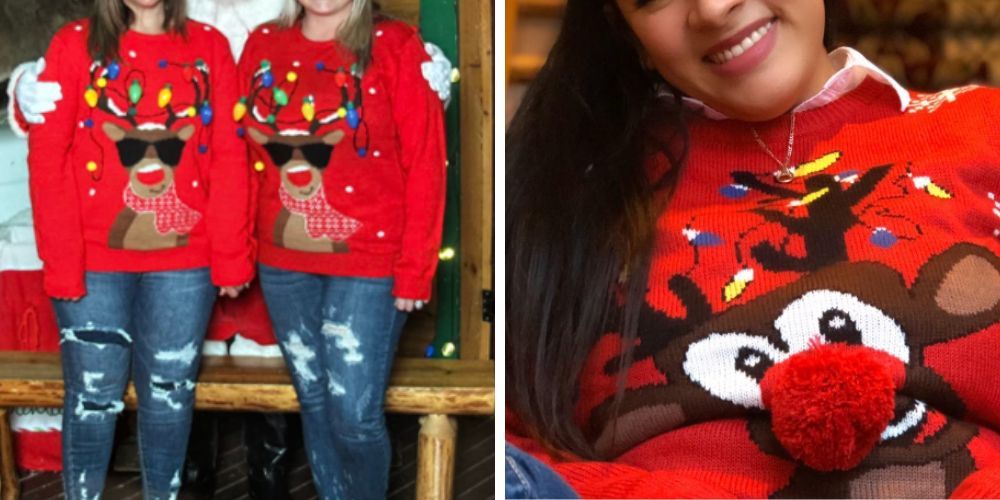 5-Star Review: "Received a lot of compliments when I wore it at work. Won the ugly sweater contest at the party. Paired it with a reindeer headband to complete the look. Definitely recommend. I got the XL which fit pretty snugly. May want to go up a size for comfort. Overall great purchase." – Sheri G
12. 'Tis the season to get ugly! Step up your Christmas game with a one-of-a-kind sweater that will bring festive cheer and boundless laughs. With this I Got Hos In Different Area Codes Sweater, you can show everyone in your life just how much they mean to you - Ho ho ho!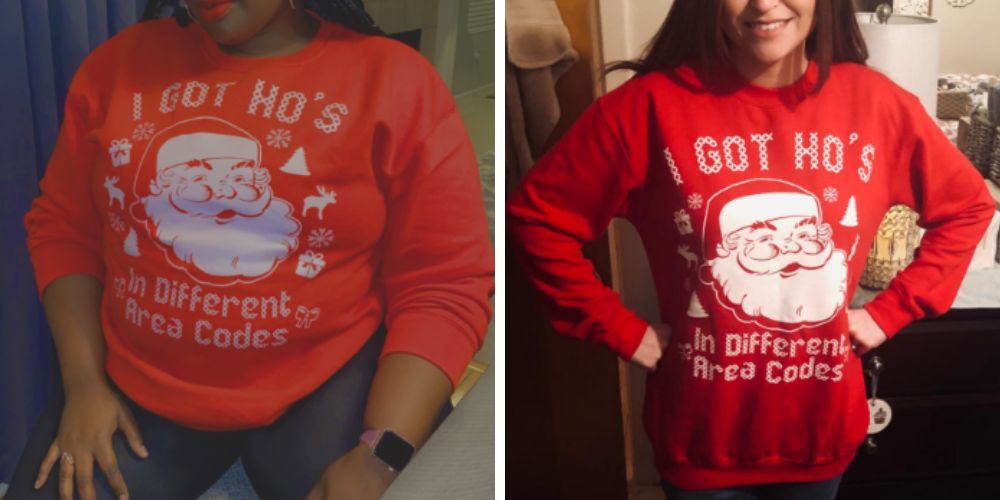 5-Star Review: "This sweater made my boo very happy. It fit well, he is a classic Large in shirt size, and the Large sweater worked well, and he got a lot of attention for it during all holiday events. The design is nice, the quality is good, and the sweater is comfortable. I also like that many people who definitely have not heard the Area Codes song by Ludacris seemed to enjoy it as well - grandparents got lol's out of the sweater, and I'm assuming they don't listen to Ludacris. Anyway, would recommend." – Tory
13. Nothing says "Merry Christmas" like an Ugly Sweater Featuring a Sea Creature! Stand out from the crowd in hilarious holiday garb - perfectly paired with trendy denim jeans. Get ready to laugh your way through this season's festivities, one amusement-filled piece of apparel at a time!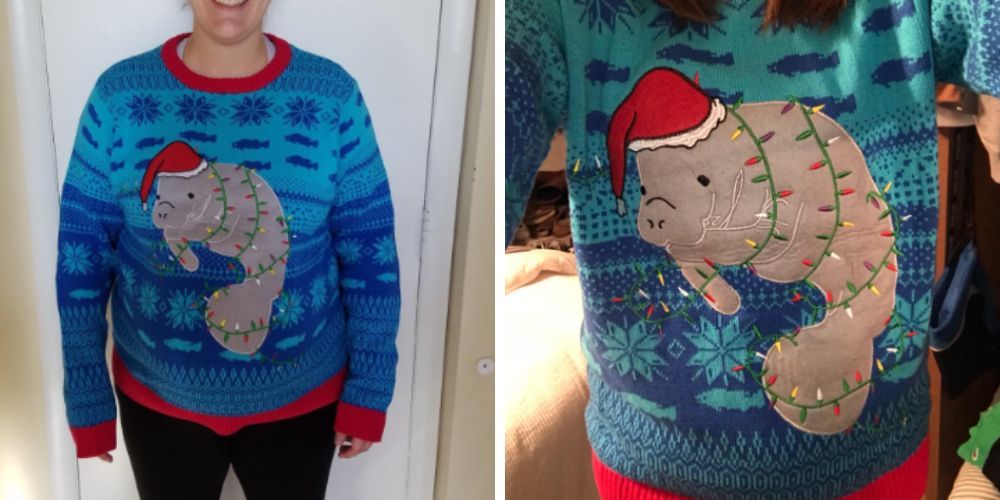 5-Star Review: "My favorite animal is a manatee so when I saw this I had to have it! They only had a large but I bought it anyway even though I am a small because of how cute it is!" – Meredith
14. Get ready to spread holiday cheer with the most festive and Delightful Ugly Christmas Sweater! With bright colors, a comfortable fit, and an unbeatable style; you'll be ringing in this season of joy at no extra cost.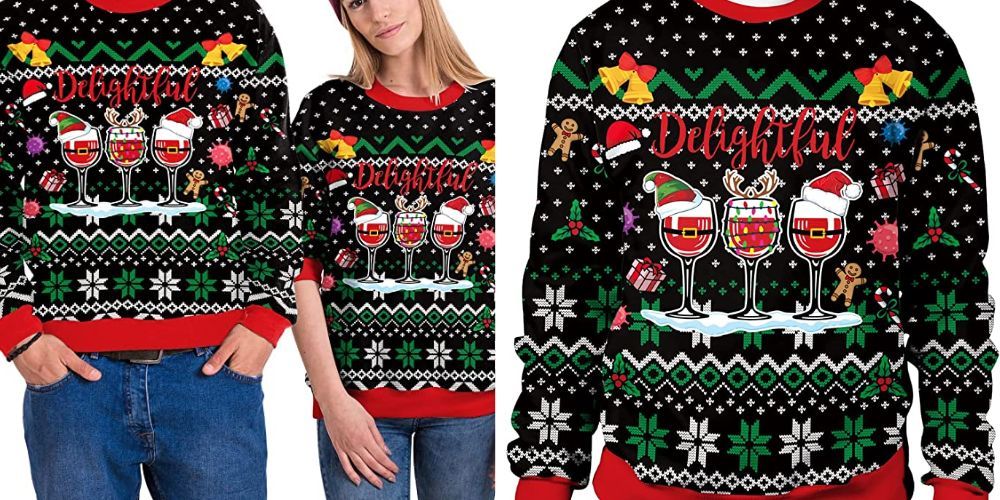 5-Star Review: "This sweater fits just right. It was just what my husband wanted something that was not thick and bulky." – Mario Rodriguez
Don't be the person who shows up to the holiday party wearing an ugly Christmas sweater that they think is cute. Be the person who shows up wearing the ugliest Christmas sweater they can find.
It's more fun that way. Better yet, host an ugly Christmas sweater party and make it a competition. The winner gets a prize, and everyone has a good time. Just make sure to have plenty of eggnog on hand to help people get through the experience.
Reviews in this blog post have been edited for clarity and/or length.
Comments