This post may contain affiliate links, please see our privacy policy for details.
Who knew that one small bottle could be the answer to be a skin barrier to all your eczema flare-up prayers? That's right, the best body washes for eczema might just be your new best friend.
This magical elixir can help soothe your dry, itchy skin and say goodbye to those pesky flare-ups for good.
If you suffer from eczema, you know the drill. You lather up in your shower, but instead of feeling refreshed, your skin feels dry and itchy. You might even have a few flare-ups.
Flare-ups can be unpredictable and downright agonizing. But don't worry, we've got you covered.
But finding the best soothing body wash for eczema can help you take control of your skin and say goodbye to those pesky flare-ups for good.
We've rounded up the best body washes for eczema that will leave your skin feeling hydrated and looking healthy. So say bye-bye to flare-ups and hello to healthy skin!
These body washes are specially formulated to help reduce your flare-ups and keep your skin healthy. No more sleepless nights due to the pain and itchiness.
So what are you waiting for? Come on over and take a look!
What is an Eczema?
Atopic dermatitis (eczema) is a condition that causes dry, itchy and inflamed skin. It's common in young children but can occur at any age.
Atopic dermatitis is long-lasting (chronic) and tends to flare sometimes. It can be irritating but it's not contagious.
People with atopic dermatitis are at risk of developing food allergies, hay fever and asthma.
Moisturizing regularly and following other skin care habits can relieve itching and prevent new outbreaks (flares). Treatment may also include medicated ointments or creams.
How We Choose
Most people don't think twice about what body wash they use. But for those of us with eczema, it's a different story. We have to be careful about the products we use on our skin, and that includes body wash.
You suffer from eczema, and you want to find the best body wash for it.
Then, you have tried many different products, but none of them helps your skin.
So how do we choose the best body wash for eczema? We start by looking for a product that is free of harsh chemicals and fragrances.
Use our guide to find the best body wash for eczema. Our experts have tested and ranked a wide range of products for you.
Best Body Wash to Prevent Dry Skin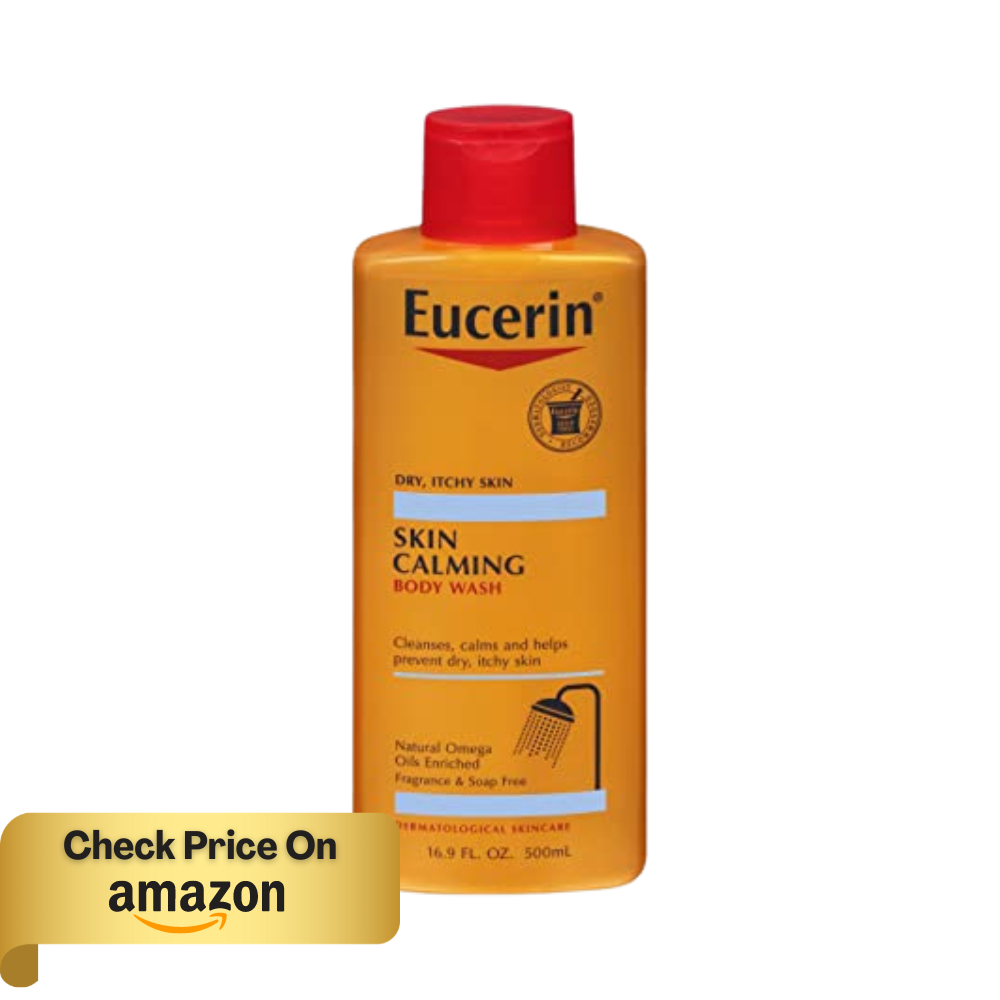 Why We Love It
Eucerin Skin Calming Body Wash offers a unique, gentle formula that cleanses, conditions, and helps soothe itchy skin.
The soap-free formula gently cleanses without over-drying so as not to irritate the skin. This mild body wash helps retain skin's essential moisture and is formulated with nourishing omega oils and other natural lipids that leave skin feeling calm and comfortable.
It has a mild lather that rinses clean without leaving any residue. It is also fragrance and dye free.
What You Should Know
The Eucerin Skin Calming Body Wash may be applied either way, depending on your preference. This is a mild, fragrance and soap-free cleanser that cleanses the skin without drying.
Dry, itchy skin can be a real pain - but not anymore! This luxurious body butter is rich in Omega Oils and other Natural Lipids, which help to soothe and moisturize your skin.
You'll feel relief from the very first use, and your skin will be soft and healthy-looking all day long. The best part? It's affordable!
Best Body Wash for Sensitive Skin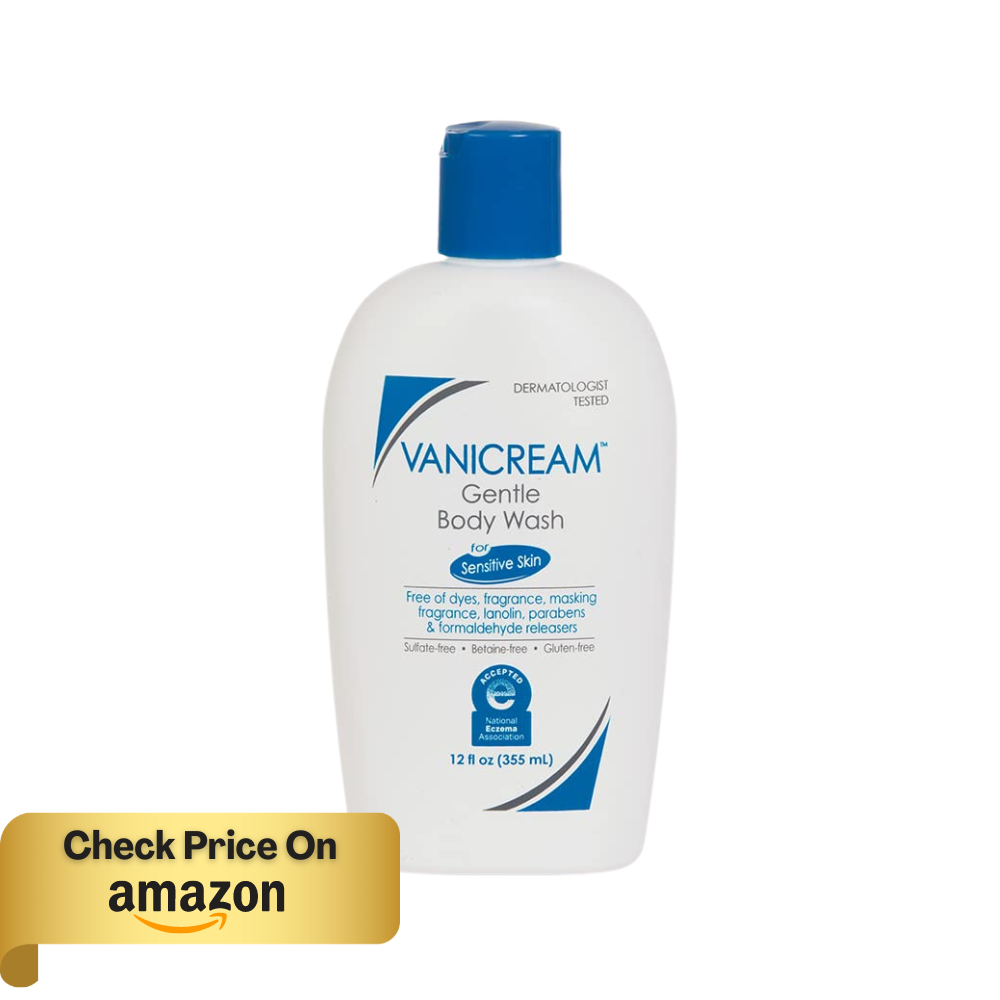 Why We Love It
Vanicream body washes for sensitive skin is a gentle cleanser that helps remove dirt and oils without drying the skin.
Vanicream products are formulated with ingredients dermatologists consider desirable and not irritating or sensitizing to the skin; awarded the Seal of Acceptance from the National Eczema Association
What You Should Know
The National Eczema Association Seal of Acceptance is awarded to Vanicream Moisturizing Cream, Vanicream Moisturizing Lotion, Vanicream Gentle Body Wash, Vanicream Cleansing Bar, Vanicream Gentle Facial Cleanser, & Vanicream Moisturizing Ointment.
An effective, yet gentle formula for sensitive skin that removes dirt and oils without drying the skin. Rich lather in soft or hard water. Leaves skin feeling clean and soft.
Best Body Wash for All Types of Skin
Why We Love It
CETAPHIL Ultra Gentle Body Wash gently cleanses even the most sensitive skin without stripping it of its natural moisture. Made with nourishing ingredients like aloe vera and vitamin B5 to retain needed hydration and help maintain the skin's moisture barrier.
CETAPHIL cleansers effectively yet gently clean without stripping or leaving skin feeling dry and tight.
This dual-action body wash effectively cleanses skin of dirt, oil and impurities as it nourishes with a unique combination of moisturizers. It rinses cleanly without residue, leaving skin feeling comfortably cleansed and touchably soft.
What You Should Know
CETAPHIL is the #1 Doctor Recommended Sensitive Skincare Brand.
This body wash is hypoallergenic, dermatologist-tested, paraben free and fragrance-free. Whether you have normal, dry or sensitive skin, the full line of CETAPHIL Body Washes is all hydrating and gentle enough to use every day, for all types of sensitive skin.
Produced using aloe vera, vitamin B5, and an assortment of other substances, aloe vera crème nourishes skin to leave it feeling clear, soft, and smooth.
Best Body Wash for Soft and Hydrated Skin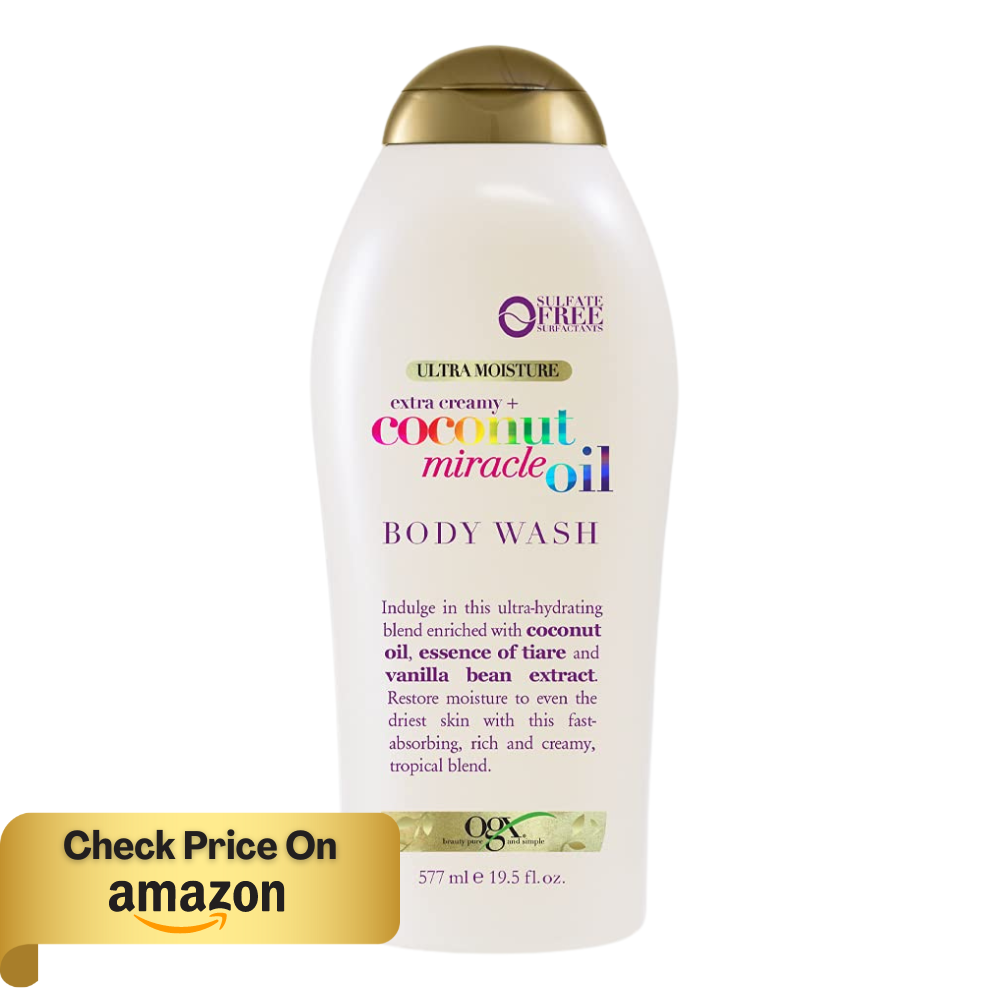 Why We Love It
Indulge your senses with this ultra-hydrating blend from our Extra Creamy plus Coconut Collection, enriched with coconut oil, the essence of tiare & vanilla bean extract. Restore moisture to the driest skin with this fast-absorbing, rich & creamy tropical blend.
Let OGX help your skin find the nourishment and hydration it craves with our body washes, exfoliating scrubs, body oils, and lotions. OGX skin is glowing, refreshed, and oh so touchable. Explore our collections to find your perfect OGX body.
What You Should Know
This body collection is perfect for skin looking for the ultimate hydration. With a crafted blend that helps give you extra moisture while enticing your senses with exotic, tropical notes.
After a luxe bath bomb or during a shower, grab a loofah and make sure to hydrate with this creamy, moisturizing body wash enriched with coconut oil to moisturize dry, ashy skin and restore long-lasting moisture - especially during the colder seasons. Island vibes await with classic coconut oil, vanilla bean extract, and tiare for a light tropical blend of smells in a paraben and sulphate-free formula that's great for sensitive skin.
Best Body Wash with Nourishing Serum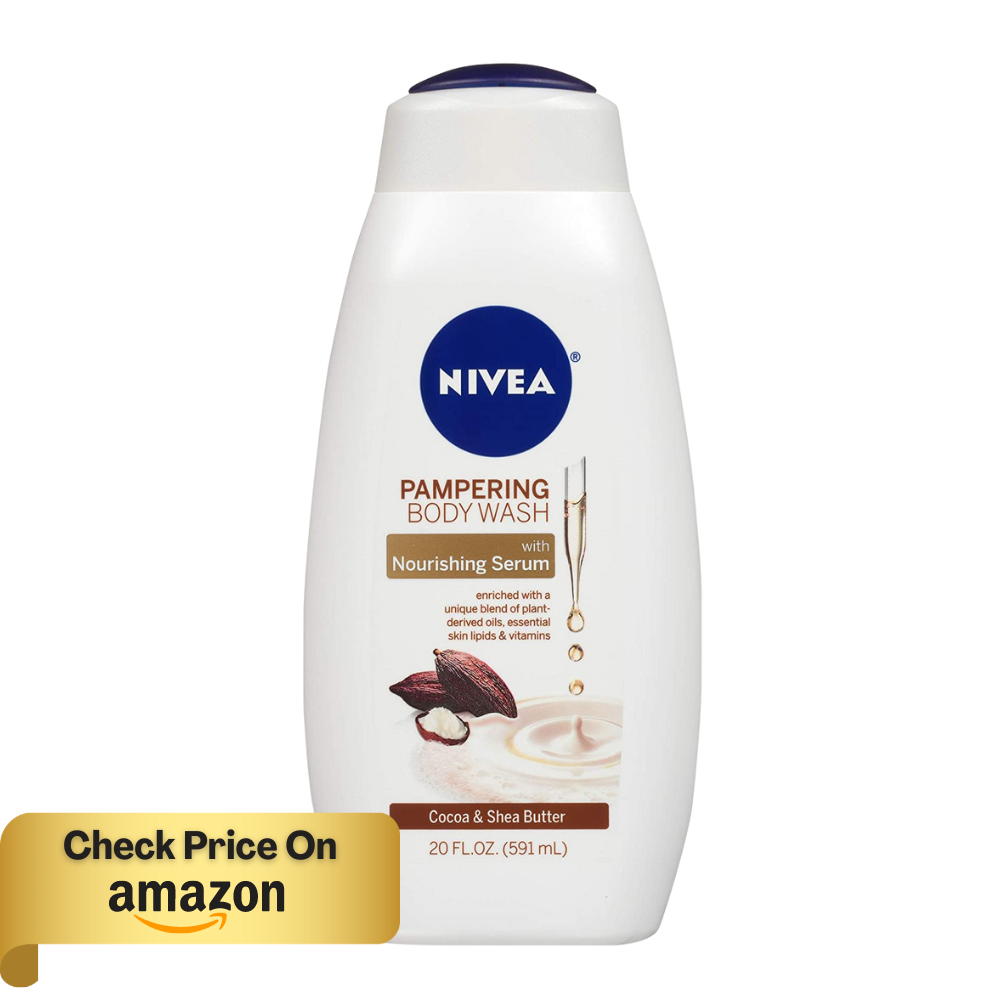 Why We Love It
Cocoa and Shea Butter Body Wash with Nourishing Serum is enriched with a unique blend of plant-derived oils, essential skin lipids and vitamins that gently cleanses and cares for your skin
This NIVEA body wash with nourishing serum leaves skin feeling soft and smooth all day. It can also be used for shaving. This body washes with shea butter has a creamy lather for soft-feeling skin and is a great alternative to shaving soap or shaving cream.
What You Should Know
Cocoa is also rich in omega-6 fatty acids which are known to assist skin healing at the cellular level - one of the ways it helps heal scars. It also boosts blood flow and hydration of the skin, which aids in improving the skin's radiance, critical to achieving a younger-looking complexion.
Shea butter works like an emollient. It might help soften or smooth dry skin. Shea butter also contains substances that can reduce skin swelling. This might help treat conditions associated with skin swelling such as eczema.
Best Body Wash with Ceramides & Omega Oils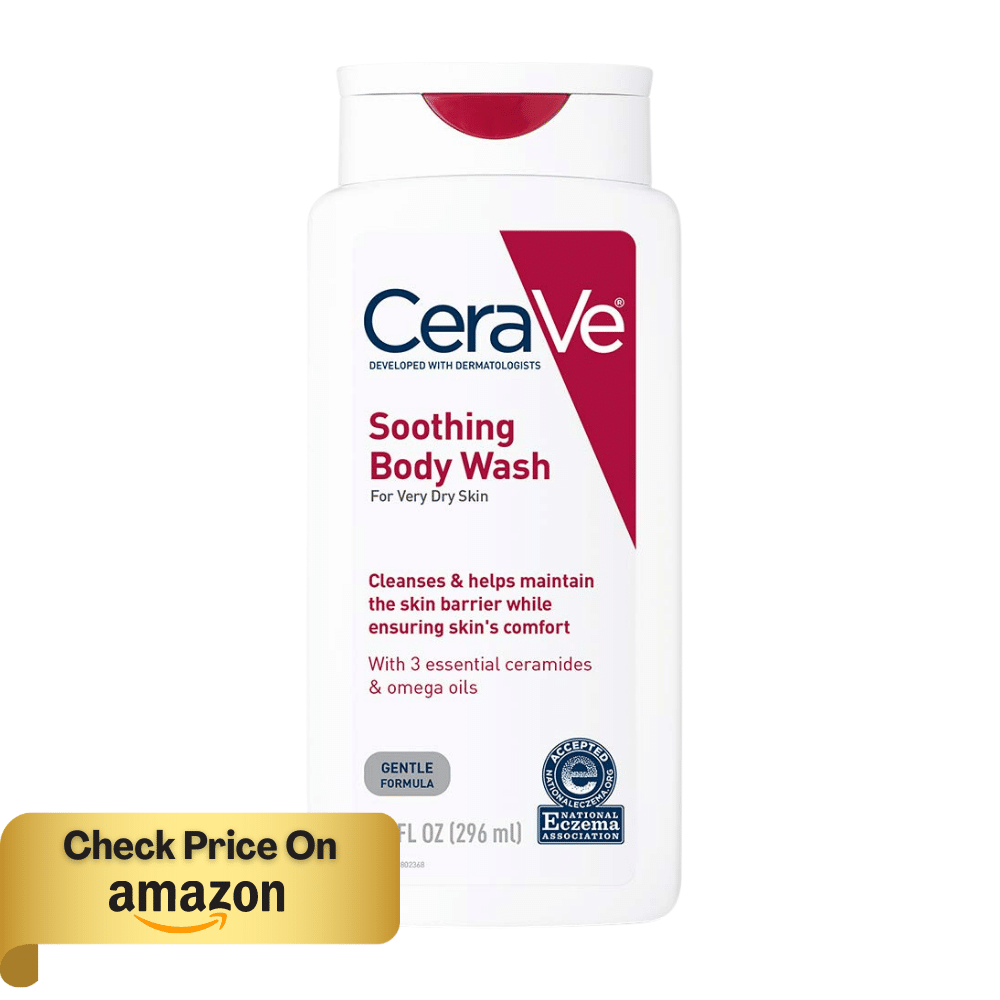 Why We Love It
Cerave Eczema Body Wash is formulated for very dry, sensitive, itchy, and eczema-prone skin. This body cleanser has a thin consistency and leaves skin feeling nourished and smooth.
Contains Omega Oils to help soothe and moisturize skin, Hyaluronic Acid to help retain skin's natural moisture, and Niacinamide to help calm skin.
All CeraVe products contain the vital ceramides skin needs to help restore and maintain its natural protective barrier.
What You Should Know
Skin barrier disturbances are evident in conditions like Eczema. All CeraVe products are formulated with three essential ceramides (1, 3, 6-II) to help restore and maintain the skin's natural barrier.
Accepted by the National Eczema Association (NEA). Fragrance-free, paraben-free, sulfate-free, soap-free, allergy-tested, and non-comedogenic.
Developed with dermatologists, CeraVe has a complete line of skincare to cleanse and moisturize skin. CeraVe contains the three essential ceramides (called 1, 3, and 6-II) for skin needs.
Best Body Wash for Eczema FAQs
Is there a cure for eczema?
There are a number of effective treatments available that can help to improve symptoms and provide relief. If you're looking for a cure for eczema, talk to your doctor or dermatologist to find out what options may be best for you.
Is body wash good for eczema?
If you're looking for a product that will help soothe your eczema, body wash is a good option. It's important to choose a body wash that is gentle and free of harsh chemicals, as these can further irritate your skin. Look for a body wash that is designed for sensitive skin, and be sure to test it on a small area before using it all over your body.
How often should I shower if I have eczema?
If you have eczema, you should shower every day. This will help to remove any irritants from your skin and prevent flare-ups.
Should you cover eczema or let it breathe?
There's no one-size-fits-all answer to this question, as it depends on the severity of your eczema and what works best for you. However, in general, it's a good idea to cover up your eczema when possible to protect it from further irritation.
What soap should you avoid if you have eczema?
If you have eczema, you should avoid soap that contains fragrances, dyes, or other harsh chemicals. You should also look for a soap that is hypoallergenic and designed for sensitive skin.
What foods to avoid if you have eczema?
There are a few foods to avoid if you have eczema, including:
Dairy products
Soy products
Nuts and seeds
Fish and shellfish
Eggs
These foods can trigger eczema flare-ups, so it's best to avoid them if possible.
Best Body Wash for Eczema For You
Generally, body wash is friendly to all types of skin. But if you have eczema and suffer from flare-ups, we have listed here the best body washes that can surely help you with your skin concern and finally say goodbye to your eczema!
In conclusion, the best body wash for eczema-prone skin for you may vary depending on the severity of your eczema and your own personal preferences.
However, these body washes are all great options that can provide relief from the symptoms of eczema. Give them a try to see which one works best for you!

Comments