This post may contain affiliate links, please see our privacy policy for details.
Gift-giving can be tricky, especially when it comes to kids. What do you get for the kid who already has everything?
Kids love outdoor play. It's the best way for them to exercise and learn about nature.
But, it's not always safe for them to play outside unsupervised. That's why we have created a list of the best fun outdoor toys for kids.
Whether they're adventure-seekers, animal lovers, or budding scientists, this guide has something that any outdoor toy that a kid would love.
From backyard games to camping gear and much more, here are some of the best outdoor gifts for kids that will keep your children entertained while keeping them safe from harm and making the most of their time in nature.
How We Choose
You want to buy a gift for your children, but you don't know what to buy.
Finding the perfect gift for a kid can be a challenge, especially when it comes to fun outdoor gifts. Whether it's for a birthday, holiday, or just because, you want to make sure you're getting something that will get them outside and off the couch.
But there are a few things to keep in mind that can help narrow down the choices.
First, consider the age of the child. Younger children will likely enjoy gifts that are more active, while older children may prefer gifts that are more challenging.
Second, think about the child's interests. Is he or she interested in nature, sports, or both? Knowing this can help guide the gift selection process.
Finally, consider the climate and terrain of the area where the child will be using the gift. Some gifts may be great for use in a park, but not so much in a forest.
With these factors in mind, it should be easier to choose the best outdoor gifts for kids.
In this article, our team of experts has tested and reviewed the best outdoor toys for kids, so you can make an informed decision.
Best Gift for the Whole Family
Why We Love It
For the perfect way to keep the entire family entertained, look no further than Elite Sportz Ring Toss Games for Kids.
This interactive game set provides hours of fun at home or out and about.
Whether you're in the backyard with your whole family or looking for an entertaining team-building activity with friends, this is sure to get everyone involved.
What You Should Know
The kit includes three sets of colorful, kid-friendly rings, a wooden peg base to ensure stability and precision gaming, and a stylish carry bag so you can take it on the go.
It also helps develop hand-eye coordination skills for young children ages 4 and up.
Not only does it come with all the fixin's for a rigorous game, but it also sets up quickly and easily in just a few minutes!
Best Gift for Big Kids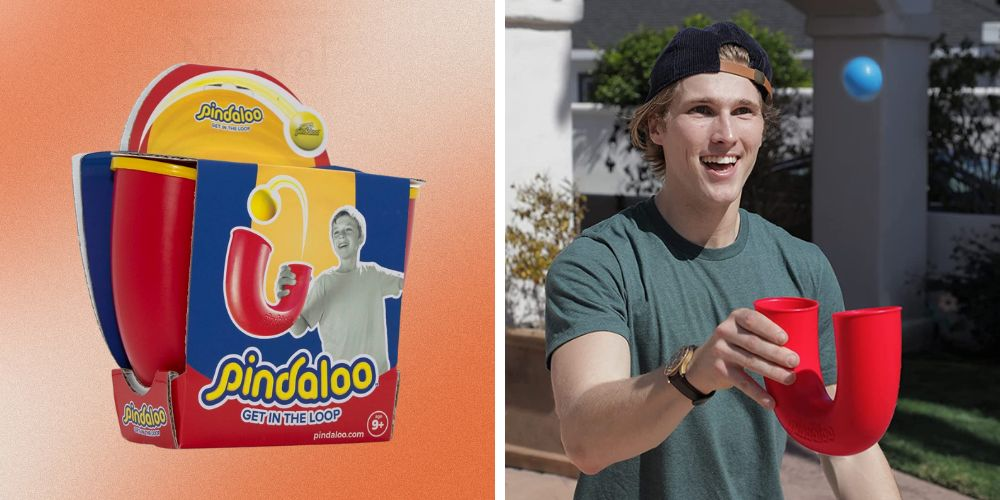 Why We Love It
Ready to feel like a professional juggler? Pindaloo is here to give you the edge!
This fun and challenging juggling game will have you mastering the basics in no time, improving your hand-eye coordination and developing impressive motor skills.
Mastering Pindaloo is sure to fill you with a feeling of accomplishment – never underestimate the power of learning an awesome new skill!
What You Should Know
The innovative toy combines elements of traditional sports such as juggling, ball catching and throwing all in one awesome package for your older kids.
With every toss, flip and twist you not only strengthen your balance but also challenge your brain activity by stimulating both sides of the brain simultaneously.
This flexible toy can easily be used by kids, teens and adults alike for hours of playful entertainment.
Best Gift for Grade Schoolers
Why We Love It
Dartboard games you can have a blast while improving your skills at the same time. Whether you're looking to sharpen your hand-eye coordination, or challenge yourself and flex your math muscles, this is the perfect game for you.
Have you been racking your brains for activities to keep everyone entertained and break the monotony?
Not only does it help with all of that - it also helps in improving color recognition.
What You Should Know
Their dartboard is designed for maximum safety, with no sharp parts or edges. It's also foldable and portable so you can take it anywhere – perfect for camping trips or family outings!
With its 29-inch diameter, it ensures more hits and higher rates of success. Made of high-quality soft fabric, this toy set is incredibly durable and will last through years of use.
Plus, with its built-in points system, it's challenging enough to make any game interesting but simple enough so that no one gets discouraged easily.
Best Gift for Outdoor Play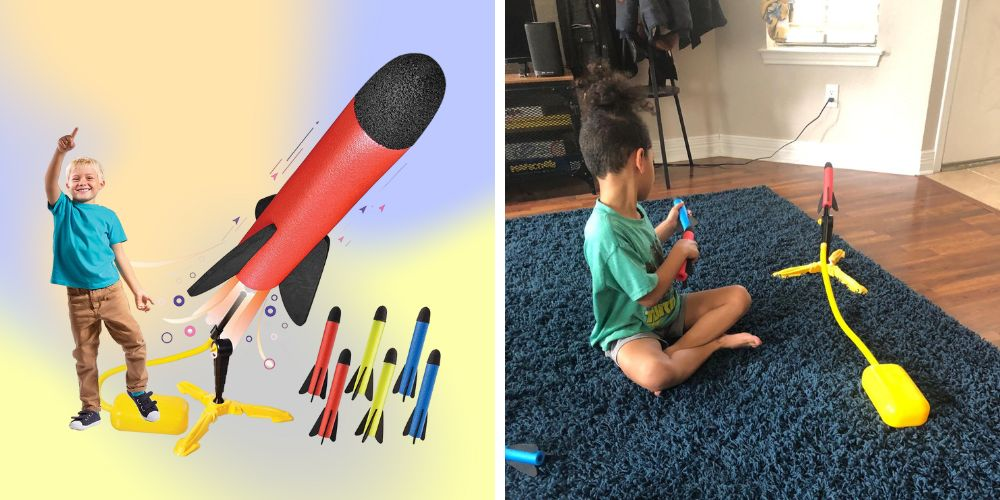 Why We Love It
Ready for lift-off? Get your kids geared up for a thrilling day of creative play with this stomp rocket stunt planes!
Durably designed and reliable, the launcher can handle endless hours of jumping and stomping - safe for kids ages 3 and up.
For an added touch of excitement, watch their eyes light up as each launch sends colorful foam projectiles soaring through the air!
What You Should Know
MotoWorx toy rockets give kids a chance to get in on the action. Launch them up to an impressive 100 feet and watch as they soar into the sky!
Kids will certainly enjoy hours of physical playtime by adjusting angles, jumping force and flight trajectories.
The rocket launcher is very easy to assemble and doesn't require any electricity or batteries. It is an ideal birthday or holiday gift idea.
Best Gift for Outdoor Fun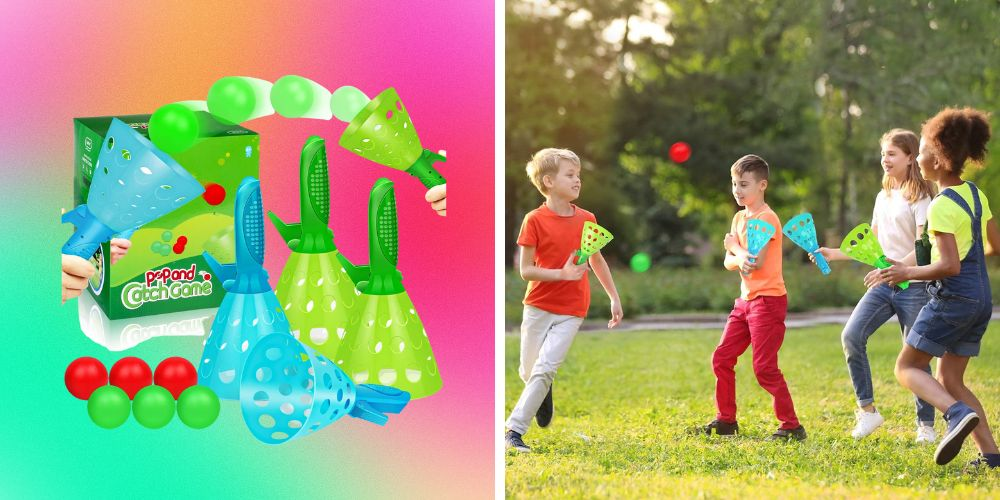 Why We Love It
During vacations, do you want to attend to the boring stuff with your family? This brand of throwing and catching ball could entertain everybody.
Whether in your own backyard, sports complex, camping, at the beach or in your living room, you can start without fail.
These sports are perfect both for kids and adults, regardless of their different skill levels. Suitable for both indoor and outdoor family activities.
What You Should Know
This interactive toy can help keep your kids together, improve their motor skills, and enhance their social skills. Using them will improve your children's hand-eye coordination.
Includes the set are two pieces of 2-color ping-pong balls, six pieces of eco-friendly plastic balls, and an exquisite color box.
Place the basket in midair and then pull the trigger to initiate the throwing and catching ball games. Allow your friends to play both throwing and catching ball with you today.
Best Gift for Kiddie Campers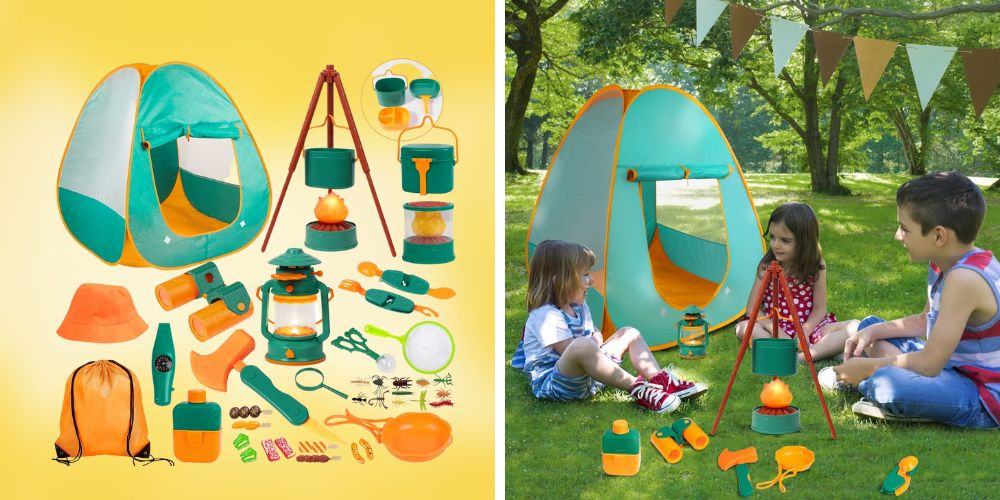 Why We Love It
Introducing the Pretend Camping Kit - an ideal way to bring fun and adventure into your little one's life!
A pretend camping kit allows children to develop an interest in the field of adventure or outdoor activities, it's a great activity for outdoorsy kids.
Aside from this, the parents can educate their children about camping skills by playing together to strengthen the parent-child relationship.
What You Should Know
Meland 2022 updated play set comes with 30 pieces, such as a play tent, sun hat, campfire with extension stand, binoculars, oil lamp, 2-in-1 pretend hatchet with a knife, magnifier, water bottle, cooking pan with pretend foods, portable carrying lunch box, 3-in-1 emergency whistle with functions of flashlights and compass.
The size of a camping tent accommodates 1-2 young children who take pleasure in their own private area to play, read and think, which is well suited for indoors or outdoor camping, just the right size for any backyard!
Best Gift for Creative Kids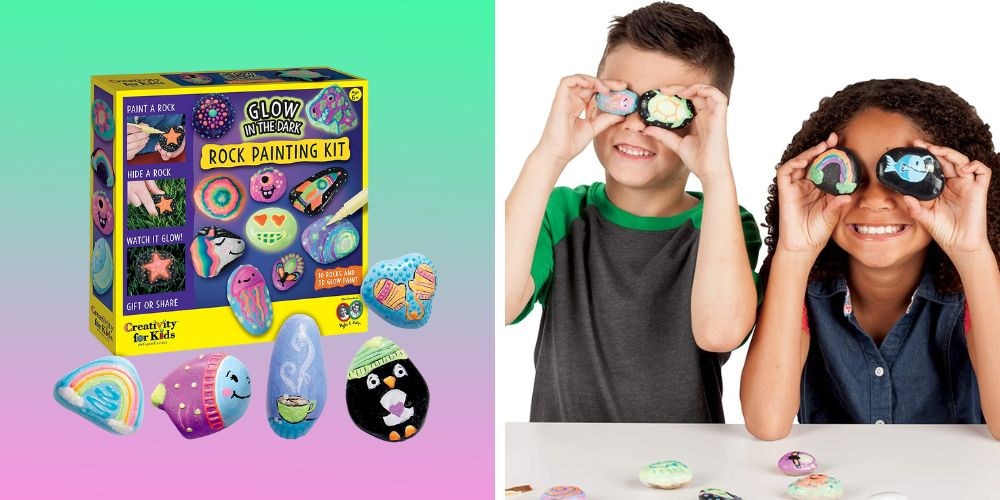 Why We Love It
Light up the night with your very own glow-in-the-dark painted rocks! With this entertaining arts and crafts set for boys and girls!
You can customize your painted rocks with easy-to-use fluorescent and glow-in-the-dark paints. Get creative with a rainbow of colors that will make your backyard look like an alien landscape!
Show off your artwork to friends, neighbors, or anyone who walks by - they won't be able to resist its captivating beauty!
What You Should Know
Perfect for beginners, or kids who want to explore their creative side and get crafty - 10 rocks are included so you can unleash your artistic expression.
With all the necessary materials included, like paint pots and brushes, you'll have everything you need to paint a masterpiece.
Rock painting is an incredibly fun and creative way to express yourself! Whether you're looking for a unique way to spread kindness or simply want something beautiful to display in your home, this activity will have you producing one-of-a-kind designs in no time!
Best Gift for Young Explorers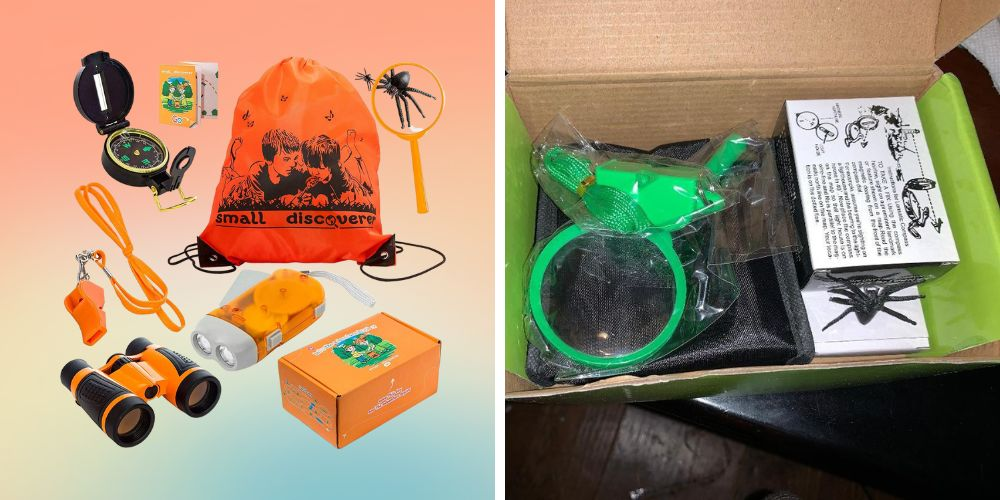 Why We Love It
Go on an exploration you'll never forget with the Small Discoverer Outdoor Exploration Set! Encourage your little adventurers to love and explore nature with this all-in-one set.
Lightweight and easy to carry, the set includes everything your child needs for indoor or outdoor excursions, from binoculars for birdwatching to a whistle in case of emergency.
This fun and educational set will have them getting back to nature as they search for bugs, explore local ecosystems, and observe wildlife from a safe distance.
What You Should Know
A set featuring children's binoculars, magnifying glasses, hand crank flashlights, whistles, and a kids' backpack is easy to bring along and provides enough space to store things.
This outdoor playset is ideal for enjoying camping games, pretending, and it teaches your children about the beauty of nature.
A safety-verified outdoor exploration set. Get a complete outdoorsy-device package so you won't stress about your kids receiving any of the goods.
Best Gift for Toddlers Learning to Walk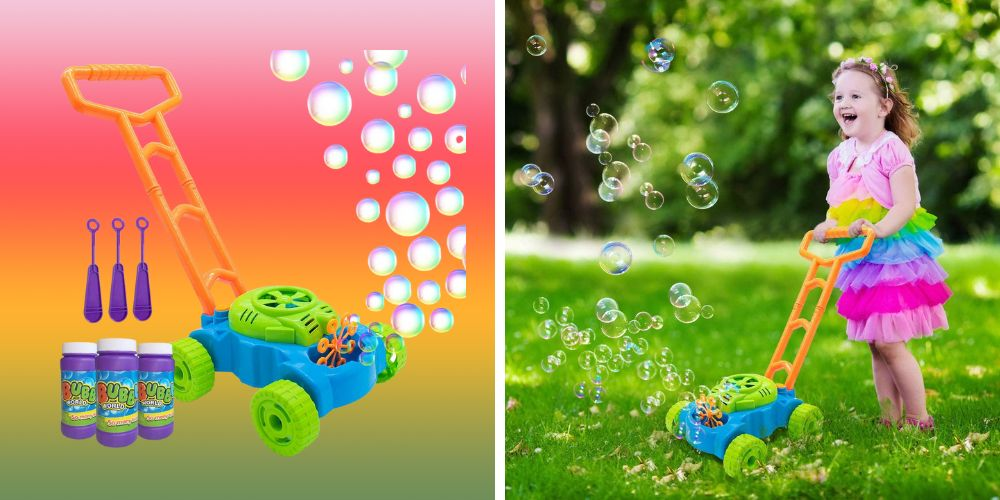 Why We Love It
Are you tired of seeing your toddler running around with a bubble wand? With the Lydaz Bubble Lawn Mower for Toddlers, you can transform playtime into a fun and educational experience!
Kids can zip around the yard pushing this bubble-spewing lawn mower and watch in delight as they create a dazzling display of bubbles that sparkle in the sunlight.
What You Should Know
This toy set includes 1 bubble mower, 3 bubble solutions, and 3 bubble sticks. 3 AA batteries required are not included.
Baby push toys that make use of automatic lawnmowers are great for inspiring your child's affinity for sports, and she's likely to love walking outside if you establish a bubble-blowing device for her.
Best Gift for Little Hoopers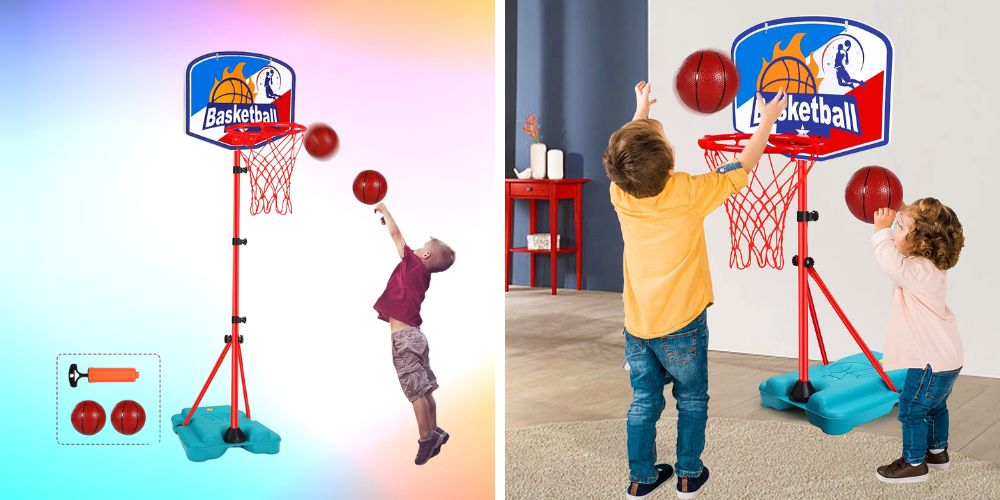 Why We Love It
Ready to take your child's game to the next level? Look no further than this Basketball Hoop for Kids and Toddlers!
Portable and adjustable in height, this hoop is perfect for any aspiring young basketball star and even your big kids.
Whether they are practicing a free throw or playing a pickup game with friends, your kids will love the authentic feel of shooting hoops with this toddler toy, it's perfect to be one of your kid's backyard toys.
What You Should Know
The basketball hoop includes 2 bounce basketballs, basketball hoops, and targets, in addition to other basketball accessories. You could play this anywhere from indoors to outdoors.
Enjoy plenty of instant fun right away with family progression games, games of 2, children's outdoor games, or one-year-old toys.
This kids' basketball hoop is equipped with no toxic substances, so it's safe for younger kids and the earth.
Best Outdoor Gifts for Kids FAQs
How much shall I budget for a gift for a kid?
That depends on what kind of gift you're looking for! If you're looking for something small and simple, then a few dollars should do the trick.
But if you want to get something special and memorable, then you could budget anywhere from $20-50 depending on your budget. Whatever you choose, we are sure it will be appreciated!
What to get a little boy who loves the outdoors?
A fort-building kit! Kids love to make their own outdoor hideaways and this is the perfect way to get them started. Plus, it's a great way to get them outside and away from screens.
What to get someone who cares about the environment?
A subscription to National Geographic Kids! Not only will it teach them about the environment, but it's also full of fun facts and activities to keep them entertained. Plus, it's good for the planet since it's printed on recycled paper.
What do you buy for a sporty kid?
A new pair of running shoes and a stopwatch! That way they can keep track of their progress and stay motivated. Plus, it'll give them something to show off in the playground.
What to get a child who likes to build?
A toy toolbox! Kids love to build and create, so why not give them a set of tools to help them do just that? Plus, it's something they can use for years to come. And you never know, maybe they'll be the next Bob Vila!
Best Outdoor Gifts for Kids For You
The best fun outdoor gifts for kids are the ones that spark creativity and get them off their screens.
Whether it's a set of gardening tools, a kite, or a trampoline, these gifts are sure to excite children of all ages. Though it may seem like a lot of work now, investing in your child's outdoor passion will guarantee hours of fun and memories to last a lifetime!
So what are you waiting for? Get your wallet and those shopping carts ready and give the gift of fun and adventure this season!
Comments