This post may contain affiliate links, please see our privacy policy for details.
Get ready to revamp your closet with the hottest fashion trend out there - bodysuits! Whether you want to dress up for a night out or stay cozy at home, a bodysuit is the perfect wardrobe staple. With so many different options available though, it can be hard to figure out which one is best. That's why we've done the research and rounded up the top 21 bodysuits for women to help make your choice easier. Step into comfort and style with these must-have wardrobe staples!
Verdusa Women's Sleeveless Scoop Neck Strappy Backless Bodysuit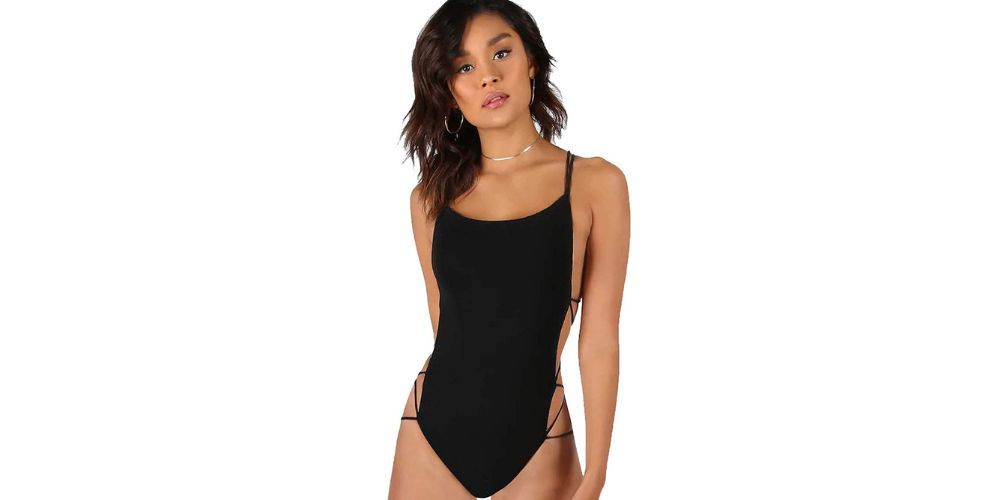 This sleek and sophisticated bodysuit from Verdusa is the perfect go-to for any night out. Crafted with a blend of polyester and spandex, its fit hugs your body in all the right places: The scoop neck and strappy backless design provide a hint of sexiness without ever being overbearing. Plus, its stretchy yet durable build ensures it won't lose its shape after a few washes. So go ahead and put it on — it'll hug your curves and show off your best assets like no other garment can!
SheIn Women's Basic Plain Spaghetti Strap Bodysuit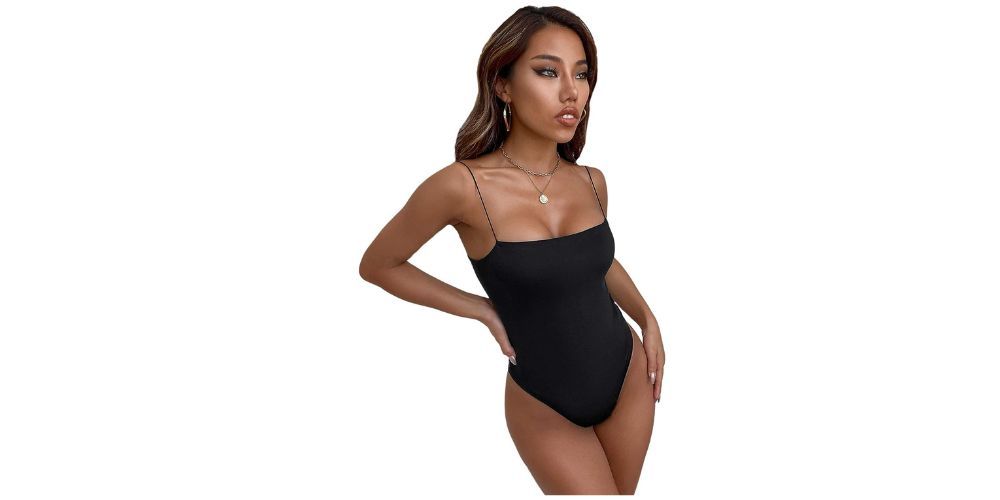 This beautiful design is crafted from soft yet durable fabric that contours all the right curves. With adjustable spaghetti straps, a square neckline, and a backless design, you can be sure to look and feel your best. Featuring gorgeous colors and bodycon fit, this piece will accentuate your curves in all the right ways – whilst still remaining comfortable. Finding the perfect bra won't be difficult either as the backless design ensures compatibility with any style.
REORIA Women's One-Shoulder Cutout Front Backless Bodysuit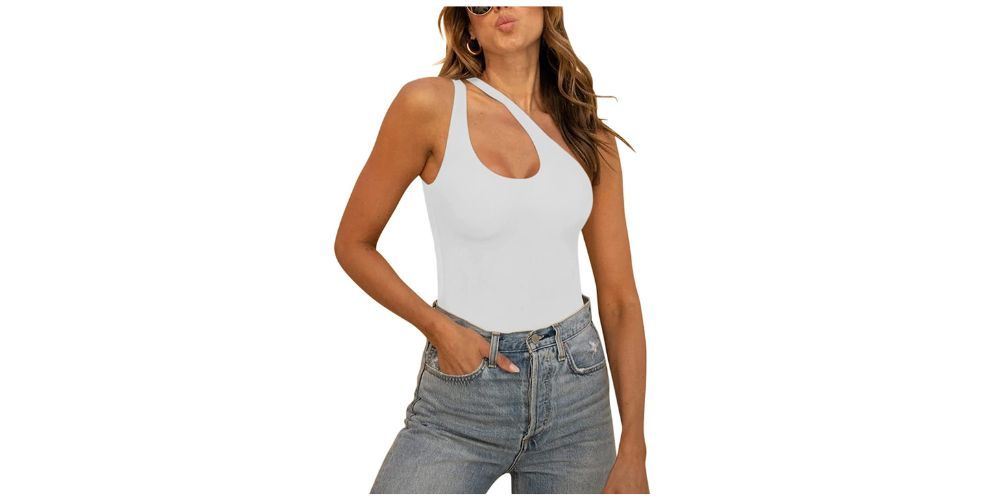 This one-piece wonder will hug your curves in all the right places and give you the confidence you need to strut your stuff. The cutout design is not only eye-catching but also breathable, making it perfect for those hot summer nights when you want to show some skin but still feel comfortable.
Verdusa Women's Long Sleeve Bodysuit Leotard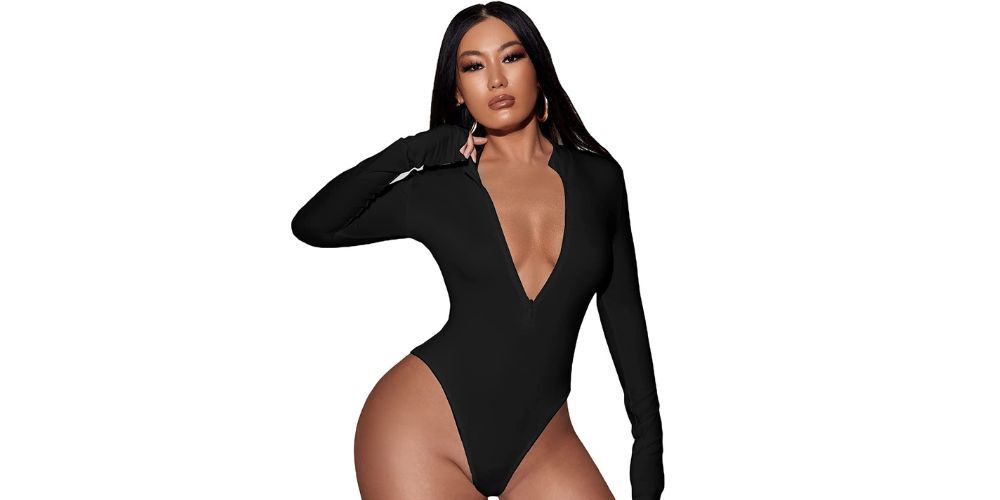 This long-sleeved bodysuit from Verdusa is the perfect choice for cooler weather. It's designed with an elegant scoop neck and flattering thong bottom – making it a breeze to pair with any ensemble you desire. The bodycon fit will help accentuate your curves, while the extra-long sleeves keep you warm and stylish during those chilly nights.
SheIn Women's Mock Neck Short Sleeve T-Shirt Basic Bodysuit
Elevate your style game with the SheIn Bodysuit, a must-have closet BFF that's versatile, comfy, and chic all at once! Flaunt your figure in a stretchy fabric that lets you binge on tacos without worry, and choose from a fabulous palette of colors, paired with wide-leg pants or trousers for endless outfit possibilities! Layer it under blazers for an easy twist, perfect for any occasion! Say hello to your new wardrobe superhero.
Avidlove Women's Deep V Teddy Lace Bodysuit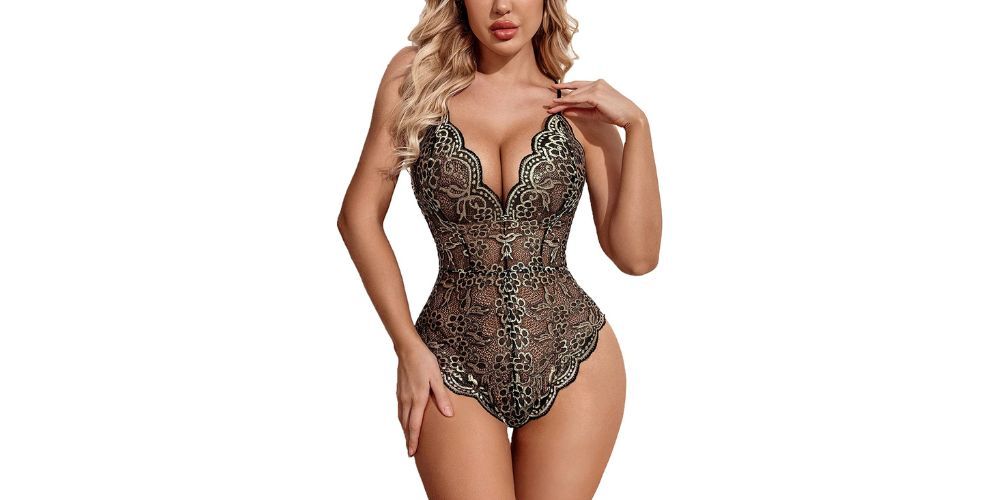 Embrace your curves with this ultra-soft lace bodysuit. The daring deep V-neckline adds a seductive flair, while its high-quality fabric ensures it will last for many wears. Sizes run snug, so go one size up for the perfect fit. Look fabulous yet steamingly elegant with this sassy piece!
SweatyRocks Women's Short Sleeve High Neck Ribbed Bodysuit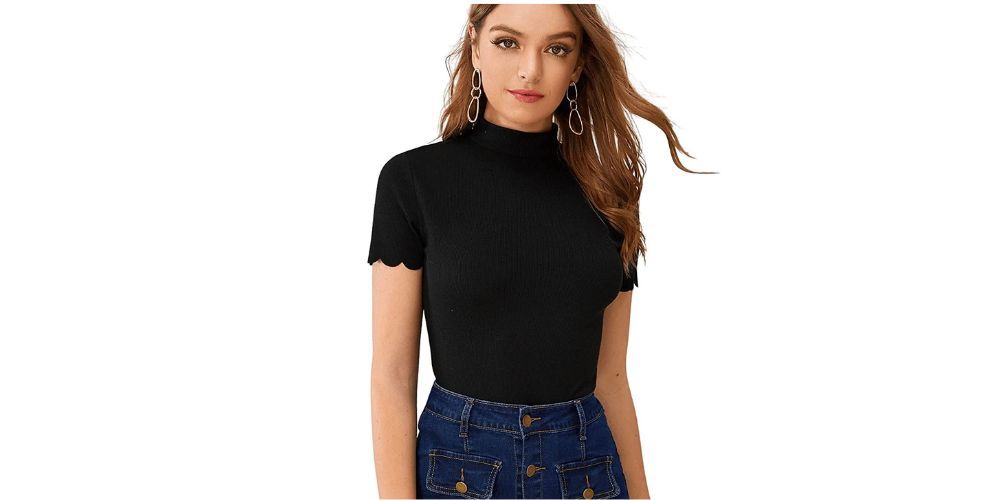 Get ready to slay in SweatyRocks' cute ultra-chic high-necked bodysuit that's got everyone buzzing! The soft and cozy fabric hugs your curves, with a ribbed texture and short sleeves for a standout look. Don't forget the adorable scalloped hemline! Make sure you get the perfect fit - size up if needed. Be prepared to turn heads whenever you rock this trendy bodysuit!
DAAWENXI Women's Button-Down Leotards Ruched Bodysuits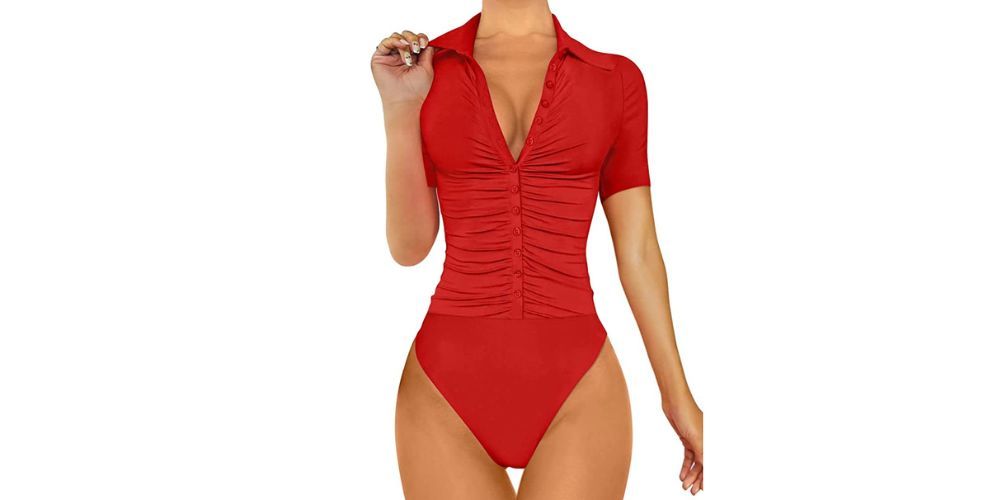 Take your style to the next level with this jaw-dropping ruched bodysuit. The luxurious, stretchy fabric feels like a dream, and you can dance worry-free with its snap closure. Get a flawless fit with the size chart - and add sass with its button-down front. This will be your new BFF!
Verdusa Women's One-Shoulder Halter Cut Bodysuit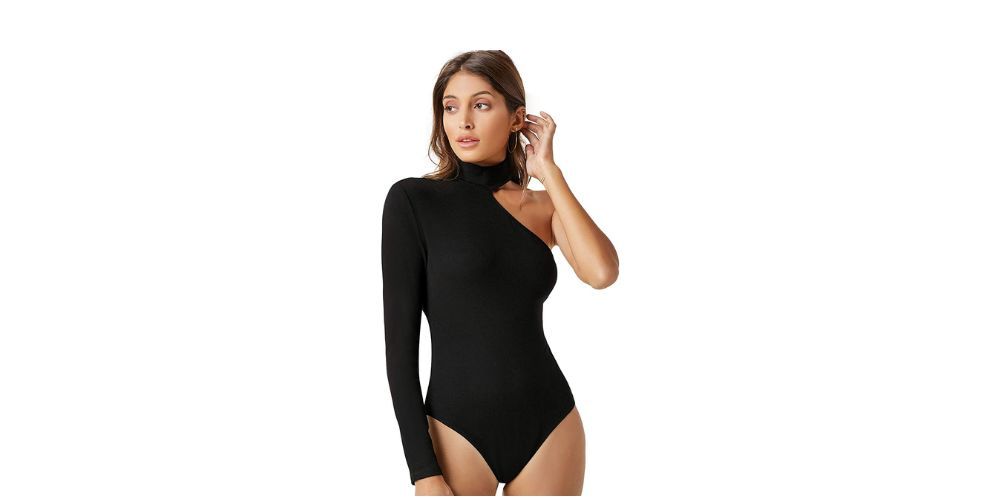 Update your wardrobe with Verdusa's form-fitting bodysuit. Show off your curves with its one-shoulder design and chic cut-out details. Crafted from polyester and spandex, it offers a combination of comfort and stretch. Make a lasting impression on any night out or special event - cozy long sleeves included!
Miraluna Women's Round Neck Slim Puff Sleeve Bodysuit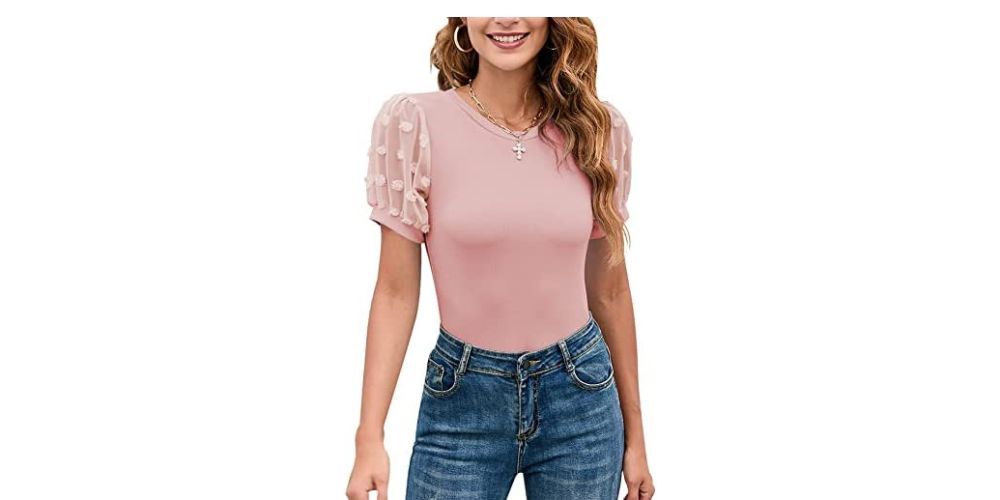 This fabulously stylish top is a fusion of fashionable vibes, combining the sultriness of Swiss dot mesh, the flirty charm of puff sleeves, and the sleek effect of ribbed knit detailing! Slip into absolute comfort with its high-quality fabric and let the slimming design hug your curves effortlessly. This bodysuit is a perfect balance of flirty femininity and sass – teasing with that irresistible Swiss dot mesh edge. Time to add some serious oomph to your wardrobe!
SheIn Women's Lace Mock Neck Bodysuit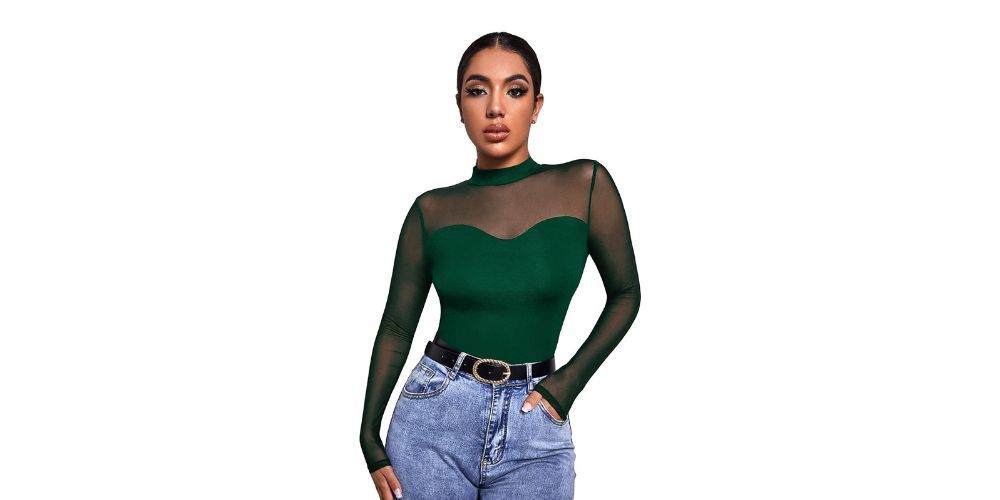 Elevate your formal style with this gorgeous lace mock neck. Its velvety-soft, high-quality materials feel like pure luxury, while the sheer mesh fabric adds a pinch of sexy-meets-edgy. Stay warm and snug on chilly nights out, and enjoy a touch of modesty with its long sleeves. The perfect piece for starlit evenings!
SweatyRocks Women's Long Sleeve Mock Neck Bodysuit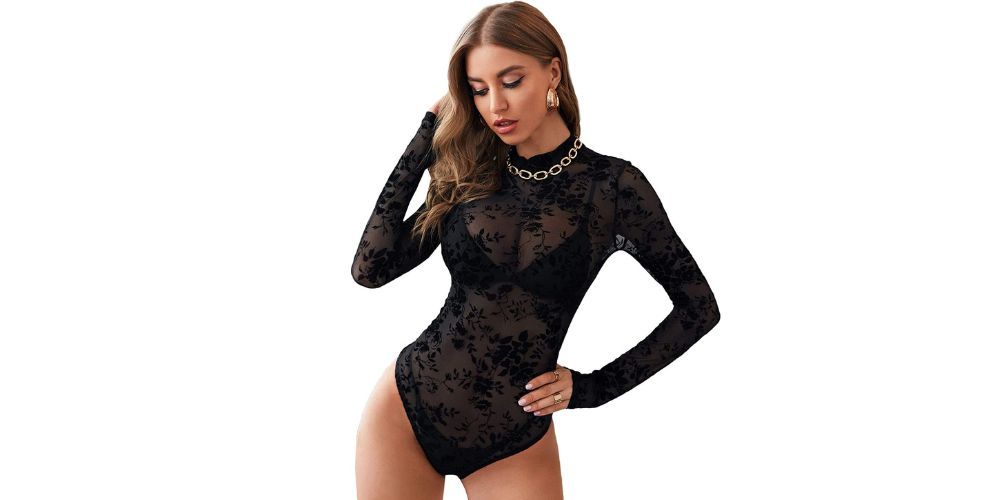 Unleash your inner wild side with this vava-voom leopard mesh bodysuit. Show off your style with a chic mock neck and stretchy polyester-spandex blend. Sophisticated mesh detailing teases while keeping it tasteful, making it a worry-free fashion statement like no other! Level up any ensemble in one simple piece — get yours now and strut like a jungle queen!
MANGOPOP Women's Basic Round Neck Long Sleeve Bodysuit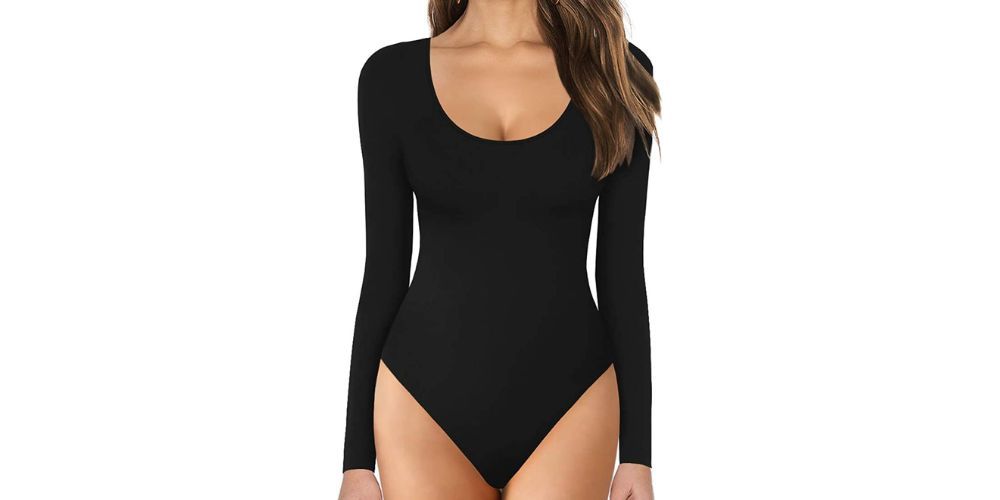 MANGOPOP's ultimate bodysuit is about to become your go-to wardrobe staple! With its fab round neckline, chic long sleeves, and a curve-hugging blend of polyester and spandex, you'll be turning heads left and right. Fear not, all body types - this scoop neck flatters all. Ready to slay all year round? Grab both short and long-sleeve options and let the fashion stun-fest begin!
SheIn Women's Deep V Neck Wrap Polka Dots Bodysuit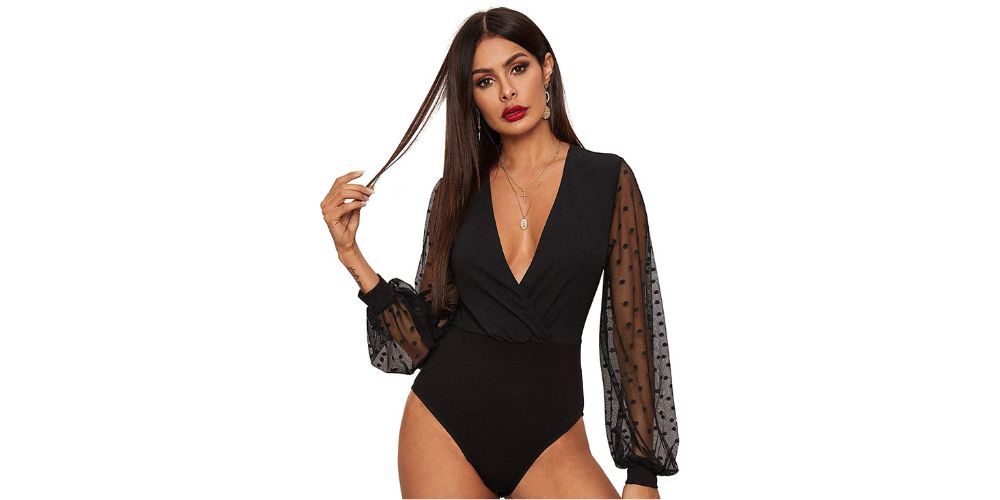 Let your inner star shine with this captivating v-neck piece. Blending sheer mesh and polka-dotted bishop sleeves, it'll hug your curves while serving up undeniable comfort and head-turning allure. The enchanting lantern sleeves add romance, while the bodycon style brings fierce fabulousness. Rock it with jeans or own the spotlight at a fancy soirée – it's an essential gem for fashionistas craving extra drama and love in their closet!
SheIn Women's Fringe Sleeveless Bodycon Bodysuit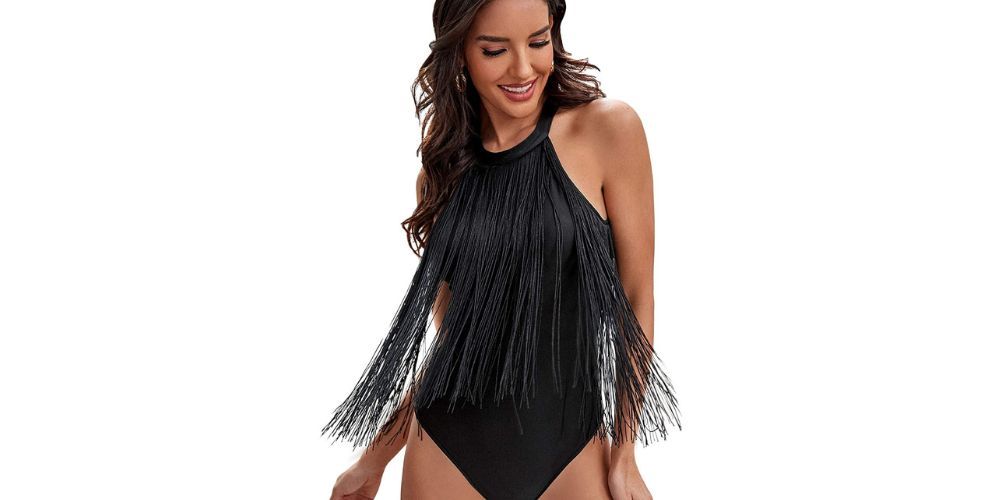 Crafted with buttery soft, stretchy fabric, this slim-fit bodysuit indulges your skin while showcasing your captivating curves. The versatile one-piece wonder seamlessly transitions from the office to beachside strolls, date nights, and everything in between. Upgrade your wardrobe essentials and pair this sophisticated, solid-color gem with skirts, jeans, or leggings for a look that'll have you dazzling in every setting. Embrace the fashionista in you with this chic women's bodysuit that effortlessly blends style and comfort!
Romwe Women's V Neck Long Sleeve Wrap Front Bodysuit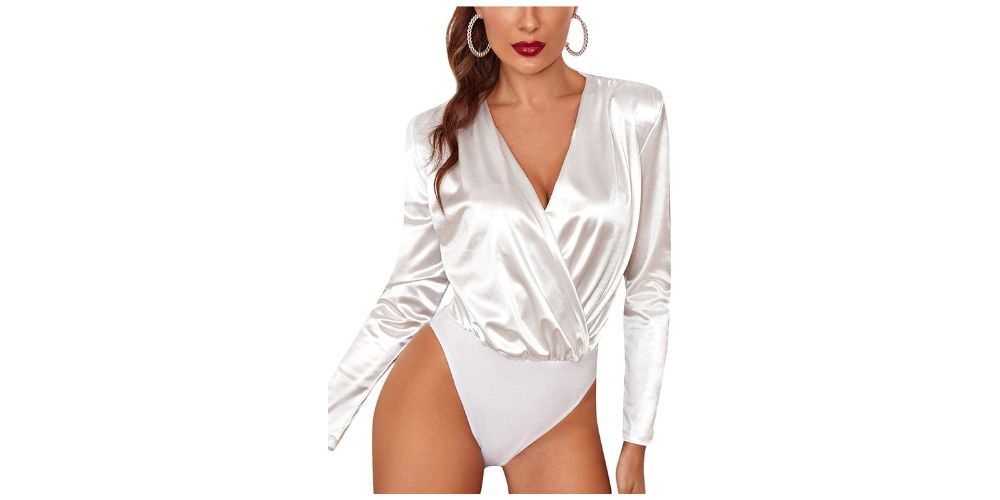 Get ready to slay on your next night out with this jaw-dropping wrap-front bodysuit from Romwe! Designed with a seductive V-neckline and sultry long sleeves, you'll feel like a million bucks! Crafted from a luxe combo of polyester and spandex, this baby hugs your curves in all the right places while keeping you snug and comfy.
SweatyRocks Women's Ribbed Knit Bodysuit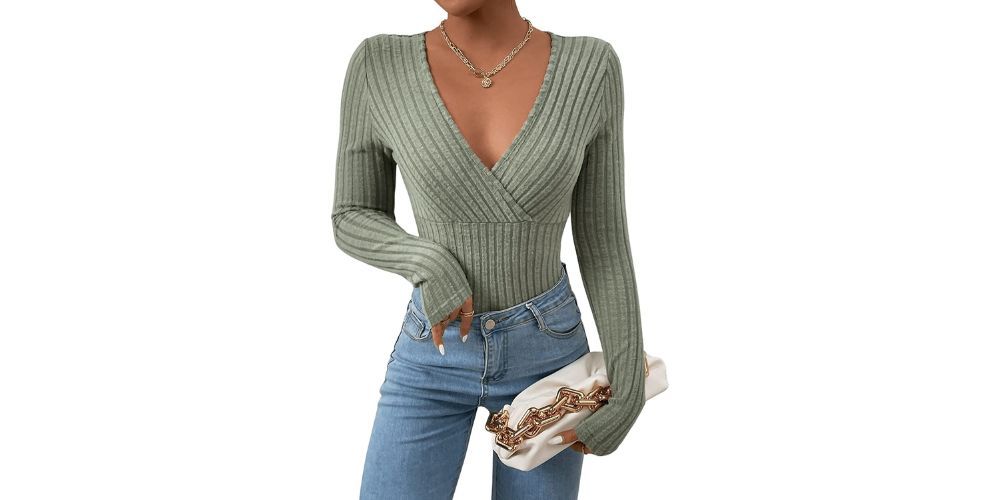 Fall in love with its charming ribbed knit fabric, hugging long sleeves, and stylish wrap front. Dare to rock it with jeans, leggings, or shorts and slay your casual daily wear, weekends, shopping sprees, night outs, or holidays! Get ready to steal the show!
Reoria Women's Criss Cross Halter Neck Thong Bodysuit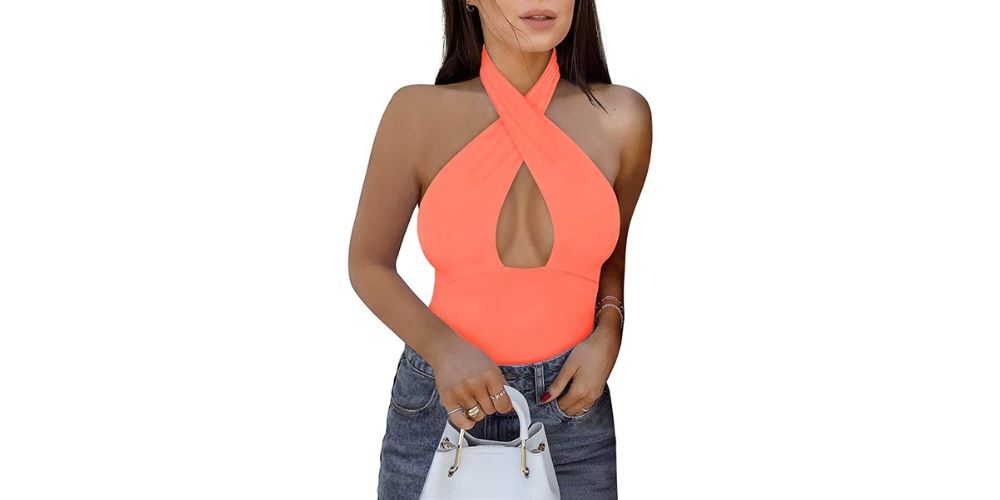 With its thick yet lightweight material, this sexy bodysuit ensures you'll be turning heads while staying comfortable and confident. The adjustable cross knot and halter neck provide support for all body types while giving you seriously stunning cleavage. Ideal for parties, dates, nightclubs, and raves - this bodysuit is bound to elevate your style game in a snap. Get ready to dazzle the crowd, ladies!
Verdusa Women's Mock Neck Cold Shoulder Bodysuit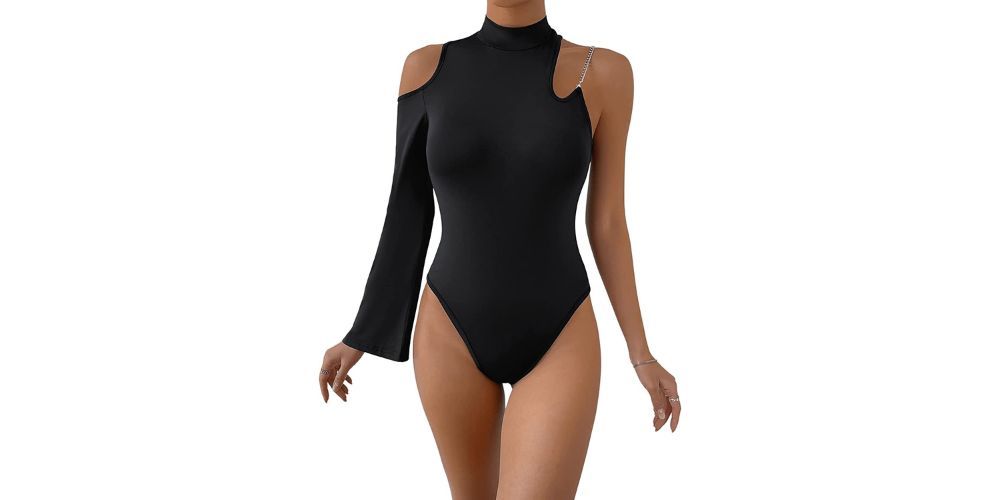 Featuring an easy-to-wear thong bottom, this style gem will flawlessly complement any wardrobe item – from fierce skirts and badass jeans to cute shorts and posh pants. Prepare to swoon over its luscious blend of polyester and spandex, offering stretchy, all-day comfort that'll make you feel like the queen you are!
SheIn Women's Mesh Insert Bodysuit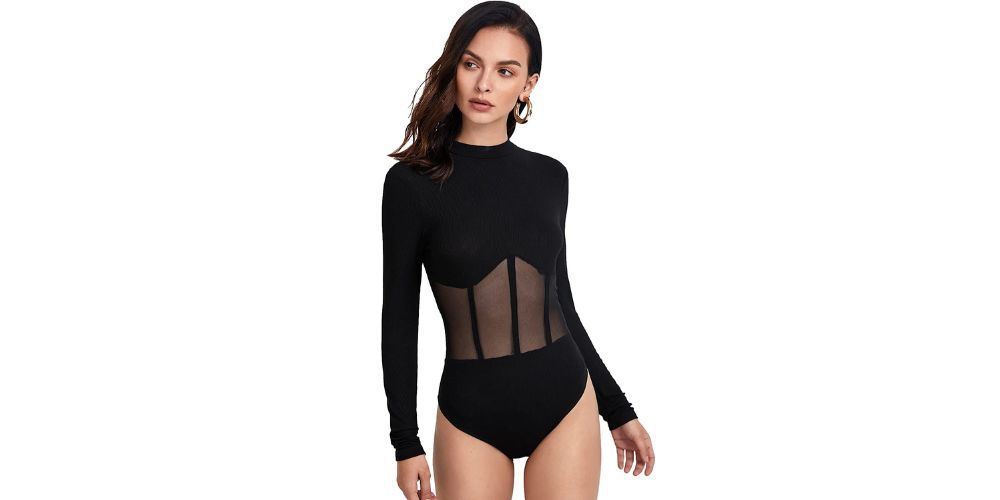 Get ready to amp up your style game with this gorgeous SheIn bodysuit! With a flirty mesh insert and chic mock neck, you'll be turning heads at every event. Plus, thanks to its polyester and spandex blend, you'll enjoy unbeatable comfort and stretch. Don't miss out on this versatile piece that works wonders with all styles and necklines!
Reoria Women's Square Neck Sleeveless Tank Bodysuit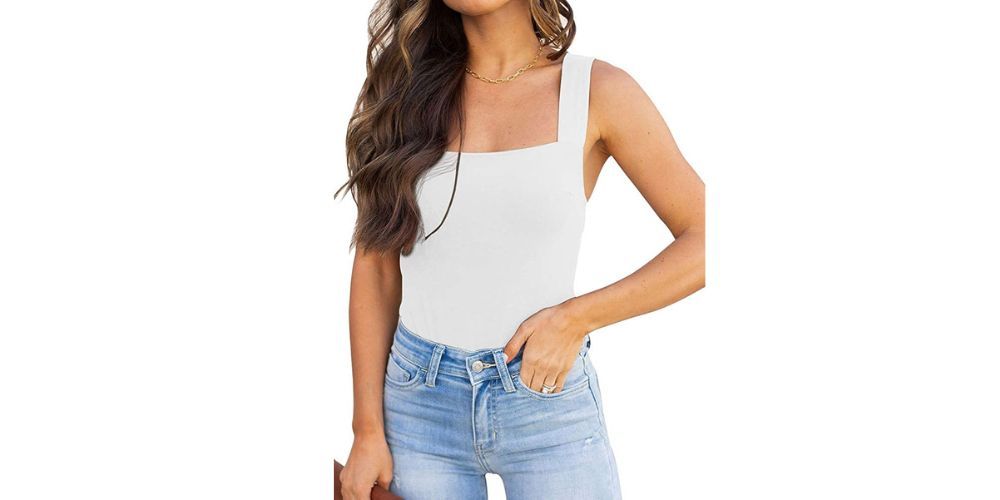 Make a statement in the REORIA Sleeveless Bodysuit. Perfect for summer days out, this tank top style features a seamless and backless design that is easy to pair with any outfit. The square neck and double-lined design will keep you comfortable while also looking sexy and elegant. Choose from 21 colors to find your perfect look!
Final Thoughts
It's no secret that women's bodysuits are an essential fashion item for any woman. Whether you want to dress up or down, these versatile pieces can help create a look that is sophisticated and stylish all at once. With the wide range of options available from Romwe, SweatyRocks, Reoria, Verdusa, and SheIn - there is something out there to suit every occasion! From classic V-necklines to square necks and mesh inserts – whichever style you choose – your wardrobe will thank you when it comes time to impress with this timeless piece. So don't wait another minute; get ready to dazzle in one of these amazing women's bodysuits today!
Reviews in this blog post have been edited for clarity and/or length.
Comments