This post may contain affiliate links, please see our privacy policy for details.
Ever dreamed of walking the red carpet or attending a swanky Hollywood soiree? While we can't guarantee an invite to the Oscars, we can help you dress like a star! We've searched high and low on Amazon to find 10 white dresses so chic, you'll feel like you've raided a celeb's closet. From elegant maxi dresses to flirty mini numbers, we've got you covered. So, get ready to turn heads and embrace your inner A-lister with these fabulous frocks!
Spaghetti Strap White Maxi Dress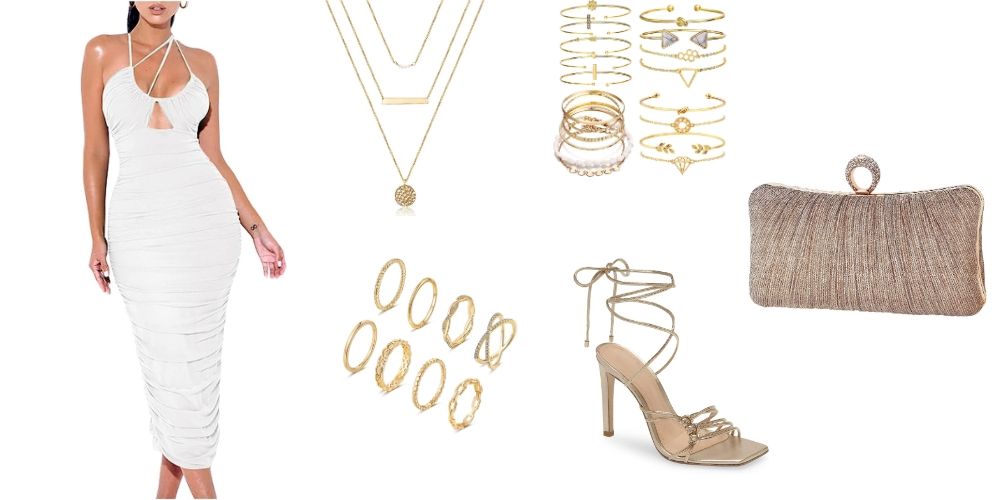 Channel your inner Grecian goddess with this elegant white maxi dress. The figure-hugging silhouette, sultry back slit, and stunning open back will make you feel like a starlet. Customers rave about its high-quality fabric and flattering fit, making it a must-have for any glam event.
And let's talk about adding some ethereal vibes with delicate gold jewelry—a dainty layered necklace, some stacked rings, and a couple of chic bangles will have you shining like a Grecian queen.
Now, to elevate that heavenly aura, pop on some strappy gold heels that'll make you feel like you're walking on clouds. And don't forget that statement clutch—think bold metallics or vibrant pops of color to really stand out.
Finally, add a touch of elegance with a romantic updo or beachy waves, and you'll have everyone swooning over your celestial glow. This ensemble is the perfect recipe for an unforgettable night, so go on and sparkle like the goddess you are!
Sleeveless Fit and Flare Dress
Sophistication meets modernity with this timeless fit and flare dress from Calvin Klein. Its sleek lines and structured design make it perfect for cocktail parties or office events. Customers praise its high-quality fabric and versatile style, calling it a wardrobe essential.
Let's amp up the sass with some killer statement shoes—bold pumps, strappy heels, or even edgy ankle boots will do the trick. Now, to accentuate that fab waist-defining belt, layer on a few dainty, minimalist necklaces to create a stunning focal point.
Oh, and don't forget those power earrings—we're talking sleek hoops or geometric studs to emphasize your modern edge. As for the arm candy, a sleek and refined clutch in a contrasting hue will pull the whole ensemble together. And for the finishing touch, style your hair in a polished chignon or voluminous waves to embody the perfect blend of elegance and confidence.
Sequin Evening Dress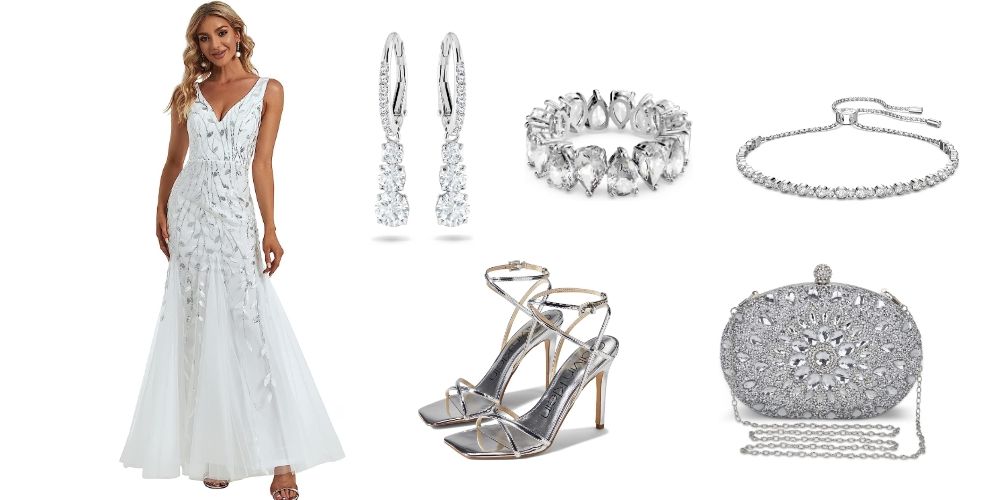 Dazzle the crowd in this show-stopping sequin evening dress from Ever-Pretty. Its high-low hem and plunging V-neckline create a dramatic silhouette that's perfect for any red-carpet event. Customers love its sparkling sequins and figure-flattering design, making it a favorite for special occasions.
Let's turn up the sparkle factor with some oh-so-chic crystal-encrusted statement earrings that'll have you shining brighter than a supernova. Pair them with a dazzling cocktail ring and a minimalist, barely-there bracelet for a little extra razzle-dazzle.
Now, to complement that fabulous high-low hem, strut your stuff in a pair of sexy stiletto heels, either in a metallic hue or a daring pop of color. Trust us, your legs will thank you. As for your trusty sidekick, a luxe, the embellished clutch will keep your essentials close and your style game on point. And finally, don't forget to let your hair down, either in cascading Hollywood curls or a sleek, straight 'do to complete your glamazon transformation.
Off-Shoulder Lace Mermaid Bodycon Midi Dress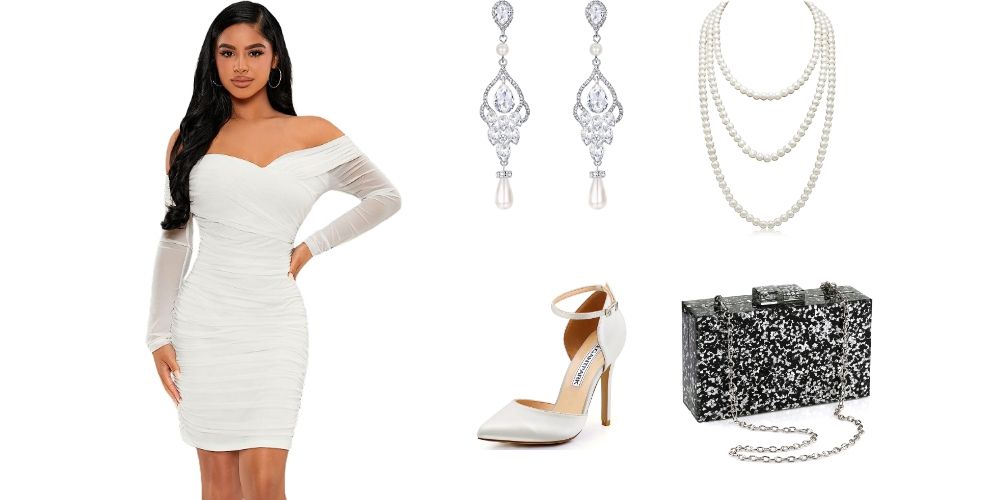 Evoke old Hollywood glamour with this stunning off-the-shoulder lace mermaid dress from SheIn. Its bodycon fit and flared hem create a sultry silhouette that's sure to turn heads. Customers adore its intricate lace detailing and comfortable, stretchy fabric.
Let's get you dripping in opulence by adding some dazzling chandelier earrings to accentuate those bare shoulders. Pair them with a lustrous pearl necklace for that classic Hollywood touch. Next, slip on a pair of oh-so-elegant pointed-toe stilettos in a luxurious satin or suede finish that'll have you gliding across the room like a dream.
As for your arm candy, opt for a sophisticated box clutch in a rich, jewel tone to add a dash of color to your enchanting ensemble. And, of course, don't forget to complete your sultry, vintage-inspired look with a dramatic updo or side-swept curls, and a bold red lip that'll leave everyone breathless. Get ready to steal the show, bombshell—tonight, you're the star!
Strapless Midi Dress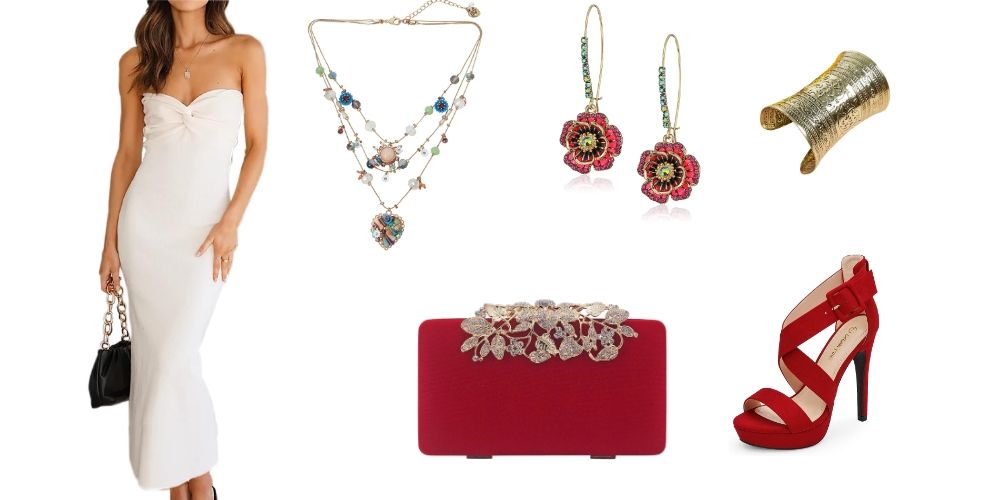 Make a splash at your next event in this eye-catching strapless midi dress. Its unique twist knot pleated ruched bustier design and structured bodice gives it a high-fashion feel. Customers rave about its impeccable fit and the compliments they receive while wearing it.
We've got the perfect accessories to elevate this showstopper to stratospheric levels of fabulousness! First, let's talk neckwear—this is your chance to rock a jaw-dropping statement necklace that'll have all eyes on you. Think bold, geometric designs or layers of shimmering chains to amp up the drama. Next up, let's give your décolletage some extra love with a pair of dazzling shoulder-grazing earrings that scream "I'm here to slay!"
As for your wrist candy, opt for a sleek cuff or a stack of delicate bangles to balance out the look. Now, don't forget those fierce footwear options—sky-high stilettos, elegant pointed-toe pumps, or a pair of strappy sandals will make your legs look endless. And to tie it all together, choose a chic, structured clutch in a contrasting hue for that perfect pop of color.
Top it off with a sleek ponytail or a tousled updo, and girl, you're ready to make a grand entrance like the style queen you are!
Tie Waist Midi Dress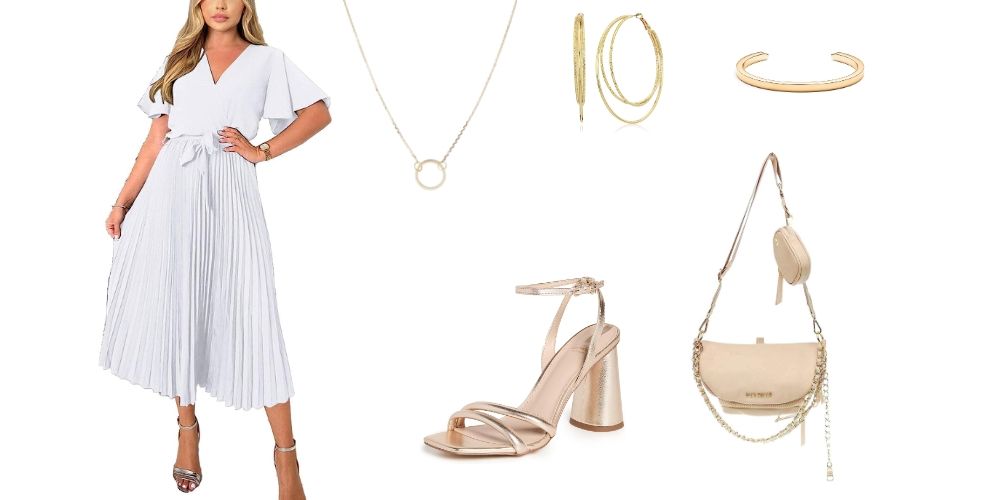 This midi dress is perfect for everyday wear or a date night out. Its tie-waist design and flattering fit make it a must-have for any fashion lover. This dress is just perfect for everything from brunchin' with the squad to date night under the stars. First, let's kick things off with some fabulous footwear—think strappy sandals for a laid-back daytime vibe, or switch things up with a pair of killer block heels for that oh-so-chic date night look.
Now, let's talk jewelry—layer on a few dainty, minimalist necklaces to highlight that gorgeous neckline, and add some boho-inspired hoops or tassel earrings to keep things playful and fun. As for wristwear, a delicate gold or silver cuff bracelet will add just the right touch of sophistication.
Don't forget your trusty sidekick—a stylish crossbody bag or an elegant clutch will have you ready for any adventure. And, of course, top it all off with some sun-kissed waves or a sleek low ponytail to complete your effortlessly chic ensemble.
Boho Maxi Dress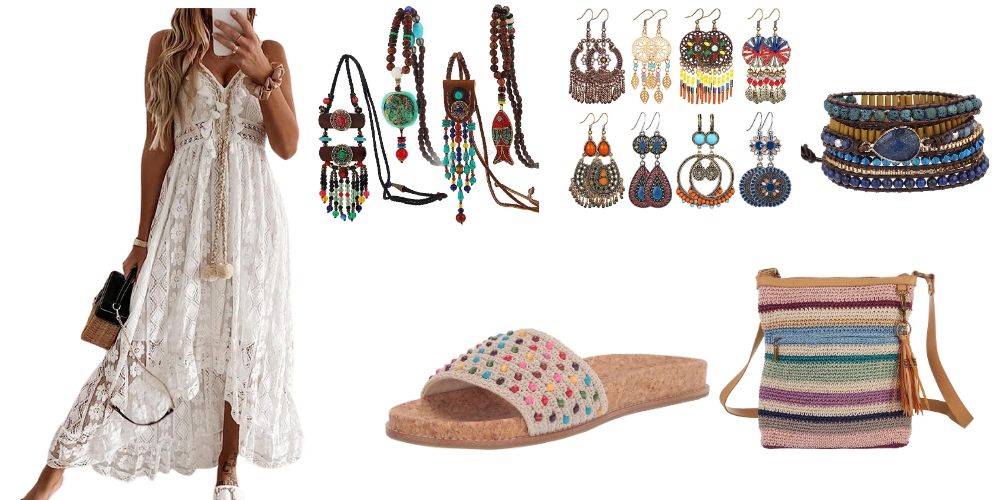 Get ready to unleash your inner flower child with this dreamy, free-spirited maxi dress that's perfect for those sun-soaked days and beachside escapades. Featuring a lace-up V-neckline, tassel details, and flared ruffle hem, this dress is perfect for warm summer days and beach getaways. Customers love its lightweight fabric and the adjustable lace-up design that ensures a comfortable, customized fit. The unique ruffle detailing adds a touch of playfulness and charm to this versatile piece.
Let's talk about accessorizing your lovely lace-up V-neckline with some layered, earthy necklaces—think beaded chains, crescent moons, or even a touch of turquoise for a pop of color. Now, channel your inner Stevie Nicks with some statement earrings—tassel, fringe, or moon-shaped designs are all fab choices to elevate your boho vibes. Don't forget to add a touch of wrist candy with a stack of wooden bangles or a collection of earth-toned bracelets for that ultimate boho-chic flair.
As for footwear, a pair of crochet sandals or cute espadrilles will keep you grounded and stylish all day long. And, of course, no boho look is complete without a slouchy hobo bag or a funky woven tote to carry your beach essentials in style.
Top off your ensemble with a wide-brimmed straw hat or a whimsical flower crown, and you'll be ready to dance beneath the sun like the free spirit you are!
For more Boho inspiration, check out our post Boho Outfit Ideas and Boho Accessories
Jumpsuit Dress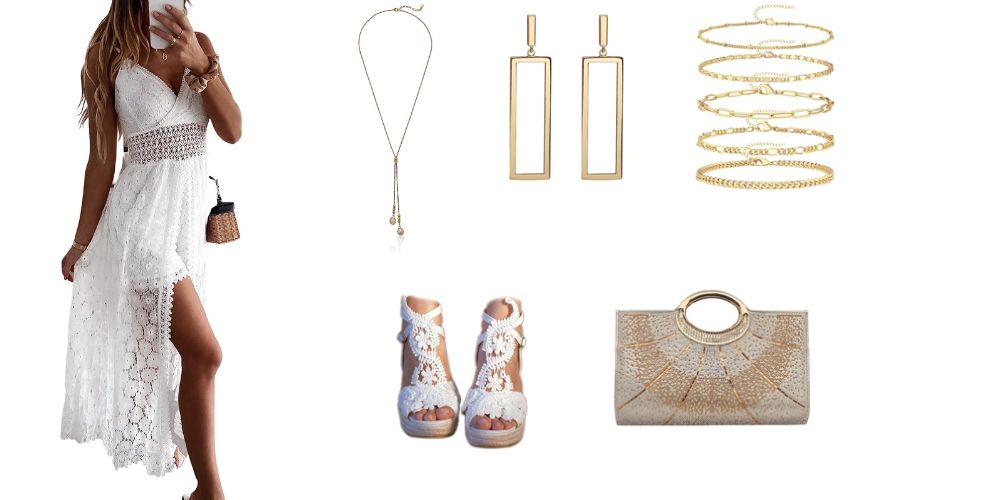 Stay on-trend with this chic high-low jumpsuit dress. The ruching smocking detail, V-neckline, and spaghetti straps create a flattering silhouette, while the backless design adds a touch of allure. Customers rave about the dress's comfortable fit and high-quality fabric, making it a go-to for summer events and parties. The high-low hemline adds a unique twist to this elegant piece, ensuring you stand out from the crowd.
First, let's add a touch of glam to that stunning V-neckline with a delicate lariat necklace that complements the spaghetti straps and draws attention to your backless design. Ooh-la-la! Now, amp up the drama with some statement earrings —we're thinking bold, geometric shapes or oversized hoops to make a lasting impression. As for your wrist game, a sleek cuff or a couple of dainty chain bracelets will add the perfect touch of sophistication. And honey, don't forget those sky-high heels! A pair of strappy stilettos or platform wedges will accentuate that amazing high-low hemline and make your legs go on for days.
To finish off your show-stopping look, grab a chic, structured clutch in a pop of color or a metallic hue to tie it all together. Style your hair in loose, beachy waves or a sleek, high ponytail, and voilà!
Midi Bodycon Dress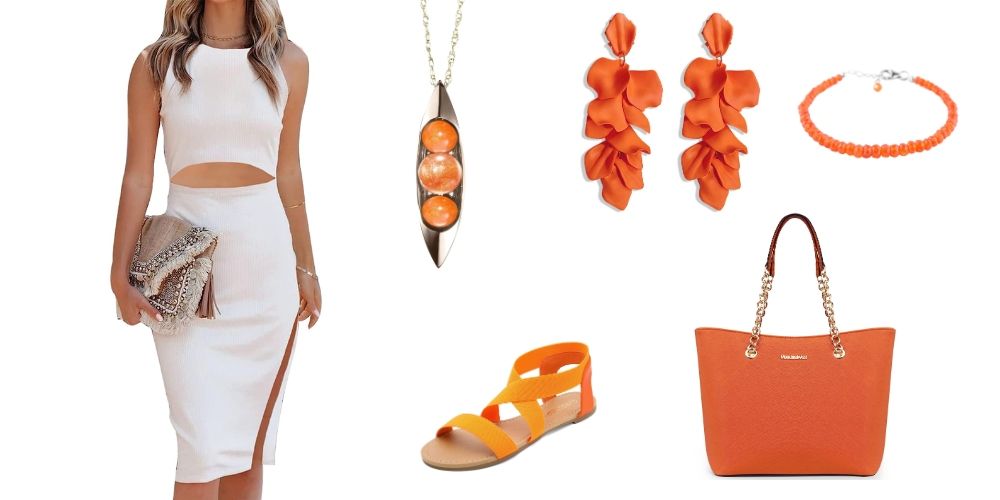 The crew neck, side slit, and sleeveless knit design make it perfect for a laid-back summer day. Customers appreciate the comfortable fabric and flattering fit, noting the unique cut-out tank top design adds a fashionable twist to a classic silhouette. This dress is a great option for daytime events or casual evenings out.
First up, let's talk necklaces—a simple, minimalist pendant necklace will accentuate that chic crew neck while keeping things sleek and breezy. Now, add a pop of fun to your look with some quirky, colorful statement earrings, or opt for classic gold hoops for a timeless touch.
To amp up your wrist game, stack a few dainty bracelets or bangles for that perfect mix of casual and glam. And when it comes to footwear, a pair of trendy platform sneakers or cute sandals will keep you comfy and on-trend all day long. Don't forget a versatile crossbody bag or a stylish tote to carry all your essentials in style!
To complete your daytime-chic look, style your hair in a loose, low bun or a playful high ponytail, and you're all set to turn heads as you strut your stuff in the sun. Get ready to own those casual summer vibes, babe!
Long Sleeve Bodycon Mini Dress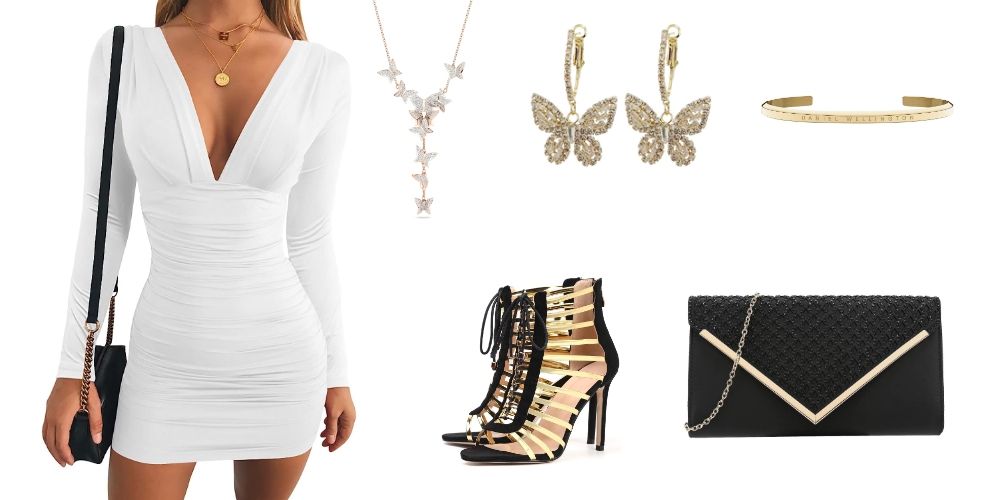 Turn up the heat with this sexy long sleeve bodycon mini dress by GOBLES. The V-neckline and ruched detailing create a figure-hugging silhouette that's perfect for a night on the town. Customers love the dress's comfortable, stretchy fabric and its ability to accentuate their curves. This party-ready piece is a must-have for anyone looking to make a bold statement.
First things first, let's make that plunging V-neckline the star of the show with a dainty, shimmering lariat necklace that'll draw all the right attention. Now, it's time to up the ante with some fierce, statement earrings—think oversized hoops or bold, geometric designs to add some serious oomph to your look. As for wristwear, a sleek, minimalist cuff or a stack of shimmering bangles will give you that perfect blend of edgy and elegant.
And, babe, let's not forget about those killer heels—strappy stilettos, sexy ankle boots, or pointed-toe pumps will make your legs look miles long. To finish off your show-stopping ensemble, grab a chic, embellished clutch to hold your essentials while you dance the night away. Style your hair in sultry waves or a sleek, high ponytail, and get ready to turn up the heat, because honey, you're about to light the town on fire!
Other Posts You May Like: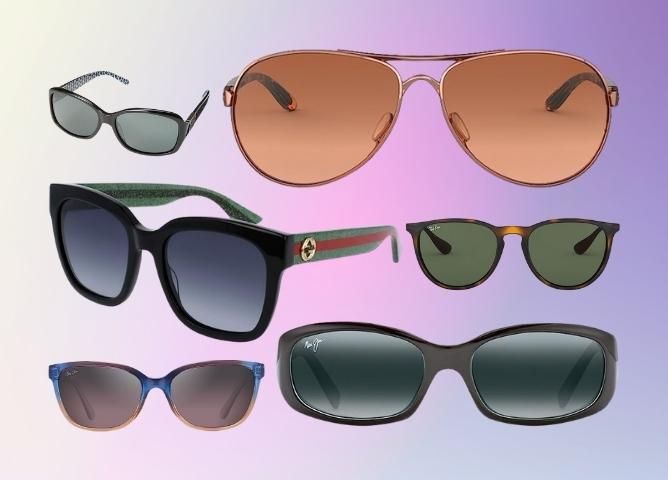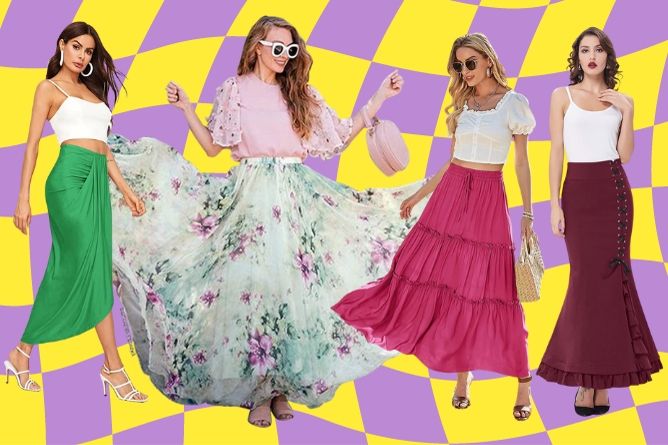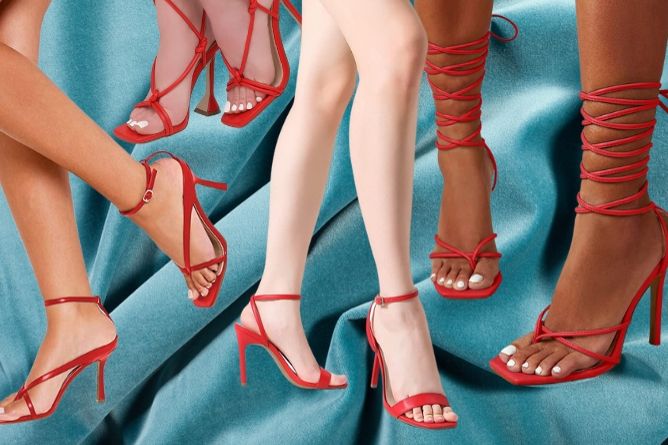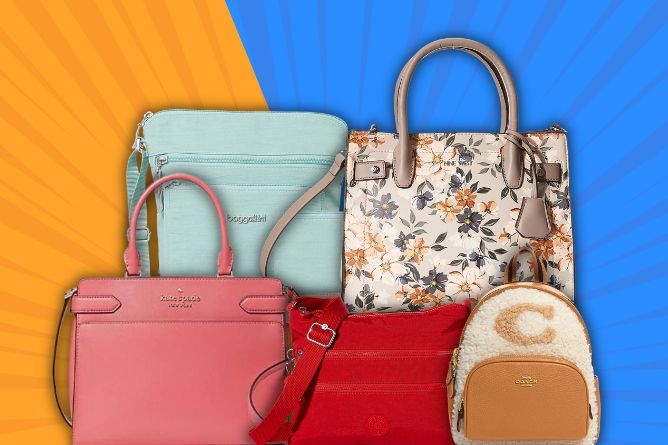 Comments