This post may contain affiliate links, please see our privacy policy for details.
Cranberry juice has long been known to support urinary tract health, thanks to its high content of proanthocyanidins (PACs), which can help to prevent bacteria from sticking to the bladder wall and causing infection. However, drinking cranberry juice every day can be a challenge for many people due to its tart taste and high sugar content. That's where cranberry gummies come in - they are a convenient and tasty way to get all the benefits of cranberry juice without the hassle.
In this blog post, we will explore the top 7 best cranberry gummies for urinary health available on the market. We'll also discuss how to choose the best cranberry gummies for your needs, and answer some frequently asked questions about cranberry supplements. By the end of this post, you'll be able to make an informed decision about which cranberry gummies to incorporate into your daily routine to support your urinary tract health.
What are Cranberry Gummies?
Cranberries are known to have several health benefits, especially for the urinary tract. They have been used for centuries to prevent urinary tract infections(UTIs). But the tart taste of raw cranberries does taste absolutely horrible that many people cannot bear. For such folks, cranberry gummies are an excellent solution. Cranberry gummies are chewable supplements that contain cranberry extract. They are usually taken twice a day, just like any other dietary supplement.
These kinds of gummies are an excellent source of proanthocyanidins (PACs), which are potent antioxidants. PACs hinder bacteria from sticking to the bladder walls and causing infections. They also boost the immune system, which helps the body fight off bacterial infections.
How to Choose the Best Cranberry Gummies
Cranberry gummies have become increasingly popular as a supplement to support overall health and prevent urinary tract infections. However, not all cranberry gummies are the same. Here are some key factors to consider when choosing the best cranberry gummies for your needs.
Key Ingredients to Look for in Cranberry Gummies
When shopping for cranberry gummies, look for products that contain high-quality cranberry extract with a high concentration of proanthocyanidins (PACs), which are the compounds responsible for the health benefits of cranberries. Ideally, cranberry gummies should also contain other important vitamins like Vitamin D and Vitamin E, and minerals for supporting overall health. Some products may contain additional ingredients like probiotics or vitamin C that can also help prevent UTIs.
Dosage Recommendations
Most cranberry gummies are dosed at one or two gummies per day, typically taken with or without food. Check the label to ensure that the dosage is appropriate for your needs. Keep in mind that taking too much cranberry extract can cause stomach upset or interact with certain medications.
Considerations for Dietary Restrictions
If you follow a specific diet or have dietary restrictions make sure to choose cranberry gummies that are specifically formulated with your dietary needs. Many products contain ingredients like gelatin, dairy, or gluten that may not be suitable for certain individuals. Vegan or vegetarian options are also available for those who prefer plant-based supplements.
Reviews and Ratings
Look for products with a significant majority of 5-star ratings to ensure they are highly esteemed. When reading through customer comments, pay attention to any recurring issues, such as bad taste or digestive issues, and determine whether they outweigh the supplement's benefits. Taking such steps can help guarantee that you select the best cranberry gummies to suit your individual needs.
Choosing the best cranberry gummies for your needs requires some research, but the benefits can be well worth the effort. By taking these factors into account, you can find a high-quality cranberry gummy supplement that supports your health and helps you prevent urinary tract infections.
Our Favorite Cranberry Gummies To Try
Cranberry gummies are a popular supplement choice for those looking to promote a healthy urinary tract. They're easy to take, and many brands feature a tasty fruit flavor that makes them more enjoyable than traditional capsules or tablets. To help you find the best cranberry gummies for your needs, we've rounded up a list of our top favorites based on their quality, potency, and customer reviews.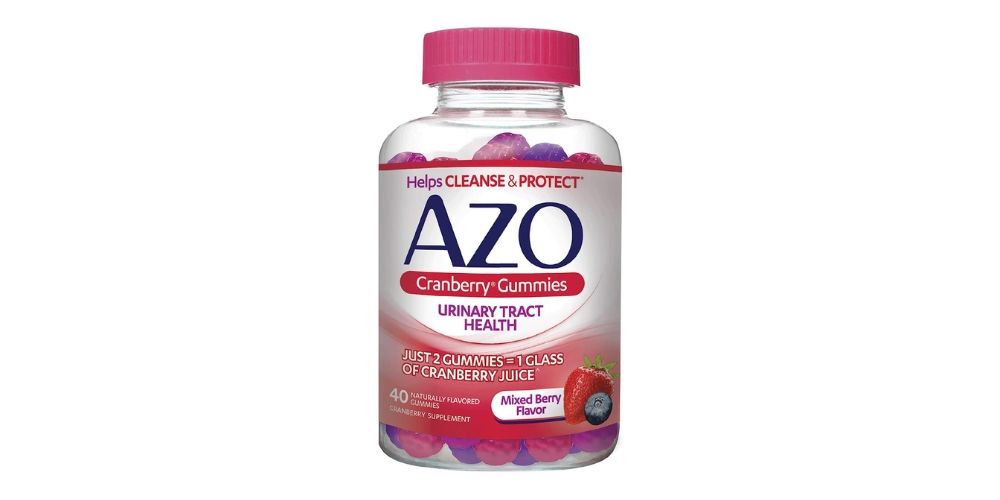 These gummies offer the equivalent benefits of a 10-ounce glass of cranberry juice without the added calories, making them an excellent choice for maintaining a healthy urinary tract.
The gummies have an impressive 4.6 out of 5 stars rating on Amazon and are made with premium ingredients, including Vaccinium macrocarpon (Cranberry), natural flavors, colors from Grape Juice Concentrate and Titanium Dioxide, Sodium Citrate, Citric Acid, Coconut Oil, and Carnauba Wax. The gluten-free, vegan, and non-GMO formula, combined with a delicious mixed berry flavor, ensures widespread appeal.
The star ingredient of these gummies is Pacran, a super-concentrated whole fruit cranberry blend that aids in flushing the urinary tract and promoting its overall health. Unlike cranberry juice cocktail brands with added sugars, the AZO gummies provide fruit cranberry powder equivalent to a glass of cranberry juice, sans the sugar and calories.
The effectiveness of the AZO Cranberry Gummies is further supported by a reviewer who stated, "Since I started taking this on a regular (daily) basis, I have only had one infection in the past 12 months... Just take as recommended on the bottle. It really does make a HUGE difference, especially for those of us who suffer from regular UTIs."
With over 7,200 5-star ratings, it's evident that customers appreciate the benefits provided by these cranberry gummies. If you're seeking a tasty and convenient solution for maintaining urinary tract cleanliness, I highly recommend giving AZO Cranberry Gummies a try.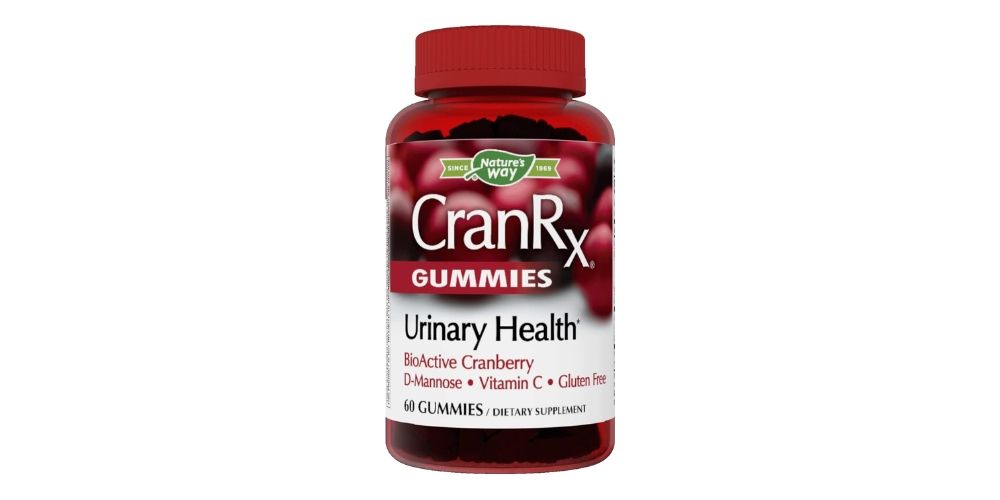 As a well-known brand in the supplement industry, Nature's Way understands what it takes to make a high-quality cranberry supplement. These cranberry gummies contain 500 mg of whole cranberry fruit concentrate per serving, along with Vitamin C, D-Mannose, and sodium citrate for urinary protection.
Plus, these gummies are sweetened with added sugars such as tapioca and cane sugar and are gluten-free with no yeast-derived ingredients or artificial colors. But the real star of the show is the powerful blend of ingredients in CranRx Gummies.
One reviewer did extensive research to find the perfect cranberry gummies, saying: "I wanted these with D Mannose and I specifically wanted gummies because I have family members that have a hard time swallowing pills. These work so well for our urinary health! We can definitely tell how much they help!" And with a 4.7-star average rating value and over 800 five-star ratings, it's clear that customers are loving these cranberry-flavored gummies.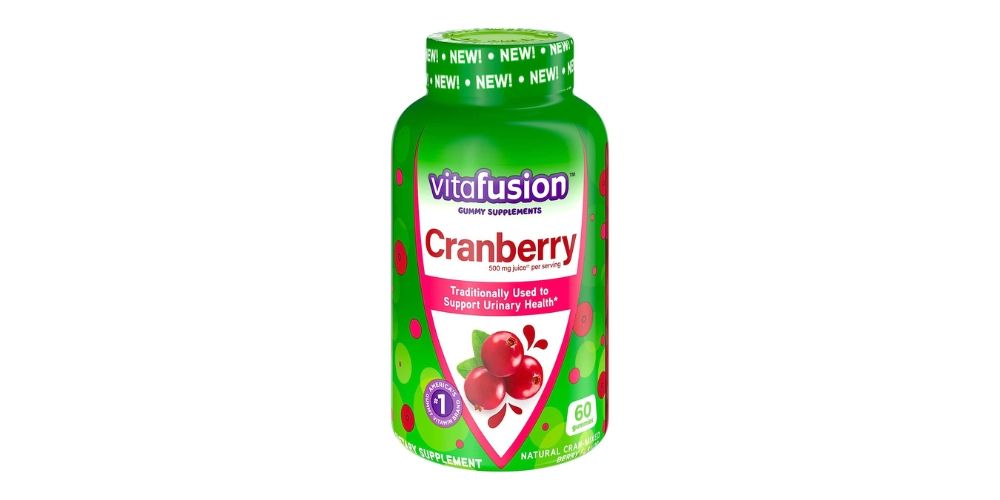 Boasting a 4.6-star rating, it's clear why these gummies are a best seller! Made with cranberry juice concentrate, coconut oil, beeswax, and/or carnauba wax (for texture!), they're designed to help maintain a healthy urinary tract.
These naturally flavored gummies do not contain any artificial flavors or sweeteners, high fructose corn syrup, dairy, and synthetic FD&C dyes. No need for sugary cranberry juice options – just take two gummies daily as part of your regular cranberry juice regimen.
According to one happy customer: "These were recommended by my doctor to help prevent multiple UTI's. Their gummies have made a world of difference. I have not had a UTI since taking these. These are the first things I take in the morning."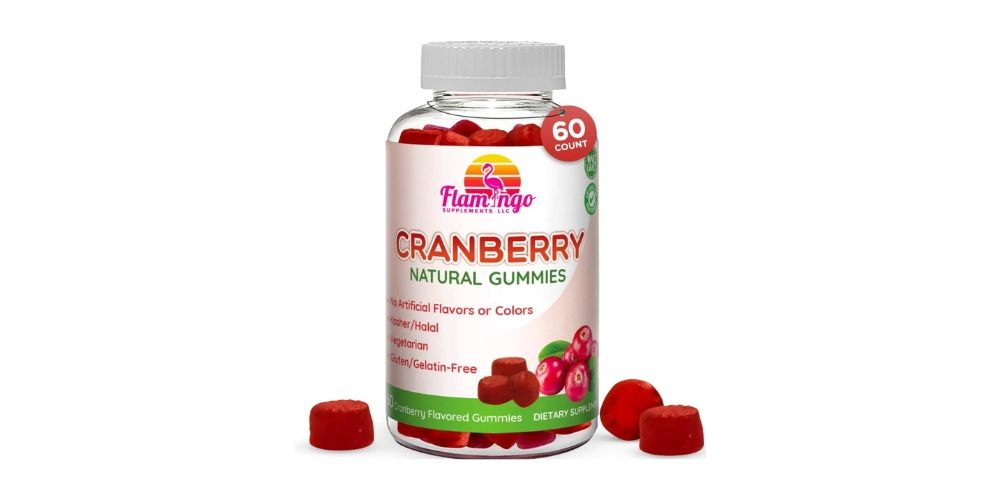 Packed with a whopping 1000mg of cranberry extract per serving, these gummies have you covered. Unlike many cranberry juice options that may be too sweet or bitter, these cranberry gummies are packed with natural flavor and they're free of artificial colors, and are gluten-free, vegetarian, kosher, halal, non-GMO, soy-free, dairy-free, and allergen-free. So everyone can enjoy the urinary health benefits without worrying about taste and unwanted additives.
One satisfied customer raves: "I finally found my favorite cranberry gummy! I have tried perhaps 10-12 different versions of Cranberry and this is by far the best! It works well whether at home or traveling, unlike some gummies that get sticky and less easy to chew when you carry them with you." And with over 1,000 five-star ratings from happy customers – it's clear that Flamingo Supplements Cranberry Gummies are here to stay.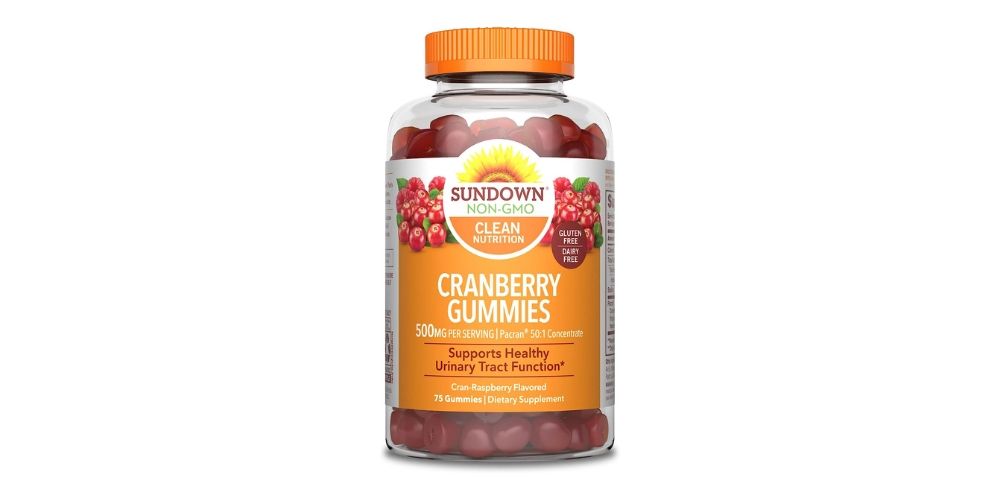 These delicious berry-flavored gummies are the perfect cranberry juice option! Each serving contains 500mg of natural source of cranberry fruit powder, helping to maintain the integrity of the lower urinary tract. Plus they're gluten-free and non-GMO, with no artificial flavors or colors.
According to one happy customer, " These gummies have the best cranberry flavor I've ever tasted. I don't like cranberries or cranberry juices which my doctor told me I needed to include in my diet. I've tried other gummy brands & didn't like the taste. I bought the SunDown brand as this was recommended by a friend & this is the only brand I'll buy now. I also tried other Sundown supplements, which also taste great!" – even those normally wary of cranberries can appreciate its berrylicious flavor and enjoy the benefits without all the icky aftertaste.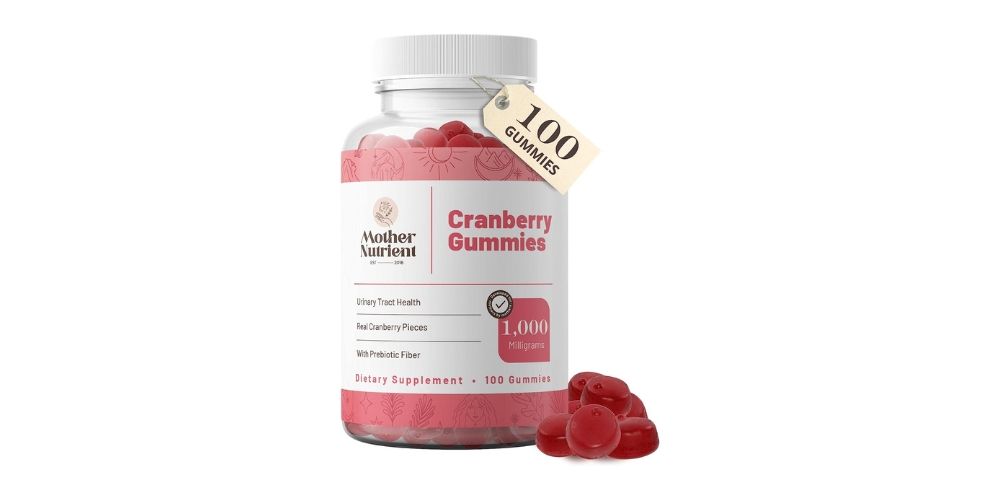 With a 4.4 out of 5 average customer rating, these Mother Nutrient's Cranberry gummies are a popular choice for those looking for more than just general support. They are formulated with cranberry extract, water, cane sugar, glucose syrup, citrus pectin, cranberry, citric acid, sodium citrate, and adipic acid. Each serving contains 1,000mg of cranberry fruit powder to maintain the integrity of the bladder, as well as real pieces of cranberry inside – you won't find that in any other supplement!
Plus they're free from artificial colors and flavors, with only 3g of sugar per serving so you can enjoy them guilt-free. But don't just take our word for it! One reviewer noted: "Best little chewable out there. They get the job done for urinary health!" – it's clear why this is a go-to product.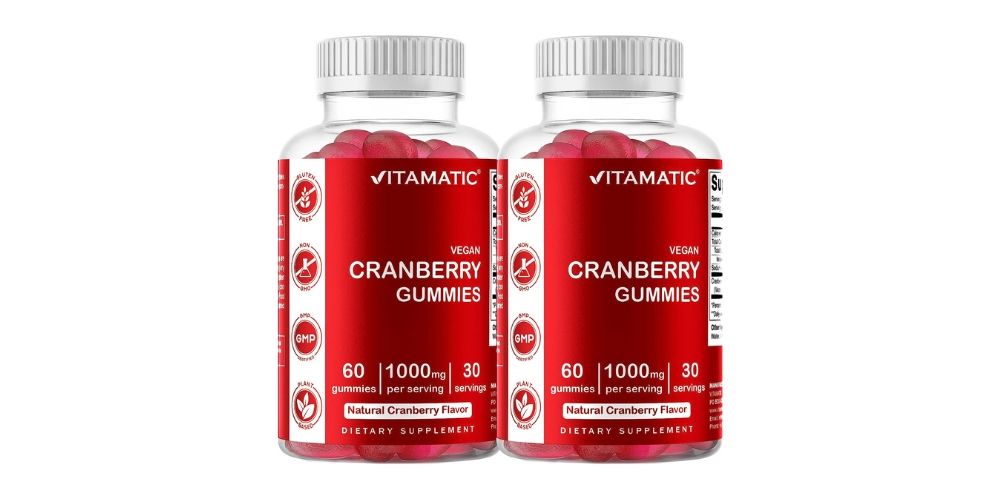 A 4.5-star rating speaks for itself – these delicious pectin-based gummies are the perfect vegan and vegetarian-friendly supplement! Made with Cranberry Puree, each serving helps maintain bladder function, detoxification, and immune support. Plus they're free from artificial colors and flavors and are starch-, soy-, yeast-, wheat-, egg-, and preservative-free.
But don't just take our word for it! One reviewer raved "The taste is very good. They lasted a really long time! And the shape was a heart and you take 2 daily at the same time. This has made my list of subscriptions! I use these gummies for kidney health. I hope everyone who tries this can be as happy as I am!"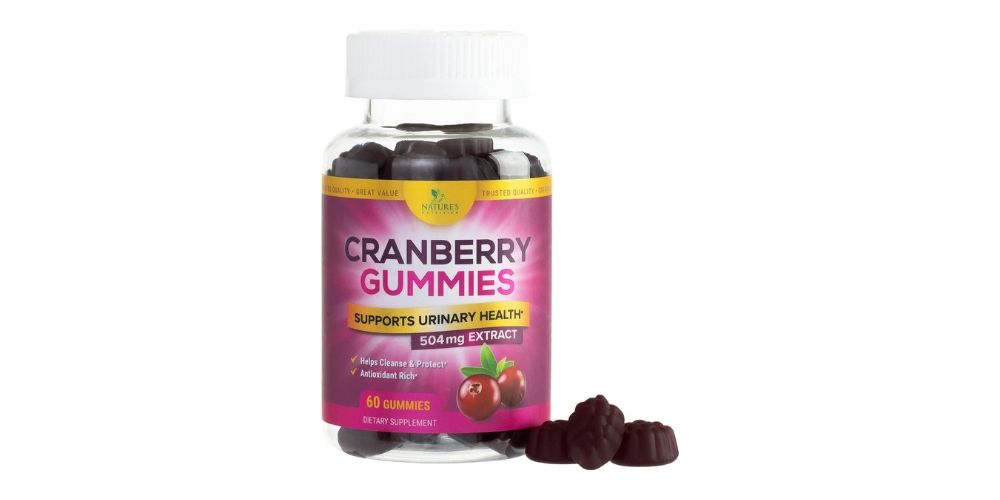 These little guys pack a powerful punch, with an impressive 504 mg of a 5:1 extract that gives you the equivalent of over 2,500 mg of real cranberries. As if that isn't impressive enough, these gummies are made with the whole cranberry to ensure maximum potency and effectiveness.
What makes these gummies so special? It all comes down to the bacterial anti-adhesion activity found in cranberries. This activity helps to prevent bacteria from sticking to the walls of your urinary tract, which can lead to uncomfortable and painful infections. But don't just take our word for it—real women are raving about these gummies. One reviewer, who had suffered from UTIs and YIs for years, said that these gummies truly work.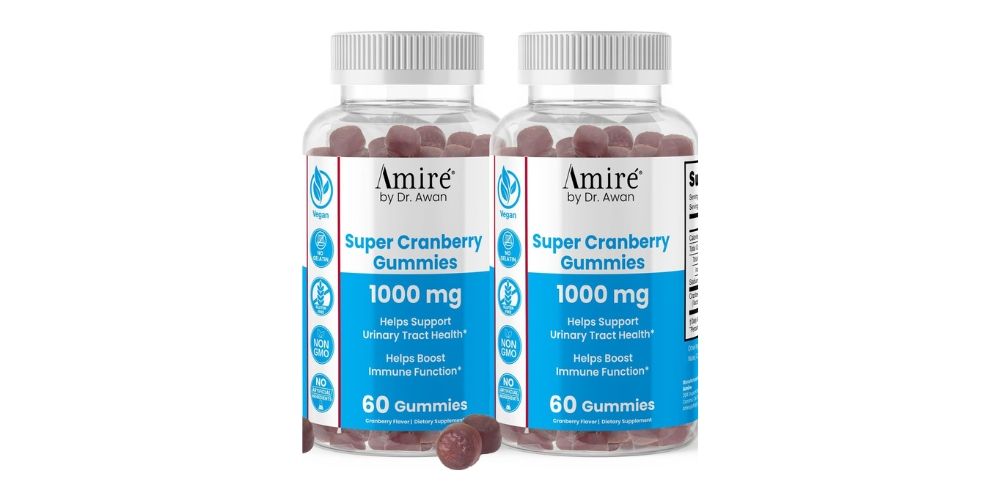 These little gummies pack a serious punch with an antioxidant concentration that's great for strengthening your natural defenses and supporting optimal digestive wellness. Made with a potent combination of cranberry extract, vitamin C, and D-mannose, these gummies are the ultimate powerhouse when it comes to supporting urinary tract health. And with their easy-to-swallow pectin-based formula, they're the perfect addition to your daily routine.
But what truly separates these gummies from the rest is their pure, natural taste. No weird aftertastes or artificial flavors here—just the delicious taste of real cranberries. One reviewer says "These gummies are great for keeping UTIs at bay! As I get older problems with my urinary system seem to pop up more. These gummies are maintenance for your urinary tract to keep it healthy and pain-free!"
Conclusion
Cranberry gummies are a tasty and convenient way to improve urinary tract health. They contain antioxidants that can help prevent bacteria from adhering to the cells lining the urinary tract, reducing the risk of UTIs.
When purchasing cranberry gummies, opt for natural ingredients and follow the recommended dosage. Always consult with a healthcare provider before incorporating cranberry gummies into your regimen due to the possibility of adverse interactions. Overall, cranberry gummies offer a diverse market of options for individuals looking to improve their urinary health.
Comments