This post may contain affiliate links, please see our privacy policy for details.
If you're looking for the perfect Valentine's gift ideas for the adventure lover in your life, look no further! We've rounded up a special selection of unique gifts to surprise and delight any outdoors enthusiast. Whether it be a lightweight and compact backpack, a first aid kit, or even water bottles and compasses - these gifts for outdoor lovers are perfect for keeping them safe and allowing them to enjoy the great outdoors for years to come!
Hiking Boots or Shoes
If you're on the hunt for the perfect gift for that special outdoor lover in your life, look no further than a pair of high-quality hiking boots or shoes. They should be lightweight and waterproof for added comfort and offer plenty of support and traction to help keep them safe during their next outdoor adventure or camping trip. Two great options to choose from are the Columbia Women's Newton Ridge Plus and Columbia Men's Newton Ridge Plus II Boots. These are ideal best gifts for the outdoors enthusiast, providing both protection and performance!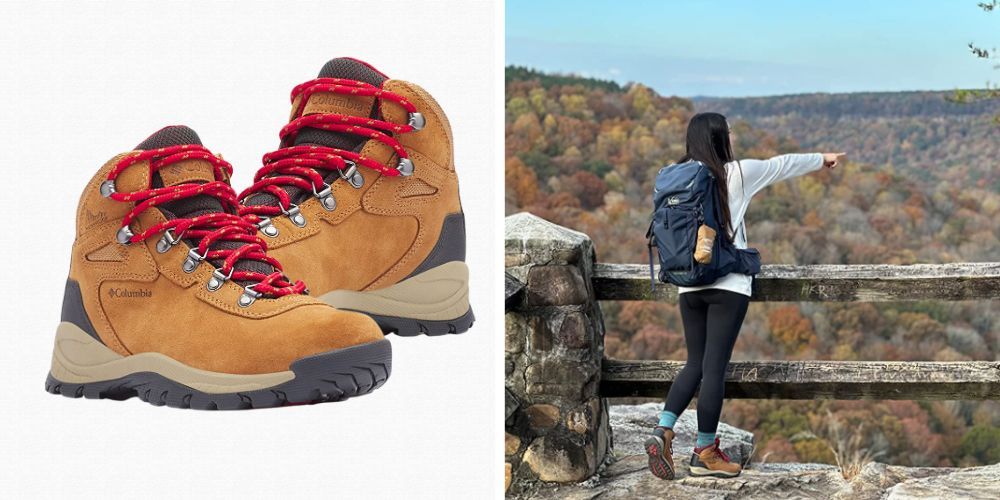 5-Star Review: "Strong.. comfortable hiking boots. Looks great too. Extremely comfortable..feels like you are wearing sneakers." - Lisa D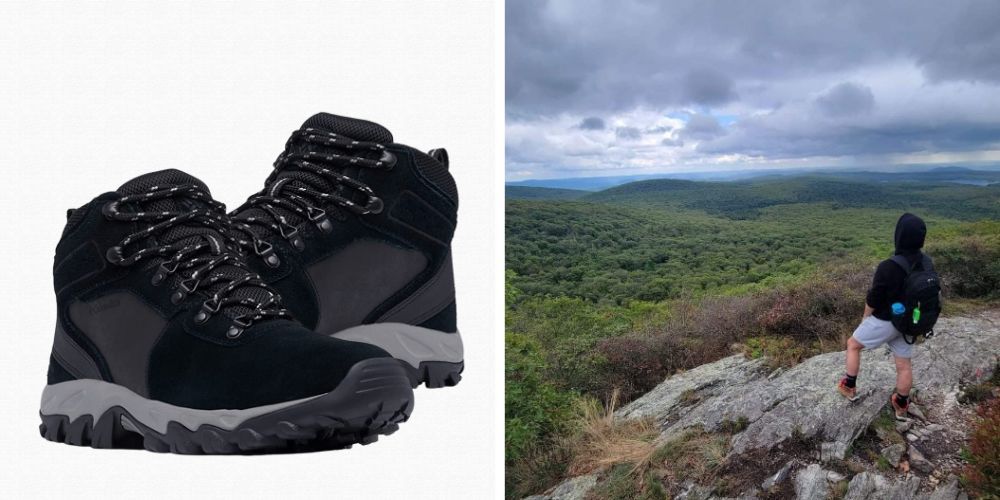 5-Star Review: "Great price and very good value for money. Very comfortable and professional shoes." - Guy Malamud
Waterproof Jacket
Every adventurer needs a reliable waterproof jacket as part of their kit – and a great Valentine's gift! Look for one made with quality materials that will resist wind, rain, and snow, while still being breathable and comfortable for long camping trips. Two excellent options are Helly Hansen Men's Jacket and BALEAF Women's Reflective  Hooded Jacket. Both waterproof jackets offer superior protection from the elements, making it even easier to explore the great outdoors!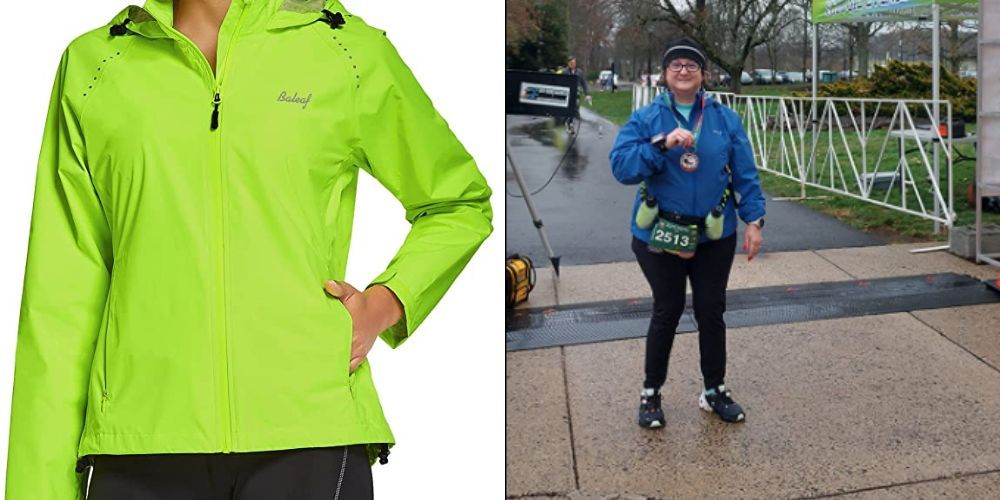 5-Star Review: "Very light raincoat. This is the second one my wife has gotten from Baleaf and she's been greatly satisfied by the quality of the rain suit." - Jed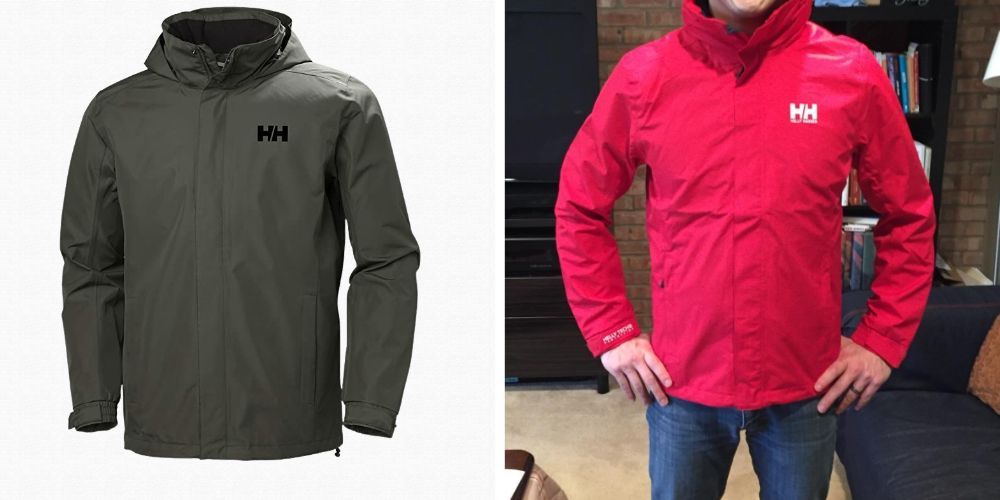 5-Star Review: "I live in the Pacific Northwest and this is my go-to jacket. It's warm enough to wear on my morning walks down into the 30s, although anything lower than that would elicit a second layer. It's meant to be a rain protectant, but does retain a bit of heat." - BillRayDrums
Sun Hat
Sun protection is an essential part of exploring the outdoors, and what better way to show you care than with a stylish sun hat? The Columbia Booney is one excellent option, with its wide variety of sizes, designs, and colors available to match any outfit. This fashionable accessory is perfect for outdoor enthusiasts who need reliable protection when exploring the great outdoors.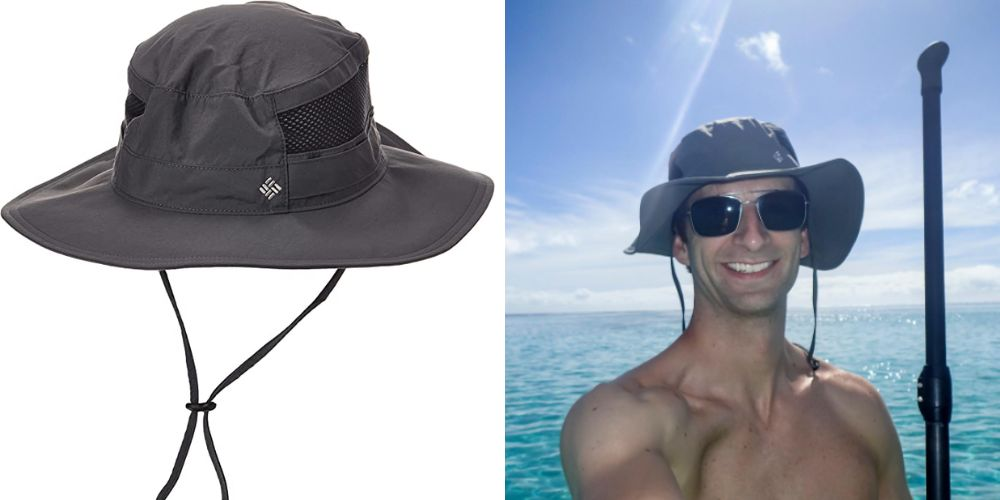 5-Star Review: "I almost lost it on my last trip and I went back to find it. I love it. It's lightweight holds its color and keeps you cool. I wore it on a cruise and went in the water with it. It quickly dries and is so comfy. It's can be adjusted for a comfortable fit and is made very well. I wouldn't go on a summer vacation without it." - IBD
Compact Backpack
A lightweight and compact backpack is a great gift for outdoor lovers who are always on the go! Look for one that is water-resistant and has adjustable straps to ensure comfort during adventures. The Hiking Daypack is an excellent option, perfect for carrying all of your adventure gear with ease.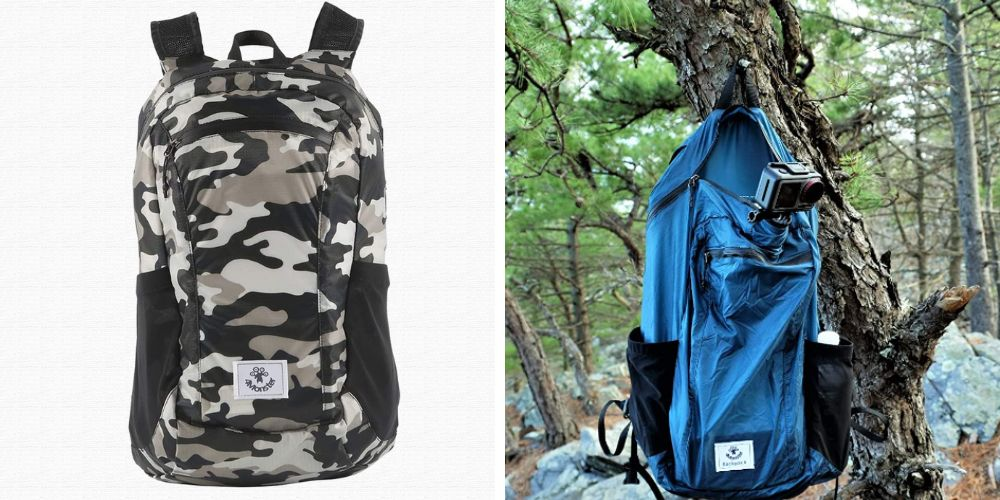 5-Star Review: "Lightweight, compressible, pretty comfortable, and durable! I did a 1.5-month backpacking trip in Europe and it held up great for as a day pack that I could dump a swimsuit, towel, snacks, water bottle, really anything else and I was all set! Also used it as a carry-on for flights when I had to check in my larger backpack. Never ripped during the whole trip and it's still in great condition!!" -
Kaitlyn Fong
Anti-Blister Socks
For the outdoor lover who will be trekking for miles, anti-blister socks make a great Valentine's gift! Anti-blister Socks are one excellent option that offers extra cushioning in strategic areas to reduce friction and also provides arch support and moisture-wicking features. These special socks are sure to keep feet dry and comfortable during all those long treks.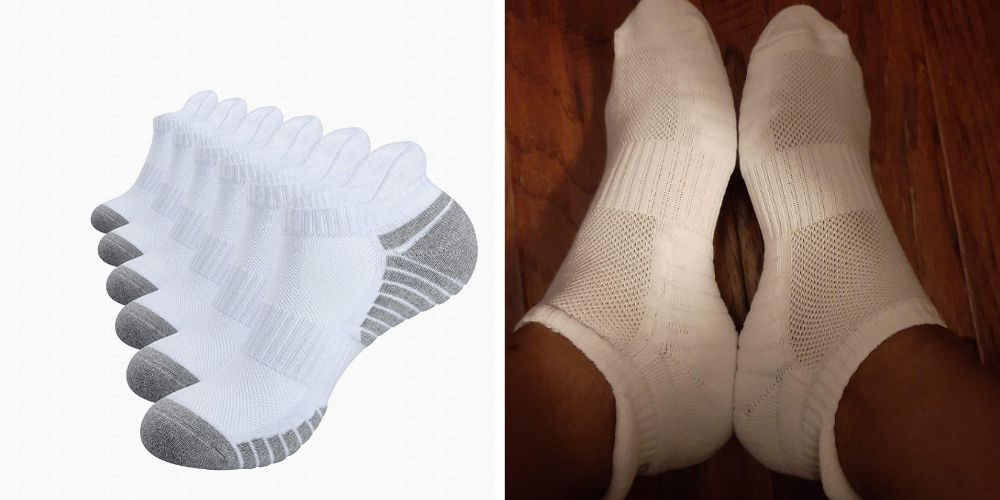 5-Star Review: "Soft + comfortable. Fit well for everyday use." - Dorothy S. Morse
Insect Repellent Spray/Lotion
For any outdoor enthusiast, insect repellent is a must-have item. Whether it's a spray or a lotion, insect repellent helps ward off pesky bugs and keeps adventurers safe from bites and stings while they explore nature. It also helps minimize the chances of developing an allergic reaction or getting an infection from irritating bug bites. Sawyer Products Insect Repellent is lightweight and easy to carry around, making it an ideal gift for any adventure lover on your list. With the right insect repellent in hand, your loved one can enjoy their outdoor adventures without worrying about getting bitten!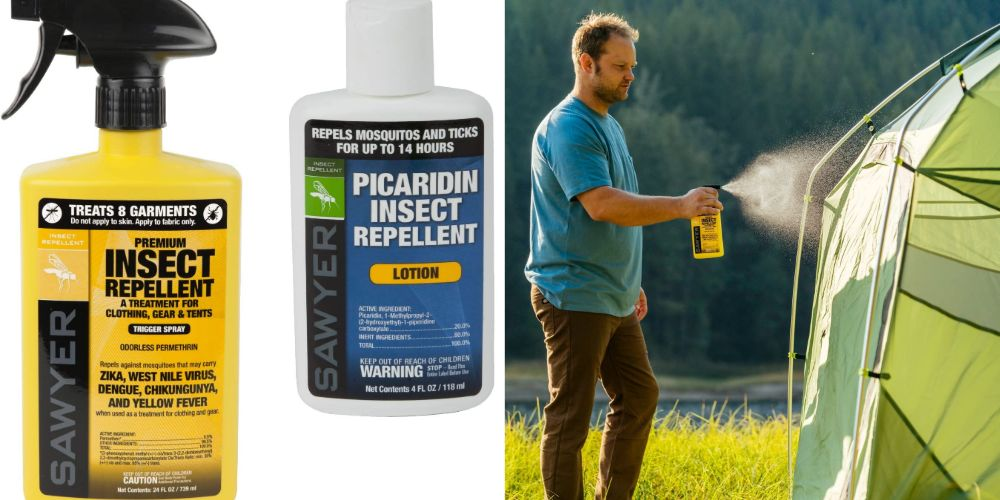 5-Star Review: "I hate DEET because of the greasy stinky residue it leaves on your skin. The Picaridin lotion goes on light and odorless. I like the lotion because I can put it on discreetly, not spraying the entire area around me with everyone watching. And so far, bite free in both MI lake vacation and traveling in Alabama. This is a big improvement in bug repellent!" - LMG
Thermal Flask & Food Container
A thermal flask & food container is essential for any adventure traveler!  Yelocota Food Flask is ideal due to insulation technology that can keep drinks hot & cold for longer and also a leakproof seal so you never have to worry about messes.  Being dishwasher safe, this food flask is the perfect option for any outdoor enthusiast.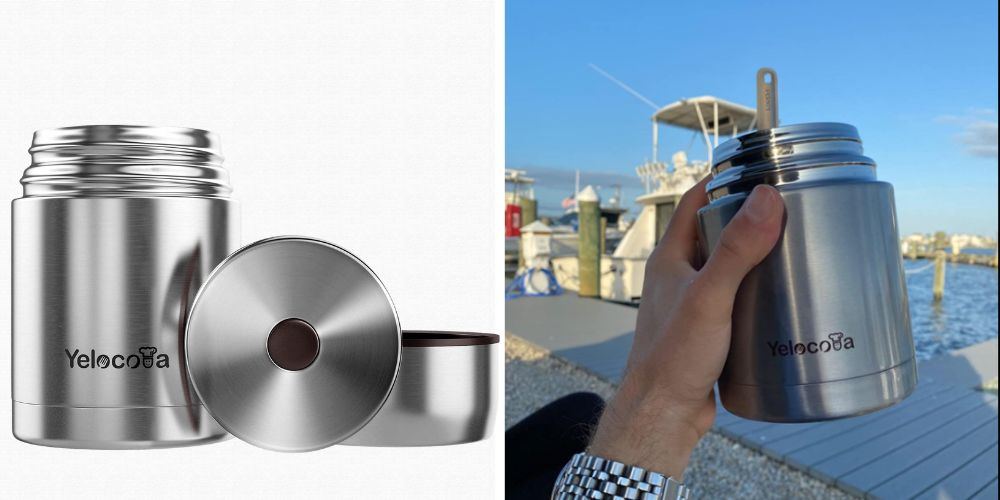 5-Star Review: "This is a big thermos, like omg. But it's good. It keeps everything warm, would recommend it." - Aiden Martin
Binoculars
Allow your special someone to explore Mother Nature from afar with binoculars as their guide! OCCER Compact Binocular is an ideal  Valentine's gift option for the outdoor adventurer! With clear low-light vision, a large eyepiece, and waterproof construction, these binoculars make it easy to spot wildlife from a distance. They're also lightweight and offer high magnification power - perfect for exploring national parks or any other adventure.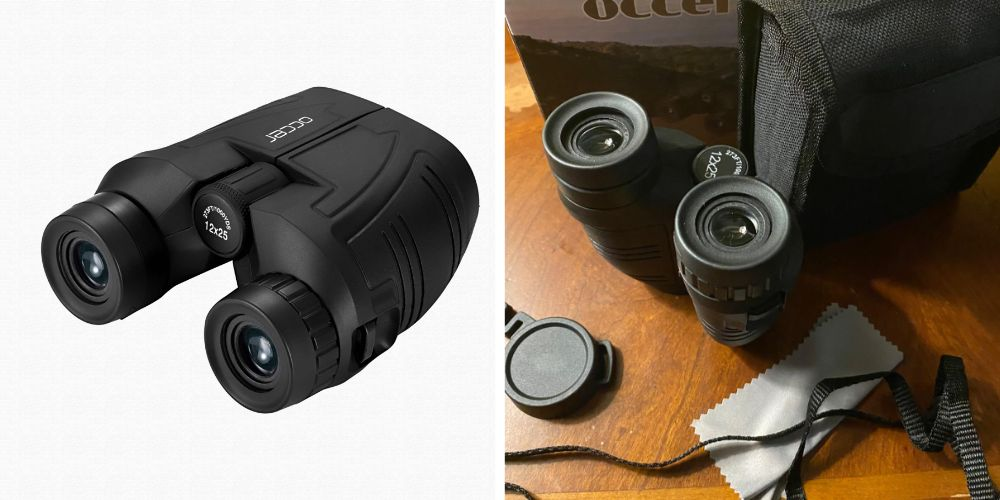 5-Star Review: "Got these for my husband and he loves them! We love to watch the birds, turtles, frogs, etc. from our back deck or bedroom door. The binoculars are lightweight and compact, and perfect for our use. Not made FOR children necessarily but I'm sure a kid would love to get a pair. And at this price why not?" - Kelly B
Portable Coffee Maker
For an early morning pick-me-up on the trail, surprise your Valentine with an Aeropress Portable Coffee Maker that can make delicious hot drinks right out of the box! This compact coffee maker is small enough to fit into a backpack but strong enough to brew a few cups of quality java — making it the perfect way to start off any outdoor journey right!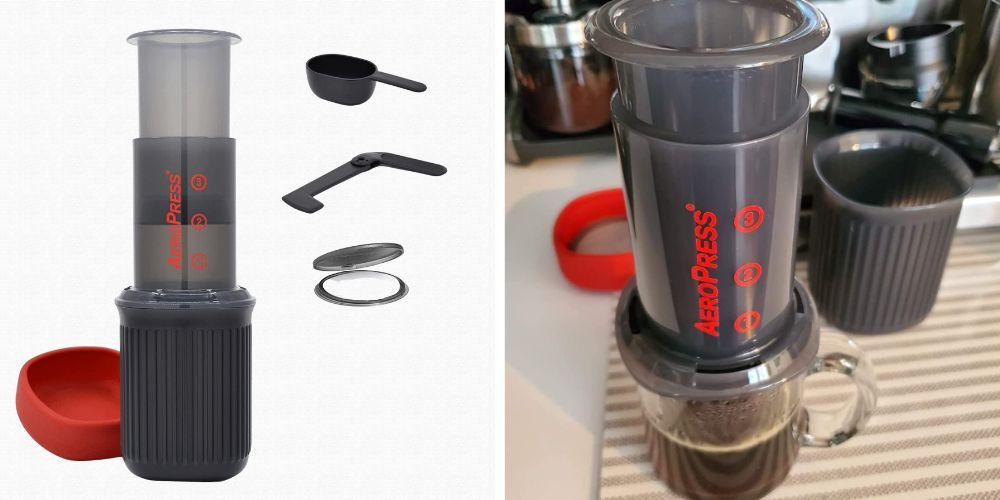 5-Star Review: "Bought this for my son before a camping trip to Cinnamon Bay, St. John, USVI. He used it multiple times each day. We were so happy with the flavor. So easy to pack and travel with!" - bellern
Trekking Poles
When it comes time to tackle the steep terrain of rocky mountainsides; TrailBuddy Trekking Poles are necessary outdoor gear additions when tackling any trailhead - giving both balance & stability while navigating slippery surfaces or facing unexpected obstacles such as streams & boulders alike! These lightweight, collapsible hiking poles are perfect for backpacking and come with a carrying case for easy transport. With a wide variety of colors to choose from, you're sure to find the perfect match for your loved one.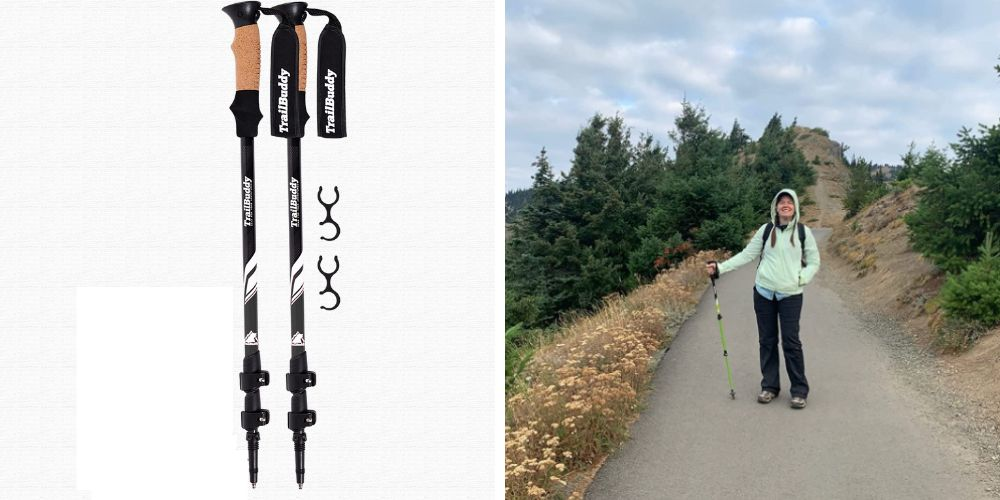 5-Star Review: "I was pleasantly surprised to find these poles for hiking. They are very sturdy and very easy to change the height of the poles. I have purchased some of the big-name poles that cost way more than these poles but these are the ones that I love and are my go-to. I feel safe navigating uneven terrain and rocks when I have these. I purchased them when I needed to travel but was only taking one small carry-on luggage. Per TSA regulations, Hiking poles are not allowed in a carry-on. They need to be put in your checked luggage. So I purchased these and had them sent to my destination. They were awesome to use when hiking the Arizona mountains! I loved them so much that I purchased another pair when I returned home. If you hike, you will not regret this purchase!" - RickS
Solar Charger
Whether she's looking forward to visiting remote locations or wants easy access to energy wherever she goes — invest in a Hiluckey Solar Charger. This charger comes with 4 solar panels and a whopping 25000mAh of high capacity, giving you 8-10 charges for your phone and 3-4 charges for your tablet. It also features awesome outdoor features such as dust, shock, and splash resistance along with a bright LED flashlight for outdoor activities or emergency situations. With fast charging up to 15W outputs and 2.5x recharging speed, your special someone will never run out of power during their next great journey - making this the perfect Valentine's gift!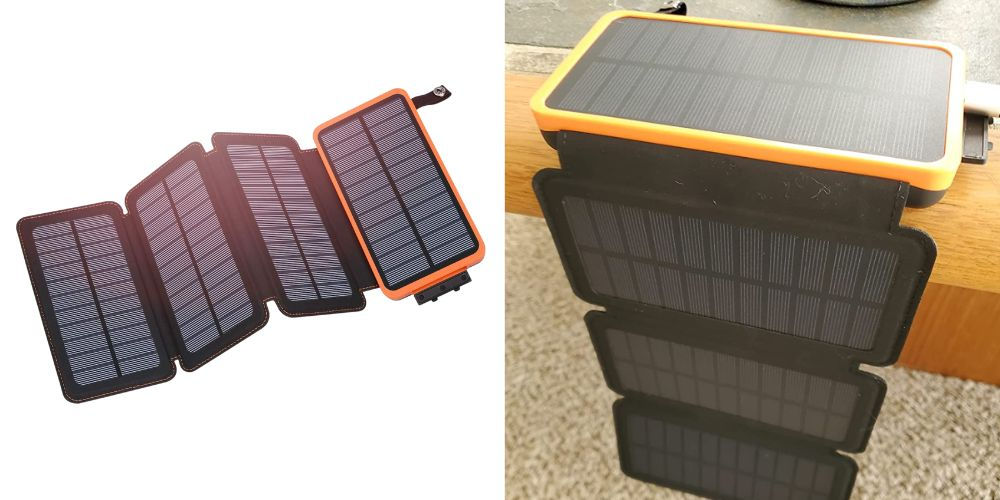 5-Star Review: "This thing is small and portable, looks like thick phone but has plenty of power. Ended up buying one for each car and backpack in our house for backup power. The solar charger is a great option for outdoors to recharge it while hiking or camping. It will even recharge indoors slowly from regular house lamps if you don't use the USB cable." - Oddeoh
Collapsible Camp Chair
Everyone needs a comfortable place to sit after long days spent exploring nature — which makes BISINNA Collapsible Camp Chair a must-have item for every outdoor enthusiast! This chair is easy setup, lightweight enough to store away anywhere, and comes with complete weather-resistant fabric plus a double storage bag design that keeps all of your stuff within reach.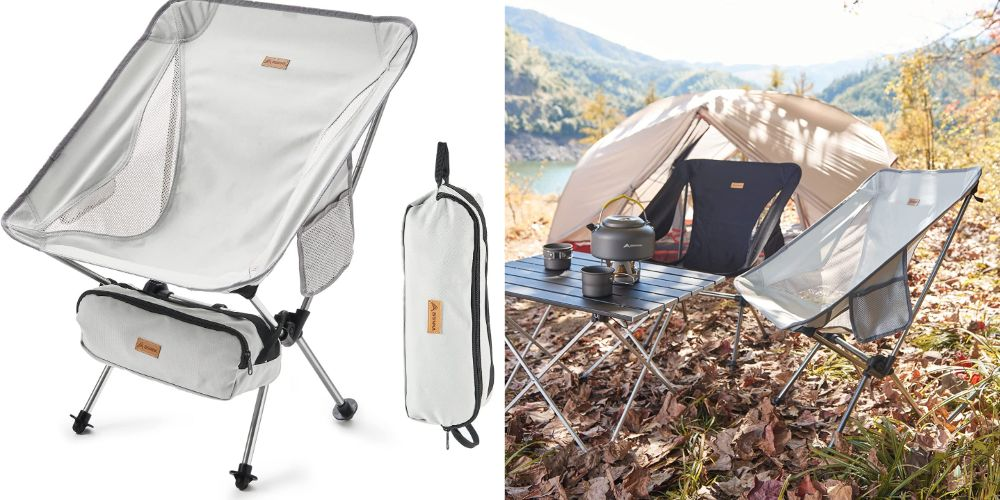 5-Star Review: "Surprisingly, this chair is sturdy! And the fact that it fits neatly in the carrying case is unbelievable. It makes it so much better to store and carry: not like the typical ones that are a bit bulky and weigh more. We're pleasantly surprised by this chair." - Shooz
A Multi-Tool For Camping Tasks
A RoverTac Multi-Tool is a must-have for any adventure lover who loves camping. Not only does it provide a convenient way to carry around multiple tools in one easy-to-pack device, but it also provides the versatility that any camper needs when making repairs or tackling tasks in the great outdoors. With its variety of blades, saws, drivers, and openers on one lightweight device,  this multi-tool has everything you need to make quick repairs or deal with unexpected problems while camping. It's an essential addition to any adventurer's toolkit, making it the perfect gift for anyone who loves being in the great outdoors!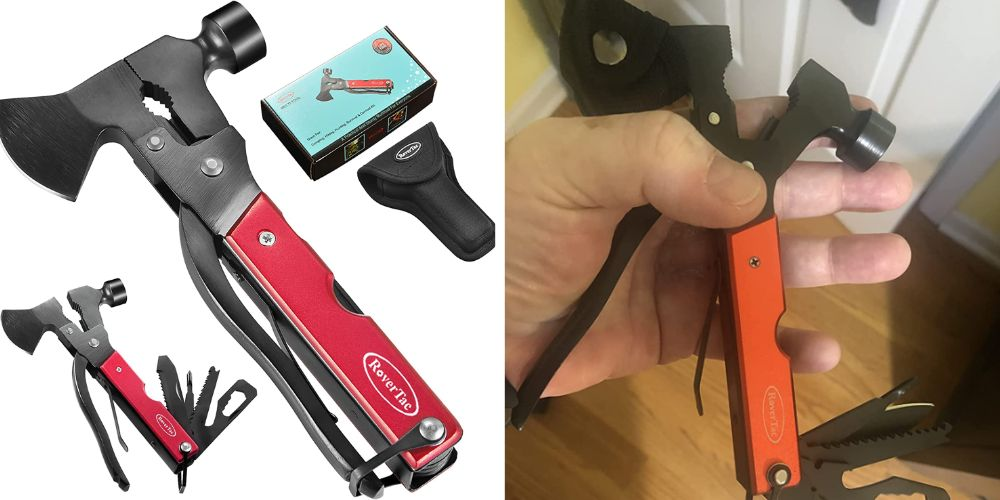 5-Star Review: "Got this as a camping gift to a friend and it's great! Really sturdy, not too heavy, and the tools are easy to take out and use! Looks good too" - Naomi
Compass and Maps Of the Area
A Compass and Hiking Map are essential items for any adventurer. Whether hiking, camping, or exploring a new place, having a compass and hiking map will help find a way back if you get lost. The Sportneer compass is water-resistant and durable, making it perfect for any terrain. Moon Pacific Hiking Maps can provide valuable information on locations of trails, parks, points of interest, and more - making both items great gifts for adventure lovers. They allow adventurers to plan their trip before they go out into the wild and remain safe even if they get lost during their journey.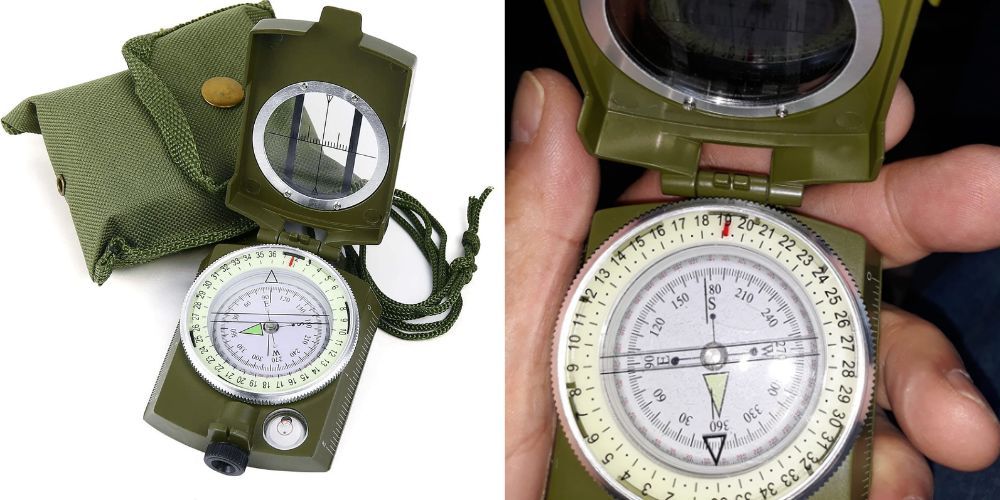 5-Star Review: "Good product for hiking off trails" - James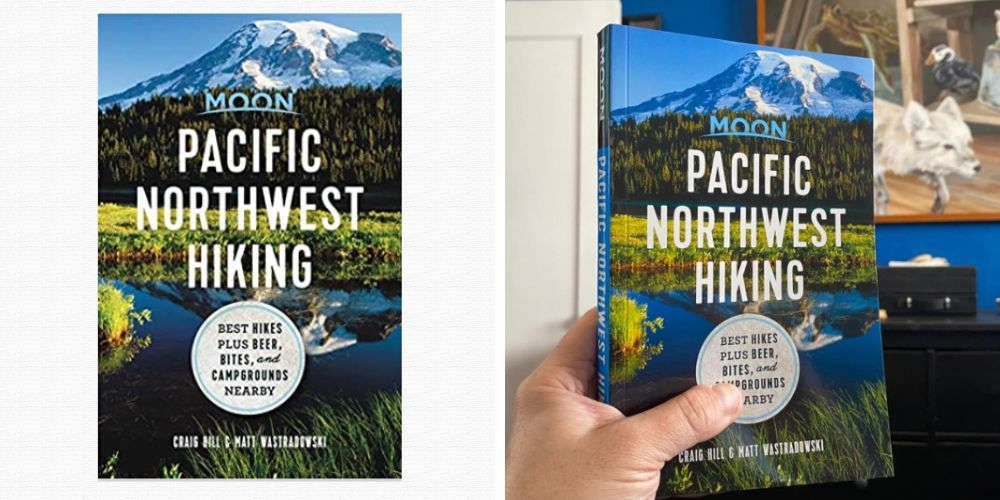 5-Star Review: "Bought it for my son and daughter-in-law, who are living in the Pacific NE and are avid hikers and backpackers. They loved it!" - U.N.
Sleeping Pad
For any avid camper, a POWERLIX Sleeping Pad is an essential item for getting a good night's rest. This lightweight sleeping pad provides cushioning and insulation from cold ground surfaces and helps stay warm and comfortable. This sleeping pad also folds easily for storage, making it a great choice for adventure lovers who are always on the go. So make sure you get your loved one a sleeping pad - it will be the best outdoor gifts option for many backpacking trips they'll appreciate for years to come!
5-Star Review: "My boyfriend and I were searching for a reliable sleeping pad, just because I have severe back issues. But this one works perfectly. Yes, it may deflate a bit overnight, but you might not have the seal on correctly or just because of weight, however, it is very comfortable, easy to set up, and is just perfect." - Emily
Fire Starter Tool
A Swiss Safe 5-in-1 Fire Starter is a must-have for any adventure lover and a great gift for V-day.  Not only does it help you create and sustain that all-important fire for warmth or cooking – but also comes with an awesome whistle, lighter, first aid kit, flint, and compass. It's lightweight yet weather resistant so whether they're trekking through forests or climbing mountains - rest assured their craving for exploration will be safe...and toasty warm too!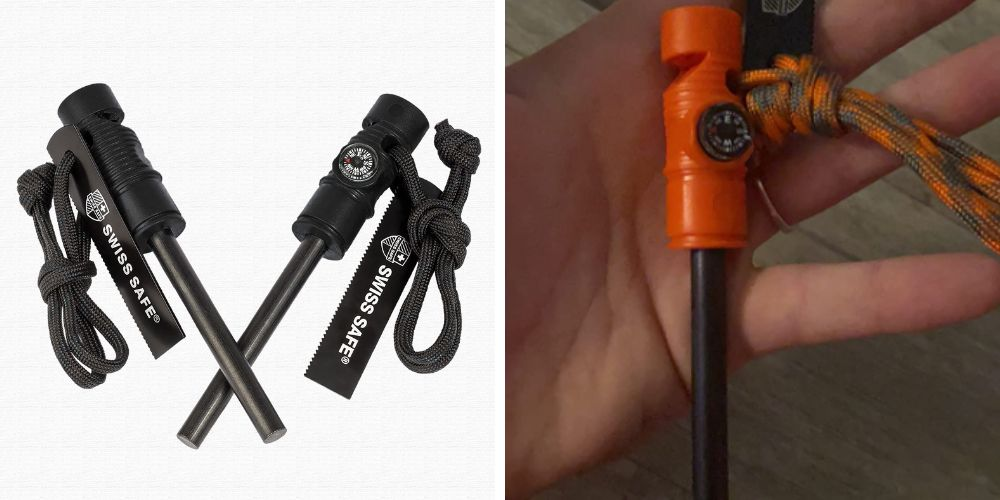 5-Star Review: "Very impressed at how well these work! You can get a flame in a matter of only 2-3 Strikes. Small enough for a pocket if needed but not small enough to have a hard time handling. A child could use it and start a spark it's that easy! Love the quality and engineering of this set." - Brittanie
Survival Kit
If you know an intrepid explorer who loves the great outdoors, get them a HIHEGD Survival Kit! This kit is packed full of essentials like compasses, flashlights, and fire starters to help tackle any unexpected challenges that come their way. It even has first aid supplies for those times when things don't quite go according to plan. Plus with its handy whistle feature, it's not just useful - it could be lifesaving too! No matter where your adventurous friends venture off on their next excursion, make sure they always take this must-have survival kit along so they can explore safely in confidence.  This survival kit is one of the best adventure gifts for anyone who loves exploring the wild and its many surprises.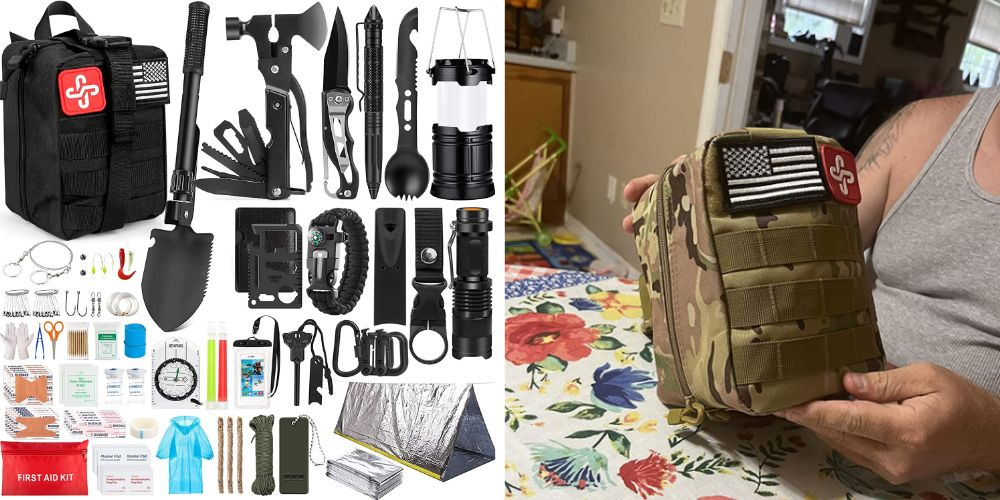 5-Star Review: "I ordered for 1 son, liked it so much I ordered another for the other son. It has so many cool things you wouldn't even think to take. All fit into a very nice & compact bag. Highly recommend! Keep 1 in the car, 1 in house." - Ang
Camp Stove
For anyone who's looking for the perfect gift to add to a car camping setup, then look no further than a Coleman Camp Stove! Not only can it be used for cooking, but it is also versatile enough to boil water or warm up your favorite beverages. It is small and lightweight enough to pack into your car while still being durable enough to withstand rough outdoor conditions. With multiple burners and adjustable flame settings, these stoves make the perfect addition to any camping adventure - not just car camping! Spend some quality time outdoors with that special someone this Valentine's Day and bring along the best adventure companion - a camp stove!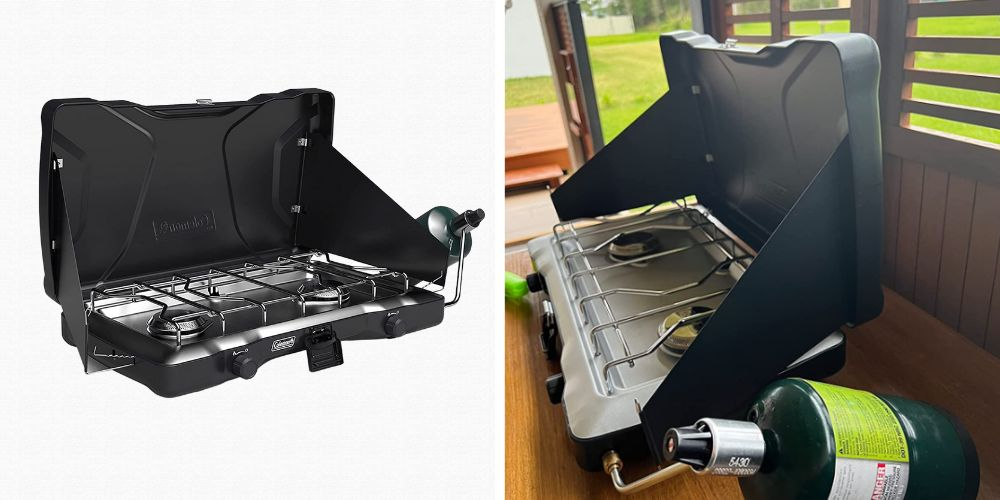 5-Star Review: "We bought this to use at a music festival this past summer and it was perfect. Easy to set up and easy to use. It was a bit hard to tell if the flame was lit at first - it's basically invisible, so you have to feel the heat to know it's on. We're looking forward to using this for all kinds of glamping opportunities for the next few years." - Amazon Customer
Hygiene Kit
Hygiene is essential for any outdoor sports and adventurers, especially those who are in the wild for extended periods of time. A good hygiene kit should include items such as travel-sized toiletries, a toothbrush and toothpaste, hand sanitizer, wipes, and other cleanliness products. These items can help adventurers easily maintain their hygiene levels which might otherwise be difficult in remote locations. Asom Hygiene Kit has it all and makes a great gift for anyone who loves exploring the outdoors and will ensure that your adventure-loving friends or family members stay clean and healthy during their trips.
5-Star Review: "This comes with so much stuff at a great price. It had stuff inside that we didn't even know we needed but definitely was thankful it was included. Will definitely buy again for next trip." - Jessica Collins
Final Thoughts
Valentine's Day is the perfect time to give your special someone a gift that expresses how much you care about them, and there's no better way of doing that than by giving a gift related to the outdoors. A compass and hiking map, a first aid kit, or even water bottles and backpacks can all be excellent tools to make sure they have safe and enjoyable outdoor adventures. With these thoughtful gifts, you can rest assured knowing you've given something tangible that will help them enjoy the great outdoors and keep them safe for years to come. No matter what item you pick, the sentiment behind your Valentine's Day gift will speak volumes, so show how much you value them with the perfect present this holiday season.
Reviews in this blog post have been edited for clarity and/or length.
Comments