This post may contain affiliate links, please see our privacy policy for details.
Tape-In Hair Extensions are the latest and greatest way to get longer, fuller hair that looks and feels natural. With this revolutionary technique, you can have long hair in minutes with no harmful chemicals that can damage your scalp and strands. Tape-in extensions offer beautiful yet subtle results that look natural but still fabulous as they blend seamlessly with your own hair.
Our Pick for the Best Tape-In Hair Extensions
What are Tape-In Hair Extensions?
Tape-in hair extensions are a revolutionary hair extension method that uses specially designed, reusable single-sided adhesive tapes to attach the extensions to your own existing hair. The tapes are applied around the perimeter of your natural hair in small sections and then laid flat to secure the extensions in place.
Tape-In Hair Extensions are very lightweight, and comfortable, and stay in place for up to 8 weeks with proper care and maintenance. These extensions can be easily removed, making them a great choice for those who have sensitive scalps or who just want more versatility when it comes to changing their look.
Benefits of Tape-In Extensions
If you're looking to switch up your look without spending too much time or money, Tape-In Hair Extensions might just be the perfect solution for you. Not only do they add length and volume to your hair, but they also help protect your natural hair from damage caused by styling and coloring treatments. Here are some of the incredible benefits that Tape-In Extensions can offer
Instantly Add Length
You can have longer, fuller hair in a matter of minutes. The tapes allow you to attach the extensions quickly and easily without having to worry about heat or other damaging chemicals.
Natural Look
Tape-In Hair Extensions look completely natural as they blend seamlessly with your own hair and cannot be detected at all unless someone is looking closely.
Versatility
If you want to reinvent yourself every couple of months, then Tape-In Extensions are a great way to go about it. They are easy to remove and reapply so you can switch up your look whenever you, please!
No Damage To Your Own Hair
Unlike other types of extensions, Tape-Ins will not cause any harm or damage to your own hair since there's no glue or heat involved in attaching them.
Cost Effective Solution
Tape-In Hair Extensions offer an affordable option for people looking for a great quality hair solution. By providing instant results at an economical cost, these extensions are perfect for anyone trying to get a new look without going over budget.
With so many amazing benefits, it's no wonder why so many people are choosing Tape-In Hair Extensions over other methods!
Different Types of Tape-In Hair Extensions
Whether you're looking to add length, volume, or just a subtle change to your hairstyle, Tape-In Hair Extensions are an ideal option. They offer a versatile and multi-dimensional look that can be tailored to your desired style. With so many different types available on the market, it can be difficult to know exactly which one will be best suited for your needs. From traditional weave extensions to pre-bonded and pre-tipped varieties, here's a quick breakdown of different types of Tape-In Hair Extensions and their unique benefits.
Traditional Weave Extensions
These tape-ins are applied in long rows that are weaved into existing hair and provide the most natural look since all pieces are attached for a fuller effect. They offer versatility and can often last up to 3 months with proper care.
Pre-Bonded Extension
Pre-bonded hair extensions come in individual strands and have a discreet, comfortable attachment method using adhesive at the tip of each strand. This type offers more durability than other methods, but is less flexible and cannot be moved around once attached.
Pre-Tipped Extension
Similar to pre-bonded extensions, pre-tipped tape-in extensions use tapes with already attached tips secured onto individual strands of hair. These provide more flexibility over pre-bonded styles as they can be moved around easily after application.
So whatever look you desire – whether it's length, volume, or just a subtle change – there's no doubt that one of these tape-in extensions is sure to do the trick!
How to Choose the Best Tape In Hair Extension
Getting stunning, beautiful hair can be intimidating – especially if you don't know what to look for when selecting a hair extension. When it comes to tape-in hair extensions, there are many factors to consider that will ensure you get the best and most suitable product for your hair type. Here's a quick guide to help you choose the best tape-in extension:
Know Your Hair Type
No matter what type of hair you have - fine hair, thick hair, or thin - tape-in extensions can work with your natural hair. It's important to know the type of hair that works best with your own, as different tape-In Hair Extensions are designed for different types of hair. For example, thicker extensions may be better suited for those with thinner hair and vice versa.
Choose High Quality
High-quality tape-in extensions are typically made from 100% human remy hair, meaning they have been processed and collected carefully in order to keep their cuticles intact and prevent tangling. Make sure to read reviews or do research into reputable brands before making any purchases.
Select The Right Shade
It's important that your chosen Tape-In Extensions match your existing shade as closely as possible so they blend seamlessly into your natural hairstyle without looking out of place. If you're unsure of which color would be best suited for you, consult an experienced hairdresser who can help advise on which color is right for you.
Check The Durability
Ensure the tapes used in the extension are strong and durable enough to remain secure while being washed and styled. They should also be easy to remove and reapply without compromising the strength or look, so you can wear them over and over again.
By keeping these tips in mind when shopping for Tape-In Hair Extensions, you'll be able to find a product that suits all your needs and leaves you with gorgeous locks!
Our Favorite Tape-In Hair Extensions To Try
Looking to give your hair an instant makeover without breaking the bank? Line up your style game with tape-in hair extensions! Unlike other extensions, these require no glue or heat and can be attached quickly and easily for a long-lasting look. Here's our round-up of some of the best extensions to try right now.
Best for Versatility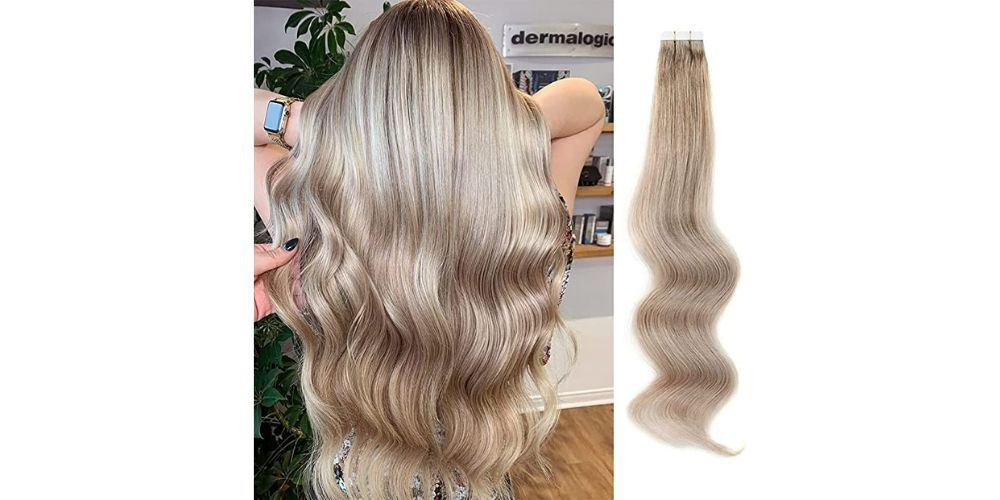 The ABH Pre-Taped Ombre Hair Tape in Extension is a must-have for any hair color. These extensions are made from 100% traceable Remy human hair, so you can flat iron or curl them without fear of damage. They also sit comfortably and securely on the head, making them painless to wear and install.
With proper maintenance, these professional hair extensions can easily be reused up to 4 times or more, with the addition of replacement tape. In short, these amazing extensions provide exceptional versatility with natural-looking results that will last!
Best Budget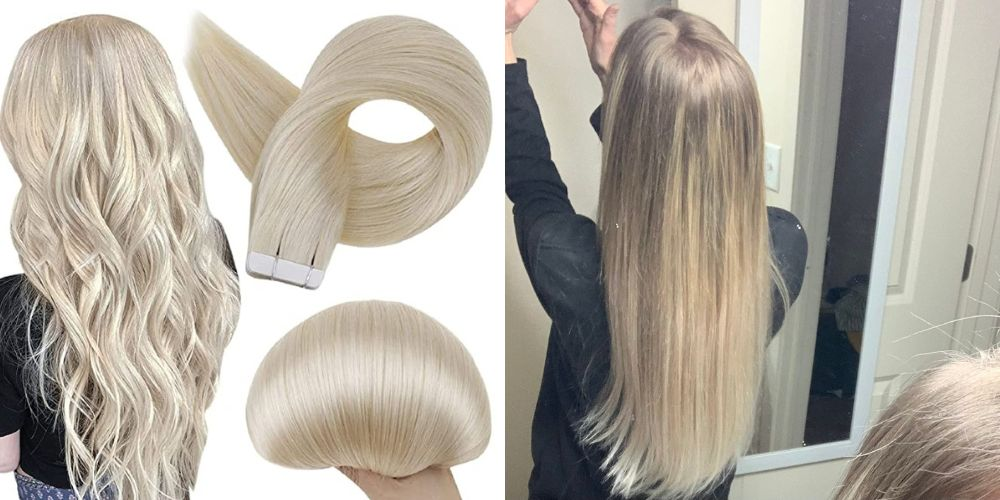 The Full Shine Fashion Tape Hair Extensions are a great way to get more hair at less cost. Each package contains 20 pieces of semi-permanent extensions made from 100% Brazilian Real Human Hair, so it's easy to find the exact shade you need.
With each piece weighing between 2 and 3 grams, these extensions are comfortable and won't fall off like some other types. In addition, they are affordable and efficient - a single pack gives you 20 pieces of beautiful extensions that make it look like you have more hair!
They also offer 10 size options and 31 color choices so you can find the perfect match for your hair.
Best Value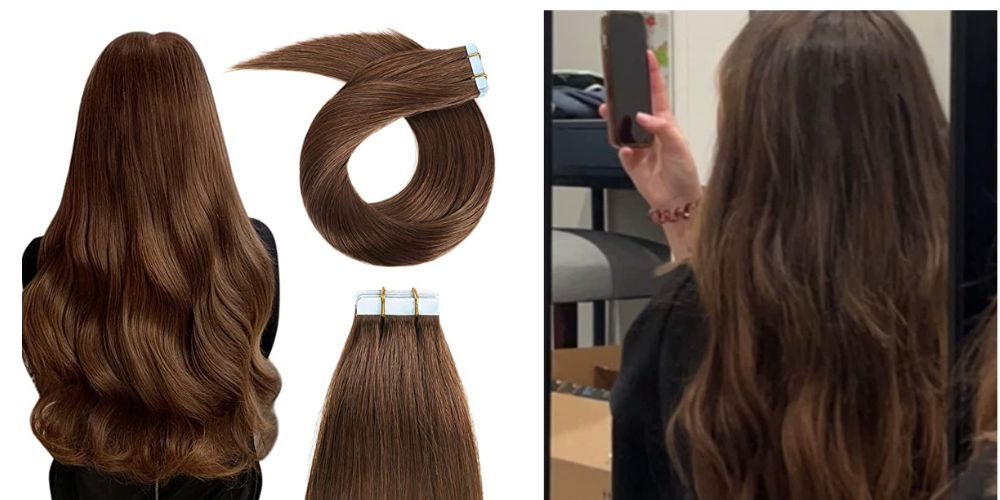 The YILITE Tape in Hair Extensions is the perfect way to get salon-quality hair without breaking the bank. These seamless straight extensions are made from 100% premium Remy human hair, ensuring that they are tangle-free and shedding-free.
Plus, they are easy to install or remove thanks to the specially developed high-strength invisible double-sided tape, making them a great option for those who want a more temporary look. In addition, they come in a variety of shades so you can find one that complements your natural hair color perfectly.
All in all, these extensions provide a thick and beautiful look that won't break the bank!
Best for Color Selection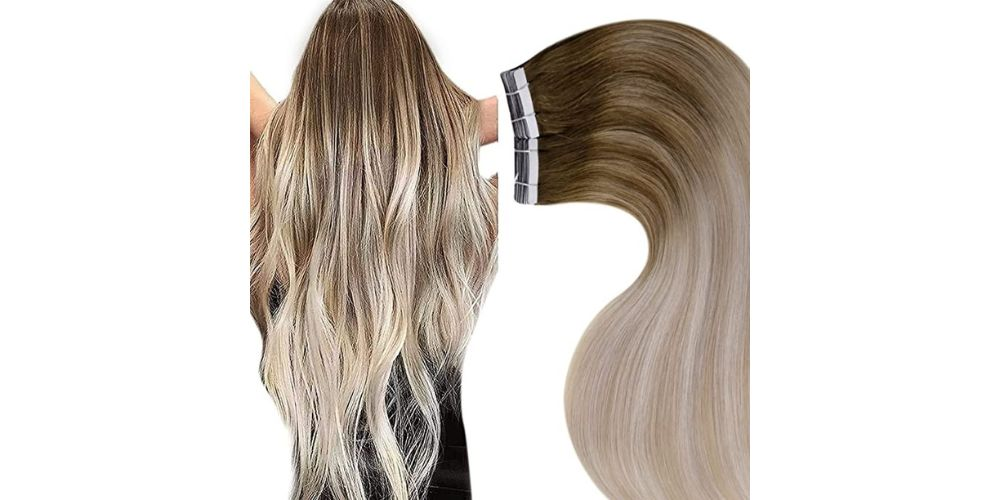 The LaaVoo extensions are a great choice for those looking for human hair extensions that look and feel natural. These extensions can be treated and styled like your own hair but must be kept at temperatures below 180 degrees Celsius to avoid damage.
With 8 length options and 86 colors ranging from solids through balayage to highlights, you'll be sure to find the perfect match for your hair type.
The specially developed high-strength invisible imported white glue makes them easy to attach and remove while being gentle on your own hair. Plus, they are easy to wash and care for, allowing you to enjoy beautiful ombre tape-in extensions with minimal effort!
Best for Length Selections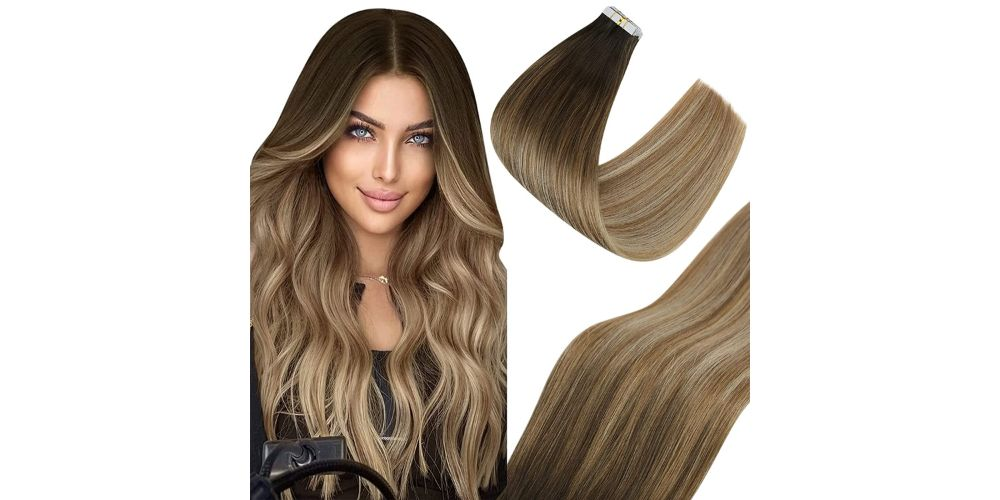 Sunny Hair Tape-In Extension is the perfect choice for those looking for a natural and secret blend. The glue on the tape won't damage your scalp nor do harm to your hair, and it's also replaceable so you can reuse the hair extensions simply by changing the tape.
Made from Remy human hair, they feel soft and silky and have a healthy shine. They are also flexible - they can be straightened, curled, washed, and dyed to darker colors with a professional dyeing process.
With 17 size options and 41 color choices, these extensions provide limitless possibilities for creating the hairstyle of your dreams.
Tape In Hair Extension FAQ
How much do Tape-In Hair Extensions cost?
The price of tape-in extensions varies depending on the type and quality of hair you choose as well as the length and thickness. Generally, a full head set of this extension can range from $100 to $200, with higher-quality hair extensions costing more than lower-quality hair extensions. The cost may also vary based on the number of packs needed for a full head and if you are getting them installed professionally or not.
How many packs of Tape-In Hair Extensions do I need for a full head?
The number of packs of tape-in hair extensions needed for a full head will depend on the desired thickness and length. Generally, most people will need 4-6 packs for a full head, but this can vary based on several factors such as the type and quality of hair chosen, the desired volume/thickness, etc.
How long will my Tape-In Hair Extensions last?
Generally speaking, if properly maintained, tape-in hair extensions can last anywhere from six to eight weeks before needing to be re-taped or replaced.
What kind of maintenance is required for Tape-In Hair Extensions?
It is important to brush the extensions regularly, especially after washing and before going to sleep. To maintain the worn length of extensions, it is important to trim off any split ends as soon as they appear.
Do I need to go to a salon to get Tape-In Hair Extensions installed?
Yes, it is highly recommended to have these extensions installed by professional hair stylists. A professional stylist can install your extensions correctly and ensure that they look natural and blend in with your existing hair.
Do tape-in extensions damage your hair?
When applied correctly, these extensions should not damage your natural hair. However, improper installation or incorrect use can lead to breakage or damage. It is important to follow the instructions provided by your extension supplier and to consult a professional when necessary.
Can you shower with tape in hair extensions?
Yes, you can shower with extensions. However, it is important to take special precautions when doing so in order to ensure the longevity of your extensions. Be sure to use a specially formulated extension shampoo and conditioner that is pH balanced and free from sulfates, as well as avoid tying your hair up too tightly or brushing it while wet. Additionally, allow your extensions to air dry rather than blow dry.
Conclusion
With all these benefits, it's easy to see why tape-in hair extensions are gaining so much popularity. They are a great way to instantly transform any hairstyle with minimal effort and no damage. From traditional weaves to pre-bonded and pre-tipped varieties, tape-in extensions offer the flexibility and convenience you need for the perfect hairstyle. So if you're looking for a fast and natural solution for achieving long, luscious locks, tape-ins extensions are the way to go!

Comments